Lampard incredulous at VAR decision against City
Saturday, 26 February, 2022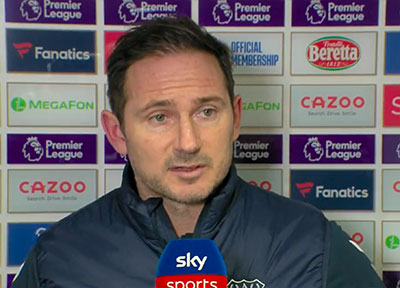 Frank Lampard pulled few punches in the aftermath of Everton's cruel 1-0 defeat to Manchester City this afternoon, branding the decision not to award the Blues a late penalty for handball "incompetence at best".
The Everton boss was visibly frustrated at the failure on the part of the match officials to penalise Rodri for a clear handball in his own penalty area and questioned why referee Paul Tierney was not instructed by Video Assistant Referee, Chris Kavanagh, to review the incident on the pitch-side monitor.
One of the Blues' first-team coaches, Ashley Cole, was booked by Tierney after the final whistle for remonstrating with the officials.
The Premier League Match Center explained afterwards that the "video evidence was inconclusive [to Kavanagh] but on further review after the final whistle it looks a penalty", an admission that will come as scant consolation to Everton who were denied a precious point in their battle to avoid relegation this season.
"There's no doubt [it was handball]," Lampard said. "There's no 'probably' about it; the decision is incredible not to give us the opportunity our performance deserved.
Article continues below video content
"It's VAR's call. That is Chris Kavanagh. It's completely on him. I've spoken to the officials and they know it's a pen.
"I wasn't shouting ranting and raving [at the officials] but I wanted to know if it was offside in the build up, because that negates the decision, and I've been told it's not offside against Richarlison.
"I have a three-year-old daughter at home who could tell you that was a penalty. It is incompetence at best. If not that then someone needs to explain to me what it is.
"It's the easiest decision. Easy. I don't know what has to happen as a reflection on that. Tell me why [he doesn't advise the referee to go to the monitor].
"That's the VAR's call. It's completely on Chris Kavanagh. because the referee couldn't see it on the pitch. It wouldn't even need more than 5 seconds to decide that it was a penalty. Everybody saw it.
I have a three-year-old daughter at home who could tell you that was a penalty. It is incompetence at best. If not that then someone needs to explain to me what it is.
Frank Lampard
"We've lost a point when we're fighting for our lives through a professional who can't do his job right and that's amazing. I'll wait for the statement or the apology or whatever it is that they say after the fact but it'll mean nothing."
Lampard was fulsome in his praise of his players who did almost all they could to atone for a poor performance at Southampton last week where, incidentally, they were denied another seemingly stonewall penalty for handball by VAR.
It represented yet another defeat for the Toffees but the manager took great heart from the display, saying that the League table could make for unsettling viewing in the short term but that he backs his players to get themselves away from the bottom three.
"The performance was great," Lampard said. "The work ethic was applied by the team [and it] deserved a point. I know City had possession and chances but everyone in the stadium would have felt the level of performance in so many ways.
"The lads gave everything and they really deserved more. I think you have to accept that City out-possession pretty much everybody. A big part of our plan was to be compact and hard-working.
"We knew that was a big opportunity to give them problems and I thought the players did really well."
---
Reader Comments (56)
Note: the following content is not moderated or vetted by the site owners at the time of submission. Comments are the responsibility of the poster. Disclaimer
Lynn Maher
1
Posted 26/02/2022 at 22:22:24
Thank you Frank. It's about time we had a manager and coaching staff, who are not afraid to call out these so-called professional officials.
You never know, it might make them think twice before dismissing us in the future. As the song says, "No More Mr Nice Guy".
I thought it was a great game. The team gave their all. That's all we ask.
Robert Tressell
2
Posted 26/02/2022 at 22:29:38
Good response. Robbed away at Newcastle. Now robbed at home against City. This club can't be a soft touch for shitty decisions. If you take it, you'll keep getting more of it. We should be 4 points better off.
Tony Everan
3
Posted 26/02/2022 at 22:35:07
A disgrace of a decision. With judgement as dodgy as that, Kavanagh shouldn't referee again at the highest level.
As Frank Lampard diplomatically said, it is incompetence at best.
To the rest of us, we can call it for what it is – an outright corrupt decision.
Tony Abrahams
4
Posted 26/02/2022 at 23:04:18
I've just watched the kid from Chorley, Jack Caterhill, just box brilliantly and yet the lad from Glasgow, Josh Taylor, get an extraordinary decision.
It's not just VAR, in football, I think loads of sports are bent, unfortunately.
Paul Birmingham
5
Posted 26/02/2022 at 23:05:26
There's a time when a proper Premier League statute committee of all the clubs must challenge the legitimacy of the VAR? I'd feared this in build to this game on other posts this week.
The shithouse, spineless, clueless, approach of the Premier League officials at the game, and the default disconnect to Stockley Park, is not acceptable.
Scrap, ASAP, the Stockley Park facade. The referee, using Rugby Union rules, must interrogate and translate real time facts, henceforth at Goodison Park, or whichever ground, but fairly. Default, the referee must look and use the pitch side screen.
nb: Using the driving test analogy, the Premier League would have no qualified officials.
Real-time descision-making it doesn't deliver. It's a fekkn joke. Two weeks and back-to-back blatant penalties, clear cut denied.
Shithouse officials, in an increasingly poorly managed referees and officials pool for the Premier League.
How the fuck can people follow with confidence the greatest game, is beyond me.
Kudos to Ashley Cole, after the game, 100%, guts, and is what's needed.
Everton FC got done today, unjust fully, By a shithouse referee, and officials, and a standing out-of-sync bullshit merchant at Stockley Park, taking 3-4 bags of sand, for doing sweet fuck-all.
But the spirit of the club, and team today was superb.
Everton will, by the will of God, stay up.
Justice, on all fronts, will prevail.
"Whats Our Name?"
Rob Hooton
6
Posted 26/02/2022 at 23:24:12
All VAR has done is moved corruption from the pitch to elsewhere, all under the control of the TV companies.
This was a disgrace and the club should make an official complaint, disgusting.
Karl Masters
7
Posted 26/02/2022 at 23:27:54
Doing the rounds on social media is the Wikipedia profile of Kavanagh alleging amongst other things that he played youth football for City, all his family support City and that his brother has a season ticket at the Etihad.
Could all be bollox of course, but if any of that is true he should never be allowed near a City match. And how else do you explain this 'crazy' decision other than a whiff of corruption?
And when you remember that Mike Dean, who has two sons who are regulars at Anfield, was allowed to ref a Merseyside Derby, you realise that almost anything is possible in this current integrity-suspect sport.
Joseph Terrence
8
Posted 26/02/2022 at 23:29:15
It was that decision that just made it absolutely clear that professional football is corrupt and rigged even at the highest level. There is quite literally no other explanation.
Paul Birmingham
9
Posted 26/02/2022 at 23:40:58
Joseph, spot on and for me it's killing the game for all concerned with the game.
Incompetency, it seems, is what the Premier League governance, know.
The Premier League is hitting a governance all-time low, and that is some bad scorecard as they started at crap, and have got worse.
C'est la Vie.
"What's Our Name?"
Paul Kernot
10
Posted 26/02/2022 at 23:58:20
I would question those that said they outplayed us. They didn't. They had more possession. Totally different thing as they did pretty much nothing with it.
That was down to us. A blood and guts display for 90 mins that kept them away. Plus the Goodison crowd once again.
The officials beat us today. Nothing else to say.
Ben King
11
Posted 26/02/2022 at 00:05:22
There is literally no way that a fair minded person can call that as anything other than a penalty.
Hence, as Frank said, it is incompetence (or corruption).
Effectively we were cheated out of the opportunity to win a valuable point.
It's so disappointing as the lads deserved a result and the confidence booster a draw would have given us.
Being an Evertonian is such hard work. Either the team let you down or the officials. Today, the team were excellent. But that decision stank!
Paul Kernot
12
Posted 27/02/2022 at 00:11:43
After being out for a good while, for Doucouré to play the way he did for the whole 90 minutes was massive. I really expected him to fade badly but he and Allan were superb all game.
Jon Davis
13
Posted 27/02/2022 at 00:47:24
The only logical explanation is corruption, that is a fact. Absolutely mind-boggling.
Imagine that same thing, at City, and it hits Michael Keane in the same spot? Aside from the fact he'd probably somehow conspire to score an own goal or something daft.
Bill Gienapp
14
Posted 27/02/2022 at 02:59:40
Obviously frustrating, but watching Lampard's controlled fury, as well as Ashley Cole's reaction after the match, continues to generate confidence and belief in our management team.
Kieran Kinsella
15
Posted 27/02/2022 at 03:15:08
Bill,
Must be odd for Frank and Ashley to see how the other half live. But maybe their status will help us. I guarantee, if Moyes was still boss, the media would not have sided with us.
But that apart, it's obvious Frank has a game plan and a method and, even with this bunch of half-wit players, you can see a huge improvement. If we can get through to May unscathed, the future looks bright.
Kieran Kinsella
16
Posted 27/02/2022 at 03:16:13
Paul
I thought the same thing on Doucouré. He's got a great engine.
Jim Bennings
17
Posted 27/02/2022 at 07:15:46
Two things.
First of all, the shithouse of a ref refused to go and look at the monitor because he knew if he had done then he simply had to award a penalty, something that he really didn't want to do.
(Mark Halsey openly admitted after retiring from refereeing that they are told to favour the top clubs so that they stay in the highest places, so yes it's corruption.)
Secondly, it's nice to finally have a manager that doesn't stand there and mince his words; Lampard speaks from the heart and that's why us as fans are gonna love this fella.
Benjamin Dyke
18
Posted 27/02/2022 at 08:17:33
It sure as heck still stings this morning, doesn't it? The game is already unfair due to the flows of money, the last thing it needs is incompetent or worse, corrupt, officiating.
City deserved max a point. The silver lining is that our fate is intwined with the other lot and they lose the title by the 2 points City robbed off us.
Dwayne Perkins
19
Posted 27/02/2022 at 09:02:09
Match fixing at the highest level.
VAR and those responsible should have to explain their decisions after each match. As part of an after-match review, they should be held to account for their decision-making process with the use of video, so we all get to understand how, and why they managed to reach the wrong decision!
This is happening too many times for this just to be bad decision-making. Being able to influence games is unacceptable, players are made to take responsibility for their actions on and off the pitch, this should also include match officials to ensure corruption is not part of the game.
Andrew Bentley
20
Posted 27/02/2022 at 09:22:53
Frank is open and honest and it's refreshing to hear his non-bullshit. He's also right about the next 2-3 weeks: things are going to look tough and that we all need to stick together. We've got 2 tough games coming up in Tottenham away and then Wolves, before we play against Newcastle and then Watford.
He has a plan and a clear way of playing, and the players look better under him than they did under Rafa. We as fans just also need to keep calm during the squeaky bum time of the rest of the season and not allow more negativity to creep in.
Good news is that Leeds and now Brentford are sliding down too whilst Burnley and Newcastle are starting to pick up points.
Jerome Shields
21
Posted 27/02/2022 at 09:55:02
An admission by the Premier League Centre that the wrong decision was made.
Andy Riley
22
Posted 27/02/2022 at 10:03:51
The problem is nothing will be done. Immediately dismissing both Tierney and Kavanagh for gross incompetence and / or gross misconduct would actually make a difference – which is why there is no chance of that happening!
Brent Stephens
23
Posted 27/02/2022 at 10:07:15
It will be interesting years from now to view the lifestyle of Kavanagh and his off-spring. I imagine it may well be very comfortable.
And the galling thing is that the error has now been accepted by the Premier League Match Centre.
Stan Schofield
24
Posted 27/02/2022 at 10:16:13
Of course nothing will be done, and the game is lost. However, the strong leadership shown by Lampard, aided by Cole, in so firmly protesting what happened, will hopefully make a difference to Everton going forward.
We have been too nice for the modern era of bias and likely corruption in the game (even Koeman said we were too nice), but if we now show clear and robust resistance to such awful decisions, making a fucking nuisance of ourselves loudly and clearly, there's an increased chance of officials stopping using us as an easy target for their shenanigans, because it'll simply become too much trouble for them.
The hope is that the culture will change, the faster the better, under Lampard and his management team who are less inclined to take shit off the Premier League hierarchy.
Peter Mills
25
Posted 27/02/2022 at 10:20:07
The general manager of Professional Game Match Officials Ltd is Mike Riley.
No further comment required.
Allen Rodgers
26
Posted 27/02/2022 at 10:55:00
Kavanagh gave us the penalty in our 2-0 win at Anfiled. Ever since he's been trying to make up for it.
Brian Harrison
27
Posted 27/02/2022 at 11:02:39
First I would say the club were absolutely spot on with the video of the atrocities in Ukraine and all our players draped in the Ukrainian flag, also City for their response.
I saw something yesterday that I have never seen before and that was a visiting manager signing autographs for the Evertonians in the Park End before the game.
Regarding the game, well done to every Everton player – you didn't deserve to lose, and it took a very unlucky incident to go behind.
Then of course we come to the penalty, I say 'penalty' because every pundit without fail has said it was a nailed-on penalty. I have to admit I sit towards the Park End in the Upper Bullens and I couldn't see clearly if it was a penalty but, having watched MotD, it was clearly a penalty.
Well done to Ashley Cole for remonstrating with the ref, about time we voiced our opinions, the manager of our neighbours is always haranguing 4th officials and refs and gets no punishment. Yet I am sure both Ashley and Frank will incur fines.
Just to clarify something. I see a couple of our supporters in the USA are claiming that the NBC network covering the game are under the misconception that Richarlison was offside prior to the goal. Lampard asked the ref after the game was Richarlison offside and the ref said No!!!
I thought Allan was magnificent and controlled midfield for large parts of the game, and was ably assisted by Doucoure (playing his first game for Lampard) and Donny van de Beek.
Just a pity we didn't convert the chances we created. Kenny and Richarlison probably had the best chances and maybe Anthony Gordon could have done a bit more with his chance late on in the 2nd half.
I know some are blaming Keane for the goal but I think that is very harsh, the deflection off Holgate left him a bit flat-footed and I don't hold either to blame – just really unlucky.
Although he and his coaches have only been here about 30 days, you can see the change in style: we are now trying to play out from the back and moving the ball quickly through the midfield on to the forwards. Even with just a couple of minutes to go, his message has clearly got through as we continued to play out from the back.
Also, I have never seen Iwobi work as hard; obviously, this is down to the work Lampard and his coaches are doing with him on the training ground. Obviously they didn't think that Gray was ready to start but good to see him back playing.
For the first time since Lampard arrived, he had the players to play 3 in midfield and we looked a whole lot better in playing that way. I know it was massively disappointing to lose to such an unlucky and undeserved goal, but they are the current Premier League Champions and current Premier League leaders. Play with that belief, that intensity for the remaining matches and we will be nowhere near the relegation zone come the end of the season.
Tony Abrahams
28
Posted 27/02/2022 at 11:07:41
Maybe he hates Liverpool even more than Everton, Allen? But it's the red media he's got to be careful of, because nobody really cares about what happened to Everton yesterday.
It will continue to be talked about whilst it's affecting Liverpool. Lampard did a brilliant job imo yesterday by calling the "cheat" out by his name.
Danny O'Neill
29
Posted 27/02/2022 at 11:20:54
Fair assessment as always, Brian Harrison.
I don't think we can be disappointed with the performance and the midfield were good yesterday against the best footballing team in Europe.
The mentality is changing. It's a bit roller-coaster but it's changing.
I agree, rightly or wrongly, with Lampard and Cole in the frame, darlings of a generation of English football, I feel over time we will get listened to more by officials. It shouldn't be about that but, if we use it to our advantage, then so be it. I feel unclean saying that as I'm a purist.
I'll leave Keane alone, but still think despite the deflection, he can do better. Flat-footed and immobility is a feature of his game.
Anyway, despite the defeat, ignore the table and there's a lot to be positive about moving forward.
See you at Tottenham away or Wolves home?
Rob Halligan
30
Posted 27/02/2022 at 11:29:29
As many have said, corruption at its best. I doubt you will never see a more stonewall penalty anywhere else. For the referee not to see it, I can probably understand as I don't recall seeing his position on the pitch, but for the VAR not to say penalty and refer the referee to the pitch-side monitor is beyond belief.
The blatant handball last week, the overturned penalty against Spurs, the scandalous challenge by Shelvey on Anthony Gordon which didn't need VAR to send Shelvey off, and now yesterday, shows the Premier League really do have it in for us.
No doubt Tierney and Kavanagh will get demoted to the Championship for one week, just like Kevin Friend was when he awarded the ghost penalty to the RS at Palace a few weeks ago, but that is of no benefit for us.
We all know that handball yesterday would have been given down the other end, and you can just imagine it at Anfield, Tierney would have had his finger firmly planted on the penalty spot, never mind pointing at it.
Don't know who the referee is for the League Cup Final today is, but it's going to be a really difficult decision for him to decide who to favour today. He will probably toss a coin with two heads on it and call "Heads Liverpool".
Unlucky Chelsea, you put up a brave fight!
Robert Tressell
31
Posted 27/02/2022 at 11:30:32
Paul #12,
Doucouré underlined his importance to this side. He's not a brilliant footballer, but he can be disciplined and intelligent and we play better when he's available.
Niall McIlhone
32
Posted 27/02/2022 at 11:44:30
I agree with Paul's comments ( #5) the whole VAR process needs a root and branch overhaul, not that any of this is going to aid our plight this season.
In Frank and his backroom team, I have confidence that they will get the absolute maximum out of this team for the remainder of this wretched season. If a lack of quality, injuries, bad luck, and corrupt officiating contrive to send us down, then that is our fate. Personally, I don' t think it will be.
I don' t think it is being too fanciful to say that Goodison Park was absolutely electric yesterday, and Everton came very close to getting a result against (possibly) the world's best club side.
Onwards and upwards, supporting our team is never easy, but it is occasionally life-affirming, as was in evidence with the support yesterday and the response of the players.
Ian Hollingworth
33
Posted 27/02/2022 at 11:54:11
Well done, Frank and Ashley Cole. Finally we have some real winners at our club. It will take time but, the sooner their mentality rubs off on others at the club, the better we will be.
Barry Rathbone
34
Posted 27/02/2022 at 11:57:29
Really changed my mind on Frank. I thought he was a bit wishy-washy when managing previous clubs and couldn't see the makings... but he's clearly a fast learner.
There's no acting about him: he says it how it is and has matured into his own man – he isn't disguising what a perilous dogfight we're in but – unlike most, isn't hiding behind excuses.
Could have thrown Keane under the bus but didn't. Swerved the Klopp clown act of faux outrage at officials and instead proffered an eloquent but cutting criticism all neutrals would nod in agreement with.
Frank has bought into the club big time – you can see his pain at every setback and unbridled joy when we get it right.
I'm terrified of putting the mockers on him but he might be the one, y'know.
Damian Wilde
35
Posted 27/02/2022 at 13:00:06
We played well yesterday. I was there, it was a decent game. We deserved a point. I can't stand referees, they are the lowest human form. Where's the interview afterwards? Cowards. Until they give interviews, they'll never get respect. They put out a statement, which was beyond ridiculous.
Great to see Frank tell it how it is. We need to be nastier on and off the pitch.
I haven't seen the Cole incident, but I heard he approached the ref in the centre circle and had a right pop at him, absolutely love this kind of behaviour. We have no access to the ref, but want to express our strong feelings, so seeing Ashley do it on our behalf means we can enjoy it vicariously.
Also, I heard he was yellow-carded. Ridiculous and pathetic. Why would you yellow card a coach at the end of the game? It's purely that tool trying to exert authority, arrogant. Even if he was red-carded, he watches the game in a box, one metre away from the dugout... pointless.
The 'incompetent at best' is Frank insinuating they might be bent. Let's face it, it should have been a penalty. So, naturally we hypothesise 'why' was it not given? I have generated the following possibilities:
- The ref is thick or totally incompetent
- The ref is weak and doesn't want to override his colleague
- There's a power dynamic at play and he's thinking, 'fuck the whinging Everton players'
- The ref has a beef with Everton
- The ref has City connections
- The ref is bent
Take your pick!
Rob Halligan
36
Posted 27/02/2022 at 13:37:56
A lot of views on other websites, mainly the BBC and in particular their comments page, about an offside decision. There was indeed an offside, but only after play had continued. I think it was Kenny who was flagged offside, but Richarlison was clearly onside, well onside.
Richard Lyons
37
Posted 27/02/2022 at 13:54:33
There should be a forensic analysis of Kavanagh's finances after that ridiculous decision.
We have some reasons to hope: Brentford and Leeds are in free fall, we have games in hand, Lampard has us playing much better football than anyone since early-days Martinez, we still have games to come against several of the other teams around us, and I think we're looking stronger than them.
I think Lampard is exactly the right type of manager to use the anger about last night to our advantage, and fire the team up even more. COYB! Spurs, watch out!
Jack Convery
38
Posted 27/02/2022 at 14:32:42
Chris Kavanagh is the same referee who disallowed the Maguire own-goal that would have given us a victory against Man Utd. He then gave Carlo a red card at the end of the game, when Carlo asked him politely to explain his decision to disallow the goal. So he has history with us.
'I did not disrespect referee,' says Everton's Carlo Ancelotti over red card
Only corruption explains that decision, yesterday.
Rob Halligan
39
Posted 27/02/2022 at 14:40:49
Chris Kavanagh was the referee who awarded us the penalty at Anfield last season. The VAR official asked Kavanagh to look at the penalty incident on the pitchside monitor, although I don't think it was the actual penalty decision he was asked to look at, but more the perpetrator, Trent Arnold.
It was a clear and blatant trip by him on Calvert-Lewin, and probably worthy of a red card. Heaven forbid though, that a penalty and a red card are given against Liverpool at Anfield.
Ben Howard
40
Posted 27/02/2022 at 15:17:59
What a difference Doucouré made! First time Frank has had 3 to pick in the middle and we look so much better for it. I think there's a great blend of speed, power, guile, technique and tenacity with Allan, Doucouré and Van de Beek.
Play like that with that midfield and we'll be okay... I hope.
Stan Schofield
41
Posted 27/02/2022 at 16:01:52
Barry@34: Spot on. I know we've had some expectations raised and dashed before, but maybe this time we have a manager who simply will not take shit off anyone, which is a big thing we needed.
As you say, he didn't mess about talking about the officiating, but in addition to showing strength he was very diplomatic, getting the message across clearly without giving the Premier League scrotum bags any bullets to fire at him.
John Kavanagh
42
Posted 27/02/2022 at 17:15:59
Stan@41.
It's also very noticeable now that our players too are getting more into challenging officials rather than our old "Let's be ever so nice" approach towards being fucked over by officials.
The only change in officiating standards that I've seen since referees became 'professional' under the aegis of Professional Game Match Officials Ltd is that bias and corruption is now professionally organised rather than being at the amateurish behest of individuals.
VAR simply acts as a safety valve to be introduced where the ref gets it wrong by not helping to deliver the desired result. I would be interested to see what spot betting patterns took place around the 0-1 result yesterday, like happened with the 'no-balls' betting scandal at test matches.
Anyway, we played well and gave it a go. Four weeks ago we'd have been 0-4 down at half-time and our goal difference wasn't too badly damaged.
ps: I wish to declare that I am in no way related to Chris Kavanagh and the only things we have in common is selective bad eyesight and trouser pockets big enough to accommodate thick brown envelopes.
Neil Copeland
43
Posted 27/02/2022 at 17:49:32
I've not read all the posts and apologise in advance if this has already been said.
IMO Everton should make representation to both the Premier League and the Referees Association and advise them that, should Everton be relegated this season, we will take legal action against both. Our case could be gross negligence. There is more than sufficient video evidence backed up by expert opinion and, I think, the Premier League have today agreed that the ref and VAR got it wrong.
Yes, I know that case is unlikely to succeed but it would put the wind up both and may just "help" the right decision being made in our remaining games this season.
The whole thing really stinks, no-one seems to know what they are doing and don't care whether or not the officials have performed well and, more importantly, fairly. So, as I say, force their hand and give them something to worry about. They clearly have no balls so it may just help us.
Barry Rathbone
44
Posted 27/02/2022 at 18:15:24
Stan 41 Spot on, keeping everything crossed this time for Frank. By god, we need a bit of luck.
Jamie Crowley
45
Posted 27/02/2022 at 18:26:39
I just now watched Frank's post-game press conference.
It had been reported that the play was adjudged offside via Richie's run prior to the handball here in the USA. Frank was told that was not the reason for the VAR decision, as Ernie Baywood and others argued in the match reaction thread.
If that's the case, we were absolutely robbed of a chance for a deserved point.
Frank Lampard is brilliant. His responses to the questions posed in the post-game presser were fantastic. He's a wonderful leader of this club, and it sounds silly but I'm really proud of the way he represents Everton.
Larry O'Hara
46
Posted 27/02/2022 at 18:54:55
Jamie, I agree Lampard is a class act. I was hoping he'd stand up for us and he had.
Lee Courtliff
47
Posted 27/02/2022 at 21:03:54
Frank does speak very well. Even though the results haven't really improved, the performances and overall feel of the club is completely different.
I'm optimistic for the future under this man.
Joe McMahon
48
Posted 27/02/2022 at 21:08:36
Lee, it could take a few games. End of March I'm hopeful for. The coaching team is a lot better now also.
Rob Halligan
49
Posted 28/02/2022 at 09:25:35
Jamie # 45.
There was an offside, but it wasn't Richarlison who was offside.
As play continued after the handball and Tierney was waiting for the VAR decision, Kenny was in an offside position near the touchline and corner flag. That's why Tierney eventually signalled for offside, when everyone thinks he was saying Richarlison was.
Chris Locke
50
Posted 28/02/2022 at 10:29:59
Jack @38. This is also the referee that overturned the penalty given against Spurs. Despite the replay being anything but conclusive VAR suggested Kavanagh should go to take a look. This itself is wrong as the whole 'clear and obvious' rule was ignored totally.
However, after a quick view on the pitch-side monitor, he was able to see that Lloris got a 'fingertip' to the ball before wiping out Richarlison. So, despite being able to see a fingertip hit a ball he is unable to see the ball be controlled by an arm.
As others have said above, it comes as no surprise that Kavanagh was the man on VAR at Newcastle when Shelvey 'got away with one' for his clear red card assault Gordon.
All this goes to prove is that the Premier League and Referees don't care if they are seen as incompetent or even bent because the consequences for either are exactly fuck-all.

Mal van Schaick
51
Posted 28/02/2022 at 15:37:13
John #52. What are the chances of getting the goalie back and Everton nominating a penalty taker?
With so much at stake, the FA has to start to act retrospectively. That point could cost Everton over £100 Million if we were to be relegated.
I don't think that will happen, with Norwich struggling, Leeds in free fall, and us having games in hand with Brentford, and Burnley and Newcastle, but they are on decent runs.
Dennis Stevens
52
Posted 28/02/2022 at 15:49:33
Mal #55,
Brentford are on a great run – for us! They're as bad as Leeds. Unfortunately, Leicester are the only other club with a worse run of form than ourselves over the last 5 matches – unfortunate as they're the next opponents for Burnley tomorrow night. :-(
Len Hawkins
53
Posted 28/02/2022 at 16:52:10
Right being into Rugby League although no longer able to watch live sport I just want to comment on the video ref as used in RL.
If, as the Premier League said, it wasn't 100% that it was handball, then they surely are also 100% it wasn't so their argument is flawed. In Rugby League there is another alternative "benefit of the doubt" they cannot see 100% and the score is given.
Brian Wilkinson
54
Posted 28/02/2022 at 17:12:59
Correct Len, works well in rugby league, not only do you get a slow motion of the build up on the big screen, you also get communication what is being discussed, instead of just a freeze frame saying no penalty, or offside.
You do not even get replays on the big screen at football, they can just stop on a certain frame draw lines and say offside.
Rugby league it shows a wide angle of when the player kicks the ball and freezes the screen as soon as it's left the players boot, to check for offside, then rolls it on to the incident, slowing it right down to a freeze frame, often asking if any different camera angles can be played, again if the ref gave a try, they go with the refs decision if there is a benifit of the doubt.
I know a lot are not interested in rugby league but if you get the chance, watch just 20 mins of one of the live games on sky, guaretee you will get a big screen review, and watch how well it works at Rugby and scratch your heads why football can get it so wrong, and rugby get it so right, even down to hearing the ref talking and hearing what he wants checking.
Stan Schofield
55
Posted 28/02/2022 at 17:23:27
It's ironic that in rugby league, where's there's far less money than in football, the video technology is being used in a finer-detailed way than in football. Oh, hang on, maybe it's precisely because of the amount of money in football. Where there's big money there's corruption.
Jay Harris
56
Posted 28/02/2022 at 17:50:57
They don't want to be open because they are so corrupt. Kavanagh is from Manchester so he's either a City or Utd supporter.
Watching the game yesterday Andy Madley was laughing and joking with Klopp in the leadup to the game and throughout the 90 minutes and even called his colleague over to explain a decision to Klopp.
Why can't or won't the people who run the game cut this out?
Another question: Why can't a club sue the Referees Association over an issue like this?
---
Add Your Comments
In order to post a comment, you need to be logged in as a registered user of the site.
Or Sign up as a ToffeeWeb Member — it's free, takes just a few minutes and will allow you to post your comments on articles and Talking Points submissions across the site.