Rondon brace enough to push Everton past Boreham Wood
Thursday, 3 March, 2022
Everton 2 - 0 Boreham Wood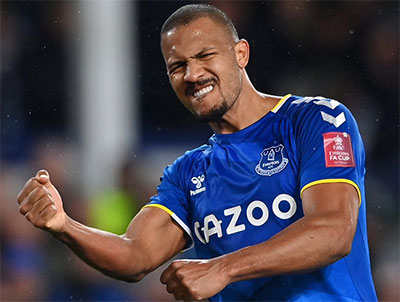 Salomon Rondon scored both goals as Everton finally managed to break down their non-league opponents in the second half
Everton made hard work of non-league Boreham Wood but eventually did enough to see the Hertfordshire side off to secure their place in the Quarter Finals thanks to two second-half goals from Salomon Rondon.
The two sides had gone into the interval level at 0-0 after a soporific first 45 minutes in which the Blues had almost all the possession but lacked the tempo and guile in their play to break their un-fancied opponents down.
Vitalii Mykolenko, given another warm show of support before kick-off and made honorary captain for the evening on his first start since facing Brentford in the previous round, had the first chance of the contest when his placed shot was beaten away by Taye Ashby-Hammond while Abdoulaye Doucouré lashed an effort into the side-netting.
Overall, though, Everton's play was far too deliberate and ponderous and while debutant Nathan Patterson was producing some tidy work from right wing-back and Anthony Gordon tested the keeper with a shot from 20 yards that was also pushed away, the hosts left the field for half-time having considerably underwhelmed the sell-out crowd.
Article continues below video content
Richarlison's introduction at half-time for the unfortunate Patterson injected the requisite urgency into Everton's play and Mykolenko almost served up the opener with a dangerous ball across the face of goal but Rondon just couldn't reach it on the stretch.
The Venezuelan should have opened his account in the 51st minute, however, when Jonjoe Kenny whipped a perfect cross in from the right but Rondon didn't get sufficiently over the ball and put a free header inches over the crossbar.
The same combination did yield the opening goal six minutes later, though. This time Kenny delivered a measured low cross towards the near post that Rondon swept in between Ashby-Hammond and the upright.
Michael Keane headed over from a corner, Gordon forced two more saves from the Boreham Wood keeper and, after Mykolenko had been forced off with an injury, Richarlison thought he had doubled the lead. Gordon's in-swinging shot came off Conor Stevens and struck the Brazilian forward allowing him to stab the loose ball home but after a check of the replays by the Video Assistant Referee, the goal was harshly ruled out for handball.
Ashby-Hammond denied Richarlison's terrific low shot with a quarter of an hour left but he couldn't prevent Rondon from scoring his second in the 83rd minute. A corner on the left was taken short to Andros Townsend and his dangerous cross was met with a firm header from Rondon that had crossed the line before the keeper pushed it out again, the goal-line decision system informing the referee that it was, indeed, a goal.
Frank Lampard withdrew Gordon for Lewis Dobbin and then Allan and Michael Keane for youngsters Issac Price and Reece Welch as the Blues wound the game down.
For Boreham Wood, it was, no doubt, a memorable night, particularly for their Evertonian right-back Kane Smith who had to depart during the second period because of injury. In the end, their only effort on goal was a wayward shot by Tyrone Marsh gifted to him by Jarrad Branthwaite.
Everton, meanwhile, did a professional enough if rather dull job and progressed, as expected, to a tie in the last eight against Crystal Palace at Selhurst Park later this month.
---
Reader Comments (30)
Note: the following content is not moderated or vetted by the site owners at the time of submission. Comments are the responsibility of the poster. Disclaimer
Phil Smith
1
Posted 04/03/2022 at 01:28:32
Rondon looking much fitter these days. That was a hard watch today though...
Jim Bennings
2
Posted 04/03/2022 at 05:22:56
Through to the last eight but you get the feeling that's probably where the bus stops.
Our away form will most likely hinder further progress.
Was a marginally improved second half but the lack of end product from our attacking players burns my head out, the amount of shots or crosses that are woefully ineffective.
Frank will know he has his work cut out here.
Danny O'Neill
3
Posted 04/03/2022 at 06:22:29
How dare you, Jim!
Tell yer ma to put the champagne on ice. You're going to Wembley twice!!
Christopher Timmins
4
Posted 04/03/2022 at 08:50:35
The first half demonstrated just how little creativity there is in our midfield without Donny van de Beek. The second half was an improvement and it was comfortable in the end. Rondon could have scored 5 but 2 will do once he comes to score the winner on Monday.
Once you get to the last 8 of the FA Cup, you have a chance to go all the way. We won't be favourites the next day but we have a real chance of making the sem-finals.
I hope Mykolenko's injury is not too bad as he is our only natural left-back.
Patterson did well for the time he was on.
Everton must have to deal with a different set of handball rules to everyone else: Richarlison's goal should have stood!

Barry Hesketh
5
Posted 04/03/2022 at 09:00:38
Last night's game showed Frank what the deeper rooted issues of his squad look like. Some of the players or even the collective seem to want to cruise through games that they believe they will win easily.
It's okay going hell for leather in the manager's first home game or a proper test against a top side like Man City in front of a passionate Goodison, but the truth is that last night's type of performance is what has gotten the side into its current position in the league. Too many of those and we'll be out of the Premier League.
Frank Lampard has admitted Everton's slow play in the first-half was "interesting" as his side played out a 2-0 win over Boreham Wood on Thursday.
It's up to you now, Frank, to ensure these players put 100% in every minute of every match, and explain to them that they aren't quite as good as they think they are and, even if they were that good, they shouldn't expect to be successful without the hard work that's required.

Bjorn-Ivar Pedersen
6
Posted 04/03/2022 at 09:40:18
If a war in Europe is what it takes to make him start scoring, how many would he score if the war came to South America??? Just wondering. heh.
Dave Abrahams
7
Posted 04/03/2022 at 09:43:49
Ivor (6), I think the Premier League game away to Crystal Palace was well before this war started!!
Rob Halligan
8
Posted 04/03/2022 at 10:05:13
Have read a couple of reports on the BBC website, and so far I haven't seen any mention of the scuffles in the away section towards the end of the game, when I also saw what appeared to be at least three plastic bottles, containing liquid, thrown onto the pitch.
No doubt had these bottles been thrown by Everton fans, it would have been strewn all over every media outlet by now. Has anyone in the Park End near to the away section, any idea as to what caused these scuffles?
Danny O'Neill
9
Posted 04/03/2022 at 10:21:32
I wasn't there last night, Rob, but I would suspect it's the usual hangers-on who don't even follow the team usually.
I believe they sold 4,500 tickets last night? Without looking, that is probably way over their average matchday attendance. So likely there were more than a few idiots there for the occasion who won't be at their next league match.
See you at Tottenham away? If not, Wolves home?
Rob Halligan
10
Posted 04/03/2022 at 10:26:07
Boreham Wood only took about 1,800 tickets, Danny, which sold out pretty quickly. Still double their average attendance for this season. So no doubt there was probably plenty of Arsenal and Spurs fans in the away section.
I will be at Spurs on Monday, travelling down on my own on the official coaches as my mates are all staying overnight. Will try and meet you inside the stadium.
Robert Leigh
11
Posted 04/03/2022 at 10:44:21
Just thought I'd say I thought Kenny was brilliant last night. Lad needs a new contract.
Played in 3 positions, looked least comfortable at right centre-back, but looked good at right-back and latterly left-back.
Patterson's debut was encouraging but, with Jonjoe playing like that, it'll be tough to get ahead of him.
Danny O'Neill
12
Posted 04/03/2022 at 10:46:16
@Rob - 0796 6007546. Give me a shout
Rob Halligan
13
Posted 04/03/2022 at 11:03:35
Will do Danny. Will text you when we get near the stadium. I've no idea though, where the coaches park at Spurs?
Alan J Thompson
14
Posted 04/03/2022 at 11:15:14
Well, for reasons of so-called technology and impatience it is seven hours between watching the first and second halves and have not read any comments but that was bloody rubbish. I'm not one for checking statistics but what did we have, 90% possession and created two chances? If we get relegated, and on that performance we will, then it will be several seasons before we look like getting promoted.
Rondon scored twice but let's be honest, he's gone from telegraph pole to portable lamp post, Dobbin showed much more nouse and movement in the short time he was on.

If James Rodriguez is available then sign him up on 50K per game (or 500 per minute) he plays and 5K a week when he doesn't but (gently, gently) we have to find somebody with creativity and imagination.
Oh, and I thought VAR was not used in FA Cup.
Peter Neilson
15
Posted 04/03/2022 at 11:41:52
Rob I'm in the main stand. From what I saw there was a Boreham supporter in a grey top hammering someone right at the front. Took a good few to stop him. Don't know if it was one of his own or a steward he'd laid into. To cap it all when coming home a Boreham fan rang into the phone in to say we deserved to go down as we were the worst supporters she'd ever come across. Sounded a very angry supporter for someone who's been at their teams biggest ever fixture. As you say probably just latched onto Boreham for the one game.

John McFarlane Snr
16
Posted 04/03/2022 at 11:55:28
Hi Rob [8] I sit in the Park End on the side nearest to the away fans, there's no way of establishing the cause of the fighting, but I can say that some of them being escorted out of the ground appeared to be 'under the influence'. I agree with you when you say, "If it had been Everton supporters it would have been strewn all over every media outlet"
Len Hawkins
17
Posted 04/03/2022 at 12:20:32
Pity Tony Bellew wasn't stood next to him he'd still be asleep.
Anthony Dove
18
Posted 04/03/2022 at 12:30:49
Seamus showed he's still the man for the job.
Patterson was tidy but posed no threat going
forward. Couldn't judge him defensively as for
reasons only Frank knows he had Kenny behind
him. Bit of a FSW selection that against non leaguers.
Never mind, no harm done, see you at Wembley.
Tom Bowers
19
Posted 04/03/2022 at 13:23:20
We don't seem to have the quicker players that can really turn a defence.
Yes, Gray and Richarlison can run from deep sometimes but that leaves the target man (à la Calvert-Lewin or Rondon) isolated.
Our midfielders try to play a lot of one-twos that invariably fail due to poor ball control.
The last time we had speed going forward that opened up defences was the heyday of Seamus and Bainsey. The introduction of good defensive wing-backs by many teams curbs that ploy sometimes.
However, with the two new fullbacks, I think we have a pair that will do better as time goes on.
Brian Murray
20
Posted 04/03/2022 at 14:16:55
Met a few in the Winslow before the game, they seemed decent lads n lasses. Anyway, North London next.
David Graves
21
Posted 04/03/2022 at 14:43:20
There were a few drinking in the Arkles after the game last night Brian and I'd agree that individually they were good football fans. Unfortunately, collectively in the ground, I thought they were horrible.
Everton FC treated them very, very well and whilst I don't expect them to be subservient I thought they might have been a little more interested in supporting their own team rather than singing about us going down and not winning anything since the 1990s etc.
Jay Wood
[BRZ]
22
Posted 04/03/2022 at 15:16:25
On the subject of Boreham Wood fans, a couple of times in the first half when Mykolenko would have been playing in their corner of the ground I thought that I heard booing when he was on the ball.
I thought it very strange. Anyone else, in the stadium or remotely, hear/notice the same?
Phil (Kelsall) Roberts
23
Posted 04/03/2022 at 15:24:37
Peter #16 - if she was from Boreham Wood, then probably a Liverpool fan.
Danny O'Neill
24
Posted 04/03/2022 at 15:33:15
On VAR and the FA Cup, it's comical actually.
As an advocate of properly and competent implantation of technology supported by competent officials (the real problem), it is farcical that the rule for the FA Cup is that it applies where a club has the facility to deliver. That's my understanding but happy to be corrected.
David, that's a London fan thing. Collectively, they spend more time goading the opposing fans than they do watching the football.
Jeff Armstrong
25
Posted 04/03/2022 at 15:45:22
Danny #25,
It's only Premier League grounds where VAR is used for the cup ties, which is ridiculous as it should be level playing field across the whole competition.
It's also why we where taken to extra time at Hull, as we had 2 stonewall penalties not given by another incompetent or anti-Everton referee on the day.
Brian Murray
26
Posted 04/03/2022 at 16:19:55
Phil.
I did notice Boreham Wood were a bit mouthy in the last round at Bournemouth on the box.
Anyway, is the Palace cup game at least on the weekend? Remember back in the day 1971 I think. Getting a draw in the cup and winning the replay.
Ray Robinson
27
Posted 04/03/2022 at 17:09:25
Few random thoughts:
The Boreham Wood supporters were a little narky and lacked class. They should have savoured their big day out but, instead, with bugger all going on in terms of their own team, they became very ungracious towards their hospitable hosts. However, at least one bottle came from the top balcony.
If that game had been played at Boreham Wood's ground, we'd still have won 2-0 but Richarlison's goal would have stood and Rondón's second would never have been awarded. So much for the same laws applying throughout the competition.
Also, sorry, but Jonjoe Kenny was extremely willing and played well but his limitations as a wingback are so obvious. He advances down the wing, then stops and plays a safe sideways or reverse ball. Where is his spirit of adventure, à la Coleman?
I thought Gordon had a poor game. So much promise on the ball but so little end product.
We're through but I can't draw too many conclusions from that match other than we struggle to create.
Paul Swan
28
Posted 04/03/2022 at 17:25:40
I thought their supporters were a disgrace last night. From keeping the ball when it went into them to the bottle throwing and fighting – they were appalling.
But the worst thing for me was how they made no attempt to get behind their team and try to push them on. There was zero atmosphere in the ground which really surprised me as normally this type of club and their supporters get right behind them and make a lot of noise.
Their team were a big let-down as well, time-wasting from the start. When a lot of those players look back on that game at the ends of their careers, not many could say they gave it a good go.
Ian Bennett
29
Posted 04/03/2022 at 19:33:25
Everton fans treated them very well in a game that was set up for us to fail.
Blues clapped everyone of their players on and off for subs, and at the start / end of the game.
In contrast, their fans lacked any class at all. Their behaviour was quite petulant to be honest. They'd seem to have bought into the cup upset, and when they couldn't get out of their own half, they acted like a bunch southern twats.
Hope their buses broke down in the pouring rain on the M6. They're hated in non-league circles, and you can see why.
Danny O'Neill
30
Posted 04/03/2022 at 19:54:41
Ray @28, I have commented a bit on Jonjoe over the years. Scratched record time but to your point on him as wingback. I watched him play in that position for Schalke a few times.
He got roasted admittedly against a very good RB Leipzig team on one occasion. He kept running into the space of the forwards, which crowded their space and the centre backs were fuming with him for leaving them exposed.
Kabak (loan at Liverpool last season, now at Norwich) gave him both barrels on more than one occasion. But, he's been doing well for us when asked this season and I have a soft spot for him.
I've said on many threads that, living amongst them, the London fan base is peculiar. I think they find me similar in a polar opposite kind of way.
Stereotyping the collective, but they always seem more concerned with going at the opposition fans than supporting their team. It's why I plead with Evertonians to never sing that awful "Your support is fackin' shit" chant that originated from the capital. Please no. Goodison Guys is far more classy and aimed at our team / club.
We Shall Not Be Moved. Spirit of The Blues - never shone so brightly. Here We Go.
---
Add Your Comments
In order to post a comment, you need to be logged in as a registered user of the site.
Or Sign up as a ToffeeWeb Member — it's free, takes just a few minutes and will allow you to post your comments on articles and Talking Points submissions across the site.