Cazoo sponsorship to end this summer
Friday, 4 March, 2022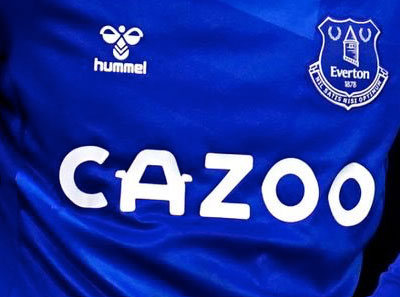 Everton will kick off the 2022-23 season with new shirt sponsors after it emerged that the club will not be renewing its contract with Cazoo.
A statement from the online car-sales outfit published by The Athletic announced that Cazoo's sponsorship arrangement with the Blues won't continue beyond the original 2-year deal announced in June 2020.
"We can confirm that the Cazoo sponsorship of Everton Football Club will not continue after the end of the current season," the statement read.
"The original deal was for 2 years and it has been a strong partnership over this period which has delivered on our objectives and we are proud to have supported the Club and raised over £75,000 for Everton in the Community during this time.
Article continues below video content
"We were unable to agree suitable terms to extend our sponsorship of Everton beyond the original 2 years but can confirm that we will remain the principal partner and shirt sponsor of Aston Villa Football Club next season."
The Athletic's report suggests that Everton are encouraged by their search for new sponsors, negotiations that have taken on heightened importance after the club suspended commercial ties with USM Holdings and its subsidiary MegaFon in the wake of Russia's invasion of Ukraine and the imposition of sanctions on Alisher Usmanov.
Meanwhile, the construction of the new stadium at Bramley-Moore Dock will continue unaffected by the suspension of the deals related to USM for now. The Telegraph quote a spokesman from Laing O'Rourke who said:
"We are deeply saddened by events in Ukraine and are doing all we can to support our Ukrainian colleagues. We note that Everton has suspended its commercial sponsorship arrangements with three Russian companies, and can confirm that we remain committed to the contract we have signed with Everton Football Club to deliver its new stadium at Bramley-Moore Dock."
---
Reader Comments (55)
Note: the following content is not moderated or vetted by the site owners at the time of submission. Comments are the responsibility of the poster. Disclaimer
John Zapa
1
Posted 04/03/2022 at 18:22:55
It seems the club will need to replace nearly all the major sponsors very soon.
It's fortunate that the club have a fantastic commercial department who probably have a waiting list of replacements itching to get on board...
Kieran Kinsella
2
Posted 04/03/2022 at 18:24:51
John,
"It's fortunate that the club have a fantastic commercial department..."
Haha – that made me chuckle!
Dale Self
3
Posted 04/03/2022 at 18:26:08
Pffft, got tired of looking like Villa anyway. Next.
John Pickles
4
Posted 04/03/2022 at 18:31:11
Maybe someone can resurrect Hafnia.
Will Mabon
5
Posted 04/03/2022 at 18:36:29
Looking at Villa's official website and two other sources, their deal from 2020 is described as "multi-year" with the number of years not specified. That deal will reach 2 years in the summer; didn't find any info regarding renegotiation of it. Either it was longer than our deal or the deal has been renewed without announcement, since Cazoo states it will continue into next season.
So, either Everton and Cazoo really have been unable to agree suitable terms, or there's some opportunistic, tacit virtue signalling going on, based on the time frame.
Dale Self
6
Posted 04/03/2022 at 18:43:13
What is 'virtue signalling', Will?
Will Mabon
7
Posted 04/03/2022 at 18:47:57
Dale, you know what it is.
Dale Self
8
Posted 04/03/2022 at 18:55:52
I don't know, Will. It seems like how it is being used in this context is somewhat anti-Liberty and that wouldn't be something I would expect from you and so was looking for clarification.
Will Mabon
9
Posted 04/03/2022 at 19:02:13
Dale, virtue signalling by Cazoo, as in to disassociate themselves from Everton and our Russian "Ties", but without openly saying such.
Dale Self
10
Posted 04/03/2022 at 19:06:57
Sounds like some reputational risk that I've been reading about as a reason to cut ties.
Will Mabon
11
Posted 04/03/2022 at 19:10:42
What is reputational risk, Dale?
Paul Jones
12
Posted 04/03/2022 at 19:13:27
Apologies for this as it's completely off topic but
Lyndon and Michael - I'm on the site with Chrome on an Android phone, and every time I navigate to a new page an Ad panel appears after about a second right on top of the photo or text towards the top of the page, completely obscuring it.
This has been happening for about a week now. I noticed you introduced ads on page load a few weeks ago and it was working fine initially (the underlying page was offset correctly to accommodate them), but now the behaviour has changed and the page is being overlaid.
Let me know if you need android or chrome versions etc.
Other than that - thanks once again for giving us this resource for all our highs and lows!
Brent Stephens
13
Posted 04/03/2022 at 19:16:41
Paul, I have the same issue with my iPhone.
Barry Hesketh
14
Posted 04/03/2022 at 19:21:40
I think the idea that Cazoo are pulling the plug due to the terrible happenings in Ukraine are well wide of the mark.
Cazoo were willing to pay X amount Everton FC wanted Y amount, that is the reason for the end of the link-up when the contract ends in the summer – but hey that's not as interesting as mostly unfounded speculation is it?
Paul Hewitt
15
Posted 04/03/2022 at 19:22:37
I can see a fire sale coming in the summer.
Chris Leyland
16
Posted 04/03/2022 at 19:30:51
Paul, Brent, me too with these adverts.
Really annoying feature that is doing my head in!
Kieran Kinsella
17
Posted 04/03/2022 at 19:36:30
Barry
I agree. Their statement says: "We were unable to agree suitable terms". If it were Ukraine related, surely they'd emphasize that by saying "We don't want to sponsor Everton because a company, owned by a guy whose wife used to be friends with Putin's one-time girlfriend also sponsored them until they cut ties with him because of the Ukraine war so, to show our disgust at Everton's three degrees of separation 'connection' with Putin, we are cutting ties to signal our moral virtue."
Plus what's the reputational risk for Cazoo? "I was thinking of getting a car delivered from Cazoo but once I saw Everton play on TV, and the players had Cazoo on their shirts and in the background I saw an ad for MegaFon so I Googled that and found it's also connected to USM, which is owned by Usmanov who knows Putin, so therefore I no longer want that car."
Will Mabon
18
Posted 04/03/2022 at 19:36:51
Barry, you may be right.
I did use the word either in my post.
This is because I don't know for sure and was indeed speculating, based on current events; Cazoo being willing to continue, as with Villa, my belief that Everton are probably unlikely to wildly hype our requirements in our present situation and so on. I also don't know it was about X and Y any more than you do, as I wasn't there.
Nothing wrong with speculation and healthy scepticism when we don't know for certain.
Dale Self
19
Posted 04/03/2022 at 19:41:46
For the record, I was mentioning 'reputational risk' as an alternative take on what Will refers to as 'virtue signalling'.
No take or information as to whether those describe the Cazoo decision.
Iakovos Iasonidis
20
Posted 04/03/2022 at 19:53:38
Hafnia and Danka my two personal favorites. SportPesa by far the worst. Of course it is all about money but a nice logo sponsor makes the kit a lot better.
Dale Self
21
Posted 04/03/2022 at 19:56:21
Oh sorry, Will 11, good question.
Reputations affect contract negotiations and can sometimes affect cost projections in the situations where the entity is leveraged. The risk is that, when an entity's reputation is negatively affected, it could affect future contracts and thus the future revenue stream.
The most recent concrete example is the banks that have backed away from Manafort after Stephen Caulk was sentenced. Before these recent developments with oligarchs that is.
Danny O'Neill
22
Posted 04/03/2022 at 19:58:31
One-to-One wasn't great but I think that was down to that top and the lighter shade of blue.
I remember complaints with NEC because their name was printed in red in the programme! And I'll always associate it with that awful Lineker white bib top.
Dale Self
23
Posted 04/03/2022 at 20:02:29
I liked Danka when I was smoking heavily in the 90s.
Will Mabon
24
Posted 04/03/2022 at 20:03:30
Dale, thanks for the education.
You've learned what is meant by 'virtue signalling' and I now understand the concept of 'reputational risk'.
It's been an enlightening day. :)
Tony Abrahams
26
Posted 04/03/2022 at 20:23:31
NEC, did have one of the greatest ever slogans though Danny. Can anyone remember what it was!?
Paul Jones
27
Posted 04/03/2022 at 21:55:11
NEC
IC
LSI
I think that's all I remember Tony.
I'm not much good at quizes!

Martin Reppion
28
Posted 04/03/2022 at 22:00:14
Iakovos #20,
My favourite kit, which I still wear, is the 1995 FA Cup Final shirt.
No logo at all as the deal with NEC had run out at the end of the league season and the new sponsor was lined up for the following year. The players had a sponsor logo when NEC stumped up a bonus, but the replicas were sold without as it was just for one game.
It still looks class.
Brian Wilkinson
29
Posted 04/03/2022 at 22:05:50
Danny, forget the Lineker bib, positive vibes, picture Dave Watson holding the FA Cup aloft, in an NEC Royal Blue shirt.
The one around 92-93 salmon stripped top was one of the better away tops, be nice to bring that one back for next season.
Tony Abrahams
30
Posted 04/03/2022 at 22:15:55
"Like 91 other league clubs, we're behind Everton" – was the slogan, Paul, I used to absolutely love that one, mate.
Paul Kernot
31
Posted 04/03/2022 at 22:26:00
Iakovos #20. I hope so mate. I have replica shirts with both those sponsors on them. I'd look very current at training!
Derek Knox
32
Posted 05/03/2022 at 01:49:05
Can't we get Revels to sponsor us? You never know what flavour you're going to get, till you get inside!
Kieran Kinsella
33
Posted 05/03/2022 at 01:52:47
Derek
Haha you're making me homesick. I haven't had a Revel in 20 years. Unlike Branston's Pickle, mince pies, PG Tips and Heinz Baked Beans, they haven't made it over to The Old British Shop in Kansas City.
Jim Bennings
34
Posted 05/03/2022 at 07:09:50
I love that 1995 NEC/Danka one.
Something about the continental look of the blue and black on it and simple straightforward sponsor.
I hope we don't get one or those woeful betting companies again with insane writing all over the place.
Danny O'Neill
35
Posted 05/03/2022 at 08:11:23
I too liked the striped salmon / dark blue away top, Brian. Although I am an advocate of amber. I thought last season's away top was one of the best in years, despite its simplicity.
On away shirts, my least favourite has to be around 1996 and some weird yellow and black striped concoction. Maybe even another yellow number just prior to that with "zig-zag" stripes all over it.
Oh and that awful "Vinny Samways" white thing we wore in the post FA Cup win season when we took the Charity / Community Shield.
Just keep it simple. Royal Blue and Amber for me.
To add to the debate; white socks or blue? I'm a white sock advocate.
John Graham
36
Posted 05/03/2022 at 08:56:04
I would imagine, with the new stadium on the horizon, there will be many more opportunities for sponsors. We just need to see out this season and keep in the Premier League.
Providing we survive with Lampard as manager and the new stadium on the banks of the Royal Blue Mersey, that should be a magnet to some big new sponsors.
COYB
Justin Doone
37
Posted 05/03/2022 at 12:44:37
Villa brought in a new manager, several good established players and started to improve performances and results.
We brought in a new manager but continue to struggle trying to play football or get positives results leaving us on the relegation threshold.
Cazoo happy with Villa association and probably offer a few more million. Not so bothered with us, offer a few less million and we turned it down.
Sponsorship is easy when all is going well. Less so for us both on and off the pitch due to so many unknowns.
Justin Doone
38
Posted 05/03/2022 at 12:58:12
As for kits, Blue is great. Keep it plain and simple. I always think Black or White should be the away colour.
I loved the dark green 3rd kit of about 5 years ago ​and also the striped navy and purple.
Hoops and Stripes can work. Sash, no? It looks cheap and tacky like a hen do or some pageant ribbon.
3rd kits are there to experiment with. I think a classic Croatian style green (obviously not red) and white square pattern could be a winner, especially for the kids.
Craig Walker
39
Posted 05/03/2022 at 17:59:04
NEC had a slogan that said "like 91 league clubs, we're behind Everton'. It used to be in the programme after the '87 season.
I loved the Hafnia and NEC days. Thought Cazoo was good.
Rick Pattinson
40
Posted 05/03/2022 at 23:49:48
NEC would be my choice. Loved those kits.
Derek Moore
41
Posted 06/03/2022 at 13:58:02
We haven't won a trophy since we got rid of NEC as shirt sponsor. Gives it a different scale I guess.
Cazoo exiting is not exactly surprising, but it will be a challenge to replace them with a much more favourable deal for the club. I would not be surprised to see a gambling or crypto/NFT replacement for Cazoo either. If you follow the money, that's where it seems to be, right now at least anyway.
It's essentially start-up type deals, with most of the entrants in crypto, so expect even more sponsor turnover if the club does go this route.
Si Cooper
42
Posted 06/03/2022 at 15:54:50
A crypto sponsor? I sincerely hope not. I can't shake the idea that they are merely 'Ponzi' schemes with a dose of massive energy consumption to really feck the planet thrown in.
Allen Rodgers
43
Posted 06/03/2022 at 16:22:26
Has anyone on here bought a car online or know anyone who has?
Just asking llke.
Lee Courtliff
44
Posted 06/03/2022 at 17:33:26
I've never heard of that slogan before, but it's absolutely brilliant.
I'd love us to get NEC again. My memory of football goes back to 1989 so they are always our sponsor in my head.
Just like United will always be Sharp, Liverpool will be Candy and Arsenal will always be JVC.
Teams seemed to have the same sponsor for years back then.
Matthew Williams
45
Posted 06/03/2022 at 17:55:30
Although they are based in the North-East, what about having TOFFS as our shirt sponsor, no-brainer really.
We could even wear their old fashioned excellent Blues shirts they make too... double bubble!
Philip Bunting
46
Posted 06/03/2022 at 19:32:35
Never could understand the principle of buying something like a car online without seeing it, driving it, or having a good look. Still don't know anyone that has. Anyway, it seems we cancelled the partnership, which says two things to me.
One, we have a new and better deal lined up; and two, we can't be that strapped for cash to go ahead and cancel an agreement with what's going on at the minute.
Very strange, hoping number one is the answer.
Jonathan Tasker
47
Posted 07/03/2022 at 09:21:25
Interesting. Cazoo have deals with Villa and Everton and somehow prolong the one with Villa but not Everton. That says a lot about which club Cazoo think has more use to them.
Alex Chesterman, who owns the brand, rarely gets these kind of matters wrong.
Teddy Bertin
48
Posted 07/03/2022 at 10:02:02
#42 Si, they're not Ponzi schemes. It's thousands of new companies doing very different things and an alternative stock exchange.
As we're seeing in Formula 1 and US sports, some of these new Crypto start ups have billions to spend and so are likely to be the best place to get a very lucrative deal in the recession that is coming.
These companies have billions, by the way, because huge venture capitalist firms and the major finance institutions are pumping money into the space as it's going to disrupt everything in the way the Internet did.
Some of these crypto companies are likely to take out companies like VISA and AMEX long term by making transactions nearly free for vendors and consumers.
Also the energy consumption thing is a myth. The 'mining' occurs where energy is cheap (eg. Where excess energy is created and would be wasted so is sold cheap).
Banks consume 10x more energy and do a lot more environmental damage than something like Bitcoin. As does gold mining.
David Ellis
49
Posted 07/03/2022 at 10:11:21
Teddy – Whatever you've had for breakfast... I want some.
Too many old cynics on this site to buy what your selling (me included).
I get that fintech might be a thing that changes the world. Crypto currencies on the other hand are not a store of value, have no legal backing (as in are not legal tender anywhere and can't be used to pay taxes or government fees) so they are really just collectables – worth something because people like to have them and think they are worth something.
I collect stamps, similar thing, but at least there is a limit on supply of old stamps.
Clive Rogers
50
Posted 07/03/2022 at 11:22:58
Philip, 46, we haven't cancelled any agreement. The 2-year deal has come to an end and Cazoo have decided not to renew it.
Mike Price
51
Posted 08/03/2022 at 10:17:07
The way things are going we'll be lucky to have 'Dave's Scaffolding' on our shirts next season.
Si Cooper
52
Posted 09/03/2022 at 21:03:56
Teddy, the energy thing isn't a myth from what I've read. Some regimes are setting up massive server banks just to mine Bitcoin or whatever. It's not excess energy, it's just another 'industry'.
I think you have to separate out what cryptos are hoped to be and what they could easily become. It is a big problem for capitalism that a lot of opportunities are exploitable by the dregs of humanity as much as by the rest of us, and in some cases the dregs actually have the upper hand because they are without a conscience.
Maybe not Ponzi schemes as such, but there is definitely also the potential for a bubble to burst. Are you too young to remember the dot.com bubble?
Kieran Kinsella
53
Posted 09/03/2022 at 21:30:44
Si,
I was thinking of the Dutch tulip bubble. The whole NFT thing is just bizarre. Millions blown on something without an actual use or tangible value.
Dale Self
54
Posted 09/03/2022 at 21:32:07
Teddy 48, bitcoin is undoubtedly an environmental disaster in the making. Without getting weird about it, here is an Australian economist who can lay that out for you.
John Quiggin:
"The "proof of work" process by which Bitcoins and other cryptocurrencies are generated depends on "miners" competing to solve increasingly elaborate, but pointless, mathematical problems using specially designed computers and lots of electricity. The higher the price of Bitcoins, the more electricity it is worth burning to generate them.
Calculations a few years ago suggested that the electricity used in Bitcoin mining was comparable to the total demand of a small country like New Zealand. But as the price has risen, so has the demand on electricity resources, to the point where abandoned coal-fired power stations are being reopened. Even when Bitcoin is mined using renewable electricity, that electricity is diverted from other uses, which must then rely on coal-fired or gas-fired electricity.
As concerns have risen about the environmental damage caused by cryptocurrencies, attempts have been made to find "green" ways of producing them. Past efforts of this kind have failed, but perhaps these will succeed. However, we don't have time to wait and see. Financial institutions need to divest from cryptocurrencies and financial regulators need to shut them down. When and if an environmentally safe version emerges, we can take another look."
Jay Evans
55
Posted 12/03/2022 at 07:59:40
Great memories about the NEC quote from the programme. While we are reminiscing, the NEC sponsor holds somewhat different memories for me.
My loveable red friends in the playground were responsible for some particular sponsor - related quotes.
Can anyone guess what hilarious jibes me and my blue mates were subjected to ?
Derek Moore
56
Posted 14/03/2022 at 07:56:42
Not Even Close?
Never Everton's Cup?
---
Add Your Comments
In order to post a comment, you need to be logged in as a registered user of the site.
Or Sign up as a ToffeeWeb Member — it's free, takes just a few minutes and will allow you to post your comments on articles and Talking Points submissions across the site.