Patterson injury adds to Lampard's selection woes
Tuesday, 5 April, 2022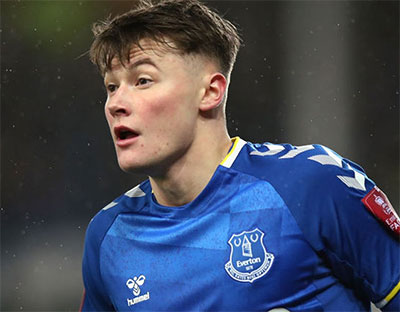 Everton have suffered yet another injury blow this week with the news that Nathan Patterson is out for the season after sustaining ankle ligament damage.
The young Scot was in line for this Premier League debut in the Premier League game at West Ham on Sunday but turned his ankle in training at Finch Farm.
Manager Frank Lampard has confirmed initial fears that he won't play again until 2022-23 as the injury will require a small operation that will preclude his participation in the season run-in.
Patterson only joined the Blues from Rangers in January this year and has played just 45 minutes of football, that as a starter in the FA Cup 5th Round tie against Boreham Wood.
Article continues below video content
He joins Andros Townsend and Tom Davies on the longer-term injury list.
---
Reader Comments (56)
Note: the following content is not moderated or vetted by the site owners at the time of submission. Comments are the responsibility of the poster. Disclaimer
Barry Hesketh
1
Posted 05/04/2022 at 14:26:35
Unfortunately the young Scot requires surgery and is likely to miss the rest of the season. Van de Beek is not fit enough for tomorrow's game and cannot play against United due to the rules relating to loan players. Seamus has been ill and may or may not make tomorrow's squad.

Michael Lynch
2
Posted 05/04/2022 at 14:39:44
I'm lost for words. Not just the worst squad and board in our history, but also the unluckiest.
I was looking back at some of our games this season, and ended up watching highlights of the home draw with Spurs. Not only a late borderline VAR red card, but a penalty decision struck off by a borderline VAR decision - and to compound it, the ref had halted play to give the pen when we were still in possession, but restarted with just the usual drop ball.
We've had so much bad luck (and so many bad decisions) go against us this season, I've actually forgotten half of it.
Still, Delph is back tomorrow.
Derek Taylor
3
Posted 05/04/2022 at 14:59:55
Nothing lost, really. Lampard didn't want to play him, anyway !
Gary Jones
4
Posted 05/04/2022 at 15:01:01
For anyone who believes in "Fate" Micheal, all the signs are certainly very ominous! Patterson felt like a potential slingshot, but unfortunately the bow broke on us, and the stone has fell harmlessly to one side.
Hopefully against Burnley we can minimise changes, perhaps as simple as:
Pickford
Coleman Godfrey Branthwaite Mykolenko
Doucoure Holgate Iwobi
Gray Calvert-Lewin Richarlison
Hopefully get a few ahead before bringing Delph in for Iwobi to see out the game and get him some minutes ahead of the weekend (where he should play next to Allan in the middle). If we're chasing, bring on Rondon and Dobbin and leave Calvert-Lewin and Richie on for some long balls.
Still very lightweight at the back and midfield now. Mina, Delph, Allan, et al hurry up and get well. Hire a witch doctor or something quickly.

Joe McMahon
5
Posted 05/04/2022 at 15:30:07
We will be struggling to fill the bench again and have 2 keepers.
I can't help feeling the writing is on the wall now. Any team that concedes 5 at home Watford deserves no place I'm the PL. Champions league ha, never. It's been years in the making and the peoples club are just an embarrassing entity with Blue (he's one of us) Bill.
We will never hear the end of it come the end of the season when that lot parade several Trophies, and it will be Hell.
Jim Bennings
6
Posted 05/04/2022 at 15:32:41
Bunch of absolute glass players.
You can only moan about bad luck for so long but we've got too many players that are all piss weak.
I remember in the 90's relegation battles the likes of John Ebbrell and Joe Parkinson taking painkilling injections to play games.
What exactly is the problem with the likes of Yerry Mina and Fabian Delph for instance?
If they are not physically fit enough for the game then perhaps they ought to look elsewhere for a career.
Paul Hewitt
7
Posted 05/04/2022 at 15:39:31
I really think players are trained to breaking point. I don't remember things like this in the 70's and 80's
Barry Hesketh
8
Posted 05/04/2022 at 15:51:28
Joe @5
Everton Football Club is facing what is perhaps the biggest crisis it has ever dealt with and you want us to concern ourselves about how the neighbours react - that's one of the reasons we are in such a pickle, we spend far too much energy and time worrying about their club and their fans.
Nothing will or could upset me more than Everton getting relegated, I really don't give a stuff what they do or how much stick they give out to us, because watching Everton in the Championship will be far far worse.

Dave Williams
9
Posted 05/04/2022 at 15:57:42
Well said Barry. Absolutely the only thing that matters is that we stay up. How we manage it and how well RS do is not important. If their fans give us stick either smile or tell them where to go!
Mark Ryan
10
Posted 05/04/2022 at 16:05:02
Get well soon to the lad, that's all I can say. He's a real prospect and a long term fit for RB after Seamus. A good win tomorrow and then destroy Manure. Re-set in the summer. C'mon you blue boys, make us proud again Wed night UTFT
Phil Smith
11
Posted 05/04/2022 at 16:05:38
Hopefully Kenny starts, as her offers something going forward from the right, and Seamus comes on to protect our lead. I'd play Branthwaite as well, as he's a beast of a lad and adds pure height back there. Only a fool would play Holgate and Godfrey at the back against Burnley. I'd stick with Mason in the middle. Offers that extra cover for corners etc. He's got to adapt quickly though, as there were too many times where he offered the defence no out ball in the middle.
Christy Ring
12
Posted 05/04/2022 at 16:12:59
Joe# 5 I don't care about the other shower, us surviving this season is all I care about.
We have Delph back in the squad for tomorrow night, he started 5 games in the last two seasons, unbelievable, the gym and training ground must be lethal.
Alan J Thompson
13
Posted 05/04/2022 at 16:19:01
Jim(#6);Are they the same injections that nearly ruined Michael Ball's career? I would hope those days are behind us but Michael Keane's extra large boot for one foot says differently.
Robert Tressell
14
Posted 05/04/2022 at 16:24:48
Phil # 11. Completely agree with you. The general shape against W Ham was quite good - with Holgate doing his bit.
We should keep the same structure with the only changes being:
- Branthwaite for Keane, straight swap absolutely vital to combat Weghourst.
- Gordon for Gray
- possibly Rondon for DCL if (as appeared against WHU) DCL is not fit
So very marginal tweaks to formation. But having advocated us bring deep away, I'd suggest we go for a very high line at home.
Burnley have no pace but will aim to pin us back and pick up 2nd balls if we play deep.
Branthwaite and Godfrey are lightning compared to anything they've got.
Jack Convery
15
Posted 05/04/2022 at 16:25:39
Is Finch Farm built on a former sacrificial burial ground ? There's something going on. Get fit soon Nathan. Hopefully your op will go well.
Paul Kossoff
16
Posted 05/04/2022 at 16:27:55
Anyone who thinks Everton are not a jinxed club surely now must agree that we are. I've said it before. But our only hope is that Jesus is a blue and will intervene to save us. In God we trust. Coyb.
Brian Harrison
17
Posted 05/04/2022 at 16:33:23
Barry 8
I think 0-2 down to Wimbledon in the last game of the season was the biggest crisis this club has ever faced, hopefully this time it wont again go to the last game of the season. I was surprised that nobody asked Frank what was the possibility of Dele getting a start anytime soon. I think to combat Burnley's aerial threat Branthwaite has to play as neither Holgate or Godfrey as a pair are good enough in the air. Without Allan our midfield holds no fears for the opposition, and as I keep saying who is going to score the goals, as no matter who he selects we don't score enough goals.

Joe McMahon
18
Posted 05/04/2022 at 16:39:40
Barry and others, I don't care about that lot either, but it just depends on how many of their more violent type followers you are surrounded by and the dogs abuse that comes with it.
Tony Twist
19
Posted 05/04/2022 at 16:44:16
Should have played him from the off, now we get zero benefit.
Dale Self
20
Posted 05/04/2022 at 16:49:49
Let's take it easy and obviously send some good wishes to the lad for his recovery. Frank was not likely to select him in this run of games. Just figure out how to stay with Wout Weg without losing shape in the back. His holdup play and ability to find a creative pass is impressive which will require midfielders to follow players' runs into the box area. Given the overall performance against West Ham it is not worth getting fearful about. We can do them. Not going down!
Jack Convery
21
Posted 05/04/2022 at 17:03:17
Is Finch Farm built on a former sacrificial burial ground ? There's something going on. Get fit soon Nathan. Hopefully your op will go well.
David Bromwell
22
Posted 05/04/2022 at 17:08:30
Well I have just listened to Frank's press conference, and as usual he is difficult to fault, and I am pleased he is our manager.However, for tomorrow and the remainder of the season we will require our fair share of luck, and Frank himself will have to be more proactive with his game management. Too often I fear we have let games slip away from us and Frank has been too slow to use the players on the bench. Surely we are due a good team performance and a comfortable win, say your prayers tonight.
Nick Page
23
Posted 05/04/2022 at 17:10:44
Jack I'd have brought in a priest years ago. The place is cursed. Probably some kopite witch doctor from Timbuktu. Has a ST in the Kemlyn Rd
Ray Robinson
24
Posted 05/04/2022 at 17:14:19
Whatever you think about him, Keane will be a big loss tomorrow. Branthwaite has to play up against Weghorst. Play Godfrey to counter Cornet and have Coleman against McNeil (good but not the quickest). Holgate to partner Branthwaite in the middle. DCL will also be needed to defend from corners and free kicks. They will be slinging high balls in from the halfway line - at any opportunity. I'd even consider playing Begovic in place of Pickford. Master the aerial bombardment and we might even nick this one.
Brian Murray
25
Posted 05/04/2022 at 17:27:52
Nick post 23. Only one curse at el four and it's living breathing robbing the oxygen of someone who know what they are doing.
Geoff Lambert
26
Posted 05/04/2022 at 17:30:42
Going with the glass half full attitude this time, I think if we win this one we will be safe. 7 points ahead of Burnley and 6 ahead of Watford with a game in hand. Should give the whole club a boost if we manage to pull this one off.
Jay Harris
27
Posted 05/04/2022 at 17:32:09
I would consider playing Seamus in front of Kenny to prevent McNeill from swinging crosses in and getting forward when we are on the front foot. with Brandthwaite a straight swap for Keane.
Hopefully Delph is fit otherwise the height of Holgate may prove useful with Doucoure rounding off the MF
UP front Gordon, Richy and DCL/Gray.
Anthony Dove
28
Posted 05/04/2022 at 17:41:03
I am sorry for the lad particularly if he now misses
Scotland's play off game(s). As far as Everton are
concerned he can't really be rated a big loss as he's
not been picked in any league games since he arrived.
Also difficult to envisage Lampard choosing him ahead
of Seamus and Kenny in the crucial matches ahead.
Eddie Dunn
29
Posted 05/04/2022 at 18:26:52
The fact is that this team only turn-up at Goodison when there are 36,000 home fans to back them or boo them.
They have let us down on the road apart from that distant win at Brighton and the draws at Chelsea and Man U.
The team will be unbalanced due to injuries and Lampard's weird preoccupation with wingers with no end product.
Gordon, Gray and Richarlison fail to get crosses into the box. Iwobi looked the only one who could pick a through ball at West Ham. Dribbling gets us nowhere and quick one -touch passing is the way to expose the lack of moblilty of Burnley's centre backs.
I would pack the midfield and leave one of the wingers on the bench. I would play Branthwaite for his height and push Holgate into midfield again.
I would play Dele off Domenic with Richie left midfield- he can defend the wing as well as anyone. Gray has been greedy and shows no inclination to pass, so Gordon starts for me.
If we look toothless then throw Dobbin or Rondon on not another flippin winger.
Nick Page
30
Posted 05/04/2022 at 18:49:21
Brian @25 - I bet he has a season ticket in the Kemlyn Rd too. Probably next to each other
Brian Wilkinson
31
Posted 05/04/2022 at 18:59:54
Have we got Dr Crippin at finch farm, never known a team suffer so many injuries.
Oh well for what's it's worth I will put down my 3 changes for Wednesday and reasoning why, I have my tin helmet ready for incoming flak.
The first change already made with Keane suspended, Time to see what Branthwaite can add to the defence.
The second change I would make is Begovic in goal, purely for tactical reasons, Pickford is a great shot stopper, his weakness for me is set pieces and commanding his area, Burnley have some big lads and will target set pieces, Begovic will come for the crosses and just feel he will deal with set pieces better, the last two clean sheets we had was with Begovic in goal, with the defence looking a lot calmer on both occasions.
The third and most controversial change I would make is Rondon for Calvert-Lewin, for whatever reason Calvert-Lewin is just not doing it, however as an impact sub, could turn things around later in the game after a kick up the backside.
Now my reasoning for Rondon is simple, we use him to free up space for Richarlison, Rondon is used to a scrap, his best years are behind him, but he can still make a nuisance of himself, Burnley will kick anything above ground level, hopefully will be able to draw a few fouls and yellow cards from their defence early on, by the time Calvert-Lewin comes on, a couple of their players could be walking on egg shells with already picking up a yellow so will give Calvert-Lewin a little bit more freedom later on.
If we leave Rondon out and start with Richarlison as the striker, then again Burnley will kick the shit out of him, likewise with Calvert-Lewin, they will target those two players from the off, that is why I would start with Rondon.
There is a case of starting Dobbin, but that's not going to happen, so for me we use Rondon.
We need to finish strong, so doing the above gives us the best chance, in the second half.
Colin Glassar
32
Posted 05/04/2022 at 19:04:19
We are reaping what we have sowed over the last 40 years. Incompetence, cretinism, ineptitude, nepotism, corruption etc…. The crows have come home to roost.
We, the club not the fans, deserve everything that's coming our way. Maybe relegation will free us once and for all from the negligent fuckers who have run us into the ground.
Give the rebuilding job to Rooney next season. He knows the championship and loves our club whatever you think of him.
Wrong thread, sorry
Tony Abrahams
33
Posted 05/04/2022 at 19:07:40
Quite a few people are saying they would play Rondon, and I'd love him to end up being the irony of how we stayed up. He can't run, but Dominic doesn't look like he wants to run either, and with Rondon being the more naturally aggressive player, this is something that might not be a bad idea Brian, especially because Lewin, is still not quite right from his injury.
Brian Murray
34
Posted 05/04/2022 at 19:13:37
Anyone feel the loudness of the clock ticking even if you are in work or with family. If this is good times you can keep it. Just another nightmare season and I just want closure.
Kieran Kinsella
35
Posted 05/04/2022 at 19:38:05
Delph, Gomes, Davies, Keane all absent. we must be blessed not cursed. They are all useless. Experienced? yes but experienced in cowardly failure and mental weakness, nothing more.
Danny O'Neill
36
Posted 05/04/2022 at 20:58:35
I don't think there's anything controversial about suggest Rondon. When fit he can hold the ball up and we'll need that. I said on Sunday, I just wonder if he'd been an option to come on we might have got something. Especially that free kick at the death.
Alex Short
37
Posted 05/04/2022 at 21:09:56
I would start Begovic in goal because he commands his area as far as corners and free kicks are concerned. Pity we didn't keep Ellis Simms, although he's only playing in the Scottish League, he's showing intelligence in finding spaces in opposition boxes and finding the net too. His weakness seems to be heading.
Danny O'Neill
38
Posted 05/04/2022 at 21:22:10
I get what your saying Jim Bennings, but from the players' perspective, what did that type of medical "treatment" do for Ebbrell and Parkinson? It arguably contributed to finishing both their playing careers early.
It's a debate indeed. More than ever, we want the here and now. We want Everton to win tomorrow. We want Everton to stay up. We don't care if they have to play through pain and it gives them longer term problems. We want short term.
But in the modern game, their careers are generally looked after better by professional medical staff thinking of the player.
I know the counter argument; I'm a supporter too. That's why I said generally.
That said, and to slightly contradict myself, the likes of Delph actually astonish me. I suppose you will always get that and have always had it. Was it Louis Saha who apparently wouldnt play unless he declared himself 100% fit (who is ever that?). What a wasted talent he was.
And Finch Farm is clearly built on an ancient burial ground.
Rob Halligan
39
Posted 05/04/2022 at 21:27:20
Brian # 31. I agree with your choices of bringing Branthwaite and Begovic in. Both are well over six foot tall, I think Begovic is around 6' 6", so height in our defence will be essential tomorrow night. I would play Godfrey alongside Branthwaite, with Mykolenko and probably Seamus at full back. Still not sure about Rondon though. If he does start instead of DCL, then he needs to run his nuts off for an hour, whilst giving that yard dog Tarkowski a few sly digs, or leaving a few stud marks around his ankles. Burnley had no hesitation in taking one or two Man City players out on Saturday, so they won't need asking twice by Dyche to do it again tomorrow. I can see a sending off tomorrow, just hope we don't make it four sent off in a row.
Brian Wilkinson
40
Posted 05/04/2022 at 21:29:05
It's the Black Cat, Danny, from the Wolves game that strolled on the pitch.
We have been cursed ever since mate.
Phillip Warrington
41
Posted 05/04/2022 at 21:40:53
I read on the BBC website how Frank feels like he is in a relegation fight, the fucker should have felt that from the start.
I said from the start he was the wrong choice and still believe it; even if we survive, it will be the same shit next year. We have a manager now who thinks he can play fantasy football with a squad that can't produce the basics of football.
Danny O'Neill
42
Posted 05/04/2022 at 21:41:06
That's key Rob, we have to stand up to them. We should every game but we know what they're like. They'll fancy this one. We have to more so.
Little shit Brian. I should have taken my Ridgebacks to that one.
Tony Everan
43
Posted 05/04/2022 at 21:49:23
I can see the sense as well of starting Begovic. With the young lads at centre back the extra security with his height will be an asset as there will be plenty of long punts into the box, and a good few corners and free kicks to defend.
Dave Abrahams
44
Posted 05/04/2022 at 21:57:48
Good thread this, I wish the players had 25% of the fighting spirit of our fans I doubt if we'd have much to worry about.
Begovic and Rondon for tomorrow, doubt if Lampard will leave Pickford out though, Rondon should play some part in this game, he'll let the Burnley defenders know they are in a game.Up and at them Blues while keeping your calm.
Danny Baily
45
Posted 05/04/2022 at 22:16:12
Begovic is a no brainer. Best feet forward tomorrow. Winning these games will be much easier than slogging our way back into this league.
Pete Gunby
46
Posted 05/04/2022 at 22:20:41
I wish I could see the Rondon that many of you do. Every time I watch he is second to the ball and can't get a shot off. Unfortunately, DCL seems to have forgotten how play so I guess it's a coin toss….same can be said for Dele Ali. On Sunday we were killed by 5 stupid mistakes. Holgate's foul, Keane's 2 fouls, Iwobi's poor touch while Keane roamed out of position. Thankfully, the cause of 60% of those problems will be banned tomorrow. Keane has been the worst player in the league this year and should be sat until June. Beat Burnley, flog half the squad and start over next year.
John Raftery
47
Posted 05/04/2022 at 22:27:31
I read Frank says he doesn't feel tense. He feels excited. Maybe there is more than enough tension among supporters. Excitement? I very much doubt it.
I am hoping we see some pragmatism in his selection and tactics. I worry that we won't. We have a rookie manager still learning about the realities of life at a struggling club. Tomorrow night nice management and nice football won't cut it. The team must be prepared for an ugly battle.
Paul Birmingham
48
Posted 05/04/2022 at 22:32:39
Brian, @31, yes, this makes total sense in my view, and let's give Dyche and his defence something to think about, and I hope Rondon gives out more than he takes.
He will know all the shit tricks, and hopefully he can rumble the Burnley defence.
Begovic, is a commanding keeper in the box and has so far a calming effect on the team.
But Burnley will smell blood, Dyche will know this is his game to get a chance of escaping the drop,
Let's pray the Everton turn up tomorrow night. A must not lose game, in a very tough run of fixtures.
Character and guts, very questionable in this squad on a consistent basis, but let's hope tomorrow is further improvement on West Ham, and Everton can deliver and get the points else at least a draw.
Kieran Kinsella
49
Posted 05/04/2022 at 22:40:04
Pete 46
Familiarity breeds contempt. Any time someone isn't seen for a bit people will start forgetting how crap they are. People were hammering Begovic in the cup games and saying Rafa should be sacked for signing Rondon. Now they the great hope. The real hope is DCL Rich and Gray. They can make a difference if they choose too. The rest are no better than a ToffeeWeb select team
Geoff Lambert
50
Posted 05/04/2022 at 22:53:04
Kieran! Spot on man, the absent saviours will always come in and save the day.
Next transfer window we should get 40 million for Rondon and about the same for the seven foot 5 inch world class keeper.
Dale Self
51
Posted 05/04/2022 at 22:53:52
I can back the Rondon suggestion to lessen DCL's burden (perhaps a late sub) but Pickford stays in because his distribution is far better and it could be crucial against a side like Burnley.
It's Burnley. Studs Up Motherfuckers! Not going down! UTFT!!!!!
Kevin Dyer
52
Posted 05/04/2022 at 22:57:30
Feel bad for the lad, but hope he can make a full recovery and be given a chance to show his stuff next season, hopefully in the premier league!
Can see the argument for Begovic but zero chance Lampard will drop his no.1 goalkeeper. DCL will start but if he's ineffective then Rondon should be thrown on as should have happened Sunday. Midfield as per last game, same with the formation. Defence, Coleman comes back in if fit. Branthwaite for Keane. A point would be a good result but a win is a decent possiblity. A loss is unacceptable.
Peter Carpenter
53
Posted 05/04/2022 at 23:09:55
The perfect storm. He looks good in a couple of internationals, so some higher force takes him out. We are doomed.

Brian Wilkinson
54
Posted 05/04/2022 at 23:38:16
Pete@46 starting Rondon tomorrow is purely tactical for me, he will give as good as he gets, he knows what it is to be in a relegation scrap, try and draw a couple of fouls and bookings from Burnley, it then gives Calvert-Lewin an easier run in the second half.
If we start with say just Richarlison, or Richarlison and Calvert-Lewin, Dyche will target his team to get in hard against them two.
It is clear Calvert-Lewin is just not up to speed at the moment, try and take the wind out of Burnley early doors, if one or two of their defenders get a yellow card, they will be less inclined to trying to put Calvert-Lewin in row z in the second half.
That's the way I see it, a plan b.

Alan J Thompson
55
Posted 06/04/2022 at 04:30:24
Is this what we've come to, picking the team on size?

Si Cooper
56
Posted 06/04/2022 at 13:37:39
The manager will be slagged off, no matter who he selects, if we lose or don't compete.
They score from a cross into the box with Pickford in goal and it will be obvious he should have picked the goal mouth 'dominator'. If Begovic gets robbed whilst dallying on the upfield punt because no-one is open, then Pickford's distribution will be the only factor that should have been considered.
I just want whoever plays to not make any stupid mistakes and then maybe we have the foundation for the win.
---
Add Your Comments
In order to post a comment, you need to be logged in as a registered user of the site.
Or Sign up as a ToffeeWeb Member — it's free, takes just a few minutes and will allow you to post your comments on articles and Talking Points submissions across the site.