Lampard fined for comments following Anfield derby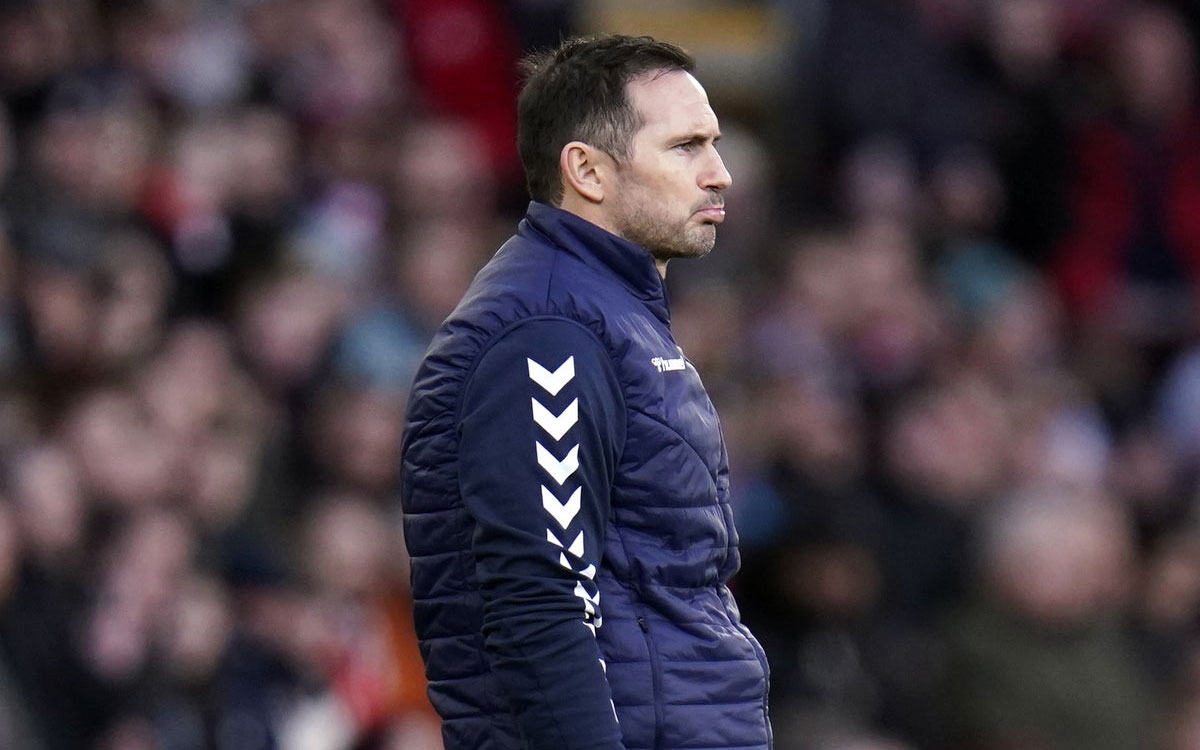 Frank Lampard has been fined for the comments he made about the officiating during Everton's defeat to Liverpool in April.
An independent regulatory commission fined the Everton manager £30,000 after upholding a charge against him for breaching FA Rule E3 in relation to media comments proven during a personal hearing.
Lampard was incensed by the match officials' failure to award two penalty kicks for the Blues in their 2-0 defeat and intimated that opposition teams "don't get" such decisions at places like Anfield due to the intimidating atmosphere and the stature of the home club.
Lampard denied that his comments constituted improper conduct that implied bias and/or attack the integrity of the match referee but his appeal against the charges was unsuccessful.
---
Reader Comments (79)
Note: the following content is not moderated or vetted by the site owners at the time of submission. Comments are the responsibility of the poster. Disclaimer
Stephen Vincent
1
Posted 31/05/2022 at 12:46:14
So Frank Lampard is fined £30,000 for the Salah remarks.
Sounds to me like he refused to apologise. Excellent, good on him.
John Kavanagh
2
Posted 31/05/2022 at 14:19:29
Stephen V. 'An independent regulatory commission' - yeah like the Donetsk republic is independent of Russia.
Speaking the truth to the FA or Premier League powers is an expensive business nowadays. How dare Frank speak the truth that every supporter outside of the Sky 6 knows. Just look at the penalty stats for/against Liverpool at that place.
I hope he told them to fuck off and pays the fine in pennies.
Alan J Thompson
3
Posted 31/05/2022 at 15:38:55
All behind closed doors while if Frank comments he will face more charges?
Eddie Dunn
5
Posted 31/05/2022 at 15:47:05
They have taken half of Seamus!
Ajay Gopal
6
Posted 31/05/2022 at 15:50:44
Ha.. ha.. good one, Eddie. What Lampard said was nothing but the absolute truth, the Premier League ought to be ashamed of themselves.
Unless the quality of refereeing in the Premier League is sorted out, they can't claim to be the 'best league in the world'.
Danny O'Neill
7
Posted 31/05/2022 at 15:54:20
Keep telling it how it is. Eventually it will be heard.
Rob Halligan
8
Posted 31/05/2022 at 16:08:03
Utter joke. With Jon Moss and Mike Dean both retiring this summer, no doubt we will be graced with two new utter buffoons next season, who will straight away adhere themselves to the so-called Big 6 clubs, and particularly the RS.
We may well have the best league but, without a doubt, we definitely have the worst officials anywhere in the world.
Brian Murray
9
Posted 31/05/2022 at 16:13:32
Been said many times, that's why they are never part of a big tournament. It's corrupt to the core in favour of, as you say, particularly Liverpool.
Even their own said as much. Mark Halsey, ex-ref, admitted they were encouraged to give the big money global earners for the Premier League (ie, Liverpool) the big decisions.
Barry Cowling
11
Posted 31/05/2022 at 16:16:20
They seem to run this like a dictatorship, with no rights of appeal outside the game, and the louder you shout the more you get shafted (unless of course you are one of the big clubs).
Honestly, it's unbelievable in a free society that you have no freedom of speech, for basically being open and honest. Remember the old saying 'the truth hurts'…
Jack Convery
12
Posted 31/05/2022 at 16:24:19
£30k for telling the truth. How corrupt is this Premier League? Absolute disgrace.
What do they do with this money – pay it out in expenses to themselves I suppose. It should at least go to grassroots football in Merseyside.
Dale Rose
13
Posted 31/05/2022 at 16:54:49
FA, Fucking Arseholes. The truth will cost you £30k.
Mal van Schaick
14
Posted 31/05/2022 at 17:11:38
What about the fact that we were denied a penalty that could've cost Everton their Premier League status?
In the close season, shame the FA for their treatment of Everton.
Graham Hammond
15
Posted 31/05/2022 at 17:17:43
I sincerely hope that the club pays Frank Lampard's fine on his behalf. It is little wonder nothing ever changes if they do not.
The club should pay his fine (whilst also making comments on all the injustices that have come our way) and tell the world that it has done exactly that and why it has and back him up.
We all need to be united, and freedom of speech should be allowed and encouraged! Dark forces.
George Cumiskey
16
Posted 31/05/2022 at 17:21:50
If anyone watched the Championship Playoff Final on Sunday, they would've witnessed the worst refereeing and use of the VAR I've ever seen, and Moss is getting a job in the refereeing hierarchy after that diabolical display. Says it all.
Brent Stephens
17
Posted 31/05/2022 at 17:54:55
Offer to pay £60k if you can have a good old rant.
Tony Everan
18
Posted 31/05/2022 at 18:05:29
Mr Moshiri should pay it and give Frank a pat on the back for trying to defend the club in the face of some very disappointing decisions. About 90% of neutral fans would probably agree what is said was totally accurate.
I can understand the FA don't want anarchy but, if nobody says anything, nothing's going to change.
Tommy Carter
19
Posted 31/05/2022 at 18:21:50
So they're creating a system where you cannot even challenge them, or their decisions.
In the absence of any kind of explanation from the officials themselves as to why a penalty was not awarded, and the decision making that went behind that, then Lampard is absolutely entitled to hypothesise about the reasons why – until such evidence is provided to shut him up (the explanation).
However the only evidence that exists is the incident itself, which the majority of people who have viewed it, including ex Liverpool playing pundits, agreed should have been a penalty.
Officiating is a 'policing' of the game almost. And this Policing system, where decision-making cannot be questioned or you're met with severe punishment, seems almost like a policing style of East Germany!
Mike Doyle
20
Posted 31/05/2022 at 18:46:08
Rob # 7,
On a purely 'need to know' basis … any close season club gossip from ITK contacts within Finch Farm or your Calderstones Park dog-walking circuit?
Danny O'Neill
21
Posted 31/05/2022 at 18:54:47
This has properly wound me up.
Frank, I know it will never happen and I know it's not £30k, but I'll buy you a drink if I ever meet you. Keep speaking out against the warped establishment.
Fuming. The poor dogs. They are looking at me with concern.
Rob Halligan
22
Posted 31/05/2022 at 18:55:16
Mike, will keep you informed if and when I bump into Seamus or Anthony Gordon when I'm on dog walking duties, and they have any gossip they are willing to share!!
Stan Schofield
23
Posted 31/05/2022 at 18:56:41
Lampard could simply fail to pay the fine, whilst openly reiterating the comments he made. The outcome would be interesting.
Sometimes in life, a bit of brinkmanship is required.
Mike Gaynes
24
Posted 31/05/2022 at 19:05:14
IMO there is no way in hell that Frank will be out-of-pocket for this fine.
He will write the check and be quietly reimbursed by his owner.
Darryl Ritchie
25
Posted 31/05/2022 at 19:09:52
Ignore them. Don't pay anything. The ultimate protest. What can they do? Banish him.
Christine Foster
26
Posted 31/05/2022 at 19:15:39
I know this sounds daft, but if a fund me campaign to all supporters were made, irrespective of club, as a protest, it would place the arrogant self serving, cheating, incompetent referees organisation in an embarrassing position. Or, every manager chips in to pay the fine as a protest...
I can only applaud Frank for speaking the truth, the game is brought into disrepute every week with a global audience by the bias and incompetence of those appointed to act in a fair and impartial manner. It's simply not right and is impossible to justify.
Keith Gleave
27
Posted 31/05/2022 at 19:19:43
The FA stink. You tell the truth, you get fined. The refs are incompetent
Christine Foster
28
Posted 31/05/2022 at 19:23:23
Perversely, if we had been awarded that penalty against Man City and scored, the other lot would have been Premier League Champions as a result. Funny.
Oliver Molloy
29
Posted 31/05/2022 at 19:29:25
The game is corrupt, who the fuck is this "independent regulatory commission" – anyone know?
Danny Murphy maybe!
Anthony Murphy
30
Posted 31/05/2022 at 19:45:05
Can they fine the owner, CEO or Chairman of a club too? If not, do something useful for once — speak up and back your manager!
Mike Price
32
Posted 31/05/2022 at 19:47:41
Rob #7,
Couldn't agree more…those two penalty decisions against little Huddersfield were beyond belief. If that happened against Liverpool it would end the referee's career, it would be the first news item on every outlet for weeks and there'd be questions raised in Parliament.
The VAR has just introduced a much easier way of favouring so-called bigger teams. Rather than having to favour them on the spot, in the full glare of the stadium and tv, they can carefully craft their bias by selectively choosing what to focus on whilst hidden hundreds of miles away.
The penalties we've been denied recently compared to the VAR telling the referee to look at the Jota penalty against Watford. If you looked hard enough, or not, you could give a penalty every time a corner goes in the box.
I just hope Frank keeps up the pressure on this institutionalised favouritism towards Liverpool. Every time anything slightly goes against them, Klopp is screaming from the rooftops bringing massive pressure on the officials for the next game.
Peter Carpenter
33
Posted 31/05/2022 at 20:02:18
Worth everything penny. Give them the full Seamus, Frank (Eddie 4 - made me laugh out loud, that one)
John McFarlane Snr
34
Posted 31/05/2022 at 20:11:15
Hi Christine [27],
When I was much younger, and the prizes were less linked to the astronomical figures they have reached today, I was of the opinion that if the referee "didn't see it" then it didn't happen.
My faith and trust in the game now has reached rock-bottom, when blatant fouls and other incidents are overlooked, by not only the referee in charge of the game, but also the VAR.
The game has always been fraught with mistakes, but I believe that they were honest mistakes. It reinforces for me, the saying, "Where there's money there's corruption" and I echo the views of those who consider that speaking your mind should not be punished.
I'm not aware of any other manager, who has (according to those who administer monetary punishment) received a £30,000 fine for questioning the performance of a referee.
It's no wonder that Everton supporters believe that there is a vendetta against the club, I also believe that the club should do everything they can to have that fine rescinded. So much for the "Beautiful Game".
David Currie
35
Posted 31/05/2022 at 20:27:33
John Mc Snr 33,
Good post, Do you think in 1977, when Thomas denied us the win against that lot in the FA Cup Semi Final, was a mistake or corruption?
I believe it was corruption and I think the same in 1984 in the Milk Cup Final with the Hansen handball, I was at that game.
Has Gerrard been fined for his comments after the recent game against that lot, when he slagged off the referee??
Christy Ring
36
Posted 31/05/2022 at 20:40:37
When Mike Riley apologised to Frank and the club after the shocking mistake by Tierney and Kavanagh against Man City, neither were stood down for the next game, it stinks.
Didn't Klopp say to Tierney after the Spurs game this season, "I've no problem with referees – only you" and no action taken by FA, double standards.
Tim Welsh
37
Posted 31/05/2022 at 20:41:32
1) Will Klopp be fined for his comments regarding fans travelling to Paris without legitimate means of entry to the stadium?
I think we all know the answer to that one. His comments could have precipitated more dangerous consequences than anything that Frank said.
2) I think that we as supporters of Everton should 'club together' to pay as much of this fine (and may be more...) as we can for Frank. Not because he can't afford it – we know he can – but to show solidarity with an Everton manager who has had the guts to comment upon what we have experienced for decades.
How do you start a Crowd Fund for this sort of thing? Anyone help?
Christine - your comments are always so incisive and apposite, and never more so than in your posts on this thread. Thank you.
John Kavanagh
38
Posted 31/05/2022 at 20:47:27
John Mc. @33 Perhaps we should lodge a case with the Court for Arbitration for Sport against the FA for failing to ensure that matches are officiated in an unbiased manner and for showing persistent bias in the application of its rules concerning post match comments.
This would, for the first time, take matters out of the control of the corrupt and incompetent FA and its minions at PGMOL.
Bernie Quinn
39
Posted 31/05/2022 at 21:09:02
Rather late in reading this article, so it has already been said and I agree with all the posts. The FA are anti-Everton and this fine was expected even though Frank merely told the truth. I hope he continues to do so and that the Club pays all his fines.
Colin Gee
40
Posted 31/05/2022 at 21:39:25
Every time there's a dodgy decision against us next season, when asked about it in the after match inverviews, Frank should just say I can't comment on that, as it will cost me 30 Grand...
Dave Abrahams
41
Posted 31/05/2022 at 21:41:24
As Alan says @(3), all this review of Frank's remarks after the derby game were taken behind closed doors.
Couldn't have Frank asked to be heard in the presence of this independent commission and state his case there, bringing the evidence of the incident where Everton were denied a penalty which seemed to be pretty obvious to most people including many neutral observers?
Is this decision final, can it be appealed against?
Why is the fine so big, seems bigger than any previous football fines?
Is Everton FC going to question this penalty?
Are we, as a club, being victimised for some reason, being blackmailed into silence?
Are the club's solicitors having a look at this very heavy penalty for just stating an opinion based on fact?
Are the club looking to do anything about this decision or just meekly accept it like Philip Carter did when we were banned from Europe because another club's supporters misbehaved (?) at a game?
I think we all know the answers to the questions I have asked.
Rob Halligan
42
Posted 31/05/2022 at 21:55:01
Funny how a manager can run to the centre circle to celebrate a goal, and only get a maximum £8k fine, yet a manager, for merely speaking the truth gets a fine almost four times as much!
Will Mabon
43
Posted 31/05/2022 at 22:07:22
Might be time to test the efficacy of the new Uefa-Europol system to address suspected match-fixing, by making reports when questionable shit happens.
Would be interesting to see the response, should they receive dozens/hundreds of emails about an occurrence. It obviously won't change anytime soon at Premier League level unless they feel some discomfort.
Robert Williams
44
Posted 31/05/2022 at 22:11:21
John K @ 38.
'Perhaps we should lodge a case with the Court for Arbitration for Sport against the FA for failing to ensure that matches are officiated in an unbiased manner and for showing persistent bias in the application of its rules concerning post-match comments.'
Hear Hear!! Excellent suggestion – but who lodges the case?
John McFarlane Snr
45
Posted 31/05/2022 at 22:15:38
Hi David [35]
I too attended both games, maybe I was naive in thinking that the Clive Thomas decision was a genuine mistake, although I can recall reading that the linesman queried the decision only to be told to "Watch the television tonight and you'll find out".
Regarding the Hansen handball, I was at the tunnel end of the ground but subsequent television coverage has proved that it could or should, have been a penalty.
I believe that any corruption, if that's what it amounts to, was the result of the Premier League's participation with Sky Television, and I was disappointed when the Breakaway Six decided to abandon their greedy plans.
Phil (Kelsall) Roberts
46
Posted 31/05/2022 at 22:19:35
Ron Atkinson had the best quote:
"I never comment on referees and I'm not going to break the habit of a lifetime for that prat."
Christy Ring
47
Posted 31/05/2022 at 22:23:10
How much were the greedy clubs who tried to walk away from the Premier League and tell the FA what to do with their league fined?
Rob Halligan
48
Posted 31/05/2022 at 22:27:19
Will Mabon
49
Posted 31/05/2022 at 22:34:01
Rob - as sure as the day dawns.
David @ 35 - Hansen still has the imprint to this day.
Brian Murray
50
Posted 31/05/2022 at 22:36:12
John Mc Snr. Me too! I was at both games and, from then on, I genuinely believe the FA and Premier League are terrified of Liverpool or at the very least influenced by them as a cash cow globally. So it's obvious refs and now the VARs follow suit.
In at least nine derbies over the years, we have been denied by a ref – and that's not bitter, just a fact. I can reel them off starting with the Alan Waddle derby at Goodison.
Derek Thomas
51
Posted 31/05/2022 at 22:37:33
The Premier League want their 30 pieces of silver for betraying football.
John McFarlane Snr
52
Posted 31/05/2022 at 22:51:36
Hi Brian, [50],
It's my opinion that the worldwide popularity of Liverpool and Manchester United etc, is the direct result of Sky Television, and I believe that, if the truth be known, Sky would have hated Leicester City winning the title.
I'm not one to claim knowledge of television and advertisements, but I would hazard a guess that they would have preferred one of their more popular favourites to have clinched the title.
Christine Foster
53
Posted 31/05/2022 at 23:10:29
Transparency:
"Transparency in business is the basis for trust between a firm and its investors, customers, partners, and employees. Being transparent means being honest and open when communicating with stakeholders about matters related to the business."
Change the business for football and what is transparent is that it doesn't exist within the confines of the FA.
In not allowing transparency, they open themselves, rightly in my opinion, to accusations of match-fixing or corruption. Sound ridiculous? If Everton drew against Man City because of the decision not to give a penalty, City would have lost the title. That's match-fixing.
Corruption? The brand. Football as a showcase must have its brand leaders, they are protected by those with vested interests, especially the FA and Premier League. Sky pays the money, gets the brand, Sky sell more, Premier League get more.
Christy, spot on, what did the breakaway group get fined for the most disgraceful show of two fingers to the FA and the Premier League? Massive, biggest ever, show of disrespect to other clubs and breaking of rules. Disrepute? The word doesn't even come close. Result? Not a penny.
That's why the game now is corrupt.
John Snr. Absolutely agree, honest mistakes or those not seen have been eradicated by the VAR. But bias is now clear to all.

Christine Foster
54
Posted 31/05/2022 at 23:13:42
"
Truth? You can't handle the truth! "
Never has a finer line even spoken.
Nick Page
55
Posted 31/05/2022 at 00:03:58
Best Everton song ever this:
Oh Everton, oh we love Everton.
Great day out but Kenwright done us over the dirty parasite.
Need more of this next season.
Pete Clarke
56
Posted 01/06/2022 at 00:22:39
Absolute corrupt politicians of our game who have zero respect for one of England's most decorated footballers and yet quite happily bend over to the likes of Klopp and Guardiola because of money.
Even worse is that our so-called leaders have not come out in support of Frank Lampard probably because they have accepted our place as also-rans in this two-horse race.
Makes you sick and actually puts you off the sport altogether.
Peter Carpenter
57
Posted 01/06/2022 at 00:29:51
35 and 45, Thomas was a pompous little twit with a massive opinion of himself, one of those arrogant '70s referees who thought the crowd had paid to watch him. He was just desperate to be the centre of attention at any cost.
Plenty more evidence: Brazil v Sweden 1978 World Cup. Mere mention of the horrible man's name makes my blood evaporate.
Peter Carpenter
58
Posted 01/06/2022 at 00:40:31
Brian Murray
59
Posted 01/06/2022 at 00:49:25
Oh and for the record, Clive Thomas was the idiot who disallowed a clean header from Mick Lyons in the Alan Waddle derby of 1973, I think, which would've won us the game.
Same ref in 1975, another Lyons goal v Fulham in the FA Cup which would've been the winner.
And of course the 1977 FA Cup semifinal at Maine Roadv them again. Both linesman had ran to the centre circle but he had to make a name for himself once again.
Put him with Clattenburg Graham poll, Robinson etc as robbing us of derby wins. Robinson was the Milk Cup and in the 1986 FA Cup Final, Sharp dragged down by Nicol when we were one up.
Am I mentally scarred? Probably.
Bernie Quinn
60
Posted 01/06/2022 at 01:51:49
Bloody hell, Christine at 53 & 54… Is that really you?
I know you are strong-minded – but here you are really outspoken! Must say I agree with every word in your posts.
I keep saying there is corruption at the top – there's too much evidence proving it. I hate the way it is always 'behind closed doors' – clearly hiding how they protect the favoured Sky Six. It was always thus in the Premier League.
Keep hitting those computer keys, Christine – you say it as it is.
Laurie Hartley
61
Posted 01/06/2022 at 03:30:57
Tommy #19,
So they're creating a system where you cannot even challenge them, or their decisions.
Sounds familiar that. ;)
Bernie Quinn
62
Posted 01/06/2022 at 03:55:24
Now I am annoyed too. The FA has become a dictatorship with 'closed doors' etc.
Just who are the members of the FA?
How were they elected and for how long?
Who wrote the Rules governing the Premier League?
It is time for a change so everyone has a fair deal?
Why not a board, comprising of say 5 members elected from the current FA Members - plus 5 members elected from clubs from the lower part of the Premier League - and 5 neutral members from other Sports such as Cricket, Rugby, etc? All members elected for a limited period – say 3 years.
All meetings are to be open and transparent, and any person charged with a breach of rules, to be allowed to appear, bringing a "Friend of Court" with him as we did in the Police back in the day when I was a member.
And how about putting a ceiling on transfer fees and players salaries? Plus the number of players a Club is allowed to have. It would be a fairer playing field for the smaller clubs.
I could go on but really – what's the point?
Christine Foster
63
Posted 01/06/2022 at 03:58:13
Bernie, just as well you weren't here when Kirkby was going on. I have taken the edges off but I confess that some things really need fixing with Everton, football in general, and the fact that most people think football didn't exist before the Premier League.
Watch out though, just warming to the challenge!
Ernie Baywood
64
Posted 01/06/2022 at 04:58:07
Of course he got fined. He made a statement where he alleged bias and incompetence in the way refereeing of games is undertaken in the current system. That's a fine all day.
Now, once he's paid the £30k, maybe the FA could set about understanding why he made that statement and how they can fix their broken refereeing system.
Eddie Dunn
65
Posted 01/06/2022 at 07:15:05
Yes, Ernie, and if we all continually complain on all media available (and fans of other clubs too), then they might be forced to become more transparent.
At present, our club are so nervous about upsetting the powers-that-be (due to us treading on eggshells over our FFP fiasco) that Lampard is left to fight on his own.
We are not the only club to receive dodgy decisions and there are millions of fans who feel the same as we do.
It has got me to the stage that, when the lad scored for Real Madrid, I just couldn't raise even a smile until the check had been carried out. The spontaneity has gone.
The opportunity for meddling and corruption is there for play to be brought back for tiny margins early in any move.
Once again, I use Rugby Union as an example of how it can be used with the ref's mike allowing us to hear the chat with the video ref and explanations for awarding whatever they decide.
The current VAR system stinks, and it actually opens-up officials to be accused of taking back-handers because of its obtuse nature. Or is Mike Riley (one of the most odious and inept chinless wonders of the past) to stand behind whoever is watching in Stockley Park and give the thumbs-up?
David Currie
66
Posted 01/06/2022 at 07:25:31
Rob 48, Thanks and no surprise he didn't get fined.
Will 49, We were cheated out of a win that day.
John Mc Snr 52, I wanted the so called big 6 to leave and form the Super League. English Football would have been fine without them.
Pete 56, If it wasn't for Everton, I would never watch the Premier League and now only watch our games.

Shaun Robinson
67
Posted 01/06/2022 at 08:00:58
John @ 52.
When Leicester were top of the league that season, the man in charge of the Premier League (Peter Scudamore?) said he would rather have Man Utd winning the league as it was better for the "brand".
Anthony Murphy
68
Posted 01/06/2022 at 09:11:56
Can I appeal to Liverpool, Man City, Man Utd et al – please, for the love of all that is good in the beautiful game, could you do the honourable thing and fuck off to the Super League you wanted.
Take with you all that stinks as well as your hoardes of plastic armchair, self entitled consumers who increasingly make the game a less authentic experience.
Bernie Quinn
69
Posted 01/06/2022 at 09:12:51
Christine,
I was here; just not a member of theT offeeWeb Club. Having my heart problems! But I still read all your posts. Looking forward to seeing you get all fired up again!
Lynn Maher
70
Posted 01/06/2022 at 10:23:37
Perhaps the FA, and any other supposed sporting bodies, could answer this: Why has not a single British referee been chosen for the World Cup?
I can only assume the rest of the footballing world knows how totally incompetent they are!
Mr Bean springs to mind.
Chris Jones (Burton on Trent)
71
Posted 01/06/2022 at 11:32:26
Shaun 67; shows what Scudamore knows. I watched the final day of the season in a bar in Crete. All the staff there were fixated on the Citeh and Red Shite games, commenting on numerous times that the reason the Prem is best is because nothing is a foregone conclusion, any team can win on the day (eg as spoken as Citeh were 2:0 down to Villa and the RS being 0:1 down at home to Wolves).
P Ron Wells
72
Posted 01/06/2022 at 11:35:45
It is the VAR officials who should be fined for incompetence or bias. Or some referees banned for working the corrupt system. But that would suppose an honest governing body, which it is not.
I will believe it is honest when penalties are given against Liverpool at Anfield, or not given to Salah and Co at Anfield, not before.
Len Hawkins
73
Posted 01/06/2022 at 12:45:16
Stating the truth is a crime according to the FA.
It is akin to finding a large amount of money taking it to the Police Station and being arrested and jailed for theft, if you can't speak the truth without fear of censure then you cannot challenge anything concerning the FA.
If that is not a dictatorship of empty headed morons then I don't know what is.
Keep up the pressure Christine in fact anyone going to the FA Disciplinary should take you with them.
Ernie Baywood
74
Posted 01/06/2022 at 20:58:39
Just read that Jon Moss's vinyl shop in Leeds has been vandalised/smashed up. Obviously no-one thinks that's okay.
But it leaves me in a difficult position. I can't condone it. But I also wonder whether it's the act that finally gets the people behind the VAR system to actually consider what they've done.
They had all the technology in the world to get that decision right and they didn't. Because they have implemented a system that promoted the ref not making a decision, and the VAR not being able to correct it.
They seem to think they're protecting referees from embarrassment or loss of credibility due to having decisions overturned. They're not, they're instead ruining a game that millions love deeply.
And they may now realise that fans complaining, managers complaining, players complaining, pundits complaining... Was the bit they should have listened to rather than censored.
The idiots who did this are responsible, but those behind the VAR played their part.
Si Cooper
75
Posted 02/06/2022 at 23:17:43
I think plenty of refs are incompetent and apt to favour the 'big' clubs due to subconscious bias, but some people are stretching things into corruption and conspiracies which I don't think exist.
Gerrard basically called Moss incompetent but he cleverly didn't say he would have given decisions the other way.
Man Utd and Liverpool were internationally known and supported before Sky and the Premier League came to be.
I don't disagree with what Frank said but the authorities are never going to admit their refs are poor enough to not be able to view things purely objectively. You will see similar things in society all the time.
Tell people they have made a mistake and you might get a mea culpa; insinuate they are fundamentally flawed and not up to the job and they will close ranks.
Christine Foster
76
Posted 02/06/2022 at 23:31:05
Sorry Si, have to disagree with you. Whilst I agree that people become defensive when criticised, there comes a point where the level of incompetence and bias against teams has to be questioned.
It's not just Everton, many clubs are at the wrong end of decisions in a season but few, if any, are in the Top 4. Does this mean they are so much better at the game that it would be hard to believe they would commit a foul because they are Man City or Liverpool or Chelsea?
Decisions go against clubs with poor players probably because they commit more fouls, it's common sense, but clear-cut decisions should be impartial. So are we just unlucky?
When you see how the Top 6 clubs are treated by the FA, the media, and referees, you cannot dispute there is an agenda to ensure the brand is preserved. I said it before and I firmly believe, we are the perfect patsy for an FA without transparency, to show they are doing a job without harming the brand of the Top 6.
Justin Doone
77
Posted 03/06/2022 at 07:42:19
Although I agree there is too many poor and inconsistent refereeing decisions and VAR interventions I don't believe in an anti-Everton agenda.
Sometimes we don't help ourselves.
Richarlison and Gordon have dived or gone to ground far too easily at times and deservedly picked up needless yellows. Sadly they haven't won the free-kicks they deserve because of this. We as fans get fed up with it so I'm sure referees do too.
I take comfort in that, compared to what goes on in many other national leagues, ie, South America, Asia and other European countries, we have a pretty high standard of referees and fairness.
But there's always room for improvement.
Bernie Quinn
78
Posted 03/06/2022 at 07:56:06
Justin @ 77 You must be pulling our legs with your posts! There is definately an anti-Everton bias against us and as for Referees being fair etc,
Just how many British Referees have been chosen for the World Cup games? The answer is ZERO — that's how good they are!
Danny O'Neill
79
Posted 03/06/2022 at 08:09:17
Agree and disagree, Justin.
There isn't an anti-Everton agenda per se. There is just incompetency amongst officials in the game on an increasingly obvious and industrial scale that impacts most clubs.
Even given previous misgivings over the years, it's on a scale that I've never previously witnessed. They appear totally star-struck and seemingly beholden to the media. Until they are held to account and made to explain their decisions (live or post-match), they will continue to hide behind the protective screen they are afforded. If managers have to do it in the heat of the moment, then why not officials?
I would predict that, if they did have to explain decisions, they would, over time, think twice about the decisions they make. Especially with the benefit of video technology that should make it clear and obvious. But they've even messed the implementation of that up. Call me paranoid, but I can't help thinking it keeps pundits in a job. The VAR system should be simple. I can see it. You can see it. We can see it. But what would the pundits do without the drama?
So to your point. It's not just Everton that suffer. It is the many whilst the few benefit. It's obvious. It's not the technology. It's incompetence bordering on passive corruption to the favoured few.
Start-struck officials backed by a star-struck media.This is our game.
Just as we took our club back this season, we need to take our game back from the grip of those who have jumped on the Sky generation bandwagon.
Sorry for the morning rant.
James Hughes
80
Posted 03/06/2022 at 08:42:46
Danny, I have to agree with all of that post, sir, well said.
incompotent star-struck officials backed by a star-struck media sums it all up perfectly.
Too many errors to mention but the one that typifies what you say is the Allan red card awarded by the VAR. How that was not reversed on appeal defies belief.
Bernie Quinn
81
Posted 03/06/2022 at 08:56:36
Thank you, Danny, for your morning 'rant' – I wish I had said that but I was so gob-smacked at the time!
Ray Roche
82
Posted 03/06/2022 at 09:15:31
Justin @77
You say, "Richarlison and Gordon have dived or gone to ground far too easily at times and deservedly picked up needless yellows."
Correct, they have. But how many 'deserved' yellow cards have been issued to Salah, Sterling, Jota etc for similar performances? Salah in particular has made diving an art form yet how many cards does he get?
Referees show, maybe subconsciously, a slight bias to some 'big' Clubs to prevent the tsunami of criticism that they would receive if they were to administer a second yellow to Salah et al for 'simulation'.
---
Add Your Comments
In order to post a comment, you need to be logged in as a registered user of the site.
Or Sign up as a ToffeeWeb Member — it's free, takes just a few minutes and will allow you to post your comments on articles and Talking Points submissions across the site.