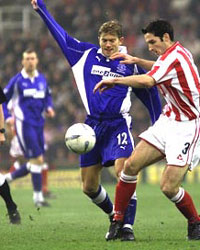 Squad No.
12
Joined
Nov 2001
Joined from
Manchester Utd
Transfer Fee
Free Transfer
Signed by
Walter Smith
Debut
v Sunderland (A),
22 December 2001
Finalé
v Blackburn (H),
28 Apr 2002
Left Everton
18 May 2002
Born
Umeaa, Sweden
Date of birth
5 February 1974
Height
5' 9" (175 cm)
Nicknames
Honours
Swedish International (29 caps)
Website
STRENGTHS
Great speed
Good going forward
Difficult to defend against
Previous Career
Seasons
Club
Appearances
Goals
1994-1996
IFK Gothenburg (Swe)
69 (4)
18
1996-1997
AC Milan (Ita)
13 (7)
1
1997-1998
Parma (Ita)
24 (4)
1
1998-2001
Manchester Utd
20 (5) + 9 (4)
1


Blomqvist cost Manchester United £5m when he signed from Serie A side Parma in 1998 to challenge Ryan Giggs for the left wing spot at Old Trafford. However, thanks to a devastating knee injury that sidelined him for the best part of two seasons, Everton were able to persuade Sir Alex Ferguson to part with Blomqvist for free on a short-term contract in the hope that he could return to full fitness.

Despite a return of just one goal (ironically against Everton at Goodison Park) for United, Jesper proved to be a valuable component in United's squad rotation system and he helped the Red Devils win the much-coveted European Champions Cup in 1999. Indeed, that dramatic Final against Bayern Munich was to be his last meaningful contribution to United's cause as he was struck down with injury soon afterwards.

After two seasons with IFK Gothenburg and three in Serie A with AC Milan and Parma, Blomqvist arrived at Goodison Park with an impressive pedigree, but he had to wait a month before making his Everton debut because of an injury setback while trying to regain match fitness.

His impact on the side when he did start playing regularly was promising and occasionally decisive (he scored the crucial winning goal against Sunderland in January 2002, his first in a Blue shirt) but was undermined by instability in the Everton midfield.

Injury then struck again, and Walter Smith was long gone by the time Blomqvist got back into the Everton first team... only to receive the icy cold steel blue glare of Moyes's eyes when he dared to question being substituted at Chelsea.

As the traumatic 2001-02 season drew to a close, the pressure was on for Everton not renew any terminating contracts with aging has-beens or players that had attracted the displeasure of the new autocratic manager: Blomqvist (perhaps a little unfairly) fell into this category and was released despite featuring in most of the games under David Moyes, until that testy substitution; he did not start another game.

He eventually joined Charlton but only made three sub appearances in the Premiership, and one FA Cup game, deciding at the end of a dreadful 2002-03 season that he would return to Sweden. It took him two years before he finally announced his retirement from the game, at the relatively young age of 31.