Fan Photos from Nuremberg
By
ToffeeWeb
: 10/11/2007 :

Comments
(14) :
It was a night to remember in Nuremberg, not only because of the result but also because so many Blues made the trip and did the club proud with impeccable behaviour. Below is a selection of photos sent in to ToffeeWeb by fans who were there.
Bill Twigg
First ever Blue game abroad for my daughter Leanne and myself and it was fantastic. What a trip! what an atmosphere, everyone clearly enjoying themselves and behaving impeccably. Here's to the next one COYB!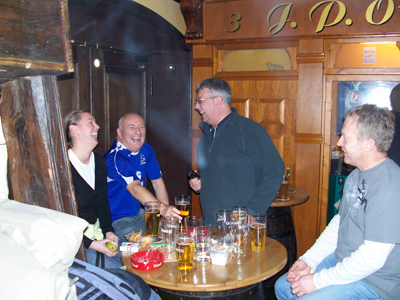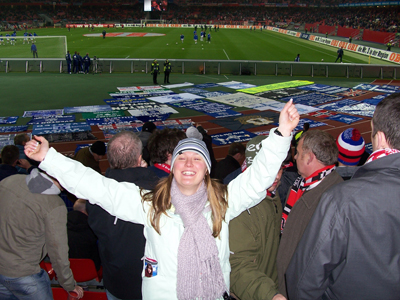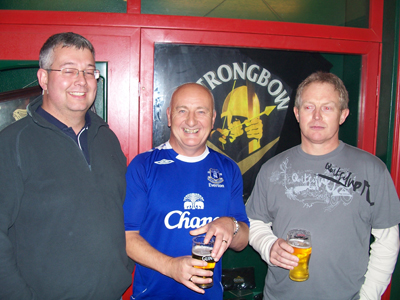 Graeme Holmes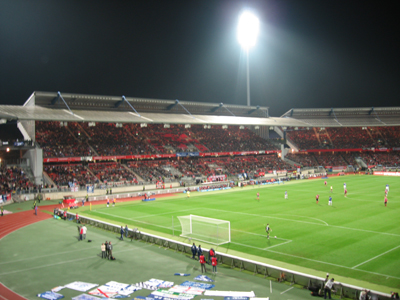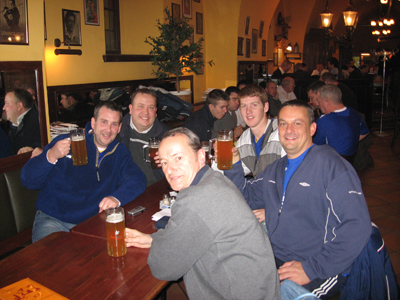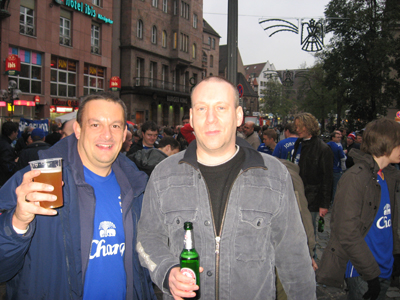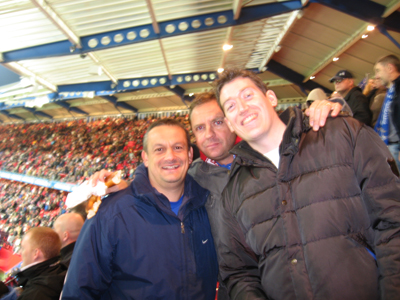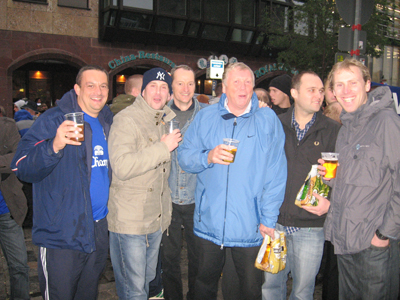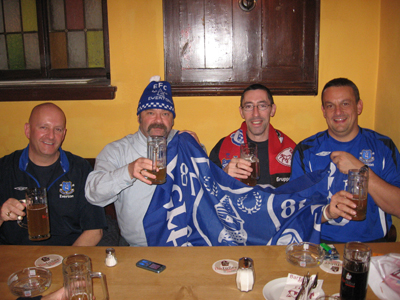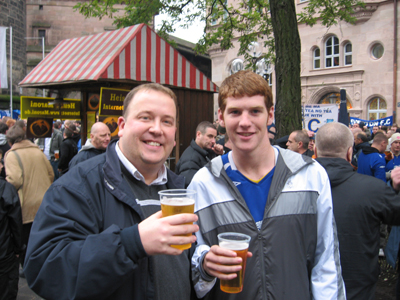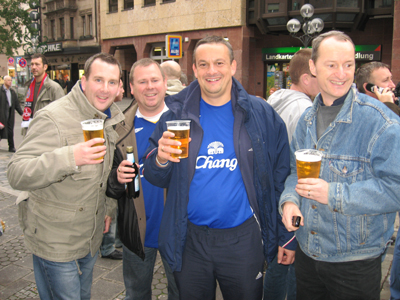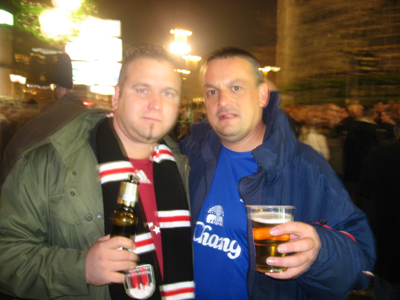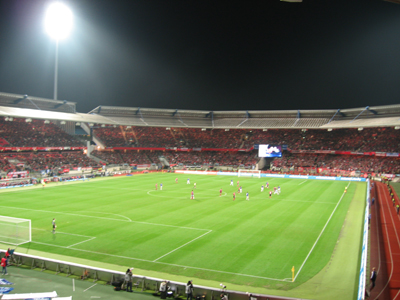 Chris Bennett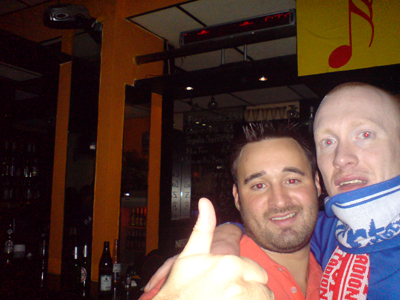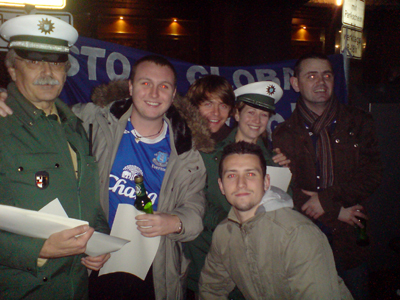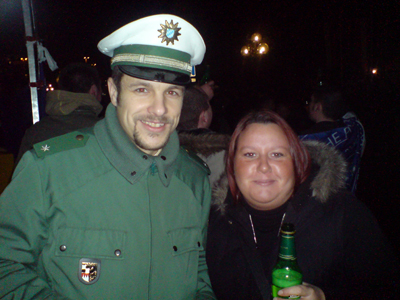 Dominic Eaton
The boys with Kev the Rat!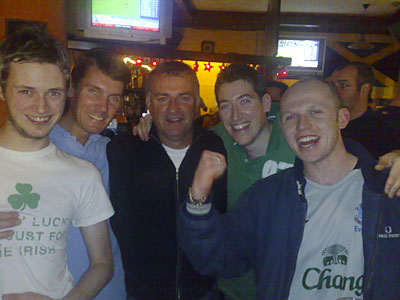 Lloyd Grundy
Pictures from the most memorable day of my life and what a great day it was with true blues, proper fans ? yes, Evertonians! Would be grateful if you could publish them!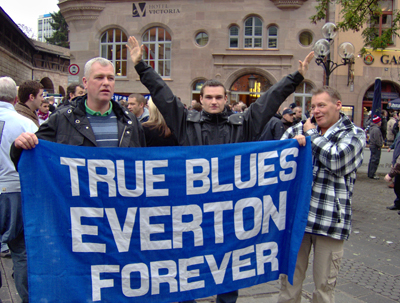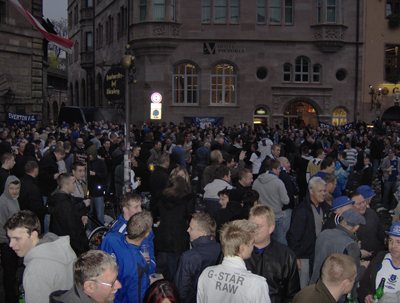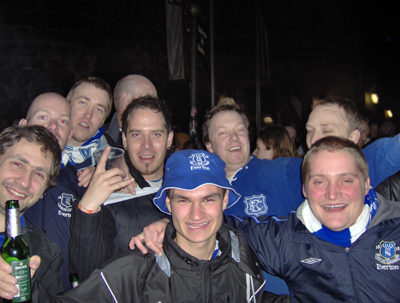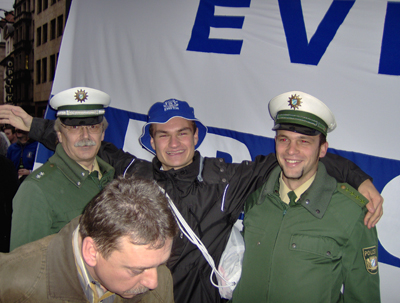 Mick Hoban & Brian Temple
Most of my photos have turned all blurred as we were well hammered when we took them. Here's the ones that are reasonable and include us with Joe Parkinson in O'Sheas bar. Their fans were fantastic and as well as posing for photos, they shook hands with us after the game, despite the fact that we'd been going mental for the last 15 mins.
Absolutely fantastic day and I was proud to be an Evertonian abroad with so many well behaved bluenoses. Must also praise the police. Always present, but always in the background just keeping a watchful eye. I was more intimidated when getting off our plane at Liverpool, at 3:00 in the morning, being filmed by a CCTV police van at the foot of the stairs and being glared down by 2 coppers at front of the plane. They need to take a lesson from our German friends.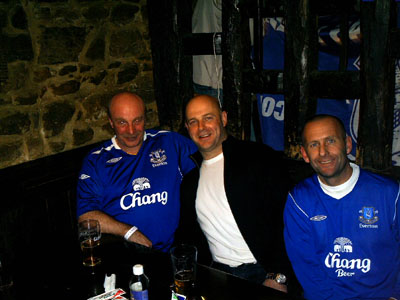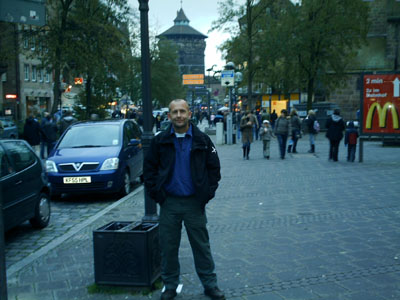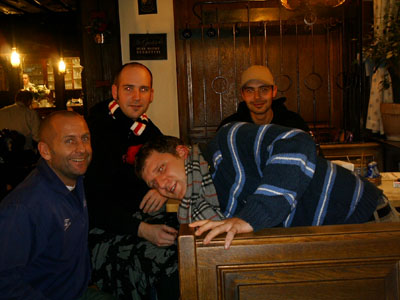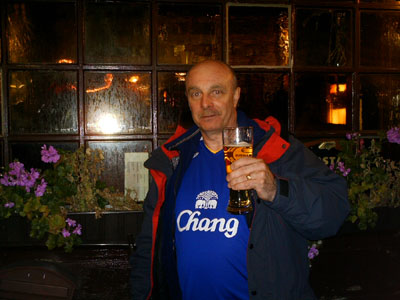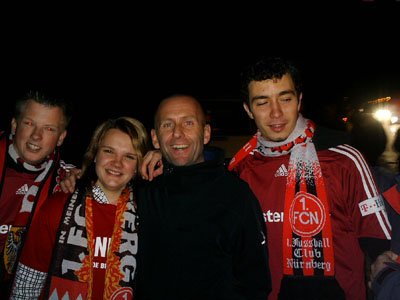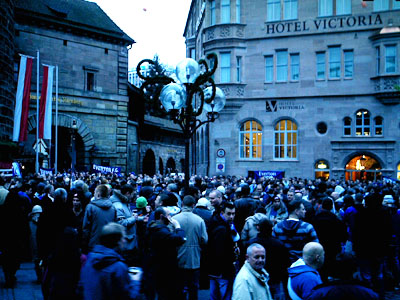 Ann Addlington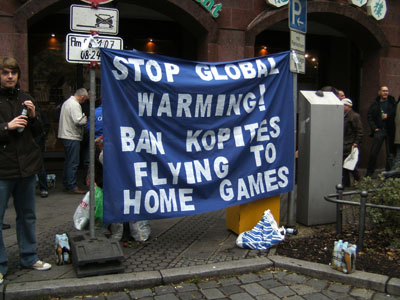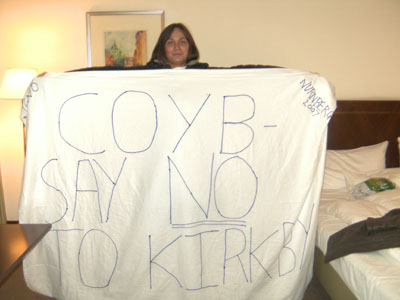 Paul Mercer
"'Photo's of the jouney by train to the ground. An experience I will never forget."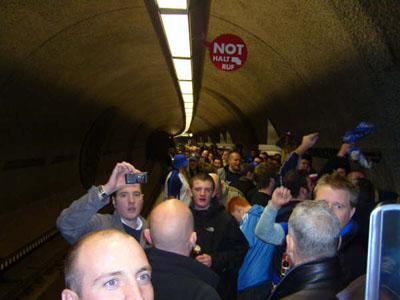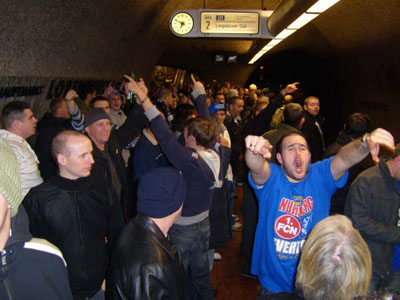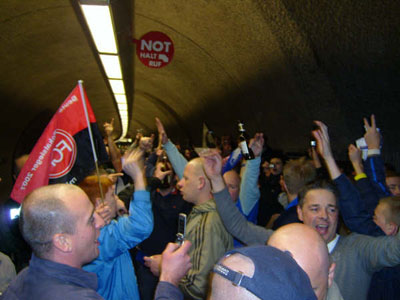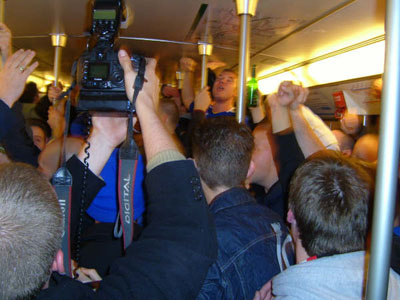 "The 'Best Little Spaniards' spot kick to send us 1 - 0 up!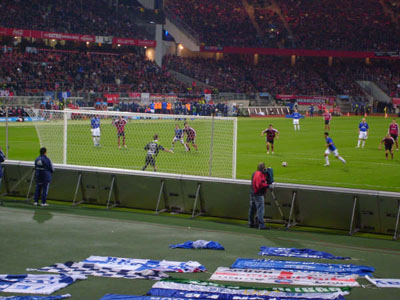 Barry Borrett
"Here are my pictures of Nuremburg. I'm in the picture inside the stadium with my mate Dave."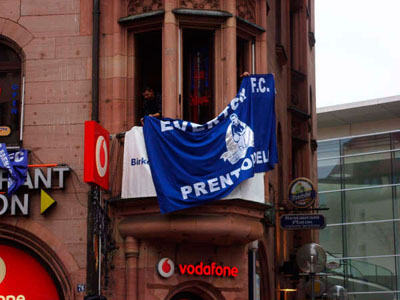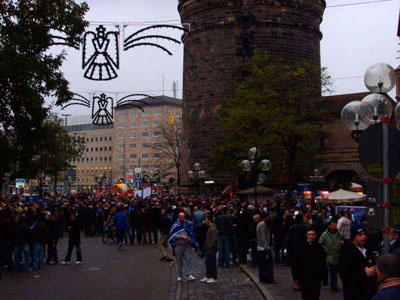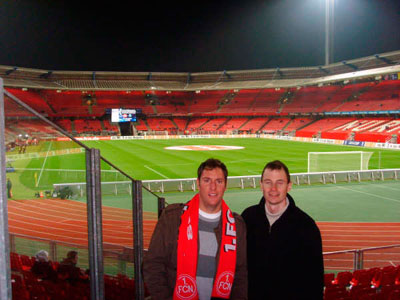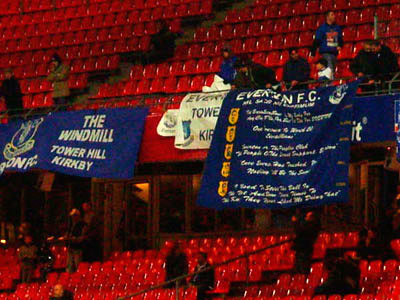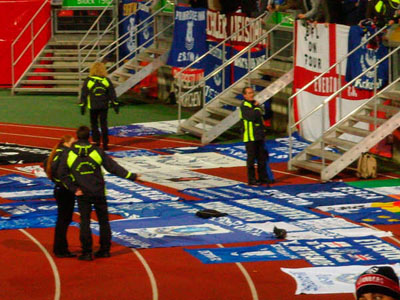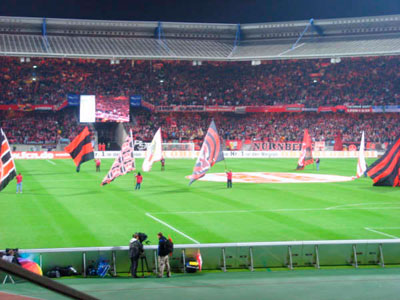 Reader Comments
Note: the following content is not moderated or vetted by the site owners at the time of submission. Comments are the responsibility of the poster. Disclaimer
Brian Denton
1
Posted 10/11/2007 at 22:42:52
Just back from Nuremberg (me amd my mate drove and took in a few stops in nice places on the way back).

What a night! Not quite as good as Rotterdam, but getting there. The main square was brilliant - taken over by Blues with some amazing banners. The most intriguing was the amusing - but perhaps politically incorrect - "MONG BUS ON TOUR".

We went to The Fusser Bar, and the Bierkeller was about the size of Wales. Easy to imagine gangs of Nazis banging their steins on the table and singing. But on Thursday it was a much more pleasant time. Not the Horst Wessel song, but the Mikel Arteta song. And it was great after the game to see a lad of about 12 standing on the table leading the singing. What memories he will take from the night!

The Nurnberg fans were superb. If you'd have told me back in the seventies I could have been singing Everton songs in the home side's beer tent without getting murdered, I'd have never believed it. I really hope they can get through to the next phase with us.

If the editors at Toffeeweb Towers let us carry on putting up pictures (yes, I know it's a bit Blue Kipper) then I will put some up. But somehow I doubt if there'll be a shortage of pics!

If only those b**st*rds at the BBC and Sky could bring themselves to admit that we are not a small club - we are a big club which has fallen on lean times. And don't nights like Thursday feel all the better because we are not a rich man's plaything? Everton are not Bill Kenwright and certainly not Keith Wyness. Everton are the fans, and their fathers and grandfathers before them. Fuck Sky ! !


Jim Lloyd
2
Posted 10/11/2007 at 23:30:41
Brian,
A wonderful post, mate. Proud to be a blue when I read a post like yours. Your last paragraph says it all We're a special club and I hope those in charge are aware. It is up to us now, we are the fans who carry the torch that our fathers passed on to us. From what I've read, seen and heard about our fans in Nurnburg, you have all been a credit to EFC.
Brilliant; keep it going!
Tommy Harris
3
Posted 11/11/2007 at 09:24:53
Paul Mercer, I must have been right by you at the station and on the train, in fact, I'm just on one your pics! No doubt our section of the journey made the most noise :P

One of the best experiences of my life.
Rob Hughes
4
Posted 11/11/2007 at 12:04:03
Got back yesterday at 3.00pm.The whole trip went without a hitch. Did anyone see our flag with the iconic pictures of players down the years on it. It was the opposite side of the goal to the away end. Had loads of lads come over to say what a great flag it was.
Was sat behind Nuremberg fans whilst watching the game, then one sat next to me for the 2nd half. He was saying what a great set of fans we had and what a great team we had. Premier league much better than the Bundesliga. The bierkeller was excellent as was the square by Finnigans before the game, oh, and that train ride to the ground. How the train wasn't de-railed i don't know, but all done with a great sense of fun and good behaviour. Took a carry out from the Aldi to the stadium and got searched by a copper inside the ground. At first he said i couldn't take my bevy into the ground,but i said 'it's alright lad, the bottle's plastic' He then said, ok, sorry i didn't realise......imagine that at Goodison.
Altogether a fantastic experience and well done to Nuremberg for letting us be loud and take over their town.
Ged Hogg
5
Posted 11/11/2007 at 12:14:22
I'm on the train pictures as well - what a brilliant journey to the ground - all the old and new songs - remember the Nuremburg joining in 'If you all hate Bayern,clap your hands' Nice to see you again Brian Denton (McDonalds about 2am after the match)
Brian Denton
6
Posted 11/11/2007 at 12:52:26
Great to see you too Ged. I can even remember seeing you - so I wasn?t quite as pissed as the next morning indicated!
Tommy Kennedy
7
Posted 11/11/2007 at 17:18:22
Got back in from frankfurt yesterday afternoon...id never been to germany before and i must say wot a great country.....had 2 mad nights in nuremburg...felt so tired after the match,but got my 4TH wind when we were all banging our glasses on the tables till about 3 in the mrorning...woke up on friday so ill...then travelled to spend a night in frankfurt...me and the lads said wed have an easy one till we got oreillys near the railway station,were bumped into a load of blues in there,my voice by this time was destroyed...then they threw the karaoke on....cue more dancing and singing till about 4 in the morning!! (never forget the lad stripping off to sex bomb standing on the tables!! ) almost got messy when some german wanted to sing youll never walk aloe...but it soon got turned off!! all in all a great time had by everyone!!.........p.s id got my voice back till cahill scored the equaliser against chelsea!! damn it!! COYB!!
Lee Heath
8
Posted 11/11/2007 at 20:36:49
Great pics. Stadium looked great. Looked like an amazing day. Will make it to an away European game one day. Just hope the boys carry on making progress!!!
Steve Jones
9
Posted 11/11/2007 at 21:06:16
Happy days,,,,,,,,,,,,,,,,,,,,

- Seeing every Evertonian getting a ticket for the game
- Bluenoses wearing Nurnberg hats, shirts, scarves as a disguise to get in the home sections
- a lad with a Nurnberg shirt with Arteta 6 printed on the back
- The flags on display in the HauptMarkt and by the subway to the station, fantastic
- The Shamrock, Alex, O'sheas bars bouncing before the game
- Joe Parkinson and Dave Watson singing its agrand old team to play for when we scored.
- the bierkeller BarFuser absolutely stuffed with blues after the match, a 10 year old leading the singing dancing on a table with most of the ale getting dished out free (well ours was!)

Not so happy days......................
- meeting 15 blues outside the main station all waiting to meet Chris the tout for tickets, it was a bit like red fox meets brown bear / the winter is cold in Russia spy movies
- Taking all 15 lads to the touts room in the hotel to collect the tickets when he never turned up at the station.
- Then finding out we could have bought them at the club shop anyway

Overall though a fantastic few days, everyone behaving themselves the police presence low key but effective and typical efficiency in getting us to and from the ground back to the town for a great night.

Great to travel with Mark ,Adrian and Phil and thanks Martin for the ticket in block 23 - brilliant !
Chris Sinnott
10
Posted 11/11/2007 at 21:47:22
Just got back, stayed out there for a long weekend. Had an amazing time and hopefully many more nights of that. Everyone should be very proud of themselves, I dont doubt the players where overwhelmed by our support. We did the club proud. I and everyone else spent their hard earned money on flights, tickets, spends, hotels but have to say it was well worth it. Blue through and through. Kopites are Gobshites.
Michael Tootle
11
Posted 11/11/2007 at 23:06:51
Had a great time in Nuremberg. People where great and the coppers where great made us feel welcome. Train ride to the game alone was worth the money i paid out for this game .

Well done to the Germans for making this trip so special. Hope they go though with us.
Keith Seymour
12
Posted 12/11/2007 at 15:36:31
Fabulous 3 days in Germany . . . will never forget wednesday night in Finnigans until 4am . . . singing till I couldn't speak anymore . . . Police were brilliant and the locals loved us there . . . only one downside is that my flag and the one next to it got nicked in the afternoon . . . . I can't believe another blue would stoop so low but someone did . . . flag was made 22 years ago for rotterdam and although it was looking a little old now it was sentimental to me.
peter henerty
13
Posted 16/11/2007 at 21:46:31
Went to germany. it was great all the evrton fans singing in and out of the pubs, just shows how good are support is away from home. didnt actually no how many evertonians there was in the ground untill we scored and the whole stadium errupted. had a beast of a time and that flag about stop global warming is good and also true.



jimmy smith
14
Posted 19/11/2007 at 16:40:47
stop global warming stop kopites going anywhere!
Add Your Comments
In order to post a comment to Column articles, you need to be logged in as a registered user of the site.

Log in now
Or Sign up as a ToffeeWeb Member — it's free, takes just a few minutes and will allow you to post your comments on articles and MailBag submissions across the site.
© ToffeeWeb