The not wholly unexpected team news for the trip along the M62 is that Joleon Lescott has been dropped to the bench, with Leighton Baines getting a start. No Anichebe, who was injured on Thursday but midfield and attack look pretty strong with Fellaini returning and Cahill playing behind Yakubu. And Louis Saha on the bench!
A bright start with end-to-end stuff in the first few monies, shots wide form Arteta and Fellaini. A nice move with Fellaini pushing it out to Neville who, after an exchange with Arteta, cut back an intelligent ball perfectly for Osman who screwed his weak shot wide. Osman had another glorious chance but it was blocked by Cahill, one yard in front of him!
At the other end, a dangerous moment when Mendi was played on but Yobo defended well. However, Hull were getting corners and it was off the second on 18 mins when Michael Turner out-jumped Fellaini at the far post and planted the ball rather expertly in the roof of the Everton net. A bit of a shocker!
Everton were creating chances in a very open end-to-end game, with Fellaini heading down superbly to feed a wide open Yak whose superb first-time volley was unfortunately straight at Boaz Myhill. At the other end, Neville conceded a soft free-kick that King rifled just wide.
Hull gained in confidence from their goal, while Everton struggled to create more and struggled to clear their lines when under pressure. Cuzack danced around Jagielka and fired off a shot, always rising.
Arteta's corners were still poor, the first defender intercepting too easily, allowing Hull to sweep down the field once again and put the Blues under more pressure. And the solution: far too many hoofballs as an excuse for pass and move by Everton. When Everton did make a decent move, it seemed to fall down when Yakubu got involved, his final passes being poor.
Motes took action at half-time: Lescott on for Baines, a Castillo sacrificed so Louis Saha could make his debut as the Blues switched to 4-4-2. From a corner, Saha an Yakubu going in on the keeper But at the other end it was a ridiculous own-goal from a corner, Osman and Neville combining to block Howard with no Hull player anywhere near them!!! Howard failing to call for a high ball yet again? 2-0 down and what to do now? Moyes looked decidedly perplexed.
At times, Everton struggled with the basics, unable to build, passing back to Howard or simply giving the ball way. If Everton did get close to the Hull area, Arteta's floated crosses were being far too easily dealt with by the towering Hull centre-backs. Arteta's corners still useless but he did get a good ball forward to Saha whose decent early strike was blocked well by Myhill.
A dangerous free-kick from Arteta was blocked away for a a corner by the two-man wall, and the corner was defended easily. From another laboured attack, Tim Cahill smacked the ball against the underside of eth bar and it bounced down over the line... just! GOAL!
Everton looked brighter, Saha going close, then a fierce ball in form Neville was gathered by the keeper on the line when it looked like someone should score for the Blues. A nice move and an acrobatic strike from Cahill but he was offside. Finally, Everton were playing some football. Saha running into the area, was bundled off, looked like it could have been given as a penalty...
On the next attack, great movement and beautiful combination play between Yakubu and Saha, a superb cross from the by-line and Osman converted delightfully. 2-2!!! Saha had what looked like a chance, from a very narrow angle after the keeper dropped the ball but it hit the side-netting after the keeper pawed the ball behind... but no Everton corner.
Fellaini, booked for an ankle-tap, gave Hull a chance but it was defended well, an Everton built again. Vaughan came on for the Yak, Osman firing just wide from the edge of the area. The wining goal, though, just would not come for the Blues after a spirited comeback... probably all down to Saha coming on, after he'd taken half an hour to recover his match sharpness. Some excellent touches, desire and inventiveness.
Spirited Blues claw back a point
Everton's defensive frailties came to the fore once more in this their first top-flight visit to Hull City's KC Stadium and it took a stirring comeback in the final 20 minutes to spare their blushes and salvage a point against the newly-promoted side.
For an hour of this physical yet entertaining encounter, Phil Brown's plucky outfit who shipped five goals to Wigan in their last home game, looked odds-on to claim a well-deserved victory. The Blues, whose bright start gave way to what appeared to be lethargy after their midweek exertions against Standard Liege, gifted Hull a 2-0 lead with more apalling defending at set-pieces — not to mention their third own goal in as many matches — and were heading for their first away defeat of the campaign before they finally perked up.
After his personal nightmare against Liege, Joleon Lescott was dropped to the bench by David Moyes and Leighton Baines was drafted in at left back. The only other change to the starting line-up was the inclusion of Marouane Fellaini in midfield at the expense of Victo Anichebe who suffered bruising to his shin in Thursday's game.
And it was the Belgian who had the first meaningful effort of the game, a deflected shot that was saved following a delightful spin around his marker in the 5th minute. Immediately afterwards, Mikel Arteta went on a mazy run before cutting inside and slicing disappointingly wide of the target.
Then, in another nice Everton move, Arteta fed Phil Neville on the overlap down the right flank but instead of the usual flighted cross he picked out the run of Leon Osman with a low cut-back but the diminutive midfielder dragged his shot agonisingly wide. It was a great chance and Ossie was kicking himself for not hitting the target.
Osman was to be denied by his own player a few minutes later when more good work by Fellaini set him up for a half-volley on the edge of the box but Tim Cahill unwittingly got in the way and blocked his shot.
Hull, for all their thundering tackles and 100% commitment had looked second best up until that point. Apart from a first-minute half-chance, they had offered little in the opening 17 minutes beyond Bernard Mendy's tricky run and eventual shot from about 14 yards that he blazed well wide.
But then a routine corner, the type of set-piece that has been causing Everton grief at times so far this season, gave the home side the opportunity to take the lead. The ball was swung to the back post where Fellaini was out-jumped by Michael Turner and he buried his header into the roof of the net to make it 1-0.
Everton's initial response almost brought a spectacular equaliser. Fellaini rose to meet a deep cross from the right and Yakubu caught his knock-down sweetly on the volley but, unfortunately, it was straight at goalkeeper Myhill and he was able to block the shot and gather the ball at the second attempt.
From then on until half time, it was a case of Hull looking good value for their advantage and Moyes holding his head in his hands at times as his side struggled to build anything cohesive in response.
Despite the fact that the first quarter of the game had very clearly demonstrated that moving the ball quickly around Hull's box and through their defence was reaping the biggest dividends, myriad long balls from Tim Howard and Joseph Yobo routinely failed to find a blue shirt and the ball immediately came back to put pressure on the midfield and defence.
Fellaini became more and more tentative and indecisive as the half wore on and for long periods this looked very much like the disjointed and unfamiliar team that we expected when the anticipated summer signings that were guaranteed by Bill Kenwright by the start of the season failed to materialise.
In a physical and bruising battle, the Blues were coming off second best and might have gone into the half-time break 2-0 had Marlon King's 26th-minute free kick bent a few inches to the left and crept inside the post or Cousin's neat turn and shot in the box not been deflected over.
Moyes acted decisively after the interval, pulling the ineffective Baines off and throwing Lescott on at left back. More surprisingly but very welcome as it turned out was the introduction of Louis Saha for Segundo Castillo and a switch to 4-4-2.
In truth, the Ecuadorian was perhaps unfortunate to be the one to make way. He had again used the ball intelligently and made his presence felt in central midfield but as the more defensive of the two of himself Fellaini, the decision probably made sense even if the Belgian looked to have lost his way a little.
Nevertheless, it was Fellaini who almost helped provide an Everton goal within 90 seconds of the restart when he got a leg to Arteta's corner and diverted the ball into the path of Yakubu. Myhill bravely threw himself at the feet of the Nigerian and took a knee to the forehead in the process of denying him the decisive touch three yards from the goal line.
Instead of the game being level, however, it quickly tipped even further in Hull's favour with another moment of madness in the Everton defence. Dean Marney whipped another corner in from the left hand side from the home team's perspective but with Osman, Neville and Howard all in the ball's flight path it looked to be a harmless situation. Instead, both outfield players challenged for it, the ball came off Neville's head, hit Howard's outstretched hands and ricocheted into the top of the net. 2-0 and Moyes was no doubt looking for something or someone to kick.
This time, the Blues were slower to respond and it wasn't until Cahill bounced a 25-yard volley wide that they even remotely threatened to make a game of it. After the hour mark, though, they gradually started to get a serious grip on the game and take on the look of a side that finished 5th last season.
As if to illustrate the point, Arteta picked out Saha's run with a beautifully-weighted slide-rule pass in the 64th minute but Myhill managed to parry the Frennchman's first-time shot and the danger was cleared.
Saha and Lescott then had shots blocked from similar distances just outside the area before Everton finally made that pressure tell with 17 minutes left on the clock. Osman controlled Myhill's punch off an Arteta free kick before firing it back goalwards and when Kamil Zayatte could only divert it straight to Cahill, the Australian took one touch before rifling the ball off the underside of the bar and just over the line from about 10 yards out.
Now it really was game on. Everton were in control, Hull looked rattled and it seemed that it would only be a matter of time before the second goal came.
It almost did just two minutes later. Saha — who oozed class throughout and who, it has to be said, was the best player on the pitch by some distance in the second half — tried an audacious curling effort from 25 yards that deflected inches wide. From the resulting corner, Arteta played it short to Neville but somehow the ball eluded all the waiting blue shirts as his low cross fizzed into the six yard box and the 'keeper's grateful arms.
A couple of minutes after that came the first of three penalty claims the Blues would have in the final 13 minutes when Saha appeared to be tripped on his way to goal by Zayatte but referee Lee Mason, who had a mixed afternoon, was having none of it.
Justice, if that's what it was, came 60 seconds later when a beautiful move served up Everton's equaliser for Osman. Saha and Yakubu exchanged passes outside the box befote the former played the latter in behind the defence with a perfect pass and Osman was on hand to acrobatically turn the ball home from the no. 22's cross.
Everton sensed blood and it was Saha again who almost got a winner when Myhill spilled a powerful shot and the French international latched onto the rebound but was denied when the 'keeper palmed his shot from the angle behind.
Perhaps because their tiredness from midweek was finally catching up with them, the finish from Moyes's side wasn't quite as strong as might have been hoped, though, and apart from Osman's smart half-volley from 18 yards that just dipped over with two minutes to go, they didn't really threaten again.
Although a draw at a newly-promoted side would have been a disappointing result on paper before the game, credit should go to the Blues for having the character, the desire and the ability to rescue a point from 2-0 down.
Moyes can also take some of the plaudits for his half-time substitutions, most notably the introduction of Saha who was a revelation running the line with the Yak. One loose pass in injury time aside, the Blues' new no. 9 did everything right and, if he can stay fit, he could be one of the signings of the summer.
The man who was supposed to assume that mantle — and, of course, is still well capable of doing so —Fellaini was a llittle less stellar today and it does look as he is going to take some time adjusting to his new surroundings. His apparent inability to consistently make use of his 6' 4" frame was probably the root of cause of the first goal — indeed, his aerial game needs a lot of work.
Certainly Castillo looks to have settled much more quickly whereas "Mo", as Moyes referred to him an interview before the Stoke game, doesn't yet seem sure of his role in a midfield dominated by Arteta.
In truth, the Spaniard was fairly unconvincing himself and still hasn't found his range from set-pieces but showed flashes of the brilliance of which we know his is capable.
It's in defence, of course, where Everton have shot themselves in the foot in every game so far this season and denied Howard a clean sheet of which to boast. The 'keeper himself must arguably shoulder some of the blame — a clear shout for the second goal might have prevented Neville's calamity — but the team as a whole looked embarrassingly inept at defending set-pieces at times in this game, something that needs to be addressed as soon as possible.
The games are coming thick and fast now and while that won't be welcomed as the legs start to tire, they will at least provide the opportunity for the side to become better acquiainted quickly and to get into some sort of rhythm.
Today was another illustration of the spirit and the talent that exists in this Everton team — they just need to draw on both more consistently and cut out the howlers at the back!
Match Preview
Everton begin a stretch of five games in two weeks this weekend with a trip to Hull City, their second successive Premier League away fixture and the last of three trips to the newly-promoted clubs from the Championship this season.
The first two, to West Bromwich Albion and Stoke City, yielded maximum points and David Moyes will, of course, be hoping to keep that success on the road going by completing the hat-trick of wins against the new boys.
He will be boosted by the return of Marouane Fellaini, who was cup-tied for the Uefa Cup first leg draw with Standard Liege on Thursday, and with Leon Osman fit again, he may be able to play his strongest midfeld thus far this weekend.
The man most likely to give way would have been Victor Anichebe and he may well be rested after picking up a shin injury against Liege that looked more serious at the time than it actually was.
It's at the back where Moyes may ring the key change and replace the faltering Joleon Lescott with Leighton Baines at left back. Lescott had an excellent campaign playing predominantly on the left last season but has struggled for form both there and in his favoured central berth this season and his manager may decided to give him a break to rediscover his focus. Of course, there's also something to be said for leaving him in to gain confidence against one of the less strong teams in the Premier League.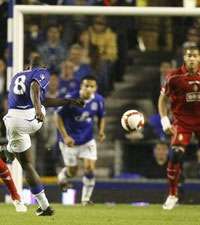 Bang!
Another Castillo cracker wouldn't go amiss this weekend
Tim Howard has apparently been suffering from a virus but is expected to play.
Hull may be unfavoured but they're likely to be unpredictable if their last two results are anything to go by. They lost 5-0 to Wigan on their turf a fortnight ago but then took full advantage of the turmoil at St James Park by beating Newcastle 2-1 last Saturday.
It's the former match that Moyes will no doubt be taking the most interest in, hoping that his men can tear Hull apart in the same way that Steve Bruce's Wigan did.
Former Everton midfielder Nick Barmby will be hoping to shake off a calf injury so he face the club he deserted for Liverpool in a £6m move that, in hindsight, was ridiculous for a player who proceeded to sink without trace.
Having survived the cauldron of the Britannia Stadium and Rory Delap's aerial assault last weekend, Everton will feel confident of dealing with the best of what Hull can throw at them this weekend and then being able to make the breakthrough at the other end.
Matchday Stats
This will be Everton's first match against Hull City in the Top Flight and will ensure that Everton remain the only English club to have played a top flight League match against every other club who has ever played in the highest division of English football.
Everton's record versus Hull City:
| | | | | | | |
| --- | --- | --- | --- | --- | --- | --- |
| | P | W | D | L | F | A |
| Division Two | 6 | 3 | 0 | 3 | 10 | 5 |
| F.A. Cup | 6 | 1 | 3 | 2 | 8 | 10 |
| TOTALS: | 12 | 4 | 3 | 5 | 18 | 15 |
Our record at Hull City:
| | | | | | | |
| --- | --- | --- | --- | --- | --- | --- |
| | P | W | D | L | F | A |
| Division Two: | 3 | 1 | 0 | 2 | 3 | 3 |
| F.A. Cup | 3 | 0 | 2 | 1 | 2 | 4 |
| TOTALS: | 6 | 1 | 2 | 3 | 5 | 7 |
Everton's last match against Hull City was on 7 January 1964 when two second half goals from Alex Scott and Brian Harris cancelled out an earlier Hull strike resulting in a 2:1 victory in an F.A. Cup 3rd round replay.
Our last match at Hull, was the original match of the above replay with Alex Scott scoring in a 1:1 draw at Boothferry Park.
This will be Everton's 21st match on 21 September:
| | | | | | | |
| --- | --- | --- | --- | --- | --- | --- |
| | P | W | D | L | F | A |
| Premier League | 2 | 0 | 1 | 1 | 1 | 2 |
| Division One | 17 | 6 | 4 | 7 | 30 | 29 |
| League Cup | 1 | 1 | 0 | 0 | 4 | 3 |
| TOTALS: | 19 | 10 | 5 | 4 | 36 | 23 |
Everton's last match on this day was in 2003 which resulted in a 0:1 defeat at Middlesbrough through Job's 6th minute goal.
Milestones that can be reached this game:
If he plays, Mikel Arteta will be making his 100th appearance in English and Scottish football
* Unfortunately, we cannot control other sites' content policies and therefore cannot guarantee that links to external reports will remain active.