Cahill to make MLS move
23/07/2012

Comments
(167)
jump to end
Club confirm Australian set for NY Red Bulls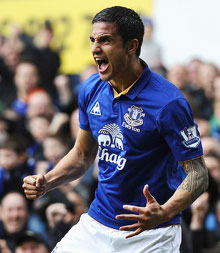 Tim Cahill is on the brink of his Goodison exit with a move to New York Red Bulls after Everton confirmed that they have accepted a nominal fee — reportedly £1m — from the Major League Soccer side for the Australian icon.
The news comes eight years to the day after he joined the Blues from Millwall for £1.5m, an outlay that would prove a steal as the forward went on to become Everton's most important player of the past decade.
According to evertonfc.com, Cahill will travel to New York to agree personal terms with the MLS outfit and undergo a medical in the next few days before the deal is rubber-stamped. The Red Bulls have declined to make any official comment on Everton's announcement so far but sources across the Pond suggest that there is basic agreement with the player on terms on a three-year deal.
Speculation that the move was imminent began on the NSNO forum earlier today and intensified of course, on Twitter, with rumours on Merseyside suggesting that Cahill had said farewell to his teammates this afternoon.
Liverpool Echo reporters Greg O'Keefe and David Prentice confirmed that the forward is on the verge of trying up the move this evening via Twitter before news broke on the official site around 10:30pm.
Cahill has been the subject of stories linking him with moves to the Far East and the Middle East but the 32 year-old reportedly rejected moves to China and Saudi Arabia.
If his move across the Pond goes through, he will link up with former Premier League sensation Thierry Henry at the Red Bull Arena where the Frenchman has scored 26 goals in 51 appearances.
Quotes or other material sourced from Everton FC
Reader Comments
Note: the following content is not moderated or vetted by the site owners at the time of submission. Comments are the responsibility of the poster. Disclaimer
Simon Spencer
329
Posted 23/07/2012 at 21:27:24
I wish at least one of these Rumours were true. A very expensive old player. Not first choice when judged against Fellini and will allow us to rebalance in terms of age. It is clear that we will save money on wages but just wonder how much we would actually get for him and more importantly who we could possibly buy. Fact is - more likely solution is money will be used for wages for a loan signing......but if it was a pacy winger would anyone really care / miss cahill? Think he was / is a great servant but in football terms a has been. Time to move on.
Terry Smith
332
Posted 23/07/2012 at 21:34:45
If this is to be true is there a fee involved ?

Sam Hoare
333
Posted 23/07/2012 at 21:35:33
Hate to say it but...hope so. It's been great but all good things come to an end.
Drew O'Neall
335
Posted 23/07/2012 at 21:31:59
If he does, he will go with my blessing haven given his best years to Everton.
Complete pro in the best sense of the word and a credit to our club and some of the great players who have gone before.
David Moyes said once that you have to be careful who you introduce in to this group of players and I always thought that he meant he had a squad of old fashioned style pros who generally didn't have their heads twisted round by big money and agents.. I think we have been lucky in that sense at Everton and although not everyone agrees, I'd rather have Cahill, Jags, Baines, Carsely etc than Adebayour, Tevez et al and all the Sky Four bullshit that comes with it.
Paul Watson
339
Posted 23/07/2012 at 21:53:14
If he is going and IF - good luck Tim. You were proud to wear the jersey and I was proud to see you in it.
Lyndon Lloyd
340
Posted 23/07/2012 at 21:52:53
Terry:
If this is to be true is there a fee involved ?
There will be, yes, as he has two years left on his contract. It will probably go undisclosed, though, as it might get wrapped into another loan arrangement for Landon Donovan, seeing as the MLS owns the players' contracts over there and we wouldn't be dealing exclusively with the Red Bulls.
Good move for all concerned, if true. Great for him, personally, as I think he'll do well in that league and good for us as we get some cash for a player whose best days at the very top level — of which there were plenty in a Blue jersey — are sadly behind him.
Christine Foster
341
Posted 23/07/2012 at 21:49:32
If true, it's quite sad and l for one will be sorry to see him go. He is a tremendous ambassador for the club, Australia and the game. It may well be time to go and give the game his final shot overseas, many on this side of the world hoped and thought he would return to Australia to finish his playing days but realistically who can blame him for a last hurrah and paycheck in the big Apple?
Great guy who doesn't deserve any negative comments for his passion and commitment to our club so if he goes it should be with the understanding, the blessing and the very best wishes of the club and all of us and a bloody big Thank You.
Phil Sammon
342
Posted 23/07/2012 at 21:53:43
I totally agree Drew. I also think Cahill is a great role model for the younger lads. Is that enough to warrant keeping him at the club? I don't know. Fellaini, Rodwell, Barkley, Gibbo, Cisco...we are fairly well equipped in centre mid. If he did go it would make a new striker essential...if it wasn't already.
Colin Ryan
344
Posted 23/07/2012 at 22:02:11
£1m is the fee. Sad to see him go. A legend on and off the field
Chris Jones
345
Posted 23/07/2012 at 22:01:16
BBC are reporting a 1 million bid has been accepted by the club.
If anyone has epitomised the spirit of this great club over the last 8 years it has been Cahill. He deserves a well-paid swansong and an adventure for his family. Freeing up his wages can't be a bad thing for the club either. If he goes: good luck and thank you.
Matt Traynor
346
Posted 23/07/2012 at 21:57:56
£1m is the reported fee. Personal terms agreed, according to 5live.
Ian Bennett
347
Posted 23/07/2012 at 22:06:37
Good luck tiger. You were great.
John Sankey
348
Posted 23/07/2012 at 22:11:22
Tim Cahill thank you for all your efforts, legend for Everton in my eyes, will be missed but think his best years are now behind him
Mike Green
349
Posted 23/07/2012 at 22:08:58
If he goes then the very best of luck to him, never let us down, led by example and loved scoring against LFC, what more do you want. Top man.
Danny James
350
Posted 23/07/2012 at 22:17:45
Gutted. He's one name you wouldn't mind having on the back of your shirt.
Ian Bennett
351
Posted 23/07/2012 at 22:18:42
Hope we are asking for some sort of swap deal for Landon Donovan.
Matthew Lovekin
352
Posted 23/07/2012 at 22:20:07
Legend, Good luck Timmy!
Christine Foster
353
Posted 23/07/2012 at 22:19:51
Would have been nice to give him a send off, a walk out on the pitch for the Man U game?
Matthew Lovekin
354
Posted 23/07/2012 at 22:20:48
When Tim gets there, can someone make sure he gives his return ticket to Landon please?
Paul Mackie
355
Posted 23/07/2012 at 22:21:02
Sad to see him go, but it's the right time. His last act as an Everton player will be to get us some cash rather than take a pretty high weekly wage for warming the bench.
Mike Gaynes
356
Posted 23/07/2012 at 22:22:00
Welcome to America, mate! Our corner flags await your flurries of punches.
And when your Red Bulls come out to San Jose, that idiot in the Everton hat hollering your name will be me.
Christine Foster
357
Posted 23/07/2012 at 22:23:06
Would be a great bit of business if it were a swap deal for LD and temper our saddness a little
David Barks
358
Posted 23/07/2012 at 22:21:21
Will be sad to see him go, but it's a good time. MLS will love him, he'll be a fine representative for them as well as Everton in the US. Looking forward to them playing all those past goals of his, the overhead kick against Chelsea, his goals against the reds, punching up the corner flags. That Everton jersey should be getting a lot of TV time during MLS matches now. I can see him banging them in left and right for New York with Henry. He only ever served this club well, best of luck to him. He's earned a few years of working in the sunshine.
James Flynn
359
Posted 23/07/2012 at 22:17:40
Hey!!!! Tiger Tim to my MLS team, Red Bull? Fuck me. Such unexpected, delightful news. Wait until opponent mid-fields get aload of this guy. Not to mention his effect in the locker room.
In MLS terms, a fantastic acquisition.
Steve Cotton
360
Posted 23/07/2012 at 22:23:14
Good luck lad time to move on, welcome back here in Oz one day soon to a hero's welcome
David Barks
361
Posted 23/07/2012 at 22:25:12
Christine,
Landon doesn't play for New York. The clubs buy their own players (within financial constraints), but the league does the selling. Very strange and complicated, but don't see any connection with Landon.
Chris Barr
362
Posted 23/07/2012 at 22:25:33
Good luck tim if this is to be believed, loved watching him score especially against the neighbours.
Jon Clark
363
Posted 23/07/2012 at 22:24:53
Breaking news on sky report by alan myers tiger tim to sign within the next hour good luck tiny tim good servant for the club and thanks for the goals and memories and those ones against the reds at analfield
John Ford
364
Posted 23/07/2012 at 22:25:06
With Tim going, a forward already signed and hopefully Peanuts back with us this has the feel of a new beginning. A right sided midfielder would be a massive plus too.
Moyes wont have made this decision easily but is the right move. Good luck to Tim, there will always be a welcome at Goodison
David Barks
365
Posted 23/07/2012 at 22:27:00
I'll definitely be attending my first MLS match now, the next time New York plays the Galaxy in Los Angeles. I suspect we'll see quite a few Everton jerseys popping up at MLS matches this year featuring New York. Even when you know it's the right time it's never easy to see it happen.
Kase Chow
366
Posted 23/07/2012 at 22:28:23
Can we not afford to keep him as a squad player? A la Scholes?
£1M ain't that much. We are so fking skint.
Pathetic. Gutted
Rob Clarke
369
Posted 23/07/2012 at 22:24:01
Good luck Tim. At the very least, your commitment, loyalty and effort, deserved a cup winners medal of some sort. True proffessional and without doubt an Everton great!. Sorry to see you go.
Christine Foster
370
Posted 23/07/2012 at 22:27:37
David, sorry but lying in bed at 7am on my iPad! Just thinking that a swap (in principle) would be a good bit of business, of course l know the clubs are not linked in any way but as a piece of business it would be good
James Flynn
371
Posted 23/07/2012 at 22:26:08
Not to mention, Everton's name coming up in such a large media market. A small thing perhaps, but as I've mentioned before, all US soccer fans know who Everton is because of LD, Timmy, McBride, etc. We all know Everton.
The manager mentioning how Tim played at EFC, the inevitable interviews with LD about Cahill (and Everton). Good all round. Especially for, um, ME. Tiger Tim to my MLS Club.
David Barks
372
Posted 23/07/2012 at 22:32:42
Christine,
In that case, I totally agree with ya. Would be nice to see happen.
James Morgan
373
Posted 23/07/2012 at 22:29:06
Cheers to Tim, he's been a great servant to the club and only ever said good things about the blues. Top pro on and off the field, good luck lad!
Mohammed Horoub
374
Posted 23/07/2012 at 22:29:31
Best of luck Tim!! Thanks for the memories but to be honest he deserved a proper farewell... Hope he can come back in Jan for a Donovan type loan so he can get the ovation he deserves from Goodison and maybe give that corner flag 1 more round... A new era begins NSNO
Andrew James
376
Posted 23/07/2012 at 22:20:47
The end of an era. Thanks for the memories Tim. Best one?
Probably the overhead kick against Chelsea during a return from injury where he had a blistering return of goals.
Ben Jones
378
Posted 23/07/2012 at 22:34:12
I'm a bit gutted about this, not for losing Tim Cahill (which seems a bit harsh) but were losing yet another useful squad player.
Our squad is thin enough, and to lose another, it doesnt look too good.
Cant blame Cahill for leaving. Fantastic player and deserves to see his retirement wherever he wants with his service to us.
Just hope we use this money and free wages to sign somebody else, and not just Pienaar!!!!
Scott Davies
379
Posted 23/07/2012 at 22:33:52
Cahill and Landon Donovan swap deal?! They play for two seperate clubs!! Out of your mind some of you.
Robin Hunuki
380
Posted 23/07/2012 at 22:23:45
He's the sole reason I started to follow Everton... Everton complemented him and vice versa! Will be guttered to see him leave. Several months ago I got into a heated debate on TW (god love this website!) re: should he stay/leave.
As much as I hate to say it, but I agree with him moving on. Not only will this benefit himself but the club as well. Sorry ladies/gents - unfortunately you're stuck with me - I'm not going anywhere!
Colin Ryan
381
Posted 23/07/2012 at 22:31:13
http://www.evertonfc.com/news/archive/2012/07/23/blues-agree-cahill-deal Confirmed. Sad day for EFC
Mark Lennon
382
Posted 23/07/2012 at 22:35:13
Absolute legend in my eyes. Just so gutted he didn't get to win a trophy with us as he — more than anyone else I can think of in recent times — really, really deserved one. Although the timing will be right for both ends, I'm really gutted to see him go. Good luck, Timmy. NIL SATIS NISI OPTIMUM!
Andrew Hight
383
Posted 23/07/2012 at 22:43:37
The blue kangaroo may not have the white pele's medal's but he is his equal as an Evertonian. He arrived during dark times and helped remind me why being a blue is so special. You're are in my heart you're in my soul. 
Phil Sammon
384
Posted 23/07/2012 at 22:45:53
Colin. Nah - not a sad day. He's been immense for us and now is the right time to go. I feel this is very much a mutual decision between him and the club. A good way to bow out. And always a Goodison legend. Right up there with Dunc for me
John Malone
385
Posted 23/07/2012 at 22:44:16
Good luck Tim Cahill, what a guy... totally epitomized the Moyes era, probably his best signing; some brilliant and important goals and performances. You will be missed in the derbies. In my eyes, a Goodison legend.
Rhys Owen
386
Posted 23/07/2012 at 22:46:54
Gonna miss you Timmy, a real legend, goes out there and preforms scoring many important goals and many fantastic header a complete midfielder glad he is going somewhere he can get a lot of game time.
Although I read that he denied a £10.5 million offer from some Saudi Arabian side a few weeks back on Sky Sports?
Phil Davies
387
Posted 23/07/2012 at 22:43:51
Completely gutted, the move just seemed to come from nowhere this morning and now it's all been agreed.
Good luck to him, loved watching every minute of him being here, true professional and a true blue.
Paddy Howlin
388
Posted 23/07/2012 at 22:46:31
A sad day, but one I think most will look back on being the best thing for both player and club.
A great player for the past eight years, however it would have been even sadder if he played his last 2 years out as a bit part player, with growing resentment of his salary the longer this went on (as per Kevin Campbell).
Lots of great memories, but most of the Derby goals he scored stand out for me as Cahill's best moments.
A fantastic pro, who will always be welcomed back to Goodison with open arms. Good luck in the US Tim!
Guy Hastings
389
Posted 23/07/2012 at 22:50:18
We should retire the corner flags in his honour.
David Barks
390
Posted 23/07/2012 at 22:47:36
If you look a little deeper at this move, it's actually quite a good marketing move by Everton. As I said earlier, when they speak about him during every MLS game he's a part of they will be mentioning Everton, and showing highlights of him playing for Everton, scoring goals.

We got paid for them to advertise our club in a market that continues to grow. Not to mention, he's not going to Utah or anything. He's going to New York, the biggest media market in the country. It's good exposure for the club, gain a little bit of money while reducing the wages, and Cahill gets to enjoy the last couple of years of his career living in New York.

Now if the Galaxy and New York can meet in the final, that will be some advertisement for Everton when they talk about Donovan and Cahill as they will no doubt be having a laugh together before the match.
Dan Brierley
391
Posted 23/07/2012 at 22:49:17
I agree Phil. This is the right time for him to leave us, its the best for both parties considering how much stick he got on this site last season. He has been Moyes best signing in my eyes, and is he epitomises everything about what being an Evertonian is about. I will miss his corner flag punching celebrations, he has been a true legend of this generation, literally carrying the team at some points playing as a lone striker. On his day, he was simply unplayable.
Good luck to you Tim, thanks for the memories. Its now time for someone else to step up to the mantle, but they are big boots to fill.
Sam Hoare
392
Posted 23/07/2012 at 22:49:49
Wow. Commented on this an hour ago thinking it was pure rumour and now it's true!
Such a great player and ambassador for the club. Never gave anything less than 100%. Best of luck in your new home Tim.
Ray Roche
393
Posted 23/07/2012 at 22:54:02
Listening to Radio Merseyside this evening it seems that the RS are making a real attempt to spread into the US market. They have apparently made a documentary which is being aired to coincide with their tour over there and are advertising their kits widely on tv and in the media. They would appear to have a proper PR machine and are no doubt using the link with John Henry and his outfit to raise their profile. Bastards.

Maybe James Flynn or our other US fans could throw some light on this?
Gavin Ramejkis
394
Posted 23/07/2012 at 22:58:14
Best move for all parties I feel, Tim is a shadow of the player he was in his prime and rather than continue downhill under the spotlight here he gets a last hurrah elsewhere, a great player for Everton in his prime but that time has passed. Good luck Tim, thanks for plenty of good memories.
Ray Robinson
395
Posted 23/07/2012 at 22:52:48
Have supported Everton for over 50 years and it's always tempting to hark back to early days when choosing your favourite players - but Tim has to be up there with the best of them. A great professional, a real lionheart and a great ambassador for the club. Am gutted that he's leaving but it's probably for the best all round.
Favourite memory? Strangely, has to be the header in the last few minutes at Sunderland when we won 1-0. There weren't too many Blues there that day as it was New Years Eve but it was bedlam when he planted his header into the net. That gave us 20 points at the turn of the year and gave us the impetus to turn round a season that had started so disastrously.
Good luck Tim. A real Evertonian.
Shane Corcoran
396
Posted 23/07/2012 at 22:53:06
My favourite player of my 25 years following the Blues. A model pro who had genuine affection for the club. I hope he does well over there and that it doesn't peter out for him as it seems to have done for Robbie Keane. We'll probably get him back on a free when he's 36. I'll always remember celebrating his header at Anfield as the lone Blue in a pub of Reds.
Jamie Barlow
397
Posted 23/07/2012 at 22:57:39
I know it's probably the best thing for all concerned but I'm still a bit gutted.
Graham Foster
398
Posted 23/07/2012 at 23:06:38
Good luck Tim, does his match ban carry over?
Terry Smith
399
Posted 23/07/2012 at 23:02:25
Get him back on loan mid-season to have his final farewell against the RS.

Wish him all the best. He was one of us.
Joey Brown
401
Posted 23/07/2012 at 23:06:50
I will truly miss him, but it was time
Kevin Tully
402
Posted 23/07/2012 at 23:07:42
Not the most skillful player I have had the pleasure to watch, but had the heart of a lion. A true warrior who would run through brick walls.
My best memory was the headlock on Alonso before he scored in the 3-0 win over the shite.
Good luck Tim - you will be missed.
Aiden Doyle
403
Posted 23/07/2012 at 23:14:24
About bloody time.
Cahill may well be a decent enough bloke and, when he signed, he was certainly better than what was already at the club, but he's contributed virtually nothing over the last couple of seasons. During that time his potential transfer fee has shriveled to virtually nothing and he's drained - literally - millions of pounds out of the coffers.
People are very quick to criticize Moyes for dithering when it comes to buying potential targets, but his lack of ruthlessness when it comes to showing players the door once they've outlived their usefulness is a far greater weakness.
Philip Roberts
404
Posted 23/07/2012 at 23:14:32
Probably get slaughtered here, but I'm actually glad he's gone. He's never been my favourite player, and I actually think he's been detrimental to the way we should be trying to play the game.

Got some important goals over the years and I wish him well, but I can't say I'm sorry to see him go.
Paul McGinty
405
Posted 23/07/2012 at 23:06:58
Ray,
The USA fan base for the RS, certainly in the northeast USA dwarfs ours. You just have to look at the stadiums they play in when they are over here... we cannot get close to filling the NFL parks, sadly they can. I think their following began with the European Cup wins, they are always on TV and irrespective of where they finish they are established as a big player.
I coach an U-23 team, all good players, really keen on the sport. A bunch of them are off to Baltimore to see Liverpool v Spurs. I have had some successes in getting guys to follow Everton but it's pushing water uphill.
Everything you hear about us, is the team punching above their weight. Our crapola record against the RS doesn't help. I am still keeping the faith. COYB
With Zane Richards leaving (thank you god) and Timmy Cahill joining on the plus side, I now have a reason to get up to the Red Bulls.

Phil Sammon
406
Posted 23/07/2012 at 23:19:57
Give over, Aiden.
James Flynn
407
Posted 23/07/2012 at 23:18:05
Ray (393) - Almost didn't answer in here, given it's about Cahill. But, yes they're going to blitz the media here and already have the infrastructure in place to do so.
The telling quotes were last week when Rodgers said he'd have the time to build the Shite to his vision and Henry stating CL next season wasn't that important. With all the available revenue streams Fenway has, missing CL money for a season or two is no big deal for them. Which is worrying if our owners don't get off their asses.
Michael Murphy
408
Posted 23/07/2012 at 22:52:40
He has epitomised everything that has restored a sense of pride and hope in the club since our years of consistent flirtation with relegation. His commitment, skill and obvious sense of privilege to be part of the "Everton Family" was a joy to behold.
I agree that it is the right time for him to move on but will miss seeing him batter defenders before doing the same to corner flags.
Good luck in your new adventure Tim, you will always have a special place in the hearts of Evertonians.
NSNO.
Kevin Tully
409
Posted 23/07/2012 at 23:25:41
Tim easily gave us 10 points a season in his prime.
Those who say they are glad to see him go have very short memories - a very loyal player who loved the club.
Nick Armitage
410
Posted 23/07/2012 at 23:25:57
I am off to ebay to look for a New York Red Bulls Tim Cahill top.
Thank you for hating the redshite as much as us.
Legend.
Jim Knightley
411
Posted 23/07/2012 at 23:33:11
Really quite sad...feels like the end of an era. He was a true legend; played with his heart on his sleeve, and scored fantastically well in his prime. If he were on lower wages I'd have liked to see him remain as a squad player, but as it is, it is best for everyone if he leaves. Still a shame, and I expect he will score very well in a lesser league.
Russell Buckley
412
Posted 23/07/2012 at 23:27:14
I was following the blues but when Tim Cahill came onto the scene it just clicked for me and I'll be an Evertonian for the rest of my life now. Always proud to see a fellow Aussie pull on the royal blue.
A great player over the years and an amazing example for the younger guys. His goal scoring was poor last year but his efforts never went down. Sad sad day.
Its the nature of football but its a real shame we can't say goodbye at Goodison.
Philip Roberts
416
Posted 23/07/2012 at 23:30:23
Kevin (409),

I appreciate what he did for us over the years. I'm very loyal and I love the club, but I can't see me getting a game any time soon... It's nothing personal but maybe now we won't rely on a certain way of playing, which was geared up for him.

And as I said, I think he hindered us more than helped.
Mark Riding
418
Posted 23/07/2012 at 23:40:36
If I was in the trenches I would want Tim Cahill stood next to me.
A proper bloke.
Good luck mate.
Noel Early
421
Posted 23/07/2012 at 23:35:42
Time waits for no man, and it was evident from last year that Tiger Tim's legs were going.

But aside from that, what a legend! I'll miss the celebrations and determination Tim showed for the jersey. He has been one of the best value buys ever in the Prem and will always be an Everton Legend.

Good luck Tim.
Nick Armitage
422
Posted 23/07/2012 at 23:48:56
Mark Riding
If you were in the trenches with Cahill, Ferguson, Unsworth and Moyes you would win any war against any army.
Ken Finch
424
Posted 23/07/2012 at 23:50:41
There's a time and tide in the affairs of man. TC has been a great servant to EFC over 8 years and I really enjoyed games when he could wind people up – witness Jamie Carragher and when he absolutely spooked City when he came on as sub a couple of years ago... But we all have to realise there is a time to move on.

Tim should be the next person in the Hall of Fame; he never let us down even when he gave awaydaft fouls. Many teams will be glad they no longer have to face him. He should leave us with commendation ringing in his ears and be welcomed back at any time.
Si Cooper
426
Posted 23/07/2012 at 23:40:31
A modern Blues legend and I am glad he is getting his swansong, although a bigger transfer fee would have been more than useful. As it is so paltry I wouldn't be surprised to see him back in some capacity around about January; it would also serve to give him the farewell opportunity he and the fans may like.
It is sad that his performances had slipped to the level where I don't think we will miss him too much, except that we will still need others to step up to the mark passion wise. Also a little bit more pressure on Naismith to provide some much needed goals perhaps?
Dan San
427
Posted 24/07/2012 at 00:01:31
For £1M this has to be tied into a Landon deal doesn't it? We'll be losing our exposure down under so I would expect the marketing team has something else lined up. The StubHub deal was American connected, could it all be tied in?
If it's anything like usual the club probably have a heap of deals sorted but won't tell us lot for another month... it certainly sounded like that's what they were offering to that Croatian right back.
Ed Fitzgerald
428
Posted 24/07/2012 at 00:08:39
A good move for all concerned. I am glad he has gone now rather than tarnish what in retrospect been a fine Everton career. He was never the most stylish of footballers but he certainly gave 100% every time he played. It would be nice for us to say a proper goodbye at some time in the future.
I just hope that Moyes finds the courage to trust they younger players at his disposal such as Lundstram, Fransisco and Barkley I dont think we have too bad a squad as long Moyes starts to blood some of them younger players.
Good Luck Tim
Claire Cavendish
429
Posted 24/07/2012 at 00:13:09
Thanks Tim, wish you well
Carl Rutherford
430
Posted 24/07/2012 at 00:13:42
Good luck to Tim Cahill, 8 years of whole hearted, loyal service. Great ambassador for our club and for the game.
Just a shame that we won't be able to give him a proper farewell, hopefully he will return to Goodison in some capacity in the future. Everton legend.
Rob Keys
438
Posted 24/07/2012 at 00:15:43
While legend might be a term that divides fan, Tim Cahill is definitely an ICONIC player of this everton era. A player whose name we would be proud to have on the back of our shirts.
Yes, would like him to be back at the club introduced like Big Dunc was. Would be a fitting tribute and at least a proper sending off.
James Martin
439
Posted 24/07/2012 at 00:22:48
Sad sad day. no one gets the blood pumping like tim. Best header of the ball in recent history and an allround fighter. Still think he could have done a job in the position he played in in 04/05 rather than feeding off sahas scraps as he did towards the end. still the best against the big teams especially the RS. Will feel strange in the world without tim cahill in a blue shirt.

Dan San
441
Posted 24/07/2012 at 00:27:11
I agree Carl, would love to see him back in the future he's a super hero
Keith Glazzard
442
Posted 24/07/2012 at 00:22:41
Is it only eight years? I could have sworn he'd been there forever. And that's how good he's been for us.
Overhead kick against Chelski - a goal of the season if they'd have scored it.
But like the brother and me eventually worked out to the question 'what does he do?' You'd just bloody hate playing against him.
Have a great time Tim, and give 'em hell - as I'm sure you will mate.
Ciaran Duff
443
Posted 24/07/2012 at 00:06:55
Given that TC has 2 years left on his Everton contract and is one of our highest paid players, he could have easily sat out the rest of his contract and earned a nice pay packet. I'm guessing (could be wrong) that he won't be earning any more in the MLS. In which case he is really doing Everton a big favour by moving. Basically we are getting some money for him and freeing up some serious wages (presumably for Pienaar).

Well done Timmy – you have been a great servant and ambassador for Everton (and Australia). All the best for the future.

Vaughan Sheward
444
Posted 24/07/2012 at 00:31:35
For the past 8 years, Timmy Cahill has been Everton! The will to win and to wear our blue shirt meant everything to this true legend! I had the honour of watching the man play for Aussie during the past World Cup, never felt prouder to wear my Timmy Cahill No 17 shirt!!

Thank you so much for the memories and for always wanting to beat Liverpool! Sad day for our club but best wishes to you and your family on your new adventure! A hero to many!!
Steve Smith
445
Posted 24/07/2012 at 00:13:11
It was obvious to me that Naismith's signing spelt the end for Tiger Tim. He's been brilliant for us on and off the pitch and, like the majority on here, I wish him every success at NY. It is a pity we couldn't give him a send off though.
Adam Bradley
446
Posted 24/07/2012 at 00:45:52
We should put 17 on the corner flag for the United game and Hibbert's testimonial.
Ernie Baywood
447
Posted 24/07/2012 at 00:44:13
Obviously this makes perfect sense all round. 32, declining, and on a big salary.
But finding this out this morning I am quite saddened. A great 8 years, countless cracking interviews where he showed that he 'gets it', and times where he was unplayable. Shame to see it come to an end.
He's a legend in this particular era.
And all the best to him for the future.
Rob Brown
450
Posted 24/07/2012 at 01:00:40
Farewell Tim you will always be remembered for what you have done for us. You took us back to dreaming of the days of Ried, Steven, Sheedy and co. But I think your time has come. If you had stopped playing international Football 18 months ago you would still be one of best attacking midfielders in the PL. Plus getting Pienaar back is more important to how we play and we have other players who can fill that role now.
Jem Traynor
452
Posted 24/07/2012 at 01:22:43
Well, it had to happen sometime and it is the right time for both the player and club. Thanks Tim for the best years of your football and your sportsmanship.

On a lighter note, hopefully this £1 mil will help grease the rails for Pienaar's signing and we can look forward to the new season with the player's we need to have to make a good start.
Julian Wait
453
Posted 24/07/2012 at 01:18:59
My son will be gutted, as he was when Arteta left. I am a bit sad, but I would rather he leave with pride in all he has done for the club, than to warm the bench for a salary for two more years, and get stick for not being who he was for the first 7 years of his career.
He was never the best player in the world but he made the absolutely most of everything he had, and did it with all his heart, for Everton. As above, he "got it".
He has been and I suspect will continue to be a credit to the club. I wouldn't be surprised to see him come back in some capacity in the future. Looking forward to perhaps seeing him in Dallas or Houston sometime.
Chris Jones [Burton]
454
Posted 24/07/2012 at 01:23:15
All the best Tim, you were made of the same stuff as Mick Lyons - you'd both run through machine gun fire and lines of barbed wire for our beloved club. In 100 years time your name will be remembered in the histories written about our club.
Hear-felt thanks lad! Go with our blessing.
Gerry Quinn
455
Posted 24/07/2012 at 01:25:36
Great servant and representative for everything about Everton. Thanks for all the memories, and see you next week in Houston against the Dynamos, Tim. I will be the one with "Cahill" on the back of the #17 Everton shirt. All the best lad
Peter Thistle
456
Posted 24/07/2012 at 01:56:24
It's always sad when you lose a loyal player but we've had the best of him and it makes sense to part ways now. At least we have some spare wages now to put toward a new signing, preferably someone under 25.
Rafizi Ariffin
458
Posted 24/07/2012 at 02:11:03
Thank You Timmy... In my eyes, you're a LEGEND.. Every game you played wholeheartedly.. But I think it's the right time to go. We'll miss you for sure...
ps: All the corner flags will miss you too.
Jason Chew
459
Posted 24/07/2012 at 01:23:31
Thank you Tim, I hope you speak well of Everton when you head over. Since FSG chose that lot (which disappointed me as I'm a Boston Celtics fan), please try to convince the owners of the Yankees to buy us and seal your place in our history as a saviour both on and off the field.
Peter Barry
463
Posted 24/07/2012 at 02:59:13
Timmy always displayed dignity and I am pleased to see he has left with the same quiet grace he displayed during his time with Everton. In his pomp he was a great player and an inspiration to others but now was the right time for him to go as I am sure bench warming would not have suited him. He will be remembered fondly by all those of us who love Everton. Go get those Yankee Dollars Tim.
Anto Byrne
464
Posted 24/07/2012 at 02:08:08
I think his number was up after he got sent off for violent conduct in our last game. At 32 his best days are behind him. Not sure the MLS is ready for him and will soon realise his limitations. He should have gone to the Brisbane Roar or even Perth Glory, not that they could afford to pay him big dollars. Fowler was down here, complete shite and was paid $600k for 20 games.
Mick Davies
465
Posted 24/07/2012 at 02:55:01
Can't believe there are some negative comments on here about a man who gave everything, and Everton fans their sense of pride back in their team. He is in the Ball, Reid Ferguson mould of players who would die for the club. The interview after the 3-0 derby win showed his real passion when he said "AJ knows what it's like to be a blue now". Pure class.

He is the only Everton player for decades to be nominated for the Ballon d'Or and further raised the clubs profile a few years back when he was the seasons highest scorer with his head. Not since Dixie or Royle have we had someone with that ability to outjump opponents in impossible areas. I will always love the guy for being a true professional and it saddens me to think of him being sent off in his last appearance for Everton, after confronting the shithouse Cabaye after he abused one of our ball boys.

Well done to Tiger Tim, and hopefully we can see him once more at Goodison, even if it's only to be introduced to the crowd for the farewell he deserved, but never got.
Dan San
467
Posted 24/07/2012 at 03:42:56
I'm not sure if I can be sad about this, to me it definitely feels more like a time we should celebrate exactly what he was about and all the highs he gave us.
He obviously come out very recently and said he'd do what is best for the club no matter what, so if the best for the club is him leaving then I'm sure there must be something even better lined up, and thats not an easy standard to meet!
From an Evertonian perspective he has to be one of the people you'd most most want to go and influence the American league, after all the great exposure we've had there in the time it's been running and the potential for marketing to have someone like him over there is surely going to be good news for us
Mike Gaynes
470
Posted 24/07/2012 at 04:05:24
Rob Brown #450, Aiden Doyle #403...
There is a quality called class, a quality Tim Cahill has exemplified 278 times in an Everton shirt.
It is a quality the two of you are utterly unacquainted with.
Mike Gaynes
471
Posted 24/07/2012 at 04:13:01
Looks like Everton rang the bell a bit early.
AS OF SEVEN MINUTES AGO, RED BULLS SAY CAHILL IS NOT THEIR PLAYER.
Paul Ferry
473
Posted 24/07/2012 at 04:32:43
I'm sorry, Mike Gaynes,
How on earth can you lump Rob Brown (450) and Aden Doyle (403) together? Rob's comments are fair-minded, nicely out together, nostalgic even and not in any shape or form offensive (even mentioned Sheeds, my all time EFC hero). Mr Doyle, on the other hand, is talking 100 per cent crap and is (1) insulting, (2) inaccurate, and (3) not what even this fire-brand site thinks of TC who, if nothing else, even in these least two thin years, has shown over and over again that he is a thoroughbred Evertonian (don't you just know that TC will love EFC until his last breath).
Mixed feelings here. Yes, a player in decline but, more than anyone who has worn that wonderful blue shirt over the last decade or so, he represents for me, at any rate, and in this fucking disgraceful Sky/shite Wigan player demands £80k weekly/Newcastle Quays hooligan Carroll £35 mill/John Terry/Team GB Olympics world that we mow love our team in, TC stands out like a marble statue.
All the best mate. Thanks for the memories and for the loyalty in all the years to come.
Adam Doyle, you should hang your head in fucking shame.
Liam Cho
474
Posted 24/07/2012 at 04:53:53
Tim Cahill You are our legend. We would always remember your legendary play. Hope you can be the best player in MLS. BYE!!
Timothy Liu
476
Posted 24/07/2012 at 05:09:34
@Mike 471
If true, Awkward...
But it has been announced all over the official website so...
Ernie Baywood
477
Posted 24/07/2012 at 05:20:13
http://m.newyorkredbulls.com/news/2012/07/red-bulls-release-statement-tim-cahill-1
Strange non-announcement. Are they just pissy that we announced it before they did?
Jamie Crowley
479
Posted 24/07/2012 at 05:21:12
He is the one player I've told my kids to emulate in my 6 years of supporting Everton. Just down do blood and guts effort he showed every time he took the field.
Mark Riding - brilliant and I agree 100%. If I was in a foxhole having bullets shot over my head, other than my brother who served in Iraq, I can't think of another guy who I'd want next to me.
I'm gonna miss him, but it's time. Legend? I've not been around long enough to boldly make that proclamation.
But the man surely will be remembered as a great, great servant to Everton Football Club.
I really hope he enjoys that cesspool of a city.
Jamie Sweet
480
Posted 24/07/2012 at 05:34:51
Good luck to Tim... he has been great for Everton in so many ways. The timing feels right though and should suit all parties involved well. Hope he regularly gives those corner flags in New York a damn good beating!
Hope he comes back for a lap of Goodison in the off-season though, there will always be an incredible ovation waiting for him at the Old Lady.
Steve Foster
481
Posted 24/07/2012 at 05:47:02
A True Blue, an Everton Legend.
Good Luck Tim
Mike Gaynes
484
Posted 24/07/2012 at 06:11:52
Paul, I considered Rob's comment just as out of line as Aiden's. He should have stopped playing for his country? Ridiculous. And whether Pienaar's role is more important is pointless... I like Pienaar, but if he's ever half the man that Cahill is, he'll be doing well for himself.
Incidentally, Sheeds was my all-time favorite too, the player who made me an EFC supporter in the first place... until Tiny Tim came along. Now I rank them side-by-side. Not the best Everton players ever, perhaps, but the ones that made me cheer the loudest.
I'll miss Tim in the blue... but I'll finally get to see him play in person.
Michael Williams
486
Posted 24/07/2012 at 06:41:14
Not as good as many players to have worn the shirt.........but in my mind a true blue legend. Gave 100% all of the time and a true inspiration to many youngsters.
Best of luck mate!
Tony Cheek
489
Posted 24/07/2012 at 06:43:41
Wow!!...Didnt see this coming at all, Feels like I am losing a real good mate. Good luck Tim, you have been a great ambassador for the club. A hero and a legend. Tough as nails, always gave 100% and a great role model for the younger players. Moyes best buy, without a doubt!! Build a statue!
Karl Jones
491
Posted 24/07/2012 at 07:02:13
QPR, with a shoebox stadium and in the 1st division a few years ago, can sign good players..,while EFC have to sell legends like Cahill in order to fund a buy back for a 30 year old ex player....Thats what we have become under Kenwright. Tragic.
Tony Cheek
493
Posted 24/07/2012 at 07:17:29
Watch and weep time:
http://www.youtube.com/watch?v=TEAVNXlLNO0
Paul Mitchell
497
Posted 24/07/2012 at 06:37:15
A legend in my eyes. 100% commitment to our cause and a model professional who also gave great memories with his goals.
I wonder if there any chance of him being released for Hibbo's testimonial as that would put a few on the gate and give us a chance to say goodbye properly.
Andy Meighan
498
Posted 24/07/2012 at 07:20:48
Going by the number of posts, it just sums up what a player he's been for us. You couldn't really see him getting much Prem game time this season, so this is the ideal scenario for both parties.

I'll tell you one thing: I'll bet you them bitter bastards over there are glad to see the back of him. An absolute diamond, Tim.

ps: When you've finished your stint in the Big Apple, there's a coaching job waiting for you at Finchy...
Ari Josberg
502
Posted 24/07/2012 at 07:39:02
Anyone agree with me that Cahill's still good and just had a bad season?

Before he went to the Asian Cup he was winning the Golden Boot in the EPL and was in great form but then he got injured and hasn't fully recovered yet.
Timothy Liu
504
Posted 24/07/2012 at 07:49:27
Club Legend.
Jack Andrews
505
Posted 24/07/2012 at 07:45:42
If in life, you can look your self in the mirror at the end of each day and say to yourself, "Today I gave 100%" you will not go far wrong. Tim has that special royal blue blood running through his veins and I'm sure always will. A sincere thank you and good luck for the future – come back soon for that special standing ovation only Goodison Park can offer! There won't be a dry eye in the house.
Chris James
522
Posted 24/07/2012 at 08:42:51
A brilliant move all round I think. Tim's been an amazing servant to the club but his powers at Premier League level are waning and whilst he's certainly a good character for morale in the dressing room (which shouldn't be underestimated), in truth he also tends to compromise our style of play, he's always been more of a scrapper than a passer and is keeping fresher players that need a chance out of the team.
Add a hefty wage to this at a club that doesn't have the money for expensive squad members and the need to move him on seems all the more pressing.
On the flip side, the MLS is proven to be a great place for 'star' players to extend their careers at a less hectic and bruising pace and a nice juicy signing on fee plus a good wage and endorsements should see Tim treated well in the last years of his playing career (although I suspect he'll return to Oz for a year or two before he finally packs it in).
Good luck Tim, you were a true hero and talisman for this club and you helped us progress through some tough years. Look forward to hearing of your exploits in America.
Denis Richardson
526
Posted 24/07/2012 at 08:49:10
Sadly all good things come to an end and after such a long time, 8 years, its an especially poignant moment, almost the end of an era, reminding us that life goes on and we all get steadily older....Getting a bit meloncholic there, apologies.
Best wishes to TC (as he'll presumably be known over there) and hope it goes well for the remaining years playingwise. Thanks for the memories, passion and important goals.
An Everton team with no Arteta & Cahill - will feel a bit odd for the first few games of the season.....onwards and upwards.
NSNO.
Bob Parrington
538
Posted 24/07/2012 at 09:45:48
Good on ya Tim. Thanks for the goals, the leadership (on and off the pitch) and the general manner in which you've been such a great ambassador for the club and Australia.
All the best over in the States!
James Morgan
542
Posted 24/07/2012 at 09:22:20
Text topic on talk sport now is about Timmy being the best pound for pound Prem buy ever. Hard to argue against it really, and of course, Superman wears Tim Cahill pyjamas!
Wayne Smyth
547
Posted 24/07/2012 at 10:33:17
I'd echo what Michael Williams(486) said.
In many ways it's sad to lose Cahill as he's been an inspiration and a true ambassador for the club over the years and scored some pretty special goals. But I think its a few years overdue that he moved on.
In the last two seasons, his performances have really tailed off, partly due to how he was deployed, but also due to his fitness, overplaying and injuries. If he was being paid the reputed £50k / week that I've read, we really need to reinvest that in up and coming players.
Certainly one of Moyes best ever signings though and sad that he has to move on.
Gerry Quinn
564
Posted 24/07/2012 at 11:36:34
Do you think we will get him back on loan in January? :)
Ciarán McGlone
566
Posted 24/07/2012 at 10:57:01
Aiden Doyle getting brickbats for an entirely accurate anaylsis – nothing insulting about it at all...
Some of you may think Cahill is your long lost brother (stuff about foxholes and bullets above really is effuse nonsense)... but he's simply an employee of this club..
He has been a decent player for some of his time here... but I'm certainly glad he's going. The move takes (what appeared to be) a hard decision out of Moyes hands...
Far too much sentiment in football – it's not about individual players... it's about the club.
Now, what about this Neville fellow...
Russell Buckley
567
Posted 24/07/2012 at 11:50:53
Knew it was coming eventually but a sad day. My favourite Everton player over the last 10 years. While the music can be average the following youtube clips really took me back. Some great vision of recent years and his early days.

As an Aussie he will always go down on record as the first of us to score in a world cup. Ballon d'or nominated while at Everton. Be proud lads he played for the Blues!
http://www.youtube.com/watch?feature=endscreen&v=rimRjdo9f48&NR=1
http://www.youtube.com/watch?v=ZLfEDyx-oqk&feature=related
Martin Anderson
574
Posted 24/07/2012 at 12:12:27
Real shame – no one mentions a testimonial or anything? I reckon he is sacrificing himself to pay Pienaar's wages so the club can have him back...
I still think he is a very good footballer & not yet due to retire... just his ability in the air really – maybe coming on as super sub...

Tony Grundy
594
Posted 24/07/2012 at 12:59:26
Absolutely gutted beyond belief, it's a sad day, Cahill the legend must now go on the pedestal with Big Dunc, True Blue!! Good luck, Timmy.

This transfer worries me a little bit coz I see the club going backwards at the minute unless Moyes has another Fellaini lined up, which I can't see coz we can't seem to find £5 mill for Pienaar. Plus Pienaar is 30+ so he's only got a few more good seasons left, I hate to moan coz I love EFC but the financial situation just isn't good – even the likes of Stoke, Swansea and Southampton are out-buying us...
Peter Cummings
595
Posted 24/07/2012 at 13:07:27
I guess all good things must come to an end. The name Tim Cahill will find a permanent place in the hearts of every Evertonian worldwide and be counted amongst the greats who have graced Goodison during the history of our great club. A true and totally loyal Evertonian and a credit to 'the beautiful game'. All the best and G'day Mate.
Cathal Donnellan
606
Posted 24/07/2012 at 14:07:39
I'm absolutely gutted to see him leave. I felt he was a wonderful representative for the club. He always spoke so highly of the team, the history, the set-up and the supporters.

He probably knew that he was not going to get as much first team action as he wanted so I think he made the best decision to move on and I genuinely wish him and his family all the best with this move. Let's hope that he will return to the club sometime in the future. A huge welcome will always await him.
James Stewart
608
Posted 24/07/2012 at 14:25:28
Will always remember the overhead vs Chelsea. Scored some truly vital goals.
Sadly no longer the player he once was but a true blue.
Leighton Cooper
653
Posted 24/07/2012 at 16:39:53
A legend of the Premier League era for us, top player and pro. Best of luck to him.
Love the picture of him celebrating on top of the pile up on Lee Carsley after his goal against the red shite!
Ray Roche
660
Posted 24/07/2012 at 17:02:27
Paul McGinty @405 James Flynn@407
Thanks, lads, for the heads up on EFC stateside. I know it'll be a difficult one for us to improve our presence over there, especially with the Muppets on the Board, but maybe Tim can help on that score. Won't be easy....
As for Tim , my word we'll miss him, maybe not so much now for his on-field prowess, but as a talisman and ambassador for the club. And as a man, a blue and an all round good bloke.
Alan Noon
661
Posted 24/07/2012 at 17:19:34
It's the best thing for Cahill and Everton. Good luck Tim.
Martin Graves
666
Posted 24/07/2012 at 17:24:16
Being slightly pessimistic is the £1M fee a little low, and because we have to pay Millwall 25%? Or optimistic because we get donovan as a player trade in Dec?
Mike Green
674
Posted 24/07/2012 at 17:49:16
Ciaran #566 - he may be / have been an "employee" of the club but there are shit "employees", lazy "employees", useless "employees", distrustful "employees", horrible "employees", good, bad and indfferent "employees". Cahill just happened to be a rather decent, committed, exciting, passionate, faithful, skilful, honest, dedicated, honourable "employee" who the members of this club are trying to show their gratitude and respect to. OK?
Wayne Smyth
675
Posted 24/07/2012 at 17:52:32
Martin £1M is fine for a player who didn't really contribute an awful lot last season and probably wouldn't have done this season.....that plus the £2.5M / season in wages we've just saved.
Doesn't sound like much, but with Yobo going too, its given the club about £8M to play with....assuming it doesn't just go to the bank.
James Flynn
676
Posted 24/07/2012 at 17:29:54
As of 1 PM Eastern Time today in the US, Red Bull still has nothing on Cahill being a member of the Club. Still have issued statement from yesterday refering to "other teams' players".
Jim Knightley
678
Posted 24/07/2012 at 18:05:37
Martin, the deal with Millwall probaly relates to sell on profit, so we shouldn't have to give them anything. Also, 1million for a fading 32 year is good going, especially because his wages are on the costly side.
Jamie Crowley
680
Posted 24/07/2012 at 17:56:56
Ciaran -
I agree with you that there's way too much sentimentality in sports.
But based upon what I watched and witnessed over the past 6 years I would want Tim Cahill - or anyone demonstrating that blood and guts effort and approach to everything he does - in that proverbial foxhole with me.
Effuse nonsense... little strong. The hyperbole of my comment shouldn't be taken too literally - I'm sure you know that.
And I agree - it's time for him to move on and the Club did the right thing by not getting to emotionally tied and mad a good shrewd business decsion.
Graham Mockford
711
Posted 24/07/2012 at 20:05:09
Ciaran #566
I'm so glad I don't inhabit your miserable black hearted existence. It's a much better place to remember a true Evertonian, one who never shirked a challenge, never gave less than 100%, scored 29 times in single goal victories, someone I'm proud to have seen wear the royal blue jersey.

You want to try it, it's liberating.
Steve Green
713
Posted 24/07/2012 at 20:07:36
The comments re correct timing, best for both parties, appreciative of his attitude, contribution over a (relatively) long period of time and his sense of belonging... says it all. Aiden Doyle and Philip Roberts, you're entitled to your viewpoint but shame, shame, shame on you that that is all you can come up with.

Cairan McGlone - normal - same, same, you don't get it, looks like Tim was actually standing in front of you in the dignity queue when it was being dished out. You just don't get it.
Peter Cummings @ 595 nailed it when he said "The name Tim Cahill will find a permanent place in the hearts of every Evertonian worldwide and be counted amongst the greats who have graced Goodison during the history of our great club." Guess 'worldwide' doesn't extend to your cold heart in your measly part of the world.
Roll on the normal diatribe you come up with should anyone dare oppose your opinion eh. Can't wait.

For the record, thank you Tim Cahill for what you brought to Everton and Goodison over the past 8 years. Those in the know need no telling, those not in the know don't matter.
Brian Bates
725
Posted 24/07/2012 at 20:44:16
GUTTED!
Good luck Timmy and come back anytime.
Tim Cahill = MR EVERTON
Peter Cummings
737
Posted 24/07/2012 at 21:20:11
Steve Green, sorry mate don't get your reply to my post, whose 'cold heart' were you referring to? It can't be mine surely, in fact We ,my two lads and I, are looking forward to watching him on a regular basis in the MLS, living as we do in Ontario on the US border.
Ciarán McGlone
794
Posted 25/07/2012 at 00:10:54
Master Mockford...
Save the pop psychology.
A large proportion on this thread would be giving Tony Hibbert a slating week in week out – even though he displays the exact same characteristics that Tim did...
Some of you need a shrink. There's no insult in what I said... and neither should I withhold an opinion simply because the mawkish think its disrespectful to do otherwise...
It's not a wake.

Dave White
798
Posted 25/07/2012 at 00:31:53
Just go on the BBC sit and watch his last goal, and then try and say you're glad he's going.
I personally feel he had another good year in him with the last season being rather anomalous in the context of his career, but equally with the service he's given the club he's entitled to move on with the gratitude and respect of the club, much like Mikel.
I maintain he's been the best of Moyes buys, and you know the boy would bleed blue toffee flavoured blood.
The very best to you tiger Tim. You will be missed.
Michael Kenrick
802
Posted 25/07/2012 at 00:39:53
Dave (#798): — "blue toffee flavoured blood"... WTF?
I don't think you could prove Cairán's point about mawkishness more perfectly if you tried!!!!
Dave White
803
Posted 25/07/2012 at 00:42:16
For me the game is occassionally still about heroes and those who inspire, it isn't mawkish to reflect fondly on a player who has contributed to exhultation on the terraces.
In fact fuck it I'm happy in my mawkishness....'cause it must a fuckin' miserable world you live in.....
Mick Davies
819
Posted 25/07/2012 at 03:50:46
Ciaran McGlone, you must be the type who nicks the coins out a buskers hat. WE Evertonians admire players (not employees) who want to represent our club and do so with passion, commitment and a love for the fans, the history and heritage. Cahill epitomises the Everton spirit that legends like Dean, Hickson, Labone, Ball, Reid, Lyons, Sharp, Ferguson and others have shown through the last 120 odd years.

If you choose to forget anyone who has displayed this love of our club, then I don't see how you fit into the EFC family. And the final act of stupidity was to equate the endeavour of Cahill to the lazy, slow and useless Hibbert. For instance, just watch the last derby match, and Gerrard's second. Can't remember who it was but Hibbert as usual, with a head start, was roasted out on the wing and allowed the cross to come in for the goal.

There was no commitment, no challenge and like hundreds of times before, he just looked disinterested, or out of his depth. For us blues, the derby is the game where we expect 100% from our players, and with Tiger Tim, we always got that. Pity the same can't be said for Paper Tiger Tony, your hero.
Paul Ferry
826
Posted 25/07/2012 at 05:14:30
Absolutely Mick – #819 – perfectly, put mate. This Ciaran is spouting 100 per cent shite. He's on here a lot, not spouting shite for the most part, except now.
Tim and the way Moyes has stuck by him and played him for two years or so has made me scream at times, but Tim was and still is a credit to our club. A true blue and all cliches that follow but in this case deserved.
Sad Ciaran, very sad.
We all ought to have the true blue decency to see at one and the same time this day that Tim and EFC can both benefit from this Atlantic switch but that Tim has been a deserved icon for us over the 2000s in terms of goals, the shirt, his blue-ness.
Perhaps Ciaran in your job age will one day have its say. Right now you look, quite frankly, stupid.
In some respects. the gaffer dragged out his time at the old lady as he was an old guard have, maybe not. But he loves and loved our club Ciaran and for fuck's respect that.
Danny Kewley
839
Posted 25/07/2012 at 07:13:25
The "Peoples' Club" will miss a player who transcended the normal duties of an employee and became a Legend! We will miss his unique goal celebration (ok it dried up a bit near the end!) and his general all round100% commitment, good luck in your new job Tim.
Ciarán McGlone
844
Posted 25/07/2012 at 08:17:59
I rest my case...
At least Mr Crowley addressed my valid points ...without resorting to frankly petty and puerile insults.
Glad to know I'm not an Evertonian because I hold a contrary opinion.
Cahill was an average player who was at one time exceptional at finding the back of the net with his head. Endeavor is something I expect for sixty grand a week.
I don't idolise people who spend most of their time on the pitch trying to wind opposing players up... or doing 'a Cahill'... whether he plays in Blue or not – if that makes me miserable, then so be it.
Anthony Millington
859
Posted 25/07/2012 at 10:24:18
We should have tried to sell him to LA Galaxy and done a swap deal for Donovan to knock Donovan's price down.
Shane Corcoran
868
Posted 25/07/2012 at 10:34:14
Anyone getting as paranoid as I am with the past weeks' activities or lack thereof.? First Moyes says we're a lot closer to getting Pienaar. Then "Yobo finally set to go for £ 2.5m" (per toffeeweb). Followed shortly after by confirmation from the OS that an agreement had been reached with NY Red Bulls over the transfer of Tim Cahill. Note that there was no mention of personal terms being agreed. We all assumed that the funds and wages saved would go on Pienaar's capture at least. Fast foward a couple of days and the latest rumours have it that there's no sale of Yobo, there's no confirmation from NY about Cahill and no agreement has been reached over Pienaar and others are rumoured to be moving in. Oh and we also have scratched to competitive games off our pre-season plans. Woe.
Steve Green
871
Posted 25/07/2012 at 10:54:33
No Peter, please don't worry, it certainly wasn't aimed at you.
Rahman Talib
929
Posted 25/07/2012 at 16:52:06
He was sent off on his Everton debut.

He was sent off on his last game for Everton.

But we will all miss him.
Graham Mockford
990
Posted 25/07/2012 at 20:29:17
Ciaran
I certainly don't want you to withhold your opinions in the same way I feel free to tell you I disagree with you.
I don't think the majority of posts on here are mawkish but they are definitely sentimental. But isn't supporting a football team based on sentiment because if it was based on rationality and reason we certainly wouldn't be supporting the team we do.
Not sure why I'm Master Mockford, you are probably being too clever for me there!
Shane Corcoran
998
Posted 25/07/2012 at 21:08:47
I get your point Ciarán. I feel similar about the legendary status bestowed upon Duncan Ferguson.
But I think you're letting yourself down by using terms as "at one time was good at finding the net with his head." For 7 of the 8 seasons he was there, I think he not only found the net with his head but also with his feet. But it was his knack of arriving on time, his spring and his finishing that should be appreciated also. He also seemed like a nice guy and spoke passionately about the club.

And you mention Hibbert. If Hibbert were to leave then I would heap praise upon him for giving his all. You might expect it for £60k a week but you rarely get it.
Ciarán McGlone
079
Posted 26/07/2012 at 08:59:30
Shane,
You appear to misquote me. I used the word 'exceptional' in regard to Cahills ability to find the back of the net with his head...not 'good'...
Mike Green
163
Posted 26/07/2012 at 20:26:37
You also used the word 'average' Ciaran. Do you think this the sort of response an 'average' player gets when he leaves a club......?
Kevin Hudson
196
Posted 27/07/2012 at 00:34:02
....You also said that Cahill spends most of his time on the pitch trying to wind opponents up. (844).
Thought that was a little uncharitable.
Philip Roberts
256
Posted 27/07/2012 at 09:47:53
Mick Davies, not really worth commenting on your post, but I'm going to anyway.

Tony Hibbert was here long before "super Tim" and will be here long after he's gone. And to my mind has never given anything less than 100%, has played more games, and represented the club just as well as Tim ever did. To slag him off like you did shows a complete and utter lack of respect for the lad. He is obviously not worthy of being in your Everton Family. Hypocrite.
Philip Roberts
257
Posted 27/07/2012 at 10:29:21
Steve Green, sorry but I feel no shame in having an opinion.

I appreciate what Tim did in his time at Everton, I really do... It's just that he was never one of my favourites, and I was never a fan of his type of football. I know he "gave everything" and was a "true blue" but to me he just wasn't a particularly good footballer.

I remember the 7 games before Tim went to the Asia cup: we scored 7 goals and in the 7 games he missed (I'm including Blackpool cos he was on the bench) we scored 18 goals. I'm not saying this was all down to Tim, but it does make you think!
Add Your Comments
In order to post a comment, you need to be logged in as a registered user of the site.
Or Sign up as a ToffeeWeb Member — it's free, takes just a few minutes and will allow you to post your comments on articles and Talking Points submissions across the site.