Everton victory squandered at the death
By Michael Kenrick
23/11/2013

Comments (140)
jump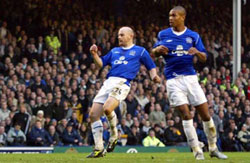 Ross Barkley started the first Merseyside derby of the Roberto Martinez era, with Deulofeu and Osman on the bench. The first corner for Liverpool was easily converted by Coutinho all alone at the far post to give Liverpool a shocking early lead. But Mirallas equalized very strongly inside 3 minutes, powering in at the far post. Then a foul by Distin on Suarez set up a free-kick that the Uruguayan curled brilliantly around the Everon wall and beyond Howard, just inside the post. After relentless Everton pressure in the second half, Lukaku, who had been poor, finally drove the ball past Mignolet. And 10 mins later, off a brilliant corner, Lukaku powered home an excellent Duncanesque header. It looked like this was the winner but Sturridge came on and glanced home another silly free-kick given away by Distin to level the scores in a tremendous game that Everton should have won.
---
Roberto Martinez selected Ross Barkley to start the first Merseyside derby of his reign as an Everton manager.
McCarthy went on a good early run, but with Lukaku holding wide right, as Everton set the tone with some early pressing; however, a long Gerrard pass won the first corner for Liverpool that was easily converted by Coutinho all alone at the far post to give Liverpool a shocking early lead.
Everton were stunned but on the first real opportunity. Baines floated in a good deep free-kick and Barkley seemed to get enough on it for Mirallas to force his way in at the far post and hook it into the Liverpool net, a great early response from the Blues, who continued to press the Reds back into their own penalty area.
Barry stood on Suarez's foot in a very dangerous spot and from the free kick, Suarez curled the ball around the wall and just inside Howard's post to put the Reds back in the lead after 19 mins.
A fantastic curled ball in by Barkley had to be tipped around the post late by Mignolet but Distin pushed Agger out of his way and drew a foul on the corner. Distin then had to give up another corner as Suarez threatened.
Everton were trying to get the ball forward to Lukaku with more urgency, but he was being well covered and unable to get clean possession but Mirallas got a second ball and lashed his shot across Mignolet's goal. Barkley was playing superbly and looked to shoot, but it flew well over.
Everton then tried to pass their way into the Liverpool area with at least 20 passes but got nowhere, and Barkley trying the more direct approach, being apparently caught by Lucas but deemed simulation by Dowd and given a yellow card for it.
Suarez started limping badly, then Mirallas caught him late on the player's knee with his studs, with protracted on-field treatment and the Liverpool physio making the case for a red card, but it was only yellow... somewhat surprisingly!
Everton were playing the early ball, but this time it was Mirallas who could not get past Flanagan. Gerrard appeared to lead with his elbow on Barry but Dowd settled things down. Pienaar won a great ball to feed Lukaku but the big man was too slow and Lucas was there to deny him. Lukaku was making very little in the way of worthwhile possession despite the ball being supplied to him regularly.
Pienaar and Baines combined well but Baines's first-time shot on the return ball flew horribly wide to end a very lively first half that was at times more like a traditional derby than an exhibition of calm passing and building on steady possession.
Martinez made no changes at the break, with Deulofeu still sitting on the bench despite Lukaku not playing particularly well. Barry then Barkley were fouled but Baines's free-kick for the second was pathetic in the circumstances... perhaps because he was struggling with a knock. More afters between Mirallas and Suarez as the Liverpool player dived in, and Mirallas came down with a boot between his shoulder blades! Baines went off, to be replaced by Deulofeu playing on the right, with Barry moving to left-back as Liverpool wasted a free-kick.
Everton started attacking with some real vim and vigour as Liverpool were pushed back, with Barkley and Deulofeu trying to create magic but they could not chisel out any chances on goal. Deulofeu got away but his execution was very poor, playing the ball straight at the advancing Mignolet, very poor execution.
A better move again saw Lukaku out right rather than in on goal to receive a great cross from Coleman. More attacking play broke down too easily and Liverpool really should have gone further ahead when Allen had an open goal to shoot at but screwed it wide. Mirallas caught Henderson on the brow, drawing blood, then Allen caught Mirallas and saw yellow.
Mirallas and Lukaku combined to put Lukau in with a glorious chance but again, the ball was played too close to Mignolet, who made himself big enough to catch Lukaku's shot with his right arm.
Pienaar was fouled by Lucas who got a yellow card, with the ball played short but it did not open up the Liverpool defence and Barkley resorted to another desperate welly. Barkley then went on a run down the middle but looked for the foul on him rather than the obvious pass. But a great ball from Barkley in to Lukaku again saw the shot tamely straight at the keeper when he really, really should have equalized.
Barkley was fouled in a good central position, Lukaku driving through and getting a nice deflection that so nearly beat Mignolet. But on the follow-up, Mirallas dived in smartly to keep it alive on the byeline and the ball eventually came through to Lukaku — for once unmarked and in the right place, in front of goal — and this time he made no mistake,
A real test of nerve for Everton as they needed to keep pressing with a fantastic Goodison atmosphere behind them, but perennially exposed on the counter, Distin coming up big time and again in defence with Sturridge coming on to redress the balance. Off a Liverpool corner, Everton broke and Lukaku looked to be well placed but his layoff was simply awful and before you could blink, the ball was heading to Suarez, who powered a header in on the Everton goal that somehow Howard kept out, as the Blues defence rocked a little.
Another excellent break four on two but again, the ball played close enough for Mignolet to save. Deulofeu tried again along the byeline but could only force the corner when he should have pulled the ball back. However, a fantastic corner in from Mirallas and a perfect header from Lukaku, leaping like a salmon around the penalty spot to power it home, well away from Mignolet and over the defender on the post. Goodison went ballistic...
Pienaar was replaced by Stones in the mayhem and Everton had to defend a dangerous free-kick that Jagielka headed away as the game boiled into a fantastic finishing phase, with Liverpool now pressing hard to get back in it. Mirallas went off for Leon Osman.
Distin needlessly gave away a free kick out wide on the Everton left and Sturridge glanced home the equalizer in the final minute of normal time, Everton utterly stunned.
Another free-kick for Liverpool that Gerrard swung across and Suarez returned it for Moses to head behind when it looked like he would score the winner for the horrible Reds.
Everton finally got into the Liverpool half, but could not sustain it and the ball fell to Suarez who had a fearsome shot that Howard parried away but Sturridge drove the ball into the Everton net off the corner. However, he was offside.
More brilliant play by Deulofeu ensued but again he chose to shoot at Mignolet rather than pull the ball back for Lukaku. Another incredible spell of Everton possession in the Liverpool area saw the Blues come maddeningly close to the winner but could not create enough space for the shot in a microcosm of a quite fantastic game, with Everton sadly throwing away two points from a commanding position near the end that they simply could not sustain.
Everton: Howard; Baines (49' Deulofeu), Distin Y:89', Jagielka (c), Coleman; Barry, McCarthy, Pienaar (83' Stones), Barkley Y:28', Mirallas Y: 36' (88' Osman); Lukaku.
Subs: Robles, Heitinga, Jelavic, Naismith.
Liverpool: Mignolet, Johnson, Flanagan, Agger, Skrtel, Lucas Y:66' (79' Sturridge), Gerrard, Allen Y:61' (69' Moses), Henderson, Coutinho, Suarez
Subs: Jones, Toure, Alberto, Sakho, Sterling
Referee: Phil Dowd
---
Reader Comments
Note: the following content is not moderated or vetted by the site owners at the time of submission. Comments are the responsibility of the poster. Disclaimer
Mike Hayes
602
Posted 23/11/2013 at 14:37:14
Roberto took a canon to a gunfight but we still let the shits in fuck sake
Michael Kenrick
603
Posted 23/11/2013 at 14:47:17
I thought Mirallas was really well wound up for that one... perhaps a little too much.
The number of chances to beat Mignolet that were spurned was simply shocking. Deulofeu far too selfish at times but he was the difference in the second half. Can't understand why Martinez didn't play him from the start. He clearly needs lots and lots and lots of game time.
A very emotional game but, for me, this is two points dropped through poor defending and poor shooting.
Kevin Rowlands
604
Posted 23/11/2013 at 14:49:25
Well Lukaku made me eat my words, thankyou, although we didn't win from what I seen we are just as good if not better than them, but we really need to work on our defensive set pieces, scary at times.
Brian Roberts
605
Posted 23/11/2013 at 14:52:18
When is Distin gonna stop effing up in derbies.
Stu Cameron
606
Posted 23/11/2013 at 14:54:29
Thought we were the better team for most of it. Terrible defending from set pieces needs sortin asap. But overall good performance and there keeper kept them in it
John Audsley
607
Posted 23/11/2013 at 14:53:15
I'm still in shock after watching that
Mignolet was the difference today but we need to sharpen up in front of goal and defending the goal too.
McCarthy was my MoM. He was superb and worked his arse off all game
Proud to be a blue but just wish we could have held on
Anthony Manning
608
Posted 23/11/2013 at 14:57:15
Feels like we,ve lost, got that hollow feeling in my stomach that only Liverpool can generate.
Anto Byrne
609
Posted 23/11/2013 at 14:43:50
I will point the finger at Distin for their 3rd goal. Very cheap free kick to give away and a booking for his trouble. Triple Whammy.
Overall, I'm not too downhearted, it was a very open game and good football from both sides. It could have easily been 6 all.
I liked the balance of the team when Baines went off and it wasn't a like-for-like change. I thought Barkley and McCarthy ran the show.
Brian Waring
610
Posted 23/11/2013 at 14:58:51
The biggest, biggest plus for me today, Martinez not bending over and taking it up the arse against these shower of cunts like we normally do.
Steve Brown
611
Posted 23/11/2013 at 14:58:18
Don't think we should lose sight of what a great second half performance that was. Mignolet made 4 one-on-one saves to thwart us.
Ross Barkely and Gerard have to start matches - both are raw and make some wrong decisions, but we are simply a different side with them playing.
Roger Sunde
612
Posted 23/11/2013 at 15:00:29
Gutted to concede late but all-in-all an epic match.
Tommy Coleman
613
Posted 23/11/2013 at 15:09:44
A crazy game we should have won. We are so close to having a title winning team.
Gaute Lie
614
Posted 23/11/2013 at 15:07:23
Mirallas lucky he didn't see the red card when going for Suarez with high boots and knots for killing.
We were unlucky Suarez the dromedar is still living and breathing.
The game all over was one we could and should have won. The shite had an excellent keeper for most of the game, and we had a sloppy defence. Otherwise we were the better all round, I think.
Mirallas, however, needs to be taught some lessons in finishing off the dromedar in a more stealthy way.

Mohammed Horoub
615
Posted 23/11/2013 at 15:02:52
Great game but as usual a moronic foul gifts them a point... Mirallas, Lukaku, McCarthy and Barkley were a different class. Delboy will be an amazing player when he learns how to pass. I blame Howard for the second goal, the wall wasn't set right I'm sure everyone behind the goal saw it before Suarez took it. Still we made a statement today and if it wasn't for Mignolet(who is first class) we would have crushed them.
Hope Baines is Ok he was looking his old self today...
Robert Workman
616
Posted 23/11/2013 at 15:08:37
Inspired by Jim Lloyd's story (at the end of the Preview thread) I decided to watch the derby for the first time in years. I had a good feeling about Martinez likely approach to the game - and was proved right.
Quite honestly, by the time of the frenetic end, it could have been any score - but we definitely had the much better chances, particularly on the break.
One of the highlights for me was replacing the injured Baines with Deulofeu - what a massively positive stroke, showing the intention to continue to take the game to them. Maybe that was just the inspiration that the team needed to get back in to it, and then dominate the game.
Kevin Rowlands
617
Posted 23/11/2013 at 15:16:40
Have to give a mention to James McCarthy, absolutely outstanding, well worth every penny of the money spent on him, the lad is going to become an Everton legend.
James Carlisle
618
Posted 23/11/2013 at 15:13:09
Nice to finally see a derby where we looked the better team. We went for them and showed them up to be nowhere near as good as we've been told they are. Shame about the result but I guess our set piece defending warranted it.
If not for Mignolet who was class, that game would've been ours.
Roman Sidey
620
Posted 23/11/2013 at 15:18:10
Baines goes off and we score from a corner? Surely... no... maybe... I'll just shut my mouth on that one.
Paul Andrews
621
Posted 23/11/2013 at 15:18:06
Michael Kenrick,
I have to disagree with you re Mirallas.
Give me that attitude over a laid back one every time.
He got his revenge for the sly tackle from Suarez that kept him out for a spell.
You are right re Deulofeu he needs to lift his head when he gets in the box,he could create a goal every single game.Beats a man like he is not there but takes the wrong option a lot of the time.
Michael Upton
622
Posted 23/11/2013 at 15:20:32
Proud of the attacking endeavour, gutted by the late equaliser.
But can I be the only one thinking if OFM was still in charge he'd now be getting slaughtered for "negative" late subs?
John Brennan
623
Posted 23/11/2013 at 15:17:54
I actually thought Lukaku had quite a poor game until he scored his second !
Nevertheless, taking the long term view, I was impressed with the way we played, I thought our passing was decent, and I can see where Roberto wants to take the club.
I knew, I just knew, the so and so's would equalise.
Nevertheless, we didnt lose, and I honestly think a draw was about fair.
Some broken nights to come for Roberto, but congrats to his family !!!
Andy Meighan
624
Posted 23/11/2013 at 15:18:28
Glad I missed it. Not. Feels like a defeat conceding late like that but it should've been well put to bed by then. Having said that, Allen's miss was truly shocking and that would have put them in a great position.
I really hope these silly deluded fucking kopites would lower their expectations, talking about winning the league — it's laughable. We're as good as them but, as I said, gutted at losing a goal so late.
James Marshall
625
Posted 23/11/2013 at 15:22:49
I don't think we threw away a win at all - the RS (I hate to say it) are a very decent team this year and we're a team on our way up, still finding our way.
To say in the report above that we threw it away isn't really a true reflection of a game that we could just as easily have lost had Joe Allen scored a sitter to make it 3-1.
Mignolet made a lot of saves after that to keep them in it, but a true reflection is that after what was a fabulous game of football, a draw is a good result for us. Yeah I'm as pissed off at not winning as the next person, but we looked good and competed - we must stop this stupid zonal marking though, because it leaves Howard so exposed. As a result we concede goals from set pieces regularly and the supporters blame the keeper, which is totally unjust.
Milos Milenkovic
626
Posted 23/11/2013 at 15:27:45
For most of the second half we had Barkley, Pienaar, Deulofeu, Mirallas and Lukaku on the pitch. During that time we scored two goals, didn't concede any and created 3 - 4 clear cut chances.
As soon as we brought on another defender we conceded another goal. We don't need to play with two defensive midfielders...
Jamie Crowley
627
Posted 23/11/2013 at 15:30:11
Have to agree 100% with Brian Waring. What a great game to watch. we went for it completely. so refreshing to see us with an attacking, go for it approach in a derby.
Happy to see Stones cut his derby teeth too.
Paul Andrews
628
Posted 23/11/2013 at 15:32:46
For half-an-hour in the second half, I thought Barkley looked the best player on the pitch. He had a good 90 minutes, but for that half-hour he was as good as you will see in the Prem. What this kid can be in a couple of years is frightening. Let us hope it is with us.
The bottle shown from the manager is great to see. Blaines off and Deulofeu on??? Fantastic to see.

Ross Edwards
629
Posted 23/11/2013 at 15:27:32
I understand your disappointment MK. But, taking that into consideration, Allen and Sewer should have scored for them, Lukaku should have scored two and Del Boy too, so I'd say it would have been a draw anyway, but you have to agree that the determination in that 2nd half to get back in was fantastic, we absolutely battered them in most of that half.
I am very proud with the performance, considering that Baines went off and Kev should have seen red. Martinez's decision to bring Del on for Baines was inspired, and shows he can be tactically flexible.
We mixed it up well, and thankfully reduced the number of those hospital passes across the defence. I think this should show those biased journos that on our day, we can be top 4 material and a match for anyone.
I admit too that Lukaku was quiet until his two goals, but I was impressed with Deulofeu as well. I think this should see him in the site instead of Pienaar for the Stoke game.
I'd pick for next time:
Howard
Coleman Jagielka Distin Baines(if not fit, Oviedo)
Barry McCarthy
Mirallas Barkley Deulofeu
Lukaku
Ralph Basnett
630
Posted 23/11/2013 at 15:35:22
Great game, fantastic atmosphere but outdone by sloppy defending, if we played like that every week we would be sitting pretty.
Just for once I can see our tippy tappy passing totally undoing a shit Stoke team and next week could be that slaughtering that we owe someone as long as we keep the same confidence and team spirit that we showed today.
Ajay Gopal
631
Posted 23/11/2013 at 15:25:02
All 6 goals came from set pieces - I don't think Liverpool had 1 shot on target from open play (OK, except for the the shot from Suarez in the last minute). Whereas, we had 4 clear one-on-one opportunities that were wasted. Lukaku was horrible in the 1st half - I was hoping Martinez would replace him with Jelavic at the break. But, full credit to him, he showed that he could be a beast.
Jim Bennings
632
Posted 23/11/2013 at 15:31:47
Outstanding performance that should have brought 3 points but yet again the same thing I have been typing about for the last 18 months cost us... WHEN WILL WE LEARN TO DEFEND HIGH BALLS/SET PIECES??
For me, the first thing we need to do in January is sign a commanding strong centre-half, maybe two as it's obvious that Distin and Jagielka are useless at defending an aerial battle and that should be a centre-halve's bread and butter. Jagielka is a midget for a defender no wonder we concede so many bleeding times like today.
We need a Dave Watson there, someone barking orders and being heard organising the team. I just don't think Jags or Distin can do this, they are both decent readers of the game but there is a reason why we concede so many basic goals from crosses.Loathe to say it but we could do worse than get Shawcross even though he is a cynical bastard, I wish Jags could be a bit more like him at times.
I felt a mixture of emotions today, proud of our display but evidently let down by them playing shite here again but we somehow let them score a fucking sackful. We know where we need to spend some money now anyway, if we didn't before. Rectify the problem that has dogged us too often for the last year and more.
Barry Rathbone
633
Posted 23/11/2013 at 15:41:06
Switched the radio on heard "3-3 draw" and was relieved, listened to the match summary got miffed they scored at the death but then heard we led after twice being behind and thought " at last!!! ... a bit of pride".
These clowns have outspent Man Utd in the history of the Prem, 3rd only to City and Chelsea and as we stand, if money is the one and only factor, their best should always outgun ours – but it ain't – and never will be.
Well done, Robbie and the boys, from one very proud Blue right here.
Jamie Crowley
634
Posted 23/11/2013 at 15:42:01
Barry — if you can find a replay, you really should watch. It was an extremely enjoyable game to watch. One of the most entertaining games in a few years in my opinion.
Eric Myles
635
Posted 23/11/2013 at 15:29:22
I was just pointing out the two RS players pushing and pulling Distin when that free kick was taken and they equalised. Couldn't make out in the replays whether that affected the goal or not though.
Roman Sidey
636
Posted 23/11/2013 at 15:38:56
It was an utterly fantastic match to watch, and to hear what the pundits like Macca and even Warnock were saying afterwards made it really feel like Merseyside football is on the comeback. Playing like that against Liverpool is so important because, to admit the depressing, they draw a much larger audience than we do, so it is good for exposure. We need to back it up against Arsenal as well.
What has gone seemingly unsaid today is just how massive and important Barry is for us. Having not followed him much until this season, I don't know if he has a history of filling in back there, but when RM moved him there, I wasn't at all concerned. Such is his professionalism and leadership, I knew he'd be okay, but he flourished. In January the club needs to tie him to a permanent deal for next season.
The biggest downer for me, apart from the equaliser, was Pienaar's passing. His positioning for most of the match was top drawer, but it seems that he has completely lost the ability to weight a pass appropriately.
Finally, Mirallas will always have a place in my heart after that.
Ross Edwards
637
Posted 23/11/2013 at 15:47:01
Barry, we battered them in the 2nd half mate. See if you can get a replay of the game because it was attacking, end-to-end stuff at its best.
Phil Walling
638
Posted 23/11/2013 at 15:43:11
No pissing about at the back today and loved every minute of it. This is what football used to be like in the pre-Prem days.
The purist would have hated it and heard Roberto bemoaning our inability to defend set pieces but he can be proud of his lads, his tactics and his substitutions today.
.....and what a change came over Mirallas. Stuck it up 'em proper !
Colin Glassar
639
Posted 23/11/2013 at 15:49:06
From a neutral's point of view, Mignolet was MotM as he saved them from a battering.
Andy Crooks
644
Posted 23/11/2013 at 15:54:17
We are a better side than Liverpool and showed it, A fine performance that deserved a win. I knew they would equalise and words can't describe how gutted I was watching in a bar full of Liverpool supporters.
Barkley will be a star.
Tony Marsh
645
Posted 23/11/2013 at 15:57:21
Gutted we didn't win today but it's the first time in a billion years that we conceed first in a derby match and didn't lose. It's the first time in 12 years that we have played in a derby and not been scared stiff. Can you all see the difference Roberto is making now?
Why didn't Tim Laden come for the ball that went for a corner when Coleman headed it back that led to their first goal? Some awful defending today but plenty of top football played by our lads.
I can't grumble but it feels likes a loss to be honest.
Mike Oates
646
Posted 23/11/2013 at 15:56:04
What an absolute joy to watch (well it would be if you were a neutral) but the highs and lows were just too much, and I knew just knew that the buggers would equalise.
I thought we actually played well the whole game except for little 5 min periods, but you'll always get that. Barkley bounced back with a magnificent performance, what a tremendous player he'll become. His strength, pace, technical skills are outstanding – again, just need to get the last phase right: when to pass... when to shoot.
McCarthy reminded me of Alan Ball, Peter Reid – always snapping, breaking up attacks; again, give him a few more matches and he'll become a top top player for us. Like most others on the site, I thought Lukaku was so poor in first half, I actually thought we might see Jelavic, but what a 2nd half, a bear of a man.
Mirallas was a different player today, committed, pacey, sharp and possibly was unlucky not be MotM. Deulofeu again came on and will in time develop into another class player.
Last comment afforded to Roberto: what a positive manager, I couldn't believe he took Baines off and replaced with Deulofeu — what a belief in winning games!!!

Rob Teo
647
Posted 23/11/2013 at 15:53:08
Have to say, even though Lukaku scored two goals, I thought he was quite ponderous - not much movement, slow, and off-form with his passing and shooting. Credit where credit is due - he drew us level and got us in front - but apart from that, I can't really remember him doing anything right. (I know, I know, this is where I'll be accused of being negative, etc.) In terms of overall play, I actually thought that Suarez - much as I dislike him - was the better player than Lukaku.
As for Deulofeu, he really needs to learn how to pass and understand that it's a team sport, not a one-man-show.
Other than that, I thought we really battered them in the second half and should really have won if not for the set-piece mistakes (and the fouls that led to them).
Jackie Barry
649
Posted 23/11/2013 at 15:55:26
Hearing some deluded RS fans saying they dropped two point again, LOL! Seriously they have absolutely no class.
Jim Lloyd
650
Posted 23/11/2013 at 15:43:32
Well, after all the angst and predictions of doom, I'm so glad I went!
In Lyndon's thread one post caught my eye. It read that this is Roberto's work in progress and he was spot on! It was so good to see our players, especially our young ones, giving their all and showing no fear. There were some glaring defensive cock ups but we never gave up.
In fact, we could have won it and it bodes well for the future to see our lads going at them. A great performance and I think that Roberto Martinez has brought an expansive, footballing style, at last, to Goodison Park.
I think he is also bringing some pride to our club, it's going to take time and there's the problem of whether we'll have the money to get new players in, and also whether we can keep Ross and Bainsey and our other better players.
All in all though, we weren't in any way intimidated and to come away from the match feeling disappointed, probably shows how well we played.
Colin Glassar
651
Posted 23/11/2013 at 16:11:11
You are right Rob, but the sign of a great player is is scoring goals when he's having a stinker. I think if Baines goes in January then we should break the bank and keep Lukaku.
In fairness to the lad, he has been a bit isolated in recent games and has been getting few crosses in from either flank. Skirtl also handled him very well today but Lukaku eventually came out on top. Everyone else had a blinder.
Jamie Barlow
652
Posted 23/11/2013 at 16:12:15
Great game to watch but I feel gutted after seeing us throw it away again. I'm proud of how the lads came back from being a goal down twice but we should have held on. Disappointed.
Brent Stephens
656
Posted 23/11/2013 at 16:19:58
Felt like 2 points lost but what an improved display by most of our lads. The upped pace was key to this. Well done lads. A hard earned point and great spirit after being one down so soon.
Lukaku quiet but good goals. The rest apart from Delboy played well to very well (McCarthy a rock).
But for me Delboy is not yet one to start a game. He threatens with some runs. But too many other runs are into a cul-de-sac; he doesn't spot when the pass is on; and worst of all (after seeming to get to grips in the Spurs game with his defensive duties) he was absolutely abysmal in tracking back. The space he left in our half on our right was terrifying at times. Nowhere near a starter for me.
Michael Kenrick
658
Posted 23/11/2013 at 16:23:57
Paul (#628), you're right to highlite the sub of Baines for Deulofeu. It was a critical moment in the game. I'd expected Deulofeu to come on at half-time considering the scoreline, but Martinez made a deliberate call to have Baines come out for the second half, with the full intention I suspect of making that crucial change.
It was a brave change because we have not seem him exercise that kind of flexibility, moving Barry to left-back. But I think it was Deulofeu's energy, desire and skill that changed the game, and I was a bit disappointed with Barkley at times, to be honest.
But mostly disappointed with our dreadful shooting. Mignolet was like a magnet for the ball. Lukaku in the first half was maddening; a striker HAS to place the ball away from the keeper's body. Very frustrating.
Brent Stephens
659
Posted 23/11/2013 at 16:32:08
I thought Baines was injured. So the change was forced. In which case, Barry has to go to LB, Ross into Barry's spot and Delboy then is chosen to come on as a replacement for Ross (with some positional juggling up front)..
Michael Kenrick
661
Posted 23/11/2013 at 16:35:17
Yes, Brent, he clearly was injured; that had been mentioned before the break, so I think the move was premeditated by Roberto.
I wonder how much it's figured that being subbed at the break is a kind of snub? Even if you are clearly injured, I think being 'hauled off' at the break perhaps sends the wrong message? Just a thought.
Eric Myles
662
Posted 23/11/2013 at 16:36:12
Brent #659, a replay showed that Baines had his foot stood on but it didn't look serious enough for him to be injured and he didn't seem to be limping when he went off.
Paul Andrews
663
Posted 23/11/2013 at 16:33:45
Michael,
It was a brave and positive change to make; not many managers would do that so all credit to Roberto.
Barkley is a work in progress, he will be some player. He makes the wrong choices at times but he is 19; that will come with more games.
To be honest, the only time I can remember in the 2nd half him having one touch too many was when he carried the ball 40 yards into their half, he tried to commit a defender to come to him, so we had a 2 v 1 situation, and was dispossessed. I can't remember another mistake in the second half.
He will give the ball away at times, that is because he tries the eye-of-a-needle positive pass at all times; give me that over the player who takes the safe option every time.

Brent Stephens
664
Posted 23/11/2013 at 16:39:26
Michael, Eric, that's really interesting! If Baines wasn't as injured as I'd assumed, then first I guess it does seem to show something about Roberto's tactical changes (though Barry to LB and Ross into Barry's position weakened that DM area and weakened the AM area as Delboy is a million miles away from a Ross Barkley).
And second, as Michael hints, is there a snub in there? Very interesting!
Michael Kenrick
665
Posted 23/11/2013 at 16:40:55
And calling Lukaku 'quiet' — I'm sorry but his entire play in the first half was atrocious. He didn't win a single one of the balls hoofed up for him, he was slow as a carthorse to chase that ball Lucas got to, he was ambling around 'going through the motions', his positioning at times maddening (out on the wing!?!?), his passing and decision-making were dreadful, his hold-up play non-existent....
But two very nice and very important goals scored. So all is forgiven.
Brent Stephens
666
Posted 23/11/2013 at 16:45:23
Michael, "quiet" was a bit of litotes on my part! I was being more than kind to him regarding his general play. I agree about his performance apart from the goals. He doesn't seem comfortable with back to goal receiving long ball.
Colin Glassar
667
Posted 23/11/2013 at 16:46:20
Barkley, 19. Delofeu, 19, Lukaku, 20, McCarthy, 20. Along with Coleman, Mirallas and Stones that was quite an inexperienced/young team that played like lions in the second half.
Michael Kenrick
668
Posted 23/11/2013 at 16:48:06
Paul (663), that run of Ross's had me yelling and screaming.... there were I think two players wide open on his left but he seemed determined to have someone tackle him. And then he just lamely lost possession.
I like the lad a lot, he shows some great skill and determination, and the inability to get his shot off probably shows how much respect he is getting from defenders, who know full well he can pop one given half a chance. Just wish he'd cut out the wild shots as they look more like desperation and are silly ways to end a good attack.
Colin Glassar
669
Posted 23/11/2013 at 16:53:22
Michael, go back some 12-13 seasons ago and a certain RS player called Steven Gerrard was doing exactly the same. Being a bit greedy, some sloppy passing, over exuberant tackling, showboating unnecessarily etc.... Young Ross will be even better than him with a bit more experience under his belt.
Linda Morrison
670
Posted 23/11/2013 at 16:45:57
I think we need to remember that Lukaka is only 1 year older than Barkley and still learning his trade. That's why he's on loan. I can't see Everton being able to fund buying Lukaka, even if the lad wanted to stay.
In January, we need to look for at least one defender, plus a Baines replacement. Disitin was getting pushed and pulled all over the place today.
Our defenders just need to rehearse defending set pieces. They did well against the best striker in the Premier League even though he missed quite a few games at the start of the season. Baines has a foot injury and is being X-rayed.
Michael Kenrick
671
Posted 23/11/2013 at 17:04:47
That's worrying news about Baines... hopefully not a metatarsal break! Although that could put an end to the really annoying weekly transfer speculation. I'd better find that story and put up a news item.
Paul Andrews
673
Posted 23/11/2013 at 17:05:02
I agree, Michael, he seemed to snatch at his shots today. almost as if the ball is half a stride behind him as he hits it. He still seems to generate the power but it must make direction more difficult.
Linda Morrison
675
Posted 23/11/2013 at 17:08:02
I totally agree with Michael.
If Baines is out for a bit, they'll have to pick on Barkley going to MU instead!
Kevin Rowlands
681
Posted 23/11/2013 at 17:10:18
Haha Tony 'Tim Laden', I was thinking who the fuck is that for a minute or two then it dawned on me, doh. One thing for sure is I'll be so glad to see the back of the sewer rat when Real Madrid come in for him in January or next summer, horrible bastard but always a nightmare for us in these games.
Jim Lloyd
682
Posted 23/11/2013 at 16:56:58
Baines has gone to hospital for a check on suspected broken toe
Yep, Michael, I agree with you on the 1st half from Lukaku, it looked like he was overweight and ran like he was running through rice pudding! but he never gave up and in the second half his all round play was better.
I'm not sure about the criticism of his efforts trying to do something with his back to goal, and a long ball booted up to him. Even Dunc had bad times with trying to do something with a wellie from the back.
I think his play improved in the 2nd half because we played a lot faster football, coming out of defence, and he was getting some balls he could run on to.
It also helped to see how we started getting some decent crosses in. I second what Colin has just posted. Ross is 19/20, James isn't much older and Gerry and Rom are only 19 as well. I think they gave the Liverpool players a bloody good match.
I think if we can keep him, Ross Berkley will be a regular for England and our Captain. One of the callers on Merseyside compared him to Duncan Edwards...praise indeed. I thought Miralles had a cracking game and Pienaar played much better than recent games.
All in all, still disappointed but bloody proud of the team at the same time.
Colin Glassar
683
Posted 23/11/2013 at 17:22:01
If it was a metawotsit he, Baines, wouldn't have come out for the 2nd half. He got a knock in the first half going for a 50-50 ball. He was limping a bit after that and I think Roberto gave him a chance to shrug it off. He stayed on the bench after that so it probably not too serious.
Trevor Lynes
689
Posted 23/11/2013 at 17:30:50
The mention of going for Shawcross is ridiculous. He gets regular bookings and grabs opposing strikers at every set piece. If he plays for us we will concede penalties whenever we play a top team. He is one big carthorse and not fit to wear an Everton shirt. Distin and Jagielka are much better. We have only lost one game this season which is the best record in the Premier League.
Mike Hughes
690
Posted 23/11/2013 at 17:37:38
I haven't seen the game yet and even turned the radio off as I believed I was jinxing the lads by listening. I have an issue with blood pressure (thanks Everton!) and I think listening makes it worse because the tension just builds. I was convinced Mirallas was getting a red so briefly switched off (well done for the tackle on scumbag, though). I then listened up to about 70 mins and again switched off. I was reasonably pleased with a draw given we were behind at 70 mins.
RM's post-match interview impressed me - we should have won and this was a positive approach. Looking forward to MoTD now.
Roman #636 - I agree with respect to Gareth Barry.
Tony #645 - I think we're aligned with our views of OFM but aren't you forgetting the Andy Johnson derby?
I hope we can stuff them at their place for a change.
Onwards and upwards.
Michael Kenrick
691
Posted 23/11/2013 at 17:45:00
Sounds like it's gonna be all the Reds on 606 moaning about Mirallas. I'm sure they aren't going to appreciate having a call not go fully in their favour in a passionate and vibrant derby game.... moaning red twats.
I shall say it was another brave decision by a sensible referee who did not want to ruin the game and saw it perhaps as his first offence? [Okay... bit of a stretch... but how nice for it to be them moaning and not us.]
Although that sending off by our friend Mr Friend.... oh deary me. He needs demoting for a month or three!
Mike Hughes
692
Posted 23/11/2013 at 17:52:27
By the way, where were our stewards today?
I heard RS fans had some piss-taking "18 years" congratulations banner re: trophyless years.
If it was me I'd have had batons and German Shepherd dogs set on to them. Then tear gas.
We'd never get away with that at their place.

Paul Andrews
695
Posted 23/11/2013 at 17:53:43
On the positive side, now that the disappointment is fading:
● When was the last time we had so many chances against them?
● When was the last time we overrun them so often?
● We had 3v2 & 4v3 a good few times even though we didn't take advantage.
● We had 4 or 5 one on ones with their keeper and attacked them for the majority of the game.
● When was the last derby game when their keeper was man of the match?
All-in-all a very promising game for the future and a refreshing change from the defensive mindset of the previous manager in derby games.
Michael Kenrick
696
Posted 23/11/2013 at 17:57:22
Mike, about Roberto's comments — I thought he was spot-on... apart from the tit-for-tat over Gerrard's supposed elbow on Distin.
Now, our wonderful manager is graciously withdrawing his accusation after watching the replay of said incident, seeing that Gerrard did not commit an offence. Takes a bit of class to publicly admit you were wrong, and make a retraction.
Well done, Roberto!!!
Mike Hughes
699
Posted 23/11/2013 at 18:06:37
Michael, I didn't hear RM's tit-for-tat comment but Gerrard is long overdue an elbow / punch in the throat in my humble opinion. However, it is refreshing to hear a bit of honesty rather than Wenger style "didn't see it".
Mike Price
700
Posted 23/11/2013 at 18:07:06
Who would have thought that Mirallas would be the nasty spark we needed? Clearly a revenge attack that was totally justified... I just wish his leg had of been planted and some real damage could have been done. Lucky not to go though and I think their dickhead physio helped by telling the ref it was a red, à la Gerrard in the Clattenburg derby, which made it much harder for him to then brandish the red.
Total mixed feelings: We shoulda won it, but easily could have lost it. Happy with Martinez and the change of vibe and inferiority default that's been present for the last 10 years.
Geoff Harrison
701
Posted 23/11/2013 at 18:16:48
I usually can't watch these games, but, today we were so much better than they were. In many respects we don't miss Fellaini, except for his height in defence. On second thoughts, Bollocks to him, he's not that tall on the Man Utd bench! COYB!!
Kunal Desai
702
Posted 23/11/2013 at 18:04:17
From a neutral's view, that was a great game to witness... but, from an Evertonian's view, I suppose you could say it was disheartening to lose the lead with 7 minutes to go after doing so well to get back into the game.
We should have punished Allen for missing that gilt-edged chance. I think the game changed when Baines went off, Deulofeu started to terrorise their back four; under our former manager, you can bet your bottom dollar he would have shut up shop and brought on Heitinga for a midfielder or forward – but, oh no, that's not Bobby Martinez's style.
You have to question Howard lining up that wall when Sewer Rat took that free kick, no way should he have been beaten from there... And secondly, I love how the foul by Mirallas on Ratface has been highlighted effortlessly on numerous on occasions; yes, it may well have been contentious in terms of a red... However, such is the media bias towards the reds that they never highlighted the same incidents last season, did they? Sewer Rat taking out Mirallas and then raking the back of Distin's heels... I love how all that got brushed aside.
I like what Martinez is doing and we certainly have a good set-up; if we can add one or two in terms of quality in January and perhaps shore up the defence again then this could be an even better year for us than most expect. Remember, Martinez has said this is a 'transitional' period at the club. Good times to roll ahead at Goodison, I feel.
Paul Andrews
703
Posted 23/11/2013 at 18:27:29
Mike Hughes,
Very eloquently put.
When you take into account the antics of Gerrard over the years in derby games he is very much overdue.
Mike Hughes
704
Posted 23/11/2013 at 18:28:59
We might be a little disappointed tonight but it's a more positive / satisfying disappointment compared to that FA Cup semi shambles against the RS a couple of years ago. Mind you, that was more shameful than disappointing.
A pretty good night of sport coming up on radio (the fight) and TV (MotD).
Raymond Fox
707
Posted 23/11/2013 at 18:02:50
Hell fire Phil, do you realise what you've just done! Praising Roberto, his tactics, and the performance today! I knew you'd be won over before very long.
I have to say, I'm also proud of Everton today, give Roberto the players and he'll be a truly great manager for us. We continue to look frail though when defending set pieces, which is puzzling given that our defenders are all very experienced players, they shouldn't need to be told how to defend, having said that, RS weren't much better today.
All-in-all though, our performance can only enhance our reputation in the Prem, it was a truly great game, with class play from most of our players.

Colin Malone
709
Posted 23/11/2013 at 18:35:52
The only insecurity was from the Moyes players, Howard and Distin.
I hope Martinez has money to spend in January.
Phil Walling
713
Posted 23/11/2013 at 18:49:31
Hey, Raymond, I just loved it. Passing at pace, I've nothing against and we often played long to good effect.
Others – including MK – are picking the negatives out of the performance but I've always looked for excitement with my football and will lose no sleep over the extra two points we MIGHT HAVE won.
RS supporters could make all the same points as the naysayers – I just relished one of the best derbies in nye on 50 years.
Peter Thistle
720
Posted 23/11/2013 at 18:50:15
These games make me so angry, i'm fuming. Just for once can we beat them scumbags? No, of course not, the bastards always get a result. So friggin sick of the draws and defeats in derbies, we ain't destined to win. I've never hated anyone or anything more than I hate that shower of cunts!
Raymond Fox
723
Posted 23/11/2013 at 19:11:30
I agree Phil, theres always going to be some negatives but they were well overshadowed by the promising performances of Barkley, McCarthy, Deulofeu & Lukaku who are only going to get better as the season goes on.
David Chait
724
Posted 23/11/2013 at 19:19:06
Talk about being a jinx.. I walked out after Lukaku miss at 2-1 down.. Come back 15 minutes later to see us 3-2 up and 30 secs later they score...
Jamie Crowley
725
Posted 23/11/2013 at 19:29:35
Phil @ 713 -
Couldn't agree more. Just a great, great game to behold.
So cool Lee Carsley (my favorite) tweeted out as well.
The whole Blue family should be proud of this game and most importantly our approach under our new manager towards the derby.
I know we shoulda had all 3 points but I just can't help but smile ear to ear since this morning.
Roman Sidey
726
Posted 23/11/2013 at 18:31:04
Did anyone else notice that during the several confrontations between the two sides following the fouls, Gerrard seemed very uncomfortable with us actually standing up? No doubt he has gotten used to us being the quiet, nice team that don't make a fuss. Well, it seems those days could be numbered. Would do wonders for Jags' cred if he had have walked up to him after he tried to elbow Syl and just right headbutted him.
Phil Walling
727
Posted 23/11/2013 at 19:23:18
Meant to say how the opposition's last gasp equaliser 'curbs our enthusiasm'. I bet if we'd won, this thread would have topped 300 posts by now !
I've not bought into Roberto's Way up to now but he struck exactly the right tone in his after-match comments and I share his pride in our performance.
After all, the bastards were never going to just roll over, were they?
John Ford
729
Posted 23/11/2013 at 19:27:25
I've said in other threads that I don't expect Roberto to exceed Moyes in terms of premier league returns. But wasn't this what we all wanted. A manager prepared to take chances and have a go. We were staccato at times but we created enough chances to win. I love that we kept at them. I was entertained
Its just so annoying that we don't seem to be able to stop giving cheap free kicks away.What was Distin doing? So infuriating. Brainless. Whatever else is going on, our defenders need to be disciplined.
Richard Dodd
734
Posted 23/11/2013 at 19:48:52
Caught only snatches of the game as I was entertaining at Haydock Racecourse but it looked a real end-to-end thriller.
Can we hope that it will be the lead game in tonight's MotD ?
Frank Duffy
747
Posted 23/11/2013 at 21:01:30
Brilliant game. Shame we didn't win but the Reds know we are BACK!!!
I thought we would win 3-2. I nearly won my bet with my two sons.
David Hallwood
749
Posted 23/11/2013 at 21:26:28
Didn't see the game so I'll have to rely on MOT(effin)D, but sorry about glass half empty folks but there's a hint of groundhog day about the season-too many draws, and as for the RS, I've got a feeling that if we were-4-0 up with 10 minutes to go there would be a natural disaster or terrorist outrage, the match would be abandoned and we'd lose or draw the replay.
Without giving too much credence to OFM(knife to a gunfight and all that), there is no doubt that under his watch we have become a match and at times more than a match for the RS, and from the commentary on Radio City (and even Aldridge admitted that we were the best team)
But can we come away with the points? maybe we need to spawn a few games (I remember one where Mo Johnson scored after we had been battered by the RS), because there's no doubt they got us in a physiological headlock
David Hallwood
750
Posted 23/11/2013 at 21:40:02
PS BTW is any of the TV stations re-running it?
Gavin Ramejkis
754
Posted 23/11/2013 at 22:00:02
David the match is on again at 1.15am tomorrow morning on BT Sport 2
Roy Steel
756
Posted 23/11/2013 at 22:04:05
A very encouraging performance apart from the set plays. Brilliant youngsters and experienced mixture... Bobby has for me transformed the whole attitude and playing ethic of the club. Memories of Kendall, Ball and Harvey... the future looks very bright. Let's all get behind RM.
Barry Rathbone
770
Posted 23/11/2013 at 23:39:07
Watched a re-run of the game then watched MotD because I am like a dog with 2 tails, just can't get enough of this stuff (as long as I know the result, be in hospital otherwise).
I love good football almost as much as I love Everton and fair play to Liverpool, they played their part, as one might expect given their modern-day superiority, but they were over-run.
The blue shirts swarming their box via slide rule passing from every angle, the pace and creativity bringing chance after chance the courage to go toe to toe both physically and with the ball was simply magical.
Alright we did not get what we deserved but we scored 3 against Liverpool!! We come back from behind twice and took the lead!! ... we just don't do this in the painful modern era.
Kendall's great turning point was the "Oxford" game but to my mind the real milestone was the League Cup Final against the all conquering Liverpool side.
We didn't get what we deserved that night as McDermot chipped in a wonder goal but we played so well even Souness acknowledged they got lucky - we never looked back after that.
"To sleep, perchance to dream.....", I most certainly will this night – fantastic stuff.
Paul Andrews
773
Posted 23/11/2013 at 23:43:50
The club and fans have a collective smile on their faces.
Great things ahead for Roberto
Patrick Murphy
776
Posted 23/11/2013 at 23:47:39
Sorry Barry the wonder goal by McDermott came a few years prior to the League Cup Final - Souness it was who got the winner and I was standing right behind that damn goal.
Phil Gardner
778
Posted 23/11/2013 at 23:55:22
Funny old things, the impartial press aren't they? I don't remember seeing any furore or press pics of Mirallas' and Distin's injuries inflicted by the the racist coward cannibal, but you watch 'em go tomorrow regarding the Mirallas 'tackle'. Anyone would be forgiven for suspecting a hidden agenda, oh....wait a minute....
Patrick Murphy
779
Posted 23/11/2013 at 23:59:08
In the 70s and 80s I used to despise the Media for their fawning over a very average Manchester United team and funnily enough so did my dark side mates. But I have to agree that it is nothing in comparison to the fawning over the LFC set-up which has gone on for over half a century, but as I always say Eastenders and Coronation Street maybe popular but that doesn't make them good.

Kevin Rowlands
786
Posted 24/11/2013 at 00:24:22
What makes me proud and happy tonight is not only the absolute quality of the game( and yes the rs played their part) but the players to a man who are on twitter coming out and describing it as one of their best ever footballing experiences, check out their twitter accounts and posts it will give you goosebumps!
Mike Gaynes
792
Posted 24/11/2013 at 01:23:19
Kevin, for those of us who aren't on Twitter, can you post some of those here?
Roman Sidey
796
Posted 24/11/2013 at 01:49:54
It's an odd feeling that we "only got a draw" but people are so over the moon that it was such a great match. It reminds me of the opening game of the 08-09 season when we got beat 3-2 by Rovers. Despite the negative result, it was a pulsating game with some seriously excellent football.
The biggest positive for me that hasn't gotten a mention is our counter attacking. Although we spurned several chances and Mignolet had a blinder, I haven't seen so many high intensity counter moves from Everton in the 11 years I've followed them.
Kevin Rowlands
797
Posted 24/11/2013 at 01:59:16
Mike, you don't have to be a twitter member to look at the posts, Lukaku, Del boy, McCarthy, Gibson, Coleman, Pienaar, Barkley and some other old blues have them, even my fav player of all time Peter Reid, plus nev south, go on twitter.com enter their names and check it out pal.
Kevin Rowlands
798
Posted 24/11/2013 at 02:05:56
Forgot Distin, plus an old fav Cahill, even the Everton legend ??? Phil N is on there, you've not tried out twitter Mike? far better than FB in my opinion.
Mick Davies
800
Posted 24/11/2013 at 01:43:32
A tabloid headline for tomorrow: "Rodgers hits out at 'career ender' Kevin Mirallas". These poxy journos haven't got a clue, and certainly don't possess any knowledge of OUR recent derby history; if any 'tackle' was career threatening it was Gerrards 2 footed assault on Naysmith which never even warranted a booking. That, and Kuyts vicious attack on Neville could have been life-threatening!!!
It's always the same with the pro-LFC media, see no evil, unless someone has the audacity to return the deed, as KM did.
I wanted us to win so much because of that sub-human guttersnipe. Lets hope he's gone before the rematch
Matt Woods
802
Posted 24/11/2013 at 03:13:14
Of course it was a shame we didn't claim the three points we deserved, but how refreshing that we treated them with no respect and attacked at every opportunity. Today I was proud to be an Evertonian. The passion and importantly the style in the performance against Liverpool was the finest since the 80s. There is nothing to fear. We have had the beating of this rabble for years and simply bottled it.
Thank you Roberto for understanding what it means to be an Evertonian. In the return we can be confident of going over there and putting them on the back foot. Making those smug bastards worry about us and our players. Its been too long, thank you for giving us back our respect.
Steve Brown
808
Posted 24/11/2013 at 04:10:02
Colin 709? "the only insecurity was from Moyes players Howard and Distin." Desperate stuff...Coleman, Baines, Jagielka, Mirallas, Pienaar, Barkely all played under Moyes and had good games. Plus I thought Howard did OK.
Barry Rathbone
834
Posted 24/11/2013 at 09:12:27
Patrick 776,
You are spot on ... the ravages of the passing years eh?
(shakes head for sawdust while researching "senility" on web)
Al Reddish
836
Posted 24/11/2013 at 09:07:42
As has been mentioned, the amount of 'youngsters' getting a game was great to see, although the three at the back formation seemed to confuse the players concentration. However, the pleasing thing for me was the high intensity that has been missing from our play so far under R.M. This is the way Barca Arsenal and Bayern play, keep the ball, attack with pace and make sure you get the bloody thing back within 5 seconds if you lose it.
Kevin Tully
839
Posted 24/11/2013 at 09:39:08
18 attempts at goal with 12 on target, compared to their 5 on target tells you who had the better of that game, could have easily been 6-3 but for their goalie.
I thought Barkley & McCarthy were outstanding, and they are the future going forward from here. It was great to see us attacking down the middle, and the flanks.
Even their fans are saying what a good side we are, what an incredible change in attitude after 12 games. Bring on the Mancs at their place, I even think we may get out of there alive!
John Wingrove
841
Posted 24/11/2013 at 09:59:57
Steve Brown 808. I haven't posted for a while, but must do so after you saying that you thought 'Howard did Ok'
It continues to stun me that my fellow Blues can even consider Howard fit to wear our shirt – and yet you say that he 'did OK' The last line of defence of any team is the goalkeeper – and we don't have one!
Did you actually watch Howard yesterday when the free kick was taken by Suarez? Once again, he messed up. He organised the wall, and stood to the right of centre, on his right foot when the shot – a great one – was delivered. He then took two minutes to dive in his attempt to make the save – because of his misjudgement. He was so far away, he couldn't get to the ball. Sure, the wall didn't do it's job, but the shot was taken from maybe 30 yards out, and at the bottom line, Howard is there to make the save: he didn't – his fault!
How many times must this guy get a start when, through each season, he makes howlers that cost us lots of points? Are you going to say that "he saves us in many games though" – well here's the thing: that's his job – make saves.
The guy is a clown, and the moment he does get dropped, he'll throw a huff a want to leave. He's weak coming out of goal and is suspect for long-range shots – second only to Richard Wright. I'll give you this though, other than the above, "he's ok"...
Distin – he's been a good servant but, my word, he knows how to drop clangers in big games, and at the age he is, this must be his last season for us.
Still lot's of changes Roberto needs to make. A good performance overall, but if Roberto persists with Moyes's players, he'll only keep getting Moyes's results.
Phil Walling
847
Posted 24/11/2013 at 10:37:16
With due respect, John, you are talking through your arse!
Howard and Distin may be on the veteran side but neither is anywhere near finished and yesterday they certainly contributed to a brilliant performance by our top class team.
But if you are seeking absolute perfection, you'll wait for a bloody long time, mate!
Kevin Tully
849
Posted 24/11/2013 at 11:23:14
Phil - 'Some people are so obsessed with Moyes-hating that their whole judgement is clouded by that passion.'
Brilliant.
Oliver Molloy
850
Posted 24/11/2013 at 11:12:57
Well, personally I'm gutted we did not win. So close to beating them after coming from behind in a hell of long time. When they equalized I was nearly sick and per usual the demons in my head starting to do overtime.
The thing that really did my head in was not one of our players gave a monkey's that Gerard had moved the ball what seemed a decent 8 or 10 yards to create the perfect angle for their free kick. WHY? Our players (especially our captain) should have been out in Dowds face barking!
Really disappointed we could not win it. The only way I will feel better is to beat them at their place.
Peter Thistle
855
Posted 24/11/2013 at 11:43:05
Rodger's comment about the Mirallas foul after the game was laughable. "I'd like to see what would've happened if Suarez had done that". Did he not watch the Goodison derby last season? Ratboy launched his studs down Distin's achilles then stamped on Kev's foot. Didn't even get a yellow. Always the victim much?
Brent Stephens
863
Posted 24/11/2013 at 12:20:30
Stats in Observer today show Jags and Distin both among top 5 for clearances this season. Only part of the game but...
Colin Malone
869
Posted 24/11/2013 at 12:22:36
Steve 808.
Clearly, you can see a more positive mentality from the players under Roberto Martinez. Yes, I would go as far as Baines, Coleman and Pienaar, who have not had great games against the shite.
Regarding Barkley, he would not have been on the team sheet under Moyes, most probably on loan somewhere, without an England call-up. Ozzie would have deffo got the nod.
Martinez has transformed this team within a matter of months — months not years, not only by the style of play; he has changed the player mentality to a positive one.
Colin Williams
896
Posted 24/11/2013 at 15:09:18
John (#841), totally agree with your comments!!!!!!! You are 100% right with your assessment of Howard. Offensively we were top class, defensively Distin, Howard and Jags were very poor again!!!
John Stones should be a regular; give him more game time, Robbie – he's your type of footballer. This guy will be regular for the blues for many years; he has all the attributes to be England regular in very near future.
Colin Glassar
898
Posted 24/11/2013 at 15:29:51
I mentioned Tim Howard's poor defensive organisation for the first two goals and got hammered. I'm glad someone agrees.
John Wingrove
910
Posted 24/11/2013 at 15:57:45
Phil Walling 847 - Howard and Distin - they have had their day and will not get any better. Distin is a veteran, but Howard has never been anything other than ordinary at best. Leaving yesterday's unnecessary foul alone, have you forgotten Distin's pass back in the Liverpool semi-final that cost us a place in the final? Or what about Howard's famous 'Star Jump' when making a ludicrous attempt to make a save not too long ago!
Roberto Martinez has to change the goalkeeper, like Rodgers. Howard bears no comparison to Reina, but he was sent packing. Roberto must do the same to make us into a better team capable of winning a trophy.
Phil Walling
940
Posted 24/11/2013 at 18:00:20
Hey, John, just try to name ONE player who never made mistakes. Are you suggesting the ones you refer to were made with malice aforethought?
And don't challenge my commitment as an Evertonian just because I hold different views on the merits of certain players to yours.
John Wingrove
968
Posted 24/11/2013 at 19:28:43
Phil, every player makes mistakes, of course they do. Equally, only a fool would try to suggest that mistakes on the field were made maliciously, and I wasn't ever trying to say this. So, to be clear, what I have said, and will do again, is that Distin makes major mistakes in big games, and probably because of a lack of concentration, his age, or his ability. I doubt the latter as he has been a decent player – but it's my view that he has now reached the end of the road in his career with Everton, sadly.
Howard is a different matter. He is a poor keeper who makes mistakes and poor judgement calls on a regular basis. He has never been able to dominate his area, cannot come out to pluck a dangerous cross out of the air, has always been suspect to long range shots, and his positioning in his area when protecting his goal often leads to opposition goals. He also comes off his line too often, leaving himself open to long-range attempts over his head, but when crosses come into his area he remains rooted to his goal line. I hope that makes my views clear!
Now, I know that Howard has had some good performances of late but, over a season, season after season, he is prone to make important mistakes that cost us points. There can be no question about that.
In an earlier post, you said that yesterday, it was a 'brilliant performance by our top class team'. What a ridiculous remark to make when we drew, thanks to (at least) one mistake in the 89th minute – the 89th!!! In doing so we dropped yet another two points – three points gained in the last three games. Everton did well yesterday, but there is a long way to go before we become 'top class'.
A big disappointment to me with my fellow Blues is the sentimentality many fans have for players who just are not good enough any more. It's a business, and they get very well paid, but when they're not good enough or too old, say goodbye – no sentiment. We don't have the funds of Man Utd, but they will not, and do not, persist with under performers – I'll let you list all those they have discarded as 'not good enough', and when you list them, add the name Tim Howard to the end.
We must be ruthless – either a player is good enough, or move them on quickly. If we're to become great again, there can be no alternative.
Andy Meighan
987
Posted 24/11/2013 at 20:22:50
Peter Thistle – brilliant post. I said exactly the same thing to one of the lads at my son's game this morning, fucking spawny horrible twats.
I've watched a rerun of the game a couple of times now and can't believe the way we cut them open at will. Yes, they had a couple of great chances but I've never seen us get amongst like that in a long time.
My god, we've got some cracking young players there... Barkley obviously... Stones is going to be a gem... young Gerrard – what a pity he's on loan... and big Rom, who looked like he was having a mare then scores 2 gems.
But the one who stood out for me was James McCarthy. I thought he was immense; he covers every blade. When you look at Henderson and that thing Joe Allen and the money they shelled out on them two... we got a bargain.
It's looking good for the toffee men but we should be higher in the league. Thanks, Roberto, because that wouldn't have happened under you know who.
Michael Kenrick
989
Posted 24/11/2013 at 20:32:05
John (#968):
In an earlier post, you said that yesterday, it was a 'brilliant performance by our top class team'. What a ridiculous remark to make when we drew, thanks to (at least) one mistake in the 89th minute – the 89th!!!
I think that's an unreasonable comment. Many Evertonians have expressed their pleasure at the performance overall, less so the result. In an ideal world, perhaps one should lead to the other but, in football, we know that is not always the case.
Everton performed very well yesterday — it was a 'brilliant performance' when you contrast it with the two previous games.... both of which also ended in draws and lost us two points each.
I hate to use the word because it is so overused, but this really is a case for needing some 'perspective'.

Mark Wilson
049
Posted 24/11/2013 at 23:03:12
Gutted to lose the lead after that superb third goal and overall a riveting attacking performance. Barkley is driving me crazy. Simply brilliant at times, a great eye for a pass, strength, determination, pace. Yet he frequently loses the ball because he releases it too late, or try's to find that killer pass too often when something simpler would have possibly produced a better outcome. But he has come on, hasn't he? He is starting to get the run of games he needs and now has a manager willing to forgive his frailties. He just could be the real deal after all, praying that's right.
Barca boy is another likely to take years off the lives of Evertonians this season. Quite brilliant at times, quite awful at others, giving the ball away but then looking like a genius and a match-winner. No idea what Roberto will do to accommodate him but here's a thought...next week against the pub team known as Stoke City we may play Barry at left back. Why not partner McCarthy with Ross and play Deulofeu behind our battering ram of a No 9? Risky, I'll grant you, but surely worth it as we really must win next week. Interesting times.
Tom Bowers
063
Posted 24/11/2013 at 22:44:11
Most of us agree that this new Everton are still a work in progress and it probably won't be till next season that they become the team we would like them to be, that is of course depending on the available personnel.
Whilst no player is indispensable (who misses Fellaini?) it would be nice to still have the loan players around. This may be unlikely but you never know.
Everton are proving difficult to beat it's true but we need to win more often starting with the Stoke game. Things are bunching up at the top and the money clubs have shown the have the top strikers to carry them through.
John Wingrove
102
Posted 25/11/2013 at 08:13:01
Michael, just a bit of perspective.
I have said that in Saturday's game the Blues played well, but to say it was 'brilliant' really is overstating your case. It's unreasonable to compare it to the previous two games, which I agree, we're awful.

Had Saturday's game been at Anfield, I would have agreed wholeheartedly that it was a good result and performance. Had we pulled back from defeat to gain a draw, that would have been a good outcome. However, this was a home game against our 'enemies', where the Reds first two goals at least we're defensive errors, yet again. We did amazingly well to get a third well deserved goal, until Distin gave away an unnecessary foul leading to the third, costing us two points.
If I remember correctly, we had 4 or 5 'one on one's' and failed with all of them! That cannot be described as brilliant, although there was a lot of passion!
Whilst Martinez said he was very pleased with the performance, I am absolutely sure that at Finch Farm this week, he will be looking at the defensive mistakes that cost us the game, and those 'one on one's'.
We Blues need to 'wise up' - we will only win a trophy when and if we reduce our mistakes in games, and remove those players who cannot be relied upon in big games.

Martinez is doing a great job, but is being let down by these players. We must strive to get better, and refuse to accept anything less. One point, regardless of the performance, wasn't a good enough outcome from that game, and that down to defensive errors. In the cold light of day today, our Blue fans will be disappointed today that we 'lost' more points in the closing stages of yet another game.
James Newcombe
108
Posted 25/11/2013 at 09:49:27
You can watch highlights on the official club site for free. You'll just need to register / sign in... Well worth doing, what a game!
Brent Stephens
153
Posted 25/11/2013 at 12:48:17
Mark #049. Your suggestion for the Stoke game (Barry at LB, Barks alongside Macca) sounds decent. I'm still not sure about Delboy because of his defensive failings but I guess he should have the chance to fully prove himself. Start against SToke, if it goes well going forward and backward, fine. If not, hook him and Plan B. Plan B being? My guess is Roberto will have Osman as Plan B in that scenario - if indeed he doesn't start him.
Alternatively it's a start for Stones, leaving Barry and Macca together.
Tony McNulty
163
Posted 25/11/2013 at 13:14:54
I'm not too worried about Delboy's defensive duties as long as he produces at the other end.
He is clearly an exciting talent but one with much to learn:
1. He looks to be one greeder, glory-hunting heifer at times, constantly wanting to score Goal of the Season having beaten eight players on his own.
2. As a consequence. his decision-making often sucks like a vacuum cleaner. Instead of passing the ball to a better placed team member, he tries to finish himself from more difficult positions.
Gaute Lie
279
Posted 25/11/2013 at 19:29:36
I believe it's really sad how some fans always has a go at Tim Howard.
Yes. He makes mistakes. As do all top keepers I know of. But he do make many good saves. Set pieces is not his strong side, we all know that for a fact. Otherwise, I rate him among the top 5 in PL.
Also, Distin, is in my op the best defender we have. Also makes mistakes, but heck, the man aint' a robot. Even though he looks like one.
Trevor Lynes
459
Posted 26/11/2013 at 19:35:14
When I read of idiots who condemn Howard for the top class free kick that Suarez scored it makes me realize that lots of our fans have never played the game at any decent level.
The wall was placed correctly and Suarez bent the ball around the outside of the wall and it swerved inches inside the post...he did exactly the same against Man City earlier this season. The wall could have been moved further across or had an extra man in it but the fact remains that the wall was correctly set and was beaten by a superb finish!! It was not Howards fault nor any of the defenders placed in the wall.
This fact was pointed out by both Gary Neville and Jamie Carragher and I reckon they would have definitely blamed our defence if it was the case. Both were top players and I reckon their explanation is worth far more than the knit picking negative comments written here. It was a fantastic match and we should have shaded it over a very good and expensively assembled Liverpool side.
As far as I am concerned Barkley shone for us and young Flanagan did for them, both Liverpool born lads who played better than a lot of expensive, experienced players on both sides. If Stones can step up to the plate too I will be over the moon.
Add Your Comments
In order to post a comment, you need to be logged in as a registered user of the site.
Or Sign up as a ToffeeWeb Member — it's free, takes just a few minutes and will allow you to post your comments on articles and Talking Points submissions across the site.
© ToffeeWeb