Osman's drive rescues a point
By Michael Kenrick
01/01/2014

Comments (121)
jump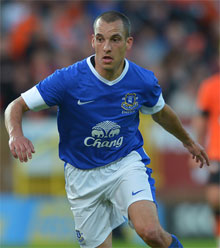 Super-sub Osman makes the difference in added time
Stoke City 1-1 Everton
Distin and Jagielka joined Deulofeu, Kone and Gibson on the injured list but Barry and Howard (as captain) returned from suspension and Stones played alongside Alcaraz in a new central defensive partnership. Up front, Lukaku was looking for better service from Pienaar, Mirallas and Barkley, with Apostolos Vellios making a rare appearance on the Everton bench.
Not much to report in the early exchanges, although Stoke tried to test the Blues with a few long balls, a head on from Crouch headed away confidently by Stones. Everton looked to get some nice movement going around the Stoke area but a heavy touch from Mirallas, then Lukaku lost possession.
Everton won the first corner on 10 mins, swung in a little low by Baines. Lukaku won a second corner off a great ball from Barry, Alcaraz and Stones up for it; Barry heading over but climbing for it.
Barkley won a nice free-kick, tripping over his own feet! — but Baines swung it past the far post. A fast move by Stoke almost paid off but Adam pushed Barry before Howard pulled off a fantastic save as Mariner blew for the foul by Adam.
Stoke got a better cross in to Crouch who would ave done more with the header but for good attention from Stones. Barkley was making some odd decisions. Barry had a poke with a low drive from the edge of the Stoke area before another hopeful spell of probing from the home side.
Alcaraz was showing some supreme confidence and skill in the ball, opening up play with an excellent cross-filed ball to Coleman. Everton were doing everything they could to get forward but Lukaku was playing too deep and wide, and was showing some very poor touch and a disappointing lack of ball control when it was most needed.
Mirallas smashed one into the crossbar out of nothing, a really powerful drive that had Sorensen well beaten. While at the other end, Assaidi in space could have damaged Everton but the shot was deflected behind. A great break on, spoiled again by horrible ball control from the Big Belgian.
As the rain intensified, Everton kept trying to get their slick passing game going but tight marking by a solid Stoke defence made it difficult to get a sight of goal, while the threat of counter-attack from Stoke was perennial. Mirallas drove a good ball in to Barkley whose first-time side-foot flew inches over the angle.
Some patient build-up saw Baines caught by N'Zonzi just before the break, Mirallas whacking a fantastic deadball strike onto Sorenen's right post, a brilliant attempt underlining Everton's determination to get something from this very difficult encounter.
Sorenson was replaced at the break by Butland but the action was more effective at the other end when the ball came out to Assaidi and he hammered his shot through three defenders and past Howard into the Everton net, setting the scene for a real Blues test .
Cameroon got booked for dragging back Pienaar, Baines's probing kick winning a corner that was worked around to no effect. Pienaar then had a wild shot well over the ball. Then Lukaku took a weak shot that was easy for Butland. At the other end, Adam had a good shot but could not beat Howard.
After a great challenge and subsequent run from Barkley Shawcross got a booking for diving in on Barry, and another dangerous free kick that Mirallas tried to fire under the wall this time... but they failed to oblige with a jump. 30 mins left for Everton to turn this around...
Assaidi seemed to get the better of Coleman but then held on to the Everton full back, and anther free-kick, this one wide right was swung in this time by Barkley, and headed away too easily. Whelan, lunged in on Pienaar, yellow card, and this one too far out for a strike at goal played short... and coming to nothing. Mirallas saw yellow for arguing with Mariner... stupid.
Some great setup work seemed to lay it on a plate for Mirallas but Peters blocked the certain goal, and the pendulum swung back Stoke's way for a spell as they felt they ha the measure of anything at them. A sensational dribble in by Barkley and again, Peters blocked the crucial shot behind, and nothing from the corner.
Martinez tried to change things up another notch, Osman and Jelavic entering the fray with Pienaar and McCarthy giving way with less than 20 mins left... Stoke brought Pennant on for Evertonian Jon Walters. Everton tried to get back in the rhythm after the changes but Stoke were not going to lie down, Crouch coming close but for some determined 4-on-1 defending by the All Blues.
Into the final 10 mins and Everton's attacks were becoming more frenetic, while Stoke and the home crowd nerves created a very lively atmosphere inside the Britannia Stadium as was swapped out for Palacios, while Naismith replaced Lukaku... a very surprising move, even if Lukaku had not been playing well.
A goalbound Osman shot was blocked by Shawcross, then some great play and a ball in by Barkley to Jelavic's feet but somehow it was shipped away from him. Naismith though he could dribble his way past three defenders with 5 mins now showing, but no goals...
Another free-kick, this time wide left, as Baines tripped himself, the ball horribly overhit by Mirallas, past the far post. Some frenetic defending as the Blues hounded every loose ball on the edge of the Stoke area,Osman setting up Naismith for a great header, blocked by Peters, then a Mirallas shot, (blocked by Peters.
Yet another massive free-kick, 90th minute, floated in by Baines, fell to Jelavic, his fierce shot again blocked away. Four minutes of added time and Osman looks like he was fouled, but gets up and keeps heading to the byeline, hacked down... Penalty for Everton! Leighton Baines smashed it home and Everton rescue a point... perhaps more!
But the late corner went to Stoke at the other end and was defended away as the final whistle went, A tremendous fightback by Everton that avoided what would have been a hugely depressing defeat for the Blues. But no mistake, this was a very difficult game for the Blues.
Stoke City: Sorensen (46' Butland); Cameron Y, Shawcross Y:, Wilson, Pieters; Walters (72' Pennant Y:), Nzonzi, Adam (80' Palacios), Whelan Y:63', Assaidi; Crouch
Subs not used: Muniesa, Jones, Arnautovic, Ireland.
Everton: Howard; Coleman, Stones, Alcaraz, Baines; McCarthy (71' Osman), Barry; Mirallas Y:, Barkley, Pienaar (71' Jelavic); Lukaku (82' Naismith).
Subs not used: Robles, Hibbert, Oviedo, Vellios.
Attendance:
25,832
Referee:
Andre Marriner
---
Reader Comments
Note: the following content is not moderated or vetted by the site owners at the time of submission. Comments are the responsibility of the poster. Disclaimer
Mike Corcoran
916
Posted 01/01/2014 at 14:28:38
Oviedo is on the bench for his ability to change the game if required at LB or the wing.
Dean Barton
921
Posted 01/01/2014 at 14:35:50
http://www.wiziwig.tv/broadcast.php?matchid=232259&part=sports
Links for all the streams
John Malone
925
Posted 01/01/2014 at 14:37:30
Oviedo will play against QPR on Saturday, gutted Distin's out big loss
Jim Bennings
926
Posted 01/01/2014 at 15:07:03
Looking at our inexperienced team here with Stones and Alcaraz never having played together, it is going to be a big test now to take something from this game. We can't expect those guys to gel instantly, I would be very pleased with a draw today if I am honest.
I don't think Oviedo deserves to be dropped, I understand the situation with Baines but Oviedo has been great.
Linda Morrison
928
Posted 01/01/2014 at 15:23:04
Agree with all the above. I thought we would do well to get a draw here anyway, and that was before Disitn was out.
I hope he isn't going to be out as long as Jags. Apparently he pulled a hamstring in the last game.
Makes reinforcements this month even more important.
Jim Bennings
929
Posted 01/01/2014 at 15:27:42
Kevin Mirallas been anonymous again, what has happened to him?? It would have been better starting Oviedo ahead of him. Barkley not really dictating the game or getting his passes off...
Hahaha — just as I slag Mirallas off, he smacks the bar... you need to do that more often Kev because that's what frustrates fans; we know you can do it...
Pienaar needs to really take more care with his final ball, if ever a player flatters to deceive too often, it's him; he should have at least 8-9 goals in him a season but never ever does it.
Thomas Windsor
930
Posted 01/01/2014 at 16:14:59
Need to keep winning, Blues.
Jim Bennings
931
Posted 01/01/2014 at 16:13:50
Fuck off..Redshite bench warmer scoring, how are we behind here? These are shit. I am getting a bit concerned lately that are are failing to score/beat average sides. We still seem blunt in fromt of goal for me. Failure to score here will be Palace, Sunderland, Cardiff and West Brom who we have failed to score against.
I do think even though we have had a good season we badly need some attacking options. When do we ever see a wide midfielder score for us? Pienaar has been shit again, Mirallas started doing a little better but still not running at them enough.
Lukaku not getting at them enough and Barkley has been poor today.
We have to improve the squad otherwise all the good work that has been done can easily be unravelled.
Jim Bennings
932
Posted 01/01/2014 at 16:21:25
This is pretty turgid shit. I truly hate this fixture at Stoke. It's always a shit fest with noisy knobhead fans that for some reason we never seem to cope with and take control. I mean they are just fat little knee-crackers like Adam and Glen Whelan — why are not passing the ball through these??
Jim Bennings
933
Posted 01/01/2014 at 16:32:33
Think this is seriously drifting now. We just haven't been able to impose ourselves in this second half; in all honesty their keeper hasn't had a save to make. We just don't have enough guile against sides like this.
Jim Bennings
934
Posted 01/01/2014 at 16:37:11
Lukaku off for Naismith??? Don't get me wrong — Lukaku hasn't played well but we now pin our hopes on a striker that has not scored for 12 months?? Boy, do we need a bigger squad!
Dennis Ng
935
Posted 01/01/2014 at 16:53:54
I thought it should have been Mirallas. Osman's effort got us the draw. We gave a soft goal away. Defence at fault. Three men in front of the ball and it still went through...
Linda Morrison
936
Posted 01/01/2014 at 16:54:05
Come on folks. We have not won at Stoke for 5 years and look at all the changes especially in defence we have had in the last 2 games.
I trust Roberto and we got a point, which was probably all we would have had even if Jags and Distin had been in.
My worry is that;
1) The squad is far too small to challenge for top 4, as today shows;
2) We need to give Barkley a rest, he's only 20 and we are relying on him far too much.
Well done to the team for keeping going and getting a point. Now we need Spurs and Man Utd to draw to end the day on a positive note.
John Ford
937
Posted 01/01/2014 at 17:00:16
No-one takes anything easily from there and we were the best team again which always gives us a chance. It's frustrating because we have higher standards now. A point isn't bad. Credit to our super sub for changing the game again.
James Stewart
938
Posted 01/01/2014 at 17:02:07
All I can say to that is we desperately need a few more quality players. Looking very paper-thin squad-wise...
Dennis Ng
939
Posted 01/01/2014 at 16:59:48
Linda, the team put up a good effort. I thought we had enough chances to win. One of those days you can't score with an open goal. Woodwork 2x! Then they piled everything behind the ball.
Agree on resting RB a bit here and there but there will be those who will question RM wisdom of not starting RB. FA Cup game coming in quite timely in that regards.
MU draw would suit us well. rs plays Stoke after the FA Cup break. Chance to retake 4th place then with Norwich at home!
Ross Edwards
940
Posted 01/01/2014 at 16:58:43
I'll take a draw considering the situation. We battered a very negative Stoke team, so much for Hughes coming in to adapt their style, but couldn't take our chances. We hit the woodwork twice, and just typical that Stoke scored with their first proper shot.
The penalty was deserved and well dispatched by Baines, who never lets us down when we need him most.
This game is a clear indication that we need new additions, and I'm sure Roberto feels the same.
1 point off 4th, 7 points off top. I'd have taken that if offered in June when Martinez was appointed.
Spurs and Man U to come, a draw would be good in that match.
We're still in the fight, we'll make a good fist of it. Even if the doom squad keep saying, top 4 is not over and we will still be there come May.
COYB, lets progress in the FA Cup next week, dispatch Norwich and take it from there.
Kevin Tully
941
Posted 01/01/2014 at 16:58:45
Even though he hit the woodwork twice, I am starting to have an irrational hatred of Mirallas. He thinks it's all about him – not a team player for me. Lukaku's feet must be made of cast iron, I've never seen a worse first touch on a professional footballer. Baines looked more like his old self the longer the game went on.
We were unlucky not to score before the penno, but we played like all the top teams when they go behind, you just knew a goal was coming.
A draw is not the end of the world at Stoke. 1 point off 4th.
Andy Osborne
942
Posted 01/01/2014 at 17:02:39
Well done for saving a point but we have to sell Jelavic. Our subs today were weak, apart from Osman, who still has a part to play but not as a starter. He did well today. Naismith and Jelavic were poor. We should get rid of both and bring in new faces.
Mike Anson
943
Posted 01/01/2014 at 17:04:02
Just looking at the table, all of a sudden, it seems, a 7 point gap to the top. The top sides with the big squads are doing it. Hope RM can strengthen this month. Following the BBC Sport text we worked hard enough for the win, but these matches are the ones we need to win to match our ambitions. I would have taken a point though...
Ross Edwards
944
Posted 01/01/2014 at 17:07:55
After all, Chelsea and City both lost away at Stoke, so we did better by getting a point. It isn't over yet, even if Brady/Brody and his even moore irritating sidekick Daniel A Johnson seem to think so.
Jim Harrison
945
Posted 01/01/2014 at 17:07:23
Fair play Stoke. Tactics prevented us from playing our best. A point when it looked over shows great character. The squad needs a boost though; without Del-boy there are few game changers to bring in...
Dennis Ng
946
Posted 01/01/2014 at 17:06:52
Kevin, likewise though I would call out his otherwise lacklustre game. I thought he should have been the one subbed instead of Lukaku. Mirallas is really off this year. Maybe it's time RM whips him into shape. Good shooting, decision making below average, touch is average, passing not very effective into the box. That jelly feet pass into the area at the start of the game pretty much sums up what I think of him right now.
Tony Draper
947
Posted 01/01/2014 at 17:05:37
Bloody choked! Best side by a long stride
We have to take into account the number of changes throughout the "fairy light period" and we really have had a bunch.
I already think that we actually look better 2014, because Alcaraz. Robles & Stones have stood up with starts.
Also, BIG STYLE credit to Bainesy. Possibly the coolest man in the Prem: a month away with a broken toe, then steps up to bury an away New Year's Day penalty.
Bainesy!
Dennis Ng
948
Posted 01/01/2014 at 17:11:00
Ross, agreed. Our 1 pt advantage before today over Liverpool is really that draw at Arsenal (which Liverpool lost in the similar tie). Similarly, Stoke could prove to be the difference maker. I'm comfy with our performance so far.
Ray Roche
950
Posted 01/01/2014 at 17:11:57
Fair play Stoke? I think "fair play" are the least likely words to be used regarding Stoke City. What a shower of spoiling, inbred anti-football bag of shite they are.
Ross Edwards
951
Posted 01/01/2014 at 17:19:13
Absolutely, 100% spot on Ray. They are a disgrace to English football.
John Daley
953
Posted 01/01/2014 at 17:23:11
Thought this had draw written all over before the game. Stoke have an impressive home record and no team fancies going there needing to take full points. By the end of the game? Just relief that the lads kept going and managed to snatch something from an away fixture that is always about as appealing as scaling a seal shit staircase in slack sandals.
Things weren't going for us today. It was looking like the goal would never come but there was never any dropping of heads or thoughts of chalking it off as just 'one of those days'. That determination to keep going right until the death is the one positive to be taken from today's game. That and the fact Stones acquitted himself admirably after being thrown in at the deep end.
Kieran Fitzgerald
954
Posted 01/01/2014 at 17:20:46
There are a lot of positives to be taken from our four games over the last ten days. Seven points from twelve isn't bad considering we were away to Swansea and Stoke.
Our positivity and psychology were brilliant. The Sunderland result was fucking awful to have to swallow but the performance, even when down to ten men was superb. It was the same again today, our heads didn't drop and we kept playing to the final whistle. This is a very positive change compared to previous seasons.
Injuries and squad rotation haven't slowed us down. Alcaraz has played well in his two games and by the sounds of it Stones was alright today.
Newcastle and Southampton both lost today. Man Utd and/or Spurs will lose points also. While this may not seem like much consolation considering we are out of the CL places, I am more than happy to be comfortably in 5th at this stage of the season. If I am honest, we are doing much better than I thought we were going to. I really don't give a fuck if the RS are above us. They are several seasons ahead of us in terms of development and have had a shit load more cash to spend.
We have a cup game next weekend then we are back to one game a week. We will be able to take a breather and recharge the batteries.

Dennis Ng
955
Posted 01/01/2014 at 17:30:12
John, quite right. I thought Stoke's goal was a shocker, pretty soft considering 3 men in front and then it beat Howard. We should have won but Stoke is a very hard away game.
Alcaraz and Stones did well otherwise. Coleman is a bit subdued today, probably because of the new back two and Stoke being as thick as they are in defence. The team did well but nothing to show for except the penalty, which almost never came if not for that horrible sub by Hughes.
Great push all the way to the end. Hopefully, that determination will get us to the promised land this season!
John Daley
956
Posted 01/01/2014 at 17:26:00
"I am starting to have an irrational hatred of Mirallas. He thinks it's all about him – not a team player."
No doubt he's infuriating but, to my mind, Mirallas is not a natural wide player. He's a striker who is being played out wide and I think, a lot of times, that accounts for his selfish streak when he sniffs a chance to get in on goal.
Dave Williams
957
Posted 01/01/2014 at 17:19:48
Well done, boys – a point at Stoke is not too bad. If we win our home games and draw away we will be thereabouts in general terms.
The conditions did not help our style of play and, with the injuries and one or two players not in their best form at the moment, I am not unhappy at a draw. Certainly we are down to our bare bones now and the bench is not strong. We really miss Gerard from the bench and a couple of decent reinforcements are needed to beef us up again.
Well done, John Stones in what was a nasty game to make his full debut,and what a good player Rock is looking – we can see why RM was so quick to bring him in, and on a free too!!!
Sam Morrison
958
Posted 01/01/2014 at 17:40:37
I hold up my hands - thought RM was making a mistake taking McCarthy off. But Ossie was a game-changer.
Brian Waring
959
Posted 01/01/2014 at 17:45:02
Mark Hughes "We deserved the 3pts today" — what a nob he is.
Viv Sharma
960
Posted 01/01/2014 at 17:42:56
I agree about the wideman comment, John. In a way, he reminds me of Henry (not quite quality-wise sadly) but in terms of style and body shape. Made to play wide but through the middle could be a real threat. Here's hoping....
Kevin Tully
962
Posted 01/01/2014 at 17:40:21
I think most of us would have settled for a draw considering we had Alcaraz and Stones as our CB pairing.
The FA Cup comes as a welcome opportunity to give a couple of players a rest, and hopefully we can conduct any transfer business early this month.
It's all still to play for – 2 defeats out of the first 20 games!
Dennis Ng
963
Posted 01/01/2014 at 17:47:08
Agree with John on Mirallas. I feel RM needs to single him out for positional training if he's to play Mirallas in that position long term...
Brian Waring
964
Posted 01/01/2014 at 17:46:06
That's where I see Mirallas John, Lukaku is looking knackered, so why not give Mirallas a run out up front.
Noel Early
966
Posted 01/01/2014 at 17:40:51
Annoyed by that result really... thank god we got a point all the same. I felt Lukaku should have been rested today and used as an impact sub; the lad is knackered leading the line on his own all Xmas. Osman showed again that it's best he is used as a sub. Mirallas and Pienaar are well below average.
Deulofeu's injury has come as the worst possible time. We really needed him against Sunderland and today. Whatever happens, we will be 5th by the time the Norwich game comes around.
It wouldn't bother me if Martinez played a reserve/weakened side against QPR; we need to put everything into finishing 4th this year or the sniffer dogs will be out in force looking to prize Barkley, Coleman and Baines away this summer.
Mike Corcoran
967
Posted 01/01/2014 at 17:45:07
Looking forward now to some business before the Norwich game. We need someone with a first touch and a bit of guile up front. We need someone with pace who can play a through ball from midfield. And we need cover for gashbash.
Problem at the moment is the bus is being parked by those below Soton. No space for us to break into like the winner against them. Sometimes you can have too much possession.
Dave Williams
968
Posted 01/01/2014 at 17:46:59
If McGeady or Donovan arrive we could give Ross a rest and play Kev just behind Rom. I agree, Kev always looks better when cutting through the middle; his delivery from wide positions is poor.
Colin Glassar
969
Posted 01/01/2014 at 17:48:38
As someone said on the live forum, I think Roberto will surprise us in the next few days in the transfer market. Many a team will go to Stoke and struggle to get anything, especially in those conditions. Our squad is proving to be very good as everyone who has come in has done well. One or two fresh faces in the next few days will give everyone another dose of deserved optimism.
Patrick Murphy
970
Posted 01/01/2014 at 17:49:14
20 games played; 10 at Goodison 10 away; target 40pts – we are just 2 below that target. Stoke away has hardly been a kind venue in recent times and, given we had blown them away at Goodison, they were never going to allow us to over-run them today.
Eleven victories from our remaining 18 fixtures will put us over the 70-point mark – if we achieve that then fantastic but the top 3 look as though they are making a break for it and keep on winning... 4th however, difficult but still possible.

David Pearl
971
Posted 01/01/2014 at 17:48:58
Stones did well today. Good positional sense, though a poor header out for their goal. The system we play protected him a bit. Not bad considering our two main CB's were out. Further up field Lukaku looks tired, Mirallas went missing again for the second half but was unlucky with his two shots in the first half. Nice to see Ossie coming on to change the game. Jelavic had another shot blocked that looked to be going in. The spark that Deulfeo brings is missing. Not doom and gloom but 2 points dropped really and we are finding ourselves slipping behind very quickly. Got to find a way of picking up maximum points again.
Barry Rathbone
972
Posted 01/01/2014 at 17:51:09
Well done, blue boys — a fighting draw at Stoke given the loss of first choice centre backs is no mean feat; they deserve a lot of credit.
Colin Glassar
973
Posted 01/01/2014 at 17:54:32
Mike, I totally agree with you. From now on, teams are going to defend deep against us. We will need a midfield locksmith in this window.
Brian Waring
976
Posted 01/01/2014 at 17:55:08
"target 40pts" Come on Patrick, thinking like OFM there.
Paul David
977
Posted 01/01/2014 at 17:37:51
Before the game, I thought we would turn these over with ease but after watching the way the game unfolded I'm happy with a point. Stoke defended excellently and there was always a player in the way of every shot.
Lukaku is starting to piss me off, the way he has been playing this last month or so I wouldn't pay £5m for him. His first touch is terrible, he is static, hasn't won a header in weeks and is pushed off the ball with ease. He was brilliant when he first came but Mourinho was right to loan him out, he looks a long way off being able to play every week for a team in the CL with genuine title hopes.
The one player I now have no time for is Pienaar. He has been shite for so long now that he can no longer be considered a good player. He never gets in the box, hardly ever runs with the ball or plays forward passes. He slows everything down and must be the only winger in the league that never puts a cross into the box. He is probably our biggest earner, if he was one of the lowest earners in the team we still wouldn't be getting value for money yet he seems untouchable. Martinez plays him every week and he hardly ever gets slagged off on here.
Mike Corcoran
978
Posted 01/01/2014 at 17:53:49
I think Rom should get a rest and give Mirallas his David Villa moment against QPR.
Patrick Murphy
979
Posted 01/01/2014 at 18:04:06
No Brian 40 point target from the 20 games played so far i.e. 2pts a game

Brian Waring
980
Posted 01/01/2014 at 18:04:52
Knew where you were coming from Patrick, just winding you up.
Kieran Fitzgerald
981
Posted 01/01/2014 at 18:00:06
Another positive for me is that we are already starting to get transfers completed and it's only the first day of the window. Heitinga going this early frees up a wage that can be spent on someone else. We don't need any more cover in defence and this wage can be spent further up the pitch.
Patrick @970, I would think that ten to eleven wins is achievable. We will need to do well in the transfer window but I think we are only one or two players away from the seventy point mark.
Peter Bell
982
Posted 01/01/2014 at 18:00:12
Sam Morrison @ 958 totally disagree with you about taking off McCarthy. He does a great job for us, but when you are chasing a game you always take off the midfielder less likely to either score or create you a goal, he should have also come off against Sunderland.
Peter Laing
983
Posted 01/01/2014 at 18:04:16
Good performance from the blues today given the hectic festive fixture list, injuries severely depleting our team in key areas, an agricultural opposition in the form of Stoke on a bad run at a cold and blustery Britannia.
Patrick Murphy
984
Posted 01/01/2014 at 18:09:31
Nice one Brian - Happy New Year

Brian Denton
985
Posted 01/01/2014 at 18:09:17
Two points lost in the race for the Title (we can dream) but definitely one gained in the chase for 4th place. Could really do with Man Utd and Spurs drawing (Spurs just gone ahead)
Jamie Barlow
986
Posted 01/01/2014 at 17:58:50
I wouldn't call it 2 points dropped. I'd say it was a hard earned point.
It was a really tough game to play against these lot today with both our centre halves missing. Alcaraz and Stones done fantastic but I think both newbies being in the team also stopped either Barry or McCarthy getting forward as much as in recent games. I also think Barry had his worst game for us as well as Baines being pretty awful.
It was never going to be pretty with the shite weather and, well, playing Stoke. Horrible team. Still, we got a result and it was nice to see the whipping boy win us our penalty.
Jon Cox
987
Posted 01/01/2014 at 18:01:30
I did like the fact that we never gave up. We didn't have that last season and it's a quality few clubs possess.
It was always going to be hard away at Deliverance-ville but an away point along with not much luck on the day, was as much as we would have taken before the kick off.
There's defo been a change imho since Del-boy became injured. We seem to have lost that certain swagger. Anyway, it's nice to be "hovering" around the top 4 and another run put together at some point in the near future will really upset the meeja.
Peter Jones
989
Posted 01/01/2014 at 18:20:11
The weather was an equaliser today. Barry and McCarthy have not the guile to open defences if the opposition score first. They are essential against the top teams but against the bottom teams they do not have what Osman or Pienaar have which is the ability to open tight defences. Osman today was head and shoulders above anyone else on the pitch when he came on.

Kunal Desai
990
Posted 01/01/2014 at 18:15:59
Just sounds like Man Utd tactics to unsettle the boy to me winger Coleman just before we played them ,Barkley utd ,it is all bollocks
Kevin Tully
992
Posted 01/01/2014 at 18:28:44
Special mention to Alcaraz and Stones, thought they were superb. We could really do with a striker coming in early (perhaps the Norwich game) I'm not for anyone from the Championship making the step up to the PL to aid our push for top 4, i'd prefer if RM could persuade someone like Cardozo from Benfica to join us now that they are our of CL. Proven goalscorer with bags of experience especially in the CL and for country. I remember him tearing us apart in the Europa League as well.
Ben Jones
993
Posted 01/01/2014 at 18:32:38
It was frustrating how little Stoke threatened us yet we still drew, and Hughes had the cheek to say Stoke deserved all three points!!!
Fair play to them though, they defended really well, and Shawcross was man of the match by a mile.
With our performance, thought Stones and Alcaraz were really good. Barry a little below par, Mirallas, Pienaar and Lukaku offered very little. But not that concerned. On to QPR!
Kieran Fitzgerald
994
Posted 01/01/2014 at 18:38:16
With all the justified hype about how our season has gone so far, I think it does tend to get overlooked that this is still a squad in transition. Imagine how we will look after the January and summer transfer windows, and the time in between for Martinez to put his full stamp on things.
If we can maintain enough momentum to finish anywhere in the top six, I think next season could be very exciting. Then again, there is still half of this one left.
Dennis Ng
995
Posted 01/01/2014 at 18:38:39
Kevin (992), shouldn't a midfielder, perhaps a winger that can open up defences be a better priority? It seems to me we can score from every position but we often struggle (or just slow) to open opponents up when they park the bus. Plus, its not like we're sending pinpoint crosses to the middle. I feel that should be the direction of this window. McGeady might help but would we have others?
Graham Mockford
997
Posted 01/01/2014 at 18:39:33
I'm starting to believe in Martinez. Twelve months ago we played at Stoke, same result but the performance was miles apart. Last year was dross, two sides trying to out muscle each other football at a minimum.
Today even though it was the same result we came and played football, were by far the better team and on another day would have got the three points we deserved.
Also Roberto's handling of Osman was the sign of a good manager. He effectively costs us the game at Sunderland through a mistake. Some on here were suggesting that should be the end of his Everton career. What does Roberto do, he gives him the captain's armband. Today we got the reward for that piece of man management. He comes on and changes the game.
Onwards and upwards
Peter Jamieson
998
Posted 01/01/2014 at 18:49:15
Wasn't the Stats man in the Everton programme Gavin Buckland, not Gary Buckland?
Interesting to see we had 5 quality forwards involved against Arsenal ten years ago - Rooney, Campbell, Radzinski, Ferguson and Jeffers. On paper, it's arguable we were better off then for forwards than now, although we finished 17th ten years ago and were for the most part pretty impotent up front. Just shows that football isn't played on paper!
Patrick Murphy
999
Posted 01/01/2014 at 18:54:15
I'm starting to believe in Martinez. Twelve months ago we played at Stoke, same result but the performance was miles apart. Last year was dross, two sides trying to out muscle each other football at a minimum.
Today even though it was the same result we came and played football, were by far the better team and on another day would have got the three points we deserved.
Also Roberto's handling of Osman was the sign of a good manager. He effectively costs us the game at Sunderland through a mistake. Some on here were suggesting that should be the end of his Everton career. What does Roberto do, he gives him the captain's armband. Today we got the reward for that piece of man management. He comes on and changes the game.
Onwards and upwards!
Sam Hoare
000
Posted 01/01/2014 at 18:47:31
With expectations so high currently any points lost to teams outside the top 8 seem like a bad result but considering the festive strain on our smallish squad I think a draw is no disaster.
There is no doubt that the rest of the season will now depend on part on our transfer window. If the squad stays at is then I suspect fatigue and injuries will likely see us float around the 6th/7th spot (which is no mean feat) but if we are able to bring in 2 or 3 players who really add something to the first team then we might be able to keep up the challenge for the game changing CL. Over to you bill and Bob.
Peter Mills
001
Posted 01/01/2014 at 18:32:23
We were very unfortunate not to win a tough match. An inch difference with either/both of the shots from Mirallas and the match would have been very different. A top class attitude from the team, the players kept their heads and their faith in the system. An excellent cameo from Osman, and Barkley provided some sublime moments.

Chris Wilson
002
Posted 01/01/2014 at 18:56:15
Just watched Big Sam comment on Nolan's moment of insanity today. Although typical Big Sam, he can't completely blame his player because the ref should have blown for a foul two seconds earlier and there wouldn't have been a red card, blah, blah, blah. Anyway he was questioned about the state of his team, and Allardyce bemoaned the injury list that has increased during this holiday period of games. So I was wondering, what is everyone's feeling about the Christmas to New Year 4 games in 10 days thing? It is great to have games and possibly build points, but soft tissue fatigue injuries like pulls and strains are common at this time as Jags and Distin will attest, which can really test a team's depth. Thoughts?
Peter Mills
003
Posted 01/01/2014 at 19:09:07
Chris #002, the 4 games in 10 days suits the rich clubs with the biggest squads, they can bring in top class replacements to rest players who are carrying strains. So it looks like that's the way things will stay.
Tahir Abdullah
004
Posted 01/01/2014 at 18:57:03
Kieran @994 spot on; this is a transitional season. RM is steadily putting his stamp on our playing style, but for us to make a definite push for CL football of league title will require some pruning of a number of the inherited current squad players as well as recruitment of players more suited to the possession based football that we are trying to play.
Nevertheless, great spirit shown by our blue lads today; some might be less or more good from week to week, but all of can be proud to support a group of players who have on the whole (season to date) played above what most of us thought them capable of at the start of the season. NSNO!
John Malone
005
Posted 01/01/2014 at 18:54:06
We need a good January window to get something worthwhile out of this season, Lukaku looks half the player he was in the first few games, Mirallas is going missing too often, and without Deulofeu the bench looks toothless.
Being realistic we've done well to get ourselves into this position but the depth and quality of the squad just isn't there to cope with injuries and lack of form. We've seen before what a good January can do not only is it more options it's competition for places.
Rumours doing rounds McGeady is a cert. and a forward from Valencia, fingers crossed!
Dennis Ng
006
Posted 01/01/2014 at 19:15:38
Sam, you're absolutely right and I think people are forgetting they are not expecting this much of a great run before the season started. And that Stoke is a hard place to win. I do think we deserve a win and did more than enough for that, it isn't a horrible result. Hopefully we'll get those reinforcements RM mentioned soon! If not more!
Peter Jamieson
014
Posted 01/01/2014 at 19:42:41
Come on, with all due respect Anyone who say's that "we weren't expecting such a good season......blah, blah". Is talking bollocks.
Expectations have been set by how well we've done so far, and we should expect better.
Next four games are Norwich away, home to West Brom, Away to RS, Home to Villa.
We should reasonably expect 10 from 12 points out of that. I'd even take 9. Anything less than 9 would see a CL spot very tough to attain.
Patrick Murphy
021
Posted 01/01/2014 at 19:53:55
Here we go again... x number of points from x number of games – no wonder some people are so upset when things don't work out as they had hoped. Obviously we are capable of beating all of those teams but, it has to be done.
I hope BK doesn't wait to splash the cash until the end of January as we need an attacking boost right now. Norwich and Villa at home, WBA and Dark Side away surely?

Gerry Quinn
022
Posted 01/01/2014 at 19:59:46
2014 and already 1 penalty to equal the total for all of last year!!!
Si Cooper
023
Posted 01/01/2014 at 19:31:27
Difficult weather conditions and the obdurate cloggers of Stoke notwithstanding, this was a patchy and lacklustre performance with too many of our players not at their peak. Largely untroubled we were still unable to threaten their goal often enough to really stack the odds in our favour.
How desperate were we for a player like Deulofeu this afternoon to really run at the heart of their defence and create chaos in the 18 yard box? Ossie did what he could when he came on and drew the challenge for the penalty, but Ross Barkley didn't seem able to show his brilliance frequently or consistently enough. Looking at the subs bench after they scored did not really engender a great deal of confidence that the game could be rescued by anything more than dogged persistence and the hope that someone would rise to the occasion. Anyone know why Oviedo wasn't used today (especially as I thought he had a godd chance of being a starter either at left back or left midfield)?
Considering the way they have played recently and the drubbing we gave them at Goodison not very long ago, anything less than 3 points today has to be viewed as disappointing, compounding the 3 points lost on Thursday. Someone suggested recently that our squad was already robust enough; I disagreed then and I still do. Unless we can add some better alternatives for when our numbers are depleted or if players are just not firing on all cylinders, then it seems unlikely that this season will give us European qualification or the FA Cup.
Graham Mockford
026
Posted 01/01/2014 at 20:04:31
Patrick Murphy
Just what I was thinking!!
Dennis Ng
027
Posted 01/01/2014 at 20:02:53
Patrick, I'm sure they were very optimistic at first and never doubted RM or BK. In fact, if we're sitting 15th, it would be the same to Peter.
Si, on this night, I have to cede that we need some reinforcements. Maybe the goals against Southampton are wee luckier than I thought. However, the display today is still excellent.
I feel that we need a winger more than a striker, as many crosses have been more hopeful than not. Deulofeu is sorely missed. Where are we on McGeady?
Patrick Murphy
029
Posted 01/01/2014 at 20:02:37
Perhaps when we can spend £25m on a player and tens of millions on various back up squad members we can complain but come on the league table doesn't lie and we are sat in fifth place and above massive spenders United, Newcastle and Spurs but we are unhappy?
We don't have a pile of cash and are unlikely to have a pile of cash in the future unless we sell Baines and Barkley. The BK chickens are beginning to come home to roost and depending on what happens in the next couple of windows we were always likely to fall off the pace this season, that we haven't yet is testament to good management by Roberto, but he will have his work cut out to maintain those levels for the next 18 months.

David Hallwood
030
Posted 01/01/2014 at 20:19:07
Moving on to the weekend's cup match, this gives RM something of a dilemma. Realistically, the FA Cup is our best chance of silverware and therefore he should put out the strongest team. However, Lukaku, Mirallas & probably Barkley look like they could do with being rested after the gruelling festive schedule. But, even allowing for the fact that there are no gimmes in the FA Cup (as our recent history testifies), QPR will be tough opponents as old latex face has got them playing well and they are in position to bounce back straight back into the EPL.
So... will he stick or twist? It will be an interesting team selection.
Colin Glassar
035
Posted 01/01/2014 at 20:32:18
Looks like that 4th spot is going to between us, the RS and maybe Spurs. I think the Ginger Mancs will now concentrate on the cups.
Phil Walling
069
Posted 01/01/2014 at 21:32:51
We are naturally a 'seventhish' club - a status determined by the resources available to the manager. Just like his predecessor, the present incumbent is a good 'un but neither are miracle workers although this one provides bright attractive football. But, let's face it, Champions League is just a silly pipedream.
So let's enjoy what we have and stop hankering after a status beyond our reach. Europa League is a total wash-out and should be avoided but another sixth place on the back of great football would be an excellent performance with which we should be satisfied.
And there's always the Cup!
Colin Malone
082
Posted 01/01/2014 at 22:09:40
Stoke knew that when this Everton team where coming to town, they would have to defend, in which they did well. Goes to show how far we have come under Roberto Martinez. Give him the money Bill.
The School ofScience is back.
Phil Walling
084
Posted 01/01/2014 at 22:24:53
Colin, I seem to remember we were in exactly the same league position a year ago today! But I, for one, am not complaining.
Mike Price
088
Posted 01/01/2014 at 22:17:15
I agree that the Europa is pointless. It's as if it's been designed by the 4 rich clubs to screw up the next league season of a close challenger.
The Sunderland game was a killer regarding belief and momentum, but RM is good enough to get us back on track and with a bit of cleverness in the transfer market will drive us towards that 4th spot.
We've got to beat the redshite though and if we don't get 4th, I'd love them to get 5th and us 6th every time. The Europa is an embarrassment to a high spending, top 4 wannabe, and will kill any chances for next season.
Colin Malone
089
Posted 01/01/2014 at 22:29:44
Phil, whats your point?.
I see football that is played the proper way, on the ground, which in time, will evolve to our national team .
Brian Denton
091
Posted 01/01/2014 at 22:41:49
Phil (069) - Reach for the Skies ! That's the Spirit !
Colin Glassar
092
Posted 01/01/2014 at 22:41:39
From what I've read we've got around £12m to spend in January I think Roberto will get us the players to push us on in the second part of the season.
Graham Mockford
097
Posted 01/01/2014 at 22:40:50
Phil Walling
You are one miserable bastard, maybe your lack of optimism is just a self defense mechanism. But really 'seventhish' why would you bother?
You are watching football on the front foot for the first time in a long time. Maybe we won't get a Top 4 finish but maybe we might just. Other than City who I think will win the league no-one has dominated us.... When do you last remember that?
This is not about taking sides, Moyes must take some credit for assembling most of this squad but we are making progress.
And given the players coming through with plenty of years to come like
Coleman, Oviedo, Stones, Barkley et al the future is pretty bright

Kevin Rowlands
099
Posted 01/01/2014 at 22:55:50
Phil, you might not be complaining but you've always got to get that little dig in haven't you, btw what was Utd's position this time last year, hmm.
Phil Walling
100
Posted 01/01/2014 at 22:55:19
Colin, I am not regarded as a Roberto worshipper on this board, merely because I don't live in dreamland. Yes, it would be nice to get into the EC but we have neither the players or the resources to get them to achieve that status.
Unlike so many, I shall regard a sixth place finish as a good job done by the Little Spaniard just as I did when the Scotsman did it.
Kevin Rowlands
102
Posted 01/01/2014 at 22:59:03
"Sixth place on the back of great football would be excellent and we should all be satisfied" Phil, were fucking Everton, not Norwich/Southampton, absolutely ridiculous statement, you were obviously not around in the 80's, fans who really know our history will never settle for sixth and rightly so!
Patrick Murphy
103
Posted 01/01/2014 at 23:02:01
We had 33 points from 20 matches and were in 6th spot in the table, United were top with 46 points.
We then took 30 points from the last 18 fixtures and ended up with 63 points a similar return from our remaining games will see us with 68 points at the end of the season.

Kevin Tully
105
Posted 01/01/2014 at 23:11:06
Don't know why so many take the bait. Just put him on ignore.
Phil Walling
117
Posted 01/01/2014 at 23:39:08
But you are all the same lot who'll moan your heads off every time we lose a match between now and season's end. All the crap about 'greatness' is ancient history and ignores the fact we have been also-rans ever since the Prem was founded.
At least I'm prepared for 'seventhish ' and if accompanied by good football will celebrate it !
Mark Taylor
118
Posted 01/01/2014 at 23:28:55
Deserved draw against a truly execrable Stoke team in the mould of their ogre manager, Hughes.
Stones and Alcaraz both impressed given they were a virgin pair. The goal was not Stones fault- there should have been a DM sweeping on the edge of the box.
Don't know why people thought Barkley was average. He's not a miracle worker but he still looked our most penetrative player. He's nothing like as good pushed into a more defensive midfield role, as he was later in the game.
Lukaku was again mediocre up front. He can look very clumsy, the ball pinging off his feet. We may need to look at another option there, if only to give him a break. I have said for a while, I think Mirallas could do a job there (again he was annoyingly intermittent but presents a threat in a way that e.g Naismith simply cannot). Might be wishful thinking but I sense Jelly might be about to break his duck and definitely he should start the cup game.
Credit to Ossie who could well be out supersub for 2014. Or is that Delboy? Could do with him back asap because one thing is for sure, McGeady is certainly no substitute for him...
Si Cooper
120
Posted 01/01/2014 at 23:52:52
Anyone know why Oviedo was not even on the bench?
Paul Ferry
122
Posted 01/01/2014 at 23:54:30
Spot on Graham - 97 - wish old Walling would just hop on board and enjoy this ride
Dennis Ng
123
Posted 01/01/2014 at 23:59:11
No idea Si. No news at all as to why. My only suspicion is that he preferred Baines over Oviedo in helping out in defence since Alcaraz and Stones are new to the lineup.
Kevin Rowlands
131
Posted 02/01/2014 at 00:27:05
Phil, my fault but I finally realized your a wind up, go away you silly fool!
Peter Jamieson
132
Posted 02/01/2014 at 00:23:59
Phil 117.
You're not a supporter are you?
No real supporter would be say that or be happy with that.
Jon Cox
133
Posted 02/01/2014 at 00:27:32
The only way the Europa League will be of any use to anyone, is if the winners automatically qualify for the CL the season after.
Otherwise let the RS have it.
Oh and we all should be ringing the bloody phone-in's to let them know what we think.
Si Cooper
134
Posted 02/01/2014 at 00:22:52
Dennis, that doesn't explain why he wasn't on the bench or even starting in left midfield.
I am hoping it is a slight injury / precaution because little else makes sense to me. He can't be tired and he has been contributing more than some of those who were used today.
My (remote) worries would be that some are getting game time just to put them in the shop window or that he has made waves because he is unhappy at being dropped (it is important for him to get as much game time as possible this year as well). Do we really know that he has settled in England or that he is happy with his personal development at Everton?
Tony Draper
135
Posted 02/01/2014 at 00:33:51
Point gained in what was (by most sane posters) beforehand always going to be tricky away NYD fixture
Stoke were NEVER going to be a lie-down 3pts were they ?
Bainsey was coolness personfied and buried he pen when all odds were against him
TBH the outcome was disappointing
BUT
The circumstances really were'nt ideal, were they ?
Howard back after a suspension
Stones PL debut
Alcaraz 2nd EFC PL game alongside a 19 yr old debutant
Baines only 2nd game back after a moths layoff
Barry back after a 1 game suzzy
So basically a "disrupted" defensive back 5 ? ? ?
A point away against a side we deeply wounded recently
AND we really were the best side
Wake up lads n lasses, THESE are the BIG points in the season
Dennis Ng
136
Posted 02/01/2014 at 00:51:11
Si, good point. I missed that. I thought he was on the bench this whole time! Wait! He is on the bench! I hope its a tiny injury or something, or what I said, preference in defence. Good points on that he could have played left mid though. I certainly hope it is not that he is unhappy. Doesn't seem to be possible with motivational speaker-ish RM.
Si Cooper
138
Posted 02/01/2014 at 01:09:47
My mistake Dennis. I could have sworn that he was not listed as a sub before though.
Not so worried about him possibly being cheesed off now, though I am a little surprised he wasn't put on to give us a more attacking dimension at some stage. Would have chosen him instead of Naismith (who does put effort in but seems less effective to me).
Dennis Ng
140
Posted 02/01/2014 at 01:16:11
Indeed, but I think RM considered the size of the Stoke defenders. Pure guess really. The problem today, I think, is the lack of "winning the ball in the box", possibly why Oviedo is not preferred as well. We cracked open the defence a few times but can't apply the finishing touch. That and actually "putting well placed balls into the box" are 2 areas we need to address imo. I hope McGeady can help with the second.
I agree that Oviedo should have gotten a shot at Stoke today, though it would be difficult to take off Bainaar. Might have been better off putting him up straight at half time on Coleman's side and attack both directions but I think RM preferred Mirallas on and he's on that side.
Tough choice. Take off the guy that hit the wood 2x or bring on guys to help him take more shots...No winner here either way. Glad we have a point.
Phil Bellis
186
Posted 02/01/2014 at 09:28:11
"We are all in the gutter, but some of us, not Mr Walling, of course, are looking at the stars"
Actually, he makes sense if you don't read his posts
Phil Walling
213
Posted 02/01/2014 at 11:46:49
Just a 'Happy Evertonian' really, Phil. One who doesn't want to pick the team and is in touch with the realities of our status and position.
Phil Bellis
229
Posted 02/01/2014 at 13:10:32
Well, Mr Walling, I presume you've only had the Evertonia equivalent of shagging Susan Boyle whereas some of us have slept with Alexandra Bastedo and Kate Bush.
I can, in that sense, understand your being happy with your "plucky little Everton"...
Not for me though.
Paul Niklas
236
Posted 02/01/2014 at 13:43:23
The Oviedo situation is a bit strange, his wife and little daughter and a friend sat behind me at the game in the away end, they looked bored to death and were freezing like us all. Why be there when he is not even playing?
She was clearly under the impression he was playing.
(By the way, she confirmed herself who she was.)
Protik Roychowdhury
883
Posted 04/01/2014 at 19:09:27
Don't know about you guys, but I absolutely LOVED the commentary on the Everton site. It was just brilliant. Wish I could see the highlights somewhere, but the ITV link does not play down here in South America. :(
The moment when Jelli missed the penalty has to be the most bittersweet moment of the year. I felt so bad but laughed my ass off when the commentators went, "Oh no". Anyway, onwards we march and Roberto's rotation magic stays strong.
COYB!
Add Your Comments
In order to post a comment, you need to be logged in as a registered user of the site.
Or Sign up as a ToffeeWeb Member — it's free, takes just a few minutes and will allow you to post your comments on articles and Talking Points submissions across the site.
© ToffeeWeb