Blues Floored by Second-Half Sucker Punch
By Lyndon Lloyd

09/02/2014

Comments (73)
jump

Tottenham Hotspur 1 - 0 Everton
Goals win points and strikers score goals. Sometimes it's that simple. Tottenham Hotspur managed one shot on target in 90 minutes and from it Emmanuel Adebayor, the only reliable out-and-out striker on the pitch, scored the winner that condemned Everton to their fourth defeat of the season.
It also lifted Spurs above the Blues into fifth place in the Premier League table and, on the basis of this game, the fact that the standings currently suggest that Tim Sherwood's side are better than Roberto Martinez's is somewhat baffling. Unfortunately, a lack of cutting edge up front for Everton tells the story, not only behind this disappointing result but also the nine draws over the course of the campaign so far – dropped points that look likely to deprive the Blues of a place in the top four.
The early signs were good for Everton as they got off to a stong start that yielded four chances for Leon Osman inside the first 10 minutes. With Ross Barkley not deemed fit enough to start, the veteran midfielder was handed a start in midfield alongside the familiar holding pair of James McCarthy and Gareth Barry and Steven Pienaar, with Kevin Mirallas playing wider than expected on the right and Steven Naismith leading the line.
Osman's excellent shimmy opened up the space for an attempted curler that sailed a yard wide in the third minute but though he would head just wide from a corner and scuff another left-footer straight into the arms of Hugo Lloris, his best chance – and Everton's best of the afternoon – was a sliced half-volley that the French 'keeper had to palm behind at full stretch in the 6th minute.
Following a brief spell of possession for the home side, Everton resumed their dominance of the match and a ricochet off Paulinho in the Spurs box almost fell to Mirallas before Coleman shot low but too close to the 'keeper.
The final ball would be an issue for the Blues all afternoon, though, and had Mirallas supplied one for Naismith 10 minutes before the break, Everton might have gone into half time a goal up. Unfortunately, having gone on a scintillating run through the heart of the Tottenham defence, the Belgian went for glory and smashed a shot over the crossbar with the Scot in the perfect position in space in front of him.
Kyle Walker's dragged shot that missed badly and a wicked cross from Danny Rose that just eluded Adebayor was all that Spurs were able to muster in the first 45 minutes and though Martinez was no doubt ruing his side's missed chances, he would have been perfectly happy with the way things were set up for him in the second half with the likes of Barkley, Gerard Deulofeu and Lacina Traore waiting in the wings on the substitutes' bench.
The Spaniard made the first of those anticipated changes in the 64th minute when Barkley came on for Steven Pienaar who could count himself somewhat unfortunate as he had been combining quite well with Leighton Baines down the Everton left and had found himself in some good positions inside the Spurs area.
Barkley had had just one touch, though, when Tottenham scored. Naismith, who had put in a really laudable shift up front, was adjudged to have fouled Moussa Dembele 15 yards inside the Everton half but as the Belgian midfielder lay flat on his back and the ball some 10 yards away from the site of the infringement, Walker was permitted to take a quick free kick. A flighted ball found Adebayor, played onside – barely – by Sylvain Distin, whose back, like that of his Captain, Phil Jagielka, was turned, and the striker chested it forward before lashing it just inside the post. Spurs, who hadn't troubled Tim Howards's goal at all, save for a wayward Adebayor header off a corner 10 minutes ealier, were ahead.
Unfortunately, the cavalry in response from the Blues lacked incisiveness and with the luxury of the lead, Tottenham were able to dig in and provide the kind of rigid defensive shape that Martinez's men have found so difficult to break down at times this season.
Mirallas led a promising counter shortly after the goal but, again, a poor final ball let him down and the chance was lost and despite the introductions of Deulofeu for Naismith and Aiden McGeady for Osman, Everton would fail to carve out another clear-cut opportunity. Indeed, though he would have a few nice touches, Deulofeu looked understandably rusty and McGeady was particularly disappointing deployed down the left. The Irishman's deflected cross forced a save from Lloris at his back post and his international teammate Coleman had a penalty claim turned down – rightly as it turned out seeing as he extended his foot to seek out contact with Rose's Capoue's leg (see below for more) – but you got the feeling that the Blues' fire had been extinguished by this point.
Personally, I have thrown my virtual tantrums over Everton's failure to strengthen when needed ahead of various transfer deadlines over the past few years but elected not to at the end of January this year, preferring to take the long view that it appears Martinez has with regard to the project that he's only nine months into. I admit, though, that after he'd made replacing Arouna Kone one of his priorities, I was baffled by his decision not to bring in an extra striker following the sale of Nikica Jelavic, particularly as he knew that Traore would not be ready to start straight away.
The lack of a focal point up front was clearly evident today and while Naismith will probably regard himself foremost as a striker and Mirallas had success in Greece playing as a centre forward, neither have shown so far that they can be a consistent answer as the main man up top for Everton in the Premier League. Certainly they lacked the height of a Romelu Lukaku and that led to a frustrating reluctance to put the ball into the box and a frequent tendency to over-elaborate in the final third. It was a shame because the Blues played much the better football and you knew that if they'd had a real threat up front, they might have got the goals needed to win.
Had one of Osman's early efforts gone in, it might have been a different story because Spurs, for all their massive spending since last summer, were surprisingly poor but the Blues just lacked teeth and paid the price. Tottenham, meanwhile, just needed one chance to fall at the feet of a genuinely clinical striker to take all three points.
With 39 points still to play for, nothing is out of the question, but finishing in the top four is going to be a big ask at this point if Everton continue to struggle for goals. Defeats against our two main rivals for fourth place in the last couple of weeks has severely dented our hopes but a win over Crystal Palace in midweek and away defeats for Liverpool and Spurs and we will be back in the hunt again. One game at a time...

Follow @Everton1an
---
Reader Comments
Note: the following content is not moderated or vetted by the site owners at the time of submission. Comments are the responsibility of the poster. Disclaimer
David Harrison
174
Posted 10/02/2014 at 09:33:02
Bit baffled by yesterday's substitutions. I know we were tiring but putting Naismith, who had done okay through the middle, out to the left in place of Pienaar completely nullified one area of real threat.
Traore straight swap for Naismith, Barkley straight swap for Osman & Delofeu for Pienaar with Mirallas coming left would have made more sense to me.
Patrick Murphy
177
Posted 10/02/2014 at 10:18:50
I'm' not sure I agree with the idea that the Coleman incident was not a penalty and I'm sure that Spurs have had more than their fair share of dubious awards during this season especially in the early part.
Had we have been given yesterdays award and the one at Cardiff City, and of course converted them, it would have added three points to our total and we would have been 2 points behind the other lot rather than the five point gap.
Decisions even themselves out over a season? No chance – the officials know which side their bread is buttered and would have had no hesitation in awarding the Coleman penalty at the other end of the pitch if it had been a Spurs player.

Sam Hoare
180
Posted 10/02/2014 at 10:30:29
It's been said many time on these pages and others but ultimately the difference will be one of top class forwards. Yesterday, we controlled the match for large periods without scoring; it's happened before and it will happen again. It's why we will struggle to finish above Liverpool and why Arsenal will not win the league.
Sam Morrison
190
Posted 10/02/2014 at 10:58:35
Agree with David and Patrick above. Whilst I don't view RM as infallible and I know emotions run high on the match day thread, the sound of toys being thrown from prams yesterday was deafening. So many people were laying in to Naismith, who had a good game, but a bad 5 minutes (out of position) before going off. He might well have got a goal if Mirallas had had the awareness to play him in.
I don't think it should have been a free-kick that led to their goal, I haven't watched it again but at the time I thought it was a cracking tackle by Naismith.
I think another striker would have been a good move for sure during January but I'm glad RM is not playing all his cards on Champions League in his first season here. Sometimes you play well and lose – we do need to address the lack of cutting edge, but I hope RM and the players don't give up as easily as some on here.

Christopher Timmins
207
Posted 10/02/2014 at 11:49:27
All the teams ahead of Everton in the table have better options up top. None are banking on a couple of loanees and a free transfer.
We are a selling club and as long as the present Board are in place the Zero number will continue to be prevalent. Zero trophies won since Rideout put the ball in the United net in the 90s.
Money in on transfers this season, net of payouts to other clubs £35m approx, money spent on players £17M approx? Now if someone tells me that the club has a £18M fund available to buy some players next summer then I can buy into the policy. However, if the amount available depends on player sales then the size of the task facing the manager is just getting greater...
It's hard to see us finishing above the team across the park given the respective run in's. What is more worrying if one takes the long term view, is who among the loanees will be wearing the blue jersey come August.
I can accept the long term path to the top of the mountain but am not sure if the club will get their with a transfer policy which makes the club look like a training / prep school for the bigger clubs.
If was never the way in the 60s, School of Science, and again in the mid-80s, anyone who knows their history knows that!

Paul Smith
213
Posted 10/02/2014 at 12:17:51
I'm afraid that was a typical Everton performance yesterday; we played lovely football till about 30 yards from goal then no penetration or players in the box.
I have been saying for a while now that we haven't got enough goals in the team and ultimately that's what will cost us. The likes of Pienaar, Barkley, Osman, McCarthy should all be contributing more goals and getting into the box more.
We are becoming more like Arsenal in that we have to score a perfect team goal or an individual piece of brilliance to score. We play as good football as anyone else in this league but lack the killer instinct of the front 3 from over the park and, until we rectify that, will always be trailing in the top teams' wake.
Sam Higgins
216
Posted 10/02/2014 at 12:29:19
I agree Sam Morrison. I wasn't on the matchday thread yesterday but I had a look at it in the evening and the vitirol being flung in all directions including poster on poster was horrendous. Worst it's been for weeks.
Sam Morrison
218
Posted 10/02/2014 at 12:42:26
Sam, it was embarrassing. I'm not a paragon of good behavior and I was slinging some mud Clatternbergs way myself, but Christ there was so much hatred I had to switch it off.
Dick Fearon
222
Posted 10/02/2014 at 11:59:00
I find it surprising that few if any posters recognise or at least do not mention the fact that our passing game as being our strength and weakness. Our opponents are aware of this flaw in Roberto's game plan and use it to their own advantage.
They are not overly concerned with how many ticka-tackas we have in the midfield but, when the ball is within shooting distance of their goal, it is a different story. It is then we find our path to goal blocked by a mass of bodies.
The ease by which we pass our way through a deserted midfield gives a false idea of which team is controlling the game. As we pile ever forward, our two-man backline also pushes forward and thus leaving an entire half of the field for quick opponents to feed on long-ball counter attacks.
Roberto has made it clear he will not change his style... and that makes me concerned for the future.

Barry Pearce
223
Posted 10/02/2014 at 12:59:45
I agree with your comment on Pienaar coming off. Martinez hasn't got too much wrong up to now but, unless Pienaar was carrying an injury, I believe this was a mistake.
Naismith is hopeless out wide, no pace whatsoever, it also upset our rhythm thereafter.
Sam Morrison
240
Posted 10/02/2014 at 14:29:27
Dick, the opponents may not care if we have possession or not but I do. I'm enjoying watching what many are calling "tippy-tappy shite" - like any style of football, you still need penetration, but in itself that doesn't devalue our style of play.
No matter what style you employ, and no matter what level you play at, you still have the opposing team trying to stop you. But I'd much rather it was the opposition working hard at 'maintaining their shape' and trying to stop us – and yeah, occasionally succeeding – than the other way around.
Dick Brady
241
Posted 10/02/2014 at 14:22:28
I think the ticka-tackas is fine if we have some cutting edge to finish it off.
Liverpool play similar ticka-tackas but the difference between us and them is they have players like Suarez & Sturridge (and Stirling) who can finish things and score goals.
Ticka-tackas is fine but our forward players (Naismith, Mirallas, Osman, Barkley, Pienaar & McGeady) need to be more clinical with their finishing.
What's depressing is if you take all the goals that Naismith (2), Mirallas (5), Osman (2), Barkley (3), Pienaar (1), Deulofeu (2) and McGeady (0) have scored in the Premier League it comes to just 13.
That's just 15 goals from our front 7 players. That's the same as Daniel Sturridge has scored alone. Basically our 7 most forward players have scored on average 2 goals each this season.
That has to change. Roberto has to find somebody who can score goals regulary. Lukaku started out well but things seemed to have dried up with only 1 goal in his last 10 games.
Goals win games. It doesn't matter if you play ticka-tacka football or old fashioned hoofball. Goals win games.
Brent Stephens
246
Posted 10/02/2014 at 14:52:30
Dick, 15 goals from our 7 most forward players? We'll forget Lukaku, shall we?
I actually think it's a plus that we're getting goals from all quarters, including others you haven't mentioned.
But agree about McGeady - 0 goals after all these games!
Patrick Murphy
248
Posted 10/02/2014 at 14:52:10
Goals do win games and there are a variety of ways that a team can play in order to score them but until we are in a position to buy the necessary goalscorer of our own we have to make-do and mend like we have for the past 20 years.
It's not the system that's at fault because whatever system the team plays they are simply not good enough compared to the richer teams and that is where we are at this present moment in time.
I sometimes wonder if it was Everton who had won the league last year and we have fallen from grace - but only once in 20 years have we managed to finish in the top four, yet this season we are below the standard set in previous years. Everybody has a view on where it is all going wrong, perhaps someone can e-mail Roberto and give him the solutions to the problem. I suppose we could revert to a big guy up front and Naismith or whoever feeding off the knock-downs, it's so simple I wonder why Roberto refuses to play that way.

Lyndon Lloyd
254
Posted 10/02/2014 at 15:15:55
Patrick: "
I'm not sure I agree with the idea that the Coleman incident was not a penalty
"
I always try to put myself in the shoes of the opposition and ask myself would we feel hard done by if the penalty had been awarded against us. I have to be honest and say we would have been if that incident with Coleman had been given had it happened at the other end.
It's clever but, to my eyes, he clearly extends his foot to make contact with the defender's foot and it seemed to me that Clattenburg was wise to it.
The one at Cardiff was a nailed-on penalty though and I was astounded it wasn't given. We were robbed off two deserved points in that game so, yes, it would have been a fitting redress of the balance had we got one yesterday but for me, the incident in isolation wasn't a penalty... as much as I wanted it to be!
The bigger issue was the scandalous positioning of the free kick that led to the goal. Referees will be anally-retentive about the ball being 2cm outside the quadrant at corners but Clattenburg allows Walker to kick the ball from 10 yards away from the site of the foul.
Robin Cannon
258
Posted 10/02/2014 at 15:05:34
Lyndon - I don't necessarily agree with the bafflement at not bringing in another striker after letting Jelavic go. He brought in Traore; and that was presumably on the basis that he'd have a couple of weeks to get fit without Lukaku getting crocked immediately.
While you're right that Naismith and Mirallas haven't shown they can be a long term striking solution, neither really would anyone else who'd cost money have done so. *Not* taking into account injuries, we have Lukaku, Traore, Mirallas and Naismith as striking options to take us through to the end of the season; which given our financial situation doesn't actually read as that terrible.
With a fit Lukaku or Traore I'd have to assume that we'd be more likely to come away from that Spurs game with something; and we're really talking about a three game period where the timing between injury and fitness has left us without either of what are presumably our top two front men from now until the end of the season.
Patrick Murphy
260
Posted 10/02/2014 at 15:44:39
Lyndon, I do see your point and it is a valid reason for the Referee not to award it – but my gripe is that Referees very rarely give Everton the benefit of the doubt in either box and the Man City penalty award at The Etihad exemplifies that.

Harold Matthews
261
Posted 10/02/2014 at 14:23:43
The "Sams" are out in force today. Good points too but I always ignore Match-day vitriol. Moments occur when emotions run high and people need to blow their top. The recipient doesn't matter. The cork has to pop off the bottle.
Yes, we played well in the first half and created chances but much of it was down to Spurs not bothering to close down and other opponents will not be so obliging. That said, there were some wonderful interchanges between Osman, Pienaar, Baines and Naismith and the workrate was tremendous. Little wonder we tired before the hour mark.
I didn't include Mirallis because he had one of those games where he shows brilliant ability but wants to do it all on his own. Del boy and Barkley followed the same trait . When they came on the team ethic went even further out the window and we started giving the ball away all over the place.
God knows when Traore will be allowed to play. Even Ronnie Goodlass on Radio Merseyside is mystified as to the reason the lad is sitting around twiddling his thumbs. We need someone up front who can convert chances and time is running out. Even if both our big strikers were declared fit tomorrow they would still need a number of games to get them up to scratch. The same also applies to Coleman, McGeady, Deulofeu and Barkley. Right now we are the walking wounded and Martinez will have to be a very canny nursemaid over the next few weeks. He will continue to give out his usual stuff to the media but he is also feeling wounded and will be taking no prisoners behind closed doors. Tough but interesting times ahead.
Pete Gunby
262
Posted 10/02/2014 at 15:39:59
Lyndon, how can you expect us to take you seriously when you spout opinions based on fairmindedness and honesty.
Lyndon Lloyd
265
Posted 10/02/2014 at 16:15:47
Hah, sorry, Pete! :) Can't help myself!
Robin: "He brought in Traore; and that was presumably on the basis that he'd have a couple of weeks to get fit without Lukaku getting crocked immediately."
That was my assessment of it at the time, too, even though Lukaku was injured on the 28th which meant he had three days before the deadline in the knowledge that he was short up front. All of his targets on deadline day were midfielders from what I can gather.
Now, it's quite possible that he couldn't find anyone suitable that was available in that time and that he thought Mirallas and Naismith could do a job in the interim which they were able to do against Villa but not against Spurs.
I just think that having gone to such lengths to invest so well in the summer and with us having this rare opportunity with United floundering he would have done something add some more firepower as insurance, particularly as Lukaku himself was struggling for goals. Nothing is guaranteed in football but January additions can become crucial... see Arteta and Jelavic.
Robin Cannon
271
Posted 10/02/2014 at 16:44:15
Sure, but how much money do you really want to spend when we're looking at maximum 2/3 games without either of Traore or Lukaku available. Especially given that any such signing is likely to be overpriced.
My assumption was that Traore was there to take pressure off Lukaku; to provide some more opportunities for rotation and rest. That's still practical through most of the rest of the season (dependent on Lukaku's injury).
That still makes sense. And, really, assuming Traore has some availability by Wednesday, it's really only one game that's been heavily impacted. I don't imagine a fully fit Lukaku or Traore would have made much difference at Anfield, we beat Aston Villa anyway, so it's yesterday's game that's the one match that's been heavily influenced.
While certainly this stage of the season is important, making a short term signing that might undermine our long term transfer strategy is exactly the kind of approach that RM has talked about *not* taking.
Take your point about January additions being important; though both Jelavic and Arteta were signings that had reasonable advance planning (one to address a known weakness, the other to replace a player we knew with plenty of notice was leaving). Panic January signings are generally less successful.
Brian Waring
283
Posted 10/02/2014 at 17:51:56
I agree with you on the penalty Lyndon, I also thought it was more a case of Coleman playing to go over Rose's leg. Also, there was quite a few pointing out that Clattenburg never allowed us to take a quick free kick, I actually thought he pulled it back because he was in the middle of booking Dembele.
Bill Gall
285
Posted 10/02/2014 at 17:30:06
Lyndon I agree that when the January window opens you have 31 days to assess if you require more players to insure you maintain the position in the league or transfers will help you improve.
With the increase in fixtures and the pitches deteriorating this is the time for injuries and fatigue and this it seems what happened to Everton. As there is no guaranties against injuries happening waiting for injured players to return is not a reliable policy.
Going back looking at Everton,past number of seasons it seems that in January it seems a common thread by supporters that they have needed either one or two players brought in to raise them to the next level.
The next level seems to only interest the Manager and the supporters as the people who are able to help (The Chairman and the Board) seem either unable or reluctant to do anything.
With 13 games left we have to get behind the team to finish as high as possible. I don't know the amounts that differ in each position in the league but I hope that the people in charge make sure that money is made available in summer.
There is a saying in Business that you have to speculate to accumulate; this chairman and board just seem to want to accumulate.
Robin Cannon
287
Posted 10/02/2014 at 18:13:49
@Bill (285) - In past seasons I would agree with you; there have been obvious occasions when Moyes clearly wanted to strengthen and there was no board support.
I don't actually get the feeling that this was the case this window, though. Seems more like Martinez identified the players he wanted, got them, and was reasonably satisfied with his business.
Harold Matthews
288
Posted 10/02/2014 at 16:38:16
Yes, The Jan window was a big disappointment for us but maybe not for Martinez. He'll always want to win every game but his main plan lies a year or two ahead and he will discard a whole heap of deadwood along the way. This will include many academy loanees who are not showing the necessary standard or improvement. The new recruitment staff are busy combing the globe for higher grade youngsters with the ability to adapt to the Martinez philosophy.
Victor, Jelavic and Heitinga were not part of his future strategy so they had to go, whether it weakened us or not. Unwanted players hinder training sessions and dampen the dressing room spirit.
Of course, with Kone already sidelined, the injury to Lukaku was a massive blow. Mirallis would see little of the ball in the number 9 slot so it had to be Naismith. Not the perfect scenario but he works like hell for the team.
Then we have the cloak and dagger Traore affair. Martinez says he is personally indoctrinating him into the great history of Everton and the new football principles. You don't do that with someone who is only here for five minutes. Ranieri doesn't have room for him and has admitted having difficulty selling players. The lad, his agent and both clubs have obviously discussed the various loopholes and it now remains to be seen how he copes with the Premier League.
JImmy Sørheim
289
Posted 10/02/2014 at 18:36:10
For the first time in my life as an Everton fan I have witnessed a manager traveling to a top 4 side with a striker that is not fit to play on the bench.
I am perplexed at Martinez for bringing Traore and the fact that he knew he was not fit to play is just insane.
For all his positive talk his action to sell Jelavic and not replace him directly with a fit striker makes no sense.
On top of that he had the chance to bring Vellios and perhaps even starting him against Spurs.
He also had the option to bring McAleny, but chose not to.
If Vellios had been given a chance against Spurs we would have been better off then having Naismith as a striker.
Vellios perhaps needs game time, but that pales when you compare that to bringing a known injured striker on the bench.
In short Martinez has shot himself in the foot.
He had the chance to take us further up the table but chose not to!
He chose not to spend any money on a direct replacement for Jelavic and I for one will not forgive him for it.
We are all human and make mistakes, but at this stage in the season we can not afford any.
The question now becomes:"Who is our striker going to be against Crystal Palace?"
As you can probably understand I am fed up and angry.
I pray that the loss of points will not come back to haunt us, but it already has I feel.
How do you feel?
John Keating
293
Posted 10/02/2014 at 18:33:33
Lyndon, one of the great things about football is how we see things differently. You saw the Coleman incident as "not a penalty" – to me, it was a stonewall penalty!
The defender in no way contacted the ball. The defender put his outstretched leg across Coleman. There was contact between them and, in this day and age, that is a penalty. Going away from goal is immaterial.
Some have said he was going down... well, look at Suarez the other week. You said Coleman's foot was looking for the defenders – we see that happening every week and they're given.
If you try to look at it from the opposition's point of view and still don't see it as a penalty, well, that's your opinion and I think you're very wrong.
The less said about the free kick the better. Clattenburg – a disgrace.
Sam Morrison
295
Posted 10/02/2014 at 19:08:30
I admire your equilibrium, Lyndon, but must agree with John. Definite penalty for me, and not a free-kick. We still shouldn't have conceded from it though.

Raymond Fox
296
Posted 10/02/2014 at 18:44:22
Jimmy, give it a rest, nobody was complaining last game when we beat Aston Villa... did you complain?
Because we lose against big spending Spurs by schoolboy defending, the usual suspects are complaining that we'd sold Jelavic. They had one shot on goal! Jelavic couldn't hit a barn door all season, he had enough chances, all of a sudden everybody wants him!
By the way, who says Traore was not fit to come on? Have you had inside information?
As far as buying another striker is concerned, good ones don't grow on trees. Sign one in January that you don't rate much and you're saddled for the contract length with extra wages!
Linda Morrison
297
Posted 10/02/2014 at 19:14:20
Raymond is right... but, if the beanpole was not fit, why was he on the bench?
James Hughes
298
Posted 10/02/2014 at 19:18:18
Jimmy #289
You're a Blue — you must be used to praying, when it comes to EFC, I pray a lot — and I'm not even religious.
No sweat: just 9 wins from our last 13 games and Champions League here we come..
Raymond Fox
299
Posted 10/02/2014 at 19:25:16
Linda, I owe Jimmy an apology for that one; apparently RM has said that Traore was not fit to come on, & that he put him on the bench to give him experience of being in the team!
Patrick Murphy
300
Posted 10/02/2014 at 19:31:10
I can't get access to the video of the pre-Spurs press conference now because you have to be a member but what Raymond says is correct as it was what I heard today on the OS. Has anybody else seen that video? It didn't sound as if Lukaku would be ready by the weekend either, which if true would mean we wouldn't see him until after the Chelsea game. I note the Greek lad is getting a run out at Southport – I think it was tonight?
Robin Cannon
301
Posted 10/02/2014 at 19:33:52
Is Vellios Jimmy's new Royston Drenthe?
Patrick Murphy
302
Posted 10/02/2014 at 19:37:40
Vellios is in the team for tonight's U21 game and the Blues are leading one-nil, Charsley scored after five minutes.

Nick Entwistle
303
Posted 10/02/2014 at 19:37:48
I'm with Lyndon. No penalty. Coleman's knees were buckling before any contact.
Also, don't agree with the sucker-punch line. The defenders were just as aware to the kick as Adebayor was. Quick free kick or not, he did what he is good at. It made no difference.
Bill Gall
304
Posted 10/02/2014 at 18:57:11
Jimmy #289 This is the first time in my life that Everton do not have a Number 9 that belongs to the club and I have been a supporter of Everton since 1953.
Harold #288 I agree with your statement that Mr Martinez may be looking at the future but after you get rid of the deadwood they have to be replaced. Bringing in a higher grade younger player is great for the future but past experience has proven that only 1 youth player out of 8 usually make the first team and you know who, sells them.
To plan for the future, you still must protect the present. The number of occasions I have commented on here I have always said I am willing to give the manager a chance but after one defeat on Sunday reading a number of comments there are a growing number that will not.
My only understanding of Everton's financial position is what I read so, even though I may be one of the Chairman's critics, I may be completely wrong in blaming him for the lack of financial support in January – but I have my doubts.
Regarding loan players, and it seems we are going to have to use them, but we are still going to have to go into the transfer market, and, at the moment it is impossible to predict what or if any money is available in summer.
My belief was, at the beginning of January, Everton were at the crossroads with a new manager who had got the club in a great position and with support was able to break through the mythical glass ceiling. This may still be possible but, without improving the squad, it may be more difficult.
Patrick Murphy
305
Posted 10/02/2014 at 20:01:24
Shame that criteria didn't apply on Boxing Day, Nick, we may have got a scoreless draw at home to Sunderland – but of course you're right: these incidents only mask what is a pretty poor Everton outfit who seem incapable of scoring from open play and we are so wrong to think that Roberto is the Messiah – we had a Messiah once upon a time and let him slip through our fingers.
Nick Entwistle
306
Posted 10/02/2014 at 20:07:53
Eh? Is that directed at me Patrick? I don't know what point you're making.
Robbie Muldoon
307
Posted 10/02/2014 at 20:09:05
The sooner we see this line-up, the better...
Mirallas Lukaku Deulofeu
Barkley
Barry McCarthy
Baines Distin Jagielka Coleman
Howard
Robin Cannon
308
Posted 10/02/2014 at 20:17:06
@Robbie - Given that's relatively clearly our first choice XI (with some flexibility and rotation with the wide players), definitely.
Mark Frere
309
Posted 10/02/2014 at 20:26:19
A good looking line-up, Robbie, but Mirallas, Deulofeu, (and Barkley at times) are far too selfish with the ball. I would definitely like to see Pienaar in our best starting 11. Lukaku – or whoever starts up front – needs better service.
Robbie Muldoon
310
Posted 10/02/2014 at 20:36:02
Point being, how many times have we actually seen that or very near that line-up this season? Well, when we were flying before Christmas. Injuries have derailed us: pure and simple. The likes of Osman, Naismith, Alcaraz, Stones (at RB) aren't the same quality. That team I would put up against any.
Mike Gwyer
312
Posted 10/02/2014 at 20:34:46
Jimmy #289.
Love it - "I am fed up and angry".
I've over 40 years of supporting the blues so all I can say to you is soak it up. But fuck me, Jimmy, you have got to get with it, your shouting for Vellios when everyone on the terraces was gagging to see Traore.
Mark Frere
313
Posted 10/02/2014 at 20:46:05
You're not wrong, Robbie, we have been incredibly unlucky with injuries this season. I actually think Gibson and Kone could have made huge difference this season, they could have been worth a extra few points alone.
Just when players like Barkley and Deulofeu were really finding some good form, they got injured. It's been really frustrating because it's been so hard to keep momentum going due to injuries. We must be the unluckiest team in the PL.
I do feel though, Pienaar is a vital cog in our side and should always start if fit. I never once remember Mirallas and Deulofeu starting a game together – it would be interesting to see though.
Lyndon Lloyd
318
Posted 10/02/2014 at 21:37:25
Nick: "
The defenders were just as aware to the kick as Adebayor was. Quick free kick or not, he did what he is good at. It made no difference.
"
Can't agree with you there, Nick. Both Distin and Jagielka had their backs to the ball when it was struck and Jagielka, in particular, lost a valuable second or two's reaction time – the difference between possibly putting in a crucial block and not, perhaps: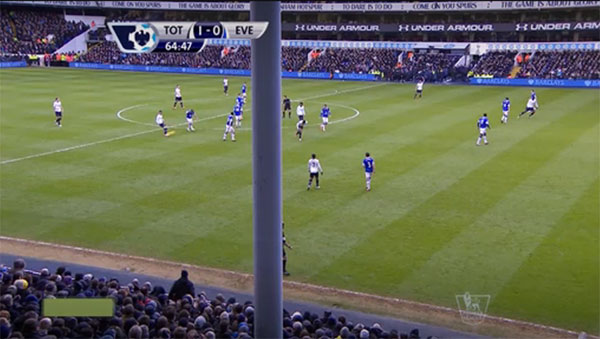 Lyndon Lloyd
320
Posted 10/02/2014 at 21:46:50
And Andy Gray and Peter Reid agree that it wasn't a foul and that he should never have been allowed to take a quick free-kick from where he did.
But it's only a multi-billion pound industry with nothing riding on such trivialities, right?
Mike Allison
322
Posted 10/02/2014 at 21:50:35
I think it was a foul, I just don't see why Gareth Barry stopped the ball dead and turned his back. It was this that made the quick free kick possible. All he has to do is let it run or even toe it away, but he actually stops it for them.
Mike Allison
325
Posted 10/02/2014 at 21:54:05
"Jimmy, give it a rest, nobody was complaining last game when we beat Aston Villa... did you complain?"
I was complaining long and loud after we beat Villa, weren't you? We were dreadful in that match and incredibly dull to watch, the fact that we won obviously saves the worst of the negativity but it didn't mask a really poor performance for me.
Why won't we try to score off corners? Or when we dispossess the opposition? These are two of the key times for scoring goals in English football, but Martinez doesn't seem to want to utilise them.
Nick Entwistle
330
Posted 10/02/2014 at 21:54:31
True that it was taken in the wrong place and, for a quick free, that's just not allowed.
But you are right, Lyndon, Jags had his back turned, in my minds eye from my one watching on MotD, he was closer when Adebayor took it under control.
Still a 'No' on the penalty though.
Raymond Fox
331
Posted 10/02/2014 at 21:57:08
Mike, Jimmy was complaining about Naismith being on the field as a striker. That's what I was referring to, about no-one complaining about Naismith because he happened to score in that match.
Lyndon Lloyd
332
Posted 10/02/2014 at 22:04:31
Unfortunately, they didn't include the "penalty" incident in the highlights, so I can't produce a still or clip of that one for further analysis.
Certainly, on the basis of these things evening up over the course of a season, had we got that pen, no one could have complained but I know that I would have been livid had it been given to Spurs.
Robin Cannon
334
Posted 10/02/2014 at 22:06:50
Yeah, I'm with Lyndon here.
I shouted at the TV in annoyance when we didn't get the penalty, but I'd have been screaming "dive" or something similar if it had been at the other end.
It's the kind of penalty that I hope to get as a fan, no more.
Same thing with the free-kick. Sure, after a bunch of analysis we can say that it's technically against the letter of the law. But if we'd taken a smart quick free-kick like that and had a goal disallowed, we'd have been screaming about it.
Jon Cox
336
Posted 10/02/2014 at 22:02:49
Everybody seems to think that having our injured guys back and uninjured that they can slot back into the team and we'll be were we were last er...? November?
Wrong. Before the guys who were injured got injured, we had spent a time building what is known as momentum. Momentum takes a while; you could say it's akin to "gathering steam".
Once that is lost, through injuries, it then takes time to get to where you where before the injuries. I hope that puts that one to bed.
So, what that means is that, once the said players are back to fitness, there will be a period of time till the "momentum" is back to what it was before the injuries.
Guys – and I mean brilliant gals included on this site – once we have our fantastic players not only match fit, but more importantly "match sharp", then the last 6-7 games of this season will be the real Hollywood Movie of this year's Premier League.
I believe it's a movie, sorry film, that we will star in when it comes to the credits rolling at the end.
COYB
Dick Fearon
338
Posted 10/02/2014 at 21:08:25
I think everyone has missed the thrust of my argument... or perhaps I was not clear enough. The salient point is not the lack of goals but why they are so hard to come by.
Opponents are aware that we will ticka-teck our way into goalscoring positions so they fall back en masse to block every avenue to goal. That is what used to be called a retreating defence and about 30 years ago it was used with success by Spain in a World Cup held in that country.
Sheer weight of defenders numbers make it extremely difficult for ticka-tacky to penetrate while Baines and Coleman do not have the space to round their opponents without being offside. We might expect weaker teams to employ a retreating defence against us, which they did with success, and it was only Lukaku's strength more than his ball skills that decided those games. Without that kind of brutal old-fashioned centre-forward play, our ticka-tacka has no cutting edge.
The other half of my argument speaks for itself with the number of goals conceded to precisely the opposite problem faced by our attackers: long balls, known in these quarters as hoofs, that lead to one-on-ones in our wide-open defence.
The problem is that top sides, viz a viz the RS and Spurs, have latched on to these flaws and now employ retreating defences against us.
What concerns me most of all is Roberto has stated that, come hell or high water, he will not alter his game plan. He stuck to the same philosophy at Wigan and was praised by pundits as being the best football playing side ever to be relegated.
It has been proved that ticka--tacka alone is not the answer... perhaps Lukaku's return or an occasional hoof to Traore's head will make the difference.
Si Cooper
341
Posted 10/02/2014 at 22:38:32
A penalty for me but I can kind of see why it wasn't given. Capoue didn't get any of the ball (but was very close) and Seamus couldn't avoid the contact with his right foot but didn't try to ride the challenge at all (and was going down even before the contact was made).
I think Clattenburg thought Capoue got some of the ball (it was really hard to judge from the angle of the ball at full speed) as otherwise he should have booked Seamus for diving.
The incident was no different than a fair few we have seen recently and there is actually no requirement for a player to try to ride a challenge, though it is the sporting thing to do.
I thought we made one of the better sides in the league look decidedly ordinary for most of the game (and battered Villa in the second half last week) so I don't see why people are complaining about anything other than our lack of a cutting edge. Their goal was due to multiple lapses in concentration but also required a pinpoint pass, excellent control, and a top-class strike. Adebayor may be on a hot streak but couldn't repeat what he did more than once in every ten attempts.
James Stewart
344
Posted 10/02/2014 at 23:21:40
There have been some incredibly soft pens given this season so to not award that was unfair. It was a penalty, soft or not. Clattenberg is not fit to referee. He consistently has controversy in every match and not just our ones.
Lyndon Lloyd
345
Posted 10/02/2014 at 23:25:49
I was being swayed on this one by this still: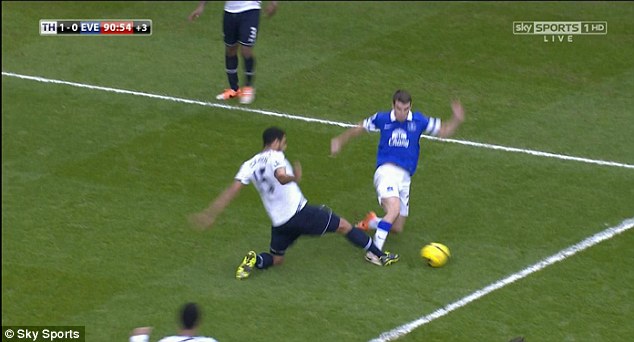 ...but when you see it in motion, it's probably not a penalty. As has been said, Coleman's on his way down and from the second angle, I think Capoue gets a toe to the ball first anyway.
Vijay Nair
347
Posted 11/02/2014 at 00:22:38
Mark (309), totally agree. Mirallas was the main culprit IMHO. There was a few times he had Naismith unmarked and open but decided to go it alone instead.
On a side note, looks like Chicarito has finally lost patience with OFM after he was overlooked for a starting role again at Fulham and might be looking to leave.
http://espnfc.com/news/story/_/id/1710784/chicharito-hints-manchester-united-unrest?cc=3436
Hope we we put our hat in the ring for him. The guy is a gem, works hard and I think he would fit in wonderfully with our attacking game.
He'd definitely be getting regular game time here, especially once Lukaku leaves in the summer.
Paul Ferry
350
Posted 11/02/2014 at 02:12:34
Jimmy Sorheim, you have absolutely no idea of the relative significance of the different forces/influences that went into the decision-making and circumstances that shaped the last window at The Old Lady. Let me reiterate: none. You, therefore, cannot heap blame on Bobby as your uninformed mind does here. He was an important voice in exchanges involving other important voices and perspectives and priorities.
Michael Kenrick
353
Posted 11/02/2014 at 05:02:40
Lyndon (345). My reaction when I saw it in real time was 'no penalty', and these clips surely prove beyond any shadow of doubt that Clattenburg (spit) was right. The angle and pace at which the ball moves can only have come from the defender contacting the ball. No penalty.
Dan Brierley
354
Posted 11/02/2014 at 05:17:56
Paul 350, it may be better if you share with us these mysterious voices/perspectives that need to be considered, before you start telling people what they can and cannot think.
I personally suspect you actually know the same as the rest of us (fuck all) about the reason we didn't spend cash in this window, but you have the option to explain why anybody should think any differently. I cannot for the life of me understand why money was not spent, in what was I personally believe our best chance to finish 4th. You can be certain that the Shite, Manure and Spurs will be stronger next season, only making it more difficult. This season looks as though it will fizzle out into a scrap for 6th, meaning we have spent around £25 million and achieved... the same as last season. I am personally disappointed with that.
Bill Griffiths
405
Posted 11/02/2014 at 14:37:35
Dan (354) Roberto stated on several occasions prior to the window that he didn't intend buying anyone during the window and has explained a few times why after the window closed.
Despite this, people continue to post all this rubbish about knowing the reasons why we didn't buy etc.
Do you think Roberto's just a liar?
Get real and give Roberto and the team some support instead of bitching and moaning all the time.
Paul Ferry
407
Posted 11/02/2014 at 14:37:13
Dan Brierly (#354) — think before you tap, it's not hard at all, honest. Second tip: comb carefully through posts you wish to have a pop at always keeping in mind that you will be a tad more effective if you do not misrepresent the post you seek to sink or put words in the mouth of its author.
Okay... now that you have read #350 again, you might actually notice that I do not claim to know more than anyone else. That is not written, it's not assumed, it's neither implicit or explicit. I tell people what to think in exactly the same manner that you do in post-after-post-after-post-after-post: this is how I see it, this is what I imagine to be the case, I disagree with you (funny how in the hands of those in Brierly/Entwhistle land and Walling-world that becomes 'you won't let us speak', 'stop telling us what to think' etc. etc. etc. ad infinitum ....... yawn.
I had the sheer naked bossy temerity to point out that Sorheim is incorrect to blame Bobby alone for the last window – if indeed blame needs to be apportioned – for the simple reason as I wrote 'He was an important voice in exchanges involving other important voices and perspectives and priorities'.
Burn me! Throw the book at the dictatorial bastard! String Ferry up by his jackboots!
You seriously think that there is something wrong in pointing that out, Mr Brierly? Is Bobby really on his tod when it comes to these window wheelings and dealings? A chairman, whoever on the board wants to pipe up, the gaffer, (the bank!), perhaps even one or two senior players, and I'm sure there maybe more but I can't be arsed quite frankly to count 'em off as the point is so blind bleedingly obvious.
Dan Brierley
421
Posted 11/02/2014 at 15:32:35
I think the final say does go with RM, in the same way that it did when DM was in charge. Of course, his job is to consider the various stakeholders but ultimately the strength (or weakness) of the squad firmly rests with him. But to be fair to you, Paul, Jimmy's post was written in a pretty harsh way. Your response was probably justified, so I apologise for my heavy criticism.
I personally do not believe that the only option available in January was to loan an injured player, and I think we have suffered results wise on the gamble of letting Jelavic go. Vellios has also not had a chance to develop this season as Martinez clearly doesn't fancy him. Of course it would be pointless just throwing him in now, but had he had some game time this season he could be doing a job for us, but instead we are playing Naismith upfront. I don't see how a few Vellios cameos when we are in front and comfortable could harm?
That does not mean we have to go to extremes here, I still think RM is the best option for our club and in general has done a decent job in his first season, but I don't think it is detrimental to also point out the things that have not worked out so well.
Paul Ferry
453
Posted 11/02/2014 at 18:53:44
Dan - 421 - you were not 'heavy' just giving your view in your own way and there's nothing at all wrong with that, do it myself, as you know! Thanks for the apology and quite frankly in the same spirit I should send one the other way as my tone was unnecessary. I agree by the way with just about all you say in 421.
Harold Matthews
528
Posted 12/02/2014 at 02:43:46
Don't know much about Traore but we we're probably lucky to get him. Dave Whelan said getting a decent striker in January is almost impossible. Even if you manage to find one, other clubs will outbid you.
Ask Okle Gunnar Solskjaer and the Cardiff board how hard it is. They frantically searched the football world without success and ended up with Kenwyne Jones. Right up to the last minute, they tried to get McCormack away from Leeds but to no avail. They were on Mission Impossible and it will cost them dearly.
Sam Higgins
567
Posted 12/02/2014 at 11:11:21
Ah the Ferry/Entwhistle fued - my favourite. Reads better than a bitch and stich in Cosmpolitan.
Brian Harrison
571
Posted 12/02/2014 at 11:55:43
I can well understand why RM didn't do much business in the last window, the most business was done by clubs in trouble and yes that does include Man Utd as failure to make the Champions League for them is trouble.
And I think the other major reason was that, come the summer, he may have to replace all of his loan players, and he will need all the money that's in the kitty to do that. Either in securing Barry's service for next year, which won't be cheap and there may be other clubs interested in him, plus looks like Lukaku will be off and trying to buy quality strikers will be an expensive job. So any money spent in January would diminish his pot for the summer.
Harold Matthews
615
Posted 12/02/2014 at 15:14:57
Guess that should be Ole Gunnar Solskjaer.
Brian. Yes, you could be right.
Add Your Comments
In order to post a comment, you need to be logged in as a registered user of the site.
Or Sign up as a ToffeeWeb Member — it's free, takes just a few minutes and will allow you to post your comments on articles and Talking Points submissions across the site.
© ToffeeWeb