Barry reborn at Goodison under Martinez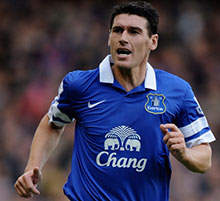 In an in-depth interview in The Telegraph, Gareth Barry tells Henry Winter how much he is enjoying life at Everton and his hopes for the future, including that outside chance of making Roy Hodgson's team for Brazil this summer.

Having been was told he was not part of new Manchester City boss Manuel Pellegrini''s first-team plans, Barry was already contemplating a move away from the Etihad Stadium last summer when Roberto Martinez paid a visit to his home to discuss the possibility of playing for Everton.

The moment I spoke to the manager, I thought 'I like this bloke, he has a good vision'", Barry says. Within 10 minutes, he'd given me my confidence back, telling me he believed in me, that I could be a focal part of Everton and what we could do at Everton. He left my house and I was thinking this is the move for me.''

The former Aston Villa midfielder took no time endearing himself to the Blue faithful and changing the minds of any doubters who felt he was past his prime.

A last-ditch block to deny Samuel Eto'o an almost certain goal for Chelsea in his first appearance was just the start he was looking for.

"I needed that on my debut — for me and also for the fans. Everton fans might have been thinking 'is he just here to jog around for a season'. I went into those games thinking I really have to put a big shift in and show the Everton fans I'm not here for a ride for one season. I'm here as a professional. I've wanted to show them I'd put in not just one performance giving 100 per cent but a full season giving 100 per cent.

Barry also seems to appreciate what so many players do once Everton has touched them and he hints that if it's up to him, he will be extending his stay at Goodison beyond the terms of his current loan spell.

"Everton fans don't just come to watch the football," he continues. "They are there for Everton, the club. They really believe in the history of the club. It's drilled through their families, through the years, about Everton. When I see them they say: 'You'd better be signing next season!' Every time! My answer is the same every time: 'Hopefully! Hopefully!' That's a genuine answer."

Quotes or other material sourced from The Telegraph
Reader Comments
Note: the following content is not moderated or vetted by the site owners at the time of submission. Comments are the responsibility of the poster. Disclaimer
Mike Gaynes
370
Posted 19/01/2014 at 20:45:47
Call it Martinez magic. It's not just with the youngsters... he gets up close even with a veteran campaigner like Barry and injects that dose of self-belief that we've seen from everybody at Everton this season.
Also found it interesting that he and his close friend Gerrard haven't spoken since Barry joined us.
Colin Glassar
374
Posted 19/01/2014 at 20:55:05
I wasn't sure about him when he signed up but I've become a big fan since day one. He's ice cool in MF, never gets flustered, is a calming influence on everybody, has great passing/tackling ability. All in all the complete player. Long may it last as he's a crucial cog in the Blue Machine.
Drew Shortis
376
Posted 19/01/2014 at 20:59:19
I don't think Barry ever lost his self belief at Man City. He lost his place due to City's spending policy. I know many Man City fans rated him highly and he vas a vital piece in their title winning side. I couldn't work out why so many here were against his arrival, but I'm glad that his on field performances have changed their opinion of him. The best thing is that a permanent deal in the summer looks very likely. Happy days!
Dennis Ng
378
Posted 19/01/2014 at 21:00:05
Absolutely Colin, always rated him as a player, minus his shortsightedness to join ManC, I hope his "maybe" is only on his form next season and that he'll commit to the club after the window closes.
Phil Sammon
382
Posted 19/01/2014 at 21:02:18
It speaks volumes about Martinez doesn't it. The man is so positive and driven. He seems to lift everyone around him.
Barry has been a great signing and his experience and quality are really shining through.
I don't think you can underestimate the influence both Martinez and Barry have had on James McCarthy either.
Patrick Murphy
383
Posted 19/01/2014 at 20:56:33
Aiming high Roberto I like it - let's hope you can put a picture of an FA Cup winning team in that empty space - this year would be good!
One of the frames on the wall of fame is left blank: the challenge is for the current generation to fill it with an image of their own deeds.
Drew Shortis
384
Posted 19/01/2014 at 21:04:43
I don't mean to be argumentative Dennis, but why do you say he was short sighted to sign for Man City? He did win the league with them, something he never did at his time with Villa!
Patrick Murphy
386
Posted 19/01/2014 at 21:08:12
Drew and he almost signed for the Dark Side they were very very interested in him at one point.

Dennis Ng
390
Posted 19/01/2014 at 21:07:34
Drew, no worries, I wasn't expecting it but it is ok with me.
I believe the shelf life of players at big spending clubs are generally shorter because of the players they can bring in. I always felt he has that drive to play every game and come out on top.
So, if you ask me who he should play for, I would say, at that time, maybe Arsenal or us, because we value longevity and drive of the player. Or that because of finance, we're not going to just buy another player to replace him just because he has a short streak of poor form.
I'm sure there'll be some that will take money to sit on the bench and claim the trophy, but Barry at the time of his transfer, if I remember correctly, is on top form. So I definitely think his place being taken away by Yaya Toure (or someone else) in future seasons is a certainty he should have foreseen.
Just my opinion, as I think he now knows what he want and I can only hope he sees that he can achieve things with us.
John Crawley
401
Posted 19/01/2014 at 21:18:50
Phil - spot on. I think these quotes from Barry sum it up.
The World Cup was not in my mind when the manager (Martinez) came into my house... But the manager (Martinez) came to my house and said: "I believe if you play for us we'll get you back in the team for the World Cup".

"In the last six weeks, I've had more headlines than I did at City in four years. It's because the manager speaks so highly of me, believes in me, and isn't frightened to tell everyone as well. I've also got to give myself some credit as well!"
That in a nutshell is the magic of Martinez!
Mick Davies
408
Posted 19/01/2014 at 21:17:09
At Barry's house, he's sitting down, in the flickering candlelight, opposite the great Catalonian warrior, El Martino
RM: "d'you remember when the evil empire tried to tempt you to join their band of cut-throats?
GB: "yes, I believe they tried to entice you too, with talk of untold riches and 'this is our year' Señor Martinez"
RM: "Yes they did, but an old soothsayer warned me that the future looked grim for them; they're swashbucktoothed marauder was off to sunnier climes, and the talismanic Capt Bloodsucker was getting old and weary. He no longer has the stomach for a battle amidships. That's we're you come in. I want you to destroy him in the decisive battle of Anfield. You will leave him without silver, and I trust you to take his ticket to the great land across the sea known as Rio, and a crusade across Europe in the league of champions. I've assembled the greatest team of attacking corsairs this side of the Med, and were on our way to the promised land. Are you with us?
GB: "just hand me the quill oh great one, and 'all for one and one for all'"
RM: "Not quite, it's Nil Satis Nisi Optimum and Sin Miedo"
Barry Rathbone
415
Posted 19/01/2014 at 21:35:05
Bit disappointed he didn't mention me.
I bumped into him at a garage in Birmingham when the RS were in for him I cheerfully quipped "don't score against my club - "Everton" - if you go to the reds" as he paid for his petrol.
Obviously such urbane and sophisticated repartee struck a chord because here we are today.
Clearly his - are you a mentalist smile? - as he wheelspun the Aston off the pumps was a trick of the light but nontheless a small acknowledgement would have been nice.
(What % do agents get? ...hmmm)
Mark Pierpoint
416
Posted 19/01/2014 at 22:02:24
Interesting point Dennis, but I can't see for the life of me why it was short sighted. Agree totally with Drew. 634 games isn't bad for a player with a short shelf life. Picked up a load of awards, well respected by the City fans and gets a move when the ride is over to EFC. Not too short sighted for me!
Patrick Murphy
417
Posted 19/01/2014 at 22:03:25
Barry #415 He was probably thinking how will the missus recognise the stables from the dressing room if I go to that place that should not be mentioned. It just shows how far removed from normal people footballers really are when they have Ducks wandering around their gaff and the wife involved in Eventing, I'm only jealous obviously.

Barry Rathbone
421
Posted 19/01/2014 at 22:10:03
Patrick, actually Gareth was a very personable young man at that very brief meet and it is a delight to see him so enamored with life at GP.
The lad is a real asset and I would take a much greater interest in England if he gets his international spot back.
As for footballers wealth well, we're all jealous of that.
Dennis Ng
425
Posted 19/01/2014 at 22:14:45
Mark, you're right. I'm stating what I felt when he moved in 2009. What happened next was of course, as you say, quite a nice ride for him. I could argue 20/20 hindsight but its also a slip of tongue on my part.
What matters to me now is that he's performing well for our club. I certainly hope he will be here next year because he will sure whip up some interest from other clubs. Mick said my sentiments best.
p.s. He played 132 games. 600+ games in 4 years is...
Patrick Murphy
426
Posted 19/01/2014 at 22:20:40
Barry it would be very hard to imagine him being any other way – a typical Everton player but a pity he only realised it a little late in his career – he can only be an asset in the dressing room and a role model for the youngsters at the club.

Kevin Tully
435
Posted 19/01/2014 at 22:31:27
When I read the header, I thought TWeb had conducted interview with Mr Rathbone.
Michael Winstanley
441
Posted 19/01/2014 at 21:37:49
I was doubtful when he signed as I was hoping for some young brilliant up-and-coming midfielder. So happy to be wrong, what a great player, he has the respect of the officials and opposition and what has surprised the most is his ability to leave his foot in.
I hope we can keep him come the summer as I would expect a few clubs to come in for him.
James Stewart
452
Posted 19/01/2014 at 23:28:30
I'll hold my hand up I thought it was a risky signing and that he was past it and not worth the huge wages we are paying. However he has been absolutely first class and the difference between him in midfield and what we had last season in Neville there is night and day.
Every inch a top four player and model pro into the bargain.
Nick Entwistle
455
Posted 19/01/2014 at 23:37:22
Jon 401, its disconcerting that a player would seek headlines as a way of regaining his England place. If indeed this is what is being said here.
Would explain Cahill's outside chance of the bench when at Bolton but nailed on starter once at Chelsea, or Beckham's 30 caps too many, or Hesky or Phil Jones or or or.
I was nonplussed with Barry's signing, but as someone soon posted after his debut, its only when you pay special attention to him in your own side do you see what he does.
Jamie Sweet
456
Posted 19/01/2014 at 23:34:23
Michael 441 "I was doubtful when he signed as I was hoping for some young brilliant up-and-coming midfielder".
You got that with McCarthy!
I'm struggling to think of a better CM combination for such a perfect mix of youth and experience.
Roberto pulled an absolute master-stroke when he signed these two.
Roman Sidey
460
Posted 19/01/2014 at 23:25:16
I love this bloke. Sign him permanently and give him the arm-band.
His interview made something quite apparent that is rather extraordinary. Going on form right now, in that group game of England vs Costa Rica, there should be at least five Everton players on the field, four of which play for Everton. I say going on form because I know as well as most that form doesn't always equate with selection. However, if this occurs, in the modern game with so many foreign players kicking about in the leagues, four out of 11 will be quite an achievement.
James Flynn
466
Posted 20/01/2014 at 00:13:41
"'Every time! My answer is the same every time: 'Hopefully! Hopefully!' That's a genuine answer.'"
Hopefully, genuinely meaning "I'll take a massive decrease in wages to sign with Everton when I'm turning 33 years old" Gareth?
Si Cooper
467
Posted 20/01/2014 at 00:07:38
I also thought he was past it and was really concerned about a perceived lack of pace, but he has been absolutely brilliant and I humbly apologize for my skepticism.
It is not as though McCarthy is having to cover for him either. A genuine partnership that helps out the defence and adds to the attack in equal measure. We are definitely getting his very best effort and considerable (if understated) ability, and he is obviously reveling in it. Looks like he could still hack it on the international stage.
Harold Matthews
470
Posted 20/01/2014 at 00:22:42
A nice man and a terrific footballer. Central to everything we do on the pitch. A touch of class.
Matt Traynor
496
Posted 20/01/2014 at 04:30:25
I was another who was underwhelmed with RM's appointment, but I did think of the three widely publicised candidates, he was the logical fit because of his Prem experience, but also working within a tight budget.
Even though he'd masterminded wins for his Wigan side at places like Anfield and Emirates, they'd also had the hidings. Consistency was a worry. (Okay we'd had the hidings, but not the wins!)
Also the fact that he'd been considered for, and appeared to turn down, "bigger" jobs at Villa and RS was a concern. Was it because he didn't want to be under a Director of Football, or have direct inteference from the owner, or was he lacking in self-belief?
Well, 7 months in I'm happy to confirm what many of you know as a truism, I know sweet FA!
Peter Z Jones
509
Posted 20/01/2014 at 06:58:11
Glad to be dead wrong about Gareth Barry. You really don't know what a great player he is until he's in your team. Model of consistency and so good at his specific duties. Keep teaching McCarthy how to be an Everton legend. He'll definitely be one if he continues to follow this your lead! Excellent midfielder.
Mike T Jones
511
Posted 20/01/2014 at 07:25:39
Matt #496. Those two clubs aren't bigger
Matt Traynor
512
Posted 20/01/2014 at 07:31:22
Mike #511, I did use inverted commas. I thought using hysterical laughter emoticons might undermine my argument.
Tony Draper
513
Posted 20/01/2014 at 07:23:38
GB has been just what we needed in CM (I like Gibbo, but he needs this injury issue sorted to have a real career) and having such a willing "all areas" partner in McCarthy.... tbh it was McCarthy that I took the sharp intake of breath over.
I'm delighted that GB is a proper blue and gets what it means, and I have not a slightest doubt that Roberto is very much responsible for instilling this.
Oh FFS, I'm just happy about bloody everything these days, I just don't want to wake up, please just let me keep dreaming.
Brian Denton
516
Posted 20/01/2014 at 08:21:32
Matt 512 Villa aren't bigger even without inverted commas. Ffs....
Anto Byrne
538
Posted 20/01/2014 at 09:44:07
I'm concerned that the biggest clubs in Europe will be looking very closely at RM and that includes Man Utd. Our former muppet looks clueless, whereas RM... well, the man is a genius. The feelgood factor at Everton is very apparent.
Graham Mockford
562
Posted 20/01/2014 at 11:53:42
Last year, I bumped into Gareth in New York, he was there having a break with Richard Wright after a City summer tour.
Unlike other footballers I've met, he was ego free, happy to talk to fans (mostly City) and a genuinely nice humble guy.
I think all Everton fans are thinking the same thing, 'Hopefully'.
Linda Morrison
643
Posted 20/01/2014 at 16:53:02
Have no fear he will sign, even if he ONLY gets the same as Baines and the rest it's not chicken feed is it?
I'll be surprised if he goes to Brazil though as he's been out of the squad for so long, but on merit he should be there shouldn't he?
To be honest he's the only 1 of the loan players I would be unhappy to lose.
Lukaka wants CL and I can't see us getting there our injuries are mounting up, even if Chelsea were willing to sell. The other situation would be his wages
Dan Brierley
691
Posted 20/01/2014 at 17:58:48
I guess it is all down to him really. Of course it will be a free transfer as he will be out of contract, and as he turns 33 next month I would not expect more than a 2 year deal with a salary of around £50K a week. He is definitely a good solid player that has been very helpful in the development of McCarthy. But if he wasn't playing for us, I don't see him getting a game at any other club in the top 8 so hopefully he will cut his demands and join us until his career ends.
Brian Wilkinson
485
Posted 22/01/2014 at 14:54:33
I will hold my hands up and have a little smile of satisfaction on my smug face.
I posted on here that I think Barry will prove to be a gem of a signing. He has a lot to prove that he still has it in him, he will be priceless the experience he brings to the youngsters. His pace was talked about in depth on here and as I said at the time, Reid, Molby, Gasgoine, Bobby Moore didn't have great pace either.
Not just saying it now, but I honestly believed at the time, Barry would turn out to be a great addition to the club.
No matter who we bring in, some will always find a fault before the player has even pulled on the Royal Blue jersey, Harper, Sheedy, Reid, Andy Gray, Ablett, Barry to name but a few. No matter who we bring in, I say give the guy a chance then judge the player.
Add Your Comments
In order to post a comment, you need to be logged in as a registered user of the site.
Or Sign up as a ToffeeWeb Member — it's free, takes just a few minutes and will allow you to post your comments on articles and Talking Points submissions across the site.
© ToffeeWeb