Everton home in on potential site for new stadium
CEO provides updates at AGM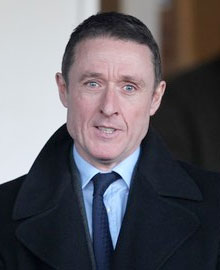 Elstone: "The stadium remains a big priority"

Everton's hierarchy addressed club shareholders at the Annual General Meeting of the Company at Liverpool Philharmonic Hall this evening, with ongoing plans for a new 50,000-seat stadium development dominating the headlines.

As part of his presentation regarding the club's finances and new initiatives, Chief Executive Roberto Elstone explained that the Board are working with Liverpool City Council and are focusing their attentions on a particular site in the city for a new ground.

While Mr Elstone said that a number of potential locations are being looked at, there is one site in particular where most of the exploratory work is being done. The CEO declined to identify the location but it is widely believed to be on Walton Hall Park and was reported as such by a number of media outlets who published stories on the proposal while the meeting was underway.

"The stadium remains a big priority," Elstone said. "We're not ruling out any of the sites that we've identified and that the council has presented to us, but there is one site which is getting more attention and has been getting more attention for a number of months.

"It has been worked on very carefully, diligently and in some detail by not only Everton, but by the council and by advisors, planners, architects, designers, cost consultants, regeneration experts and solicitors. So there's a lot of work going into something that we're very excited about."

Elstone admitted that Everton would be unable to fund the development themselves and, as such, will require significant assistance from the local council, most likely in the form of a tenancy agreement like the model used by Manchester City who moved into the council-owned City of Manchester Stadium.

It would, in his words, bring significant regeneration to the area concerned. "We are excited about the site and our fans will be proud of. It is a fantastically exciting project," he continued. "When we have more news to report, we will." Elstone indicated to journalist Richard Buxton after the event that an announcement could come just before the start of the new season in August.

With the board "assessing risks and opportunities" in terms of the debt burden required, the new development would require naming rights to complete the funding so the club's new stadium would bear a sponsor's name.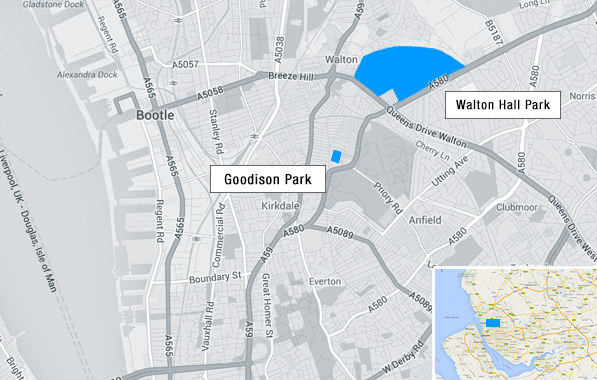 Walton Hall Park in relation to Goodison Park
---
Summary of presentations
The first order of business was a near-unaminous show of hands in support of the permanent reinstatement of annual AGMs.
Mr Elstone was then first to present, starting with a video overview summarising events on and off the field since the last AGM, including the recent successes against Arsenal and Manchester United and the kit manufacturing contract with Umbro which was listed as being worth £10m.
Following the video, Mr Elstone praised the work done by Everton In The Community over the past year, citing the programme's ability to "create loyalty" to the football club., before moving on to providing attendees with an overview of the club's finances.
He summarised the year as being one of steady growth, albeit relatively modest in commercial income, but with every Premier League place being worth an extra £1.2m, he expects broadcast and prize money revenue to be substantial this season. Broadcast revenue is projected to be £88m for 2013-14.
Mr Esltone reiterated the club's commitment to keeping Goodison ticket prices affordable, particularly for younger fans and was encouraged by the average home attendance of 37,636 this season, an increase of around 1,400 on last season which includes nine sell-out crowds.
He reported early-bird season ticket sales of 24,812, an increase of 21% on last year and stated a target of pre-selling 3 out of 4 seats at home games next season.
Wages are forecast to be £67m, 55% of adjusted turnover, "other operating costs" are forecast to be £26m for this season and profit for this season will be almost £30m.
One of his slides emphasised the current model of growing attendances, managing costs, making commercial progress, investing in the first team and youth, reducing borrowing and improving the balance sheet overall.
"To outperform our rivals, we have to be better at everything we do; scouting, coaching, player recruitment, trading players," he said.
Under the title of "Opportunities and Priorities", Mr Elstone listed "A new stadium", news of which was published by The Guardian while the AGM was underway. The article carries quotes by the CEO saying that an unnamed site has been identified for a 50,000-seat stadium but the club will require significant support from Liverpool Council, including the possibility of becoming tenants, at least initially. It would, in his words, bring significant regeneration to the area concerned which is said to be not far from Goodison Park and is rumoured to be Walton Hall Park.
"The stadium remains a big priority for us, there is one site taking our investment and time. I can't name it," he said. "We are excited about the site and our fans will be proud of. It is a fantastically exciting project."
With the board "assessing risks and opportunities" in terms of the debt burden required, the new development would require naming rights to complete the funding so the club's new stadium would bear a sponsor's name.
"It's a site we are very excited about and one our fans and city will be very proud of. When we have more news to report, we will," he said and concluded by saying that the search for investment in the club remains a top priority.
The CEO was followed by Bill Kenwright to introduce Roberto Martinez and he reiterated that, "Nothing will get in the way of the search for massive investment for this football club."
Mr Kenwright explained that the first season under Martinez has brought him great joy and that while he didn't say when he would get the club into the Champions League when he first arrived, he promised he would, "and I believed him.
"Roberto texted me on day one and said 'Bill, I'm in blue heaven!'," Mr Kenwright continued.
Mr Martinez then took the stage and began by saying that he was fortunate to have inherited a terrific squad. "I knew we had something special," he said.
He backed up the change in philosophy he has brought to the Everton team which has seen a more possession- and pass-based approach. "That gives you more control of the game and the ability to score goals from open play," he said.
He reserved special mention for the younger players: "The biggest success story this season has been the development of the young players". Players under the age of 24 have played 4,499 minutes this season, up from 4,079 last season.
"For me, it is extremely exciting to see how players like Ross Barkley and John Stones have developed," he said.
"What's next? I think all the good things we are doing, we need to master them. And we need to bring European football."
During questions from the floor, Mr Kenwright was asked to name the backers for the new stadium project but he declined to answer.
Asked about the safe-standing initiative, the Chairman said that he has never discussed it and is "not for it" due to his closeness with the families of the Hillsborough victims.
Regarding potential summer transfer business, the Chairman said that Roberto Martinez "will be responsible for bids on our players. We don't have to sell anyone." He confirmed that none of the current squad have buy-out clauses in their contracts.
The manager insisted that Everton do not need to sell players. "If we do, it will be on football grounds," he said. He pledged to replace departees with 2-4 players.
"Ross Barkley came to me and said 'I love playing for Everton', Mr Martinez continued. "We don't have to sell to survive."
Reader Comments (99)
Note: the following content is not moderated or vetted by the site owners at the time of submission. Comments are the responsibility of the poster. Disclaimer
Jack Cross
1
Posted 29/04/2014 at 20:09:26
I will believe it when I see it.
Danny Broderick
2
Posted 29/04/2014 at 20:23:49
I always view the figures that Everton bring out with more than a touch of cynicism. So now we are told that a new stadium would only generate an extra £5 million a year, or the wages of 1 extra Premier League player.
Well how about bringing all the match day catering/drinks back in house? What about building a museum, or a hotel, or a community pub with the stadium? What about hiring out function rooms for meetings, weddings etc? Hosting big sporting events there?
No wonder the business case doesn't sound too compelling if that's how they are presenting it! Aim for the stars for God's sake.
Paul Andrews
3
Posted 29/04/2014 at 20:36:13
"Roberto texted me on his first day and said a Bill I am in Blue Heaven."
Of course he did, Bill.
Eugene Ruane
4
Posted 29/04/2014 at 21:14:11
Hmmm...couple of initial thoughts.
Elstone - "To outperform our rivals we have to be better at everything we do; scouting, coaching, player recruitment, trading players."
Well... yeah true, but if by 'rivals' he means ALL the teams in the league, including those throwing hundreds of millions at the title, he might find that spending some fucking money might help too.
As for: "We are excited about the site and our fans will be proud of. It is a fantastically exciting project."
Possibly... and, JUST as possibly... not.
Tell you what, Bob, tell us where it is, show us the plans ... and WE'LL decide if we're proud or not.
Snake-oil arse.
Philip Bunting
5
Posted 29/04/2014 at 21:25:00
First impressions of the financials are pretty good to be fair. Yes increase in broadcasting revenue as expected but good to see attendances up and that if the figures projected are to be believed our net liabilities 'debt' down from £43m to £13m approx. according to Guardian report...of course.
How much is re-invested is another story... but could have been a lot worse. No doubt most will will focus on the negative but 'm a "glass half-full" guy meself.

Mark Pierpoint
6
Posted 29/04/2014 at 21:43:45
Love it Paul. Bill at his best that one...
Thomas Newton
7
Posted 29/04/2014 at 21:56:32
If the premature ejaculators across the park hadn't revealed their plans last week, I doubt the ground move would've been mentioned any more than in past meetings. Sad really.
Mike Hughes
8
Posted 29/04/2014 at 21:58:02
"
The CEO declined to identify the location but it is widely believed to be on Walton Hall Park and was reported as such by a number of media outlets who published stories on the proposal while the meeting was underway
."
... or for the cynics, this could be sub-titled, "From Tescos to Sainsburys."
Mind you, it would keep us in L4 where I was born so I'd be very happy with that. Not as good as the King's Dock but light years ahead of Kirkby.
Gary Cargill
9
Posted 29/04/2014 at 22:02:14
"To recognize bullshit, nose is better than ear."
Toba Beta, Master of Stupidity
Brian Hennessy
10
Posted 29/04/2014 at 22:12:54
Everton, new stadium = Twilight Zone
Brent Stephens
11
Posted 29/04/2014 at 22:12:34
Let's see.
Colin Glassar
12
Posted 29/04/2014 at 22:19:03
I'm no financial wizard but increasing capacity by about 13.000 per home game will only increase income by £5m a year? So does that mean they aren't planning on installing any executive suites? No hotel? No concerts? No decent restaurants? No other money spinning activities that other clubs do? Not even a fucking raffle or a jumble sale?
Jesus Christ, no wonder we are always skint with these idiots in charge.
Gerry Quinn
13
Posted 29/04/2014 at 22:29:12
Being a glass half-full kind of guy, I pray that the sponsors will be Stella!!!!
Paul Hewitt
14
Posted 29/04/2014 at 22:41:24
Is it really worth spending £200 million plus for a new stadium for an extra £5 million a year?
Charlie Martin
15
Posted 29/04/2014 at 22:00:50
R Elstone says 'our fans WILL be proud of' new site, though doesn't identify it, what a tease! What's the danger in letting us know where it is, wasn't that what tonight was about? LFC wont highjack it because they're upgrading theirs, is he worried about Tranmere? Why cant we know.. or is there really nothing to know. Very odd non-announcement.
Plus its difficult to imagine the commercial stuff will be sorted until the board restructures and has bigger financial capability, that's not happened so my guess is that we are no further on this and the club is just seeing what finance model the Council will put up for a regeneration project in one area. I can see a loan/lease scenario coming our way and the Council creaming us again just like Finch Farm. But I'd love the board to surprise us and show some clever commercial deal here, one that gives us strength through real ownership of our assets for decades to come. Why no announcement on the likely mechanics of proposed stadium financing in an AGM? Surely that's vital to divulge to stakeholders.
Liam Reilly
16
Posted 29/04/2014 at 22:39:57
If the reports are true and the debt is down to £14 million and wages at a very manageable 55%; then if (and it's a big if) the new ground is a possibility, then surely the club must be ripe for a takeover.
I hear the LA Clippers owner is looking for a new Investment; would fit in well with some of the other unscrupulous owners in the EPL.
Ste Traverse
17
Posted 29/04/2014 at 22:58:23
"Nothing will get in the way of the search for massive investment for this football club."
And how many fucking times have we heard that soundbite since 1999?
Jamie Sweet
18
Posted 29/04/2014 at 23:06:19
Greg O'Keeffe on twitter states the Under-24's minutes on the pitch as 14,499. Which is correct? 14,499 would certainly back up the theory that Roberto has greater trust in the youngsters.
Tom Bowers
19
Posted 29/04/2014 at 23:01:25
Qualification for Champions League may have gone a long way towards helping finance a new stadium.
Still, being an older fan I would miss the the old ''Goodison Park'' and all the great memories but one can't stop progress and we can all hope that we will have a team that will do a new stadium proud.

Walton Hall Park seems like a very appropriate new site.
Colin Glassar
20
Posted 29/04/2014 at 23:10:58
Liam, if the debt has gone down so much that is great. Surely Roberto will get a healthy transfer kitty now.
Andy Codling
21
Posted 29/04/2014 at 23:21:07
Did anyone ask why Alan Myers, a lifelong Evertonian, left his dream job to go to Blackburn the next day?
Adam Smith
22
Posted 29/04/2014 at 23:20:33
Just one quick question gents; I am no financial expert, but if these figures are accurate could our net liabilities/debt be down to £13 million because the rest of the Fellaini money et al, have been used to pay down debt and therefore will not be reinvested in the team/facilities?
I'm honestly not trying to find negatives in this or be generally cynical, it is a genuine question - any accountants etc out there who can give their thoughts?
Also, one thing I am prepared to be cynical about - I'm not buying that our revenue from things such as merchandise has gone up, surely it has gone down because of this badge fiasco??
Kev Thomas
23
Posted 29/04/2014 at 23:24:10
The 'Billshit test', also known by more polite individuals as the duck test, might be of use here. Considering previous stadium 'intent' from the board, I personally believe that this is more of the same old 'Bill' we've come to expect. Have that swear filter!
Patrick Murphy
24
Posted 29/04/2014 at 23:45:40
I think this time the Stadium will come to fruition, however, I think we all know that if Roberto wants to add new faces to replace those who will be leaving it will be more loans and if he wants to add an expensive striker he will have to sacrifice one of his younger stars.
The time-line is exactly the same as it always has been 'let's make an announcement in August about the site, as it will stop the fans fretting about the lack of movement in the transfer market'.
I assume all the loans come to an end at the end of May so there will be no requirement to replace them until closer to the start of next season. We will see the likes of Colback as he'll be available on a free and any other bargains that Roberto can identify to fill the gaps.
Got your work cut-out Roberto good luck competing with our rivals when each of them go out and blow £100m and we'll be lucky to see any player arriving for more than £10m.

Joe Clitherow
25
Posted 29/04/2014 at 23:46:32
So I attended the AGM tonight and I'm a bit confused about the debt reduction stated as going from c £42m to £13m. I may have missed something but all that I heard said was that there was about a £30m turnover increase to £117m for the new deal based mostly on the increased TV money. I don't recall anyone saying that money was going straight towards debt reduction and I thought I was paying attention! Seems like 2 + 2 = 5 paper speculation.
Also, RM's figure was definitely. 14499 minutes, even more stark when apparently 68% of the previous 4079 minutes was all Seamus Coleman and he didn't even qualify for the 14499 as he was outside the age bracket this year!
I would not get hung upon the non-disclosure on stadium: before formal contract signature it would be perfectly normal to have Non Disclosure Agreements in place as announcements can affect share prices and breach stock market rules. Frustrating maybe but there you go.
ps: I like RobertO Elstone! Was that deliberate?
Darryl Ritchie
26
Posted 30/04/2014 at 00:01:30
I"ve promised myself that I will see a match at Goodison before they tear the Old Lady down. I get the feeling that won't happen any time soon. Won't get anxious until they start construction...if they start construction. A lot of talk and planning, not much actually happening.
Gary Cargill
27
Posted 29/04/2014 at 23:38:50
God, this is just embarrassing. Only £5 mil a year benefit eh??? Ahahahahaha. And next we're told that in the end it just did not make financial sense. Another public stadium fiasco. I'm lost for words, my ears hear Elstone's, "Cautious optimism", but my nose smells bullshit.
Jamie Crowley
28
Posted 30/04/2014 at 00:13:40
I can't believe Roger Daltrey got a haircut and is our CEO.
Andrew Hawes
29
Posted 30/04/2014 at 00:05:44
I think this stadium will come off, after the Kings Dock fiasco. They wouldn't even mention the possibility without having more than a notion that it will be passed. So I am happy with that because it's the only thing holding us back from some real investment, maybe a new owner, and us moving with the times, along with the other clubs, in new or refurbished stadiums.
The close season will be interesting with Roberto having a full season under his belt; he will know precisely who he wants clear out or sacrifice from his current squad and I am betting there will be a few shocks!
The likes of Pienaar, Hibbert, and Osman are maybe players who should now be taken off our wage bill to free up funds. For players that can complete back-to-back games and a full 90 mins??
As regards transfers, I think we will go all out for Lukaku. £15 million and first refusal on Barkley or Stones if I was Chelsea. We have Gibson & Koné to come back in so that very shortly they will be announced as "like signing two new players".
It's a shame because if we were actually signing the likes of Deulofeu, Barry and Lukaku we would be looking to take it to the next level this close season, instead of standing still.
Paul Kelly
30
Posted 30/04/2014 at 02:18:31
So money gas gone on financing the debt, no cash for new signings then? And a load of BS about a new stadium. Anything else I missed?
Norman Merrill
31
Posted 29/04/2014 at 22:11:14
The venue for the AGM & our chairman go hand in hand. A music hall is the perfect place to hold it; it's 24/7s second home. Also, the perfect place to juggle the books. Top of the bill: where's the Stadium? Now where have we heard that joke before?
I would assume the audience, came away full of hope, as usual, after the chairmanship speech? And there would not be a dry eye in the house.
Matt Traynor
32
Posted 30/04/2014 at 06:28:28
Paul #30, if you wanted to sell a business you hadn't put anything into for a whacking great profit, and you'd had revenues, net negative transfer spending which, along with improved broadcast payments means you generate a great surplus would you:
(a) invest in the business
(b) pay down debt you'd overseen the accumulation of to walk away with a big fat profit?
Don't worry, it's a rhetorical question!
David Chait
33
Posted 30/04/2014 at 06:49:06
I'm a broken telephone on this point, but I just can't believe they said anything about a stadium at the point. This huge announcement for what was in effect another airy fairy "watch this space". We might have a new team manager but the club management just don't learn.
Paul Holden
34
Posted 30/04/2014 at 07:05:59
Get it down on the Mersey!!
Joe Clitherow
35
Posted 30/04/2014 at 07:14:30
Paul #30 Yes you missed my post just above where I said I heard nothing in the AGM about any money being used to finance any debt, or actually any mention whatsoever about how any profits would be spent at all - which seems to be complete speculation on the part of the journalists who were allowed to attend, or at least one section of them
Matt Traynor
36
Posted 30/04/2014 at 07:33:00
Kev Thomas #23 - "Billshit test". Love it. Deserves to enter TW vernacular that one.
Anthony Fielding
37
Posted 30/04/2014 at 07:41:44
So the only thing new we know about a possible new stadium is that we're expecting the council to fund most of it and we're going to be tenants, not sure I'm happy about that. Was hoping for a little more concrete information regarding site, design, possible time frame etc.
Chris Matheson
38
Posted 30/04/2014 at 08:28:11
David at #33 "The Club Management just don't learn..."
Actually I reckon they know perfectly well they can con the majority of fans. It is the bulk of supporters who just won't learn and who swallow this nonsense every year. "Search for investment continues ..." or the new one "I am in blue heaven after just one day..." Utter garbage, yet I fear these clowns retain the support of a majority of blues and the board and Mr Elstone know this perfectly well.
Colin Glassar
39
Posted 30/04/2014 at 08:27:44
Paul Holden, do you mean like a floating stadium on the Mersey? That would be mind blowing.
Michael Penley
40
Posted 30/04/2014 at 09:09:24
Elstone's bigger priority should be to learn how to tie his tie straight.
Looking at the map (and not being from Liverpool) couldn't part of some of those green spaces be set aside for a stadium? Seems logical to me that Everton FC should be situated in Everton.
John Jones
41
Posted 30/04/2014 at 08:54:42
After a very positive AGM for the first time in god know how many years, why are most of the posts on here negative?
Regarding financial announcements Bobby, cannot come out and spout bullshit because he has a duty as an accountant and his Fiduciary Duties as an director.
An Extra £5 Million a season PROFIT is a lot of money for any Business!! These figures are probably very prudent and not taking into accountant qualification into European football.
I think credit is due to Bobby after mess he took over from that Fat Prick (Can't remember his name) Reducing Debt and and Wages whilst an improvement in the overall squad is great.
With any business that was in the mess Everton was in before Bobby took the job there, has to be a plan and looking at the figures Bobby has got it right.
Before you all jump all over me, look at other clubs that have a similar stature or size ground to Everton eg, Villa, Leeds, Forest, Spurs (really look at there books with out the Bale sale), Newcastle (smaller club, bigger ground), Liverpool (saving grace with FFP no European football this season still have lost £205 million in 3 years).
Like all the papers are saying, and if you look at the business of the club with your Everton hat off, Everton are probably one of the best run Football clubs in the world and we don't need a sugar daddy, just a loyal fan fan base and savvy Financial Director.
We should be proud.
Anthony Jones
42
Posted 30/04/2014 at 09:15:24
Kenwright on form. Roberto promised to get us into the Chumpion's League? Bollocks he did. Nothing will get in the way of massive investment? It bloody will, and it goes by the name of Bill Kenwright.
Steve Carter
43
Posted 30/04/2014 at 09:23:03
Jokes aside, Colin Glassar, Paul Holden is surely correct. No, Michael Penley, it's not logical that Everton FC should be situated in Everton; rather, it's entirely sentimental and, indeed, crazy. Who (other than diehards) wants to go to a ground that's out in the suburbs with nothing exciting to do before or after the game (unless you find sloshing though the grime of the Winslow before or after exciting)? With Kings Dock, Everton had the chance to have the best located ground in Britain - a place where both Everton and visiting supporters would have looked forward to going just for the location. Please let's not blow it a second time.
Dennis Stevens
44
Posted 30/04/2014 at 09:36:42
"Asked about the safe-standing initiative, the Chairman said that he has never discussed it and is "not for it" due to his closeness with the families of the Hillsborough victims." What a pillock - he might as well say he's not for Cup semi-finals!
Shane Corcoran
45
Posted 30/04/2014 at 09:47:47
Adam #22 and Joe #25, where are you getting your figures from?

I'd like to have a look at them.
Kevin Tully
46
Posted 30/04/2014 at 10:10:53
Didn't the board say EXACTLY the same thing last year? 'We are very excited about one particular location.' Heard that one last year as well.
'We have identified a site' - It's a coincidence really. I remember identifying a site for my new mansion just as I was getting off the bus to sign on. Swimming pool, tennis courts, cinema room, it had everything.
As Columbo used to say ; 'Just one more ting sir, who the fuck is paying for all of this?'
Here is our board afterwards in the bar ;
James Marshall
47
Posted 30/04/2014 at 10:06:15
The thing is, the Etihad cost about £112m initially and was funded in part to the tune of £77m by Sport England and topped up by Manchester council for the Commonwealth games. Then it was converted for football for another £40m funded half by the council again and the other half by Man City.
The question I'd like to ask is, if we're building something similar, are Liverpool council going to simply trump-up something in the region of £120m just for Everton FC? Surely not? That's pie in the sky isn't it? I don't know the ins & outs of all this, but it all sounds like bollocks if you ask me. The Etihad was built for the Commonwealth games, not for Man City so I just can't get my head round why the council would fund this. Am I missing something??
Mike Keating
48
Posted 30/04/2014 at 10:27:22
Totally agree with Paul Holden and Steve Carter.
Every time I go to the Echo Arena, I am reminded of what might have been.
Kirby will be remembered as our biggest mistake but the Kings Dock was our greatest failure.
Ciaran Duff
49
Posted 30/04/2014 at 10:09:34
Ok, I'll get blasted for this but here goes.
The level of cynicism on this thread is just unbelievable.
Let's take stock of where we are and what realistic options we have.
When Elstone says "To outperform our rivals we have to be better at everything we do; scouting, coaching, player recruitment, trading players." - he means we have to outperform them BECAUSE we don't have the same financial muscle as many of them. In many ways we have achieved that objective and it shows in our results, position in the table and attendance figures. The club has obviously done really well in engaging the community (EITC etc) and fans (esp ticket prices for younger fans to build the support base for the future). Their web site, Everton TV, Xmas Videos, smartphone apps, surprise supporter visits etcc also build really good connections to the fans. They have built up a good youth/U21 setup, got great training facilities (which they want to improve further), brought in the likes of Duncan Ferguson and of course I haven't even got to Mr Martinez yet. In terms of transfers, we have been financially astute in our dealings. We have sold well (profitably) and strengthened our squad albeit with someloans. RM has stated that we don't have to sell any players if we don't want to and he seems comfortable with his transfer budget. Overall, I think given where the club was financially in the past (and comparing with similar teams) I think the club overall has been well managed. (shock horror). Villa or Newcastle fans would give their left testicles to have the management that we have.
Probably the thing that the club has struggled most with is the Stadium and the main reason for that (surprise, surprise) is lack of money. Since DK, there has actually been very little news from the club re stadium move or redevelopment which in itself drew criticism. It seems that they have been doing work with the council and others in the background. When they do release news about this then they get criticised for being premature or cynically trying to appease fans despite the fact that season ticket early bird is closed and sales are well up on last year. Obviously without money the club is dependent on others to help fund a project and they are being clear about that in their statement. Realistically I think they seem to be approaching this in the only way they can.
Ray Morgan
50
Posted 30/04/2014 at 10:44:44
We cannot fill a 40,000 seater stadium let alone a 50,000, so why waste money?
Any spare money should be used to buy better players , a couple of strikers and a defender is the best place to start!!
Mike Goodwin
51
Posted 30/04/2014 at 10:45:11
Does anyone know the reason why Stanley Park does not appear to be one of the locations on offer, particularly since LFC had all the planning permissions in place, but are now no longer interested?
Joe Clitherow
52
Posted 30/04/2014 at 10:50:09
Shane #45
As I said, I attended the AGM as a shareholder. My figures are those as presented by Sr Martinez at the meeting
Joe Clitherow
53
Posted 30/04/2014 at 10:52:34
Adam #22 and others
Just to clear something up - overall liability is not the same as paying off debt, they are separate.
If I have a £10K credit card bill and £8K in the bank, I have an overall £2K liability. It doesn't mean I pay off £8K of the bill, even though that might be a very sensible thing to do for a number of reasons, I may choose to pay off a portion and use part of the £8K elsewhere. Proper gearing/debt management is an appropriate way to manage a business, ad as I have said, I didn't hear it said anywhere in the meeting that the increased margin would be used to pay off debt; others may have heard this very thing but not me.
It may seem a subtle distinction but it's an important and clear one.
Roger Helm
54
Posted 30/04/2014 at 10:59:07
Can we believe anything the Board say? To me they are like politicians - I judge them on what they have done, not what they say they are hoping to do. So I will stay on the fence until something definite happens. I would have been happier with some idea about who is going to pay for it. Surely not the council, in these days of welfare cuts?
As for siting, Everton and the banks of the Mersey are all very well, but I have to drive from South Yorkshire, and many others travel a long way as well, so the nearer to the East Lancs Road the better for me. I hope when the time comes they remember to arrange some proper car parking.
Brian Harrison
55
Posted 30/04/2014 at 11:03:00
I would like to hear from Joe Anderson as to what financial assistance are the Council giving towards the new stadium. Lets not forget that Liverpool city Council also bought our training ground and leased it back to us on a greatly reduced rent than we were paying. As a council tax payer I find it remarkable that the Council can find money to help Everton yet are making people redundant because of lack of funds.
Paul Hughes
56
Posted 30/04/2014 at 10:50:07
Steve (43),
I agree with you, although I want a new stadium, I find the Walton Hall Park location very underwhelming.
It's in a nondescript suburb, further way from the city centre than Goodison (or Mordor), and absolutely miles way from any rail connections.
I'd hope (but certainly don't expect) that the board and the Council have rather more vision than that.
There are plenty of derelict, or near-derelict sites on the docklands north of the city centre which are crying out for re-generation. Peel Holdings are already ahead of the game there with their Liverpool Waters proposal.
The thing is, Premier League football grounds are no longer blots on the landscape, they are cash-generators (if located in the right place). So I hope (again, not expect) that the board and the Council have gone to "Mr Peel" - why not have a shiny new stadium on, say Trafalgar Dock, as one of the anchors for your £5.4Bn investment?
I'll take off my rose-coloured glasses now.
Patrick Murphy
57
Posted 30/04/2014 at 11:25:05
Joe #25 I read those figures of circa £42m reduced to circa £12m on the live Echo feed last night but it seems they have removed any reference to those figures from the site today. So as you say that must have been pure conjecture on the Journalist's behalf.
Eugene Ruane
58
Posted 30/04/2014 at 11:26:33
Andrew Hawes (29) - "I think this stadium will come off, after the Kings Dock fiasco. They wouldn't even mention the possibility without having more than a notion that it will be passed"
Really?
Well wasn't it AFTER the King's Dock fiasco that they mentioned...Kirkby?
And didn't they have 'more than a notion' that would be passed?
Again I ask, how many times do Evertonians need to be hoofed in the plums before they consider cupping their hands over their ball-bags?
Look, if we end up with a lovely new ground in a great location (that 'we'll all be proud of') then great, but every Evertonian, given the past record of the hopeless bunch 'running' Everton, has the right to be completely sceptical (in fact imo, it would be stupid to be anything else).
Advice - just keep telling yourself that a nice suit, a ready smile and talking without swearing DOESN'T guarantee the truth (look at our M.Ps, the opposite is much more likely).
The time to believe in a new stadium will be when...you're sitting in it.
Brian Waring
59
Posted 30/04/2014 at 11:39:09
" How many times do Evertonians need to be hoofed in the plums before they consider cupping their hands over their ball-bags?"
Couldn't have put it better myself.
Patrick Murphy
60
Posted 30/04/2014 at 11:39:45
I wasn't dreaming somebody did report those figures I mentioned but they are a prediction rather than concrete figures - final paragraph of the Guardian Link: -
Everton also projected a healthier financial position at the general meeting, largely on the back of the new record-breaking broadcasting deal. Unaudited figures for the current financial year forecast a turnover of £117m compared to £86m in 2012/13, with wages falling to 55% of turnover compared to a Premier League average of 72%, and predict that net liabilities will drop from £42.7m in 2012/13 to £12.9m in 2013/14
Brent Stephens
61
Posted 30/04/2014 at 11:43:47
Paul #56 "absolutely miles way from any rail connections."
Small point, Paul, but I think Walton and Rice Lane stations are as close to WHP as Sandhills is to GP.
Joe Clitherow
64
Posted 30/04/2014 at 11:54:29
Patrick
See my post #53. Net liability is not the same as debt, you can reduce liability without reducing indebtedness.
I'll state again that I head nothing last night, sat three rows from the front, that discussed how the increased revenue would be used. Others may have, but I suspect what was reported in the Echo originally was a journalist's take on the facts in the haste to get a scoop rather than a qualified assessment.
Paul Hughes
65
Posted 30/04/2014 at 11:58:49
Brent - fair point. But none are exactly on the door step.

Kevin Tully
66
Posted 30/04/2014 at 11:59:23
Unaudited figures for the current financial year forecast a turnover of £117m compared to £86m in 2012/13, with wages falling to 55% of turnover compared to a Premier League average of 72%, and predict that net liabilities will drop from £42.7m in 2012/13 to £12.9m in 2013/14
It's spin like this which is very annoying. The wages to turnover ratio will fall for nearly every club because of the extra T.V. revenues they will be receiving. These figures have not been reduced by some miraculous business plan, the money has been gifted to every club because they are in the Premier League. If all the T.V. money and profits from transfers were made availablr to the manager - we would have a better chance of achieving something!
One final question. Who saddled the club with all the debt in the first place?
Brent Stephens
67
Posted 30/04/2014 at 12:05:15
Paul, I was just comparing with current GP. And I assume a Soccerbus would be laid on, as now, which is ideal.
However, I agree that something where you suggest would be less underwhelming.
Roger Percy
68
Posted 30/04/2014 at 12:09:11
Reebok stadium #2.
John Barnes
69
Posted 30/04/2014 at 11:57:53
Paul,
Is Trafalgar Dock inside the City boundary or is it in Bootle?
It's an honest question, I'm not trying to be smart.
But I do think you'll find road transport links to Walton Hall Park much the same as for Goodison, if not better as presumably a large car park will be contained within the plans, as could a staion on the railway line running very close across by Walton Hall Avenue
Paul Hughes
70
Posted 30/04/2014 at 12:33:05
John,
Road links to GP, WHP are exactly the same and as you say, I'd hope that there would be some decent parking created. As it happens, I park at Alsop School now, which I guess is pretty equidistant.
I just plucked Trafalgar dock out of the air as an example of a possible re-generation site, I've no idea if it is practical. It is, as far as I can tell,within the city boundaries, not far from the Scotty Road loop and the Kingsway Tunnel. It's the patch of land you can see at the bottom left of the map at the top of the thread.
Andrew Ellams
71
Posted 30/04/2014 at 12:46:40
If it becomes the Chang Stadium, I will give up.
Steve Jones
72
Posted 30/04/2014 at 12:15:53
Walton Hall Park is a worse option than a rebuild of Goodison. At least with Goodison you have the history...what little that will draw in its still something and you have the time to build and observe and, if we suffer a reverse in fortunes somewhere down the line, put the brakes on.
If we want to be a 'facilities-led' club we need to be somewhere we can get a return on any facilities we can build. Thats not Walton and its never going to be Walton...that applies equally in the Park or at Goodison. If we want to compete with the city centre venues for the entertainment/exposition market we have to be as accessible as the existing sites in the city centre. That simple.
So this realistically boils down to 2 options...stay where we are, tinker round the edges with Goodison and accept our financial limits until billionaire philanthropist Evertonian pops up....or....Peel make a space for us somewhere in Liverpool Waters. Seeing as Peel have ruled that out and no-one seems to be willing or able to change the mindset there we would appear to have very little to be enthusiastic about off the pitch.

David Waugh
73
Posted 30/04/2014 at 13:18:28
I'd go for a bigger capacity, say 55k. Supply creates its own demand. Okay, we wouldn't sell out each game, but we would sell out some. At the very least, they should ensure that the ability to expand in the future is available. By that, I mean ensuring that foundations are suitable for future additional tiers, etc.
Andrew Ellams
74
Posted 30/04/2014 at 13:30:40
Thing is, David, for those we don't sell out, there is nothing worse than thousands of empty seats. If we had a 55,000 capacity, even a 45,000 attendance would leave a lot of empty seats. The decision-makers need to be realistic, 55,000 would mean about 10,000 away seats, I suppose, and imagine how bare that will look when the likes of Palace or Norwich are in town.
Peter Cummings
75
Posted 30/04/2014 at 13:13:52
It's all very well talking about the 'possible' site for a new stadium with a capacity of 50,000, yet since Goodison Park was redeveloped and seated I can't remember when we last had over 40,000 in the ground; I can vividly remember however being amongst crowds of over 70,000, and these for first division games, no EU cup games then.
My point is, where are those extra thousands of 'fans' coming from?? Possibly if we can start to compete in Europe on a regular basis, but until, and unless, a multi billionaire steps in, that is highly unlikely. At present, I believe Goodison Park CAN be upgraded further to save the millions which can be spent on a few players which we need.
Scott Goin
76
Posted 30/04/2014 at 15:02:09
Ciaran #49, completely agree with you. There's certainly reason to be doubtful regarding plans for a new stadium but I don't really see why there's so much negativity regarding the announcements at the AGM. Everton are in the best financial shape it's been in for many years. That's a "good" thing, regardless of how it was achieved. They need to take advantage of this situation before players' transfer fees and wages go up (which they will).
Could the board be doing better? Sure. I'd much rather Everton own Finch Farm and all the merchandising/concession opportunities. That limits our ability to create turnover and seems fairly short-sighted to me. Regardless, Everton is being fairly well run "as a business". That means we aren't going to spend more than we earn. If we want to buy better players and keep our own good players, we need to increase turnover correspondingly. That's why we need a new stadium. The £5 million mentioned is obviously disregarding the income from corporate boxes and other revenue opportunities.
Regarding the potential new stadium, no one is saying it's going to happen. I wouldn't get my hopes up quite yet but that doesn't mean it's bad news. It is what it is. We won't know any more details for a few months. Once they create a financial plan and start designing, then we can debate the positives and negatives. Until then, I'm pretty happy with the state of Everton Football Club.
Richard Reeves
77
Posted 30/04/2014 at 15:20:52
I can't wait to see these other areas that have been identified. I'm assuming there's no offer on the table for a waterfront location as they would be lunatics to focus on Walton Hall Park over that. If there is a location on offer around the docks, then we should let the board know this is our preferred (if it really is for most of us) destination, even if they do ignore us.
David Waugh
78
Posted 30/04/2014 at 16:02:44
Andrew Ellams 74 - I understand your point of view. However, if we think 'small' then we will limit our ability to achieve anything but.
If you remove obstructed views from the equation then we sell out Goodison virtually every game. Add to that core attendance further support from having a new facility plus increased away support, then I don't see 55k as unreasonable.
Build it....and they will come.
John Gee
79
Posted 30/04/2014 at 15:00:21
The smart money would be on Walton Hall Park but this is the biggest opportunity Everton will have for the next 100-200 years to lay down a marker and it's an opportunity that shouldn't be wasted and for that reason I want...
A stadium over looking the Mersey that will be part of every photograph to be taken of the city.
Rupert's Tower Hotel that's big enough to be seen from Norway.
A shopping arcade called "The Footballers' Wives' Nirvana".
The biggest Burberry store in the world (to fleece the Chelsea chavs).
Statues of ex-players 50 foot high.
Blue fountains shooting out of the man-made Sheik Lake.
A stadium that's the biggest concert venue in the north.
Club owned bars, restaurants, betting shops, merchandising shops.
100,000 capacity.
A stadium that makes alien invaders think "they must be the ones in charge of the planet".
A stadium that makes Ronaldo, Messi, Iniesta go weak at the knees while saying breathlessly "Aye carrumba!".

I want Mediterranean cruise ships to take detours up the north sea to marvel at the eighth wonder of the world. I want Sky to film various chairmen landing their helicopters on the stadium roof helipad before each game. The next Bond film to have it's climax inside the stadium.

I want a stadium, with quadruple tier exec boxes, state of the art media centre, scaled down replica of the solar system showing the gravitational forces that the "City of Liverpool Stadium" exerts on the cosmos. I want it to scream loud and proud to the world: "This is the stadium God would build"...

Or we could go for a slightly cheaper midsized not-quite-enormo-dome on a shitty backwater suburban park that nobody outside the city notices or gives a shit about.
Drew Shortis
80
Posted 30/04/2014 at 15:21:18
I'm not naïve enough to expect any dramatic developments overnight, but I do have a much stronger feeling that Everton is heading in the right direction than I ever have in my 25-odd years as a fan.
I have been a Toffee since the late eighties / early nineties and can't genuinely remember the glory years of the mid-eighties and have always felt like we are struggling to keep up. We now have a solid plan in place for on field success and need the off-field side to keep pace to allow us to fulfil that potential.
I just hope that what we are being told is genuine and not just noise to keep us pacified. If the board is brave enough to match Martinez's ambition and take a risk, we could turn a corner. Inaction will only lead to stagnation and, eventually decline. Time to be brave and really go for it!
Richard Reeves
81
Posted 30/04/2014 at 16:46:08
Love that picture of Elstone at the top of the page. How can anyone not trust a man with a face like that? A diet of expensive red wine and cigars me thinks.
Graham Mockford
82
Posted 30/04/2014 at 17:33:47
Maybe someone can help me with the maths. In the Guardian article Elstone says:
"If you've got a new stadium with 10,000 extra seats and you fill it every week, it generates about £5m per year. When you've paid for extra security, maintenance, cleaning, lighting, heating, £5m per year might be the wages of one Premier League player or one and a half Premier League players. It comes back to the economic imperative of this which is if we build a new stadium we're not going to be signing three or four Champions League players on the back of that new stadium. That's why this is more challenging for the board than it might have been in Arsenal's case or one or two other clubs who have moved stadium."
10,000 seats at a very conservative £50 per head over 20 games is £10m. Now maybe he is talking after extra costs such as matchday staff etc but why a new stadium would cost more on maintenance and utilities I don't get.
If he is right and a full new stadium will generate an extra £5m of revenue, I struggle to understand how it will be possible to create a viable business case.
Andy Meighan
83
Posted 30/04/2014 at 17:36:33
John 79 I reckon the latter myself
Frank Crewe
84
Posted 30/04/2014 at 17:24:12
Sunderland left Roker Park (cap 22,500) and moved into the Stadium of Shite (cap 49,000) in 1997. The extra revenue was supposed to turn them into a Premier League powerhouse. Since the move, they have been relegated twice from the Premier League, consistently finished in the bottom half of the league, and are currently once again hanging on to their Premier League place by the skin of their teeth.
Bolton Wanderers moved out of Burnden Park and into the Reebok Stadium in 1997 and they have been relegated several times and are currently languishing in the Championship (2nd Division as was).
Newcastle have an almost brand new St James Park (cap 52,000) yet they were relegated in 2009 and are currently plodding along in mid-table.
The fact of the matter is that many clubs have moved to flashy new grounds, or redeveloped the ones they already had, claiming it would lead to greater success on the pitch – only to discover that all it really lead to was failure and debt.
If Everton want to build a new stadium, that's fine with me; just as long as we don't think that it will somehow lead to a more successful team. It will not. Only a good manager and good players can do that.
Jeremy Benson
85
Posted 30/04/2014 at 18:07:10
We would only generate extra income (corporate boxes aside) if we put more bums on seats. Would we? There's only a few premium games each season aren't there in which we get very close to current capacity?
John Moore
86
Posted 30/04/2014 at 20:06:14
The biggest mistake Everton have made in my 48 years was not having the foresight to build a classy stadium right in the centre of the city, with all the amenities within walking distance at the Kings Dock, on a world famous waterfront.
Just imagine all the peoples from all over the world who you now encounter in town marveling at our stadium and saying "Everton FC play there". It would be a disaster on the scale of Anzio to make the same mistake again so soon... and fucking criminal in my opinion.
If a new stadium is going to happen, then it must be on one of the derelict dockyards as close to the city centre as possible and not some fucking shitty housing estate in the middle of nowhere.
Who the fuck are Peel Holdings and how come they can own half of Liverpool and stick two fingers up to us? EFC should tell Liverpool council we want to build on a site close to the city and the council should force a compulsory purchase.
Jamie Sweet
88
Posted 01/05/2014 at 01:00:57
Reading between the lines, when all said and done, I think what we are essentially being told to do here is "watch this space".
I'm still busy watching the last space I was told to watch... I'm not sure if I have enough time to watch another space.
Hopefully this new space will be a bit more interesting to watch than the last space... which appears to continue to be just a bloody big space.
Eugene Ruane
89
Posted 01/05/2014 at 06:09:32
Jamie Sweet (88) - "Hopefully this new space will be a bit more interesting to watch than the last space... which appears to continue to be just a bloody big space."
And remember the words of Alan Partridge - "People forget, you can get lost in space."

Tony Dove
90
Posted 01/05/2014 at 09:53:03
When I look up at the sky I see sun clouds and stars. BK and RE only see pies.
Liverpool have finally seen sense and so should we. It is too soon after Kirkby to
have the same debate again. Please wake me when the project has been shelved.
Jamie Crowley
91
Posted 01/05/2014 at 14:33:06
John Gee (79) -
You forgot the "coke and whores megaplex"...
Steavey Buckley
92
Posted 01/05/2014 at 16:46:48
Bolton, Middlesborough and Sunderland with all new stadiums in recent years have failed because of changes to management. When Bolton were doing, relatively, well, Sam Allyardyce was the manager, but once he left, Bolton were nearly relegated to division 1 last season. West Ham supporters may not like Sam Allardyce's style of management or football, but he will keep them up this season and the next, irrespective of their move to the Olympic stadium in Stratford, east London.
Bobby Thomas
93
Posted 01/05/2014 at 19:21:42
If we are gonna have a debate about stadiums can we please ditch the simplistic arguments that xxxxx club built a stadium and are now doing badly therefore new stadiums are a bad idea.
What were Sunderland doing before the Stadium of Light? What are their gates now compared to then? What is their turnover? Similar to ours I think.Their stadium cost £30 million and has only been good for them. The Stadium of Light has nothing to do with appointing loads of shit managers and buying shit players.
For Bolton, well their previous ground had a supermarket on it. The Reebok isn't anything to aspire to but was certainly an improvement for Bolton and I think when they were in the top half with Allardyce and getting in europe people may have tthouht it helped drive the club forward.
The staduim has NOTHING to do with appointing Gary Megson and Sammy Lee as manager and getting themselves relegated ffs!!
It is a slightly more nuanced topic than that!
Bobby Thomas
94
Posted 01/05/2014 at 19:49:11
Villa redeveloped and have been shit for at least 3 seasons after they pulled the finance post O'Neill.
Redevelopments are BAD people!!
Ray Said
95
Posted 01/05/2014 at 19:52:03
EFC turnover in 2012/13 was £83 mill.
That was lower than W Ham (£91m), Newcastle (£96m), Spurs (£147m), Liverpool (£206m), Chelsea (£260m), Man C (£271m), Arsenal (£283m) and Man Utd (£363m).
We spent 73% of that turnover on wages. West Ham will likely move to the Olympic stadium and increase turnover (if they stay in Prem), Spurs will have a new stadium and will increase turnover. We are withering in terms of turnover versus what most of us see as the other 'Big Clubs'.
If we don't increase stadium capacity and turnover, we will reach a point when our capacity to fund the wage bill will mean we will only be able to attract inferior players and we will get further and further down the pecking order.
Tony Abrahams
96
Posted 01/05/2014 at 20:28:52
John Moore 86: The Kings Dock Fiascooooooooooooooooo!
Peel holdings would just laugh at Liverpool City Council, just like I still despair at the Kings Dock fiasco.
A superb stadium on a world heritage site and the money was Ring Fenced? Just like the Kirkby money was also Ring Fenced?
Kenwright tells everyone that The Arabs looked at Everton before Man City so, if this is the case, then his 'ringed-fenced' money is the only thing that has ever held us back?
Ian Bennett
97
Posted 01/05/2014 at 21:12:16
Any reference to Kings Dock should be banned on this site. It is just too distressing seeing it.
In terms of the £5m additional season, I think this is being down played a little, but the business case looks weak and explains why this gets discussed every 3 years if you look at the BBC news site... Here's to 2017.
Anyway, our average gate revenue is just under £800k per match on an average attendance of about 36.4k. That equates to around £22 a spec. Quick maths of applying that on additional 10,000 seats over 19 or so matches comes out at ~£5m a season. An upgrade to the corporate seats would add another ~£2m at most. Naming rights would be near to the Chang deal ~£3m, which puts in around ~£10m. If you want more you are going to need to screw the punters by jacking up the prices.
Now the problem. Let's pretend we could convince someone to lend EFC the money. At £100m the loan interest would be ~£6m with a 25 year loan repaying £4m a season. That's the £10m done with nothing to Bobby left over - back to square one. Yes we can sell GP, but that will raise jack squat, whilst £100m is not much of a stadium in any case. £200m gets you a decent stadium, but funding it is £20m a season. No bank will look at that.
Anyway, have I told you about the first time I saw Dave Hickson from the boys pen.....
Peter Howard
98
Posted 02/05/2014 at 15:18:48
Jamie(28),
We don't get fooled again!
Johnny Andrew
99
Posted 05/05/2014 at 13:57:06
I like Goodison Park, especially the sense of history that you get there, like the fact that my granddad can still point out where he stood when he was my age, 50-odd years ago. But I've also been to the Etihad, the new Wembley, and the slightly less prestigious Falkirk Stadium in Scotland to name a few.
The first thing I noticed was the near 100% unobstructed views and the wide concourses, which meant that I didn't feel like a battery chicken when I was trying to buy a half-time drink. To put it another way – steam trains appeal much more to the imagination than a Virgin Pendilino, but I know which one I'd rather sit on all the way to London.
---
Add Your Comments
In order to post a comment, you need to be logged in as a registered user of the site.
Or Sign up as a ToffeeWeb Member — it's free, takes just a few minutes and will allow you to post your comments on articles and Talking Points submissions across the site.
© ToffeeWeb