Tommy Eggleston Remembered
By Rob Sawyer
17/11/2014

Comments (104)
jump

(21/02/1920-14/01/2004)
Frances Eggleston in conversation with Rob Sawyer
Beside virtually every great manager there is a great right-hand man. In Harry Catterick's case he enjoyed the vital support of Tom "Tommy" Eggleston for ten years at Sheffield Wednesday and Everton.
Born in 1920, Tom was, like Harry Catterick, a child of the North East who had seen a promising playing career interrupted by the Second World War. After his spell at Derby County (which saw him unluckily lose out on a place in the first post-war FA Cup Final) he represented Leicester City and Watford before injury curtailed his playing days. He joined the backroom staff at Brentford before teaming up with Harry at Hillsborough for the first time in 1958.  They would form a formidable double-act, driving both the Owls and the Toffees up to the heights, perhaps nobody got closer to Harry than Tom during his managerial career. 
After 1963 league and 1966 FA Cup success Tom left Everton in 1967 to try his hand at management at home and abroad. He returned to Goodison in 1972 to support the ailing Harry following his heart-attack. His post-Everton career took him to Ireland and Devon before enjoying a Suffolk Indian summer in which he tasted domestic and European glory as a physio under Bobby Robson.  Famously he resuscitated a man he found lying in the street prior to a February 1978 FA Cup tie in Bristol. 
When Tom passed away in 2004, Joe Royle (who was, at that time, the manager at Ipswich) paid tribute in the East Anglian Daily Times:
"Tommy was a massive help to me at the start of my career. When I joined Everton from school he was the first-team coach. I made my debut at 16 and became a regular at 18, and as a young lad feeling my way Tommy was a major influence on me.
"He had a lovely sense of humour, but no one took liberties with him. He was also a strict disciplinarian when he needed to be, but he was a true gentleman and I am extremely saddened by the news. Tommy used to take myself and some of the other youngsters out in the afternoons for an extra hour or two. He was such a great striker of the ball and I've a lot to be grateful to him for."
Trevor Putney, the Ipswich Town left-winger in the early 1980's, has fond memories of the man they nicknamed "Egg" as he recalled after his passing:
"Egg was the physio when I first arrived at the club and he was always ready for a bit of banter with all the players. He enjoyed a laugh and a joke – much of the time at his own expense. We even used to have a lunch in his honour  at Christmas with lads like Terry Butcher, Russell Osman, Kevin O'Callaghan and a few others toasting 'good old Tommy'. Just mentioning his name brings a smile to my face."
I was honoured to spend time reflecting with Tom's wife, Frances, on her husband's wonderful career in football: 
Tom was from a little village called Ebchester, Consett was the nearest town. He had one elder brother John who played football. In a game he was badly injured and taken to Newcastle General Hospital but they didn't diagnose a ruptured spleen and he died the next morning from. That was very sad and Tom's parents stopped him from playing football for a quite a number of years. Then he was playing for Medomsley Juniors and Consett  - club scouts were around and one from  Derby County picked him up as a young boy - George Jobey was the manager of Derby at the time. Tom played at right-half and later became a full-back; the press reports at the time said that Tom would play for England one day but then, of course, the war started.
Tom had been in the Navy – first of all mine-sweeping the Suez Canal and then he was in Tobruk. When he was injured he came back and was stationed in Southampton - that's where we met, just after the war, as I had been called-up for the Wrens and was stationed there. During the time there he guested for Southampton FC. After the war he went back to Derby and was upset when he did not play in the 1946 Cup Final; I think Chick Musson took his place – but there we go. We watched the game in the stand as guests.  We lived on Osmaston Road not far from the centre. Tom's parents came to live in Derby – losing John had been very hard and Tom was the only son left.  Tom's dad worked for Rolls Royce and was also a market gardener – he used to go mad if we weren't growing vegetables in the garden!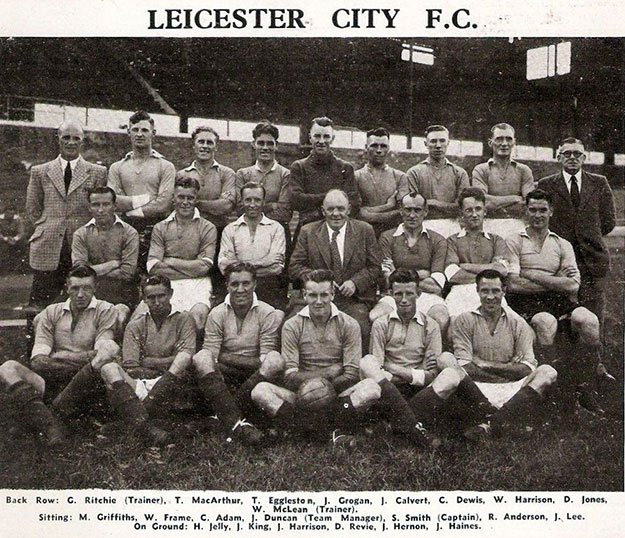 Leicester City team, 1948. Tommy Eggleston on back row, third from left. (Note: Don Revie on the front row.)
Then he went to play for Leicester and he was very happy there, he played alongside Don Revie. One director, Shipman, was so kind - he'd look after me until Tom was ready after the matches as there was nowhere for wives to wait in those days. The move to Watford was a surprise - but it was a nice club. Tom was injured there – it was his knee and that was not a very happy time as he had to finish playing.  So from there he went to study physiotherapy at Wakefield hospital in Yorkshire.  Our daughter and I were left in Watford whilst he was up there for over a year.   Tom did remedial gymnastics, Swedish massage and chiropody as well -  when he was playing, he was already very interested in doing things like that. He used to stress with younger players, "Finish your education before you commit yourself to football" because, as with Tom, an injury comes along and that's it.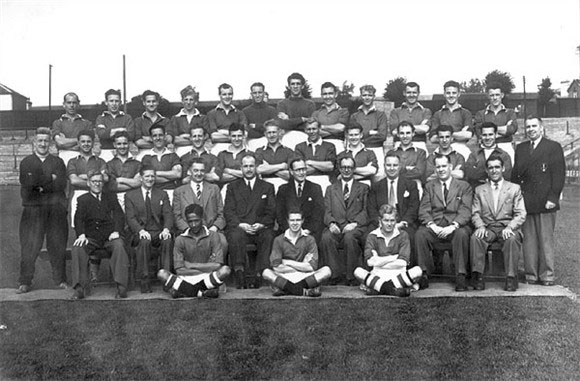 Watford FC, 1950 – Tommy Eggleston is in the middle, second row from the back
The manager at Brentford at this time was Bill Dodgin who had been stationed at Southampton when Tom was in the Navy. We were very friendly with Bill - we used to go to his house and borrow his bikes -  and he got Tom to go to Brentford.  Tom was so loyal to him that when Bill left Brentford he decided to go as well.
Tom was then going to concentrate on physiotherapy but Bill was friendly with Harry Catterick. Harry came onto the phone and said that he wanted Tom to go to Sheffield - so off we went.  Tom put the physiotherapy to one side and he was back in football doing coaching.  He did enjoy being at Sheffield Wednesday, we'd socialise with the Cattericks and I was very friendly with Harry's wife, Nancy.  We'd go to their house and they'd come to ours for dinner.
Then John Moores came after Harry and he was off to Everton. I never really wanted another move as our daughter, Linda,  was in primary school – moving all the time would be awful for schooling (Tom was very proud of her as we have moved quite a bit) but I was coaxed. My parents were from Ireland but I was born in West Kirby, so Harry and Nancy kept on saying "Come on Frances, you can come with us and you'll be going home." This went on for quite a while but in the end I thought that I did had quite a few old friends over there so that was that. In the end it was a happy move.  
My father was a great supporter of Everton – the whole family followed them and still do.   It was very sad really that my father had died by the time Tom went to Everton as he would have been absolutely delighted. He'd have had a seat in the stand instead of standing down below!  Tom was happy to go; he and Harry had a great partnership and wherever Harry went he'd always want Tom - they were very, very close. They would help each other in any way – Tom was there for Harry when he was ill with the heart problems which were very worrying.
When Everton won the league we went to the meal at the Adelphi and we all went off to Torremolinos in Spain. John Moores came as well and we had a great time, it was lovely.
I went to all the matches – I was a great football supporter  - but after the match you'd be standing out in the cold and the rain. I noticed, when he came back to Everton (in 1972), how much it had improved  - they did have a players' lounge then.
The 1966 Cup Final was great – we were all there.  I remember coming back, we got off the train on the edge of the city and got the bus coming right through the streets – I remember seeing Ken Dodd there. Tom was also quite friendly with Bill Shankly who used to say "I wish you were over here Tom on the other side of the Park!" I used to think that Bill was a great person.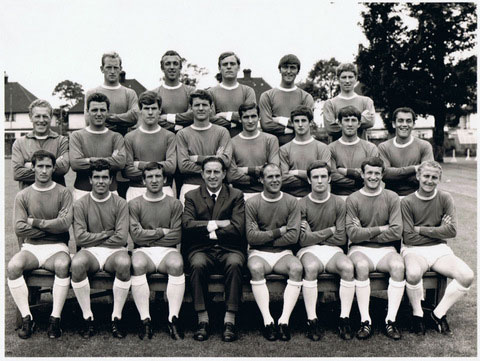 Everton team, 1967-68, shortly before Tommy Eggleston left
In 1967 Mansfield came after Tom – I don't think Harry, or anyone at Everton, wanted him to go but on the other hand Harry didn't want to stand in Tom's way . Tom wanted to go further and you have to think of yourself sometimes. So he went there and did very well. Then the Greek people came after him. Before that he had been to Australia with Everton (in 1964) when Harry didn't go – so he kept getting letters from there offering him jobs. I said "no", to them, so when the Greek thing came up he said, "If you won't go to Australia how about Greece?" I thought that Greece was not too far away so that's how we went off there. It was okay, I liked the lifestyle but you get homesick and our daughter was finishing University so we came back.  
We went back to the Wirral to stay with my sister, she said that Harry Catterick was in hospital so Tom went over to see him. Harry asked if Tom would go back to Everton;  as Tom was not doing anything he went back – they knew each other inside-out so were happy to get back together.  Tom looked out for Harry, if Harry couldn't get into the club he'd phone Tom in the morning. It was quite a hard time for Harry and Tom.  Afterwards Harry and Tom had kept in touch. When we went to Harry's funeral (in 1985) it was quite sad – it brought back a lot of memories of what life had been like.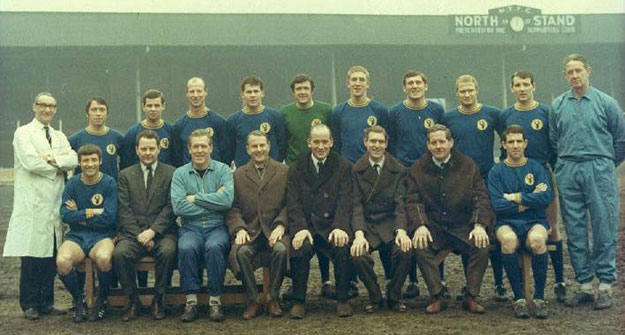 Mansfield Town, 1968-69 – Tom is in the pale blue tracksuit seated thrid from left on the front row
Billy Bingham then took charge and we moved from Crosby over the water (to the Wirral). From there Tom went to Ireland at Home Farm.  That was a nice time but I wasn't very well so we came back. He was going to start his own physiotherapy business - but then he went off to Plymouth as physio - talk about coming back home! Tony Waiters had come on the phone and said "I hear that you're back Tom;  would you think about coming to Plymouth?" It was another nice move  - it seems like I was on the move the whole time! When Tony was leaving Tom decided to get going with his physiotherapy so we came back up to New Brighton.
When Tom was at Everton he used to talk to Bobby Robson a lot – they used to phone each other up about players. So Bobby then came onto the phone and asked if he'd come to Ipswich.  I became very friendly with Bobby's wife Elsie – I stayed in their house when they were away in order to look after their dog and I helped Elise in her dress business. Bobby was very friendly and Ipswich was a lovely club.  Tom was a very caring person  - he'd help anybody. He saved that man's life in the road – that's the kind of thing he would do.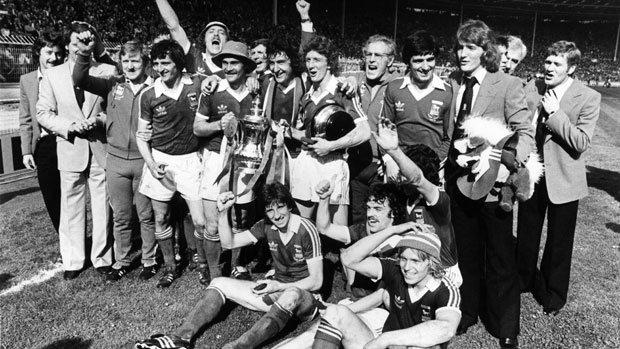 Ipswich Town (with Tommy centre, in tracksuit, wearing glasses) celebrate their 1978 FA Cup triumph
In retirement we moved to Yorkshire but I've still got quite close contact with Liverpool and I am very attached to the Wirral. When I go back I always have a run to West Kirby, when I was a child we used to go to Hilbre Island a lot. Ipswich is a wonderful club – some of their players and directors came to Tom's funeral and that was very nice – like a family.
I still keep in touch with Pat Cobbold who was Bobby Robson's secretary. You meet some nice people along the way. You always seem to support the last club you have been with but for us it was Everton and Ipswich that were special.  
---
Reader Comments (104)
Note: the following content is not moderated or vetted by the site owners at the time of submission. Comments are the responsibility of the poster. Disclaimer
Peter Mills
1
Posted 17/11/2014 at 10:32:17
Excellent article as ever, Rob. A pal of my Dad was also friendly with Tom during the 60s, he always said he was a fine man.
Phil Walling
2
Posted 17/11/2014 at 10:58:30
Good stuff, as ever, Rob; I don't think the Moores regime gave Tommy much backing in the time he held the reins after Catterick's illness. A tragedy that he is only remembered as the manager who actually signed Bernie Wright.
Tommy's close friendship with Bobby Robson at least explains why he virtually swopped the young and excellent David Johnson for that pony, Rodney Belfitt. Friends don't always do you the best favours, do they?
Rob Sawyer
3
Posted 17/11/2014 at 14:08:35
Phil - thanks for your comments. The Bernie Wright signing can't be laid at Tommy's door. Tommy Casey was running the first team at the time (following Harry Catterick's cardiac episode).
I think that Wright was actually a Harry Cooke "spot" as the Chief Scout was impressed with how he got "in the thick of it" when playing for Walsall against Everton.
As for the Johnson exit and Belfitt arrival – we certainly got the bad end of that deal – whoever sanctioned it (Tommy was Assistant Manager to Harry Catterick at the time).

Colin Glassar
4
Posted 17/11/2014 at 14:13:32
Thank you for that picture of the 67-68 squad. Brought a lump to my throat as I think I had the same one on my wall when I was a nipper.
Colin Glassar
5
Posted 17/11/2014 at 14:17:51
Rob, I can put a name to most faces on the 67-68 pic but who's that far right, middle row? He's just behind the golden vision.
Can anyone else name them all? Fantastic team that was. They'd beat most sides today.
Phil Bellis
6
Posted 17/11/2014 at 14:26:20
Tra - la - laa, la la la laa
Mickey Treb-il-cock
Colin Glassar
7
Posted 17/11/2014 at 14:41:13
Cheers, Phil, I thought it might be Trebilcock but I thought he'd left us by then. The real hero of '66. There's a few more I'm not sure about; the lad next to Westy (not Rankin), the lad next to Egg and the two lads next to Johnny Morrisey. Oh, and the lad between Colin Harvey and Alec.
Chris Hockenhull
8
Posted 17/11/2014 at 14:49:41
Colin (7). Next to Westy is another keeper Geoff Barnett (played in 1972 FA Cup Final for Arsenal v Leeds). Next to Tommy E. is the 㿨,000 burly net burster Fred Pickering... the two next to John M... are Derek Temple and Alex Scott – both 1966 Wembley winners... and between Harvey & Young is 1970 World Cup right back and 66/70 medals winner, the great fullback Tommy Wright.
Colin Glassar
9
Posted 17/11/2014 at 14:58:11
Cheers Chris, Temple was a bit before my time and I thought he was the blonde fella top left (who is that?). I vaguely remember Barnett and Scott but I'm totally embarrassed by not recognising the great Tommy Wright.
I'm going to print that photo and put all their names on it so I never, ever forget the greatest football team I've ever seen. And it's going on the bedroom wall, where it belongs.
Chris Hockenhull
10
Posted 17/11/2014 at 15:17:48
Colin, the blonde chap top left is the great servant in all positions... Sandy Brown.
you really need bringing up on your 1960's Everton Studies Colin... these were the players / men of my youth!!!! scary thing is that it only seems like yesterday!
Colin Glassar
11
Posted 17/11/2014 at 15:20:29
Bloody hell Chris, this is indeed shameful. I'm putting it down to old age. Of course it's Sandy Brown but a very young and skinny Sandy Brown. I remember him having less hair and being a bit heftier when I watched him on a regular basis.. I bow my head in shame and ask the Everton gods for forgiveness.
The rest, I swear, I can name. Honestly.
Colin Glassar
12
Posted 17/11/2014 at 15:25:49
Back row: Brown, Barnett, West, Rankin, Ball
Midd row: Eggleston, Pickering, Royle, Labone, Hurst, Husband, Kendall, Trebilcock
Front row: Temple, Scott, Morrisey, Catterick, Wilson, Harvey, Wright, Young.
Please say I'm right. This is after all my dream team.
Chris Hockenhull
13
Posted 17/11/2014 at 15:35:56
Colin... you are pardoned but your penance has to be to name all the players who played in the 1969-70 season games (all competitions) off the top of your head – without referring to any bibles etc that document that hallowed and most sacred period in time. Go forth now and do your duty!.
Colin Glassar
14
Posted 17/11/2014 at 15:39:51
West
Wright
Labone
Brown
Wilson
Kendall
Harvey
Ball
Morrisey
Royle
Husband
Subs: Rankin, Hurst, Whittle?..........I give up. Oh, the shame and I didn't google it.
Colin Glassar
15
Posted 17/11/2014 at 16:33:58
Kenyon?
Chris Hockenhull
16
Posted 17/11/2014 at 18:58:18
Tommy Jackson for starters
Peter Mills
17
Posted 17/11/2014 at 19:55:34
Frank Darcy, Keith Newton. And did Gerry Humphreys get a game?
Colin Glassar
18
Posted 17/11/2014 at 20:02:18
I forgot Keith Newton. He went to the World Cup in Mexico '70 didn't he? A very good player.
Peter Mills
19
Posted 17/11/2014 at 20:09:39
He was a good player Colin, better at right back than on the left where we tended to play him (taking Sandy Brown's place). He got done in the 1970 World Cup against Romania by a player named Mucano (?).
Colin Glassar
20
Posted 17/11/2014 at 20:55:59
Didn't he have a great Elvis-like quiff as well?
Colin Glassar
21
Posted 17/11/2014 at 21:06:08
Wrong, once again. Newton was blonde.
Chris Hockenhull
22
Posted 17/11/2014 at 21:03:55
Though I set Colin this biblical task, I too am not going to cheat... but off the top of my head I don't think Darcy or Humphreys were in the frame those days but Keith Newton was. Not sure Andy Rankin got a game that season too.
But back to Keith Newton, sadly never played to his true potential and played out of position and struggled to the end of his time here...
Roger Kenyon played a major role in the run in when Labone got injured and served Everton well for some years afterward. But you're right, Colin, he had a fine head of hair... almost Hicksonian at times. Sadly passed away, as have Sandy Brown, Alan Ball, Gordon West and Brian Labone from the 69-70 squad. RIP, you heroes!!!

Peter Mills
23
Posted 17/11/2014 at 21:09:37
Keith was fair, Henry had the quiff.
Chris Hockenhull
24
Posted 17/11/2014 at 21:11:33
Colin... your report states tonight... 'tries hard but MUST do better'!!
Peter Mills
25
Posted 17/11/2014 at 21:25:23
It's killing me not looking this up, but I'm certain that Frank Darcy was sub the night we beat West Brom.
Phil Walling
26
Posted 17/11/2014 at 21:19:41
Well, between us, I think we've named that sacred team although Frank Darcy only appeared as a sub and Andy Rankin not at all.
Like a sadly diminishing core, those formative days of my teens were the very happiest I have had as an Evertonian. Rob Sawyer's recent book on Harry Catterick brought them all back to me and the words therein of of my good friend, David Exall – then the Programme Editor – says it all:–
"It was just like poetry in motion. I get quite tearful even now when I think back to how good they were and how brilliantly they played."
Chris Hockenhull
27
Posted 17/11/2014 at 21:59:16
Peter Mills... you win a cookie. Like you too, I'm not gonna look it up but I too recall Frank in his trackie doing the lap of honour...
I still hold it against my dad to this day for not letting me run on the pitch which I never fail to remind him of...
Sue Brown
28
Posted 17/11/2014 at 22:04:35
Colin & Chris, I don't remember Ray Wilson playing in the 69-70 side. Maybe I'm wrong but I started watching Everton 68-69 and thought he'd moved on in '68.... or is MY age catching up on me!
Tommy Wright and Sandy Brown were our full backs most of that league winning side I think.
Patrick Murphy
29
Posted 17/11/2014 at 22:58:44
Seventeen players made League appearances in the 69-70 season and yes Sue, Ray Wilson didn't play that season however he played 4 league games in the 68-69 season
Phil Walling
30
Posted 17/11/2014 at 22:59:14
Sue, you are right. Ray said farewell with just 4 appearances in 68-69, joining Oldham in the summer following. I seem to remember seeing him playing in the Reserves at the end of that season after returning from long-standing injury.
Sue Brown
31
Posted 17/11/2014 at 23:11:56
Thanks, Phil, I'd forgotten he was injured for most of his last season with us; I only saw him play maybe twice. One of me Dad's favorite players.
Colin Glassar
32
Posted 17/11/2014 at 23:18:37
Oh happy days. What a team that was from the early '60s to the 69-70 side. We were on the verge of something so great but sadly it all fell apart. But just looking at the photo and listening to all those great names makes me so proud and so sad at what could've been.
Pete Gunby
33
Posted 18/11/2014 at 00:42:59
Chris H, I was on the pitch that night. Almost got crushed against the wall and after being pushed onto the field by my dad, (I was 8)I helped pull him and some others up. Police were trying to stop us at first but fortunately, gave up. Great memories of a superb team – like many, I thought it was going to be that way every year.
Harold Matthews
34
Posted 18/11/2014 at 00:58:04
Yes Colin. The Everton lads were brilliant in Mexico.
Plenty of talented Brits around in those days.
Phil Walling
35
Posted 18/11/2014 at 00:57:14
Got to reflecting on all that is written in this thread and the unique way 'Young Rob' seems to capture these times as though he lived them.
In the early hours I began to realise that my formative years as an Evertonian were of such high standard that so little of what has followed the sixties has seemed of any quality. It's as though in 1970, the football gods slammed the door on Everton, opening it only on rare occasions since.
No doubt that explains my distrust of those whose utterings get far more headlines than their performance and why so many of those who talk so easily of 'greatness' have never really witnessed it!
Colin Glassar
36
Posted 18/11/2014 at 01:19:56
Only the side of the '80s came close to that golden generation of the '60s, Phil. Unfortunately, the football gods conspired to stop both teams in their tracks – just as they were on the verge of immortality.
Gordon Lee's team could've reached the stars but, as the man himself infamously said, "if I want to see stars all I have to do is look at the sky".
You'll hate me for saying this, Phil, but I haven't been so excited as I am now since those halcyon days. I think we are close to something special again.
Steve Austin
37
Posted 18/11/2014 at 02:02:32
Another great article, Rob. Really do enjoy reading them, and very well written.
As for the picture, it came with the family when we emigrated to Canada, and hung on my bedroom wall.
Chris Hockenhull
38
Posted 18/11/2014 at 08:55:17
Sue... don't think I mentioned Ray Wilson at all?? He was gone by then sadly as injuries had hit him.

Colin Glassar
39
Posted 18/11/2014 at 08:59:14
Great discussion, thanks.
Sue Brown
40
Posted 18/11/2014 at 12:23:37
You're right, Chris, I was referring to Colin (#14). He had included Wilson in his team and put John Hurst with the subs. I think Hurst was pretty much ever present that season at No 10 – tho' interestingly not the number 10 role as is played in today's game.
Chris Hockenhull
41
Posted 18/11/2014 at 14:13:46
Thanks all who followed up Rob's latest great piece. It's had my memories awoken a fair bit!
I will open up the record books when I get a moment at home to give the full grist on who played when and what etc. Want to do it tonight but Jackson Browne in Manchester beckons.
Sue, interesting about John Hurst... always No 10 yet in the middle. Quite unusual for those days re the numbers.

Patrick Murphy
42
Posted 18/11/2014 at 15:08:35
For those that want to know - here is a link to the players that appeared in the 1970 season courtesy of Everton results website
Chris Hockenhull
44
Posted 18/11/2014 at 15:56:25
Thanks Patrick...that's saved me a job. A few things confirmed here. Gerry Humphreys did play a league game and another in league cup alonside Bennett and Brindle (I had an inkling the other day about wether did Brindle (cocky and inept nark who strutted round thinking he was Ball) make an appearance.
Confirms Westy played all games (yet 12 months on his form had nosedived spectacularly) as did Joe Royle who was by far away top scorer. Sadly Joe never reached those heights again and soon on his back problems affected him though he did soldier on for a few more years in the top flight but him and Waesty are the classic cases of how things tumbled within 12 months..on the top of their game 69/70 then pale shadows within a year.
Chris Hockenhull
45
Posted 18/11/2014 at 16:09:15
Actually totally wrong about Joe Royle...he did just as well the following year with another 20+..after that things started to fade sadly
Terry White
46
Posted 18/11/2014 at 16:16:38
Chris, John Hurst played alongside Brian Labone in the back four. Tommy Smith first wore #10 for the RS and Catterick copied this. I don't know if it confused the opposition but it certainly confused Kenneth Wolstenholme et al commentating on the game.
Gordon West was indeed dropped in the 1970-71 season following a poor run of form (he was inclined to these during all of his Goodison career) including a European Cup game stinker which we won comfortably against Kevlavik. Andy Rankin played in all of the other European games and was in goal for the infamous Cup semi-final when Labone went off at half time and we lost our 1-0 lead to the RS at Old Trafford. Gordon did make a popular reappearance at the end of that season, I think, and played some games in the following season, a little more portly, before leaving us to David Lawson!
Sue Brown
47
Posted 18/11/2014 at 16:08:45
Great memories, thanks all. Ended up watching so many of these games last night on ytube then finishing off with the '66 cup final on DVD....sad eh!
Alan McGuffog
48
Posted 18/11/2014 at 16:33:06
Patrick....thanks for posting that list of appearances for 69/70. I could have sworn that the Holy Trinity only ever played together for a fraction of the fixtures due to injury, suspension etc and that Tommy Jackson played a big part in covering for the three of them.
The stats don't lie... they all played most of the games and so must have been a regular trio.

To all those I have misled over the last forty years a big apology and I shall start taking more water with it.
James Joseph
49
Posted 18/11/2014 at 17:31:10
Chris (8) and Colin (9), regarding Tommy Wright, I'm lucky enough to have a copy of the complete game between England and Brazil in the 1970 world cup. Tommy had a great game that day, galloping up and down the wing, despite the heat and altitude, and defending solidly. Arguably he was England's 3rd best player on the day, behind Bobby Moore and, inevitably, Bally, although for me the man of the match by a mile was Rivelino, who that day played in centre midfield rather than wide left.
Unfortunately Tommy was hit by injuries from about 1971 onwards and played his last game in April 1973 after which he was forced to retire at just 28.
Terry White
50
Posted 18/11/2014 at 18:34:16
Alan, I think you will find that Tommy Jackson played more games in the 67-68 season. I'm pretty sure he played in the 68 semi final v Leeds at Old Trafford. We were without Hurst and, I think, Bally that day and still won.
Phil Walling
51
Posted 18/11/2014 at 18:29:04
James, Tommy's style was not to everyone's liking. He was, perhaps, our original 'wing-back' as he utilised space created by Jimmy Husband frequently cutting inside. When, very occasionally, he got caught out, many of the Everton faithful opined that 'he should stay in his position and not try to be a winger!'
Seamus, eat your heart out!
Dave Abrahams
52
Posted 18/11/2014 at 18:47:05
Re John Hurst, I think he scored the goal in the 1-0 win at Stoke to clinch the title, this was on the Easter Monday.
Tommy Jackson did play in the semi-final and Alan Ball missed that game.
And didn't Roger Kenyon play in this game as well?
Colin Glassar
53
Posted 18/11/2014 at 18:57:55
You're right Phil, Wrighty used to love to bomb upfield so him and Jimmy Husband were the original 'Bainaar'.
Dave Abrahams
54
Posted 18/11/2014 at 20:06:00
Terry White (46),
That game you refer to when Everton played Kevlavik was a night I was ashamed to be an Evertonian. Gordon West made an error early in the game which cost us a goal. Gordon was booed by the crowd behind the goal, he then stood around the penalty spot every time the ball was at the other end.
To treat a genuine lad like Westy stunk.
In the we won, I think 5-2 or 6-2 but I got no joy out of that night nor out of the victory.
Phil Walling
55
Posted 18/11/2014 at 20:09:21
Dave@52 : Those two points at Stoke were vital but the championship was clinched at Goodison on April Fool's Day. Alan Whittle set the tone with his 11th goal in about a dozen starts and Colin sealed it with a 25 yard screamer.
It was the one and only time I saw The Cat throw his arms round every member of his team. Bally, standing in for injured Labby received the trophy from Man Utd's Louis Edwards.
That night was the happiest of my life and my missus knows it !
Alan McGuffog
56
Posted 18/11/2014 at 20:25:36
It was a great night, Phil, I agree. But surely WBA rather than Stoke?
Dave Abrahams
57
Posted 18/11/2014 at 20:33:11
Phil Walling.
You are most probably right, glad your wife enjoyed the night as well!!!!!!!
Geoff Evans
58
Posted 18/11/2014 at 20:39:16
Pete Gunby (#33), I remember that night vividly. I was to the right of the players tunnel, me and a girlfriend at the time were crushed up against the wall with nowhere to go. Luckily we were pulled up onto the pitch like yourself.
Lots of great memories of that season. For those wondering about John Hurst, when he first came into the team he was played more forward but didn't have the pace and got a lot of stick. In the Championship winning team he was moved back although retaining the number 10 shirt. Scored the winner at Arsenal on the opening day (1-0) and was a rock in the team remembered for the Holy Trinity. He anchored the team and helped Kendall, Ball and Harvey to do the damage they did. A players' player. Happy days.
Alan McGuffog
59
Posted 18/11/2014 at 21:48:20
Apologies, Phil.... I should've gone to Specsavers.
Mike Childs
60
Posted 18/11/2014 at 22:12:56
One of the things I enjoy most about these history lessons is the teams that used to be Premier League, Division One or whatever the top division in England was at the time. They now reside in the Championship or lower divisions while we still remain in the highest division of football in England.
Thanks Rob for another great article.

Colin Glassar
61
Posted 18/11/2014 at 22:50:04
Just goes to show that we don't really change do we? Dave Abrams remembers Westy getting stick, Geoff Evans remembers the same about the great John Hurst. I remember Ball and Harvey getting loads of abuse from the arl fellas in the ground.
Nowadays it's Ossie, Lukaku and even Martinez. Nothing really changes, does it?
Peter Mills
62
Posted 19/11/2014 at 00:18:11
I've just caught up with this thread – Jackson Browne beckoned me tonight too!
I don't know about Westy getting stick in that Keflavik match – he gave all of us in Gwladys St plenty when he stuck two fingers up at us!
Dave Abrahams
63
Posted 19/11/2014 at 08:51:53
Peterr Mills.
Well every one who booed him, and there were plenty, deserved the two fingers and more.
Colin Glassar
64
Posted 19/11/2014 at 09:08:15
One of the best TW threads ever, Peter.
Geoff Evans
65
Posted 19/11/2014 at 10:52:09
Colin @9: Derek (Shirley) Temple and Alex (Chico) Scott both played in the 1966 FA Cup Final, Temple of course got the winner. Scott I think came from Rangers and I believe he got the nickname because of his chubby face. Temple of course got his from the legendary child film star. Unfortunately both received their share of stick near the end of their careers.
Just a quick word about John Hurst with his shirt number confusing Ken Wolstenholme. This wasn't the first time Catterick had used this tactic, Colin Harvey wore the No 10 shirt in the final against Sheff Wed with Gabriel wearing No 4 and Brian Harris No 6.
Fred Pickering, who Catterick bought from Blackburn for 㿨,000, was controversially left out of the final for Mike Trebilcock who came from Plymouth... sorry, can't stop when I start.

Phil Walling
66
Posted 19/11/2014 at 11:14:53
Geoff. According to the Programme Editor of the time, Catterick was wanting to number players in alphabetical order from his early days. He once told me that John Moores's henchmen advised against it 'as it might confuse the 'Little Man'!
James Joseph
67
Posted 19/11/2014 at 11:22:11
Colin (62) yes it's true about Ball and Harvey getting abuse – almost everyone who plays for any length of time cops it: Reid, Ratcliffe, Sharpe, Latchford etc.
They were all talented players but it's the less talented ones who really get stick week-in & week-out: I remember Brett Angell getting dog's abuse when attempting to warm up before a game, and my little lad was convinced that Neil McDonald's first name was actually Fuckoff, as in the stadium-wide cry of "Fuck Off, McDonald!" that ensued as another attempted cross ended up 20 rows back in the Gwladys Street.
Same at all clubs, though – both Ian Bowyer and Paul Power were effectively forced out of Man City by the boo boys and both went on to greater things.
Geoff Evans
68
Posted 19/11/2014 at 11:34:24
Phil. Sounds about right mate.
Sue Brown
69
Posted 19/11/2014 at 11:22:37
Whenever I think of Westy, the main memory is how far he could throw the ball out and with sometimes more precision than others could kick it, to quickly get the attack going, some balls going almost to the half way line.
Geoff Evans
70
Posted 19/11/2014 at 11:51:43
Sue, Two or three things about Westy. He was always known as eccentric, he regularly threw up before games because of nerves. Remember his debut after coming from Blackpool for a then record fee for a keeper. Always had a bit of a love-hate attitude about football as if sometimes he didn't want to be there.
I will always wonder what would have happened in the 1970 World Cup if he hadn't turned down the chance to go. If he'd have deputised for Banks, would we have lost to West Germany? Westy RIP.
Rick Tarleton
72
Posted 19/11/2014 at 14:03:06
I was 16/17 in 62-63 and in my perfect world, we're in our spec on the Paddock and Young and Vernon are in their pomp. I know the 69-70 team played better football and probably the mid-eighties team as well, but Young and Vernon: "Bliss was it in that dawn to be alive, but to be Young was very heaven".

Phil Walling
73
Posted 19/11/2014 at 14:18:50
Rick, I was just a nipper when my Dad said I had to 'be 'confirmed' as an Evertonian in the sight of Young and Vernon!' Blessed was he.
I cried in 1964 when he told me that Fred Pickering had been signed to replace Alex – although Young outlasted him here, so it wasn't really true – and I never became a fan of the ex-Blackburn man for all his goals in our cause.
I was daft like that. Then.
Peter Mills
74
Posted 19/11/2014 at 15:11:36
Dave (#64), I would never condone anyone in a blue shirt being booed, and furthermore was always a fan of Westy. However, as my memory of that night goes (from a viewpoint of standing towards the back of Gwladys St), Gordon made a couple of errors early on and was the subject of grumbles and catcalls from some fans. He then "flicked the Vs" towards Gwladys St, and it was that gesture which led to the boos.
Dave Abrahams
75
Posted 19/11/2014 at 15:28:21
Peter(75)
I see what you are saying but I was near the front of Gwladys Street that night and some of the remarks were very personal and maybe Gordon was unwise to show his displeasure with the fans but I know from his reaction that he was sickened by what was shouted to him.
It always amazes me that fans(?) seem to think they can abuse players no matter how distasteful, and then take umbrage if a player responds back.
Colin Glassar
77
Posted 19/11/2014 at 18:59:30
Was it during the derby that a cheeky RS scally gave West a handbag? I remember during a game against Man Utd one of their fans tried to do the same but was stopped by the police. Honey West will always be a legend in my eyes.
James Joseph
78
Posted 19/11/2014 at 19:10:35
Peter (75), we know now that Westy had some personal problems around that time which perhaps led to his dramatic decline in form, a decline which saw him slip from being England's second choice keeper, behind Gordon Banks, to Everton's second choice behind Andy Rankin. Might also explain his irate response to the crowd, although he's far from being the only player to show their displeasure.
Geoff Evans
79
Posted 19/11/2014 at 20:12:35
Remember one of ours trying to give St John a banana.
Colin Glassar
80
Posted 19/11/2014 at 20:21:45
Georgie Wood was always great with the Gwladys St regulars. Westy was always a bit aloof.
Peter Mills
81
Posted 19/11/2014 at 20:57:51
Dave (#76) and James (79), thanks for the information. I had no idea about the nature of the abuse, nor any personal issues Gordon had at the time. I couldn't agree more with your sentiments, no matter what they earn or the privileges they have, every player is simply a human being.
Chris Hockenhull
82
Posted 20/11/2014 at 09:36:31
I was lucky to have a few chats in the local with Westy in his last years. He always spoke enthusiastically about 'the old days' but still demonstrated a little nervousness when recalling those times.
I was at the Keflavik game that September night. Here we are, Champions with a not too good a start to the season in our first European Cup game against some Icelandic part timers who everyone expects us to stuff. Except the plucky Icelandics were up for their big night and had a go.
Westy fluffed a few early attempts and eventually one goes past him and we are one down. Cue the bubbling stick he'd been getting behind the goal to turn into a louder load of verbal. Earlier he had turned to the Street End, hands outstretched, saying "Come on... give us a break. Get off my back." but now the verbals got to him and he turned and gave them the V-sign and told them to "Fuck Off" clearly.
It was rumoured Catterick saw this as the reason to leave him out the next league game and he didn't surface for a while later. He was – as someone stated – a man who fell out of love a lot with his job... something I can certainly relate to.
I think his aloofness was a lot to do with his nerves and concentration. He used to throw up in the toilets in the dressing room before games and smoke like mad. How he ever did live the life of a performer in front of large crowds, I will never know... but he was a great great servant.
Laurie Hartley
83
Posted 20/11/2014 at 09:01:54
I have thoroughly enjoyed reading this post and the thread. A few observations from someone who was fortunate enough to watch and follow the two great Everton teams of the '60s.
Harry Catterick – Champions twice and Cup Winners once in an 8-year period when Spurs, Man Utd, and Liverpool were in their pomp. Nicholson, Busby and Shankly were his opposition. Say no more.
Roy Vernon – IMHO, he was a better striker than Dennis Law and Jimmy Greaves.
Only in recent years have I realised how important Dennis Stevens and John Hurst were to the team.
Brian Labone was a great captain and great centre half.
It broke our hearts when Alan Ball was sold to Arsenal.
When both of those teams were in full flight, the brand of football they played was both breathtaking and unique. They moved the ball up the pitch so quickly and they "pressed" the ball like a wolf pack when they didn't have it. Although they were all talented footballers those two characteristics were coached into them – take a bow, Tommy and Harry.
My dad (God rest his soul) always used to say to me before he passed away "We will be great again". He had followed Everton since before the war and into the Moyes era. He was referring to those two teams when he used the word "great" – they truly were.
Last but not least – I believe we will be great again despite all the seemingly insurmountable financial restraints that bar our way. There is just something "great" about Everton Football Club. I can't put my finger on it but it sets us apart from most other clubs.
If I've wandered off topic into the realms of nostalgia, take it easy on me – it's Everton's fault.
Colin Glassar
84
Posted 20/11/2014 at 09:49:47
Great post, Laurie, I still can't forgive Catterick for breaking up that team but I do recognise the great job he did before that. But selling Bally? Nah, I can never forgive him for that. It broke my heart and it still hurts.
You're right though, we are destined for greatness. I can feel it in my bones. We are a club that goes through cycles and our time is coming again.
Phil Walling
85
Posted 20/11/2014 at 09:49:25
With you all the way on that post, Laurie, apart from your belief that one day Everton will be great again. Of course, they are always 'great' to me in the sense that they are MY club, have been and always will be my greatest sporting love and occupy my thoughts to a probably unhealthy degree.
But, if you mean 'great' in the sense of winning the Premier League and European trophies, as other clubs see it, then only a miracle can EVER make that happen.
The artificial wealth of Chelsea and Man City – limitless in spite of 'Fair Play' standards being introduced (phony to the core!) – has effectively turned the English game into a copy of what prevailed in Scotland before Rangers got themselves sold to 'a wrong 'un'!
In this scenario, even the business skills of the American entrepreneurs at Man Utd and Liverpool (near misses don't count!) have been impotent because in both instances they play by business rules to turn a profit.
Of course, despite my gut-feeling that we are a 'seventhish' club which can aspire to a Top Four place from time to time, is that really the measure of greatness? I don't think so. But we can enjoy some great times in the endeavour to do better!
Trevor Lynes
86
Posted 20/11/2014 at 09:53:26
It is strange how players who received abuse during their latter playing years are now looked upon fondly. It seems that nostalgia adds gloss to their careers.
I must say, I was never a fan of Denis Stevens or Fred Pickering as neither had the natural ability of those players they replaced. Stevens was a workhorse and would have been an average top division player, as was Pickering, who was pretty clumsy. We hardly ever replaced star players of the early '60s with their equals and that is why IMHO we never created the conveyor belt of trophies that Liverpool unfortunately did.
We remember great days and seasons because they are distant memories now. The Everton team I watched in my very young years was a bloody awful one and I think we had a home gate of about 13,000 for one match, which gives recent fans some idea of what we went through between 1949 and 1953. That is why the team that John Carey assembled is lauded today.
The season before he was sacked was when the team played the best football but that was in home matches and the away form was not good for some unknown reason. Catterick signed Kay who was brilliant and would have graced any side. But, he tended to sign on lesser skilled players and went for steel.
Our away results improved and we started to win titles but, having been a decent-level player myself, I always enjoyed watching flair players who really entertained the fans so I missed the likes of Ring, Vernon, Collins and Young. Those players will be remembered for much longer than Stevens and Pickering etc.
I actually saw Matthews, Lawton and Finney play against us and Lawton, who had been one of our greatest ever centre-forwards, returned with Notts County to Goodison Park and seemed to win every header. I know that he scored at least one goal and we got stuffed 4-1.
The season Liverpool were relegated, Finney's Preston North End beat them 5-1 at Anfield and Finney missed a penalty although he tore them apart during the game.
I actually played against a couple of ex-Everton players when they played for Rochdale in the old 3rd Division North. Maybe someone will remember Eddie Wainwright and Jackie Grant?
Phil Walling
87
Posted 20/11/2014 at 10:22:02
Of course, Arsenal should have been included in my 'American' owners reference. If you then regard Spurs as the sixth in the 'owners' wealth' stakes, that then sees Everton (whose owner is a relative pauper) permanently needing an OUTSTANDING manager to keep us plugging in seventh spot.
I'll take most Evertonians' word that we have one!
Chris Williams
88
Posted 20/11/2014 at 14:15:27
At one derby at Anfield, a Redshite fan came on and stuck a huge wooden purple heart on a pole in the centre circle, in reference to all that Sunday paper bollocks with Albert Dunlop.
Gordon West was apparently the PFA rep at Everton and an old mate of mine who was in the Everton junior teams then told me the story of how he came in to tell the kids all about the PFA and why they should join. He was wearing crappy old swimming trunks with a Jockstrap on his head. Apparently he started with a rendition of the Beatles' 'You Can't Do That' which went: 'I've got something to show you that might cause you pain, It's a 2 foot dick with a varicose vein'. It's amazing the stuff that sticks in your mind (and a bit worrying)!
Dave Abrahams
89
Posted 20/11/2014 at 14:15:57
Laurie Hartley (84) – great article.
I loved Dennis Stevens. I know he replaced one of my favourites in Bobby Collins, but he did a great job for the Blues, grafted all over the pitch always with the team in mind. They came first to Dennis.
I never worried when I went to away matches if Alex Young wasn't playing as long as Stevens and Johnny Morrissey were in the team – that's how important they were to the side.
Peter Mills
90
Posted 20/11/2014 at 15:42:58
Sue (#70), Gordon had thigh strain problems which were aggravated by kicking the ball so he developed his throwing technique. As you say, he could launch it well beyond the halfway line.
When we played away at Southport in the 3rd round of the FA Cup in 1968 they tried to combat this by getting their big lump of a centre forward, Eric Redrobe, to stand right in front of Westy, a legitimate tactic in those days. Redrobe never fouled, but every time Gordon dropped to one knee and got a free kick, much to Eric's annoyance. He eventually got booked, which Gordon found hugely amusing.
Trevor Lynes
91
Posted 20/11/2014 at 16:00:42
Westy was a fine goalkeeper but was also a bag of nerves.
I once vividly remember West getting involved in a derby match fracas when he raced half the length of the pitch and then gently pushed St John in the chest... it was hilarious.
The return derby match came around and West was given a pinkish handbag which he tossed into the back of the net and St John received a bunch of bananas. St John was sent off on at least three occasions for punching opposing players and the joke was that he was the only centre forward with a Lonsdale Belt. :0)
Pancho Pearson of Man Utd was knocked spark out by St John and the Liverpool striker did not even wait for the referee to act. Pancho later said he did not even remember the punch which was a great left hook!
Terry White
92
Posted 20/11/2014 at 16:12:21
Pete, #91, in the '66 Final Gordon played the first half without the strapping around that thigh, but returned after half time with it on. Perhaps it was more of a good luck charm?
Peter Mills
93
Posted 20/11/2014 at 16:56:59
Terry, if it would win us the FA Cup I'd go dressed as an Egyptian Mummy!
Terry White
94
Posted 21/11/2014 at 01:52:27
I think we'll have to speak to a few teams and tell them what you are planning to do if we are looking to win the Cup again. They may get in the way. Of course our own ability to snatch defeat from sight of victory is another thing we'll have to find a way to lose.
Alan McGuffog
96
Posted 21/11/2014 at 12:53:53
Peter... the years have dropped away. Eric Redrobe! My mate was one of the Haig Avenue Ultra's, back in the day.
A favourite ditty, when playing rivals Tranmere, to the tune of "The Hole in the Elephant's Bottom" was....
Ay, ay, ay ay
Reeves is better than Yashin,
Redrobe is better than Eusebio
And Rovers are in for a thrashin'
Was in line for an Ivor Novello. Regards to Charlie!
Peter Mills
99
Posted 21/11/2014 at 17:18:53
Alan, I actually watched Southport in two consecutive rounds that season. For some reason I decided to go to Haig Avenue to see them play Runcorn in the 2nd round, I was aged 11. During the second half I reached into my pocket for my sweets only to discover there was a hand already there, belonging to the gentleman standing behind me - I think he was after my sherbert lemons!
Laurie Hartley
100
Posted 22/11/2014 at 05:49:43
Phil,
I agree with you - we were spoilt but we especially must keep the dream alive for this generation of fans.
On the surface it does looks like we need a financial miracle to win a premiership - but perhaps there is another "more excellent way".
It seems to me "winning" is 75% a state of mind and the remaining 25% ability. There is no reason why our footballers can't be as fit, strong and fast as Chelsea's Man City, or any other team on the planet.
The only thing is you need a General to bring the best out of "the team". I am hoping that Roberto Martinez is such a general.
I have said this many times on ToffeeWeb - history is full surprising victories - even in football. Perhaps the most outstanding example of this was England winning the World Cup in 1966. The architect of that footballing miracle was Sir Alf Ramsey (who as you know led Ipswich to the first division title in 1961-2)
Here is an interesting link http://en.m.wikipedia.org/wiki/Alf_Ramsey#Tactics
I just can't bring myself to subscribe to the idea that money will always win - it crushes hope and aspiration.
Up the Blues.
Sue Brown
101
Posted 22/11/2014 at 07:37:24
Laurie, agree with you 100%
Colin Glassar
102
Posted 22/11/2014 at 08:59:01
Money always doesn't win it as Atletico Madrid and Borussia Dortmund have shown in recent years. Neither of these are by any means the richest clubs in their leagues but they have great managers and a plan.
Ray Roche
104
Posted 22/11/2014 at 11:20:02
Regarding West, I seem to recall that his wife was a classical concert pianist and West was not your average footballer in. I also remember a Fulham player, Leggat, I think, who followed through on West injuring him and would also stand in front of West in an attempt to prevent him from throwing the ball out. The next time it happened West followed through himself, with his fist into Leggat's head as he threw the ball out and left Leggat comatose on the floor. West was all "Sorry Ref, couldn't help it " but Leggat never came near him again.
---
Add Your Comments
In order to post a comment, you need to be logged in as a registered user of the site.
Or Sign up as a ToffeeWeb Member — it's free, takes just a few minutes and will allow you to post your comments on articles and Talking Points submissions across the site.
© ToffeeWeb