Much-changed side easily beaten by Swansea
Swansea City 3 - 0 Everton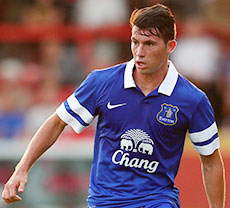 Bryan Oviedo joined Muhamed Besic, Tony Hibbert, Luke Garbutt and Antolin Alcaraz in making his first start of the season

Everton made their customary meek exit from the League Cup with a 3-0 defeat to Swansea City, their first defeat in history to the Welsh side.

Roberto Martinez rang some big changes for the visit to the Liberty Stadium, with the return of Bryan Oviedo and a debut for Muhamed Besic one of seven from Sunday.

Antolin Alcaraz, Tony Hibbert, Darron Gibson, Aiden McGeady and Luke Garbutt also came into the team which made a decent start, controlling the early possession.

Hibbert had an early shot that was always rising over the bar and Samuel Eto'o failed to hit the target despite being played in nicely by Antolin Alcaraz as the Blues looked fairly comfortable.

They were opened up by Jefferson Montero, though, with 28 minutes gone, the Ecuadorian dancing past three black shirts before teeing up Nathan Dyer who fired home at the back post with 28 minutes gone.

Chances were few and far between for Everton but they almost capitalised on a horrible error by Dyer who gifted the ball straight to Atsu in his own half. Unfortunately, the Ghanaian played it first time to Eto'o who was in an offside position, ending what would have been a two-on-one situation.

Martinez withdrew Eto'o at half time in favour of Romelu Lukaku and the the Belgian was involved straight away with a strong run and a shot that blazed narrowly over the bar.

McGeady also shot over from a decent position but the Blues were failing to cause their hosts enough problems in the final third and might have gone 2-0 down when Montero again raided down the left and Howard had to acrobatically push Sigurdsson's header away for a corner.

Everton did fall further behind soon afterwards, though, when Shelvey swung a dangerous ball into the box, Distin stooped low to head off his own bar and Sigurdsson reacted quickest to turn home the rebound.

Martinez had already put James McCarthy on in place of Oviedo and later added Leon Osman in the closing stages but there was little intensity or consistency with the way Everton went about trying to claw their way back into the tie.

And their misery was completed five minutes from time when Swansea's own substitute Marvin Emnes ran into space and advanced on the visitors' defence before beating Howard with a low shot from the edge of the area.

Everton: Howard, Hibbert, Distin, Alcaraz, Garbutt, Gibson, Besic, Oviedo, McGeady, Atsu, Eto'o
Subs: Robles, Lukaku, Mirallas, McCarthy, Osman, Browning, Kone



Reader Comments (319)
Note: the following content is not moderated or vetted by the site owners at the time of submission. Comments are the responsibility of the poster. Disclaimer
Bob Heyward
1
Posted 23/09/2014 at 20:07:47
Man alive, their drumming is really annoying. The Welsh vuvuzela?
Bob Heyward
2
Posted 23/09/2014 at 20:14:09
And Montero takes out four of our defenders, before Dyer gets goal side of Garbutt. Who is our defensive coach these days? Can't help but think we miss the presence of Stubbsy
ps: Besic, stop shooting from any position.

Jim Bennings
3
Posted 23/09/2014 at 20:17:41
Doesn't seem to matter what team we put out the same problems exist.
Can't defend under the slightest bit of pressure and frankly it takes us way too long to actually do fuck all with the ball.
Besic looks totally like a rabbit in the headlights, Gibson anonymous.
Garbutt the only positive so far and of course Oviedo being back on the pitch.
Jim Bennings
4
Posted 23/09/2014 at 20:21:46
How come we never have a squad player that can do tricky things like that Montero who is currently tearing Hibbert a new one?
Why Martinez was so eager to bring McGeady here is beyond me, has he or does he ever look like doing anything like beating his man?
Besic looks like he should be on a beach somewhere, get involved in the game lad your meant to be giving the manager a selection headache.
Really dread Saturday the way this season is turning out, could be another annihilation.
Fuckin' Southampton sell half their team, why are they doing basic things right? 2-1 up at Arsenal.
Jim Bennings
5
Posted 23/09/2014 at 20:27:08
Depressing watching us this season.
There is just no hunger from any player.
Look at Montero for Swansea?
Where's our player taking responsibility on the ball?
Martinez talks about all this "player's need arrogance on the ball" but where is it?
Its just sideways passes with no movement and too long to get the ball into the danger area.
McGeady has been shit, why does he never go at a man?
Besic really looks out of his depth badly to be honest, it's early days but easy to see why he's not played yet.
Atsu needs to be more confident and direct.
We are basically not very good, and no matter what players we select the same problems exist.
We have in my opinion gone into this season thinking we have a better squad than we actually have..
Where exactly is the quality??

Bob Heyward
6
Posted 23/09/2014 at 20:31:45
Is it me, or is Lukaku delivering set-piece balls better than Baines? All his corners tonight have been spot on. Other than that, I think the questions regarding Besic are answered; not ready. Finally, McGeady and Atsu are woeful.
Kelvin Thomas
7
Posted 23/09/2014 at 20:33:25
We'll be doing well to get back into this one!!
Is it straight to penalties tonight if we draw?
Kelvin Thomas
8
Posted 23/09/2014 at 20:39:39
Mirallas on for Oviedo and play him behind Eto'o. Atsu and McGeady wide.
McCarthy on for Besic. Lukaku for Eto'o on 60 min and we might scrape a draw. Otherwise, we might as well go home now!
David Thomas
9
Posted 23/09/2014 at 20:44:15
Has anyone got a decent live feed?
Dave Hall
10
Posted 23/09/2014 at 21:03:13
I wouldn't care one bit if we lost this one. We can't sustain 4 competitions so why not step aside no? RM's clearly shown his intent with the lineup and I'm behind him for it.
Jim Bennings
11
Posted 23/09/2014 at 21:04:03
I'm still struggling to understand just what Martinez see's in McGeady that excites him so much, he's been here since January and frankly he's not good enough.
2-0
Another Fuckin header.
This is going to be a long long long hard season.
I keep saying it but where is this so-called brilliant big squad of players?
Gibson?
Besic?
Atsu?
Osman?
McGeady?
Alcaraz?
Howard?
Hibbert?
How many of them look good enough to challenge for honours or the top 4 this season?
Because they are the players we will be relying on if the first teamers are out of form or injured
Bob Heyward
12
Posted 23/09/2014 at 20:55:35
Hells bleedin' bells! Mirallas now! Get that puddin' McGeady off!
Alex Carry
14
Posted 23/09/2014 at 20:46:36
This is awful to watch, we look like a poor championship side IMO
Murdo Laing
15
Posted 23/09/2014 at 21:11:01
Without the link play of Naismith we look pedestrian, the build up is painfully slow, and, well, we look very unlike the team that was predicted to do big things this season. I'd rest Lukaku now, push Eto'o up and bring on Kev for McGeady – nothing to lose.
Swansea on the other hand look hungry, they are moving the ball well, and using plenty of width. Those Blues who've made that long, long journey must feel a bit depressed right now.
Bob Heyward
16
Posted 23/09/2014 at 21:14:44
Utterly toothless. Fecking embarrassing.
Glen Garrett
17
Posted 23/09/2014 at 21:18:12
Oh dear, Everton... they have got problems, they really have.
Jim Bennings
18
Posted 23/09/2014 at 21:11:25
Martinez got it badly wrong in the summer spending his entire budget on Lukaku and Besic.
First off we didn't need Besic when it was obvious we were adamant we wanted Barry.
Then we totally ignored the fact that we deperatley needed a big commanding central defender and a midfielder who could play a creative pass.
None of our squad players look anywhere near good enough and the likes of Osman, Pienaar, Hibbert and Distin are past it to name a few.
McGeady is rubbish.
All Besic does is foul.
Lukaku can't trap a ball.
I won't even bother listening or watching Saturday's Derby.
Be amazed if we're not 2-0 down after their usual first 15 minutes of express train type of play which happens every Anfield Derby.
Utter crap

Michael Boardman
19
Posted 23/09/2014 at 21:20:40
We've been awful all season. Even when we beat Wolfsburg, I wouldn't have argued with a 4-4 result.
This is all going pear-shaped, does RM really have a clue – 75% possession (sometimes), 4 shots against 25% possession and 3 shots, and we lose 3-2!!
And 㿈m, I think somebody needs to be held to account. I ate to say it but, with the exception of McCarthy, anything good at our club is courtesy of Moyes!!
Peter Bell
20
Posted 23/09/2014 at 21:21:52
Posters on here last week were asking why would we need Deulofeu back now we have Atsu?
I have seen enough to know the answer.
Andrew Rimmer
21
Posted 23/09/2014 at 21:22:16
Dave Hall. The only intent Martinez has shown is ineptitude. This style of football obviously could cut it in the lower divisions where it worked for him. Clearly it doesn't work in the premiership. He's had his proof when his Wigan side were relegation contenders until,,,,,,,,,,,,,,,,THEY WENT DOWN.
Dave Duggan
22
Posted 23/09/2014 at 21:23:16
Absolute dog shit, this team!!
Michael Boardman
23
Posted 23/09/2014 at 21:24:55
Pure Shit!!
For fuck's sake, we are 2-0 down, but hey, need to keep the catalogue, finger on mouth pose to look the part!!!
Do we have a Plan A, ever mind a Plan B?
Bring in Sven!!
Simon George
24
Posted 23/09/2014 at 21:27:41
Someone give Everton a call and let them know the season has started...
Ciarán McGlone
25
Posted 23/09/2014 at 21:25:15
What pile of desperate dull bollocks..
I really am trying hard to understand this rotation bollocks.. we're a handful of games in.. it's not fuckin January. It's like Martinez has read 'the big book of European football'... and is determined to be like the big boys.
Rotation is fuckin pointless if you get beat every game. Fuck sake man.. find your best XI, then rotate the clowns who play shite.. it's not rocket science.
Tommy Campbell
26
Posted 23/09/2014 at 21:24:36
Funny. All I heard throughout august was Besic this, Besic that, Besic Besic Besic. So desperate for this guy to be good that everyone was bigging him up, it's quite pathetic really.
As for tonight, Martinez has made some strange decisions. I'm sure that most Evertonians would sacrifice the CC in order to focus on getting out league campaign in track and having a go in Europe. So yes, rest McCarthy and Lukaku - don't bring them on to bust a gut in trying to win a game for us when we are 1-0 down.
Max Murphy
27
Posted 23/09/2014 at 21:33:03
Not interested anymore.
Jim Bennings
29
Posted 23/09/2014 at 21:31:41
At least now we can stop banging on about rotating the squad and thinking they are going to do a better job.
Only Garbutt has been worth his place tonight and could stake a claim.
All of our midfielders are of the same ilk, sideways, sideways and back, McCarthy, Barry, Gibson, Besic.
We could have bid for any wide player of Dyer, Routledge, Bolasie, Luncheon and they would have been better than what squad players we have.
Sid Logan
30
Posted 23/09/2014 at 21:31:34
Maritinez is beginning to look like he hasn't got a clue. Despite the fact that everything is incredibly good and the players need to enjoy their football!
He has failed to see where we needed to strengthen.
Gavin Johnson
31
Posted 23/09/2014 at 21:16:09
Forget the Champions League.. Its going to be a relegation battle at this rate! I know this is the league cup but does any one honestly believe we'll keep a clean sheet against the RS?! No points on Saturday and we'll be consolidating a place at the wrong end of the table.
I keep making excuses for Martinez like in the case of Saturday; individual errors! But at the end of the day a manager lives or dies by the teams results. What worries me the most is that Martinez will continue to stand by his tika taka philosophy so much so that he wont change the system, even though there's something clearly wrong
Jamie Barlow
32
Posted 23/09/2014 at 21:32:20
"Don't panic" Distin said. What a fuckin laugh that bloke is.
No fight whatsoever tonight. Weak as fuck. Slow boring shite.
Martinez needs a fuckin rocket up his arse. Start by taking that big daft picture of him down.
Patrick Murphy
33
Posted 23/09/2014 at 21:36:28
The Spanish Mike Walker - need I say more?

Chris Gould
34
Posted 23/09/2014 at 21:32:46
Toothless. Pathetic. Shite.
Robin Cannon
35
Posted 23/09/2014 at 21:37:21
That was woeful.
Drew Shortis
36
Posted 23/09/2014 at 21:26:50
Andrew Rimmer
His style of football secured us 5th place last season so it clearly
can
work. However it is getting increasingly hard to continue to defend Martinez and his system when we keep on performing like this. How much of this is down to the system and how much it is down to players under performing it's hard to say. Probably a combination of the two is to blame. We need to get it right soon or this season is going to turn into a write-off (or worse!).
Moyes had some good seasons followed by poor ones. Martinez will get it right and at least he has the backing of a chairman who won't just sack him after a poor run. I think this is the right way to operate. I'm just desperate for us to turn it round as soon as possible.
Andy Crooks
37
Posted 23/09/2014 at 21:31:13
Exactly Ciaran. Martinez has been utterly inept this season. His team selection today and Sunday defies belief.He should apologize to any supporters who wasted money on this. Arrogance unjustified by ability.
Simon Watts
38
Posted 23/09/2014 at 21:32:26
3-0. things like this are not great for our confidence. another 3 goals gone. we are wigan. no doubt bill kenright be saying after we are relegated he is best manager in world. too good for stoke etc.
Jim Bennings
40
Posted 23/09/2014 at 21:37:59
Pathetic limp display but hey, who can say after the pathetic pre-season we had that we haven't seen this start coming.
Three goals conceded again!
Patrick Murphy
41
Posted 23/09/2014 at 21:39:35
Can Bill get more money for his new Ground if we are outside of the top-flight? At least he'll have the parachute payments to help him out. Some may see this as being alarmist but the writing is on the wall - Martinez should have played more of his first-teamers tonight the result may have been similar but what's the point of entering this competition if we don't give it a go?

Garry Corgan
42
Posted 23/09/2014 at 21:42:45
Are the people saying that Martinez is inept and out of his depth the same people vaunting him last season as being the next Catterick or Kendall? I suspect so.
Terry McLavey
43
Posted 23/09/2014 at 21:29:54
I've just turned off the stream after the third goal to write this. I think we've lost, but I could be wrong? Why, oh fuckin' why do we make monumental balls-ups every fuckin' time to give the game away? All this pretty passing possession football achieves fuck all!!! I am soooooo annoyed!
The RS must be rubbing their sweaty hands for Saturday. I am planning to watch the game through my fingers! Is it me or shouldn't a 㿈 million player have a slightly better first touch?! The season that promised so much is turning into a fucking nightmare!!
Tom Loughrey
44
Posted 23/09/2014 at 21:40:58
At least the RS have been taken to extra time by Boro. I'm clinging on to anything I can right about now.
I hate to say it but I now despise RM everytime I see him interviewed and giving his cliched spiels over and over again, no matter how diabolical the preceding performance was.
Disillusioned does not even scratch the surface..
Anthony Burke
45
Posted 23/09/2014 at 21:39:14
I hate losing friendlies never mind cup games but it's gone now... let's get it out our system. Let's get ready for the Redshite with a much changed stronger team to pick from. Swansea did field a pretty strong team; we had a team of subs with the odd starter. Let's start our season yet again on Saturday... COYB!!!!
Ian Riley
46
Posted 23/09/2014 at 21:40:25
Lets be honest, we did well to get this far!
It's not the time to panic, but does anyone have Mr Moyes telephone number!
Night all!
John Malone
47
Posted 23/09/2014 at 21:41:38
Depressing!

Tony Twist
48
Posted 23/09/2014 at 21:37:35
I am not disappointed, it was to be expected and for those who are happy that Liverpool may be tired on Saturday after a long match please wake up. I hope that now we can all see the standard of our manager, people are still convinced we will be battling for the euro places when all we will be battling for is to stay out of the bottom four. The manager is extremely stubborn and only knows one way of playing, he knows nothing of defending. Unfortunately, for us, our chairman is similar to his previous chairman and will hope that he will turn things around, we will be very very lucky to stay in the premiership.
Anto Byrne
49
Posted 23/09/2014 at 21:37:13
Awful just bloody awful. No excuses just awful. Wake me up next season.
Patrick Murphy
50
Posted 23/09/2014 at 21:44:58
Garry - you are right in your assessment of those who have supported RM and likely as not the superlatives were not totally justified but you find the mettle of the manager when things are going wrong as so far Roberto has been found woefully wanting - he seems to be inviting bad results which is not what I want and I suspect not what the majority of Evertonians want from his team.

Sid Logan
51
Posted 23/09/2014 at 21:44:41
#37 looks that way Gary. Sorry to upset you but people are basing their views on what they see both pre season and now!

Winston Williamson
52
Posted 23/09/2014 at 21:45:46
I'm seriously starting to... panic! What a shambolic state of affairs. Everyone has to take responsibility for this shite start to the season. I can see a relegation battle ensuing. We'll get tonked by the big boys as their players are intelligent and will crucify us. And we'll keep losing to teams like Swansea, coz evidently they want it more than us, are more organized than us, and amazingly can pass better than us.
What I find really amazing is we base our play on passing football, however, we cannot find a penetrating pass!
Si Mar
53
Posted 23/09/2014 at 21:46:23
I think the Martinez Honeymoon is well and truly over!! A disappointing start to the season with 3 very tough away games to follow!
It's gonna get worse before it's gets better, I'm gutted!
Chris Gould
54
Posted 23/09/2014 at 21:45:58
Mr Moyes' telephone number - ha!
It certainly isn't ringing off the hook. He'd make a great defensive coach!
Danny James
55
Posted 23/09/2014 at 21:48:19
for years we have coped with a small squad that bred consistency and team spirit. this season we have options and our side keeps changing. We lack the consistency that we have had in the past because of it.
Raymond Fox
56
Posted 23/09/2014 at 21:36:43
Just will not go for us will it, I actually thought it was a decent game, except for the result.
No complaints about their first goal, that Montero a decent little player, The second's a gift off the head of Distin, the third's a terrible pass off Gibson, another gift. Individual errors again.
Having said that we didn't trouble their goalie all game did we? Can't remember him making a save.
It can only get better, we need a change of luck.
Jack Cross
57
Posted 23/09/2014 at 21:44:43
Garry Corgan. Not me mate, I think I've made it more than clear I didn't rate him. What's the answer? different team and still leaking goals. Just at a loss myself. Lots of possession and still on the receiving end of an unacceptable defeat.
Tommy Coleman
58
Posted 23/09/2014 at 21:39:21
As we're in Europe I'm glad Martinez used this competition to rest most of our 1st team players at the same time giving games to those that have been unable to start.
Swansea's strongest team just too good for the one we put out, as expected, but those that will never forgive Martinez for taking their Moyes' job will probably harp on about Wigan again.
Like the look of Besic, some of his decisions weren't the best but he showed good touches and passes, he'll be a good player for us once he gets going.
Get your money on us beating Liverpool Saturday, our best players wisely rested while theirs are playing extra time.
Damian Braithwaite
59
Posted 23/09/2014 at 21:41:19
Something's wrong, either clubs have sussed his style of play out, or the players just are not comfortable on the ball and lack confidence in what he wants them to do. I know we had four competitions to play for before today but we've looked slow, pedestrian, lethargic you name it at the back since pre season. The warning signs were there and
I can see the fans turning on him soon if he does not change the style of play. We could be bottom of the fuckin league after the Man U game.

Kevin Hughes
60
Posted 23/09/2014 at 21:50:17
Don't think I could be anymore depressed at the way we are playing, side side back back side, fuck up goal.
Teams know they only need to press us and we turn into headless chickens looking for the exit from a burning coop.

Seriously think that Baloteddy might rip Howard a new one on Saturday. FFS
Jim Bennings
61
Posted 23/09/2014 at 21:48:13
I will be utterly amazed if we haven't conceded at least 20 goals after the next two games.
The fucking money would have been better spent on Shawcross, Routledge, Dyer or Bolasie and that Ulloa that Leicester got.
The players we have brought in are not good enough, Atsu and Besic and Barry shouldn't really have been a priority either at the cost of the deal and length of contract, 28 million for Rom?? Was there nothing better at a cheaper price? I mean really?
Howard has no competition.
Distin and Jagielka know they are relatively safe and the rest??
Boring and quite mundane at the minute really isn't it?
Richie P Jones
62
Posted 23/09/2014 at 21:45:54
Jim Bennings - 15
Did we blow our budget on Lukaku and Besic?
Besic didn't cost much, if it doesn't work out he's no great loss.
Lukaku? He don't look much like a 㿈m striker to me, even if you do take potential into account. He's big fast and frightening for the opposition when he has space behind defenses to run into, but when teams park the bus or he has to play with his back to goal, he shows no initiative and looks clueless at what to do.
That 㿈m could have bought a few decent players, one of them being a center back to introduce a bit of competition to our back four.
Are you looking forward to the derby as much as me?

Mike Keating
63
Posted 23/09/2014 at 21:51:59
Luckily I have tickets for Chester Races so I don't have to witness our demise at Anfield
This is a load of shite
Andrew Rimmer
64
Posted 23/09/2014 at 21:50:15
Sid Logan Garry Corgan. Quite a few of us were miffed that we failed to make the Champs league because of inept displays at times from our team and manager. I didn't want him in the first place with his blindingly obvious record with Wigan.
Fraser Auld
65
Posted 23/09/2014 at 21:36:47
It's the league cup, Bobby was going to rotate and in general you could understand the starting 11 that was picked...except Oviedo in the number 10 role or swapping with McGeady or whatever the hell else they were meant to be doing. We created no chances tonight and didn't look like creating any because we played two wingers and a left back behind our striker...madness!
The decision is even more bizarre when you consider Osman was sat on the bench and who hasn't played much this season either.
A few other observations:
Hibbert was on toast all night, it was actually embarrassing. Assuming we have no cash in January we desperately need to get good back up at right back in the summer. If we do nothing else we must address it.
Good to see Gibson back but he was so far off the pace its unreal, Besic covered 10 times the ground he did tonight.
Alcaraz looked decent, he is definitely our best centre back on the ball. I had completely written him off after the Liverpool away game last season but if he is fit maybe he could still be useful.
Atsu had a few promising bursts in the first half but was invisible second half, completely drifted out the game. McGeady was just...invisible for the whole game.
I'm not buying into the doom mongering, we'll have a good season but if its to be a very good season or even a great season we need to get back on track pronto!
Oliver Molloy
66
Posted 23/09/2014 at 21:47:38
Very disappointing result and performance according to reports on the radio.
We are missing the drive of one Ross Barkley, the sooner we get him back the quicker we will turn the corner.
No doubt in my mind,we would be sitting pretty at the top end of the table had Ross not got injured. The draws would have been wins.

Big improvement required going into the derby, it's time for a lot of players to show the level of commitment as Naismith does.
Gavin Johnson
67
Posted 23/09/2014 at 21:48:08
Garry (38) I was one of those hailing Martinez as a great in the making! However the results simply haven't been good enough from pre-season, and if you wanted to be over critical you could go back to the end of last season. I won't change my assessment that we've got a great manager but neither will I say that he's beyond reproach
Pete Ellingham
68
Posted 23/09/2014 at 21:53:46
Really, really worried now. I genuinely felt that we would be top 5-6 this season but if we don't sort it out soon,we will end up fighting to stay in the PL. This is so frustrating, really fed up!
Craig Mills
69
Posted 23/09/2014 at 21:56:38
7 changes made to the team that let 3 in on Sunday, another 3 let in tonight.......
I don't know where Martinez goes from here, he must realise we look terrible
Shaun Kinnair
70
Posted 23/09/2014 at 21:59:45
Lakaku does nothing up front! His first touch is awful and I'm sure he's lacking in confidence from the World cup.... how much did we pay for him?
We never looked like scoring tonight. Hibbert should retire along with Distan.
On a good point Oveido put in hard work for his first game and I thought Garbutt who was thrown in at the deep end did okay too.
Things need to change and quick!! We'll be loosing by more than 4 goals come this weekend.
Gary Carter
71
Posted 23/09/2014 at 21:43:55
Didnt want him when he was appointed, certainly don't want him now.
From the capitulation last season, to the poor signings (Kone, Robles, Acaraz massively overpaying on lukaku and McCarthy) poor/total lack of interest inpre season, saying we needed 8 players, dripping it to six then four, saying we would blood new players then starting with no strikers on the bench but "experienced" defenders, gradually destroying a very good tight tactical unit, playing an inept style of football that saw one team in his tenure relegated and has ruined some of our top defenders confidence, blaming the defence this season rather than looking at his own glaring mistakes in tactical set up and choice of starting line ups and substitutions......
I could probably go on, but what has really really infuriated me is palace. Who in their right mind would drop Mirallas and Naismith, too performers and scorers for us this season for a premier league game !!!!! We are 5 games into the season for fucks sake, and then to top off that, drop McGeady (not everyone's cup of tea I know) for someone that's barely played in the premier league and had never started for us.
Sorry but Martinez is in my opinion totally inept and I want to see the back of him ASAP but frighteningly know it won't happen. We will do VERY well to get top ten with him at the reigns despite having our best premier league team and squad to date
Mark Scarratt
72
Posted 23/09/2014 at 21:50:41
Whilst I admire the Martinez philosophy, I now think it has gone too far
We are conceding far too many goals, most of them of the comedy variety.
We cannot score 4 each week, no matter how attack minded we are.
At the current rate we will concede 98 goals in the league, and get 38 points
Okay we are on course to score 83, but you see the point
We need to get back to basics, and learn how to defend and communicate with each other
The second goal tonight was a case in point.
It was a decent enough ball in, but was going past the striker and would have gone out for a goal kick. Both Howard and Garbutt should have seen this and alerted Distin, who clearly did not get a shout, you know the rest

Zahir Jaffer
73
Posted 23/09/2014 at 21:51:35
Another lethargic performance bites the dust. We never felt to threaten Swansea at all during that game. Roberto needs a reality check before his career ends impromptu.
Best chance seems Europa, but that's even a long shot considering we don't know how to defend any more.
Andy Meighan
74
Posted 23/09/2014 at 21:46:40
I said at the end of the transfer window his failure to buy a couple of top class centre backs will come back to haunt us. We play our strongest side we leak goals we make a couple of changes we leak goals we make sweeping changes and we leak goals defensively this season the manager hasn't got a clue.
His obsession with playing two defensive midfielders against ordinary sides in the Premier League is baffling as well as being downright negative. It doesn't work either because the space between the halfway line and our 18 yard box is criminal. These two are meant to be insurance for the centre and full backs but neither seems to know what role they play.
Judging by the majority of posts on here it looks like the honeymoon is well and truly over. We are not liking what we are paying to see. And I'd love to know what shite he's going to come out with tonight. Time to toughen up Martinez. I'm with jim Bennings there's not a prayer I'll be watching them cowards wave the white flag as soon as they come out of that tunnel on Saturday. As you said, another meek surrender.
Anthony Burke
75
Posted 23/09/2014 at 21:57:22
Way too many panic buttons pressed so far. Keep the faith, we will turn a corner starting Saturday hopefully! COYB
Mike Allison
76
Posted 23/09/2014 at 22:00:20
No point slagging off individual players when we've all seen how good they can be in the past.
Martinez's handling of these last three games has been abysmal. Dreadful team selections, failure to make the right substitutions (something that has happened all season) and, finally, the ultimate disgrace of a team that gave the appearance of not even trying to win.
Failure to bed Besic in & give him game time when we not only had the opportunity to, but may have saved points from doing so has ce back to haunt. Starting both strikers on Sunday so that neither was fresh tonight and using Atsu twice and Mirallas not at all are just the headlines of the stupidity Martinez has shown this week.
He can't talk his way out of this, he needs to start getting things right immediately. We should be going into the derby on the crest of a wave, instead our faith, hope and confidence has evaporated in just three days.
Frank Boyle
77
Posted 23/09/2014 at 22:03:25
17 goals conceded in 7 games. Scary!
Chris Butler
78
Posted 23/09/2014 at 22:00:03
In my opinion the money we spent on Lukaku was ridiculous. We should of bought a decent centre back, instead we have spent huge money on somebody who loses the ball all the time. I still don't really understand why we sold Jelavic, you can say what you like about him but at least he made an effort. What is worrying about the position we're in is we have a great team with great players, yet they just don't seem to be performing for some reason. I think the players simply don't have any mental strength any more the way we gave away 4 points in the first 2 game was a typical example of it. Also I cannot believe the way we conceded the 5th goal against Chelsea right after getting back in it. The players seem lost against Palace they didn't seem to have a club what position they were playing in.
James Stewart
79
Posted 23/09/2014 at 22:03:56
In my opinion that was worst than the Moyes era. There really wasn't any positives at all. Martinez has been consistently wrong with team selection, tactics and substitutions this season. We don't seem to be able to get out of a game without conceding 3 goals minimum. That is relegation form simply as that.
How long will Kenwright be prepared for this to continue? There is no worst time to be in a relegation battle with the increased TV revenue at risk. Something is seriously wrong at the moment and I have no confidence that RM is the man to sort out a rapidly sinking defence.
Brian Waring
80
Posted 23/09/2014 at 22:03:45
Roberto mate, just stick our best 11 out against the shite, play them in the positions they are meant to play in, and most imortantly, don't fucking over complicate things tactically.
Also Roberto, stop coming out with fucking stupid post match interviews, and just tell it how it was, that we were shite tonight.
Bob Heyward
81
Posted 23/09/2014 at 21:55:40
I'll try and be positive and say that maybe it's best we lose one competition, because four is too much for our squad. Oh, and Garbutt looked good, especially with dead ball delivery.
That said, I'm getting worried about Martinez. There just seems to be an awful lot going wrong this season, and it all seems to lead to the management side;
poor physical conditioning, appalling defensive coaching, poor substitutions, low player motivation, questionable selections, naive approach to being in four competitions, underwhelming transfers, excuse making.
Not good, and all that in just six games. I worry about were this season is headed.
Chris Gould
82
Posted 23/09/2014 at 21:55:54
I too didn't want him, but warmed to him quickly. I think teams have sussed us out. We are completely predictable and pedestrian so we shouldn't be surprised. However, I haven't written Martinez off just yet. Last season wasn't a fluke although the warning signs were there at Anfield and in pretty much all of the matches after the Arsenal romp. Everything seems to be pointing to the same mistakes that he made with Wigan. Nobody can argue that, but we have much better players. Why aren't they performing? I think we have to put down the individual mistakes down to a poor pre-season: Martinez's fault. Poor team selection: Martinez's fault. A number of his signings not looking up to scratch: Martinez's fault. An inability to change the game when we are losing: Martinez's fault. Making poor substitutions: Martinez's fault.
With all of his obvious faults I still find myself backing him. I really don't even know why. Maybe it is simply his personality. He is likeable. Maybe that is why he stayed at Wigan for so long, even though he was out-performed by his predecessors in the league. The players don't turn on him, and neither do the fans or the chairman. Like I said, I still back him. I'm just not sure why?
Paul Holden
83
Posted 23/09/2014 at 22:11:34
We win some, we lose some, but what Everton fans expect is 100 per cent effort. If a player can't be arsed, he's going to be slayed. You are privileged to put on the famous blue shirt - now start putting in a shift!
Anthony Hughes
84
Posted 23/09/2014 at 21:58:43
I've said it before and i'll say it again this squad outside of 13 to 14 players is devoid of any quality. Unbelievable the amount of people creaming themselves over thoughts of top 4 and winning titles. We had a poor transfer window and we did not add the required quantity and quality which we badly required to move forward as a club.
It's no good rotating if your squad is crap and you're getting fucked by three goals every game.
Jack Cross
85
Posted 23/09/2014 at 22:13:17
Last minute goal against the reds shite. 2 2. pens.
Dominic Virgo
86
Posted 23/09/2014 at 22:16:05
Ok I am slightly worried after the last two matches and going into the derby. Sunday is my birthday so if we lose on Saturday you can imagine what it will be like especialy as my girlfriend and most of family support the shite.
Gary Carter
87
Posted 23/09/2014 at 22:14:38
I remember when Martinez was getting Wigan relegated. My brother and I were watching them and tailing about how every time we watched them their players didn't look like they knew what they were supposed to be doing when they didnt have the ball. Players out of position, no structure and defence left exposed because I this. This is exactly how we look now and why players like distin and jagielka look so out of sorts
Sam Hoare
88
Posted 23/09/2014 at 22:14:33
We just look so mediocre. Non-existant pressing, little slick passing in the final third and clearly a defensive shambles. Have to ask what the manager and coaching staff have been working on in training as very little seems to be going right.
Perhaps it's purely confidence and will turn around when we mark up a couple of wins but Lord knows when that will be.
Tough times like these are when the manager has to earn his corn and turn it around.
Patrick Murphy
89
Posted 23/09/2014 at 22:13:58
Chris - I'm a little bit that way myself with RM but I can't bear to see an Everton team so lacking in fight and determination even if their ability is lacking. After Sunday's debacle this was an opportunity for Roberto to bite the bullet and put a strong side out - but he didn't and the result went the way most of us suspected it would as soon as we read the teamsheet. Confidence in football is everything and following the two wins over WBA and Wolfsburg we should have started our best 11 on Sunday and RM may have gotten away with tonight's performance. But with trips over the park and to Old Trafford on the horizon with a trip to Russia in between the Palace game was far more important than Roberto believed it to be.
Footballers at any level don't need excuses to not put in a shift, but Roberto's selections have given them all the excuses they needed - my fear and it is a real fear is how many of this current group will knuckle down and battle if our backs are against the wall come November and December?

Kevin Tully
91
Posted 23/09/2014 at 22:21:29
Even the 'shite' haven't turned on Rodgers after three League losses and 𧴰m blown. Hasn't Martinez earned even a little time to turn things around after last season? Some of you are acting like petulant children.
Behave yourselves, or I won't let you all stay up for the next night game!
Patrick Murphy
92
Posted 23/09/2014 at 22:26:29
Kevin - If it was just the first half-dozen games of this season I could appreciate what you are saying but the only Premier League opponents we have beaten in the last dozen or so games against such opposition were a Hull City team lacking in motivation prior to the Cup Final and a United team who wanted rid of their manager - so it is a horrible run that we are on and there doesn't seem to be much light at the end of the tunnel.

Patrick Murphy
93
Posted 23/09/2014 at 22:29:49
And of course WBA this season.
Jim Bennings
94
Posted 23/09/2014 at 22:25:02
Martinez says he was quite pleased and that we played with cohesion tonight?? Fuck me!!!
What game was he watching there??
What he really needs to do now is spend the next few days totally getting this group nasty and wound up for Saturday, because a non-show there and he will be quickly losing the support he has so far gained.
Mike Green
95
Posted 23/09/2014 at 22:29:53
Fair comment Kevin Tully - you can't say it's not worrying what's happening to our back line though, my FF teams gone down the pan and were only a dozen games in!
Dave Abrahams
96
Posted 23/09/2014 at 22:07:40
I think it is better not to make any comment on that performance, or lack of it, but say how sorry I am for all the fantastic supporters who travelled to watch it. They really deserve better and the least they deserve is the players having a go and not just going through the motions. Not all of them, but some of the senior players should be doing better than that. Martinez has now got to stop all the silly after-match comments and start doing the business.
Will Firstbrook
97
Posted 23/09/2014 at 22:22:08
This team has no identify. We were always known as a tough and hard-working team to play against. Maybe not the most offensively gifted but willing to battle for ever inch of the field. Now we are trying to play like some agile, creative, and slick-passing team. Problem is we don't have the personnel to play that way. Very much a square peg/round hole syndrome.
I think we're all for move towards a more pleasing style of football but that should not serve as an excuse for players not putting in a shift. Bobby is rotating the squad like a mad scientist. That has to stop in order to stabilize the squad and establish a baseline to build from. Players not performing need to sit - no preferential treatment.
Players and manager need to sort themselves out and quick or this season will be beyond us in short order.
Gerard Carey
98
Posted 23/09/2014 at 22:07:50
Dont think Martinez knows any thing about defending, lived off Moyes defensive influence last season. Now that is gone. We look like we will concede everytime the ball comes into our box. whats wrong with getting the ball forward quickly. Watch how the shite will be on the front foot from the start. Dreading it.
Brian Waring
99
Posted 23/09/2014 at 22:32:25
Fucking hate the prick, but we could do with a John Terry, a captain who is vocal and will give a bollocking out.
Anthony Hughes
100
Posted 23/09/2014 at 22:28:07
Your're right Kevin he does deserve more time but the honeymoon period is well and truly over. The squad is way short of what it needs to be to challenge but some of his team selections and decision making are way off at the minute.
Clive Lewis
101
Posted 23/09/2014 at 22:13:18
I think we will win the europa league and get relegated!
Colin Malone
102
Posted 23/09/2014 at 22:19:26
Don't judge a player after one game, we all know, it takes three plus games to reach match fitness.
Swansea are a good footballing side, we had a lot of changes tonight, Alcaraz, Garbutt, Gibson, Besic, Oviedo, Hibbert and maybe Atsu have not had one full 90 mins this season. Remember we gave Palace the win on Sunday.
We are all frustrated but its far, far to early to make judgement. Keep the faith and get behind the Blues.
Tony Draper
103
Posted 23/09/2014 at 22:33:44
I do not like slagging off our lads, so I wont.
But I must add that, I did not enjoy this.
Not at all.
Jay Harris
104
Posted 23/09/2014 at 22:13:32
Chris #78 therein lies the problem. He is Mr nice guy stating that he wont reprimand players for mistakes but sometimes players need the Fergie hairdryer treatment to get them fully focussed and not just out for a stroll in the park.
Raymond Fox
105
Posted 23/09/2014 at 22:30:10
Patrick are you telling me that there was any difference in general play between the two sides tonight.
Their 1st goal was a well engineered goal, no argument about that, the other two were gifts from us again, Distin's down and onto the crossbar and then Gibson's real bloomer of a pass straight to a Swansea player 20-25yds out.
Clive Lewis
106
Posted 23/09/2014 at 22:37:54
Colin, yes that what the Wigan fans were suggesting too! I agree but it really looks now that we maybe are sliding back, when we should be pushing forward. The next few games will be the decisive factor.
Anthony Burke
107
Posted 23/09/2014 at 22:41:47
That penalty shoot out could of gone on all night without them jammy twats missing in sudden death
Jack Cross
108
Posted 23/09/2014 at 22:28:57
Kevin Tully. I wasn't a fan of Martinez, before he came. But I'm prepared to give him the 3 years he said he would need. That doesn't mean we can't criticise what were watching. I mean can you honestly say that your happy with what your watching? I think what as got us all flummoxed is how bad our defence as become under Roberto, especially as we have always been use to a very sound defence. People look to Wigan because of there goals against and Roberto was their Manager. A different group of players (bar three), the same style of football and a leaky defence. Surely that's good enough reason to Criticise Roberto.
Patrick Murphy
109
Posted 23/09/2014 at 22:41:29
Raymond - General play with little or no threat allied with errors at the back is not what I would call similarities between the two teams. Swansea were more often quicker into the tackle and sharper with their passing than Everton were and they thoroughly deserved to win the game - I never felt once we went behind that we had enough to get back into the game and the longer the game went on the more likely it was that Swansea would score another goal which they did twice.
As somebody pointed out earlier we lacked a shape both with and without the ball - I honestly hope that Roberto gets it sorted and quickly but my gut feeling is that he won't be able to at least not in the short-term. I am praying that I am wrong and that he does manage to turn things around - preferably starting on Saturday.
Patrick Murphy
110
Posted 23/09/2014 at 22:50:02
I hope we don't lose 13-14 on Saturday jammy twots.

Tommy Coleman
111
Posted 23/09/2014 at 22:47:15
"Bring back Moyes" !!
"Never wanted Martinez as manager" !!
"Wigan" !!
"Relegation" !!
Ha ha!
What an overreaction to a game we clearly used players to get their fitness. I guess Moyes spoilt us for so long we expect our unfit 2nd team to be World beaters.

Kevin Tully
112
Posted 23/09/2014 at 22:48:15
Of course our performances warrant criticism Jack, both the manager and the players. Trust me, I am still sick over the Palace game. We are terrible at the moment - no arguments form me.
The question is, do you trust the manager, and the players to turn this around? I do, and once we get going I think we will witness some great football at home, and in Europe.
It looks like expectations have been raised so high, some want Martinez out already. (Feck me...I've turned into Doddy. HELP!!!)
Andy Crooks
113
Posted 23/09/2014 at 22:43:44
Raymond, what will it take for you consider that Martinez has at least some responsibility for poor results? I believe that the incessant passing round the back invites pressure and confidence sapping errors.
We have no right to dismiss the league cup and concentrate on winning fuck all else. Rotating the squad this early in the season to save unfit players for getting tired is totally ludicrous. We are not good enough to do that. Roberto is not Barcelona manager yet.
Clive Lewis
114
Posted 23/09/2014 at 22:55:50
I think we will see some great football in europe too. Might be enough for Roberto to get a chance at a major european oufit.
John Malone
115
Posted 23/09/2014 at 22:47:35
Ignore this game, Roberto's made a decision the two other cups and the league are his priorities.
The derby is a cup final anything can happen.
But I will state one worrying observation Roberto doesn't seem to be able to get the maximum out of his player's this year unlike a certain ginger disciplinarian. Time will tell but the latest signs aren't good.

Anthony Hughes
116
Posted 23/09/2014 at 22:54:47
I sense two camps forming already, the Martinez out brigade and the Martinez apologists. Looks like he's polarising opinions.
Mike Green
117
Posted 23/09/2014 at 22:54:49
I bet they feel ready to take on the world now Tommy #107.
You do not build a winning mentality doing what we did tonight. I'm not throwing the baby out with the bath water but instead of building a winning streak we'll build a losing run, one we're nicely on now, having to dig our way out of it at Anfield and Old Trafford - talk about making life difficult for yourself.
Carl Taylor
118
Posted 23/09/2014 at 22:50:40
I am a fan of what Roberto is trying to achieve but his decisions this season have baffled me.
We started awfully defensively and then kept a clean sheet and only conceded late on against Wolfsburg. So, do you let that defence continue together and build confidence or piss about with it in the next two games?
Fair enough, Coleman was injured, but why move/rest Stones? Keep the central defence together and keep your two most potent attackers on the pitch against Palace, knowing you can rest Mirallas and Naismith against Swansea.
Why do these two need a week and a half off before the derby and then have to come back into a demoralised team? Absolutely pointless, which is what we will be when the final whistle goes at Anfield on Saturday!
Jay Harris
119
Posted 23/09/2014 at 22:56:01
This is not a one off panic situation.
We have been lacklustre since the latter part of last season followed by an abysmal preseason when RM was on his jollies for 4 weeks and now a catastrophic start to this season and anyone who believes otherwise is just deluding themselves.
It is not just about individual errors. The whole team is playing without spirit or energy. We are not passing with purpose but passing for the sake of it or to get rid of the ball.
I thought Moyes lost the plot for the last 18 months of his tenure but even his worst was not this bad.
Mike Green
120
Posted 23/09/2014 at 23:05:23
Also - I'm not totally convinced by Barkley but thing we really miss him, he's an outlet for Barry and McCarthy allowing everyone behind to catch their breath, and settle down why he marauds around. Without that threat I think the opposition feel far happier coming at us.
Steve Jenkins
121
Posted 23/09/2014 at 23:03:19
Poor performance - its really disappointing.
Can't understand the Besic comments - he's clearly a very classy player and was the only shinning light this evening for me.
Looked comfortable in possession and regularly got on the ball to try to make this happen, unlike the rest of our midfield.
Gibson - did he play tonight? I saw his name on the team sheet but nothing else.
Mike Powell
122
Posted 23/09/2014 at 23:05:28
Embarrassing... How can it be over-reaction when we have conceded 17 goals already? How can you play 90 mins and not have a shot? Enough is enough, Martinez — fuck off back to Wigan before we are embarrassed any more!
I cannot take any more of this shite... I'm not even going to watch the derby. I couldn't put up with watching them put 6 past us.
Spragg Johnson
123
Posted 23/09/2014 at 23:12:46
Make a judgement call after 10 league games and the first three Europa games. Being out of the Mickey Mouse Cup when we have the Europa League to concentrate on is hardly soul destroying.
Milos Milenkovic
124
Posted 23/09/2014 at 23:00:58
Strange. I thought we will have very satisfied fans here since most of the people wanted to go out from this meaningless, Mickey Mouse Cup, that is distracting us from our main priority, to be also runners in the Premier League. Your wish is granted, go out and celebrate. Martinez did tonight what most of you wanted, he simply decided to lose the game and there is no need to analyze the game it was decided well before kickoff.
Oh, yes and here we have perfect experts who "saw" that Besic is not good enough after this game... unbelievable...

Bob Heyward
125
Posted 23/09/2014 at 22:59:36
No, to be fair, the Martinez apologists have always been here; most notably, they surfaced after last years derby RS. They're just the rump of the 'Moyes Out' brigade who feel they have to stand by their man.
The thing is, at the moment all the trouble seem to lead to one person:
Short pre-season
Poor physical conditioning
Poor defensive coaching
Poor team selection
Poor substitutions
Poor player motivation
Questionable transfer window recruits
Naive approach to being in four competitions
Poor substitutions
I'm not saying all of these issues are constant. Most are transient, though all have affected results in multiple games.
I think Martinez needs to get a grip. Less of the positivity, more frank honesty, and a touch of the hair dryer with McGeady, Atsu, McCarthy, Rom', and the defense, who all need a good roasting in my view.
If he doesn't get a grip in the next few games, then we will have a problem.
Ian Hanes
126
Posted 23/09/2014 at 23:15:57
Just got back from the match. That's the worse I've seen us play in a long time. Martinez needs to pick his first choice 11 and stick with it.
Raymond Fox
127
Posted 23/09/2014 at 22:51:44
I've had 1 yellow card off Michael recently and I don't want another but:-
Counting tonight's game we have played 6 games only, 1 win, 2 draws and 3 loses.
Already there's talk of no confidence or even sacking him, this is the manager that got us into 5th place in his 1st year.
Explain if he can't do this and he can't do that, how did we get 5th!
We've got our neighbours and Man Utd in the next 2 games, it was always going to be a very difficult start in the League.
I see Arsenal got beat at home, Redshite squirmed their way through at home 14-13 on penalties past Middlesbrough.
Jack Cross
128
Posted 23/09/2014 at 23:07:13
Kevin Tully. I think the problem is, if we would have had this start to the season last season, it would have been more acceptable and I think most of us expected it. I seem to remember people saying if we finished last season in 10th position, with the transition it would be acceptable. But we surpassed all expectancies and now it feels that we haven't pushed on in fact where've gone backwards. But it's really alarming defensively, the side look deflated. All huff and Puff with no end product. The problem I see is that Roberto, doesn't seem to learn from his mistakes. surely he can what happened at Wigan, is happening to us. The problem is he didn't fix them, did he?
Steve Jenkins
129
Posted 23/09/2014 at 23:11:08
The Martinez out comments are ridiculous. I'm as frustrated as anybody right now, but people have short memories.
He took us to our highest points tally ever in the Prem last season.
Moyes finished 17th one year - it happens and he kept his job and had mainly consistent top 10 finishes a lot of top 6 and one year top 4.
Also, please remember - Moyes left us.
Martinez has a vision and whilst our form is poor, he deserves the chance to turn it around.
At least he's positive and believes he can take the club forward, all Moyes ever did was make the players feel average - I lost the will to live under his "we're mediocre and that'll never change attitude I'm doing a great job as we have no cash."
Its clear where the weaknesses are and I'd like to see him given the opportunity to bring in players to change that - keeper, CB, no 10 etc and more pace upfront.
I don't believe sacking a manager will get us anywhere.
Most managers go through periods like this, its how they address it and progress.
If its no better at the end of the season it needs looking at.
Most likely we'll lose our next 2 games as well.
He needs to have a look at the system as we're conceding far too many, and make us difficult to beat again.
Some of the players need to be told that if they aren't going to perform for him, then he'll move them on and find ones that will.
Peter Gorman
130
Posted 23/09/2014 at 23:19:24
It is obvious to all and sundry that we are playing like garbage and Martinez must take responsibility. No single result with all the 'wonderful phases' I'm sure Bobby saw can gloss over the fact that we are on a massive downward spiral that some say started pre-season, others before the last one finished.
Personally I think our preparation for this season has been pathetic and the pre-season results will testify to that. Ironically, the one player who seemed to have the least to do pre-season (such was his holiday from being a bit-part player at the cup), Kevin Mirallas, has been our best performer. No idea what that means.
Martinez needs to get a fucking grip of this squad. The system was great and will be again, it is the players that need an absolute roasting and the manager too for allowing this shitty state of affairs to occur in the first place.
Anthony Hughes
131
Posted 23/09/2014 at 23:18:49
We also have experts on here who think Besic is the second coming on the basis of a marking job on Messi in the world cup. I will not accept any Everton player or manager simply deciding to lose a game. It's not a mickey mouse trophy it would a been a chance of silverware which is now narrowed down to the FA cup or a difficult EL campaign.
Kevin Rowlands
132
Posted 23/09/2014 at 23:14:05
Might get hammered for this but not bothered about being out of this competition at all, we have enough on our plate with the PL, Europa and the FA cup and we haven't a strong enough squad to compete in all four comps. On the other hand conceding 18 goals in six domestic games is worrying, big mistake to play Howard tonight as well for me, his confidence must be pretty low and we're about to go to the tin mine for a derby and what message does that send to Robles. Not sure if I'm going to watch the derby at this point, don't think my shattered nerves could take it.
Charles Simpkins
133
Posted 23/09/2014 at 23:23:45
It's early yet. Who cares about the Capital One Cup (or the COC)? Rotation is necessary and only the manager knows who's fit and who needs rest.
Have a little faith -- we were inches from Champions League last season and are still very young in terms of the Martinez project. Look at our European win, our attacking against Arsenal, Chelsea and Wolfsburg, the arrival-to-come of Barkley, and the signing of Eto'o. Things won't always be easy, results aren't guaranteed. But Everton is on the up-and-up and I'm still full of faith in the manager and our boys.
Richie P Jones
134
Posted 23/09/2014 at 23:21:02
Brian Waring - 76
"Play your best team son, play your best team!"
That's exactly what Shankly said when called by a worried Brian Clough who'd just got his first Managers job.
Roberto has attempted to introduce too many new players into a settled team that wasn't playing too well to begin with.
He should have just played a solid counter attacking team/formation to get us through this rough period and then worry about flair when things improve.
Carl Sanderson
135
Posted 23/09/2014 at 23:29:23
"Are the people saying that Martinez is inept and out of his depth the same people vaunting him last season as being the next Catterick or Kendall? I suspect so."
No, not at all. I, for one, am finding that the nightmare defending I always feared is coming to pass. I hope Martinez has a plan to sort out this mess. It's three goals per fuckin' game now.
Peter Laing
136
Posted 23/09/2014 at 23:30:19
Martinez has his first biggest challenge since being handed the reigns at Everton, there are doubting Thomas' coming out of the woodwork and the honeymoon would appear to be over. Sort out the defence that is shipping goals and confidence will return.
No more squad rotation, consign Hibbert and Distin to the history books and stick with Stones and Jagielka until the transfer window reopens in a January. Short term aim defensive stability, long term aim a new Goalkeeper and a commanding experienced Centre Half.
Jack Cross
137
Posted 23/09/2014 at 23:25:56
I haven't mentioned about sacking Roberto. But he doesn't seem to be addressing the problem that are staring him in the face. I mean he as been down a similar road before, defence-wise.
Gerard Morgan
138
Posted 23/09/2014 at 23:33:30
There's three things wrong with Everton and both of them are Tim Howard. End of.
Jack Cross
139
Posted 23/09/2014 at 23:36:18
Why wasn't Robles played tonight?
Milos Milenkovic
140
Posted 23/09/2014 at 23:31:11
So Anthony, what do you think? Besic is good or no? Come on, it's not that hard.
James Richard
141
Posted 23/09/2014 at 23:38:31
We have conceded 31 goals in our last 16 games. I just don't know what to even say about that!!
Mike Green
142
Posted 23/09/2014 at 23:40:08
Hhhhhmmmm........
Sean Kelly
143
Posted 23/09/2014 at 23:39:49
Hang your heads in shame as few of you are fit to wear our beloved jersey. Roberto stop bullshitting us you have fucked up repeatedly since pre season. No passion and no one willing to defend
Kevin Rowlands
144
Posted 23/09/2014 at 23:42:01
Haven't seen it mentioned and didn't see the game but how did Oviedo play tonight?
Max Murphy
145
Posted 23/09/2014 at 23:25:41
Steve(125) God Bless you.
Sadly as another old-timer predicted recently - the writing's on the wall. I watched Everton in the late '50s and what I'm witnessing now is that we are entering a period of massive decline(Hey! What's new?!). Everton will offer the odd flash of decent play when the opposition has not quite analysed our tactics(as against Wolfsburg) - but we'll be clinging on to mid-table or lower come the end of the season. There is no team-spirit - there is no back-line leadership - something we've always had - we will hemorrhage goals continually against any team. As I've said before, we provide entertainment - but who wouldn't when you have Coco the clown as a manager, and the rest of the court jesters "performing" on the field.
James Richard
147
Posted 23/09/2014 at 23:45:33
Oh and by the way, while we are all having a winge, can we please get rid of umbro? I'm in my mid 20s and seing us in a umbro kit brings nothing but bad memories.
Peter Carpenter
149
Posted 23/09/2014 at 23:16:28
Distin has always favoured his left foot but seems to be getting into unnatural, unbalanced positions to avoid using his right. He is often clearing the ball falling over. Jagielka is badly out of form and Howard is often falling backwards in attempting to make saves and also waving his arms about a lot after he has made the mistake. Good teams replace players before it looks like they need replacing. We have few who look like they need replacing but are still first choice. Worrying.
Steve Jenkins
150
Posted 23/09/2014 at 23:49:55
141 Max
I just don't agree with this at all. You've formed an opinion and clearly nothings going to change that.
There were periods under Moyes were we were awful with awful form but he always seemed to turn it around.
We always seemed to start really slow and then had a great run of form after Christmas.
Didn't he concede 3 at home to Martinez's Wigan?
How many did Martinez's shaky defence concede against Moyes that day?
There are problems - they are fixable, if they don't get fixed given a sustained period of time and the opportunity to bring in players to change it then - he'll go.
Whatever anyone thinks, Martinez won't be going anywhere this season - Kenwright stuck by Moyes through sticky patches like finishing 17th and never winning anything, he'll stick by Martinez.
Dave Williams
151
Posted 23/09/2014 at 23:11:05
Did anyone really think we would win tonight with a reserve team which has never played together before? No bad thing to be out of this competition though I am as concerned as anyone at our poor results and bad defending.
Terrible reactions from most people - until tonight Besic had been hailed as a 㿀m player who cost us ٢m - maybe Roberto knew better than us by believing he was not ready.
Oviedo played his first game back for 9 months after horrific injury. Alcaraz had his first start for 6 months. Hibbert will never start a game as first choice. Garbutt is yet to start a Premier League game. Besic is yet to start a Premier League game. Atsu has started one Premier League game. Distin is 36 years old. Gibson has not started a game for some months.
Get the picture chaps - this was not a team put out there with serious thoughts of winning so while it is depressing to lose again it is not the end of the world - that will come on Saturday if RS beat us badly! I think Roberto gambled this season on strengthening elsewhere in the hope that the defence had one more good season left and could survive without additions.
It is looking like he was wrong but we are not the only team struggling. City are dropping points as are United and Spurs and RS are nothing like as good as last (please god it won't turn for them this weekend)season. Roberto has to find the formula. Don't forget this time last season we were all moaning about slow build up and sideways passing and then we went on a run and all was forgiven. Give the man time and if by the end of the season things are no better then look at whether last season was just lucky(don't think so).
He has a lot of old players to phase out - buying Barry was a mistake as was extending Hibberts contract - and only by doing this can he free up money for wages for younger players. We have far too many old players which means a lack of energy and that is a big minus in these days of pressing teams high up the pitch. I don't see the absence of Ross as a factor as his replacement is playing better than anyone. We have some good youngsters coming through but they need time and the problem is the lack of players coming through in the 19-22 age group .
Lundstram, Hope, McAleny, are unlikely to suddenly demand selection and we are looking at Ledson, Walsh,Galloway and a couple of others all of whom are in the 16-19 age group and none of this is down to Roberto. Quite simply his defence has aged faster than he thought ,Ossie and Barry are not as effective this season and are getting old and McCarthy has not found his form. Plenty of problems to sort and they can't be sorted overnight. Give the manager time and stop turning on him after half a dozen games.
Gavin Johnson
152
Posted 23/09/2014 at 23:40:22
Expectations have clearly risen judging on some of the negative feedback tonight. Which to be fair is warranted! No matter how you wrap it up, we've had relegation form based on the results after the Arsenal win last season. I guess the worst case scenario is that teams have worked out how we play and Martinez isn't the flexible tactician most of us thought he was.
I have no doubts Martinez will turn it around at some stage but how many people on here are going to accept a mid table finish?? Which is looking more and more likely unless we get something from the next couple of games. I for one, would accept that, if we progressed in the cups and qualified for europe next season via that route.
I agree with Kevin Rowlands that playing Howard tonight was a naive decision given his confidence must already be shot after Sunday. Also it doesn't bode well for Robles having a chance to cement a place in the team. There's all the talk of the RS signing Victor Valdes, I don't know why we aren't in for him. cos it's abundantly clear we need a goalkeeper and a left sided centre half

Dennis Ng
153
Posted 23/09/2014 at 23:48:01
Amen Steve. I kinda wrote off this game since the CP result anyway. Good warm up for the guys that lack playing time. Would have preferred a better result but it is the Mickey Mouse Cup and we do not have the squad to handle so many competitions. And those comments on Besic? Well, every dollar spent on any player is a gamble but to write him off after just 1 full game? Against a team that started the season way hotter than us? Seriously?
The note about us being 17th once in OFM's tenure is a great point. Where would we be if we were fire-happy if we just ditched our manager back then? Oh, did I remember a season we're bottom of the table until a draw with Chelsea and ended in the top half still?
Jim Bennings
154
Posted 23/09/2014 at 23:54:29
I am pretty much used to the idea now that I will probably never see Everton win a trophy again, it's the way the club has gone now.
We will go like Newcastle, I can honestly see us going 40 years without success, and by success I mean medals and cups not punching above our weight just to finish 5th and get in a competition which, when we are in it nobody wants to be arsed with (the Europa League).
Dennis Ng
155
Posted 24/09/2014 at 00:05:58
Gavin, and either Hibbert playing or a backup RB. I kinda like the Valdes idea but not sure if that will ever happen.
John Daley
156
Posted 23/09/2014 at 23:48:17
The game and result was shite but so are some of the snap judgements being made. 
Patrick: Mike Walker?  Are you being serious? You, who has praised Martinez to high heaven and taken every opportunity to defend him against any who cast doubt on his defensive nous? 
You were so resolute in your beliefs, and so firmly in his corner, that it's taken a grand total of three defeats for him to transform Decepticon style into a real dead ringer for the biggest dickhead ever to dictate things from the Goodison dug out? 
Unless Martinez has suddenly started rocking a meffy blue and yellow trackie that looks better suited to Banana Man than the Everton bossthen I absolutely fail to see any resemblance between the two.
Then there's these words, from one so wise he still hasn't figured out that there's a live forum where he can post every single minute if he wants, instead of turning every sodding match thread into 'Jim's Journal'. 
"The fucking money would have been better spent on Shawcross, Routledge, Dyer or Bolasie and that Ulloa that Leicester got."
Yeah, because ToffeeWeb defo wouldn't have erupted into a rage-fuelled battlefield full of people baying for blood if Martinez had spent his transfer budget on those boys during the summer.
"Ere Dave, any chance you can work over at the club shop Thursday? We need someone to pull an all-nighter to make sure there's enough Routledge shirts ready for the mad rush tomorrow morning."
Okay, things appear dire at the moment, but the overreaction by fans to each and every setback just serves to falsely elevate a poor run of form into a full blown crisis. 
"No point slagging off individual players when we've all seen how good they can be in the past."
Equally, we've all seen, in the past, how they're capable of bottling it and buckling as soon as any real pressure or expectation is put on them.
So far this season, senior players have been making schoolboy errors that they should be ashamed of, and by doing so have dropped their teammates, and manager, right in it.
The culprits aren't strangers to suffering such moments of madness... Jagielka, Howard, Distin, Osman... they've all had similar 'oh shit' slips in the past, slips of the sort you would think senior pros shouldn't be prone to. It's just that, this time, they've all screwed up in quick succession. hey need to stand up. Sharpish. 
Yes, this is Martinez's first real test as Everton manager. Yes, he must get a grip and sort things out before confidence is irrevocably sapped. However, to go wading in on him the first time things take a tangible turn for the worse is just weak, fair-weather fuckwittery in my opinion. I mean, someone, in all seriousness, actually called for him to be 'sacked immediately' on the live forum. He was called a 'fucker' and 'a fool' and, it was claimed, 'is getting us relegated'. That was in the space of whatever time it took me to log on, have a look, 'tut' and turn it off.
Those senior players who have been stupidly throwing points away, who have been protected by their manager refusing to point the finger of blame in their direction (no matter how deserved), owe Martinez a fucking massive performance at Mordor on Saturday. It's about time they actually pull themselves together, put a full shift in, show some commitment, show that they still care and secure the poor sod some much needed points and plaudits.
Put simply, it's either stand up on Saturday and show some professional pride or stand accused of taking the piss.
Kevin Tully
158
Posted 24/09/2014 at 00:05:51
Relegation? Mid-table finishes? 17th? We are 4 points off a Champions League spot...see, I can be daft as much as the next fella. (Damn you Doddy)
Geoff Harrison
159
Posted 24/09/2014 at 00:08:06
I'll still reserve judgement, but the honeymoon is definitely over. Get home and get working.

Brian Wilkinson
160
Posted 24/09/2014 at 00:11:37
Hes got to start Naismith Saturday, crazy not starting Naismith in our last two games, when he is our form player of this season.
I certainly will not be happy if Naismith is again not in the starting 11.
Colin Glassar
161
Posted 24/09/2014 at 00:08:25
I didn't watch the game, listen to the game or follow the game. I just knew we were going to lose. I think we are going to have to hit rock bottom before we rebound. It could be against the RS or it could be in December, I just don't know.
I'm a massive Martinez fan as many of you know but I think he's been very erratic this season with his team choices, formations and substitutions. It's almost as though he believes all the hype he got last season and he believes he actually can walk on water. I think 48 hours of self criticism will do him the world of good.
He needs to watch all the games we've played this season, start working (big time) on defending and start dropping some of his favourite but under performing players. He has to be ruthless otherwise the season could unravel big time.
I trust in you, Roberto; don't let us down. Start kicking some ass and talk less.
Kevin Rowlands
162
Posted 24/09/2014 at 00:08:07
Great post as always JD, it was only 5 days ago we twatted Wolfsburg 4-1, lets get some perspective FFS, this competition was not that important to us this season, in a way I'm kind of relieved we're out of it.
Michael Penley
163
Posted 24/09/2014 at 00:18:15
I think what is happening is we got too confident. Biggest ever summer spending, two wins including 4-1 win in Europe, so Roberto feels he can experiment. If the outcome from two consecutive losses is a hugely damaged confidence this is a good thing. I remember when we suffered our first home loss last year, Jagielka said it was a monkey off their backs. I laughed but it was right - we went on a great run of victories. Roberto's sounding more and more shattered and broken in interviews, and it's obvious his and the club's expectations were way too high. Just look at the giant mural outside Goodison. I think these losses will prompt him to rethink things, realise we're not Barca and can't sit back for a single moment against any opposition, tactically or on the pitch. If he doesn't do that, he's a poor manager, but I think he will.
Harold Matthews
164
Posted 23/09/2014 at 23:07:49
Gary C. @ 83. Your post would seem to be the nearest to the way I view our dilemma.
In an official site pre-season interview the guy with the mike was trying to get Distin to rave about Martinez, but to no avail. "Everything is the same as it has always been" , answered the Frenchman. "The only thing that has changed is the style of football. The spirit has always been good because with Ossie, Hibbo and Bainsey around it couldn't be anything else."
Personally, I think we have a fine bunch of players who are not comfortable with an over-complicated football philosophy. They all look hesitant and unsure. So much so that I sometimes half expect them to pull out a piece of paper to check on what to do next.......and this is where the trouble lies. Their minds are not on the game. Every brain cell is glued to the philosophy. You can see it all the time. Players cautiously moving forward, then turning round and passing back. Talented lads completely lost in a myriad of detailed instructions. Subs getting 5-10 minute lectures before they enter the fray.
I've always been a Martinez supporter but don't like the way things are going. His job is safe.....so long as he doesn't lose the dressing room. That's the one place Bill can't save him.
Ste Traverse
165
Posted 24/09/2014 at 00:25:04
After nearly 20 years without a trophy, how some knobheads can dismiss this trophy as a 'Mickey Mouse Cup' is beyond me.
No doubt these pricks would be first in line for Wembley tickets should we have reached the final.
Andy Crooks
166
Posted 24/09/2014 at 00:22:46
John Daley, that post took my mind off the result and performance. Really good stuff. Calling for balance, without ever mentioning, err... calling for balance. Good post.
Patrick Murphy
167
Posted 24/09/2014 at 00:09:08
John I agree that I am a Martinez admirer but I don't think that he can see what most fans are seeing game-in and game-out. It is for that reason that I called him the Spanish Mike Walker. Being stubborn can be an asset but, when he fails to address the shortcomings in the team and exacerbates the problem by resting players in a PL game at Goodison against opponents who have already done us in a recent match, that makes me question his management style.
Either the players have lost faith in his methods or they think that he is an easy touch but, whatever the problem is, it needs sorting and quickly. Thirteen matches against PL sides and only 3 victories is not a good stat whichever way you look at it. A good attack will win matches but a bad defence will quickly sap the confidence of every player.
Of course nobody realistically expected what has transpired in the last half-dozen or so games and, even the victories against Wolfsburg in particular and at the Hawthorns, there were plenty of chances given to the opposition although at least there was collective defending in both of those games.
Given our next three games are all away at decent opponents, it would be no great surprise if we were to return empty handed before we entertain Villa at Goodison. How many games should we wait until our faith is restored in the manager and the team? I have always said that the game is a results business and to that end Roberto is just as vulnerable as any manager of any of the clubs in the PL. I'm not calling for his head but I would hope that the Everton hierarchy are as concerned about the current situation as many Evertonians are and that they have a quiet word about what the club expects from its manager and its team.
Perhaps it is a bit too early to press the panic button, but a return to the form we know that the players can produce can't come quickly enough; it's not as if we have integrated a whole new bunch of players into the team this season and the core of the team have played plenty of games and are experienced enough to get out of it over time. But who would have thought on Friday morning that, by the following Tuesday, we would have shipped another six goals and lost two winnable games?

Steve Jenkins
168
Posted 24/09/2014 at 00:27:17
One thing I have to agree on is - as much as we have been poor defensively, so many of the goals have been down to individual errors that you just can't legislate for.
I agree Martinez in that respect has been badly let down by certain senior players like Howard, Jags etc and they owe him a big performance on Sat.
If they don't have a run of top form, then there's a number who need get they're bags ready.

Kevin Rowlands
169
Posted 24/09/2014 at 00:32:25
ST #162, off the top of your head can you name us the winners of the League Cup the last 5 years without googling it? No didn't think so. The 'knobheads' who are dismissing it are not doing it because it's a MM cup, we're doing it because we are realistic and understand that FOUR competitions to challenge for is unrealistic with our squad and us 'pricks' would rather be first in line for a Europa League Final or an FA Cup Final.
Sam Hoare
170
Posted 23/09/2014 at 23:54:21
One thing I do find strange is that we were constantly told that Roberto would be bringing in younger, fresher players and yet he seems to favour the tried and tested as much as Moyes did. Except the likes of Osman, Distin and Howard who are all guilty of individual errors leading to goals this week are 2 years older. Today would have been easier to stomach in some ways if Robles, Browning and Ledson were given a chance.
If this season turns into a mid table mediocrity which seems almost optimistic right now then I hope we will at least see Roberto laying more foundations for the future.
Ciaran Duff
171
Posted 24/09/2014 at 00:26:44
Evertonians, and TWers in particular, have always been a bipolar lot. Win 4-1 in Europa and we are on our way to UCL. Lose 2-3 at home and we are relegation bound. For grown (mostly) men, a lot of you act like a bunch of hysterical Sheilas (no offence to any Sheilas).
No Everton supporter is happy with our current form but to start slating the same manager and players who got us 5th, Europe and our highest points total last season is a bit over the top.
I think that there are a few things going on. Firstly, other teams have adjusted to our style. Secondly, there have been a lot of individual errors. Thirdly, RM has struggled with the "rotation system". Personally, I think that he has made mistakes here. IMHO, we should try to keep a fairly stable team and introduce extra players gradually (eg 15-20 mins off the bench) before starting them (eg Atsu, Oviedo, Alcaraz). It is not a good idea to make wholesale changes for games (Moyes also did this for the Carling Cup) as it is too disruptive to the team and dents newcomers' morale as well as the overall team morale. This is a new situation for RM and I am sure that he will learn from it.

In the meantime, harden up boys.
Chad Schofield
172
Posted 24/09/2014 at 00:24:14
Thank you John Daley #152.
Yes there were more calling for a bit of sense, but fuck me there's some whiny crap being spouted.
Obviously it's disappointing, but acting as though we've just been relegated at this stage isn't just premature, it's infantile.
We have players who are not performing as expected, and while Martinez is far from infallible, had we won this game with the players who won against Wolfsburg only for us to get spanked by our neighbours, people would have gone beyond the shit they're spouting here.

Steve Jenkins
173
Posted 24/09/2014 at 00:44:09
Sam167
Agreed - as a Martinez fan, that (sticking with tried and tested instead of younger, fresher and imo better players) along with our defensive frailties has been my biggest surprise, gripe and disappointment, which I just did not see happening when he was appointed.
Change it appears is going to be gradual and while I feel that as he moves the old guard on - they will be replaced with the type of young, athletic and dynamic player we all want.
Whist the transition happens - we will have to put up with the tried and tested.

Jack Cross
174
Posted 24/09/2014 at 00:47:50
Chad 169. It's called different views mate. What were all entitled too.
Ste Traverse
175
Posted 24/09/2014 at 00:53:38
Kevin Rowlands. I can name any FA Cup winner going back to the early-60s, let alone the League Cup winner in the last 5 years.
After nearly 20 years potless, any so-called blue who dismisses the League Cup as 'Mickey Mouse' IS a knobhead, in my opinion.
Richard Harris
176
Posted 24/09/2014 at 00:46:59
Nevermind... we are out if the "Mickey Mouse Cup" so can concentrate on the "Mickey Mouse Europa League" (as no money in that competition, Thursday games affect next league performance, with the insult of an extra chance given to Champions league 3rd place in group losers but now with the added carrot of Champions League qualifying round for the winner so that makes it alright now).
Or why bother with the devalued FA Cup? Only the big teams win it these days and look what happens when a smaller team wins it: Portsmouth and Wigan spring to mind !!
And while we're not bothering, then what is the point of winning Premier League games as we can't compete with the big money teams and therefore we can't win the league.
Maybe I shouldn't have made the effort to go to Swansea tonight to see a half-arsed performance, with players who seemed confused by the tactics and selection and a manager who looked at a loss of how to defend. Football tactics have moved on from worshipping everything that is Barcelona.....
Dennis Ng
177
Posted 24/09/2014 at 00:59:59
Ste, no doubt any silverware is good but cup games are probably an additional distraction to what many think is a sinking ship. The earlier they sort this out, the better. Besides, you have to flow with time. They dwarfed the significance of the cup so much many of us younger ones don't remember it exists until the game is played. I doubt anyone will call FA Cup any funny names.
Dennis Ng
178
Posted 24/09/2014 at 01:21:25
Ciaran, just a note to your comment. That's like most if not all football fans.
Jim Knightley
179
Posted 24/09/2014 at 01:13:22
Seriously Jim, how many times do you want to say exactly the same things? Advocating Ulloa's signing after an impressive start is ridiculous, as is the assumed expectation that he will continue to play this way. I don't remember you mentioning his name during the off-season - have you got any evidence of posts in which you did? Or do you think retrospectively advocating buys that have turned out well after five games is actually a worthwhile tactic? And Dyer and Routledge are good, but inconsistent players, just like McGeady who you are constantly criticising. I expect you do not watch them that regularly, or you would know that. As for 'How come we never have a squad player that can do tricky things like that Montero who is currently tearing Hibbert a new one?' - did you watch Deulofeu last year?!
My pessimism at the start of the season is well illustrated by numerous posts I made. I didn't expect this level of poor play, but some Everton fans do need to wake up to the realities of our squad. This constant calling for Besic into the team is beyond irritating, because it reflects a desire to bring an idea of a player into the team, rather than the reality of that player. We need more patience, especially for those coming in from other leagues. The moaning about Lukaku is just as irritating: He is only 21, has been struggling with a foot injury, but has still managed a couple of goals and assists in 5 league appearances. Annoyingly, those who moan consistently about the wrong things will disappear when the team improves - which it will. I would argue that we changed too many players tonight again: I think less changes is a more effective way of approaching squad rotation, especially a result in this game would have improved confidence. Mikey-Mouse competition maybe, but the Capital One Cup is the most easily obtained silverware in the English game and gives a European place at the end.
This is Martinez's real test, and he needs to prove that he can properly educate his teams defensively. We are not right atm, and we need to sort that out quickly, because negative results against Liverpool and United will sap confidence and leave points between us and those teams with bigger and better squads. We need patience though, because our first 11 is largely our best 11. Let's get the likes of Naismith and Mirallas back in for Saturday, and hopefully the big games to follow will bring out the better Everton. Our next two opponents have struggled too, and we can justifiably enter those matches with the hope of furthering those troubles, even if they will have similar ideas.
Mark Andersson
180
Posted 24/09/2014 at 00:32:09
Well, that's a good start to my day. Not sure if my normal "glass half-full" mentality can be sustained after reading so many disgruntled posts.
Harold (#161), your last statement about Martinez loosing the dressing room maybe nearer than you think. After all, how can we go from being the 3rd best defence to this utterly unacceptable form?
Something is wrong and, as pointed out in other posts, maybe the defence is just not comfortable with the manager's philosophy.
Fingers, legs, bullocks crossed for Saturday...
Jack Cross
181
Posted 24/09/2014 at 01:40:46
Surely we have to give any cup competition our best. Any route in to Europe as got to be a plus and not a negative. We all know were the money pot is, but that's beyond us at the moment with the squad we have. But regular Europa cup football would do me just fine and what you get use to, you, get better at.
I just hope Roberto has something up his and will take us all buy surprise and hopefully that will start on Saturday. As I have said in numerous posts, I'm not a Martinez fan but, if he can turn this around, well I'll give him credit if it's due. As he stands now, I still don't rate him... so make me eat my words, Roberto.
James Wong
182
Posted 24/09/2014 at 02:07:27
I'd rather we put our best team in for the Capital One Cup but unfortunately Roberto disagrees with me.
We haven't won the Capital One Cup before and it's also the shortest one to the final. Just another four rounds/five matches to the final. Just disappointing really.
I guess Roberto is not interested in the cups and going for the Champions League qualification and Europa League.
Tony J Williams
183
Posted 24/09/2014 at 02:20:18
Saw the line up, nodded then started to watch something else.
Checked the final score, nodded then carried on.
Not arsed about it, even though Swanseas first ever win against us, played the stiffs and the reserves as expected and got the expected result.
Full concentration for Saturday now with our first XI. Nothing more to see here.......I ain't even mad
Tony Farrell
184
Posted 24/09/2014 at 02:24:44
Has anyone given any thought to them travelling away fans, having to endure a long journey in the rain, and then be served up a bag of shite like that? I noticed RM shook his opposition's hand then disappeared down the tunnel, not a gesture at all to the people who had spent a lot of money to get there.
You have to realise, Mr Bob, this is Everton; we love our club and we hate seeing inept performances by players who should be honoured to pull on that blue shirt Don't try and bullshit us with all this crap you've been dishing out; we are not Wigan, we are knowledgeable football supporters.
Okay, other teams rotate because they have players that can come in and do a job; we obviously haven't. So be honest, Bob, say like it is. Give us the respect as we give you, and it wouldn't go amiss if some of the players would come out and say how shit we are. Get it sorted and quickly.
Adolf Ng
185
Posted 24/09/2014 at 02:36:40
Honestly, it may be time to give Howard a "break" at club level also... no matter what reasons, conceding 17 goals in 7 games (in all competitions) deserved such a break and give a chance to Robles – just like what happened to Joe Hart a few seasons back where Pantilimon played for a couple of games for Man City.
Craig Fletcher
186
Posted 24/09/2014 at 02:44:19
John Daley (155) one of the few things on ToffeeWeb to cheer me up after a loss is to read your retort to some of the hysterical over-reactions on the earlier threads.
Brilliant again mate, well done.
Tony J. Williams (183) nailed it for me.... though it would be nice to win a cup obviously, I can't really muster the strength to register disappointment at dropping out of the League Cup.
To be heavily involved in the League, FA, Europa Cups as well as the PL is a stretch with our resources; and I'd prefer the focus on the PL and Europa League.
Shite result, disappointing but sadly somewhat predictable.
Jackie Barry
187
Posted 24/09/2014 at 03:26:06
I really don't care about this pile of poop of a competition, it's an awful competition that once had some value but has now been destroyed by what this once glorious sport has become. My concern is our league form and if things don't change my opinion of Martinez will soon be doing the same.
Anto Byrne
188
Posted 24/09/2014 at 03:22:18
Can we take any positives from the game? Garbutt and players coming back from sicknotes. We could have put Kone on for the last ten maybe. I would have preferred a KITAP1 approach to secure up the defence and counter attack with our pace up front. Let them have the ball and see if they can get past a wall of blue defenders. Time for a rethink of the tactics...
James Marshall
189
Posted 24/09/2014 at 03:43:37
I really hate to say it, and this is only a suggestion, but has Martinez been found out like a lot of us said he might? Gung-ho football without a clue how to defend?
I hope not but it feels like it. We score goals but we ship em like Wigan used to.
Harold Matthews
190
Posted 24/09/2014 at 03:28:03
Yes, bad result but we'll get over it. Our first team is pretty hot. The attacking football we played against Chelsea left a big impression. Okay, they hit us for six but the two daft goals in the first 3 minutes gave us a mountain to climb. Forget the score-line. We tore their defence to pieces. Everton forever.
Dave Hall
191
Posted 24/09/2014 at 04:21:34
I understand we've played poorly to open the season, but it's pretty clear to me that this game was little more than a glorified training day for our fringe players and nothing more, which is fine by me. Some people need to take a step back and recognize that our priorities have to be our Premier League games and then Europa League with League and FA Cups miles away from both.
Building a team with ambition means making the Champions League; the Cups are honestly mostly distracting in the era of global branding and TV money driving the business of sport. Great moments yes, but sustainable success -- often quite the opposite (Swansea, Wigan, etc).
Doesn't feel good today, but the players will be (in their heart of hearts) relieved to have fewer games on the calendar and that should dull the pain of losing. RM did this last year and it worked well, and I think he's right to do the same thing this campaign.
Dave Hall
192
Posted 24/09/2014 at 04:33:55
And great post, John Daley (#155).
Jason Lam
193
Posted 24/09/2014 at 04:48:05
Pretty obvious we threw this game
Paul Ferry
194
Posted 24/09/2014 at 04:59:10
Jason Lam
194 - Pretty obvious we threw this game
Jackie Barry
188 - I really don't care about this pile of poop of a competition,
Guess what:
(1) No way EVER do EFC play to throw a game – the barrel has been well and truly scraped.
(2) Surprised at you JB, we are desperate to win a trophy and this was probably our best chance. League Cup! Twenty years! One trophy in 27 years! If you would not want that to happen then I'm sorry I'm speechless .....
Jason Heng
195
Posted 24/09/2014 at 04:30:21
We wished for attacking football during the Moyes years. Now that we are living the dream... we moan about the defence.
Christopher Kelly
196
Posted 24/09/2014 at 05:12:35
I'm glad we're out. You should be too. Let's focus on Europa League this year as that clearly is going to be the most interesting competition for us.
Darren Hind
197
Posted 24/09/2014 at 04:22:15
"Martinez out"?? ? Fuck me... Who would we get?
I've been pretty consistent (some might say relentless) in my criticism of him, but that's because I think he is capable of so much.
Martinez can still become an Everton legend, but he needs to develop a ruthless streak and he needs to develop it now. He could start by ditching his back room staff he has shown far too loyalty to.
My toes have curled when I have read claims that Robbie and his team were responsible for us having "the third best" defensive record in the Premier League last season. Martinez only brought these guys in last July. They barely had time to get on first name terms with the players... To give a management team whose sides had conceded nearly two hundred PL goals in their previous three seasons, the credit for the hours, days, weeks and months of practice and drill was... well, that's by the by now.
The fact is we are turning into Wigan – at least our defence is. The players who had conceded an average of 40 goals a season are now on target for a Wiganesque 60+ ... Ditch your coaching staff now, Robbie lad, before they drag you down with them – again.
We will almost certainly concede at Anfield, but remember their defence is shite too, I still think we can win. How many times could we say that under TGT?
JD makes a good point. Several senior players need to step up to the plate over there; if they can't do if for us or the manager, they should at least have enough professional pride to do it for themselves.
Patrick Murphy — It's Tammy Wynette time.

Craig Fletcher
198
Posted 24/09/2014 at 06:05:15
It's been said a few times on this thread but the senior players do need to stand up and take some accountability.
We've hardly played inexperienced teams in the past two games - between Hibbo, Distin, Howard and Alcaraz, that's thousands of games of PL experience right there v. Swansea, even before taking into account the attacking players. I hate to say it, but sometimes I think we lack a vocal leader on the pitch who can rally the troops.... and yes, I'm thinking a Gerrard-type leader.
PF, while I agree that the league cup, on the face of it, is our best chance of winning a cup, due mostly to the fact that the majority of PL teams de-prioritize it in terms of team selection, we were still a good few games away from the cup final; and the argument can clearly be made that going far in this competition would have impacted on PL & Europa League performance; due to fixture congestion.
I'm guessing the majority who think it's good to be out of the competition are using the argument that if you're not going to win it - better to be out sooner rather than later. The other side of the coin is of course, no chance of winning the lottery if you don't buy a ticket.
However this blame Martinez bollocks is ridiculous. The 11 who took the field v Swansea were, on the face of it, good enough to win the game. It's individual mistakes which have been killing us in the past two games; something RM can't sanction for.

Mike Green
200
Posted 24/09/2014 at 06:31:06
John Daley #156 – a sobering post, thank you.
However, if has to be said if nothing else we've disrespected the record we had in never losing to Swansea in our history.
I went to Fulham away last season and it was a a mini-version of last night. Unless the club put out a statement of intent of trying to win this competition don't go expecting anything other than watching our second string get a run out.
Given how tight the fixtures are I can accept both of the above, especially as we'd beaten WBA and Wolfsburg in the previous two games before the Palace defeat. I'm pretty sure had we beaten Palace on Sunday tonight's line up and result would, to me included, have been viewed as a necessary sacrifice for the first team to take some winning form into the derby, one of the biggest games of our season.
So, I can accept throwing that record away and if we've got no desire to win the League Cup then so be it. We should've beaten both Leicester and Arsenal, there were a lot of positives to be taken out of the Chelsea game, we beat Wolfsburg and WBA.
There are a lot of negatives from the above too though, most of which revolve around the defence and a shocking performance from Howard. All of these players, bar Distin, are full internationals so it's unlikely – also given their record recent seasons – that they have turned into a bad group overnight. It's seems that they, and Martinez, need to get back to basics and start keeping some clean sheets – no matter how you cut it the rate we are shipping goals is unsustainable.
The players in front of them also need to take responsibility for this – we are far too pedestrian going forward still (going back to my point above about Barkley) and possession without penetration is ultimately a bit pointless.
So, let's brush ourselves down and get behind what will be a very different line up on Saturday, hopefully with a very different level of performance and result.
Paul Dark
201
Posted 24/09/2014 at 06:56:22
Being out of the LC (horrible as it might be to lose to Swansea) might be a blessing in disguise.
A few points:
I think RM has done an amazing job so far - but the advances he has made are not without their problems;
I agree with many criticisms on here - last term, we passed the ball with purpose and moved forward with purpose, but at present much of the passing is passing for passing's sake. We do need to move the ball forward much quicker, but we don't need to hoof it forward a la Moyes.
It's imperative that we as fans give the players a boost and support hem unequivocally despite enormous frustrations. The defence eis good enough - just not at present.
Four players (Osman, Alcaraz, Robles and McGeady), who should NEVER start aside, RM is assembling a very good squad. I think a defensive coach is a good idea - as well as Nev (arguably, the greatest goalie of all time anywhere) as special consultant to Tim.
Barkley will improve thing enormously and McCarthy/Barry needs to do more to protect the back four and distribute the ball.
I'd like to see Besic start more.
I'm a terribly critical person naturally, but it's time to get behind the side and support Roberto's projects - despot some signal shortcomings.
Mike Green
203
Posted 24/09/2014 at 07:05:26
Finally - the most damaging thing of all of this is it's making us look very, very beatable - something we've not not been for some time. We do need to stop the rot before it becomes a viscous circle.
Three points at Anfield and Old Trafford would be the perfect antidote but given our record at both places in the last decade I'm also going to try to remain realistic about that.
Time to get our heads down.
COYB.
MIke McLean
205
Posted 24/09/2014 at 06:44:13
If Roberto hires a bus and ships out those players who are apparently no longer good / reliable enough to feature (Hibbert, Distin, Jags, Osman, Howard, possibly Kone, Alcaraz), could someone explain where the money comes from to replace them?
A third of the squad are past it. They are still on the books through force of circumstances. If a few of them feature in a competition that the manager clearly felt was a path to trouble further up the line (like the vast majority of other P L managers), so be it. He is the one, in conjunction with the board, who gets to set the targets.
Given our straitened circumstances, it's little short of a miracle that we are considered to be among the "better" clubs; a club which "should" be challenging for honours. Kudos to both Moyes and Martinez for being able to keep the dream alive: the business side of the club requires adults to spend like star struck teenagers and while it may not particularly enjoy it, will put up with the toddler tantrums when things don't work out.
Hot news: donkeys aren't unicorns. If you set yourself up to believe that they are, life can be a bitter experience.
On a final note: some of the invective both on the live forum and on comment pages is schoolyard lite in my view. Uninformed opinions are one thing but some of the personal attacks are completely out of order.
Mike Oates
206
Posted 24/09/2014 at 07:29:48
Our system is flawed, the opposition have wished up to us. It's so easy for them to get down our line and throw in cross after cross after cross. We don't deal with it at all. Martinez wants his wide midfield men to stay up e pitch and we have attacking full backs, the two don't go and we get caught short out wide. McCarthy and Barry don't get across and like last night, CP, Wolfsburg, we let hundreds of bloody crosses in and we can't defend them.
We have to sacrifice our attacking width and we can't do that until Barkley's back.
Jim Bennings
207
Posted 24/09/2014 at 07:30:23
Let's focus on the Europa League???
Are people really serious or is that just light entertainment??
Do people really believe Everton could handle some of the Champions League drop-outs after Christmas, let alone some of the quality already in it?
Its laughable every time we go out of a Cup it's always "lets concentrate on the League " or "I'm glad we're out"
This fuckin team will not sniff the top 5 this season or any trophy.
Not pessimistic but bloody REALISTIC.
Michael Polley
208
Posted 24/09/2014 at 07:32:46
I don't really care about this result. Judging by the team selection, nor did RM. Good to see Oveido back though. With our current performance, this competition was never going to be a priority.
I'm not looking forward to the derby on Saturday. I think I'll stay in a darkened room for the 90+ minutes, and then creep out to check the final score.
Paul Tran
209
Posted 24/09/2014 at 07:20:02
The facts are that we look vulnerable, rudderless, clueless and de-motivated. Senior players are consistently making schoolboy errors.
Martinez is looking to me like he's indiscriminately shuffling the pack, hoping that something will happen.
Has he lost the players/the plot? Either way, he's got to get it back and the players have to respond. Saturday would be a good time to start.
Peter Bell
210
Posted 24/09/2014 at 07:44:55
Please tell me the post that said Lukaku was taking the corners was a Pi55 take.
I think RM has done a great job so far, but the first time I shook my head was when he resigned Hibbert.
Not sure if the man has the backbone to make tough decisions
Chad Schofield
211
Posted 24/09/2014 at 07:07:17
Yes Jack Cross #175, you're right and I also agree with some of your following post - while disagreeing with parts too.
I'm not suggesting that I, or anyone else, should agree with all comments here, but the headless "the sky's falling in" brigade make for embarrassing and further disheartening reading.
Others have put forward far more tempered and eloquent responses. I obviously genuinely understand the frustration of being beaten and merits of the LC... I just think slating all of our players and manager is not helpful.
As you say, you'll give Martinez credit where and when you you think he deserves it - and that's fine if you still feel he does not merit your support. I try to support as much as possible and was very happy with the business conducted over the summer. Do I think Lukaku is playing like a 㿈m striker at the moment... well, no. Did I want Eto'o, no... but what a great first touch he had for us and I'm impressed even though he's not single-handedly scored all the goals, made key goal line stops and hasn't been bothered to win us at least one poxy trophy - the arsehole.
While it's clear changes have to be made after conceeding so many goals, I don't think it's a case of sacking everyone except Coleman (oh no, he's had shit too) and burning down Goodison after a couple of lost games.
Now, again in my mind there's a big difference of having a differing opinions and just reading bile that amounts to little else than a toddler's tantrum... but I suppose that's just my opinion.
MIke McLean
212
Posted 24/09/2014 at 07:43:57
Yes, Jim, they are serious, because star struck teenagers have that kind of belief.
And hey get very squawky when reality sets in.

Jim Bennings
213
Posted 24/09/2014 at 07:42:28
The problem is...
Too many midfielders all of the same ilk, all defensive, all central midfielders.
Only Mirallas and Barkley when fit offer anything like an attacking threat.
Osman is washed up, Pienaar always injured and probably past it now anyway.
Four central defenders, two of them over 32 and look as wobbly as fucking party jelly and one who is just over 30 and mostly injured and in all honesty not good enough.
Only Stones looks like the future, and even he shouldn't be expected to take the mantle of leader so soon.
No replacement right-back once Coleman is injured, nobody is of able quality to stand in for him, not Stones, Hibbert is no longer up to it and I don't want to hear stupid calls for the likes of Besic or Barry to be moved there.
Up top Lukaku is meant to be the man but his overall play is not up to scratch, his touch, his overall demeanor, he just doesn't utilise that sheer bulk he has.
Eto'o is not a 90 minute player .
It just doesn't look a great squad when you really go through it.
I thought Martinez liked Mo Diame?
Why didn't he try to sign him then?
At 3.5 million he was cheaper than Besic, yet he signs Besic , who clearly doesn't look ready and does he actually do anything James McCarthy doesn't do?
We got McGeady who doesn't actually beat a man.
We could have had loads of wide lads who consistently do a better job than him, we saw two last night for Swansea, every time I see Swansea play, Routledge and Dyer look a million miles the player that McGeady is.
Martinez needs time I grant people that but one quick look at the fixtures and Burnley away on October 25 could be a massive game for all the wrong reasons.
David Ellis
214
Posted 24/09/2014 at 08:00:01
Did not see the Swansea game...but the comments on here are ridiculously over the top. This season may end up worse than last season, well if so then that's just too bad. But to act surprised or call for the manager's head is just all Newcastle to me. We the fans should be better than that. Progress is not like walking up a staircase. There are always setbacks and the last couple of games have been setbacks. Maybe the season will be set back. But Howard and Moyes had bad seasons (really bad seasons) and this is life at Everton. The scoreline does not show everything. We are a good side. This is the first game this season we have not scored two goals. We are leaking stupid goals (how can Martinez be to blame for the first two goals conceded to Palace? - should he have had a premonition and put in Robles for Howard?). I believe it will get better because when things start going badly they generally return to mean (the average) at some point and get better (the same thing happens in the other direction when we start doing well). This is just normal.
Be disappointed by all means. But don't start suggestion solutions that will not address the problem . The fact is that football is an unpredictable game and we are in a very competitive league.
Harvey Miller
215
Posted 24/09/2014 at 07:53:52
Roberto says:
"Some individuals performed in a fantastic manner and I know that they will help the team going forward.
"To see players like Bryan Oviedo and Darron Gibson coming back after eight and 11 months out with injury was very pleasing. Then you had Tony Hibbert coming in and playing 90 minutes, the same with Antolin Alcaraz, Luke Garbutt making his first start for the senior side, which is a real example of trying to bring through young players.
"So the night was very positive in terms of certain aspects. The only disappointment was the score-line at the end."
Ha! NO player certainly performed in a fantastic manner. Seeing those players (not including Garbutt) playing was not pleasing, it was PAINFUL.
There was NOTHING positive in the last night: the disappointment was how we played and who played for us. The score-line is the result of that.

Allan Board
216
Posted 24/09/2014 at 08:06:31
Okay, another poor result; however, lots of players got much needed game time and great to see Oviedo back.
Mistakes by sportsmen occur due to lack of confidence, poor technique or an "I couldn't give a shit" attitude. I'm not seeing much remorse/apologies to their team mates by the guilty parties and am therefore being drawn to the latter. Rocket and arse come to mind...
Eddie Dunn
217
Posted 24/09/2014 at 07:55:20
I never want to see an Everton team lose, but with the amount of fixtures this season, with Europa League committments, Martinez had to rest players last night. Most of us don't care about this competition - can anyone remember past winners?
It may have been a case of getting some players fit (Oviedo, Gibson, Hibbert), or giving some first team experience ( Garbut,Besic). Also protecting from injury key players, who are too important to us with the next 3 games RS, Kras,and Man U.
We just don't have the squad to roll up with a reserve side and expect anything against a good Swansea team in good form. I suspect that Roberto knew what was likely to happen, but hoped otherwise.
We will all forgive his tinkering if we win at Anfield, draw in Russia, and take a point at Man U.
The team has obvious shortcomings.
Howard is inconsistent, Distin is making more bad calls than before and Ossie can only be trusted in the opposition half, as he is so weak on the ball, and only has half a game in him.
Lukaku is only effective on the counter, with balls pushed ahead of him. He can't hold it up and his passing/vision is missing.
We are at our best on the counter attack, using Lukaku's power, and Naismith's guile and we rely on our two full backs for most of our chances. Add to this Mirallas or Barkley as the only ones capable of producing something out of nothing.
We are not designed for keep ball, and slow build-up play. When our limited midfielders try it they usually cough-up possession after some forced sideways Wilkins-like passing.
I shudder everytime Jags brings it out and prods another wooden poke to Distin.
We need to be resolute at the back, putting the ball into row Z if in doubt. Get stuck in in midfield (sorry Ossie you are out), and play early balls on the deck through to Lukaku/ Eto .
If we concentrate on our strengths, utilising our wingbacks then we can beat anybody.
Let's hope Coleman is fit for Saturday.
Phil Walling
218
Posted 24/09/2014 at 08:12:57
As a confessed Martinez doubter from the moment of his appointment, I am probably the least surprised at the turn of events.
Ask any Pie Eater and they will tell you that Bobby was always a quirky and unpredictable manager in respect of team selection and tactics. And the bull............!
But the guy deserves a little more patience, particularly after last season" s finish. Let's hold off the slaughter until Christmas beckons.Most fates can be determined by then.
Jim Bennings
219
Posted 24/09/2014 at 08:17:46
It's time we wake up and smell the coffee, and I'm not just talking about the fans but the players and manager too.
After everybody seeming rather pleased that we lost last night (not too sure how losing any competitive match 3-0 is going to benefit spirits though) then we simply MUST SHOW AN ANGER AND PASSION for Saturday's Derby game.
There can be no more half baked, slow paced displays there.
We know what to expect because we get it every year at Anfield, they will start the first 15 minutes like an express train and try to totally steamrolle us out of site, so for fucks sake Everton be ready and be ready to man up and engage in the battle, relish it.
What the fans DO NOT want again is another meek lamb surrender and a host of excuses, just get out and fucking perform.
Craig Walker
220
Posted 24/09/2014 at 08:38:47
I suggest people bookmark this thread and re-read it after we've either just beaten one of the big teams, gone on a good run or signed a decent player in a transfer window. It will be a sobering read because after a few good performances we hear proclamations that we can get top 4 or we could even win it and every player is a world-beater. A few bad results and we're getting relegated. Every player is shite. The manager is clueless. The stadium's decrepit...
Look at Swansea last season. Competing in the Europa League after a great season under Laudrup with Michu banging in goals and playing good stuff. They were shocking last season and Laudrup lost his job. They look a much better team this season so far.
Tommy Coleman
221
Posted 24/09/2014 at 08:49:04
Completely agree with Martinez's post match comments.
This game was about bringing those players in, winning would have been a bonus but with Euro football this season the Carling Cup had to be sacrificed.
With the Derby coming next, no way I'd have changed the line-up despite the loss.
Dave Lynch
222
Posted 24/09/2014 at 08:51:55
Craig.
Supporters live in the "Now" not the "Future". No-one can predict what will happen but indications are that this will be a tough season.
So what if we beat a "Top team", what will that achieve if we get twatted by the rest of the "Mediocre" teams. So Swansea sack a manager and improve? Personally I couldnt give a fuck if they had a new manager every week it's Everton i'm concerned about and could not give a shit about anyone else.
Anyone and I mean anyone who thinks we will win the EL on current form are IMO deluded and put very simply. " We are not good enough on current form" and from what iv'e witnessed so far it aint gonna change anytime soon.
Tommy Coleman
223
Posted 24/09/2014 at 09:07:55
Craig Walker - Good idea.
Paul Smith
225
Posted 24/09/2014 at 09:06:55
Some of the comments regarding not giving a rats ass about being out the muggy milk cup are astounding.
Yeah, who in their right mind would want a day out with their family ( Sons, Daughters,Grandkids) at Wembley. I mean the fact that these days, events, are what grow are fan base is irrelevant. Shit cup!!!
It's a little bit like when a partner leaves you and rather then accept the truth, denial kicks in and you sit in the boozer telling everyone "she was a wrongun anyway & I'm well rid" utter bollox.
Steve Jones
226
Posted 24/09/2014 at 09:21:37
Give the Job to Dunc!!
Nick Entwistle
227
Posted 24/09/2014 at 09:18:41
Sorry Paul, lets face it, the League Cup is only important if you're in the latter stages. And if your team isn't, then even the final is passed over in favour of walking the hamster or ironing socks.
Reduced prices, low crowds, rotated squads, lack of TV exposure all point to the same thing - it is of little importance - even a hindrance at this stage of the season.
Les Fitzpatrick
228
Posted 24/09/2014 at 08:49:43
I don't post on here that much... too busy working, ha ha.
When Martinez was appointed our manager, I had a fall out with my Evertonian neighbour. He thought it was a great appointment, I had grave misgivings, mostly about Wigan's defending under Martinez, and the kami kazi type tactics they employed. I was happy to be proved wrong for most of last season, and told my neighbour so.
Now, all my worst fears are coming to the fore. We cannot risk relegation from the Prem... Martinez must be told he has until Christmas to get some stability back onto the pitch. He must swallow his pride and accept the help of a respected defensive coach, and if he won't do that, he must be dismissed.
The likes of Howard, Distin, Besic, McGeady, and Atsu need to be told to shape up or ship out... It's known as performance-based management, Bobby!
My neighbour is keeping a low profile these past 6 weeks or so.... Think it's time for our chairman to have a word in Roberto's ear and put him on notice – he has about 3 months to put it right.
Mike Gwyer
229
Posted 24/09/2014 at 08:41:08
Eddie Dunn #218. A sweet post mate but the defensive cracks in our beloved team are beginning to become seriously unfunny, 3 goals a game is starting to hurt.
Your view, " We are at our best on the counter attack". That's a million miles from how we play football, Everton retain the ball for somewhere between 55 and 70 percent of most games. Everton do not counter attack. RM's game plan is too retain the ball from the back then try to attack and then try to attack some more and finally try to attack at all times. Our full backs spend most of the game in the opposition half looking to spearhead another attacking move. Counter attacking footy is played by the other lot across the park - you will see loads of it on Saturday!!!!!!!
Phil Walling #219. Well you seem to have been spot on with your belittling of RM and now your saying wait till Christmas. If things stay as they are I have a feeling that RM will be under pots of pressure long before xmas. Losses to the RS and Manure seem odds on and that will leave us in early October.
RM needs to make things happen right-fucking-now, for me something really fucking good needs to happen at Anfield that will make Evertonians feel that these defensive issues are being looked at. A few cards coming our way wouldn't be a bad thing or Jags need to return to form and up-end some RS twat. As sure as night follows day Stevie G will let Everton know he's on the pitch so McCarthy really needs to dig out last seasons form.
It will be a long day this Saturday, so for me, waiting till xmas can go and fuck right off - I want to see better defensive footy now.
Graham Mockford
230
Posted 24/09/2014 at 09:25:06
Phil Walling
You speak a lot of sense. When people where hailing him as the new Messiah, you were one of the few voices in the wilderness questioning such hyperbole.
Now we are getting major knee-jerking after seven games, you quite rightly point out the absurdity of such a position.
There are undoubtedly major defensive deficiencies at the moment but these are the same players who defended well most of last season. Is it form or a systemic weakness? Well I think Roberto did enough last season to earn the right to sort it out.
On an aside, I would take the gamble of 㿞m for Barkley to strengthen the team with three quality players. A risk, yes, but one I'd go for.
Alan Newton
231
Posted 24/09/2014 at 09:32:17
Only half watched the game and switched off after it went 2-0. We never looked likely of penetrating as Swansea looked very comfortable at the back. A total mirror image to Everton and very worryingly we have conceded 17 in 7
There is a very apparent lack of leadership at the back. Howard continues to baffle me. Distin doesn't appear to be his usual assured self and what on earth he was doing for that 2nd goal rather than allowing the ball to drift over his head. If we continue like this, we'll get thumped by the shite and the scum successively. Defenders need to stand up.
Jim Bennings
232
Posted 24/09/2014 at 09:27:25
Saturday is the type of game where McCarthy needs to really start making himself known, I'm going to be major pissed off if I start seeing ancient creasehead dictating that game again.
Martinez needs to say to Macca, " watch a few video's of Joe Parkinson and Barry Horne and follow how the used to play in derbies."
That shit Gerrard has had too much success at Anfield against us, the fucking Mr Liverpool doesn't know what it's like to lose a home Derby hardly, it's about time we inflicted defeat on him, can't believe it's 15 years ago since we last won there.
As stated I just hope Martinez and the players know exactly how much this game means to us all even more so now after this utter waste of a start we have had.
Eddie Dunn
233
Posted 24/09/2014 at 09:26:59
Mike230, My point is that when we have attacked quickly from our own half, we have looked fantastic, I am in agreement with you that the possession based play that seems to be our default aim brings with it problems.
It seems to me that we don't have the craft in the midfield ( including the centre-halves) to play effectively like Barcelona. We have been the architects of our own downfall playing that way in so many games recently.
It would be great to see us play on the counter at Anfield and pick them off for a change!
Graham Mockford
234
Posted 24/09/2014 at 09:41:51
As an aside, if you think we have problems, the RS have conceded 18 in their last two games.
Craig Walker
235
Posted 24/09/2014 at 09:37:36
Dave - I only care about Everton too but there is one constant with Everton. They always let you down. Whenever we get our hopes up we get them dashed. There were contributors on here over summer saying how great we are and what a strong squad we've got. People mentioning top 4 and/or winning the Europa and which should be our priority - as though we're given the right to choose in some kind of gameshow. What is this confidence based on? We've been shite in cup competitions for decades. A couple of months into the season and it's all doom and gloom. The fact is that we are not a top team and neither are we a bunch of donkeys. We're capable of beating any one on their day and playing good stuff. We're also capable of making errors and being appalling like the last two results. No different to how Everton have been for the past 10 years really.
Chris Jones
236
Posted 24/09/2014 at 09:05:47
We need to start playing our strongest 11 at all times as, if you look at the backup, it is just not strong enough, I'm afraid to say. Distin, Hibbert and Osman are now all past it; Alcaraz will never be good enough, and Besic needs time to settle in to the English game.
I am not looking forward to Saturday one little bit as we have not won at the RS in 15 years.
Jim Bennings
237
Posted 24/09/2014 at 09:37:45
Agreed Eddie
Its ok trying to copy the Barcelona blueprint but we don't have players of the class on the ball such as Iniesta, Xavi, Messi, you can only do so much of that passing game with limited players.
The other glaring thing aswell is, when Barcelona were st their peak, their stock and trade was how rabidly hard they would work to get the ball back when the opposition had it, it was almost as though "what the fuck are you doing with our ball, we want it back now" and they would press and press and press the opposition with intensity until they got it back (which usually didn't take long)
Our work ethic off the ball leaves me very disappointed at times I don't know about you?
We stand off the opposition, never hunt the opposition defence down when they have it, it's all too lethargic for my liking.
Tony Sullivan
238
Posted 24/09/2014 at 09:42:29
Some serious over reaction on here to a poor run of results, a phenomonon which happens to all teams. I think Phil Walling has summed up the situation sensibly. See how things look at Christmas.
Tony J Williams
239
Posted 24/09/2014 at 09:54:18
I have decided to have an optimistic day today
Our first XI beat a good German side 4 -1
Our changed side, ie not our first XI, lost to Palace due to three individual errors. These can hopefully be addressed successfully.
Our reserve side lost to Swansea's reserve side, no biggy, lets move on to the next game.
We will certainly play our first XI against the Spawn of Satan at Mordor and most of them have had nearly a weeks rest.
There you go, our first XI won and the changed versions didn't, time for the first XI to return and hopefully win again
(God, I hope Coleman is fit to play)

Dave Lynch
240
Posted 24/09/2014 at 09:44:18
Craig.
Can't argue with anything you say there buddy but something/someone is going to have to change this cycle of mediocrity. I personally don't think it will be Martinez either as (wait for the flack) IMO he is a mediocre manager, better than some but worse than others.
Saying that, the board don't help as our spending power is way below what it should be for a club of our stature and history, the other lot have spent 140 million and look average.
What I am trying to say is? well I don't know what i'm trying to say if that makes sense, i'm just fed up with it all and not looking forward to the next couple of games.
Tom Loughrey
241
Posted 24/09/2014 at 09:55:39
Craig (236) - That's how I feel right now too. And what is it with the luck that the RS constantly seem to have on their side? I just knew watching the pennos last night that they'd come through. Just like they did in the CL game last week when it looked for all the world that Ludo would do them, or at the very least get a point.
My point being, even when they are playing poorly they seem to get some luck that offsets the performance.
Jim (233) - It seems to me like no Everton team since 1999 has known how much a derby win at their place means to the our fans. It feels like their players are always up for it so much, especially Gerrard, Carragher and even Kuyt when he was there. Apart from Neville's challenge a few years back (which was at Goodison I believe), I can't remember a time when our lads looked up for it.
Especially disappointing IMO over the years have been the likes of local lad Baines and Jagielka etc. I think it is generally agreed that the Liverpool teams of the last number of years have been nowhere near to vintage standard, yet they've almost always had out number on the day that counts most.
Does anybody on here genuinely think that our group of players and management can get things right before Saturday and actually go over there and win? The bookies seem to give us some sort of shout with them at 5/6 and us at just over 3/1, but I honestly feel like it will be same old story and that it will be another painful defeat for the Blues.
Needless to say, I hope I'm wrong as I would love nothing more than to win this game on Saturday.
Jim Bennings
242
Posted 24/09/2014 at 09:59:33
Tony
What theory will you come up with by 3pm Saturday afternoon?
My advice is do what you have to do early on Saturday then get home, shut the doors and windows and get some cotton wool/earplugs so you can't hear that lot celebrating our usual Anfield sacrifice.
I will be going out Saturday, I will record the game, find the score our,will watch it later and the highlights on Match of the DDay if we get a positive result but otherwise, it's a game I want nothing to do about, I haven't been able to get up for derbies for 10 or more years, since it's become almost predictable.
Eddie Dunn
243
Posted 24/09/2014 at 10:03:35
Jim, there have been games this season where some of the players have been tigerishly hunting down opponents, but for every Nais or Macca, there is a lazy one (Lukaku,) a weak one (Osman) or one falling on his arse hoping for a free kick (Pienaar). It has to be a collective effort.
The strange thing recently though, is that we make big fuck-ups without a lot of pressure being applied. It's not even been a case of us finally cracking after intensive bombardment. It is to do with everyone knowing their role. Communication does not appear to be taking place.
Howard was rewarded with the captaincy after his howlers against Palace. The jury's out on Robles, but surely this game was one he could have started.
Tony J Williams
244
Posted 24/09/2014 at 10:07:29
Jim, no theories, I will be as mouth foamy as everyone else if the predictable score occurs.
As the first sentence states, I am having an optimistic day today, it's a pretty self-explanatory statement.
Saturday will be a different story. I hate derbies, especially the ones at Mordor.
The optimistic mood won't last until then, trust me.
I am just throwing a positive light on the shite of the last four days.
Peter Gorman
245
Posted 24/09/2014 at 10:15:18
People say that there is an over-reaction to a poor run of results. Maybe, but this is a poor run extending back as far as last season and has no end in sight.
Several posters have touched on it; we don't want to see platitudes from Martinez and the players about "quality in phases" or "no need to panic". We want to see that they are hurting as much as the fans and that they will actually DO something about it.
Tony Abrahams
246
Posted 24/09/2014 at 09:37:26
I personally want to see Everton, win some silverware, but if we had beaten Palace, and lost last night, I don't think the manager would have got that much stick.
To play Hibbert, Gibson, Oviedo, Alcaraz, who have probably played about ten matches between them in 2014. Add Besic and Garbutt making there debuts, Atsu and Etto making there second starts and it's fairly obvious that Martinez, has other matches on his mind.
Losing saps confidence, and it looks like loads have already lost there confidence in the manager. Win Saturday, and most will forgive him, but I still can't believe that we have once again shown so much disrespect for a competition that we could have genuinely won. Football used to be about winning, not prioritising, but then it never used to be dominated so much by money.
I honestly don't give a fuck if we come 16th and win a cup this season. Stop and think, fellow Toffees, wouldn't it be great to see us running round Wembley or Krakow with a cup? So much better than coming fifth or winning at Anfield on Saturday!
Denis Richardson
247
Posted 24/09/2014 at 10:17:49
Wow - a couple of bad results and some people on TW seems to suddenly want the manager gone....some very short memories on here. Granted, the last few results have been pretty shite and our defence seems to be non-existent but I'll give the manager time to sort the matter out. The squad we have now is miles better than the one that was there when Martinez first came - and we're still only played 5 league games!
Its not like we're suddenly being left behind by everyone else either - Man City lost at home to Stoke, Spurs lost at home to WBA, Man Utd lost to Leicester, Liverpool lost to West Ham and Villa on the bounce.....other than Chelsea (who'll finish abouve us anyway) every 'top side' has had a shitty start to the season.
It's not the end of the world – shite results happen and every now and then we will play shite and go through a shite spell – deal with it, it's called being an Everton supporter.
Fingers crossed RM can kick some behinds and get the team pumped up for this weekend.
Richie P Jones
248
Posted 24/09/2014 at 10:29:36
I've been venting my anger like most on here at Roberto (and rightly so), but when he first joined us I told anyone who'd listen that he needs a few seasons at least to build a new team and get it playing.
Along the way mistakes will be made, remember this is his first big club and one that comes with fans that expect, but I think we're expecting a too much too soon. Give him chance!
John Raftery
249
Posted 24/09/2014 at 09:48:02
As one of the people who travelled to Swansea I think most of us expected this result. The performance had all the hallmarks of a Mike Walker effort with too many players not up to the type of game we were trying to play. There were no teenagers in that team. Most of them are, or were recently, international players who should have been more than capable of matching Swansea. There were however mitigating circumstances for Oviedo and Gibson who are feeling their way back and lack match fitness. I thought Garbutt did well while Besic showed some promise in midfield with little support around him. McGeady is just not good enough as was demonstrated by one awful overhit pass in the second half when we had a 3 against 2 on the break. We will look a very different team in the games ahead with Coleman(if fit) and Mirallas providing pace and Naismith linking the front play. I would play Besic on Saturday along with Barry and McCarthy so that we can squeeze the midfield. It might not be pretty but if we play with our usual formation we will receive another hammering.
Brian Harrison
250
Posted 24/09/2014 at 10:26:59
A poor start to the season, so the next 2 fixtures are crucial and may well decide what sort of a season we are in for. Should we pick up 4 points from the 2 games I think most will be reasonably happy, but a draw and a loss or even worse 2 loses and we could be in the bottom 3 before we play our next home game.
The way we are conceding goals must be causing RM some sleepless nights, and as all great coaches say every good team is built from the back. Sadly individually and collectively we are all over the place at the back and even changing the personnel has not had the desired effect.
Peter Barry
251
Posted 24/09/2014 at 10:53:29
Wasn't this supposed to be the season where Everton , with our "so much stronger' squad, moved on to glory days . If so could somebody tell me when 'that' season is supposed to start and if anyone has told Roberto and the players when it starts.
Laurie Hartley
252
Posted 24/09/2014 at 09:45:30
I hate us losing any game but based on the team RM put out against Swansea I reckon he was saving his best players for Anfiled (rhymes with defiled). Â The team to start Saturday will be:
Howard - No alternative
Coleman - didn't play and didn't travel - fresh as a daisy
Baines - didn't play and didn't travel - fresh as a daisy
Jagielka - didn't play and didn't travel - fresh as a daisy
Stones - didn't play and didn't travel - fresh as a daisy
Barry - didn't play and didn't travel - fresh as a daisy
McCarthy - played 30 minutes - should be fresh
Besic - played a full game and will be fitter - also has some mongrel in him needed in a derby.
Naismith - didn't play and didn't travel - fresh as a daisy
Mirallas - didn't play - fresh as a daisy
Lukaku - played half a game will be fitter
Bench
Eto - played half a game will be fitter and will come on and score.
Gibson - played a full game and will be fitter - replacement mongrel should Besic get booked.
McGeady
Distin
Robles
Call me mad but I would take a win against Liverpool every time against a win in the League Cup (including the final) - yes really!
Based on the above I for one have't written us off for Saturday. 
If I am wrong I will be back on Monday with a big plate of humble pie and cyber spoon.
Up the Blues.

Anthony Hughes
253
Posted 24/09/2014 at 10:41:23
On regards to style of play I do feel a little sympathy for Martinez is so far as he has this pass/possession philosophy that he wants to implement but just doesn't have the type of player required to do this. Ok we broke our transfer record in the summer but this money wasn't all paid in one go, there should have been more funds available for the manager to start bringing in the type of players to suit his system.
Unfortunately at the moment we have a couple of centre halves who are complete nervous wrecks in possession and I think we really lack a proper midfield general who orchestrate things from the middle of the park.
Charlie Barrow
254
Posted 24/09/2014 at 11:05:57
Yes the last few games have been very disappointing, to put it mildly, but I think too many people are over reacting by demanding we sack the manager.
Martinez needs to get it right quickly but a win at Anfield and Old Trafford will transform everything! Like a few other posts here I think we have a reasonable chance at Anfield if he plays the strongest team and doesn't revert to the Moyes trick of playing people out of position.
Hope springs eternal!
Tony Marsh
255
Posted 24/09/2014 at 10:58:40
I understand that a lot of the players Roberto has at his disposal are not up to the task but where was the backing from the board in the summer to help build on last season's great efforts?
We didn't invest like all the other clubs around us and this season's stuttering start is a result of that. Southampton sold big and bought big, Liverpool did the same, so too Spurs. Hull City outspent us, FFS.
The Lukaku deal was done on the Littlewoods catologue so really we haven't spent a penny in football terms... WHY?
Do you really think Martinez wants to go cap in hand to other clubs for loan players? It's a disgrace that Kenwright failed to give our superb manager proper backing, and it's a disgrace some of you are turning on Roberto so quickly.
When the likes of Osman and Hibbert are being used to save our first team players, that should tell its own story. Some are slagging off McGeady but he cost less than Falcao's monthly wage at Man Utd?
Martinez over achieved last season in a big way and it has given our fans an unrealistic outlook on what's possible. Let's see where we are after the next two games before we reach for the rope.
At the end of the day, going out last night did us a big favour. We are not equipped to play in four competitions. Simple as that.
Mike Green
256
Posted 24/09/2014 at 11:07:13
Tony #240 - a very sensible post, which if we prevail on Saturday should be reiterated to explain what's going on! Well done.
Bobby Thomas
257
Posted 24/09/2014 at 10:45:14
We have 5 away out of the next 6 in all competitions.
Regarding the league we will have a much better idea what kind of season its going to be after the Villa home game on 18th Oct.
We have certainly backed ourselves into a corner.
Focusing on the league, I am thankfully at the Psychedelia Fest in Town on Saturday so will be swerving the derby. I have no expectation of a positive result. And I would take a point and a clean sheet and regard that as extremely positive the way we are currently.
We then go to Old Trafford on two days preperation. The amount of games we have to play means a good start was very important.
Then Villa at home which has the potential to be season defining. That game could be a nerve shredder. For balance, it could be on the back of two extremely positive away performances.
Realistically though 2 points out of 6, and some defensive tightness, would be good the way we are playing.
The stat above of 31 shipped in the last 16 games, if true, is scary.
Thats bottom 6 material, or worse.
We are currently in a cycle of conceding which doesnt appear its likely to change anytime soon. I personally think theres a massive problem and the way the team is set up and emphasis is all wrong. Its too open and as it stands we will struggle. Its systemic and the players are unsure and getting edgy. I thought the Wofsburg game was a freak result in the context of our season, they were as bad as us defensively and our second half performance was awful.
Roberto says we have lost our defensive intensity and clean sheets are in our DNA.
I personally think thats bollocks and wouldnt mind us getting our shape and organisation back.
I hope im wrong but things could possibly bottom out against Villa on 18th Oct.
Mark Pendleton
258
Posted 24/09/2014 at 11:15:02
I'm livid about this, even more so than the Palace game on Sunday. Should not voluntarily change a winning formula, especially considering we'd shipped so many goals prior to that. The team that performed well against West Brom and then Wolfsburg should have been maintained where possible. As far as i'm aware it was just Coleman unavailable after the Wolfsburg game so in my opinion we should have just brought in Browning as a direct replacement. A home game in a comfortable position in a winning side against a team that's good but not great. But no, we go and break up central defence and Stones is NOT a right back. Barnsley in the Championship is not the same as in the Premier League or Europa League. As for last night i'd maybe then only have changed the necessary, which may have meant Barry out for Gibson and i'd have been happy to see Baines rested for Oviedo or Garbutt. Elsewhere too many changes and a midfield 3, especially one ahead of a pair of defensive midfielders lacking experience and fitness, comprising Atsu and McGeady is not strong enough. Add to that Oviedo who is clearly going to take time to get back to form and fitness and the result last night is as almost every fan expected when they saw the team sheet.
No time to panic? Well, when the manager seems to be making decisions as strange as the defenders the season I think it is. You can argue it's "only" the League Cup or we're "only" half a dozen games into the season but if you do you're a mug because we're contributing to our own downfall and this season could soon turn into a long fight against relegation and out of the Cup competitions.
Brian Harrison
260
Posted 24/09/2014 at 11:15:01
Anthony
Maybe the manager might have been better playing a system that suited the players he had available, rather than trying to teach old dogs new tricks. Also if he wasnt happy with his defensive players he has just spent over 㿌 million surely some of that could have been spent on defenders.
Although I personally don't like this overpassing at the back it certainly so far hasn't contributed to any goals we have conceded this season unless maybe you could include Osmans against Palace as maybe trying to overplay in a dangerous area. But maybe the defenders focus has gone from out and out defender to trying to change their style, either way its not working.
Chris Leyland
261
Posted 24/09/2014 at 11:25:57
Laurie Hartley #253: "Call me mad but I would take a win against Liverpool every time against a win in the League Cup (including the final) - yes really!"
Laurie, you are mad. This is exactly the sort of small-club mentality we need to move on from. I'd take us losing every game in a season to the shite if we then went on and won something.
You are effectively confirming the accusation from shite supporters who say that Saturday is 'our 'cup final.'
Chris Sillett
262
Posted 24/09/2014 at 11:18:46
While the result is disappointing - I stopped listening to the commentary at 2-0 and wasn't surprised to see it ended 3-0 - I think we have to take into account the team that was put out last night. It was a thrown together side of fringe players, players back from long term injuries and ones who had only made one or two starts. The defence included Hibbert who would struggle to get in a League 1 team (2 year contract ffs?), Alcaraz who is a 4th choice centre back and Garbutt who was making his full debut. The midfield included Oviedo making his first appearance after a double leg break, Gibson's first start after a year out injured, Besic's first start and only Atsu's second start. Up front it was also Eto'o's second start. So it was pretty much a team of players that were not properly match fit and still learning our style of play, tactics etc. I think these factors played a huge part in the performance and result. Swansea played a strong team and it was comfortable for them. What I will say though is unless results improve then Martinez will be heading for his first 'crises' as Everton manager and it will be interesting to see how he copes with the pressure.
Laurie Hartley
263
Posted 24/09/2014 at 11:32:10
Chris at 262
Never thought of it like that - I'm looking for my spoon.
But I will be very happy if we win on Saturday.
Cheers.

Chris Leyland
264
Posted 24/09/2014 at 11:31:31
Bobby Thomas, you mention that we have 5 away out of the next 6 in all competitions. I actually think that, in the current situation, this isn't a bad thing.
Our record in all competitions in the last 8 home games is won 3, drawn 1 lost 4, scored 20 conceded 18.
Our Away record in the last 8 (including last night's debacle) is won five, drawn one, lost two. scored 13 conceded 8.
Chris Green
265
Posted 24/09/2014 at 11:48:27
Chris Sillet and John Daley take a bow. At last a little sense. Don't get me wrong, we aren't playing how I thought we would or want. But for Martinez to now be public enemy number one, and one bloke to ask for Moyes's number is a joke.
We praised him last year for this tiki taka football cos it all went swimmingly, and he won't change it cos we have lost a little confidence. it's how he plays, and I don't want him to change it. I want the senior players to buck up and sort their form out.
People saying Howard is shite after his performance. Did you forget his performance against Wolfsburg? he was outstanding. Having been a goalkeeper.. you play there.. make one mistake and you are a twat... forwards mis fire and it's OK.. another chance in a mo.
Lets try and SUPPORT the team, get them back and not start the search for Alan Curbishley to be our next manager! Grief!
Stephen Karnes
266
Posted 24/09/2014 at 11:56:17
I skimmed the comments, but I'm surprised at how bothered by this result people are. I'm glad we're out of this competition. We couldn't possibly compete on four fronts this season and this was obviously, given the team he put out, Martinez's lowest priority. It's also, coincidentally, almost exactly the same team I played in the first Capital One Cup game on Fifa 15 last night. (We also lost). Top ten and win the Europa League and I'll be happy with this season.
Jim Knightley
267
Posted 24/09/2014 at 11:41:41
Yes, Everton will have no chance in the Europa League. This kind of form clearly is not a blip - the 6 weeks of this season tell us much more than the whole of last season. The Ajax's', Benfica's', Seville's' and Valencia's' of football are too much: why don't we just give up now? Given that the top four in the Premier League are better than those who make it to the end of Europa League competition, and that entering Europa League in the future is clearly pointless, because the Wolfsburgs, and Partisans are too good for us, we should probably try to limit our league expectations too. I say let's aim for eighth - we get good money, it's non-threatening, and we won't have to play Europa League football. We could have a go in the FA-Cup to begin with, because there is a chance that all the top teams might knock eachother out, and then we could get to a final against Swansea or Sunderland, and have a chance of winning. Obviously the potential banana skin of Europa League football would arise the following season, but we could just put all our second team in the qualifiers, and then they'd knocked out.
Jim Bennings - interestingly you didn't respond to my response to you, but just kept going with the tried and tested rubbish. I think we need a forward thinking guy like you in charge, rather than this Martinez guy. I'd like to see Routledge and Dyer on the wings, supporting Ulloa like you. That the kind of approach would give us the edge against some of the bigger teams in the Europa League I think.
I started the season with pessimism, but some of the shit being sprouted on here is well beyond me. This is a world cup year and we playing Europa League football for the first time in several years: Strange results will happen. We've got problems, and Martinez needs to prove that he can reconstitute our defence, but the first six weeks do not prove that he is unable to, or that some of these players are not good enough. In Baines and Coleman we have the best full back pairing in the division. McCarthy is a superb dm with the potential to grow, and Mirallas is one of the most dangerous wide players in the division. Lukaku is the exceptional young striker in the Premier League, and Barkley has alot of potential to grow, as does Stones. We are not as good as some were claiming at the start of the season, but we are definitely not as bad as some are suggesting now. This is the idiocy of the moment - the sensationalism of the post-result hours. Everyone needs to calm down, and take stock a little. This team hasn't become the terrible over night. Some of the early league results of Real Madrid, Liverpool, Dortmund, Schalke, Napoli, Bilbao and the like tell you that other big clubs are stuttering. We are too, but it does not mean that we won't find our form again soon.
Chris Leyland
268
Posted 24/09/2014 at 11:57:31
Chris Green - we might as well shut ToffeeWeb down then if we simply all just need to try and support the team as there will be nothing to talk about will there?
Chris Sillett's post was basically a litany of excuses for last night's shambles. Apparently it was only Eto's second start. So what? This a guy who has played over 500 games at the very highest level.
You say that you "want the senior players to buck up and sort their form out."
Well, I want the manager to buck up and motivate those senior players to perform;
I want him to try and organise proper pre-seasons that mean that the squad is ready;
I want him to stop making stupid team selections and tinkering with the line-up;
I want him to stop making strange substitutions;
I want him to focus his training during the week on trying to cut out stupid mistakes (we can all accept that players do make mistakes and the manager can't necessarily prevent these but when they are happening every single game then it is indicative of a wider issue)
and I want him to stop talking about how frigging positive and rosy everything is after displays like last night.
Tony Doran
269
Posted 24/09/2014 at 12:03:01
So those who got involved in a preseason discussion on whether we are the 3rd best team in the Premier League here's your answer. In the same way to much info is dangerous to a women, to many players is confusing in footy. Better when we have fewer players to choose from.
Jim Bennings
270
Posted 24/09/2014 at 11:41:58
It's ok banging on about all this " oh it was his first start or his first start " and "oh it's his first game for months"
The fact is, these players should have been busting a gut to give Martinez a selection headache, to me only Garbutt came out with any real credit from last night.
Alan Williams
272
Posted 24/09/2014 at 12:07:14
Jim, my worry is slightly different than yours: I personally think we have been found out and teams have worked out how to play us both home and away.
Last year at WHU, I spoke to one of their players and the question was asked, "How can you beat Everton today?" and his open reply was, "All week we have been watching past games of EFC and the plan is to press you hard up the field and force a mistake from the back." Apparently OPTA say we make 3/4 per game so this gives the opposition a chance should they take it, this year those opportunities have probably doubled and is evident on the pitch.
The Manager now has to play with his philosophy and adapt to both the skill sets of our defence and the knowledge teams have worked out how to play us. Until now, I haven't seen him address this so it's not a time to jump on his back but my fear is he will be stubborn, just like he was at Wigan – the difference with EFC is we aren't Wigan!!
The Manager now has to earn his wage and this starts on Saturday; if we lose, and lose in the manner we have recently, then he will start to lose the crowd. The next home game, when we play tip-tap at the back against one of our bogie teams who attack fast, he will see or hear a reaction from the paying public. I don't want that and I guess he doesn't but he can't continue changing winning teams then saying "I will take positives" from big embarrassing losses. He rested the team's two top scorers for Palace and Swansea; we lost both games – how hard can it be?
Oh yes, I'm told Ross will be back in full training next week... I hope that's true – we miss his speed.
Daniel A Johnson
273
Posted 24/09/2014 at 12:24:51
What bothers me is that Martinez's remit at Wigan was to keep them in the Premier League. He failed to do that and he failed to do it due to his and his coaching staffs inability to shore up their defence. It's one thing having principles and sticking by them; it's another acting like Captain Ahab.
Is it coincidence that an ex-Wigan manager renown for his team leaking multiple soft goals suddenly finds himself in the same boat in the Everton fold?
I'm still on the fence with Martinez, he inherited a good set of pros well marshalled from the Moyes era and improved them. But maybe only now we are starting to see his true impact.
There appears to be a lack of discipline in defence, we shouldn't be afraid when needs must to just put your foot through it.
Martinez's Achilles heel at Wigan has been his defence; it's ironic it's now ours now too. Time will show if he can sort it out but past history with Wigan indicates he might not.
No manager or fan can predict individual errors, but are they caused by the manager's stubborn ethos in possession football and players who will never ever be comfortable playing it.
Chris Gould
274
Posted 24/09/2014 at 12:31:54
The problem we have is that every opponent's team talk will be basically the same: allow them to pass it around until they get into our final third, then take the ball from them, counter with pace down the wings and cross it into the middle. Watch the goalie or centre backs flap at it and then stick it in the goal. Repeat as often as necessary.
I like Martinez but he needs to have a Plan B.
John Crook
276
Posted 24/09/2014 at 12:35:29
The way this week has gone, no doubt McCarthy or Lukaku has picked up a knock in last night's shameful excuse of a performance. After the West Brom and Wolfsburg wins, it looked like the season was about to start. Even on Sunday we were one-nil up and looked to be cruising and all the other results that weekend had gone our way.
How things have changed since that Palace penalty. Then 48 hours later the Swansea shambles. I am normally one of the more optimistic ones on here but it looks like we are in for one of the worst weeks of being an Evertonian in recent history.
Andy Meighan
277
Posted 24/09/2014 at 12:40:44
Jim (#268), this team has become shit overnight – look at the goals against column... Shocking!
Pete Edwards
278
Posted 24/09/2014 at 12:29:12
Hopefully Martinez gets Joe Royle and Big Dunc to have a few sessions before Saturday to get them well and truly fired up!!!
Keep the faith people
Paul Willis
279
Posted 24/09/2014 at 12:35:36
Nice one Jim (post 268) I resisted an angry post and slept on it and this helped. Bar the usual jammy stuff that goes their way and Gerrard saving his worldy scoring best especially for derby days, I think the weekend game could go either way. Two very intense exciting attacks (Liverpool struggling currently though) versus some very shaky adjusting defences. Defibrillators at the ready!
It's not going to be an easy watch but Wolfsburg wasn't a fluke, although most of their shots were straight at Howard, and the Chelsea game still had me thinking "We can get back in here," right up to the 5th goal which was weird.
The subs were odd last night though. If you want to rest a player, rest him. Surely Kone was better coming on than draining Lukaku any more. I'd rather have wasted Kone in the LC than see him picked ahead of Lukaku in a league game in the next few weeks.
All-in-all whether it's on Fifa or real life, the League Cup annoys me. Causes more fixture congestion than it's worth when you're in Europe too.
Ross Hutchinson
280
Posted 24/09/2014 at 12:08:14
I think some people need to calm down a little bit. Okay, so we haven't had the start to the season everyone was hoping for but I don't think it's time to hit the panic button quite yet.
At the start of the season, no one could have predicted the way our defence has capitulated. Last season, we had the 3rd best defence in the league and it had been the back bone of the team for the last 5 years or so. This year we started with the reliable and trusted partnership of Jagielka and Distin but to cut a long story short, have shipped to many goals. Martinez, has tried to change it and seemed to establish Jagielka and Stones as our 2 CB's since they started 2 games in which we both won. Martinez then tried to change the formula against a lowly placed and without a win Crystal Palace at home which we unfortunately lost and then change it again for Swansea in the Cup which we also lost.
I do believe that these changes were strategical to see how different CB partnerships can handle 1st team and competitive attacks because you don't get that on the training ground or at reserve level. I also believe that these changes were required to rotate the squad and give valuable playing time to players without 1st team experience this season.
I know the last 2 results have definitely not been desirable but we were in 4 competitions this season and out of all of them, unfortunately the League Cup is the least attractive and less prestigious than the others and can be surrendered.
As for Saturday and the Derby, I can see the partnership of Jagielka and Stones returning as well as our strongest line up.
Liam Reilly
281
Posted 24/09/2014 at 12:45:00
A little perspective is required here. If we'd have beaten Palace on Sunday then we'd be in a healthy position in the league and sitting pretty in the EL group. Would anyone be really bothered about this competition.
Yes its a trophy, but its a route to the EL which we are already in, so let's enjoy it. A good result at Mordor and the optimism will return.
Andrew Ellams
282
Posted 24/09/2014 at 13:00:06
Liam, we didn't beat Palace, that is the issue here. So, with that logic, we finish 18th in May (I don't think we will by the way) and go down on goal difference, you can look back and say "It's not all that bad. If we had beaten Palace, we would have stayed up."
People are pissed off because we got beat by Palace and why we got beat by Palace and the fact that we were completely toothless at Swansea last night.
Anthony Lamb
283
Posted 24/09/2014 at 11:45:33
Just one point to add among the very many that have been aired here is this mantra about "giving players game time". I did not see the game last night but if this approach is in fact true I would just like Mr Martinez to explain, with his side losing 2-0 with 10 minutes or so remaining, he brings on Osman and leaves Kone on the bench? What happens then to this "giving recovering players some game time"?
Was he hoping to discover a hidden aspect of Osman's game namely as a hitherto lethal goalscorer? Why did he bring McCarthy on earlier? Surely Kone needed some time? What on earth is he doing on the bench then?
It is all part of this professional double-speak that needs blowing open. It even gets people to accept the nonesense that players need resting - after 5/6 games of a season! This is not the case of a local club team needing encouragement etc. These are obscenely overpaid so-called professional players/managers who have nothing else to distract them from the task at hand.
Are the occasional two games a week so demanding? The answer in truth is certainly not and we should stop even giving it breathing space in any sensible analysis of the current situation. I fear that Mr Martinez illustrating this nonsense with his recent selection, particularly against Crystal Palace, could well be a watershed in his Everton career.
I sincerely hope it is a lesson which leads him to play his strongest XI in every fixture unless injury/form or very specific circumstances dictate the minimum of change. This pandering to the modern footballer has to stop.
Jeremy Robbins
284
Posted 24/09/2014 at 12:50:03
Disappointing trip to Swansea, yes it was 'only' the Capital One Cup but thought the whole approach to the game was very poor.
The only positives I can take from it was that it highlighted the players who just are not good enough...
- Hibbert: Did not see him pass the ball forward once during the entire game, could not tackle and constantly let their wingers past. Very very poor game:
- Distin: Never looked comfortable, poor distribution and WTF was that diving header all about?
- Alcaraz: Never confident when he plays, did nothing good all night and panicked when closed down.
Of the other newbies (Besic, Garbutt, Atsu) need more time to settle in, but cant see when they are going to play regularly.
I thought McGeady did okay but not enough. In his defense there was not much in the box for him to aim at when he did get past the RB
Needed Super Kev rather than Osman to come on with 20 minutes to go.
Over to you Martinez, show us why you rested players for Palace.
Nervous Derby once more coming up (for both teams!), please please can we start with more intensity than the Red Shite for once!
Oh yeh and that bloody drummer!! Was bad enough from where I was sat, imagine if you were stuck next to him every game!
Gavin Johnson
285
Posted 24/09/2014 at 12:49:59
Phil Walling (219) A very restrained post from yourself. I never thought I'd hear you being the voice of reason where Bobby is concerned. But what you said is on the money. (It's still early days and we need to wait until Xmas to see how results pan out before we throw the baby out with the bath water.)
I'm trying to me more pragmatic about last nights result. I wanted the LC to be a competition to play the likes of Garbutt, Besic and usher Gibson, Oviedo and Kone back into 1st team contention. So on the face of it I don't think we can complain too much about the result against a competitive Swansea side. My main grumble would be that playing Hibbert and Alcaraz doesn't show us anything new. Browning should have played rather than Alcaraz and anyone instead of Hibbert, who was pinpointed by Swansea as a weak link and should just hang up his boots now. If we'd have been playing lower league opposition last night, the rag tag team selection of veterans, youngsters and half fit players may have got away with it, but I think it was an experiment too far against a good EPL side. As it was against Palace changing the whole midfield from the Wolfsburg game.
So to sum up while it's never good to lose 3-0 I don't think we can be too surprised with the result. Bobby as the manager should have seen that result coming and should have tweaked the team according to the level of the opposition. Ultimately the Europa has got to be prioritised over the LC. I just hope that the rotation in these fixtures isn't so radical as what we saw last night; changing the whole defence, midfield etc etc
Chris Leyland
286
Posted 24/09/2014 at 13:13:48
Liam Reilly "A little perspective is required here. If we'd have beaten Palace on Sunday then we'd be in a healthy position in the league and sitting pretty in the EL group"
How about we try: "a little perspective is required here, if we had managed to hold on to the lead twice against Leicester, then managed to defend a 2 goal cushion against Arsenal with less than 10 minutes left, not conceded twice in the opening 4 minutes against Chelsea and go on to beat them, and then won against Palace, we would be sitting top of the League with 15 points and a 100% record now."
Fact is that none of these things happened and we did lose to Palace.
Liam Reilly
287
Posted 24/09/2014 at 13:15:48
Anthony,
RM is quoted on the OS as saying that although Oviedo was ready there were fears over Kone's fitness for 11 a-side competitive football.
I'm speculating; but I'm assuming he was on the bench just to give him the feel back for the atmosphere at these games and maybe would have brought him on if we were sailing through.
If there were any doubts; then there was no sense in risking him in a game that was already lost.

Trevor Thompson
288
Posted 24/09/2014 at 13:15:26
I don't believe all this giving players game time, either. Kone didn't come on so that blows all that nonsense out of the water. Also, we really needed the win for confidence and consistency. A loss to Liverpool and Man Utd and we're going to go into games seriously lacking confidence, which will inevitably lead to more mistakes. The next two league games will see what Martinez is really about.
Liam Reilly
289
Posted 24/09/2014 at 13:19:42
Jesus Chris- or are you the merchant of Doom in disguise?
It's early days for Christ sake. the point I'm trying to make is that although its been a shit start to the season; one result would throw a completely different light on our situation and let's hope that result come on Saturday.
Chris Leyland
290
Posted 24/09/2014 at 13:19:30
Ross Hutchinson "Martinez then tried to change the formula against a lowly placed and without a win Crystal Palace at home which we unfortunately lost"
There was nothing unfortunate about it. Palace had a game plan and it worked a treat. Let's think back to the last time Roberto "tried to change the formula" in a league game; Oh yes, it was Crystal Palace at home in April and what happened then? we lost 3-2.
Fool me once, shame on you. Fool me twice shame on me.
Paul Smith
291
Posted 24/09/2014 at 13:39:10
I wanna see as us playing as many games as we can in as many comps as we can. Simple as! That way I get to see the team I love to watch, more often. No brainer!
The Summer was torture, only ameliorated slightly by a mediocre World Cup.
The team has to come good, starting on Saturday. If not then we'll cross that bridge when it happens.
Chin up everyone. WHP
John Voigt
292
Posted 24/09/2014 at 12:32:06
I'm not in a state of panic. Results have not been up to expectations, but there are positives to the start of the season.
Everton's record in 5 EPL games an a Europa League game agains a quality German side is 2-2-2. Everton has scored at least 2 goals in every one of those games.
Everton looked great for 80+ minutes against Arsenal (and then gave up 2 goals in the last 10 minutes). The result was gutting but the team played really well for most of the game.
Given the choice between fixing the defense or trying to find a way to score a reasonable amount of goals I choose fixing the defense (and Everton are on pace to score many more goals than any of the past 10 seasons including last year's team that finished on 72 points).
Have any of you noticed that of the teams that finished in the top 7 places last year only Chelsea have won 3 or more games out of the first 5??? Wins in the Premier League have been hard to come by for not just Everton, but Arsenal, both Manchester teams, Liverpool and Spurs.
What this team needs is support (and not endless criticism). I thought the team showed a lot of character in the Chelsea game after going down 2-0 early. I don't see a team that has given up (and again they looked good for most of the Arsenal game).
The easiest way to lose your players as a manager is to publicly criticize them. I don't expect Roberto Martinez to single out players publicly if they make a major mistake. What we don't know is what Roberto is saying to the players in the dressing room and during training sessions.
I agree with what Roberto Martinez did this summer. He had the chance to buy a striker who scored 17 goals in his 1st Premier League season and 15 last year. Lukaku is a raw talent, but he is a raw talent that scores. Carrying a toe injury he's got 2 goals and an assist through the 1st 5 Premier League games. If Lukaku's 1st touch was always golden he'd be a 20-25 goal scorer and he wouldn't be in an Everton jersey. I accept the fact that he's a work in progress, but most work-in-progress #9's don't score 15+ goals a season (so give the kid who's 21 years old and has scored 34 Premier League goals some slack).
Eto'o was a great addition to the team. Everton have better #9's than Arsenal or Spurs.
I don't think Everton are to far off from finding their form. They do need to avoid the injury bug. In their last game Coleman not being available had Martinez start Disten/Jags as the center back pairing and had John Stones play right back. Right now this isn't ideal. Coleman needs to stay healthy and Stones needs to play center back (but that wasn't in the cards).
Finally, I'm not going to waver in my support to both the players and Roberto Martinez. They do need to figure out some issues and I think they will.
Trevor Thompson
293
Posted 24/09/2014 at 14:06:03
On reflection, we're not shite but boy do we like to make individual mistakes. Distin's, yesterday was a prime example -- absolutely mind-boggling. If we hadn't made so many individual errors we'd be probably 3rd at worst. The mistakes are coming from the old guard as well so I'd like to see them dropped and play some of the youth players.
Chris Green
294
Posted 24/09/2014 at 14:03:08
Chris Leyland, and if you had read my post you would have seen that I started by saying that we aren't playing how I would like. So clearly there is a lot to talk about. But you aren't talking, you are slagging and there is a difference.
Clearly you want the best team to play every game, to roll out the best players in 847 games we will have this season and to not pick up injuries, not try new players, not give others a chance and then see where that gets us.
I am not saying Martinez hasn't made mistakes, and like one of two more level headed posters on there, agree that he has work to do.
The results haven't been great and the defending worse at times, and letting good positions slip isn't great. But lets put it in perspective.. we are 5 games in... we have a good team with a couple of players not playing to potential. Lukaku will get better, Barkley will come back, Coleman will get fitter and we have cover in all positons (not that you want cover, as playing anyone other than first choice is clearly a daft idea).
All I meant with the support the team was this total hysterical reaction to a loss in the least significant of the four cup competitions, isn't going to help. And before people jump on me, I know it's years since we won a cup etc etc.... but face it.. we don't have a squad deep enough for all 4.. so you prioritise.
I trust Martinez, I trust our players. As John Voigt said above, they have some issues to fix and I think they will. Last year they were world beaters.. what a difference in support in 3 mths!
Tom Oliver
295
Posted 24/09/2014 at 13:47:15
Why so much with the panic?
I know it's a big IF, but bear with me: if individual players hadn't shot themselves in the foot, or we'd had a bit of luck, we'd have beaten Leicester, Arsenal and Palace. That doesn't mean Everton are amazing, but equally: silly mistakes and a bad start doesn't make them awful. Are Villa and Saints going to be in the Champions League next year?
If Martinez was the finished article, would he be the Everton manager? Did Bill also interview Mourinho? We have to be a bit realistic about what we expect from Roberto, today at least. He does make mistakes, but so did Moyes and Davey stopped progressing once he became too set in his ways to try something different. Martinez is learning and we should be patient or go home. He's gambling and losing right now, but surely we can give him a little rope to experiment and learn from mistakes?
It's not like we started last season on fire either. All the people on here complaining about over-passing should remember what last season was like at the start. It took them a while to get into their stride. It definitely didn't help that Howard, Baines, Jagielka and Coleman started the season behind on fitness.
Martinez needs to find a more pragmatic Plan B – we all know that – but his Plan A came good last season once teams started to tire and once Everton hit their stride.
Nobody was complaining when we went to Arsenal and tore them apart for only 45 mins. We came away a 1-1 draw – but we could easily have lost that game despite all the flirting in the first half. Nobody was complaining when we won 1-0 at Old Trafford thanks to Oviedo's slide-rule finish – but we could easily have lost that game too but for Man Utd's poor finishing. It's fine margins, and this year, so far, individual errors have pushed the needle in the wrong direction.
Panicking and raging, five minutes after the best season in many a year, is a bit of a goldfish reaction. I want to punch something after these results, but we're not the only team with a World Cup hangover and we wouldn't be the first team to recover from a poor start to have a great season. The results will certainly turn. Hopefully this weekend. Either way, while pointless negativity might make you feel better in the short term, it's completely useless if you want to see things turn around.
Chris Green
296
Posted 24/09/2014 at 14:49:14
Well said Tom Oliver!!
Alex Rowe
297
Posted 24/09/2014 at 14:37:40
I am probably a bit late in the day with my comments but being based over in Oz I have only just managed to watch the evening replay of the game.
I don't usually comment just enjoy the commentary of others on here but after watching that game I am feeling so angry with that performance. I have been a big admirer of Martinez and they way he had us playing last season but what I have just witnessed is the most inept performance I have seen from an Everton team for a long time....and I have been able to watch almost every game for a few season now.
I don't remember a single chance on goal we had in that whole game. We didn't press them at all which gave them way to much space to pick their passes. Shelvey ran rings around our midfield because of this all evening. People blame individual mistakes over the last few games but we wouldn't put our defenders in a position to make these mistakes in the first place if we didn't give the opposition so much time and space on the ball to get in into dangerous areas so often. Without the ball we look a completely different team to last year and I just don't know what has caused that but it is really worrying.
The substitutions tonight were also totally baffling. Oviedo was clearly struggling with the pace of the game in the first half and Eto'o looked about the only person how could pick a pass out so why he was the one that was taken off for Lukaku I have no idea. The when Oviedo was taken off to bring on a defensive midfielder on when we crying out for some attacking pace and flair like Mirallas had me shouting at the TV.
The last substitution was the final straw for my frustrations. To bring on Osman and leave all three of our defensively minded midfielders on when were chasing the game for the final 10 mins just felt like Martinez didn't care if we won it....in fact it looked like we were playing in a friendly match all night, just the opposing team didn't feel the same way. We never looked like even troubling them all game.
Last part of my rant, what is with McGready. He gets the ball, moves his feet really quickly but then produces absolutely nothing. The end result is either failing to find a team mate with a simple 5 yard pass or running straight into the defender, both resulting in us losing possession. One moment of magic every few games with the rest of what he produces being absolute gash is not good enough. Right deep breaths and rant over.
Ciaran OBrien
299
Posted 24/09/2014 at 15:13:58
I havent posted on here in a couple of years but I think are problems are in the short term. We are simply going through our bad patch now, which is better than later in the season when we are challenging.
I would have loved for us to win this cup but clearly with the team Bobby put out, this game was a game to get our injured players fit. I am pissed off just like the rest of you with how are season has started and that we didnt sign a hard bastard at the back this summer. However, we need more than that for the future. We need a proper defensive midfielder, a playmaker so our play is not reliant on our wingers and full backs, a new keeper and a younger pacy strike, but that is for the next couple of windows.
I still think that we will still finish in the top 6 because Spurs are shite, United are shite in defense and the SHITE are inconsistent, don't have Dracula and havent sorted out their defense. The only teams guaranteed to finish in the top 4 are City, Chelsea and Arsenal.
Lets start to back Bobby and the boys and judge them until Christmas. Lets back them on Saturday and hopefully finally thrash the Orks across the park at Mordor at their place. If we beat them their it could kick start our season. Though Stones and Jags should be our centre halfs now.
Bill Griffiths
300
Posted 24/09/2014 at 15:22:39
Tom(296), I'm glad there's others on here who think like I do. I despair when I read some of the posts on here slagging Roberto off. I hope most of it is knee jerk reactions and that when they calm down they can see things in a different light.
He needs to be given time to bring his long term aims to fruition.

Philip Mannering
301
Posted 24/09/2014 at 15:33:34
I concur, Re John Voigt and Tom Oliver's comments
It is a reflection of our new found expectations here at Everton. We have to somehow turn these expectations into a healthy reflection and not negative 'go'.
Ha, this is football, who am I kiddin'?
Geoff Evans
302
Posted 24/09/2014 at 15:50:43
Deeply worried!
Will Firstbrook
303
Posted 24/09/2014 at 14:25:37
As many have concluded, yesterday's match appears to have been nothing more than a training exercise for the recovering sick notes and an opportunity to blood in the new recruits and young lads. So if yesterday's match was truly for this purpose, then why not sub in those types as opposed to bringing on Lukaku & Macca? Both of whom we will need fresh and fit for the battle this weekend (and I pray it is a battle!) Yes, Lukaku and Macca are young and SHOULD be able to handle the additional playing time but I would have lost my lid if either ended up injured in a match/cup that management had deemed unimportant from the start.
I agree it is not the Everton way to capitulate (at least the Everton I know) and I would hope the Club would have more respect for the traveling fans than that. God knows we are desperate for silverware and turning one's back on any opportunity for it is hard to swallow. However, the realist in me knows we cannot adequately battle on all fronts with the current squad. Having said that, Europe is not going to get any easier. We clearly caught a Wolfsburg team low in confidence while enjoying a rare rub of luck on that night. That will not happen often (if again) as teams begin to figure us out. And let's be honest, it's not rocket science to figure out where our weaknesses lie!.
It's never easy with our Club. I stand behind the lads and manager to put it right but that doesn't mean I will stand by and tolerate performances (manager and player alike) that I believe are not fitting of the blue jersey.
Jimmy Kelly
304
Posted 24/09/2014 at 15:59:35
Tom, I agree with your main point but what you say is not strictly true.
There are those on the board who weren't quite as carried away as some by the performances and results, many of them were ridiculed or even abused for not believing we had the second coming as a manager.
Some of those doing the ridiculing are now calling Martinez all sorts, while those who pointed out the problems at the time are advising to be patient. I guess some people see the bigger picture for good or bad while others can't help but jump to knee jerk conclusions.
Max Wilson
306
Posted 24/09/2014 at 17:26:30
My mate Chris and I
Mike Gwyer
309
Posted 24/09/2014 at 17:05:39
Well thank fuck for that! Now I'm in the know, I'm fully aware that last night game was nothing more than an opportunity for RM to take a good look at Gibson & Oviedo and as it worked out, not Kone.
A good opportunity for RM to watch Hibbo and realise that the additional 2-year contract deal he signed, was as good as winning the lottery.
A great opportunity for RM to watch 1,200 Blues, who have travelled half way across the country, spend in excess of 㿼 quid each, and then have the pleasure of watching him run a training session and a Swansea team giving them a lesson in football.
It would have been far easier for RM to advertise an open day at Finch Farm, it would have saved the 1,200 blues a bucket load of cash and about 10 hours travel time.
Tom Owen
310
Posted 24/09/2014 at 17:12:21
To be perfectly honest, I was actually encouraged when I saw the lineup. Yeah, it seemed entirely obvious that we'd struggle, but it's the League Cup; at least with Martinez we seem to finally have clarity of vision with respect to which competitions we are actually taking seriously.
In the Moyes era, squad rotation seemed to consist of giving a couple of young ones a go in an otherwise unchanged side and ending up losing half the time anyway. Here we had only 3 (McGeady, Distin and Howard) starting from the team that won at WBA and gave playing time, against decent opposition, to the players (Oviedo, Besic, Garbutt, Gibson, Atsu, Alcaraz) that desperately need it if we are going to compete in Europe and the Premier League simultaneously.
Given our relative lack of squad depth, getting a naff competition out of the way early on is really not something I'm going to cry about. At the end of the day, if (and I appreciate it's a big if) we get a result against the Shite at Anfield with a rested first team, somehow I think all the panicking moaners will be keeping quiet.
Max Wilson
311
Posted 24/09/2014 at 17:27:01
My mate Chris and I were there. When we saw the team selection we decided RM was'nt interested in the competition – so many changes, seven! We thought we'd see Robles but no there was Howard and Distin in front of us, who both went onto have another bad game.
The first goal by Dyer was from a cross in front of goal, Dyer left Garbutt standing, charged forward and his shot squeezed just inside the right hand post, Howard was on it and should have stopped it we thought! He complained to Distin who had not come across to block. Garbutt went onto to play quite well we thought.
We never managed to get a decent ball into their last third except after half time, when, suprise suprise on came Luke, who blazed over the bar just after he came on but then never got a decent pass for the rest of the night. McGeady was ineffective apart from one hopeful shot over their bar and was replaced by Ossie who tried to liven the lads up.
The second goal was a laughable piece of comedy from Distin who under pressure headed against our bar, it rebounded and the nearest Swan just tapped it in.By now we looked ragged and beaten. The third goal was a gift, Emnes took a pass and charged towards goal and our boys just watched him, Howard did'nt charge out to close him down and in the ball went. We thought Oviedo, Garbutt and Gibson were our best players. Alcaraz and Besic so so. Atsu was too slow, Tony Hibbert was easily beaten by their left winger Montero. McGeady looked useless. It was awful to see the faithfull trooping out into the rainy night after the third easy goal. Ossie and Tony played on manfully to no avail. On the way home in the car we listened to some ridiculous comments from RM about some things to be pleased about!
Brian Hennessy
312
Posted 24/09/2014 at 18:08:59
Not overly bothered with going out of the League Cup particularly as we have the Europa League to deal with.
We have played some really good football so far this season but it is really worrying the amount of individual errors our defenders/goalkeepers are making.
Fingers crossed that this run comes to an end this Saturday afternoon...
Harold Matthews
313
Posted 24/09/2014 at 14:35:28
Apart from the mind- boggling Mr Magoo stuff at the back which no manager on earth could anticipate, I've seen one or two things to help ease the pain.
Our first team attack, including the much maligned McGeady, has looked mighty impressive.
Mirallis is playing out of his skin and is becoming more of a team player.
Stones, who I've always knocked, seems to be a fine CB prospect.
Despite his over vigorous tackles, Naismith has become a valuable member of the team.
McCarthy is beginning to look much more than just a hard working tackler.
Baines and Coleman are the finest attacking fullback pair in the league.
Eto'o is gradually getting fitter and has moves we've never seen before.
Oviedo is still miles away from his best but it's great to have him back.
Besic is a talented prospect with a fighting attitude.
Gibson was very rusty and struggled defensively against Swansea but his attacking link up play in the final third was quite impressive, especially late on.
Garbutt still has much to learn but showed promise for the future.
Will Firstbrook
314
Posted 24/09/2014 at 18:34:49
I have to admit, I am finding Roberto's post-match interviews of late to be quite painful. I get the manager needs to find positives and put a decent spin especially during difficult runs but there are times when you need to admit when your team has shat the bed. You don't need to call people out by name but it's worrying, if not insulting, that he fails to acknowledge the white elephant in the room.
Are the player's confidence that shattered that he's afraid inflict even more damage? Christ, we need to bring in an army of shrinks!!
Brent Stephens
315
Posted 24/09/2014 at 18:42:36
Harold #314. Love that analysis and optimism. I don't disagree.
Those individual parts sound good. My only concern is that a team is more than the sum of its parts and I think we can all see that something isn't gelling as a totality. Let's mix up the tactics. Let the guys play as their intuition tells them not just as the (mechanistic) plan says on paper.
Linda Morrison
316
Posted 24/09/2014 at 18:53:50
I'm with Harold on this.
We need to accept that this season for us to finish in the top half plus hopefully a cup is where we are at
Brent Stephens
317
Posted 24/09/2014 at 19:05:42
Brian #309 what's this knee-jerking?
Sam Hoare
318
Posted 24/09/2014 at 19:07:07
I have to say that player recruitment looks an issue to me. 㿞m almost on Lukaku, McCarthy and Kone. Perhaps in time that will look like money well spent but right now I'm not so sure that other areas might have been addressed; notably a solid CB and GK.
I look at our squad and it's hard to see a CL contender. Perhaps in a few years when the likes of Barkley and Stones have hit higher levels and Distin, Osman been replaced but right now I'd say we are an upper mid table team who may fall lower if the individual mistakes and questionable organisation continue.
Ian Bennett
319
Posted 24/09/2014 at 19:02:09
The squad selection clearly shows to me that the squad isn't as deep as we'd like. You can get away with carrying one or two, but adding in players coming from injury, those over the hill and those who ain't good enough or untested is stretching the core to the limit.
I am really disappointed that Roberto was pleased with players coming back blah, blah, blah.
I'd bucket our squad as follows:-
A) First team core - Coleman, Mirallas, McCarthy, Naismith, Lukaku, Eto'o, Stones - just 7.
B) Form below par / on the slide - Howard, Jags, Baines, Pienaar. Buck your ideas up or you'll be in group C. Critical to find form given fixture demands. The harder would stick some in C if we had some cash kicking around. Baines might be harsh, but he isn't the player of pre injury IMO.
C). Finished - Hibbert, Distin, Osman, Alcaraz. Wouldn't lose any sleep if they never pulled on a blue shirt again. Last night was the night of the long knives for me.
D). Injured - Gibson, Oviedo, Kone, Barkley. Really need them back, but it needs to be sub games otherwise we're carrying players. Starting games and expecting to win is just pure madness.
E). Kids/ untested - Besic, Garbutt, Browning, Atsu. Not convinced they are ready to be pitched in just yet. The side can't carry these just yet on top of everything else. Again introductions from the bench.
F). Good enough? McGeady, Joel. Subs at best.
Andrew Ellams
320
Posted 24/09/2014 at 19:39:59
Linda, hopefully a cup. Last night dented the chances of that a little bit...
Iain Johnston
321
Posted 24/09/2014 at 19:41:15
No other manager has played Atsu on the right nor does McGeady usually play on the left. Is there some dynamic or phenomenal secret we don't know about?
For Liege, Lille, St Etienne and Olympiacos, Mirallas played as a striker, again why must we be different?
I fancy seeing Atsu at left wing with McGeady on the right with Coleman as the ROI do plus Mirallas up top with Naismith behind. It can't be any worse than what we have now.
John Voigt
322
Posted 24/09/2014 at 19:41:52
Ian (#320), Roberto Martinez is NEVER going to badmouth players in interviews! Would you??? My opinion (and RM's) is it doesn't do anything positive.
RM's interviews after matches are not going to really give a whole bunch of insight to what is really going on. That's OK...
Do you want RM to talk bad about certain players and tell the world, "I'm dropping so-and-so and he'll be lucky to make the bench"???
Managers of teams that will be facing Everton in upcoming games would love to know which players are not likely to see the field. It is in RM's best interest to keep his cards close to the vest when he's talking post match.
My list of valuable Everton players is much larger than Ian's. I think Baines (who starts for England) is highly skilled and a true asset. Garth Barry is another high class player. Jags starts for England and I don't think he's washed up...
To me something that really carries weight is that Roberto Martinez decided this summer to sign Lukaku and Barry to permanent deals and signed the most promising Everton players to extended contracts (which cost a lot of money that could have gone to signing new players). Ask Spurs fans how signing a bunch of players from outside the Premier League with the Bale money worked out. I think investing in your own best players is often superior to signing a bunch of new players you truly don't know everything about...
The fact that the only player of note that has been sold last summer and this summer was Fellaini (for the astonishing sum of 㿈 million) shows to me the players want to be at Everton and want to play for RM. Every team wants players that are fully invested in the team and a culture has to be created where players want to come (and stay). RM has done this and the signing of Eto'o is a perfect example. Eto'o isn't playing for Aston Villa, Newcastle or Stoke City. He wants to play somewhere in the Premier League where the team has aspirations and a manager who plays an attractive style of football. I bet if you asked Eto'o if he's enjoying his time at Everton, the answer would be a quick Yes...
The fact that RM has raised the bar as far as expectations goes is truly positive. If individual mistakes cost us points, that's the rub of the green. Everton could use a few good breaks to balance the bad breaks that have occurred so far this season...
Name me another team with Everton's resources that attempts to go toe-to-toe with the big money teams (my opinion is there isn't one).
I expect this weekend game with Liverpool to be a cracker of a game and the Everton team will be setup to take the game to Liverpool. Win/Draw/Lose that's good enough for me.

Gareth Fieldstead
323
Posted 24/09/2014 at 20:04:13
Awful; if Sturridge is fit on Saturday it could easily be 5 or 6. Cannot get my head around his line up last night. He clearly wanted out so why didn't Kone get a run out? Why did he not save one of Gibson or Besic for Saturday?
As for McCarthy, ever since Man Utd let it be known they were interested, he hasn't been the same player. I hope Coleman is fit, the thought of Hibbert at right back or Stones to fill in allowing Distin to play at centre back doesn't bare thinking about.
I cannot believe a season that promised so much is already coming apart. Interesting if we are still in this position come March will Kenwright have the balls to do something about it
Ian Bennett
324
Posted 24/09/2014 at 20:41:01
John 323 - I don't expect him to slag anyone off in the press, but I do expect him to make a mental note of those who are letting him down and be ruthless.
Brian Waring
325
Posted 24/09/2014 at 21:20:19
Brent, Martinez took us too 5th in his first season, we had the third best defensive record,also a premier league record points haul for us.
Now after a FEW games into his second season he is being slated to death, and his management style is being questioned. Don't get me wrong, I'm well cheesed off with things of late, there have been baffling substitutions, tactics etc... but some of the reactions on here are OTT.
"This is all going pear-shaped, does RM really have a clue"
" I didn't want him in the first place with his blindingly obvious record with Wigan."
"I have no confidence that RM is the man to sort out a rapidly sinking defence."
"Enough is enough, Martinez – fuck off back to Wigan before we are embarrassed any more! "
"The Spanish Mike Walker – need I say more?"
"We cannot risk relegation from the Prem... Martinez must be told he has until Christmas to get some stability back onto the pitch."
Brian Waring
326
Posted 24/09/2014 at 22:05:13
Also Brent, there was a lad on talkshite last night who was predicting we will be relegated by Christmas FFS.
Mark Revill
328
Posted 24/09/2014 at 22:32:36
I am completely shocked by how poor our defending has become but equally knew that we needed to strengthen our defence in the summer which we didn't. We have had a solid defence for the past few years but just like any team and any area of a team you need to keep building and reinforcing. You cannot just keep expecting players to perform like they did 2,3 or 4 years ago especially as they get older.
In the summer, as well as bringing in a quality striker, Roberto should have brought in a top notch CB not just to give Jags and Distin competition but to actually take over and form a new pairing with Stones. I just can't for the life of me understand why Roberto didn't. It makes no sense.
I'm not panicking, I'm just very worried at the alarming rate we are shipping goals. Where's Dave Watson!!??
Brent Stephens
330
Posted 25/09/2014 at 09:10:36
Brian #326/327, in asking what is meant by "knee-jerk reaction", I was really having a pop at the use that term, as it seems to imply people haven't thought about it and it's purely reflex, which I guess ain't so.
Seems to me some people say "knee-jerk" when they disagree with what somebody has posted as an opinion just after a game (or, as you say in your post, just after a few games), implying that is too soon to draw a conclusion, made a prediction. But it seems to me that some others are drawing opposite conclusions, making opposite predictions just as soon after a game or a few games, which then could be seen as equally knee-jerk.
Off course, some comments may seem over the top, such as predictions already about relegation, so they might be premature and "knee-jerk". I don't subscribe to all the OTT examples you give (though I don't disagree about the ones asking if he has a clue or saying they have no confidence).
Just don't like the term "knee-jerk".
Dan McKie
331
Posted 25/09/2014 at 09:41:06
Correct Brent, it is also knee jerk to suggest this is only a blip and that Distin is right to tell us 'Don't panic' right before we go out and concede another 3 goals. They know as much as the folk that are saying we are doomed to relegation.
Having a decent squad, which we do have, doesn't mean we can drop everyone who usually plays and play 11 strangers in relation to competitive matches. We did that against Swansea, and to a lesser extent, Palace, where Lukaku suddenly had 3 players behind him who hadn't played together (1 being a striker playing out wide, welcome back Moyes) and also, weren't at the fitness levels of those they replaced. Of course though, we have all been told for so long that the likes of Mirallas, McGeady and Naismith, athletes in their 20's couldn't possibly play Thursday AND Sunday (although 33 year old Barry could hmm).
Our manager is too busy trying to play the tactical genius, when really as we are all starting to see, he only has 1 tactic, 1 formation, and for years we called Moyes limited. Will he change on Saturday? Or will he have centre backs whose confidence is shot to pieces, tapping around the edge of our box whilst the opposition press us high until we make a mistake, which as sure as night follows day, we will.
Chris Gould
332
Posted 25/09/2014 at 10:26:27
This season is proof that anyone in the Premier League can beat anyone else. I don't care about the Swansea defeat but I am still smarting from the Crystal Palace match. However, I take solace in the fact that Tottenham, Liverpool, and Man Utd also lost.
I think it's going to be a season full of unpredictable results and we have to accept that we may be on the wrong end of a few. But I do believe that we will be amongst the top six come the end of the season.
Our pre-season was an almighty balls up and we have paid a hefty price. Liverpool and Man Utd away from home are perfect for us right now. The players are more aware than anyone else of their recent poor performances. These games are just what they need to get the juices flowing and get their concentration and focus back. I expect a performance to be proud of on Saturday. I think many on here will be pleasantly surprised.
David Ellis
333
Posted 25/09/2014 at 10:52:35
John Voight 323- great post (and great daughter!)
Russ Quinlan
334
Posted 25/09/2014 at 11:14:22
If Tim didn't have his head on upside-down, he might have played better!
GET A SHAVE!!!

Brent Stephens
335
Posted 25/09/2014 at 11:07:23
To some extent I think Roberto had a difficult task in selecting the starting XI. Facing 4 competitions with a squad that is arguably stronger / deeper than last year but not that much; coming off the back of several poor league results / performances (individual and team); coming out of a Europa cup game that for all it's pluses did suggest defensive frailties.
So he can't put all his eggs in all the baskets (though, arguably, this early in the season, with fresh legs, he could have done that against Swansea; on the other hand, when then do his second string rotation players get game time before really being needed?). In which case, he has to have high and low priority competitions; but presumably isn't going to come out and say as much (or has he??). So selection suggests this was low priority competition for him - his choice not ours, he's the gaffer (regardless of what our preferences might be).
In that context, a drubbing was perhaps on the cards against Swansea. And there are a few positives to go alongside the negatives.
So onto the rs game. And I'm still worried. So much so that I've already discounted that and the MU game, and strangely will be watching Saturday knowing we'll get a bollocking and / but feeling resigned about it. I will watch as I want to see what his tactics are and how the lads perform as individuals and as a team, and to be able to judge Roberto's changing tactics through the game (you know, Plan B!) and the nature and timing of his substitutions. Ah, shit.
Linda Morrison
337
Posted 25/09/2014 at 11:25:06
I agree with Chris (333). I thought at the start of the season this one for us would be up and down. However there is no escaping the fact that letting in 17 goals in 7 games is awful.
I don't know what's happened in the EPL but most of the teams that finished in the top 7 last time around are showing poor defending. In today's Echo, Roberto is stating that defending is on our DNA. Personally I would prefer it on the pitch!
I hope for a couple of clean sheets in the next few games to steady the ship and move on from there. This is definitely a test for Roberto. He, unlike Moyes, is not a defensive-minded manager. He needs to be.
Having said all that I would have preferred a completely different team on Tuesday rather than leaving Howard and Distin in with a lot of strangers around them. I didn't see the match but the report in yesterday's Independent didn't paint a picture so bad that I'm looking for the times of the high tide at Formby, not yet!
Mike Childs
338
Posted 25/09/2014 at 12:48:00
What interesting reading, all 333 comments. I for one feel that RM needs to be given time. I have only been here for 5 years but during that time it has been painfully obvious that we lack funds. You have all taught me that. So this year RM spent those funds on attack. The attack is fairly solid in need of a number 10 to link it up.
Some of you were smart enough to know we also should have addressed the back line. I for one didn't think they would fall apart like this. For me the biggest problem is we are absolutely screwed any game without Coleman. No one on the team has his recovery pace. I have always maintained that Howard is lacking and have been taken to the cleaners for that idea.
For me I hope we can turn things around. As already stated we aren't the only team shipping goals and results so table wise we aren't that far off. Obviously Barkley's return will be of massive help. I feel we should bloody the youngsters until the summer when we can rebuild the back line with a CB to partner Stones and a replacement for Howard. Thanks for all the positive and negative comments that provided interesting reading as well as an education for this Yank.
Tony McNulty
339
Posted 25/09/2014 at 13:27:47
According to family legend, my grandfather hated cats and whenever the kids brought one home, he would say he was off to the pub, and would then deposit said moggy in a distant bin, closing the lid on it. Perhaps the curse began at this point.
I was at Wembley years ago when Hansen cheated us out of victory with his handball.
The only way many of us will ever witness an Everton victory in this competition is by calling upon the services of a taxidermist. And he needs to employ strong and long-lasting chemicals.
Dave Lynch
340
Posted 25/09/2014 at 13:30:11
Mike.
If you look at it logically the back 4 are very experienced and experience should in theory make up for the age deficit. Look at John Terry, he's still marshalling the Chelsea defence and love him or hate him he does a good job.
It's the system they are being asked to adopt, they are not ball players, very few defenders are and by the very nature of the position they are no-nonsence footballers who rely on reading the game.
Reading the game comes with experience.
---
Add Your Comments
In order to post a comment, you need to be logged in as a registered user of the site.
Or Sign up as a ToffeeWeb Member — it's free, takes just a few minutes and will allow you to post your comments on articles and Talking Points submissions across the site.
© ToffeeWeb