Liverpool vs Everton
Match Preview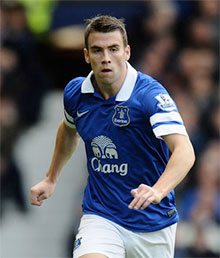 Seamus Coleman: undergoes a late check on his recovery from concussion
What has become arguably the most dreaded fixture on the calendar swings around again this weekend and falls, by a quirk of fate, exactly 15 years to the day since Everton's last victory at Anfield.
Kevin Campbell's solitary strike on 27 September 1999 remains the last winner scored by an Everton player on Liverpool's ground and the years since have been a mixture of defiant draws and abject capitulations during which time the Toffees have seen more red cards than goals.
As we know from two bitter decades of failure at Old Trafford, these winless runs on opposition grounds can be perpetuated to inexplicable lengths, fed by a combination of form, inequality of resources and psychology. But the longer this particular one drags on, you feel that by the law of averages alone, the Blues are due a win.
Last season's 4-0 drubbing was an aberration amongst some impressive performances by Roberto Martinez's Everton on the grounds of the old Sky Four. It was a result heavily influenced by a confluence of injury and fitness problems in key areas of the Blues' team on the one hand and an unbridled display of counter-attacking football from the reds.
The same scenario is unlikely to play out again — there is no Luis Suarez this time for one, and Daniel Sturridge is a doubt for Brendan Rodgers — even given Everton's awful defensive form of late. There is also the possibility that John Stones could be deployed in the right-back role in which he has struggled in a Blue shirt (and did so in this fixture back in January) but you would hope that wariness and preparation that comes from being once bitten will preclude a repeat mauling.
This particular edition of the Merseyside derby actually sees both managers searching for defensive solidity and with Everton's potentially potent forward line benefitting from rest for Steven Naismith and Kevin Mirallas over the past week, it could make for an entertaining contest.
Seamus Coleman continues to be the main injury concern for Martinez since he was withdrawn from the Wolfsburg match with a concussion. He has missed the last two games but is in with a shout of being passed fit for this weekend. Should he be ruled out again, he would be a huge miss, not least because of his attacking and defensive talents and the fact that his return would allow Stones to move back into the centre.
In goal, there have been murmurings on Merseyside that Tim Howard's erratic recent form might have opened the door for Joel Robles, although they remain just rumours and with Steven Pienaar likely to miss out again, the only other question mark concerns midfield. Again, much could depend on whether Coleman plays — given the deficiencies in Aiden McGeady's defensive game, the manager may opt for a more conservatively-minded player like Leon Osman or Muhamed Besic (his ability to attract cards like a magnet notwithstanding) that would allow a front three of Steven Naismith, Kevin Mirallas and Romelu Lukaku to do their thing up front.
Martinez has vowed not to compromise his attacking instincts, saying his team will "never change our focus, we always want to win. If you can't win, draw, fine, but we will never set out a team to try to draw a game or just hope for a win." That will hopefully signal goals for the Blues — it's at the other end where things will hinge.
Full coverage: ToffeeWeb Match Reports
Reader Comments (57)
Note: the following content is not moderated or vetted by the site owners at the time of submission. Comments are the responsibility of the poster. Disclaimer
MIke McLean
1
Posted 27/09/2014 at 06:13:11
Thanks for the excellent preview, Lyndon.
I'd be astonished if Robles plays as he seems to be even less confident than Howard in his few outings. No mean achievement. Neither is good enough for a team with any pretension of going forwards.
I don't believe that form goes out of the window for these games. Of course, there are occasional upsets but generally the game goes to the better team and this year, that's us in my view.
Unless Mr Atkinson vies with Clive Thomas and Clattenburg for the title of Biggest Weapon to have officiated the fixture,we're in with a good shout.

Mark Tanton
2
Posted 27/09/2014 at 06:27:30
I am only mentioning this in direct reference to the article and don't want to turn this thread into an early argument but if Leon Osman gets anywhere near this game it will be a disaster. Very surprised but not unleashed to hear a Robles rumour... or is Howard untouchable regardless of form? Of course, no player should be. Besic starting would the biggest gamble of all. All in all another mullering on this God-awful day predicted. I can't watch.
Paul Kelly
3
Posted 27/09/2014 at 06:43:24
Hate those twats, hate this fixture, but can't wait till kick off.
Losing it, getting wound up already and still six hours to go.
Harold Matthews
4
Posted 27/09/2014 at 06:35:14
Robles couldn't possibly play worse than Howard who was beaten by two half hit bouncing shots at Swansea. Unfortunately, he never experiences competitive football and is unlikely to start.
Browning is a faster RB than Stones but both will be bogged down with complicated instructions, causing them to be nervous and hesitant.
Ossie is making big noises about this game but I hope he doesn't start. I also hope we are not talking about the referee on the live forum. See you all later.
Paul Dark
5
Posted 27/09/2014 at 07:38:00
Robles, Alcaraz, McGeady and Osman shouldn't even be in the squad - though I fear the latter two will start.
David Greenwood
6
Posted 27/09/2014 at 07:41:33
3 centre halfs, two holding midfielders and always have five behind the ball.
Normally I would be saying have a go, but we saw what happened last season when we did. They play on the counter and don't actually do anything with the ball if you give them possession.
Why we have such a terrible record, who knows. Two seasons ago, Wembley and the game at their place just before it, we were way better than them. We were going well, Dalglish was having a mare in charge, and we didn't show up.
This time, please boys, get it right.
Come on. Lets fucking do this.
Steve Pugh
7
Posted 27/09/2014 at 07:46:48
If the Wolfsburg Howard turns up we'll be fine

Chris Gould
8
Posted 27/09/2014 at 08:02:41
If Coleman plays then we have a great chance of winning. Not just because he's a fantastic player, but also because Stones can then play CB and Sterling will have to play a little deeper and track back a lot more. It's no coincidence that our last 2 dreadful performances were without him in the team.
Gareth Fieldstead
9
Posted 27/09/2014 at 07:54:59
My heart sank the minute I heard it was Atkinson refereeing. I think if Sturridge is fit they will win, if not and Martinez gets his tactics right then we have every chance. So hope Coleman is fit, not just because if the lads obvious ability but it would mean Stones will start in the middle. I would go with Gibson or Besic if Peinnar remains unfit, please not Osman. Not sure I can watch, I detest derbies. Last time I was confident for this game was in 85. We had beaten them 4 times on the trot and Lineker had settled really well, we were 3 down after 21 minutes! I will just be happy if we do ourselves justice.
James Richard
10
Posted 27/09/2014 at 08:02:35
Please Roberto do not play Mcgeady. In my opinion the lad is woeful. Has no awareness at all of the space around him and let's opponents drift past him all day. This is why this season our full back has been totally exposed so many times. And with all his skill very rarely beats a man and does anything meaningful. Also please don't be too stubborn to put someone on gerrard all game. We have seen villa do it with abonglahor and the hammers with downing. Both of which came with huge success. Stopping him stops their main supply. We can beat these if the right tactics are deployed and not the stubborn naive ones that resulted in that 4-0 mauling. Tight and compact at the back, frustrate the life out of them and hit them on the counter. Going for 1-0 lukaku winner. COYB!!!
David Greenwood
11
Posted 27/09/2014 at 08:10:06
Atkinson almost seems to me to have a tunnel vision policy when reffing. He knows that there is lots going on but he just ignores it, doesn't look in the direction of it and therefore doesn't have to do anything about it.
It was him that sent off Rodwell after cheating rat face conned him, perhaps that might still be at the back of his mind somewhere and hopefully he wont be taken in when Sterling starts falling over.
That might be a long shot right enough.
Rob Newling
12
Posted 27/09/2014 at 07:59:33
Jags in goal, Stones to CB, Hibbert to cause a riot ! ;-) COYB time to break the chain.
Allan Board
13
Posted 27/09/2014 at 08:07:33
So here we go then, a truly stomach churning few hours ahead! Off to coach the under 7s for their match, bless them, they put everything into it and hate getting beat! It will at least take my mind off it for a few hours! Anyway, good luck Everton, play with huge desire,less than 100% is never acceptable and its up to YOU to put in a performance!
Jim Bennings
14
Posted 27/09/2014 at 08:16:59
Can't watch or listen.
I need to go out to a place where it's dark and quiet, I am going to try and resist the temptation of finding watching it, grrrr I just can't sit and watch another skullfucking.
Reading the Echo again last night, Jagielka coming it big with all the usual pre-match mumbo jumbo of "the bus was silent on the trip home in January ,that won't happen again"
I don't want words I just want us to win, I can't believe that I have almost forgotten what it was like to celebrate a victory at Anfield, a generation of Evertonians of a younger age have never even witnessed it.
I have looked at team news, Liverpool have doubts over Henderson, Coutinho, Sturridge expected to make the bench but Johnson, Flanagan are both out.
We can only hope Coleman makes it because for me we are nit the same team when Coleman is missing, Stones offers nothing going forward and frankly just looks like a fish washed upon the shore.
Hibbert has to be the obvious choice but even his lack of football is a major worry.
Right about one thing though.
It definetly is the most dreaded fixture on the calendar.
Henrik Lyngsie
15
Posted 27/09/2014 at 08:28:52
James 10. Agree completely on Mcgeady. No awareness and looses the ball far too often without creating much. And let's the opponents drift past him too easily. If you are this lazy defensively you must be a world beater going forward. And I am afraid that Mcgeady does not qualify for that. Now he had a full pre season and I simply think he is just not good enough. And defensively he puts so much pressure on the full back behind him and on the defensive midfielders.

Brian Waring
16
Posted 27/09/2014 at 08:42:37
Can see Osman starting, and Martinez's will say it is because Osman has played in a load of derbies so his experience will be important..
Mark Tanton
17
Posted 27/09/2014 at 08:49:57
Fully agree Brian - though he'll that experience is in regularly losing them.
Mark Andersson
18
Posted 27/09/2014 at 08:58:20
Rob12 you made me laugh, I'm even nervous just reading the post. The game is live here in Australia at a reasonable time but I can't watch it.
As I said on the other post Martinez looked nervous in his pre post interview. Hope he has his tactics right. The team should be self motivated simple.
Phil Walling
19
Posted 27/09/2014 at 08:57:41
A win for Blues.1-0.
Peter Murray
20
Posted 27/09/2014 at 08:57:30
Our squad has been together longer than theirs. Our teamwork should be better and that will be crucial.
Moreover, several players, notably Stones, should be straining at the leash to set the record straight after last seasons humiliation.
I would play Besic. A risk... but at least he would get amongst them. It could be the game where we put everything right-a 2-0 win.
Allan Board
21
Posted 27/09/2014 at 09:00:46
Sorry, had to come back on and just add: Mr Osman and Mr Jagielka – in future keep your mouths firmly shut pre-match and do your talking on the pitch!
Max Wilson
22
Posted 27/09/2014 at 09:16:25
Well, you can watch this on BT. W
Danny Burke
25
Posted 27/09/2014 at 09:30:38
I'd play Nais up top and tell him to drop deep and follow Gerrard around when we don't have the ball. It worked for Villa when Agbonlahor did it and stopped their threat. Nais would have the grit and determination to do that job well. Lukaku and Kev to play wide with licence to roam and hit them on the break with pace like they did to is last season. If only it was that easy.
Eddie Dunn
26
Posted 27/09/2014 at 09:39:22
Martin Atkinson is a poor ref. I recently watched him ignore Shawcross hugging a striker on 6 or 7 occasions . He will let Skirtle do it all day long.
He is another Phil Dowd, loving the Sky 4.
We will have to be squeaky clean to get anything, so we won't play Besic.
Tony Abrahams
27
Posted 27/09/2014 at 09:45:28
Put on an old Gabriel CD, on in the car and Everton's problem hit me when the song "San Jacinto" came on!
The thing that worries me is the lack of communication between the Keeper and the two Centrebacks.
The only thing that really scares me is the high ball into the box, "deal with that and win".
"San Jacinto - Everton" "Hold the fuckin' line!"

Nev Renshaw
28
Posted 27/09/2014 at 10:04:35
I hate these derby games. We somehow always seem to snatch defeat from the jaws of victory. Still, by the law of averages it's our turn to beat the RS. COYB.
Sam Fitzsimmons
29
Posted 27/09/2014 at 09:42:55
Can't really understand the McGeady bashing by some on TW but then again maybe I do. It was the same with Coleman, he wasn't a premiership player, at best championship, McCarthy, he was way overpriced. Naismith, just a journeyman and another championship player. Yes sometimes McGeady does lose the ball, but then again I could point to a 㿈 million signing who does that a lot more often than McGeady. I don't think he does an awful lot wrong, with a bit of fortune he could've had three or four goals this season. Yes perhaps he could do some things better, such as better cover for the full back. But then again maybe that will come, "if " he's given the chance.
Jim Bennings
30
Posted 27/09/2014 at 10:40:42
Sam
Nobody has really bashed McGeady, we are merely going on what we have seen over the last 9 months.
We were told when he signed that he needed time getting fit, he was given plenty of time by fans, who incidently sing his name incase you haven't heard but McGeady's displays have at best been erratic.
He is meant to be quick with tricky feet but then again we heard that with McFadden and so far I haven't seen a world of differences between the two.
If McGeady plays today then he should be one of the few players who fans need something from attacking wise.
Its down to McGeady, Mirallas, Naismith and Lukaku to create and score but I won't be holding my breath.
Mark Dunford
31
Posted 27/09/2014 at 10:38:54
For me, the problem with McGeady is simply down to the balance of the team - it is really a choice between him and Mrallas or else the line up is unbalanced. Given this, I prefer Mirallas who contributes more, is more versatile and scores with greater frequency. McGeady is probably best as an impact sub.
Lukaku is better when he is running with the ball towards goal and his best goals for Everton, such as the one against Arsenal last year, have come from these positions. He works - as asked - for the team to hold the ball up and, though he is big and strong, it doesn't seem to be his best attribute but is a very difficult role.
Besic doesn't seem to be ready and I suspect Oviedo is also some distance from a start in a game like this. Barkley and Pienaar are injured. It means the team is largely picking itself so McGeady will start. Besic, Oviedo, Gibson and Eto'o will all be on the bench.
I just hope Coleman is fit as Stones is wonderful prospect at centre half, yet not so good at right back!
Dean Adams
32
Posted 27/09/2014 at 10:50:33
I would much prefer Oviedo to play than McGeady. For me he loses the ball too often when our players have committed to going forward, costing us goals. He is like Ossie in that it isn't how often he loses the ball it is where our team is on the pitch when he does it. Always costing us goals when we are just exerting our control on the game, putting us back on the back foot with yet another mountain to climb. So for me, Bryan Oviedo is the best choice, switching Kev to the roght where Coleman and Kev are dynamite in the making.
Barry Stevens
33
Posted 27/09/2014 at 10:40:50
The dreaded day has arrived. I can't remember the last time we went in to this game, and as a fanbase had so little optimism. As other's have mentioned, so much depends on Coleman playing. Distin has been a great servant of the club, but his age seems to have caught up with him this summer. Same goes for Hibbo and Osman. The latter still good enough for last 20 but not to start.
I just have a sneaky little feeling that the much maligned Mcgeady will be our match winner today.

David Hallwood
34
Posted 27/09/2014 at 10:57:58
I'd prefer to play Gibson in a 4-3-3 formation we need to have more bodies in midfield
Richard Lyons
35
Posted 27/09/2014 at 11:03:33
I just cannot summon up any optimism this morning. I could watch the match, but I think I'll take the dog for a long walk and then find out the result by watching the news from behind the sofa, like how I used to watch Dr Who. Both teams are due a return to form - but I can't shake the feeling that it's the RS daleks who get all the luck.
Ben Dyke
36
Posted 27/09/2014 at 11:10:48
Its days like this that I am glad I live in Sweden and not Merseyside anymore! But Norway isn't too far away haha. COYB. We are due a good game and a result against this lot. Just don't do a Chelsea disaster start. Lets hit them hard early and see how they like a physical encounter.
Mike Childs
37
Posted 27/09/2014 at 11:06:03
If Seamus can't go who right now is the most important starter for us for all the reason mentioned I don't see why we can't give Oviedo a shoutout at RB. He filled in for Baines at LB last year so why not RB? Is it really that much of a different position?
If Coleman can start what about the great experiment of Baines to MF and Oviedo to LB? I know I maybe daft but hey I 'm yank with only 5 years of experience. that's why I appreciate you folks so much. Here is where I get the straight information be it good or bad. Such a great site TW is because of the participants.
Jack Plant
38
Posted 27/09/2014 at 11:27:33
Shit, just seen Hibbert getting off the bus
Mark Tanton
39
Posted 27/09/2014 at 11:32:39
Don't worry he was only driving.
Henrik Lyngsie
40
Posted 27/09/2014 at 11:34:25
We will win 2-0. Lukaku double. You have seen it here

Steve Orchard
41
Posted 27/09/2014 at 11:40:41
Hi, fellow Evertonians. I've been following ToffeeWeb for years but I've now decided to come out me shell and join you guys! Been telling meself all week I'm not gonna bother to worry about today but I'm getting that sick feeling of dread I usually get with this fixture! COYB
Mike Williams
42
Posted 27/09/2014 at 11:43:39
Henrik, funny you say that. I had a dream last night, I saw on the news that Lukaku had scored twice......
Denis Richardson
43
Posted 27/09/2014 at 11:24:02
If Coleman really did go off with concussion then there is no way he'll start today as the medical rules say you have to have a 3 week break before you can play again....
Ben Dyke
44
Posted 27/09/2014 at 11:49:20
TEAM NEWS:
Everton XI to face Liverpool: Howard, Hibbert, Baines, Jagielka, Stones, Barry, McCarthy, Besic, Mirallas, Naismith, Lukaku.
Everton subs: Joel, Gibson, Eto'o, McGeady, Browning, Osman, Alcaraz.
Liverpool XI: Mignolet, Lovren, Gerrard, Henderson, Moreno, Manquillo, Lallana, Sterling, Skrtel, Balotelli, Markovic.
Liverpool subs: Jones, Enrique, Toure, Lambert, Coutinho, Lucas, Suso.
Denis Richardson
45
Posted 27/09/2014 at 11:49:46
Shit - Hibbo starts!
At least that means hopefully Stones starts at CB...
Get ya belts on - this is going to be a bumpy ride...
Ben Dyke
46
Posted 27/09/2014 at 11:50:15
So no Coleman. Hope Hibbert rediscovers the art of tackling and stopping crosses. Plus no McGeady and Osman starting which is good. Besic first for early bath?
Karl Jones
47
Posted 27/09/2014 at 11:52:52
Besic + Derby = Red Card
Dave Duggan
48
Posted 27/09/2014 at 11:54:00
Made up he has gone with the 4-3-3 think we play out best football with this system. Also delighted he has given the nod to besic over osman and go no as these games require energy!
However, I think sterling and markovic's pace against hibbert has disaster written all over it.
COYB, end the shockin run today!
Zahir Jaffer
51
Posted 27/09/2014 at 12:00:31
Besic will provide good cover for their counter attacks as our back 4 can't keep up with Sterling. Whoop whooo! With a little luck we might get something out of this. Ossie and McGeady aren't starting! Thank fuck for that.
Gary Poole
52
Posted 27/09/2014 at 12:06:54
Karl - I think the equation is Besic +Derby + Atkinson = red card. Heart in mouth time!
Tom Bowers
53
Posted 27/09/2014 at 12:05:05
The speed of Sterling Moss may not have been a problem some years ago when Hibbo was younger but, if the Redshite match him against Hibbo today, we may be in trouble. However, the whole defensive setup of Everton needs a big improvement in order to win this game. The Redshite will, as usual, come out like a house on fire and my real concern is the lack of aerial prowess now that Distin is not there.
Karl Jones
54
Posted 27/09/2014 at 12:13:35
Sorry, meant to factor that in Gary...and multiply by the degree of bias in Liverpool favour
Bobby Thomas
57
Posted 27/09/2014 at 12:06:16
The side in itself is much more balanced than the suicide, wingerfest he's been going with lately.
Hibbo and Besic big risks though. With Ossie on the finish & Pienaar getting injury prone there's no ball playing attacking mids who can help the balance; he's had to go with Besic as the alternative is McGeady and that shape and formation too open as we have discovered.
If Besic gets a yellow first half he really will have to be so careful. Having seen his antics at Tranmere against Celta Vigo I'm worried.
Assuming its a mid 3 of McCarthy(right half) Barry Besic.
McCarthy's going need to look after Hibbo. Massive ask for him to do 90 by the way. He's come straight back in at Anfield in the past after a lay off and played well. But he's a fair bit older now and had no football for so long.
If I was Brenda I know where I'd be trying to exploit.
Karl Jones
58
Posted 27/09/2014 at 12:28:08
We cant defend free kicks and corners against this lot...They always score from them against us. We have to be so careful not to give them away needlessly.
Thats another reason that I'm worried that Besic is in for this game. I'd have gone for Gibson, a more experienced and controlled player.
Steve Orchard
59
Posted 27/09/2014 at 12:29:27
Glad he's put a bit more bite in midfield as long as Besic doesn't do anything silly. Hopefully we'll let them have the ball a bit more and they won't know what to do with it, just don't play high and don't get caught on the break ffs.
Harold Matthews
60
Posted 27/09/2014 at 12:25:43
Lukaku on the wing might be a good tactic. At least Skrtel will not be able to grab his shirt.
Denis Richardson
61
Posted 27/09/2014 at 12:41:50
No Oviedo on the bench I see.....fit to start on Tuesday but not even to make the bench today, find that a bit odd.
Steve Orchard
62
Posted 27/09/2014 at 12:49:34
Great start... Barry booked after two minutes!
Jim Bennings
63
Posted 27/09/2014 at 13:01:09
Just exactly what kind of head injury did Coleman get 9 days ago??
Did he clash heads with a fuckin brick wall???

---
Add Your Comments
In order to post a comment, you need to be logged in as a registered user of the site.
Or Sign up as a ToffeeWeb Member — it's free, takes just a few minutes and will allow you to post your comments on articles and Talking Points submissions across the site.
© ToffeeWeb