Jagielka's late thunderbolt saves Everton
Liverpool 1 - 1 Everton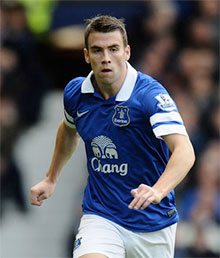 Seamus Coleman: missed out after failing a fitness test
A moment of brilliance from captain Phil Jagielka salvaged a point for Everton as his 25-yard thunderbolt cancelled out Steven Gerrard's free kick in stoppage time.
The Toffees had been chasing the game in vain since the reds' skipper had curled home a free kick in the 64th minute another defeat was looming when Jagielka latched onto Dejan Lovren's headed clearance and smashed a first-time shot into the top corner.
The match had kicked off in typically frenetic fashion for a Merseyside derby, Gareth Barry picking up a booking in the first minute that left him walking a tightrope for the remainder of the match, and both sides seeing decent penalty claims turned down by referee Martin Atkinson.
Everton rode their luck at one end in the first half with Adam Lallana planting a free header too close to Tim Howard allowing the American to make a good one-handed save and Mario Balotelli mis-timing his jump when totally unmarked in the centre.
Despite those lapses, Everton were markedly more organised at the back than was the case in this fixture back in January but they were disappointing going forward, especially after their luck ran out at the other end of the field where their most potent threat, Kevin Mirallas, was stretchered away with less than half an hour gone with what bore all the hallmarks of another serious hamstring tear.
With Liverpool largely restricted to long-range efforts from Balotelli, it was sloppiness in possession that threatened to undo Everton but Howard saved Barry's blushes with a save from Raheem Sterling that kept things goalless going into the half-time interval.
The intensity of the occasion largely dissipated in the second half but when Balotelli made a show of being tripped by Baines' trailing leg in a dangerous area outside the box, Gerrard was handed the opportunity he relishes with a free kick that he swept into the left side of Howard's goal via the goalkeeper's hand.
And Balotelli should have put the game beyond Everton four minutes later when Sterling picked him out from the left but his side-foot shot right in front of goal took a decisive nick off Howard's body and bounced off the crossbar and over.
Forced to have to break the retreating reds down as the clock ticked down, the Blues looked like they were going down to another derby defeat until Jagielka pulled something out of the top drawer to grab a point.
Full coverage: ToffeeWeb Match Reports
Reader Comments (103)
Note: the following content is not moderated or vetted by the site owners at the time of submission. Comments are the responsibility of the poster. Disclaimer
Anthony Flack
1
Posted 27/09/2014 at 17:12:17
Just out of hospital after gall bladder removal, nearly popped my stitches when that one flew in....
Watched on BT, found their antics annoying, going down like sacks of shit at any opportunity. Not sure Baines touched Ballibollocks for their free kick, and certain foul on Barry on lead up.
However happy with a point!
Anthony Burke
2
Posted 27/09/2014 at 18:12:27
I said before that I've not seen Browning but what I did see was promising.
He looks talented and was unfased when he came on. A very good alternative to Coleman. Still early days I know.
Gavin Johnson
3
Posted 27/09/2014 at 18:03:23
I wouldn't complain too much about the result. I've just seen Brenda's post match interview claiming they were easily the better side. I don't think there was too much in it. Yes, they had some of the better chances but we were competitive and always looked assured defensively. Stones always looked assured and normal service resumes at the back (Stones and Jags have partnered each other 3 times and conceded 1 goal against Wolfsburg) I was glad that Bobby was decisive and omitted Distin from the squad.
Some positives for me: I was shocked when I saw Besic's name on the sheet. I was one of the people who thought he'd make an impetuous challenge and get sent off. If he can come away from a derby unscathed he can play in any game for me. Browning also looks like he's some player, fast and strong. It's just a shame he's not left sided so he could save us a few quid on the replacement for Distin and Alcaraz. I thought Howard also redeemed himself and played a blinder for the most part.
My only grumble was not with Lukaku (I wish people would just lay off the kid, all the same old yada yada about the fee and first touch) It was that we looked a bit pedestrian in the middle of the park. We are sorely missing a creative player who can make things happen and we need Ross back sooner than later for me.
Colin Grierson
6
Posted 27/09/2014 at 18:17:32
I thought we did alright. They had the lions share if the ball but we looked pretty well organised at the back for a change. Their goal was a joke. Ballotelli fouled Barry then went down as he brushed against Baines. They love their cheats the RS don't they! I thought we deserved the point.
To be honest both teams were pretty poor and will have to be better if the top four is to the target. Delighted for Jags as he has come in for a fair bit of stick but he's worthy Captain in my view who's just had a dip in form and confidence. I hope this will prove a turning point for him and the rest of the team.
Any news on the Mirallas injury?
Jack Cross
7
Posted 27/09/2014 at 18:34:34
Once more, a load of shite. No fight, no urgency. We could have had a kick about in our half between ourselves. They seem to like passing to each other, not even accurate doing that.
Lukaku, misses more than he scores. Lazy bastard. 㿈 mil... they must have seen us coming. Jose is no fool and he had a good look at him.
Browning, looked okay but I would have liked to have seen him against a fresh side from start.
McGeady gets worse, if that's possible.
And the corners... bloody hell! Abysmal.
Howard and defence were more tighter, although he made another blip with free kick. Similar to Euro match.
Overall, two shite teams playing shite football. I think that about sums it up.
Gavin Johnson
8
Posted 27/09/2014 at 18:41:53
Sorry, forgot about the goal we conceded today... Oops! 2 goals in 3 games for the Stones/Jags partnerships still pretty good.
Brian Wilkinson
11
Posted 27/09/2014 at 18:57:40
Boy has Jags had his critics this season, me included, but after that one in front of the kop, all is forgiven.
Timothy Blanshard
12
Posted 27/09/2014 at 19:09:37
Jack Cross I agree, it did become very very painful to watch, made up with the point, but overall it was utter shite. Oscar for Blagotelli the feckin tube!
Gavin Johnson
13
Posted 27/09/2014 at 19:19:39
I see the news broadcasts and Brenda are making a big play about how Liverpool should have had a penalty, maybe so, but totally ignoring the one we should have had when Lukaku got pulled down.. It was a penalty all day long!
Not surprised about Brenda but the RS media bias really pisses me off.
Jim Bennings
14
Posted 27/09/2014 at 19:26:29
Looks like Mirallas is going to be out for a while as Martinez confirms "it looks bad".
Great so we're stuck with James McFadden Mk 2 , in Aiden McGeady.
Nothing on McGeady but he just doesn't offer nothing at this level, I keep waiting for something to happen because when he gets the ball your think "yeah he looks set to do something exciting " but sod all usually ever happens.
Made up with the point coz we were pretty shite again.
Still think this is going to be a battle for mid-table rather than top 5 this season.
Happy with the point because I feared the same old story once we let that fucking creasehead score AGAIN..
Brent Stephens
16
Posted 27/09/2014 at 19:34:19
Not unhappy with the point, away from home. Thought we'd get done over and it looked as if we'd lost it.
Satisfactory performances by Besic and Browning. If only Lukaku had put away that inch perfect pass from Besic over the defence.
Defence looked somewhat better, considering we had Hibbs in there. Well done Stones.
Despite predictions, Atkinson didn't give a pen against us, although that handball was a pen.
Did anybody notice (69th minute) Sterling lash out at Nais on the sideline?
Timothy Blanshard
17
Posted 27/09/2014 at 19:34:51
McGeady = Peter Beagrie. I remember hearing a rumour Kenny Redshite rang Greame Sharp and said "Get your ankles checked out, you're gonna need it done." We have him yet again without the stupid backflips! All twisty and no fucking end product by himself. Work harder Aiden!
Rob Halligan
18
Posted 27/09/2014 at 19:38:04
Just back from visiting that shithole. Few pints in Liverpool City Centre then bus home. I am actually gutted we never won.
Stonewall penalty for us in first half which, as usual Atkinson shit out giving. The lead up to their goal was a free kick on Barry by Balotelli which again Atkinson ignored.
Tremendous goal by Jags saved the day for us. We also could have snatched a last gasp winner if it weren't for a poor free kick by Baines.
Still, can't grumble. Think it would have been an absolute travesty of injustice if we has lost.
Drew Shortis
19
Posted 27/09/2014 at 19:23:41
I think Martinez needs to think about bringing Gibson back into the side in place of either Barry or Gibson. It's was fair enough playing them last season when both were in good form and providing cover for the defence, allowing the wing-backs to bomb forward. However, so far this season they have not been providing that cover effectively enough and neither seems capable of picking our a really attacking pass.
I would play one of them in the holding role holding with Gibson a bit more advanced. Before his injury he was crucial to our play and we barely lost a game when he played. I think McCarthy can expand his game but at the moment he and Barry just seem too similar.
I was impressed by Browning's composure in such a big game. He looks a completely different player to the gangly teen I say in Roberto's first pre-season. We have Oviedo and Garbutt to cover the left if Baines is out but nobody down the right. Stones needs to stay at centre-back and, despite his commitment to the cause, Hibbert offers no real attacking threat and looks exposed for pace in defence.
The loss of Mirallas is a big blow. If he hadn't gone off I'm sure he would have made more use of the few opportunities we had to break. His first instinct is to run at the opposition with pace. Hopefully Atsu can come in and do the same. McGeady is a bit of an enigma. The guy clearly has a reserve of flair in him but can he unleash it often enough to warrant a place?
Brendan Whelan
20
Posted 27/09/2014 at 19:43:54
Brian @12, agreed: Jags redeemed himself big time today. Have to wonder where this leaves Distin.
Dean Adams
21
Posted 27/09/2014 at 19:55:36
Brendan Rodgers is a first class bellend. His description that they should have had a penalty as Gareth Barry "saved it with both his arms up" just goes to show what a classless moron he is. Not a whiff of a mention about Lukaku being dragged down in their box.
Not a mention that as the away team we had double figures as attempts on goal and had the higher % of possession. It was a draw and being honest was about the right result. Neither team did enough to win, although had a ref who was not wearing red blinkers been in the middle we may have had a lot more efforts on their goal and more importantly, they would not have had that freekick.
Wow, do I hate them. Balotelli is fast becoming a real Redshite knobhead. Lallana may have been one of us, but what a little weasel he is.
Jack Cross
23
Posted 27/09/2014 at 20:09:15
It's said one man don't make a team. But without Suarez their piss poor. No inventiveness what so ever. All that dosh spent on poor quality players. But it shows you how bad the blues are when were at full fire power and we still couldn't take them.
Kevin Tully
24
Posted 27/09/2014 at 20:06:45
We are still miles off the pace, no denying that. However, in Besic, Barkley, Stones, McCarthy, Lukaku and Coleman, we have the spine of something special. (if they are not flogged off)
Regarding Lukaku, we really do need to stop expecting 㿈m performances each and every game. I know it's easy to forget, but this lad is only 21 years of age. Half of that fee was invested in potential, and that will take a while to fulfill. Saying that, I expect him to score at least 15 this season, and that's more than most strikers in this League.
We will slowly see the back of Distin, Osman, Hibbo and Pienaar over the next 18 months, and because we don't have the cash for instant replacements, we will see some of our youth given a chance.
I think we have bright future, even if we won't see the best of our youngsters this season. Some, as always, won't be able to wait until next week though, never mind next season.
Mark Tanton
25
Posted 27/09/2014 at 20:19:44
It was very noticeable how much faster they were than us. Why do we take so long to get up the pitch?
Jim Bennings
26
Posted 27/09/2014 at 20:10:50
I'm not sure I'd really class McGeady as good as Beagrie even just yet.
Beagrie did actually still quite a few "worldies" in to the top corner and contrary to the popular belief that he was all drag backs and step overs he did have an ok goal return at times.
I wouldn't mind if McGeady started sticking some like the Leicester goal easy but his shooting has been dreadful since then.
At the end of the day this injury to Mirallas now means one of McGeady or Atsu really have a chance to step up and start proving they are worth their salt and give Martinez something to think about.
We could really do with Pienaar coming back fit and like the Pienaar of old, linking up the Bainaar giving it one final swansong, unfortunately it's not very likely though.
We are going to miss Mirallas and the goal threat he brings us.
Richard Farrington
29
Posted 27/09/2014 at 20:27:23
Kevin, I know what you're are saying about Lukaku but I have a huge concern that he just isn't up to it. He lacks a key ingredient for a striker - aggression. He's nowhere near nasty enough. In his defence though, I don't think wide right is a fair position to judge him. He has to improve many parts of his game big time.
Jim Bennings
30
Posted 27/09/2014 at 20:25:54
Kevin
I'm not sure I'd go as far to say the spine of something special.
Besic and McCarthy, good players they are but they are too alike, no crrativity.
Barkley is wonderful but I have my doubts he will be an Everton player this time next year.
As for Lukaku? Well I'd just be quite happy if we saw some ٦ million performances out of him let alone 㿈 million. He just looks as though he runs in quicksand; he looks sluggish and frankly immobile too often.
At the minute, the problem with Lukaku is Martinez is wasting him playing him wide rather than down the middle, full stop. Martinez is still living off the back of Lukaku's great display at home to Arsenal in April where he had a stormer coming in from the left.
Andy Crooks
31
Posted 27/09/2014 at 20:26:29
I agree, Jim, about Pienaar. If back to anything like his best I believe he will have a huge influence. His return, especially with Miirallas missing could make big difference.
I thought Tony Hibbert, who really couldn't' be match fit, did okay. I hope what was a fortuitous draw will be the confidence boost needed.
Chris Wilson
32
Posted 27/09/2014 at 20:23:12
Mark, their whole strategy is to attack with speed - that's how they carved us up last season. They have to try to attack with pace because they have a hard time breaking down opposing defenses when they bunker down. Look back at the Chelsea game last season. Chelsea got the lead and guarded their defensive third. Liverpool didn't know how to break them down and resorted to wayward crosses or shots from distance. Roberto set us up to stop their track meet today, and it worked for the most part.
As for ourselves, Mirallas going down really took our ability to attack quickly away. Lukaku kinda had to be on the wing because Nais is really ineffective out there. McGeady has the speed, but I think he's still learning to read our counterattack patterns and that slows us down. Someone mentioned earlier, Ross will help us pick up the pace. Hope Mirallas isn't out too long.
Chris Wilson
33
Posted 27/09/2014 at 20:35:31
Also, saw Rooney got a straight Red today. That makes him out of our match, yes?
Dan Brierley
34
Posted 27/09/2014 at 20:29:12
Given our recent form and fragile defensive confidence, a draw at Anfield should feel like a decent result.
But I cant help but feel disappointed. This is the worst Liverpool side in living memory without rat boy, a side on the back of a spanking at West Ham, a home defeat to Villa, and a home draw snatched against a championship side. Yet sometimes we made them look good. At no point in the match did we actually look like we wanted to go and win this.
Aside from some excellent individual performances, what concerns me is the lack of team work. It seems that when we get into possession, the players are not really sure about what the should then go and do. This might be the reason we see this short passing 'I have no idea what to do with the ball, here, you go and do something with it'. It seems such a long time ago since the Baines Pienaar duo showed us some of the finest team work and interplay in the land. However that said, we saw the first glimpses of Mo Besic, a player that is showing great potential for being a player that is brave enough to take responsibility and actually make something happen.
Some green shoots are still there, but the question is now are they going to grow quick enough to ensure that we have a successful season as we are far from being good enough to contend for 4th place up to now.
Michael Polley
35
Posted 27/09/2014 at 20:35:17
We'll miss Mirallas. He is our best player to date.
I'm happy enough with the draw. But Lukaku was playing too wide. Why does RM put him out there? He was our single target man with little or no support.
Jack Cross
36
Posted 27/09/2014 at 20:32:23
Jim Bennings. Beagrie, was a good player. He was quite fast, could take a man or two on, cross well, take free kicks good and scored some good goals. The only problem was he a greedy twat with the ball didn't know when to pass. But def had skill. No comparison with him and Mageady. Beagrie, reminded me of a poorer Gary Jones. Now there was a great player in my opinion. Shankly tried to sign Gary, I believe and he new his stuff.
Jim Bennings
37
Posted 27/09/2014 at 20:36:37
There just seems to be something totally wrong with our entire shape this season.
I don't know why Lukaku has to be playing wide when he is our only out-and-out striker on the pitch. Can't Martinez just go with Barry, McCarthy, in the holding role and play with McGeady one side with Atsu the other and play Lukaku straight up top with Nais just off behind him??
All this Lukaku out wide does my head in, it really does.
Perhaps even Oviedo (if and when fully fit) could occupy the left flank if McGeady or Atsu don't pull up any trees??
I would definitely like to know what the story is with Pienaar: why every injury with him seems to last so long now.
Jack Cross
38
Posted 27/09/2014 at 20:44:56
Michael Polley. Well he was on the right supposly because we got tore apart last year on the flanks. And he scores goals coming in from the right hand side. How do you think Atsu would have coped on the right wing with Lukaku in the middle?
Peter Cummings
39
Posted 27/09/2014 at 20:25:35
A fantastic strike from Jags and a fair result in the end although there's a lot of work ahead, Why does Lukaku spend so much time on the wing? He's supposed to be a striker; instead, he spends most of the game out of the area, mainly getting hounded off the ball or miscuing passes,
As I posted before the game, without the sewer rat and Sturridge, Sterling is their only threat, while Balotelli is just another diver who goes down every time someone breathes on him. Typically, Brenda moans his sour grapes routine after every game; both sides should have had spot kicks, and while he gutter press described Balotelli's miss as 'crashing off the bar', it actually clipped the top of the bar from Howard's fingertip.
It unfortunately looks bad again for Mirallas but the good news is that Shrek got his marching orders at OT so we may have a better-than-even chance of putting one over on Man Utd.
Jim Bennings
40
Posted 27/09/2014 at 20:46:22
The draw today feels pretty great actually especially given the timing and right down at the Kop.
I just fest that we will still struggle in the forthcoming games unless some kind of set formation is stumbled upon and Martinez starts using Lukaku straight down the middle.
Lukaku ain't playing well but he isn't be helped by this shit at the minute. Get him in the box, where he can do the damage he did when he first signed last year on loan, and tell McGeady to start crossing the bleeding ball EARLY not all this piss-farting around with 20 passes to Baines before we hit the first man with a cross.
Jim Bennings
42
Posted 27/09/2014 at 20:54:09
At the end of the day, it's a good result today at a difficult venue, it's not today where I feel we have let ourselves down, it's the games against Leicester and Arsenal where we squandered the wins late on and the Palace game when we frittered away the points.
The only way we are going to make any progress is by putting a good run together. We need a mini run to start with, something like 9 points from 4 games to start with and then so on and so on.
It'd be no use wasting today's good draw by losing at United then drawing at home to Villa after the next International break in three weeks.
Tony Byrne
43
Posted 27/09/2014 at 20:35:58
Made up Jags scored a cracker at the kop end in injury time; I thought up until then we looked very ordinary (as did the RS after the money they have spent).
Mirallas is going to be a big miss but hopefully we will have Pienaar back fit & also Coleman, who is so important to us. Besic wasn't too bad & I thought Browning looked unfazed when he came on. The difference not having Distin in the back four as for me he causes untold panic.
Our corners are shite & I can't believe we did not exploit their back four & goalie with more crosses, but that's not the Martinez way is it!!
I would have liked to have seen Gibson come on for Barry on the hour & also Eto'o who did change us for the better going forward,again if Eto'o was given 30 minutes who knows we might have won it.
Just on the coverage of the match on BT sport, what a load of biased red bastards that lot are, especially Ian Darke/Michael Owen commentating, wanking over Gerrard & how great Balotelli is & then the MotM is given to Gerrard. I know we didn't play great but did Gerrard have a better game than Jags or Stones? Did he fuck, I can't wait till that smug bastard retires.
Jack Cross
44
Posted 27/09/2014 at 21:00:29
Dan Brierley, I think it was pretty clear to see Roberto, with all his attacking obsession, quite simply only had one thing on his mind and that was a draw with a clean sheet. Well he got one of the two.
Rick Tarleton
45
Posted 27/09/2014 at 21:08:21
Why oh Why did we buy a right winger for 㿈M when there's no big man in the middle for him to cross to?
What!?! — he's the big man and he ought to get on the end of his own crosses! Something wrong tactically here...
Paul Livesey
46
Posted 27/09/2014 at 21:16:02
I've written five different comments so far and deleted them all! I'm pissed so can someone please help me figure out what's going on? I'm battling with myself about my own thoughts of the game!
Dennis Ng
47
Posted 27/09/2014 at 21:19:07
Kevin 26, good comment. I guess in that light, we need to factor in RM's tinkering then since we have a side that is maturing into their true form. However, what the hell happened to our off-season? LOL
Jack Cross
48
Posted 27/09/2014 at 21:18:47
Rick Tarleton. I think Roberto quite simply is at a loss of what to do to stop this bad run and is trying anything and anyone disregarding whether they're out of position or not. I mean what else is the answer?
Jamie Barlow
49
Posted 27/09/2014 at 21:30:14
I thought Lukaku had a good game. Naismith let him down big time with quite a few terrible balls when in a great position on the break. Plus, when do we ever cross the ball anyway?
We're being let down by the set-piece situation. We can't defend them and taking them is just a piss take. If Martinez is ignoring these because he'd rather score from open play, he needs fucking.
I like the look of Browning though and Stones had another good game. Keep Stones and Jags now. Beautiful goal as well. No fucking about, Bobby.

James Byrne
50
Posted 27/09/2014 at 21:39:30
Is this the game that kick starts our season? Will Distin ever wear an Everton shirt again?
For us to pull a draw from this game, in that manner will have done us more good than Liverpool; they will have left the ground feeling defeated and for most of them, that journey back to Norway, London and Wales etc would be a long one.
We were far from our best but we've struggled all season; really pleased to see Jags and Stones pull off a great game and I can see Stones becoming a legend. Gutted to see super Kev injured; not that he's that good but more for the drop in morale for the players.
No surprises to see Ballotelli diving all over the place like a typical cheating twat, but it's the Liverpool way and what we've all come to get used to.
Jags was my MoTM and it was great to detect the atmosphere dropout around the BT Sport / ex Red commentator Knobs when Jags scored!
Paul Livesey
51
Posted 27/09/2014 at 21:22:38
Tactics, formation (and a few players another year older) have got to be the difference this season. Last seasons tried and tested 4 2 3 1 seems to have been replaced with a 4 3 3 formation (please correct me if I'm wrong) that just doesn't play to our squads strengths. On hearing the team news today I could not predict our formation, which before the match I thought may be a positive as it may well keep the gobshites guessing, but in all honesty does McCarthy suit that right midfield role and Besic (loved the way he laid into Balotelli for being a wanker) the left? Those three players for me are vying for the same role in the team. To be great you need the best players of each position performing to their maximum. If players are filling in in roles because the formation is more important, and then we are trying to accommodate our 'best' players to fit that formation rather than building our tactics around the players we've got, then something is wrong. I love Roberto and this great club of ours but if I was looking for a turnaround in our fortunes I would say lets play to our strengths and win the games we can with the team that we have. I believe in Roberto to build us a great team that will challenge for the lot(as long as we keep our youth) in the long term, but in the meantime we can't be a pass it, keep it, with not much penetration side. If we are to be that, it will affect our future young stars.
All that said, I had a great day at anfield. The highlight was being the only one in the upper anfield road in a section of a couple of thosand kopites that stood up and shouted "YES" when Jags bagged that great goal. if looks could haved killed! Needless to say, some dirty kopite tried to start on the way out by staring me out and the scowling at me with the word "Ballbag"! I nicely replied that yes I have one and it kindly looks after my two balls. My six foot eight mate then told him to do one and I laughed my head off at the little prick.
I love the Derby.
Lets do those Mancs now
Rob Halligan
52
Posted 27/09/2014 at 21:45:32
Re: Tony Byrne #45. I am totally gobsmacked to see you say BT Sport give Gerrard MotM. The piece of shit did fuck all all game except score their goal. For me, he is finished. If he plays any deeper he will be playing in goal!!
Tony Abrahams
54
Posted 27/09/2014 at 21:42:17
Hibbert did very well considering it was only his second game for Martinez. At least he throws a few tasty tackles in which is what you need in a derby match. But the kid Browning made our goal by keeping alive Jagielka's over-hit pass, which Lukaku had given up on, and putting a half decent cross into the box.
What a time to score... let's hope it brings back confidence into our play.
Paul Livesey
55
Posted 27/09/2014 at 22:11:43
James, I hope so. Bring on MotD!

Keith Glazzard
56
Posted 27/09/2014 at 22:13:44
Just to add - Browning looked the part. Come back Seamus, but better cover than Hibbo.
Rob Halligan
57
Posted 27/09/2014 at 22:23:50
Let us know Paul. I can finally put a face to a T/Webber name then.
Tony Byrne
58
Posted 27/09/2014 at 22:18:37
Rob@ 54 - You could not make it up mate, the Gerrard media love-in is toe curling! Fuck them all anyway because all it does is make Gerrard convince himself that he's still got it. Hampstead has not got the bottle to drop him.
Zahir Jaffer
59
Posted 27/09/2014 at 21:48:26
Are there seriously all these question Why? on Lukaku playing on the right? We were away from home and opted for a 4-3-3 which I thought was genius. It's also fair to say that Besic would be the only one capable of catching up to Sterling if he steamed over our back 4.
Lukaku out muscled Moreno a good few times that game and got away with some space. On a different day with a different ref, he could have won us a pen. That wouldn't have happened with Martin shirtpull and Lovren up his face.
Gerrard was fully socked by Naissy throughout. Honestly, besides that free kick, I barely saw him in the game. Mirallas was more of a threat in his 30-min cameo (may he recover quickly) than McGeady in 60 mins. Which of course Martinez had his hand tied with that decision, we saw how dreadful Ossie can be in the second half when coming on as a sub so early.
All-in-all, Barry was complete and utter shite! Stones was magnificent, Howard did nothing impressive, that blind save cancels out that free kick, I suppose.
Besic was the only player with balls in our team, squigling through midfield, making runs towards the box, attempting those 40 yard switches or through balls. McCarthy put in his shift. Baines brought nothing offensively and was reasonable defensively, that even with no-one ever having a real go at him.
Stones and Jags were impressive today. I wouldn't say magnificent as Jags is still weary with his heading. Mario could have latched on to the few he couldn't deal with and it would have been a different story. The strike was dipped in pure class. Completely jaw dropping to say the least. Hibbo is Hibbo, good positioning and marking, ineffective going forward with his snail like pace.
We could have gone 4-2-3-1 but we couldn't risk being trampled over once more at Anfield under Martinez.
Michael Polley
61
Posted 27/09/2014 at 22:54:19
Jack, If Lukaku was in the middle he may have scored, simple as that.
Paul Ferry
62
Posted 27/09/2014 at 22:42:01
Rob mate (#59) – glad you had a great day (thanks for the support).
There's a striking photo of our very own dishy Kev Tully on the club's hospitality pages (Alex Young Suite) with his very smart lad – he's off to Warwick Uni this weekend.
http://www.Evertonfc.com/content/hospitality/lounges/alex-young-suite
Scroll through the pics to the one after the Golden Vision and Kev is the dishy distinguished fella in the black shirt with the shock of grey hair ordering from the menu and chatting up that rather lovely blue lady.
Kev's lad is a dead ringer for scouse crooner Peter Coyle singer with scouse band The Lotus Eaters – 'the first picture of you'!
http://cps-static.rovicorp.com/3/JPG_250/MI0002/958/MI0002958963.jpg?partner=allrovi.com
Paul Ferry
63
Posted 27/09/2014 at 23:08:01
Michael (#63) – what about the howler he missed in the middle, mate?
Paul Smith
64
Posted 27/09/2014 at 22:56:16
I thought Lukaku did alright in the first half. He held it up well took people on and was generally a nuisance to the RS defence.
For me it was Nais who appeared at odds with the ebb & flow of things. His body language was a bit like it was early last season when everyone was calling for his head. He wasn't that bad, just not 'on it' like he has been of late.
Thought it was weird having Hibbo up against someone of Sterling's pace, but what other options did RM have ? TB from the off ? Big shout that.
We need peanuts back, it won't give us the pace we need (Fuck knows where that has gone) , but it may help Baines to get some crosses in to Lu, providing he's not on the wing doing Seamus's job (messy) it all goes to show how short we are of proper quality in depth.
There was a move today where we almost looked like the team that was smashing all and sundry most of last season. We just couldn't get going, though; too many players lacking in confidence & being risk averse (McCarthy) playing it back, slowing it down and not taking the initiative.
Not too down-hearted though the equaliser could be the catylist we need.
Happy for Jags and our fans at Anfield.

Andy Meighan
65
Posted 27/09/2014 at 23:10:40
Great moment in the game: Jags passing the ball back to Howard on 90 mins 28 secs and Anfield rising as one to applaud. You could almost hear "Yes! That's it now..."
Well, I'm sorry to say that wasn't it, because we all know what happened next. I will not get tired of watching them last couple of minutes as long as I live... Brilliant!
Paul Thompson
66
Posted 27/09/2014 at 23:27:09
Watching MotD in a Toronto hotel room, so not much sense of the game. But Howard's save from Balotelli was incredible. There would have been no way back from. 2-0. As it is, the result could kick-start our season.
Nicky Styles
67
Posted 28/09/2014 at 00:39:56
Made up with that goal by Jags, I really am, but it came out of nowhere. From about 70 mins on, our body language was that of a team with no idea how to get back into the game and one almost accepting of the 1-0 scoreline.
RM can talk positive all he likes but this performance overall was anything but promising. And it's now 16 years since we won there.... SIXTEEN!
Mark Andersson
68
Posted 28/09/2014 at 04:49:43
What a goal, worthy of goal of the season.
Phil Walling
69
Posted 28/09/2014 at 07:33:19
For all the excitement over gaining a point at Anfield, this team looks ill-prepared and just a bunch of square plugs in round holes.
There are times when their great leader looks more confused than they are.
We are on the road to nowhere, I fear!
MIke McLean
70
Posted 28/09/2014 at 07:46:50
Could either be a catalyst, Ã  la Oxford, or simply a tattered rag to hide our embarrassment?
RM has been honest about the performance. Let's see what he can do.
It took SAF three years to mould Man Utd. But with our limited resources and geriatric / kiddy squad, we should expect virtually immediate trophy success, shouldn't we?
I know. Why don't we set him a target of nine more games? That way we'll be in a win / win situation: if he succeeds, we get the vicarious glory; if he fails, we get to gloat about just how right we were that the man is a BS conman...
Aman Kanji
71
Posted 28/09/2014 at 07:58:26
I'm happy with 1-1. We did have a chance at 93 mins for Barry to let it run through to Rom who was clear to shoot...
Defending – Massively improved. (Dizzy, looks like light training for you from now on)
Stones did well but still gets gets himself in situations where he's caught with the ball;
All round great, something solid to build from. A goal from set play as a result of diving cheating reds (no surprise there).
Rom's touch were massively improved and he did well in the right as the outlet. Should have either gone down screaming or pushed passed à la Aguero!
McGeady needs lots of work. Kevin will be a huge miss. Oviedo, Pienaar, Gibson & Barkley due back soon....
We'll have them at home... Man Utd next without Rodders Rooney.
Aman Kanji
72
Posted 28/09/2014 at 08:18:11
Two more points:
Our wall was in reverse. Short players on the right side of goal... The danger area! SIMPLE planning.
Kevin coming off at 30 minutes was a consequence of our disjointed play. No option but to put on McGeady, who works at 50% of mighty Kevin's effort.
Ian McDowell
73
Posted 28/09/2014 at 08:15:56
The performance certainly gave a lot more questions than answers yesterday.
Baines should've just taken a shot in the first half when he had time and space in the box.
Lukaku should've definitely got a head on the ball in the second half.
Other than that, we struggled to create and very rarely showed a threat.
Mike Chambers
74
Posted 28/09/2014 at 08:44:11
Positives:
● We got a point
● Howard played well
● Jags played well, scored & might be over his dip
● Hibbert came in and covered okay
● Browning seems strong
Negatives:
● Mirallas injury
● Lakaku lacked edge, kept dropping deep
● Still not firing on all cylinders like last year
Let's hope Thursday is better.
Jim Bennings
75
Posted 28/09/2014 at 08:41:27
The actual result and performance were a world apart, you take the result over the performance all day long, it could turn out to be a monumental confidence booster and turning point – who knows?
The performances this season to be honest are simply baffling me, it's almost as though we are still in pre-season and look like a bunch of strangers.
I couldn't believe yesterday we allowed them counts to start the same way we did in January, I was going mental watching their Red twats harrying everything and seeing the likes of Besic and Barry eased off the ball. I thought "Hear we go again."
To get a point out of that, I imagine most of us are so relieved today it's indescribable.
I can rest again now until February 7 when they come to Goodison.
Peter Bell
76
Posted 28/09/2014 at 08:50:15
Paul Thompson (#69),
What save from Ballotelli?
The ball hit him !!!!
Paul Smith
77
Posted 28/09/2014 at 08:45:56
I was very happy with the draw as attacking-wise we didn't offer much of a threat. I am of the opinion that I could forgive Lukaku for poor performances if the effort he put in was better. He is 2nd to react to every ball; until he rectifies this, he will never become a top player. His age should have nothing to do with the effort he puts in.
I'm starting to get a bit worried; with no Mirallas, I think we may need to look at a different formation as I can't have McGeady starting in any team of mine. We need to get a midfielder in the team who gets beyond the striker but I don't think we possess one.
The plus points from yesterday are we looked better defensively and Browning's cameo who looks built to possibly be a long term partner for Stones at the back.
Mark Tanton
78
Posted 28/09/2014 at 09:10:32
You can criticize Lukaku for a few things, but to suggest he was lazy yesterday is just plain daft. He worked his arse off in a selfless performance, and actually looked good in flashes. We were insipid in going forward but that wasn't all down to Lukaku. The game was crying out for Gibson and Barry needs a good rest.
Anyone else think Besic might be the answer to getting up the field more quickly? He was always trying to move the ball up and make things happen – it didn't always come off but he looked good for the most part
Brent Stephens
79
Posted 28/09/2014 at 09:16:54
Mark,
I agree Besic is quick thinking and has quick feet. His pass to Lukaku, giving an almost-free header not taken, was what we need more of. I think we'll now see much more of him.
Mark Tanton
80
Posted 28/09/2014 at 09:21:43
I was impressed in the first half particularly, when he evaded two reds with a dip of one shoulder. He is not the finished article but I think he might be a big player this season. Also Gibson, who surely would have spent less time giving the ball away.
Glen Garrett
81
Posted 28/09/2014 at 09:19:56
Well done, Everton, that was better.
I thought that Stones and Jagielka played alright and Martinez should give Browning his chance now. He looked really sharp and he read the game well; he's got the pace. What has happen to Baines? He isn't the player he was last season.
I must say that Lukaku was a good signing as I think that he plays for the team; he can score as well as play-make and he can win the ball back.
I hope that Ross Barkley hurries back as Everton are going to miss their quick-thinking amazing winger, Kevin Mirallas. Barkley can restore the sharpness that Everton are going to be missing in Mirallas.
We need back Pienaar and get that left-hand side up and running again with Baines as I think that Baines seems a little lost without him.
This is the Problem with Everton when they are missing key players – they don't have any real other top quality players that can fill the injury gaps. Maybe that is because we don't have the money to the likes of Chelsea and Manchester City.
Rick Tarleton
82
Posted 28/09/2014 at 10:42:50
The question isn't just about whether Lukaku played well, it's the fact that he's being played where he is far less effective. You buy a central striker and play him on the wing! Why?
Jack Plant
83
Posted 28/09/2014 at 10:47:55
Jack 7: I have to disagree with you about Lukaku, I thought he had a great game. When have we seen him before playing so well with his back to goal, bringing the ball down, holding it up and feeding in players around him, that's what his game has been missing and yesterday he showed he can do it.
I think we really missed Mirallas (after he went off), Coleman and Barkley because, with Lukaku playing as a target man, they would be your main runners off him; without them, we looked ponderous in the final third.
Conn Prosser
84
Posted 28/09/2014 at 10:10:17
I have mixed feelings about the game. Overall, I'm pleased with the result, but Mirallas's injury is equivalent to a loss.
I was pleased with the pragmatic approach by Martinez. We know that a derby is like a Champions League final for them. And thus, it's not fair to read too much into our performance; suffice to say, a draw was a fair result.
On individuals:
● Lukaku had a disciplined display, imposing himself in that corner to counter Hibbert's lack of pace and Browning's inexperience.
● Naismith did a good job on Gerrard, but wasn't as effective offensively.
● Besic was promising with strength and discipline – surprising a few.
● Baines needs Pienaar.
● Browning was very impressive attitude-wise, it would be nice to see him introduced more regularly, he certainly earned it today.
● Jagielka, getting his mojo back. I poo-pooed my sons prediction that he would score.
● Stones was Man of the Match.
● I was not happy with Barry or McCarthy, but they're stuggling players in a stuggling team and probably not miles away from some good performances.
Our habitual slow-down in the final third is frustrating; I'm going off McGeady, having been a fence-sitter. He needs to cross it... fack – is that not easier than trying to go round the outside EVERY time?
Jamie Barlow
85
Posted 28/09/2014 at 11:14:24
Peter Bell@80. Give the bloke some credit. He wasn't exactly stood still when the ball hit him.
Gutted for Mirallas.
Frank Crewe
86
Posted 28/09/2014 at 11:48:04
I think we came with a plan not to lose and we didn't so the plan was successful. The RS had more attempts but percentage-wise less of them were on target than ours. Also, as the home side, they should attack more than us.
The defense looked more solid although that might be down to how crap Balotelli is. I've seen more movement from a lamppost. If Sturridge had played the outcome may have been a lot different. They don't half miss ratboy.
Browning looked good when he came on and he certainly wasn't overawed. I noticed he got on to Balotelli pretty well. I hope we see more of him in the coming matches.
I think Barry needs to be benched. We cannot continue with two DM's. It severely limits our attacking options, especially if one of our fullbacks isn't playing and Barry just keeps getting booked. He was lucky not to get sent off yesterday. McCarthy is enough DM cover. Hopefully when Barkley is fit this will be done and we'll go with McCarthy, Besic, Barkley with Naismith playing off Lukaku.
Speaking of Lukaku. I hope his position out on the right yesterday was just for this specific game. He a striker and should be in the middle most of the time. Shame about Mirallas. He's been one of our brighter players so far this season. Let's hope he won't be gone for too long. In the meantime I wouldn't mind seeing Coleman playing further forward with Townsend at right back.
Gavin Johnson
87
Posted 28/09/2014 at 12:50:17
It wasn't the best performance but, for the most part, the game plan worked. We didn't play with a high line this time and sat back more. Going into the game with the hindsight of last season's result (where the high-line tactics were clearly wrong with the pace of rat boy and Sturridge), I think most on here would say it was more astute tactically and showed that Bobby is a bit more flexible and has more to his philosophy than 'attack is the best form of defence'.
On another note does anyone know when Pienaar likely to be back??
Andy Codling
88
Posted 28/09/2014 at 13:22:42
I think the only goal we have scored from a corner was Lukaku against the shite last year, I don't remember the last from a corner before that, probably because we have professional footballers who are incapable of beating the first man.
For a team whose ethos is the passing game, how come some players are unable to pass it 10 yards and in from of the intended player? Gareth Barry was atrocious, McGeady should be in the Championship or lower, we have no pace and end up passing for passing sake and then look like slipping up at the back all the time.
I'm happy to get a point but, apart from that, the football this season has been terrible and I'm sick of Martinez spouting about how everything is 'phenomenal'... I can only hope he's telling the players that it's unacceptable, but saying it behind closed doors.
Robert Duncombe
89
Posted 28/09/2014 at 13:27:11
Kevin Tully I totally agree. The spine of our team is golden. It just needs to click into place and then we will be away. Maybe our season will start in part two, like it did under DM ?
Paul Andrews
90
Posted 28/09/2014 at 13:53:09
Long term prospects of a Stones and Browning partnership at centre half is exciting
John Keating
91
Posted 28/09/2014 at 13:47:45
Balotelli was a pure disgrace but even worse, led by Henderson, were the so called fellow professionals who tried to get every Everton player booked at every actual and imaginary foul.
Amit Vithlani
92
Posted 28/09/2014 at 13:57:01
I have not had a chance to post for a few weeks but here goes.
I am absolutely delighted with a draw at Mordor. The performance was poor but I don't really care that much. Whenever we play the RS, home or away, we tend not to get the rub of the green and this usually leads to dropped points. Yesterday we gained a point without playing well and having a bit of luck and for that I am grateful. The RS are clearly a bogey team for us and so a point at their gaff is no bad thing in my eyes.
The season so far has been a muddled mess, but it is still far too early to be jumping to conclusions and letting loose violently jerking knees. 10 PL games are usually a reliable indicator of where we are likely to finish the season.
I agree with those who say we lack a clear pattern of play, and that the team lacks intensity and aggression. A combination of factors, such as new additions bedding in, injuries, players off form have no doubt contributed. The manager also appears to have us defending much deeper which is creating gaps behind our full backs when they attack and putting enormous strain on our 2 DM's. The deeper defensive line seems to be to compensate for our style of not looking to close down the opposition higher up the pitch. Is this to conserve energy given the additional number of matches this season?
On the player front, Mo Besic has the makings of a very good player if he stays fit and keeps his discipline. Browning looks a real find too, whilst Stones is continuing his development superbly. Lukaku is a worry, he looks slow and lacks sharpness and Bobby is overplaying him. He needs a rest, particularly with the Mirallas injury. I would play Naismith and Kone in Russia and start with Eto'o against Man Utd. Without Mirallas, outwide we only have McGeady and Atsu and both players will need to start contributing to make up for the absence of one of our best players.

Steve Cotton
93
Posted 28/09/2014 at 15:05:53
Put it this way. If we had been one up from a free kick going into injury time and say Gerrard scored a 30-yard screamer, we would have been inconsolable... so imagine how they feel right now.
Mike Powell
94
Posted 28/09/2014 at 15:21:57
We have to admit we were very lucky to get a point but I will take that anytime at their place.
I just knew that twat was going to score as soon as he stepped up to take the free kick, even though it wasn't a foul in the first place. Where do they keep getting these diving cheating horrible players from? Or is that the first thing they learn them over there???
We need to play much better than that if we are going to do something this season.
Barry Stevens
95
Posted 28/09/2014 at 15:39:14
I know Howard has had a couple of bad games, but the criticism re the free kick is unfair. The wall we had up was so small in height humpty dumpty would've survived if he had fallen from the top of it. In hindsight, we would've been better off sticking someone on the back post.
On a sidenote, just seen the game between our U21s is on kopshite TV tomorrow night. Good chance to see the the young players and how they perform.
Wayne Smyth
96
Posted 28/09/2014 at 15:42:20
A lot of disappointment on here, which I can understand, but I think the negativity is misplaced. Things need to be taken in context.
A point at Mordor isn't anything to crow about, but the RS always cheat their hardest against us. I doubt they put in half the effort against Villa, for example, either in terms of actual football, or efforts to con the ref.
I was actually shocked we weren't down to 10 men because every time we went near them, they were rolling around, screaming. Balotelli was the worst culprit, but they were all guilty.
It was embarrassing both for them and our league the way they would be rolling over one minute, then as soon as it was clear that the ref wasn't interested, they were back up sprinting at full speed. Makes my blood boil and I'd struggle not to break their legs for real if I was playing against those cheating twats.
So, while the ref didn't spot our pen, and neither did he give us a free-kick prior to their goal, nor did he book Balotelli for a quality dive to win the free-kick from which they scored... he didn't send any of ours off, which he could've easily done given the theatrics and cheating going on.
In terms of the team's performance, it's worth remembering that the lads are low on confidence, especially our defence; we also lost Mirallas part way through the game. We were also without Barkley, Pienaar and Coleman, three of our best players who I'm sure would've been in the first 11 and provide a lot of our attacking threat.
We conceded 1, but otherwise kept them out and we had the ability and confidence to go at them and get the equaliser, when, in seasons past, the manager would've brought on a defender to avoid an embarrassing scoreline.
If Browning had been playing from the start instead of Hibbert, I think we'd have done better. This kid may not be Coleman Mk 2, but even at this stage he's still far more competent than Hibbert, who simply does not have the mobility to deal with modern wingers and puts us in the shit every time a team attack down our right.
So, for me the positives (in no particular order) were:
1) A point away from home with 3 or 4 key players out injured and confidence low.
2) A generally solid defensive display.
3) Watching Rodgers's face when Jags fired his Exocet in right in-front of the kop in the 91st minute.
4) The performances of Stones, Besic and Browning.
5) The confidence gained by fighting back whereas in previous seasons we'd have capitulated or gone for damage limitation.
Bernard Dooley
97
Posted 28/09/2014 at 16:39:20
Just caught up with two further screamers by Jags for Sheffield United. Have a look on YouTube "10 best Blades goals"; they have Jags at number one with a goal against Leeds in 2002-03. There is also a tasty one against Boro in 2006, again from distance (separate video). All half-volleys; surely due another one in 2017-18?
Jack Collins
98
Posted 28/09/2014 at 17:14:58
Watching the West Brom game on TV at the moment, who for the most part I'm not overly fond of. But, having said that, is anyone else worried a little that their passing and movement and general play seems more fluid and crisp than ours. I just feel like we haven't been playing the nice intricate, creative, possession football that we were accustomed to last season.
Yes, I know we beat WBA 2-0 but, in hindsight, similar to us against Palace, they were a result of two individual errors from Olsson and Foster.
I just don't have the same vibe this season as I did the last. Just very hopeful all my worrying and pessimism is for nothing and that we do very well this season.
Harold Matthews
99
Posted 28/09/2014 at 17:39:17
I think we know what you mean, Jack. Pienaar always adds to the passing and movement and Coleman has been a big miss. Now we've lost Mirallas, another top player.
Key men missing in key positions will disrupt any team, rich ones included. Fluidity goes out of the window while the manager seeks suitable solutions. It's never easy.
Billy Fisher
100
Posted 29/09/2014 at 00:11:14
JAGS!!! Good for you, lad!!! Slandered and libeled. Words I'd never 'eard in the bible!!!!!!!!!!
Ant Dwyer
101
Posted 29/09/2014 at 01:31:04
Made up for Jags as he's got a fair share of stick lately.
Hopefully he can put his bad form behind him and even walk away from international duty to concentrate on his Blues career.
Brian Wilkinson
102
Posted 29/09/2014 at 02:25:11
Just as I was awaiting the dreaded YNWA scarf-raising, Jags pisses on their ususal 91-min chorus.
If only Jags could have waited another 30 seconds and silenced them in mid chorus, now that would have been the icing on the cake.
Mark Andersson
103
Posted 29/09/2014 at 03:59:29
Anyone know how Seamus is? I thought it was just a bump on the head.
I can't understand the massive difference of opinion on Big Rom and McGeady. How can they both be shite and really good? Both had moments of good football and both could be frustrating; after all, it was McGeady who floated the ball back into the danger zone that led to Goal of the Season.
Rom had some good moments too although the co-commentator pointed out that he loses the ball more than any other team mate with his inaccurate passes. As he said, he needs to hold onto it a bit longer until there is another option. Still, he is young and learning his trade. We expect too much, my only gripe is if you compare Balotelli's workrate at closing down to Rom, he makes Rom look lazy and really slow.
Harold Matthews
105
Posted 29/09/2014 at 08:29:24
Yes Mark, McGeady drives most people crackers but he did have the awareness and speed to chase down the ball before swiftly turning to face the goal and lifting over the cross. These moments are what he's there for.
As for the big fella. Who knows. Right now he doesn't look a 㿈m player that's for sure but he appeared to be very restricted by orders on Saturday. "Get up on that right wing and stay there" sort of thing. Balotelli, on the other hand, had no restrictions. Martinez rates Rom and after getting the club to shell out such a fortune you can bet your life he'll be working overtime on the lad's first touch and general technical ability.
Mike Gwyer
106
Posted 29/09/2014 at 09:25:24
Harold.
From your posts I notice you have a lot time for McGeady and it looks highly likely that we will be seeing a lot more of him over he next couple of months. Be that good or bad for the blues, it is a great opportunity for him to show us all why he had a price tag of over 㾶M.
Agree with you about Rom, the boy did exactly what RM asked him to do and for me he will be asked to do the same thing against Man Utd. Though with Coleman back, we will probably see a different attacking outcome on the right side of the pitch than we did at Anfield. Naismith for me was limited, so hopefully RM will have a pop at sticking Eto'o up top (for longer than 10 minutes).
Biggest Saturday issue for me – we need to look at our distribution of the ball from the back players to the front guys... How the fuck you can have 54 percent of the game with only 8 shots at goal whilst the opposition have 26 hits at our net? This needs to be looked at!
Also, I've read that Wenger has ordered his players in to discuss their corner routines, apparently they had 15 corners with not a single attempt at goal. That's fucking hilarious, for me Wenger must have a little Wenger chuckle whenever Everton get a corner.
Mike Green
107
Posted 29/09/2014 at 10:40:33
Harold - totally agree, McGeady's a proper footballer, one of the few in our side blessed with the ability to do something different and create chances that the opposition have difficulty planning against.
I think he's more or less got his fitness back, has got used to the EPL now so once his confidence is built we should see more dividends, great addition to the squad.
Nigel Gregson
109
Posted 29/09/2014 at 10:32:43
Mike, great points – we were piss poor on the counter. I remember so many times Naismith fucking up the quick incisive ball when a quick break was on. I hope to see an improvement in that area, because this Man Utd team is ready for the taking – especially with fast counter-attack as they are utter shite at the back.
I'm not sure where you got the 㾶M figure for McGeady, however, I don't think we paid even one third of that. Maybe you mean the price the Russians paid for him?
Nigel Gregson
110
Posted 29/09/2014 at 11:35:21
Brian Wilkinson, it was amusing and immensely satisfying to shut them up, but imagine what would have happened if that last second backheel from Barry had gone in!!!
Mike Gwyer
111
Posted 29/09/2014 at 12:37:22
Nigel.
Yep, you're right, I was referring to the 㾶M some Russian mob paid Celtic. If we had paid that figure for his services, I would be crying myself to sleep!!!
As I've already said, he will certainly get a few games over the next few months so let's see what happens. It's when he loses the ball that does my head in as he rarely tries to recover the ball and he's extremely slow at tracking back.....
Tom Bowers
112
Posted 29/09/2014 at 12:57:53
Nigel (#113), you are so right: Everton are not as good on the counter, like some teams are, as often the moves break down before they begin, with poor ball control and passing. I think also in this particular game it may have been somewhat suicidal to charge forward when in possession as Liverpool's game is geared to counter-attacking at speed.
I must give praise to RM for the improvement in defence and, although they were only a minute away from another defeat, they were still pretty sound at the back. I am happy to see that at full back they have so much cover for the imminent future.
Certainly the Man Utd game will be another stern test defensively given the money they have splashed out on goalscorers but elsewhere they are weak and the Blues can capitalize on that, hopefully.
Harold Matthews
114
Posted 29/09/2014 at 17:42:57
Yes Mike G, I'm always in full support of McGeady. Possibly because he gets such a hammering. If he looked like Jelavic or Deulofeu instead of one of the Keystone Cops he'd probably be more popular but that's not his fault. Martinez didn't buy him to look good.
He also didn't buy him to track back and tackle. His job is at the other end of the pitch where he might open things up with one piece of magic and help us score a goal. Okay, he loses possession now and then but nowhere near the number of times people stick on him.
Against Leicester, he scored a sublime goal and almost got two. The next week he only got 14 minutes. Against Chelsea, he threaded a beautifully weighted ball inside the fullback for Coleman to cross to Mirallas. He then skinned the fullback, flew inside and sent Naismith away to score. Against Palace, he floated past 3 defenders and put it on a plate for Osman who was denied by a wonder save.
On Saturday, his awareness, speed and skill enabled him to provide the cross which was headed out to Jags for his super goal.
People who call him useless are best ignored. They have no grey areas. Players are either amazing or crap. ToffeeWeb is full of them. Some are actually quite funny.
McGeady is a squad player who only starts when other experienced wingers are not available. He'll never be a star but he will do a job for the team and his boss. He's had quite a decent season and, with a little more support,he'll do even better.
Pete Owen
115
Posted 30/09/2014 at 01:24:17
Very well put, Harold, I've a lot of time for McGeady; more often than not this season he has had no teammate giving him options to pass to. We're so static when we have the ball up front that he often has to halt his run or look for another unmarked option.
He will fare better with Osman/Barkley next to him.
Mike Gwyer
116
Posted 30/09/2014 at 10:49:29
Fair play, Harold and I take your point that he is in fact a squad player. I've no ticket for Man Utd but I will watch him against Villa, who without doubt will park the bus and try to hit us on the break. Could this be McGeady's time?

Charlie Parker
117
Posted 29/11/2014 at 13:03:48
I see that the new BT add features Jagielka's thunderbolt.
---
Add Your Comments
In order to post a comment, you need to be logged in as a registered user of the site.
Or Sign up as a ToffeeWeb Member — it's free, takes just a few minutes and will allow you to post your comments on articles and Talking Points submissions across the site.
© ToffeeWeb