Barkley 'really close' to return
Young star progressing well in training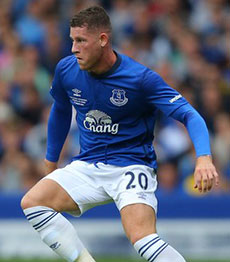 Roberto Martinez says that Ross Barkley is "really close" to seeing his first action of 2014-15.
The 20-year-old tore a medial ligament in his knee on the eve of the season and has not featured at all during the first three months of the campaign.
But his manager told reporters at his pre-match press conference ahead of the visit of Aston Villa that Barkley has been reacting well to his return to training but stopped short of predicting when he would be fully ready for inclusion in the first-team.
Martinez also provided updates on three more of his players who have been dealing with injuries of their own in recent weeks.
He indicated that Steven Pienaar, Seamus Coleman and James McCarthy are all recovering well and that all three would face late fitness tests before Saturday's game. They should all be available for the trip to Lille next week, however.
John Stones, meanwhile, has undergone successful surgery to repair damaged ankle ligaments but Sylvain Distin is "training well, refreshed and is enjoying his football," according to Martinez. "He is back in consideration for Villa."
Reader Comments (38)
Note: the following content is not moderated or vetted by the site owners at the time of submission. Comments are the responsibility of the poster. Disclaimer
Dave Lynch
1
Posted 16/10/2014 at 15:29:30
For god's sake, I hope he's not rushing these lads back to early.
3 months for a medial ligament?
Sam Hoare
2
Posted 16/10/2014 at 15:35:00
Good news mostly but where on earth is Kone? Why was he on the bench for that Swansea game if he was so very far from fitness as he suffered a major setback that we have not heard about?
We could really use another striking option and surely, if he's been back in training since Swansea, he must be getting close at least....
Linda Morrison
3
Posted 16/10/2014 at 16:10:58
I think Saturday is too early for Ross and maybe even the Burnley game is also. Learn the lesson Roberto of waiting until players are fully match fit before playing them. Roberto should tell the England Under 21 crew to forget even trying to get Barkley for the tournamanet,
I expect to see at least Coleman and hopefully McCarthy back for the Villa.
In terms of defence I would prefer to see Disitn start with Jags and if he can't do the full 90 minutes put Browning on.
We just need a bit of good luck and I can see the team really taking off.
Mike Barrett
4
Posted 16/10/2014 at 16:22:30
Linda, "Wait till players are match fit before playing them"? They can't get match fit without playing!
Roger Sunde
5
Posted 16/10/2014 at 16:25:53
@Sam
Kone is 31 and has more or less not played any football for 18 months.
Do you really think thats gonna be any kind of option, I am afraid we wont see much of that man and it was probably 6 mil down the drain.
Sam Hoare
7
Posted 16/10/2014 at 16:55:14
You're probably right Roger but then why was he on the bench for Swansea? Very strange.
Ian McDowell
8
Posted 16/10/2014 at 16:59:45
Finally, some good news. Delighted to have you back, Ross.
Matt Traynor
9
Posted 16/10/2014 at 17:10:50
Of course the BBC are twisting this to "he's got a chance of playing against Villa". Same bulletin is reporting Stones is definitely out till "2015".
Linda #3 - "Learn the lesson Roberto of waiting until players are fully match fit before playing them."
Can you not see what's wrong with that sentence?
Jamie Barlow
10
Posted 16/10/2014 at 17:13:15
Kone is fit isn't he? That's why he isn't mentioned as a possibility of playing.
Tony J Williams
11
Posted 16/10/2014 at 17:16:39
He has been put down Jamie, it was the only humane thing to do!!
Will Firstbrook
12
Posted 16/10/2014 at 17:34:23
"Where on earth is Kone?"
I will try and pick him out on Saturday no doubt wearing a red and white striped jumper and matching touque!
Paul Dark
13
Posted 16/10/2014 at 18:36:12
I also hope he isn't being rushed back too soon. This thing of playing players when not fully fit (Lukaku) reminds me of Walter Smith, God forbid ... .
Still, can't wait for Ross to return when it's right. We've missed him so badly.
COYB!
Karan Oza
14
Posted 16/10/2014 at 18:54:47
For the love of god, DON'T RUSH HIM BACK!
Harold Matthews
15
Posted 16/10/2014 at 18:52:20
Tony J. I shouldn't laugh but that was a good one. ha ha.
Denis Richardson
16
Posted 16/10/2014 at 19:22:23
I think RM's trying to give us some good news but we all know that Barkley was never really going to be back before November. I think there's another international break next month so will see if he manages to come back before or after that – my money's on after.
As long as we have Coleman and McCarthy at least back for the Villa game, I'll be a bit more relaxed. With Coleman and Mirallas out, we have no attack on the right so getting one back is a boost. Pienaar would also be a boost but not sure if he'll make it for Villa given how he broke down after coming back last time.
Tough team to call in AM – the back 5 and two DMs pick themselves but up front is a lottery. Eto'o should start if Lukaku's not 100% as well as Naismith on form. Remaining 2 any out of Besic, Osman, Oviedo, McGeady or Atsu. Would like to see Oviedo for his enthusiasm but not sure he has 90 mins in him. Can see RM going for Osman and McGeady but would be disappointed if both start. Ossie doesn't have 90 mins in him and McGeady's been unconvincing so far. If it were me it would be Oviedo and McGeady, with McGeady off at HT if he's having a crap game. He's at least got more pace than Osman.
Whatever team RM puts out we need the 3 points badly to get a bit of a run going. 1-0 off someones backside or an OG would do me just fine.
Trevor Lynes
17
Posted 16/10/2014 at 19:52:16
I reckon we have enough midfield players fit to play and we can afford to start with Besic or Oviedo and bring Osman on with 30 minutes to go if needed.
I am really interested as to who is on the bench as that will indicate the players fit enough to have a part. I would hope that Kone is on the bench along with Eto'o if we start with Lukaku.
James Stewart
18
Posted 16/10/2014 at 21:07:58
Browning should play, not Distin.
Barkley can't come back soon enough!
Lyndon Lloyd
19
Posted 16/10/2014 at 21:09:42
As he
explained
a couple of weeks ago, Kone is still feeling pain in his knee and says he is about 70% fit in that respect.
Tom Bowers
20
Posted 16/10/2014 at 22:29:15
I don't think Ross will start the game but he may get 20 minutes at the end if needed. However, I just hope he is totally 100% physically fit although he may need one or two games as they cannot afford to have him break down.
I would think after all this time Kone may be a write-off after taking so long to get fit again. Remember how many times Saha was ready and wasn't. It's much harder for forwards over 30 to overcome injuries. Still, it would be nice to get some contribution from Kone if possible.
John Pickles
21
Posted 16/10/2014 at 22:59:05
A plea to not rush a player back at Everton? That's a new one on me, at this club a player could be out for a couple of months with 'Jogger's Nipple'!
James Marshall
22
Posted 17/10/2014 at 00:11:55
It really makes me laugh reading people's comments about rushing players back, and directly telling the manager when the player should be back. Are you Ross Barkley's personal fitness consultant or physio? How do you manage to credit yourself with such insight? Perhaps you're a clairvoyant?
Either way, your knowledge could be invaluable to the club.
Mike Childs
23
Posted 17/10/2014 at 09:38:56
I agree with Harold; Tony, one of the funniest lines I ever read on this site.
Phil Walling
24
Posted 17/10/2014 at 10:25:18
Talking of 'The Invisable Man', I have always believed that the Kone signing was used as an indirect transfer fee to get Roberto here without fuss. A canny lad is Wigan's 'Our Dave'!
Richard Reeves
25
Posted 17/10/2014 at 11:22:41
I hope he isn't rushed back too early. To get match fit, players need to play but only when the injury is fully healed.
And no more painkilling injections please – let the body heal properly and recover in time or you risk aggravating the injury or making it more susceptible to damage in the future.
Tony Abrahams
26
Posted 17/10/2014 at 12:07:08
Is that because they never rated Kone in Wigan, Phil?

Les Fitzpatrick
27
Posted 17/10/2014 at 12:51:12
Bobby M is going to keep Villa guessing till just before kick off. I am sure he will do it again before the Lille match...
We might see Barkley back for the Burnley game, methinks.
Harold Matthews
28
Posted 17/10/2014 at 13:23:30
We're starting to muster quite a lot of genuine talent in midfield but with Fellaini gone we hardly ever win a header. Probably a small problem but it is noticeable.
Robert Workman
29
Posted 17/10/2014 at 14:54:31
I'm excited at prospect of seeing first 'live' game since 2008, during short trip to North West. I would have preferred it not to be former 'bogey' team, for whom I have an illogical dislike. I'm also disappointed at so many injuries to key players so early in season. I just hope we can put out a good team.
If any ToffeeWebbers sit in Upper Bullens – give me a wave. I will be the guy seated in L82 taking 'selfies' (I know) at half-time!
Paul Dark
30
Posted 17/10/2014 at 15:50:09
I agree with the point re headers: we don't seem to win as many as we should under RM, including most worryingly at the back. My personal view is that the narrow defending of Baines and especially Coleman invites measured pinpoint crosses – which we then can't deal with. Crosses really panic our defence this season. Kinda doesn't make sense to me.
I was interested to hear Martinez's recent comment that we started badly at the back and that's just continued somehow psychologically. It's an insight into how he thinks and worries me slightly – though I support him fully.
I think quite a few people are concerned about Ross coming back too quickly in light of Robbie's comments about Rom playing through an injury. It is slightly baffling why he can't be properly rested and Naismith or Eto'o deputise in his absence. A fully fit and firing Rom is a handful for any defence in the Premier League or Europe.
COYB tomorrow! Three points please.
Linda Morrison
31
Posted 17/10/2014 at 16:47:17
I've just been on the official site for tickets. The pre match review mentions possibility of 5 players returning. no mention of Barkley though. I think we'll see him at the next weeks game possibly. We'll win tomorrow- I hope!
Norman Merrill
32
Posted 17/10/2014 at 17:00:52
I doubt if Ross will be on the bench even, I think this is Roberto's way of easing him back into contention, in the next few games.
We need points, hopefully we will start tomorrow.
Steavey Buckley
33
Posted 17/10/2014 at 17:06:45
Kone is starting to sound like something that used on road to warn motorists of danger, because the other Kone has disappeared from the Everton team for so long without any signs of ever reappearing again.
Andy Walker
34
Posted 17/10/2014 at 17:40:19
It's a way of creating an agenda to deflect from the fact that we are fighting to stay out of the bottom three. No one in the pre match media build up is really gonna talk about our shit start and how vital 3 points now are if Barkley 'is close', the latter is the hook for the media. We do have an excellent spin doctor in charge don't we.
There's no way he'll be on the pitch tomorrow, unless RM is truly mad.
Charles Cook
35
Posted 17/10/2014 at 17:48:47
So, Andy, when Martinez said these things about Barkley, what was the context? Who did he say it to? Was it something he brought up or was it a response to a direct question?
I could go on but I suspect you don't really know.
If we're being honest about agendas, here's how I see it. You don't rate the manager so you're calling him about things you don't really know. Or mine – I think that's what you're doing hence the irritated reaction.
Andy Walker
36
Posted 17/10/2014 at 23:04:50
Charles.
The context was no-one was asking about Barkley as no-one was expecting him to be fit just yet – remember he was supposed to be out until at least November.
But Martinez announced without being asked that Ross was 'close'... And the agenda was set.
Charles Cook
37
Posted 18/10/2014 at 08:55:23
Andy there have been a range of projections about his return – including 8 weeks which is about now and most people I know have certainly been asking.
I don't know whether he is ready – obviously, because I don't work at the club. My argument was less about his return, more about your pop at Martinez, or more to the point the whole tenor and tone of it. Utterly cynical which grates on me.
Questioning and criticism are clearly not only fine, they're interesting and useful. Cynicism on the other hand is really ugly and boring. If I've misjudged then apologies, but that's what my reaction was about.
Les Fitzpatrick
38
Posted 18/10/2014 at 09:59:51
Charles... you cannot be that naïve surely.
All managers string along the media for their own ends.
John Crawley
39
Posted 18/10/2014 at 18:08:21
Charles spot on with your comments regarding Andy, whose looking a bit foolish tonight with his comment that there's no way Barkley will be on the pitch today "unless RM is truly mad"!!
---
Add Your Comments
In order to post a comment, you need to be logged in as a registered user of the site.
Or Sign up as a ToffeeWeb Member — it's free, takes just a few minutes and will allow you to post your comments on articles and Talking Points submissions across the site.
© ToffeeWeb