First-half penalty decides tight encounter
Manchester City 1 - 0 Everton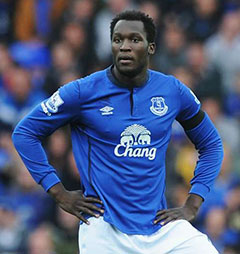 Romelu Lukaku went closest for Everton but was denied by Joe Hart's impressive save
Everton fell to their second defeat in a week as Yaya Toure's spot kick and a superb late stop by Joe Hart proved enough for the Champions.
The soft penalty award was one of a number of inconsistent decisions by referee Andre Marriner who only showed Eliaquim Mangala a yellow card for putting his studs into Samuel Eto'o's back and showed more leniency when Gareth Barry was caught by a high boot before penalising Phil Jagielka when he came together with James Milner in the penalty area.
Toure put the ball beyond Tim Howard's reach from 12 yards to give City a lead they would retain until the final whistle.
Perhaps anticipating a difficult afternoon against Sergio Aguero, Roberto Martinez had deployed an unconventional formation for the visit to the Etihad Stadium, playing Tony Hibbert alongside Jagielka and Sylvain Distin and moving Seamus Coleman further forward into a wing-back role.
The Manchester club's top scorer went down with a knee injury after just two minutes, however, and Manuel Pellegrini's biggest attacking threat was removed.
Nevertheless, City remained the more purposeful side and pressed the Blues into a series of mistakes in midfield, one of which led to the 24th penalty that would put the home side into the lead.
After a tepid first half, Everton perked up after the break but it took a magnificent save from Howard to keep the score at 1-0 when Jose Pozo's effort from Milner's cut-back looked destined for the back of the net.
The introduction of Ross Barkley for Muhamed Besic 11 minutes after the break also saw an improvement in the Blues' tempo and ability going forward but, apart from a Kevin Mirallas free kick that was diverted behind by the defensive wall and Eto'o's shot that deflected wide, Martinez's men struggled to create any clear-cut openings.
That changed with 10 minutes left, though, when Eto'o put Lukaku in brilliantly and the Belgian unleashed a volley that Hart steered wide with his fingertips.
Everton pressed in vain in the final stages but City held out to leave the Blues rooted in the bottom half of the table with just one point from their last three League games.
Reader Comments (117)
Note: the following content is not moderated or vetted by the site owners at the time of submission. Comments are the responsibility of the poster. Disclaimer
Kunal Desai
2
Posted 06/12/2014 at 21:05:05
Some you get and some you don't, maybe two City players should have seen red and perhaps the pen should not have been given but Aguero went off after 5 minutes. Who knows if he had played the full 90 and City weren't awarded a penalty, we'd still be discussing a defeat all the same. Everton didn't do anything to warrant a point in that game. One shot at goal in 80th minute is embarrassing.
Only reason they performed in the 2nd half of the game was because they attempted to try and get something from the game from a losing position. In all honesty, if the first half remained goalless it would only have been a matter of time before City would have stepped up a gear or two and scored in that 2nd half. There wouldn't have been a 2nd half performance by Everton then.
Martinez needs to get a grip of this fast, some really tough fixtures coming up before the end of the year and in all honesty we could be starting next year quite easily in the bottom 4 or 5 if he doesn't pull his finger out.
Bill Gall
3
Posted 06/12/2014 at 21:08:28
As your comments stated that Everton were set up anticipating a difficult afternoon with Sergio Aguero and after he was injured after two minutes and they bring on an 18-year-old, why did Mr Martinez wait until late in the second half to change his formation?
Hate to say it but, looking at some of the reactions from the players, Martinez may be losing the dressing room. There seems a number of players starting to get vocal with each other over their positioning and passing.
Mr Martinez may have to step in and cancel their ice cream at the Xmas party.
Jamie Crowley
4
Posted 06/12/2014 at 21:15:43
Kunal you're correct, but only in part...
If the opposition is cleating you in the fucking kidneys and getting bullshit pens... surely that's a bit of a game changer???
Yes, Roberto needs to have a good hard look at some of his decisions, but the game should never, ever had the complexion it did.
How about this? We're way too fucking soft. If a ref doesn't have the balls to show a red, go in with a leg-breaker and change the momentum. Give what they take.
We should've been 11 men v 9 men. To disregard that is not genuine.
Dave Lynch
5
Posted 06/12/2014 at 21:17:00
Kunal.
Couldn't agree more with those sentiments, some poster will bemoan the ref and the decisions we never got but if my auntie had bollox she would be my uncle.
We never threatened and Man City tried to play an open game so that excuse of "teams come to defend and we find it difficult, blah blah blah" doesn't wash.
We're not good enough – end of fucking story.
Rick Tarleton
10
Posted 06/12/2014 at 21:32:17
A terribly soft penalty decision. Marriner's one of those refs (and he isn't alone) who gives the big teams soft decisions at home. Perhaps if that decision hadn't been given, we'd have been proclaiming a great defensive display against the division's form team.
But again we showed little idea of how to chase a game. Apart from Lukaku's great effort, what did we create? Possession for its own sake is not productive.
Lee Whitehead
11
Posted 06/12/2014 at 21:43:58
Why does Martinez keep taking off our best players?
㿈 million for Lukaku?
Jamie Barlow
12
Posted 06/12/2014 at 21:35:52
"There seems a number of players starting to get vocal with each other over their positioning and passing."
Good. They need to liven up and give each other a good bollocking. Stop all this nice shite. Seeing someone step up and get vocal like Eto'o did today is what I want to see.
Martinez needs to grow a pair next game. Move Baines into the middle along side either McCarthy or Besic and play Garbutt. Maybe then we'll have someone who can take a half decent dead ball. I'd fine any idiot who hit the first man from a corner or free kick. These lot are supposed to be professional footballers.
God I miss Naismith.
Lyndon Lloyd
13
Posted 06/12/2014 at 21:48:25
Lee (12), I disagreed with the decision to take Besic off but he left arguably his best player on there today in the form of Lukaku who worked his bollocks to get one chance all game which he almost buried.
He's taken stick this season but Lukaku is one of the few players to emerge with any credit from the last 3 games. He looks wasted the way the team is currently performing, sadly.
Jim Bennings
14
Posted 06/12/2014 at 21:44:55
Do we look a great deal different from the Everton under David Moyes?
It seems to me that we are having to same debates and discussions we had during Moyes era.
Attacking play too predictable, pedestrian, one paced?
No real pace in the team throughout?
The stubborn reluctance to change from two defensive midfielders even at home to clearly poor sides?
Playing favourites too often when they are clearly not performing?
Not giving the younger players enough of a chance when the old guard are clearly fading and not impacting matches?
It's all still there for me. Martinez hasn't really even been shrewd in the transfer market yet really.
Where was he when Bojan went to Stoke?
Why did he sign Atsu?
What's the point of Aiden McGeady? He signed him, hyped him up yet he's been more or less nothing but a letdown.
Why did he keep that crock Traore here last season?
Why doesn't he start looking for a fulltime replacement for Tim Howard?
It seems like everything he did at the start of last season or said was the right thing but since the turn of the year and that Anfield Derby annihilation (could have been 8-0 that night) things have steadily gotten worse. The task he faces now is how does he change it around?

Ant Summers
15
Posted 06/12/2014 at 21:56:34
We put the oldest average aged team in Prem history today, was that right?
The ref was a homer, plain and simple.
Rick Tarleton
16
Posted 06/12/2014 at 21:57:51
Spot on, Lyndon, about Lukaku.

Patrick Murphy
18
Posted 06/12/2014 at 21:57:31
Jim,
He'll have to do the same things that David Moyes did, ie, sell his most talented players to replace those who have passed or are about to pass their sell-by dates.
We'll forever be in this position as long as we have so little money to spend in comparison to the other aspiring clubs. That's not to excuse Roberto but sometimes the team is a truer reflection of the club than it is a reflection of the manager.
Sue Brown
19
Posted 06/12/2014 at 21:49:13
I agree there Jamie, we miss Naismith and I would add Stones and McCarthy too. What a difference they make to the team.
But, apart from what has already been said, what is worrying is what has happened to Baines and Coleman. Is it loss of confidence, not recovered from injury or just frustration on the style of play? Something isn't right there...
William Tone
20
Posted 06/12/2014 at 21:58:33
I am probably one of the world's biggest RM apologists, but I recognize that not everybody agrees with his philosophy, and there is a good argument to be made that he's often too idealistic. But what I don't understand is people pretending to be exasperated that he hasn't learned some lesson about playing that they think is obvious.
His whole managerial life is based on the premise that you can win playing good football, even in the lower leagues. He will never "learn" that he needs to stop building out of the back, etc.
Christopher Wallace
21
Posted 06/12/2014 at 21:44:33
Roman
Hibbert was not as bad as you're making out. I love Coleman but he had a poor game.
Could Tony have reacted a bit quicker? Yeah, probably. However, when you're playing football and your team-mate is in possession, with plenty of options and no immediate danger, and that player carelessly gives the ball away, you can get caught out quite easily. Coleman's fault, not Hibbert's.
Steve Orchard
22
Posted 06/12/2014 at 22:06:41
Well, Andre Mariner had an absolute shocker but, that aside, I thought we were quite poor today against an average looking Man City side without Aguero, once he hobbled off, and with no Kompany. We were far too slow and predictable in attack and never posed any threat to them without the above-mentioned centre-half.
When is Martinez gonna realise that having 60-odd percent possession isn't worth a wank if you don't do fuck all with it! I don't like moaning usually but that was just so frustrating.
Christopher Wallace
23
Posted 06/12/2014 at 22:18:36
Lyndon
Good point. I'm a bit frustrated that Rom isn't using his strength better to hold players off and shield the ball. However, I get the feeling of we were creating chances for him, he'd be banging them in.
Last year, the majority of our set-backs came from not converting enough of the many chances created. Lately, we're hardly creating any.
Rom has been constantly showing for the through pass, and getting into the box. If our other players cold kick it over the heads of the full-backs (or front post defenders) once or twice a game, Lukaku would probably be on double figures.
I kinda feel for Eto'o as well – his heart is in the right place and he shows some real class on the ball, but it appears that his team mates aren't intelligent enough for moves to pan out the way he plans.
Jim Bennings
24
Posted 06/12/2014 at 22:30:41
We can't play the way Martinez wants We do not have Real Madrid, Barcelona quality players. How can you turn Barry, Distin, Jagielka into Iniesta, Messi and Ronaldo? I admire his want, his desire to try and make his mark but this is not happening here.
Everton Football Club has always been a team that has thrived on playing with tempo, passion, and making Goodison a bear pit atmosphere at night games; the Hull match had the feeling of a testimonial – no tempo from the players, no desire to push Hull back, no late cavalry charge, no atmosphere.
Our corners are dreadful, Everton have always been known as a team that likes to get quick balls into the box, unsettling opponents.
This sideways slow passing? It does nothing at all for me I'm sorry, it's just passing for the sake of passing, isn't it? It's not great football because invariably it results in nothing; any team can piss-fart around with the ball in sideways circles... We are losing our identity, I feel?
Steve Orchard
25
Posted 06/12/2014 at 22:28:04
I thought most of our attacking players were poor today. Mirallas crosses in either never made it or were poor and corners were awful. Barkley came on and ran down every blind alley in the place. Lukaku never won a header and was so on his heels every ball up to him the City defender stepped in front and strode off with the ball.
Coleman was should have been off the defensive leash a little bit but hardly got past his man or to the byline once. I don't get why he keeps taking Besic off? With Barry on a yellow, he could have walked for that elbow on Milner. I do like Roberto a lot but some of his decisions are pissing me off at the moment.
Gavin Johnson
26
Posted 06/12/2014 at 22:49:56
Jim, I was just thinking the same thing about Bojan. You'd have thought Martinez would have have been in there for him on the cheap with his Barca connections. He seems a steal now for the ١M Stoke paid.
Tony Abrahams
27
Posted 06/12/2014 at 22:47:32
I honestly thought we were doing a good containing job on City, until the ref gave that stupid penalty. Maybe City would have picked it up, but they might have gone the other way and got edgy. We will never know, and we also weren't good enough, but that was the third penalty in succession at City and two of them have been absolutely ridiculous decisions.
Frustrating day all round, but it's been a very frustrating season so far. It seems like we haven't got going and all this energy conservation has actually made us lethargic.
Anyway, we will soon be into the second half of the season, and surely then the manager will let us off the leash. I just hope our confidence isn't shot to pieces when he finally let's us play free!
Gavin Johnson
28
Posted 06/12/2014 at 22:59:29
Just to add..I've got nothing noteworthy to say about the game! I never thought we'd get anything there, so not that disappointed. Maybe that's the difference this season.. I had no fear of us playing anyone last season and thought we could win anywhere. It's Moysie form against the big boys this year!
Jim Bennings
29
Posted 06/12/2014 at 23:02:30
Exactly, Gavin.
I'm very surprised really because Martinez doesn't seem to go after the kind of players that his so-called playing style would demand.
Bojan would have been absolutely perfect for us, exactly the type of player we need, a player that can open up defences, is tricky and a fine footballer schooled at Barca.
Instead we have a midfield packed with defensive sloggers, even Besic, nice player on the ball he is, he's never going to create anything is he?
Jay Harris
30
Posted 06/12/2014 at 23:02:53
Although I am not a fan of Martinez, I would have to say I was encouraged today by the return to form of Lukaku and Barkley and thought we gave a 900-million pound Squad a game.
I still disagree fundamentally with the standard of players he (RM) thinks is up to Everton's standing (Robles, Alcaraz, McGeady, Kone. Atsu) and his team selection which IMO leaves us too light in midfield.
A big problem we do have is, with the exception of Eto'o and Lukaku and to an extent Mirallas (who apparently wants away to a Champions League club) we do not have goals from any other quarter except the defenders. We desperately need a couple of goalscoring midfield players.
Gavin Johnson
31
Posted 06/12/2014 at 23:13:04
Jim, that's a good point, we're crying out for a tricky play maker who can play in the hole behind Lukaku. No point dwelling over Bojan though... I used to do that when I was a kid, when I discovered we could have signed Ian Rush instead of Sharpie.
Milos Milenkovic
32
Posted 06/12/2014 at 23:15:41
I am thinking of creating a banner " Stop playing with two defensive midfielders"! There's no successful, quality team which plays with 2 non creative midfield players. It worked last season but it was inevitable that from one point we will find out that we need more creativity. We should go back to 4-4-2 formation with Mirallas playing upfront with Lukaku.
Gavin Johnson
33
Posted 06/12/2014 at 23:32:50
The Barry/McCarthy axis is beginning to look a bit tired. I'd like to see Barkley play alongside McCarthy next season as he matures, providing he's still playing for us, that is.
Jim Bennings
34
Posted 06/12/2014 at 23:32:36
I don't think as fans we are asking for that much, we are not asking for miracles.
Even under Moyes, all we wanted was productive football, not perfect Barcelona tika-taka football, just plain old productive football that resulted in simple things like chances on goal, causing the opposition a bit of unrest and making it slightly entertaining for the fans.
I'm not being overly critical of this playing style of Martinez but when it's used like it has been throughout the WHOLE season so far, I think the vast majority of fans would say it's not been entertaining, it's not got the fans involved or engaged (hence the shocking atmosphere on Wednesday night).
Sometimes Roberto just needs to know the fans want football that's going to at least look like we are hungry with tempo and pace, a few early balls in the box, a few more men in the box would be nice too.
It's not asking for much.
Bill Gall
35
Posted 06/12/2014 at 23:45:29
The problem with the complaints both myself and others are making about the lack of creativity, players too old, slow build-up, squad not as strong as we thought, raises a very serious question: With January coming up and Martinez has said he will not be looking for more players, this means that what we have is what we have got.
Someone on here as already stated that we may have to sell some of our better players and use the money to rebuild with younger players. If this were to happen, it means we will be back to previous seasons were we take one step forward and two steps back.
The season is not half way over yet but Mr Martinez has got to look with the rest of his staff at what the problem is and between them sort it out quick. He is not a one-man band and surely he uses his staff for information and does not run the club as it is my way or the highway.
Roman Sidey
36
Posted 06/12/2014 at 23:52:02
Chris Wallace, I wouldn't absolve Coleman of the blame – he didn't have a great game – but today Hibbert was a complete waste of a jersey.
I've been harsh on him in the past but have also praised his contributions when he has been effective, but today he really, really didn't do anything to warrant a professional contract. He's a fullback who is slow, can't/doesn't tackle when he should, can't cross, can't dribble, can't find space.
He's done okay in the last few months when needed, and even as a left-back against West Ham he wasn't atrocious. Today, however, reminded me of a Uefa Cup game about six years ago when the commentators were blatantly laughing at him.
Matthew Svatos
37
Posted 07/12/2014 at 01:47:19
I'm not going to sit here and say it was all the refs fault, but he didn't help us in any way, shape, or form. The double standards he had were disgraceful and it did cost us dearly. But at the same time we played like arse.
Barry at the moment doesn't deserve to be on the field, keeps getting caught in possession and the other team is breaking with it. Then add in the multiple fouls given away and the backwards football.
We had better be investing in some quality in January because the team we have at the moment will be lucky to finish beyond the bottom 5.
Paul Ferry
38
Posted 07/12/2014 at 02:36:06
Lee Whitehead - 12:
㿈 million for Lukaku?
This is getting a tad grating and even hackneyed now.
We have far bigger issues in our team than Lukaku right now. He didn't decide the fee; he has been one of our best players this season; he was one of our best players today.
The biggest issue is the gaffer and his worrying selections, substitutions, set-ups, and, quite frankly, his utter stifling inflexibility which means that we cannot react to games as they unfold and the teams we play know what to do against us before a ball is kicked.
And there are bigger issues amongst the players right now. Martinez really has to have the balos to drop Barry and Baines.
He wont and thank the footie Gods that Barry is banned for the next game. Martinez seems to have some sort of an obsession with not dropping senior pros. The gaffer's stubborn streak is fast becoming a major concern.
The starting eleven today were baffling; the subs were equally baffling. We take off the one player we had who could pull something out of the air.
Paul Crawford
39
Posted 07/12/2014 at 03:29:57
Frig me. I don't know whether I'm just mellowing with age or what but have I not witnessed the last 25 years as an Evertionian?
Martinez is trying to change a philosophy that has been engrianed into us for years. Fast tempo, direct, generally underdog football. Correct me if I'm wrong, while that has produced some good results, it hasn't exactly brought us success, has it?
One trophy since 1987 while playing our previous 'style' is shit. I'm happy to see our manager at least try to change things. Last year seemed OK to me at least. The Europa League was bound to affect us. But we pissed our group which is more than can be said under Moyes. I don't recall much progress in Europe under him or before him.
I'm as frustrated as anyone when we don't win but Christ, sometimes we play lovely football which, if anything, is a dramatic improvement on anything I've ever witnessed since my first proper game in 1994.
I honestly think we can build year on year, some ups some downs, but we need patience, which I worry is lacking from the stands.
Kieran Morgan
40
Posted 07/12/2014 at 04:10:33
We really need to stay calm as fans right now – we have been here before. Moyes had us mid-table during a few seasons yet we always pull ourselves back up, remember the season we bought Jelavic and Pienaar back on loan, we shot back up the table.
It is evident we're targeting Europe as a priority, and if we get a run or win the damn thing, all will be forgotten.
Roberto said he would get us into the Champions League, he has found a way how. Let's be patient, it can't all be like it was last season, which we have to accept was a very good season.
Terry McLavey
41
Posted 07/12/2014 at 04:54:01
Poor ref, poor free kicks, poor corners! Man City have never been scored against in set play! Well they certainly wouldn't have been troubled yesterday, would they FFS!
Roberto's homework: corners, free kicks and a colour chart in the dressing room to show them the right shirt to pass to! In the end, I thought we were giving a homage to Phil Neville with the hoof ball as we were in Manchester!
Minik Hansen
42
Posted 07/12/2014 at 01:55:21
The other players don't understand what Eto'o wants them to do? He is working with them and what he wants from his team mates can only improve, it's his first season with them, hopefully he can last at a high level in 2015-16, or the current team is working on how to work with class players and going that direction, we'll get to see good players coming in.
James Marshall
44
Posted 07/12/2014 at 07:10:03
We got what we deserved today. A 1-0 defeat was all we were really worth given that we barely, or rarely threatened their goal.
City are a good side as we all know, and losing Aguero helped us more than them for sure. We were on a hiding to nothing today, but if you play openly against them they'll murder you anyway.
We need to create more - we dilly dally on the ball too much, and how much training Martinez has them doing on crossing the ball I'll never know - our lads must have a terrible time crossing the road let alone a bloody football.
We lack the desire or drive to score goals until the last 10 minutes of games lately, and it's costing us. I'm pretty resigned to a mid table finish this season now, which based on performances is about right. 10th or so I'd say - we need to win the Europa League to make it worth our while, but the manager should still be backed, as should the players. It was always going to be tricky this year with the squad being stretched re the Europa games, so I'm actually not surprised or bothered.
Martinez and the players clearly enjoy the EL games, and our stock will rise if we do well in Europe. We just simply don't have the squad depth once we pick up injuries and it's starting to tell. I wouldn't start blaming anyone for any of it, because blame helps nobody.
Losing to City away to a dodgy penalty is no great-shakes at all. On to the next one, and we're still only 3 points off the shite!
Jim Bennings
45
Posted 07/12/2014 at 07:48:05
My last say on the matter for today is basically nothing will be achieved by calling for Martinez to be sacked, he shouldn't be,, it's ludicrous, look at how quickly the under fire Pardew and Allardyce have turned it around.
I appreciate that he's trying to change a philosophy, I'm not convinced you can make that kind of philosophy work in the English Premier League with limited technical players, of that my jury well and truly needs to be convinced yet, I admire his trying.
He has to improve the squad or the team more to the point in January, whether it's a loan or what, we need a player to come in and give us a catalyst.
It's no use putting faith in the likes of McGeady, Gibson and Osman, we have seen their limitations by now, nothing will change greatly with this squad.
We need a good January transfer window, something that's really going to give us something different.
I hope he's looking already.
Darryl Ritchie
46
Posted 07/12/2014 at 07:51:08
If we could somehow combine the 1st half the Hull match, with the 2nd half of this one, we would be close to matching last seasons form.
This was always going to be tough one, made even tougher by the fact it was 11 vs 12! The ref didn't have a very good game, to put it mildly. Although to honest, they were almost as pissed off at him as we were......almost.
Barkley provided a bit of lift. Not enough to salvage anything, but at least he put us on the front foot. We tried hard, but we're still not creative, or clinical enough. We're not making that crucial pass in the final third. Rom is starting to look very dangerous. He needs to be fed the ball more.
Wayne Smyth
47
Posted 07/12/2014 at 08:20:23
I don't think a narrow 1-0 loss to City is anything to get worked up about. Even though they have spent vast sums creating probably the most expensive team in the world, they still needed the ref to make some quite astonishing decisions to beat us. Quite how a fucking Double Dragon special isn't a sending off offence escapes me.
Again Lukaku did great, Besic looked good, Barry, Coleman and Baines looked off the pace. The loss of form of our wing-backs is really hurting our performances.
I think it will take Martinez a few seasons to get his players in. Until then we will continue to misfire and look clunky. Quite how people can make big criticisms of Martinez regarding Atsu, Robles, Kone and McGeady is beyond me. Which manager doesn't make mistakes?
How much was wasted on Atsu? Robles? McGeady? Probably £5M for all 3 and I actually think McGeady is decent as a bench player. A fit Kone would've been a considerable upgrade on the frontline of Jelavic and Anichebe that Martinez inherited. The other signings Martinez has made have looked good value, Besic, Eto'o, Lukaku, McCarthy.
On the subject of the latter, I think it's no coincidence we've struggled with McCarthy out of the team. Some people continue to think the guy is shit and does nothing, or no-where near enough. In reality he spends his entire game putting energy into our midfield, breaking up play, and saving our arses with some quality tackling.
I agree with Jim that we need to stick with Martinez through these teething troubles. I'm only shocked it worked so well last season. However I think the club has no money so nothing will be done in January, unless Martinez can shift some players out. It will be Summer before Martinez will get the next TV money and when the players he wants will more likely be available.
Jim Bennings
48
Posted 07/12/2014 at 08:42:18
Just watched the re-run on March of the Day again..
How the fuck did Mangala stay on that pitch yesterday?
I hope Roma thrash them and Totti does a double head stamp on Mangala and then scores a fucking hat-trick.
Lets see the how the moneybags enjoy the Europa League at the business end of the season.
Does any club get decisions from referees quite like Man City?
Haven't we now conceded three dodgy penalties in three years at their council den now?
They are even worse than Liverpool and Man United in their pomp.
Patrick Murphy
49
Posted 07/12/2014 at 08:41:24
I believe that apart from the players not being as fit as they should be, either through poor preparation or carrying niggling injuries, Roberto made a mistake at some point last season, I can't remember exactly when it happened, but he mentioned something about not needing his attacking players to defend deep as their job was to create and score goals. I understand what he meant but has it sent out the wrong message to some of his players such as Baines and Coleman for example, who are often asked to be creators as well as preventing the opponents from scoring.
I happen to believe that the players think that they are giving their all out on the pitch and the manager obviously thinks the same thing, but from the stands it doesn't always feel that way and the recent results are reflecting that difference in views.
The defence has improved a great deal since the early part of the season, but it is our failure to create enough chances in many recent games that is doing the real damage to morale and our league position. Hopefully, Roberto will find a way of getting his team to be more pro-active in the opponents final third whilst keeping the defence as mean as it can be.
Jonathan Benn
50
Posted 07/12/2014 at 09:24:48
Things people need to realise.
1) If the ref gives shite decisions, it is only going to make things more difficult.
2) Barry has played shite for the last 3 matches. Wants too long on the ball. Doesn't play his passes quick enough. Has no pace. If we want to play him, he should sit between the 2 centre halves.
3) Besic looks tidy and busy, but in reality he is too slow. Experience and more games at this level will speed him up, but the opportunity for the quick first time ball has been consistently missed by him in each of the last 2 games, opting to cut back inside and pass backwards after beating his man doesn't work.
4) We have had no width for the past 3 games. Baines has been ineffective, Coleman too. Mirallas wants to come inside and Eto'o is having to go looking for the ball.
5) Barkley can pull the strings, but only if he changes his boots and puts some fucking spikes on. He slips over far too much and the only thing to blame is his footwear. Basic and simple, so sort it out.
6) We have the players, we have the squad but good players are currently not performing. Either they sort themselves out or we change our game. It is a shame we are missing McCarthy and Naismith and maybe things will look a lot better when they return, but everyone needs to buck their ideas up and concentrate for 90 mins.
7) Stop fucking moaning. We don't wear red.
Lee Gray
51
Posted 07/12/2014 at 09:32:19
This is no shoot football and the manager is to blame it IS the best squad of players we have had for 20 years yet our league position is appalling,his substitutions baffle the whole stadium Osman for Mirallas when you are desperate for a goal.....go figure Roberto.
Kev Wood
53
Posted 07/12/2014 at 10:03:26
City away was always going to be a hard game and I went there thinking we could be battered. Chelsea had lost at Newcastle and they had a great chance to close the gap. I was surprised and pleased by our defensive changes. Last time we were at City they split us open down the middle and that didn't happen today. We went toe to toe with them and lost narrowly (although if we had scored an equaliser, they may have been able to ramp up the pressure on us).
Most of the key points have been analysed above. For my money, the game changed with Barkley's introduction. For a while he added pace, intelligence and the skill and confidence to hold and attack with the ball at his feet. Lesser opposition would have been taken to bits by him. If we'd also had another creative rainmaker (a fit Naismith?) with Mirallas doing what he does so well, maybe the result could have been different today.
The other glaring point is why can't we do anything with corners. I live in hope that Baines will deliver but he just doesn't anymore.
I've not seen anything from City fans crowing about their great victory. They know their points were hard won. Everton stuck to the script and were not disgraced by the score line- although most of us have a good idea of where our current deficiciencies are.
Jim Bennings
54
Posted 07/12/2014 at 10:36:15
Good post Jonathan
I'd have to agree with the lot of that really.
I think something else that has slipped under the radar again yesterday amidst all the melee of debating of how the ref was...yet again we gave the ball away 20 yards from our own goal (Gareth Barry trying to be clever) if we clear that ball down the pitch then City don't get that dodgy pen but no just like at Spurs (ahem yes Gareth you again mate) we lose the ball in a dangerous area and it kills us.
Just like Osman for Crystal Palace at home, their third goal came from Osman losing the ball outside our box.
Besic backheel against Chelsea.
Tim Howard for United's winner at Old Trafford..
Lukaku at Burnley ( thankfully not costly)
We could go on and on but until we learn to eradicate this schoolground way of playing then we are likely to continue shooting ourselves in the foot.

Simon Harris
55
Posted 07/12/2014 at 10:22:56
Going to City you would expect to have to score at least one to get anything out the game.
yes, it was made harder by the referee but the lack of urgency offensively is worrying.
What the fuck do we work on in training all week. Fanny about for 2 hours and then pat yourself on the back everybody for good fannying. And as for set pieces don't get me started.
We're becoming too predictable and toothless. I don't see any cohesion or partnerships forming which is obviously made harder by chopping and changing players, either enforced through injury or resting for the Fairs cup.
I'd like to see Martinez be flexible with the players he has at his disposal, even if it means sticking Distin or Jagielka up front for the last 15 mins against Hull to make things happen.
Oh, and Sin Miedo - my arse
Patrick Murphy
56
Posted 07/12/2014 at 10:51:59
Jim - why stop there mate.....oh that's right you don't wish to go on and on. Let it go mate you'll make yourself ill. We lost, we have 23 games to put things right - we should be OK. I've seen many poorer Everton sides than the current one over the years, that's not to say everything is fine and dandy, it isn't, but we have to hope we will return to some form of normality in the next few weeks and months, otherwise we will all end up in the funny farm.

Ciarán McGlone
58
Posted 07/12/2014 at 11:18:55
Interesting comments on the two high challenges..
I remember the long argument following the Newscastle game when Gibson got hooked.. rescinded if I remember correctly. I still stand by my analysis.. such challenges are dangerous and should see red.
By the way.. Gareth Barry is finished.
Conor McCourt
59
Posted 07/12/2014 at 10:58:14
I cant believe some of the posts on here today. The last 2 performances were really poor and we didn't show intensity or hunger or just too shattered to do so.
I was so proud of the team today. We are lacking confidence, we have decent players like Barry, Coleman and Baines woefully out of form, we had 3 shocking decisions by the referee yet he was the difference between the 2 sides.
I've wanted Howard and Distin dropped but yesterday they were so pumped and in the 2nd half we gave a right go. Yes we tested their keeper once but one of the best squads in Europe made Howard only make one outstanding save.
I thought we displayed great character and I'm really amazed by the criticism on here of todays performance in what is easily our worst spell for 2 years. Had we reached yesterdays level in the previous 2 games we may have taken 6 points. The sing when we win brigade sicken me.
Gavin McGarvey
60
Posted 07/12/2014 at 11:48:10
I can't get too enthusiastic about yesterday's loss, or any loss/draw to be honest. One bright part of the match, for me at least, was Barkley's performance in centre midfield. That could be the start to the solution to our midfield problems. We certainly looked a lot better when he came on, and he seemed good in that role. Perhaps a glimpse of the future?
Patrick Murphy
61
Posted 07/12/2014 at 11:49:41
Conor I think you're being a little bit harsh on some of those critics. If you have followed Everton closely for the last five to ten years and I'm sure you have, you will have noticed that Everton always raise their game against the perceived chosen clubs apart from one particular club, if yesterday was a case of them raising their game then we are in more trouble than I thought we were. Even had Everton managed a point at Spurs and again yesterday and had also managed to have beaten Hull, there was very little in any of those performances to suggest that we are playing well and that's why the team and manager have been criticised, the results haven't helped but it is the performances for the majority of this campaign which have raised so many questions and there appears too few answers. Yesterday was a big improvement as far as commitment was concerned but as for the football part of it - well it lacked cohesion and it lacked penetration a problem we have been saddled with for far too many games this term.
Brian Harrison
64
Posted 07/12/2014 at 11:58:26
I don't think that many of us expected to get anything out of the game yesterday, and with no pressure on the team I expected them to at least have a go at City. The charlatan decided to play Coleman on the right, I would love to know what Pienaar,McGeady and Atsu thought of that decision.
I thought when they lost Aguerro then that might give us a lift, but it didn't seem to make any difference. Yes the penalty was an awful decision but apart from the effort from Lukaku I don't remember another shot that Hart had to save. This poor form has been with us for most of the season, and there seems little or no improvement from week to week. Worryingly the longer the charlatan spends with the team the worse we get.
Conor McCourt
65
Posted 07/12/2014 at 12:04:05
No I don't think I am Patrick. A little perspective needs to be garnered. This thread was about yesterdays game and 90% seems very negative. Last year when we were playing much better we took nothing from here yet we played them at their peak form and had we a decent referee we would have taken at least a point.
Critics constantly say we are not Barcelona so shouldn't try to make players do what they cant. Well at the same token we aren't Barcelona and most teams that come to the Etihad get a bit of a beating yet in our lowest moment we produce a really courageous display.
We know where we are in the league table and we now the last two games were poor but I was really proud of the boys yesterday yet no-one else seems to be-one idiot said we were embarrassing.
Colin Glassar
66
Posted 07/12/2014 at 12:20:18
So now he's a charlatan? Last season he was almost compared to the second coming, the messiah, and now he's a charlatan?
Unfuckingbelievable some of the garbage put on here. In fact, I'm not going to lower myself to comment further on this shameful and embarrassing 'opinion'.
Paul Dark
67
Posted 07/12/2014 at 11:25:41
Paul Ferry, 39: 'The biggest issue is the gaffer and his worrying selections, substitutions, set-ups, and, quite frankly, his utter stifling inflexibility which means that we cannot react to games as they unfold and the teams we play know what to do against us before a ball is kicked.'
I agree that this is a major problem. I dare say it marks the flip side of RM's positive sides, like Wenger. Some of his absolute favourites do seem an odd choice: McGeady, Alcaraz, Barry, Osman. In October and November last year, we did have passing with purpose and incisiveness - proper School of Science - so what's happened?
I think he needs to show more trust in Ross and play him in his natural position - or rest him. Ross has always gone down too easily, by the way - though yesterday the booking was a little harsh, only a little. RM's poor decisions this term (team selection and subs) mean that players like Mirallas will leave - not good. This was a great season to make good, too - with so many top teams playing indifferently.
The main difference between us and City yesterday was hunger. They streamed forward and passed with purpose. I agree with some of the posters on here that it will take time for RM to impose his tactics - but persisting with dross like McGeady does the team no good. We need an elite of 11 players, preferably 22, and the likes of McG shouldn't get close to the squad, let alone the first team. Also, the back four don't need two minders: if they do, we need to buy better players to play in defence. One major ball winner (who can distribute) in the middle is enough.
I agree that Besic is a bit slow at present - but he is an excellent footballer and should play ahead of Barry most times. Perhaps he's mid-contract, but Barry has lost all bite and purpose.
All in all, we are a very aimless side at present - and that is RM's responsibility.
Kunal Desai
68
Posted 07/12/2014 at 13:01:47
I hope Roberto can turn around our fortunes very quickly because as things stand im not hopeful of getting much out of the next 5 games. QPR and stoke at home. I think we have enough to beat QPR but will we find a way to break down Stoke? Away games at Southampton, Newcastle and Hull. I don't fancy us getting much change out of these. Nevertheless we seem to get results when no one expects us to, if we are to get results performances have got to dramatically improve.
Kieran Riding
69
Posted 07/12/2014 at 13:01:51
Roberto is having to play Distin, who he Dosent really want to. Stones has been a huge loss.
He's having to manage Mirallas fitness, as if he broke down again there would be murder for rushing him back etc.
Besic is new to the Prem and learning fast, but the "he's boss" versus " he's Shite " on here is laughable.
Rom will only improve.
There are far worse sides than us in this seasons league, so the talk of relagation is off the mark.
We played Wolfsburg off the park home and away, so we're not that bad really, are we !

Eoin Cullen
70
Posted 07/12/2014 at 12:46:50
Reflecting on yesterday's game one thing is absolutely clear - referee Marriner was a disgrace. In effect City had 12 players on the pitch. Not only was it not a penalty but they should have had 2 players sent off and Barkley's booking for "simulation" when he was pushed in the back was ridiculous. Several other less serious decisions also went City's way. But none of this should disguise the problems Everton are currently facing. We have players in key positions who are clearly past their best and struggling. This makes us slower and ponderous in using the ball and opposition defences have more time to organise. That's why we are recording very few scoring opportunities.
Howard can still pull off outstanding saves but too often he is caught out at his near post and his reactions seem to be slowing fractionally (and goalkeepers operate on fractions of a second); his days are surely coming to an end. Distin has not only lost speed but he is now ponderous on the ball and seems to have forgotten how to pass with any accuracy or the right pace. Barry had a good first season but now looks as if time has caught up with him. He's slow, constantly losing possession and making bad decisions in crucial areas. He still works hard and covers well, but is that enough? Osman is still a useful player but these days he has only got half a game in him. McGeady is a moth: occasionally he sparkles in the light but mostly he's never seen. I thought Barkley had a good second half at the Etihad and if he has a good second half season, as Martinez suggests, all well and good. But if he disappoints again maybe we should take the money and run.
Lukaku needs all the practice he can get at close ball control but he is still developing and I think we can be hopeful about him. All in all we've got good cover in defence when everybody is fit but a goalkeeper and two top quality defenders are a must if next season is not going to be even more disappointing than this one is turning out to be.
Gavin Johnson
71
Posted 07/12/2014 at 13:22:34
At least Aiden McGeady didn't play..
Colin Glassar
72
Posted 07/12/2014 at 13:15:36
You're right Kieran. I know everyone has injuries but ours have ruined the season so far.
Coleman hasn't recovered 100% from his injury
Stones was to be Jags partner this season. Hasn't happened.
Bainaar were supposed to link up once again this season. Hasn't happened.
Ross is only now beginning to show signs of recovery.
Baines has lost form after his injury.
McCarthy has been a massive miss.
Barry isn't match fit.
Nessie also a massive loss
I could go on but these are some of the reasons, IMO, why we haven't hit our stride yet. Maybe that's why Roberto talks so much about the 'second half of the season'? With the return of Macca and Stones, and the return to form of some key players he knows we will improve dramatically.
For this reason, and this reason alone I will give Roberto my personal vote of confidence. Unlike some of the charlatans on here.
Brent Stephens
73
Posted 07/12/2014 at 13:20:05
The title of the thread contains the word penalty, so my link to Howard, who tried to save the penalty, is just about on topic!...
... great piece in the Observer today, an extract from Howard's autobiography. About his coping with OCD and Tourret syndrome. A touching piece in terms of the ridicule he got at school and the battle he and his mum had in order to get the professionals in school to take it seriously.
He actually says that the upside of the conditions, as predicted by his doctor, is having a more enhanced focus on some things such as sensing attacking patterns before they happen, exactly when a winger is about to cross and whose head it will land on. I guess there'll be some flack about how well he does in view of that, but go easy on the guy!
Max Wilson
75
Posted 07/12/2014 at 13:18:11
Coming into these discussions late is sometimes an advantage. I'm always interested to see what the Sundays say about us (or the Mondays) as well as the opinion one forms for oneself. We were bloody unlucky with Marriner as ref.He consulted no-one about the non penalty. Mangala and Fernando were allowed to get away without red cards. I just pray Eto,o is okay for the coming week.The team we fielded managed to creep into the game when RM brought Barkley on (at 56 minutes) and on another day, Lukes shot would have got us a draw.Our best players in my opinion were Eto,o,Mirallas and Barkley. Besic struggled but as far as I could see he didnt do Aguero, who stumbled on the grass when moving away from him and tensed up his knee as you do and pulled his knee ligament.If its torn, he'll be away for 4 months minimum. We've got to move on from this frustration. It's all part of the game sadly. Marriner will be spoken to by someone when the inevitable complaints come in to F.A headquarters.Distin was averagely effective and made no big errors, Sundays gave him 6/10. H
Rob Halligan
76
Posted 07/12/2014 at 13:29:29
Following on from Brent 're: the title of the thread and the word "Penalty". Having attended the match yesterday I was convinced at the time it was never a penalty, just a coming of two players, shoulder to shoulder, one of who went down rather too easily.
Not having the benefit of any action replay, I was unable to comment or discuss if it was indeed a penalty or not until this morning, when I saw the incident for the first time on Sky's Goals on Sunday.
If anyone can convince me that was a penalty then I think I will pack in going the match!! Never in a million years was that a pen. Just like the penalty at the Ethiad last season that shouldn't have been given. It appears that Man City have joined that "elite group of clubs" who will try and con referees into getting every decision, although to be fair to Milner, he did get up straight away as he must have thought it wasn't a penalty.
As for the two yellow cards that should have been red. Two outrageous pieces of dangerous play that should have seen both players sent off. Trouble with our players, as has been mentioned elsewhere, we are too soft when it comes to appealing these decisions, and just accept it as though they are correct. Whether right or wrong, get in the referees face and give him hell. Chelsea, Man Utd and the RS have been doing it for years, and maybe it affects referees in future games when refereeing these teams not to give any dubious decisions to their opponents!!
Conor McCourt
77
Posted 07/12/2014 at 13:31:16
Colin I don't know if some posters have been following the Everton that I've been over the last 36 years. I was treated to my best year as an Everton supporter last year playing the best football I've seen from men in the blue shirts.
This year was always going to be tougher with roughly the same squad (Eto'o + Besic in, Dellboy out) playing in a competition which traditionally decimates league form. I' m not saying that I don't recognize the underachievement at the present but balance is needed.
Apparently performances are atrocious yet for me only Hull, Spurs and Palace have been poor but some are saying its the worst for 20 years. I have watched some horrendous Everton teams over the years and as much as I really appreciate the job Moyes did in turning us from relegation fodder into a top 7 team sometimes it was so painful watching us , with him taking a centre forward off and bringing Johnny Heitinga on.
They argue that Roberto has a better squad than ever before yet they fail to recognize that so do all other teams due to the extra tv money and the only reason Luk, Barry, Besic and Samuel joined was because of the present incumbent and his methods so derided on here. Anyone believing it was the pull of Everton is deluding themselves.
Come the end of the season I'm sure there will be a few on here a little embarrassed that they doubted him.
Conor McCourt
78
Posted 07/12/2014 at 14:09:17
Max, he couldn't have seen the incident with Barry's huge frame obstructing his view. That's why I'm interested to hear that you say he gave the decision which just shows that we were cheated as if the assistant had said in his ear well that's just a bad call, but if he made the decision then the camera shows he didn't see it and guessed.
John Daley
79
Posted 07/12/2014 at 14:13:43
"I was really proud of the boys yesterday yet no-one else seems to be"
Let me ask, what was there to be proud of? You make reference to the two previous performances as somehow being worse but where exactly did the difference lie? It certainly wasn't out on the pitch, in full view, for all to see.
Do you mean it's a decent performance purely because we didn't get stuffed? The main reason we didn't get a pummelling might simply have been down to the fact that, yesterday, Man City were almost as dire as ourselves. The injury to Aguero was a slap to their senses and the young lad Pellegrini took a punt on to replace him was virtually anonymous.
City's attacking threat was severely reduced from that instant on, their defensive solidity was already disrupted with Kompany missing and his place being taken by the mishap prone 'looks a bit of a meff for 㿌 million' Mangala but, instead of scenting blood and baring their teeth, Everton settled for having a quick sniff around the bum hole and backing off:
There was no urgency about our play until Barkley was brought on, no imagination, no power, no pace. As per usual, there was no burning sense of injustice within the Everton players at the penalty call going against them. Some teams might suck it up and use such a wrong as added impetus to initiate a turn around. With Everton there was just meek acceptance and a kind of apathetic 'Ahh, well'.
If you see one real effort on goal throughout the entire game as having 'a right good go' then that's up to you, but I certainly wouldn't attempt to castigate anyone who can't bring themselves to deny the evidence of their own eyes and see some semblance of spirit shown at the arse end of the second half as being the new 'never say die'.
I'm not saying it's right to go overboard, start ranting, raving and demanding that Roberto be strapped to a rack to receive fifty lashes whilst simultaneously having his eyelids stapled open so he can be subjected to the full series of The Les Dennis Laughter Show. That's just idiotic (and far, far too cruel. At least show a modicum of mercy and make do with Russ fucking Abbot).
However, to praise a performance as poor as yesterday's, because it wasn't quite as poor as it possibly could have been, does nothing but reinforce your antagonists accusations that Martinez has already assembled a 'see no evil, hear no evil' army of acolytes.
Dave Lynch
80
Posted 07/12/2014 at 14:10:50
Conor.
It's not about "doubting him"; football is a results-driven game and no-one can predict the future, which is why the vast majority of footy fans line in the "now" and quite rightly so.
Bottom line is this, we are poor at he present and a lot cannot see where the next 3 points are coming from. It "might" get better but then again, it "might" get a lot worse and only time will tell.
The only thing we really had to go on was Martinez's past record, which – let's be honest – was not that great and (barring a fluke FA Cup win) was pretty abysmal really considering he got relegated.
Remember, it is a results-driven game and not a game of fortune telling and predictions.
Colin Glassar
81
Posted 07/12/2014 at 14:10:43
Can't add much to that Conor. Like most Evertonians I'm upset about how the season is panning out but to go from that to calling the manager a charlatan and saying these players are useless is beyond belief.
The hatred towards Ossie and Hibbo has now been replaced, or deferred, to Lukaku, Barry and, believe it or not, Barkley. Unfortunately, this is nothing new amongst Evertonians. I won't go over old ground but there's always been a moron element amongst us who seem to take great joy in slagging off our players be they they Ball, Harvey, Royle, McKenzie, Sharp, Gray, Rats, Arteta, Carsley etc... And as for managers, well I won't even start.
This is probably the same everywhere and during a game some of the abuse is understandable in the heat of the moment. But when someone sits down and writes that the manager is a charlatan, and another idiot states that one of our players, you know who, has been ripping off the club for years by getting paid, it's akin to hate mail IMO.
I hate what's happening to us right now. I want to win every game or, at least, put in a performance. I still believe we will turn it around and the Martinez out brigade will return to the dark place from where they spouted.
Sam Hoare
82
Posted 07/12/2014 at 14:28:12
He's not the messiah, he's a very naughty boy.
No bones about it, Martinez is under pressure now. I'm not suggesting he should be sacked and think anyone who is, is a little bit ludicrous... But there is no such thing as a free pass in the Premier League and if we don't start playing with considerably more fire and nous then it's not impossible that we will be looking around at Crystal Palace's and Stoke City's results in March rather than Man Utd's and Arsenal's and that would be a fairly unacceptable situation to be in towards the tail end of the season. But that's far enough away for now.
The issue for now is how to correct it? We look so tame and ponderous, my first idea would be to ditch the nice guy approach and start dishing out some old school bollockings to try and stoke a little passion in the players if nothing else. But what do I know?
No doubt we miss McCarthy and some of the lads look knackered which begs the question as to why Martinez has not used more of the youngsters he has been so keen to lavish praise upon without actually playing for more than 20 seconds here and there.
Either way, time to earn your corn, Roberto, and fix it.
Paul Dark
83
Posted 07/12/2014 at 14:33:32
I think there's nothing wrong with pointing out RM's shortcomings.
I myself am very pleased we have him as our manager.
There's no contradiction there.
Conor McCourt
84
Posted 07/12/2014 at 14:18:58
John prior to the game, many were predicting it could be 4 or 5 but it wasn't; the difference was a poor decision. Once again we were coming up against a team there for the taking, like every team we seem to play.
We were told on the other thread how poor Lille and Krasnodar are. We are better than Arsenal, Spurs, Man Utd and the RS. Get real. These teams spend 㿀M and 㿊M on each player – we have one in that category.
Of course we should be in the top 7 and trying to compete to get into the top four but are we realistically suggesting that a team with Howard, a 37-year-old who is getting torn apart left right and centre, and Hibbert should be going to Man City and playing them off the park, especially when we are at our lowest ebb.
I stand by my belief that our players did our club proud yesterday.
Max Wilson
85
Posted 07/12/2014 at 14:39:52
Connor, Marriner consulted no-one before giving the spot kick (unless he had an invisible ear piece or something). That's what raised all the eyebrows on MotD and in the press. He'll be confronted by the FA I hope. Those two ghastly illegally high fouls are enough to have his bollocks chewed off.
Now let's all move on to better days for the lads, some of whom tried very hard, Eto'o in search of the ball all day for a start!
Nick Entwistle
87
Posted 07/12/2014 at 14:50:13
Max, he can only consult the linesmen. One was beyond the halfway line, the other on the opposite side of the pitch. Which would you prefer?
Andrew Ellams
88
Posted 07/12/2014 at 14:49:16
Conor, 36 years as a blue and last year was the best? Did you sleep between 84 and 87?
Conor McCourt
89
Posted 07/12/2014 at 14:46:50
Sam, I think that's just his approach but doesn't think any of them bar Garbutt are ready. I have no doubt he believed by not spending in January, the Fellaini money and the increased TV deal, that he would get the 7 players he seen as necessary to attack both fronts.
A month later, he says he is relying on youth instead without working with them. This says to me he was told he was getting less than promised. He would not be the type to bitch to the press and so the kids statement came out.
Conjecture, I know, but seems plausible.
Carl Taylor
90
Posted 07/12/2014 at 14:57:10
Late to the party having only just watched Match of the Day. We may have been a bit ropey but why has the referee not been sanctioned? Two assaults on Eto'o and Barry, never a penalty and Barkley booked for doing what Milner did.
Gullit says the ref got decisions wrong and then they just move on. If it was the other way round, there would be a national outcry for justice and for us to have points deducted!
Patrick Murphy
91
Posted 07/12/2014 at 14:59:15
Nick - If he didn't see the 'contact', and I don't believe he could as Barry was in his line of vision, he shouldn't have awarded the penalty – of course the linesman may have told him there was contact but we'll never know for sure. It wasn't a penalty in my view – but hey, we are Everton, we should be used to it by now.

Sam Hoare
92
Posted 07/12/2014 at 14:59:27
Conor, then he bears responsibility for spending 㿈M on one player and not bulking out the squad as necessary. We knew how many games we would have this season and if he thought none of the kids were ready to play then we should have brought in more players who were.
It just makes him look a bit silly to say how great the kids are but not play them at all when our squad is knackered and the likes of Barry are visibly in need of a rest.
Something is definitely wrong when it's 15 games played and West Ham have 10 points more than us!
Colin Glassar
94
Posted 07/12/2014 at 15:02:03
Is it me or does anyone else think the standard of refereeing in this country has gone down the drain?
Last week I watched DMC lookalike Howard Webb justify every bad decision refs have made this season. Now this is a fella whose job is to improve refereeing standards but, when he blindly refuses to recognise just how shit many of them are, then we are going to see more and more of these bad decisions.
Rob Halligan
95
Posted 07/12/2014 at 15:02:02
The linesman on that side of the pitch was in the other half. The linesman in that half was on the other side, so neither linesman could have seen it. Marriner made a massive decision which was totally wrong.
Max Wilson
96
Posted 07/12/2014 at 14:59:58
Hi Nick! Marriner should have gone on a voyage to his fourth official and/or asked his linemen if they saw anything, and listened to the players. Milner did not claim anything, he just got up! Some Refs actually listen to the crowd as well, I'm told.
MotD said it wasn't a penalty, a fair challenge. I rest my case, Mr Entwistle; onto the next one Clerk of the Court if you please........
Steve Carse
97
Posted 07/12/2014 at 15:08:05
Marriner's readiness to give the penalty was matched only by the speed with which he got his book out to take Barkley's name for the dive that never was. If that had been 'good old Frank' on the ball in that instance who'd took a tumble, does anyone really think Lampard would have received the booking? Absolutely no way.
Jamie Barlow
98
Posted 07/12/2014 at 15:15:43
Barkley went down far to easy on a number of occasions yesterday. Couple that with his dive against West Ham and I'm not surprised he was booked. A big lad like Barkley shouldn't go down from a touch like that. He needs to stop. It's embarrassing. He won't though because managers (including ours) want their players to do it.
Bill Gall
99
Posted 07/12/2014 at 15:39:14
It was not the penalty that got me mad at the referee (though it was a poor call) as, over the season watching other games, I have seen similar ones not given and some given.
The thing that got me really mad was the lack of a red card for high boots striking a player both in the instance of Eto'o and Barry. The referee can't claim to not have seen it as he booked both City players.
Telling me that the high kicks hitting a player deserve no worse than a player holding a player back makes a mockery of the rules. I don't now if this will happen in these two incidents but don't the FA take a look at this to see if it was violent conduct?
Conor McCourt
100
Posted 07/12/2014 at 15:47:17
Sam, Lukaku was a marquee signing which was the priority, a genuine top class goalscorer. Yes, we could have got 3 or 4 in instead but that was just not an investment for this year but for the next 5 and a guarantee of 15+ goals a season.
Jamie, we are one club that you cannot accuse of supporting the conning of referees. Can you imagine those 2 city challenges against Chelsea. 6 or 7 players would go mad, Terry would tell them to go away while he talks to the ref but the initial seed has been planted that all these players have seen something sinister.
On each occasion, only one player Howard and Eto'o reacted respectively in that way and both natural reactions to what they had seen. I guarantee that if the same applied to Chelsea, City would have been down to 9 and I'm not even taking into consideration the advantage Champions League clubs get in these situations, I'm talking about the Mourinho effect only.
Steve Carse
101
Posted 07/12/2014 at 16:11:34
Jamie (102), Barkley always looks like he's going down even when not being challenged! His lack of balance when running with the ball is self evident. He leans so far forward that any kind of contact looks likely to bring him down. I doubt it's something that can be rectified, so I guess we better get used to seeing him regularly booked for 'diving'.
Will Firstbrook
102
Posted 07/12/2014 at 16:07:36
Agreed 100% Bill. Violent conduct most certainly in the case of Eto'o. Studs up from behind above the waist and nowhere near the ball. I cannot for the life of me see how a ref could come to any other conclusion than red.
The circumstances surrounding the foul on Barry is a bit less compelling . I've seen more yellow given for that than red. If he was gushing blood I imagine the ref may have been more inclined to show red (not to say that absence of blood makes it any less seriously offense). At minimum, Toure was trying to play the ball when Barry went in.
Notwithstanding, Marriner had a mare of a match and his decisions (or lack thereof) had a direct bearing on the final outcome. Inexcusable.
Jay Harris
104
Posted 07/12/2014 at 15:49:16
What we are suffering this season is all down to the manager.
He fannied about at Copacabana instead of organizing preseason and bringing some much needed reinforcements in for the twin assaults on the EL and PL.
This resulted in a lethargic start to the season and some unnecessary injuries.
This has affected confidence and team spirit and some of the BS statements from the manager do not help.
Having said all that we could and should have come away with a point yesterday and I thought the team put a shift in.
I know City were missing a few but so were we and we don't have a 900-million pound squad.
Kieran Riding
105
Posted 07/12/2014 at 16:36:39
Moyes worked as a TV pundit whilst our manager, by the way.
Just saying like.

Colin Glassar
106
Posted 07/12/2014 at 17:00:05
But did ginger plot our downfall while drinking a caipirinha and being lap danced by a young Brazilian beauty Kieran? This is what happened according to the conspiracy theorists.
Roberto gave strict instructions to his staff to not train or plan for the coming season. Didn't you know after Rio they all went on a jolly to Vegas?
Patrick Murphy
107
Posted 07/12/2014 at 17:12:33
I wonder what people think about the club owner being permanently based 200 odd miles from the Football Club - that can't be right can it? I mean how does he make decisions when we don't have a match?
Phil Rodgers
108
Posted 07/12/2014 at 17:36:27
Villa have gone above us. Jesus wept..
Al Reddish
109
Posted 07/12/2014 at 18:16:48
Just gonna say that, Phil. This is the same Villa who everyone agrees will be in a relegation dogfight and have had a shit season.
I think Bobby is getting off lightly in the press at the moment but if results don't improve, or he buys/loans a crock of old shit in the Jan transfer window, he could be in trouble.
I remember one paper last year when Dunc was promoted saying Martinez virtually signed his own death warrant as when we start to struggle, the fans will be demanding Dunc gets the chance to replace him. I hope it doesn't come to that but things need improving in the League, and quickly.
Jay Harris
112
Posted 07/12/2014 at 18:43:48
Colin are you saying you think we planned and trained properly pre season?
Kieran Riding
113
Posted 07/12/2014 at 18:48:58
Lol Colin, whilst Moyes would have had Pip leading out a 10-mile run in Austria, Roberto was watching Celine Dion in Vegas.
Alan Irvine, Steve Round.. These lads have bossed it since leaving Everton, whilst we just sit around going no where.
Colin Glassar
114
Posted 07/12/2014 at 18:53:14
Jay, no. Listen I'm all for a bit of Martinez bashing which is good for the system. I think a bit of humble pie will do him good. He's messed up this season big time re pre-season, team selections, tactics etc.... But he's also had a terrible string of injuries to cope with.
Until recently, we've been playing okay-ish not really getting a battering by anyone but not battering anyone either.
My point is, this is an opportunity for him to show his worth and earn his pennies. I know he will be focused on the EL now but I hope he's going over the VTs looking at our recent games and pinpointing the mistakes and poor judgement shown by players.
It's no use calling for his head as we all know Bill will back him to the hilt (morally, not financially) so don't waste your time. He has to stand up and show us he's still the man (which I firmly believe he is) to take us to the promised land. Three years he said. Three years.
Jamie Barlow
115
Posted 07/12/2014 at 19:05:01
Bill@105 There's nothing the FA can do as the referee seen both challenges and gave a yellow card for each offence. If he didn't produce a yellow (didn't see them) then the FA could look back and give their own punishment.
Nick Entwistle
116
Posted 07/12/2014 at 19:25:54
Max... the 4th official isn't there to give his opinion on things he isn't there to see, crowds are hardly the most objective source of information, and worse still the fecking players? And now you want him to wait until he's seen MotD to be given a retrospective view point.
You wouldn't make it onto Judge Judy.
Jamie Crowley
118
Posted 07/12/2014 at 19:57:26
A Blue friend just sent this to me.
I hope during some challenging times this brings a smile.
My sons and I laughed out loud. Hilarious.
https://www.facebook.com/video.php?v=761602193876678
Bill Gall
119
Posted 07/12/2014 at 20:12:49
It says something about our performances when two managers who the bookies had as favourites for the sack have now got both of their clubs above us.
Don't want Martinez to go but wonder what his odds are going to be to get fired.
Nick Entwistle
121
Posted 07/12/2014 at 20:17:01
Jamie, that is brilliant. Loved it.
Denis Richardson
123
Posted 07/12/2014 at 20:47:45
I see West Ham won again, that's 3 wins for them in 8 days, so much for 'tired legs'. West Ham now up to 3rd and 9 points clear of us, even Aston Villa have gone above us after their win.
3 points needed against QPR or the masses are going to get restless.
Geoff Evans
124
Posted 07/12/2014 at 20:54:20
I hear that QPR haven't won away this season...
Brian Furey
125
Posted 07/12/2014 at 20:00:58
Am I missing something? People saying we're so defensive minded but have we not scored more goals than last year.
Lukaku is the first decent striker we've had in 20 years so I'm happy we splashed out on him. He's only 21 and is only learning his trade.
Yes, I wish Bobby stopped all this passing from the back and we alternated it a bit more.
The whole purpose every year is to get into Europe so I think we are right to then focus on doing well there. We're not good enough for the Champions League yet anyway.
Patrick Murphy
126
Posted 07/12/2014 at 20:57:46
Jamie - fantastic brought a smile to my face - Apt commentary as well: Its Not Our Fault!
INOFs is how I'm going to refer to them from now on.

Doug Harris
127
Posted 07/12/2014 at 21:18:41
Pissed myself laughing at this. I know we shouldn't like...
James Morgan
128
Posted 07/12/2014 at 21:49:45
Are we in a relegation battle now?
Michael Winstanley
129
Posted 07/12/2014 at 21:25:31
Cheers Jamie, loved it.
Colin Williams
130
Posted 07/12/2014 at 22:06:21
It was "NOT" a pen! And also I bet that all top refs will be embarrassed by his performance!!!!! Utter crap!!! Spoilt a good game!
Mike Jones
131
Posted 07/12/2014 at 22:48:33
Tommy H on Match of the Day 2
Steavey Buckley
132
Posted 08/12/2014 at 01:48:23
The cry from certain Everton fans about the Everton passing game must be eating their words after the Man City game, because most have to accept, they just did it better than us on Saturday with greater effect.
The game itself was marred by bad refereeing, who not only gave a pen that would have had most City fans wondering as well, although glad to be awarded one, the blatant disregard by the ref for dangerous play by not sending off two City players left Everton again on the bad receiving end of appalling refereeing decisions.
As for the players:
Howard; good.
Hibbert: average.
Jagielka: average.
Distin: average.
Baines: poor.
Coleman: poor
Barry: poor
Besic: average
Mirallas: average
Lukaku: average
Eto'o: poor.
Subs:
Barkley: lively.
Osman: poor.
Everton need to rediscover their mojo and regain their confidence asap, if they are going to win more games than they lose or draw.
Abhishek Saha
133
Posted 08/12/2014 at 06:25:44
The players need rest, I think that's why they are loosing creativity up front. In the Krasnodar game, keep the entire first XI rested apart from Barry who will anyway miss the game against QPR.
Play Robles; Browning, Hibbert, Alcaraz, Garbutt; Barry, Oviedo; McGeady, Atsu, Henen; Kone.
Geoff Evans
138
Posted 08/12/2014 at 16:06:33
Play the youngsters.
Will Firstbrook
139
Posted 08/12/2014 at 17:14:54
Made my day, Jamie! Loved the Torres 'miles offside' (in his own half) shout. Brilliant.
Bill Gall
140
Posted 08/12/2014 at 17:18:00
Steavey # 134 The supporters who cry about the Everton passing game do so because of the slow ponderous build up from the back 5. You are quite right mentioning City,s passing game that was moved quickly from the back with quick crisp foreward passing with players moving into space.
This type of play we hope Martinez is trying to achieve with Everton but at this momement we just seem to have a midfield of ball winners and no one to carry it into the oppositions defence and open them up with passes to the wing or strikers.
R.Barkley showed flashes of his abilities when he came on as a sub and may be the answer but we have to get someone that can be consistant.
Len Hawkins
141
Posted 10/12/2014 at 13:58:44
Marriner has been demoted this weekend – hopefully to the Church & Oswalstwistle Methodist Cotton Workers Under-9s.
---
Add Your Comments
In order to post a comment, you need to be logged in as a registered user of the site.
Or Sign up as a ToffeeWeb Member — it's free, takes just a few minutes and will allow you to post your comments on articles and Talking Points submissions across the site.
© ToffeeWeb