Boss not expecting significant deals before the deadline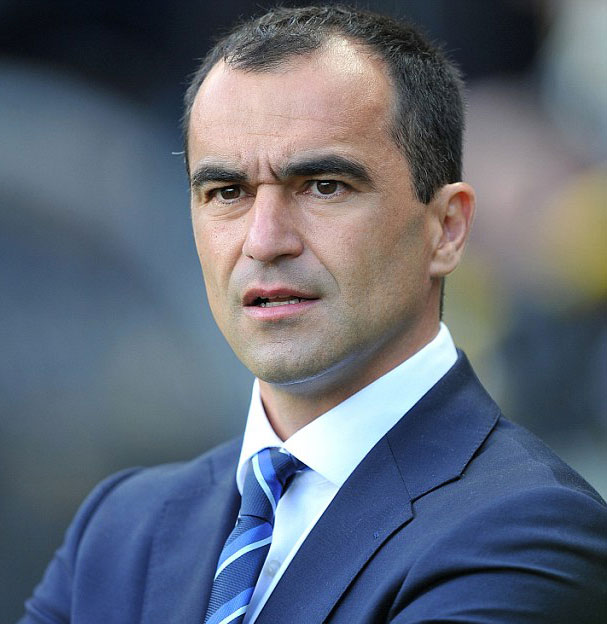 Roberto Martinez says that he would be "very surprised" if there were any major changes to the Everton squad between now and the transfer deadline at the end of month.
With the Blues winless now in six Premier League matches and in danger of getting sucked into the relegation zone if results don't improve, many anxious supporters are looking for the manager to bring in additional reinforcements this month.
Martinez, however, retains his faith in the players at his disposal and he hints that the possible departure of Samuel Eto'o, whose pending move to Sampdoria appears to be on hold, would be the only significant move in or out of the club.
"Apart from [Eto'o], I'll be very surprised if there's any major changes," the 41 year-old told evertonfc.com.
"I think the players we've got out injured are going to be back very soon and I want to see that continuity and a strong squad coming out and showing how strong we can be in the second half of the season.
"The squad is strong enough. We have been missing too many players, even to the extent of losing someone like Christian Atsu who was getting stronger and it would have been a good period for him to be available.
"When he returns from the African Nations Cup he can join some players that will make us really strong again in numbers.
"Clearly the quality has always been there and we showed last season that the squad is good enough."
Reader Comments (164)
Note: the following content is not moderated or vetted by the site owners at the time of submission. Comments are the responsibility of the poster. Disclaimer
Mike Hayes
1
Posted 20/01/2015 at 19:13:15
Oh dear - hello Championship!
David Flanagan
2
Posted 20/01/2015 at 19:15:09
Utter garbage... talks and talks and talks
Joseph Clarke
3
Posted 20/01/2015 at 19:13:40
Clearly, we have a quality squad, and a quality manager. Why do we need additions?
Mike Hughes
4
Posted 20/01/2015 at 19:15:27
"
Clearly the quality has always been there and we showed last season that the squad is good enough
."
I don't know whether to laugh, cry or start padding the walls of my cell. These alarm bells keep going off in my head ......

Martin O\Sullivan
5
Posted 20/01/2015 at 19:17:21
Oh my god!!! We desperately need freshening up ASAP!!! Sorry but he is officially a knob!!!
Gavin Johnson
6
Posted 20/01/2015 at 19:15:33
After the Hull game I said that Martinez should be given until the end of the season if given funding to at least bring in a quality CB. The board aren't going to back him so we need someone who is going to motivate us with the players we've got; Martinez is not that man!
Ian Brandes
7
Posted 20/01/2015 at 19:12:59
The comments of a dead in the water manager, who will not be entrusted with our transfer kitty, such as it is.
Will Martinez be here come February? Probably not.
Mark Tanton
8
Posted 20/01/2015 at 19:17:19
Why should Kenwright give him any money when we're probably on the verge of a change of management?
Kunal Desai
9
Posted 20/01/2015 at 19:18:55
This isn't any surprise is it? We probably don't have any money to spend and if we did I doubt Kenshite would give him anything if he's contemplating sacking him im the next month or two.
Mike Hughes
10
Posted 20/01/2015 at 19:20:09
"
Clearly the quality has always been there and we showed last season that the squad is good enough
."
So, er, can you explain the first 22 games of this season?
Dave Southon
11
Posted 20/01/2015 at 19:24:04
FFS Bill!
Where is the Stallone monies?
Andrew Laird
12
Posted 20/01/2015 at 19:14:39
Citing Atsu as someone who would have had an impact is desperate stuff.
We currently have 1 goalkeeper available who can grow facial hair, 1 centre back who is comfortable on the ball, 2/3 natural wide midfielders and 2 centre forwards with another on the way out. Now can you imagine how low we would be in the table if just 3 of those were injured or suspended and we had to replace them with a so called strong squad member? Well, there is no need to imagine you can look at the table and see.
If the chequebook is closed we are in big, big trouble.
Colin Malone
13
Posted 20/01/2015 at 19:23:00
Big strong centre forward, who can win headers in the box when teams park the bus in our box, pleeeease.
David Barks
14
Posted 20/01/2015 at 19:27:11
I give up. We'll be lucky to survive this season, I honestly believe that.
Dave Abrahams
15
Posted 20/01/2015 at 19:24:57
Just doesn't make sense,Martinez is trusting in fate,doubt if fate will save us.
Although to be honest I didn't really expect us to sign any one, doubt there is any money to spend as usual.
Lyndon Lloyd
16
Posted 20/01/2015 at 19:24:38
Martinez is clutching at very flimsy straws by highlighting Christian Atsu – a player who has had next to no impact on the club so far and, based on the evidence of his fleeting appearances, isn't likely to – as a key player about to return.
Realistically, there is only one player who is likely to return any time soon that would have any bearing on our results and that is James McCarthy... and even he won't solve our inability to break teams down.
Pienaar's inability to stay fit suggests he is done as a regular force, likewise Gibson; Osman is possibly facing surgery and/or retirement; and Distin is no longer first-choice material.
We badly need an injection of something, be it pace, guile, ingenuity, imagination, but Martinez's rhetoric is frustratingly "Moyesean" when it comes to transfers which suggests that no money is being made available.
Plus ça change...
Keith Meakin
17
Posted 20/01/2015 at 19:26:59
No Osman, Pienaar, Gibson & Barkley out of form. We Desperately need creative midfield players most urgently. Without this we are really in the POOP.
Colin Glassar
18
Posted 20/01/2015 at 19:31:12
I can't wait for the second half of the season to start.
Gerard Carey
19
Posted 20/01/2015 at 19:26:46
He really is in cloud cuckoo land if he believes what he is spouting. We need a commanding centre half as soon as possible. Nero and Rome come to mind!!!!!!. Sleep walking all the way to the Championship.
Lyndon Lloyd
20
Posted 20/01/2015 at 19:34:20
Whisper it quietly in Roberto's shell-like, Colin (18), but the second half of the season started 3 weeks ago. I half expect him to still be saying it in April!
He always seems to predicate his strategy on "the last 10 games of the season"... in which case, I hope it's a good one.
Tony Hill
21
Posted 20/01/2015 at 19:35:40
A total shambles. Atsu? A new low.
Mike Hughes
22
Posted 20/01/2015 at 19:34:07
I said on another thread that indecision would kill us.
BK needs to make a firm and quick decision now to back him (with cash, not words) or sack him.
This strongly indicates that RM is toast.
And if he's not - we are.

Joseph Clarke
23
Posted 20/01/2015 at 19:30:27
Why are we the only club in the Prem, that never has any money, no matter how many players we sell. No matter how much tv money we get, we are always skint, or so we are told. Like being told that the sixth wealthiest country in the world has to rely on food banks to feed some of our citizens.
Darren Hind
24
Posted 20/01/2015 at 19:37:05
Complicity
Mike Hughes
25
Posted 20/01/2015 at 19:38:43
Didn't RM indicate in the recent past in that Churchillian style of his that we'd be firing on all cylinders some time around February?
God help us.

Paul Cullinane
26
Posted 20/01/2015 at 19:39:50
I've had a belly-full. The only time I came anywhere near clapping last night was on 9 minutes for poor old Jeff Astle.
Kieran Riding
27
Posted 20/01/2015 at 19:43:11
At least we still have memories of him singing " Bring me sunshine ".

Tim Greeley
28
Posted 20/01/2015 at 19:35:13
LOANS. Last year, half the story of Everton was how many LOANS Roberto had brought in and whether or not it was KILLING THE SYSTEM. Well, it wasn't and other than Super Atsu I cant think of any other LOANS we have - so go get some!!!
BK doesnt wanna spend money and any player worth his salt wouldn't commit long term to this chaos, but for a chance at more playing time for six months....maybe we could bring in 2-3 players to change up the scene. Everton is still Everton.

With the old, injured and soon to be departed mercenary all unavailable, our squad depth is thin soup. Roberto needs to take tips from Pocchetino and just pretend he can't "speaka the ENG". Really, just shut up for once.
Brian Hennessy
29
Posted 20/01/2015 at 19:41:26
The only thing I want from this transfer window is a new manager.
After last nights debacle anyone would do at this stage
Ant Summers
30
Posted 20/01/2015 at 19:39:56
I can't believe some of you can't see the missing statement: "Bill Kenwright and the board won't give me any money, so Bill said, 'You're a good bullshitter, get out there and bullshit – but keep the shit away from the board.' "
If we get beat or fail to win in either of the next two games, blame the git in the front seat of the Main Stand. By then, the window's closed, and we will be further down the slippery slope. However, Billy Bullshitter will still come out and say "don't panic".
We are fucked with Martinez, we are going down without new blood. I am so depressed with this manager, LFC will probably win to make it worse.
Brian Hennessy
31
Posted 20/01/2015 at 19:46:26
"When he returns from the African Nations Cup he can join some players that will make us really strong again in numbers"
If me and my two dogs were signed up tomorrow that would "make us really strong again in numbers", doesn't mean we would help us win games though.

Anthony Flack
32
Posted 20/01/2015 at 19:48:29
That is all fine then....not sure what to think, we have plenty of talent who are just not performing as individuals or a group.
Hard to remember it being this bad, even under Walter, might be false expectations after highs of last year....
John Gee
33
Posted 20/01/2015 at 19:46:16
What would be the point in signing anyone when they would just be played out of position anyway.
Mike Phelan has just left Norwich because he didn't get the managers job there. Him and Kenwright must know each other. I'm grasping at straws here. The name "bob" hasn't been this comical since Blackadder.
Atsu should have been sent back to Chelsea, what's he done for us? He must bring the chocolate digestives for the coach journeys because he's offered nothing on the field for us.
Geoffrey Feeney
34
Posted 20/01/2015 at 19:53:23
Atsu? Is he messing? He has contributed nothing to us, a pisstake of a signing. I am surprised there was even an article on here about how his team is doing at the African Cup of Nations ...
Joe McMahon
35
Posted 20/01/2015 at 19:55:13
Brian (29) I couldn't agree more, anyone will do, then at least the pass pass pass passing across the back will stop! It's the worst football I have seen an Everton team play in my life and I do include Smith. I've seen some dross to, since the late 70's. We will go down if he stays, then it's the Championship in a joke of a stadium to boot. The future isn't looking bright.
Geoffrey Feeney
36
Posted 20/01/2015 at 20:04:11
"Clearly the quality has always been there and we showed last season that the squad is good enough." Yes it was but we still fell short in the end, after beating Arsenal and going above them. We needed more players in August and we need them more now.
Matt Muzi
38
Posted 20/01/2015 at 20:14:04
Clearly Roberto the squad isn't strong enough!
And even if we do get everyone back, players will keep getting injured, 19 hamstring injuries in 19 months!
You'll keep playing players out of position, to accommodate the favoured ones! And then you'll continue with your ridiculous tactics and diabolical substitutions!
After last night's debacle opened my e-mail - Auto Cup Scheme Confirmation e-mail taking the proverbial now!
Like others I can't see BK giving him any money because he knows RM is on borrowed time and he's figuring it out how much it's going to cost him to get shut.
Eddie Dunn
39
Posted 20/01/2015 at 20:16:51
The board obviously wont give him any money and all we can hope is that we muddle along, picking up enough points than the other awful teams in the bottom half.
Apart from the fear of things going pear shaped and relegation, I worry about what we will be saying at this time next season, if he stays in charge.
If we continue with this outlook, we will die of boredom, and no - one will want to play for us.
Makes me think that our current crop don't want to play for us. It explains a lot!
Rob Dolby
40
Posted 20/01/2015 at 20:19:40
Another example of him playing to the media instead of playing to the fans.
I don't want to hear the stuff that Harry Redknap spouts but I want to hear, If we can do something out we will.
I don't want to hear "Atsu could be big for us" because the lad looks a million miles off the pace.

Every interview is more embarrassing than the last.he is making me cringe.
Eric Holland
41
Posted 20/01/2015 at 20:32:48
Were doomed doomed I say!!!
Gerard McGregor
42
Posted 20/01/2015 at 20:03:15
Is the transfer inactivity because BK will not give him the funds or sanction any loans? Anyway, maybe all that is needed is a new manager. Time now for Big Joe's coup d'etat.
Franny Porter
43
Posted 20/01/2015 at 20:45:27
Phenomonal.
Mark Tanton
44
Posted 20/01/2015 at 20:45:29
This squad is very good and if we could find a new manager out there we'd hopefully experience the 'bounce' that is common when a new man comes in. The most important signing we need is a new manager.
Ant Summers
45
Posted 20/01/2015 at 20:34:51
Just been looking at the Crystal Palace pages, they fully expect to pay out 25 million in transfer fees over the next two weeks. Crystal Palace pages fully expect 3 points against Everton next week. Someone said "in the past you would be happy to get a point against Everton, now not getting 3 points will be a big disappointment. Crystal Palace FFS.
Colin Grierson
46
Posted 20/01/2015 at 20:36:00
As frustrating as it is to watch Barkley play at the moment, I really think the treatment he is receiving from the stands is disgraceful. I don't agree with booing your own team but I understand others may have a different point of view.
However, booing a team is one thing but the hugely audible groans every time Ross didn't set the world alight can only serve to further harm his confidence and undermine the free-spirited nature in which he plays his best football. I fear that not only will we flirt with relegation but we will end up losing a player of Ross's potential.
By all means boo the team off to show how you feel but don't single Ross out cos he isn't living up to your expectations. Remember how good he can be and remember he's 21 years old. Remember also that he is one of us.
I'm not arsed if we lose a egomaniac like Mirallas. If we lose Barkley cos we drive him out, it will be criminal.
Michael Polley
47
Posted 20/01/2015 at 20:53:09
He is on drugs, must be if he thinks Atsu can make any difference.This just gets more desperate as each day goes by.
Colin Grierson
48
Posted 20/01/2015 at 21:02:05
If Atsu is our saviour...Phefuckinomenal!
Jim Bennings
49
Posted 20/01/2015 at 21:03:07
I could start writing a dead long post about this but do you know what?
I just can't be arsed anymore, I have no love for this Everton team, the manager talks in riddles, the team is abject, full of old journeymen with no fight, never looks like winning a trophy and the only difference this season is they don't even look like winning any games..
I really can't be arsed with it anymore, will we go down?
We could do yes, do we deserve to go down? If this form continues then yes.
Worst season in recent memory, even eclipsing anything under Moyes which is saying something.
Charlie Burnett
50
Posted 20/01/2015 at 20:55:59
Get Eto'o off the wage bill. Also Gibson and use the money for a few loans.
Where is Bilic these days?
Will Firstbrook
51
Posted 20/01/2015 at 20:59:28
Crystal Palace should expect 3 points from us! They are full of confidence and on the march. We are simply road kill waiting to happen at the moment.
Sure, on paper we have a strong squad of players compared to those around us in the table but we have no confidence, no plan, and no leader (off or on the pitch). They haven't played like a team since the Arsenal game at the beginning of the season. This also coincided when the season began to officially unravel.
I guess we hope for divine intervention for things to turn now. Better dust off the rosaries
Paul Ellam
52
Posted 20/01/2015 at 21:19:15
Anybody got the number of Senor Moyes?
We need him back ASAP!
John Audsley
53
Posted 20/01/2015 at 21:21:11
This is very depressing.
But I guess not unexpected, I have no idea how this season will play out but I do expect a rip roaring derby.
If we fuck that game up me and Mrs A will drive to Goodison with my 2 blue neighbours and carry the bastard out ourselves.
He has to go at the end of the season, last night was like nothing i've seen at Goodison in 33 years.
What a fucking mess.
Colin Glassar
54
Posted 20/01/2015 at 21:26:53
Only if he gives us back the 6 months wages he got paid while secretly negotiating with mufc Paul.
Ian Hollingworth
55
Posted 20/01/2015 at 21:22:31
God help us when will this dickhead do one?
Enough is enough
Oh and by the way I want Martinez to piss off as well
John Audsley
56
Posted 20/01/2015 at 21:28:44
I wanted Laudrup before we got RM.
Hopefully BK and his odd yes men are working on an exit strategy.
Never thought i'd say that, i've always backed our Managers. I even asked Lizzie to marry me in the pub after the Tranmere game in 2000 when we were a complete shambles under Walter.
She said yes and.......erm the rest is history.
As I hope RM will be in April, BK wont do it before then
Ant Summers
57
Posted 20/01/2015 at 21:27:08
COLIN 46...Now I have to take issue, big salaries, big reputations, guess what? Big shit if it goes wrong. If he aint got big shoulders to carry the responsibility of his big salary, then he can go also. Dont feel sorry for any of them. Barkley has not put a proper shift in all season, and last night he had the freedom of the park to find a pass, or have a shot...he failed miserably.
James Stewart
58
Posted 20/01/2015 at 21:38:11
Only transfer we need to do is removing this blathering incompetent from his post.
Get on with it and let's move on
Tony Marsh
59
Posted 20/01/2015 at 21:41:25
More upliffting news from Goodison Park.
Thanks, Bill .
Jay Harris
61
Posted 20/01/2015 at 21:40:24
Can we please get off Ross Barkley's back and leave Sylvain Distin alone.
Both have shown they love the badge and given good service.
Save all your frustration for the deluded pontiff that thinks Atsu will save our season.
Eto is out of the door, Atsu has had one foot out of the door since he came, Garbutt has an exit strategy (It's called going on a free and getting a sign on fee) Mirallas has declared his intention, Howard is fucked (whichever way you look at it) and Capt Mainwaring thinks all is well at GP and we don't need reinforcements.
FFS Kenwright step in and buy us a top class midfield general like Peter Reid and put Martinez on gardening leave. Trust me he wont know the difference but we will.
David Harrison
62
Posted 20/01/2015 at 21:54:42
The 2nd half of the season is now 3 games old. Judging by our last outing the strong second half seems to be disappearing over the horizon. Anybody listening to Roberto would think we're in contention for CL not a relegation scrap?FFS face up to where we are!!
Colin Grierson
63
Posted 20/01/2015 at 21:50:17
Ant - I don't feel sorry for him. Far from it. My opinion is that he is scared shitless of making a mistake and therefore giving displays such as last night. His form is symptomatic of the teams form and not the cause of it. I may be wrong and Ross will turn out to be disappointingly shit either for us or for whoever ends up going to. However, if he goes and starts playing how we know he can cos his confidence returns then where does it leave us? We may well be cutting off our nose to spite our face.
We're all gutted at the moment at the dross we have been putting up with. I expect better from Ross but there are lots of players hiding in plain sight and it's fuckin appalling. The thing is they don't all get groaned at like Ross does cos we collectively hope he can be our saviour. The one man in our squad capable of igniting the team, sadly, is Ossie. Dark days ahead and I just hope the baby (Ross) doesn't go with the dishwater (RM).
Rob Halligan
64
Posted 20/01/2015 at 22:02:20
This is also the time of the season when Lukaku finally hits form and starts banging the goals in. We're saved!!
David Harrison
65
Posted 20/01/2015 at 22:04:03
Oh my giddy aunt, I've just read the bit about Atsu who he obviously hasn't felt good enough to select more or less all season. Now we're expected to believe that miraculously he's our Messiah. I despair at every uttering
Ian Riley
67
Posted 20/01/2015 at 21:01:08
The squad we have should be in the top ten. One of the main problems is the lack of urgency, friendly mentality. Personally, I don't think we need more players based on who ever comes in, with no change in style, results will not improve.
A further concern is what are the players doing wrong. I know what your thinking "thick idiot", but the passing game is the manager style. Keeping the ball and procession stats show we are on top in most games. How does the manager give the players a rocket up the arse when they are following his game plan.
The passing style we have has killed set plays. The corners and set plays are awful and unless the manager puts this right goals won't come. When the players are sunning themselves. I hope they remember the torment we the fans are in.
The manager will not be sacked, the style will not change, no new players. Start praying!
Gavin Johnson
68
Posted 20/01/2015 at 22:12:56
He really is clutching at straws thinking we'll swallow the proclamation that a poor man's Tony Daley will come in and save us.
Mark Wilson
69
Posted 20/01/2015 at 22:06:45
Thing is we've seen this kind of comms before and thought "he's just playing his cards close to his chest" etc etc.....only to see bugger all happen in the January window.......but this time it really could see us go down for the first time in my lifetime.......
Is it wrong to think this is actually a desperate situation in footballing terms ? What I don't get is this.....regardless of your view of Bill Kenwright.....and here it's mostly hugely negative.....he really does seem at his best when focusing purely on the football. I'm not talking about the dire state of our finances. I'm talking about football, the team, form, players.....the guy watches a lot of football, mostly us. He just MUST and I mean MUST see how desperate things are ? He can't ignore it....his beloved blues are so close to totally losing it......we are in free fall, the manager is so clearly struggling and it's simply crazy to think the "spirit" is ok.....even Baines today talks openly about trying to repair that spirit. There are serious issues within the squad and we lack depth.....today the mgr talks as if getting injured players back means (a) they will rescue the season and (b) that absolutely nobody else will get injured or suspended.
What the hell is going on at our club ? How did we slip so badly ? Isn't anyone at the club screaming "either get shut of the mgr now or back him massively in the transfer market whatever it takes and do it now"? To do neither is to condemn this great club to the humiliation of relegation and I genuinely believe it's that stark a choice. Really, it is. Because relegation will finish us for a decade or more and even borrowing 㿅m now however unpalatable is less so than relegation.
I can't believe its reached this pathetic state and frankly you can blame loss of form, injuries and some sad spiritless performances but how anyone could argue that this mess isn't down to numerous mistakes by the mgr is beyond me. He's lost it, and no matter how much I like the guy, love his values and his community focus, he's made so many errors it's not true and we have been going downhill since the last couple of months of last season let alone this.
Really scared this it Everton. I'd be so happy to be wrong and it wouldn't bother me a bit to look stupid but the entire footballing side of the club is unravelling before our eyes. Bill, step up now or your inactivity will kill us off, really, that's how I think many feel.
Tony Marsh
70
Posted 20/01/2015 at 22:30:00
Don't forget, boys, we have Darron Gibson to come back yet. Why hasn't Martinez mentioned him? Oh and Kone will soon be fully fit.
That's it. We're saved. Yippee!!!
Jamie Crowley
71
Posted 20/01/2015 at 22:03:06
I'm with Ant back at 30 -
This one's on Bill. Roberto is the messenger. There's no money coming for any reinforcements / signings. That's not Roberto's fault.
But the "Atsu will really fucking help us" line is just absurd.
I'm despondent. In my 8 years of support I've been blessed, unlike many of you, to have not seen us near the drop.
We're officially in a relegation battle. And I'm now officially fucking scared to death.
On that note if we are dropped (God forbid knock on wood), what's an American to do? How the fuck will I even be able to see games FFS? It'll completely ruin just the personal side of the beauty of waking on a Saturday morning, flipping on NBCSN, and watching the Blues. I'll be reduced to watching on dodgy internet streams in shit quality and praying we get back to the top flight. I realize a fucking ton of you do that already and the mere thought of it has me in knots. Kudos to anyone, anywhere out there doing that now. I just realized how spoiled I am...
This just sucks. We're in a heap of shit with no shovel.
Phil Rodgers
72
Posted 20/01/2015 at 22:53:29
I hate this. Absolutely atrocious all season, yet the squad is good enough. It's fucking tiny for a start!
I despair, I really do.
Sean Kelly
73
Posted 20/01/2015 at 22:46:47
Is Atsu coming back via Mecca and fucking Lourdes to become a miraculously improved player to save our season. Didn't think so. Martinez is a deluded prick spoofing all around him to keep his job. Billy the joke is on you mate. Get rid now.
Jamie Crowley
74
Posted 20/01/2015 at 23:11:06
Does anyone remember the final scene in Poltergeist when the teenage girl drives up to see her house doing an electric light show, infested with ghosts and demons?
She yells, "WHAT'S HAPPENING!" completely out of her wits and scared to death?
Yea, it's kinda like that.
James Potter
75
Posted 20/01/2015 at 22:44:02
They just need to start enjoying their football again, it's simple. We'll have a phenomenal second half, of the second half of the season and come may we couldn't be prouder of the team ;-)
Dean Barton
76
Posted 20/01/2015 at 23:42:57
Colin 63.
What has annoyed me with Ross is his lack of fight. He doesn't tackle, he doesn't jump for headers and the lad is a coward. At least twice last night and many other times this season have I seen Ross shit out of tackles. I and many others will never accept that. If he did it at amateur level then i'd hate to see the treatment he would receive.
I agree that when a player has a bad game we should get behind him, but when a player acts as he did last night he deserves all he gets IMO!
Gavin Johnson
77
Posted 20/01/2015 at 23:59:09
Tony #70. I thought Martinez's comment on Gibson last week was rather bemusing; that he wouldn't be sold in this window, as if that would be a cause of celebration. Pure delusion!
Conor Skelly
78
Posted 20/01/2015 at 23:55:35
Like I said on another thread. Spin Doctor. Did it for Wigan and will do it here. The statement about not needing money to be succesful got him the job in the first place for God sake.
Mike Corcoran
79
Posted 21/01/2015 at 00:04:44
RM is is starting to come across like like Chancey Gardener in Being There...
Brian Porter
80
Posted 20/01/2015 at 23:59:39
Back to comment #1. Yes, Championship, here we come. No new signings? Even the so called lesser clubs seem to have money to spend but we are as bereft of funds as usual and even BK must know we are in serious danger of relegation and that Martinez is simply not up to the task of keeping us in the Premier League.
I'm 62 in a month and have never seen my beloved Everton playing anywhere but in the top flight. As I said on another thread, it is almost surreal to think that next season, Everton could be playing in the Championship while Bournemouth could be gracing the Premier League.
Thanks a lot, Roberto, for totally destroying what should have been a great season for all followers of our great club. Please, Bill Kenwright, get rid of this joker now, while there's still time for someone, anyone, to salvage something from the train wreck our season has become.
James Marshall
81
Posted 21/01/2015 at 00:14:45
Dean - Dross Barkley has been pulling out of tackles all season. The kid's a bottler, fact. It might be down to his leg break way back, but whatever it is he lacks steel, can't tackle, and doesn't even go up for headers like you say.
If the problem was the leg break, then why not contest headers? Is he afraid? I played football for years at amateur level and you do come across players afraid of heading the ball, but to be afraid of tackling as well? I don't get it.
He has talent, but he doesn't have a damn clue what to do with it at the moment - all this rolling his foot over the ball, passing sideways - he has no end product with the ball and offers nothing without it. I'd drop him immediately.
I also just watched the Martinez interview online - what a pile of shit. Still talking about needing to get our confidence back - yeah right, he's been saying that for fucking weeks now. Idiot.
Kieran Riding
82
Posted 21/01/2015 at 00:53:58
http://talksport.com/football/exclusive-southall-Everton-need-buy-another-striker-or-two-150120133067#CT7l8HtIAVfEtGph.99
Interesting from Nev, although I'm not convinced it is actually him like.
Mark Andersson
83
Posted 21/01/2015 at 01:05:01
Did you really think the board would let Martinez spend any money. McCarthy and Besic are the only 2 out of how many buys.
I will save $109 a Month next season because I will cancel my sat TV.
Each morning I wake up hoping to find on TW that Billy liar has told Bobby bullshit to pack his bags.
Peter Ried would know how to save our season. Big Jo even. We heard the same bullshit from Martinez about the 2nd half of the season last season and it just pitted out.
Anyway I live in hope that it's all just a dream and I will wake up and it's September.
Gavin Johnson
84
Posted 21/01/2015 at 02:06:12
You've got to hand it to Martinez.. he played a blinder in his job interview with the "Bill, I'll get you in the Champions league" line. Going one better than Moysie and telling Bill exactly wanted to hear. From one king of spin to another, it's no wonder he got the job.
Conor Skelly
85
Posted 21/01/2015 at 02:20:16
Exactly Gavin(84). He promised BK a magic formula for a club with no money to succeed. It was what Bill needed to hear. That and that he could be "trusted" if you know what I mean. Because of this arrangment it's very hard now for Martinz to go back on his word and change things. Martinz is stuck with the system and as a result so are we.
Peter Barry
86
Posted 21/01/2015 at 03:22:47
If your Manager and his backroom staff and five of your players are all ex-Wigan you can't expect to play like Barcelona but you can expect to play like Wigan and we are.
Peter Barry
87
Posted 21/01/2015 at 03:44:59
Last season was the 'fluke' we are now seeing the 'real' Martinez and it doesn't look good. IMHO if we don't get rid of him now then Goodison Park will be hosting Championship football next season.
Bob Heyward
88
Posted 21/01/2015 at 03:01:03
NEWSFLASH! The second half the season started, ooh, five games ago, Bobby.
Since then, we've taken two-points from nine in the League, scoring only one goal. We've also been knocked out of the Cup.
I know you like us to be positive types, Bobby, but the build up to this (already begun) second half has been a bit worrying. I mean, our point average of one per game appears relegation form, Bobby. And the table, as they say, does not lie. We also have the worst form in the league over the last six-games. The goals against seems a relegation-ish too - third worst in the league.
I remember in early December when you kicked the ball into the long grass with some of your especially hypnotising BS (that thankfully now only works on a tiny minority). You said we were 'building to that second magical half of the season'. Well, is this it? I'm a little underwhelmed, Bobby. And was the big plan for this 'magical half' the return of Atsu? I don't mean to be negative, but I remember your last great plan, Bobby...you know, the one about 'maximising the points over the Christmas period'. How did that one end? Oh yes, we lost all four games, conceding eight while only scoring three, and all against mid-table teams that we have been consistently beating for years.
In short, Bobby, are you having a complete laugh?
The reality is that we're in trouble. I'm not someone who is foolish enough to say 'our team are too good for relegation'. People said the same of Newcastle and Leeds. Instead, I know that the demands placed on a team in a relegation fight differ to those challenging near the top. I love our players, but many of them don't know what it is to scrap in relegation 6-pointers. In the scenario I imagined above at game 28, could our players get 12-points in the last ten games? They haven't done so thus far this season, and in a relegation scrap, I'm not sure they could.
Let's not put them in that situation. Act now, BK.
Martinez has to go before Palace, otherwise we are in deep trouble, because MARK MY WORDS AND MARK THEM WELL, by the time we get to game 28 with Martinez still in charge, we'll have only that number or less in points.
Hopefully, BK is well on with contingency planning. If we sack him now then we have ten-days to sort the replacement (De Jong, Garde, Royle?), ten days to reorganise, ten-days of a transfer window for the new manager, one cup to help attract a manager, and most importantly, sixteen games to get eighteen points.
Sacking Martinez is hard. It goes against our culture of giving our man time. But he had his chance. He did it his way, playing an unapologetic style of football that, whilst amazing in season one, he couldn't make work in season two. Those who could see his managerial problems have been screaming at him to change, but he ignored it. The players tried to change him, but he ignored it. Like I said, he did it his way. All that now remains of his reign is a gigantic gamble with our Clubs proud top-flight record, and the roulette wheel isn't coming up blue.
The truth is that Everton are much bigger than Martinez, and as Southampton have shown this season, there is life beyond the old 'genius' manager, no matter what the naysayers say.
Let him go and lets move forward again. COYB!!!

Ernie Baywood
89
Posted 21/01/2015 at 05:50:52
I want to see that continuity.
Continuity?
Continuity?
Continuing what exactly? Last season was a long time ago, getting back to form is not continuity, it would take a turnaround of 'Inverse Jelavic' proportions.
What a phenomenal moment this guy is in.
James Joseph
90
Posted 21/01/2015 at 06:54:02
Yes Gavin (84). My mind boggles when I try to imagine their weekly (or is it daily, like BK had with Moyes) conversations when one bullshitter tries to out-bullshit the other bullshitter.
The problem is that the players, eventually, begin to see through the bs and realise that the emperor, no matter how pleasant a man he might be, is actually stood there stark bollock naked, as the former Danish international Hans Christian Andersen put it in one of his fairy tales. Of which BK is probably the world's greatest fan.
Anthony Flack
91
Posted 21/01/2015 at 07:41:15
Lourdes, Mecca, Hans Christian Anderson, Moyes and Atsu. Reading this post, standing in the rain at Didcot railway station (makes Rock Ferry look exotic) has cheered me no end.
We might be truly fooked if we have to rely on any of the above.
Apologies to my mother (raving Catholic and her birthday today) and to anyone who feels I have offended their prophet.
Zayn Zaffar
92
Posted 21/01/2015 at 08:01:05
If we are to give Martinez his P45, then there's no money in the transfer kitty, as BK doesn't want to risk any flops or panic buys, as we have seen with what Martinez has brought to the club. What next? What players can we bring in? Who wants to come to a club where one foot is in the Championship and the other on a banana skin?
If, and that's a BIG IF, we do get rid of Martinez, who would like to manage us in this present state? I would love it really love it if we can somehow get Rafa Benitez or even Mr Tinkerman Ranieri.
I'm not bothered if we don't play the continental style football because that's not got us any success this season, but I don't mind playing boring boring Arsenal style under George Graham. We need to act fast before it's fast to the Championship.
Russ Quinlan
93
Posted 21/01/2015 at 08:06:55
My memory aint that good but didnt BK say after the last 'Great Escape' in 98 that it would never happen again ?!
Seeing those celebrations after Bolton went down instead of us makes my toes curl, having gone through it twice in 94 then 98 I thought he was going to make sure it would never happen to us, but look, it is, its a reality, and if BK honestly doesnt want it to happen again (or god forbid we actually do go down) then he either needs to provide funds or replace RM, one or the two, never mind sitting in his Ivory Tower, DO SOMETHING FFS !
Daniel A Johnson
94
Posted 21/01/2015 at 08:25:49
Lets face it Bill put the contract on the table for Martinez.
He's now going to stand by his man.
One also has to question how fool hardy was it after 1 season to give him a bumper contract extension.
I mean are Arsenal fans chanting for Martinez over Wenger now?
Allan Barratt
95
Posted 21/01/2015 at 08:30:31
This man is an arsehole. The second half of the season..............he's been bleating on about having a strong second half of the season for weeks now. I'm pretty sure we're into the second half of the season now and does anyone else see where this improvement is going to come from?? I certainly don't!!!
Bill needs to man up and get rid of this idiot before it's too late. His interviews are so cringe worthy, I've always liked listening to our past managers thoughts but I have to turn him off as soon as he appears on the TV as I know what utter shite he'll come out with. The Spanish David Brent!
Len Hawkins
96
Posted 21/01/2015 at 09:01:37
The Spanish David Brent?? more like the Spanish Stanley Unwin as he spoke bullshit Billy & Bobby could only dream of.
David Ellis
97
Posted 21/01/2015 at 09:12:36
Jay 61 - I am not sure that Peter Reid is fit enough for the midfield general role anymore..but at least he would be available on a free.
Ian Burns
98
Posted 21/01/2015 at 08:32:27
I have just read all 94 posts and not one that I can see in support of RM (make that 95 as I have been calling for his removal for a long time).
It is not often a thread doesn't create a debate but this is a one way ticket and if TW is a fair representation of fans as a whole then BK would be a complete fool to ignore a fan base so committed to RM's removal.
Or have I got that last statement wrong?
Phil Walling
99
Posted 21/01/2015 at 09:07:22
I am not surprised that our present manager (OPM anybody?) is being giving nothing to spend in this window. To see him handed a wedge to invest would certainly send signals that BK was sticking with him for the duration. And even the Bullshitter General can hardly be still enamoured of his apprentice. Can he?
'Word on the street'(that catch-all phrase for describing any rumour with or without substance) has it that defeat at Palace' will do' for Bobby as his biggest supporter finally shits his pants at having to face Green & Co.
Okay, he might sanction Hal Absie on a loan but they don't really count and a surprise win at Pardew Palace may buy 'our man' a reprieve. But only if real money is spent will we know that Chairman Bill has finally put his and Everton's head in the gas oven.
Follow the money, dear brethren. Always follow the money.
Tony Waring
100
Posted 21/01/2015 at 09:42:14
Come home Peter Reid.....................you are needed immediately !
Andy Meighan
101
Posted 21/01/2015 at 09:45:16
Which, roughly translated, means: "Look, I sponked 㿈 mil on a pudding who couldn't trap a mouse with a ton of cheese and I can't even get loan players in because we can't afford to pay them. So there it is; I blew the entire kitty on one player and I now haven't got a carrot."
I think this could turn out to be a blessing in disguise because who in their right mind would give this fraudster a penny? He'd probably go and buy three Wigan players.
As for the Atsu statement... words fail me!
Derek Knox
102
Posted 21/01/2015 at 10:35:07
No significant signings, there does not appear to be any insignificant ones either.
I actually thought we'd turned a corner after two much improved performances, against City and West Ham (okay we lost that one) but the signs of commitment were there.
Up steps the mighty West Brom. and all the good work has reverted to type.I think a foray into the market is a 'must' but it seems the board are happy for us to continue with this, by saying there is no money available.
Looks like Mirallas could be on his way now after Monday's debacle penalty incident. He was, what I thought the one ray of light we had, but there again, the Football Gods have dictated otherwise.
Mike Hayes
103
Posted 21/01/2015 at 06:45:45
Maybe Atsu is Roberto's secret weapon like Moyes's secret weapon Gueye and look how that turned out!
Alan Clarke
104
Posted 21/01/2015 at 11:17:27
Rather than buying anyone, I get the feeling Kenwright has instructed the Fraud to get the wage bill down this January. Why would we let Etoo go without signing a replacement? Now there's strong rumours of Mirallas going too. My realistic fear is he'll be sold on deadline day and the money from the sale will disappear. Meanwhile Elstone will get another pat on the back for keeping the accounts in order.
Nick Page
105
Posted 21/01/2015 at 11:32:51
""You always need to make sure when the window closes, the squad is stronger than it was when you started," he added.""
This was from SSN 29/08/13 1:23pm
Can you believe he said that and now this? Wtf is he on???
So we've basically got the same squad as we had September 2013, minus Delofeu and likely to be minus two or three due to LT injuries.
So how the hell are we any stronger? FFS
Minik Hansen
106
Posted 21/01/2015 at 11:39:41
I wonder if he had mentioned he was going out to find reinforcement on specific areas, the clubs we approach to buy their players would push the price up, because they would know we NEED the player. Let's wish to get very surprised. :) COYB.
Joseph Clarke
107
Posted 21/01/2015 at 11:41:59
Contempt, that is what this statement shows. Contempt for all of us. Whilst our, phenomenal, complete, unique, talented players, whose team is only six points above the bottom team in the league, are given a holiday.
Evertonians are told we should not criticise these amazing, but fragile talents, or they might leave us. How sad! How would we cope?
Time to bail out of this unreal world. I have supported Everton for about 55 years. I am a season ticket holder, but my grip is slipping. This could be the last time, as the Rolling Stones once said, but not about the beloved Blues...
Andrew Ellams
108
Posted 21/01/2015 at 12:07:06
This is Joel's fault, if he hadn't played so well against West Ham we would still be looking for a new keeper.
In all seriousness, whatever you want to blame the manager for (and there is plenty), he can't be held accountable for the annual empty January transfer window pot.
Ian Burns
110
Posted 21/01/2015 at 12:20:14
Andrew 108 – he blew 㿈m on one player we could ill afford. I could have spent that money on 3+ players to have given us a more balanced look.
Bob Heyward
111
Posted 21/01/2015 at 12:18:52
Phil - excellent post, as usual.
Guy Hastings
112
Posted 21/01/2015 at 12:24:14
Watched the WBA game on TV - didn't see any shots of Kenwright. Was he there? Can't believe that he's going to allow our abject form to continue at the expense of his TV opportunities.
Tom Evans
113
Posted 21/01/2015 at 12:34:05
When at the news conference on his appointment I am sure he said he would get us into the Champions League.
Seems he said Championship.
Joe Clitherow
114
Posted 21/01/2015 at 12:30:23
Guy
Yes he was there in his usual seat
Brian Hill
115
Posted 21/01/2015 at 12:06:35
Mike Corcoran@79, phenomenally amazing, squad building, team number increasing, second half of the season will be great, analogy. "I can't read"; "I can't write". Who has time for that?
The only thing missing is "I can't manage a football team".
Phenomenal.
John Scott
116
Posted 21/01/2015 at 12:54:08
Mike @ 103. Gueye scored for Millwall at the weekend. #justsaying
Jay Wood
117
Posted 21/01/2015 at 12:53:27
David @ 97 "I am not sure that Peter Reid is fit enough for the midfield general role anymore..but at least he would be available on a free."
Cracker! Nice one!
But then again, given the fare offered in midfield this season ...
Mike Hayes
118
Posted 21/01/2015 at 12:57:19
John @ 116 that was a secret!
Joseph Clarke
119
Posted 21/01/2015 at 13:27:55
Peter Reid ! Too young a player for this club
Dave Abrahams
120
Posted 21/01/2015 at 13:19:32
Andrew (108), I agree Kenwright holds the purse strings, hardly opens them in fact.
Ian (110), we didn't spend 㿈 in August, we spent around 㾸m on Lukaku and Besic, so there should be money available now; you know and I know that most probably there won't be.
He's magic with money, Kenwright. That should have read 㿈m not 㿈 or maybe that's the way Kenwright performs with money!!!!
Ian Burns
122
Posted 21/01/2015 at 14:33:16
Dave 120 - point taken but either way he blew his money on Lukaku or BK is not entrusting him with another penny! I wish he would put us out of our misery and disappear up a camel's arse whilst he is out there!
Bill Gall
124
Posted 21/01/2015 at 13:47:18
Like a number of other supporters, Martinez was not my choice but I was willing to give him a chance and, for most of his first season, I was pleasantly surprised at both the style of play, giving great results that maybe masked the results near the end of the season, when other managers may have been figuring out how to combat his style.
Looking at the disaster this season appears to be heading, I took a look in Wilkipedia to check on his past career. The first thing I read was when he was given permission to speak to Everton was a quote from D Whelan, Wigan's chairman, that IMO shows the man's character. Whelan stated that Martinez stated that he did not feel that he was the man to lead them out of the Championship back to the Premier League. So, after being responsible for getting them relegated he was not willing to stand by them in the fight to get back to the Premier League? (Talk about a rat leaving a sinking ship!)
After David Moyes handed his notice in, we were told by Bill Kenwright that he would be doing his normal 24/7 to find a new manager for Everton but, after saying he had spoken to football people all over the UK and Europe (I think most of them were programme sellers) he picked Martinez for the interview on the 28 May.
Without going through Martinez's past career that is available to any one on Wilkipedia, IMO, apart from a couple of the coaches at Everton being interviewed, Martinez was given the manager's position before the end of the season and not long after David Moyes let it be known he was leaving.
Hindsight is an "I told you so" excuse but ask yourself – after reading Martinez's career on Wilkipedia. would you have hired Martinez for Everton – especially after his only time in the Premier League?
Dave Pritchard
125
Posted 21/01/2015 at 14:52:24
Some simple arithmetic for RM.
There are 38 league games in a season.
Half of 38 = 19
Number of league games played by Everton = 22
22 is greater than 19
Stop going on about how good we will be in the second half of the season Roberto, we're already well into it and not showing any signs of improvement.
Ian Burns
126
Posted 21/01/2015 at 14:56:32
Bill - 124 - as always a great post and in answer to your question it is a fat "No - not then, not now, not ever".
As I said on another spread, I hope he disappears up a camel's arse whilst out in Qatar.
Steve Woods
127
Posted 21/01/2015 at 15:01:17
Ian Burns @ 97 in answer to your question:
"It is not often a thread doesn't create a debate but this is a one way ticket and if TW is a fair representation of fans as a whole then BK would be a complete fool to ignore a fan base so committed to RM's removal.

Or have I got that last statement wrong?"
It would appear that you did (surprisingly) get it wrong. Two fan polls on GOT and NSNO show that 70% of the voters do not want Martinez sacked. I have to say those results have really surprised me!
James Marshall
128
Posted 21/01/2015 at 15:32:59
New players won't help anyway - we'll still play the same way!
Ian Burns
129
Posted 21/01/2015 at 15:49:58
Steve 127 - thanks for that appreciated. I have to say I am astounded by the percentage in favour of him staying!
It also strikes of something similar - 70% possession with nothing to show but tears. I hope this is only a coincidence and nothing sinister in play here!
Sam Hoare
130
Posted 21/01/2015 at 15:59:32
Find some more Besic's please. Players with some real heart and drive, and the touch and athleticism to match.
At 4m he is comfortably Martinez' best signing in my eyes with only McCarthy admittedly for competition.
Conor Skelly
131
Posted 21/01/2015 at 16:02:46
Martinez was saying that we miss a player like Osman or Pienaar at the moment that can play in between the lines and create. If this is the case he should be looking at Ruiz at Fulham.
Derek Knox
132
Posted 21/01/2015 at 16:09:08
Sam@130
Totally agree with you there mate, but why, when Besic has been one of the few (or even the only one) playing with what Evertonians want to see, Passion, is he always substituted?
Brent Stephens
133
Posted 21/01/2015 at 16:07:42
Sam #130. Agree re Besic. I drooled over him when I saw him in 2 pre-season friendlies - only friendlies, I know, but you could just see what he had in his locker. And I posted a few times about that early season. Only to be red-faced when he came on against Chelsea and gave that goal away with his (almost?) first touch! I do cack myself when he's in our third and does his drag-backs etc in case he gets caught, but, heh, our watertight defence is there for that!
٢M! .... 7 times that and we could buy, well, a Lukaku.
Denis Richardson
134
Posted 21/01/2015 at 16:15:53
Phil 99 - where does that 'word on the street' come from? Not that I don't believe it, just that that's the first I've heard of it.
If true then obviously BK's not going to give him any cash to spend this window...so, new face in the dug out for the derby then!
Sam Hoare
135
Posted 21/01/2015 at 16:22:34
Brent, I think the drag-backs, whilst nerve inducing are a sign of how much the lad believes in his own ability. You see the same in Stones bringing it out from the back and in Mirallas shooting from everywhere (and demanding penalties!). When Barkley is on song you can see it in him too, currently he walks around terrified to just belt the ball at goal.
The young ones must learn when to do certain things and when not to but I love them exuding that belief that they can do them. A few more like Stones and Besic around and we'll be alright.
Brent Stephens
136
Posted 21/01/2015 at 16:30:45
With you on that, Sam. We will be alright, won't we? Please tell me we'll be alright. Please.
Andrew Ellams
137
Posted 21/01/2015 at 16:34:50
As big a fan as I am of Besic and McCarthy, I would love to see somebody that could match their passion with pace, skill and flair come into the club. Deolofeu seems the obvious answer.
Dave Abrahams
139
Posted 21/01/2015 at 17:20:52
Connor (131) Connor can you read minds?. I was just thinking about Ruiz of Fulham. Very good technical player, don't know how consistent he is though.Wouldn't mind him in Everton's team if he is.
Conor Skelly
140
Posted 21/01/2015 at 17:32:58
He might be a bit of a luxury player. But I like his style.
Bill Gall
141
Posted 21/01/2015 at 17:32:04
ian # 126 -Martinez would put that down as a phenomonal experience in Quater.
John Zapa
142
Posted 21/01/2015 at 18:19:40
What Martinez says doesn't matter, it's what he does, or doesn't do which counts. I do think a couple players will come in, probably on loan, especially if Eto'o leaves the club. Surely with Osman probably out for the season and Eto'o going, Gibson and Pienaar finished, some fresh blood is needed?
Ray Said
143
Posted 21/01/2015 at 18:52:27
Rumours on Talksport that Atsu is being recalled and moved to Derby? Anyone else hear this? If it happens it calls into question how much Martinez knows about anything.
Colin Glassar
144
Posted 21/01/2015 at 18:56:04
Chelsea are pissed off because Atsu has hardly been used Ray. I saw Atsu play for Ghana in the summer and he played really well. Pity he hasn't been able to do the same for us.
Phil Walling
145
Posted 21/01/2015 at 19:03:55
Ridiculous criticism of Martinez on the Atsu issue. The player was bloody useless !
Ross Edwards
146
Posted 21/01/2015 at 19:01:55
I don't believe anything Martinez says anymore. He's just Bill's mouthpiece. The last 2 weeks has seen him lie and spout utter bullshit. Firstly about Eto'o.
And as for Monday. Propaganda Goebbels would be proud of. Couldn't believe the rubbish he was spouting. Even Neville and Carragher could see through the bullshit.
And if he seriously thinks that Atsu, who can't even get on our bench can save our season, them he is absolutely deluded. I really think relegation is a genuine possibility.
Ray Roche
147
Posted 21/01/2015 at 19:16:05
Yes, Ray, I heard that as well. Dreadful news. He was going to be our saviour.
Sarcasm is alive and well on ToffeeWeb.
Mark Taylor
149
Posted 21/01/2015 at 19:37:01
Up to now, despite the unholy mess we are in, I've always felt that relegation was a remote prospect. But these announcements from our manager suggest a club that is rapidly losing direction. It is also the clearest indication yet that the Luakau money is all BK is going to be providing for the foreseeable future. Just as well he was 'only' 㿈m, not the 𧴜m RM would have paid. Otherwise, we'd have no net transfer budget for two decades.
Atsu is going to make a difference? Must be a different player to the one I've seen embarassing himself, when he's not unfit.
Where's Lacina Traore when you need him...
Brian Wilkinson
151
Posted 21/01/2015 at 21:40:32
Is Roberto Martinez an anagram for Mike Walker ?.
In regards to no funds if we sack Martinez: fine, we have the players here who can dig us out of this mess, if allowed to play direct football, instead of tippy tappy football.
Quite a few have commented on McGeady giving the ball away; most have happened in our own half of the field with trying to outpass our opponents. Unless we act now, I really do not see Roberto changing the style of play, and that's very, very worrying.
Guy Hastings
153
Posted 21/01/2015 at 22:04:53
Is Roberto Martinez an anagram for Mike Walker ? No
Train to be Mr Zero - in terms of our next 9 points? Quite possibly
Harold Matthews
155
Posted 22/01/2015 at 02:48:21
Yes, McGeady is not much of a player but the team and Coleman missed him against the Baggies. A sad illustration of our lack of pace, ideas and technical ability in the final third. I've seen more skill in League Two and that is not a joke.
James Martin
156
Posted 22/01/2015 at 09:12:49
Either back him or sack him. If he wants to make signings and Bill is sticking with him, then give him the money for players. If Bill has his doubts, then sack him.
The clubs below us will be rolling the dice on managers and transfers. It will be suicidal of us not to do either.
If we end the transfer window with no signings yet RM is still in place, then you can blame Bill as well as Martinez if we get relegated. In my eyes, if we lose to Palace, he has to go.
Tony Hill
157
Posted 22/01/2015 at 09:26:50
One of my biggest worries is who is going to get goals. Big Nev is worried too and if Lukaku (himself hardly a guaranteed scorer) bangs his toe, who is going to do the job? Sam is away, Kone is rusty to put it kindly and Naismith has managed hardly any over the last couple of months. I know we have managed goals to a reasonable extent over the season but WBA made us look entirely toothless.
Teams that don't score are in big trouble, especially when stuck at the bottom. Look what Ings has done for Burnley, even QPR have Austin. Does anyone see Rom doing it for us in the run in?
Bob Heyward
158
Posted 22/01/2015 at 12:18:05
Ross! A bit of a turn around from one of the chief Martinez cheerleaders. Anyway, welcome aboard! Better late than never - though never late would be better ;-)
Now, if Colin and Brian will just get with the programme that many of us have advocated for a long time, we might just have a united front; Martinez out! NOW!!!!
Nick Page
159
Posted 22/01/2015 at 14:39:27
Southampton boss Ronald Koeman ahead of his side's FA Cup fourth round tie against Crystal Palace on Saturday:
"I have my eyes on young players from the Netherlands. Not now, but for next season."
How the fuck did we miss out on a Manager like Koeman!? And how the hell is he at Southampton??
Depressed.
Ian Burns
160
Posted 22/01/2015 at 15:39:58
Sampdoria' boss says the Eto'o deal is held up because he doesn't know who is in charge at Everton (BBC website) – he is not on his fecking own!
Nick Page
161
Posted 22/01/2015 at 16:12:35
It's not Bill... he's out 24/7/365 looking for a buyer!
Jon Cox
162
Posted 22/01/2015 at 19:26:30
Jamie (74) yes mate but I see us more akin to Jacobs ladder...
Tony Onslow
163
Posted 22/01/2015 at 21:31:54
Time to get Joe Royle back from out of the storage cupboard and buy a couple of players similar to Joe Parkinson and appoint big Duncan as his assistant. Then at least the players will know who is running the team.
Keith Harrison
167
Posted 22/01/2015 at 23:25:48
Colin - I have never known you wrong yet on your transfer predictions mate, but how about the following to get us right out of trouble:-
1. A Goalkeeper
2. A Centre Half with positional awareness
3. A Manager who knows what he's doing
4. A Sniper.
Colin Glassar
169
Posted 22/01/2015 at 23:28:51
Not a clue Keith. I had Maloney as a cert but that's gone cold. I honestly don't know if anyone will come in in this window.
To SSN's dismay this could be the quietest transfer window in recent memory.
Bob Heyward
170
Posted 23/01/2015 at 00:09:28
Well, you see, some, a tiny, rapidly shrinking minority, may cling on to the old regime - hoping for further Wigan additions while defending every whopper that the El Pied Piper of Gwladys Street utters.
I'm just glad that the rest of us can see the days of buying a Wigan player, playing players out of position, enforcing inappropriate strategies, poorly organising the back room, blowing our closed season with ESPN in Brasil, paying over the odds for players, throwing long term contracts to around like confetti, spending 'not much time' planning defence and, finally, describing poor performances as 'phenomenal', are all soon to be gone.
Paul Burns
172
Posted 23/01/2015 at 09:54:04
Goodison Park is like an empty coffin, just a couple of young girls in the ticket office. This is what happens when one megalomaniac is running the show, spouting fairy stories about the Boys Pen and believing them himself. He'd fit in well in North Korea.
The old cartel of directors who served this club well and ran it with an iron fist from the 50s to the 70s will be turning in their graves at the shambles the our club has been allowed to become. Tours of the city should point out "This is where Everton FC used to be".
Mark Andersson
173
Posted 23/01/2015 at 12:14:05
Back him or sack him. Nice... only problem is, Bill and his merry men are fucked either way. They bullshited each other so now it's us that have to deal with the reality.
The only people who care are the fans... players, manager, board – they don't give a flying fuck. If we go down, at least I can get back to some kind of sanity. I spend way too much time wasted on blue forums. Sad really... oh the joys of being born a blue.
Nick Page
174
Posted 23/01/2015 at 14:01:20
Potential managers:
1. Slaven Bilic?
2. Frank de Boer?
3. Gordon Strachan....?
I really hope the lack of funds being supplied is a signal.
Matthew Williams
175
Posted 23/01/2015 at 15:55:50
I really hope this is just Martinez playing it down. I think we desperately need a player or two just to lift the negative air and revitalize the club. We are in a similar situation to 2012. Moyes signed Jelavic, Gibson and Donovan and it really helped us to find some form. Beating Man City that week helped as well.
Peter McIver
176
Posted 23/01/2015 at 17:09:22
Sell Mirallas' buy a keeper and a goal scorer and bring Tim Cahill back.
Sam Rangle
177
Posted 23/01/2015 at 17:29:25
Couldn't agree more Mark Andersson. New Years Resolution was to spend waaay less time on Everton Bullshit. So far the year has started out great although here I am checking in :)
Al Reddish
178
Posted 26/01/2015 at 08:28:22
So we never got the 7 players he said we needed, we leave another transfer window weaker than when we started, he is still banging on about how great Atsu is and the manager is away topping up his tan again as another deadline fast approaches. Let's hope results start to improve for him or he could be in big trouble.
Rob Newling
179
Posted 27/01/2015 at 12:07:28
Mark #83 given our notoriously slow starts, maybe you should go with Green Day – "Wake me up when September ends" :-)
We'll still be in the Premier League, but I agree, it's not going to be pretty!
"Ladies & Gents, the Captain has requested that you return of your seats & fasten your belts as we continue our descent..."
Keep the faith people, I'd be surprised if anyone in the Club doesn't really care. COYB, an unexpected win in the derby would be very welcome start (Palace aside).
Denis Richardson
180
Posted 28/01/2015 at 18:46:21
Clutching at straws I know but at least Costa will be banned against us in the Chelsea match.
Should keep the score down to something less embarrassing..
---
Add Your Comments
In order to post a comment, you need to be logged in as a registered user of the site.
Or Sign up as a ToffeeWeb Member — it's free, takes just a few minutes and will allow you to post your comments on articles and Talking Points submissions across the site.
© ToffeeWeb