Queens Park Rangers vs Everton
Match Preview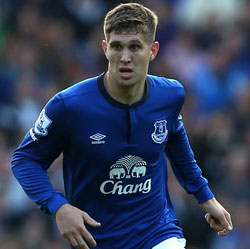 Will John Stones come back into the side after Antolin Alcaraz's struggles in Kyiv?
The post-Europa League portion of Everton's season begins this weekend with the trip to West London where Roberto Martinez will be hoping he can lift his disappointed charges to a much-needed victory that would take them one large step closer to Premier League survival.
Defeats for four of the five bottom clubs in the Saturday games means that the Blues come into this encounter with the team currently occupying 19th place sittting six points above the drop zone. A win at Loftus Road would move them to 34 points and, with another eight games to play, easily within reach of banishing fear of relegation.
Having been dumped out a competition they genuinely felt they could win, Everton will be battling the usual European hangover and the potential danger of a lack of drive for this one. Those could be as testing obstacles as any QPR could pose but, with significant revenue at stake with every place they can gain between now and the end of the season, the players need to take their manager's "nine cup finals" mantra to heart.
Martinez will have a similar squad to that he took to Kiev available, with the exception of Gareth Barry who is suspended and Aaron Lennon is eligible to play. Steven Pienaar, Tony Hibbert, Bryan Oviedo and Kevin Mirallas are ruled out through injury but, with 10 full days of recovery unde rhis belt, John Stones should be fit enough to start and Aiden McGeady will also be closer to full fitness after recovering from a knee injury.
The personnel may be more or less the same but how Martinez chooses to line them up will be key. His experiment with two recognised strikers paid dividends against Newcastle last Sunday but his reversion in Kyiv to the less-balanced that has restricted his side's success in the League faltered on a poor defensive display. So, it remains to be seen how adventurous he feels or whether he falls back on the same formation.
It will also be interesting to see whether he responds to questions over why Antolin Alcaraz was preferred to Stones by restoring the 20 year-old to the first-choice spot he has made his own before he came down with a stomach virus before the first leg against Kyiv.
Rangers, managed by interim boss Chris Ramsey following the departure of Harry Redknapp, were hoping to welcome back Joey Barton following s three-match ban but he has picked up a training-ground injury that could keep him out. Mauricio Isla is fit again, though, following a knee problem.
Though sitting five places and nine points worse off than Everton, QPR have won more home games than the Toffees — five to our four — but all were against teams sitting in the bottom seven of the table. They have run Arsenal and Liverpool very close and held Manchester City to a 2-2 draw and have shown that they can score goals.
But their susceptibility to conceding at the other end means that there should be opportunities to exploit for Romelu Lukaku if Everton can get their attacking machine functioning like it did against the Magpies.
Kick off: 4.00pm
Referee: Jonathan Moss
Full details: ToffeeWeb Match Reports
Reader Comments (78)
Note: the following content is not moderated or vetted by the site owners at the time of submission. Comments are the responsibility of the poster. Disclaimer
Darren Hind
1
Posted 22/03/2015 at 06:09:32
Indeed Lyndon.
The anger over what happened in Kyiv may not have subsided, but we will all sleep a little easier tonight if the boys can take all three points today.
Martinez has got to relent. If he persist with Howard and Alcaraz he will not only put a huge amount of pressure on the players he will be inviting it on himself.
humility is an essential part of the make up of any great manager. He has to accept when he gets it wrong in order to put it right. . . . Has our boy got it in him ?
Darren Hind
2
Posted 22/03/2015 at 06:22:55
Oh by the way Guys, if you are heading down there today, I'd like to plead that you park any anger you are feeling, at least for 90 minutes. Those who know the place will know they can create an extremely hostile environment when their up for it. Lets get safe, there will be plenty of opportunity to make your feelings known
Solidarity . . .at least for now
Jim Bennings
3
Posted 22/03/2015 at 07:25:07
Get ready for the usual bad old Everton away from home, taking the lead early on and within 15 minutes we will be 2-1 behind.
The alarming thing is that Everton don't have to be under any real pressure to concede goals, it's been like that all season and I can't see it being any different today.
QPR will be up for it knowing there's a good chance of catching Sunderland now and from what I have seen, they have put in better performances at Loftus road than their results suggest, they have created chances and won't be shy of putting early balls into our box.
Harold Matthews
4
Posted 22/03/2015 at 07:24:45
This could be a very hard match, especially after the Euro trip. Fresh legs will be needed and a bit if luck. Don't like the ref but hoping for 3 points.
Denis Richardson
6
Posted 22/03/2015 at 07:48:34
Tough game. Would happily take a draw.
Andrew Clare
7
Posted 22/03/2015 at 07:40:34
QPR are a very poor side but then again so are we. If we lose surely it will be the straw that broke the camels back and Martinez will go.We are excellent at ending a teams losing streak or a strikers dry spell so QPR will be very confident of getting a result against us. Two games in a week how demanding is that? I just don't think we will cope. Poor overpaid bunch of mediocre incompetent prima donor's!
Yes I am pissed off!
Laurie Hartley
8
Posted 22/03/2015 at 07:54:46
I'd like to see a proper reaction from the players. This game will be a test of their character. Three points would see us out of trouble (I think) - that's what we should go for. I hope he doesn't park the bus.
Up the Blues.
Mike Gwyer
9
Posted 22/03/2015 at 07:41:44
Just finished work and was looking at heading by train to London town, but you know what. I don't give a fuck, I really don't.
I can't be arsed watching a team selected by that twat, a team that Martinez will still want to play his android copy of Barca football. For me, I know deep down that the mighty QPR will battle hard, as sure as fuck win all the 50-50 balls and will suddenly look like a top 4 team and not a team that are certainties for relegation. Oh, and the bonus for QPR, just wait 5 or 10 minutes for us to fuck up at the back and give them a good chance.
Fuck it.
Jim Bennings
10
Posted 22/03/2015 at 08:09:59
I don't regard a draw as a good result today.
7 wins all season is simply disgusting and all that you'd expect from a newly promoted side like Burnley with no finances.
In my opinion the quality of the Premier League is extremely poor this season and winning any less than 14 matches out of 38, for a club like Everton is totally unacceptable.
We have won 7 matches all season...ALL SEASON!!!
I'm not sure how that constitutes as a blip.
A blip would be a bad 6 or 7 game spell but this is an entire campaign we are talking about.
Who knows what the team will be is anybody's guess, no doubt he will still go with two defensive midfielders, no Mirallas surely means the best player last week, Aaron Lennon will start.
Its pretty much the same old players who are forever out injured, still missing.
You do question what the point is in holding on to the likes of Pienaar, he's never going to be the force he was, Hibbert hardly features anymore as a sub too.
Like mentioned, you'd like to see a true wholehearted response from them today but I won't be holding my breath.
I'm fully expecting Martinez usual superlatives and soundbites after the match of "phenomenal chances not taken and fine margins bring the difference."
Iain Love
11
Posted 22/03/2015 at 08:23:56
I think the team sheet will tell us if the clown has completly lost the plot , if a certain mr Alcaraz is on it then he obviously has.
Win this and we're probably safe, only because the others are worse than us. Lose and that will give me sleepless nights for the remainder of the season. The only redeeming factor to a loss is that Billy boy might be forced into action.
Jim Bennings
14
Posted 22/03/2015 at 08:33:13
Iain
I think we will survive but much for the reason you mention, it's because three teams will run out of enough games to make the ground up, we are lucky because if the season was 42 games like it once was, we could have been caught, as it is you'd expect 6 more points, probably from a win and three draws being enough.
It's nothing at all to celebrate though, it's frankly been an appalling season and once it's over its needs filing away and never speaking of again.
The close season is a relatively shorter one than usual due to no international tournament so I'd suggest they use every spare day of it to correct and oversee the overhaul that's badly needed here.
What I don't want to see or hear is them back in pre-season training in early July bigging up the fitness of Gareth Barry or Osman and making out that Besic is the answer to our creative problems because he's scored two goals at Blyth Spartans in a friendly.
The summer has to be one of taking responsibility for mistakes and changes will definitely be needed.
Andrew Laird
15
Posted 22/03/2015 at 08:43:35
I am in the same boat Mike #9 living just outside Cambridge the London games are nearly always my closest and I don't miss many. At the moment I feel all the enjoyment and passion have been sucked out of me and replaced by an apathy towards everything Everton, a lot like the players.
Martinez has killed football with his inane and uninformed pre and post match gibberish while setting a new standard for incompetence through his retarded and infuriating team selections to carry out his narrow, ponderous and crab-like philosophy. Why should we bother when the whole club doesn't?
Sam Hoare
17
Posted 22/03/2015 at 09:45:11
Am walking the half mile from my home to the ground today. Yesterday's results were pretty handy from a relegation point of view ( can't believe I'm writing that) and QPR are pretty woeful aside from Charlie Austin.
I think this side would have them:
Howard
Coleman Stones Jagielka Baines
Besic Gibson McCarthy
Lennon Lukaku Kone
Mark Fitzgerald
18
Posted 22/03/2015 at 09:50:35
Watching Sunday Supplement at the moment and earlier they discussed Everton and Martinez. Mixed comments echoed those raised in these forums. One journo raised the inevitable Wigan comparison, said Roberto was very fortunate to have gotten the Everton gig and though he would be safe in the Summer, a poor start to next season would spell his departure. Most agreed that he's a good guy but one did mention something that also irks me big time; the manager's constant positive comments in the wake of poor performances. Or perhaps more so the lack of direct criticism when it's duly warranted. Hear, hear.
Kunal Desai
19
Posted 22/03/2015 at 10:00:20
QPR are a poor side, however what they have is determination and fight in there side, which we don't have and that's why they will get the 3 points today.
Andrew Laird
20
Posted 22/03/2015 at 09:57:00
Sam, I used to live on Uxbridge road and would usually frequent the "walkabout" on the rat-infested green is that pub/bar and the crazy little underground nightclub still there?
Karl Jones
21
Posted 22/03/2015 at 10:00:51
Hope I'm proved wrong of course, but cant see anything but the inevitable defeat after the EL today. They'll just look to put the ball into the box today and let our defenders do the rest...I'll be glad to see the back of the Europa League to be honest. Its a joke competition where after teams have struggled for half the season just to qualify through six tough group matches for the KO stage, all the losers from the CL get a bye!...and those Sunday matches after most other teams have already played.
Iain Love
22
Posted 22/03/2015 at 09:59:23
I do rate Austin ,decent player in a poor team.
I would put Robles and Garbutt in though Sam.
Robles because a/ I think he's better and b/ because we look a better unit with him in .
Garbutt because he's decent and Baines still looks rusty.
Otherwise agreed.
Barry Stevens
23
Posted 22/03/2015 at 10:07:27
I think the whole mood was summed up with a conversation I had with the wife this morning. As I got up at 7, she asked where I was going. When I said to the game, she looked surprised and said she thought it was an international break week. Reason being that I hadn't mentioned about it all week. She's known me since I was 12 years old, and pointed out this is the first time that's ever happened. Normally it's all I go on about. I think Roberto's killing my love for our grand old team. How many more out there like me I wonder?
Eddie Dunn
24
Posted 22/03/2015 at 09:48:33
Just imagine that you are an Everton player. You were schooled in the David Moyes era, and now you are playing for the new regime.
You and your old teamates had a good understanding of how to play together. You now have to show willing and adapt to new systems that don't seem to pay off.
Players around you are in the wrong positions, and week in, week out you are conceding goals that you never used to.
Training has become more easy, and you have a laugh with the lads, but several teamates are unhappy that they are overlooked, despite others playing poorly.
The Gaffer is unshakable in his determination that his style is the way forward, and you feel like talking to him but know that it will mean the end of your run in the team until you tow the line again.
Most of the lads feel the same and you all try to bend the rules during a game to do things your own way, but have to be careful of the boss's wrath.
The star players are being tapped-up for summer moves and you can see the team becoming weaker in future.
You all know who the best players are and who the favourite are.
You have to keep your mouth shut and try your best, but your confidence is undermined by what you are asked to do.
You may like to run down the wing, but you have been told to stop on halfway and pass inside.
The fans are giving you stick and you can't say anything back, and you are getting increasingly frustrated.
Most of the group want the manager gone, but are trying to do their best on the pitch and until last week you all thought that it was worth persevering for the chance of winning the Europa League.
Now that is gone ,you have to hope that you can get enough points to stay up.
You feel like you are playing with your hands tied behind your back.
Everyone is frustrated and you all wonder what the future holds.
You are in London about to play QPR....They are in the relegation scrap.....will you all have the fight in you to get a result?
Phil Walling
25
Posted 22/03/2015 at 09:58:22
A win today and all thoughts of relegation can be put to bed. How lucky is Martinez that his 'season horribilis' has coincided with the appearance of three teams hopeless beyond words !
The inevitable bottom half finishing place will shave up to £8M off income compared to last season but with a budget set for a 10th place finish, the damage will not be seen as terminal financially.
Just watching Sky's Sunday Supplement where Martinez generally gets support 'because he's a nice bloke to interview' but one pundit saying'he is turning into Wigan.'
Well, there's a surprise !
Kieran Fitzgerald
27
Posted 22/03/2015 at 10:18:37
Barry, more and more of us are feeling the same. It was only the E.L games that kept me interested at all. I think that following our E.L exit, a poor result and/or performance today will mean many more fans switching off.
It would be interesting to poll all of the regular T.W contributors from recent seasons to see how many still have an interest. More and more of the regular names seem to be disappearing from the comments section of articles and posts.
Phil Walling
29
Posted 22/03/2015 at 10:24:07
Eddie @24. Have to say I think you read it perfectly. The manager's natural response will be to rid the club of the main dissenters during the summer and replace them with players he perceives as more pliable.
Thus we shall see more McGeadys, Atsus and, dare I say it, Alcarazes. All we can hope is that there will be one or two McCarthys and Lukakus (when he can be arsed) mixed in with them !
Steve Davies
30
Posted 22/03/2015 at 10:29:49
Eddie Dunn 24. Sums the situation up perfectly mate. I worked for a boss like that once. Eventually HR were called in and we got rid of the joker.
Most of these pundits and I listened to Alvin Martin the other day all support Martinez but funnily enough don't support Everton!!! They all supported Lambert and Poyet too until they were rightly kicked out.
Why don't they actually challenge this Buffoon. When he talks about what EFC have learned, why don't they ask what he has learned. Ask him about his record.
One Evertonian said on Talksport, it is like you have the best ingredients and cannot make a decent cake. You don't carry on regardless, you sack the cook.
Kenwright if you really love Everton, then end this nightmare immediately, give this joke of a manager his P45 after the QPR game. I think we know what the result will be come 5pm. Now BK do something about it. NOW
Steve Davies
33
Posted 22/03/2015 at 10:43:52
I hate to look for scapegoats but the performance of Alcarez on Thursday summed up the mentality of Martinez perfectly. We needed a nil, nil so he puts on a centre half who is not the strongest in the air (against some big strikers), after Alcarez goes into meltdown and it is pretty obvious to everyone, RM could still have probably saved the situation by putting on Stones at half time.
But he doesn't. Alcarez was playing centre forward at one point, and as the commentator pointed out he didn't actually know where he was playing in the end. The lad ACTUALLY PLAYED the whole game.
This sums up Martinez.....he defies logic, and when he has the chance to do something about it his arrogance gets in the way. He let's favouritism and dogma influence his decision making.
Carry on mate doing this, but please do it at another club.

Nick Entwistle
34
Posted 22/03/2015 at 10:58:30
Andrew #20, alas the Walky closed about two years ago as the snake bite and black crowd have all grown up or gone home to Oz. I think its only the Embankment Walkabout that remains.
Plus Shé Bú is beginning to become gentrified and the Walky was deemed a blip on the landscape. Its being turned into something, I just don't know what.
The underground club, I think its still there. In the bogs is it? Never went.
Paul Kelly
35
Posted 22/03/2015 at 10:55:38
Barry #23.
Same here mate. He's done what Walker, Smith and even TGT nearly did, but ultimately didn't and that is making us blues not give a hoots and want to watch our beloved team.
Don't want to even talk about it with anyone as it makes my blood boil every time I think about the fact that he's still in charge and we are stuck with him.
Hi-de-Hi or Escape to the Country at 4 o'clock for me.
Jim Bennings
36
Posted 22/03/2015 at 11:23:13
Steve Davies
The plain painful fact is at we haven't got a centre half who is actually good and commanding in the air.
Stones is a fine footballer but he quite slight for a central defender and he's not the type that's going to bully big bustling forwards.
Jagielka is about the best available but even he lacks three or four inches that would make a world of difference. The one vital thing with Jagielka is he always looked better when he had a fine physical specimen next to him such as Lescott or Distin in his prime.
Now whoever plays there we are too easily bullied.
Brian Harrison
37
Posted 22/03/2015 at 11:28:43
Well thank God that the clubs at the bottom failed to win again, I keep thinking one week all the results may go against us but we are very lucky that none of the bottom clubs are putting us under pressure. Again another chance that a win will take us very near safety, and like most I can't see us winning.
I was just listening to Pardew – not somebody I particularly like, but he was being congratulated on how he had turned around Crystal Palace and how many goals they scored from set pieces. He said they spend hours on set pieces, and he said "Don't just think it's the bottom clubs that work hard at set pieces;" he said most of his losses to Arsenal at Newcastle were from set pieces.
Funny how our manager and his assistant told Osman its a waste of time working on set pieces. Pity he doesn't seem to work on the defensive shape of his team; if he had, we might not have conceded some shocking goals this season.
Jim Hardin
38
Posted 22/03/2015 at 11:46:35
Jim,
We do have a center half who can do all of those things, Distin. At least I think we still do although no one has seen him for over half the season.
I am truly starting to think that our "injured" players are only injured becaue Martinez says so and needs to keep them out of the discussion as to why he won't have to explain not playing them over lesser players that he has brought in.
Roger Sunde
39
Posted 22/03/2015 at 11:56:06
Pienaar has played like 3 games this season?
RM has some serious cleaning out to do this summer.
James Marshall
40
Posted 22/03/2015 at 12:01:07
You know which PL team has scored the most goals from set pieces this season? Arsenal. Go figure.
Our manager hasn't got a clue about formation, shape of a team, work ethic, set piece scoring or defending, mixing up play, crossing the ball, playing with width, stretching opposition with players making runs, nothing. He thinks he's Guardiola and we're Barcelona. We're not, he's a charlatan who I fell for last season, despite being angry at the initial appointment and sadly it's all coming home to roost just as half of us said it would. I'm sad to be proven right at this point in time.
I still don't think we'll go down because we have 8 games to go and we'll win a couple. Also the teams below us are shit, and we have a much better goal difference which is akin to an extra point (everyone seems to ignore this fact).
Today? It's got a draw written all over it for me.
Andrew Cunningham
41
Posted 22/03/2015 at 11:59:29
I actually think we will win tonight if the manager uses similar tactics as used against Newcastle. Lose this Roberto and all hell will break loose.

Trevor Peers
42
Posted 22/03/2015 at 11:52:54
Hope we play the same 4-4-2 as we did in the Newcastle game with Ross on the bench ready to play the last 30 minutes. But I expect the same team as Thursday night with Besic in for Barry and Ross left baffled by playing on the left wing. That would be so frustrating and we will lose.
It's will only be possible to win by playing two up top, so the team selection will be crucial. Ross showed in Kiev some of the rich potential he has and I could finally see why the richer teams are willing to pay so much for him. But at Everton we need to be winning games before we see the best of him.
Colin Glassar
43
Posted 22/03/2015 at 12:19:00
Phil #29, I don't know if you watched Sunday supplement today but they were saying Martinez will have to get rid of some of the 'older, dissenting players' if he wants to rebuild the team and retain discipline.
Apart from Distin who else could they be referring to? I can't see the likes of Hibbo or Jags being muck-stirrers – and Mirallas is hardly old, is he?
Andrew Laird
44
Posted 22/03/2015 at 12:13:33
Thanks Nick (#34), I have never been to a pub before or since and seen so many people bare-chested, off their nuts and dancing on the tables at 10:30 am! Although there was too much rugby on the big screens for my liking. Bloody shame it's gone though as I had some great nights/mornings in there. Never again will I witness a 6ft-5in kiwi labourer strip naked and march into Burger king demanding "a whopper".
I am trying to organise a stag do and think I vaguely remember 3 of us (including the poor sod getting married) buying a bottle of whisky for 𧴵 at 3am (after the barman had calculated how many shots he could get out of it) at a bar called the "Blue Iguana" near Chelsea FC and another Aussie/kiwi/SA friendly but grim haunt called "the redback" in Acton... I hope those dives are still in business?!
Richard Lyons
45
Posted 22/03/2015 at 12:23:13
If we'd had the same run-in last season as we have this season, we'd have qualified for the Champion's League for sure. I reckon Martinez should be given a target for the last 9 games: at least 18 points or he gets the sack.
If and when we reach safety, he should pick all the promising youngsters: Stones, Garbutt, Browning and Besic should be the first names on the team sheet every time. I know he won't though, he'll continue to pick Barry, Baines etc.
Phil Walling
46
Posted 22/03/2015 at 12:26:10
Yes, I did see Sky's SS and referred to it in an earlier posting. If, as looks likely, Martinez is here for the summer window, I can see offers for the likes of Coleman, Baines, Mirallas and, maybe, Naismith, all being viewed favourably as he gets rid of the Moyes Brigade, none of whom have bought into his philosophy or coaching style.
Of course, BK will be reluctant to see the back of those players and that is where 'the special relationship' may break down.
Could get interesting, methinks!
Oliver Molloy
47
Posted 22/03/2015 at 12:27:17
Anyone who thinks Martinez will get the sack before the end of the season is crazy. The chairman just won't do it, for two reasons, the compensation involved and he is a loyal chairman and will stand by his man. Even if defeated today, Martinez will be the manager tomorrow.
Only player pressure from our big players may make Kenwright think about it. Martinez will have 10 games or thereabouts to show everyone this season was a blip.
Colin Glassar
48
Posted 22/03/2015 at 12:35:22
Well Phil, I can see all of those players bar Naismith (probably Bainsey as well) leaving. Seamus's head has been turned by the man u link, and Mirallas is a gonner as is Hibbo, Pienaar, Distin, Alcaraz and possibly Oviedo as well (I think he will stick with Baines and Garbutt at LB) will probably all leave. All oldies and all OFM men, except Alcaraz.
Trevor Peers
49
Posted 22/03/2015 at 12:47:47
We'll be doing well to hold on to Lukaku next season the lad knows CL clubs will be after him and if Martinez thinks he might be sacked next season he might well sell him out of spite.
Andy Crooks
50
Posted 22/03/2015 at 12:54:27
Sam # 17, I agree, that line-up should be good enough.
David Hallwood
51
Posted 22/03/2015 at 12:07:31
"I'd like to see Robles,Stones, Garbutt"(various posters) guys where have u been all season; the lady is not for turning.
I fully expect to see Howard,Baines & Alcaraz because he knows best.
Some posters mentioned Alcaratz performance on Thursday. Bad day at the office for sure, but the defending in front of him was schoolboy; even worse when you consider that we were defending a lead.
Like everyone else including the team , I can't be arsed watching or listening to it. I don't think I can take another "and QPR lump an alehouse ball into the box, Alcaraz has missed it!! It's come off Coleman's back, Howard's done a star jump, and it's been put on the neck by the man returning from injury who hasn't scored in the league since the First World War"
I didn't go to see 50 shades of grey because I don't like to see people getting whipped and humiliated, why watch Everton these days?
Andy Meighan
52
Posted 22/03/2015 at 13:03:03
Not expecting us to score, simple as that. He sets teams up not to attack away from home so I can't see us winning.
The only reason we beat a poor Newcastle side was because they had one foot on the beach and had no recognised centre-forward. As Jim (#14) said, we won't keep ourselves up, it'll be three of the other sides below us that'll do that.
I see QPR have lost their last 4 home games. Well look who's rolling up just in time...
Brent Stephens
53
Posted 22/03/2015 at 13:13:13
Colin, you might be right about these guys going at season's end. But for some of them I wonder what a prospective buyer would think about any player who has let his own performance slip, for whatever reason.
Chris Regan
54
Posted 22/03/2015 at 13:13:35
Any news on the team yet? If Alcaraz plays I will be disappointed but not surprised. A truly poor player.
Kevin Tully
55
Posted 22/03/2015 at 13:16:08
Pele at Anfield eh? Surprised he didn't choose our game to watch.
Phil Walling
56
Posted 22/03/2015 at 13:16:10
Just to illustrate how totally unlikely it is that Everton will be relegated, I asked Ladbroke's this morning if I could back my team to stay up.
Back came the reply, Certainly, sir, but you will need to stake 𧾦 to win ٟ.
I resisted the bet !
Colin Glassar
57
Posted 22/03/2015 at 13:16:31
Brent, I'm sure they will all find clubs (except Hibbo who will concentrate on his fishing). I don't expect to get too much for them, hopefully we can recoup the money we spent on Mirallas and Oviedo (㾶m?).
Trevor, you should write a book. How I sussed out Martinez, sounds like a good title.
Victor Jones
58
Posted 22/03/2015 at 12:48:38
Think that I have worked out Martinez's plan B. He knows that there are about 3 or 4 teams in the league that are worse than we are. So he is not bothered. The man is a frekin footballing genius. He also only targets one competition a season. The FA cup with Wigan. Ignoring everything else. The league (or at least to finish as high as possible), in his first season with Everton. And the Europa League this season. Ignoring everything else. As I said the man is a footballing genius. We are lucky to have him. I think!
Ok, so here we all go again. Another must win game. Another chance to put daylight between ourselves and the bottom teams. What Everton team will turn up? I half expect Ken Dodd to be drafted into defence. Paul McCartney to be in midfield, and the tea lady to be stuck out on the wing. Who knows what team Martinez will pick. Who the fook knows? We might try and bore QPR into submission with our brain dead passing game Who knows?
Ok. Treat my first comments with TIC, (tongue in cheek). We need to win this game. Gibson and Osman (if fit ), need to come back in. Play just one defensive midfielder. Play Mirallas (if fit), up front with Lukaku. If not fit, then play Kone or Naismith up front. Play Stones in defence. Let Lennon have a free role to inter change on the wings, with instructions to run forward at all times. Bring Barkley on in the second half. At least have a bloody go. This is only QPR. No more tame shite , like we saw over Christmas. Have a bloody go.
Last comment, have been reading that a number of supporters are willing to give Martinez about ten games next season, to see how he does. Not me. No way. Ten games into next season with our footballing genius, will most likely find us that far behind in the league, that we will be pushing hard to get into 14th place. And we will of course, be knocked out of the League Cup. You see ,Martinez only does one competition per season. He's a frekin genius. Anyway, COYBs.
Sam Hoare
59
Posted 22/03/2015 at 13:21:44
Colin, 48. Is there inside info here or just gut feeling?
Coleman and Mirallas will be the only big losses. Would hope to get a minimum of 20m for the former and 10m for the latter (assuming we take the option to extend his contract).
Hopefully we might see whether Browning could offer an option at RB in the last 8 games. Mirallas will be harder to replace in some ways as his goals and assist returns are pretty decent.
Colin Metcalfe
60
Posted 22/03/2015 at 13:16:21
Can't watch the game today as I am working. I hope the boys can get a result and put the fear of relegation to bed.
I felt a bit numb the days after the shambolic display in Kiev and could not bring myself to post anything or even read the papers; however, life goes on and I guess we just have to write this season off and rebuild for season 15-16.
As for Martinez, all the good work he achieved last year has been undone and he has made a complete hash this season by making some of the strangest decisions I have ever witnessed at EFC. I think he has lost part of the dressing room and he has certainly lost a majority of the fans and I hope he does the decent thing and steps down at the end of the season.
As for today I will stick my neck out and say 2-1 to the blues!
Kevin Tully
61
Posted 22/03/2015 at 13:21:46
You can't go through a season when every single player is under-performing, without realising there are serious problems inside Finch Farm.
Can Martinez get most of these players back on side? Doubtful. Drop your commitment levels by even 5% in this League, and you will be punished. Not one of our first team players has had an above average season, that's tells me all I need to know.
For that reason alone, Bobby has to go.
Colin Glassar
62
Posted 22/03/2015 at 13:27:08
I forgot Coleman Sam. Anything offered around the 㿀m mark and he's off. We make a gargantuan profit on a player who's heart doesn't seem to be in it any more. He's never been a great defender and now his attacking prowess has gone missing. I think he's the one to sell for big bucks this summer.
Bill Gall
63
Posted 22/03/2015 at 13:29:34
Amazing with 9 games to go and we are already talking about who we should sell in the summer and I suppose that is believing the manager will be given a huge transfer budget to bring in new players.
Remember who the chairman is, he may have given the manager a large amount last season but he will not make the same mistake twice
Phil Walling
64
Posted 22/03/2015 at 13:43:27
Although I realise it's nigh a reality, the prospect of giving this bugger millions to follow his dream frightens me to death.
God knows what automatons he will sign as he seeks to transform Everton into Barcelona Lite !
Jay Harris
65
Posted 22/03/2015 at 13:55:16
I am amazed, shocked and disappointed that some people want to give this man more time. He has done more damage to the club in one season than any manager I have seen over the last 60 years.
He has confused and demotivated top quality players, cleared out what was considered top notch backroom staff, done away with all of Moyes's fitness and training regimes and imposed the "Wigan" way on our football club.
Victor Jones
66
Posted 22/03/2015 at 13:43:36
The modern player will always move on. They want European football. They want to win trophy. They want a say on how the team should be playing. And in Barry's case , he seems to need to play every bloody game. That the nature of the beast. Imagine Brian Labone , and other Everton stalwarts having that attitude. How things have changed.
Anyhow, problem solved, lets get rid of Martinez, (no surprise there). Lets bring in a top class manager( don't ask me who, that's not my job). Let the new manager sell his brand of football to the players. And they all declare undying loyalty to Everton FC. Problem solved. Just the deadwood leave. And top class additions to the squad come in. oh sorry folks, getting carried away here. BK has no vision for Everton. Players will go, when they still have a value. Martinez will stay, as everyone is worried about his payoff, (ignoring the bigger picture). And my worry is who will Martinez bring in. Cause I wouldn't trust him to do our shopping at Tesco's. Never mind anything else.
For me its a new manager we need. And a new coaching set up. A new focus. A complete clear out of the deadwood. A new Everton. A new vision. (admittedly difficult with BK in control).
And yes , a few of the youngsters could step up, should players leave. But would you trust Martinez to play them, after his treatment of Robles, Garbutt and Besic.
Kunal Desai
67
Posted 22/03/2015 at 14:12:11
I would prefer if Martinez got his marching orders in the summer but it won't happen. Bullshit Bill will give him a chance to show if he can produce a repeat of last season and putting this season down to a one off. I think he will get atleast 10 games of next season. Will Everton be in the top 7 or 8 then? In my opinion I think he struggle again next season. So what then ??
Michael Winstanley
68
Posted 22/03/2015 at 14:21:13
Sack him Kunal. But I don't think we'll struggle next season.
Stephen Brown
69
Posted 22/03/2015 at 14:22:46
I would never and could never bet against Everton but 80/1 are very generous odds In my opinion.
Team on a terrible run, smashed in Europe with a manager who's lost the plot!
Phil Walling
70
Posted 22/03/2015 at 14:20:12
....and believe me, Jay there's a lot of them out there ! ('Great first season, long run in Europa etc'.) After we beat QPR today - and we surely will - the noise will go down to a whisper and ToffeeWeb will become a quieter place.
But, as Victor says above, the damage that a Martinez Summer could inflict on Everton FC may never be recoverable.
We're fooked -good and proper !
Colin Glassar
71
Posted 22/03/2015 at 14:29:42
When does the live forum, errmm, go live?
Barry Thompson
72
Posted 22/03/2015 at 14:30:27
I see we have got that gobshite Jon Moss reffing today. Worst ref in the Prem by a country mile imo.
Colin Glassar
73
Posted 22/03/2015 at 14:33:48
Red card for St. Stephen
Oliver Molloy
74
Posted 22/03/2015 at 14:16:51
If we are to get anything close to the 20 million for Coleman some people on here think, then he is going to have a big end to the season.
On current form,we would be lucky to get half that figure-if of course he wants to leave and we want to sell!
Mirallas will fetch around 7 - 8 million, because he is so injury prone.
McGeady would be around 2million as would Barry.
Howard, I just don't know what we would get,same applies to Alcaraz,Pinnear,Gibson,Hibbert,Kone, and others.
Big job on for the Everton manager and board come the end of this season.

James Stewart
75
Posted 22/03/2015 at 14:32:34
@65 Spot on mate! Martinez has been a wrecking back to our great club and the thought of him doing a rebuilding job on the team is a horrific thought. His signings have been piss poor and the longer he stays in charge the closer to a championship club we become simple as that.
Andrew Ellams
77
Posted 22/03/2015 at 14:41:44
Darren @ 1, my anger hasn't subsided.
Victor Jones
78
Posted 22/03/2015 at 14:22:35
Heres hoping that Gibson and Osman start today. Or barring Osman, then Barkley starts. If Barkley starts , then it has to be in midfield. Not wandering about aimlessly on the wing. And yes I know that DG and LO are not world beaters. But they are all we have in the attacking midfield role. (sadly). Mirallas and Naismith are not midfielders. And Stones needs to come back in. And Alcaraz is put in his best position, (centre of the bench). And as much as I would like Robles and Garbutt to start. I know that that won't happen. (Baines to get a few games in LMF). That might be his future position. Solve a few problems at Everton. Form a partnership with young Garbutt. Include Oviedo in that, when fit. Options, options, options.
Ok. Here goes, I'm sticking my neck out. Heres hoping that our defence tightens up today(although I expect us to concede). Lets hope for a clean sheet. QPR are not a good team. They defend as bad as we do. So heres hoping that Martinez has worked that out (cause I don't know anymore with him). Lets go at them right from the start. Try a few shots from distance. Get the ball up quickly to Lukaku. And pass forward. Not backwards. All common sense, I know. But nothing has been straight forward this season. The only philosophy now should be winning football matches. 3-1 or 2-1 to Everton. COYBs.
Chris Regan
79
Posted 22/03/2015 at 14:50:24
Any rumours on the team yet? Why am I asking, no one ever replies to my posts?

Victor Jones
80
Posted 22/03/2015 at 14:54:56
Chris. The graffiti people have been drafted into the team. Martinez was impressed with their skills. One is on the wing, with orders to clean up. The other is at centre back, with orders to brush everything aside. And both have orders to sweep forward at every opportunity. Sorry.
Chris Regan
81
Posted 22/03/2015 at 15:02:24
Cheers victor, no room for Alcaraz then. That's god.
Kevin Tully
82
Posted 22/03/2015 at 14:59:52
Hi, Chris.
Christopher Marston
83
Posted 22/03/2015 at 15:08:54
Lose this and it's bye to Roberto. I'm sure of it!!
Victor Jones
84
Posted 22/03/2015 at 15:08:05
Chris. Let's hope there is no place for Alcaraz. He was last seen cleaning the graffiti. Good practice for his new career, after football.
Serious though, here's hoping that Everton are positive today. Make things happen. And not just hope that something happens.
Chris Regan
85
Posted 22/03/2015 at 15:14:09
Feeling the love now, the teams out. No Alcaraz or Naismith, did Naismith pick up a knock?
Howard, Coleman, Stones, Jagielka, Baines, Gibson, McCarthy, Osman, Lennon, Kone, Lukaku.
Chris Gould
86
Posted 22/03/2015 at 15:14:14
Chris,
Howard, Coleman, Stones, Jagielka, Baines, Osman, Gibson, McCarthy, Lennon, Kone, Lukaku.
Nick Entwistle
87
Posted 22/03/2015 at 15:45:58
Andrew 44, The Red Back also has gone. All that you say about the antipodean madness was true, but that's just it, was. The whole scene grew up and got a job. There's nowhere to go now for a big night of Aussie madness. Even for the last Lions tour the Walky was quarter full.
Like the country, those night's were crass, but a lot of fun.
---
Add Your Comments
In order to post a comment, you need to be logged in as a registered user of the site.
Or Sign up as a ToffeeWeb Member — it's free, takes just a few minutes and will allow you to post your comments on articles and Talking Points submissions across the site.
© ToffeeWeb