Everton dent Saints' top-four hopes with another victory
Everton 1 - 0 Southampton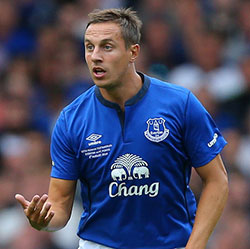 Phil Jagielka scored the only goal to hand the Blues another three points
Everton registered a third successive Premier League win for the first time this season, edging Champions League-chasing Southampton by Phil Jagielka's first-half goal.
The Blues' skipper was in the right place at the right time to convert Gareth Barry's centre from close range following a corner and that proved to be enough as the defence held firm in the face of periodic pressure from Ronald Koeman's side.
Southampton settled quickly and, needing to win to keep their top-four hopes alive, they looked the more likely side to make an early breakthrough which they nearly did just five minutes into the contest. Graziano Pelle got a touch on a cross from the right that looked to be looping over Tim Howard until the American pulled off an excellent save to paw the ball off his goal line.
James McCarthy almost engineered a gilt-edged chance in the 14th minute but he was just closed out in the area after beating the first man but Everton took the lead two minutes later after forcing three successive corners.
The final set-piece was initially cleared but when it fell to Barry, he put it back into the six-yard box and Jagielka steered it into far corner to register his first League goal of 2015.
James Ward-Prowse missed by inches from a direct free kick as the Saints pushed for an equaliser and Barry's giveaway in midfield might have been punished but Howard managed to readjust his position in time to stop a long-range shot from the same player a few minutes later.
The scoreline remained unchanged going into the second half, one that largely lapsed into a stalemate as the home side defended dilligently and Southampton struggled to find ways of breaking them down. Everton had dug into a counter-attacking strategy and threatened a few times to pick Koeman's men off on the break but let themselves down with the final ball.
The Blues improved after Steven Naismith was introduced in place of Arouna Kone with 20 minutes to go but, with the defence looking unlikley to be breached, it was mostly a case of seeing the game out, which Roberto Martinez's side did to move into 11th place, five points off the top half of the table. Reader Comments (105)
Note: the following content is not moderated or vetted by the site owners at the time of submission. Comments are the responsibility of the poster. Disclaimer
Dave White
1
Posted 04/04/2015 at 20:04:46
The definition of winning ugly. Jags back to his imperious best!
Patrick Murphy
3
Posted 04/04/2015 at 20:14:05
Dave, Where's the evidence for that then? :) I said in midweek it was nice to see Jags back to what he does better than most – getting blocks and tackles in as and when required.

John Raftery
4
Posted 04/04/2015 at 20:28:36
In the circumstances, this was a great three points. Lukaku is half our side and without him we could hardly muster a worthwhile attack from open play. Thankfully we grabbed an early goal and a very strong defensive display saw us through. Jagielka was man of the match for the winning goal coupled with another solid defensive display. Howard made two great saves in the first half while Barry was back to somewhere near his best. Lennon impressed with his work rate but our inability to string more than three passes together in the second half meant we were rarely capable of relieving the pressure.
What to make of Barkley? In the first half he made some good penetrative runs from deep positions and worked his socks off without any significant end product. In the second half he simply ran out of steam and it was a relief when he was substituted. Unfortunately when Besic replaced him, the Serbian demonstrated why Roberto has seemingly been reluctant to play him in recent weeks. He constantly gave the ball away and if anything was more of a liability than Barkley.
It was surprising that Mirallas was not used in the last ten minutes when Ossie was out on his feet and Southampton were looking increasingly vulnerable when we counter attacked. This was only our second win of the season against a team in the top half so it was hardly surprising it was a close run thing.
Alan Humphreys
5
Posted 04/04/2015 at 21:09:46
The only premier league side today to register a clean sheet. The corner we were so concerned about seems to have been turned. An ugly win is still 3pts and at this stage of the season top or bottom of the league that us all that matters.
Closing in on a top 10 finish, embarrassing typing that but that is where we are at at present.
Alan Bodell
6
Posted 04/04/2015 at 21:25:14
Considering their 39-year-old goalie never had a save to make, we got out of jail there today... but we deserve some luck after what we've been given by dodgy refs this season.
John (#4), you won't be on Besic's Xmas card list, mate, he is Bosnian but when he came on against the 2 Serbs in the stripes, I thought he would get his customary yellow but thankfully not.

Good 3 points; very poor overall but a good night's sleep awaits many of us who don't care about the performance right now.
Mick Hanlon
7
Posted 04/04/2015 at 21:32:07
I think Jagielka's first league goal of the season doesn't beat his other first league goal of the season when he spanked one in against the Redshite from 30 yards.
Jim Bennings
8
Posted 04/04/2015 at 21:37:37
Good win, good weather for a change and a Saturday afternoon 3pm kick-off, after the redshite had been ass-smashed 4-1..
What a day!!
Seriously of course it was a scrappy win but against a fairly impressive Southampton team, that ok, have started to show signs if burn-out lately, it's a solid three points and sweet revenge following our mangling 3-0 loss days before Christmas at St Mary's.
Honourable mentions for yet again the impressive workaholic Aaron Lennon and Phil Jagielka who is finally starting to look like a captain after a shaky start to the season, in my opinion he is in his best form for at least five year's, maybe since the day's he partnered Lescott.
Its a bit late in the day really to get too excited by our wins, there's obviously nothing other than pride to play for and trying to finish above potentially crowing Charlie's like Newcastle, West Ham or Stoke.
A win is a win.
Peter Morris
9
Posted 04/04/2015 at 22:08:19
What is it about our players consistently finding opposition players with their passes? It drove me insane! Baines, Coleman, Barry, McCarthy, Kone, and lastly a 'giveaway' cameo from Besic...are these guys colour blind or what?
David Barks
10
Posted 04/04/2015 at 22:15:15
Peter,
The reason our players find the opposition so often with their passes is because our play is predictable. We don't do close, intricate passing. We do spaced out sideways and backward passing. The opposition knows this and cheats forward, anticipating the pass. It's easy to defend against, honestly.
Denis Richardson
11
Posted 04/04/2015 at 22:22:32
Win and a clean sheet. Can't ask for much more. Shame it means close to fuck all with 7 games still left.
Whether we finish 10th or 12th, I really could not give a shite. Give the kids some time on the pitch, start looking for a new manager and start getting the OAPs off the wage bill.
Season finished in March, wins now too little, too late to crow about.
It's been phenomenal.
Jim Bennings
12
Posted 04/04/2015 at 22:45:09
Peter
It's about movement, players joining up together with making themselves always available for their team-mate with the ball.
We never do it well, if you watched Arsenal earlier you will see a team perfect the art of pass and move, infact just watch Arsenal any week and you will see they do this basic football of pass and move easily.
Paul Nicholls
13
Posted 04/04/2015 at 22:57:05
Paul Nicholls
14
Posted 04/04/2015 at 23:01:07
We are not fit enough, we don't press hard enough, we don't close down quickly, we don't get bodies forward, we lack ambition in the final third. I love my team, but we are woeful.
Paul Smith
15
Posted 04/04/2015 at 23:07:26
Paul Nicholls
I echo your sentiments.
Ernie Baywood
16
Posted 04/04/2015 at 23:36:11
From the most satisfying win of Roberto's Everton career to one that apparently couldn't be more pleasing. Either we're in a phenomenal moment our the man has rocks for brains.
Personally, I'm happy with the win but it all means very little. I'm more interested in performances and what they mean for the future.
Ross looked like he wanted to show what he could do. Was constantly asking for the ball, trying things out and even pressing the man. Unfortunately that lasted about 30 minutes before either his legs or heart gave way. I felt embarrassed for him when he couldn't recover after that great chase back. He wasn't just tired, he fell apart after that sprint. If that's any indication, then he's a million miles away from where he should be. You can't play football with such a limited capacity for strenuous activity.
Thought everyone else did ok, even Barry in his role of limited scope. Jags and McCarthy our best with James just edging it.
Dave White
17
Posted 05/04/2015 at 00:06:26
Patrick 3 - I meant to say imperious! Predictive text got me! I did correct it (comment 2) bug it's been zapped!!!
Paul Kernot
18
Posted 05/04/2015 at 00:32:50
Only John (4) mentioned Tim Howard. I know he didn't have a whole lot to do but he made a couple of superb saves today and looked like he did in that World cup game when he got all the accolades i.e. 'nothin's getting past me today'. We've given him a hard time this season and rightly so in many cases, but we really need to give him credit when its due too.
Darryl Ritchie
19
Posted 05/04/2015 at 00:41:26
Gibson makes "an awkward move" in training and breaks his foot. You can't make this stuff up! That fella is made of glass bits held together with rubber bands.
Derek Thomas
20
Posted 05/04/2015 at 01:57:09
Ernie@ 16; This fitness thing with Barkley and others, in fact the whole team is starting to worry me. Add to that the wholesale resignations of long serving staff and our serial hamstring problems.
The Prem is NOT the best League in the world for skill, but it may well be the fastest and most demanding.
The fact that we were blowing for tugs at the 1st game and are still doing it after 40+ ( including cups etc ) is shocking.
Stamina is one of the few things a coach CAN do something about.
Given that the whole basic fitness / running / stamina / aerobic / anaerobic thing was 95% sussed out in in the early 50's by Arthur Lydiate amongst others...'Who' I hear you cry.? well maybe you've heard of Lasse Viren and Peter Snell.
It's occurred to me that with Roberto's faith in the 'Philosophy' and His seeming absolute inflexibility to change it, that he maybe trains for this perfect Catalan version of the footballing New Jerusalem as well...Instead of dealing with the world as it actually is...High end Middle Distance running with a football thrown in.
The longer he stays the more likely it will all end in tears.
Steavey Buckley
21
Posted 05/04/2015 at 02:19:43
It was about the 3 points in yesterday's match, while, Everton were below standard. The end of the season can't come quicker enough to regroup and start all over again for next season - Everton are in a desperate need of a make over.
Harold Matthews
22
Posted 05/04/2015 at 01:32:09
Expecting Barkley to chase around like Naismith was downright stupid. After 30 minutes he was bent over, hands on his knees fighting for breath. He's not a paper-weight marathon runner. He's a heavily built explosive short burst player with stamina problems. He should either be used correctly or not at all.
Of course, if he does try to pace himself, certain sections of the crowd get on his back. I don't know what's going to happen with the lad. Ruud Gullit suggested that the senior players should be having a quite word in his ear and he's probably right.
It brought back memories of an old El Classico when the young Ronaldo and Higuain ran themselves legless trying to chase down the sideways play of the Barcelona back four who could pass the ball around with their eyes shut all day. It was painful to watch. It was a Barca ploy to wear out the opposition attack and they used it successfully for several years.
Derek Thomas
23
Posted 05/04/2015 at 03:33:13
That's my whole point Harold, all it takes to gain stamina is hard work, there no secret formula it's 'old tech' P.E.
O
Eric Myles
24
Posted 05/04/2015 at 03:39:56
Derek #20, sounds very much like those dinosaur training methods our former PE teacher manager was accused of using.
Derek Thomas
25
Posted 05/04/2015 at 03:42:11
Fingers like bananas, I'll leave it at the short version
Paul Ward
26
Posted 05/04/2015 at 03:07:39
I can't disagree with most of the comments today, especially with (Denis Richarson11) who states the case perfectly. Most of us accept the last three wins with great relief. It also brings more rational thinking to what is needed for the future of the team.
Allowing for injuries bad luck, poor refereeing and all other excuses I just can't see any hope of this coaching staff rectifying this malaise. Yesterday proved what a rabble we are. There does not appear to be any similarity or style to the last game. Kone was played as a lone striker and Barkley spent most of the time deep in his own half. Lennon seems to have been drafted in to race and defend all parts of the pitch except the wing, to make up for the rest of his unfit team mates.
Mark Andersson
27
Posted 05/04/2015 at 04:33:26
This all makes for depressing reading. A win like this just gives the manager more time.
I really want him gone, all this "he's a nice chappy" is bullshit too.
The man is a fraud, simple, he is not deluded. I ask again where are all these loan players from Spain that he boasted about last season.
Where is the school of science football he promised. Where are the top signings, and one last thing, he is not a nice man.
Dick Fearon
28
Posted 05/04/2015 at 04:59:23
In all my 60+ years of watching Everton I have never ever gone to sleep that is until last night. During that slow moving turgid second half display I found myself struggling to keep my eyes open.
I asked my equally rabid Blue son that if I did succumb to that sleep inducing garbage he was to nudge me awake.

After missing half an hour of the game I woke to find he had also been sleeping.

After 6 decades of ups and downs supporting our club how is it that interest in the actual game has sunk so low I could not keep my eyes open.
Phil Sammon
29
Posted 05/04/2015 at 05:46:07
It's absolutely soul destroying to know that Martinez is going to get the opportunity to lead our great club next season.
For a man who bleats so often about 'philosophy', he really doesn't have any plans in place to see it through. Buying players like Kone, Alcaraz and the ludicrous deal offered to Barry. The reliance on Osman and Pienaar...where are the youngsters coming through ready to take the mantle?
I could handle this terrible season if it looked like it might be a period of transition. Instead it's just horrible, turgid shite week after week without relent. And should he trip over something that works... Robles in goal, two strikers... you can bet that he'll rectify it the following game.
I'm also growingly frustrated with Martinez, the man. Pundits in the past have accused him of being 'too nice'. I'm certain the opposite is true. He's the most patronising bullshitter on the planet. He outright lies to the fans every week and you can't get a straight answer about anything. The damage is done. This 'winning streak' means nothing for me other than being in the PL next season. The performances have been as dire as ever and judging by his press conferences Martinez is completely happy with that. Not me – Martinez Out.
Ernie Baywood
30
Posted 05/04/2015 at 06:22:24
Harold #22 - I've been a defender of Barkley's 'lack of effort' as I agree with you that he's not made for a Naismith type work rate.
But what happened to him yesterday was something else. He didn't just lose his edge after a bit of running, he lost his ability to stand up straight. He looked like he been caught with a flurry of punches. You could have pushed him over with one finger.
That's a real lack of fitness. No premier league footballer should be in that kind of shape. We all talk during games about how, say, Osman needs to come off because he's shattered, but have you ever seen a player in the state Barkley was in after chasing their right mid down? I honestly don't think I've ever seen it before.
Sam Hoare
31
Posted 05/04/2015 at 07:24:24
Phil 29, I tend to agree. For the first time as an Everton fan, I am finding it hard to be optimistic about next season.
We just look so poorly balanced and organised that it's difficult to see us fighting for the top 4 as we should be.
Perhaps Martinez will get in the right players and turn it around this Summer but I think my faith in him has all but gone. Maybe a break and a fresh start will make the difference and there is always last season to point to but it just seems like the man is now unable to get the best out of these players. We have been pretty fortunate the last two matches and although we are safe we still look very much like a lower/mid-table team which isn't really acceptable.
Michael Polley
32
Posted 05/04/2015 at 07:41:41
3 points, defended well, clean sheet. That will do for me even if it was a bit ugly. However, we certainly miss Lukaku – only one shot on target!!!
Joe Foster
33
Posted 05/04/2015 at 07:48:22
Happy with the win. Roberto out.
Ben Dyke
34
Posted 05/04/2015 at 07:48:23
It's depressing to win 3 on the trot and still feel miserable. Ensuring Premier League safety with 7 games to go is not good enough. I am hoping it's second season syndrome but it looks a lot worse than that to me.
Where are the players we hoped RM could attract, like Deulofeu?
Why did we splash all the cash on Lukaku?
What has happened to the attacking flair of last year?
How can Martinez be satisfied with Kone and Alcaraz?
We look just like Wigan in my eyes and that's not good enough...
Eddie Dunn
35
Posted 05/04/2015 at 08:26:36
As this awful season comes to an end, we can look back upon the big problems that the team face. We all know about the old guard in the twilight of their careers, and we are all aware of the unfortunate injuries that haven't helped. However, the question of coaching methods and particularly fitness is a constant theme.
From the terrible pre-season right through to the abysmal run over Xmas and New Year, the players have faded as the games have gone on. To see Barkley puffed-out, Kone and Ossie out on their feet, and even little Lennon out of gas, it shows that we are not fit enough.
When a boxer tires late in a fight, his opponent opens him up and picks him off – the same goes for tennis and football. Fit teams win; unfit teams lose.
Also, unfit players pick up more injuries, and isn't it interesting that we have had so many hamstring problems?
Obviously there are other serious issues, such as tactics, lack of balance in selection and confidence, lack of set-piece practice etc etc, but this fitness thing is blindingly obvious. If we stumble on with this charlatan into another ill-prepared season, it will get even worse.
We all know, though, that these three wins alone have ensured that the status quo will remain and more of this turgid crap will be served up for main course, followed by a dessert of bullshit pie.
Joe Foster
36
Posted 05/04/2015 at 08:54:43
According to the word on the street, our last game at GP may produce some anti-Martinez banners...
Amit Vithlani
37
Posted 05/04/2015 at 08:43:38
Harold @ 22, I can't agree with you on not expecting Barkley to have the legs and stamina for the full 90 minutes. He is 21 and physically approaching his peak. He plays in a league which is physically demanding. He is playing at the top end of the pitch where having the stamina to show and hold up the ball is fundamental. Lukaku is a bigger boy than Barks and has a lot more stamina.
The problem is the appalling physical condition of the players, due to poor preparation and Barks has suffered terribly. He lacks the gas to make surging runs after 60 or 70 mins when defences are tired and spaces open up. As a result, we see him shackled during the early periods of a game and then substituted before he has had a chance to exploit the spaces. Is it a wonder that his two better recent performances were as a sub with cameos against Newcastle and Italy, when he had more gas left in the later stages of the game? Had he started in those matches we would have seen much the same as we did against the Saints.
Martinez has mismanaged one of our better talents this season. Over the next 7 games, he needs to work on his conditioning to give Barks the stamina to last the full 90 and hurt the opposition later in matches. And he needs to work on the setup of the side. To me, Barks plays better when he is up top with one other forward and has four behind him in midfield. But if he lacks the conditioning to perform for the full 90, we will find ourselves with no attacking punch and playing KITAP1 which seemed to be yesterday's formula.
Mike Allison
38
Posted 05/04/2015 at 09:15:18
Amit, I don't know if you're in the UK but Ruud Gullit's analysis of Barkley on Match of the Day last night was about this issue. He picked out examples of Barkley chasing and pressing the opposition like a headless chicken, going off on his own against 3-4 players who just passed the ball round him, then being tired within the first half. His opening words were something like "someone needs to help this boy" and basically he said that he's a very talented player who makes poor decisions, some of which involve wasting energy.
I agree with the general point about the fitness and conditioning of the players. It's just poor. Given our budget, and the fact that we are aiming to consistently 'over-achieve' (defined as finishing above where our wage and transfer expenditure would place us) we need to accumulate every single incremental gain we can, and being the fittest team in the league should be our starting point.
On the plus side, Martinez sent a team out that won 1-0 with a set-piece goal and a good defensive performance, perhaps he is learning that winning is winning – whichever way you can manage to do it that week.
Terry Downes
39
Posted 05/04/2015 at 09:31:53
Joe(36)
I hope that's just a rumour, give the guy a chance to put things right next season at least till Xmas.
Derek Thomas
40
Posted 05/04/2015 at 09:26:28
Eric @24; Every other team we've played at home and abroad must shop for their physios at Jurassic Park then because they are all fitter than us,
As I said... One of the few things a manager can affect is fitness. If Barkley and the whole team lack staying power, the only remedy is hard work in the pre-season.
Isn't that the whole purpose of a pre-season?
Rob Dolby
41
Posted 05/04/2015 at 09:36:14
I don't understand the logic on here today. We win a game playing like a Davey Moyes team from yesteryear, the manager and players still get slaughtered.
I was happy with the effort Barkley put in. the lad put in 6 sliding tackles and chased back, Lennon chased back, Barry and McCarthy both had good games against strong opposition. This Saints team are a physical team who try to play and we matched them – something that has been missing in most of our home games this season.
The only two negatives for me where Baines's distribution wasn't up to much but his corners today where better and Kone's all round performance highlights the fact that we need more strength in depth up front. Danny Ings on a free and Nathan Redmond from Norwich would do for starters.
John Williams
42
Posted 05/04/2015 at 08:03:21
Seeing Jagielka's post-match interview talking about looking forward to next season, with seven games left this, sums it all up.
The table doesn't lie and it's where we're at as a squad and club. Martinez is systematically draining the heart and soul out of every Evertonian and the thought of him being here next season drives me to despair.
The most worrying thing for me is BK believes in him; he hired him and thinks the sun shines out of his arse. He's had four transfers windows and brought in utter mediocrity.
This season is not a blip – it will be a trend. Instead of a total revamp of this squad, it will be the same old faces with the addition of a couple average plodders.
Sadly it will probably take till Christmas before we see the back of this clearly out-of-his-depth manager, only after wasting what little transfer kitty we have, and he has us wallowing around relegation again.

Tony Waring
43
Posted 05/04/2015 at 10:15:31
Anyone agree that Barkley needs to lose a stone in weight?
Eric Myles
44
Posted 05/04/2015 at 10:22:52
Sam #31 "For the first time as an Everton fan I am finding it hard to be optimistic about next season."
I think we've got to be optimistic about next season, it can't be worse than this surely? If Martinez is still here, and I expect he will be, I hope he learns from the mistakes of this season and we have a season more like the last one.
Steve Brown
45
Posted 05/04/2015 at 10:41:00
Tony is it fat or muscle? He looks increasingly like a 100-m runner. Maybe the fitness team need to tell him to lay off the weights.
Steve Brown
46
Posted 05/04/2015 at 10:43:05
Either way, he runs out of steam after an hour. He did play a lot better than I have seen him in a while during the first half.
Trevor Peers
47
Posted 05/04/2015 at 10:37:30
Eric, I don't think it is a mistake the way we are playing – this is Roberto's style. Look at the way Wigan played and you will see a similar pattern of play; it will just get worse as he adds more of his signings each season.
Optimism for next season can't be justified. Why give him another 10 games next season? And how much more difficult will it be to recruit a new manager at that stage?
He should be removed when we're mathematically safe and time should be spent appointing an adequate replacement.
Roger Helm
48
Posted 05/04/2015 at 12:12:57
Fitness team, Steve? Do we have one? I have been watching Everton for 40 years and I have never seen a team look so unfit.
Professional footballers out of steam halfway through the second half? Even a pub team would do better than that.
Paul Burns
49
Posted 05/04/2015 at 12:10:41
Nothing will change at Everton until the fraud Kenwright is ousted for good. We've been treading water for two decades despite it being the richest period of football history with a ramshackle ground and mostly second-rate players. We have NO business plan whatsoever.
How this appalling situation has been allowed to go on for so long is baffling. When did Everton fans become so passive and resigned to mediocrity? A massive demonstration of no confidence in our joke of a board is required in EVERY game until the issue is forced.
We will get no help from a disinterested media or even some of our apathetic support so we'll have to do it ourselves if we truly want change. Red Bull are rumoured to becoming in for Leeds while Birmingham have had five interested parties making enquiries.
Expose the bullshitter for what he is NOW.
Andy Meighan
50
Posted 05/04/2015 at 12:21:10
Trevor (#47), you're totally right – he should be removed when we're mathematically safe but every man and his dog knows Kenwright will not sack him. He's as deluded as the manager himself. He thinks this season has been a blip and it'll all turn round next season, à la Moyes, but we all know it won't. The Spaniard wouldn't know a footballer if it smacked him in the face.
As someone rightly put it before, he's had 4 transfer windows and bought utter mediocrity. And yet we're still linked with shite like Tom Cleverley – that's the great Spaniard for you. Fucking clueless...
Like a lot of others on here, I've got no reason to feel optimistic about next season... but the worry is The Spaniard looks like he's in it for the long haul!!!
Kev Wood
51
Posted 05/04/2015 at 12:47:48
Lots of good sense on here today. Compared with just after the Kiev defeat, things actually couldn't be much better. We are safe and not mired in a relegation battle.
Sure, there are lots of risks – Martinez won't be off anytime soon, there will be an end-of-season refresh of the squad and a few of the mercenaries are easing their exits. Most of us know where the faults are.
I'll be at five of our last seven games and I'm looking forward to seeing how we play with the pressure off (except for the Man Utd match where I'm hoping we excel). I'll be renewing my season ticket before the end of the early bird window and I'm delighted that we are sure of the top flight opposition that we expect to test ourselves against.
I'm not exactly over-hopeful but things could be far, far worse.
Happy Easter, fellow Evertonians!
Tony Abrahams
52
Posted 05/04/2015 at 12:54:48
Really good sensible comments on this thread. We can't wait for this season to be over, but unless there is change, how will things get better.
Sam (post #31), your last sentence sums it up the best to me.
Mike Allison
53
Posted 05/04/2015 at 13:32:47
"If Martinez is still here, and I expect he will be, I hope he learns from the mistakes of this season and we have a season more like the last one."
Eric, that's the key issue. He doesn't talk as if he's made any mistakes. I really, really want to agree with you, but Martinez has not accepted any fault in anything going wrong. The official line, continued by Howard on Football Focus this week, is that it's just one of those things.
Wherever we finish, over 38 games that will be about right, and it will be 10th at best. We have abandoned and neglected key things like fitness, defensive solidity and set pieces (both attacking and defending). If Martinez came out in a press conference and said "we've done badly on three key things this season..." then I would immediately start backing him and be arguing with 90-99% of other posters on here. He hasn't done that, and I don't see him doing it any time soon.
You can't learn from your mistakes if you don't acknowledge that you've made any.
James Stewart
54
Posted 05/04/2015 at 13:37:43
Barkley isn't unfit or in need or losing any weight at all. He expelled his energy chasing shadows early in the game and it was a total waste of energy. Someone senior should have been in his ear like Gullit brought up. Fat chance of that under the current regime though.
Michael Winstanley
55
Posted 05/04/2015 at 13:34:38
We win ugly and keep a clean sheet against a decent Southampton side, I'm very happy with that.
I'll take scrappy wins until the end of the season and into the start of the next.
Denis Richardson
56
Posted 05/04/2015 at 13:34:09
Joe (#36), has that got any movement behind it? I can't remember the last time there were banners at GP calling for the manager to be called a taxi.
It would be fantastic if that happened and would scare BK senseless if the paying fans and especially season ticket holders are asking for a change.
I can just see the media now if it happens, going on about last season and 'ignorant' fans not knowing 'how good a manager they have'!
I might even buy a ticket back to the UK to join in the protest if this has got legs to it.
Ross Edwards
57
Posted 05/04/2015 at 16:52:07
3 wins in a row doesn't mask the fact that the performances have been absolutely horrible to watch. Martinez has taken the enjoyment out of watching us. It was horrendous, turgid shite.
Sam hit the nail on the head there. We look like an average mid-table side, and with the squad we have, that is unacceptable. Like Sam said, I too am finding it difficult to be optimistic about next season. Results may have improved but performances are getting worse to watch every week.
Eric rightly pointed out that Martinez surely will learn but I honestly don't think he's learnt anything. It's still the same sideways, backwards rubbish but with more long balls thrown in.
The players' attacking instinct has been sucked out of them by Martinez, they don't know what to do with it and then inevitably either panic and lose it or hoof it to a dreadful Kone.
I think unless we do very well in the summer window and pre-season, we're in for more of the same next season. I can't see Martinez suddenly changing like that or suddenly dropping Barry for example.
If we get top half or finish 11th, he'll probably declare that it was a blip and that his methods are working. Either he doesn't admit his mistakes or he doesn't believe that he makes any. Either way, things are far from fixed yet.
Brian Porter
58
Posted 05/04/2015 at 17:16:20
Kone is definitely not fit to wear an Everton shirt. That was his big chance to show he can stand in for Lukaku, and he was totally ineffective. Naismith did more in his first two minutes on the field than Kobe did in the entire match. The man is a liability like his former Wigan team mate, Alcaraz. What possessed Martinez in bringing in the second string players from his relegated team?
McCarthy, yes, he was first team and probably the best of the bunch at Wigan, but if Martinez remains in charge it won't be long before we find ourselves following in the path of the Latics.
There has to be a reason why so many of our back room staff walked, and that reason is probably Roberto Martinez, who gets my nomination for fraud of the year. He's a con man who has no idea how to manage a Premier League Club. Problem is, the last three results have probably convinced BK to keep him in the job next season, and while I always want us to win, I'd give anything I have if Kenwright could find the guts to run this charlatan out of town.
Bill Gall
59
Posted 05/04/2015 at 17:58:45
Talking about fitness, I watched the Burnley v Tottenham game before, and looking at Burnley's players they looked like they could play for another 45 mins. How come some of our players look like they are exhausted after 60 mins?
Watching Barkley yesterday, it is obvious that he has a stamina problem and it is why he seems to drift in and out of the games. This manager can make as many elegant remarks that he wants in trying to cover up poor displays but he cannot cover up what everyone can see and that is the lack of fitness throughout the team.
Colin Glassar
60
Posted 05/04/2015 at 18:42:31
Maybe it's something to do with our players playing two international games recently and the Burnley players not, Bill?
John Keating
61
Posted 05/04/2015 at 18:42:05
I'm extremely relieved we seem to have clawed ourselves out of relegation trouble. Like a number of posters, although relieved there's no other feeling other than depression that we've had to put up with this garbage all season. No matter what the remaining results bring, including winning every game, the humiliation and dross we have had to put up with so far will remain with me.
Martinez is without doubt a charlatan. He keeps on about he will never change his playing philosophy but, since the crowd forced the team to change the tippy-tappy, the man's refusal to acknowledge his "philosophy" has been binned since that night is an indictment of his sanity.
From pre-season – or lack of it, through the most boring football we have witnessed in years, the substitutions, the lack of substitutions, the imbalanced teams. The statements that he will give youth a chance and the incredibly embarrassing after-match comments. All of this has shown Martinez to be what he is, a total imposter.
Can we really entrust this guy with another pre-season and all it entails with training, buying, selling?
Can any poster truly say that this season can be attributed to anything other than the manager's incompetence? 60 odd years I've supported Everton and I have never felt as dejected as I do today. The man is a scam artist and needs to go ASAP.
I truly feel sorry for those supporters who feel we're being hard on him and the team, that we need to give him time and funds to bring his brand of football to Goodison. If we allow this man to attempt this we will be plying our trade in the lower divisions.
Three games, 3 wins, why am I feeling so despondent?
Denis Richardson
62
Posted 05/04/2015 at 18:56:10
Colin 60, it's not just something that happened yesterday, it's been the case all season.
Read somewhere that the players say that Martinez's hardest training days are like the easiest days under Moyes. As much as I disliked Moyes at the end, you were at least guaranteed that his players would be one of the fittest squads in the league. We also still don't know why most of our back room medical and physio staff resigned earlier in the season, can only be down to Martinez somehow.
I've ad the feeling for a long while now that it's not a happy camp behind the scenes. I expect a lot of movement on the player front this summer. The likes of Rom, Mirallas, Distin and Garbutt will likely be off, to name just a few.
John Keating
63
Posted 05/04/2015 at 19:07:30
Colin 60, what players on the Everton side yesterday played two international games recently?
Bill Gall
64
Posted 05/04/2015 at 19:33:07
Colin I do not know if they played but according to the Burnley website they had 4 players on international duty absent from their team training, prior to the Tottenham game.
Colin Glassar
65
Posted 05/04/2015 at 19:38:01
We had Baines, Jags, Coleman, Barkley, Naismith and McCarthy, at least, playing in important international games for their countries. I'm not sure if Stonesy was away with the under-21s but the point is (and I agree with our lack of fitness all season) is that most of our lads only got back together on Wednesday while I'm sure most of the Burnley lads have been training together for the last two weeks.
Brian Harrison
66
Posted 05/04/2015 at 19:24:15
John (#60),
I, like you, have been watching the Blues for over 60 years and I agree that I feel nothing but absolute dejection about next season under RM. I started calling him a charlatan over 6 months ago and got stick for it, but amazing how many fans sadly now share my thoughts of the man. His pre-match and after-match utterances are an embarrassment, and bear no resemblance of the game we have all watched. I guess at Wigan (being a rugby town) he had to try and convince fans that they were playing good football but luckily both you and I are old enough to have seen how good football should be played.
I don't think BK will sack him so I renew my season ticket in a months time fearing the worst for next season. No doubt he will have spent our transfer kitty so, if things don't improve and we have to sack him come Xmas, then the new manager will be faced with no money to spend and a dispirited group of players.
I think there are many candidates we could go for, but I would really take a punt and ask Gary Neville to take over. Everytime I hear the guy, he makes total sense of what he says. And yes, I know if he is successful then at some point he will be off to Man Utd, but I think he could do a good job while he was here.
Patrick Murphy
67
Posted 05/04/2015 at 19:45:34
Colin, I can't be certain but I think most of our better results have been directly after an International break – co-incidence perhaps... or maybe the Spanish Stroller didn't have enough time to influence the pre-match as he ordinarily does.

Colin Glassar
68
Posted 05/04/2015 at 19:54:23
You might be right Patrick. Maybe with their international managers, and teammates, they feel a bit more confident when they return home... I don't know.
John Keating
69
Posted 05/04/2015 at 19:45:00
Colin (#65),
We had a few lads away with various countries but I believe none of them played two games. I would imagine Southampton had a few of their lads away too. In fact, I bet most PL teams had players on International duty over the last 2 weeks.
For you to suggest that Everton's lethargic play either on Saturday or during any other game has anything to do with International or any other type of game is totally ridiculous. This team has been running out of steam since the opening game against Leicester City.
During the course of the season, our fitness levels have improved not one iota. It has been totally embarrassing watching us trying to compete against fitter teams this season and I suggest it is one of the reasons we have shipped so many goals. Players have alluded to a hard day of training under Martinez being comparable to an easy day under Moyes.
One thing supporters will never let the team get away from is lack of effort; being unfit invariably causes lack of effort in the last third of the game. I can't really think of one game this season where we have finished stronger than the opposition and have overrun them in the last 15 minutes.
Tactics and team selection will always cause argument and comment amongst supporters but professional footballers being unfit, well there's no excuse.
Ross Edwards
70
Posted 05/04/2015 at 20:08:17
The cynic in me thinks that maybe we do better after the international break because it gives the players a chance to get away from Martinez for 2 weeks.
Then they get back having actually done some proper training and being played in their correct positions for once.
Just a cynical theory that is definitely wrong.
Declan Brown
71
Posted 05/04/2015 at 20:30:34
What next, Colin? First they said the Europa League damaged us and explained our poor season (performance, fitness as well as results); now it's internationals that maybe causing the problem? Good grief. There's making excuses then there's clasping at straws.
I'm delighted we got three straight wins that gives us a lot of breathing space down there at the minute (once we're mathematically safe, I expect the performances and results to tail-spin again) but my opinion of the problem hasn't changed. It's the manager and the backroom staff. They need to go.
We've been in Europe before, we've had internationals from year dot, so to use them as excuses for this poor season fails to wash with me. You could do better than that, pal!
I'll say it again, my take on this season's shambles is purely at the door of the manager and backroom team. Him and his backroom team are the problem – not the Europa League or internationals.
Now as for Lukaku's agent, imagine how Moyes would have responded to that and compare that to Bob's response. The problem is the manager and the lack of respect and authority he has... for heaven's sake, the players are even telling him how the tactics should be (thank God, but it spells the end of him as figure of authority at Everton).
Coleman, Barkley, Mirallas and Lukaku I expect to be gone in the summer (I'd add Baines to it if he was 2-3 years younger). It scares me who he'd bring in to replace them with.
Would you trust him with the potential possible 𧴜M to bring in the necessary 8-9 young hungry players needed to develop into the next sales to keep us going? I don't trust him and want him gone before the end of May.
Steve Woods
72
Posted 05/04/2015 at 20:16:48
Brian @ 66 and John @ 61. I have just passed my half century, fifty years of support. I thoroughly agree with your posts and points. The prospect of this charlatan continuing at the club is almost too hard to take. I don't trust his management of the team, I don't trust him with our precious funds on new players, I don't trust him to manage the contracts of our existing players old and young (Barry, Hibbert, Howard, Garbutt, Oviedo and Browning for example). I don't trust him with a pre-season, I have come to detest him representing my club in the media pre and post match with his deluded fantasy land comments and match appraisals.
The thought of having to watch him for another season continuing the Wiganisation and downfall of Everton FC while he stands in the technical area in his brown shoes masticating furiously with his gob wide open and his arms tightly wrapped across his chest is enough to make me wonder why we bother.

Eddie Dunn
73
Posted 05/04/2015 at 20:29:57
Halfway through the season, I heard a stat that we would have been in the top 4 if our games had finished at half-time.
We have faded in many games this season, and it is more evidence of the poor conditioning of the squad. Incidentally, last season Distin was still able to outpace even the quickest striker, and by the start of this one, he was being found out. Could he be yet another victim of the poor fitness training?
And as for Colin's thoughts on international games taking their toll. Jags played in Turin and was our best player at QPR before the break, and again against Southampton, after the break.
Barkley only played as a sub in Turin, and Baines only played in the first game (but was released home early, so may well have been playing with a knock on Saturday). This would also make one wonder why Garbutt didn't get a start?
So many things going on at Finch Farm, all under the control freak, who pretends to be Mr Niceguy, but is something much more sinister.
It will all come out when the summer clear-out starts, and the disaffected players spill the beans on our bullshitting fraud.
Patrick Murphy
74
Posted 05/04/2015 at 20:55:07
Steve (72) Perhaps you meant Fantasy Island rather than Land but you gave me the idea and here is a brief summation of that TV Series, ring any bells at all?
Although some fantasies were rooted in the real world, many others involved supernatural elements. Time-travel was often a required element, if not a specific request, to fulfil one's fantasy.
Mr. Roarke - the enigmatic host and self-proclaimed "Master of Ceremonies" of Fantasy Island. Capable of working miracles and performing the impossible, he would bring people to the island under the pretense of fulfilling their deepest fantasy. However, ultimately his actions would lead to them receiving what their hearts really wanted or even showing them the error of their ways. While Roarke nearly always had the best intentions for his guests, he possessed a dark sense of humor and a dry wit with sarcastic undertones.
There have been more than a few occasions this season when I have wished for some form of time-travel, but it will take a lot more than that to learn the error of my ways or a wish to be seduced by the philosophy of our current manager.

Tom Bowers
75
Posted 05/04/2015 at 20:42:26
Seems like nobody can say definitively what Everton's problem's have been due to this season. Everything from injuries, individual players not good enough or out of position, the goalkeeper, the manager, the system, the fitness and the chairman. Did I forget to mention the ballboys?
Sadly it is the team as a whole who have not performed well from the time the surrendered 2 points to relegation fodder Leicester in the first game. After that, RM did not have what was needed to raise the spirit and commitment levels required to really compete in a lot of games despite some Europa League wins. There needs to be a warehouse clearance at Goodison and for that to happen a new gaffer would be needed but it is unlikely to happen.
They have managed to scrape out 3 wins recently not because they have suddenly started playing well – more a case of desperation because of the position they were sliding into and a lot of luck. Quite a few players are no longer good enough, too old, injury prone or in some cases all three.
Lukaku, Barkley McCarthy and Stones are four players Everton should try to build around if they are held onto. They have some other good young players deserving of more opportunity and now is the time to start them.
John Raftery
76
Posted 05/04/2015 at 20:53:44
I doubt there will be much of a clear out this summer. The only senior players whose contracts expire this summer are Distin and Alcaraz. Most of the ones we might want to offload are here until June 2016.
Garbutt is potentially a good full back but not yet in the same class as Baines. We don't know what his wage demands are but I suspect he will be looking for more than the club thinks he is worth at this stage of his career.
Andy Crooks
77
Posted 05/04/2015 at 21:03:59
Steve (#72) – that is how I feel too. I think he is draining the life from the club. This is the most apathetic I have felt about Everton for many years.
Clive Rogers
78
Posted 05/04/2015 at 21:28:17
Eddie #73,
We really do need a summer clear out, but it's not going to happen as Mr Nice Guy has fixed most of them up with contract extensions. The only players whose contracts are up are Distin, Alcaraz, Oviedo and Garbutt.
Even Hibbert has a contract although he has spent most of the last 3 seasons injured and is unlikely to play a single game. McAleny has a contract for 2 more years which will take him to age 25. He also is unlikely to play. I think only Distin will definitely go.
Andrew Clare
79
Posted 05/04/2015 at 22:48:41
John (#61),
You are feeling despondent because, despite winning the last three games, we are awful. I have supported Everton for over 50 years and I feel exactly the same.
We have too many old and mediocre players at the club. How long our best young players will stay at the club for is anybody's guess but I don't think it will be long.
Last season felt great because we had rid ourselves of another non-achiever and we played good attacking football; now, all that optimism has evaporated and we look a million miles away from the top four.
Kenwright, please go.
John Raftery
80
Posted 05/04/2015 at 23:23:29
Clive (78), According to the club site Oviedo is contracted until 2016.
Clive Rogers
81
Posted 05/04/2015 at 23:25:49
Ok John, thanks.
Stephen Daniels
82
Posted 05/04/2015 at 22:51:02
I, like a lot of you, totally agree with the comments made here regarding the fitness of our players. This would never happen under Moyes. This is basic... a bloody basic requirement.
I am sick of this manager, he has got to go. If there is a protest, count me in. He is going to destroy this club. There are plenty of good managers out there that we could get: Klinsmann, Moyes... and I'd even have Burnley's manager although his voice is annoying.
Tony Abrahams
83
Posted 06/04/2015 at 00:02:39
When people who have been watching Everton for over 50 years say there is something wrong, there must be.
Andy Crooks
84
Posted 06/04/2015 at 00:27:29
The title of Lyndon's piece somehow encapsulates our season. As we crawl to safety we dent Southampton's, yes fucking Southampton's, Champions League hopes.
In every season for about 10 years, I have looked at the points we should have won and have seen us behind what we deserve. For the first time in my many years as an Evertonian, I believe we have more points than we deserve.
Jamie Crowley
85
Posted 06/04/2015 at 01:52:29
If there isn't a summer clear out of at least 5-6 players (adding one integral addition with the loss of Mirallas to boot) we're doomed.
I still inexplicably hold to hope for Roberto. If he doesn't make wholesale changes this summer his competence not only should be questioned, but ruled unfit without question.
I take Tony's words at 83 as gospel - when people who have been watching Everton for over 50 years say there is something wrong, there must be..
There's something wrong. Roberto has one chance to fix it. If he's shitting the bed by our American Thanksgiving after a summer to right the ship, he's got to go.
I still hope against all the evidence and odds he can do so. I still hope he can develop Everton, from top to bottom, to play attractive, attacking football without meaningless bullshit possession.
My hope is waning incredibly quickly. Like the last sands in an hour glass slipping into the abyss.
It's been such a disappointing season...
Eric Myles
86
Posted 06/04/2015 at 02:18:52
Trevor #47, Roberto's insistance on sticking to his style regardless has been his biggest mistake, so I hope he's learnt that he has to be flexible and adapt when things are not working.
Eric Myles
87
Posted 06/04/2015 at 02:31:20
Mike #53, I agree with you, Martinez's refusal to admit that his system isn't working and that we're playing well is infuriating.
So I hope he changes over the summer as he's got to get this set of players fit and motivated to play football again 'cos there won't be wholesale changes made in the team.
John Keating
88
Posted 06/04/2015 at 07:27:58
Jamie (#85)
The problem is that, if Martinez is allowed to stay and try his luck next season, we may well be in a worse position than we are now. Imagine the dross he might purchase with our meagre transfer funds? If he is given until, say next Christmas, and we are as bad as we were this Christmas, it might not be possible for another manager to turn it around with the players he has brought in.
I personally just do not believe we can take the risk. In my opinion, the guy is not a top team manager; yes, he's read our history... and yes, he knows we could be a top club again... but unfortunately he has shown he is not capable of managing a top club.
Denis Richardson
89
Posted 05/04/2015 at 21:34:35
John 76, that's 3 players you've mentioned. Add to that Mirallas who wants to leave; Lukaku who basically also wants to leave (and now his new agent will sort that out); Atsu and Lennon, whose loans will end, and that's at least 7 players likely to go.
That's a pretty big overhaul without us even instigating anything.
Joe Clitherow
90
Posted 06/04/2015 at 08:13:18
Jamie 85
"If there isn't a summer clear out of at least 5-6 players.....we're doomed."
The problem is, this kind of wholesale clear out is the real hallmark of very badly managed sides rather than prudent early pruning and gradual addition season on season. Teams take time to gel. Why particularly now should he clear out? He didn't prune when he took over. He's added players past their best coming to the end of careers. He hasn't added up and coming youngsters to be moulded. If it is "second season syndrome" with him as some blindly maintain, then that logic says you keep the squad intact because they come good in season 3 in that scenario surely?
The alternative viewpoint – my own – that he is a truly shit manager who has been seen through by the better players he has inherited, and ones he can attract will therefore be the type that money alone will tempt, is too scary for some people to even contemplate. Surely he has had time to prune in the three other windows he has had in a proactive manner rather than be passive and then panic as things turn to shit around him completely outside of his control?
Invariably teams that do this wholesale change (or panic, as it really is) plummet down the league and we haven't got that far to go under this clueless clown that you are still supporting, having dismantled our stable Top 6 chasing side.
I'm not sure at all we will recover ever from this summer's upcoming transfer window run by this egotistical fraud. So I think "we're doomed" is decided if he is still in post come September.
Dave Abrahams
91
Posted 06/04/2015 at 09:05:13
I think Andrew at 79 has it right. Thanks to Kenwright, the club is in a very desperate mess and although Martinez is not the man to lead Everton, whoever comes in has a massive job on their hands to get the club back to anywhere we should be.
Martinez, after raising all our hopes last season, has been a huge disappointment, to say the least, and has to be replaced as quickly as possible... and no I wouldn't bet on it happening either because the only thing Kenwright wants is to continue in the Premier League.
Eric Myles
92
Posted 06/04/2015 at 09:20:24
Joe #90, we also don't have the money to fund a 5-6 player change around, and the ones we most need to change are home grown players who we would have to replace like with like.
Phil McKeown
93
Posted 06/04/2015 at 09:47:31
Howard, Hibbert, Alcaraz, Distin, Gibson, Barry, McGeady, Pienaar — out please
We need a right back to give Coleman competition, a centre back, a centre mid, two wingers and a striker. God help us!
Martinez's loyalty to dross worries me...
Ernie Baywood
94
Posted 06/04/2015 at 10:18:18
I'll say one thing I'll probably never repeat. You can't blame Kenwright for this.
He gives managers a stable base to make long term decisions ie there's no threat of the sack. He's even backed him up with some coin (without debating for a second where it came from).
Bill might be one of the reasons why we haven't previously punched through the glass ceiling. But right now we're not within swinging distance of the glass ceiling. And the base provided is good enough at least for that.
Patrick Murphy
95
Posted 06/04/2015 at 10:28:26
Ernie - I think you can blame Bill Kenwright and the rest of the board for the situation we find ourselves in. No threat of the sack is quite a comfortable position for any manager in any business to be in, it puts an awful lot of responsibility onto the managers shoulders and if the board misjudges the manager as a person they only have themselves to blame when things go awry.
If they don't set out clear targets for the manager, where does the pressure to perform come from? Leadership is everything in business or sport and if the people at the top don't provide it, why should we expect an employee of the business to take it upon themselves to lead that business albeit a well paid employee.
The silence from the board is both bemusing and slightly disquieting, everything doesn't have to be public but I would have thought that a statement of some order would have been forthcoming by now in relation to the club's situation and that of its manager. It reminds me of the time in the early 90s when the club appeared to be rudderless and look what happened to it during that decade.
Stephen O\Donnell
96
Posted 06/04/2015 at 11:29:28
Would fellow Everton fans sell Barkley now for 㿞 million?
Or is he the real deal?
Ernie Baywood
97
Posted 06/04/2015 at 11:57:57
I'll agree with most of that Patrick. The club isn't pushing for top 4... it doesn't look like it's anywhere in our strategy.
But his manager is armed with a top half wage bill, stability, a good reputable brand, some good players.
That's comfortably top half stuff (which I believe is the club's true strategy). Any lower than that and you'd question whether any amount of resources could really make a difference with the present manager.
Put it this way, if we were bought out by some oil magnate tomorrow, I'd still be calling for Roberto's resignation or sacking.
Patrick Murphy
98
Posted 06/04/2015 at 12:30:32
Ernie - I suspect that if some Oil magnate took over, they would also be looking at the future of the incumbent manager. We can but dream that there is somebody out there who can satisfy BK's valuation of the club that is of course if he has one. WBA are for sale and they are supposed to be interesting US or Chinese consortium so there may yet be hope.
Phil Walling
99
Posted 06/04/2015 at 13:20:43
Here in sunny Cyprus, it looks as though Martinez will deliver on his promise to BK perfectly!
In Europe after first season and making a pretty good fist of it whilst the budgeted 'top ten' place could well be attained.
Attendances maintained at high level and lots of exposure on Sky and BT.
The fact that purely through boredom I have chosen to sacrifice my last few match entitlements and start my summer holiday earlier than usual will do nothing to lower our Chairman's admiration of his latest patsy!
I think I'll stay her till November!
Denis Richardson
100
Posted 06/04/2015 at 13:53:54
Phil – I trust you're enjoying sunny Cyprus, certainly not a lot to see at GP over the next month.
I'd love to see stats on this seasons take up of STs. I expect that last seasons massive take up was due to the expectations raised by finishing 5th. I can't for the life of me see anywhere near the same take-up this time round given the incredibly boring stuff served up and many more people realizing that BBS stands for bullshit and not brown shoes!
The increased Sky money means the board won't give too much of a shit, which is really sad but that's the 'best league in the world' for you.
The fanfare about a new stadium from a couple of months ago seems to have mysteriously disappeared as well... is BK still alive?
Ernie Baywood
101
Posted 06/04/2015 at 13:53:16
Patrick, if you owned a Premier League club that was pretty much assured of maintaining it's top flight status would you sell?
In my business we're looking at innovation programs and ways to add more value and stay cost competitive.
All Bill has to do is wait for the next TV deal. Every year Everton has more money (or less debt) and greater revenue. Bill might not take a salary but but he's not being left short here – his investment's worth must be increasing significantly each day.
How do you value a club in this market? It would have to be one hell of an offer to make someone give up a job which is giving a good return, is their dream, is their hobby, and is a piece of piss.
Joe Clitherow
102
Posted 06/04/2015 at 13:51:58
Eric (#92),
I don't agree at all.
The sale of Lukaku, Mirallas and any of our better players who would want to leave and who would walk into top half Premier League teams rather than fight relegation with Martinez would easily fund a whole bunch of players. Whether they are any improvement or indeed any good or not is a very different matter. We could easily be back to a side stuffed with the likes of Claus Thomsen, Carl Tiler, Mark Pembridge, Aiden McGeady, Antolin Alcaraz....
And the clown would still pay over the odds for them on long term contracts. This is my nightmare scenario and his dismantling of our club and a decade of top half challenge would be complete.
Ernie Baywood
103
Posted 06/04/2015 at 14:05:12
Try to list our potential midfield for next season Joe. It's dark days stuff.
Tony Abrahams
104
Posted 06/04/2015 at 14:13:09
Enjoy your break, Phil!
Colin Glassar
105
Posted 06/04/2015 at 14:21:12
Come back, Phil. Who else will keep me grounded? I think we will be unbeaten between now and the end of the season and will finish 8th on 52 points. What odds would you give me on that?
Nicholas Ryan
106
Posted 06/04/2015 at 22:26:57
The clear lack of fitness and energy perplexes me. Many, many years ago, I had the dubious pleasure of training with the London University rowing crew. In those days, they were mainly Americans and, many, of Olympic standard.
They trained 5 hours a day, for 6 days a week, all year round. They didn't drink [much] and they didn't eat pies! I have no doubt whatsoever, that they were streets ahead of our current players in terms of fitness and stamina ... and what were they paid for all this? ... Not one cent; absolutely nothing. It was only about pride, and wanting to be the best.
So why can't guys on 㿞k a week, get themselves fit?
Perhaps BK should send out for a box of the tee-shirts the American oarsmen used to wear: They said, across the chest:
"Remember, every second you're not training...
There's some Russian bastard who is...!"
---
Add Your Comments
In order to post a comment, you need to be logged in as a registered user of the site.
Or Sign up as a ToffeeWeb Member — it's free, takes just a few minutes and will allow you to post your comments on articles and Talking Points submissions across the site.
© ToffeeWeb