Mirallas: Blues are "designed" for Europe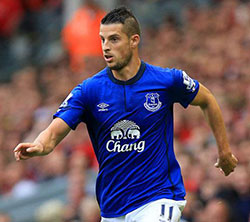 Kevin Mirallas has his sights set on returning Everton to Europe where he believes the team would apply the lessons learned from this season's balancing act between domestic and Continental competition.
Like his Belgian international teammate, Romelu Lukaku, Mirallas came alive in the Europa League this season, particularly against Wolfsburg and Lille, but he was injured for the Blues' ill-fated trip to Kyiv where their dreams of making it all the way to Warsaw for the final were dashed.
The forward has been the subject of plenty of speculation about his future in recent weeks as he approaches the final year of his contract but he has been talking more and more of looking ahead with Everton lately and that includes helping the club back into European competition, an arena for which he says the team is well suited.
"We have enjoyed some of our best performances in Europe and we all felt that we could've gone even further in the competition," the 27 year-old told the Liverpool Echo.
"We had played well in the tournament but it was just that strange game, away in Kyiv. If we had got over that, who knows, because the longer the season was going, the stronger we were getting but that was a bizarre game.
"But in that tournament I think we proved that Everton are a team designed for Europe."
With an uptick in the team's fortunes in the Premier League since the disappointment in Ukraine, the players can start to think about next season and aiming to once again challenge for a European spot after a disappointing League campaign.
Mirallas doesn't believe that it has been a wasted season, feeling that there were positives to take, not least the experience of having to play on multiple fronts.
"It is not just the supporters who had expectations [of getting back into Europe] but the players as well," Mirallas continued. "We all thought that we may be could do the same again and not just finish in the top five or six but have a really good go at finishing in the top four and qualifying for the Champions League.
"Unfortunately, it has not turned out like that. ... But that is not to say the season has been an entire waste and you can just throw it out.
"One thing we will learn, if we get back into Europe, is how it saps your energy so learning how to combine those two competitions is something to take away from this season and stand us in good stead when we are in both again."
Reader Comments (38)
Note: the following content is not moderated or vetted by the site owners at the time of submission. Comments are the responsibility of the poster. Disclaimer
Stephen Brown
1
Posted 19/05/2015 at 17:25:00
I really hope Mirallas stays here and I do rate him but I just get the feeling he put himself out there for transfer a few months ago and nobody was interested so now he's backtracking to say how much he loves it here etc! He's done a few articles like this recently!
Get your head down in pre season with the other players and hit the ground running next year!
Ross Edwards
2
Posted 19/05/2015 at 17:32:34
The Europa League campaign, up until Kiev obviously, proved that we are better set up for European football under Roberto.

James Marshall
3
Posted 19/05/2015 at 17:39:01
On a personal note, and I think this is telling - while we were in Europe I enjoyed the games, especially as we were pretty decent until the thumping in Kiev. However, I now have no idea which teams are even in the final, and couldn't even tell you who made the semi's.
I think that says a great deal about the competition - I love watching football, and will watch almost anything that's on TV, but the Disney Trophy really is a pile of shit when all's said & done.
Fran Mitchell
4
Posted 19/05/2015 at 17:55:09
Firstly, players rarely seek out the media and declare they want to go. In this 24/7 news society, media outlets are desperate to publish whatever they can, hence constant interviews with players with open ended, ambiguous questions like 'do you want to play in the Champions League?', 'would you like to play dor x,y,z?' And there you go, the next day 'X reveals he is desperate for Champions League football'.
Secondly, in regards to Europa League League, it's our best chance for Champions League qualification and it's our we have gone too long without silverware.
Robin Cannon
5
Posted 19/05/2015 at 18:19:17
Dnipro vs Sevilla, after they knocked out Napoli and Fiorentina in the semis.
I had more problem remembering the FA Cup semi finalists.
It's a badly organized tournament in the group stages, once it hits knockout then it's generally a lot of solid clubs playing for a good trophy. Admittedly, we (and most of England) tends to bow out well before the latter stages.
Phil Walling
6
Posted 19/05/2015 at 18:42:48
I rarely comment on detailed team selection but I've always longed to see Kevin playing just behind Lukaku even if it meant sacrificing the sacred Barkley.
Phil Walling
7
Posted 19/05/2015 at 18:47:23
James @ 3, don't you think all the cup/trophies with the exception of the Euro Champions have become 'a pile of shite'these days. Thanks to Sky only the Premier League means anything.
Colin Glassar
8
Posted 19/05/2015 at 18:50:59
Spot on Stephen, I said the same a few weeks ago. Obviously the phone hasn't been ringing off the hook so Kevin has had to smell the coffee and get on with it.
He's a great player on his day. Let's just hope he has lots more days.
Milos Milenkovic
9
Posted 19/05/2015 at 18:48:09
So James, if you don't know who is playing in the Final that means that competition is pile of shit and Disney trophy. I suppose that CWC in 1985 was also the same or even bigger dross, so it's shame that we even competed in that Cup never mind win it.
Nick Entwistle
10
Posted 19/05/2015 at 18:57:49
I'm really struggling to remember who was in the League Cup Final. I presume it was one of the top 4, not Man Utd. Not Arsenal. Chelsea or Man City then... it would have been on Sky and not worth the walk to the pub.
Joe Foster
11
Posted 19/05/2015 at 18:59:51
We kind of need a team built for the Premier League though.
Patrick Murphy
12
Posted 19/05/2015 at 19:06:14
Chelsea v Spurs I think Nick.
James Stewart
13
Posted 19/05/2015 at 19:07:03
Would like to see Mirallas in the No 10 role on a regular basis if he stays. Things improved drastically when he replaced Barkley.
Patrick Murphy
14
Posted 19/05/2015 at 19:08:12
I meant to add the same day we lost at the Emirates to Arsenal - so you probably did walk down the pub Nick unless you were at the Emirates.

Christopher Kelly
15
Posted 19/05/2015 at 19:06:30
Said it before and I'll say it again.
The Europa League was set up by the big boys to keep us and all the 2nd tier teams at bay while they fought it out in the much more lucrative Champions League. It is blindingly obvious our best shot is to spend "big" on 3 top players this summer and focus on qualifying for the Champions League. We don't need 7 McGeadys, we need 3 㾶M gems.
Patrick Murphy
16
Posted 19/05/2015 at 19:09:55
Christopher - The problem with that sort of plan is that if we fail to get CL places which apparently is beyond any club outside of the current top four clubs, those new additions if they play well, will be hoovered up by the top four clubs in England or other top clubs in Europe.
I agree with those that say go hell for leather in the cups and win something, a place in the top four won't guarantee anything and won't necessarily change the clubs fortunes long-term. Only qualifying for a few years in succession would it make a significant difference.

Trevor Peers
17
Posted 19/05/2015 at 19:24:05
Typical Mirallas, he wants us back in the EL to showcase himself in Europe in order to gain his coveted move to a CL club. That's how I read his statement in the Echo, lately we have used Kev in his best role, as a substitute.
If we lose Lennon, who works the wing well with Coleman, we'll be back to 2 shots per game. Sort it out, Roberto!
Terry Downes
18
Posted 19/05/2015 at 19:31:57
Chris kelly (15)
Bang on the money mate! Even then they can't play fair some of the so-called big clubs have to drop into the Europa just to give them another chance to win a trophy.
Stephen Brown
19
Posted 19/05/2015 at 20:17:23
You're correct, Colin (#8); however, I also get the feeling that, if a 'big' club does have a sniff around in the summer, he will revert back to his original position!
Geoff Evans
20
Posted 19/05/2015 at 20:55:59
The most exciting player at the club bar none.
Andy Crooks
21
Posted 19/05/2015 at 20:55:12
Phil and James, try telling the supporters who had a day out at Wembley that the Johnson Paints trophy is a pile of shite.
In my view being with mates celebrating the team you support WINNING a trophy is special. If anything other than Champions league is shite why don't we all just support Man City and hope that all their spending pays off.
To me, being a supporter is about hope and aspiration. The fact that as a child I chose or indeed was chosen by Everton is just random. We tend to condescend to fans flower league clubs as if we had some part in earning the right to be Evertonians. Describing the Europa League as shite is being patronising without the slightest right to be so.
Dave Ganley
22
Posted 19/05/2015 at 20:20:05
I hope Mirallas is staying, he is a quality player but Martinez needs to find a way of getting the best out of him. Playing him just behind Lukaku is a good shout from several TWers as he does have a good football brain and he can pick out a good pass. Lukaku would benefit greatly having someone with a bit of nous alongside him.
As far as the EL is concerned, I just cant understand why people think its a competition thats not worth being in. As others have alluded to, the group stages are a bit of a nonsense but when the knock out phase kicks in, there are some quality teams in it. Aside from that, 20 years without a trophy then I don't think we're in a position to pick and choose what competition we wish to do well in. Everybody would like us to be competing year in year out in the CL but in our case, then I think we need to acclimatise to the EL on a regular basis before trying to shoot for the stars in CL. Try telling everyone who was at the Fiorentina game a few years ago that it didn't matter. The atmosphere at that game was electric and I for one would like to see that again on a regular basis.
For me, the priorities in the transfer market would be a couple of decent wingers and a creative midfielder to play in front of McCarthy assuming Mirallas plays just behind Lukaku. If we are going to progress next season then we really need to get away from playing 2 defensive midfielders as it just holds us back as an attacking force
Sean McCarthy
23
Posted 19/05/2015 at 21:03:14
It makes me laugh when I read people's comments on here about the EL being the Disney cup. Someone earlier mentioned the Cup Winners Cup which gave us 2 of our greatest ever nights against Bayern in the semi at Goodison followed by the final in Rotterdam. That competition was always seen as the poor relation after the European cup and the uefa cup. I don't remember any blue referring to it as the Disney cup as we danced the night away in Rotterdam!!
The idea that with a couple of additions to our squad we could be challenging for top 4 is frankly deluded. We've made in once in 20yrs!! Then showed our true colours by getting dumped out the qualifying round. And that was in a season before Man City had their gazillions and the RS had their poorest league season in years!! Last year we challenge a top 4 without the imploding Man Utd as well a spurs side that had blown 𧴜m on duds!!

The Europa league HAS to be our target and then we should embrace it and try and raise the profile of the club. The idea of facing the likes of PSG, Real Madrid, Barcelona, the 2015 version of Bayern etc brings me out in a cold sweat!!
I for one wish I was going to Warsaw to watch the blues lift the "Disney cup"
Geoff Evans
24
Posted 19/05/2015 at 21:17:28
Dave
Brilliant post, well said. Agree with everything you say.
Roger Helm
25
Posted 19/05/2015 at 21:47:00
I am pleased Mirallas looks like staying as he is quality if a bit of a prima donna. I'm not sure he is the best passer but going for goal on a breakaway he is the best we have.
I agree with Sean we are well below CL funding and quality, and the EL is such a long tournament I doubt we have the squad size to last the distance. So I think our best chance is to accept we are a top ten club, not top five, and concentrate on the domestic cups. Who cares if the League cup is Mickey Mouse? I'd trade a EL place or even a CL place (based on past experience) for winning that, or indeed any, trophy.
Seamus Murphy
26
Posted 19/05/2015 at 21:43:55
I think the point of the EL being the "Disney Cup" is harsh. The main problem with the competition is the terrible prize money on offer means that the same CL clubs get richer and richer each year therefore creating huge wealth divides between them and everybody else, which is what they want of course. Its only good for them, not football so it is what really needs to be addressed. The upshot of it being that each of the top leagues across Europe have become dominated by an ever decreasing number of clubs. Every additional year those clubs qualify for the CL they then become even more dominant in their own countries. You could probably look at the top 5/6 leagues across Europe at the start of the year and know that the title winner will come from just one of 2 or 3 clubs. It's killing football in my opinion.
On the competition itself, I stumbled across the Dnipro-Napoli match on TV3 last week and found myself enjoying it way more than I have enjoyed any more CL match recently. It was gripping. The crowd were completely absorbed in the match, there was an amazing atmosphere and it was a blood and thunder contest with Napoli really going for it, Dnipro defending for dear life and then celebrating wildly at the end! It was great to watch, it was what football should be like and what I imagine it was like for our triumphant 85 Cup winners Cup night as someone mentioned above. That's what football should be about.
David Ellis
27
Posted 20/05/2015 at 03:19:35
I follow Everton not football. I have never followed the CL – it has no interest to me whatsover. Once Everton qualify for it then it will be interesting...until they get knocked out. The same is true for all the cup competitions, EL included. But I would love us to win one and frankly I will be lucky see us win a couple more in my lifetime – at the current rate of one per 20 years that means I have to last until 90.
William Cartwright
28
Posted 20/05/2015 at 03:20:24
Andy @ 17:- 100% correct. Also I have been one of Roberto's biggest critics over the last year but I am softening up a bit. We never know what is going on behind the scenes and most of our posts, mine included, are based on a good portion of conjecture. Even the bits that are clear, such as Howard vs Robles are seen differently by us supporters.
I used to watch Chester in my teens (not as a supporter mind you) and the passion was just as real but on a smaller scale and utterly genuine. Europa League, FA Cup, League Cup, Paint Trophy... whatever – it's all about winning on the day. That's why I thought the Kiev game was such a shock to the system. I believed Roberto was totally focussed on Europe and prepared to sail close to the wind with the league form.
Let's give Kevin a break. He wants what is best for himself as do we all, and that's OK. I look forward to his skills being used to better effect by Roberto, ie; tucked in behind Lukaku... Barkley? Just love the guy but he has got to earn his place or move on.
Matt Traynor
29
Posted 20/05/2015 at 04:19:06
David, #27 if the current rate is one per 20 years then we were due one this season... Under this board I'd say you need to hope that they discover the secret of immortality - but then they'd probably stick around for ever too. Imagine TW in 280 years, commemorating our tri-centenary since a trophy, and Ground Move proposal #523.
Ernie Baywood
30
Posted 20/05/2015 at 05:57:58
The only problem with the Europa League is that it is set up to play second fiddle.
Back when you had one into the European Cup, the UEFA Cup had a good claim to be a serious and important competition with top teams. Arguably it was the tougher cup to win as you had more top level teams from the top leagues. Then they took most of the drawcards out of the comp and stuck them in the CL. No format change can fix that and none ever will.
I used to like the Cup Winners Cup. Though a poor relation it still at least celebrated winning something. Not one of the European Comps does that nowadays. Cup Winners are lumped in with 5th placers.
The CL system and the Premier League setup that supports it says that top 4 is the only thing that matters. It says Cup wins are equivalent to upper mid table finishes.
Brian Furey
31
Posted 20/05/2015 at 09:44:49
Link
I'd rather see Mirallas and Lennon but if we get Del on loan again happy days. He's talented but typical of a young lad with loads of skill but bad attitude and often no end product or defensive cover.
Kevin Tully
32
Posted 20/05/2015 at 10:10:03
The Europa League is completely devalued by letting Champions League failures (3rd in their group FFS!) drop in at the group stages.
Until UEFA change that rule, it will always be viewed as a second rate competition. As far as our involvement goes, we don't have much to shout about as fans, so any European football has to be welcomed.
If the competition is approached in the correct manner, it can improve us as a team. I think that's where Martinez badly let himself down this season though. As a club, we just were not used to rotating sides after playing in other competitions. The players had a decade of playing in the same positions, with same tactics, and the same 14 or 15 players were always involved.
Playing in Europe, then making 4 or 5 changes, with a different set of tactics completely blew a fuse in the players' heads this season. The bigger clubs, such as Man Utd became used to this approach over two decades. Martinez thought the squad could just pick up where we left off after rotation, but it clearly didn't work, and did for our whole season. I believe this squad need 6 or 7 games with a settled side to get into their groove, then we can see the best of them. T'was always the way under OFM. Keep it simple, then we will do OK nex tseason.
Victor Yu
33
Posted 20/05/2015 at 11:27:07
Try to win the FA Cup next year then.
Pete Edwards
34
Posted 20/05/2015 at 12:26:54
Roger, if we did that and won a cup then we would be in the following season's Europa League so not sure what you are getting at?
Roger Helm
35
Posted 20/05/2015 at 19:43:05
I wouldn't mind that,Peter. I have no objection to the Europa league as such, just that I can't see us winning it.
Like David, I just want to see Everton win a trophy - any trophy - before I die.
Ant Dwyer
36
Posted 20/05/2015 at 22:44:13
I love Mirallas and hope to God he stays. He would be one of the first names on my Everton team sheet as even if he's having a quiet game he can spark into life and win you 3 points.
But I don't agree with him at all, we're designed to be shite at the minute and nothing else. We have 4 good defenders and play 2 defensive mids but yet were incredibly soft centred, and we never seem to play with our best attackers all on the pitch.
If you go off Martinez above side we have 4 positions left to fill. At the minute our best players are lennon right, Mirallas left, Barkley and Rom through centre. Never seems to happen, why?
Tony Cheek
37
Posted 21/05/2015 at 15:44:27
We have a strike force of Lukaku and Kone and are designed for Europe......Yupp, and I'm designed to win The 100 metres gold medal at the next Olympics!
Thomas Lennon
38
Posted 21/05/2015 at 15:18:25
Fans like to have silverware, the business needs to have money. Once the silverware becomes worth less to the business side than Premier League places then that is where the investment will be made. Domestic cups are for fun, League is serious business.
How many on the list of clubs who have won a trophy other than the top 5 are still in the Premier League? They FAILED to invest in the right way, they went down, some nearly out altogether. Would their fans swap places with us?
---
Add Your Comments
In order to post a comment, you need to be logged in as a registered user of the site.
Or Sign up as a ToffeeWeb Member — it's free, takes just a few minutes and will allow you to post your comments on articles and Talking Points submissions across the site.
© ToffeeWeb