Martinez focused on Pienaar's fitness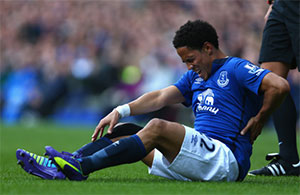 Roberto Martinez has provided fitness updates on a number of his "walking wounded" but admitted that getting Steven Pienaar fit over the pre-season is his number one focus.
Speaking with the fan sites last Friday, he said that Tony HIbbert has just resumed full training with the first team after a season disrupted by injury but he doesn't expect the others back until pre-season in July.
Martinez further explained that Darron Gibson should be fit to start pre-season as normal as he recovers from a metatarsal fracture he suffered in April.
Bryan Oviedo, who is also recovering from a broken metatarsal, and Leighton Baines meanwhile are expected to return in mid-July. Baines' foot is still in a protective boot following surgery to correct a long-standing ankle injury.
Having highlighted Pienaar as one of the biggest misses of the season, Martinez will be concentrating on trying to get the South African back to full fitness after a stop-start campaign in which he has made just 11 appearances.
"Stevie P is the only one I feel we need to give a lot of attention," the manager said. "It's been disappointing that every time he's shown a little bit of progress [he has broken down].
"He played against Manchester United with the the Under-21s and broke down again. He plays again against Swansea and he breaks down in training again.
"We need to keep him fit and that's my only focus this summer, to get Stevie P right. But everybody else will be fine."
Reader Comments (39)
Note: the following content is not moderated or vetted by the site owners at the time of submission. Comments are the responsibility of the poster. Disclaimer
James Kirrane
1
Posted 26/05/2015 at 06:56:34
Unfortunately, I think that Pienaar is finished. Investing your hopes in a player who has broken down so many times this season is foolhardy. If he plays more than ten games next season, it will be a miracle.
Sam Hoare
2
Posted 26/05/2015 at 07:57:41
A big part of the problem this last season is that RM relied for creativity upon Pienaar (who is constantly injured), Osman (who can only be effective for 60% of any game even when fit) and Barkley (who is not really creative at all currently).
It speaks poorly of his analytical skills that he was unable to see we needed a proper AMC last Summer. Hopefully its something he will put right this Summer.
Terence Leong
3
Posted 26/05/2015 at 07:57:39
James, I know what you mean. However, he and Ossie are the only real creative players that we have. Short of us spending big to find someone (might still happen), if we can rehabilitate and help Pienaar and Ossie them change their game, we might yet be able to benefit. Afterall, they are already on contract, and it's unlikely that others will pay us for them.
I'm always reminded how we let Beardsley go far too early; he was still delivering the goods for Newcastle (the days when they were title contenders) in the middle of the park. And he was still playing at 36 years old I think.
So, there is still life left in the old horses, if we can get them to reinvent themselves. Both Ossie and Pienaar are at 33 years old. So I think we can possibly get another two years from them if we utilize them well (impact players or otherwise). At least while we are looking to transition new blood.
Jim Bennings
4
Posted 26/05/2015 at 08:08:32
Oh Roberto lad – stop holding on to Moyes players; you are too afraid to get your scouts out there and search for the next Arteta or Pienaar??
Pienaar, much like Gibson and Hibbert, are never going to give you even half a season anymore, their bodies have suffered to many injuries to survive and sustain any duration of time playing. We had the same problem with James Vaughan.
You can be too sentimental and hold onto players for too long preventing yourself from moving on. Everton have always had this problem, we did it with Kevin Campbell, Duncan Ferguson and a few others. Get your scouts out there and search for quality players.
Colin Glassar
5
Posted 26/05/2015 at 08:36:43
Jim, we don't often agree but you're spot on with this one. Roberto appears to be afraid to be bold in the transfer market and seems desperate to cling on to his old, trusted warriors.
Players like Ossie, Pienaar, Gibson and Hibbo have been fine servants for the club but the biological clock is relentless and sooner or later you have to let go. It just so happens that these are precisely the players who get Roberto and vice versa. He can counts on them to play the football he wants the others to play.
Rather than try and coax another season or two out of old, battered bodies he needs to use this window to start replacing them. Remember Roberto, sin miedo.
Jim Bennings
6
Posted 26/05/2015 at 08:43:54
Pienaar has been one of my favourite players over the last 7 year's and watching him and Baines at their best was a pleasure.
Sadly over the last 18 months Pienaar has contributed nothing to the cause and with my head ruling my heart, I know that nothing is going to change between now and August. At Pienaar's age it's so difficult to be rehabilitated, like I said, even James Vaughan could never stay fit in his early 20's, much younger than Steven Pienaar.
In the last few days Martinez has come out with two truly ridiculous statements regarding Kone and now Pienaar. I'm sorry but he must think the fans are fool's.
What he should be making a priority is looking 24/7 for at least 4 players that can genuinely change the dynamic here.
After a truly horrible season I wanted to hear him say something like "We are truly disappointed with the way this season has gone, myself and the chairman will work together at searching for the best quality available and attempt to bring them to the club, we cannot allow our standards to drop and become a bottom half team."
Much like in 2004 when Moyes came out with the honest assessment of "There's no way I will be going with that same group of players again, some of them won't be here next season." A honest assessment of a dreadful season from Moyes in the summer of 2004.
Sadly Martinez has to put a positive spin or have some superlatives for every situation. Just now and again, a bit of straight talking would be welcome.
Harold Matthews
7
Posted 26/05/2015 at 09:34:41
He'll never do that Jim. Yes, The old boys will still help the cause here and there but we need quality replacements right now. Unfortunately, Martinez is talking like a man with empty pockets.
Paul Tran
8
Posted 26/05/2015 at 09:51:17
Jim, you're spot-on here. I think Pienaar is finished as a long-term prospect. Anyone talking about reviving the Baines/Pienaar partnership is as deluded as they claim Martinez to be.
Harold has hit the nail on the head. I don't expect Martinez to come out and say; 'Bill won't give me enough money to buy top-notch players, so I have to patch up Pienaar, Gibson, Osman, Oviedo.'
Would be good if he got someone in on loan who could contribute straightaway, though.
Gareth Clark
9
Posted 26/05/2015 at 09:45:28
It seems like half of the Everton squad is broken & this comes down to 1) not having a big enough squad & 2) having a very old squad!
It's time to invest in young players (<25 years old):
Nathan Redmond, Sergi Roberto, Austin, Berinho, Caulker, Deulofeu, Januzaj, Berahino, Michy Batshuayi, Ayew (all potential players)
Get rid of the broken and old: Pienaar, Kone, Alcaraz, Gibson, Barry, etc
Also time for Howard to move to the bench & a younger keeper to come in (German in my opinion).
The squad has no competition for places. Lukaku, McCarthy, Mirallas, Jagielka, Stones, Coleman, Howard have no one good enough to compete with them.
Brian Williams
11
Posted 26/05/2015 at 10:34:13
Two things: Don't refer to Pienaar as "Stevie P" ffs... sounds so much like the poor kid copying the popular kid at school... and secondly don't pin your hopes on 30 somethings. Do your job and refresh the squad with younger players with a future beyknd one, possibly half a season.
Patrick Murphy
12
Posted 26/05/2015 at 10:49:34
Pienaar and Osman are both terrific players but their best days are far behind them. If we can't afford to replace them, we need to find a way to be effective without them. The Premier League is unforgiving and we cannot as a team keep playing less than 100% fit players with ageing limbs and expect to be competitive – Martinez himself has admitted that even a 95% performance is likely to end in failing to earn points in this league.
The way things are shaping up and the probable low budget for transfers, I will be happy with a mid-table position next season. That is the fault of the board for a lack of investment in previous seasons and a manager who is too reliant on his senior players and sticks with them even when they are not fit or are out of form. I thought our previous manager was too enamoured with experience but Martinez is in a league of his own.

Eddie Dunn
13
Posted 26/05/2015 at 11:06:28
I wonder if Pienaar would have had so many injury problems, and Baines would have soldiered on through the season with his ankle problem, under the old regime? The Gibson injuries, Lukaku's, Ossie's, Macca's, and Barry playing on after that heavy impact.
Is the medical and fitness department up to scratch?
Paul Tran
14
Posted 26/05/2015 at 11:22:52
Maybe they were over-ruled, Eddie. Maybe that's why some of them left? Truth is, we've got an ageing, threadbare squad, a low budget and a manager reluctant to play youngsters. Sound familiar? Deja vu to me!
Denis Richardson
15
Posted 26/05/2015 at 11:23:40
For all his failings, I did like Moyes's attitude with injured players – he simply didn't talk much about them as only the ones who were fit were important for next game.
On SP – the guy has been a great servant but will be 34 next year and will be in the last year of his contract. Adding his injury troubles on top, I'm a little worried that Martinez is placing such importance on getting him fit for next season (which will probably be his last).
Yes, a fit SP is useful but surely more focus needs to go on getting new faces in. The likes of Osman and Pienaar even IF fully fit are not going to be able to play 90 mins for 30+ games next season. We desperately need at least 2 new attack minded midfielders to come straight into the first team and not be back up for Osman or Pienaar.
Hope this is just PR to keep SP happy.
Tony Marsh
16
Posted 26/05/2015 at 11:27:31
The situation at Everton is truly grim. When our manager is waffling on about the likes of Pienaar and Kone for next season, I want to scream. When you throw in to the mix Gareth Barry, Tim Howard and Leon Osman being still involved, it makes me not want to care.
How many off those supporters who lobbed their season tickets on to the pitch will be renewing? It's getting to the stage now where a lot of the old guard support are saying "Fuck it, let's go to shopping with the wife Saturday morning and watch the game in the pub on a dodgy box." At least this way you can get pissed to numb the tedious pain.
The banners are right: Kenwright has had it. Twenty years without a bit of silverware is shocking. Paying to enter Goodison Park feels like you're being mugged every week. The whole set up is a shocking scandal that ambles on year after year.
I can't drag my kids there any more, Facebook and Xbox are more important. When we were kids, Everton was your life and the players were super heroes. Now it's just a sick joke.
Ant Dwyer
17
Posted 26/05/2015 at 11:36:29
"Stevie P this... Stevie P that..." – does our manager ever listen to the desperation in his interviews? Stevie P and Leon O are supposed to be our creative men but they're both either finished and should be moved on to make space for younger fresher lads who can improve their game and move along with the likes of Ross and Rom.
Del Boy would have been a great addition but it's looking less likely all the time with Barça having a transfer ban, but there's young talented players popping up everywhere at the minute so surely our well paid scouts can spot some.
Jack Grealish has recently come through at Villa; Courtinho was signed cheap from Inter Milan as he wasn't wanted there; Chelsea have loads of talent out on loan whom I'm sure won't be going into that team; and Man Utd are similar.
Even Tom Cleverly would be a decent addition and would probably play more games than Pienaar and Osman by himself, not to mention he'd probably out-score and assist them both if you look at their measly numbers over the past few seasons.
Mostly, though, Ross Barkley needs to improve and demand a more creative and influential roll within our team. Also our Under-18s are looking good... plus we have Henen and George Green to try to bring through who both have been talked about as massive prospects.
Basically, 'out with the old and in with the new' should be Roberto's philosophy.
Ralph Basnett
18
Posted 26/05/2015 at 12:13:22
Pienaar has recently stated he was near to retirement due to injury frustration so why should RM hold out any hopes of him returning and being affective?
Barking mad.
Osman, as everyone seems to know except RM, is only a 40-60 minute player......
James Kirrane
19
Posted 26/05/2015 at 12:10:16
Terence (#3),
I wish I had your faith, Terence. I know both have been terrific servants to the club and I agree that they add that spark of creativity. Pienaar admitted himself that he was ready to call it a day; he knows his body better than anyone else and I think he appreciates that the writing is on the wall.
If memory serves me correctly, Beardo was never injury prone like Pienaar and I agree we let him go far too early.
John Keating
20
Posted 26/05/2015 at 12:51:33
Bumped into Pienaar yesterday at Heathrow T5 BA lounge yesterday.
He looked good and said he felt great – hopefully it continues!!!
Mark Riding
21
Posted 26/05/2015 at 12:57:38
John #20, how hard did you bump into him?
Mike Hayes
23
Posted 26/05/2015 at 13:39:34
Stop worrying – we've got Kone coming back...
Clive Rogers
24
Posted 26/05/2015 at 12:21:36
This is all about saving money. It's ridiculous and won't work.
The main problem on Sunday was that Barry and Osman couldn't cover the ground and close Spurs down or get tackles in. They are all past it but are being talked into another season or two to avoid having to sign someone.
Next season is already going to be poor, possibly a disaster. There will be a punt on two or three young players from the continent who we have never heard of to try and patch the side up and a loan player or two.
This club is only going backwards under the present board, as shown by the statement that the ground move is unaffordable. Kenwright has had 16 years, he should go now before he finishes EFC as a Premier League club for ever.
Eddie Dunn
25
Posted 26/05/2015 at 14:05:49
Denis, you could be right there. The manager talks so much clap-trap that it could be that he sees someone like Cleverly taking over that role, and our two ageing stalwarts will be on the bench, waiting for a 20-minute cameo next term. I've nothing against older players, but you have to have others with legs around them, and we are getting found out once we have too many on the park together.
On the shopping front, what about Vardy? He is like greased lightening, and very industrious. We need more pace right through the side including up front, where the great, lumbering giant looks like he is carrying too much timber.
Even Latchford was lither when he left for Swansea. Perhaps Villa would do a swap for Benteke?
Bill Gall
26
Posted 26/05/2015 at 14:10:56
There are a number of players in Everton's squad that remind me of some old cars I had: fix them and a week later something else goes wrong. Some players can remain free of injuries as they get older, as everyone is different... but they can't slow down the aging process and the toll it takes on your body.
The likes of Pienaar and Osman play in a position were they are constantly hit by defenders a lot bigger and heavier; when young, their bodies can take some heavy tackling but, as you get older, the body starts to object and injuries start to occur frequently. Holding on to this type of player for your future is a waste of money as their injuries take longer to heal. They could be useful for sub or, at the best, 40-50 minute players.
Anyone who takes notice of my comments will have seen I have been writing that we get a young quality creative midfielder for the last three seasons, along with other supporters... but hey, what do we know?
Paul Tran
27
Posted 26/05/2015 at 14:39:08
You're spot-on, Bill. The problem any Everton manager will have is that in the next 2-3 years, he's going to have to replace Howard, Alcaraz, Hibbert, Baines, Jagielka, Barry, Pienaar, Osman, Gibson, Kone. That's nine players to replace, with little or no resale value, assuming we keep our younger players. We can debate the usefulness of these players all day, but they're going to have to be replaced, with the meagre amount our managers are given.
Maybe we could get Arthur Daley for next manager – or do we already have him as chairman?
Fran Mitchell
28
Posted 26/05/2015 at 14:34:31
Why such an overreaction? A big problem with this 24/7 news culture is the production line of news.
People treat every report as if it was some big, press conferenced announcement. It isn´t. It's an extract from the much debated interview with fans.
He never said that he wouldn't look a replacement, in fact the opposite, that a 'no10' was his priority.
In regards to injured players, the others will have nornal training except Pienaar. For him the priority of pre-season is to get fit. Which is true, he has 1 year left, I hope that in this final year he has a good impact.
Where's the debate? What did Martinez say wrong?
I would prefer a different manager, but there is more to a team than a manager, and every utterance doesn't need to analysed like a witness in a murder trail.
Personally, I too hope Pienaar gets fit and gives us a good 20 games, because 20 games with a fit Pienaar are 20 games with a better chance of victory.
Jim Hardin
29
Posted 26/05/2015 at 12:17:33
Maybe now that RM indicated there was no bad blood with Distin, he can hire him back as the strength and fitness coach for the over 30s. Whatever Distin does, it seems to work for him.
Jim Bennings
30
Posted 26/05/2015 at 15:36:50
One wonders why Martinez feels Pienaar will instantly play such a part for him anyway, let's be honest, he's hardly played since Martinez took over.
Mark Pierpoint
31
Posted 26/05/2015 at 15:41:00
Jim, your posts have been spot on. Pienaar is a busted flush now. He has been injured for the best part of two years. At the level of intensity of the Premier League, I don't see a way back.
You were spot on with the fact Everton as a club has always had a penchant for hanging on to players too long. Pienaar was great but maybe sentimentality reigned when we bought him back post loan from Spurs.
Apparently Moyes would be interested at Sociedad. Maybe best for all parties.
Patrick Murphy
32
Posted 26/05/2015 at 15:48:09
Pienaar has made 22 League starts for Everton under Martinez; only 3 of them this season – surely it would have been better for the club and perhaps the player to cancel his contract by mutual agreement?
I only say that because the player himself said he had thought about retiring... but I suppose the club in its current economic plight have to see if they can get a return on their money, no matter how small.

Winston Williamson
33
Posted 26/05/2015 at 15:58:01
Tony Marsh (16), you are right.
I took my 9-year-old lad to a few games this season. He started going when he was 4 years old. I asked him if he wanted to go to the Spurs game and he said No. He said he finds it boring!
Boring!!!! At 9 years old, if someone offered me a ticket for a game I'd have chewed their hand off! Unfortunately, I can understand his reaction. He'd prefer to play with his mates than watch a mind-numbing display from the Blues.
Geoffrey Risebrow
34
Posted 26/05/2015 at 17:04:47
What use are Pienaar, Gibson and Hibbert if they are never fit? Martinez has to be scouring the globe, far and wide to find bargains, loans etc for fit, young and hungry players who are going to make us a better team! I wish it was anybody but Martinez scouring the globe though!
Pienaar has been one of my favourite Everton players, I really rate Gibson and Hibbo has been a great professional but what are they going to contribute next season?
Pete Edwards
35
Posted 26/05/2015 at 17:46:56
Maybe we should merge them together to get a full 90 mins out of them although they would have a combined age of about 362!!
No harm in having one or both on the bench, we've seen enough if Osman coming on and creating chances this season to still suggest he can offer something and Pinnear too on his fleeting appearances. We should perhaps see how they go and look to loan/buy a replacement in Jan if it looks like they wont see the season out
Michael Winstanley
36
Posted 26/05/2015 at 18:07:41
Football intelligence is priceless, both Osman and Pienaar have it whilst those that tried to play that way showed they couldn't.
I think Martinez is right to think he might get 10 games out of Pienaar and Gibson next season but to hope or even plan on a full season from either is just plain daft.

Sadly we don't have the funds to replace the older players in one window, money rules and we're pretty skint.
Clive Rogers
37
Posted 26/05/2015 at 19:05:57
Michael,
We are skint because of the appalling financial management of Kenwright and his cronies. Clubs like Stoke, Southampton, Tottenham and West Ham are moving past us with smaller attendances.
Kieran Kinsella
39
Posted 27/05/2015 at 04:12:51
Tony Marsh, when I was a kid we'd reenact games and pretend to be Kevin Sheedy, Sharp, Ratcliffe. I guess your lad doesn't feel as inspired to role play as an out of position mediocre player playing piss poor football.
Sad thing is, there's no hope of things improving. Pienaar? What a joke. I'm surprised RM didn't go one further and say he is still hopeful that Danny Williamson and Norman Whiteside can get match-fit.
Paul Gladwell
40
Posted 27/05/2015 at 07:02:17
Tony Marsh, spot on, mate.
I bought my 6-year-old a half season; it is a bit early to be taking someone so young to every home game but that was part of my worry – grab him before something else does.
How many fans have we lost in this Kenwright era? And now this clown of a manager is fuelling it with his boring style of football. My lad will watch the game, he will cheer and go mad as he did at the Man Utd game, but mostly he has seen defeats, I'm struggling to keep him interested, and he's going to have no teeth left with the sweets I throw down him to keep him happy.
On Sunday, he fell asleep in the first half and in the second half just watched the Spurs fans as we sit close to the away section. It's a sad state of affairs, the players, the board and that clown owe us.
I left early, I just wish everyone else did too, just a little 'up yours' to them may have at least given me hope we are not going to take this garbage, but sadly there are many who are just too accepting of mediocrity.
Kieran Fitzgerald
41
Posted 27/05/2015 at 07:39:11
For fuck's sake, Tony Hibbert is going to be in the squad next season. As much as a cult hero as he is, that is just plain ridiculous. What must Ty Browning be thinking?
Either we are that broke that Hibbert is a serious option or else Martinez is just a moron.
Darren Hind
42
Posted 27/05/2015 at 07:24:25
Tony Marsh / Winston W / Keiran K / Paul G,
I hear everyone of you. Kids are being bored senseless at the moment. Judging by the amount of season tickets being lashed onto the pitch on Sunday, so are their arl fellas.
Worrying times. The board need to somehow find the money for a signing/s that will capture the imagination, galvanise and inspire the troops and the manager somehow has to break his cycle of buying non-creative players and identify them.
Love Pienaar, but FFS...
---
Add Your Comments
In order to post a comment, you need to be logged in as a registered user of the site.
Or Sign up as a ToffeeWeb Member — it's free, takes just a few minutes and will allow you to post your comments on articles and Talking Points submissions across the site.
© ToffeeWeb