Poor start scuppered Everton's 2014-15 campaign
Roberto Martinez is hoping to use a summer free from the distractions and impact of a major international tournament to better prepare his Everton side for next season.
The manager has been reflecting on what has been a disappointing 2014-15 campaign, one he feels was hampered in the early going by a lack of fitness, injuries to key players, the disruptive effects of the World Cup in Brazil and, most importantly, the mental toll that disappointment in the early Premier League games took on the players.
"I think it was a combination of things. Obviously, as a team we took a while to find a way of performing in the League," the manager told the club's fan websites at Finch Farm last Friday.
"The big difference has been the expectations we had at the beginning of the season. We couldn't get those expectations into real momentum and enjoyment.
"I think the first three games in the league, they set the tone for the season. Dropping two points at Leicester after going ahead in the 83rd minute... honestly, you would not believe after the game, in the dressing room we had a feeling of defeat and there were still 37 games left.
"I think it shows you that we were so excited about the team that we had got together [but] the first result, psychologically, hit us hard. Then we got the Arsenal performance where I thought for 60 minutes we were at the level of the previous year and all of a sudden we end up with a draw.
"You lose four points and it became a little bit [like a feeling that] we can't get where we wanted to get. Psychologically we didn't find enjoyment in the [Premier] League. We found enjoyment in the Europa League and you saw a real contrast, psychologically. It's been a real learning curve, to get rid of the disappointment in the [Premier] League and move on rather than feeling that because we dropped early points from Arsenal and Leicester we couldn't get what we want."
Martinez highlighted fitness and preparedness as two other important factors in the team's poor first half of the season as the management had to cope with players returning at different stages from the World Cup and then a serious injury to Ross Barkley on the eve of the Premier League season.
The then 20-year-old midfielder suffered a medial knee ligament injury in training two days before the season-opener at Leicester and would miss the first two and half months of the campaign, while striker Romelu Lukaku would miss all of the pre-season programme and begin the season with a niggling foot injury.
"I think coming back from the World Cup affected us defensively because we became a little bit loose," Martinez continued. "There were many things that affected our first half of the season in the [Premier] League. Once we turned the year, our intent in the League was fantastic. It was [no longer] about 'we want to get top four,' it was, 'we have to win,' and it was the reality of having to win games and we've been very, very strong from that point onwards.
"I think by that point, most of the players had got over their hangover from the World Cup. Romelu [Lukaku] was a completely different player, physically, when he came back from the World Cup than he was in January and it's shame that we don't have another ten games.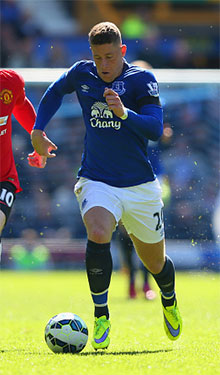 "[The loss of Ross was] huge. Huge, because we were so excited about his pre-season. He came desperate to return to Everton after the World Cup and he was on fire. He was flying and you're thinking, that's not normal, because normally a player comes back from the World Cup and you think it's going to take a bit of time.
"The injury really set him back. He's been patchy all season. Sometimes, physically, sometimes psychologically and until the Manchester United game I didn't feel that Ross was Ross this season and everything started with that injury.
"If you ask him, he's the first one to tell you that he has learned so much this season about coping with the outside, coping with expectations, coping with what the people think of Ross and I just think that we've got an incredible footballer for the future. But it's been one of the toughest experiences that he had to go through.
"After he came back from England the last time, there was a sense that he had settled his business and I don't think we're going to see a player who has ups and downs anymore. I think we're going to see a consistent performer and I feel that there is a maturity about him."
Quotes sourced from Roberto Martinez Interview
Reader Comments (33)
Note: the following content is not moderated or vetted by the site owners at the time of submission. Comments are the responsibility of the poster. Disclaimer
Patrick Murphy
1
Posted 26/05/2015 at 17:23:41
Roberto - You are, are you not the Manager of Everton Football Club? So what exactly did you do to alleviate the damage done by all the reasons you cite? Do the players recieve any instructions from you or is your job confined to Press Conferences and choosing the team? I really do despair.
It's a good job we don't have another ten games as we've lost three of our last four fixtures, including two at Goodison. Ross has looked like a little boy lost for all of this season and nothing like the player we saw last season. Mind you another ten games may have been enough to decide if Roberto was the right man for the job or not.
Bill Gall
2
Posted 26/05/2015 at 17:33:00
Hope this does not mean, if we get Man City at home followed by Chelsea away and we lose these two games, the rest of the season is over.
Michael Winstanley
3
Posted 26/05/2015 at 17:39:28
No I dig what he says, the players looked like they expected to win every game at the start of the season. The draws against Leicester and Arsenal would have knocked the confidence a bit. Individual mistakes happened week on week and usually by more than one player.
Take United away, how they won that is beyond me but from that point on in the league we looked shot of confidence and belief. Martinez stuck to his plan, some of the players would have questioned him, possibly? We don't know what went on behind the scenes but it didn't play out well on the pitch.
But he's right, once we needed to get results we did and from what he's saying it sounds as though they've all been on a learning curve. As the great flying German winger once said 'what doesn't kill you makes you stronger'.
Moan and complain all you want but the man is here next season and I can assure you he doesn't want a repeat of this season.
Ian Riley
5
Posted 26/05/2015 at 17:30:53
Oh yes, you did take your eye of the ball Mr Martinez. When did you pitch up at Finch Farm after the world cup? You really thought it was going to be that easy? No Plan B? Players came back from the World Cup shattered and some lacking confidence.
The pre season games told everything about this season. Leaking goals and pace of games did not change all season. However, after last season 2013-14, 5th place, another chance is required based on your honesty of this season.
The coming season: no summer tournament, no Europa League, no excuses.
Geoffrey Risebrow
6
Posted 26/05/2015 at 17:48:38
It is down to the manager to lift his players after a disappointing result! I actually liked Roberto when he took over! I believe he is full of excuses and a poor manager for our Great Football Club! I don't know what has happened to Ross Barkley? I would love a new manager to come in and get the best out of him because he has got undoubted class.
Patrick Murphy
7
Posted 26/05/2015 at 18:00:50
Michael you say " Moan and complain all you want but the man is here next season and I can assure you he doesn't want a repeat of this season." Guess what none of us want a repeat of what we have witnessed this season, in fact some of us believe that is exactly what will happen as we have a manager who believes in fairies and magic dust.
It was his job to pick the players up, no matter how they felt about the opening games, it was his job to address the loose defence in the opening quarter of the season, it was his job to pick 100% fit players and the formation which best suited those players. It is his job to ensure that the team go into every game at the best physical and mental level that they can be and then give maxiumum effort in gaining results for the club.
If dropped points in the opening part of the season seriously de-railed our season, it doesn't say much about the phenomenal characters in the dressing room does it?
Plenty of people are giving Martinez a lot of credit for doing this inteview, but I'm not one of them. I and many others go to Goodison to see a football match and mostly to watch Everton play and that is the only evidence I require to judge whether the man in charge is up to the job or not, a bucketful of reasons as to why they didn't play to the required level doesn't make me feel any better in some ways it makes me feel worse and this interview has cemented my view that this man shouldn't be running our club.
James Stewart
8
Posted 26/05/2015 at 18:16:16
Playing like we did last Sunday scuppered our campaign not the poor start. Braindead football which I can't see getting any better next season under the current management. We shall see I guess but never have I had such apathy about Everton.
Ross Edwards
9
Posted 26/05/2015 at 18:25:15
It took us nearly 7 months to get over the first 3 games of the season?
Absolute rubbish.
Bill Cotton
10
Posted 26/05/2015 at 18:16:34
Last pre-season preparations were an absolute shambles: players fitness was not up to standard as anyone watching the Arsenal match can testify to as the players ran out of energy. The insistence of the manager in our terrible run prior to and after Christmas to stick with same players and tactics when every supporter could see changes were needed.
Surely our Manager must hold his hands up and take the blame?! Roberto does not learn from his mistakes, he signed Kone and Alcaraz twice! Need I say more?
Ross Edwards
11
Posted 26/05/2015 at 18:27:44
Just to add another thing. Isn't it his job to get a response from his players? Isn't it his job to motivate the players to forget the poor start and recover those lost points?
What did he do? Just stand there going 'Ah well. What can I do, the season's almost gone already.'
Get the hairdryer out, get a response. Sir Alex Ferguson after Utd lost the league to City in injury time, he galvanised his players, saying 'Never forget this moment. This will make you better players'. He picked them up and got a response out of them. Won the league at a canter the following season.
I don't think Martinez has those motivational skills. If it took so long to get over 3 games, that just shows his inability to get a response from his players.
John Crawley
12
Posted 26/05/2015 at 18:29:15
He's not taking any responsibility, just trotting out excuses. The pre-season preparations were a disgrace. Compare them to Chelsea who started a few weeks earlier than us and who were playing 2 games a week until just before the season started. The result they were fit and raring to go and got off to a flyer.
I along with many others on this site had major doubts about our fitness before we even kicked a ball in the league. This isn't hindsight, yet he's refusing to acknowledge his role in this. It was the most shambolic pre season I can remember in recent years and Moyes didn't exactly cover himself in glory on that front!

Simply put, we dropped points and made mistakes because we weren't fit and that's a disgrace.
Tommy Webber
14
Posted 26/05/2015 at 18:45:49
I would love to see Lukaku get 20+ goals this season. If Roberto keeps him playing in his favoured position and maybe brings in a top quality striker to play along side him (without breaking the bank), the sky's the limit!
Denis Richardson
15
Posted 26/05/2015 at 18:41:58
'Once we needed to get results, we did'. Apparently according to Roberto that happened at the turn of the year and things got better...
Actually in the first 2½ months of 2015 (until mid-March) we played 9 league games and took only 8 points, winning just 1 - the lucky away win against Crystal Palace when we were outplayed.
The fact is had we not (thankfully) had a pathetic Newcastle team visit GP on 15th March followed by playing a slightly less pathetic QPR team afterwards (who we were also lucky to beat), we would have been in deep deep trouble! Thankfully these two wins lifted the pressure and allowed us to get decent results in April – as the players also went more direct.
Every time – he just comes out with excuses and more excuses. Not one admission of doing anything wrong. It's always down to something or someone else, never him, his tactics, style or philosophy.
His comments on Barkley are just baffling.

Tommy Webber
16
Posted 26/05/2015 at 18:56:19
Ok, stating the bleedin obvious here: Since the new increase in revenue the Premier League has had, all the weaker teams invest heavily for fear of losing their spot at the most lucrative league in the world. Chelsea, Liverpool, Man City and Man Utd have all suffered the odd mauling by our so-called "smaller teams" and each year the threat will increase that much more. SCORE!
Last season, we desperately needed an out-and-out striker with goals in him and we managed to keep hold of Lukaku. BUT.. We realised it just wasn't enough to take our team to the next level. Serious investment is required up and down the park to get us even close to where we were RM.
If I was Bill, I'd snatch Big Sam in a flash to take over the reins (as much as I can't stand him) but he would be a necessary evil that IMHO wouldn't squander what little money we'll have. Yes we needed a Lukaku but it will take a lot more to move on.
Declan Brown
17
Posted 26/05/2015 at 19:10:42
Without going into too much detail next season will be pivotal for both Everton FC and Roberto Martinez.
For Everton FC, the best of the rest and overachieving tags may be discarded if we have a bad season, the stability of Moyes now the scales can easily tilt either way, lower half of the table obscurity or the return to the ambitious challenges for the Top 6.
For Roberto, he had a great season then the second season was not very good at all bar the Man Utd game at home. Roberto was being tipped for the Arsenal job last summer, if this season is repeated will any major club even consider him in the future if we repeat this season again?
I still think we stayed up due to the crowd turning things round at the Kiev home match. That night the 'Philosophy' went out the window.
I was surprised to still see him here in May, I thought he was a goner. But he starts next season as our manager. Now we'll see what he's made of. If things don't get any better he'll be gone and would need a miracle to get a club of our size again in the future.
Interesting times ahead. If there's no money to buy the 3-4 good players needed (at least) I can't see our luck changing. It's all on the line now for Roberto, it's win or bust. You simply can't stand still in this league...
Trevor Peers
18
Posted 26/05/2015 at 18:56:43
Another Roberto gem, his latest offering "Ross has a maturity about him" makes no sense at all, the lads head looks battered probably due to being played out of position in most games this season.
If he was given leadership and guidance from a good coach I'm sure we'd see a different player.
Kunal Desai
19
Posted 26/05/2015 at 19:48:05
Just more waffle from the man. I guarantee you that both Gary Monk and Mark Hughes make better signings than him this summer and both will finish above us next season. Forget top 6. It won't happen under this chap.
Patrick Murphy
20
Posted 26/05/2015 at 19:53:43
Kunai - I think next season will be even more competitive than it was this time, Newcastle and Villa will probably strengthen and improve, the teams that ended above us, depending on whether they keep their stars will give us more than a run for our money and the three promoted teams look stronger than the ones that got relegated.
Then of course the other high budget teams will maintain their positions in the top six which means, unless we get extremely lucky a top ten place will be a real achievement.
David Holroyd
21
Posted 26/05/2015 at 19:55:10
Martinez is trying to baffle us with science, he just cannot help himself. Sorry but they are all excuses, he needs to take responsibility, then go: Adios amigo.
First it's the World Cup, then the early draws, then it's Barkley's injury. Surprised the tea lady hasn't been blamed. That will be this week's blame game.
Jim Jennings
22
Posted 26/05/2015 at 20:07:39
Probably the most interesting comments from Martinez in a long time and gives an insight into the mental fragility of much of our squad. Makes me wonder if the club employ a sports psychologist.
None of our senior pros seem to be the type to galvanise the troops when things are going wrong (Jagielka, Howard, Baines, Barry, Distin) so I am not surprised to hear him say he felt we never recovered from the early season set backs.
Mental toughness can't be bought. Nor can a winning mentality. Installing it after last season is going to be Martinez's biggest challenge.
Pete Edwards
23
Posted 26/05/2015 at 20:17:09
Tommy, really??? You would swap the manager getting his team to 11th for the one who got his to 12th place?? Seriously!!
Michael Winstanley
24
Posted 26/05/2015 at 20:33:31
The lack of leaders on the pitch is worrying; this team/squad has bottled every pressure situation they've worked so hard to get into. We've seen that for years, nothing new in that sadly.
Raymond Fox
25
Posted 26/05/2015 at 20:04:48
Come on, chaps... let's face it: if you want win things, you need to support another team with 'loads of money'. It's the grim truth unfortunately; it's a money league and we haven't enough with our present ownership.
Martinez has made mistakes, everyone does, but the telling stat is we haven't won anything for 20 years... there must be a reason why!
Look who's occupying the top 6 places again; sure, we finished 5th last season but can we really hope for more? I don't think so. I'm not trying to be a killjoy, just a realist; unless we get new owners, nothing will change.
It's a poor state of affairs... such a well-supported club such as ours deserves more.
Trevor Peers
26
Posted 26/05/2015 at 20:47:35
Most Everton fans have accepted we probably won't win things, Raymond. So why not get a manager who can make us hard to beat, and take us to the highest level possible, through team work.
With Roberto, we have a manager trying to play football that requires a much higher skill level than we have or are ever likely to have. That's the real gripe; I'm certain, as well, if Robert was at Barcelona, he would be a disaster.
Paul Tran
27
Posted 26/05/2015 at 21:07:54
It's a big part of the manager's job to get the players fit and keep them motivated. He did neither and made it sound like he was an innocent bystander while something uncontrollable was happening.
Oh dear, it sounds even worse when he lets it slip, doesn't it?

Bobby Thomas
28
Posted 26/05/2015 at 22:13:14
He's a spin doctor.
Bobby Thomas
29
Posted 26/05/2015 at 22:23:30
Trevor #26
We had a manager of the type you mention for 10 years & he got dogs abuse on here.

Tom Bowers
30
Posted 26/05/2015 at 22:47:20
He keeps on putting his foot in his mouth.
So, after three or four games when they blew 2 points at Leicester, 2 points at home to Arsenal they get absolutely pummeled at home to Chelski and he blames the totally abysmal season on that!!! Only the few good scorelines in Europa concealed the fact that all was not well.
The big question is why was he not able to correct the problems and by the end of the year why did BK not act? The answer can only be that RM did not have what it takes to motivate and/or change the system to at least make them a more solid defensive unit.
He actually had the whole season to improve things and didn't, so the team actually ended up as the same tired clueless bunch after flirting with the relegation battlers.
How can we possibly believe he can do anything different next season?
I feel sorry for the good fans who have already invested in season tickets as they have had fair warning. He has already hinted at Kone being the striking cover which is ludicrous and Mirallas is not top class in my opinion.
Lukaku cannot play on his own and needs a top class partner and if he thinks Barry and Osman have a good season left in them then he is delusional.
Maybe Besic and Oviedo can finally stake a claim but somehow I think the usual suspects will still be around.
Trevor Peers
31
Posted 26/05/2015 at 22:46:29
Moyes played to our strengths, it's true Bobby, the purists hated him, but look what happens when you try and take it to the next level: we have gone backwards, we get beaten far too easily. It can't be done spending 㿔 million.
And I doubt Roberto is the right man anyway no matter how much money we could spend, he's hardly a tactical genius.
Sooner or later, we will revert back to a Moyes type manager; hard work and a strong team spirit is the only way to go, whilst there's no real money being invested in the club.
Richard Harris
33
Posted 26/05/2015 at 23:43:51
"I think the first three games in the league, they set the tone for the season"... Martinez really is deluded and a piss poor manager if he couldn't turn things around after those three games.
I have struggled to raise much enthusiasm for this season, although I have spent a lot of time and money hoping that the next game will be better. But on the whole it wasn't.
Leicester looked likely to be relegated and yet Nigel Pearson turned it around and they finished 6 points behind us. Crystal Palace were in a sorry state before Alan Pardew arrived and yet they finished one point above us. West Brom were floundering under Alan Irvine and then Tony Pulis turns it around and they finish three points behind us. Stoke and Swansea finished above us and can we honestly say that they have better players?
We finished 13 points behind Southampton, who sold a lot of their established players, lost a good manager and yet still turned around a potentially difficult season. And 15 points behind Liverpool who everyone seems to agree had a disappointing season and flattered to deceive when it came to the big games is a travesty.
I look forward to seeing the headline that Martinez has resigned (as sacking him would cost too much money... although that's a price that I feel is worth paying). In the last few years of Moyes, I wanted him out as it felt stagnant and I liked Martinez's positivity but was equally concerned about his lack of defensive tactics and that was his achilles heel.
After the openness of the early press conferences, I now cringe at some of the delusional psychobabble that Martinez spouts and (almost) yearn for the dour post-match assessments from Moyes and Walter Smith...
Steve Carse
34
Posted 27/05/2015 at 00:15:19
Just as well HK didn't have the RM mentality in 1984-85 when we lost our first two games...
Dick Fearon
35
Posted 27/05/2015 at 00:16:10
David H (#21),
The full text of Roberto's words are: If you can't blind them with science then baffle them with bullshit.
Martinez has given up on the first part and is now ladling out the second part to awe-struck listeners.
While I am on about it, did any of the gullible raise the issue of him commentating on the Euro Championship?
Brian Porter
36
Posted 27/05/2015 at 06:13:04
In 56 years of supporting Everton FC, I've never heard such drivel from a manager. Martinez seems to think he is absolved of any responsibility for our atrocious season. Not one mention of the fact he may have got his tactics wrong, or that he might have changed things earlier in an attempt to halt our slide down the table. A little honesty would not have gone astray, Roberto.
Other teams sent players to the World Cup, and seemed to cope okay on their return. Other teams played in Europe, and coped okay back home in the league. He talks about the first three games of the season basically being the root cause of all that followed. I actually thought we played some decent enough football in those three games, at least going forward, with Naismith on fire as a goal scorer, but yes, they did show up our defensive frailties.
Having seen those frailties at an early stage of the season, a half-decent manager would have made it a priority to tighten things up in defence, work on where we were going wrong, change the tactic of playing out from the back, remotivating the players involved but did we witness any of those things?
No, right from the beginning he started rolling out the excuses, always blaming bad luck, poor refereeing decisions, tiredness from the World Cup, etc, etc, etc. We should have realised way back then that Martinez had no idea how to correct things.
He's a flim-flam merchant of the highest degree, and why he was allowed to keep his job after the appalling run up to Christmas, I'll never know. Most Premier League clubs would have got rid of a manager in such a situation but we allowed him to blunder on and to be honest, we were dragged into relegation fight that luckily, we managed to escape with half a dozen games to go.
It was that close, and thank God we had that good run when we did, because if we'd still been down there at the time when Leicester and Sunderland started fighting hard to retain their status, we could have ended up going down.
I certainly bear no hope or optimism for another season with Martinez at the helm. He's steering us straight for the rocks, and I can only see us getting worse the longer he's in charge. My one-year-old granddaughter could probably do a better job!
---
Add Your Comments
In order to post a comment, you need to be logged in as a registered user of the site.
Or Sign up as a ToffeeWeb Member — it's free, takes just a few minutes and will allow you to post your comments on articles and Talking Points submissions across the site.
© ToffeeWeb