Ambitious Lukaku says it's time to win trophies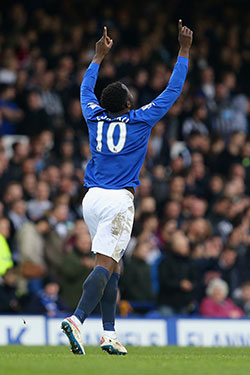 Updated
Romelu Lukaku has restated his desire to "play in the big matches" and win silverware while admitting that he has made no bones about his best position to Roberto Martinez.
In an interview for Nike last month published tomorrow in Belgian magazine Sport Voetbal, the 22 year-old outlines his burning ambitions that underscore Everton's challenge if they want to keep him long term even if he is not looking to leave any time soon.
"I want to win titles," Lukaku says. "I want to know how it feels to play in the big games. I'm 22. Its time to win trophies."
Though the Belgium international scored 20 goals and featured in the biggest European games that Everton have experienced in seven years when the Blues made it to the Europa League Round of 16, his experience at Chelsea and those of his international team mates give him a different perspective on success.
Having also played at the World Cup and become Everton's record signing, Lukaku wants to take the next step in his career by winning a trophy. While there is nothing in his comments to suggest he wants to leave Goodison Park in the short term — indeed, he insists he is happy where he is — his switch from long-time agent Christophe Henrotay to "super agent" Mino Raiola ensures that he will have both the encouragement and the means in order to get the opportunity to play at the highest level if he can't get it at Everton.
"If a player wants to leave, he will leave, but time is on my side. I'm 22 and there's nothing negative about Everton. I'm happy."
Romelu Lukaku
That will sharpen the focus of Martinez to make the right moves in the transfer window this summer as he looks to improve on a disappointing second season at the Blues' helm.
Thanks largely to a poor start and an alarming mid-season slump, Everton could only manage an 11th-place finish and were dumped out of both domestic competitions at the first hurdle, leading some of the players to voice their suggestion of mixing up the team's possession-based game in favour of a more direct approach at times.
Lukaku was the first player to reveal those discussions to the media and he reiterates them to Sport Voetbal.
"The manager is the boss, but when something is going wrong, I tell him straight away. I hear what the others are saying too.
"We then changed tactics and afterwards put in a strong showing [in the League]."
He was equally unequivocal with Martinez over his own personal role in the side, insisting that he should play as an out-and-out striker after finding himself deployed out wide in some matches as the Catalan experimented with attacking options.
"I am a striker," he continues. "At one point I went to the coach and I said to him: 'With all due respect, when I'm on the wing I'm hopeless. I will only score goals if you put me right up front.'
"That was true. The games that I did not score, I was on the flank. I moved upfront, then I scored."
As was revealed at the time of the interview, the ex-Chelsea striker expressed his desire to play Champions League football but that doesn't mean he is going to be agitating for a move in the wake of Everton's failure to improve on last season's fifth-place finish.
"If a player wants to leave, he will leave, but time is on my side. I'm 22 and there's nothing negative about Everton. I'm happy."
Quotes sourced from Sport Voetbal Magazine (via Google Translate)
Reader Comments (158)
Note: the following content is not moderated or vetted by the site owners at the time of submission. Comments are the responsibility of the poster. Disclaimer
Patrick Murphy
1
Posted 02/06/2015 at 11:25:39
The more I'm reading, the less hopeful I am that Roberto will be the guy to turn us around; if players that he has signed are disgruntled or have their eyes on other things, we are screwed.
Joe Halligan
2
Posted 02/06/2015 at 11:39:09
Why can't these players keep their mouths shut!
Andrew Ellams
3
Posted 02/06/2015 at 11:59:35
Sounds fair enough to me Joe. He is only reiterating what most people on here have said since Christmas. I'm sure it will annoy Roberto but so what.
Jim Bennings
5
Posted 02/06/2015 at 13:44:00
If what Lukaku says is true then you have to say yet again it's another show of unrest with the players regarding the manager; in the same week Mirallas accused Martinez of broken promises it's now Lukaku who speaks out.
Two things are apparent.
1). It's obvious there was a reason for the half-arsed displays in too many games last season, the players are either not happy with the Martinez philosophy or we have two many "big time Charlies" in the dressing room..The truth is probably a bit of both.
2). Lukaku or Mirallas, maybe even both won't be here this time next years, maybe not even st the start of the season.
Troubled times ahead.
Michael Winstanley
6
Posted 02/06/2015 at 13:47:58
He doesn't want to play in the shadows of the big teams. He's now of an age where he should be winning stuff and challenging for major honours, says Rom.
Not from what I've seen. Lazy, unmotivated, poor touch, no fight to beat his man, and looks fairly clueless in and around the box – oh and he can't head the ball.
He has no loyalty. Either for the club or for his manager and fellow players. Simply put, he's a gobshite.

Jackie Barry
7
Posted 02/06/2015 at 14:03:20
You sign a player for 㿈 million, you have to keep building... Problem is, Bill and his cronies think that's it, they don't have to. What did they expect?
Once again, this highlights the inadequacies of those running the club, a bunch of novices running a Premier League club.
Stuart Mitchell
8
Posted 02/06/2015 at 14:09:39
He's not worth anywhere near 㿈M. I would be more than happy if we managed to ship him out and recoup that amount. I've never seen a footballer with such a poor first touch, always looks like he is trying to control a balloon.
David Barks
9
Posted 02/06/2015 at 14:37:17
Right, Rom has no loyalty yet once a supporter perceives a player to have gone downhill, they immediately say to get rid of the deadwood. Ah, loyalty, a beautiful one-way street.
Rom can score goals, when he's not isolated up top with 3 defensive midfielders who pass it amongst the back 4 and themselves. He was feeding on scraps all season and managed 20 goals.
But he probably will leave, and he'll score goals there. He'll be playing in Europe, and we'll be stuck with Kone and Naismith, with old man Barry passing it back and forth to Jagielka and Howard most of the game.
Can't wait for next season.
Stuart Mitchell
10
Posted 02/06/2015 at 14:44:22
David, I did not comment about loyalty, merely that he is not worth 㿈M.
Matthew Williams
11
Posted 02/06/2015 at 15:39:20
So start fucking scoring and tell your leetch of a agent to pipe down, you're no superstar striker yet lad, far from it, show some class and prove yourself.
Karl Masters
12
Posted 02/06/2015 at 15:39:56
Can't help wondering what might have happened had those players not told Martinez the tactics needed changing.
Considering we only took 1 point off Hull last season, had we not picked up those 16 points in six games after Kiev, it could have been us and not them looking forward to a trip to Barnsley and the like next season.....
Lyndon Lloyd
13
Posted 02/06/2015 at 15:40:39
As we've seen with Fellaini, Mirallas and Rom, there's clearly a different culture in Belgium when it comes to talking to the press.
I actually find his ambition refreshing; it's the kind of winning attitude and drive that we, as a club, appear to have lost over the last two or three decades.
Unfortunately, his comments are essentially the writing on the wall and suggest that we probably have one season to win something or Lukaku will be off for big money.
Jim Bennings
14
Posted 02/06/2015 at 15:42:18
Quite clear this is and has been for the last 10 months, a team with a hell of a lit of player unrest and distrust in the manager and the playing style.
Regardless of whether they should be opening their big moths or not it still shows that we are not a very happy ship at present and the proof is very much in the pudding with God knows how many disinterested team performances last season.
We had no motivation, no desire, no will to win, and we are finding out why.
These players will still not perform for Martinez next season you see this becoming obvious.
There was always many spells when fans said of David Moyes "losing the dressing room".
I'm not sure Moyes would be so soft as Martinez is being, but Martinez himself is partly blame for this diabolical mess.
The players, and fans don't trust his philosophy and his stubbornness will ever work in the Premier League and frankly most fans I speak to simply want an Everton team they can be proud of and show fight and passion once more.
Do we trust this bunch and Martinez to ever regain this simple hope for us suffering fans??

You do wonder really what kind of team Martinez is trying build?
He never utilises his players and plays to their strengths.
I'd say ditch Lukaku for a guy like Charlie Austin buy he's not a Martinez player really is he? No more than Lukaku is.
Martinez seems to want a team that will walk the ball into the net with the perfect goal but with a side that includes so many defensive minded crabs it's not ever going to happen.
Lukaku has been played on the wing, our only centre forward, it's madness from a manager that has shown all year that he doesn't have or know what his best team is and that his only way of playing is those stupid ten yard passes between defence and goalkeeper, with nothing in the way of movement beyond the halfway line.
Lukaku or whoever, I feel we will be having the same discussion in six months time with Martinez and his tactics the forefront of them.
Michael Kenrick
15
Posted 02/06/2015 at 15:45:44
Just astounding to me that Roberto had him deliberately playing on the wing.
Complete and utter madness.
Patrick Murphy
16
Posted 02/06/2015 at 15:40:21
We now see why Mr Mourinho was keen to see the back of him, there's nothing wrong in being ambitious in fact that should be welcomed but he is an employee and Martinez is his boss therefore he has to do what the manager believes to be the right thing for the team.
As somebody wrote elsewhere, even if he stays beyond the summer window it is more than likely he will leave next summer just in time for the 2016 European Championships. If I was Martinez I'd be actively seeking a replacement for Lukaku and actively seeking a buyer for the bloke - he's not the right type of person for a club who don't have much money and who rely mostly on dressing room spirit to be more than the sum of their parts. Obviously we would miss his goals but would we miss having a forward who struggles to play the game, mostly due to his work-shy attitude?
Minik Hansen
18
Posted 02/06/2015 at 15:54:00
The third season with Martinez is important for all, as he has still something to prove from his first season. The second season let everybody down, make up for it is the only way and this summer will show how Martinez does that.
Ian Hollingworth
19
Posted 02/06/2015 at 15:58:40
Jackie Barry (7) "Once again, this highlights the inadequacies of those running the club, a bunch of novices running a Premier League club"
Spot on, nail on head. Throw in a Championship manager managing a Premiership club and we see the problem getting worse.

Why are we surprised that players with ambition see their future away from a club that has no ambition?
I will keep saying it GET THIS LOT OUT or keep accepting what we have

Paul Gladwell
21
Posted 02/06/2015 at 16:05:38
And there's me thinking we were worried about relegation a few months back not thinking we are some superb team on the verge of trophies all because of total inept performances and fight by the likes of this fella and a few others.
You'd think they would have all sat down and said shut up we were all pathetic as was the manager and knuckle down and repay the fans, but I learnt many years ago the average Premier League footballer is a tosser.

The worrying thing is if these players spouting off don't leave then as soon as they hit a bad spell next season they will get it from the terraces, I am really worried for us next season, from the manager to the players how many can we trust?
James Stewart
22
Posted 02/06/2015 at 16:15:55
Nothing wrong with ambition. He has more at 22 than any of our senior players.
"At one point I went to the coach and I said to him: 'With all due respect, when I'm on the wing I'm hopeless. I will only score goals if you put me right up front.'
That quote stuck out to me. You sometimes have to wonder if Martinez even wants his team to score!
Dave Abrahams
23
Posted 02/06/2015 at 16:15:47
Well Lukaku it's up to you lad, the quicker you buck up, have ago and start scoring plenty of goals the quicker you'll get away from Everton. We will make a profit on you and everyone will be happy, get cracking lad!!!.
Jim Bennings
24
Posted 02/06/2015 at 16:22:56
James
Martinez is like a mad scientist.
He has become so obsessed by this experiment perfect passing football that he's lost sight of the end result.
To Martinez know it's almost as though having more possession means more to him than having more goals than the opposition.
Colin Williams
26
Posted 02/06/2015 at 16:28:19
Big time Charlie! Done nothing to prove he's a big time player!....excuses...trying to hide his poor performances. Put your dummy back in and start earning your money.
Paul Smith
27
Posted 02/06/2015 at 16:26:40
You have to ask: if he was scoring goals or showed some ball control would he of been asked to play on the wing ?
Franny Porter
28
Posted 02/06/2015 at 16:36:28
I'm sorry, whoever is wrong here, one thing is certain, all Belgian players are delusions of grandeur bellends.
David Barks
29
Posted 02/06/2015 at 16:34:07
Paul, he was put on the wing because our midfield was useless and couldn't get him the ball. So Martinez in his infinite wisdom solved a problem of his striker being isolated up top with no service, by isolating that striker out wide where he could get service, but not be a goal threat. Just ridiculous.
The guys wants to win, every player should feel the same but they don't. The problem is we have a Board, a manager, and a lot of players who are fine with just seeing how it goes.
Steve Hogan
30
Posted 02/06/2015 at 16:29:16
And so it begins...did we really believe that putting all our '㿈m eggs in ONE basket' that we would deliver a title chasing/top four side.
Lukaku will score goals in ANY team that gives him a decent platform to perform on. Sure he doesn't help himself at times and may appear lazy, but playing him on the right wing hardly helps his cause. We should point the finger of blame at our master tactician, who BORED me to death at Goodison for the greater part of last season.
'Can't change/won't change' is his mantra and I continue to be embarrassed by his pre and post match comments.
I don't want Moyes back, but at least I thought we were watching the same game when I listened to his post match summing up.
It would take an enormous turnaround next season(one which I don't think he is capable of), for me to believe in Martinez again.
The players were clearly unhappy playing at Goodison for the greater part of the season, with a few notable exceptions, ie the Man United game.
I think the Lukaku comments are simply part and parcel of the modern game in the Premiership, everyone wants Champions League and nothing else will do.
If you were a player with ambition, would you really want to spend most of your short career with Everton?
Particularly under the current manager.
James Flynn
31
Posted 02/06/2015 at 15:50:01
Yikes!!
Things are bad at Everton with the incumbent as manager.
Hope we pay attention to the key phrase in the OP, " I hear what the others are saying too."

Drew O'Neall
32
Posted 02/06/2015 at 16:57:46
Who's going to buy Lukaku for 㿈m? No-one that's who.
Didn't he score when he was on the right flank against Arsenal?
He ought to keep his opinions on the manager's decisions to himself before his arrogance puts off which suitors his talent, or lack thereof, does not.
Gareth Clark
33
Posted 02/06/2015 at 16:35:34
He's a great player and all these rumblings with players such as Lukaku, Mirallas and Garbutt show that Everton need to INVEST IN QUALITY.
We currently have a broken, old, slow side - even the likes of Baines are getting old.
My thoughts are moving him to CDM, and give Garbutt the left back position, he is more pacey & can get up and down the pitch, also Baines in midfield gives that quality pass we lack at times aswell as an experienced defender in front of the back four, who can organise them well and communicate.
In all honestly, you can't blame these guys for wanting more! It seems Everton are happy with a dud, passionless team.
The likes of Barry, Pienaar, Kone, Gibson, Hibbert and even Osman and McGeady, are broken, old and seem to have no desire to dig in and fight for wins.
In my opinion, they should serve the purpose of filling in where we need, providing experience & being squad players - the fact that they are good enough to be first choice is very worrying!
If we want quality to stay, we have to get quality in, young, flairy, exciting players! and We need competition, to make the players work to be the best!
I'd be looking for a goalkeeper, two centre backs, two centre mids, two wingers and a striker!
Kevin Trapp (German keeper 25 years old) - (٦ mil)
Caulker (23 years old) - (٥.5 mil)
N'Koulou/Van Dijk (25 & 23 years old) - (٧ mil)
Sergi Roberto (23 years old) - (٦ mil)
Cleverly (25 years old & free)
Deulofeu (22 years old) - (㾸 mil)
Nathan Redmond (20 years old) - (٣)
Andre Ayew (25 years old, lefty & on a FREE - from Marseille like N'Koulou & plays wing or CM)
Chicharito (㾶 mil)/ Berahino (㾸 mil) / Michy Batshuayi (another Belgian - ٥.5 mil) / Austin (٧ mil) / Anthony Martial (٣ mil)
We something different to Lukaku & also make him work hard to start, can only make him better)
Trapp (Howard)

Coleman (Stones)
Stones (N'Koulou)
Jagielka (Caulker)
Garbutt (Oviedo)
Baines (Cleverly/Sergi Roberto)
McCarthy (Besic)
Deulofeu/Redmond (McGeady)
Barkley (Ayew/Sergi Roberto)
Mirallas (Ayew/Redmond)
Lukaku (Chicharito/Michy Batshuayi)
Send the youngsters on loan!
Yes, say that I'm playing FM, but the reality is, with a team like this, players won't want to leave, they will want to stay, unless the can't handle the competition, & therefore not good enough!
Spend some money, that's less than 㿼 mil! (㿨 mil according to TransferMarkt - which is about 㿙 mil! NOT A LOT AT ALL!) - Hardly a huge amount in comparison to other clubs!
Our best players will constantly be linked elsewhere, because it seems as if Everton don't have a direction or goal they are aiming towards
HOWEVER, it seems mediocrity is our destiny unless something is done!
Proud Blue South African
COYB
Kevin Rowlands
34
Posted 02/06/2015 at 17:12:21
SM #8, spot on pal, I'd actually have no problem with these comments if his actual play mirrored his lofty ambitions, it doesn't! Just like stink following shit Golden Bentley balls gobbing off only last week now the human pinball machine follows suit, just like on a couple of occasions last season. Does anyone really think that the teams that do win trophies would actually sign one of these two at the moment? No fucking chance.
What makes me laugh is this soft lad was at a Championship winning team and they loaned him out twice then sold him even when they were having striker problems. The sooner these two bad apples are out of the club the better, cash in and get rid.
Joe Foster
35
Posted 02/06/2015 at 17:14:56
What the Dickens is happening at our club? I can't remember so many comments from players with negative overtones about a manager ever.
Michael Winstanley
36
Posted 02/06/2015 at 17:33:53
On ambition.
John Stones - 'I want to be Captain of Everton and England.'
We like him lots. He still makes mistakes and admits he has a lot to learn but clearly loves our football club and wants to play for the manager.
James Flynn
37
Posted 02/06/2015 at 17:07:09
And regarding Lukaku's statement, " I hear what the others are saying too."
I await, with breath unabated, for Baines, Jags, Distin, Coleman, Pienaar etal to leap into the media denying "others" was not them or anyone else in the locker room.

David Hallwood
38
Posted 02/06/2015 at 17:56:37
Like a lot of posters, I'm torn about Lukaku's statement. But all things being equal maybe if they played ordinary football with a degree of consistency perhaps they'd get European football without hav
David Hallwood
39
Posted 02/06/2015 at 18:04:56
Sorry it's my not so smart phone. Without having to move house.
Oh btw, When Lukaku played on the wing v the Arse, that was a one-off tactical switch, or at least should've been a one-off.
Al Reddish
40
Posted 02/06/2015 at 17:50:30
In this season we have seen FOUR medical staff leave. Martinez says about Donachie "no no no, it's not about disagreements, well, not really..." We had 20 hamstring injuries in this period and Martinez tells us he is a trained physio and he will now oversee the players treatments. Pre season was a farce and too many players were too unfit for too long. Bobby this week blamed the players for not having the bottle to do as well as they did last season. Garbutt claims the players were unsure what their roles are as they weren't practiced before a game and never gets a look in despite some promising displays. Distin has an obvious fall out and is never seen again, until the last five minutes of the last game after intervention from Howard Kendall amongst others. Gareth Barry says he was played too much, even when he was too tired. Rom says he had to tell the manager he is not a winger, and previously had to tell him he needs the ball played to him quicker. Baines was critical of our slow tactics on TV during a Europa game and is stripped of penalty duties. Mirallas says he is a victim of broken promises and barely gets a game at the end of the season despite losing three of the last four matches. Robles keeps three clean sheets in a row and is dropped in favour of an out of form Howard. Barkley, clearly out of form is left out to dry by being a regular despite a good season from Naismith.
Something is quite wrong behind the scenes and I only hope we can put it right during the summer.
Mike Price
41
Posted 02/06/2015 at 18:05:47
The managers too 'nice', he's like the soft teacher that everyone takes the piss out of. Lack of respect being slyly demonstrated by the likes of our Belgians, Garbutt and even Baines last season.
The players are too soft, quiet and nice too. Unless something changes, next season will be a write off.
Ross Edwards
42
Posted 02/06/2015 at 18:18:15
Nothing wrong with him wanting to win trophies and showing ambition. He'd like to do that here but I don't think it'll happen. Although this is another player criticising Martinez publicly.
This never happened under Moyes as far as I can remember. Distin, Mirallas and Lukaku today, Garbutt said something and so did Baines.
Something is going on behind the scenes. 1 player speaking out isn't an issue, it happens, but this is 5 players.
His man management has to be questioned. Clearly the players are getting fed up of his stubbornness and are letting him no.

Patrick Murphy
43
Posted 02/06/2015 at 18:18:32
If a manager doesn't have the respect of his charges his days are or should be numbered. Al cites some well known stuff which taken individually are not such a big deal but when you gather them together they present a picture of discontent, which won't disappear without intervention.
As well as the catalogue of items that Al cites above, I am still awaiting one of the players any player to say "we let the manager down - and we will give maximum effort to put it right next season." Giving this guy the money and time to inflict more damage is a recipe for disaster and no matter what his abilities and aims for the club he cannot achieve much if he doesn't have the whole squad on his side.

Barry Jones
44
Posted 02/06/2015 at 18:25:00
The headlines in the Daily Express says that James McCarthy wants to leave too, also citing broken promises. I have often questioned Martinez's honesty... it seems that the players are doing so now too.
Paul O'Neill
45
Posted 02/06/2015 at 18:25:08
Once again everyone screams and shouts at Martinez as if he's the crux of any problem. A. 20 goal striker who plays for a club that have own nothing for 20 years. And are simply not run as a club that wants to challenge to win anything for a further 20 bar a plucky cup run. Sack Martinez. See if it makes the slightest difference. We can all watch the new manager from our wooden seats while Southampton fans laugh at our stadium and ambition.
Al Reddish
46
Posted 02/06/2015 at 18:28:49
I forgot to mention the Eto'o situation and this week even Saha has hinted some players are not happy.
Ian Hollingworth
47
Posted 02/06/2015 at 18:15:11
and the true blue Chairmans comments are......?????
Colin Glassar
48
Posted 02/06/2015 at 18:32:04
I share his ambitions I just hope he can realise them with us. There's nothing wrong with being ambitious but he has so much to improve on if he wants to get to the very top.
Patrick Murphy
49
Posted 02/06/2015 at 18:28:39
Paul - The manager must bear some of the responsibility surely, and if the manager has been let down by the board he should do the honourable thing and resign - he'll get another job elsewhere.
If it was only Lukaku who was giving the club grief, we could perhaps understand it, but it is more than one player and the other players such as Baines, Barkley and Coleman probably have their issues as well, but because they are good professionals who have shown some 'love' for the club they are keeping quiet.
As much as Moyes was not my cup of tea, this level of dissent would not have been allowed under his watch and none of the players no matter how maverick in nature would have shown him the disrespect that is being shown to Roberto. Whether Roberto deserves respect is open to question and that isn't a good place for the Everton FC manager to be in any circumstances.
Barry Jones
50
Posted 02/06/2015 at 18:34:31
The club should just get rid of everyone who is unhappy: two or three medical staff, a couple of backroom staff, several players and 30,000 supporters.
David Barks
51
Posted 02/06/2015 at 18:32:15
Martinez has always come off as a con man to me. Always smiling, saying how great everyone and everything is. I think there are a lot of players who are fed up with it.
I would imagine that a lot of the players that have come to our club in recent years had an opinion of a club that couldn't spend what others could, but fought hard and was often in that 5th-6th spot, trying to break through.
This past season they saw a manager who was totally out of his depth, but would spout ridiculous positivity after every defeat. All of us on here would talk about the ridiculous style of play, and later it came out that the players had that same conversation with him. Do you honestly think the players enjoy passing it sideways and backward as opposed to bombing forward and attacking?
Think about it. If your manager at work keeps making you work in the same manner, even though it keeps failing, and afterward just spouts positivity, what would you think. I want a manger who was pissed off and let everyone know. Christ, just look at how Mourinho is after many wins. He's not smiling, he's pointing out where they could have been better.
Of course Lukaku can improve, I'm sure he'd say the same. But he and and any other player would not get that opportunity playing in Martinez' team. Basic even said recently how Martinez told him to not go forward so much. And we wonder why we struggle for goals or even shots on goal.
Stu Smith
52
Posted 02/06/2015 at 18:59:23
Reading the interview there is no mention of Lukaku saying he wants to leave or criticising RM. Looks like this has been blown out of proportion to me.
Andy Walker
53
Posted 02/06/2015 at 18:48:52
Not exactly a subtle hint to the manager, along with many other players throughout the season - Jags, Mirallas, Distin, Garbutt, Baines. Players clearly not happy with a manager who is either making contrary statements or a simple diatribe. Never saw a hint of this under Moyes.
Martinez will get sacked, of that I have no doubt, the problem is the longer he stays the worse the position will be, the more quality players will leave and the harder it will be to recover.
We should be thanking players making these sort of statements as it's yet another warning of what's going on in the dressing room and in training. It's helping to highlight that it's in the long term interests of our club to take action and take it soon.
Harold Matthews
54
Posted 02/06/2015 at 18:37:13
It wasn't the manager's fault when the big fella couldn't get his head to three good crosses the other day. Two he completely missed and the other hit his shoulder. The result went against us but these moments were brushed under the carpet as Martinez took a hammering.
Phil Walling
55
Posted 02/06/2015 at 18:59:31
All it wants is for us TWers to start moaning and Roberto will begin to feel unwanted.
OK, guys, start moaning !
Jay Harris
56
Posted 02/06/2015 at 19:08:53
2 things we learn from this.
1. Why Belgium will never win anything despite having the most talented players in the world.
2. Why Martinez is not fit to be EFC manager.
The team spirit and camaraderie that was built under Moyes has been totally undone by the characters this man has brought in and by his obstinacy in doing things his way.
I can honestly see the whole club falling apart next season.

Amit Vithlani
57
Posted 02/06/2015 at 19:27:17
Super agent Raiola may have had a hand in this. Martinez is highly vulnerable and Lukaku expressing his ambitions is nothing less than a come and get me plea.
These statements will also damage our chances of landing good players. A fractured dressing room is not one that good players will want to join.
John Daley
58
Posted 02/06/2015 at 19:32:31
"The games that I did not score, I was on the flank"
Yeah, keep telling yourself that, Rom.
Was he played out wide for 3/4 of the season then, because (overlooking a few penalties in the latter stages) his scoring ratio in the league has been pretty pathetic.
Bar a couple of on fire performances in the Europa, his season has basically amounted to seven league goals from open play, interspersed with long, unending, stretches of shocking ball control that has seen him stumbling about like a blubbery piss can with his keks around his ankles, desperately trying to beat the clock by reaching the bathroom before he squirts out that bad Shish he decided to 'soak the booze up with'.
There's nothing wrong with declarations of ambition and unshakable faith in your own ability, but when you haven't shown anything thus far to suggest you can back up such lofty words, it just leaves you looking like an equally deluded, but less funny, Kenny Powers minus the mullet and jet ski.
It's like a guy with a droopy eye and a dick that's lain fucking dormant every day of his life, fresh from getting his hole for the first time with hairy tits, bits and top lip Tina (or 'Tina Wolf' as she's affectionately known), suddenly declaring that he's thought it over and for the sequel to his 42 second shagathon behind the hotdog stand, he's decided he's defo going to be having half an hour hanging out of Halle Berry's bumhole next.
Have a barnstorming season, then feel free to big yourself up. Barely pass muster after a brassic club obliterates it's record transfer fee bringing you in? Keep it fucking shut, work your arse off over the summer and concentrate on showing you were worth even half of what they spunked on you when next season gets under way.
Colin Glassar
59
Posted 02/06/2015 at 19:32:04
Storm in a tea cup. We all know what the Belgians are like when they've got a microphone in front of them. I'm just waiting for Henen to sign before he starts demanding to start every game.
Amit Vithlani
60
Posted 02/06/2015 at 19:36:36
John Daley @58, after I had wiped the tears from my eyes from laughter a thought struck me on your post. I may have gone to school with Tina Wolf. Was she from Bedford?
Peter Mills
61
Posted 02/06/2015 at 19:42:37
John#58, have you considered a career in journalism?
Colin Glassar
63
Posted 02/06/2015 at 19:49:37
John #58, have you considered running for parliament? I'd vote for you.
Stephen Brown
64
Posted 02/06/2015 at 19:49:42
Michael/Lyndon,
You should do a post of the year awards and I nominate John Daley #58
Steve Burgess
65
Posted 02/06/2015 at 19:46:10
John Daley – great call. If only Kevin and Rom could study Kenny's dignified and understated self awareness. It is always possible that Belgians are supremely ironic and we are just a bit too literal to get the joke. I am very much looking forward to the 'google translator fucked it up – I was really explaining how much I want to help the team blah blah blah' speed dial excuse.
Paul Jeronovich
66
Posted 02/06/2015 at 20:10:21
For fuck's sake. You're a striker, so do what you're paid to do and score goals. Stop the moaning.
John Daley you legend.
Paul Setter
67
Posted 02/06/2015 at 20:15:55
Never been my cup of tea. I won't shed a tear if he goes. I wouldn't mind Austin as a replacement. In fact, after last season, which I became very carefree about after Hull at Xmas, apart from Stones, Jagielka and McCarthy, I couldn't care who goes...
James Marshall
68
Posted 02/06/2015 at 20:22:51
Time to win trophies? He should go and play for someone else in that case!
Jim Bennings
69
Posted 02/06/2015 at 20:22:07
Unless we get Eden Hazzard, Benteke, or De Bruyne, then the only Belgians I want are in a box in front of me with a soft sexy truffle centre.
Aidy Dews
72
Posted 02/06/2015 at 20:28:24
Pfft, another player away on international duty supposedly saying shit!
I think we all knew when we signed him we wouldn't have him forever and I doubt he'd leave so soon anyway but he did say a couple of weeks ago at the end of season awards bash that he would definitely be with us next season!
But beyond that, who knows?!
But we all want to win titles, but him and the rest of the team have to do more to give us such a chance!
Instead of shooting his mouth off, if he even as, then why doesn't he let his football do the talking instead and knuckle down and do more!
Murdo Laing
73
Posted 02/06/2015 at 20:33:59
Ian #70.................midfield runners.....who are dey?
Shane Corcoran
74
Posted 02/06/2015 at 20:53:35
Aidan McGeady just gave an interview on the radio and he in no way suggested he had any interest in winning trophies.
He mumbled a bit in his Scottish accent but I don't think I lost anything in translation.
Ray Said
76
Posted 02/06/2015 at 21:02:30
'I want to win trophies'.
You can't win them without players who want to win. It seems like the team has too many who do not care if they win or lose. Players sometimes 'say the clubs ambitions do not match my own'. In this case, I believe it's true.
Christy Ring
77
Posted 02/06/2015 at 20:47:25
It's very worrying with all this criticism from the players about Martinez. The players are now saying what managerial skills he has. I believe the players changed the style of play themselves this season from the boring slow build-up, passing sideways after the booing from the fans during the home game against Kiev.
I had enough of him picking players out of position (Lukaku, Barkley and Naismith on the wing); no shape, no desire and no aggression and to hear his crap after every game was nearly worse than Buck Rodgers. Time for BK to grow a pair.
Jamie Crowley
79
Posted 02/06/2015 at 21:32:40
It's time to win trophies.
Correct.
I'm a striker.
Correct.
I approached the manager and told him so.
OK... and the manager listened to the input and made a change.
There was a whole separate thread on Roberto changing his approach earlier in the year. Bad management of players / unrest? Or good management he listened and made a change?
I still maintain there's nothing wrong with a manager listening to his players and changing his tactics and approach to fit the player's preferences. I'd classify that as good management.
Let's just hope – and I think we'd all agree on this – that:
Roberto doesn't need the Come to Jesus meeting with the players this year and he's figured it out proactively, and
We live up to Rom's ambitions and win something.
Pete Edwards
80
Posted 02/06/2015 at 21:49:06
Why is what Lukaku saying considered to be unrest? Have none of you given your feedback and thoughts to your boss on a job you are doing!?!?
Steve Burgess
81
Posted 02/06/2015 at 22:00:01
... and then taken a megaphone to tell everyone else in the office I think my boss is inept.
Roger Helm
82
Posted 02/06/2015 at 21:56:14
What is wrong with everyone? Our striker says he wants to win trophies (with Everton – he said nothing about leaving) and almost every comment is slagging off him or the manager if both.
Isn't it a good thing that he is ambitious and wants to win silverware?
And why all the criticism anyway? Isn't 20 goals a good return in an underperforming team? Bob Latchford was no Maradona but he never got this type of stick.
Helen Mallon
83
Posted 02/06/2015 at 21:55:20
Lukaku is a lazy sod who has played very badly in the Premier League. What Champions League team would he actually get in? None in Spain, Germany or England; none from Holland... and they could not match his wages, so France or Turkey? Well, good luck on that front...
Colin Glassar
84
Posted 02/06/2015 at 22:05:06
Spot on, Roger. People read what they want to read. He's ambitious, he wants to win things. That isn't a crime. But he does have to improve his game if he wants to achieve his ambitions with us or another team.
Pete Edwards
85
Posted 02/06/2015 at 22:06:54
Where does he say that, Steve!
Lukakus work life involves the media so nothing wrong with what he's said.
Patrick Murphy
86
Posted 02/06/2015 at 22:14:46
If I had read Lukaku wants to win trophies at Goodison with Everton, I wouldn't be complaining but, as far as I can see, he hasn't said that. Of course, in the full context he may have said that we'll find out tomorrow when the magazine article is published in full.
Lukaku is not naïve; he played this card at Chelsea and now he's playing it at Everton. It's one thing to say "I'm ambitious", it's quite another to make out you are the instigator of change because you had a word with the boss. In any country, that smacks of arrogance and shows a lack of respect for your boss.
Had the lad run himself into the ground, trying to create and score chances in the last nine months, he would have earned the right to have a say. As it was, he decided which games he would try in and which games he wouldn't – it's got nothing to do with the position he had to play, it's in his make-up to be the big I am without working hard. Belgium in the World Cup realised that he wasn't going to pull out all the stops and promptly dropped him from their first-team.

Steve Burgess
87
Posted 02/06/2015 at 22:25:39
Pete, he isn't quoted as saying the boss is inept but he has broadcast a private conversation in which he questioned tactics and also references other players grumblings. It's fine for that to happen in private with the boss and even to back yourself by indicating it's not just me who has concerns but to pass that on in an interview is corrosive. I'm not supporting Martinez, just querying ROM's motives.
Ben Dyke
88
Posted 02/06/2015 at 22:37:16
Well put, Steve (#87). It shows a total lack of respect for Martinez even if it's all true. No way we would hear the same under Moyes. Firstly because he had more respect and secondly because he did a fantastic job with the team spirit.
Doug Harris
89
Posted 02/06/2015 at 22:23:54
The best thing he did this season in the Prem was to put himself and his head in to the cross from McGeady at West Ham.
At least it won us the points available and for once it got me out of my seat.
Steve Burgess
90
Posted 02/06/2015 at 22:44:24
Ultimately we may have to put up with gobshites if they deliver on the pitch and get success. We shouldn't settle for stability over ambition but one of our defining qualities has been loyal and committed players.
Our two Belgians may well be in line for bigger pay packets and greater chances of trophies but it is refreshing that these stories are not coming out of Stones, McCarthy, Coleman or Barkley. All players who are more likely to make the big move and who are just as vital to our future.
Clive Rogers
91
Posted 02/06/2015 at 22:45:38
Jim #69,
Lukaku does get in the box occasionally and is soft. Not sure about the sexy though.
Brian Keenan
92
Posted 02/06/2015 at 23:17:13
He is not good enough for Everton.
I believe we need an inside-of-the-box striker. I think he could be a great number 10 and sit around the 8- to 10-yard area.
Colin Metcalfe
93
Posted 02/06/2015 at 23:19:52
He is not good enough! He really does think he is something special and yet he can't even trap a ball!!
If he was half as good as he makes out, Jose Mourinho would have never sold him...
Jesus, I honestly despair with modern footballers and shit they come out with.
Mike Childs
94
Posted 02/06/2015 at 23:03:18
Now I know why you folks call this the silly season. The only reason big Rom is here because BK and his cronies figured they'd double their money in two years. If Jimmy Mac wants out and away from RM can anyone doubt how much RM has lost the dressing room?
But of course the board could careless we stayed up the gravy train rolls on and we the fans suffer while they hide the profits or continue to borrow against them.
Callum McNab
95
Posted 02/06/2015 at 23:36:47
He needs to be winning trophies? Well he need to piss off and go and play for someone like Chelsea... Hold on?
Kevin Rowlands
96
Posted 02/06/2015 at 23:52:39
Roger, Bob Latchford, a real Everton legend btw wasn't in the press every couple of months bigging himself up and subtly demeaning the club that had just paid a record fee for his services. Big big difference between the two!
Dave Long
97
Posted 03/06/2015 at 00:11:48
As Patrick Murphy said, even Belgium dropped him at the World Cup for Origi, the Liverpool on loan striker. Btw, Origi was recently named one of the worst players in the French league this season. Where does that put our Belgian?
Andy Crooks
98
Posted 03/06/2015 at 00:25:48
I love this close season stuff. It is so good not to have matches ruining it. Rumours, football manager, indiscreet players, more rumours and putting the boot in Roberto. This is the best time of the year when reality doesn't fuck it up.
Mike Corcoran
99
Posted 03/06/2015 at 00:37:26
Anyone who bids a quid over what was paid will get him. But no one will.
Frank Wade
100
Posted 03/06/2015 at 00:27:12
In the OP I see "his experience at Chelsea and those of his international team mates give him a different perspective on success".
According to his Wiki, he played just 10 games for Chelsea. His biggest opportunity to win a trophy was torpedoed by his missed penalty in shoot-out v Bayern in SuperCup final. The following day, he asked for a move.
Perhaps his new agent can advise him to improve his touch, his heading and start learning the offside rule to help in his quest for a trophy.
Google 'Football freestyle with Romelu Lukaku' for a ball skills exhibition!

Dave Long
101
Posted 03/06/2015 at 00:50:19
Thanks, Frank Wade, me and my wife had a shock/ laugh looking at his "skills". Did you see Besic doing his skills the other day? My 10-year-old kids are better.
Victor Yu
102
Posted 03/06/2015 at 03:18:38
I don't have a problem with someone saying 'I want to win a trophy'.
Again, I don't understand why people turn against him the whole season. Imagine Kone or Naismith leading the attack for the full season. We could have been relegated!
Michael Penley
103
Posted 03/06/2015 at 04:29:59
Lukaku is not ambitious. If he were, he would put in 100% every game.
When he stops talking and starts performing then I'll start listening to what he has to say, but only then.
Jakob Herd
104
Posted 03/06/2015 at 05:02:47
Romelu Lukaku is a very good player, so is Kevin Mirallas, as well as Phil Jagielka, Leighton Baines, John Stones, Ross Barkley, Seamus Coleman, Leon Osman and Mohamed Besic. Possibly the best group of players since the eighties...
Everton are a shite team, not properly fit, disorganised and under the impression that 'passes completed' is what wins games and not the ball in the net.
When you have a group of determined talented and ambitious players, like the above mentioned group, that act like the aforementioned team, who is to blame?
None other than the manager....
It's that simple.
Chris James
106
Posted 03/06/2015 at 06:29:39
Curiously, though the team which won the Premier League had a glut of creative midfielders to create chances for strikers, and is run by the most smart, thorough and talented of manager's in the game, they preferred to let Lukaku go and bring in a 36/37-year-old and a player with potential injury problems as replacements. Odd that isn't it. Almost as if Mourinho didn't believe he was up to the top level somehow in either talent or mentality...
Likewise, isn't it curious how the Belgian national coach rotated Lukaku with Origi (who in fairness actually looked better on the greatest stage of all). Even more puzzling is how a team with so much top-level attacking talent that wants to compete and win things scored comparatively few goals (6 in 5 games; Lukaku 1) and capitulated meekly to Argentina in the quarter-finals. It almost seems on some level as if some of these players talk a good game but don't have quite the talent or bottle to back it up when it really counts.
Overall, I do like Lukaku and Mirallas and I'd prefer to have them in the squad than not but I don't think either are quite as good as their agents and interview chat suggests they are. Trophies aren't won in newspapers, they're won football pitches... That's where these boys should concentrate their energies for both club and country in the year ahead.
Neil Pickering
107
Posted 03/06/2015 at 07:11:40
He can say what he likes, but as far as I'm concerned he's found his level with us. He frankly isn't good enough to play for a top team challenging for trophies. He would just be sat on their bench.
I would actually like us to get rid of him.
Jim Bennings
108
Posted 03/06/2015 at 07:27:27
He isn't a Belgian chocolate though!!!
Paul Baker
109
Posted 03/06/2015 at 07:46:08
Lukaku in 12 matches against the top-6 this season: (yes, you guessed it) 0 goals.
Oh, did I just hear someone saying he wants to play in big matches?
Joe Foster
110
Posted 03/06/2015 at 07:24:10
Ha ha just seen on the blastacaster "Everton launch walking football team". Oh the fun that could be had with that...
Eddie Dunn
111
Posted 03/06/2015 at 07:32:48
These statements from our players are part of a political war between them, and the manager.
Players know that if they come straight out and demand a move, and don't get one, that they will be vilified by the fans. So they make vague comments through the media. It is their way of pressuring the boss, the board etc.
As for Rom, he isn't as good as he would like to think, but he is better than we have seen. He just doesn't fit this slow style of play, and also in his defence, his build doesn't make for buzzing about and tracking back.
He is a great big lump and needs to preserve his strength for short bursts. (This doesn't mean that he can't work on his touch, his heading and movement off the ball though!)

Darren Bailey
112
Posted 03/06/2015 at 08:30:56
Just do one, Rom, and take Mirallas with you. I'm fed up with hearing the same old shit from both of you. I'm only interested in seeing players play for Everton who are committed.
A lot has been said about the mediocre players being linked so far but I bet the likes of Cleverley, Lennon and Evans will give their all for the club even if they're very understated signings. You don't see Stones, Coleman, McCarthy or Barkley coming out and saying those sorts of things even though they've all been linked with moves away.
Take 㿙M for them both and bring in some real talent that actually wants to play for the blue shirt.
Tim Muzio
113
Posted 03/06/2015 at 08:51:47
There's nothing wrong with a bit of aspiration to want to win things and do well in your career. Let's face it, we are not going to win the league in the next 2 years are we?
Also, worth mentioning you have to perform well to get into a top 4 team in England, Spain, Germany and Rom is not there yet. I reckon we will keep Rom for another year after the Euros and get a fairly hefty price for him should he perform well in the 12 months.
In terms of Mirallas, get rid; it's not worth getting your knickers in a twist over him. Martinez is the boss he knows more than all of us and is in control.
Brian Harrison
114
Posted 03/06/2015 at 09:08:38
I see SSN are reporting this morning that Lukaku has said he doesn't know whether he will be at Everton next season. I guess he and his agent is trying to see if there is any Champions league team interested in his services, I hope so.
Sam Hoare
115
Posted 03/06/2015 at 09:23:08
If we could sell Lukaku for the 㿈M we bought him for, I don't think I'd lose that much sleep. He was woeful in the Premier League last season with his all round game putting the team in trouble and even his goal return was less than mediocre with 10 in 36 (quite a few of which were penalties).
I think it's highly unlikely we will sell him this Summer as surely no-one would bid the 㿔M it would take for Martinez to give him up and I really hope that he can push on next season after a Summer break. He has some fantastic tools to work with and by all accounts is a keen student of the game. He's still very young but he does need to start doing better.
Erik Dols
117
Posted 03/06/2015 at 10:08:52
It's funny that one half of ToffeeWeb seems to think he is a disloyal cunt and that the other half seems to want to sell him ASAP because he had an mediocre season. As someone said before, apparently loyalty is a one way street.
For me, it's easy. The lad is just 22 years old and has hit the double digits in goals in the Premier League for three seasons in a row now. He hasn't had the best of seasons just gone but he still has bags of potential.
Let's see how he does next season. Selling him now for face value would be a very stupid decision.
Erik Dols
118
Posted 03/06/2015 at 10:20:49
Sam (#115), I looked it up and Lukaku scored two penalties in the league. No need to exaggerate, 8 goals from open play is not a return you'd expect from Rom.
Another interesting statistic I found: apparently Lukaku was our number two in assists last year, only beaten by Baines – both in the league and in total. I didn't expect that to be honest. I think we obviously should expect more from Rom than he showed last season but it puts a bit of perspective on his performances.
Ross Edwards
119
Posted 03/06/2015 at 10:27:15
Clearly he doesn't want to leave. He's ambitious and says he wants to play at the highest level. But before that he said he has a 4-year contract and is happy.
Hardly sounds like someone looking to leave.
Peter Barry
120
Posted 03/06/2015 at 10:30:32
This would not be such a joke if Lukaku actually did PLAY decently in the games he has played.
David Hallwood
121
Posted 03/06/2015 at 10:14:30
Brian (#114) maybe Chelsea will do a Matic and buy him back for 㿏 mill.
Apart from Chelsea, I can't see another top team needing him; possibly Arsenal as a backup striker.
Brian Harrison
122
Posted 03/06/2015 at 11:25:11
David (#121)
Chelsea bought Matic in 2009, Mourinho had left before then so, although Chelsea bought him back, it wasn't Mourinho who bought him originally or sold him. Mourinho doesn't make many mistakes with players, so I won't hold my breath thinking he will change his mind on Lukaku.
That's why I couldn't understand the other lot buying Balotelli, Mourinho said he couldn't manage him; well, if he couldn't, nobody can.
Brian Carey
123
Posted 03/06/2015 at 11:22:12
<--Just a couple of things. No 1, Gareth Clark 33, to be the next Everton manager!!!. No 2, John Daley to be the next Les Dawson with his own tv show. But really, -->Why don't players like Lukaku do their talking on the pitch? IF we sold him now, I don't think we would get 㿈 million for him. Last season, he looked like he had his boots on the wrong feet
Peter Gorman
124
Posted 03/06/2015 at 11:51:21
Thanks Frank @100
I strongly urge everyone to take a peak at those skills if you haven't already. Literally nothing he attempts comes off. I once got taken to task for 'boasting' that I had a better touch than Rom (and I'm a veritable donkey) so that video pretty much vindicates me.
You can damn Rom or you can damn the manager, I think we can all agree that there is not a lot to look forward to next season.
Paul Smith
125
Posted 03/06/2015 at 11:53:48
He's put out an SOS on SSN to any lunatics willing to pay big bucks for him. I wouldn't be arsed if we got rid of him.
He's got potential but I'll stick my neck out and say he's gonna frustrate rather than find that consistency needed to be a top striker.
Sam Hoare
126
Posted 03/06/2015 at 12:13:12
Erik 118, I don't think I was exaggerating much. 2 out of 10 is 20% after all which I think qualifies as a few!
As you say 8 goals from open play having played nearly all season as our starting lone striker is not great.
Harold Matthews
127
Posted 03/06/2015 at 08:58:31
Not sure nobody will want him. Funny thing is, in Europe they think he's done well. A 20 goals-a-season man. Heard a foreign journo talking about him on the radio the other day. These chaps love Euro goals and our boy has plenty.
Steve Guy
128
Posted 03/06/2015 at 13:18:09
Totally agree with him. Everton should be winning trophies. It's 20 years since out last cup and that's way too long. The Club needs to match his ambition and start treating every trophy as winnable. We put a second string out for the League Cup every year and wonder why we've never won it. It's a fast track back into Europe playing few matches to get there.
We need to stop castigating players who want to win and embrace them by being equally aspirational. Fewer and fewer supporters have ever seen us win a trophy; it used to be a regular occurrence.
Craig Walker
129
Posted 03/06/2015 at 13:27:05
Yet another highly paid footballer with an inflated opinion of his ability. As other contributors have said, if he were banging in goals in derbies and cup games when it mattered then I'd listen to him.
He could take a first step in getting to where he feels he belongs by learning the offside rule. The lad has some ability but we don't see it often enough. He needs 4 or 5 chances in order to convert one of them.
Duncan McDine
130
Posted 03/06/2015 at 13:31:00
John Daley 58 - that's the funniest thing I've ever read on here (and I've been here a loooong time!).
I think both Belgians will be off this summer (as long as someone wants them). I also have an awful feeling that Roberto will take us even closer to relegation this season if given enough time....
The good news is that I'm wrong most of the time.
Erik Dols
131
Posted 03/06/2015 at 13:39:44
Harold Matthews (#127), I live on the continent and I can assure you that Lukaku is still widely considered as one of the biggest prospects in the world of football. If we wanted to sell him for the 㿈M and Lukaku wouldn't be too picky about the clubs he wants to join, we could sell him before this weekend, I have not a single doubt about that a club like Wolfsburg would bite our hands off.
Patrick Murphy
132
Posted 03/06/2015 at 13:30:16
I'm always torn on this "Everton should be winning trophies" business. On the one hand, my heart always says that Everton should be ambitious as a club and be in the running for the cups at the very least.
On the other hand, my head looks at the correlation between finance and silverware: Liverpool, Spurs and even Arsenal have spent mega-bucks and generally speaking haven't seen much in return bar a couple of FA Cups and League Cups in recent years.
Bearing in mind we are a club with very limited resources, at least comparatively speaking, it would seem to be foolish to expect anything but a top 10 finish and a good run perhaps to the quarter-finals of either cup.
It's very depressing but for the most part we all allow our hearts to rule our heads which is why we spend so much time and effort in following the team. It is even more galling when the club is about to receive circa 㿼M in prize money but that won't help to make us much better than we have been as we will remain amongst the outsiders in the race for silverware.
The bottom line of all this is that when a player – any player at Everton – begins to mention ambition and Champions League, it can be read as "I am looking to move away from Goodison Park as there are other richer clubs around Europe who have a far better chance of matching my ambitions and wage demands."
This is the place we find ourselves in and it is the place we will occupy for some considerable time unless the manager is able to harness what talent is available to him and somehow get them to over perform in every match they play, I'm not holding my breath as I don't believe the manager has the ability to harness the talent and I don't believe that the players themselves believe they are capable of anything beyond top six.
Jim Jennings
133
Posted 03/06/2015 at 13:39:24
Young player talks of his ambitions, declares he is happy at Everton and that the manager has taken on board feedback from him and some teammates.
100+ posts follow, largely slaughtering him.
Jay Wood
134
Posted 03/06/2015 at 13:49:57
What exactly is Lukaku's 'crime' here, that many are castigating him for?
He repeated again something that was already in the public domain – his approach to the manager to make some tactical changes to better benefit from his best qualities – scoring goals.
As somebody alluded to above, there was a long thread on the very subject at the time, many ridiculing the manager for being weak | stubborn | tactically naive [delete where necessary].
I expressed my contention that both the players were concerned enough and had the bottle to broach the subject with the manager, and that the manager in his turn listened to them.And his scoring ratio DID improve, albeit primarily in the EL.
It was not just Lukaku who had a shite season, in case nobody noticed. And the manager, not just the players, is included in that.
And Frank @100 and Peter @ 124, rather than flag up a one-minute video of Rom playing keepy-uppy in a bar, wearing jeans and sweat shirt, for the sake of balance, take a look at these two compilations of an entire collection of his goals before he joined Everton in the Belgian League, the PL, European and International games and drool at the full range of goals of scored.
I did a quick count of the type of goals, only a couple scored outside the area, the rest inside the box. The breakdown is as follows:
30 left foot
17 right foot
18 headers
4 pens
17 running from deep (13 left, 4 right)
45 goals came from crosses into the box, from both left and right side of the pitch, and around 15 of them took brute strength to hold off bulky defenders.
And ... no time for keepy-uppy in the box at this level: mostly, one or two touches, GOAL!!!
Heaven forbid that we have a young talented footballer with ambitions to play in the big games, score goals and win trophies, eh...?
Play to his strengths and that's what Romelu Lukaku will give you: GOALS. The most telling stat in a football match. Goals win matches and win enough matches, and ... you win trophies.
Nigel Gregson
135
Posted 03/06/2015 at 14:25:59
Welcome to ToffeeWeb, Jim
Erik Dols
136
Posted 03/06/2015 at 14:42:17
Jim, a few months ago someone explained what would happen on ToffeeWeb if we signed Messi, Ronaldo and Robben. It was something along the lines of "Messi is too short; Ronaldo doesn't track back and Robben is not getting any younger." Of course it was tongue in cheek but still pretty much dead on. Add in the "who the fuck does this Messi thinks he is anyway" and you're there.
Steve King
137
Posted 03/06/2015 at 14:38:50
Brian #92
"He is not good enough for Everton."
When did we become so spoiled and deluded? I take the piss out of Liverpool and Newcastle fans for their delusions of grandeur but I think we are worse!
At Everton, only Andrei Kanchelskis, Yakubu and Lukaku have scored 15+ League goals in a season for the last 20 years. As Evertonians, we have a very over-inflated idea of ourselves as a club that deserves and demands the highest quality players. But in reality the last World Class striker to play for us was Gary Lineker.
Yes, his loping playing style means he looks lazy sometimes and he and his agent talk far too much in the press. But Lukaku's goalscoring record speaks for itself. If he goes, we will not be able to replace him with another 15+ goal striker.
Harold Matthews
138
Posted 03/06/2015 at 14:57:40
Cheers Erik. Always love a continental update.
Eddie Dunn
139
Posted 03/06/2015 at 15:22:46
One sobering thought.
A few weeks ago we were
away at Swansea, with Kone up front....
Point made.
Jim Hardin
140
Posted 03/06/2015 at 14:07:58
Jim #133 Agree completely. what is wrong with the "overpaid lazy gobshite" players pressuring management and ownership to step up and be ambitious too. I would hate a twenty-two year old , having signed his first contract with Everton to say, I have realized my dream and am happy with where the team finishes and can't wait till next season to compete for a Euro spot, maybe but certainly to compete for the top ten in the EPL trophy. I will stay with Everton for life (or until I am old and the "loyal" Evertonian fans slag me off and want to play an unproven player in my spot, like Baines-Garbutt).
I can think of severalFfrench teams he could play for as well as at least two or three Italian teams (Roma, Inter, Napoli, and Juve) and probably Atletico Madrid. I would prefer Everton with its 80 million pounds revenue this season, if the papers are correct, to go buy Tevez for the left wing and pay his wages so Lukaku has someone to play with up top since Mirallas won't be seeing the pitch under RM.
James Marshall
141
Posted 03/06/2015 at 16:18:30
I don't think Lukaku should be slaughtered for having ambition, any more than Mirallas or anyone else for that matter - I just think it's a shame we'll probably never win a damn thing in the current climate, and Lukaku knows it.
Harold Matthews
142
Posted 03/06/2015 at 16:34:54
Eddie. Not sure what your point is.
At Swansea we scored one of the best goals of the season after a great passing movement with Kone playing a vital part.
Harold Matthews
143
Posted 03/06/2015 at 17:40:15
Also Eddie, with Rom and Nessie off the pitch, McCarthy was able to play in a more forward position because we were not giving the ball away in the final third.
Phil Walling
144
Posted 03/06/2015 at 17:57:17
Harold, I know you are an admirer but, in all honesty, when our fortunes rest on Kone we are in big trouble !
Joe Foster
145
Posted 03/06/2015 at 18:16:48
Talk sport doing phone in on Roms comments
Harold Matthews
146
Posted 03/06/2015 at 17:47:19
It sounds as though I'm against the big fella but I'm not. He talks too much and he thinks he's brilliant but no-one tries harder to score a goal. We know his ball control is limited, though he has shown improvement in that area, and I expect him to have a good season. According to reports he was carrying an injury in many games.
Terry Downes
147
Posted 03/06/2015 at 18:22:46
Steve King (#137)
At last someone is talking sense! I've said it before and I'll say it again – every team below the top 5 would take him in a flash.
Like him or hate him He's a 20-goal-a-season striker and that's something every team needs.
Harold Matthews
148
Posted 03/06/2015 at 18:29:18
Phil. I support Kone because I think he gets an unfair hammering on TW. Martinez likes his movement and his understanding of where his team-mates are, things we fans don't always appreciate. His movement and quick first time ball to the lad who crossed for the recent Mirallis goal was superb.
Of course, he is too old and too injury prone to be the answer to our prayers and I find it hard to believe Martinez when he says we are not looking for another striker.
John Malone
149
Posted 03/06/2015 at 19:27:54
What about coming out and saying,
"I've got four more years left on my contract at Everton and I will do everything in my powers to try and bring success to the club who broke their transfer record to sign me and pay and treat me so well!"
"I've got too much respect for my club to come out and say I mite leave if I get a better offer off a club in the champions league!"

Got a cheek these players, especially when they're not even that good!!
Steve Burgess
150
Posted 03/06/2015 at 20:09:36
Harold Matthews - you make ToffeeWeb a better place. Thanks fella. While I'm at it - Ken Buckley, Lyndon, Eugene, and John Daley at 58 - keep up the good work - you lift these pages.
Eddie Dunn
151
Posted 03/06/2015 at 20:45:20
Harold, I really wish Kone had had a bit of luck with us, but I remember him hitting a post at Goodison when he looked odds-on to score, before he was injured.
I am afraid that his brain may know what to do but his body has let him down, and watching him warm-up at Swansea was sad really – he couldn't even hit the goal with three shots from about 20 yards.
I know he is a decent target man and gives his all, but he has lost any pace he once had, and his confidence is gone.
Nothing against the lad, I would be pleased as Punch if he popped a few in and found his mojo.
I don't think our manager knows how to get the best out of our statuesque Belgian, but Rom is a goal threat, whereas Kone might link things up, but he doesn't fill the onion bag.
Steavey Buckley
152
Posted 03/06/2015 at 21:04:26
If Everton are looking towards Kone for the forthcoming season, it could not get any worse.
Dave Ganley
153
Posted 03/06/2015 at 20:55:53
Lukaku may be lazy but is that down to being fed up with getting no service? If Lukaku is lazy then you can probably say the same about the whole team going by the season we have just had... or was it because none of them were fit?? Hmm just a thought.
I happen to believe he will be a top top player and there's nothing wrong stating intent to win trophies. Yes, he has a high price tag but that's not his fault and when he does get the service he can be a lethal finisher. He also is not the only one to voice dissatisfaction at how the team is playing but because of how much he cost he is getting most of the stick.
He may have had a very average season but it has still been better than a lot of other players at our club. Martinez needs to start actually thinking about how best to play his players and not just try and fit them into his so-called philosophy as it clearly doesn't work.
There weren't many people at the start of the season that weren't delighted that Lukaku signed for us albeit that Kenwright/Martinez got screwed over the price. He played for the first part of the season semi-injured. He has the ability to be the full package and El Messiah needs to work hard to bring his full ability out, same as with Barkley, Mirallas, Baines, Coleman et al.
All of them have had a pretty average to horrible season and apart from Barkley, who is probably still shell-shocked, all have spoke out against the style of football we are playing because they are all aware that we should be so much better. Give Lukaku faster service and the team license to play at speed and we may see a team that realises their potential.
But to get pissed off and tell Lukaku to do one from the club because he had the gall to speak out about not playing to his strengths, winning trophies and because he cost 㿈M is utter nonsense. We should be cherishing our better players – not trying to force them out of the door.
Ian Bennett
154
Posted 03/06/2015 at 21:41:12
Yep, Goodison Park has been a graveyard for strikers as the service is just woeful.
The transfer rumours are just awful.
My FM head says be brave and sign 5 top players, and if it goes pear shaped we sell Barkley and Lukaku.
In - Nolito, 2 Ukraine wingers free, Ogbonna loan, striker loan
Out - Kone, Mirallas, Pienaar, McGeady,
Laurie Hartley
155
Posted 03/06/2015 at 10:50:56
Eric @ 118,
"Selling him now for face value would be a very stupid decision."
With all due respect not as bad as the decision someone made to pay 㿈m for this lad. Bad for him, bad for EFC, and therefore bad for us.
I wanted him as badly as anyone else during the last close season, but when I heard we had paid that much for him, for me it just took the shine off it all.
All we can hope for is that he starts banging in goals on a regular basis and realises his potential. Then he may be worth $28m to us or someone else.
One thing is for sure he has the confidence needed to succeed.
Danny Cleary
156
Posted 04/06/2015 at 10:18:03
I don't think anyone expects Lukaku to hang around at Everton for long. He is a very good prospect at 22 – I don't think there are many strikers his age just now who are the established striker at a team with top four aspirations. He frustrates to fuck at times, but he is talented with some very rough edges (first touch).
In his defence, last season, the service to him was absolutely woeful. Coleman and Mirallas must be the two most selfish players in the league. I lost count of the times those two had a pass available, but looked for glory themselves instead.
I don't think any of our players (Gibson excluded) understand the concept of the "early ball" – every pass is telegraphed. I don't know how many times Lukaku looked to make his run, only for one of our players to hang on too long, and the result is Lukaku off side. It was infuriating.
Erik Dols
157
Posted 04/06/2015 at 10:49:49
Laurie, I honestly disagree. May be it's continental bias – the lad is huuuge in Belgium and seen as a potential world class striker in Germany and France, where several clubs could pay a big transfer fee – but I really still think that Lukaku could have a great season next year. And then he'll probably will be off to a bigger club for say 㿙m and the Lukaku deal will be one of the best pieces of business. Although we would be damning him for his disloyalty.
Another thing: if we had spent the 㿈M on other players, you really just don't know who we would have got. 4 players from the category Alcaraz & Kone? In that case, I'm glad we did buy Rom. Or would it have been 4 players like Tadic and Cambiasso?
Oh well, I guess only time will tell.
Chris Green
158
Posted 04/06/2015 at 11:38:27
Seriously... just keep your mouth shut. If you want ChampionsLleague football, how about performing better for the club you are with – who pay your wages and who gave you the chance for regular first team football –and help them get there?
Seriously, stop talking and start playing better!
Erik Dols
159
Posted 04/06/2015 at 11:45:40
If that's what we want Chris, then we shouldn't buy guys from over the channel anymore. This is going to happen over and over again with Belgian, Dutch, German, French players. For them it's not an option to keep their mouth shut or not to talk about playing in the CL and all. Call it a cultural thing. In the UK most people are less outspoken about their ambitions than they are across the channel.
Laurie Hartley
160
Posted 04/06/2015 at 12:42:00
Erick @ 157 - I hope it turns out you are right. Then everyone's a winner.
Mick Wrende
161
Posted 04/06/2015 at 13:40:47
Haha ha ha ha - I could go on forever laughing. That big lazy lump in the Champions League!

Jamie Barlow
162
Posted 04/06/2015 at 14:00:26
Nothing wrong with wanting to play at a higher level.
He's already scored plenty in Europe.
Colin Grierson
163
Posted 04/06/2015 at 18:34:31
If Lukaku was was as good as he thinks he is then I couldn't blame him for angling for a move to a club who are challenging for major honours. However, if he is as good as I think he is then we should get rid of him asap and try and recoup as much of the 㿈m we wasted on him as we can.
Like others on here, I don't blame players for having ambition but they have to have the talent to go with it. I can't see it myself. There are loads of better strikers out there.
Ian Brandes
164
Posted 04/06/2015 at 19:25:01
Coming late to this thread, and I won't slaughter him. When he really turns up, he is top class. So, to play in these big games, he needs to be that most of the time.
Then we will all love him until he goes!
Harold Matthews
165
Posted 04/06/2015 at 23:59:45
True Eddie. I try to support Kone but his goal scoring record doesn't make things easy.
Mike Childs
166
Posted 06/06/2015 at 18:52:45
Harold, I agree with you on Kone for whatever that is worth. He definitely showed some talent at times. Unfortunately it wasn't enough for most who tend to dwell on the negative anyways. If the manager would go 4-4-2 or 4-3-3 and he got a decent run of minutes he could add to the team. Just don't see that happening with RM.
John Voigt
167
Posted 09/06/2015 at 08:57:43
I read ToffeeWeb posts and wonder what striker given the wage structure of the club would satisfy many of the posters.
Lukaku did score 10 times in the Premier league this year and scored 20 for Everton overall. He's young and should get better. If he got better service he'd score more. If he didn't play out of position he'd score more.
I quickly checked Premier League scoring stats for the last 3 seasons. I might have missed someone, but here's the list I came up with for players that have scored 10 or more goals all of the last 3 seasons.
Sergio Aguero 12 -17 - 26 total for 3 years 55
Van Persie - 26 - 12 - 19 total for 3 years 48
Lukaku 17 - 15 - 10 total for 3 years 42
Benteke 19 - 10 -13 total for 3 years 42
Giroud 11 - 16 - 14 total for 3 years 41
Rooney 12 - 17 - 12 total for 3 years 41
That's the entire list! I for one am not going to badmouth a Premier League player that scores 10 or more goals 3 years in a row. He's not making anything close to the 𧶀k-plus a week some players make that are on the list.
I'd like Sergio Aguero to play striker for Everton, but that's not going to happen.
Heck, Lukaku has outscored Rooney (and Giroud) over the course of the last 3 seasons, but I guess that's not good enough for a whole bunch of ToffeeWeb posters.
Andrew Ellams
168
Posted 09/06/2015 at 09:40:25
Come on John, everyone of those players should be hounding their agents 24/7 to get them a move to Everton.
But seriously, it's a good post. He is the best we are likely to afford. He will outscore most Everton strikers before he moves on.
John Voigt
169
Posted 09/06/2015 at 12:22:24
Let's also remember the Lukaku fee is more like 㿄 million... I read that, to reach the 㿈 million figure, Everton have to qualify for Champions League... I think I read it's 4 payments around ٤ million for 4 years...
To me, he's a bargain. He was 21 when we bought him and now is 22. He counts as a homegrown player which increases his value if a club like Chelsea or Man City come calling (both of those teams are really short on senior homegrown players).
If Lukaku doesn't get a lot better (and staying at Everton is his best option) he could play until he's well past 30. This could be 12-14 seasons with Everton and according to my math that's around ٠ million a year (for this transfer fee). ٠ million a year for a striker who will average 10+ goals a season is a bargain in the Premier League with all the TV money these days (and his wages are ⅓ of some of the six players that score 10+ goals in the last 3 seasons, as I listed in my earlier post).
If Lukaku does leave the club, it's only because he gets better and some Champions League team pays a fee at least what Everton paid. Right now his best option is to stay where he play regularly. Everton need to score more goals next season than they did this season. Lukaku is part of the solution not part of the problem.
Everton need to bring in goalscorers. Aaron Lennon is OK, he did score 4 goals and assisted on 7 in 2012-13. Everton do need a 2nd striker who might score more than Naismith and another winger besides Lennon.
I'm OK on going low budget for a centre-back if it means adding scoring punch to the lineup. I'd like another goalie but I'll live with what we have if it means adding more scoring option.
Everton won't get anywhere near the Champions League places if there aren't impact scoring options coming off the bench.
---
Add Your Comments
In order to post a comment, you need to be logged in as a registered user of the site.
Or Sign up as a ToffeeWeb Member — it's free, takes just a few minutes and will allow you to post your comments on articles and Talking Points submissions across the site.
© ToffeeWeb