Everton set to sign Gerard Deulofeu in permanent deal
Talks over €6m switch from Nou Camp at an advanced stage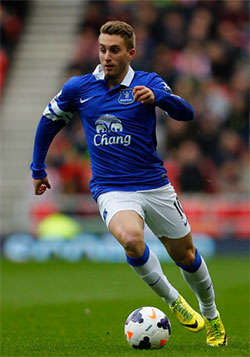 (Paul Thomas/Getty Images)
Updated
Everton are poised to sign Barcelona winger and former loan favourite Gerard Deulofeu on a permanent basis, with a deal believed to be close to completion.
The Daily Mail first claimed that the Blues were close to securing a £3m deal with the Spanish side for the mercurial winger and that is now lent credence by similar reports in the Liverpool Echo, Sky Sports (whose contributor Guillem Balague says the fee is just £2.2m) and in the Spanish press, including Marca who peg the transfer at £6m with add-ons.
Deulofeu spent Roberto Martinez's first season at Goodison Park and was taken to Evertonian hearts with some memorable goals and contributions to what was an impressive season.
He returned to his parent club hoping to convince then new manager Luis Enrique that he was worthy of being promoted to Barca's senior squad but was farmed out on loan again to Sevilla.
The winger struggled there and didn't figure much in the second half of the season just gone but he apparently held talks with Barcelona this week in which he made it clear that he didn't want his next move to be another loan.
It looks as though Martinez has made a decisive move for Deulofeu once it was clear Barcelona would allow the player to leave the Nou Camp permanently after he rejected a third loan spell, this time at Real Betis.
There have been suggestions that another Premier League club, believed to be West Ham, are trying to hijack Everton's proposed move but Deulofeu is thought to prefer a return to Goodison Park.
The deal will reportedly involve the player signing a three-year contract, with the option for another year, and Barcelona retaining a buy-back clause for £9m after two seasons or £12m the season after that.
If true, Deulofeu could become Everton's second signing of the summer after Tom Cleverley as Roberto Martinez looks to freshen up the side for the new campaign.
Quotes sourced from Daily Mail
Reader Comments (279)
Note: the following content is not moderated or vetted by the site owners at the time of submission. Comments are the responsibility of the poster. Disclaimer
Gavin Johnson
1
Posted 13/06/2015 at 23:22:27
So we've won the race to sign Deulofeu. Barca say he can go and he'll be ours for just ١M!!
Joe Foster
2
Posted 13/06/2015 at 23:26:41
Yep, looking good for Delboy.
Gareth Fieldstead
3
Posted 13/06/2015 at 23:32:17
I am confused... I thought Barca couldn't buy or sell?
Neil Wood
4
Posted 13/06/2015 at 23:48:35
I've long been an admirer and have often voiced my opinion on here about Del Boy. Prior to him joining us on loan as well.
I have a genuine belief that should he sign, and we make another couple of key signings we will be a too 4 side. You may mock , but we have the backbone of a v v good side given another couple of signings....
Please bring Del Boy back I guarantee it will be one of the best pieces of transfer activity we have ever done.
Ernie Baywood
5
Posted 14/06/2015 at 00:07:11
The fact that they quote ١M as the price makes me suspicious. How could he only be worth ١M?
James Stewart
6
Posted 14/06/2015 at 00:23:53
http://www.dailymail.co.uk/sport/football/article-3123114/Everton-set-complete-3million-signing-Barcelona-star-Gerard-Deulofeu.html
Some deal if true
Andy Macrae
7
Posted 14/06/2015 at 01:06:16
Had to laugh there. On one hand the tabloids are getting criticised for making the Stones story up, but then when it comes to us, we're happy to believe the Delboy story.
Andy Crooks
8
Posted 14/06/2015 at 01:05:26
Neil Wood, I agree with you entirely. We are in no position to buy great players but it seems we might have the chance to sign a potentially great player, that is what we must do, take a small risk. I like Lennon and ideally would keep him AND sign Deulofeu.We probably can't so, for me, it would be an investment on a player who just might be special.
Gavin Johnson
9
Posted 14/06/2015 at 01:41:30
If this happens, I'll be very happy. We'd have made two early doors signings, both of which will be very shrewd signings IMO. In the case of Deulofeu, you'd think ١M would be the price for a loan fee! I think it's interesting that the DM bring up a specific amount. I'm starting to believe this one will happen but surely the price will be closer to ٦-10M. If it does happen for just ١M, I'd be pretty sure that Barca will impose clauses that they can buy him back if he fulfils his potential.
I think we'll need to buy at least another winger to replace Pienaar – I'd go for Joel Campbell myself, who must be ready to leave Arsenal by now and could be available for a reasonable fee. Van Djilk from Celtic would be the prefect acquisition at CB.
I'd love us to bring in a striker too, but I can't see there being enough money to buy someone like Austin who would be the obvious choice. So let's hope we can persuade his old team mate, Danny Ings, to join us on a freebie when his contract expires.
Craig Fletcher
10
Posted 14/06/2015 at 02:12:09
If we've got Deulofeu for only ١m, this surely would be in the Cahill, Lescott and Coleman categories of bargain Everton deals.....
Bob Parrington
12
Posted 14/06/2015 at 02:51:41
Maybe the Mail had a typo i.e. missed a digit???? I would like to see him back at Goodison Park.
Peter McHugh
13
Posted 14/06/2015 at 03:23:35
Great news. A player with unbelievable potential.
Andy Peers
15
Posted 14/06/2015 at 03:25:18
Deulofeu played in a team that was playing well when he was on loan and fans loved him. I am curious if he will play well when the rest of the team is struggling as per last season. It could turn out to be a good signing but I hope that Cleverly and Deulofeu are not two of the main 4 signings that Martinez was talking about. I would like to think they are aswell as. Wishful thinking I,m sure.
Phil Jeffries
16
Posted 14/06/2015 at 03:33:01
If this is true and Martinez pulls this off, I think a lot of Evertonians will be VERY happy. He is nowhere near the finished article. But he is such a dangerous player on the counter attack and with just domestic football to play for next season, a few more decent signings will really have us shooting up the league.
Amazing if he signs. But I'll open the champers when he is holding an Everton scarf... COYB!
Dave Hall
17
Posted 14/06/2015 at 04:39:45
Kudos, Colin G!!! Great signing!!!!
Phil Sammon
18
Posted 14/06/2015 at 04:41:46
This is the bargain of the century! However, for those looking for a catch, there clearly is one. Barca will have a buy-back clause in the deal and that will be hugely in their favour... maybe ٣mil or something... who knows.
It's still a fantastic deal though. And just like that I'm excited about football again!
Jamie Crowley
19
Posted 14/06/2015 at 05:06:39
Very good news if this comes to fruition.
DelBoy terrorizing defenses next season is cause for optimism!
Brian Porter
20
Posted 14/06/2015 at 06:00:46
Believe it when it happens. Too many rumours at this time of year.
Tahir Abdullah
21
Posted 14/06/2015 at 06:42:13
١M is significantly below his market value of around 㾶 - 11M, and he would be a great value addition to our squad. He will likely present McGeady with serious competition for the right wing position....
Terry Nolan
22
Posted 14/06/2015 at 06:54:05
Delboy would be a great signing; however, if true, Super Kev must be on his way as you cannot play both these guys in the same team.
Let's hope Delboy has learned that football is a team game and, if a teammate is in a better position, pass it to him... Not always about Delboy!!!!
Darren Bailey
23
Posted 14/06/2015 at 06:54:55
It looks like the ١M is the upfront fee as it's €8M with add-ons. I'd say that's a fair deal for both parties as we'd happily pay the €8M if the add-ons include performance and win bonuses. Perfect deal and I'm made up to hear this — if it comes off.
A possible Mirallas replacement? And if we had Lennon on the other side, we'd definitely have the right firepower for Rom next season.
Darren Hind
24
Posted 14/06/2015 at 06:20:08
Err... He couldn't command a regular place for us first time around and he certainly hasn't pulled up any trees at Sevilla. So, before we call this the bargain of the century, or claim "we have won the race" to sign him. can we give him a chance?
The guy can be exciting, we've all seen that, but he can also be very frustrating for fans and teammates alike. Two options is often one too many for him. This is reflected by the fact that neither Spanish club want him and the "race" to sign him appears to be made up of a very small field. (Are there any other interested parties ?)
It's usually hindsight that affords us the chance to say whether a player has been a semi-decent signing – let alone "The deal of the century".
Let's just calm down; ١M is about right under the circumstances; if Roberto can iron out his obvious flaws, we could have a top player in our ranks.
I hope we end up forking out more, because if we do eventually end up paying "add-ons" It will mean his signing has been a success.
Let's get this done early so he's part of pre-season!
Phil Sammon
25
Posted 14/06/2015 at 07:14:41
I'm not billing him as the best player in the world, Darren.
I'm saying that ١M for a lad with such potential is a cracking deal.
Matt Traynor
26
Posted 14/06/2015 at 07:20:17
Darren #24 - spot on. We should be used to signing players in the "unfulfilled potential" category. Arteta and Pienaar are perhaps the two best examples.
Sad truth is if he was showing frequent glimpses of this potential, Barca wouldn't be letting him go, or there'd be better options than us for him.
Anthony Flack
28
Posted 14/06/2015 at 07:35:01
I hope this is right, but on the other hand we are often very quick to rubbish stuff in the Mail when it does not suit us.
Has to be a good purchase, class, pace and skill and seemed to warm to the Everton fans. I think he will thrive if played and trusted, rather than labelled as frustrating "and will be great in February"....
PS - I just read the Stones to United post - I hope this is rubbish, but it kind of makes my point i..e as it is bad news the source is rubbish...(Mail)
On balance if they are both rubbish, Delboy to us is a lot more likely based on circumstance.
Sam Greenwood
29
Posted 14/06/2015 at 07:44:17
If this is true, and were we to sign Lennon, I would be happy if we sold Mirallas to get some cash for another one or two good players. Mirallas can be great, but is far too inconsistent; selling him to cover Deulofeu and Lennon and maybe someone else seems ideal.
Anthony Hawkins
30
Posted 14/06/2015 at 07:45:43
Del will be a great signing of it happens. ١m seems low but I'd be very happy with him in the team. He's the type of player we need.
Keep 'em coming Bobby.
Joe Edwards
31
Posted 14/06/2015 at 07:55:48
A much more direct player than Lennon with more tricks up his sleeve than Dynamo. Delboy comes with the added bonus of being able to cross a ball and youth which is what we need. Blue Bill should scour Europe while the exchange rate is so high; this time last year, €8M would have translated into ٤M.
Colin Glassar
32
Posted 14/06/2015 at 07:53:59
I'm with Darren on this one. Let's give him time to see if he can recover his early promise and become the superstar he was supposed to become.
Jim Bennings
33
Posted 14/06/2015 at 08:24:31
١ million???
If this happens at that price, I will celebrate naked in the street!!
Keith Monaghan
35
Posted 14/06/2015 at 08:42:27
Totally agree with Darren Hind – a lot of people going way over the top about this possible signing. Based on his achievements of the last 2 seasons, he'd be a gamble at ١M.I don't rate Aaron Lennon highly (has flattered to deceive throughout his career) but he worked very hard whilst with us and had a positive effect on the second half of last season.
Craig Mills
36
Posted 14/06/2015 at 08:46:40
١M initial payment for Deulofeu sounds too good to be true and unfortunately when something sounds too good to be true, it usually isn't!!
That said, if Barça will sell him, hopefully Everton will be his choice destination, I'd love to see him back.
Kelvin Thomas
37
Posted 14/06/2015 at 08:48:52
Regarding Deulofeu, no smoke without fire and there has been a lot of smoke over the past week or so. I would be really pleased if it happened.
I'd still push for Lennon. Let McGeady and Deulofeu challenge for the RM spot until January. Bring Lennon in in January on a cut-price deal. We need FULLY FIT experienced players to take the pressure off Ross and Deulofeu. If they are our only options and we start the season off poorly, the fans will be on to them from the off!
Lennon and Payet will do nicely.
CB?
CM – Cleverly = free.
CAM Payet = reported ٦m
RM Gerry = reported ١m
LM?
January Lennon on cut price ١m
Surely we have these sort of funds available. The potential sale of Mirallas would enable us to make an impressive offer for a quality LM!
Dominic Tonge
38
Posted 14/06/2015 at 08:52:05
Looking forward to being able to dust off the "Oh oh oh he's magic" chant, hope this is true.
Kelvin Thomas
39
Posted 14/06/2015 at 09:01:44
Colin, you've been convinced he's going to sign for a while? Am I right?
Paul Ellam
40
Posted 14/06/2015 at 08:58:22
When he is holding up the blue shirt or pictured wearing it, I will believe it!
Good signing although I wasn't his biggest fan before – he still has to deliver a better end product for me, but he is young and the potential is there so I will be cheering him on.
Now we need the CB and CF positions sorting!
Kelvin Thomas
41
Posted 14/06/2015 at 09:05:02
LM Paul?
Ian McDowell
43
Posted 14/06/2015 at 09:01:28
I'll be delighted if Garbutt signs his new deal and spends a season on loan at Bournemouth. Getting some vital Premier League games under is belt would benefit hugely to his development.
Then he can be back at Goodison next summer hopefully make the LB spot his own if Baines has moved into midfield as Roberto hinted at.
Aidy Dews
44
Posted 14/06/2015 at 09:03:43
I have no doubts what so ever that we want him and could possibly sign him, but for ١m plus add ons, that makes me dubious slightly!
Just seems too cheap!
If true, then it's got to be the signing of the decade! Tbf, he is well down the pecking order at Barça and didn't have the greatest of seasons at Sevilla and has had questions asked of his attitude and application from both Enrique & Emery so Barca may feel it's best if they cut their ties and let him come to us for a reasonable fee and put in a buy back clause.
It would be a great deal all round this imo. Get him cheapish, have a great talent on our hands and if he does well and Barca fancy having him back, then they'll be a decent back back price on his head and we'll make an handsome profit out of it, it'll be win-win all round for us!
Eugene Kearney
45
Posted 14/06/2015 at 09:02:30
Brilliant news. He'll bring back that spark that was missing all season and with a few more decent additions + the rest of the squad wakened up, we'll be back up there...

Mike Green
46
Posted 14/06/2015 at 09:07:08
Deulofeu frustrated the hell out of me during his loan period but all he needed to do was sort out his end product and pass before it got too late.
١-٦m for a lad with so much talent, with a skill set we are crying out for (being able to beat a man), that can get every bum in Goodison off its seat would be great business.
Class is permanent, form is temporary, get him in and get him playing.
Brian Keenan
47
Posted 14/06/2015 at 09:24:15
I hope so?
Andrew Clare
48
Posted 14/06/2015 at 09:18:02
Good to see us going for this type of skillful player. My only reservation is that in the modern game players who give 100% at all times are vital if success is to be had.
That is probably why he didn't gain a regular first team spot with Seville and Barcelona are willing to let him go.
Look at the world's best ,they are consistently brilliant.
John Malone
49
Posted 14/06/2015 at 09:14:31
People have very short rose tinted memories, if my memory serves me right, apart from a few standout performances, the lad was a bit of a nightmare headless chicken ball greed who frustrated the life out of Coleman and couldn't finish his dinner! In the end, he became predictable going outside on his right foot and his head dropped to the point where he was a passenger in the game!
I'm sorry but I've seen more from Aaron Lennon in six months than this lad in a year; attitude is 80% of the battle and, unless that changes, he'll be another McGeady!
Lee Courtliff
50
Posted 14/06/2015 at 09:28:45
My God, I hope this is true.
If we keep Mirallas and have Gerry on the other wing I'll be very confident we can reproduce the kind of football we saw last year.
I'm trying to convince myself Clev is a good signing and with this on top our summer is already looking much better than I expected.
THIS is the season to judge Martinez. 3 years is plenty of time these days. I quietly confident we'll do well next year.
Jim Bennings
51
Posted 14/06/2015 at 09:36:46
John,
Deulofeu frustrated the life out of Seamus Coleman?? Really??
Well Seamus Coleman frustrated the life out of me last season, with his rapid decline to resemble anything like the player from the previous season, he reached Marc Hottiger proportions in some games.
Deulofeu was told by Martinez not to bother tracking back so you'd think Coleman would have been aware of this instruction so I'd hardly say it frustrated the life out of him.
Jim Bennings
52
Posted 14/06/2015 at 09:42:19
I do agree with you about Lennon though, I'd love to see Azza back in a blue shirt next season and I have always said "why can't we have both?"
I actually think Lennon would be a decent option playing slightly inside, judging by the goals he scored for us on loan.
Paul Smith
53
Posted 14/06/2015 at 09:43:23
Greedy with flashes of genius. A little mercurial to add something every game but for ١ mill it's a no-brainier of true.
Brin Williams
54
Posted 14/06/2015 at 09:47:16
If. if, if!!
If ...the Mail bit is correct ... ....good!
If....the ١m quoted is correct .... better!!
If....he plays to potential and delivers the goods ........best!!!
BUT .......why was he named Gerard, ffs?
Peter Mills
55
Posted 14/06/2015 at 09:56:16
I would welcome the signing of Deulofeu simply because it would offer me hope of seeing some football above the level of last season's tedium.
Allan Barratt
56
Posted 14/06/2015 at 10:12:04
Please please be true!! Just what we need!!!
Trevor Peers
57
Posted 14/06/2015 at 09:35:39
Lee (#51) is right, this is judgment season for Roberto. Most of us on TW will hold fire until we see the actual signing he has made by kick-off time in August.
Deulofeu or Lennon will be a guide to how the team will be shaped. Too many players with good individual skills, but lacking in a work ethos for the team, can't be the answer.
We haven't got the financial clout to buy the type of players required. If Del boy was that good, he wouldn't cost ١M or be coming to play for the Blues.
Andrew Ellams
58
Posted 14/06/2015 at 10:13:55
This guy is not a midfielder and should not be wasting his energy tracking back. If we had a front three of him, Mirallas and Lukaku we would have a fantastic counter-attacking forward line. We would just need Roberto to get his midfield balance right.
Stewart Lowe
59
Posted 14/06/2015 at 10:14:30
I think there is a possibility that we could get him but ١m is very wide of the mark. I would expect ٦m and rising to 㾸m with add-ons is most likely.
I believe Barcelona are in the process of signing Vidal from Sevilla for 㾻m and he is a right winger which is Deulofeu's position. With Pedro signing a long contract and the front 3 at Barcelona nailed on, it could be years before Deulofeu got his chance.
Deulofeu was one of the positive attacking inspirations that helped us get 72 points in Martinez's first season, so I am all for him progressing with us at Everton.
Stewart Lowe
60
Posted 14/06/2015 at 10:22:23
Deulofeu could be the playmaker that Martinez is looking for. I personally think he would be wasted as a right winger. With his quick feet and trickery he would be best sat behind the striker and play between the lines in a similar way to Cazorla does at Arsenal.
Colin Glassar
61
Posted 14/06/2015 at 10:23:13
Since before Christmas, Kelvin. I have family in Barcelona (journalist) who is well connected to the club. I was told early on that Deulofeu realised his mistake going to Seville as he didn't get on with the manager who's a bit of a tyrant.
It was also made clear to him that he wasn't in Luis Enrique's plans for the immediate future. So basically he's been left no alternative but to move on.
Martinez is also looking to get another of their players (Sergi Roberto) in on loan.

Mark Pierpoint
62
Posted 14/06/2015 at 10:31:18
Only a rumour but welcome. At that price there is obviously a caveat. I imagine it would be a buy back option, Ã  la Fabregas. Nevertheless, I would snap their hands off.
James Marshall
64
Posted 14/06/2015 at 10:32:43
If this is true, why is there only one rag reporting it? Normally you see this stuff written everywhere by every Tom, Dick & Harry that runs a website (Goal.com etc) but none of the are carrying the story – why?
This makes me feel extremely dubious about the authenticity of this report. It is the Daily Tory after all.
Also, if we're buying Deulofeu, why so many links with Elmohamady? Same position as Deulofeu which again casts doubt on it – that link is more widely reported too.
Even on NewsNow, which links to all the stories online about players/news, there's only the Daily Mail link. Nothing on the BBC Gossip page; nothing on Sky... seems weird to me.
I hope I'm wrong, but I do smell a rat....
Kelvin Thomas
65
Posted 14/06/2015 at 11:01:50
Thanks for that Colin. Impressive stuff.
Dominic Tonge
66
Posted 14/06/2015 at 11:02:45
Could it be that we are trying to push the deal through before we get gazzumped?
James Marshall
67
Posted 14/06/2015 at 11:21:42
"On 25 May, the Spanish newspaper Marca selected Deulofeu in their La Liga 'Worst team of the season'"
Oh dear.
Patrick Murphy
68
Posted 14/06/2015 at 11:22:19
Whether we get Del Boy for a reasonable price or not, there is one thing to be certain of, we'll need the whole first-team squad firing from the first whistle, especially as our neighbours have apparently requested they play their first Premier League fixture away from home due to the work they need to carry out to extend their stand(s).
It has also been hinted that LFC would want to play more than their opening fixture away from Anfield, which means that Everton could have to host two or more Premier League games at Goodison at the start of the campaign and if the team aren't ready for the battle the pressure on the manager could be intolerable even before the transfer window slams shut, let's hope the players produce the results in those opening games to keep the fans onside.
Plato Stavrinos
69
Posted 14/06/2015 at 11:31:51
If true, I fear Mirallas will be leaving, even though they play in different positions.
Paul Tran
70
Posted 14/06/2015 at 11:45:24
I'm with Darren on this one. ١m is about right for an inconsistent player great on his rare on days.
I sense a Cleverley-like inevitability about this story, so I hope he has more on-days than when he was here on loan.
I'd say ١m for potential is better than what we paid for it a year ago!
Roll on the playmaker, centre-back, keeper and striker!
Ged Simpson
71
Posted 14/06/2015 at 11:25:16
Brin - re the name Gerard (which is mine). St Gerard Majella, is the patron of expectant mothers. Common name in Spain and Ireland. Hope he turns out as good as another one... Gerhard Muller.
Tamhas Woods
72
Posted 14/06/2015 at 12:02:28
This is too good to be true – I'll believe it when I see the lad holding an EFC scarf aloft.
Perhaps there's small print – the real asking price is 㿅m, but for ١m he can come with two broken ankles.
Nice things don't happen to us – I'm half expecting "tantalising trio from Wigan" Pennant, Holt and Perch to become Everton players after this deal doesn't happen.
"They're right good, Berto! Just the sort of players I'd want to watch from the Boys Pen!"
Dave Abrahams
73
Posted 14/06/2015 at 12:18:23
I think Delboy can be a very good player, I also think Lennon is a good player, so it would be fine if we sign the both of them.
If we only sign one of them, I hope it is Aaron Lennon. We will get a lot more out of him than Delboy... but hopefully we will get both.
Joe Foster
74
Posted 14/06/2015 at 12:26:30
He has pushed for the move... which I like.
Barry Lambert
75
Posted 14/06/2015 at 12:21:58
If this comes off, he needs to be a regular starter. You have to be very patient with this type of player. He can drive you mad at times with his selfishness but he has the match-changing skills that we are sadly lacking with our current squad.
It would appear that he has quite a big ego and is prone to sulking. If this boy gets himself in the right state of mind, confident, and with the roar of our fantastic supporters ringing in his ears, he can be unplayable. Bring it on!
ps: I would also like to see the Dutch centre-half at Celtic alongside Stones. Class player. I love Jags but he can't go on forever. COYB.
Ged Simpson
76
Posted 14/06/2015 at 12:47:35
I have rose-tinted memories of him being brill. I think he will be brill for us. I think the manager is doing good work in transfer market so far and I think next season we will be good again.
And to the cautious, pessimistic smart arses who come on here... try believing. That is what the summer is for.
James Stewart
77
Posted 14/06/2015 at 13:11:14
Made up with this news. He can be class this lad. Frustrating yes but he changed games on his own. Frightened the life out of teams when he was coming on as a sub. We lacked pace last season and were too easy to defend against. He changes that dynamic.
Harold Matthews
78
Posted 14/06/2015 at 12:50:21
This lad loved playing for Everton and would always urge us on from the front row of the bench. A beautifully balanced natural footballer, he will be a fine addition to the squad. ١m sounds like a token of good will and probably is. Barca, a billionaire outfit, doing what's best for one of their own.
Aidy Dews
79
Posted 14/06/2015 at 13:09:23
Stewart Lowe, Barca have already signed Vidal! Deulofeu is well down the pecking order there now and Enrique isn't too impressed with his attitude and application and I'm sure he will be available, and if it's right about Deulofeu not wanting another loan, then he'll be up for sale, and hopefully at a good price!
And when I think about it, Gezza could be available cheap, don't forget, Barca sold Bojan to Stoke for less then ١m! And that was after failed loan moves to Italy & Holland.
Phill Thompson
80
Posted 14/06/2015 at 12:28:16
Well if the Delboy report (along with Garbutt) is true this becomes the best post season news we've had. I saw recently that Real Madrid were "buying back" someone they'd sold, to Porto if I remember right, at a reduced fee. If that's the way the Spanish clubs are now working then we could indeed get him cheap, with a buy back caveat. I can live with that, he'll have to be some special player if Barça eventually want him back .
Both these "potential" signings have big implications for us as a club in terms of sending out the right message of keeping and attracting young players who believe they can develop best at Everton.
David Jackson
81
Posted 14/06/2015 at 13:19:26
Would love it if we signed him, for all the reasons already stated, but also because my dad, who died this year, loved watching him and referred to him as "the french kid" and my other half can't pronounce his name and calls him doily-foily. So not only do I think he'd be a good signing, it'd make me smile/be reflective every time I got to talk about him! Sometimes football is about more than football!
Amit Vithlani
82
Posted 14/06/2015 at 13:13:13
Just returned from Spec Savers and looking out into the garden everything is rosy. If we get Del Boy, even for ٦-10M, he will be worth the risk.
Pull out videos of Arsenal away and Stoke at home and watch how he effortlessly skins the oppo full back, who gradually gets deeper and deeper disabling the pressing game (particularly Stoke) used to such good effect. I have not seen Mirallas nor Lennon (or indeed McGeady) frighten a back four as much as this lad.
Phil Walling
83
Posted 14/06/2015 at 13:38:17
Anybody who see Delboy as Roberto's saviour is deluded and has a very selective memory. Sure, he's good to watch on occasions but is a pure luxury player in my view. Another one who is viewed as a great player when he's not here !
Ross Edwards
84
Posted 14/06/2015 at 13:44:57
If this happens, I'll bow down to Roberto and hail him as a genius. ١M is very cheap. Which means if it's true that Barca must have been so desperate to get rid of him.
As for substance and reliability, it's the Daily Mail. They aren't the most reliable source in the world as we all know. They said back in January that Steve McClaren would replace RM if he lost in the Cup to West Ham.
Let's see what happens. Until an announcement is made and he's unveiled, this is just more speculation.
Danny Cleary
85
Posted 14/06/2015 at 13:35:57
If this story is true, and it really is a big "if", then it would be a brilliant bit of business. He does have the ability to change the flow of a game (3-3 against Liverpool), but he is also very frustrating.
If he were to play on the right wing in front of Coleman, then I wouldn't envisage many assists coming from that wing; those are two awfully selfish players, always looking to shoot for themselves instead of hitting an early cross, Coleman persistently does... so frustrating.
Brian Wilkinson
86
Posted 14/06/2015 at 13:52:48
May be dismissed as Daily Mail pagefiller, unless like me, word spread on social media of several Everton players adding him to their Twitter following.
I for one am very optimistic that The Mail have finally got one right.
Could also work in our favour of not being held to ransom over Lennon, with Spurs either lowering their price, or lose the guy next year for nothing; expect Lennon to sign towards the end of the transfer window, that's my gut feeling.
Brian Wilkinson
87
Posted 14/06/2015 at 14:06:08
Phil @86, agree may not be our saviour, but the ١ million we pay out could force Spurs to reduce Lennon's asking price for close to that.
So could end up getting Del Boy for free excluding the add ons, there again this is Everton, so no doubt will go tits up somewhere.
David Chait
88
Posted 14/06/2015 at 14:13:55
With this guys potential it will be a great buy. He was really beginning to play well when he got injured.
Incentivise him massively for every assist and not for every goal and he will be a different player! Close it out boys!
Malc Kitchen
89
Posted 14/06/2015 at 13:42:48
Spot on, James, Del would be excellent – the X-factor badly missed last season!
Kieran Kinsella
92
Posted 14/06/2015 at 14:45:56
Every time he gets the ball, he does about five step overs and tries to dribble his way into the box before trying to slot one in between the keeper and the near post. The term 'one-trick pony' springs to mind. Kind of a poor man's Kanchelskis with a stroppy attitude.
I'm not sure RM has any clue as to how his team will line up assuming this is true. He's said he also wants a foreign Number 10 so I guess Barkley is on the bench. Then what do we do with Cleverly? Does he break up the axis of McCarthy and Barry? Or use Cleverly out of position on the wing?
He's indicated that Pienaar will be a key man next season so with him on one wing we've a bench of profligate wingers (Deulofeu, McGeady, Mirallas) should he stick Cleverly on the other wing. What then for Osman and Besic? Not to mention Naismith.
Meanwhile we only have one proper striker, a hatful of left backs, two crap goalies, and no established left sided centre-halves.
It seems to me he's building a team based on getting players he likes rather than thinking about what we need. This is what O'Neill did at Villa when he ended up with a massive squad containing right backs and center halves but little else. He got fired.
Clive Rogers
93
Posted 14/06/2015 at 14:59:21
Phil (#86),
So true. He's good one on one, but his passing game was woeful. At times it was difficult to tell who some of his wayward passes were meant for. There must be doubts about his character now. See him being used from the bench.
Colin Glassar
94
Posted 14/06/2015 at 15:02:37
I remember a young Ronaldo at Sporting Lisbon, and then Man Utd, Kieran, but he worked on his game and even though he is still a show boater, and egotistical prick, where everything is about HIM, he ain't bad is he? If Deulofeu became half the player CR7 is then I'm sure we'd all be made up.
As for the rest of your post all I can say is, bloody hell!!
Mark Fitzgerald
95
Posted 14/06/2015 at 14:58:27
No-brainer, this one. Agree that he could be infuriating at times when trying to do too much. But one of the very few of our players in recent times with a little bit of magic & unpredictability. Huge potential. If that fee is correct then this is a bargain.
Ray Said
96
Posted 14/06/2015 at 15:06:27
I like the way the lad plays, we know he likes the place so no worries about settling in and he offers potential so I think it looks a good deal at the price.
Colin Glassar
97
Posted 14/06/2015 at 15:09:52
It's on Sportmole and ZapSport now so that makes it almost official. Once it gets on Metro, you'd better believe it!
Mike Gaynes
98
Posted 14/06/2015 at 15:13:04
Hey, where else could this team buy this much excitement for three million? One thing for sure, when this lad is on the pitch, nobody is bored.
Paul Kossoff
99
Posted 14/06/2015 at 15:18:03
Aidy 45, "It would be a great deal all round this imo. Get him cheapish, have a great talent on our hands and if he does well and Barça fancy having him back, then there'll be a decent buy-back price on his head and we'll make an handsome profit out of it, it'll be win-win all round for us."
So Del has a great season, gets us top six, player of the year and gets sold back to Barça for a small profit. Where is the win-win in that? Oh I know, replace him with McGeady or Osman.
Dan McKie
100
Posted 14/06/2015 at 15:52:36
Spot on, Mike (#101). Far too often last season, I was exactly that... bored! Our play was slow and predictable, and our supposed exciting players were blending into that boredom.
GD has plenty to work on, but he gets bums off seats and gets the crowd going, as well as frightening opposition defenders. I would love him back.
Dan McKie
101
Posted 14/06/2015 at 15:55:50
Hopefully the back end of last season will prove the kick up the arse that this lad needs.
Sevilla openly questioned his attitude, then he goes back to Barca who want none of it. That should tell him that it doesn't matter how good he is, if he doesn't put the graft in, he won't make it anywhere near the top.
Let's hope he arrives determined to prove his obvious natural talent.
Patrick Murphy
102
Posted 14/06/2015 at 15:55:46
I don't mind players show-boating, in fact there are too many pundits and journalists who decry it as a sin; however, there has to be an end product otherwise it is a complete waste.
Del Boy first time around didn't overly impress me and I would hope that he could improve his final ball. Having said that, I would much rather have him than Lennon or McGeady in the side.
Perhaps if Roberto can nurture his talent, over time, this lad could prove to be the central midfield play-maker that we are so sadly lacking and the type of player that is beyond our means.
Like others, I will be very disappointed if we fail to bring in a striker to bolster the forward line as we are overly reliant on Lukaku and, if he's having a bad day at the office, we will struggle for goals.
Sam Fitzsimmons
103
Posted 14/06/2015 at 16:12:33
I've never really got the buzz that there is around Deulofeu. My memory of him is that he had a couple of mercurial cameos but overall frustrated me more than McGeady does now.
That said, as with all Everton players and signings, I want to see them reach their full potential for this club. Sadly, with Lukaku and Barkley, I'm still waiting. In fact... Stones is the only one I can really see that is delivering on his promise.
Hopefully if the reports of Deulofeu are true and we get him, he may well deliver on the promise that many on TW see in him.
Ross Edwards
104
Posted 14/06/2015 at 16:31:40
He is a really talented player as we all know. But Unai Emery openly criticised his attitude, which probably forced Barca into selling him pretty quickly because of that massive achilles heel. Surely Roberto will try and sort that aspect out.
He can be frustrating, as many above have said, but he will be when he arrives, by far our most exciting player in that squad. If Martinez can encourage the team playing aspect into his game, we have a special player on our books.
Clive Rogers
105
Posted 14/06/2015 at 16:25:10
Patrick,
That's my worry too. If Mirallas and Naismith are not going to figure much that leaves Jags as the next highest scorer last season. Lukaku was awful against Spurs and again for Belgium last week. He only got 10 league goals last season (with 2 pens). Our midfield is very low on goal potential.
Duncan McDine
106
Posted 14/06/2015 at 16:51:11
I was often frustrated watching him, but hopefully he can prove himself and develop his decision making (same goes for Ross).
Not sure if its been mentioned elsewhere, but I saw that Vlaar from Villa is out of contract.... he'd be a perfect addition to the squad in my opinion (despite our history with Dutch players!)
Terry McLavey
107
Posted 14/06/2015 at 17:15:16
Always liked him despite being a bit greedy. But he always seemed positive and went for goal. Also he'll want to prove something to his former club, which is never a bad thing? I hope Cleverley has the same attitude.
It ip all done before 11:55 pm on transfer day! Is this Everton?
I would have liked to have kept Lennon but maybe he didn't want to keep us... Let's put last season behind us and hope for a good one, we've already cleared some of the shite that helped us fail! COYB !!
Nigel Gregson
108
Posted 14/06/2015 at 17:17:53
Thank you Colin — you seer of ToffeeWeb!!! ١M for this kid — holy shit!! Just by his presence, he'll create so much space for others, it's not even funny. We have enough graft, we need the magic. Great business if it happens.
Any more predictions? Sergi Roberto? What's he like?
Tony McNulty
109
Posted 14/06/2015 at 17:22:07
Good news if true.
If Mirallas stays, that's two greedy bastards in the one team. Maybe they'll cancel each other out.
James Hughes
110
Posted 14/06/2015 at 17:17:09
Brilliant news, another player with 'potential' and a snip at ١ million. I would have to disagree with all this excitement.
Mainly because if there was a serious chance he could deliver his potential Barca wouldn't be saying he's available at knock down price.
Just my opinion, but someone mentioned the 3-3 derby, I remember he ran up more blind alleys than Inspector Closseau!!!
Here's hoping though, he loves scouse land, forgets paella, and gets into chicken curry half 'n' half. This time next year, we are celebrating silverware.
Stephen Brown
111
Posted 14/06/2015 at 17:34:24
Kieran #95
Worryingly accurate! I believe one of the main reasons for last seasons poor show was trying to shoehorn players into incorrect positions!
I like GD and think he adds to the squad but feel there needs to be a bit of a clear-out and competition for places (players only selected in their correct positions).
Jim Knightley
112
Posted 14/06/2015 at 17:47:57
This would be a fantastic signing. He is a player with obvious potential to grow, and extremely exciting to watch. I can't believe the fee is so low.
This deal became a lot more probable when Barca announced the Vidal deal, as that gives them another option on the right. That said, this is the Daily Mail, who are one of the biggest bullshitters in the market. I'm happy, but won't enjoy it until the Beeb announce something.
Matthew Williams
113
Posted 14/06/2015 at 17:57:08
Great if it happens, but with this deal involving a hands tied Barca and us Blues?!... I'll believe it when I see it!
John Crawley
114
Posted 14/06/2015 at 18:04:16
Hope we get him at least we'll have a bit of excitement at Goodison. All we need then is someone to drill into Lukaku to make runs to the back post to knock in those low hard crosses that he put in on loan.
Nicholas Ryan
116
Posted 14/06/2015 at 18:07:43
Bit of perspective, lads...
1. We're proposing to buy a hugely-exciting, potentially game-changing 21-year-old, for LESS than LFC paid for the 33 year-old Rickie Lambert!
2. Gerard Deulofeu was invited to join the Barcelona academy at 9; at 9 he played in their Under-11s; at 11 he played in their Under-13s. He has played for Spain at Under-16s, -17s, -19s, -20s and -21s. In 2012, he won the 'Golden Player' award at the Uefa Under-19 Championships. He has 1 full cap for Spain.
3. He won't be fazed by the Premier League, cos he wasn't last time!
4. As for being a 'One trick pony'; I remember a shout in Gwladys Street many years ago: " That [Bobby] Latchford's only got one trick ... he just sticks it in the net from 5 yards...!"
Denis Richardson
117
Posted 14/06/2015 at 18:53:04
He can be really frustrating to watch at times and obviously didn't convince the Seville manager to pick him.
However, given his pace and potential, any deal below ٣Mm would imo be a bargain. Great signing if true and would give us fantastic pace on the wing.

Oliver Molloy
118
Posted 14/06/2015 at 18:55:47
If true, he better avoid ToffeeWeb, because I guarantee you he will get ripped to pieces more times than he will care to remember. Then again, if he scores the winner against that crowd across the way, all may be forgiven!
I think he is worth a punt at ١ million, but not at the other figure being reported. He needs to offer a lot more this time round.
Tom Bowers
119
Posted 14/06/2015 at 19:05:59
If this happens then I hope Dellboy will show the form he did before his bad injury. He hasn't impressed Barça and certainly wasn't favoured on loan at Seville. If he does come, how does it affect Lukaku who shows his best work coming in from the right flank?
I hope I am wrong but I have my doubts about this scenario and would sooner go for Lennon at a lesser price although he is older but a more dependable player.
Steven Twine
120
Posted 14/06/2015 at 19:10:14
What does Phil (#86) want? — four defensive midfielders?? We have a chance of a Ronald-type player, a crowd pleaser, someone who can win a game on his own, and he's 21 — time to learn his game. And even more, he wants to play for us, if you believe Twitter.
If he fufills his potential, we are looking at 㿅 million plus!! I know, let's be safe and bend over and pay Levey what he wants for Lennon, ٦ million or whatever for a player who has a year left on his contract!!
What a statement if Delboy signs: what a understatement if Lennon signs
David Donnellan
121
Posted 14/06/2015 at 19:23:22
For ١ million, I would be more than happy with that. There is no doubt this boy has ability. Although I can see where some are coming from when they mention how frustrating he was, as I was equally as frustrated at times when he held onto the ball for a second or two too long & missed players in acres around him, but that can be worked on, on the training pitch, he is still young.
His ability to go past a man so effortlessly, is exceptional, none of our current flair players can go past a man that easy, he has pace to go with his skill as well & as Amit (#85) alluded to, he did terrify opposing defenders & push them back, allowing the rest of our team to go on the attack & take the game to the opposition. He was a miss last season, we had nobody quite like him, Atsu was a poor replacement in on loan.
If the source & the quoted price are correct, it is a no brainer for me.
Paul Gladwell
122
Posted 14/06/2015 at 19:43:09
If we are going to witness another season of teams throwing men behind the ball whilst we play crab football trying to break them down, then getting the lad in will help us as he is very direct and basically doesn't give a shit who's in front of him.
Many a home game last season, I thought we could have done with the lad as, for all the frustration at times with him, he created stuff and had a goal in him, or at least won free kicks in dangerous areas, although now Lukaku has decided to bully them off Baines that's not so much a big threat we have anymore.
Brian Roberts
123
Posted 14/06/2015 at 19:53:21
I think it's time to stop the "Once Everton have touched you" myth. Sadly those days and players are long gone... as has the game.

Matt Traynor
124
Posted 14/06/2015 at 20:00:47
Brian #126, I understand the cynicism, especially in light of the recent FIFA situation and our own Corner-shop Board, but there are still some players out there who believe in that power of Everton. Tim Cahill was a very recent example. Many others look back on their time, even if it was short, with a degree of fondness.
Dave Pritchard
125
Posted 14/06/2015 at 20:01:39
Interesting one if it happens. Could be great but could be a Drenthe/Van Der Meyde situation. Bye bye McGeady if it happens?
Matt Muzi
127
Posted 14/06/2015 at 20:08:47
When he's holding up the shirt, I'll believe it, this is Everton after all!!
I also think we'll pay a lot more than ١ mill for him overall, if he does sign.
Brian Roberts
130
Posted 14/06/2015 at 20:49:49
Matt #127 Matt was never putting Cahill, Carsley,etc...in that category I just think in this day and age those types of players who love the shirt will be few and far between....
Steven Higgott
131
Posted 14/06/2015 at 19:40:19
As people have already said, The Mail do get things wrong but, if they really made this story up, why ١M, if we all know he is worth around 㾶M.
Geri loved playing for us and I am sure if he knew that he would not be playing for Barça last season, he would have loved to stay with us in Europe. It's the player we need to get Lukaku in the box were he is dangerous, not having to go and get the ball. I know he is frustrating sometimes but he does posses raw talent.
We need a left winger who will work getting back as well as forward and with pace. Lennon could be the key... I don't think KM has it in him going back so we need to buy another striker and CB, and we'll be in business,
Julian Wait
132
Posted 14/06/2015 at 21:01:09
Perhaps: Del + Lennon to replace Mirallas? I'd like all three mind ...
Ross Edwards
133
Posted 14/06/2015 at 21:06:33
Mundo Deportivo, a Spanish paper, is saying that talks between us and Barca are ongoing for Geri, but reports of a deal being close are untrue.
Steavey Buckley
134
Posted 14/06/2015 at 21:59:43
When Gerard and Barkley were together and fit, before both picking up bad injuries, Everton were on course for 4th spot in the Premier League during the 2013-14 season.
Patrick Murphy
135
Posted 14/06/2015 at 23:52:15
I believe that at a price-tag of under ٣m Del Boy is worth a punt if the fee is closer to ٦m - 㾶m it might prove a bit of a gamble.

Ant Dwyer
136
Posted 14/06/2015 at 23:49:03
If we do sign Delboy, I for one will be happy. I'd be even happier if Bobby had the balls to play the kid as a regular starter along with Barkley (central roll, obviously) and Mirallas. What a fantastic 3 that would make behind Rom.
With options of any two from Barry, McCarthy, Besic, Gibson and Cleverley behind them makes for a fresher younger side with pace and goals. But I'm sure Bobby will still manage to mess it up if I'm honest.
Abhishek Saha
138
Posted 15/06/2015 at 06:30:41
Totally agree with Ant (136).
The trio of Mirallas, Barkley and Deulofeu, playing behind Rom.
Cleverly and McCarthy just behind them.
We have Rom, Mirallas, Barkley, Deulofeu, Coleman, Baines, Stones.... seven players who are capable of playing for or wanted by Champions League sides.
Ian Jones
139
Posted 15/06/2015 at 07:25:29
Whilst I would be pleased if we got Gerard to sign for Everton especially at a decent price, I think we should hold on deliberating how good or bad a signing until it is done.
I googled earlier to see if any updates on the situation and came across an article saying Man City were keen on Deulofeu. "Typical" was my first thought... until I saw the article was dated Dec 2012...
Interesting that the buyout clause was reported as being ٦ million. I Wonder what it is now?
Murdo Laing
140
Posted 15/06/2015 at 08:28:54
Clive (#105), following on from Patrick's point, the lack of goals/creativity from midfield is definitely a huge factor in last season's results. Sure, we are not getting the best out of Lukaku, or indeed Mirallas, and it appears to me that under RM, the axis of the team has changed from the Moyes regime...
It appears to me that we are now set up mainly to be a counter-attacking team without having the creative player (No 10) that possesses the final "killer" ball to the CF. Sadly, it's not Barkley, it's not Naismith, the nearest we have is Pienaar, and to a degree, Osman.
As for GD, yes, bags of potential; it this is a "runner" then it's (mostly) all good at that price, but he could present a test in terms of his attitude if the Seville scenario plays out? RM needs to sort his head out as to how to get the best from wide players. Atsu was a wasted loan in the end, and McGeady needs moving on, he's not going to cut it. Any money we have left now HAS to go on that creative No 10.
Stuart Mitchell
141
Posted 15/06/2015 at 10:56:10
http://sportwitness.ning.com/forum/topics/deulofeu-to-Everton-is-permanent-transfer-at-6m-four-year-contrac
Fair bit of infomation regarding the transfer, looks like it is on.
Stuart Mitchell
142
Posted 15/06/2015 at 10:57:35
Catalan newspaper
Sport
say on Monday that Gerard Deulofeu to Everton is totally agreed. And considering the detail they've put in the article, it's either really good information or they have a fantastic imagination.
Sport
say contracts are complete and waiting to be signed.
Everton will pay €6M and Deulofeu will sign a contract which is for an initial three years until 2018, but which has an option on Everton's side for a an extra year so a four-year commitment. Barcelona will have an option to buy Deulofeu back, which will be incredibly annoying for Everton if he's a success.
Sport say that if Barcelona want to buy Deulofeu back at the end of the next season then it'll cost them €9m. If they want to buy the player back at the end of the 2016-17 season then they'll have to pay €12M. The buyback clause ends after that.
The writing was on the wall for Deulofeu when he managed to annoy Luis Enrique last summer. After impressing at Everton, the youngster had expected to return to Barcelona and shine but his attitude came under question. He clearly didn't impress Luis Enrique during the club's important pre-season trip to St George's Park.
Enrique had got the squad together and shielded them largely from the public and media, he wanted to check out his men and build some bonding. Deulofeu had always been confident but returned from Everton even more so and Enrique didn't think he was what Barcelona needed. Sport don't think he has a chance at Barcelona whilst Enrique remains manager.
A loan to Sevilla followed with Deulofeu saying he was shocked by the situation. He failed to impress at the southern Spanish club and was routinely outshone by another Barcelona loan youngster, Denis Suarez. He needs to find his best form and Roberto Martinez believes he can help with that.

Paul Thompson
143
Posted 15/06/2015 at 11:14:19
I was just about to post the same details as #142. This is good news, though the buy-back is unusual to say the least. It's like a reverse loan. In effect, if Barca bought him back at the end of year one they would have paid us €3M for making him a better player.
Stuart Mitchell
144
Posted 15/06/2015 at 11:20:56
Not sure how buy-back clauses work. We would obviously have to accept the agreed bid, but could Deulofeu reject a move back?
Surely he could not be guaranteed game time over the first 2 years with the current talent Barça have.
Phil Sammon
145
Posted 15/06/2015 at 11:25:38
Yes, Stuart. We would have to accept a bid, but he would have to agree personal terms with Barça.
Jim Knightley
146
Posted 15/06/2015 at 11:26:41
Buy-backs are a characteristic of Spanish deals, especially those of Barcelona and Real Madrid. For some reason, it is rare in England, although it has obvious financial benefits. Arsenal had one on Carlos Vela I believe, and made several million when they agreed to cancel it when Vela signed a new contract (some sources report up to €12M).
The problem for us is not necessarily the prospect of Deulofeu going back to Barcelona. Messi will be around for another 4 years I'm sure, and Pedro is another option for the right, whilst Neymar will be at Barça for the next decade. I also expect that another winger or youth will make the squad in the next 2 years. The problem may be that Barça will use their buy back clause to profit from the sale of Deulofeu to another club, in the way that Real have in the past (that basically happened with Negredo).
If Deulofeu becomes a success after 2 years, and wants a move to a Champions League club, Barça could exercise their buy back and then sell him to a non-threatening rival for €15-20M, diminishing our profits in the process.
Whilst I do not like the idea of a buy-back clause, there is a little we can do about it. It is also a reflection of the small fee. If this guy was English, we'd be talking about a €10-15M buy (look at how much Zaha went for initially!). As it is, we will get him for half of that.
Steven Jones
147
Posted 15/06/2015 at 11:54:52
Jim, great analysis...
Tom on a free and Geri on a low start gives us the impetus to get another two signings and perhaps another good loan or two.
The skilfull creative No 10, left-sided CB, and a left-sided winger would be the wish list...
Along with 2-3 U21s being promoted into the squad would give real momentum going into the new season to really attack the League and the League Cup with serious intent.
Erik Dols
148
Posted 15/06/2015 at 12:18:01
Steven, I would love to see a new goalie as well.
Stuart Mitchell
149
Posted 15/06/2015 at 12:22:45
Van Dijk from Celtic would be a great left-footed CB purchase and not crazy money to get him. Young and could form a great partnership with Stones.
Michael Ward
150
Posted 15/06/2015 at 15:30:10
I know this is wild speculation but given Robert Firmino keeps getting linked with a move to England and his asking price seems to be a fairly modest 㾹m, is there any chance he could be the No 10 we are after?
Stuart Mitchell
151
Posted 15/06/2015 at 15:49:20
I am sure I read somewhere a while ago that we had scouted Firmino.
Geoffrey Risebrow
154
Posted 15/06/2015 at 16:13:17
Deulofeu has definitely got ability, so if it goes through, I really hope the move benefits Everton! I would be gutted if Barcelona bought him back though!
Liam Reilly
155
Posted 15/06/2015 at 16:27:46
Would like to get him but the buy back (if accurate) is a little patronising. "Prove yourself 2 years son and we'll buy you back just to sell you on for a massive profit to Tottenham".
If we're going after him then just go 'All In'; pay some more to get him but reap the rewards if he comes good. This deal makes us look like a small feeder club.
Tony J Williams
156
Posted 15/06/2015 at 16:33:00
Unfortunately Liam, that's because basically we are.
As are the other 13/14 clubs outside the Sky group in the league.
Take a chance on him I say, if he proves himself to be "that" good for the buy back clause, at least we had him for a while.
Gavin Johnson
157
Posted 15/06/2015 at 17:26:56
Very good news. I would have preferred it if we'd have put down a ٦M fee without any clauses. This deal means It's more or less an extended loan in all sense and purposes. I guess the small profit we'll make at the end of next season or the season after will pay for his wages.
I guess the probability of him staying beyond that also depends on our own success. After all, he's not a slave. He doesn't have to go back to Barca unless they earmark him for a first team place. That said, If we have another season like last he might be begging them to activate the clause.
Peter Morris
158
Posted 15/06/2015 at 17:35:47
The general tone of sentiment here is overwhelmingly positive. I'm more cautious to be honest. Despite the lad's undoubted raw talent, I sense that there are some maturity issues with his temperament.
He's clearly a self-centred egoist, in the personality mould of Ronaldo, if not the talent mould, but unlike Madrid, we don't have a massive squad to be able to soak up disruptive influences on team spirit, and I also question our manager's ability to deal with strong willed and selfish players. Hope to God this doesn't end in tears.
It's a play maker we need not another show pony.
Paul Hewitt
159
Posted 15/06/2015 at 17:52:31
He's signed, I've been told — announcement tomorrow or Wednesday!
James Flynn
160
Posted 15/06/2015 at 16:07:28
Deulofeu just got caught up in the numbers. A club like Barcelona isn't in the position to put him in the side unless he was ready made to play with Messi; a difficult ask.
LFC's Suarez? Ready made and then some. No doubt of that. Take a punt on a youngster? Hmmm . . . Neymar or Deulofeu? If we could have chose two seasons ago which of the two would we have had in? Deulofeu? No.
Nonetheless, he's a youngster with a ton of potential. If we see a picture with him posing holding up the Shirt smiling next to Roberto, let's hope he's pulled his head out of his ass before the picture was snapped.
James Morgan
161
Posted 15/06/2015 at 17:40:26
On a side note as it's not reported on here, who is Ragnar Klavan from Augsburg that talkSPORT have us in for.
Peter Morris
162
Posted 15/06/2015 at 18:21:37
Ragnar Klavan?
Sounds like the star of one of those 1970's German porn movies.
Aidy Dews
163
Posted 15/06/2015 at 18:21:20
Apparently Deulofeu will sign next week. Everything is pretty much agreed and the papers just need signing!
The fee is ٢.3m on a 3 year contract with the option of a 4th year but Barca do have buy back clauses inserted in the deal. They can buy him back in the summer of 2016 for €9m or summer 2017 for €12m!
The buy backs seem cheap but that'll be why the fee were paying for him is cheap, also I reckon to get Deulofeu here, we agreed to these buy back clauses as without them I don't think he would of signed permanently! At least if he's got the incentive and opportunity to maybe go back to Barca and play for his boyhood club one day, then I think that'll make moving to us and to England for good more appealing.
And according to Klavan's agent, we have made enquiries for him, James.
Colin Glassar
164
Posted 15/06/2015 at 18:49:08
He's going to have to be bloody brilliant if Barca want him back Aidy. Two good seasons for us won't be good enough for them, he'll have to be player of the year at least.
Stewart Lowe
165
Posted 15/06/2015 at 18:46:32
Let's all get a little grounding here on this one. I'm excited too at the prospect of this boy joining us permanently, but crowds and ourselves will be straight on his back if he doesn't produce the goods, or at least show that he has progressed from what we saw the last time he was at Goodison.
By mid-season, teams were beginning to suss him out as he got hold of the ball time and time again as and ran up the right wing, dribbled past a player and sent a low cross in front of the keeper. But he became single-minded and there was not a lot else he offered.
He needs to be allowed to come inside and play one-twos between the lines and thread balls through the oppositions defence. It didn't look as though he had the freedom to do this the first time around so let's hope he could be used in the Cazorla role (sat behind Lukaku) that we all hoped Barkley had already developed into by now.
Armando Canaj
166
Posted 15/06/2015 at 19:03:05
If this works out and he signs for us in the coming weeks, ToffeeWeb may potentially crash with all the posts of congrats to Bill K and Roberto M...
Gavin Johnson
167
Posted 15/06/2015 at 18:59:01
I'm not cynical enough to think Barça will just buy him back to make a profit selling to another non-threatening Champions League side (like how Chelsea operate). I think they'll only buy him back if they see him as a player who can come in and do a job for Barça – which is highly unlikely with the players he'll be competing against.
Drew O'Neall
168
Posted 15/06/2015 at 19:05:55
The deal will reportedly involve the player signing a three-year contract, with the option for another year, and Barcelona retaining a buy-back clause for €9m after two seasons or €12m the season after that.
Presumably, with a buy-back clause in place for the first 3 years, we cannot sell him, unless of course there is a sell-on clause too.
Really this is another loan except we get paid some money if we turn him in to a worldy.
I think I would want a buyout clause opposite their buy -back clause if I were in the Everton contracts department to protect our investment, last time I looked Lionel Hutz and Frank Spencer were doing the deals though.
Patrick Murphy
169
Posted 15/06/2015 at 19:27:39
Drew - Technically it is nothing more than a glorified loan but this time Del Boy won't have his eyes on a return to his parent club at the end of the season, he'll have to earn a recall to Barca by playing well for Everton and if he plays well for Everton we'll all be happy.
We've wasted far more money on others in the last few years without too much success. I think this is a pretty good deal given our paucity of funds.

Bobby Thomas
170
Posted 15/06/2015 at 19:08:34
Stewart #165
I don't know what player you've been watching.
Deulofeu just isn't the kind of playing in tight spaces & threading passes vision player you describe.
Him & Santi Cazorla are two totally different players. Deulofeu is a dribbler with excellent pace & will bring much needed width. Thats why he's going to be here. Santi, a player I love, is almost the polar opposite.
The kind of player you want I naturally hope we sign.
Peter McHugh
171
Posted 15/06/2015 at 19:53:39
It's not a glorified loan. If Barça activate the option, GD then has to agree to move. If he doesn't... no sale. A concern is they buy him back with a view to sell.
I would imagine most likely scenario if prove a success is we pay Barça more money in order to cancel their buy back option.
Seems a good deal for a club with our financial ability.
Stewart Lowe
172
Posted 15/06/2015 at 19:57:15
Bobby #170
Cheers for that comment. However, I wasn't assuming that Deulofeu was a Cazorla, I was suggesting that as Deulofeu has two great feet and very pacey too, a play-maker behind a main striker would suit his ability.
Just because he has lot's of pace doesn't mean he has to remain a winger. People forget that Henry was shifted from left winger to striker all those years ago, and would he have been wasted if Wenger had kept him on that wing? Absolutely. Now I'm not implying that Deulofeu is an Henry in any way shape or form, but let's not pigeonhole him as a winger and nothing else other wise his talents could be wasted. Players have to have more than one-dimensional if they intend to be considered as a great player in their careers. In his single season with us, he was beginning to get sussed out around mid season and he was becoming less effective as the season wore on. I remember the last few games he played for us and to be honest he looked a little frustrated at times.
My concern here is not of Deulofeu's talent, but how Martinez will utilise him. When we had Baines and Coleman playing brilliantly as wing backs and becoming highly prized assets for doing so, Martinez had tried: McGeady, Osman, Mirallas, Oviedo, Barkley, Atsu, Pienaar, Lennon and even Lukaku on the wings. What exactly is Martinez looking for in wingers that Baines and Coleman were not already doing – and making themselves 㿅M+ players in the process?

Stewart Lowe
173
Posted 15/06/2015 at 20:20:55
I think this puts Everton in a win-win situation.
Firstly, Deulofeu is never going to be such a big success at Everton that Barcelona will be clawing to get him back as the players they have right now are just world beaters.
Secondly, Deulofeu will be fighting his case and showing his best football for 3 years to prove to Barcelona that they should buy him back and only Everton will benefit from this.
It's a win-win.
Scott Goin
174
Posted 15/06/2015 at 20:00:29
I'm not a huge fan of Deulofeu. He's not a good team player and hardly ever looks up when he has the ball. With the attitude he has, he'll never change. I'm not surprised in the least that Barca is willing to let him go.
Still, all that being said, he's got good pace and great ball handling. At present, he's a good attacking threat and is capable of creating something out of nothing. With the low transfer cost and the buybacks, there's not much risk involved. We don't need the kid to become world class in order for this move to be a "win". We're basically getting him for free if Barça buys him back (transfer money plus wages).
Denis Richardson
175
Posted 15/06/2015 at 20:02:46
Delboys got no chance of getting into the Barca team in the next 2 years with the squad they have. If Enrique is still there it won't happen anyway. Given that it will look very odd if Barca wants to re-sign him within 12-24 months when they won't need him.
If a CL club comes in for him and he wants to leave in 2 years time, that's another thing – good offer then there's no point in keeping an unhappy player.
Lots of ifs and buts, main thing is that we've got him for the coming season AND he needs to prove himself after basically wasting last season at Seville.
€6M is a bargain though – I would much rather have Delboy than Lennon!
Dave Southword
176
Posted 15/06/2015 at 20:46:08
Hopefully the legal team will be able to construct a buy-back clause that will financially dissuade Barcelona from using it to flip the player for a profit.
James Marshall
177
Posted 15/06/2015 at 20:57:21
If Barça want to flip him for a profit, good luck to them. He'll be their player to do with as they please.
Personally I don't think he'll ever be good enough to play for them.
Ross Edwards
178
Posted 15/06/2015 at 21:06:28
Surely this deal will be done soon. It would have to take either a much better offer from another club or a breakdown in talks to prevent this from going through.
Although this is Everton, something is probably bound to happen. Surely we can't possibly get gazumped by a fellow PL rival? If somehow we were to miss out on him, I'd prefer it to be another Spanish team. If West Ham somehow beat us to him we'll never hear the end of it.
Geoffrey Risebrow
179
Posted 15/06/2015 at 20:56:30
Who has told you he has signed, Paul (#159)?
Tom Dodds
182
Posted 15/06/2015 at 21:51:05
Best all-round scenario is he is another Landon Donovan... ie, great for us but not that great for Barça.
Ben Jones
183
Posted 15/06/2015 at 21:54:23
I think it's a great signing, we've all seen his talent and potential, that isn't going to change after one bad season with Sevilla.
The buy-back clause is a concern though. People are forgetting why big clubs have buy-back clauses. They use them as profit gainers. If he does well, they will buy Deulofeu back then sell him off again to the highest bidder. The only question I have is if Barca trigger that clause, could Deulofeu say no thanks?
But we need a luxury creative talent, one major problem last year was we couldn't break teams down. Mirallas was the only one really capable of magic. We need another. And then the team player instance, him staying forward stifles the full back. Did anyone see Coleman's performance decline in the second half when Anya came on?
Good signing all round. We just need Pienaar back fit, or a hard working creative player in the left (very hard to find, I know!!). Maybe Cleverley is the answer. It's where he played under Roberto after all.
Rob Halligan
184
Posted 15/06/2015 at 22:32:25
http://www1.skysports.com/football/news/11671/9886116/Everton-set-to-sign-barcelonas-gerard-deulofeu-on-permanent-deal
Jamie Sweet
185
Posted 15/06/2015 at 22:13:15
The buy-back clause could possibly work in our favour more so than just buying him outright (which would also have cost us a hell of a lot more up front).
If the Lukaku deal had a similar clause for him to return to Chelsea, I can't help but feeling we would have seen a slightly different attitude.
Deulofeu will have to have a couple of very special seasons for Barca to even consider bringing him back, and so with some question marks already out there regarding his attitude, I would have thought that the prospect of a return to the best club side in the world should help to keep him very focussed on the job.
While I'm not suggesting that every deal should be tailored like this, it seems to create a good opportunity for us to see some potential world class stars at Goodison without having to pay astronomical fees.
Imagine some of the magic moments we will have witness if indeed he does rise up and meet the Barcelona standard. All for the price of a semi-decent Championship player.
Mike Keating
186
Posted 15/06/2015 at 22:31:45
My God - the Daily Mail just might have got one right for a change - time to bare all in Burton's window.
Nigel Gregson
187
Posted 15/06/2015 at 22:37:33
Wow ٠.2m with buy-back which is even cheaper than what I thought originally. Incidentally I don't think he'll ever be bought back, since, once Barcelona's transfer embargo is lifted, they have the choice of the entire planet's best ready-made players.
John Malone
188
Posted 15/06/2015 at 22:37:14
Welcome back Gerry! Hopefully you can help us to 72 points again and Barça won't need you back!
€3 million!!! Roberto had his black gloves on when he sorted this one out, a steal at that price!
Jamie Sweet
189
Posted 15/06/2015 at 22:37:41
Plus, if they do trigger the buy-back clause, then we automatically sell him for a profit.
A glorified loan deal some have said, and there is an element of truth in that, but it is a deal far more weighted in our favour than a regular loan agreement.
John Malone
190
Posted 15/06/2015 at 22:41:28
Blue Bill a typical scouser robbing when he's in Spain!!!
٠.2 million for that potential great business! The buzz is back!
Dennis Ng
191
Posted 15/06/2015 at 22:48:22
This happened one season late but good deal nonetheless. Are the €9-12M buy-back terms confirmed? That's not bad actually, depending on the salary he agrees to.
Ross Edwards
192
Posted 15/06/2015 at 23:41:50
An absolute steal. What a brilliant piece of business. Obviously far from the finished article but what an exciting player we're getting.
Now all we need is a CB, maybe Van Dijk, a left winger if Mirallas leaves, Payet would be perfect, a playmaker, Cabaye would be excellent, and maybe a striker. Podolski is linked, he'd be decent if that happened.
Tommy Webber
193
Posted 15/06/2015 at 23:25:50
A step in the right direction!
Nick Entwistle
194
Posted 15/06/2015 at 23:10:58
I've not read all the comments, so this may have been said, but we're getting screwed over.
If you minus the fee against the buy-back, let's go with the bigger amount after three years, that's €10M, minus the wages that he would have cost Barca (say €2M pa we will pay, he didn't want to go out on loan), effectively means over the three years they've paid us €1.333M per annum as our development fee.
On his return, Barca have the player's full market value available to them. The €4M fee, plus wages, say €2M over the six months leading up the next transfer window, means anything over €6M, and don't forget they bought him back for €12M, is pure profit.
Say €20M to Spurs, that's €14M in profit and does nicely for their FFP, especially given the possibility of having their TV deals turning arse over tit.
This is nothing but a perverse loan that makes Bill laugh first and Barça continue to operate at a world class level, taking advantage of poorly run clubs happy with a mediocre handout, and who will console themselves with a 'he was ours once' storyline.
John Pickles
195
Posted 16/06/2015 at 00:02:35
This will do for me. Welcome back Geri, the last player to get me on the edge of my seat every time he got the ball.
Dave Abrahams
197
Posted 16/06/2015 at 00:38:35
Ross (192) a centre back could be coming in very shortly; a concrete bid has been put in for an English player in that position, not an international but a very strong payer whose signing, if he comes, will please some and not others... but that is normal for ToffeeWeb isn't it?.
Ross Edwards
198
Posted 16/06/2015 at 00:50:12
It's not Scott Dann is it?
Nigel Gregson
199
Posted 16/06/2015 at 01:46:30
Dave, are you talking about Scott Dann?
Jamie Sweet
200
Posted 16/06/2015 at 03:11:00
Let's just not bother then hey Nick Entwistle?
No point trying something a bit different?
Let's just keep signing a few more Naismiths as it wouldn't possibly benefit any other club in the long run, which would be a travesty.
Do you think we should bother being a football club at all if we can't sign an entire squad of 㿊m+ players that are ours to keep for as long as we want them?
Jeez.
Victor Yu
201
Posted 16/06/2015 at 04:32:01
For $3M it is a no brainer.
Derek Thomas
202
Posted 16/06/2015 at 04:32:47
Barca can afford to let him go ( got plenty better?) and we can afford to buy him because we haven't got anybody better, so what's not to like
OK so they can buy him back for 6M yoyos after 2 yrs and 12M after 3 yrs. and if he does go for GBP20 M. they get 14. But if he turns out to be worth 20M we will more than likely be in a position to tell the potential buyer, only GBP20 M ...get lost, just like we have / will / did on the City none bid for Barkley.
But this is Everton on whom the negotiating gods frown on... ( or is it laugh at )
But all in all not the worst buy...up to now...potentially...in theory... if it comes off. Jeez no wonder we're so negative.
Darryl Ritchie
203
Posted 16/06/2015 at 07:00:00
Gerard in a blue shirt, no matter how the contract is worded, is a good bit of business.
Sam Hoare
204
Posted 16/06/2015 at 07:10:51
I'm excited. No doubt he will frustrate hugely at times but has great potential and offers that little bit of magic dust in the final third. If Barça do buy him back it will be because he has done very well and we will have had a high performing player for free essentially.
If finalised, then to bring in Deulofeu and Cleverley for under ١M is great business and a solid start to the Summer spending. We just need a CB and most crucially a creative AMC next. I would be very happy with Dann and Kagawa.
Ian Jones
205
Posted 16/06/2015 at 07:23:26
I was quite critical of Deulofeu when he was here. Excellent on his day but equally annoying. To be fair, he never seemed to get the run of games required to get into his stride for a few reasons, mainly injuries.
On some days, as many of us on here have noted, he has to be one of the most frustrating players on the pitch. Whilst he has faults like all the players do, if he comes to the club, let us all embrace him and encourage him. We have all seen what he is capable of. Perhaps he tries too hard but if he can get Lukaku and Barkley and the rest of the team firing on all cylinders, we could be in for some interesting games and times.
If signed, however odd the deal is, praise should be given to Martinez, our Chairman and everyone at the club including the fans because Deulofeu is buying into Everton. He doesn't seem the type to do what he is told. He sees our club as worth coming to.

Colin Glassar
207
Posted 16/06/2015 at 08:08:47
There's a great 'rumour' on a gossip site that I've never seen before, London24, which says that Everton and WHU are leading the race to sign Gerry.
Interestingly it goes on to say that Spurs, Valencia and Seville are all interested in him. Seville? Seville? They've just kicked him out!! You'd think these arseholes would at least do a bit of research before they print this crap.
Ian Jones
208
Posted 16/06/2015 at 08:17:31
Colin. I also love the rumours about Barcelona buying all these players this summer whilst being banned from buying until January 2016. Who knows how transfers work these days. :)
Re Gerard. I suppose the more the supposed 'deal' is talked about, the more interested other clubs become.
Colin Glassar
209
Posted 16/06/2015 at 08:38:12
Ian, the best ones are all the players linked to Man Utd. Every day, at least half-a-dozen new names are thrown out there as "imminent signings" for the Red Mancs. I suppose the law of averages means that one or two of them will be right.
Mike Keating
210
Posted 16/06/2015 at 08:35:24
Colin (207) no doubt the close season is the time for circulating the kind of crap that oils the wheels of this agent-led industry but my main concern about this amazing deal is (if true) why are other clubs not joining the hunt?
Colin Glassar
211
Posted 16/06/2015 at 08:51:38
Mike, this deal was basically done before Xmas. Remember we tried to get him in the summer but Luis Enrique decided a Spanish club would be better for his development. When things didn't work out as expected, Everton jumped in and, verbally, tied him down for this summer.
Other clubs can sniff around as much as they want but we were always his first option and Barça have been happy with that.
Mike Corcoran
212
Posted 16/06/2015 at 09:06:20
Why do supporters get so bogged down in the financial side of a deal? We can't affect these outcomes. He comes, great, and he will feel the lurve and hopefully give his all for a few years and become the world beater (sooner rather than later) we all want him to be. Teams and players evolve and change, it's pointless trying to speculate on future worth, contract clauses, etc. players will always come and go.
If you're coming, Gerry, then welcome back, kid.
James Marshall
213
Posted 16/06/2015 at 09:23:53
I agree with Mike, above – getting bogged down with the financial details doesn't really serve anyone in a positive light. The deal is what it is, and we (Everton) are no different to any other club in these matters.
Spanish clubs often put clauses in transfer deal that involve buy-back options, this is nothing new at all.
I see that Guillem Balague is on Sky saying the deal is going through now, and he's usually right about things.
Also, the Express are saying RM is still looking to sign Lennon as well. I hope so, and wonder if that means Mirallas is on the way out?
Andrew Ellams
214
Posted 16/06/2015 at 09:24:43
I can sort of understand people wanting to know what we will be paying for a player, especially when it appears almost too good to be true like this one. But I don't get people who get bogged down in how much we might be able to resell the player on for at a later date.
Personally I hope he comes in, matures into a wonderful player and we never sell him.
Patrick Murphy
215
Posted 16/06/2015 at 09:39:53
If you have managed to watch Howard Kendall's interview with Ian Snodin via Everton TV there are 3 parts to it, recently you will see that he too had to wheel and deal in order to get the team he wanted. In order to buy Trevor Steven, he had to allow Steve McMahon to leave. He also said that when he arrived at Goodison the balance of the team was out of kilter with too many centre-backs and nobody occupying the right hand side which led to him buying seven players to the club in his first dealings but he would have happily settled for buying Bryan Robson and using all of his budget on one player.
The difference between then and now is that every detail of every deal is poured over in greater detail by the fans but the only detail that matters is what that player delivers out on the pitch the greater number of players producing good performances will help the club get positive results and nobody will care about the small details or high costs of the players involved. I hope that Roberto realises that the team has to have a balance to it because that's the best way to play even in the modern era.

Neil Wood
216
Posted 16/06/2015 at 10:30:42
I hope it goes through and we get the conformation today. I will even pick him up from the airport and give him a lift to Goodison if he wants!!!
Talking of further activity, here's hoping a solid CB comes next...

Dave Abrahams
217
Posted 16/06/2015 at 10:55:15
Ross (#198) and Nigel (#199) – yes; Scott Dann has been very close to signing for Everton twice before but the deals never materialised... so we will see what happens.
James Marshall
218
Posted 16/06/2015 at 11:08:31
Neil - I'd be surprised if you see him in an Everton shirt before next week from what I've read. It seems he hasn't signed for us yet, and these things take time given that he (the player) probably has a lot to sort out with regard to living/moving arrangements & so on.
He's been living temporarily in Seville don't forget, probably has a home in Barcelona and still has to sort out everything in Liverpool. Not something that will happen overnight if you put yourself in a similar position, even when you add to that he has the help of the various clubs/agents etc to sort things out.
Who knows what loose ends the player has to sort out before he arrives in Liverpool to actually sign. One would imagine they'll need to get everything in place before he comes over, otherwise he's having to make more than one trip – unless of course he just comes over for a day, signs, holds up a shirt then buggers off again.
Who knows!
Shane Corcoran
219
Posted 16/06/2015 at 11:22:30
If fans only discussed what they can affect then ToffeeWeb would have cyber tumbleweeds rolling across it.
The price that a club like Everton can sell a player on for is a major point to consider as, like it or not, Everton are a selling club unless they get the much sought investment.
Phil Walling
220
Posted 16/06/2015 at 12:21:49
TWers doing handstands over Everton signing a player so recently named in a La Liga 'Worst XI'; whatever next?
But then, these days, we must be grateful for any signing that didn't once play for Wigan, mustn't we?
Tony J Williams
221
Posted 16/06/2015 at 12:34:00
I don't often resort to this but... fuck off, Phil, no-one is doing handstands. Posters are just happy that we are getting a lad with potential from the European Champions.
Better than getting some no-mark from Wigan, you see there is quite a difference from a side relegated to the old 3rd division and a team that has just won the European Cup and the loan side the Cup Winners Cup.
It's a low priced deal that, even if it goes tits up, it's still only half of what we paid for Kone.
No major downside here really.
Joe Foster
222
Posted 16/06/2015 at 13:02:22
I think it's more of a "cartwheels" expression anyway.
Phil Rodgers
223
Posted 16/06/2015 at 13:13:25
I'm doing a handstand right now..
Mike Corcoran
224
Posted 16/06/2015 at 13:18:17
I'm doing a hatstand...
Nicholas Ryan
225
Posted 16/06/2015 at 13:21:06
Mike 186 ... 'bare all in Burton's window' ... I always thought it was Lewis's window [the huge one opposite the Adelphi]. Anyway, interesting that neither of them is there any more!
Sam Hoare
226
Posted 16/06/2015 at 13:59:27
Phil (#220), I often think there is a lot of sense in what you say but you are becoming increasingly dour and miserable. No need to ruin other people's fun!
Brent Stephens
227
Posted 16/06/2015 at 14:12:20
He never really did it for me when he was with us – flattered to deceive. BUT there's something about him that still excites me – he WILL run AT a defence.
I would like this for the price if it comes off. Come on Roberto, pull it off(!).
Phil Bellis
228
Posted 16/06/2015 at 14:29:42
Mike (224)
Dirty sod
Anthony Hawkins
229
Posted 16/06/2015 at 14:13:35
There's lots of talk about bringing in team-players to the squad. The problem we have and have had for too long is having too many team players. The team lacks aggressive players, a strong leader and someone to pull players into line. Remember the Phil Neville tackle that galvinised the team or the Tim Cahill aggression that kept the team going? The team needs a player who does that regularly.
I salivate when thinking of a midfield with Mirallas, Barkley and Delboy. The team needs some single-minded players who are going to have a go for goal.
The team has too many players with the 'after you' mentality. We need players who want the ball and will fight for it!!
Neil Wood
230
Posted 16/06/2015 at 14:45:19
James @ 218..... Completely agree however.... I have tweeted him offering him a lift from the airport and digs at my house for a while ...... Surely that should swing it!
Andrew Ellams
231
Posted 16/06/2015 at 14:55:38
He could just pop over and sign the contract and then go home and sort out his affairs. Is he in the Spanish squad for the U21 Championships?
Andrew Ellams
232
Posted 16/06/2015 at 14:58:20
They didn't qualify... so obviously not.
Kris Boner
233
Posted 16/06/2015 at 11:55:10
There are several problems with the way Mr Entwistle puts the idea of flipping a player with a buy-back clause in my eyes.
Firstly, the buy-back clause will require the player to agree terms to which they are suited, which considering he would be potentially in the last year of his contract, would be against his own interests as he would able to sign a much more lucrative contract with another team if his transfer fee was lower. So, in essence, if he decided to re-sign for Barcelona they would have to offer him a contract that would see him on greater terms than Everton or another club for a decent timespan.
But, if they intend to flip him, that leads to problems for the buying club.
If Gerri did sign for Barcelona, it would only be for a contract that would see him staying at the Nou Camp for a reasonable time, which means a buying club would instead be paying to buy him out of a contract that is not only on better terms than at Everton but also on a longer span, three years for example instead of one at Everton, which would yes increase his market value, but also make it less likely anyone would try and sign him when they could just approach Everton, when he is on a shorter, less valuable contract, and thus cost less in a transfer fee.
By not signing him through Barcelona as an intermediary, they would save money in the long run and Gerri would most likely receive better terms in the long run.
In conclusion, the buy-back clause, for me, is only an insurance that in the next two years Barcelona haven't dropped a clanger like Chelsea and Matic and can get a world class talent back for less than would be expected.
If my reasoning isn't good in some areas, please tell me... because I'm struggling to see the massive failing of Everton in this negotiation but I am open to being enlightened.
Geoffrey Risebrow
234
Posted 16/06/2015 at 14:50:27
I agree with Tony J Williams. The negativity from Phil is totally uncalled for! Phil normally speaks a lot of sense to be fair. Nobody is getting carried away but Deulofeu is definitely a positive and ambitious move. Much more exciting than McGeady, Alcaraz etc.
Eric Myles
235
Posted 16/06/2015 at 15:35:56
Kris (#233), but if the buy-back clause stipulated Barcelona have first refusal, then we can't sell to anyone else unless Barça pass on their option first.
James Marshall
236
Posted 16/06/2015 at 15:36:18
I did some press ups, some sit ups and a few burpees this morning - each one accompanied with the cry "DEULOFEU!".
No hand stands though.
Neil@230 any response?
Kris Boner
237
Posted 16/06/2015 at 15:44:33
Indeed Eric, but that doesn't incentivise any club to come in and buy him from Barcelona nor does it incentivise Gerri to sign a short contract like they would require to make the kinds of profit being discussed.
Barcelona would be the only party gaining from this arrangement and thus making it incredibly less likely any other club or the player himself would agree to it, regardless of Everton being powerless in the arrangement.
Jim Knightley
239
Posted 16/06/2015 at 15:44:31
Good point, Phil. We should not be excited about a cut price deal for a fantastic young talent, who has already impressed during a loan spell, because a paper named him in a worst eleven. Just like the likes of Ozil and Ramsey would have been named in worst elevens too.
I actually would do a handstand, if I wasn't worried about the effects on me and those nearby. It's an outrageously low figure for an extremely talented player. It does not matter that it did not work out at Sevilla – that often happens with young players bumped around between clubs. It is also been a part of the histories of a fair few success stories at this club, and I think the purchase of Deulofeu could well be up there with the signings of Pienaar and Arteta in the future. Coquelin also notably returned to Arsenal from a pretty average loan spell...
Luckily Phil, I think your over-pessimistic viewpoint is not replicated by the majority. Just wondering – who did you expect us to be signing? Last time I checked we did not have deep pockets, nor Champions League football, to attract the world class stars courted by the top 4. Personally, I'm as pleased about this deal as I have been about a deal in a while. I was pleased about Lukaku, but the big fee was always going to be a problem. We don't have that issue with Deulofeu. We have got an extremely exciting player for one tenth of a Lallana.
I'm also hopeful that the relatively small amount of money invested in the two signings so far (assuming all goes ahead as planned) will leave money to invest in the creative midfielder and central defensive replacements we need.
Tony Abrahams
240
Posted 16/06/2015 at 15:59:48
Phil, you have had too much of that Cypriot sun and it will never beat Goodison Park under the floodlights, mate!
Patrick Murphy
241
Posted 16/06/2015 at 16:20:28
Joe Royle on the official website had this to say about Roberto during an interview about Joe's new role at the club and how things have gone in the first twelve months or so...
Joe said "The manager is what he seems. He is a really nice guy, a brave guy bringing an ex-manager in. Not many managers would do that! He is secure in his relationship with the chairman and with me. We are good mates and he is a good guy."
If he's good enough for Joe, he's good enough for me, as long as Roberto produces a winning team of course.
Mark Tanton
242
Posted 16/06/2015 at 16:48:33
If you need to remind yourself of his potential impact what his roasting of Liverpool in the 3-3 draw on YouTube. Doesn't always make the right decisions but stuff happens because of him. Rewatch it. It's joyful.
Phill Thompson
243
Posted 16/06/2015 at 17:13:27
It's all about potential isn't it, and I would imagine Roberto would be relishing the challenge of releasing it.
There is an interesting quote from Dick Emery the Sevilla manger which sums Gerard up nicely: "He doesn't have the maturity of capacity for sacrifice yet" I.e. He's a great individual to have but getting to play for the team won't be easily. But that's why he's the price he is.

ps: Somebody needs to check out his birth certificate before we sign him, the Spanish sometimes use their second name. He could be called Estaban Gerard Deulofeu.....Estaban being the Spanish equivalent of Steven.
Yep – we'd have our own Stevie G.... eeeek
John Voigt
244
Posted 16/06/2015 at 17:22:28
Signing Del Boy is a good move. We need to take a chance on someone and at least we know somewhat what we're getting.
It also means we won't overpay for Aaron Lennon. If Spurs offer to sell Lennon I'd be a buyer.
Our Blues need impact subs and having both Del Boy and Lennon to compete for the right wing spot would be a big step up in what we had this year on the right wing.
On the high side a combo of Del Boy and Lennon might get around 10 goals scored between them.
Keith Glazzard
245
Posted 16/06/2015 at 17:45:42
He knows his way to the training ground; we know what we would be getting, an exciting player who would be committed to the cause – all of what you would want in a signing. And that describes Deulofeu and Lennon. I hope we can get them both.
Phil Walling
246
Posted 16/06/2015 at 17:46:53
I bow to the majority who base their judgement on the same evidence as is available to me.
Playing for us I saw him as very much a show pony whose magic moments were few and far between. As to why he should do better this time round after playing hopelessly in a less demanding competition, I fail to see.
But we all have to hope that Roberto has got it right for a change!
James Marshall
247
Posted 16/06/2015 at 18:09:44
Phil - I agree he's a bit of a one trick pony who's end product is questionable. He all too often runs out of play or squares the ball along the floor to the keeper. His ability to cross the ball is pretty average, and he doesn't score enough goals.
Aside from all of that, the reason I see that people are excited about him coming back, is that last season we were pedestrian in possession, and Deulofeu only knows how to play fast, direct, attacking football. The one thing we were missing last season.
This for me is the reason people are excited.
Ray Said
248
Posted 16/06/2015 at 18:18:04
I don't think he can be described as a 'One-Trick Pony' – he always seemed to have plenty of tricks when I saw him play.
James Marshall
249
Posted 16/06/2015 at 18:25:37
He has a few tricks, but he can only pull off one of them. Usually the one where he shows his cards before the punchline. If you see what I mean!
I'm actually pretty excited anyway, despite my view of him. Having watched him from very closeup on the touchline a few times, he does get the heart racing, so fuck it, I'm excited! :)
Paul Burns
250
Posted 16/06/2015 at 19:09:47
He's a good player who runs fast directly at defenders with the ball.
It's a trick no-one else in the squad has.
John Maddock
251
Posted 16/06/2015 at 19:42:41
This is great news. The "Buy-Back" part doesn't bother me one bit. Even if the return fee is low. That will only happen if he has a "Phenomenal" season for us (pardon the pun), and if he does, we will be right up there at the end of the season.
What does make me laugh, is the fee and the comparisons people are making today of Del Boy ١M, Sterling 㿔M... the Redshite fans appear envious. Neither are proven, but I know which one excites me more. Great business for us.

Ian Glassey
252
Posted 16/06/2015 at 19:32:49
I hope that we get him, he is the last player to have me on the edge of my seat. Things will be a lot more exiting than last season.
Neil Wood
253
Posted 16/06/2015 at 19:50:27
James @ 236........ Made me nearly spit my lasagne out!!!!
Above comments comparing a fee of 㿊 million for lallana..... Or ١ million for GD..... I know who I would rather have.
Steven Jones
254
Posted 16/06/2015 at 20:19:24
Deulofeu will stretch defences and be the balance with the patient passing and turn defences.
I just hope that Rom can intercept the Delboy cross along the ground in the 6-yard box ... it is so predictable that we should have someone on the end of it. As he hits the bye-line, we should be having bodies committing themselves to the near post.
Talking about posts ....some great posts, guys ... the deal is amazing and gives us a chance to get 2 or 3 more quality signings on top this Summer... Also puts pressure on Spurs for Lennon and let's us sharpen up KM or be OK to get rid of him if a decent offer comes in.
Stephen O'Donnell
255
Posted 16/06/2015 at 20:53:04
We may as well have got Gerry back on loan if Barça have a buy-back clause in 2 years.We should have done this with Gary Lineker years ago....
Where's our new keeper to replace Howard? Had enough of him now....
Stephen Brown
256
Posted 16/06/2015 at 21:11:23
This is a no-brainier if the fee is correct! ١M doesn't get you much these days. Jordan Rhodes and Ross McCormack cost about 㿅m between them!
No handstands here but very optimistic about this signing! No substitute for pace in football!
Ernie Baywood
257
Posted 16/06/2015 at 22:21:57
He's been the one that I wanted this summer for quite some time so it's great to see it happening.
Sometimes you just need that player who can excite, create something out of nothing, get you out of my seat. My kids are thrilled he's signing and that's a big deal to me... kids need blue idols.
We know he has some shortcomings right now but he could be anything. What he did to Liverpool was amazing to watch. That he didn't actually assist or score in that match highlights that he still has to improve.
The idea of him, Rom, Stones and Ross hitting their mid twenties in royal blue is something to look forward to.
Tom Bowers
258
Posted 16/06/2015 at 23:11:39
Have to agree, for a lad of his talent, the fee is amazing. He gives us more options and there is no doubt he knows where the net is.
The question is whether RM will give him lots of playing time and not 10 minutes off the bench here and there like he has been doing with others.
Call me an optimist but I cannot believe next season will be as bad as last but how much improvement will there be under RM?
Alan Ross
259
Posted 17/06/2015 at 00:12:13
So when is it going to happen? The suspense is fucking killing me.
Abhishek Saha
260
Posted 17/06/2015 at 03:06:00
Alan, reading about it, it appears a certainty now. I guess it would be done on 1st July.
David Ellis
261
Posted 17/06/2015 at 05:06:08
I see the buy-back option really as Barca being able to share in the upside if his value increases above the buy-back price.
I doubt they will buy him back, but they could use the threat of buying him back to demand more money from Everton if his market value shoots up. This in exchange for a lower price Everton are paying now makes total sense to me.
But expect us to have to pay a few million more in a couple of years time to hang on to him... if things go well.
Kris Boner
262
Posted 17/06/2015 at 08:11:05
David Ellis (261) I've said this before, the only reason Barcelona have added a buy-back is just in case with regular football he turns into a world beater.
There is no logical financial incentive for them to put a buy-back in, in the interest of trying to make more money. They wouldn't be able to flip him, they couldn't logically use it as a way of fleecing Everton of any more money than what was discussed in the original negotiations, and after the second summer, the clause will cease to exist.
Victor Yu
263
Posted 17/06/2015 at 08:13:45
If things go well (ie, he forces his way back into the Spain squad), then there is no way we can hang on to him. I like him and will enjoy his time here but don't expect him to be here for more than 2 years if things work out well (or he would have signed a 5-year deal instead of 3 + 1).
Erik Dols
264
Posted 17/06/2015 at 08:34:47
Kris Boner #262 yes they could. Supposed Gerard did great did for us, and AC Milan was interested in him and negotiated a fee of 㿀m with Everton. And supposed Gerard wants to play for Milan. Now Barcelona could step in and say "we'll buy him back and immediately sell him to Milan for 㾾m". Milan would be happy, Barça would be happy, Gerard would be happy. This is not so uncommon in South Europe.
Another option is for them to say they will activate the buy-back clause unless Everton pay a fee.
Enough options for Barça to make money. Still, great deal for Everton if they pull it off.
Colin Glassar
265
Posted 17/06/2015 at 08:57:24
Alan, he's on holiday. Everyone is chilled and happy about the deal. There's no rush now.
Brian Wilkinson
266
Posted 17/06/2015 at 13:16:56
Get rid of the transfer deadline end of August/1st Sept and instead have the deadline as August 1st; this will give time for teams to sign or offload players, before the season starts.
Mark my word, this homegrown rule is going to make the mega rich clubs stronger, and weaken the rest by them snapping up home-grown players and offering them ridiculous wages.
Instead, why not bring in that those 5 players have to have come through your own academy and not another team's one? It will not happen as long as Sky have their darlings, things will not change, so be ready for stupid wages being offered for homegrown talent.
Andrew Ellams
268
Posted 17/06/2015 at 13:37:06
Brian, to be fair, we have benefitted from the homegrown rule with Tim Cahill and Romelu Lukaku who aren't even British. It's all a bit of a farce.
Eric Myles
269
Posted 17/06/2015 at 13:36:36
Patrick #241, he's hardly likely to announce to the world that his boss is an arsehole now is he?
Patrick Murphy
270
Posted 17/06/2015 at 13:38:07
Brian the whole deadline thing is ridiculous and the dates are in place so that teams who qualify for the CL group stages via the play-off games can spend money without worrying about failing to qualify.
If it stopped the football gossip, there may have been some merit in the deadline; perversely it seems to have increased the need for the media to run speculative stories every hour of every day.
The other downside is, if a club such as Everton are having a bad time, they can't boost morale by signing a player or selling a player who isn't performing until the next window opens.
Patrick Murphy
271
Posted 17/06/2015 at 13:46:46
Erik – True and fair point, however, he doesn't have to wax lyrical about him either.
Ian Bennett
272
Posted 17/06/2015 at 18:58:20
It will be interesting who leaves as we still have too many on the back-up list, considering we still need 3 from a left-sided player, a Number 10, a striker and a centre-back.
First choice: Howard, Baines, Coleman, Jagielka, Stones, McCarthy, Deulofeu, Mirallas, Cleverley, Lukaku, Barkley, Naismith, Robles.
Development: Browning, Garbutt, Galloway, etc.
Back up: Hibbert, Gibson, McGeady, Oviedo, Osman, Pienaar, Kone.
Ernie Baywood
273
Posted 18/06/2015 at 03:23:47
Just want this to be announced now. I miss the days when the first thing you knew was when you picked up the paper and there was a picture of the player at the club.
Even Lukaku's deal seemed to happen quickly.
Dennis Jones
274
Posted 18/06/2015 at 17:00:47
There are too many comments for me to be sure this hasn't been said before, but as regards the buy-back clause, I don't think Barca have a reputation for being dishonest traders. However, If Gerard does significantly increase his value, I can see another club approaching Barca in two years' time offering to buy him for (say) 㿀 mil if they activate the buyout.
In that instance Barca would have to pay the ٧mil (or whatever) to us. That would make the deal worth 㾷 mil to Barca. If he's worth 㿀 mil, there would be nothing for Barca to gain by refusing a 㾷 mil offer from us. The fee being quoted now would not be unreasonable for a two season loan payment, and a ٧mil discount after two years would seem a decent position for us to be in at that time.
Brian Wilkinson
276
Posted 18/06/2015 at 22:42:01
Andrew@268 I am not saying the homegrown rule should not apply, what will happen where you have to have 5 homegrown players, is that the top clubs will take all the best of homegrown from a lesser team, those lesser teams will still have to have 5 homegrown players less than average in their squad.
It's already started with Stirling being offered daft wages.
The same will happen with Stones, Barkley and others that have been bedded in at a club. The money-no-object clubs will just pay stupid wages.
It will never happen but Rugby League's salary cap has been fantastic and made Super League more balanced with more clubs competing now than 8 years ago.
Sadly they will never bring in a salary cap at football, more's the pity.
Tom Bowers
277
Posted 18/06/2015 at 23:17:35
Could well be just another bench player given the RM tradition so far unless the lad starts making worthwhile contributions right from the start.
He does possess tremendous skill but didn't produce it at Seville which is probably why the fee is so low.
Brian Keenan
278
Posted 18/06/2015 at 23:39:48
Does anybody know where he is?
Nick Entwistle
279
Posted 19/06/2015 at 10:33:40
Dennis 275, Barcelona not having a reputation for dishonest traders?
They're currently in a two-year ban on transfers due to their 'international transfer of minors' and were responsible for the most corrupt transfer of all time in bringing Neymar to the club.
However, we have to ask why would Barcelona not take him back in two years, where selling him on for anything over approx €5M would bring pure profit.
This has been dragging on. Did someone at the club read the thread?
Phil Walling
280
Posted 19/06/2015 at 10:53:09
Ian @ 272. You overlooked Barry whom we all know will start every game.
Ray Roche
281
Posted 19/06/2015 at 12:08:47
According to the Mail, the deal is in jeopardy with the forthcoming Barcelona presidential election on July 18......
Brian Murray
282
Posted 19/06/2015 at 13:26:20
So he won't be signing for us, Ray.
James Marshall
283
Posted 19/06/2015 at 15:00:47
Brian (#278)
He's on holiday. Check his Twitter feed.
Also, has anyone else seen the story about the translator getting the fee wrong? It's all a big mistake and they actually want 㿊m. Very funny.
Ross Hutchinson
284
Posted 19/06/2015 at 16:45:54
I was wondering what was going on too, Ray. After fishing the internet for an update, I've also read the story in the Daily Mail regarding a delay due to Barcelona's Presidential election. But I can not believe the Daily Mail's utter contempt for Everton in the article, it is totally shocking.
This is a direct quote from the actual journalist regarding the move and Deulofeu's apparent stumbling development: "The fact that he will kick off the new season as an Everton player proves that somewhere along the line things went wrong." Unbelievable!
Tim Greeley
285
Posted 20/06/2015 at 02:17:25
Delboy's latest Instagram had him sip-sip, sipping a chardonnay with some chica in an exotic locale. He loves little shorts.
And he will be OURS. Oh yes, he will be OURS.
Dennis Jones
286
Posted 20/06/2015 at 11:02:57
Nick (#279). I was waiting for someone to bite on the "honest traders" bit. There aren't any in football, unless it's us who seem to be a soft touch. FIFA didn't evolve in a vacuum. Nevertheless, the point I made is still valid.
If someone wants to buy him (can't see Barça wanting him back themselves) then they would have to outbid us by €12M, which seems to be the accepted buy-back figure. €6M for two years' loan (going rate) then €12M discount on full fee = not a bad position to be in. And if not a success, I'm sure we could recoup the initial fee by selling him to the Redshite (they'll overpay for anyone).
Dave Ganley
287
Posted 20/06/2015 at 12:51:21
Shame on you, Ross and Ray, for actually giving the Daily Shame the time of day.
Ray Roche
288
Posted 20/06/2015 at 13:20:08
Dave, I've got NO time for that rag, or any of the other Red tops or tabloids, I got the link via the NewsNow Everton website. It has all EFC related news from all different sources. Worth a look, although half of it is cack from the likes of the Star etc.
Andrew Ellams
289
Posted 20/06/2015 at 14:55:25
Brian @ 276, seeing as Alex Song is now subject of interest from Chelsea and Man City as he qualifies as a homegrown player, as does Romelu Lukaku and Tim Cahill, I think the whole thing is a pointless waste of time.
Colin Glassar
290
Posted 20/06/2015 at 23:39:24
As I mentioned a few days ago (#61), after we sort out Del boy his best mate, Sergi Roberto, will be the next arrival from Barcelona. Barça are happy with a loan deal but Martinez, and the player, would prefer a permanent move. Whatever happens, we will have our creative number 10 by the looks of it.
Dennis Ng
291
Posted 20/06/2015 at 23:44:50
Colin, looks like that feeder line from the Barca academy is back online?
Colin Glassar
292
Posted 20/06/2015 at 23:51:52
I'm quite happy to accept their young "rejects" Dennis. Better than the Man Utd ones.
Ross Edwards
293
Posted 21/06/2015 at 00:17:40
Any proof of this, Colin, or is this some amazing magical source that reckons that every single La Masia graduate is coming here?
Colin Glassar
295
Posted 21/06/2015 at 08:19:32
This summer or January, Ross. Loan or permanent deal? That is yet to be decided.
Sam Hoare
296
Posted 21/06/2015 at 08:28:20
Is Sergi Roberto a creative Number 10? Has he not primarily played the holding role a la Xavi and Busquets?
Either way, I like what I've seen of him.
Didn't Enrique come out recently and say that he wanted him to stay? And lets not forget that the upcoming presidential elections could change any Barça deals in the pipeline that are not already signed off as hopefully the Deulofeu deal is...
Colin Glassar
299
Posted 21/06/2015 at 12:21:24
Sam, Sergi was considered the natural successor to Xavi but it hasn't worked out for him. He's 23, ambitious and desperate to play on a regular basis. Barca don't want to sell so a loan deal could be our best bet. The kid is pure class.
Chris James
300
Posted 21/06/2015 at 12:30:08
Glasstradamus is in the house again!
To be fair, Colin was pretty much on the money last year, so if he's right again then colour me very excited. Two attacking creative players from the best club in the world on comparatively cheap deals would seem like pretty smart business to me.
Matt Traynor
301
Posted 21/06/2015 at 12:44:25
So not content with picking up Wigan relegation rejects, El Fraudo is now becoming the receptacle for Barcelona's cast offs?
Nah, doesn't quite ring true, but I wonder how long it will be before someone comes out with it...
I'm still reeling from the criticism over signing Cleverly early (when for years we berated the club for being the deadline day dash club).
Trevor Peers
302
Posted 21/06/2015 at 12:51:22
Who needs a scouting system when we've our Colin to sort out the incoming transfers. We'll see in August just what kind of players have actually been added, and if they have improved the team. Should be interesting!
Kris Boner
304
Posted 21/06/2015 at 15:53:51
How weird would it be if Glastrodamus just upped and revealed that he was Roberto Martinez all along? Almost like something out of a west end show...
Kev Thomas
305
Posted 21/06/2015 at 16:13:02
Is this a done deal now then?
Matt T, @301, as far as I know, we haven't signed either so keep your power dry; this is Everton mate, if a deal (whether player, ground, or manager) can be flipped up, you can bet your ring-fenced bottom dollar that it will be.

---
Add Your Comments
In order to post a comment, you need to be logged in as a registered user of the site.
Or Sign up as a ToffeeWeb Member — it's free, takes just a few minutes and will allow you to post your comments on articles and Talking Points submissions across the site.
© ToffeeWeb