Garbutt to commit his future to Everton
21-year-old set to sign new 5-year deal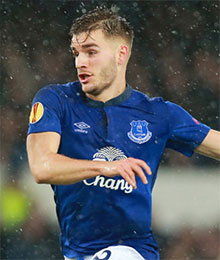 Everton have been boosted by the news that Luke Garbutt has decided to extend his contract with the club for another five years.
For the second time since joining the Blues as 17-year-old from Leeds United, the defender has run his contract down to allow him to assess his options and there were fears that he might move on this summer in search of regular first-team football.
It looks as though the fullback, now an established England U21 international with Premier League and Europa League experience with Everton, has agreed new terms at Goodison Park and will put pen to paper on a new five-year deal on his return from the U21 European Championships.
It is believed that he will be allowed to go out on loan to another Premier League club next season as the next step in his development, with Bournemouth and Swansea City linked with him in recent weeks.
Reader Comments (88)
Note: the following content is not moderated or vetted by the site owners at the time of submission. Comments are the responsibility of the poster. Disclaimer
Peter Fearon
1
Posted 21/06/2015 at 17:46:33
It's like a new signing!

Duncan McDine
2
Posted 21/06/2015 at 17:48:08
Very good news... Didn't expect it really! Let's hope it happens along with Del Boy... Not a repeat of the 'gentlemans agreement' please BK!
Colin Gee
3
Posted 21/06/2015 at 17:48:51
Good news that is, I've heard rumours that he is going on loan to Bournemouth once he sorts his contract out at Everton, no idea if that's correct or not.
Just passing on what I have heard.
Paul Hewitt
4
Posted 21/06/2015 at 17:54:17
Don't know about going on loan, Colin? He should be starting for us.
Ross Hutchinson
5
Posted 21/06/2015 at 17:54:57
Fantastic news.
Paul Tran
6
Posted 21/06/2015 at 18:02:56
Based on some previous comments on this issue, could we regard this as an endorsement of the manager?
Ross Edwards
7
Posted 21/06/2015 at 18:06:49
Any proof of this because the club hasn't said anything?
Alexander O'Brien
10
Posted 21/06/2015 at 18:14:32
Thrilled by this! 12-month loan to gain valuable PL experience to then be in a better position to challenge Baines. Who at that time will be approaching 32. Makes sense. Two new signings in the bag too. Not a bad start to our summer dealings.
Kev Thomas
11
Posted 21/06/2015 at 18:16:44
What's the source? Let's hope he's still not about to sign when July 1st rolls round and he's out of contract (in 10 days time).
As with all things Everton, I'll wait for to see the badge kissing and other non genuine displays of affection in the papers before I get carried away.
Mike Hayes
12
Posted 21/06/2015 at 17:53:23
Good news and I had heard for the past few weeks a loan move was mooted. Good to get game time and play every week to gain experience. It can only be good all round.
I'd sooner have him here than sold to develop at another club, albeit in 2016-17 season when we get the benefits. All good news so far.
Aidy Dews
13
Posted 21/06/2015 at 18:30:49
Great move. Glad he's signing up, the lad has a bright future. And a move on loan to another Premier League club for a season is a good move by us as well!
Hopefully he'll go to a club like Bournemouth and get games and kick on ready to come back to us and seriously fight for his place.
Jim Lloyd
14
Posted 21/06/2015 at 18:31:04
If he stays, it will be because Roberto wants him to. Kenwright isn't going to sign someone Robbie doesn't want. I think we've got a good manager and he has brought in some good young players, with hopefully more to come before the season starts.
If he keeps young Garbutt at the club, that's excellent news and I think he deserves credit if it happens.
James Smith
15
Posted 21/06/2015 at 18:37:57
Good news. I thought he was definitely leaving at the end of last season when he wasn't in the team despite Baines being injured.
John Maddock
18
Posted 21/06/2015 at 19:04:44
This is great news. I think he has been told that he will be Leighton's long-term replacement. Go on loan, get lots of game time and come back even better. I just hope we loan him to a team that play him regularly... Bournemouth, Swansea... teams that play good football and need a LB will be ideal.
Geoffrey Risebrow
19
Posted 21/06/2015 at 19:14:16
Great news! COYB
Jim Bennings
20
Posted 21/06/2015 at 19:24:59
You'd think that within the three-year period of that five-year contract he should have replaced Baines as the first choice left back.
Garbutt will maybe benefit from a short loan period this coming season to gain more experience and more physical power and mental strength.
Loaning him, Browning and Galloway can only help develop the lads into harder men and we can reap the rewards.
In three years, Garbutt who be 24, approaching 25 so he should be the main figurehead at left back by then but, if Baines hits poor form or suffers injuries in the near future, then I'd have no qualms or hesitation about putting Garbutt in.
Tom Bowers
21
Posted 21/06/2015 at 19:33:01
The lad has done the right thing. He played very well for England today.
Without doubt he will slot in nicely as a replacement for Baines who I think may be getting past his best on the defensive side of things.
Sam Hoare
22
Posted 21/06/2015 at 19:54:28
Great news if true. I think it makes sense for him to get a whole year on loan at Bournemouth. He should be first choice there and a year of that responsibility in the Premier League will benefit him hugely.

Eugene Kearney
23
Posted 21/06/2015 at 19:33:45
Great news. Hopefully good news will continue to flow in the next few weeks...
Deulofeu, Lennon + a decent striker + replacement for Distin... that's just the minimum requirement...
COYB.
Joe O'Brien
24
Posted 21/06/2015 at 20:16:55
Great news, thought like a lot of others that he was definitely gone. Perfect replacement to Baines down the line.
Bit weird that this is the 2nd time he's after leaving his contract run down. Is he always looking to see if better options are out there?
I think he's a quality player and delighted that he looks like staying but I've got reservations on his full commitment to us..
Lee Gorre
25
Posted 21/06/2015 at 20:22:42
Good news if true, but at 21 I wouldn't see the sense in sending him on loan. He should be challenging Baines now, who needs to improve anyway following a below average season. We need two players for this position and with Oviedo's fitness questionable, a loan wouldn't seem a sensible option.
Phil Walling
26
Posted 21/06/2015 at 20:32:45
Colin informed us of this news yesterday so is obviously well in the know. Methinks the Club will be seeking to discover the identity of his informer if he, himself, is not a 'plant'. Intriguing.
Colin Glassar
27
Posted 21/06/2015 at 20:53:26
Cheers Phil. We are forming a nice little group of young players, surrounded by a few old heads, aren't we? It may take time, as it's the only way we seem to be able to operate, but I strongly believe we are on the right track getting talented lads together like this.
Brian Hennessy
28
Posted 21/06/2015 at 21:02:40
Phil @26 You could be onto something there re Colin Glassar.
- Several correct calls on our transfer dealings before they were common knowledge.
- Unwavering support for Roberto Martinez when everyone else (including me) was calling for his head);
Has anyone actually ever seen Colin and Blue Bill in the same room at the same time???

Paul Ellam
29
Posted 21/06/2015 at 20:39:48
I will be delighted to see him signing the contract. Until then, cautious optimism – it's the only way to be with Everton!
Trevor Peers
30
Posted 21/06/2015 at 20:50:01
Is Colin agent Roberto in disguise? Feeding us news of phenomenal signings in the pipeline, keeping a firm grip on any negative vibes that may creep in during the summer months of anguish.

Drew Shortis
31
Posted 21/06/2015 at 21:29:17
Glad to hear this news. Makes sense for Luke and for Everton. Allow him out on a season long loan in the Premier League and he can come back and seriously challenge Baines for first choice.
Colin Williams
32
Posted 21/06/2015 at 21:29:38
Great news... now keep developing your game to compete for a starting jersey! Good luck lad!
Kelvin Thomas
33
Posted 21/06/2015 at 21:47:34
Well in Colin.
Eugene, no LM?
Ross Edwards
34
Posted 21/06/2015 at 22:06:08
If Colin is so iTK, can he tell me the following:
1) When is Martinez get sacked?
2) Who will replace him?
3) What are Saturday's lottery numbers?
Ian Smitham
35
Posted 21/06/2015 at 22:11:32
Sorry to be a bit dim, but he joined us from Leeds, but when and who signed him and for how much please?
Ray Roche
36
Posted 21/06/2015 at 22:19:13
Ian, if you have a look at his Wikipedia page, there's plenty of info on his career so far.
Steavey Buckley
37
Posted 21/06/2015 at 22:27:55
Luke Garbutt (who is now 22) was signed from Leeds for about 𧼐k in 2009 when he was about 16 years old. The sum was decided by a tribunal.
Chris Williamson
38
Posted 21/06/2015 at 22:48:20
Sensible decision by the young man.
Stephen O'Donnell
39
Posted 22/06/2015 at 00:01:45
Well in Luke Garbutt. You know it makes sense to stay with the Mighty Blues... COYB..
Nigel Gregson
40
Posted 22/06/2015 at 00:12:27
Agent Colin's been well in the know for over a year now. Last year he successfully predicted the signing of Lukaku. Just keep them coming mate!!
Michael Polley
41
Posted 22/06/2015 at 00:19:25
Good news. While Baines is still playing, he'll not get in the team, so going out on loan will benefit him. He has got potential to be the next Baines.
Darryl Ritchie
42
Posted 22/06/2015 at 03:23:43
There is still a ways to go in this window, but so far so good. A lot of positives and no negatives... yet. We still need a CB or two; a striker and a #10 would be nice, but left back is covered. Senior England AND England U-21 left backs wearing a Royal Blue shirt.
Victor Yu
43
Posted 22/06/2015 at 04:39:38
He is nowhere near Baines's level yet so it won't make sense for him to challenge Baines for his position this season. He needs to play and a loan to a Premier League club would make the most sense.
Chris James
44
Posted 22/06/2015 at 05:08:38
With Cleverly, Deloufeu, Garbutt all looking to be on the way / retained plus Lennon still possible and apparent interest in further midfield and striking options... it does seem like there's a lot of good work going on this window.
Which to be fair seems to be building on some pretty good work in previous windows (Lukaku + Barry x2, McCarthy, Deulofeu, Lennon, Robles, Galloway, etc). Okay, so Eto'o, Atsu, McGeady, Kone and Alcaraz may not have worked out, but I don't think any were totally terrible moves in principle and aside from Kone they did contribute in patches.
Of course there's still people who are determined to put the worst possible spin on every bit of activity or news ("We're not ambitious enough", "wasted all our money with a record purchase of one player", "not hard working enough", "not skilful enough", etc), but I for one am feeling a little more positive about our fortunes in the season ahead.

Richard Lyons
45
Posted 22/06/2015 at 06:21:39
Well, I would have thought he's pretty much good enough to be a regular starter already.
Whatever happened to the great idea of Baines-as-phenomenal-Philip-Lahm-type-player? If that happened, there'd be room for Garbutt in the starting 11, so he wouldn't need to go out on loan.
And anyway, I thought Baines was looking decidedly jaded towards the end of last season; maybe he'll come back from the break refreshed again, but if he starts the season on poor form...?
Paul Gladwell
46
Posted 22/06/2015 at 07:18:32
Great news, but I'm sorry – "Start him now before Baines"? – he couldn't lace Baines boots yet. The lad has potential but some are going over board because he whips a good corner in. He got skinned a few times in the few games he played last season, costing us goals too, and he's been pretty basic at best for the Under-21s so far.
Maybe it's because we expect so much from Baines as his level of performance dropped last season, but he's still way ahead of Garbutt in my opinion and we could do with the fans laying off the lad a bit too.
Jim Bennings
47
Posted 22/06/2015 at 07:42:31
Paul
To be honest I disagree with the above comment.
There has been no bigger fan of Leighton Baines than me; between the years of 2009 and 2013 we witnessed the best left back on England without a shadow of a doubt.
However, over the last 18 months, Baines has considerably lost some of the powers that made him that unplayable full back. It's not been the Leighton Baines I knew and loved, certainly in the two seasons Martinez has been here it's not been.
I understand he's had injury problems but I believe it goes further than this. I believe that Baines loses something to his own game when Pienaar is not in front of him.
What's apparent is Baines has not been very good the last two seasons on what he was always great at, scoring free-kicks, getting up the flank and whipping endless crosses in that resulted in chances. Somebody turned to me at the match against Sunderland and questioned "When did Baines last even beat the wall with a free-kick?" and it kind of made me question it to.
It hurts me to accept but I think we have seen Baines's best years gone by.
Tony Abrahams
48
Posted 22/06/2015 at 08:29:33
Maybe Colin is Robert Elstone!
Adam Luszniak
49
Posted 22/06/2015 at 08:22:33
Jim Bennings, I agree with a lot of your comment. Garbutt is probably more like the swashbuckling Baines of old; however, Baines is still a better defender (you would expect him to be given his experience).
Having said that, Both Coleman and Baines have declined in their effectiveness this season especially. I'm not sure this can just be attributed to Baines's star being on the wane, as it's happening to Seamus too and he should be at the peak of his powers. Part of it may be that opposition teams now set up to nullify their attacking threat.
You're right to ask "When did Baines last beat the wall with a free kick?", but we should also ask, "When did Coleman last skin a player on the outside?" He was doing this for fun season before last, and I can't remember him doing it recently.
Something in the way we set up in this last season was fundamentally flawed when it came to using the fullbacks as width in an attacking sense. I don't know if this was Roberto being a moron as some believe, or if we were found out as others believe, or if it's players' form declining. What I do know is we need to sort it out!
Dave Abrahams
50
Posted 22/06/2015 at 09:00:50
Those who think Baines is past his best should remember that Leighton struggled with an ankle injury for quite a lot of last season, he had an operation on it at the end of the season, so let's see how he performs when the season starts.
Eddie Dunn
51
Posted 22/06/2015 at 08:48:45
Could this be a sign that Baines may take longer than expected to get over the ankle surgery, and Martinez has had to have a re-think over Garbutt?
I would rather he didn't go out on loan as even a fit Baines could be rested at times, and there are the two cup competitions. We need two good players for every position, and although Galloway did well, he is more of a centre-back. Oviedo may also be struggling, I haven't heard anything of his progress. He of course could be accommodated further forward.
Any loan move for Garbutt will presumably be decided when the fitness of the other two left-backs is guaranteed.
Jim Bennings
52
Posted 22/06/2015 at 09:04:36
I'm not convinced that Baines has ever been known as a great defender though Adam.
A lot is often made of the amount of headers we concede and rightly so but how often do our fullbacks ever stop the crosses coming over?
Garbutt has an awful lot to learn defensively, that's very true... but, even at his roaming-the-flank best, I am not sure Baines was ever widely acknowledged as a truly great defender.
Bobby Thomas
53
Posted 22/06/2015 at 09:16:42
Pleasing and surprising news.
Moyes & his coaching staff turned Coleman, Jags, Lescott & Baines into international defenders. If he was managing us now I would have a lot of faith that, as with Coleman, they worked on the defensive weaknesses in his game and develop him.
Martinez and his staff seem to emphasise different aspects of the game. Defensively both Baines & Coleman have gone backwards.
There is a lack of emphasis on the basics and the dirty work. And inability to defend the box on crosses was a consistent trait this season. Rule number one is stop the cross and Baines could have done more on numerous occasions. I can think of a few occasions where Seamus made basic errors.
They have both not looked the players we know. Both also didn't look like they were enjoying their football. So we will see if Martinez & his staff are the right men to bring him & other young players, especially defenders, on.
Finally, we were offered roughly 㾻 million for Baines, a 29-year-old who we then gave a 4-year deal. He was not going to improve and, if we had sold him, it would have been knowing we'd had his best years.
At what stage do you think we should be taking these deals? It should all be on a player-by-player basis, but I'm of the opinion that the way we do things and we are generally tight with the finances, if there's a hungry young footballer there and 㾻 million is on offer, you take it.
Baines, and other senior pros, have been coasting at times. 30 and sat on a fat deal. Forget the wailing and hysteria about selling. 㾻 million for a 29-year-old left back? Take it. All day.
Jim Lloyd
54
Posted 22/06/2015 at 09:36:18
To me, Bainsey was probably the best left back in England during the season before last. I think that, together with Pienaar, they formed a bloody good left wing partnership, attacking and defending in partnership. Baines scored some great goals from direct free kicks and when he ran at defences, he scared the life out of them.
I don't think it's a coincidence that Baines performance dipped last season, because Pinnie was missing for most of it. It seemed to me that Baines missed the almost instinctive one twos he could work with Steven. Yep, whe wasn't as good this season past but no player does it all on his own, and then for the latter part of the season, the free kicks stopped and he lert others take the penalties...was he not carrying an ankle injury.
As for Luke taking over from him, I don't think so...certainly not yet. He looks a great prospect and a year on loan will hopefully make him an all round top player. It would be tremendous news if Oviedo is on his way to full fitness as he can cover for Bainsey or Pienaar. And Steven himself is over that knee injury. So hopefully, we'll see Bainsey more like his old self.
If Luke does sign then it is looking a good transfer window already and hopefully more to come...a schemer would do nicely!
Phil Sammon
55
Posted 22/06/2015 at 10:11:00
Baines had a poor season by his standards. As did Coleman, Barry, Barkley, Distin, Howard, Lukaku, Mirallas... the list goes on. The individuals will shoulder some of the blame... but surely you have to look at the common denominator.
Bob Parrington
56
Posted 22/06/2015 at 10:20:04
Phil #55. You wouldn't just be trying to twist this thread in to being critical of RM would you? :)
What I like is the potential young but good defence group that is emerging with Garbutt, Galloway, Browning and Stones plus Coleman isn't past it either. Browning looks strong and, just maybe, could pair up with Stones as the central defensive pairing once Jags is ebbing???
Add the younger emerging midfielders and Del Boy with Rom and we're looking at the makings of a pretty damn good team – methinks!
Chris Gould
57
Posted 22/06/2015 at 10:39:14
Baines suffered a succession of injuries last season which was unusual for him. From November onwards he had thigh, hamstring, knee and ankle problems. Up until Christmas, he had 7 assists. Just Fabregas and Sigurdsson had more in the PL. They are both attacking midfielders.
Baines is only 30 and will get over these injuries. How can anyone suggest that Garbutt should displace him? Garbutt has potential and talent, but Baines is England's Number One left back. Let's also remember the loyalty that Baines has shown.
Getting 7 assists halfway through the season! Without injuries and the team's terrible form it would have been double. He is also a better defender than Garbutt with bags of experience.
Great news if Garbutt signs. But he isn't fit to displace Baines yet. Why people are so quick to write Baines off is beyond me. He's 30 not 33!!
Jim Bennings
58
Posted 22/06/2015 at 10:40:09
Bobby
The trouble is, nobody is going to be offering anything like 㾻 million for a left back who approaches 31 in the New Year.
I agree Baines has been one of the best, probably the best left back in the Premier League between 2010 and 2013 when his form on a weekly basis was sound and genuinely phenomenal (sorry).
I personally thought Baines's dip in form came just before Moyes left, maybe mid-2012-13, he was still performing well just not quite as good.
When you mention Baines, people instantly reel off what he was or is, a fullback with a sweet left foot, dead-ball specialist. The trouble is he hasn't been a dead-ball specialist now for two years since he stuck away two Sheedy-like free-kicks at West Ham.
The left foot was one of the main reasons Baines has been so widely acclaimed, and correctly so, but there's no getting away from the fact that the dynamic of his game has disappeared over the last 18 months or so.
Defensively he's been okay but never been a great defender, so many times he was bailed out by the athleticism of Distin playing on his left side.
Jim Knightley
59
Posted 22/06/2015 at 10:38:40
Baines is better going forward than Garbutt, and defensively. They are not even close in terms of ability. It seems that there are some overly critical representations of one of the best left backs of the last decade.
He struggled this season, as everyone in the team struggled, and I'm with Phil re the common denominator. He also had no consistent midfielder playing in front of him. Naismith, Barkley, Eto'o?, Pienaar, Osman and Mirallas were all shoved or drifted to the left side of the midfield at points.
We need to invest in a left sided midfielder to give stability to the team and squad, because Baines and Coleman will suffer if they cannot work up a defensive (and attacking) relationship with the person in front of them. We may have had stability in the back seven, but we had little to none in the three behind the striker. That was the product of under performance, but also the product of Martinez's failure to find a consistent strategy and the failure of Eto'o and Atsu.
We should look to concentrate our funds on a left-sided playmaker in my opinion, and concentrate on finding a consistent attacking unit. We should also move back to the mixed passing strategy which worked so well in the season before. The whole team will perform more effectively if they are playing with a strategy which suits them.
I'm happy about Garbutt. He is a decent attacking left back. But I'm not doing cartwheels over this one. He has not demonstrated the potential some have referenced on here. He could become a very good left back, but personally I would prefer both Oviedo and Baines at present and do not see him making a mark on this first team for two seasons at least. I'm glad he will be staying at the club though, and going out on loan will help him develop.
Ray Roche
60
Posted 22/06/2015 at 11:05:22
Jim, I have a feeling that there may be a problem with the injuries that Oviedo and/or Baines have been suffering with, which has led Martinez to the conclusion that either or both may well not be ready for next season or, indeed, may never be the same players again. Particularly in the case of Oviedo... so getting Garbutt signed may well have been a priority.
Garbutt is a very good prospect in my opinion and may well take over from Baines in time but he's not good enough to displace a fit Baines just yet. But I'd certainly consider Garbutt as a left-sided player to do Pienaar's role if he's not fit. Galloway is also a good prospect but not as a full back.
Derek Thomas
61
Posted 22/06/2015 at 11:45:23
It's no coincidence to me the Baines's 'demise' (not really that, I know) has gone hand-in-hand with that of Pienaar. Without an effective foil to play off, they, and thus, Baines, are not the same players.
Eddie Dunn
62
Posted 22/06/2015 at 12:01:34
Ray – that's what I just said (#51). Martinez could be avoiding a mini injury crisis at left-back.
Ray Roche
63
Posted 22/06/2015 at 13:32:17
Sorry Eddie, I hadn't seen your post!
Brian Wilkinson
64
Posted 22/06/2015 at 14:42:00
In regards to Baines and free kicks, when was the last time he took regular free kicks without Barkley or Mirallas trying to hog them all? There is no better penalty or free kick taker than Baines at Everton.
I just hope Roberto mans up, nominates the penalty taker and this season, and we avoid the penalty balls up of last season.
Patrick Murphy
65
Posted 22/06/2015 at 14:55:43
Remember that Baines was suffering from a sore foot for the past 18 months so it is hardly surprising if he didn't always hit the ball as well as he would have hoped. With a little luck,, when he gets himself fit, he will be back to his devastating best with free-kicks etc.
Mike Gaynes
66
Posted 22/06/2015 at 15:31:39
Hey, I'm pleased too, but isn't this a lot of excitement over a FOURTH-choice left back?
Remember, with Baines and Oviedo both out, it was Galloway who got the call... and for my money he looked more worth the call than Garbutt. He's younger, faster and I'd say he has bags more talent.
Yes, we all hope and expect Garbutt will develop as Coleman did... but I can't be the only one who thinks his impact on the field is still quite a ways off.

Jim Bennings
67
Posted 22/06/2015 at 15:43:59
Steady on Mike. I was impressed with Galloway but really a better choice at left back than Garbutt??
Garbutt was star man in the win at Wolfsburg in November, and I'd say he's far quicker and more nimble-footed than Galloway,
Mike Gaynes
68
Posted 22/06/2015 at 16:00:53
Jim, the Galloway I saw was one of the quickest players on the pitch.
It's not me who's saying he's the better choice... it's Roberto. When he had the choice, he chose Galloway, which made Garbutt fourth choice at the position, at least on that day. We can speculate as to the reasons, but that's the fact.
I haven't seen enough of either one to point to Baines's eventual successor (some here have speculated that Galloway's future is in the center), but I'll admit that nothing I saw from Garbutt since the Wolfsburg game quickened my pulse much.
As I said, I'm happy he's staying and I look forward to his development. But I'm not having much trouble controlling my excitement.
Mike Gaynes
69
Posted 22/06/2015 at 16:24:46
PS... and I devoutly hope we're left speculating for quite a while... because a healthy Baines doesn't allow either of these young men off the bench.
There were a lot of reasons last season went sour, but in my opinion Baines's injury-related loss of form was the single biggest reason of all.
Jamie Crowley
70
Posted 22/06/2015 at 17:05:17
Mike -
Galloway was played to give him some deserved time.
Garbutt is a much better LB and our future at the position, much the same as Galloway is our future at CB.
Garbutt in that one snapshot may have been our "fourth choice" LB, but surely you see him as the future at that position and not Galloway?
Great signing. The future is looking brighter. Well done Roberto!
Paul Ellam
71
Posted 22/06/2015 at 17:04:58
From a purely monetary perspective signing Garbutt makes great sense. We got him for 𧼐k; if he continues his progress in a couple of years he will be worth a hell of a lot more if we do decide to cash in on him.
It's the same with Stones. Bids of over 㿀m (which will increase) already been mentioned for him and we only paid ١m.
Of course I would rather we kept them both but at least if they did want out or we wanted to sell then we would make a huge profit on them! Sound economics.
Chris Kelly
72
Posted 22/06/2015 at 17:17:42
Competition for places has got to help the team become stronger. If he goes out on loan then we can see how he looks at a decent level. It's a positive sign for other youngsters if they see Everton as the team to join, progress and become a professional.
Lots of talented youngsters going nowhere at other clubs and our record is pretty good at bringing them through to Premier League levels. Albeit needs must as we have limited cash to splash.
Ray Roche
73
Posted 22/06/2015 at 17:28:27
Mike Gaynes @68
Mike, I think you'll find the reason that Galloway got the nod was because Garbutt was, to all intense and purpose, leaving the club at the end of his contract. Galloway is no doubt a good prospect, just as Garbutt is, but he's not a full back. We need them both for the future.
Mike Gaynes
74
Posted 22/06/2015 at 17:21:45
Jamie... Galloway is 19 and I've seen him play twice. I'd feel silly speculating on his best position.
As for Garbutt... I look forward to being convinced that he's the future of anything. Not saying it won't happen... remember, as recently as February 2013 Coleman was the third or fourth choice at right back. So as I said, I'm very pleased Garbutt has made a long-term commitment to the club. But I'm not anointing him as our future LB just yet.
Mike Gaynes
75
Posted 22/06/2015 at 17:37:49
Ray 73, that was certainly the speculation at the time, but we'll never know for sure until Garbutt comes out with his autobiography after a long and distinguished career. We hope.
And whatever the reason, I enjoyed getting a first look at Galloway.
Ray Roche
76
Posted 22/06/2015 at 17:42:14
"And whatever the reason, I enjoyed getting a first look at Galloway."
Me too. Quietly impressed.
Craig Mills
77
Posted 22/06/2015 at 18:50:10
It looks as though the details I posted on ToffeeWeb over a week ago on the Garbutt deal have come good, although not signed yet, it appears to be exactly what I was told, and what I subsequently posted.
Hopefully I might get some more inside news early on again!!
Paul Gladwell
78
Posted 22/06/2015 at 19:29:15
Jim, sorry I'm late back on this a busy day.
When was the last time Baines beat the first man you say? As has been posted by someone else when was the last time he took one? Lukaku has been taking everything and I'm sure if there was a chance to score from a throw in he would be stealing them too and I wouldn't mind he's not very good at free kicks whereas one for Baines is bordering on a penalty if it's in the right position.
There are a few things I would say joined up for his poor form even though it was still better than most, obviously the lad is not the strongest character given how it appears he's been pushed aside on penalties and free kicks, it's similar with England too and he needs to grow a pair and no doubt that World Cup debacle effected him, it certainly affected our captain too, given the fact they were solely the blame for it all according to the southern press.
Add the loss of Pienaar and our manager pissing around with tactics etc so I would say there were lots of factors that hopefully have been sorted out now and the lad will come back fighting.
As I've said I'm made up Garbutt hopefully stays but you'd think he was the next Roberto Carlos the clambering for the lad I've seen on Twitter etc and I hope that doesn't go to his head otherwise he's in for a big shock if he fails with the Goodison public, they ignored him getting laced by Sunderland, Newcastle and Krasnodar wide players because he whips a good corner in but that will soon wear off if he doesn't produce, as for Baines I'm sure he reads these sites and will be out to prove a few people wrong hopefully.
Bobby Thomas
79
Posted 23/06/2015 at 02:00:17
Jim #58
I was talking about the United situation a couple of years back.
I know nobody offers 㾻 million for a 31-year-old full-back. But we were offered 㾻 million for a 29-year-old Baines. A deal we should have taken.
Dave Pritchard
80
Posted 23/06/2015 at 08:04:21
According to the Guardian, Garbutt will sign a contract extension with us and then go on loan to Bournemouth for next season.
Victor Yu
81
Posted 23/06/2015 at 09:12:15
㾻 million for a 29-year-old Baines. No way we should have taken it.
Garbutt was nowhere near to being ready at that time. Oviedo is good but not at Baines's level. If we are pushing on to build a top 4 team, then we shouldn't sell our best players.
Graham Mockford
82
Posted 23/06/2015 at 09:27:36
Jim Bennings (#58),
It says something to me when some posters are decrying Baines's 'demise' and loss of form in a season he still provided the most assists of anyone in our team, or for that matter any other defender in the Premier League. That's for four straight seasons in a row by the way.
I'm sure he would be the first to admit he wasn't at the level of previous seasons but the guy doesn't play in isolation, there's ten others out there playing with him.
Not taking 㾻M two years ago was the right decision. He will play at least another three seasons for us and you won't find that quality for 㾻M.
Phil Sammon
83
Posted 23/06/2015 at 09:39:18
Craig Mills 77
Do you want a badge?
Colin Glassar
84
Posted 23/06/2015 at 09:49:30
I'm fairly confident that after his ankle op, and a good rest, Bainsey will be back to his best this season. I hope that goes for a few others as well.
Ajay Gopal
85
Posted 23/06/2015 at 09:44:04
Good news all around – in my opinion, it is the sign of a 'big club' that we sign a player and loan him out immediately for the full season to a Premier League rival. It indicates that he is not yet good enough for Everton, but the club thinks highly of him for the future. Kind of like the Lukaku situation between us and Chelsea a couple of seasons ago.
Eddie Dunn
86
Posted 23/06/2015 at 10:09:50
Baines continued for God knows how long with a serious ankle problem which must have hampered his contribution. Despite this, he has had plenty of assists, as stated elsewhere on here.
Not only have Mirallas and Barkley been after the free-kicks, but also Lukaku (desperate to up his stats), not to mention the penalties. Perhaps Baines was in too much pain to want to take them?
When he is fully fit, it will be interesting to see whether he resumes his dead-ball duties, and if he starts bombing down the wing again.
Dave Pritchard
87
Posted 23/06/2015 at 13:36:19
The Garbutt loan to Bournemouth makes sense. Give Baines next season to prove that he is still up for it and then we have a player who has, by then, hopefully gained more PL experienced and ready to take over. I think that a fully fit Baines still has a lot left and agree with those who think he should regain dead-ball duties next season.
James Flynn
92
Posted 23/06/2015 at 14:15:41
So it's official:
http://www.express.co.uk/sport/football/586253/Everton-Luke-Garbett-Bournemouth-season-long-loan
James Flynn
93
Posted 23/06/2015 at 15:04:25
Distin-Baines-Pienaar lite; Distin-Garbutt-Atsu?
Colin Glassar
94
Posted 23/06/2015 at 15:47:11
Are you with Vodafone James by any chance? Bunch of thieves that lot. I've just ended a six month running legal battle with those sods for a bill that wasn't even mine!!
Now, what were we talking about.........?
James Marshall
95
Posted 24/06/2015 at 07:59:53
Nope. I think it's either an Android glitch or a chrome glitch on my phone.
I'll email theTW guys to see if they're aware of it. It's intermittent which is weird.
Matthew Williams
96
Posted 26/06/2015 at 13:21:51
Good news, players like Butty are our future. Baines can't go on forever and this lad could be the club's left back for years to come Why go elsewhere in this league and risk not even starting? Big wages are one thing,but good young British players need constant game time and at our great club... that will always happen !.
---
Add Your Comments
In order to post a comment, you need to be logged in as a registered user of the site.
Or Sign up as a ToffeeWeb Member — it's free, takes just a few minutes and will allow you to post your comments on articles and Talking Points submissions across the site.
© ToffeeWeb