Garbutt signs new five-year deal
England U21 fullback commits to the Blues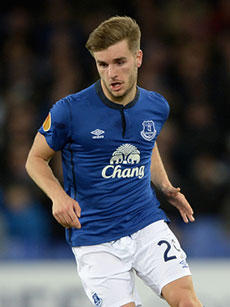 Garbutt has committed his future to Everton, ending months of speculation over his future

Everton have confirmed the news that Luke Garbutt has elected to stay with the club, putting pen to paper on a new contract that would run until 2020.

Garbutt, a capture from Leeds United six years ago as a promising 17 year-old, returned from a break following his international duty with England U21s to sign the new deal which ends months of uncertainty over his future.

"It's an honour to commit my long-term future to Everton," Garbutt said after inking his new contract. "I've been made to feel very welcome at the Club since I signed my scholarship six years ago.

"Over the years, I have grown to have an affinity with the Club and I feel a sense of belonging here.

"Under the Manager, the future looks bright and positive and I want to be a part of that. It is a great Club to be a part of and the staff and supporters have been great with me from day one.

Over the years, I have grown to have an affinity with the Club and I feel a sense of belonging here.

Luke Garbutt

Though the 22-year-old had broken into the Blues' first team last season, deputising impressively in the absences of Leighton Baines and Bryan Oviedo and even playing in the important Europa League match at Wolfsburg in late November, he left the offer of a new contract on the table throughout last season as sought assurances over playing time should he stay.

Everton officials conducted successful talks with the left back prior to the U21 European Championships and confirmation of an agreement has come from the club tonight.

It is believed that Garbutt will be allowed to go out on loan to another Premier League club this coming season in order to guarantee him regular first-team football as he continues his development.

In the meantime, the Blues have secured a player with big potential for the long term.

"Last season was great for me in continuing my development," Garbutt continued, "my personal highlight being the Europa League adventure as I gained a lot of experience in those games playing against top quality opposition.

"Everything we went through last season and the experience we gained as a group will only make us stronger as a team ahead of the new season.

"And with all the young players we've got such as Rom, Ross and Stonesy - all of them key players, too, the future of the Club couldn't be more promising.

"If we can continue to build the team, then we can go on and achieve special things together, every one of us as players will have no doubts about that."



Reader Comments (52)
Note: the following content is not moderated or vetted by the site owners at the time of submission. Comments are the responsibility of the poster. Disclaimer
Peter McHugh
1
Posted 30/06/2015 at 23:15:34
Great news
Craig Fletcher
2
Posted 30/06/2015 at 23:23:17
Well done Luke. You've made the right decision
Ryan Holroyd
3
Posted 30/06/2015 at 23:24:44
I thought he was leaving and it was all Martinez fault.
Chris Gould
5
Posted 30/06/2015 at 23:18:08
Here is a player that undoubtedly could have moved on a free transfer to another club, guaranteeing first team football and potentially better terms. Instead he has signed a 5-year contract with us.
This is a ringing endorsement for the manager and current set-up. As hard to believe as that may be for some. It's nonetheless true.
Spragg Johnson
6
Posted 30/06/2015 at 23:27:13
Get a decent left sided centre back in, a creative midfielder, keep Mirallas, bin Kone for a younger/better model ... And it's a decent transfer window
Mark Riding
7
Posted 30/06/2015 at 23:28:40
Chris #5 bang on.
John Maddock
8
Posted 30/06/2015 at 23:29:29
Future England left back...enough said.

Michael Kenrick
9
Posted 30/06/2015 at 23:32:27
Excellent news. I like this lad. Another statement of belief in the manger, methinks. Best possible outcome.
Jamie Sweet
10
Posted 30/06/2015 at 23:36:41
Great news. Natural successor to Baines.
I thought it was likely he was going to be sent out on loan to Bournemouth, but haven't they just splashed millions on a left back from Ipswich?
Surely we should only loan him out if Oviedo was 100%.
James Stewart
11
Posted 30/06/2015 at 23:40:09
Wise move for all parties.
Jim Jennings
12
Posted 30/06/2015 at 23:43:16
I'm not yet convinced he'll turn out to be the player we all hope he will but good news nonetheless. Let's hope a year out on loan will be the making of him.
Geoffrey Risebrow
13
Posted 30/06/2015 at 23:45:15
Great news!!!
Tony Doran
14
Posted 30/06/2015 at 23:41:34
Great news, should get more games with us this year. He could rotate with Baines. If this lad goes out on loan I think he could be competing for the England spot come end of next season.
Dave Cook
15
Posted 30/06/2015 at 23:48:14
It's like a new signing!
Matt Muzi
16
Posted 01/07/2015 at 00:01:04
Fantastic news, made up.
Leung Chi Ho
17
Posted 30/06/2015 at 23:57:33
When will Baines move to the Defensive Midfield that Roberto said he will thrives and be our Lahm?
Gavin Johnson
18
Posted 01/07/2015 at 00:05:37
Well done Luke. The summers shaping up nicely. It's a nice change that we seem to be getting things done early. I'm becoming optimistic about the coming season.
Chris Gould
19
Posted 30/06/2015 at 23:48:51
I think we all agree that we need a CB, creative midfielder, striker, and possibly another winger.
I know it's being greedy, but I want to see us buy a couple of players who walk into the first team and immediately improve our starting line-up.
Deulofeu is not ready to give us an effective 90 minutes, he still needs to mature. Cleverly is a great buy. A free, home-grown international, but is he an improvement on what we have?
Again, signing up Garbutt is great news, but he won't improve the first 11 and will probably go out on loan. We are linked with back-up CBs and back-up strikers. I really feel we need to improve certain areas of the first 11, not provide them with back-up. If we don't do that then I don't see how we can possibly challenge the top 6-7 who are undoubtedly going to spend big.
Signing 3 players who have all worked under RM before (and chose to work with him again) is cause for optimism, but I would like to see us buy a player or two who will excite the other players and get them motivated.
As I'm sure we all would.
Gavin Johnson
20
Posted 01/07/2015 at 00:19:29
If McGeady rumour is true, we'll hopefully offer him to Celtic along with a cash adjustment for Van Dijk. Would Celtic pay McGeady's wages though??
Harold Matthews
22
Posted 30/06/2015 at 23:48:55
It has to be good news because we didn't want him to go for nothing but I'm nowhere near ready to give him rave notices. Young Robertson of relegated Hull is more my kind of left back.
Chad Schofield
23
Posted 01/07/2015 at 00:41:51
Great news, really positive and completely agree with Chris #5!
Ross Edwards
24
Posted 01/07/2015 at 00:47:12
Good news. But as well as the CB, playmaker and striker etc, we definitely need to add more depth. Since the end of 13-14 we've only added two permanent signings to the squad: Besic and Cleverley.
Two were loans: Atsu and Lennon, who have returned to their clubs. And we've lost Alcaraz and Distin.
So we can't just say "Oh if we sign x, y, z we'll be fine." We won't. We need 7 or 8 players to come in because there isn't enough depth.
Can we honestly say that the squad is any stronger since his first season? No. If anything it's got weaker with players being released and players ageing.
Andy Crooks
25
Posted 01/07/2015 at 00:59:54
Michael (#9), it does indeed seem an endorsement of the manager. However, I have grave reservations about players loving managers.
Love/fear managers are winners. FEAR managers keep you safe. LOVE managers get you relegated.
Kelvin Leung
26
Posted 01/07/2015 at 01:56:32
Decent young player with an accomplished left foot. Also, given the fact that he is English (which invites an unhealthy premium nowadays), it is great to hear he has signed on for another five years.
But I'm not getting carried away just yet; he still has an awful lot to prove.
Mark Andersson
27
Posted 01/07/2015 at 02:55:38
Does someone write their sound bites to patronise the fans? Garbutt has not proved all the adulation he got when stalling on a new contract.
Call me cynical but this is a PR job. Yes, it's great he has singed but, as others have said, the real issues of our failings last season have yet to be addressed.
Oh and I don't believe he singed because he likes the manager.
Jason Davenport
28
Posted 01/07/2015 at 03:44:33
Wonderful positive news.
Dave Rinehart
29
Posted 01/07/2015 at 04:13:40
Agreed this is great news, good business being done so far this summer. Does anyone know the weekly wage bump Luke received?
John Gee
30
Posted 01/07/2015 at 05:27:40
I'm surprised he's staying. Although, I wonder if the Premier League clubs rejecting the change in homegrown quotas coupled with the fact he was distinctly poor for the U21s had anything to do with it.
Regardless of all that, a 22-year-old with a few first team appearances has just played hardball with our club... and won. It's hard to feel happy about this when we're just witnessing the soft underbelly of our club (again).
Steven Jones
31
Posted 01/07/2015 at 05:46:29
Garbutt is miles ahead of Baines... at this stage of his career and will be better and ahead of all the other so-called England left backs from Man Utd and Arsenal.
Chris at 5 – spot on! We have a manager that is building a very powerful young Everton and has the charisma to excite talent to come and stay.
Ross at 28 – You have to look at the development of the youth players; Garbutt is much better than two years ago, so are Lukaku, Barkley, Stones, Coleman, Besic etc in terms of their career, maturity and experience.
The same is true of Del Boy – this is the year he could explode and make a big difference. We also have a number of young England internationals like Ledson coming through and while we have got rid of Distin and Alcaraz, there are two amazing prospects coming through in Tyias Browning and Brendan Galloway – plus David Henen... there are others in the youth Academy ready to burst through.
I also think Gibson will have an injury free year and show his class!
RM will add two more first teamers, a No 10 and a left CB that will be ball playing... I am very encouraged and half-full with optimism.
Brian Porter
32
Posted 01/07/2015 at 06:47:21
I agree with Chris Gould (#23). We need to be signing players who can walk straight into the first team. Getting Garbutt to sign a new contract is all well and good but adds nothing to the first team as it looks like he's going on loan in the new season. So he's effectively on the back burner for now.
It will be very interesting to see if he realises his potential given regular first team football elsewhere. His handful of appearances for us last season showed he is talented but well short of top class at present and time will tell.
He may find things less rosy at another club when under pressure to perform week-in, week-out at a higher level of consistency than he is used to. I'm sure that's one reason why RM has held him back a little so far, but he has effectively held us to ransom and won over his new contract, and now has to prove he can deliver away from the cossetted arms of Finch Farm and the people who have helped him reach this stage of his career.
Going back to the beginning of my post, now that's out of the way, let's see some 'real' first team signings, not 'back-ups' for our aging squad. And please, please, please, Roberto, get rid of Kone. He's the biggest piece of deadwood in the squad, gives us nothing, his wages a draw on finances and his age against him. He's never going to be fit enough to stand-up to the rigours of the Premier League, so cut our losses on your worst ever signing and offer him cheap to anyone who'll have him. (Methinks it won't be a very long list of potential buyers.) If we're lucky, we might get ten bob for him! Better than nothing I suppose.
Si Pulford
33
Posted 01/07/2015 at 07:37:52
No offence, Brian, but saying we need to sign players for NOW is missing the point. We need to keep our promising players and sign players for now.
Cleverley and Deulofeu will both start a lot of games next season. We've also tied up a great prospect and there's more to come. Not bad for the end of June.
I'll admit I had this down as a big transfer window for RM and there is work to do but a very solid start. One or two more centre-halves and a striker and I'll be delighted.
Christy Ring
34
Posted 01/07/2015 at 07:20:26
Agree with Chris # 23 completely. Delighted Luke is staying, but we still need to sign 2/3 quality players. We have the nucleus of a good team but we lack a playmaker and another striker as Kone is not good enough.
We should be able to spend 㾶M/㾻M on Austin or someone of that quality. We need another keeper and centre half. We have only spent ٢.3m so far on Delboy, so there should be no excuses about our transfer budget, especially after the Sky deal. We need quality –not looking at players in the lower leagues.

Sam Hoare
35
Posted 01/07/2015 at 08:00:09
Good stuff. Now get him out on loan to a Premier League team where he will start. Bournemouth? Watford?
Jon Withey
36
Posted 01/07/2015 at 08:35:14
Well, at least we don't need to worry about Left-back for a bit!
Where does this leave Oviedo, baby?
Another CB and we have the minimum.
A play-maker and left-winger and we can compete.
Another striker and we could be pretty decent.
David Chait
37
Posted 01/07/2015 at 09:02:37
Let's not get distracted by other positions when this is an important signing that saves us a heap of cash in a year or two.
William Bibby
38
Posted 01/07/2015 at 09:00:33
What a boost. If this lad slipped out the door, it would have been a travesty and beyond logic.
Credit to "Rhino" – another gem produced; keep them coming, Unsy!
Good luck Luke keep healthy and the rest will look after itself.
Ernie Baywood
39
Posted 01/07/2015 at 09:00:39
Steve Jones #35 Are you sure about Luke being ahead of Baines at this stage of his career? At 22 Baines had years of first team football under his belt and was playing every week in the Premier League. And being linked with moves to big clubs.
Luke's got a hell of a reputation to live up to based on fleeting appearances whereas Baines had earned his reputation through first team performances at the top level.
There seems to be a very common theme of underestimating nearly everything about Baines. I still think that if he was your typical cocky, nobhead footballer then he would be looked on differently. He's one of the best players we've seen in blue.
Steven Jones
40
Posted 01/07/2015 at 09:19:48
Yes, I am basing it upon Baines, his inability to get into the first 11 when he first came, he was nervous and was a bit lightweight, Moyes then went with Lescott instead.
I see Garbutt as more confident, more precise with his positional sense, stronger passing and crossing at this stage and physically stronger.
If we did not have Baines, Garbutt would be a fixture in that position. BTW, I love Baines!!!
Paul Webb
41
Posted 01/07/2015 at 10:11:41
This is turning into a good transfer window for once...
Liam Reilly
42
Posted 01/07/2015 at 10:54:42
Great news – surprised anyone can find any reason to moan about this but hey – this is TW.

Ernie Baywood
43
Posted 01/07/2015 at 10:53:20
I don't think Baines did much wrong when he arrived. We just had a player in Lescott who was in the form of his career, in a system that was working well. From memory ,every time we moved Lescott to the centre it didn't quite click. Moyes himself acknowledged that Baines was our best left back despite the fact he wasn't playing him regularly.
I hold Baines in such high regard that if we're talking about a 22-year-old having anything like his ability then the next 8 years or so look pretty good in that position.
You could probably say that about most of the first 11 now too. Good mix of experience and youth. Just need that bit more quality to turn us from a good team into something else.
No 10 please, Bobby.
Ben Jones
44
Posted 01/07/2015 at 11:52:09
Great news, especially when we all thought he was leaving.
I think apart from Kolarov and Baines, he has the best left foot as a left back in the league. If he can fulfill that potential in his defending and positioning, he'll be a hell of a player. Also important he's English in fulfilling that quota in the future.
Richard Reeves
45
Posted 01/07/2015 at 12:11:42
Fantastic news! Good to see him believe in the manager's vision and himself being an important part of it.
Going by the program that is in place of Under-21s football followed by a loan and then integration into the squad, I would say it looks like being another season before we'll see the likes of Garbutt, Henen, Browning, Galloway and Ledson ready for the first team; Kenny could also be amongst that group. (Chris Long I'm guessing will get that chance this year, hopefully after a good pre-season.)
If Coleman is sold (which is inevitable as I've mentioned several times earlier in the season but not naming the player) then maybe Browning will be in the manager's plans for this season as backup or ready to be recalled from a loan.

Carl Peters
46
Posted 01/07/2015 at 14:34:12
No doubt the club will be trying to pacify us with a player that should've been sorted out 12 months ago has finally signed a contract on the threat that he would/could join Liverpool.
So yeah... let's all rejoice. He'll be like a new signing.
Ernie Baywood
47
Posted 01/07/2015 at 14:41:45
Can't force a player to sign a contract Carl. What would be in it for him? I'm guessing he's done much better by leaving it until now and having a chance to see what his other options were.
Amit Vithlani
48
Posted 01/07/2015 at 14:38:10
Glad to see him stay. He does need first team experience but the quality is there. 10-15 games should be enough to sharpen the rough edges. Defensively he is not the greatest but I think he will improve with age.
Jay Harris
49
Posted 01/07/2015 at 16:04:13
Great news.
I really rate Garbutt as a real prospect.
My only worry is that this may well be connected with injury worries over Bryan Oviedo.
Now for that 20 goals a season striker..... erm?
Trevor Lynes
52
Posted 01/07/2015 at 16:32:11
What I am unsure about is the signing of a 22-year-old Garbutt to send him out on loan when it seems that we may be losing Coleman. Garbutt is old enough to be in the first team squad if he is considered good enough.
Perhaps we are signing him to sell him in a season or two; otherwise ,I cannot understand the sense in putting the lad on a five-year deal and then sending him elsewhere.
Paul Ellam
53
Posted 01/07/2015 at 17:05:27
Over the moon that he has committed to us. We have an excellent player on our hands.
I would keep him in our squad instead of loaning him out.
Play him in the cup games and odd league games and basically have him integrate with the first team because it won't be that long til he is one of the first names on the sheet!
Karl Jones
54
Posted 01/07/2015 at 18:07:07
Big surprise after the end of last season. Made up he's staying as he looks a great prospect. All positive news up until now. Lets hope it stays that way.
Colin Glassar
55
Posted 01/07/2015 at 18:04:35
Glad you're staying Luke but don't write off Bainsey just yet. After his operation, and a good rest, I expect him to be back to his best this season.
Keith Glazzard
56
Posted 01/07/2015 at 18:30:39
Good news for EFC certainly - thanks Luke. Let's hope it's good news for you too.
---
Add Your Comments
In order to post a comment, you need to be logged in as a registered user of the site.
Or Sign up as a ToffeeWeb Member — it's free, takes just a few minutes and will allow you to post your comments on articles and Talking Points submissions across the site.
© ToffeeWeb