Dreadful Everton slump to eighth home defeat
by

196 Comments [Jump to last]
| 19/03/2016
Everton 0 - 2 Arsenal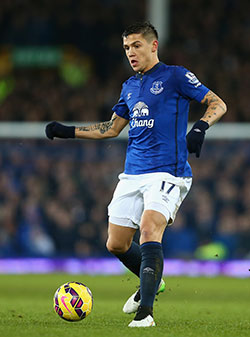 Muhamed Besic was the one change but one first-half shot aside he had a shocker and was withdrawn at the break
Everton followed one of their more stirring home performances in the cup against Chelsea with an atrocious display against Arsenal that effectively ends their Premier League season nine games early.
Spurred on by their progression to a Wembley semi-final and with the ambitious words of Romelu Lukaku reverberating in the media, the Blues were hoping to finally spark their league form at Goodison Park into life and make a concerted late push for the top six.
Instead, Roberto Martinezís chastened and dispirited players trooped off to rows of empty seats and a loud chorus boos at the final whistle from those Evertonians who had stuck around to the bitter end of a dreadful showing from their side.
Featuring Muhamed Besic as the suspended Gareth Barry as the only change from last weekend, Everton came flying out of the traps and Seamus Coleman clipped the woodwork as early as the first minute.
Arsenalís immediate response, where Danny Welbeck drove in along the byline and Besic hammered the ball into the striker and off the outside of the post, signalled that they had come with a purpose, one they illustrated in clinical fashion in the seventh minute.
A quick passing move carved the home defence open with ease and ended with Welbeck rounding Joel Robles and sliding home a simple finish to put the Gunners ahead.
1-0 might have been 2-0 a minute later when Ramiro Funes Mori was dispossessed but Alex Iwombi's tame shot was comfortably saved before Everton regained a measure of composure.
They lacked ideas and conviction going forward, however, and Besicís curling shot which David Ospina initially spilled but eventually gathered would be their only shot on target in the first half.
At the other end, meanwhile, Arsenal caught their hosts cold again 11 minutes before the interval when Iwmobi raced onto a ball down the right channel, out-paced Funes Mori and fired through Roblesí legs to double the Gunnersí lead.
Martinezís response at the start of the second half was to withdraw Besic and introduce John Stones as part of a switch to a three-man central defence but the change did nothing to address an anaemic display in attack.
Their best opportunity of the second half came from a 69th-minute corner that Phil Jagielka headed just over the crossbar but Everton toiled all game to create any meaningful chances, even after Gerard Deulofeu had belatedly come on for Ross Barkley with 17 minutes to go.
Olivier Giroud had the ball in the net late on but was whistled for a foul on Jagielka and then fired into the side-netting in stoppage time as Arsenal threatened to deepen the Goodison gloom but the home faithful were spared further misery.
The defeat, Evertonís eighth at home† this season, combined with their frustrating inconsistency means that Martinezís men can forget about qualification for Europe via the Premier League, sharpens the focus on next monthís FA Cup semi-final and raises fresh questions about Martinezís tenure amid a second season of under-achievement.
Full coverage: ToffeeWeb match page
---
Reader Comments (196)
Note: the following content is not moderated or vetted by the site owners at the time of submission. Comments are the responsibility of the poster. Disclaimer
James Morgan
1
Posted 19/03/2016 at 15:41:35
Not a single decent performance on that field today. We couldn't string two passes together and were second to every challenge.
Let's dispense with this manager asap and get someone in with quality who knows how to organise a team and stoke a fire in their bellies. Martinez Out!
Jim Bailey
2
Posted 19/03/2016 at 15:44:50
James (#1),
Dead right. Get shut now. I just cannot see any plausable reason why he shouldn't be booted out right now.
Nick Entwistle
3
Posted 19/03/2016 at 15:45:39
Didn't even bother watching. Chelsea result was great but this is what RM does. Gets one result to placate the anger at the crap thrown up the previous three. Now back to normal against an Arsenal side in bad form themselves.
Just pack your bags in May and adios.
Andrew James
4
Posted 19/03/2016 at 15:47:14
Utterly pathetic. Arsenal played very well in the first half but that was truly useless and yet another home loss.
It got beyond a joke a while back. I'm afraid, FA Cup or not, we need to shake hands with this management and say goodbye in June. They struggle to set our team up, they fail to motivate our players on days like this, it looks like there are fitness issues, they make substitution howlers and there's no Plan B.
The depressing thing is we might actually finish 15th which is just ridiculous when your striker is one of the most prolific strikers in the League and you have a centre midfielder in double figures.
This cannot go on, we are going from being the neutrals' team to watch to being a laughing stock.
John Audsley
5
Posted 19/03/2016 at 15:47:37
8 defeats at home... astounding that he is still in a job but the cup and excellent away form is saving Martinez.
Today was utterly pathetic... hopefully the new majority shareholder will have realised we need a change.
Or are the players (best squad since 87) equally... if not more to blame?
Fucking horrible whatever the answer.
Jim Bennings
6
Posted 19/03/2016 at 15:47:51
Clueless, heartless pile of shite!!
Sound familiar??
Yes it's Everton Football Club under Roberto Martinez.
Never can I remember seeing an Everton team, no matter how limited or decimated the playing staff has been, surrender home advantage the way this shower has this past 2 years.
Martinez is being kept in a job due to the Cup run papering over massive cracks in the foundations.
There's no way I'd trust this man with any kind of serious millions, regardless of how much is available this summer.
Martinez is a pathetic excuse for a Premier League manager, I'm sorry it may seem harsh but you can't defend inept performances like today, but today at Goodison is nothing new, it's been literally dreadful all season, not much better last.
In fact the Club should consider refunding fans who paid good money to buy a ticket for that shite.
Even if we somehow were to win the Cup, which knowing this Club, I still don't think we will, Martinez position should be in serious jeopardy come the summer.
He's not up to it.
Bobby Thomas
7
Posted 19/03/2016 at 15:50:15
After our kamikaze home hammering of Sunderland I posted on here that this season was nailed on to go the same way as last.
His teams are soft, have no substance, are weak, very disorganised, & are awful without the ball. Every senior defender at the club has gone backwards.
If he was mutually consented in the summer he & his coaching staff would not find top flight employment. He has some good qualities, but he needs to rethink his approach as it is fundamentally flawed. To do this he needs to step down a division or two.
I think the course of action that we need to take in the summer is fairly apparent or we will be stepping down divisions with him.
Gerry Quinn
8
Posted 19/03/2016 at 15:50:28
Saw this headline on NewsNow, and thought they were talking about EVERTON's performance!
The Drifters Perform At Goodison!
John Raftery
9
Posted 19/03/2016 at 15:50:40
Atrocious is the word. Hard to argue that this is a manager and a team with a long-term future at the club. Without Barry directing operations in midfield, we were all over the show. Besic looked completely out of his depth but McCarthy, Cleverley and Barkley were also dire.
We heard from some pundits before the game that Arsenal would be there for the taking. As it was, they barely needed to play above half-pace to outclass our lot in every department. The best part of the afternoon was the performance from the Drifters.
Gerry Quinn
10
Posted 19/03/2016 at 15:54:00
Hi John – I'm glad I was over 5,000 miles away from THAT crap today – shocking, frustrating and I am still livid.
David Connor
11
Posted 19/03/2016 at 15:55:24
What a fucking gutless performance today. Absolutely indefensible.
I hope our new money man does not trust this man with his millions because he will blow the lot for sure. The guy couldn't manage a Sunday league team – never mind a Premier League one.
He looked very concerned in the after-match interview. Beaten today by a very lively Arsenal team who played on Wednesday against one of the best teams in the world and had ten times more energy than we had.
We need to be more ruthless with our managerial appointments from now on. Martinez has had quite long enough in the job now and it's time for change. Leicester nearly relegated one year, top of the league the next – all down one man, the manager. Just goes to show what a difference a good manager makes.
We have a talented squad but the man in charge doesn't know how to manage our organise it. A mass clear out needed in the summer with players. Hopefully a change of manager as well. Martinez is fucking braindead. Enough is enough. Only because of our away form, we would be in the bottom 3. Simply not good enough.
Men at the top have been happy with mid table dross over the years. Hopefully this man will be more ambitious and a lot more ruthless. We need it and demand it.
Brian Porter
12
Posted 19/03/2016 at 15:56:55
How much longer do we have to put up with no-brain Martinez? 2-0 down and does he bring on another striker? No, of course not. Martinez Out!!!!
James O'Connell
13
Posted 19/03/2016 at 15:58:51
In the most open Premier League season I can remember, this really is just piss poor, clueless fucking garbage.
To all the players who didn't turn up today which was pretty much all of you, donate a week's wages to Sport Relief as an apology to the supporters you let down again, and Martinez – you should donate a year's worth.

Barry Stevens
14
Posted 19/03/2016 at 15:59:51
The post above nails it on the head. No other Premier League team would appoint this clown once he eventually leaves here.
Martinez Out!!!
Phil Sammon
15
Posted 19/03/2016 at 15:59:56
I fear for us.
Cup win or not, I still don't see him being sacked.
People earn things in life. This 3rd season was earned by Martinez by his excellent 1st and despite his 2nd.
He's reaped what he's sown and, evidently, it's a field full of shit.
We're not heartless bastards, we're not a 'sacking club'... but we have to get rid.
Tony Hill
16
Posted 19/03/2016 at 16:06:21
I trust Kenwright will be fronting up, arm around Moshiri, to tell us what a manager we have. The most gutless and inept performance of an awful league season.
The players look clueless and adrift and in that they reflect this awful manager and his awful backroom staff.
The Cup is great fun but there are deep problems at this club and Mr Moshiri is our only serious hope. That must mean the swift departures of Kenwright and Martinez.
Paul Washington
17
Posted 19/03/2016 at 16:07:32
A tame surrender... why didn't we get in their faces, hustling and pressing them with a few meaty tackles like last Saturday?
They could have had 4 or 5.
2-0 at half-time and he brings on a centre-half. He has to go in the close season.
Tommy Coleman
18
Posted 19/03/2016 at 16:09:26
Terrible. I thought we'd build on last week.
Too much Guinness after St Patrick's.
Ray Said
19
Posted 19/03/2016 at 16:12:07
We have been a 'sacking club' but those were the days when we had ambition to win things. Nothing shakes things up like a few sackings.
There is an old saying 'It is wise to execute a non-performer from time to time to encourage the others'. That's what the owner needs to do. In the tunnel after the next loss.
Jay Harris
20
Posted 19/03/2016 at 16:15:30
Arsenal – 1 win in last 8. Everton – conceded more goals at home than Villa.
Phenomenal preparation of the players by Martinez. What's that now –- incredible second half of the season.... Oh hang on, the players are up for a strong finish in the last third of the season... Oh wait a minute I meant to say the last last 10 games we will be incredible again... Oh well, we will be phenomenal next season.
"New manager? What... do you mean me? We are going to be exceptional soon."
Dave Abrahams
21
Posted 19/03/2016 at 16:15:50
The players, almost all of them, sunk to a new low today. The good news, which I believe (I heard it off a few people) is that the new owner has already spoken to the man he wants, and he is a very good manager. Bobby will not be here next season, and he can have no grumbles if this rumour is true.
The fact that he will receive compensation for the work he has put in is beyond a joke.
Jim Bennings
22
Posted 19/03/2016 at 16:16:44
If I had to give a rough assessment of the player's that played today, assessing them over the course of performance levels all season and overall as players it would be like this....
Joel Robles.. Done nothing wrong since coming in, still think we need a top quality goalkeeper, a number 1.
Seamus Coleman... Nowhere near the standard he was at under Moyes and in Martinez first season.
Leighton Baines... Read Seamus Coleman, looks past his best year's under Moyes, corners are shocking.
Ramiro Funes Mori... Pretty ok but needs men around him helping, giving out orders.
Phil Jagielka... The best outright defender we have, but time is against him.
Muhamed Besic... What the hell happened today?. Was he fit?.
Could have a decent future, don't think he's as great as many say but he has time to get better.
James McCarthy... Works hard but offers next to nothing going forward ,passing bog standard, hasn't looked the same player as he once did two years ago.
Tom Cleverley... Tries hard, decent touch but not really top quality, not going to be good enough as a starter if we are really wanting to push the top clubs. Never a left midfielder either, Martinez doing the same with Cleverley as Moyes did with Osman, square peg.
Aaron Lennon... Didn't happen for him today but he's been one of the few bright spots over the last 12 months. Works so hard.
Ross Barkley... A talented player but lacks vital ingredients to make him a better player, spacial awareness is poor, plays the game in his own world with his head down, and perhaps most importantly, he seriously lacks desire and just doesn't have that fire in the belly that the likes of Rooney had at a younger age.
Romelu Lukaku... Had absolutely no service today, it was embarrassing how isolated he was. His goals have kept us out of a certain relegation battle; he won't be here next season.
Paul Hughes
23
Posted 19/03/2016 at 16:26:55
Just on the way back from the match. Utterly clueless from the players and our idiot of a manager. You could see the way Arsenal were playing from the first minute, pressing us, denying us space. So any coach with any sense or pragmatism changes it – gives the attack more focus, hits some diagonal balls to push Arsenal back. But this balloon sticks to his same flawed tactics.
Lest we forget, this is a team that lost at home to Watford last weekend, they are not world-beaters, but they looked it against our insipid display.
Martinez must be gone as soon as this season ends, his time is up.
John Raftery
24
Posted 19/03/2016 at 16:31:06
Gerry (#10), Hi, I wish I had been in another country as well. With our team losing 2-0 and rows of empty seats in the last 10 minutes, Goodison is a really depressing place to be. The players need to be told in no uncertain terms these performances are totally unacceptable.
Unfortunately today had the smell of terminal decline written all over it. It will take a major transformation in attitudes for this squad to lift itself out of the current malaise at home. I am thankful we only have three more games to endure at what used to be a fortress.
John Pickles
25
Posted 19/03/2016 at 16:32:51
On the plus side, we only conceded 2 goals at home........
I'll get my coat!
Neil Pearse
26
Posted 19/03/2016 at 16:32:58
We learnt today only that Martinez should be sacked. As soon as possible. Their second goal was Martinez in a nutshell: defenders stranded up the pitch, we're wide open, not fit enough to get back. They score. Unforgivable. Happens over and over again.
At least Moshiri saw the Martinez shambles today. Cup semi or not: fire him now. It's embarrassing.

Gary Williamsg
27
Posted 19/03/2016 at 16:33:10
Absolutely dire.... a complete joke of a performance. Martinez should be sacked tonight, but who do we get in short term?
Christopher Dover
28
Posted 19/03/2016 at 16:35:16
The talk of next ten games etc... I went to the next three... well, we lost to West Ham, beat Chelsea, lost to Arsenal with a performance today that must rank as one of, if not, the worst this season.
As said above, the highlight of today was the Drifters... hoping Martinez joins and drifts off into the sunset.
If this manager is here next season, we are bound to drop to the Championship while Martinez will move on to another club to try his way – the only way of playing.
Surly the new owner will not take the results this clown has had... three seasons and it gets worse. Bill with his "What a manager" after the Chelsea game... where was he before that one and where is he now? Doubtful he will be shown with his arm around him, unless it's his neck!!
Graham Mockford
29
Posted 19/03/2016 at 16:36:18
Our home record is disgraceful. What was once a fortress is now three points for most teams that rock up.
Worryingly with three home games to go even if we won all three it would the be the lowest home points tally ever achieved in our history (assuming 3 points for a win) That includes seasons when we only played ten home games!
We have now lost 10 of our last 18 PL home games. Bizarrely our away record is the thing keeping us afloat.
Today was the worst of the lot, literally not a single redeeming feature. Flat, lifeless and error-strewn. Besic had one of the worst games I've witnessed in an Everton shirt. I suspect the calls to make him captain are a tad premature.
Any manager worth his salt would be bringing them in on their day off tomorrow and letting them know that performances like today are unacceptable. Can't see it somehow.
Loko Sanchez
30
Posted 19/03/2016 at 16:39:30
Do we really have quality players? Seriously, well over-hyped. Bring back the dogs of war mentality.
This sideways passing is bullshit. Bring back Fellaini and start going direct when Plan A fails.
Rubbish!
Tom Bowers
31
Posted 19/03/2016 at 16:40:27
The result wasn't a surprise but the manner in which they lost. They played like a 3rd Division side and 8 home defeats (not even draws) is the yardstick that Martinez must be measured by.I would sack him now, no problem.

Changes have to made to the team as surely the bench-warmers deserve their chances – especially in midfield where the biggest problems are.

Martin O'Sullivan
33
Posted 19/03/2016 at 16:43:50
If we got shot of him tomorrow and had someone in place for next week (Mourinho), at least they would have a chance to get something organised by the time the cup semi-final comes around!!! But either way, he has to go now!!! ASAP
Dan Davies
34
Posted 19/03/2016 at 16:46:38
There needs to be a good shake-up at Goodison, some arse-kicking is in order and Martinez ain't the man to be doing it. The way we played today, he's definitely lost the players. Gutted.
Mike Morrissey
35
Posted 19/03/2016 at 16:47:28
Garbage today. Martinez is inept but today the players have to hold their hands up. No organisation or quality, second all over the pitch.

Looked like Billy Smart's gang after the subs, no structure whatsoever.

Getting bored of it now. Nil Satis Nisi Optimum? What a joke.
Jim Bennings
36
Posted 19/03/2016 at 16:49:02
Johan Elmgren
37
Posted 19/03/2016 at 16:51:43
This is just to be expected from the players now in the league when we have nothing to play for, so this performance was to be expected. Arsenal still have the league title to play for and clearly were much hungrier. The season promised so much but has fizzed out, the players know that and can't be arsed.
I put this down to the manager and his idiotic approach that "It's the last third of the season that really matters". That is such a stupid statement, because now that we are there we don't have enough points to even compete.
It's almost as if he thinks that we don't need to win in the first two thirds of the season. We should play for THREE points every game we play, that should be our only incentive, and that is how he should prepare his players, to win at every price. Anything else is not good enough.

I have lost faith in him since a couple of months, and I really hope he gets replaced in the summer. But I also hope that we go on to win the FA Cup. RM seems to be good at motivating the players in those games. We should be safe in the Premier League now, so we should go all in for the cup, and then sack him after the season. He simply isn't good enough to make us competitive in the league.

I think Eddie Howe would be an interesting man for the job, but I doubt Moshiri will go for such a low-profile manager, with such little experience. But he's done really well with Bournemouth, has an interesting managerial style, and is of course one of us! :-)
Jim Bennings
38
Posted 19/03/2016 at 16:53:24
Leicester win again with another clean sheet.
Amazing what a manager with intelligence and team that has work ethic and togetherness can do.
Matt Woods
39
Posted 19/03/2016 at 16:53:57
He's gone. The players are playing for themselves in the cup... he's lost the fans and now the dressing room.
Steavey Buckley
40
Posted 19/03/2016 at 16:56:28
Everton were like headless chickens who could not pass straight. Summed up by Lukaku getting just one pass of any distinction throughout the match. Besic went from hero one week to a zero this week – he was simply dreadful with his passing and marking.
Although it was hilarious having to watch Cleverley having to go inside on his right foot to cross when it was obvious he was out of position on the left when he could not cross with his left foot as Lukaku was waiting for an age for him to cross.
Everton clearly need a goalkeeper who can save Everton on occasions. Robles went down too early to give Welbeck an easy goal and then was easily beaten for their second at the near post.
Everton were also very kind to their goalkeeper after he was injured, so left him alone, instead of standing next to him when there was an Everton corner. Or just another sign Everton are headless chickens who can't see an opportunity when going begging?
Jim Bennings
41
Posted 19/03/2016 at 17:04:14
Just checked our results, it's now just 4 wins from the last 17 league games.
What a disgraceful return that really is.
4 wins since we beat Aston Villa on November 20th.
We really are an embarrassment really aren't we?
The wins we have registered since September:
Aston Villa (twice)
Newcastle (twice)
Sunderland
Stoke
Jim Bennings
42
Posted 19/03/2016 at 17:07:09
Looking at our home record makes even worse reading..
Going back to last season.
4 wins from the last 18
10... TEN defeats from the last 18
Disgraceful, so so lucky is Martinez to still be managing this club.
Chris Scully
43
Posted 19/03/2016 at 17:07:37
Johan (#37).
"This is just to be expected from the players now in the Premier League when we have nothing to play for, so this performance was to be expected."
No! I have nothing more to say.
Tom Cuffe
44
Posted 19/03/2016 at 17:13:13
If Arsene decides to call it a day, come the end of the season, I would welcome him to Goodison, with open arms. At least when Arsenal have a blip, it passes a lot quicker than when we do. A masterclass performance in pressing a team, and pushing them back.
Too many times this season, we look like the away team at home. I think this was the worst performance this season, we barely left our own half. If Martinez has any self-respect, he would walk today. It looks like he's lost the dressing room after that display.
Alexander O'Brien
45
Posted 19/03/2016 at 17:14:50
Truly awful that and what a difference a week makes.
For all those calling for Martinez to be sacked now, I'm sorry but what exactly would that achieve??? We've got a massive game in five weeks and I for one couldn't give a toss about the Premier League as long as they win two games and win the cup.
Sacking the manager (and I'm not a fan of him) would only unsettle everyone at the club. Surely a trophy gives the man time? I just pray we do it!!
John Hammond
46
Posted 19/03/2016 at 17:18:04
How is Martinez unable to get them fired up for the game after what happened last weekend and Arsenal losing to Barça midweek????
I wasn't at the game but it sounded like we were as bad as when Man Utd visited earlier in the season. Why would Lukaku stick around for this nonsense???
John Hughes
47
Posted 19/03/2016 at 17:18:56
No Plan B, C or D... away with the man, the time has really come, we can't take any more of this. Out-thought and out-played. I can't take any more.
Trevor Peers
48
Posted 19/03/2016 at 17:19:06
He should've been sacked after the game, at least we would have a chance of a win in our last three home games.
Winning the cup is a non-starter if we play like that, and who says we can lift ourselves again? I wouldn't bet on it. That can be the only thing saving RM.
Ian Riley
49
Posted 19/03/2016 at 17:19:37
Renew season ticket with Martinez in charge? A refund after today, please!
Tom Bowers
50
Posted 19/03/2016 at 17:23:24
We don't have a massive game in 5 weeks! Every game is massive when you have a team like this. If we were playing Crewe in the semi-final, I would be fearful after today's showing.
If they win the semi-final, it won't be because of anything Martinez has done but just plain luck on the day that the opposition has a poor game. We need to get some credibility before that and Martinez doesn't have the charisma to do that.
Dave Lynch
51
Posted 19/03/2016 at 17:23:25
Put like that, Jim, it's frightening and really worrying.
My old man is getting on in years and still knows his footy after being brought up on both great, average and poor Everton teams and players. I asked him about Barkley last week and his reply was.
"You can have all the talent in the world, lad, but you can't coach gormlessness out of a fella."
Gary Woodward
52
Posted 19/03/2016 at 17:27:08
I really think it would be better if everyone who is a passionate Blue, like I am, should vent their frustration by letter or email to Mr Kenwright or Mr Moshiri directly. I truly believe this is the only way they will listen to us, because I really can't see them reading comments on here regarding are concerns about how our talented squad of players are being mismanaged and under coached by this charlatan.
Now, I think, would be a good time for a new coach to take over. The season isn't over yet and we can at least rescue a little pride and passion into this squad.
I've never commented on here before, so for me to do so means I'm very concerned by this clueless, naïve and very dangerous so-called manager who could very easily take us down next season. I've been thru a lot of ups and downs at this club for over 40 years, so I think I know a little bit about being an Evertonian.
Mike Green
53
Posted 19/03/2016 at 17:27:26
Only Palace and Villa have lost more home games than us.
Only Villa have won less home games.
No one has conceded more home goals than us.
We have lost less away games than anyone else but this is largely down to drawing the most games away from home, not winning them.
We need a new man, and quick.
Jim Bennings
54
Posted 19/03/2016 at 17:28:38
Alexander,
This team won't win a trophy, it will choke when it matters most at Wembley because that's the mentality here.
It's all well and good people saying why should we fear Watford, Crystal Palace, Manchester United and West Ham but hey, why the hell would they fear us either????
We are nearer to 14th than 8th now.
And no, a trophy shouldn't buy him more time, his weekly performance levels and disorganisation of the football team are now tiresome and embarrassing.
I was never a massive Moyes fan but at least we finished most seasons with a strong proud home record despite limited resources most of that time.
This past 18 months has been dreadful under Martinez. Goodison Park has represented a glorified training session for most visiting teams this season.
Tom Cuffe
55
Posted 19/03/2016 at 17:30:13
A new Manager now means he can assess what we have, what players he needs to get in, and move on. If they fit into his style of play etc, and we might start a season in August instead of November or later, like God knows how many other seasons. On the semi final, if we play like we did today, we have no chance against Man Utd or West Ham Utd, so there's gonna be no cup anyways.
Nick Armitage
56
Posted 19/03/2016 at 17:33:24
Alexander O'Brien – sacking Martinez now would unsettle the players? Well they aren't exactly doing well when they are settled are they?
Sack him now. Kenwright should never have appointed the phoney, but it ain't Kenwright's first cock-up, is it?
Joe Foster
57
Posted 19/03/2016 at 17:34:38
The most ridiculous notion ever was appointing a manager that relegated his last club. There is no way Moshri will let Martinez manage his money – which in essence is what he would be doing if Martinez was to stay another season.
Dave Lynch
58
Posted 19/03/2016 at 17:38:13
I think what Alexander was getting at was the time he has left until the cup run ends.
Not another season.
Tony Twist
59
Posted 19/03/2016 at 17:38:25
Getting rid of Martinez now, what will that achieve? Well, it would guarantee that he wouldn't be our manager next season! It would also be a statement of intent saying that the performances over the past 18 months are not good enough for Everton Football Club.
Please let it happen, the FA Cup is nothing compared to beating teams week upon week.
Paul Tran
61
Posted 19/03/2016 at 17:39:38
Awful, stale, unacceptable.
Interesting that after the umpteenth insipid performance at Goodison this season, Martinez is now telling us it's not acceptable.
Funny what a new major shareholder can do........
For the benefit of us exiles, what are these rumours circulating about a lined-up replacement?
Allan Board
62
Posted 19/03/2016 at 17:41:59
Very obvious that the players have turned on him after seeing that charade. Expect nothing more until the semi-final – by which time, their performance levels will be at such a low level that Everton will get stuffed.
This manager should have been sacked 12 months ago, yes, but for our so-called players to treat our fans with such disdain is a bloody disgrace and unforgiveable. I'd run this lot till their arses were hanging out – and make them do it all again the day after. It stinks of mediocrity at Everton FC.
Dave Lynch
63
Posted 19/03/2016 at 17:45:30
Somebody mentioned it on another thread Paul, that's all.
Bullshit if you ask me – or the press would be all over it.
John Keating
65
Posted 19/03/2016 at 17:54:15
Well, I stayed to the bitter end. I stayed to boo that disgrace off the pitch! Anyone who says we shouldn't boo our team... well, let them sit through that shite. Disgrace to the jersey, every single one.
I had a tit-for-tat with Graham Mockford after the Chelsea match, basically saying Martinez would return to type and he should be run out. Graham didn't agree... Well, Graham, what says you after that?
Ste Traverse
66
Posted 19/03/2016 at 17:56:39
What I find strange is in our last 3 home defeats, we've played sides who all had tough games in the midweek before coming to Goodison while we've had a full week to prepare, yet it's us that's looked weary and the other sides fresher.
8 home losses and counting. Still plenty of time left for Bobby to get us into double figures.
He has to go at the end of this season now, surely.
Peter Jansson
67
Posted 19/03/2016 at 18:01:17
Now - wake up!!! This was bound to happen. After last season..how could anyone be surprised? Martinez have one and only one way to play.
This is Martinez in a nutshell:
INSANITY - DOING THE SAME THING OVER AND OVER AND EXPECTING DIFFERENT RESULTS.
Eugene Ruane
68
Posted 19/03/2016 at 18:08:11
Dire?
Clueless?
Pitiful?
Absolutely, but as I have suggested in recent weeks, no point in making yourself ill about something you can't change.
The last two (PL) home games have been perfect in illustrating (to me) that the problems we have can't be changed by swapping this feller for that feller or playing three across the back with four across..wherever blah waffle.
So what are these problems?
Well there are many small ones, but many of those could be fixed if you fix the main two.
Which are..
1) Mental weakness throughout - switching off, lack of concentration (which affects passing, which affects possession, which affects marking, everything.)
Combined with..
2) A total lack of leadership on the park (let's take it as read that there's a lack of effective leadership off the park). I began to realise there was a problem when I found myself shouting 'fucking man on!!' because our players weren't.
So two massive problems and (coincidentally) I see only two solutions.
1) RM is replaced by someone with a very different way of doing things. Someone who understands that a solid, mean, well-drilled, hard, fit-as-fuck defence with is where you begin to build a side, as this gives confidence to everyone else. And someone who understands footballers (generally) are uncomplicated creatures who feel comfortable with what they know (systems, positions, team-mates etc).
2) RM says "I have tried something that hasn't worked, now I must change how we do everything"
The latter will almost certainly never happen and the former won't happen until summer at the earliest (but almost certainly not then either).
So, given I can't see either happening over the next 10 games, I won't be raging or giving myself a thrombosis (and suggest you don't either).
John Brennan
69
Posted 19/03/2016 at 18:08:20
Do not despair – McClaren is available?!?
John Keating
70
Posted 19/03/2016 at 18:08:35
No effort, no urgency, no management absolutely nothing. Arsenal received more passes from Everton players than their own!
I so look forward to those posters who support Martinez to come out with today's excuses. We are totally unfit and an embarrassment to one of the greatest clubs in the world.
This idiot is talking about a dynasty... Well, it will be only in the lower leagues! Come on, guys, let's hear from the usual mob with your excuses for this disgrace.
Jim Bennings
71
Posted 19/03/2016 at 18:10:13
We need a manager to come in and shake the lot of them up, wake them up and instill what it means to be playing for Everton especially at Goodison Park. We need if you like a modern day Joe Royle. We need a man to come in and speak a few home truths, not over the top superlatives.
Slaven Bilic has done just that at West Ham, he's got the players 10 feet tall and knowing what it means to play for the shirt.
Imagine where we'd be with Claudio Ranieri for instance. Instead, we've got the man with the book of a thousand excuses, from sticky grass to cloudy skies (okay he hasn't used that one... yet).
John Keating
73
Posted 19/03/2016 at 18:32:57
Hands up everyone who said us winning the Cup should give this clown another season!
John Jones
74
Posted 19/03/2016 at 18:37:09
Personally it's easy to blame RM, it is a bigger problem than that. The board need to go asap what has Moshiri even done?
Brent Stephens
75
Posted 19/03/2016 at 18:42:00
Eugene (#68) sums it up.
Mental weakness, concentration, leadership.
Colin Gee
76
Posted 19/03/2016 at 18:44:06
8 Home Games lost this season, Aston Villa have lost 9.....
Just let that sink in for a moment.
Chris Regan
77
Posted 19/03/2016 at 18:46:23
After everything this fella has talked about: his footballing philosophy, how he wants us to play, possession, movement, bla, bla, fucking, bla... we were shit today, absolute shit.
Out-thought at the back, nothing in midfield, and our only tactic was to lump it to Lukaku, Wimbledon style; what a fucking massive, world class, bellend Martinez is.
Seriously, I never wanted this fella and couldn't understand the hype he generated. Far too much power wanking, from people who wanted a change, went on when he was appointed. Everton could have appointed Lassie as our new manager and people would have got excited simply because Moyes had gone. So disappointed fellow blues had such low expectations when we opted for El Bellend.
31% win rate this season and our lowest home points total ever. Says it all really.
Brent Stephens
78
Posted 19/03/2016 at 18:47:30
I don't see a problem with getting rid of the man now.
1) This squad can and should do better than they have been (a new manager won't do worse till season's end).
2) We don't need RM for us to win the FA Cup; just because he did it with Wigan. (What difficult sequence of FA Cup opponents did he have with Wigan, and has he had now with Everton?)
3) We give the new man time to bed in before next season's fresh start.
OUT NOW – ASAP.
Colin Glassar
79
Posted 19/03/2016 at 18:51:22
John Jones, well he's named two new directors (I know, one of them is Side-Show Bob) and he's been to two games, one good, one utter shite. Apart from that? Well not much from my seat but give the man a chance, he's only been there for a week.
John Keating, don't you miss those cushions? A great, non-violent way of expressing our discontent. I don't know how many scarves I left on the Goodison pitch. Martinez won't be with us for much longer, mate.
Joe Duffin
80
Posted 19/03/2016 at 18:51:51
So gutted at that performance. It looked like Besic was ill and had no energy; this set the tempo for the first half.
The only player showing desire was Coleman. Three men up top from Arsenal meant we couldn't play from the back which seemed to basically scupper any plans. No Plan B.
Gutted.
Chris Regan
81
Posted 19/03/2016 at 18:52:15
Brent, I agree; if we get rid now, a new manager would be able to appraise the squad in action to help assess his transfer policy.
Stephen Brown
82
Posted 19/03/2016 at 18:54:56
Are we really as good as we think we are?
Clearly RM has to take the bulk of the blame or criticism but: we don't have a decent keeper on the books; Stones is great on the ball but can't defend; Jags is a captain that doesn't lead, McCarthy runs a lot and tackles but for a £13m midfielder has scored about 1 goal in 3 years; Lennon was discarded by team in the top 4 where we aspire to be; Baines has past his best; Cleverley discarded by the team in 7th.
Honest, I'm normally a "glass half-full" type but I'm beginning to think I've fallen for the hype?! Could we just be where we deserve to be in the league? Are we being carried by Lukaku's goals?
About 4 weeks ago, I think Merson said how many Leicester players would get in our side and at the time I agreed about 3! Now I'd say 10!
Can we win the cup to save the season? Either way I think our problems are a bit more deep-rooted!
Eugene Ruane
83
Posted 19/03/2016 at 18:58:09
Chris – 'Seriously, I never wanted this fella and couldn't understand the hype he generated. Far too much power wanking went on from people who wanted a change went on.'
Wow – there's spluttering paragraph of angry, pointless nothing.
Kim Vivian
84
Posted 19/03/2016 at 18:58:54
As a matter of interest, is there ANYONE reading this website who does not think RM should go? I really would like to know. I don't want reasons, whys and wherefores (but feel free), and I promise not to berate you. Hopefully others will behave as well.
I just want to know – is there anyone who would stick with him? Put your hands up.
Chris Regan
85
Posted 19/03/2016 at 19:00:09
Stephen Brown, I think you're being too pessimistic. Martinez was totally out-thought and, once his football philosophy is out-thought, he has no Plan B. That said, few managers do have a Plan B.
Tony Hill
86
Posted 19/03/2016 at 19:03:18
Stephen (#82), the problem is entirely the manager and his staff, in my opinion. That is not to say that the players do not need to improve themselves all the time and there are obvious areas where they need to get better individually.
However, with a hard and strategically coherent manager capable of coaching senior players accurately, I have little doubt that we would have been at least top 6 and probably top 4 this season.
John Keating
87
Posted 19/03/2016 at 19:04:10
There were no blows but in the Upper Gwladys today much arguement. Not whether to keep Martinez but when to boot him!! Crazy!
What is really scary is the attitude of everyone. We are going there now expecting not to win! Supporters are coming out the ground and not really going crazy after embarrassments like today – they just seem resigned to the inevitable result.
Anyone saying that we should get the team going... well, sit through that shit. Regardless of the Cup, this imposter should be run off asap.
Sean Byrne
88
Posted 19/03/2016 at 19:05:47
Mourihno with some money to spend?
Jim Bennings
89
Posted 19/03/2016 at 19:10:48
Schmeichel
Huth
Morgan
Drinkwater
Mahrez
Kante
Vardy
Just some of the Leicester players who would get into the Everton side quite comfortably on this season's form. You wouldn't mind Shinji Okazaki as a energetic substitute either, would you?

Jim Bennings
90
Posted 19/03/2016 at 19:12:02
Plus Leicester's manager in the dugout too!!
Seb Niemand
91
Posted 19/03/2016 at 19:19:28
I have no words. No words for the the disgust, the contempt, the loathing the sense of shame Martinez instills in me. He is the rock on which we all shall perish.
Michael Polley
92
Posted 19/03/2016 at 19:20:40
The cup run is keeping him in a job, but – regardless of that – he needs to go. We need a new manager asap in time for our summer signings. Moshiri has got his work cut out.
Alex Moore
93
Posted 19/03/2016 at 19:21:43
Thoroughly disgusting. I love this team, and I don't care for booing our own players and team during the game (after the whistle is fine), but not a single player did anything well.
Poor positioning (can't blame Martinez for players being oblivious to their surroundings), half-ass defense (looking at the whole team for that), poor passing and decision making.
I want to throw up.
Terry McLavey
94
Posted 19/03/2016 at 19:24:05
Dear Mr Martinez,
You must realise by now you are really not up to the job of managing our wonderful football club. We really don't deserve you; if you had any decency, you would go.
Please resign as soon as possible so we can rescue our season.
Alex Moore
95
Posted 19/03/2016 at 19:26:36
Kim (#84). I'm on the fence for Martinez, not going to blame him for today's poor performance. Our players had zero positional awareness, and as such were late to every contested ball, and lacklustre in effort on the day.
Christopher Marston
96
Posted 19/03/2016 at 19:27:37
Today they were missing: Cech, Cazorla, Ramsay, Flamini. We had a fully fit squad who had rested for a week compared to their battering in Barcelona. How the sweet Jesus did we not take the game to them?
Where was the fire in the bellies to kick them whilst they're down?! The motivation comes from the top and he that twat does not motivate! He has to go.
I'm totally fed up with feeling like shit every other weekend due to one man's incompetence. Truly pathetic. Other teams, lesser teams would've gotten rid by now. Why are we stuck with some clown-to-go shite? Surely everyone can see it. Fuck's sake!!!!
Christopher Marston
97
Posted 19/03/2016 at 19:28:52
Alex... mmmm – don't you think the manager teaches them positioning?
Brent Stephens
98
Posted 19/03/2016 at 19:30:17
"If you can meet with triumph and disaster and treat those two imposters just the same". I sense RM takes Kipling too seriously and ain't that arsed at the disasters.
Stewart Lowe
99
Posted 19/03/2016 at 19:31:45
If we had an average Kone or Naismith as our lone striker, we would be in the relegation places with the squad that we have.
This means we are actually worse than the 14th position we are in because the Lukaku goals are masking how dreadful we are. Take Lukaku out of there and this great squad could be fighting to stay in the Premier League.
Is this not cause enough to let Martinez go and say it's never going to happen?
John Keating
100
Posted 19/03/2016 at 19:33:12
Alex,
You don't believe in booing that shower during the game? So what do we do? Politely clap? Get real! Those arseholes are a disgrace and if they don't give a shit, then why should we? Overpaid, overhyped mercenaries.
Remember, they are just passing through... We are there for life. Fucking boo them – they should be shot! A disgrace to the jersey.
The problem is that too few of us do boo them. Most are just in a state of shock! Yes, mate, you politely clap... but do not tell me not to boo those wasters!
Craig Mills
101
Posted 19/03/2016 at 19:34:38
2-0 up against West Ham and he brings on a striker.
0-2 down against Arsenal and he brings on a defender.
Sums it all up for me.
Brent Stephens
102
Posted 19/03/2016 at 19:38:04
Craig, he brought on a defender to go 3 at the back, pushing the full-backs forward. A more attacking intent. Pity it didn't work!
Stewart Lowe
103
Posted 19/03/2016 at 19:40:13
How blind is Alex Moore? Were you not watching the same game as 40,000+ others? Have you not seen the last 2 years of this same rubbish and no progress?
Martinez plays one type of football: pass, pass, pass, press, press, pass, pass, pass, pass, press, press, pass back, press, pass back, pass, pass, pass, press, give the ball away, opposition attack, goooooaaaaallllllll.
Has this not been familiar for the last two seasons? And yes – it is all Martinez's fault.
Joe Clitherow
104
Posted 19/03/2016 at 19:41:36
Christopher you missed out Walcott and Oxlade-Chamberlain from your list....we could easily have been on the end of a cricket score to rival this dickhead's record 9-1 spanking by Spurs today. (Who the fuck appoints a manager who has been beaten 9-1 and has a relegation on his CV anyway? A manager who the Martinistas keep telling us is some kind of genius?)
The scariest thing for me is I think we will finish 3 or 4 places above the drop zone this season and we will still have the top scorer in the Premier League.
Think that last statement through carefully and what it means when he inevitably leaves for a team that will make his goals return meaningful rather than just cancelling it out with the crap system our current third-rate manager insists on playing. How soul-destroying must that statistic be for Lukaku?
Utterly disgusting incompetence.
Alex Moore
105
Posted 19/03/2016 at 19:42:01
Whatever, I don't believe in booing our colors while the action is happening. If you've ever been on a field and you're struggling, you don't need your own damn fans getting into your head. It's moronic.
Christopher (#97)
Surely you are right. But there were basics that we're lacking, at this level I expect our guys to anticipate more accurately to place themselves in better positions. They're not children, let's hold this whole team accountable for that garbage today.
Kim Vivian
106
Posted 19/03/2016 at 19:43:15
Alex – I have been an 'on the fence' man for quite a while. I do not like the hire 'n' fire culture that is so endemic in football and think a lot of managers have been booted without a fair crack at the job to be honest. David Moyes at Man Utd is a case in point and close to home.
I agree with you that the players looked like a Sunday morning men's league team today and precisely the reason for that I cannot know – only surmise.
However I have fallen right off that fence recently and am genuinely starting to worry about our future now. Less now, in fairness, since Moshiri is on board but still worrying plenty. I'm not sure how long it will be before he starts chucking is weight around but hopefully soon. We are lucky that he has a football background so he should see the problems pretty quickly and clearly, and I really do hope that he is not seeing a future with RM in charge.
I thought today might be a pretty big nail in Wenger's coffin if we had beaten the Arse (and I thought we would), but I think actually the reverse has happened. The trapdoor might be springing under RM's tenure now.
We shall see.
(I've said before and I'll say it again – I hope we win it but the FA Cup is an irrelevance in all this.)
Alex Moore
107
Posted 19/03/2016 at 19:45:19
Stewart Lowe
Come on now, it's not like I gave Martinez a sterling endorsement! Your point is definitely valid.
Steve Davies
108
Posted 19/03/2016 at 19:47:46
I am genuinely tired of this excuse for a manager. If you play Arsenal you have to be in their faces a la Stoke and close them down at every opportunity and use your set pieces. So he decides to play into their hands.
I really don't want to travel to Wembley and watch this lot but I will as my daughter has never been.
The guy doesn't know how to manage a game, his players are unfit and disorganised, he is out of his depth. Even if he wins us the cup and I very much doubt it, the guy has to be sacked on his Premier League record alone. He is a below average manager who once got lucky with a cup win.
He really doesn't know his arse from his elbow. If he isn't sacked at the end of the season, then Kenwright and Co have to be judged as just as incompetent.

John Hughes
109
Posted 19/03/2016 at 19:51:20
Stewart (#103),
I think I'll pass on that!
Jay Wood
110
Posted 19/03/2016 at 19:52:28
Alex @ 95.
"I'm on the fence for Martinez, not going to blame him for today's poor performance. Our players had zero positional awareness, and as such were late to every contested ball, and lackluster in effort."
Alex, it falls to the manager to prepare and drill his side to have individual and collective positional awareness, to have them physically and mentally fit from 1st minute to last, to contest every ball and NOT be lackluster in effort.
Today was our 8th home PL defeat of the season, 3 consecutive home defeats including today. This kind of performance is not a one-off. It is now the standard.
And yet all this time Roberto Martinez waves his Men In Black lazer pen in after-match interviews to eraze our memories of what we have just witnessed, offering a complete re-interpretation of events.
Time and time again he talks up the players, telling us the team and individuals are learning and it will be jam tomorrow, only for the same mistakes by the same players with the same end result being repeated.
Unlike some, I don't believe he has 'lost the changing room.' Why would he? There is no fear factor with this manager. It doesn't matter how poorly you play or how often you cock up, you are not going to get dropped, a bollocking or extra training sessions on your day off to correct things.
Yes, the players must shoulder part of the blame. But when they are evidently playing to the 'philosophy' and instructions of the manager and that 'philosophy' is not achieving results, then ... guess what?
The person who comes under the greatest scrutiny is the author of ... 'The Philosophy.'
Stewart Lowe
111
Posted 19/03/2016 at 19:53:16
I also don't condone the sacking culture that is rife these days. But Martinez isn't being judged after 6 or 12 months, he has had 2½ years to get us to 14th, and in my book that is plenty of time to get it right.
The only way for us all to get our word across now is to make a stand either during or after the game. The only way we could get Martinez out now is by a protest as fans have expressed their anger on websites like this for more than a year and Martinez is still right there at the club.
Paul Taylor
112
Posted 19/03/2016 at 19:58:34
Well another crap performance and more crap from RM. There appears to be an almost unanimous view on TW that we need a new manager to take this team to the next stage. We have a great possibility of new investment and we do have some very talented players that we must keep as well as a lot of dead wood that needs clearing out. With the right plan we could see some successful times for our wonderful club in the very near future.
But the fact is that our present manager MUST GO NOW and be replaced by someone who:-
1) Will give us a BETTER chance of winning the FA cup;
2) Will get us the HIGHEST possible premier league finish;
3) Will ATTRACT quality new signings;
4) Will be able to KEEP players like Lukaku, Barkley and Stones;
The above will only happen if we remove Mr Martinez now. Not waiting for the next game or the derby game or the semi-final or the end of the season or the first 10 games of next season or another season and so on....
Roberto maybe a nice guy, but he has all the qualities of bad politician and he really is a very poor manager. The only question to me is just how we can help to achieve his departure?
The media seem to be slowly getting the message about our incompetent manager. But as we all know it's the fans that can change things. My belief is that the protests should be scaled up and as much as I dislike our neighbours, their protest did initiate a change of thinking at the top.
To achieve the above 4 targets, he needs to go ASAP and I suggest we all try and do something, however small, to persuade those in positions to act to act NOW.
Keeping with the present attitude will only prolong the misery every matchday and make the important targets mentioned above less likely to achieve. Any ideas on how we can do this individually and collectively?
John Keating
113
Posted 19/03/2016 at 20:06:00
No, I'm wrong. I should just sit there, week after week, politely clapping and occassionally shouting "Oh gosh, hard luck, chaps" as I witness yet another shite result.
Of course the supporters are to blame. The last two season's debacles are not the manager's or the players' fault. We don't boo and they're shite. We do boo and they're shite.
Apparently any supporter sitting week after week watching this shit and totally frustrated is a moron for venting their anger during the game? Sorry, Alex, I do not think I am a moron. Maybe best you look closer to home...
Colin Malone
114
Posted 19/03/2016 at 20:07:26
Either you got or you have not. Unfortunately Roberto, you have not.
Great coach? Yes. Great Manager??? Nooooooo!!!
McCarthy and Ross have peaked under Martinez.
John Malone
115
Posted 19/03/2016 at 20:08:46
The difference between us and them today was there to see, we weren't even close!
They were a 'proper' team who attacked as a unit and defended as a unit, we couldn't get near them!
The manager's tactics stunk! It is one thing believing in your team and another being a fool! To try and outplay Arsenal shows how naïve Martinez really is just when you to start to think the penny has dropped!
The sooner he's gone, the better – he is not a top manager! Fact!
Phil Walling
116
Posted 19/03/2016 at 20:09:25
Just consider: If winning the Cup at Wigan was enough to get Roberto the job here, then winning the Cup at Everton should be more than enough to see him keep that job!
Not my logic but simply my reading of BK's thought process. It would be the only silverware Everton are likely to win in Bill's reign, so the manager will be well rewarded if he pulls it off. And it certainly won't be with the sack.
So I think we will all have to be patient. Possibly until at least 23rd May. Unless 'Laughing Boy' Moshiri sees it differently.
Andy Crooks
117
Posted 19/03/2016 at 20:09:39
Jay, good post. Martinez will never lose the changing room. He must be great to play for. You can be a spineless, lazy sack of shite and play next game. The problem is that he has the dressing room right behind him.
Who wouldn't love his cretinous defence of one's utterly lamentable efforts. His praise of shite, his wails of bad luck, his talk of better to come, his undemanding, smug, arrogant posturing.
You know what, that shower who shamed us today could probably line up and take a dump on his desk and the sad specimen would put a phenomenal spin on it.
Richard Farrington
118
Posted 19/03/2016 at 20:14:35
Andy Crooks – brilliant and hilarious post, spot on.
Stewart Lowe
119
Posted 19/03/2016 at 20:17:44
Last season (2014-15), Martinez states certain players like Lukaku are still tired from the last World Cup. He states we are also tired from having to play Europa League games on Thursdays and having to play Premier League games 2 or 3 days later: we finished 11th in the league.
This season: No World Cup excuse for players being tired. No European games to use as reason for players being tired. And if there were any remaining doubts about tiredness, Everton only came back from a week in Dubai two weeks ago. Stones, Lukaku and Barkley are maturer than last season. Better squad than last season by adding Deulofeu, Lennon, Cleverley, Niasse and Funes Mori: current position, 14th in the league.
Joe O'Brien
120
Posted 19/03/2016 at 20:21:10
I just want him gone now, asap. In the long run, maybe it was good that we were so bad today in the presence of the new owner. He's not going to be fooled by RM's waffle to explain what has been going wrong and how unlucky we have been etc etc... Zzzzzzzz.
If Bill was there on his own, RM would get another season; with the new owner – not a chance, even if we win the cup.
Alex Moore
121
Posted 19/03/2016 at 20:26:32
John Keating (#113),
I didn't call you a moron. I'm sure your mental faculties are all there. I never called you out personally, get some thicker skin.
I said "booing our own colors during the game is moronic". Subtle difference, mate, it's alright though.
Mike Green
122
Posted 19/03/2016 at 20:30:30
Getting us to two semi-finals will give Martinez enough to defend to hang his hat on. Should we proceed to the final, his arm will be strengthened and, should we win it, I would be staggered.
Barry Kay
123
Posted 19/03/2016 at 20:37:56
People saying this is best team since the '80s. Well, I was there when that magnificent team played. Only Lukaku would get in that team – the rest are totally not on a par. Oh for the past glory days... Martinez Out!!!
Stewart Lowe
124
Posted 19/03/2016 at 20:38:10
I hate being in this position as I will watch the semi-final and maybe a final and like any fan, it's the ultimate – watching your team lift a trophy. However, I just know that, if we do win it, all the emotion and euphoria will mean Martinez gets another season.
So then I find myself reluctantly having to cheer Everton on; it's a lose-lose situation. No way would they sack him after winning the cup, because he could do, after winning the FA cup with Wigan, who had a hugely poorer squad and playing exactly the same way.
John Malone
125
Posted 19/03/2016 at 20:40:36
I too think today might be the undoing of Martinez, not for trying to match Arsenal toe to toe in the first half and getting totally outplayed, but for the absolutely shocking attempt at going 3-5-2 in the second half and looking like a pub team!
Lukaku looked so frustrated today, the only guy in our team giving Arsenal something to worry about! There's not a chance he will be here next season and it's a shame because he is a big asset – under a proper manager, he could've been the man to make Everton history!
John Crawley
126
Posted 19/03/2016 at 20:41:56
Stewart (#103), I think you've got that wrong, surely on today's performance it should be pass, give the ball away, give the ball away, give the ball away, pass, give the ball away, give the ball away!
Tom Bowers
127
Posted 19/03/2016 at 20:43:02
It is clear he has lost the plot – if he ever knew it to begin with.
Ask yourselves why a young talent eager to establish himself as a regular would come into the team today and be absolutely awful for 45 minutes? We have all been impressed on what we have seen of Besic so far... so what happened? Surely Martinez and his lack of motivation is a reason to a degree as to why there is so much inconsistency.
Yes, we know Arsenal can play a lot of teams off the park but they have been very poor lately and I have been thinking that Wenger was maybe past his best but I was wrong.
They shrugged off a bad midweek and came out on a mission to expose Everton for what they are and that is a team with a very soft midfield defensive unit. The tackling was woeful, as was the passing, and closing down was non-existent.
Whilst some may say removing him now won't serve any purpose, I disagree. Surely an interim manager couldn't make things any worse for what we have left of this season.
Denver Daniels
128
Posted 19/03/2016 at 20:43:09
We can't string two good performances together under this guy. Hopefully Mr. Moshiri doesn't suffer fools and puts Bill in his place and get's rid of Martinez.
We seem to be a constantly evolving experiment under this man. He's a "lucky packet" manager. Out of his depth.
Disgraceful. We deserve better than this.
John Keating
129
Posted 19/03/2016 at 20:46:09
Well, Alex, if you can sit there watching that shite and not show your anger and frustration during the game, you are on for sainthood!
I booed during and after the game. I also screamed every obscenity known. If you think that is moronic, then I am quite happy to be a moron. Believe me, there were quite a few of us today.
I, like thousands others, pay my money and have every right to vent my anger however I see fit. Anyone not happy with that can fuck off. Maybe you were in a section of happy clappers, I don't know...

Dave Abrahams
130
Posted 19/03/2016 at 20:51:49
Amazingly, Wenger gets crucified at every Arsenal home game. One lad I know of, a rabid Arsenal fan, will not go as he takes his daughter and will not let her listen to the absolute abuse Wenger receives; this while keeping Arsenal as one of the top teams in England and (to a lesser extent) Europe.
Meanwhile, Martinez √Ę'ā¨'Äú while being rightly castigated on here √Ę'ā¨'Äú gets away relatively easy at Goodison; maybe he thinks he is doing a good job.
Thankfully his time as Everton manager is nearly up. It would not be too soon if it ended tonight, but there will be a new man in very soon and he can't come quick enough. Kenwright, thankfully, will have no say in the matter.
Chris Leyland
131
Posted 19/03/2016 at 20:56:42
It is now surely beyond redemption for El Clueless? 8 home defeats in the Premier League is abysmal by anyone's standards. The Premier League is your bread and butter and the league at home is the knife with which you spread the butter on your bread. You simply cannot lose that number of games at home and be allowed to keep your job... or can you?
With season ticket renewals currently underway, the only way to get the powers-that-be to stand up and take notice is for large swathes of fans to simply not renew yet. Why not go one further, and each season ticket holder send an email to robert.elstone@Evertonfc.com explaining that you won't be renewing whilst Martinez remains as manager because you are not gettig what you have paid for.
Brian Mahoney
132
Posted 19/03/2016 at 21:03:55
MARTINEZ OUT – what more does it take?
I have been watching Everton for 48 years and cannot remember us getting beat more than 8 times at home in a season, even during our relegation-threatened years. Please someone with any kind of bottle, get shut of this joker before we become a Leeds United, Nottingham Forest, or Sheffield Wednesday...
Steve Davies
133
Posted 19/03/2016 at 21:12:18
Just watching the rugby. England replaced their manager, Stuart Lancaster, who a lot of my mates who play, say was totally out of his depth tactically and was inexperienced.
Eddie Jones came in and they are now a different team. He seems to know what he is doing.
Hopefully, the same can happen for us next season. We need to hire an experienced manager, not a promising one with potential.
Martinez will end up at a Leeds Utd next season or somewhere like that because another club will buy his spoofing and not his record. He is a man of dreams but no substance. Get rid......
John Austin
134
Posted 19/03/2016 at 21:27:39
Chris, I agree. I am not currently a season ticket holder but was thinking of buying one next season when I move back to the area. No way whilst RM is manager. The club will surely sit up and take notice if revenue drops and fans write as you say.
Richard Farrington
135
Posted 19/03/2016 at 21:30:01
Are their any people on here who sit in the Main Stand or Family Enclosure and within earshot of Martinez and any comments aimed at him? I just wondered if he is getting any verbals?
I've really had enough of the fucking clown and am just hoping that someone can confirm he's getting the message and will maybe be sleeping uncomfortably tonight.
MARTINEZ OUT.
Tony McNulty
136
Posted 19/03/2016 at 21:41:41
I'd love to see the results of a poll of the world's top 100 football managers.
The questions?
1. "Given Everton's squad, do you feel Everton would be in a better position with you at the helm?"
2. "Given Everton's squad, do you feel Everton would be in a better position with Lady Penelope at the helm?"
Alex Moore
137
Posted 19/03/2016 at 21:46:58
John Keating,
Look, we're both in a bad mood. I apologize for being chippy with you, mate. We both want what's best for this team. Cheers and COYB!
John Crawley
138
Posted 19/03/2016 at 21:55:37
Tony (#140) – Lady Penelope's just died:
http://www.bbc.co.uk/news/entertainment-arts-35818530
Parker is still alive so maybe he could step up!
Paul Setter
139
Posted 19/03/2016 at 22:22:08
Not as good as we all think. Our defence is nothing short of diabolical... Championship-standard players at best in midfield; the only reason we are where we are is the big fella's goals – take them away and we are in deep trouble. Rotten from the core for our once-great club.
Martinez is the worst manager we have ever had – that is fact... Only he knows why he thinks crap like McCarthy and Cleverley are good enough for the likes of Huddersfield, let alone starting for Everton. With these talentless buffoons who are starting week on week, I actually couldn't care less if we lose every game between now and the end of the season – it's the norm, right???
Tony McNulty
140
Posted 19/03/2016 at 22:30:00
Thanks, John (so much for my attempt at post-modern irony).
Thinking about it, though, at last Parker always knew when the bell rang and took appropriate action. ("You rang, M'lady?")
Frank Thomas
142
Posted 19/03/2016 at 23:13:26
Dreadful and getting worse the only way to describe Roberto's training and tactics for our club.
The most worrying and damming stat was told today by one commentator.

Under Moyes we averaged 1 goal per game and 1.8 points per game over the season.

In Roberto's first season he average 1 goal per game and 2.2 points per match.

In Roberto's second season season he averaged 1.1 goal per game and 1.7 points per match.

This season, we have averaged 2 goals per game and only 1.1 points per match – that is approaching the relegation zone.

My thoughts are what about next season? If Rom leaves, we will probably be down to 0.8 goals per game and 0.5 points per game that mean we would be relegated.
Did anyone else hear that stat on BT?
Dan Davies
143
Posted 19/03/2016 at 23:17:42
Time for a grim reaper moment for Roberto, methinks.
Alastair Donaldson
144
Posted 19/03/2016 at 23:20:31
According to Dietmar Hamann on MotD, the reason Everton are so bad is because 'the Goodison crowd are so demanding and thus the players are too nervous'.
And he gets paid for talking such baloney!
Neil Pearse
145
Posted 19/03/2016 at 23:29:04
"Keeping a clean sheet for me is as good as scoring a goal" – Wes Morgan.
No doubt for Ranieri too.
No comment necessary.
Mike Keating
146
Posted 19/03/2016 at 23:31:34
My mate from Cork (a Villa fan) has a 6 year old son who 'came out' 2 months ago as one of us (we are chosen).

Got tickets for today's game and went up early, photies with Dixie etc. Left them at the Bullens and met up after the game.

"Did you enjoy it Jimmy?" "Yeah √Ę'ā¨'Äú the hot dog was brilliant!"

Says it all really...
Liam Reilly
147
Posted 19/03/2016 at 23:37:27
I haven't read the comments above; can only imagine the venom.
I've two young kids so I have to record these games and watch them after they're in bed and the lass and I have watched a movie.
Pretty much par for the course is her going to bed with me fuming and swearing at the TV.
Just fuck off, Martinez.
Kevin Johnson
148
Posted 19/03/2016 at 23:39:43
Could Bobby be possibly the first Blues Boss to get us to an FA Cup Final and get the bullet? It's looking odds on...
Dan Davies
149
Posted 19/03/2016 at 23:41:14
Martinez's face in the MotD interview – Dead Man Walking... and he knows it.
John Crawley
150
Posted 19/03/2016 at 23:55:27
Tony (#144) – yeah instead of Taxi for Martinez, it's Parker pulling up outside Goodison and saying to Moshiri, "You rang, M'Lord!!" FAB.
Ron Marr
151
Posted 20/03/2016 at 00:27:11
I would think that Farhad Moshirir having an accountancy background is more pragmatic than Bill Kenwright, and realizes that this team/manager would be in big trouble without Lukaku.
BK the impresario is a hopeless romantic, and believes the Catalan Prince with the brown shoes will take Everton to the Champions League. Only problem is there is a typo on the last page of the script, and it should read 'Championship'.
David Baxter
152
Posted 20/03/2016 at 02:22:49
Moshiri probably spent last night searching desperately for his receipt!
Paul Ward
153
Posted 20/03/2016 at 05:14:07
Take a bow, Andy Crooks (#117) you are spot on. Not even the immortal bard William Shakespeare could have phrased a description of our manager like you have.
David Pearl
154
Posted 20/03/2016 at 05:28:44
I'm finding it hard to back RM any further, another home loss would now equal our worst season ever. That's what, in 138 years?
There has to be a reason we can play more freely away from Goodison. And why results are better and more consistent. When we are good, we very good (Stoke)... but the consistency, the effort? He has done well in bringing in certain players and bringing through and developing others.
I can't see us sacking any manager before a Wembley semi-final and definitely not before an FA Cup Final should we get there. If we don't now show a remarkable league form turnaround, he could very well win the FA Cup, then get himself fired.
And please, please not Eddie Howe. So what, he is a blue? He is too young and too inexperienced. Managing Bournemouth is not the same as managing Everton and if Howe also sticks to his philosophy, we won't see an improvement. These players need a manager that has strong shoulders, a real leader and motivator, someone to look up to.
If Mourinho can lose a dressing room he won the league with the previous season... It makes you wonder what relationship Martinez has with the players. It's a fine line between success and failure. Those of us that witnessed Howard Kendall all know that.
Well, the last time we beat Watford at Wembley started something special... I have witnessed some of the best football I've seen at Goodison under Martinez and also some of the worst. Same goes for Goodison atmospheres... what a bizarre time to be an Evertonian (even more than usual).
Brian Porter
155
Posted 20/03/2016 at 06:59:23
I'm finding it hard to say anything that hasn't already been said or anything I haven't said since we lost at home to Palace TWO YEARS AGO when it was clear to see that Martinez's 'philosophy' had been found out. We went from a brief flirtation with 4th place to eventually end up lucky to hold on to 5th. Since then it's been a progressive downhill slide, slowly at first, but now the downward momentum has gathered speed. At the current rate of descent we will probably finish closer to the bottom three than the top six. Thank God for Villa, Sunderland and Newcastle, our major source of wins this season and without whom we would almost certainly be in the relegation mix.
I celebrated 57 years as a supporter on my 63rd birthday recently and have never in all those years felt as I do now about my beloved Everton. Under Martinez it's become something like watching a once proud great beast slowly dying from death by a thousand cuts as he continues to prove his total unsuitability for the post of managing Everton FC. His inept in game management, hopeless and at times wholly illogical use (and non use) of substitutes, his inability to motivate the players and change things when games are running away from us are just some of the reasons he should go, sooner rather than later. People talk about keeping him till after the FA Cup. Why? It's highly likely that a new manager could quickly instil son fire and brimstone and backbone into the team and make us an unbeatable proposition in the cup and remaining league games.
When we also hear, earlier in the week that he believes the results don't matter so much as the performance, that he is building the football club as a whole, it turns my stomach. His job as manager is simply to run the playing side of the club, to send out a fit, well coached motivated team every week, and to win football matches, not rebuild the club from grass roots to boardroom. If he thinks he can build a 'dynasty' like Wenger at Arsenal, it just shows how delusional he has become. Wenger taught him a painful lesson yesterday, but I doubt he'll have learned from it.
He's a sad, arrogant snake oil salesman who totally conned BK with slick talk and false promises and BK sadly bought the whole kit and caboodle. We're definitely nearer the Championship than the Champions League and it breaks my heart to see my club in such disarray, with no one seeming to take responsibility as he's allowed to go on with turning us into Wigan, Mark II.
Moshiri must be picking up on the fans' discontent and a quick look at the results of the last two seasons, combined with this season's home results, (relegation form if not for some good away results) must surely give him serious cause for concern. Martinez has been nothing short of a disaster for us and the sooner he's gone, the better, but has anyone got the guts to fire him now? Probably not as our league season is all but over and those in authority are probably thinking he can bring the FA Cup to Goodison. But as I said earlier, new, top class manager or even a good, highly motivational caretaker manager could probably deliver the goods if he can get the players to stand up and be counted.
I've simply had enough of Roberto Martinez, and I think some of the players have too. I was watching the body language on the field yesterday and noticed that on a couple of occasions when Martinez stood shouting at the players from the touchline, some of them turned their heads away as if to say they didn't want to listen to whatever he was saying.
Too much has gone wrong under his tenure that can't be put right while he's at the helm. Love him or hate him, at least Moyes had us recognised as perennial top eight finishers, one of the 'best of the rest' but Martinez will be lucky if, by the end of the season we are looked upon as 'the best of the worst'.
Aaron Lang
156
Posted 20/03/2016 at 07:34:41
Kim Vivian (#84), I'll put my hand up. I do believe he should stay on, I have my reasons. I'm not gonna be around for a few hours in case I am questioned, but you asked!!
Ben Goren
157
Posted 20/03/2016 at 08:36:30
Martinez out. Nothing personal. We've got a world class squad ... of headless chickens. Some highlights:
Coleman rushing up the right ignoring GerardD instead of passing him into space so he can deliver those pin point crosses for Lukaku.
Mirallas. Not playing today because apparently he can't play for more than 20 mins without getting sent off. That's on him true but it's also on the manager and staff to put the fear of god into him and teach him some self discipline. Remember the Limpar/Kanchelskis pairing? We've got Mirallas/GerardD or Lennon but rarely do they ever play together as a unit.
Midfield. Where was it? Didn't even bother turning up. Arsenal were all over us like a rash whilst we were lashing out because everyone was having a shocker and no one could complete a pass. Ps: pass to feet or to space. Don't force someone to stretch to control a pass because you rob them of time to move forward and see someone in space.
Attack. Only Lukaku? Where's our top class second and third strikers? Kone also needs to exit when Martinez leaves.
Stones. We all admired the lad for being cool under pressure but he's starting to look a liability. Needs to have some common sense about playing safe.
Cleverly on the left? Enough said.
Baines: at one point I saw him massively out of position mid way up the Arsenal half with Arsenal on the counter attack. Very often we have two in defence because our wing backs are more wingers than back four. It's not like we haven't got decent wingers.
Barkley: head down, uninspired, easily closed down, and shut out.
Lukaku: Didn't get back to help out enough. Terrible service to him. No support up front.
Attack: we rush up the field but with no idea of how to finish the move and find the man to find the net. No coordination. All huff and puff and fizzle out to nothing.
Jags: If he had kept his eye on the ball that header would've gone in. He didn't and it didn't. Dreadful miss. Symptomatic of the whole team.
I'd rather lose in the cup than have us win it and Martinez stays for another season like this. Absolutely shameful.
Ben Goren
158
Posted 20/03/2016 at 08:41:58
To add to Brian's point about the players' attitude towards Martinez, I notice a couple of times that Martinez was shouting to the players and then he just looked resigned like "They're not even listening to me", like a teacher who can't control an unruly class.
The players have great potential but they need a manager they respect and obey. RM needs to be sacked now – not in a few games, and not at the end of the season, but this week.
John Crawley
160
Posted 20/03/2016 at 08:57:43
Brian, hard to argue with what you've said. I found the example he used of Wenger telling. I think Wenger and Martinez share some of the same traits, the difference being Wenger is much better. But his track record in Europe and the league isn't great since he lost the defence that he inherited from Graham. He looks like he isn't going to win the league this season and that's got to be a major failing given what's happened.
Martinez should have been sacked last summer, everything that's gone wrong this season was there to see after his second season in charge. I however would wait until the end of the season to sack him as you're not going to get a top class manager in now.
I don't think he's left the club in a mess, we've got some good players and the new manager will have a good base to build on. We need to hold onto Lukaku for another season and see where we are then. In the meantime I'm hoping that Moshiri is using the time available to sound out managers like Frank de Boer.
Colin Glassar
161
Posted 20/03/2016 at 09:20:48
Brian, hopefully there will be a major clear out in the summer from BK and his cronies downwards. The stench of complacency which pervades the club will be a thing of the past and a new, fresh wind of change will give us all new hope.
To paraphrase Cromwell, "You have sat here far too long, so in the name of God I say go, go, go".
Phil Roberts
162
Posted 20/03/2016 at 09:33:12
Colin – a definition of cronie is a close friend or companion.
Which of those other than the CEO are a close friends or companions?
I just think they are unsuitable, not completely competent employees.
Colin Glassar
163
Posted 20/03/2016 at 09:39:43
All of the present, soon to be past, regime Phil, right down to the toffee girl.
Kim Vivian
164
Posted 20/03/2016 at 09:45:27
If RM had been given the heave-ho last summer, I would have been of the opinion that we had jumped the gun a bit. Whilst not materially demonstrating much to justify sticking with him there were signs of serious potential. So I was in the 'give him a bit more time' camp because there would always have been the 'what might have been' question .
Sadly any potential has not been realised and the rot has now got to be removed before it gets any worse. RM should not be trusted any further and he should go as soon as... never mind the FA Cup.
I never thought I would take this stance but I cannot see a single silver lining in the clouds as far as his tenure is concerned.
Brian Porter
165
Posted 20/03/2016 at 09:52:22
Hi John (#164), I agree with you re Wenger, but by comparison with Martinez, the man's a genius. Is it 20 years now he's kept Arsenal in the top 4? He may not have won the league, but at least has delivered a couple of FA Cups and no-one ever accuses his teams of not trying.
Yes, Martinez should have been sacked last summer but he probably sat down with BK during the closed season and told him this was going to be our year and BK fell for his smooth talking rhetoric (again). We all know he's continued to deliver the identical crap this season with almost the exact same excuses and vague promises of better things to come.
Let's hope our new majority shareholder can see past the rhetoric and BK's blind loyalty to his tame puppet (Muppet?) of a manager and takes swift and decisive steps to rid the club of it's biggest failure and major encumbrance before we end up like Villa, demoralised, defeated and down! Mind you, that sounds pretty much like the crowd at Goodison most weekends already.
Colin (#165), I sincerely hope you're right about a summer clearout. I only hope Martinez is not the man entrusted with any transfer kitty that Mr Moshiri might make available. If our new striker, The Invisible Man, aka Oumar Niasse, is anything to go by, we could end up with a squad full of players who 'need time ' to assimilate to the Premier League. The guy's been with us two months already. Just how long do Martinez's coaching staff need to get the Russian Player of the Year fit enough to start a game?
Or could it be that Martinez bought him sight unseen, based on a few YouTube videos and has realised he's made a terrible error in judgment? If that is the case, we all know that Martinez will never admit it. After all, we know from his hundreds of media interviews that Roberto doesn't make mistakes, don't we?
Rob Halligan
166
Posted 20/03/2016 at 10:10:34
I thought this management set up didn't practice defending corners or free kicks? In the second half Arsenal had a corner and Graeme Jones was shouting at Lukaku to get back and defend it. Lukaku could clearly be seen pointing to the halfway line, saying he should stay up front. But oh no, Jones told him to get back. Lennon stayed up front on his own.
Okay, I know Lennon is quick and a good outlet, but surely, being 2-0 down, and chasing the game, we should have had two players on the halfway line, meaning Arsenal would need at least 3 or 4 players back defending.
Pathetic all round. Time to get rid.
Matt Butlin
167
Posted 20/03/2016 at 10:13:04
This makes terrible reading. Basically, every side comes to Goodison and knows what we're going to (try and) do.
http://www.soccerstats.com/homeaway.asp?league=england
Ray Roche
168
Posted 20/03/2016 at 10:23:49
I watched West Ham Utd on MotD and if, as expected, they beat Man Utd then we will have no chance against them. Please let Man Utd win.....
Sean Kelly
169
Posted 20/03/2016 at 10:26:48
This bullshit has to stop. Martinez says it's a one-off. FFS, there's been too many "one-offs" over the past two years. Don't be fooled, folks, by this clown. If by some miracle he manages a result in the derby and the FA Cup, he will be in charge for years to come.
Many many adjectives have been used to describe him but I will put it simply. He is not good enough for OUR great club, never was and never will be.
Just look at our stats for the past two seasons. Freefall. Case proven.
John Crawley
170
Posted 20/03/2016 at 10:37:59
Rob 170 don't know if you've been watching Leicester recently but they've been keeping 3 players up when the opposition has a corner. The result is the opposition has been forced to leave at least 4 (sometimes 5) players back. It seems to have been working well for them.
John Hammond
171
Posted 20/03/2016 at 10:41:17
I really hope the club are eyeing up replacements for Martinez depending on the outcome of the semi-final: win and he's fired at the end of the season. Lose and he goes after that game.
With the investment next season surely we can now aim for a higher calibre manager. Make next season something to truly look forward to for fans and players.
John Crawley
173
Posted 20/03/2016 at 10:43:51
Colin – the toffee girl!! There are some really good people working at Everton, the problem is the leadership, that's what needs sorting. I'm sure Moshiri will start addressing these issues but it seems likely to be evolutionary.
Rob Halligan
174
Posted 20/03/2016 at 10:47:05
It's not rocket science is it John, #174. Lukaku seems to have been staying forward recently when the opposition have a corner, so why the sudden change? You need at least 2 players up so that, should we be able to clear the corner at least they can help each other out. What is one player against three or four going to do?
Useless coaching from a useless coaching team.
Sean Kelly
175
Posted 20/03/2016 at 10:50:40
Rob, that tells me two things:
(1) There is panic and fear in the management.
(2) No discipline.
I have read also about the lack of intensity in our warm-up with players (Besic and Baines) not getting involved or coming out late (McCarthy). This begs the question: Who is running the asylum?
Steve Brown
176
Posted 20/03/2016 at 11:01:56
Mr Moshiri has been conspicuous in not backing Martinez, even in the post-match misty-eyed soliloquy by Bill when we beat Chelsea. I haven't come across one comment from him regarding our manager. His silence speaks volumes.
My guess is that the man made his mind up about Martinez before buying the club. He has invested millions and won't hesitate to remove someone who is incapable of taking this team forward. He calls the shots now, not Kenwright.
Keith Harrison
177
Posted 20/03/2016 at 11:07:52
That was one of the most inept home performances I have ever seen. Players looked like they didn't want to be on the pitch (Besic – unusual I know), and others have no spatial awareness (Barkley).
After my 3 hour drive home, I watched England – admittedly nervously – win the Grand Slam. This was with the vast majority of the same team that surrendered meekly in the home World Cup. A good, knowledgeable, coach CAN make the difference to a good team.
A good knowledgeable coach now could win us the derby match and the FA Cup. Over to you, Mr Moshiri.
Brian Harrison
179
Posted 20/03/2016 at 11:18:39
I don't know how far this club has to slide down the table before someone calls time on RM's future as our manager. We now have a billionaire on board which is in stark contrast to the bankrupt ideas of his manager and coaches. I believe the stats say that with only 3 home games left that this could be the lowest number of wins by us in a season since 1929.
We have only beaten the 3 bottom clubs and a Chelsea side that was in turmoil. Yet unbelievably there are still people defending RM.
I suppose like many I have already booked my train and hotel for the semi final, how stupid having to book a hotel for a semi final. But with such a late kick off with the last train out of Euston for Liverpool at 8:30 there would be no chance to catch it if extra time is involved.
I desperately want us to win a trophy I just hope that it doesn't mean if we do that means keeping RM for another season.
Oliver Molloy
180
Posted 20/03/2016 at 11:33:07
Steve @ 180
I don't think Moshiri has the authority to sack Martinez has he? He is not in total control of the club.....yet.
I'm sure he can have a word with the chairman and the board, and let's hope that it's sooner rather than later.
Ray Roche
181
Posted 20/03/2016 at 11:34:32
Brian, I believe that one more home defeat will see us equal the most home defeats in a season, and that was with 42 games in a season.
Martinez: inept, arrogant, stubborn, naive... and these are his good points...
Tom Cuffe
182
Posted 20/03/2016 at 11:43:10
If we win the cup, Martinez starts as our manager next season, that means he will bring in more duds during the summer gets sacked after 10 games, as Moshiri will be wearing the trousers at that stage hopefully, Bill saves face with Bobby, and another season is wasted.
Get rid now, give the job to Unsworth till the end of the season, we can't be relagated ,
It's not like Martinez is gonna come up with some master plan to win the cup,
I'd actually think we would have a better chance of winning it, if Martinez was gone now.
New manager in during the summer, massive clear out, new players in during the summer, New fitness coaches, and a good pre season, and we could be in a position to challenge for top 4 next season.
Jim Bailey
183
Posted 20/03/2016 at 11:43:48
If we have to wait until the end of the season then fair enough, but today or tomorrow would be better.
He's become a complete and utter embarrasment.
Ben Dyke
184
Posted 20/03/2016 at 11:45:09
I'd be very surprised if Moshiri invested so much just to accept mediocrity. He seems a genuine fellow but he's not stupid and, whilst being kind to Kenwright and his luvvieness so as not to rock the boat, I'd be staggered if he just let's Bill do what he wants without questioning things.
I'd hate to think Bill could even mess this up now we have a sympathetic billionaire on board. But this is the guy that didn't deliver the Kings Dock.
Chris Owens
185
Posted 20/03/2016 at 11:50:34
Martinez has no idea and, most importantly, no interest in defence. Why can't he see that the key to success in football is about the balance between attack and defence? Does anyone seriously believe that if he stays, he will solve the problems?
Lukaku, Stones, Barkley etc, could perhaps be persuaded to stay for another season if a new manager comes in, but under Martinez can they really look forward confidently to Champions League football in a year's time? Over to you, Mr Moshiri.
Colin Glassar
186
Posted 20/03/2016 at 11:56:55
He hasn't brought in duds Tom, well one or two, he's bought some extremely talented players but with all the same basic weakness, ie, they are all too nice.
Players like Lukaku, Deulofeu, Lennon etc... are all top players but none of them are in-your-face snarlers who will intimidate the match officials, and opponents, will they?
We are known as an easy touch, a team who will let you play your own game, who will try and play you off the pitch without putting up too much of a fight. We are creative not destructive, we want to be loved not hated. That's Roberto's philosophy anyway but it ain't working and everyone knows it except him.
Jim Bailey
187
Posted 20/03/2016 at 12:00:32
Tom (186).
There's no way he'll be in charge for next season. The clamour for him to get sacked is only going to intensify, and rightly so.
Frank Crewe
188
Posted 20/03/2016 at 12:06:47
@Tom Cuffe
I don't think that RM will be manager next season whether we win the FA Cup or not. The RS had already decided to get rid of Dalgleish before he won the FA Cup in 2006 and I have no doubt Moshiri has already made the same decision regarding Martinez. I just cannot imagine Moshiri giving a large amount of transfer cash to such a third rate manager.
You are right about the fitness side though. The players haven't been properly fit since the beginning of last season.
Matt Muzi
189
Posted 20/03/2016 at 12:17:05
The thing that grates on me about all this is if RM was manager at any other premier league club, he would of been sacked a long time ago!
Will he be sacked before the end of the season, or at the end of the season? I really don't know if he will. BK's recent comments on the matter don't fill me with confidence and like it or not he is still the chairman of the club!
I really hoped that the board would of seen sense at the end of last season and parted company with him.
Rob Halligan
190
Posted 20/03/2016 at 12:46:51
Can anybody fathom out what this means?
Martinez switched to a back three at half time but even that couldn't improve Everton's fortunes.
He explained: "When you lose the ball so quickly, you leave yourself open and we never looked like being able to cope with the movement of Arsenal. I thought an extra man in a deeper position could help us.
"But, it wasn't enough to get us into the game – you have to compete and show the intensity that we had seven days ago."√ā¬Ě
How will an extra man in a deeper position help us? I can only think of one thing, damage limitation.
Helen Mallon
192
Posted 20/03/2016 at 12:56:15
Well we only have ourselves to blame really. We are the most patient fans I know. Not a single song or banner to say Roberto enough is enough get out.
It's down to the fans now to make it unbearable for him and the board. Please don't come back with "protesting at home will upset the players form" because they are shite anyway... 8 bloody home defeats... disgraceful. More goals conceded than Villa – need I go on?
Sack him now, the muppet.
Steve Davies
193
Posted 20/03/2016 at 12:57:33
Alastair (#148). Never listen to ex-Liverpool pundits like Haaman and Murphy etc... they all want us to keep Martinez for obvious reasons. If I was an ex-Everton pundit I would still be pushing for Brendan Rodgers to have stayed at Liverpool and he should have been given more time etc... these pundits have kept RM in a job.
Most of us have held on to the dream that RM will win us the FA Cup but the reality is that he got lucky with Wigan. We thought he would take us through to Europa League Final but he let us down at Kiev and never even substituted Alcaraz. At Man City in the League Cup second leg, after going one-nil up, this tactical mastermind contrived to lose us that one.
Basically I am starting to think that he aspires to be like his hero Guardiola, a fellow Catalan, tries to copy his style, ie, standing on the touchline, sharp dresser etc... but doesn't understand that it is not all about tippy-tappy. Guadiola's teams are fit, chase down the ball when they lose it (20 seconds rule), can defend.
I aspire like John Lennon, my hero. I am from Liverpool, can put on a Beatles suit, but unfortunately I cannot sing a note (those who have heard me in the Grapes will testify to this) and cannot write music. Maybe I am the Martinez of the music world?
We will not win the cup but I will be going down to Wembley. Martinez tactically cannot do it. The players beat Chelsea in spite of him. Before Lukaku scored he was going to bring on Deulofeu. For who, god knows, but I have ceased to try and work out what he will do next. His record clearly shows that he is incompetent.
He didn't have a scooby how to beat Arsenal and I bet every person on this site knew that you needed to chase them down and take the game to them. His incompetence astounds me and the fact that he can only beat teams in the relegation zone shows that any half decent manager has the measure of him. No wonder Haaman and Murphy want him to stay....
Brent Stephens
195
Posted 20/03/2016 at 13:36:38
Oliver (#184),
"I don't think Moshiri has the authority to sack Martinez, has he? He is not in total control of the club... yet I'm sure he can have a word with the chairman and the board."
And who's the chairman?
Lee Jamieson
196
Posted 20/03/2016 at 13:43:59
How long does Martinez have on his contract was it 3 or 5 years. Either way he should go at the end of the season. This squad should be doing so much better and Martinez has been lucky this season that Rom has been on fire, fit all season and Villa, Newcastle and Sunderland have been dire. Next season I doubt he will be that lucky
Andrew Cunningham
197
Posted 20/03/2016 at 13:46:36
Why was he talking up Wenger earlier in the week. Alarm bells were ringing for me when I heard this shite. And through to form good old Everton gave a sucker an even break.

Graham Mockford
198
Posted 20/03/2016 at 14:24:26
Eugene (#68),
Your post got me thinking. There now seems fairly universal agreement that Martinez is not the manager to take us forward.
However maybe we are not as powerless as we think. I noticed at half time the poor PA guy, having just watched 45 minutes of the most insipid pile of shite we have witnessed for many a year, having to try and promote the 2016-17 season tickets sales.
I for one am not going to renew whilst this manager remains and will be writing to the club to let them know. I suspect if enough people took the same stance, the owners would have to ask themselves some questions.
Dave Abrahams
199
Posted 20/03/2016 at 14:38:41
Graham (#202), I was thinking the same thing myself, not renewing my season ticket, and I have still not made my mind up, but I'm hoping that the new man, Mr Moshiri,will step in and help me by doing the right thing and replacing the manager. Very soon... I hope and pray.
Tony Hill
200
Posted 20/03/2016 at 14:39:03
Quite right, Graham. I am taking the same action.
Oliver Molloy
201
Posted 20/03/2016 at 15:09:43
Brent @ 199
Bill Kenwright I think, am I right?
Iain Thomson
202
Posted 20/03/2016 at 15:13:19
Moshiri isn't a moron and fortunately isn't a gushing supposed fan of the club... He sees how we are, he knows that Rom's comments were basically criticism of the manager.
It is cheaper to replace Martinez than it is to replace Lukaku. The business sense thing to do is replace someone who can be replaced easily rather than replace someone who in our budget and lack of European football status is irreplaceable.
I was pro Martinez like many but long since realised that the occasional buccaneering awesome wins will be far outweighed by the utter clusterfucks. ... Martinez out.
Derek Davies
203
Posted 20/03/2016 at 16:10:01
I have, up until now, held the belief that RM would get it right and that we were a few minor changes from doing so.

After yesterday's shocking display, I think enough is enough and it is time to go NOW.

Ian Riley
204
Posted 20/03/2016 at 19:12:40
The club may get the idea of the fans displeasure if renewal of season tickets is not being taken up yet. The club will be monitoring weekly the renewal figures.
Mr Moshiri is a business man. Love for the club doesn't come into it. Success on the pitch brings revenue. Mr Kenwright cannot be ruthless and having Mr Moshiri will help this. He will not wait until we are in a relegation fight to sack him. Mr Kenwright gave (me thinks) Martinez a five-year contract after we came 5th two years ago. Why he didn't stay with the original three year contract.
The up and down nature of our performances and results tell us next season we could be further down the league. Even a Liverpool fan said to me "Martinez has to go". Says it all really!
Tommy Webber
205
Posted 20/03/2016 at 19:34:53
Easy! We get a new manager, new stadium and new goalkeeper (providing them new floodlights keep, that is).
Brian Porter
206
Posted 21/03/2016 at 06:52:17
I've loved and supported Everton for 57 years, since I was six years old. In all that time I can't remember an Everton side capitulating so spinelessly as they did on Saturday.

How can Martinez sleep at night? Has he no conscience? Has he no thought for the feelings of the thousands of ordinary people who follow our team? Of course not, he's earning millions of pounds, more in a month than most fans earn in a year. Win or lose, his future is secure, his bank balance nice and healthy.

I haven't slept since Saturday, so worried am I about the future of my beloved Everton. Surely the new shareholder wields sufficient power and influence to tell BK that Martinez is useless and incapable of managing a top flight club? Everton were in a fairly healthy position when he took over. Like it or not, David Moyes had made me us hard to beat and we were consistently in the top eight clubs in the PL apart from one brief flirtation with the drop zone. Martinez came in and has turned us into a soft bellied easy touch for everyone apart from the relegation strugglers. How further do we have to fall before action is taken to rid us of this pretentious, arrogant, blame anyone but himself, Catalan clown?

I saw on Saturday what I perceived to be a set of players with no belief in the style of football they'd been instructed to play. Once that happens you end up like Villa. Do we seriously want to see us in their position next season, because that's where I see us if Martinez is still in charge? He should go now and give a new manager or caretaker manager tike to try and sort out the mess, including what I believe to be the psychological mess he's made of our players' minds.

Do we have good players? Yes.
Do we have a good team? No
Only a good manager can turn good players into a good team and Martinez has demonstrated only too clearly that he is incapable of doing that.

Please get rid of this inept, smug faced idiot now, so I might have the chance of a good night's sleep again.
Add Your Comments
In order to post a comment, you need to be logged in as a registered user of the site.
Or Sign up as a ToffeeWeb Member — it's free, takes just a few minutes and will allow you to post your comments on articles and Talking Points submissions across the site.
© ToffeeWeb