Everton History
Alex Young: With Us Always
Peter Jones

17/04/2017

31 Comments
[Jump to last]
Share: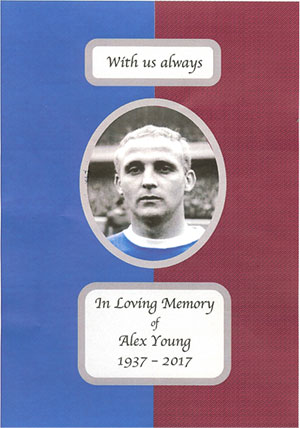 They say you should never meet your heroes. I've been lucky enough to have met some of mine and I have never found that to be the case. They have been gracious, humble and even a little surprised to find that they are still revered long after they have hung up their boots.
To a man they have been approachable and happy to talk about the good old days. There has been one exception: Alex Young. This is nothing to do with the man himself; I know from talking to people who met him that he was a perfect gentleman, always prepared to talk with real humility. I never saw him play and my memories of him are all monochrome, of the unforgettable '66 Cup Final and being allowed to stay up late to watch "The Golden Vision", Ken Loach's extraordinary tribute to Alex from 1968. But I have talked to those who did see him play, and each one has added to his legend. Not being able to talk to him was about me, and my inability to separate the legend from the man.
The occasion was a ceremony in Edinburgh to place a headstone on the grave of his namesake, Alexander 'Sandy' Young, the troubled genius who scored the winner in Everton's first FA Cup triumph in 1906. Sandy Young was also adored by Everton fans, and there were near riots when he was sold to Spurs in 1911. In an uncanny parallel Harry Catterick was allegedly "assaulted" by Everton fans at Blackpool for dropping Alex Young in favour of the teenage Joe Royle. At the end of the ceremony on that balmy early September day I looked over to Alex and I thought I would just say hello. But I found myself rooted to the spot and I am convinced that had I been able to open my mouth I would have spoken fluent Cherokee. The chance passed and I would not get another.
Fast forward to a grey, damp Friday in early March 2017 as I returned to Edinburgh for the funeral of the man I had been unable to talk to two years before. I travelled up in the company of John Hurst, Alex Young's friend and team mate, Tony Onslow, the EFC Heritage Society's Victorian football sage and Henry Mooney, chair of the Everton Former Players Foundation. The conversation made the journey pass quickly, and John, Henry and Tony's recall of the 50s and 60s was remarkable. The contrast between then and now was much discussed. Footballers in those days lived in the real world and it was pointed out Alex Young spent two years in the Army on National Service after starting an apprenticeship at the local coal mine.
We also spoke long about how Alex's achievements were against hard and ruthless defenders like Norman 'Bites-yer-Legs' Hunter, Ron 'Chopper' Harris and Tommy Smith, the Anfield Iron. These were literal nicknames which had nothing to do with dentistry, forestry or metalwork. The lads also remembered the pitches; during the winter Alex often played on surfaces which resembled our image of WW1 battlefields, a world away from the high tech, billiard table smooth surfaces of today. In a debate about which was the worst pitch, which lasted a couple of M6 junctions, Derby County's old Baseball Ground was chosen, but were several other contenders. We also talked about the way Alex appeared to glide across the ground as if floating, yet he was affected throughout his career by problems with his feet. For Alex 'blistering acceleration' was the literal truth.
We did a large chunk of the A74 discussing Alex's heading ability, with much emphasis on his ability to hang in the air. This of course defies the laws of physics, but if anyone could Alex could. In the end we put it down to his amazing spring and perfect timing which created the optical illusion of the defiance of gravity.
When the discussion turned to Alex's relationship with the enigmatic and perplexing character of Harry Catterick, there were many opinions but few conclusions. What was clear was that Catterick never fully trusted Alex, which makes his achievements even greater. One thing was cleared up however; Catterick had slipped getting onto the bus that day at Blackpool, he was berated but not assaulted by the fans. We even briefly considered what Alex would be worth if he were playing today. I tried to imagine him on the modern Goodison pitch, in boots specially designed for him taking on defenders who are no longer allowed to try to kick lumps off him. We are talking telephone numbers.
The following morning, we gathered at the crematorium where the funeral service for Alex was to take place. It was a grey damp day but there was real warmth among those who gathered there. The funeral service was beautifully done as Alan Pattullo of the Scotsman eloquently describes. The tributes came from the Young family and on behalf of those of us who felt he was part of our family. These were almost for two different people, the kind family man who his granddaughters called 'Chalky' in their eulogies, and the footballer they called the Golden Vision, about whom John Robertson for Hearts and Graeme Sharp for Everton spoke.
The Golden Vision - the phrase was on everybody's lips. It was coined by Danny Blanchflower, a man who knew a bit about football as captain of both Northern Ireland and Bill Nicholson's great Spurs side of the early sixties. In Alex he saw something beyond football:
"The view every Saturday that we have of a more perfect world, a world that has got pattern and is finite," said Blanchflower. "And that's Alex, the Golden Vision."
Alex was a man whose skill attracted such reverential, even poetic words. Those who saw him use words like grace, elegance, poise, glide, balance and effortless. Not for him the humdrum and often ludicrous lexicon of football; it is the vocabulary of dance that seems more fitting for descriptions of his genius. In his eulogy, Graeme Sharp quoted Bill Kenwright's comparison of Alex Young to Nijinsky, the great ballet dancer of 100 years ago. It did cross my mind that he might also have been referring to the legendary thoroughbred of the same name; its seemingly effortless acceleration being just as apt. John Hurst came up with an automotive analogy: "there were players at that time who were Mercedes and Jaguars, but Alex was a Rolls Royce."
Alex's genius had a way of turning many of the people lucky enough to see him into poets, literally in the case of one gentleman I spoke to after the service. He had travelled up to Edinburgh from Merseyside and showed me a faded and fragile piece of paper bearing a handwritten poem inspired by the great man. For some I spoke to the mere mention of Alex's name created a faraway look as they were transported back to the more perfect world Blanchflower talked of.
However, along with the family man and the footballer, there was a third Alex Young that we were remembering. This is Alex Young as a symbol of how football should be played; the embodiment of the School of Footballing Science. For Evertonians, the aspiration that the team should play beautiful football is something that is felt not thought, and is something that is passed down from generation to generation. Again Danny Blanchflower put this feeling into words: "The great fallacy is that the game is first and last about winning. It is nothing of the kind. The game is about glory, it is about doing things in style and with a flourish, about going out and beating the other lot, not waiting for them to die of boredom." Alex Young had style and flourish in abundance, and that was his and Everton's glory.
But my favourite description of Alex came from my friend Tony, who as a five-year-old was told by his uncle that "at ten to three Everton called for Alex and he descended from the clouds on rays of sunshine". Alex Young, the Golden Vision, with us always.

Follow @EvertonHeritage
---
Reader Comments (31)
Note: the following content is not moderated or vetted by the site owners at the time of submission. Comments are the responsibility of the poster. Disclaimer
Christine Foster
1
Posted 17/04/2017 at 06:35:26
For me, Alex Young was saint-like, eulogised even in Sunday sermons, someone revered and special, quite a pedestal to have been placed on all his life...
But his graciousness, deference to others, and just sheer bloody skill made him an ideal that others can only dream about and fans only pay homage to.
In this day and age of modern football, where tackling is outlawed, Alex Young would have been priceless; that such skill was displayed on mud, with sheer thugs attempting to cripple him every week, made that skill divine.
If ever a football stadium was to be named after a player,it should be him, for he personifies all that is good about Everton, for all that is aspired to, all that we believe in.
Football is close to religion in our city; Alex Young was the miracle that to this day turns faith into belief. If his name was bestowed on our new ground, then all the world would know, all the world would see and all the world would ask.."Who is the Golden Vision?"
"La Vision d'Or" has a nice ring to a name for a place of worship...

Rick Tarleton
2
Posted 17/04/2017 at 06:59:40
He wasn't the best player I've ever seen in an Everton jersey, even in his own time in many ways Bobby Collins, Roy Vernon, Tony Kay, Ray Wilson, Colin Harvey, Alan Ball,and Brian Labone possibly had claims to be more effective players.
But and it's one hell of a but, no player ever captured the imagination of me and fifty thousand Evertonians better than Alex Young. Even now fifty odd years later, I have a signed print of Young scoring his first Everton goal at Ewood Park above my desk. To me he epitomises all that I want an Everton footballer to be: skilful, elegant, even noble . He had a grace that no other player ever seemed to have.
When I think of my beloved Everton, Alex Young is the first player I think of. I know that Collins's impact was possibly greater, that Vernon was a more deadly finisher, that Ball and Harvey were and so on. But it's Alex Young who for me is the spirit of all I want Everton to be.
Incidentally, before Loach and Honeycombe christened him "The Golden Vision" wasn't his nickname "The Golden Ghost"? Or is my memory playing tricks?
Brent Stephens
3
Posted 17/04/2017 at 07:50:53
Rick "wasn't his nickname 'The Golden Ghost'? Or is my memory playing tricks?"
Yes, we used to sing "Who's the player with the most, Alex Young the Golden Ghost".
Who's the greatest of them all...?
Rick Tarleton
5
Posted 17/04/2017 at 08:00:36
Thank you, Brent, for that.

Jeff Spiers
6
Posted 17/04/2017 at 08:14:22
Only, but lucky enough, to see him in the flesh 3 times. He was a vision.
Dick Fearon
7
Posted 17/04/2017 at 10:41:15
Rick, I also remember him first as the Golden Ghost.
I often saw him in Maghull where we both lived. He was a reserved quiet sort of bloke and though we never got round to speaking we shared friendly nods as we passed.

Tony Hill
8
Posted 17/04/2017 at 11:41:49
A fine piece. That last Blanchflower quote is so very true.
You mention John Hurst who was at the game on Saturday and remains one of my favourite players, another gentleman of the game. I think you are right that the truly talented are often humble – not always, of course, but often.
Terry Underwood
9
Posted 17/04/2017 at 12:18:10
Alex Young, the heart and soul of Everton Football Club. Always to be remembered with love and pride. The Golden Vision.
John Hughes
10
Posted 17/04/2017 at 12:22:22
Brent:
"Who's the greatest of them all?"
"Little tiny Alan Ball!"
Martin Nicholls
11
Posted 17/04/2017 at 12:52:41
Brent and John – "Little curly Alan Ball"?
Brent Stephens
12
Posted 17/04/2017 at 13:00:52
Martin – curly it was (as I remember it, so that's no guarantee!).
Dave Abrahams
13
Posted 17/04/2017 at 13:32:11
Peter Jones, I am glad you included some quotes from Danny Blanchflower in your excellent article on Alex Young. Firstly because Danny was as cultured as Alex and played the game in the same style, classy and something the spectators could go home talking about for the rest of the week.
Secondly Danny was one of the few footballers who didn't need a ghost writer, so the tributes Danny has made have come from the heart and from his own hand.
Alex Young has left those who saw him many happy memories and you didn't have to be an Evertonian to appreciate the pure quality he provided, as Peter says Alex Young will always be with us.
By the way Danny is not Blanchflower's real name, his Christian name is Robert, he was given the nickname Danny by some one who thought he resembled the American singer and comedian Danny Kaye... never could see the resemblance myself.
Martin Mason
14
Posted 17/04/2017 at 13:44:34
Whatever the relative values of the present and the past, having seen Alex Young was a privilege.
Don Alexander
15
Posted 17/04/2017 at 14:05:12
That last comment by Danny Blanchflower sums up what football should only be about. Play with that attitude and the wins arrive anyway...
Or am I getting old?
Rick Tarleton
16
Posted 17/04/2017 at 14:14:48
Blanchflower wrote that quote which is at White Hart Lane. "The game is not about winning or losing, it is about glory". Hence his biography's title "The Glory Game". He believed it was about the way the game was played and that's why Young is my Everton hero.
Dick Fearon
17
Posted 17/04/2017 at 14:40:39
Tony @ 8,
Hurst plus another – was it Labone? – formed Everton's first experiment with twin centre-halves. That was when British football was trying all kinds of combinations in an attempt at catching up with European clubs.
Tony Hill
18
Posted 17/04/2017 at 14:54:01
Yes, he played alongside Labone. A very strong, fit player who never got the credit he deserved. He just lacked a bit of pace to be regarded as a truly top performer but he was very much part of the 69-70 side and scored in our very first game that season at Arsenal when we won 1-0.
(I remember that game very well for some reason, I used to go home and away in those days but somehow it felt like we were going to do something special that season, right from the start.)
Tony Hill
19
Posted 17/04/2017 at 15:06:03
While talking about that side, I've just had a look at Alan Whittle's goal against the RS at Anfield in 1970. It shows what a good poacher he was (his goal against West Ham after Moore cocked up is also worth a look) and you can see where Tom Davies gets it from. The Anfield goal celebration is very Davies-like.
Terry White
20
Posted 17/04/2017 at 15:42:46
Rick (#2), I have that same photo above my desk as I sit here now. I was at that game at Blackburn when he scored twice.
Dave Abrahams
21
Posted 17/04/2017 at 16:03:28
Tony(19) I remember that goal by Alan Whittle, Inwas in the Kop that day and when Whittle scored thousands of Red fans started leaving the ground, nothing wrong with that but I'm sure there was about twenty minutes to go.
Another thing about that game, Joe Royle scored with a good header in the Kop but the next day in one of the papers Ron Yeats tried to claim an O G by saying he headed it, why would he say that, only thing I can think of is they must have had a bet on it, Who scored.
Phil Bellis
22
Posted 17/04/2017 at 16:05:24
I showed my son a YouTube video of Everton V Man United, 1967 I think : he was amazed to see Alex "tracking back" at right back and dispossessing George Best. Worth looking it up.
The late Freddie Armstrong worshipped Alex and was at Blackpool joining in the jeering of The Catt (he told me that was all it was).
Brian Denton
23
Posted 17/04/2017 at 16:22:59
Phil, that was the first game of the 67-68 season. I was there with my dad, just by the 'Cage'. Unfortunately the camera doesn't pan down to see me..... TV cameras in Goodison Road those days, of course.
Brian Denton
24
Posted 17/04/2017 at 16:25:24
Tony Hill (18), it felt even better when we beat Man Utd home and away in the space of 4 days!
Dave Abrahams
25
Posted 17/04/2017 at 16:32:07
Rick (#16),
Danny worked for the BBC and did the preview for the 1966 FA Cup Final, he finished talking about the two teams and then said. 'So on Saturday, for me, It is Everton for the cup and Wednesday for the middle of the week '
Sure enough at Wembley, some Everton fans had made a huge banner with those words written on it.
Stan Schofield
26
Posted 17/04/2017 at 16:33:01
Phil, I was at that game with my dad, on the Goodison Road terraces on the big step, near the players tunnel, a bit towards Gladwys St.
Some great players on that pitch. Young and Ball together, and Charlton and Best for Utd. Very nice goal from Young.
Brian Denton
27
Posted 17/04/2017 at 17:43:29
Stan, see my comment above. We must have only been a few yards from each other.
Soren Moyer
28
Posted 17/04/2017 at 23:05:01
Alex Young, a true blue..
Mike Dolan
29
Posted 17/04/2017 at 23:27:06
John Hurst was a really solid player for years very underrated in my opinion. Alex Young never got the amount of caps he deserved nor did he get the accolades outside of Merseyside that his ephemeral skills warranted he was pure velvet- what a player.
The sixties were a golden era for great Scottish players Dennis Law, Jim Baxter, Jimmy Johnson, Dave Mackay, John White, Ian St John, John Grieg, Paddy Crerand, Peter Lorimer , Wee Willie Henderson. Back in those days a center forward was expected to be built like a brick shithouse.
Alex Young was way way before his time and he suffered for it.

Roger Helm
30
Posted 19/04/2017 at 07:46:02
There is an obituary of Alex in today's Daily Telegraph, available on the paper's website if you don't want to buy the paper.
Andrew Clare
31
Posted 19/04/2017 at 07:50:43
Mike, You forgot to mention Alex Scott.
David Midgley
32
Posted 19/04/2017 at 09:14:14
Phil (#22), Do you remember the sixties TV show T.H.E. CAT? That's how Catterick got his name.
As soon as you saw Alex coming out on to the pitch, you felt a thrill of excitement and feeling of anticipation. Then, when they ran forward and fanned out you felt as though they couldn't wait to get at at it. I know that I couldn't.
Last year, I couldn't go to the film preview and lunch for him at Goodison but I went there anyway. A taxi pulled up and out he stepped ! He still had that demeanour of a Greek God with that short cropped blonde hair.
I had a picture from the Daily Post for his testimonial against Espanyol in 2001 and said, "Mr Young would you sign my picture for me ? Yes, of course. You people are wonderful!"
"No, Mr Young you're wonderful . You gave me so much pleasure in the '60s" My heart was beating fast and I was that excited I forgot to get my picture taken with him. He still had that effect after all those years and I'm in my seventies .
The caption on the picture summed it up for then and for always:
"Every football club has a Golden Boy. Only one has a Golden Vision."
Add Your Comments
In order to post a comment, you need to be logged in as a registered user of the site.
Or Sign up as a ToffeeWeb Member — it's free, takes just a few minutes and will allow you to post your comments on articles and Talking Points submissions across the site.
© ToffeeWeb