Mirallas looking forward to Spurs clash

45 Comments [Jump to last]
7 August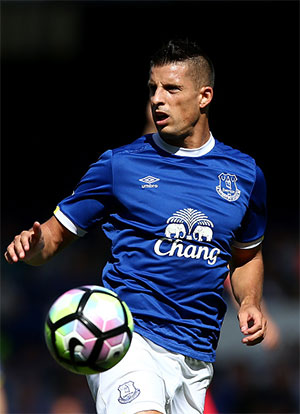 Jan Kruger/Getty Images
Kevin Mirallas is in upbeat mood following his busy pre-season and is hopeful of success this season under the new manager Ronald Koeman.
The Belgian forward has gone from the fringes of the first team under former boss Roberto Martinez to being a key figure in many of Everton's warm-up games this summer and with no attacking signings having arrived so far, he could play a big part when the new season kicks off this coming weekend.
Last season's third-place finishers, Tottenham Hotspur, come to Goodison Park for what has the makings of an intriguing encounter on Saturday and Mirallas is looking forward to the match-up.
"It's a great game to start because I think they were one of the best teams in the Premier League last season, he told evertonfc.com. "I hope we can have lots of success this season and, with a full stadium behind us, we can win the first game against Spurs."
Regarding his own readiness, the 28-year-old admitted that he feels strong with a full summer's fitness work behind him, not to mention plenty of minutes in the exhibition games, often deployed as a forward alongside Gerard Deulofeu.
"I've worked hard in pre-season and I feel physically stronger," Mirallas explained. I'm very happy playing under the new manager, I've enjoyed the freedom he's given me on the pitch.
"I've played a lot of games and I feel very good."
---
Reader Comments (45)
Note: the following content is not moderated or vetted by the site owners at the time of submission. Comments are the responsibility of the poster. Disclaimer
Ian Burns
1
Posted 07/08/2016 at 20:57:49
Don't forget Kevin you are playing a rocking piano - to get you in the mood I suggest the Nut Cracker Suite - in more ways than one with RK's new "no more Mr Nice guys"
James Watts
2
Posted 07/08/2016 at 21:03:49
Wowsers!!! I wish I was as confident as you. You seem to be forgetting we are completely shite at the moment, even with big Ron.
Tony Draper
3
Posted 07/08/2016 at 21:22:17
Just deliver Kev.
Focus.
Believe.
Graft.
Deliver.
FFS you have ALL the requirements, and Evertonians have seen you open up an awesome box of tricks.
Now unleash ALL the good stuff and leave the pointless hissy Princess bollox in the away dressing room.
Seriously Kev, just put it together and you will be utterly worshipped. WORSHIPPED !
Down to you now Kev. . . .
Colin Glassar
4
Posted 07/08/2016 at 21:27:33
Just remember Kevin, it's a team game and you CAN pass to team mates. You don't have to try and do everything on your own. Follow these simple rules and you'll be fine.
Anthony Dwyer
5
Posted 07/08/2016 at 22:52:10
I'm a million miles away from feeling as comfortable as Kev.
Anthony Hughes
6
Posted 07/08/2016 at 23:35:09
Ok Kev you've done the talking, now let's see it on the pitch, week-in & week-out. Such a frustrating player.
Bob Hannigan
7
Posted 07/08/2016 at 23:48:37
Kevin,
There is NO "I" in team!!
Ian Riley
8
Posted 07/08/2016 at 23:48:58
Not me, Kev!!!
Jimmy Sørheim
9
Posted 07/08/2016 at 00:04:09
I am now getting concerned that getting a Director of Football has derailed our progress; we should have had quality players in by now... what is the problem?
To me, we seem to lack proper scouts; we lost our chief scout to Moyes, and never really replaced him properly.
I just have a terrible feeling that we are dragging behind compared to the top 10.
Mick Davies
10
Posted 08/08/2016 at 00:05:02
Good on him. It sounds like he' been working his nuts off, and this has impressed the manager. We need to be a bit more positive when facing tough games like Spurs: they are the benchmark that Everton need to reach if we're to progress after the Martinez
Colin Williams
11
Posted 08/08/2016 at 00:05:21
Mirallas, how the feck are you still employed by Everton? Can't remember the last decent game you had. All fecking talk!
Joe Foster
13
Posted 08/08/2016 at 06:56:52
What he really means is "We are bricking it at the moment and fearing for the worst" or something along those lines.
Trevor Peers
14
Posted 08/08/2016 at 07:57:16
He may be very happy under the new manager, but it doesn't show, we're are the goals?
He's the same old greedy individual with no idea of how to help the team effort, he can't defend, can't pass to team mates, can't put in a decent cross.
He should've been sold two years ago.
Denis Richardson
15
Posted 08/08/2016 at 08:16:21
Jeez. A player says he's feeling good and looking forward to the KO and people post negative comments. Some of you really are miserable gits. I guess the sun doesn't shine much in Liverpool.
I for one am looking forward to hopefully a great season from Mirallas, who will be like a new signing given Martinez hardly played him last season. He played as a striker before he came to us so hopefully will get 10+ goals this term along with Deulefeu. Glad to hear RK is giving him more freedom too, on form he's easily one of our best players.
Duncan McDine
16
Posted 08/08/2016 at 08:38:34
I have more hope for KM than most on here it seems! I think he has a point to prove since the big fall out with OFM.
I don't think he'd dare snatch a penalty off Baines (and miss) with Big Ron in the dugout. Clearly he's an arrogant fella that needs a strong manager, Roberto was as weak as they come.
Paul Conway
17
Posted 08/08/2016 at 08:46:57
He is a bargain basement player from the Moyes era, when we were strapped for cash. He played to his worth, £6 millionish. Just like a few of his teammates. I honestly can't see him improving and turning into the type of player who could contribute towards a top 4 finish.
it is beyond me how some ToffeeWebbers can have faith in a player of very limited capacity, just because the player himself spouts some talk-cheap bollox. The only thing that has improved with Mirallas this season is his hair-do!
Colin Glassar
18
Posted 08/08/2016 at 08:52:05
Denis, this is TW, and as such full of Evertonians and, as Evertonians we have a god given right to be miserable, pessimistic, negative, suicidal, angry and argumentative. If you don't like it, go and hug a tree you bloody optimistic hippy!!!
Ian Burns
19
Posted 08/08/2016 at 09:00:53
Colin, we Evertonians are a varied bunch and if you look hard enough you will find the odd optimist. You can read the word "odd" anyway you wish. Gone to look for a tree.
Denis Richardson
20
Posted 08/08/2016 at 09:13:55
Haha, very god Colin.
I've been as low as the best of them during the dark Martinez and Moyes days in recent years. However, we're 5 days from the big KO with a home game against Spurs. Surely with RK in charge we can be a bit optimistic?
Team may not have set the world alight in pre season but then again I don't think Barca are having sleepless nights after being stuffed by the RS – yes it's a cliche but it's only preseason.
I just hope the never ending Stones and Lukaku saga can be put to bed soon, one way or another. Can see them dragging out till the end of August.
Scott Hamilton
21
Posted 08/08/2016 at 11:24:19
I wish I had Kev's confidence. I'm shittin' it...
Thomas Kelvin Jones
22
Posted 08/08/2016 at 11:44:23
Good to hear that Kevin Mirallas is up for it.
While I believe Mirallas is always a threat and a talent I don't believe he is the answer to our left hand side problem. A problem we've had for over two years.
For me, Mirallas is a striker. Playing on the left or on the right he's always being pulled into central positions.
While we need a GK, CB, and Striker if Rom is sold I believe a LM should be a priority.
What are your thoughts on Samir Nasri being available for £17m? Excellent player on his day.
Neil Pickering
23
Posted 08/08/2016 at 13:28:26
No ta to Nasri. Trouble with a capital T, I heard. Divisive wanker of the highest. Another one who thinks he's better than he actually is.
Nigel Munford
24
Posted 08/08/2016 at 13:57:15
Denis, I also saw that the RS lost 4-0 to Mainz the following day I believe. Preseason form can't be trusted can it?
Denis Richardson
25
Posted 08/08/2016 at 14:01:12
Nigel, if they carry on their Mainz rather than Barca form, I'll be happy. Although I have to admit I do like Klopp. Happy with Koeman but I wish we'd gotten Klopp (not sure he'd have necessarily come to us though).
Matthew Williams
26
Posted 08/08/2016 at 15:14:20
Let's be at least positive folks. He'll probably score the winner... 2-1 to the Blues, 9 points by the end of the month I reckon!.
Bullshit Bobby has gone, we move ON! COYB
Stan Schofield
27
Posted 08/08/2016 at 18:13:13
Denis, I'm very happy with Koeman. He doesn't lose his rag, being disciplined in a very calm and ordered way. I think this is part of what we needed, in addition to his defensive expertise.
I like Klopp as well, but he can lose his temper in a way that creates division, and Liverpool still have a shaky defence.
Damian Wilde
28
Posted 08/08/2016 at 18:58:48
I think we were poor on Saturday (and need the rubbish Martinez style and players changed), but played okay against Man Utd. Clearly we'll be better on Saturday though as we won't be changing five subs at half-time and trying fringe players, so let's just see how it goes. I'll be there! COYB.
Christopher Wallace
29
Posted 08/08/2016 at 19:52:08
Paul 17
"it is beyond me how some ToffeeWebbers can have faith in a player of very limited capacity"
Poor assessment mate. We have all seen what he is capable of. Yes, he is inconsistent, goes missing, lacks fight, can be greedy, etc. these are things that can be easily sorted with the right coaching, management, and guidance.
Ability-wise, Mirallas is far from "limited". If he can't raise his game back to an acceptable level on a more consistent level this year, then he can piss off for free next year.
I believe how slow we played the ball from back to front over the last few years really hurt his game, to be honest. A more direct approach will hopefully bring out the best in Super Kev!!
Paul Kossoff
30
Posted 08/08/2016 at 20:12:21
I'm not looking forward to Spurs at all, with virtually the same team as last season, and what looks like the same attitude and fitness levels.
If Koeman doesn't get the 'late' green light from whoever's in charge to buy in some class signings this week then I think Spurs will turn us over on Saturday. What's the likelihood of City and Chelsea making late bids for Stones and Lukaku? Very possible, then unless we take player plus cash we will be left scrambling round for late bargains.
Super Kev may well be looking forward to the game on Saturday, but I'll be behind the couch hoping that this present Everton side somehow pull off a win.
Nigel Munford
31
Posted 08/08/2016 at 20:31:31
Agree with your comment about their defence, I don't like Klopp, to much of a mad professor about him, bit like Jack Nicholson in the shining.
Stan Schofield
32
Posted 08/08/2016 at 20:55:31
I felt the 4-0 defeat at Anfield was due not so much to Liverpool being good (they're not, they're scrappy), but to us basically not turning up. I'm hoping Koeman can bring organisation and discipline, and get the best out of players, to the point where the likes of Kev can rip their defence to shreds, which I'm sure he can do on his day.
Paul Conway
33
Posted 08/08/2016 at 21:05:45
Christopher Wallace (#29).
Appreciate your patience and estimation of a player who has shown ability and signs of brilliance at times, along with Deulofeu. But honestly, he has had more than enough time. Some people say that it was down to Martinez who damaged players confidence.
As much as I found Martinez to be totally incapable in his capacity to coach, I can't hold him responsible for players form. You have to realise that, whatever coaching methods are implied, these players should be chomping at the bit every time they run out in front of 40 thousand fans at Goodison Park once a week, for 90-plus minutes.
They have been training all week and if they are injury free, they are honed for the occasion. They have been training all week and probably showed enough ability to warrant either a first team place or a role as a substitute.
When they finally grace the turf, we don't know what to expect. Why, because the are erratic and inconsistent. If we want to move on, which all of us do, there is no place for inconsistency, or erratic players.
Of course we want to see Mirallas or Deulofeu keep doing the things that they are capable of doing. But they are not the future. We have to let go of the romanticism and get ruthless. Otherwise other teams will be looking at a future fixture against Everton as three points on the table. They will all be able to sell the bearskin before they shot the bear, when it comes to playing Everton.

Richard Lyons
35
Posted 08/08/2016 at 21:29:48
Our pre-season games haven't really set the pulse racing over the last few years, but I don't recall having such low expectations as I have now. I can't see much evidence of an "RK" effect, and so far, not much Mosh Dosh has been splashed, so I don't think there's any reason why our performance against Spurs should be any different to our average performances last season. We'll do well to get a draw.
Helen Mallon
36
Posted 08/08/2016 at 22:55:24
We have been lied to over money. It's a disgrace from the board.
Damian Wilde
37
Posted 08/08/2016 at 23:02:26
Atkinson is the ref on Saturday!!!!!!!!
David Booth
38
Posted 09/08/2016 at 00:33:26
Everyone looking forward to Saturday then?
I must confess, after being linked with numerous stellar names and then signing just two squad players, plus our performances in the last four pre-season friendlies, I think I'm with the fella at the end of this clip: https://m.youtube.com/watch?v=jVygqjyS4CA
Paul Kossoff
39
Posted 09/08/2016 at 02:55:04
It's 2:52 in the morning I can't sleep. I turned on my tablet to see if we have signed anyone; sigh, not yet.
Come on Colin Glassar, get your crystal ball out and make it happen!!!
Anthony Hughes
41
Posted 09/08/2016 at 07:18:12
With the supposed 100 million Mosh Dosh, the huge new TV deal you would think we would have a couple of quality additions in for the big kick off. Standing still in this league means going backwards.
Tony Draper
42
Posted 09/08/2016 at 07:54:57
Paul @39.
That's really quite weird, because I did much the same last night, I didn't post on this particular thread. But, YES, I too blame Mr C Glassar for the inactivity !
We SHOULD be told !
Glassar, this means you.
Andy Walker
43
Posted 09/08/2016 at 07:57:27
Anthony, we haven't stood still though have we? We now have a proper manager for the first time in 3 years, this is the most significant signing for any club.
A year or so ago there was a well accepted view that we had our best ever squad, now we have a poor squad, even though it's the same. The reality is somewhere in between, we have a decent squad that a third rate manager couldn't manage, but now we have a decent manager that will up the current squad's performance and will make some additions given more than a few weeks in charge.
The main problem we have had over the past 3 years has been Martinez, have we forgotten this?
Tony Draper
44
Posted 09/08/2016 at 08:16:42
Sorry Colin, I'm just a bit grumpy due to lack of a decent nights kip. Mostly due our transfer inactivity.
So, frankly, do us ALL a favour ..
Anthony Hughes
45
Posted 09/08/2016 at 08:22:20
Regarding the personnel we have stood still. A midfielder from a relegated club and a reserve goalkeeper who looks likely to be our first choice for the opening league game is not moving forward. I was never of the view that this was our best squad in years, I think many overrate our players just because they play for us.
Amit Vithlani
49
Posted 09/08/2016 at 19:11:39
This is a bit of deja vu from last season. Lots of talk but none of the walk.
Do it on the pitch, Kev.
Paul Hay
50
Posted 10/08/2016 at 10:18:04
We're due for a first match of the season win against Spurs given the last time such an event occurred was in 1914!
3-1 with Joe Clennell (bought in a spending spree from Blackburn for £1,500) scoring all 3.
AND that season saw us beat the Red Shite 0-5! Now that kind of déjà vu I can happily live with, Amit.
Keep the faith.

Mark Murphy
51
Posted 10/08/2016 at 10:49:35
Paul, I'd be happy with the same result from the 1984-85 opening game v Spurs if the season ends as it did then!
---
Add Your Comments
In order to post a comment, you need to be logged in as a registered user of the site.
Or Sign up as a ToffeeWeb Member — it's free, takes just a few minutes and will allow you to post your comments on articles and Talking Points submissions across the site.
© ToffeeWeb