Koné transfer in limbo

40 Comments [Jump to last]
10 August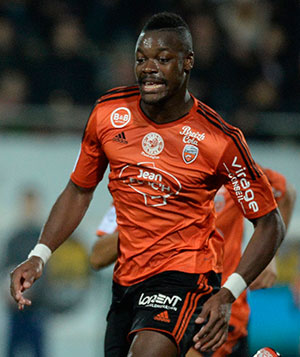 Lamine Koné's move to Everton is not as close as it appeared yesterday after the defender returned to Sunderland amid reports that the Wearside club had rejected an £18m bid for him.
Koné's presence at Finch Farm, where he was presumably discussing personal terms and, perhaps, undergoing a medical, seemed to indicate that there was agreement between the two clubs and that was lent credence by media claims that Black Cats boss David Moyes would also sanction the transfer once he had a replacement lined up.
Sunderland have in the interim secured the double signing of defenders Paddy McNair and Donald Love from Manchester United for £5.5m but there still doesn't appear to be an agreement place with Everton for Koné.
The Ivorian is apparently upset that Sunderland have reneged on the promise of tabling a new contract this summer and that is one of the reasons why he was eager to hold talks with the Toffees.
Quotes from his agent last night suggested that his client was still waiting for the offer of a new deal, while Koné himself told Sunderland fans outside their training facility that he would like to stay with the club but hasn't been offered a improved contract.
Sky Sports sources are claiming that should those new terms be offered, Koné would likely remain with the Black Cats, forcing Everton to look elsewhere but the Liverpool Echo say that the Blues "are confident" they can get a deal for him over the line by the end of the week.
The 27-year-old, signed in January for £5.5m from Lorient in France, is a popular figure on Wearside where a petition pleading for him to stay has received over 2,000 signatures.
Everton are hoping to add Koné to the signing of Ashley Williams from Swansea City which was confirmed this afternoon as Ronald Koeman bolsters his defence following the sale of John Stones to Manchester City.
---
Reader Comments (40)
Note: the following content is not moderated or vetted by the site owners at the time of submission. Comments are the responsibility of the poster. Disclaimer
David Ellis
1
Posted 10/08/2016 at 17:08:36
Sounds like this will go through. Sunderland have the replacements on board. He wants to leave .they're just "nickel and diming" us for a bit more dosh. I think we will push it though.
Unlike many others on here I am excited by the new faces. Hopefully I will be able to watch a game without excessive stress levels once we get a 2-0 lead.
Anthony Dwyer
2
Posted 10/08/2016 at 17:09:27
I've not seen lots of this guy if I'm honest, but no caps for French national side, so decided to go with Ivory Coast and only has 5 caps for them.
I'm not being funny, but if 㾾m cant seal that deal then I would look else were.
They paid ٣m six months ago, holding us to ransom now.
Ian McDowell
3
Posted 10/08/2016 at 17:09:56
This is a bit strange. He apparently traveled to Liverpool and held transfer talks with us and now is training with Sunderland awaiting an offer of a new contract despite a fee having been agreed.
Peter Laing
4
Posted 10/08/2016 at 17:10:04
Probably Moyes playing hardball al la what we done to Man City with Stones. Always seems to take an age getting any transfer completed at Everton, with the ٧ million fee reported for Williams it would appear that we actually got him for less than what was originally quoted. Even though we have Moshiri on the board it appears that Kenwright still has his miserly mitts on the tiller!
Anthony Dwyer
5
Posted 10/08/2016 at 17:12:09
I'd like Ziyech, Bolasie, Bony and a keeper done asap and if be pretty happy.
Keep Rom, move out some dead wood, McGeady, Kone, Niasse (loan).
Steve Brown
6
Posted 10/08/2016 at 17:18:52
Anthony, problem is who would buy them?
Wayne Maher
7
Posted 10/08/2016 at 17:22:04
He seems to be like most footballers – mercenaries.
James Stewart
8
Posted 10/08/2016 at 17:56:16
Would rather we looked elsewhere personally.
Jeff Armstrong
10
Posted 10/08/2016 at 18:08:10
Almost quadrupled in value after 15 games, ridiculous. Could got 4 of him in January and had a complete defensive back four, probably for the same wages too!
John Devaney
11
Posted 10/08/2016 at 18:19:30
Would be a decent signing but only if he's truly commited to it.
Geoffrey Hall
12
Posted 10/08/2016 at 18:24:05
Go for the Dutch player and he can play left back too.
Eric Holland
15
Posted 10/08/2016 at 18:40:35
SSN now saying they have accepted £18 million bid.
Mark Tanton
16
Posted 10/08/2016 at 18:43:53
Bloody Hell it's all happening. If we sign Bolasie too then can we be satisfied that we are ready for Tottenham?
Brent Stephens
17
Posted 10/08/2016 at 18:44:40
Jeff, the 4-1 deal was time-limited.
Paul Conway
18
Posted 10/08/2016 at 19:22:05
Clubs know we are trying to drop our Ragball Rovers image in double QuickTime.

They know we have the funds to do it and are squeezing us for anybody we approach.
Kase Chow
19
Posted 10/08/2016 at 19:38:52
Feels like there's too many road blocks to this happening. :-(
Ciarán McGlone
20
Posted 10/08/2016 at 20:35:28
If this clown is really outside the training ground moaning about his contract after 6 months to fans they I don't want him here.
Too many Africans anyway... we'll have no team come the ACON.
David Booth
21
Posted 10/08/2016 at 20:41:49
Eugene Ruane
22
Posted 10/08/2016 at 20:44:28
Stalled, why would...ahhh hold on, I think I might know why.
'Aye nae problem, ye can have th' big grock, am no gonnae pay whit he wants anywa'. But hear this, ye want th' boy, yez'll fuckin' pay fer him. I'll make sure if yuze want him, we charge you like a wounded fuckin' Rhino. And before yuz ask 'why?', just think back tae aw that booin' and slaggin' yuz give me at Goodison when ah came wi United. An that guy dressed as the Grim Reaper, aye fuckin' hilarious, yuz were aw fallin' aboot laffin at that wan. Well laff the noo y' complete shower o' shit-hooses!'
Paul Kernot
23
Posted 10/08/2016 at 21:00:11
Love it Eugene. My wife's family are Scottish so their accent and my scouse, in NZ, it's a laugh and I love talking like them for fun. It's a great accent to play with, as is ours!!
Peter Cummings
24
Posted 10/08/2016 at 21:00:28
Don't bother with him, let's just cement our table position at a comfy, eleventh place with the suspects we have already named for the next umpteen seasons, totally uninterested.
Martin Nicholls
25
Posted 10/08/2016 at 21:03:48
No you're not, Peter, otherwise you wouldn't have posted!!
Ian McDowell
26
Posted 10/08/2016 at 21:08:09
I hope this one comes off. I think Kone has settled really well in the EPL. I also don't think Jags can play every game this season as he seems to pick up a injuries more often now. Funes Mori did okay for his first season but always looks likely to give away a penalty or make a costly error.
Trevor Lynes
27
Posted 10/08/2016 at 21:27:34
Most of the African defenders are real athletes with bags of pace. All three of our hot transfers are Black players plus of course Mr Gueye.
I would love us to pick up Ziyech who seems to be tops and still young. He is a crowd pleaser and seems to have great vision and dribbling ability. We have not had a player who can lift the crowd off their seats for ages apart from Lukaku in patches.
Bolasie is an exciting player if he is played correctly. He is very strong, fast and direct and could be a great foil for Lukaku and whoever else we have playing up front.
I just want to see a few more quality signings.
David Pearl
28
Posted 10/08/2016 at 22:33:27
Eugene, I found it easier to read your post in a pirate accent. Aaarhhgh
David Pearl
32
Posted 10/08/2016 at 22:35:52
This kone looks better than the last one we had. Still have!
I'm looking forward to seeing Funes Mori progress this season and score some points for my fantasy football team.
Kase Chow
33
Posted 10/08/2016 at 22:38:15
So has a bid been accepted? I haven't seen a source confirming this.
David Pearl
35
Posted 10/08/2016 at 22:47:42
I know, it's this new phone and these thumbs. Wonder if that's a record?
Alan Humphreys
36
Posted 10/08/2016 at 22:52:40
Link
Moyes on sticky ground here surely...
Let them go! Moyes urges Everton to allow Baines and Fellaini to leave for United.

David Moyes raised the stakes in his battle with Everton for Leighton Baines and Marouane Fellaini by hinting his old club should sell the pair for the good of their careers'.

Coming for you: David Moyes is desperate to land his former players Leighton Baines and Marouane Fellaini
Coming for you: David Moyes is desperate to land his former players Leighton Baines and Marouane Fellaini
Asked on Friday if he had sympathy for Martinez, Moyes said: 'I definitely do. But I also know that if I was the Everton manager and Sir Alex had come asking for Baines and Fellaini, I would have found it very difficult to keep them.

'I always felt the right thing to do was what was right for the players.

'All we can do is our job here. Roberto is in a new job and I am sure he will get to understand how Everton work. I know exactly how Everton work. I signed every player at Everton.

'I respect Everton greatly and I don't want to do anything that would in turn affect them.

'Of course, taking their players would affect them but I am certainly only doing what I have to do in my job.'



Geoff Walsh
38
Posted 10/08/2016 at 23:15:13
Sorry fellas, but as a Sunderland supporter, 18 mill should not seal the deal and personally hope you do look elsewhere. This boy was picked up as a bargain and quite frankly think he is streets ahead of Stones, even though he has only been with us for a short time.

Just because we got him cheap doesn't mean you should get him on the cheap. It's all about spotting talent. I hope you do look elsewhere because we do not want to lose him even for 50 mil.
Kieran Fitzgerald
39
Posted 11/08/2016 at 07:29:05
Geoff, we're the only club allowed to play hardball with our best players. Now be reasonable and read the offer below carefully.
If it will help to seal the deal, we can give you twenty quid in cash and some players. The players are a most fabulous winger called Aiden McGeady, a super creative central midfielder called Darren Gibson and a defensive rock of a midfielder called Gareth Barry. (Now fair enough, one is complete rubbish, one is permanently injured and one is older than my dad. But still, we'll give you all three for your proper quality centre half, no questions asked.)
As an add-on clause, apparently their all the rage now and just supercool, we will give the Sunderland fan of the year, and their plus one, a season ticket to Goodison to make them feel better for losing Kone. (Now, they will be obstructed view seats, the half time pie will be God awful and the beer on offer, Chang it's called, will be luke warm and will most likely dissolve their insides. But, it is still a superb offer. We're bending over backwards here to accommodate you)
I know what you're going to say Geoff, you'll drive Kone here yourself. I'm right, I am, you know I'm right.
Daniel Lawrence
40
Posted 11/08/2016 at 07:47:37
And Moyes wonders why we booed him.
Sam Hoare
41
Posted 11/08/2016 at 07:52:11
Sunderland fans rated him very highly indeed and if James Tomkins cost £13-£15m then I'm happy to go to £20m for Kone. Crazy prices this window but Williams and Kone might just be the best CB pair in the prem next season...
Mark Tanton
42
Posted 11/08/2016 at 08:00:17
I think the fact Sunderland are bringing in those two Man Utd defenders must mean Kone is on his way.
Daniel Lawrence
43
Posted 11/08/2016 at 08:15:55
Mata is the one. All ther other signings are decent players but feel like either compromises or probably more realistic for our standing in the game.
Mata is top class and will excel as the main playmaker in our team.
Him and Butland or Forster would show real intent.
Kieran Fitzgerald
44
Posted 11/08/2016 at 08:31:48
Daniel, I don't think it's anything to do with Moyes trying to get one over on his old club. Kone was one of their best players last season. Why should they make it easy for us or any other club to try and buy him?
Why should we have made it easy for City to buy Stones? Why should Swansea have made it easy for us to buy one of their best players, Williams, in recent seasons?
Moyes has gone to an absolute mess of a club. Like him or loathe him, he has had to hit the ground running considering how late he was appointed manager with the new season looming. Anyway, if you were a Sunderland fan would you expect him to go all soft when his old club comes asking for one of your best players?

Joe Clitherow
45
Posted 11/08/2016 at 08:33:23
Maybe Koeman should come out in the papers and state that Moyes should allow Kone to join Everton rather than hamper his career by staying at Sunderland? Oh, if only we could!!
:-)
Mark Tanton
46
Posted 11/08/2016 at 08:33:51
Moyes just doing what he did at Everton – hanging on to his talent. Oh, hang on...
Phil Roberts
47
Posted 11/08/2016 at 08:42:07
Kieran #39
I think that deal is just not one that will be accepted. To really make it unresistable then we should also offer a Russian Player of the Year from 2015 season and a Senegalise International.
Joe Clitherow
48
Posted 11/08/2016 at 08:44:19
Geoff Walsh
You won't get anywhere near 50M for Kone irrespective of whether or not he is a much better defender than Stones.
The reasons being a) that he hasn't been hyped up beyond belief by Sky and the red tops as the greatest English defender since Bobby Moore, and b) he sticks to keeping the ball out of the net rather than doing Cruyff turns in his own six yard box
---
Add Your Comments
In order to post a comment, you need to be logged in as a registered user of the site.
Or Sign up as a ToffeeWeb Member — it's free, takes just a few minutes and will allow you to post your comments on articles and Talking Points submissions across the site.
© ToffeeWeb