Koné hands in a transfer request at Sunderland

112 Comments [Jump to last]
12 August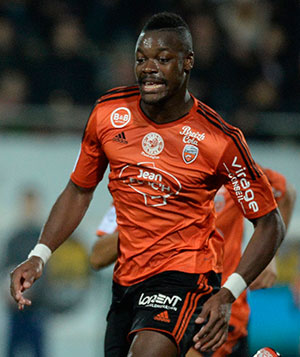 Updated
Everton target Lamine Koné has formally signalled his desire to leave Sunderland by submitting a written transfer request.
The Ivorian international looked set to join the Blues earlier this week after travelling to Merseyside to discuss terms over a reported £18m move from the Stadium of Light.
Koné returned to Wearside without the transfer having been completed, however, with his agent seemingly putting the ball back in Sunderland's court regarding the promise of a new contract this summer.
The 27-year-old shared an open letter online and cited the broken contract pledge as his primary reason for requesting a move. Sunderland boss David Moyes, however, has since claimed that in a meeting with the player on Thursday evening, it was explained that Koné would be offered a new deal on 1st September.
The defender's decision to submit a transfer request anyway suggests that he was not satisfied with those terms but there has been no confirmation as yet that he is now any close to joining Everton.
Koné was signed from Lorient for just £5.5m in January but had expected to be rewarded for his efforts in keeping the Black Cats in the Premier League, a feat they achieved with the help of two goals against Everton in May that secured their survival.
Koné's decision to request a move paves the way for him to complete his move to Goodison Park, particularly now that Moyes has secured the double-signing of Paddy McNair and Donald Love from Manchester United in a £5.5m deal.
"After a week in which there has been a vast amount of speculation with regard to my future at Sunderland Football Club, I think that it is only fair to the fans of the club to clarify the situation," Koné wrote.
"At the end of last season I was told by the club that I would be offered a new contract.
"Following numerous phone conversation[s] and face-to-face meetings, the latest of which took place today with David Moyes and Martin Bain, no contract has been forthcoming.
"It is therefore with much regret that I can only assume I do not figure in David Moyes' future plans.
"With that being the case it is with much sadness that I have asked the Manager and the Chief Executive to be allowed to leave Sunderland Football Club.
However, until that time I give my word that I will give my utmost in training and on the field."
---
Reader Comments (112)
Note: the following content is not moderated or vetted by the site owners at the time of submission. Comments are the responsibility of the poster. Disclaimer
Barry McNally
1
Posted 11/08/2016 at 23:42:28
We're due a good Koné!
Bob Hannigan
2
Posted 11/08/2016 at 23:46:03
Et Tu Moysey!
Andy Finigan
3
Posted 11/08/2016 at 23:47:10
I scream if we don't get it.
John Critchley
4
Posted 11/08/2016 at 23:49:11
The way all the speculation over transfers has gone for us this window, who's to say he's coming to us?
How many players lately have been associated with us, only to sign new contracts!
I hope he does sign tho, he looks like Distin's clone, and that in my eyes can't be a bad thing.
Garry Corgan
5
Posted 11/08/2016 at 23:56:08
While I hope we get him, I hope he doesn't end up being a big time Charlie. I don't have a lot of time for the kinds of players that demand new contracts and/or transfer requests after six months.
Chris Jones
6
Posted 11/08/2016 at 23:57:27
What are the chances of this lad or Bolasie doing a cruciate this weekend then?
Andy Crooks
7
Posted 11/08/2016 at 00:00:04
Chris, you make me sound like the laughing policeman.
Alan Humphreys
8
Posted 11/08/2016 at 00:02:00
Garry, whose to say that he wasn't promised a new contract if Sunderland stayed up after he signed. He did his job, Sunderland would appear not to have done theirs.
Not like we haven't done that ourselves in the past.
Lyndon Lloyd
9
Posted 12/08/2016 at 00:02:51
Chris (6), if he's hot-footed it to Merseyside this evening and everything gets done by noon tomorrow, he and his cruciates will be at Goodison on Saturday.
Timothy Blanshard
10
Posted 11/08/2016 at 00:04:57
Well to be fair, he's gone through the right channels and I can't see Davey standing in the way of a player who only wants to make a step UP to a better club. The other thing is Sunderland go off thier managers quicker than teams change thier strips. Moysie will probably be sacked just before the next transfer window, you can't blame a player wanting a bit of stability or that chance of playing for a team that are going up in the world.
John Malone
11
Posted 11/08/2016 at 00:07:58
It looks to me like this guy just want's more dosh off Sunderland he is not even bothered if he comes to us or stay's with them!
It's worrying the type of character's big money can bring into a club, we have got to be careful not to fill the squad with mercenaries!
There is so much more to building a strong team than just buying talented player's!
Hibbert's comment's about the club turning into a dog eat dog environment are ringing in my ear's!
Obviously it's the end of an era with Moyes' squad getting old and slowly disintegrating but kenwright, Moshiri, Koeman and his staff have got to address the ethos of the club and make sure the values that make us such a great club are not lost!
Anthony Dwyer
12
Posted 12/08/2016 at 00:21:56
Need this doing tomorrow if its happening, big game Saturday!
Peter McHugh
13
Posted 12/08/2016 at 00:25:28
John - they're all mercenaries. Lose a game they're not that arsed. Unfortunately you think like a fan (understandably) they think like "where's the money" and hide behind they're just "professionals".
The premier league is a fast track for players getting unbelievably rich as best way to do that is swap clubs.
Albert Perkins
14
Posted 12/08/2016 at 00:47:28
Kone might have to be careful what he says. If the deal doesn't go through he will have to face the Sunderland fans. He needs to be playing both sides right now. Hope this goes through and we have a strong defensive center for the season ahead. We might have to defend a bit and keep those points for draws before we can have a team capable of attacking with some comfort that the defense can hold.
Still a few weeks of transfer craziness to suffer/enjoy. I'm trying to enjoy.
Ernie Baywood
15
Posted 12/08/2016 at 01:07:39
What was it Moyes said about Baines and Fellaini? Oh yeah...
"I'd have found it very difficult to keep them because I always felt the right thing to do was what was right for the players".
Pete Edwards
16
Posted 12/08/2016 at 01:25:06
Gary, from the quotes I've seen he apparently was promised a new contract at the end of the season that they haven't stuck to so he wants away
James Watts
17
Posted 12/08/2016 at 01:40:35
If he was promised a new contract and they didn't deliver it, then good on him. You have to look after yourself as no one will do it for you. Does sound like Davey isn't bothered about him.
We'll have a strong back line if he comes to us, good, strong player from what I've seen of him.
Jim Hardin
18
Posted 12/08/2016 at 02:00:00
Timothy,
Stability, you mean like at Everton who have the third manager in four seasons plus a transfer window? err. . . ummm . . . oops.
Sunderland's last manager quit to become King, sorry, Manager, of England. He wasn't fired, nor was the club looking for him to go.
Soren Moyer
19
Posted 12/08/2016 at 02:17:50
We have had three managers in fifteen seasons, NOT in four seasons!
Andrew Presly
20
Posted 12/08/2016 at 02:31:03
Money grabber and overpriced. Weird one from Walshie / Walshy. Has he indicated a preference?
Ronnie Pearce
21
Posted 12/08/2016 at 03:45:59
Jim.
Or is it the third manager in 14 years? Looks slightly more stable from that perspective!
William Cartwright
23
Posted 12/08/2016 at 05:38:16
Seems a very sincere chap to me. He's done exactly what Rom has not had the integrity to do; hand in a formal transfer request.
Like most Toffee-webbers I have changed jobs when it suite my interests and those of my family. The only difference with footballers is they have to do it in public eye, and the decimal point on their contracts shifts along a bit.
Oh and guess what; thanks to Bosman they enjoy the right to a contract relationship which is consistent with the European Court of Human Rights.
What am I missing? Oh I forgot, we fans think we own them too.
The only thing I want from a player is he has the requisite skill level, he respects the club, his team and his health regime, and when he crosses the white line that he gives 101%. Anything more is a bonus, and we regularly have those with good "people players" . . . . such as the likes of Baines (EOTC), Gerry (fans relationship), Ross (blue blooded) and so on.
Welcome Mr. Kone 2, if you arrive, you have behaved impeccably as I see it, and I am not suprised the Sunderland fans are sorry to see you go.
Rom, are you or your agent reading this? I respect your committment to a career. However if you want to go to Chelsea, the do it the right way, and stop messing everyone about, including yourself, and I suggest you change your agent. . . .
William Cartwright
25
Posted 12/08/2016 at 06:25:04
(Sorry guys, I must have pressed the wrong buttons on the keyboard, I don't think my post merited 2 repeat issues!
David Ellis
26
Posted 12/08/2016 at 06:59:40
William #22-25 - it was a good comment so worth saying it 3 times. I agree entirely,
I agree entirely.
I agree entirely
Jimmy Salt
27
Posted 12/08/2016 at 07:10:42
Me two
Ian McDowell
28
Posted 12/08/2016 at 07:10:52
I'd be delighted if we sign him. I like that RK wants 4 CBs as its one position you do really need experience to play in. Jags, Mori, Kone (if we get him) and Williams provides us with plenty of options for the coming season.
Jimmy Salt
29
Posted 12/08/2016 at 07:11:11
Me three
Gareth Clark
30
Posted 12/08/2016 at 07:54:21
Get him in!
Williams
Kone
Funes Mori
Jagielka
Nothing over exciting or flashy, but they sure as hell will get the job done!
Sam Hoare
31
Posted 12/08/2016 at 08:07:39
If they promised him a new contract and haven't tabled one then he's perfectly entitled to be disgruntled.
Fans so quick to cast aspersions on players characters without knowing the full story!
Looks to me like he's been pretty open and honest and most Sunderland fans seems to respect him.
Was one of the best defenders in the league for the 6months he's been here. Strong and physical type to toughen us up some more. I like what Koeman's trying to do...
Denis Richardson
32
Posted 12/08/2016 at 08:11:53
Hope this guy comes, we need another CB. Seems to me the club promised him a new contract but with big Sam leaving things changed.
All players are mercenaries so not arsed about him leaving Sunderland this way.
Ian Burns
33
Posted 12/08/2016 at 08:51:20
Shit - I thought the headline referred to the other Kone - the one we already have!
Referring to the Sunderland Kone - Moyes can't stand in the way of a player wanting to better himself. I haven't seen much of him but he looks to be a big unit this lad. If he plays alongside Holgate it will look like Laurel and Hardy out on the pitch!
If he comes, it will give us the 4 senior centre backs RK is looking for but I do wonder how much time Holgate will get this season as he looks to be an excellent prospect who needs minutes on the pitch.
Andrew Presly
34
Posted 12/08/2016 at 09:00:26
If some aren't bothered about this kind of behaviour at other clubs until it becomes our problem then fine.
Really depresses me every time I remember we've sold Stones for the likes of this complete random but let's get him, he'll toughen us up. Man City by Christmas after no second contract?
If I was Moyes, not that I'd want to be, I'd chill him out in the ressies for a few weeks until the window closed.
Drew Shortis
35
Posted 12/08/2016 at 09:03:03
If he was promised a contract improvement if the Black Cats survived and it has not been forthcoming then he has every right to feel aggrieved. It's not like he came through the academy and Sunderland will make a big profit after a very short stay. He has also done right by handing in an official request, presumably waving the rights to any loyalty payment, a fair action as he's only been there five minutes. This may well have been the stumbling block holding up the whole transfer!
Chris Corn
36
Posted 12/08/2016 at 09:14:29
He's probably been asked to put a transfer request in. Suits everyone. Sunderland won't have to pay up his contract and will get the full benefit of any fee. He will get a bigger wage and the fans can also blame him and not the club. Moyes was never going to be dictated to by a player he probably knows little about. That said, watch Chelsea come in now.
Danny O'Neill
37
Posted 12/08/2016 at 09:17:49
With Holgate, Galloway and Browning backing them up Gareth. I'd feel quite comfortable with that lot.
Chris Corn
38
Posted 12/08/2016 at 09:29:12
Andrew 34, I get your point and agree to a certain extent but Stones was dead set on playing for Chelsea this time last year and handed his own transfer request in. Now it's his life's ambition to play for City and Pep. So it's a bit rich to talk about loyalty and cite Stones in the same example.
Andrew Presly
39
Posted 12/08/2016 at 09:42:24
Chris - I see that as someone we should have played for one more year (had three years left) then sold for bigger money if he became disruptive and / or wouldnt extend.
Once players sign long term deals I don't personally care whether they're happy or not, as with this Kone guy.
I want to be a Brazil 70 fan rather than sit through games watching Kone and McCarthy but it's not going to happen and I try to accept it, Ive certainly learnt to live with it.
If the disgruntled player goes out and plays shit their life will be hell pretty quick. Balance of power is with the club / fans for better or worse.
I'm pissed off that after sell on fees we've sold Stones for about the same money as Mangala went for to a newly promoted club that are strangely now one of our main rivals.
Phil Walling
40
Posted 12/08/2016 at 10:08:06
Stones had become a side-show who was less effective last season than he had been the year before. In reality, he was worth less than Chelsea wanted to pay 12 months ago and rather like Barkley had stuttered in his development. I somehow suspect that Pep will be far less 'understanding' than was Martinez, particularly as EVERY minor slip will be highlighted by the press vultures.
Gone and best forgotten.
Joe Clitherow
41
Posted 12/08/2016 at 10:33:11
"I see that as someone we should have played for one more year (had three years left) then sold for bigger money if he became disruptive and / or wouldnt extend."
How does that work then? Where is this mythical world where you sell a depreciating asset (year less on his contract, quite possibly less effective performances for a number of reasons but more likely splinters in his arse because he can't dislodge Williams from central defence) for an increasing amount of money?
I have a car I bought in 2010 for off-roading for £6K, only a bit more damage on it from said off-roading. You can have it for ten grand if you like?
Kevin Rowlands
42
Posted 12/08/2016 at 10:59:14
Phil, I agree about Stones, whilst he may become world class some posters have select memory about him. This was a lad that was dropped for 10 games because of a loss of form and confidence last season, asked to come off in a derby when we had no subs left leaving us with ten men, was reported crying in a service station because fans were asking him about the Chelsea move and Naismith stepped in, can you imagine Ashey Williams doing any of that?
As for Kone, I would suggest to anyone not convinced go on to some Sunderland websites, they rate him very very highly and are gutted he's leaving. I hope this comes off as our defense will be so much more solid than it has been the last few seasons.
If the two reported signings come off in the next couple of days our transfer window so far would be Williams, Gueye, Kone, Bolasie and Stekelenburg in, Stones out for a combined 㿀 mill give or take, that is fantastic business by the club so far and if we add Mata and one other it looks like Moshiri was being honest with the 𧴜 million transfer funds promised.
Brian Williams
43
Posted 12/08/2016 at 11:08:21
Kevin. I don't believe Mr Moshiri, or anyone else at the club for that matter, ever mentioned 𧴜m transfer budget.
It's yet another case of "say it enough and it becomes fact".
Kevin Day
44
Posted 12/08/2016 at 11:11:51
Moyes must be thinking he's taking a knife to a gunfight in trying to keep Kone.
Ernie Baywood
45
Posted 12/08/2016 at 11:13:49
Mythical world, Joe? No, just football.
He's just completed a season mixing it between getting splinters and performing poorly, and what happened to his price tag?
Obviously your car analogy isn't entirely fair... given that it it's not even slightly close to being the same thing.
Kevin Rowlands
46
Posted 12/08/2016 at 11:15:27
I suppose it doesn't really matter if it was said or not Brian fact is if Mata and one or two others come and no-one out it will end up with an outlay of about 㿼 to 𧴜 mill. With only Stones out, we will have the strongest squad for years and a new manager; there's a lot to look forward to.
Andrew Presly
47
Posted 12/08/2016 at 11:20:02
Stones' value would have only appreciated over the next 12 months, Joe. Your car doesn't reach maturation aged 26 and beyond.
He's gone for the price of Mangala. That's absolutely ridiculous. Rio went to Man U for 30 in 2002.
I'm happy to disagree about this but to me it's simply small time Everton, as always. I don't like the phrase but "this is why we can't / don't have nice things" is pretty apt.
And Phil yes he's gone but he can't be forgotten as we'll have to watch him win trophies for the next decade and more a la Rooney.
Anthony Dwyer
48
Posted 12/08/2016 at 12:08:52
Is it only me who finds it strange that we never seem to get transfers over the line quickly.
SSN reporting we have had bids accepted for both Kone and Bolasie, yet none of them are Everton players, and the fees were agreed days ago.
No other club seems to take this amount of time to go from bid accepted, to new signing.
James Hughes
50
Posted 12/08/2016 at 12:11:36
Can we please stay away from Stones as we will only go around in ever decreasing circles.
Kone is not a jaw-dropping OMG signing ( and let's hope he does better than his namesake) BUT he played in a defence that avoided relegation and showed fight. So if we stop allowing the opposition to walk though our defence at will. If we defend corners and allow some of us to stop having palpitations then he can only be a good signing.
Joe Clitherow
51
Posted 12/08/2016 at 12:11:40
"Stones' value would have only appreciated over the next 12 months, Joe"
Go on then Andrew, I'll bite. Sorry but you have to demonstrate the logic to that conclusion rather than just repeating the statement as if it were a fact (NB it isn't).
I've given you my reasons but I'll repost a few just to be clear. You even infer one yourself: "if he became disruptive we would sell him". So he has worse performances, shows he is less professional and not good enough for us for whatever reason but it's dead easy for some mug to take him away for an increased amount? Mourinho didn't come back in did he? Guardiola clearly wanted him right at this time and money is no object. That doesn't mean at all that if he watched another season of deteriorated performance (by your own admission the criteria by which we sell him), he is a year older (so less potential), he has a year less on his contract etc etc that his value increased. If he really intended waiting a year why would he not wait another to put pressure on Everton that he may just wind down the contract further, thereby increasing risk that Everton may get zero for him? Where was the bidding war driving Stones' price up? Guardiola wanted Stones now and that was it.
Sorry, I just don't get the logic of him being more valuable in a years time, you have to explain it to me.
Ernie
I was going to reply to Phil's point that Stones was worth less but we got more that Stones *value* was purely based on what someone was prepared to pay to do a deal at a given point in time. I didn't have a car analogy; that wasn't an analogy, I was just testing whether I could get ten grand out of someone for my car. No-one bit though sadly.
Brian Williams
52
Posted 12/08/2016 at 12:19:54
I"ll give you eight Joe, and throw in Niasse.
Joe Clitherow
53
Posted 12/08/2016 at 12:43:45
I'll bring it to Goodison tomorrow Brian. You may or may not hear a knocking sound in the boot if you drive it home (a la Goodfellas) but don't worry, it's the err, it's the spare tyre.
Paul Tran
54
Posted 12/08/2016 at 12:43:53
From what I've read, Anthony, we've agreed a price with Palace for Bolassie, but Pardew isn't happy. Are they waiting for a replacement first (Benteke?). With Kone, I've also read that a price has been agreed, but maybe they were waiting for him to put in a transfer request. Their new manager does like to count the pennies!
I suspect we'll have both of them next week.
I don't monitor other clubs' dealings, so I don't know if were the only slow ones when it comes to transfers. Pogba's move took an age, didn't it?
Ray Roche
55
Posted 12/08/2016 at 13:12:10
Paul, Kone has apparently already put in a written request.
Chris Gould
56
Posted 12/08/2016 at 13:17:41
Anthony, I'm pretty sure it's the same with everyone. Ask Arsenal fans, ditto Crystal Palace fans. It's exactly as Pardew pointed out... fucking scumbag agents (the words he wanted to use, but couldn't).
With all the money in the Premier League there's more agents than ever trying to get a piece of the pie. All of them demanding ridiculous fees that the buying club don't want to agree to. It's not just Pogba's shitbag agent that's doing it. Every other shitbag is... just at a slightly lower level.
Michael Polley
57
Posted 12/08/2016 at 13:27:52
Our defence should be solid this season, but it will take time for the team to bond and pull together as a team. We've brought these new guys in late so we need to be patient. In saying that I hope we beat the Spurs tomorrow. COYB
Patrick Murphy
58
Posted 12/08/2016 at 13:33:27
Moyes has stated today that he will offer Kone a new contract but not until September 1st.
Brent Stephens
59
Posted 12/08/2016 at 13:38:15
Moyes has offered Kone a new contract but not until 1st Sept? What sort of offer is that? Moyes will come out with an offer on 1st Sept which Kone might not like but by when it's too late for any transfer?
Brian Williams
60
Posted 12/08/2016 at 13:44:46
Hmm... seems to be a game of bluff and counter-bluff. Moyes is intimating that, if Kone wants to stay, like he said he did, then he'll have to wait until the transfer window closes for his new contract.
If Kone still wants to go, the blame shifts back to him from the club and the fans side with the club again!
Patrick Murphy
61
Posted 12/08/2016 at 13:46:33
Moyes also said Kone has been told the club will honour a new contract offer in September, and that he will be fined for his comments.
Phil Walling
62
Posted 12/08/2016 at 13:47:54
For those with an interest in 'off the field' matters, confirmation comes via SSN that Bill Kenwright is continuing to lead for Everton on transfer negotiation.
No lesser person than David Moyes appeared on screen this morning to confirm that Bill Kenwright has been speaking to him for some time about Kone 'and understands our position.'
How would we ever sign a player without 'Good old Bill'!
Patrick Murphy
63
Posted 12/08/2016 at 13:53:45
The more things change the more they remain the same Phil, we should all be fully aware of that by now mate. Apart from one important thing I don't think the current boss will be as patient or understanding of Everton's situation as the previous bosses were. What was it Moyes once said "I know how Everton FC work"?
Ian McDowell
64
Posted 12/08/2016 at 14:02:05
Think they are both trying to bluff each other at Sunderland in some way. If we don't get this sorted soon, we may have to move on.
Joe Clitherow
65
Posted 12/08/2016 at 14:05:00
No contract till Sept 1 and a fine to follow suggests Kone is in the bag then, just a question of when and how much. Not exactly going out of his way to build bridges OFFM is he?
Dave Pritchard
66
Posted 12/08/2016 at 14:08:44
Bullshit statements from Kone and Moyes.
Colin Hughes
67
Posted 12/08/2016 at 14:19:50
Where's Bolasie? Thought it was a done deal on Wednesday.Bet we start tomorrow with the keeper as the only new face in the team.
Andrew Presly
68
Posted 12/08/2016 at 14:23:57
Joe - just to respond and with no intention to drag this out longer than necessary as we basically just disagree, it's not a fact that Stones' fee would've increased granted but he went up £10m after a shit year. Keep him for another, 2 years left, then if we couldn't get him to re-sign sell for somewhere nearer £60m. Mourinho would be back in for him and there'd be others after a season of being coached properly again.
I consider that the best outcome from the sad situation of not being able to keep our best players. Don't sell him for basically the same money, after Barnsley get their cut, we turned down last summer.
But in classic Everton making up the numbers style we did, it's done, I grudgingly accept it, so onwards.
Also if Bill is still front of house for our transfer talks it explains a lot.
Chris Corn
70
Posted 12/08/2016 at 14:28:51
Colin 67, that's a given mate. Any new player would have had to have been registered by midday today to be eligible for tomorrow. Anyhow, I've given up.Normal service has been resumed and regardless of any new players signing, this pre season has been as poor as any in recent memory, probably worse due to the alleged
investment.
Our marquee signing will be a cheap gazebo from Argos.
Beresford McWilliam
71
Posted 12/08/2016 at 14:33:02
Anthony Dwyer, I think you'll find that most transfers take time and we are on the whole not much slower on average. The difference is you only rarely hear about other clubs' transfers until they're done (because you don't really care) as opposed to ours, which we sniff out well in the infancy of the transfer, which seem to take forever.
James Watts
72
Posted 12/08/2016 at 14:34:39
Moyes is still a crafty, sly arse by the looks of it. Sept 1st for new contract! Not our fault he wants to leave, honest guv.
Funny how Kone said yesterday that Kone said he handed in his request after speaking to Moyes. Something doesn't add up.
The most alarming thing is that Bill is still heavily involved in transfers! That explains everything. This cretin shouldn't be allowed anywhere near negotiations. He shouldn't be allowed near the tea room! Just wheel him with his misty eyes when we get to a cup quarter final and then lock him up again.
Ian Riley
76
Posted 12/08/2016 at 15:34:10
Sunderland know we have a pot of money and desperate for a defender. What would you do? Moyes knows how bill works.
Bill is going to have problems keeping koeman quiet. Better sign some players bill.
Craig Bellew
77
Posted 12/08/2016 at 15:36:37
To hear that Bill is still negotiating transfers doesn't surprise me and explains so much with our usual turnaround times of tabling a bid and four weeks later the player arrives.
I was under the impression the club had appointed a number of new personnel who were super qualified in all different aspects of running our club so surely somebody upstairs could be appointed to spend ours and Farhads cash and close out potential new signings within days rather than weeks. Bill is to put it nicely grossly incompetent and has the potential to balls up any new future signings as only Bill can with his haggling over every last penny etc.
I fear for us should this scenario go on Into the last week or so of the window. Farhad needs to pull rank here and remove Bill from any further future negotiations and allow himself or another to take these forward otherwise the Kone's and Bollasie's etc will be playing for either their respective current teams or somebody else who has decided to step in whilst Bill dithers over an extra 𧺬k payment to an agent etc.
Pull ya fingers outta ya arse, Everton, and get these signings in quickly as we're already falling behind average teams and playing catch up. It is not how I saw our summer and start of the season going but reality s says we will be playing catch-up during the first few weeks unless we pull out a few surprise results starting tomorrow.
Fingers crossed we do get a few surprise results as it now seems any new additions won't be arriving til the early part of next week as is now the Everton way of going right up to the final day of every window!
Joe Clitherow
78
Posted 12/08/2016 at 15:46:58
Andrew 68
...and then your alarm clock went off, as someone put it the other day.
Sell him for 60M??? To whom and how FFS?? The guy didn't want to play for us for a start. Thankfully we seem now to have a businessman in charge who makes the calls properly based on facts not what he wishes would happen. He didn't fall for Martinez's shite of "we're gonna be great soon", although, astonishingly, there are *still* people who support Martinez on this site.
You haven't done what I asked which was to explain the logic of how this is possible and you obviously don't want to (because you can't) so I'll not press any more.
Brian Williams
79
Posted 12/08/2016 at 15:48:21
I think we can probably forget about Kone now to be honest
Kevin Rowlands
80
Posted 12/08/2016 at 15:55:01
This one's starting to have that it's not going to happen feel about it, I'm now reading we've had an offer for a Valencia center half accepted, roll on September 3rd so this shit's not doing my head in anymore.
Gordon Crawford
82
Posted 12/08/2016 at 16:06:55
I agree Brian. Everyone wants to keep their best players and I understand that. But transfers with Everton do take an awfully long time. To also hear that Bill is dealing in transfers makes me sad. I was hoping that Farhad's right hand man would deal with the transfers.
Andrew Presly
83
Posted 12/08/2016 at 16:51:14
Joe if you can't or won't appreciate that in my opinion Stones' value would have increased had we shown a bit more ambition and kept and coached him for at least another year then yes let's please leave it there for ours and everyone's benefit.
£60m is the correct price when Mangala went there for £42m and in a league awash with money, everywhere apart from this place with the business men you mention currently having us with about a -£30m net spend this summer with the season starting tomorrow so let's not pop any champagne corks about them just yet. It's the usual small time Everton and yet we'll all be there tomorrow.
Steve Bell
84
Posted 12/08/2016 at 16:55:30
Perhaps showing naivety here, but wouldn't it also be part of Walsh's role to be involved in transfer negotiations? I just can't see it still being down to Bungling Bill??
Will Firstbrook
85
Posted 12/08/2016 at 17:02:09
I would be inclined to swerve this one now. As others have noted, looks like an extortion ploy by both club and player seeking more compensation. God knows how painful any transfer would be involving Moyes and Bill.
As a transfer fee was proposed but not accepted by Sunderland, what exactly was the lad doing in Liverpool earlier this week? Sightseeing!?
Steve Jenkins
87
Posted 12/08/2016 at 17:11:03
I think deep down the lad wants to leave and come to us but does not want to look bad, so is using the "not recieved a new contract offer" as the perfect get out.
Likewise I think Moyes & the club are happy to let him go but due to fan unrest - are stating he will be offered a new contract on Sept 1st.
I think he will sign for us next week for the following reasons;
Club are happy to sell and get fee
Player wants to meet me move
Telling the player his new contract will be offered Sept 1st will piss him off even further, as, he really wants to leave, but now the club is making him look bad instead of the other way around, when they could have just accepted the fee, now if he turns down the offer of waiting for a new contract, he is the fall guy,
He'll feel disrespected that they want him to wait whilst they sort out other players coming in as s priority over assuring continuing his services
He'll feel that they are waiting for the window to close so they can low ball him and there's nothing he can do until Jan
They've fined him which he won't be happy about as he feels they are in the wrong
Moyes press conference shifted all the blam onto the player,
deep down Moyes is a disciplinearin and will now see this lad as questioning how s authority and a trouble maker he will never not want

Steve Jenkins
88
Posted 12/08/2016 at 17:15:32
Confirms what we all thought, and why transfers are taking forever, Bill (quite unbelievably) is still involved in negotiations.
I though amateur hour was long gone with Moshri there.
I am also not quite believing this £100M plus whatever we sell to spend, as we don't move in the market until we sell
Shaking my head - Ffs
Mike Green
89
Posted 12/08/2016 at 17:16:01
Andrew - if we'd kept hold of him he'd be a year closer to the end of his contract which would put his value at risk.
If his heart wasn't in it for staying with us its unlikely his form / performances would have significantly improved, which would also put his value at risk.
He could also have got injured, which would also put his value at risk and people could have just dropped out of the running to sign him for what is now the second highest fee ever paid for a defender.
Conversely, the opposite to all of those things may have happened - in which case you would be right, especially if the market continues to boom and his value may have gone up - but the bottom line is he wanted to go, he put a transfer request in last season saying as much and keeping him would have been self defeating for everyone.
He is not worth 㿨m - for two reasons.
1 - we accepted 㿛.5m for him.
2 - no one offered more than 㿛.5m.
Therefore - his agreed value is 㿛.5m, not 㿨m.
He is still the 10th highest signing in history which, for a 22 year old defender who is far from the finished article, isn't bad.
Eugene Ruane
90
Posted 12/08/2016 at 17:24:25
Moyes:
"Aye don't worry son, we'll sort ye oot on th' first o' September, nae bother, gi' you mah word, whitever wuz promised'll be done"
Koné does that Larry David thing, looking into Moyes' eyes for ages.
Joe Clitherow
91
Posted 12/08/2016 at 17:28:18
Except, Andrew, you didn't leave it there did you? You then stated - again as if it was a fact (it isn't, it's in your head because it's your opinion) that Stones is worth 60m in a year's time because Mandala cost 42m is utterly irrelevant. For John Stones to have been worth 60m at least two things have to happen:
1. You have to have at least 60m:
2. You have to be prepared to offer said 60m.
The fact that Mangala cost 42m and you seem to think Stones is worth almost half again as much is totally irrelevant. I could argue that I think he is worth a lot less than half of the value of Cristiano Ronaldo so that puts us quids in at 47.5m. But that statement is not relevant or realistic either.
Football is not generally based on sound business principles, granted, but it's not totally stupid, and does follow it's own logic, although it is skewed. Your assertions around how the market works are totally baseless, and if your logic is solely based on the comparison you've shown above as the only factor, then yeah, our opinions will always differ. I bet my reasoning takes me much closer to the mark of what actually transpires than yours does though.
Ben Dyke
92
Posted 12/08/2016 at 17:32:48
ToffeeWebbers we are outdoing ourselves on the pessimism front. This thread and the 70% fit one has everyone predicting doom under Koeman ending with him leaving very soon!
I think we won't get Kone from Sunderland and that another centre back will join.
We'll start with funes mori and jags and Holgate in my opinion.
The Spurs game is a true test for them and us. We are underdogs and will have to fight. They have a stable team and finished 3rd last year.
3-4 new recruits will arrive before 31st.
Let's aim for not being outplayed or outfought between now and Christmas and take it from there.
Eugene Ruane
94
Posted 12/08/2016 at 17:40:46
Ben -
'Let's aim for not being outplayed or outfought between now and Christmas and take it from there.'
Pretty much how I'm thinking.
We could get lucky and do better than that, or get unlucky and do worse, but there's no way I'm expecting or demanding anything other than Koeman getting a couple (3/4?) more in, getting them all fitter and and more 'disciplined' and then hopefully seeing some slow but sure improvement.
Neil Wood
95
Posted 12/08/2016 at 17:45:50
People people . You will ALL be pleasantly surprised come the end of the transfer window and beyond. The last thing we wanted to do is a Spurs and throw money around to build a team. It doesn't work, history proves it doesn't work.
What you need is a plan, a structure, a vision, an ethos to sound as cheesy as hell. But you need that you really do.
How much better really is stones than say Ryan shawcross ..(I am not a big shawcross fan) However, put shawcross at the heart of say PSG's defence and would he look ridiculously out of place???? No.
You could do that with so many top tier players and I just literally plucked him out as an example.
If you play the right system and right balance with your team then anything is possible A la Leicester.
It's not always about superstars it's about balancing the right type of midfielders say with the forwards you already have.
Look at someone like lukaku. His biggest strength is cute balls through for him to outpace and bully people and is a good finisher. So a player in the Mata mold would fit this as he is intelligent and is capable of seeing runs "vision" !
Where as a striker in the giroud mould thrives from great crosses into the box so Mata may not be the answer... Etc...
Andrew Presly
96
Posted 12/08/2016 at 17:55:27
Joe - fair point I started up again after saying I wouldn't, apologies. All opinions. Cheers.
Ian McDowell
97
Posted 12/08/2016 at 17:55:45
Neil Wood @ 95 absolutely spot on.
I am quietly confident we will be well pleased come the end of August. As you rightly so its about using the strengths of the players you have.
I expect Kone and Bolasie to join and 2 more before the deadline.
Peter Morris
98
Posted 12/08/2016 at 18:01:52
It smells to me like Kone is trying to use Everton as a stalking horse, and acting out all hurt and principled in his 'open letter to fans'. What tosh! He's only been at Sunderland for a year and now he's trying to blackmail them. I know these guys are essentially all the same but it doesn't make their behaviour any more acceptable and I for one won't lose any sleep if he stays put!
Colin Glassar
99
Posted 12/08/2016 at 18:19:24
Not liking this one bit. This sounds like the guy just wants Sunderland to give him a massive pay rise and is using us as a lever. I'd move on if It was me dealing with him.
Will Firstbrook
101
Posted 12/08/2016 at 18:26:25
My gut tells me the Lukaku situation is far from over and we could very well find ourselves in a situation of starting yet another season with a disgruntled/unsettled key player. This is why I am sympathetic of the challenge in front of RK - how to go about properly (re)building a squad when uncertainty remains over the status of key pieces (as he implied during yesterday's presser).
Hopefully talks that were planned this week with Lu and his camp have helped allay those concerns (for this season at least) but it's not at all difficult envisioning a scenario of Lukaku formally agitating to move coupled with a very tempting bid from Chelski at the 11th hour of the window closing. I think it's imperative we have a striker back-up plan implemented asap.
Daniel Lawrence
102
Posted 12/08/2016 at 18:33:43
So the summarise the week: we sell Stones for circa 50m, immediately announce of flurry of activity including our record transfer fee, three decent if not marquee players with fees agreed; and yet by close of play, we've signed a 31 year old for about £9m who isn't fit to play.
Did I dream that Kenwright no longer ran Everton?
Mark Tanton
103
Posted 12/08/2016 at 18:41:17
When you put it like that, Daniel.
Rob Nunn
104
Posted 12/08/2016 at 18:42:33
Probably said already. Transfers closed before the season starts. That's how it should be.

Raymond Fox
105
Posted 12/08/2016 at 18:57:07
James 72, that cretin had the intelligence to make himself a millionaire through his business sense in London no less.
Also he spotted an opportunity to stick money into our club at the right time.
You might not like him, but I very much doubt he's a cretin.
Nicholas Ryan
106
Posted 12/08/2016 at 19:24:53
As several people have pointed out, Lamine Kone said very clearly, that he was making his transfer request AFTER speaking to Moyes.
Barry McNally
107
Posted 12/08/2016 at 19:39:04
Defour on his way to Burnley - would have been a great signing for us back in 2011 assuming he didn't get that nasty injury.
Joe Clitherow
110
Posted 12/08/2016 at 20:10:25
Andrew (#96),
All opinions yes. Cheers, all Blues together.
Keith Harrison
111
Posted 12/08/2016 at 20:11:17
If not done this weekend, leave him and get Bruno Indi martins, who seems desperate to join us for around £10 mill.
Anyone else hope RK is playing mind-games over fitness before tomorrow? Bloody hope so, otherwise a very strange thing to admit.
Joe O'Brien
115
Posted 12/08/2016 at 21:36:41
Where did all this 'Bill is dealing with the negotiations' Come from? Does anyone actually know this for fact? I'd be very surprised if that was true to be honest. Moshiri has sussed out Kenwright by now I would think and I doubt it that he'd leave Bill play around with his money!

I think between now and the close of the window we will have spent very close to this £100mil we have all heard about, and we'll be alot stronger than we are at present.

It's not ideal players coming in late but we did have our manager arriving late and even later Steve Walsh so there has been reasons why it's going slower than we thought or hoped. Patience is needed with us, it'll all come good
Daniel Lawrence
118
Posted 12/08/2016 at 22:23:38
The Kenwright thing has likely come from Moyes' press conference today with him stating he'd phoned Kenwright several times regarding Kone being pictured on Merseyside.
The sooner the better that he's gone either way.
Nicholas Ryan
120
Posted 13/08/2016 at 00:48:29
There is so much pessimism and downright doom-mongering around EFC, that I'm going to put some cash on us to win the League!
Eddie Dunn
121
Posted 13/08/2016 at 07:56:01
Just noticed in some pics of Kone training with Sunderland on Wednesday, that Steven Pienaar was training with them. Apparently he is on trial there.
William Cartwright
122
Posted 13/08/2016 at 11:11:43
Keith @ 111. Agree. Bruno has always looked pretty fearsome when I've seen him play, mostly on the box but once live. A very bulky but fast player with the strength to keep his balance when other players literally bounce off him!
He or Kone would do for me. As mentioned on another post, the 3 things I really like about Kone are 1) He is adored by the Sunderland fans and they are no mugs, unlike the Toons, 2) He is a big bugger and 3) he seems to have heart, going about trying to catch the move in the proper route by handing in a formal transfer request. Quite exactly why Moyes wants to fine him I'm not sure . . . . .
Bob Hannigan
123
Posted 13/08/2016 at 18:00:40
Perhaps we will have two in the fold who are playing in the Man City - Sunderland fixture today: Hart & Kone.
Ian McDowell
124
Posted 13/08/2016 at 19:22:34
Kone had an excellent game v City. Really liked the look of him. Strong, fast and reads the game well. Would be a great addition.
Kase Chow
125
Posted 13/08/2016 at 19:37:23
The fact Kone played for Sunderland today makes me think we won't buy him
The fact Lukaku played makes me fear we'll lose him
Yes I'm a pessimist but...
James Watts
127
Posted 14/08/2016 at 00:34:50
Kone didn't issue that statement, apparently, according to The Ginger One. I guess he doesn't want to be fined then?
James Watts
128
Posted 14/08/2016 at 00:38:11
Joe (115), it's come from two different quotes regarding 'True Blue Bill' being involved in negotiations.
Erwin stated two weeks back that Ronald and Bill were working 'hard' on transfers. The second has come from Ginger Gob Shite in the last couple of days.
James Watts
129
Posted 14/08/2016 at 00:46:15
Raymond (105). You're right, my use of the word 'cretin' wasn't quite appropriate as he's certainly not stupid on business dealing, so fair point. But you got my drift... kind of hard not too. ;)
David Milner
130
Posted 15/08/2016 at 11:49:43
There is a 'limit' of what we can spend on Kone before it becomes 'not worthwhile'.
Having seen Kone at the weekend it looks as though Aymen Abdennour would be a better bet & cheaper (keeping blue bill happy).
Stones went for 㿛.5 million with an EXTRA ٠.5 million if Shitteh win the Champions League. I don't think a deadline on winning was included or that Stones had to play. So maybe 2030!

Gordon Crawford
131
Posted 19/08/2016 at 01:28:09
This was on the BBC website:
Sunderland have accepted an undisclosed bid from fellow Premier League side Watford for defender Younes Kaboul.
The 30-year-old centre-back, who moved to Sunderland from Tottenham in 2015, has told manager David Moyes that he wants to leave for personal reasons.
Kaboul has been given permission to discuss personal terms with Watford.
"The club and the manager have shown an understanding of my personal circumstances and I am grateful for that," Kabul told the club website.
Seems a bit hypocritical to me. It's funny how Moyes won't let Koné join us and yet Kaboul has been given permission to leave.

James Watts
132
Posted 19/08/2016 at 01:40:48
That's because Kaboul isn't very good Gordon, whereas Kone is. Hence the difference.
---
Add Your Comments
In order to post a comment, you need to be logged in as a registered user of the site.
Or Sign up as a ToffeeWeb Member — it's free, takes just a few minutes and will allow you to post your comments on articles and Talking Points submissions across the site.
© ToffeeWeb