Garbutt joins Wigan on loan
16 August

42 Comments [Jump to last]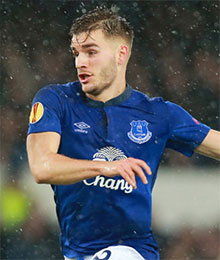 Luke Garbutt has been given another loan assignment, this time a four-and-a-half month spell at Wigan Athletic.
The 23-year-old has joined the Latics until 2nd January.
Garbutt broke into Everton's first team during the 2014-15 season where he deputised well for the injured Leighton Baines and Bryan Oviedo but found it difficult to negotiate his way back into the side once the former was fit again.
He spent most of last season on loan at Fulham, making 26 appearances but generally struggling for form by most accounts from observers of the London side in a season disrupted by injuries.
"We've been hit with injuries to Reece James and Andy Kellett and it was clear we needed someone in," Wigan manager boss Gary Caldwell said on Wigan's official website.
"Luke is a tremendous young player with a big future in the game and we are delighted to have reached an agreement to bring him here."
---
Reader Comments (42)
Note: the following content is not moderated or vetted by the site owners at the time of submission. Comments are the responsibility of the poster. Disclaimer
Geoff Williams
1
Posted 16/08/2016 at 19:31:37
I wish him well. I did have high hopes he was going to be Baines successor.
Frank Crewe
2
Posted 16/08/2016 at 19:32:07
Garbutt is finished at Everton. 23 and still being loaned out. Time for him to move on.
Colin Glassar
3
Posted 16/08/2016 at 19:34:17
Frank, you're right, I also think his Everton career is over. Good luck to him in the future though.
Tom R Owen
4
Posted 16/08/2016 at 19:35:16
Frank,
The loan is till January 2nd.
I think he will be sold in that transfer window.
Ian McDowell
6
Posted 16/08/2016 at 19:49:59
Frank, Colin I disagree. There are many players who never made it in the top flight who never really made it until they where mid-late 20s.
Take our most recent signing, he was at Bristol City 4 years ago. Jamie Vardy, Wes Morgan a few others.
Alasdair Mackay
7
Posted 16/08/2016 at 19:54:14
I think he's a great little player, but he has been the victim of having one of the best LBs in Europe over the last 5 years in front of him.
Baines has just had new contract, so I think that spells the end for Garbutt at Everton – I think he'll play in the Premier League, though.
Lenny Kingman
8
Posted 16/08/2016 at 19:57:19
It's a thin blue line between success and failure at a top club. Hope he breaks on through somewhere.
Frank Crewe
9
Posted 16/08/2016 at 19:58:14
Ian, those players started out at lower-division clubs. I doubt any of them would have made it if they had been at a premier club when they were young.
How long should a club wait before deciding a player is never going to get into the 1st team?
This is the problem with academies. Everton's has produced two real top players in Rooney and Barkley. The only problem is they are 12 years apart. So we should expect our next young superstar around about 2025. How do we produce good young players regularly? Instead of just keeping them hanging around in the various youth teams hoping that they will miraculously get better until we finally realise they won't and start loaning them out.
Maybe we need better coaches at youth level.
Anthony Jones
10
Posted 16/08/2016 at 20:03:51
Seen him play well for us. More promise than Oviedo, and he is getting a bit old to be loaned out.
Tony Steele
11
Posted 16/08/2016 at 20:14:06
Either he's been given assurances he's Baines's successor or he's keeping himself ready for a transfer. I'd be wanting to assert myself in a first team now if I were Garbutt. I hope we don't live to regret letting him go if he does decide to leave for good.
Peter McCann
12
Posted 16/08/2016 at 20:17:03
Good player but then controversy over his contract distracted him and he needs a god season under his belt. There is still time but it's down to his attitude and application as there will be an opening for him.
Jim Hardin
13
Posted 16/08/2016 at 20:22:53
I don't think it is the end for him at Everton just by virtue of being loaned out. I think it is his last chance though since the loan ends at the beginning of the January window. If he doesn't impress enough at Wigan to merit making the senior squad, then he can be sold. This is a chance for him to get fit and get game experience while proving he is not injury prone. He wouldn't get that at Everton as he is at least third on the depth chart.
As for being better than Oviedo, nope, nope, and nope. He is not even as good as, much less, better than, our Tico. However, if Oviedo cannot stay healthy, then the short-term loan gives Everton a hopefully match-fit player to step right in to that #2 spot for the second half of the season.
Sajid Patel
14
Posted 16/08/2016 at 20:29:00
He looked pretty good when he got a game. Good Pace and a decent cross on him. Hope we keep him for the future.
John Dean
15
Posted 16/08/2016 at 20:30:25
He played well last week in the Lancashire Senior Cup, showing lots of desire to attack and playing more like he did 2 years ago. The loan at Fulham did him no favours as he mostly warmed their bench.
Bobby preferred an untried Galloway to him at the end of 2014-15 (when Garbutt's contract was about to finish) and Koeman doesn't seem inclined to play him any time soon so neither Fulham nor Everton are seeing what they want from him. I think he has had his chance and he needs to move on.
Mark Morrissey
16
Posted 16/08/2016 at 20:36:00
Mustafi is apparently a better defender than he was a few years back.
Liam Reilly
17
Posted 16/08/2016 at 21:05:09
The lad has promise and I'd be hopeful that Koeman wants to give him one more chance to impress. He needs to knuckle down and take it.
Being first in and last out of training at Wigan and setting the standard would be a good start.
Jeff Armstrong
18
Posted 16/08/2016 at 21:21:32
Hope we insert a future percentage clause if we do sell him to a Championship club for example. If he does come good and ends up back in the Premier League, then it's first refusal AND a percentage deal for us.
Ian Burns
19
Posted 16/08/2016 at 21:21:41
Frank and Colin - I hesitate to disagree with two whose posts I have a great deal of respect for but I do pray you have misread the situation because I would like to think Luke has a future with us as he is a natural left back with a tremendous left peg.
Frank given we have Davies; Dowell; Kenny et al I would be hugely disappointed if it was 2025 before we saw the next Rooney/Barkley!
Lev Vellene
20
Posted 16/08/2016 at 21:26:15
I hope the message RK is sending here is that he has potential, but he needs playing experience to bring it up to GP levels. If there is no vacancy for him to fill right now, and RK saw it early (so no squad number given), then I can only hope he'll bully his way back home by doing great on loan.
If not, well... Let's hope he'll not end up as our Pogba... :D
Kevin Gillen
21
Posted 16/08/2016 at 21:33:34
Good luck to the lad, having seen him, he could obviously make it at the top level.

Anthony Dwyer
22
Posted 16/08/2016 at 21:41:23
I really hope Luke turns it around at Wigan, he's got so much promise and ability, I'd love him to prove his worth at Wigan and push for a spot in RK's squad.
Steven Jones
23
Posted 16/08/2016 at 21:50:15
Frank Crewe .. you have it in one!
Question is how do we develop amazing skill and confidence at junior and youth level ,
Check out my Sport4kids.biz model it hs some promise ... but not for Everton
We at EFC needs skill based training from 15 to 18 - what we do is put them into teams and hope they develop . as Frank said ... it is crucial that we chang ethe way we train the teenagers ...
James Stewart
24
Posted 16/08/2016 at 22:06:35
Interesting one, personally I would rate him as better backup than Oviedo and Galloway but time will tell.
Kieran Kinsella
25
Posted 16/08/2016 at 22:07:51
If he had a future then why know squad number? Grant got a number even though we loaned him out for a whole year.
Andrew James
26
Posted 16/08/2016 at 22:38:06
I hope he does come back and makes it with us. I'm not sure he will though. Leighton is a one off and getting past him has always been unlikely, especially when you are as injury prone as this lad.
Those talking about players making it in their late 20s... I think that rarely applies to full backs. Centre halves and strikers yes. At 23, he should be knocking on the door or in the berth. Sadly he's not been.
Mike Gaynes
27
Posted 16/08/2016 at 22:41:30
"Great little player"
"Better backup than Oviedo and Galloway"
etc. etc. etc.
No way, people. Jim, John, Frank and Colin have it right. He may have a "tremendous left peg" but he can't play at this level. What I saw of him for us did not impress me at all, and he was a complete bust in his 25 appearances at Fulham. In February he had to be subbed out at 34 minutes against Blackburn. He tweeted an apology to the fans for his performance.
Seems like a class young man, and I wish him the very best at Wigan and wherever he winds up playing permanently. It won't be for us.
Anthony Dwyer
28
Posted 16/08/2016 at 22:43:11
Maybe Garbut needed a kick up the arse, he may be a bit of a pain.
Last season he made us wait on a contract, then demanded a loan deal, maybe he made demands to RK and he did not like it.
Hopefully this is a lesson he needs, then he kicks on.
Lev Vellene
29
Posted 16/08/2016 at 23:10:56
Let's give him a year on loan, let him prove us all wrong! What better hope is there? I hope he ends up blasting my in-bred EFC complacency to smithereens! :P
Richard Dodd
30
Posted 16/08/2016 at 00:01:42
Posted this news last week when Luke wasn't given a squad number in spite of having four years to run on his contract. I imagine the same fate awaits nearly all the other 'graduates' of the Club's system. The odd first team appearance in an emergency then obscurity.
I guess we'd all rather have Everton spend Mosh's millions than rely on kids. Academies serve only to give old players employment!
Damian Wilde
31
Posted 17/08/2016 at 00:22:42
Decent player, only one who can take a corner.
David Ellis
32
Posted 17/08/2016 at 03:22:35
I think he is being overtaken by the younger turks. Wish him well but I don't expect him to be with us in 12 months time.
Ant Ellis
33
Posted 17/08/2016 at 04:52:31
Seems to be a lot of people thinking that a loan deal doesn't spell the end for Luke, which could be true if he hadn't been shunned for the entirety of pre-season.
The lack of a squad number doesn't exactly scream confidence. Koeman, for whatever reason, clearly doesn't fancy him. All we can hope for is a very good 4 or 5 months that entices teams to pay a few million.
Derek Knox
34
Posted 17/08/2016 at 09:02:02
I like Garbutt and stll think he has a lot to give us, but maybe the added experience will help his development.
I like Baines, don't get me wrong, but don't think he has ever been the same player since the links with Man Utd, when he eventually committed to us. He never seems to want to get to the by-line anymore, or even get near it. His defending is good, but as an attacking LB he has definitely lost something.
Remembering also, that he is into his thirties now, and won't be able to go on forever. So maybe, just maybe, Luke Garbutt could be the answer for the future!
Anthony Dwyer
35
Posted 17/08/2016 at 09:43:41
Richard Dodd 30.
What are you on about ?
You've just decided that none of our kids will make it through under RK, with your logic being based on the fact some of our better kids are getting a chance at genuine first team football at Championship level.
Galloway playing regular at Newcastle, Garbut getting another chance to impress after a poor loan spell out at Fulham, Griffiths being allowed to develop elsewhere, Connor Grant at Ipswich, all of this is valuable experience and essential for players development, do you remember what happened with Shamus Coleman.
Mike Allen
36
Posted 17/08/2016 at 10:53:07
Another player allowed to go to seed under the last manager; never given a chance, along with a few others he fell out with. Mind, I believe Jones was the one who ratted on the players.
Richard Dodd
37
Posted 17/08/2016 at 10:55:06
Well, Anthony, we got money for Rodwell and Anichebe and Barkley is world class to some, so, perhaps, three successes since Rooney is a healthy return?
On the other hand, the money we made on Lescott and Stones, who we picked up for buttons, makes a case for using the Championship as our nursery.
Cheaper and more successful!
Dave Abrahams
38
Posted 17/08/2016 at 11:56:33
Frank (9) you make a good point; however, quite a lot of money was made on Jeffers, Ball, Dunne and Rodwell, plus money was made on Duffy, Long and other players who didn't make it at Everton. These players make the cost of running The Academy worthwhile.
There are two or three young players coming through now who have a good chance of being more than useful playing for the first team – would you bet against Tom Davies, for instance?
Alan J Thompson
39
Posted 17/08/2016 at 12:12:39
Got loaned out which did him no good so we loan him out again. More like put in the shop window after being given a 5-year contract.
Tony J Williams
40
Posted 17/08/2016 at 12:32:34
Osman was 23 when he went to Derby, so doesn't automatically mean he has no future with us.
Get his head down and get noticed in the Wigan side.
That's the only way he'll get back into the fold.
Steavey Buckley
41
Posted 17/08/2016 at 15:51:41
With Garbutt off to Wigan should quash any rumours of Galloway going out on loan. Baines nor Oviedo don't look that comfortable at left back.
Terry Underwood
42
Posted 17/08/2016 at 15:58:01
The fact that he is being LOANED out suggests that he still has a part to play at Everton. Maybe as a replacement for LB
Dave Williams
43
Posted 17/08/2016 at 20:12:39
Derek # 34 agreed and his decline also coincided with the demise of Pienaar- neither was the same once the other started to fade.
Baines is still good but I think his days of potency down the left are gone and he now reminds me of Mike Pejic who took up some very interesting positions almost in centre midfield rather than charge down the wing.
If Luke does well then RK will likely give him a chance- if he doesn't then he will be gone- this must be his last chance.
I think Oviedo has looked much sharper this pre season and it would be great to get him back to his best. Galloway will hopefully progress if he goes on loan. Left back is well catered for whilst right back has no quality cover at all although a few can fill in which is not good enough when we have aspirations for top 4.
---
Add Your Comments
In order to post a comment, you need to be logged in as a registered user of the site.
Or Sign up as a ToffeeWeb Member — it's free, takes just a few minutes and will allow you to post your comments on articles and Talking Points submissions across the site.
© ToffeeWeb