Galloway makes Baggies loan switch

94 Comments [Jump to last]
22 August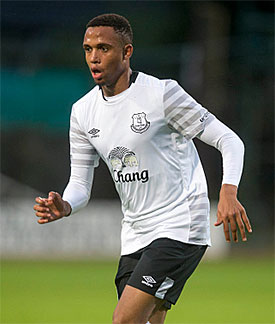 Brendan Galloway has joined West Bromwich Albion on a season-long loan, boosting his chances of more regular action this season.
This time last year, the defender was a regular in the Everton side deputising impressively for the injured Leighton Baines and Bryan Oviedo.
With both players fit now, however, and more competition in his more natural role at centre half, a loan move arguably makes more sense for him at this stage of his career.
With Tony Pulis's penchant for playing four centre-halves across his back like rather than orthodox fullbacks, Galloway is a good fit for him at West Brom and it could provide the former MK Dons player the platform to transition back from left back to centre back that ex-Everton boss Roberto Martinez envisaged after he had played around 60 games.
"What we like for young players is to give them the best way to improve because he is a player with a future at Everton," Ronald Koeman explained to evertontv regarding the decision to send Galloway to The Hawthorns.
"At the moment he is not playing for the first team. It's not good for young players to play every week for the Under-23s [but rather] give them a platform to play at the highest level.
"There was a possibility at West Brom. I know the manager very well, he asked me about Brendan and we took the decision to put him out on loan because, really, it's about the development of a young player [and getting] him back better so he can provide better competition to the rest of the team."
---
Reader Comments (94)
Note: the following content is not moderated or vetted by the site owners at the time of submission. Comments are the responsibility of the poster. Disclaimer
Thomas Surgenor
1
Posted 22/08/2016 at 14:20:16
Good move for the kid. Hope he can force his way in and get some first team action.
He impressed when playing with our first team but (according to reports on here) his attitude/performances stunk when playing reserve football.
Should suit WBA as they like playing 4 CBs.
Phil Walling
2
Posted 22/08/2016 at 14:23:36
Never to be heard of again, I guess. Just like Garbutt two years ago and Holgate once we get 'men in' this time round ?
Anto Byrne
3
Posted 22/08/2016 at 14:27:31
Pulis must rate him then?
Barry McNally
4
Posted 22/08/2016 at 14:28:24
Great move for player and both clubs.
Ernie Baywood
5
Posted 22/08/2016 at 14:28:52
Both Garbutt and Galloway need senior playing time. You can't offer that kind of development in your own first team if you're serious about the league.
They'll both be better off. And if they're good enough to force their way into our side then we'll know about it.
David Pearl
6
Posted 22/08/2016 at 14:30:11
Long overdue. It's going to be tough to come back and get in this Everton team next season though. Hopefully he gets some minutes and develops.
John Otway
7
Posted 22/08/2016 at 14:31:38
Phil Walling. Do you get some sad twisted thrill out of posting this drivel. Please go away, you just suck the life force out of me.

David Morgan
8
Posted 22/08/2016 at 14:33:43
I honestly think Brian Oviedo is one of the worst players I have ever seen in an Everton shirt. So I think we could live to regret sending Galloway out on loan. Oviedo chases the ball like a headless chicken, has no positional sense and gives the ball away every two seconds. He can't head, is erratic in the tackle and looks a little weak. If Baines gets injured and we have to rely on Oviedo we could be in trouble. Unless he is thinking Mori or someone else can cover I don't know. But from what I have seen of Galloway I would say he is already better than Oviedo now. (sorry Brian)
Sam Hoare
9
Posted 22/08/2016 at 14:35:27
If he can get into the West Brom first team then he'll be doing very well indeed and will be more on the Coleman trajectory than the Garbutt one. Don't let 'Misery' Walling get to you John!
Jim Knightley
10
Posted 22/08/2016 at 14:38:48
Phil - do you ever say anything positive?
There is a big difference between Garbutt and Galloway - Garbutt is a championship player, over-rated because he has a decent delivery. Galloway is a Premier League player who can become a starter for us in the future. He needs games, and when he comes back, I expect he will be in line to challenge for a first team place. Jags is 34 and will not be around forever, and I expect that Williams came in, as a soon to be 32 year old, because of the realisation that we had talented youth defenders capable of making a first team claim in the next few years.
We are looking very healthy at the back with Galloway, Holgate and Browning behind Coleman, Williams, Mori, Jags, Kone/another cb? and Baines. We just need another goalkeeper, and probably another top left back long term.
Phil Walling
11
Posted 22/08/2016 at 14:39:21
Well, John @7, what did happen to Mr Garbutt ? He certainly has no place here even on a 5year contract !
Rob Halligan
12
Posted 22/08/2016 at 14:39:37
John Otway ...Hahahahahahah ...well said mate.
John Otway
13
Posted 22/08/2016 at 14:42:03
Jim. No he doesn't which is why putting up a counter argument is a waste of time and breath.

Paul Mackie
14
Posted 22/08/2016 at 14:42:13
Phil -- I'd love to see what you posted about us buying Stones at the time. I'd bet it was along the lines of "another young player that will go straight into the lower leagues."
John Otway
15
Posted 22/08/2016 at 14:46:03
Phil Walling. I call you out over the rest of your posting

Gareth Clark
16
Posted 22/08/2016 at 14:46:34
I think he may just sneak into their starting line up! Which will be fantastic for both clubs!
He is definitely better than Jonas Olssen, which would allow Evans to play at CB, with Galloway playing at LB... He will be good I think, and the way WBA play with 4 Centre backs, he will learn to defend a lot better, while still in a natural position for him.
I feel he has a massive future at LCB.
Good luck Gallo 💪
Raymond Fox
17
Posted 22/08/2016 at 14:46:49
I can see where Phil is coming from, he likes to get us going though.
I hope we don't let this kid slip through the net, it would be a crime.
Its a product of new manager and demanding fans (us), I expect Kone will also be brought in also, which shoves the young players further down the pecking order.
At this time its probably the best option for Galloway having said all that, I just hope he gets more chances in our first team in the future.
Bob Hannigan
18
Posted 22/08/2016 at 14:47:39
Hopefully they will get the needed seasoning on another side's time, prove themselves, and return better prepared for first-team Everton action. We will need the experienced depth for Europe next season...
Phil Walling
19
Posted 22/08/2016 at 14:49:48
Paul, when he was dropped last season, I had him down for Brentford. There's always the odd exception to my judgement of the situation!
Just a good job we're all not suckers for the 'official line'!
David Ellis
20
Posted 22/08/2016 at 14:54:26
Loaning out players to other (lesser) Premier League clubs – that is another step forward. It's the obvious next step for Galloway.
Eugene Ruane
21
Posted 22/08/2016 at 14:56:17
"Dear Rafa, thank you for you interest in loaning our player, Brendan Galloway. Unfortunately we have decided that right now, the lad needs a loan period with - and please don't take this the wrong way - a bigger club, so we have gone with Premier League side WBA.

All the best with everything in the Championship.

Yours sincerely, Everton FC.

PS: Tapas for table one, you sweaty shirt-hangin-out, red-face meff"
Derek Thomas
22
Posted 22/08/2016 at 14:59:05
Phil; what you say could (does) happen in this now, now, now game, sadly.
Koeman, iirc, came with a slight reputation of being keen on buying/playing 'experience' rather than promoting kids.

Tom Hadley
23
Posted 22/08/2016 at 15:03:50
I caught myself thinking "Why have we loaned him to a rival?" for about 2 secs. Then I remembered Martinez isn't our manager anymore and I don't have to worry about us finishing anywhere near the Baggies this season. Hurray for that!
Eugene Ruane
24
Posted 22/08/2016 at 15:04:27
Raymond (17) - 'I can see where Phil is coming from.'
Me too.
Steve Bingham
25
Posted 22/08/2016 at 15:07:20
Best of luck to him .. He is going to have a brilliant future In an Everton shirt !
Gerry Quinn
26
Posted 22/08/2016 at 15:15:09
Is he tall enough for them?
Dave Pritchard
27
Posted 22/08/2016 at 15:15:29
That blows the theory of us loaning him to Sunderland as part of the deal for Kone coming to us.
Andrew Ellams
28
Posted 22/08/2016 at 15:15:35
Struggling to see the negatives here. Sign a 32-year-old to lead the defence for a couple of years or so; send the next generation out on loan to a Premier League club with a manager who will make him defend properly. Win-win all round.
Jamie Barlow
29
Posted 22/08/2016 at 15:23:36
That could be James McCarthy Dave@27.
Julian Wait
30
Posted 22/08/2016 at 15:32:36
@David #20 - my thoughts exactly. It's a sign progress that we are now loaning out to what should be lower in the table clubs, and I doubt we will be getting too many loan deals from the likes of City, Chelsea etc any more ...
Drew Shortis
31
Posted 22/08/2016 at 15:35:56
Much better loan option than Newcastle. Galloway came in as a real prospect and has not disappointed when he has been called upon. Think it makes more sense for the Baggies to give him the playing experience and hopefully he will come back a better player and be able to force his way into the side next season. Certainly a step up from loaning players out to Burton or Yeovil!
James Morgan
32
Posted 22/08/2016 at 15:50:48
Good for all parties. David #20, agree with that. I still think we should straight up buy Hart too, rather than go for a loan, though I see how it makes sense to judge him for a season with us.
Jason Wheeler
33
Posted 22/08/2016 at 16:01:24
Much prefer him to Oviedo. I am a little disappointed in this one.
Lewis Barclay
34
Posted 22/08/2016 at 16:04:49
Can you call players back from loans in the same league?
Anthony Dwyer
35
Posted 22/08/2016 at 16:10:07
There is only one way this ends up as a negative, and that's if he can't break into the side (or two I suppose, if he gets injured !!).
Other than the above, this move is fantastic for everyone at the club. The manager and fans get to see Galloway in action week-in & week-out at the highest level. The lad gets to keep on playing Premier League footy, and as an added bonus he gets to play under one of the leagues most disciplined defensive coach's.
Win-win for everyone, a brilliant move.
We also refused fat arse Rafa a favour !!!
Eric Myles
36
Posted 22/08/2016 at 16:14:04
David #8, a few seasons ago, when Baines was injured and Oviedo replaced him, Bryan did so well that fans were advocating selling Baines as we had a better replacement.
John Crook
37
Posted 22/08/2016 at 16:18:05
Jamie (#29), good point but he's one of RM's boys so I think DM will stay well clear. It does look like RK doesn't like the look of him. After last season, I can't say I blame him either!
Trevor Lynes
38
Posted 22/08/2016 at 16:24:17
Galloway has a future at the top level IMO. I also thought Garbutt looked really good as he has been obviously influenced by Leighton Baines. Perhaps both will make it, hopefully back with us.
Mike Gaynes
39
Posted 22/08/2016 at 16:24:22
Bravo, RK... great decision, particularly with our visit to WBA already in the rear-view mirror. Pulis knows defense and will be a great teacher for him. Let's hope he's a solid starter for them when they come to Goodison next spring, and gets a rapturous welcome from the crowd.
David #8, that's one of the most clueless posts I have ever seen here. Oviedo is a quality, intelligent footballer with pace who pressures crosses better than Bainesy. And RK clearly feels the same, because he wouldn't be sending out Galloway and ensuring Oviedo's place in the squad as Baines' cover if he thought Bryan was "weak", now would he?
I'll take Koeman's opinion over yours any day.
Jay Harris
40
Posted 22/08/2016 at 16:25:51
Watching Galloway in the Under-21s after his first team outings was like watching two different players. His form and concentration went to bits.
Hopefully this loan will enable him to get back on form and restore his confidence.
Jack Convery
41
Posted 22/08/2016 at 16:28:01
More common sense from Koeman. Galloway gets a season on how to defend and we get him back for the long term. Win-win!!
As regards Oviedo, he's okay in the short term but would not be surprised if Martins Indi shows up.
Paul Tran
43
Posted 22/08/2016 at 16:38:13
Well, he'll certainly be busy there, won't he?
Like all young players, if he's good enough in terms of talent and attitude, he'll come back and make it with us. If he isn't. well, he won't.
Behind Phil Walling's pantomime villain shtick is the simple truth that most of these young kids don't make it at this level. We've had a glorious exception in Stones, let's hope Galloway and Holgate are two more.
In the meantime, I'm glad we've bought Williams and are after another centre back. Let's go for now rather than tomorrow.
Aidy Dews
44
Posted 22/08/2016 at 16:50:14
Could be an inspired move this one. Even if he doesn't play an awful lot, he will get the right coaching defensively and be brought on and schooled at that side of the game and hopefully come back a better defender.
I like Galloway, he's not afraid to get stuck in and he gets tight and wants to win the ball but he does need to learn positioning and working within a solid structure and working with the likes of Pulis, McAuley, Olsson & Evans will be invaluable for the lad.
Gordon White
45
Posted 22/08/2016 at 16:50:25
Eugene 21. You tooks the words right out of my mouth. Get in there. How sweet is that.
Regarding WBA, its a good deal for both clubs. And he stays in the premier league. He is going to get plenty of practice under Mr Pulis.
This is another sign of the changes happening at our great club. I wonder if McCarthy will end up at Sunderland, as has been suggested?
Alan J Thompson
46
Posted 22/08/2016 at 16:55:23
Experience he may get but I can't help feeling a little disappointed. I assume Everton have been assured that he will get more than just the odd game and would they tell us if there was an option to make the move permanent.
Mr Koeman has said he wants three keepers and four central defenders. If we have Jagielka, Funes Mori, Holgate and Williams does it mean we have no further need for another?
Just a week until the window closes? I hope the new U-23s league offers some hope to the younger talent to show their capabilities.
David Price
47
Posted 22/08/2016 at 16:59:03
Sending Seamus on loan to Blackpool seemed to work out well.
It's a great move as the lads have said, learning the art of defence under Pulis with game time is perfect for Galloway and us.
Dave Roberts
48
Posted 22/08/2016 at 17:18:56
I simply can't understand any of the criticism regarding Oviedo. When he filled in for Baines during his long injury the lad was exceptional and as somebody has already said there were plenty on here suggesting we sell Baines as Oviedo was doing such a wonderful job as his replacement.
At that point the lad broke his leg, a double break if my memory serves me correctly. As he regained fitness he then suffered a series of the usual soft-tissue injuries so common as players are trying to regain full fitness after a long lay-off. Then, as he regained fitness Martinez started playing him out of position on the right denying the lad a consistent and productive return to game-fitness.
Oviedo is a very good player at left back and he can do a decent job as a left sided midfielder as well in an emergency. It might suit and inform his critics to dig out everybody's comments on here at the time he suffered his leg-break. Most of us were devastated as he was playing so well. Seemingly, Big Ron agrees about hoe good he is!
Concerning Galloway...this is a win-win for us and the lad. If there is one thing Pulis can do it is toughen up and enlighten defenders. He can help the lad undo all the shite he was subjected to under Martinez.
Richard Reeves
49
Posted 22/08/2016 at 17:23:56
This is a great move for Galloway, he'll be at a club that seem to do defending more than anything else. If he keeps making the highlights programmes and people talk about how good he is, I'm sure a top ex-defender like Koeman will bring him back into the team when he thinks he's ready.
It might be in a year's time, maybe two as he's so young but you would think Koeman would have a plan and move someone else on if needed. I wish we could get all our younger players who are close to breaking through into the first team on loans at Premier League clubs.
Brent Stephens
50
Posted 22/08/2016 at 17:27:23
Phil #2 you are an enigma. At times you make some IMHO sensible posts. But at other times, like #2 above, I just have to laugh. Why do you think Holgate won't make it? I'm not saying he will, although the first two games this season alone suggest he'll definitely be heard of a lot this season and beyond. It's just that you sound so damn sure. Even as an understudy to Seamus, that wouldn't count as "never to be heard of again". If we play a back 3, he might not even be understudy to anybody. Let's wait and see.
Some TWebbers are so negative at the drop of a hat that you have to laugh.
Phil Walling
51
Posted 22/08/2016 at 17:47:45
I doubt if Garbutt or Galloway will ever grace our first team again. Am I not allowed to hold that opinion?
Martin Mason
52
Posted 22/08/2016 at 17:58:32
Very glad to see this which is a positive move for Brendan. He played very well when he was in the first team and I believe that he has a future at Everton especially if he can get the games at WBA.
Rob Dolby
53
Posted 22/08/2016 at 17:59:55
Win-win for Galloway: he will play regularly with the WBA 1st team and learn how to defend and attack set pieces — something he hasn't been shown whilst with us. He looked dreadful at CB against Sunderland in the U-23s last year.
David Morgan
54
Posted 22/08/2016 at 18:07:57
Mike #39 and others, it is just my opinion that Oviedo is shocking, not just bad (post 8). That might be contrary to other peoples view of him but that's my view. Perhaps his leg break has lessened his ability or I am missing something but the way he runs to the ball and doesn't look to mark his man is going to cost us over and over.
I love Ronald Koeman so far and am not one to argue with him but he also has Kone in the squad still and surely you are not going to defend him too. Time will show Koeman and those on here that Oviedo is a liability. Hopefully there is a recall option in January on Galloway.
Dominic Tonge
55
Posted 22/08/2016 at 18:10:06
I hope this works out, I think he will get more first team action there, and Pulis does run a tight ship defensively. I do think however that I'd personally prefer to learn the finer arts of defending from Mr K than Tony Pulis, It's not like our man is without pedigree in that department. That points to it being about game time. RK says he knows the other manger in question very well, so I imagine they would have had a discussion centred around the player's development, playing time and so on.
It is a testament to how well Galloway is rated for a Premier League side to take him on loan, and to snub an offer from Newcastle (as much as I want to put a small club jibe in here , the Toon are a big club and have a following who if they take to a player, idols are born. Still glad he told Rafa to piss-off though!)
If he gets games this could work out well. I am just glad we have no Belgian defenders, because they will be party to some interesting training camps at international breaks!
Lev Vellene
56
Posted 22/08/2016 at 18:11:23
That's one I'd hate to get away! Pulis should be able make him better defensively, and from what Galloway showed last year, he should help WBA in return this season.
Did we ever do a loan-deal to a Premier League club before? I like the sound of this, myself!
Tom Bowers
57
Posted 22/08/2016 at 18:25:21
Galloway like many young players are eager to impress and play well initially when called into the first team. Whether they make the required transition (which is consistency) depends on their own attitude and discipline.
Going on loan give them the opportunity for regular action and we need only look at what these moves did for Barkley, Coleman and dare I say Osman.
Baines is getting past his best so the opportunity will arise soon for one of these aspiring defenders to stake a claim including a fully fit Oviedo.
Dave Williams
58
Posted 22/08/2016 at 18:47:58
Can't think of anyone better than Pulis to teach him the art of defending at all costs. This will toughen him up and get him from boy to man far better than warming our bench.
I think Oviedo is showing signs of a return to what he was.Looks much sharper to me this season and RK has clearly seen enough to feel comfortable sending Galloway on loan.
Phil makes some good points over a season but people would take more notice if he could see the positives too occasionally.
Colin Glassar
60
Posted 22/08/2016 at 18:55:38
Some reports are saying it's a loan with an option to buy. Shame really as I had high hopes for this kid.
Steve Hopkins
61
Posted 22/08/2016 at 19:00:54
On a similar note of youngsters who got away, watched Adam Forshaw playing for Boro against Sunderland yesterday and he looked half decent, his pass for the second goal was defence-splitting.
Jay Harris
62
Posted 22/08/2016 at 19:05:32
Colin,
I am hearing no option to buy but no recall option either — just a season,long loan.
I think this is ideal for the kid as his form went out of the window when he was put back in the Under-23 team.
Colin Glassar
63
Posted 22/08/2016 at 19:08:23
A season-long loan would be good for him, Jay. I hope to see him become an Everton regular one day.
Nick Page
65
Posted 22/08/2016 at 19:24:19
Good luck to the lad. Certainly not a LB in my eyes. Pulis will probably give him more purpose than that total twat we had ruining our squad for the last three years. We move forward with purpose.
Kevin Rowlands
68
Posted 22/08/2016 at 19:40:10
I hope it's just a loan without an option to buy; being there for a season will be much better for him than warming our bench or playing with the Under-23s, good luck to him.
John Hoggarth
70
Posted 22/08/2016 at 20:01:27
Ron said "he is a player with a future at Everton" ..so I would be very surprised if there's an option for WBA to buy
Darren Hind
73
Posted 22/08/2016 at 20:43:11
I have no objection to youngsters going out on loan to get a bit of experience, but I do have a bit of a problem with this one.
It would appear he's been loaned out because Kone is coming in... and that's my problem.
I've seen quite a bit of Kone and IMO, young Brendan is a better player.
Damian Wilde
74
Posted 22/08/2016 at 21:05:23
David (8):
"I honestly think Brian Oviedo is one of the worst players I have ever seen in an Everton shirt."
The stupidest post ever on ToffeeWeb? Worse than Niasse, Atteveld, Claus Thompson, Gareth Farrelly et al? A few seasons ago he was tremendous. Yes, he's not great, but your statement is ridiculous.
Mike Andrews
76
Posted 22/08/2016 at 21:31:27
I really hope this works out. He did a great job filling in last season and I have been a little surprised by no game time in recent times but, much as I hate Pulis' way of setting up teams, he will surely have to learn the art of defending and defending and defending ..
Ian Bennett
77
Posted 22/08/2016 at 21:41:07
You don't need to be genius to work out that Garbutt has no future.
Calling the end on Galloway is premature. The lad will benefit playing weekly in the Premier League, rather than sat in the stand. I am not a fan of Pulis, but his sides are always disciplined and can defend. He will come back a better player.
Keith Harrison
78
Posted 22/08/2016 at 21:55:04
Colin (60) and others. The word is that Fatboy Rafa wanted an option-to-buy clause in. Which is why we wouldn't entertain Newcastle, and he has gone to WBA with no such clause. For further avoidance of doubt, it is a season-long loan which cannot be recalled by his parent club.
Be warned, however, we have also loaned players — Senderos, Ledley King, Atsu. No guarantees whatsoever on playing.
I also laugh at Pulis teaching the kid to defend. One of the World's best centre halves is Galloway's current manager!
Gerry Quinn
79
Posted 22/08/2016 at 21:58:30
Colin, RK makes it quite clear it will
NOT
be a permanent deal does he not?
Quote...
"There was a possibility of [joining] West Brom. I know their manager very well. He asked me about Brendan and finally we took the decision to put him on loan because that will help the development of a young player.
"We can get him back a better player who can offer more competition to the rest of the defenders."
Colin Glassar
80
Posted 22/08/2016 at 22:13:30
I saw the Koeman comments about Galloway and that reassures me that the lad has a future with us.
Mike Gaynes
83
Posted 22/08/2016 at 22:38:37
Steve Hopkins #61, that game looked like an Old Blue reunion, with Pienaar and Rodwell on the pitch also.
Forshaw didn't "get away"... he was let go after 12 years with Everton, unable to get past the reserves because he was Osman-sized but lacked even Osman's strength and quickness. Moyes kept him around as long as he could, but Forshaw just wasn't Prem-ready. He became a local hero for Brentford in League 1 but then failed in the Championship at Wigan and was shuttled off to Boro.
Judging by his appearance Sunday he has spent a lot of time in the weight room, and he was great for Boro in that game. Happy for him, but four years on he still couldn't crack our first team today, so Moyes's decision was correct.
Mike Gaynes
84
Posted 22/08/2016 at 22:54:03
Hey, I think Phil "Eeyore" Walling is about 50% right today, and for most of us that would be a pretty good score, eh?
Galloway is a future Everton star for me, but I agree we've seen the last of Garbutt (no tears from me on that one), and Phil may well be half right about Holgate's future, because with Coleman (age 27) firm at RB and Funes Mori (25), Kone (27) and probably Galloway (20) ahead of him in the CB queue, I can see Holgate spending a lot of time on the substitutes' bench in coming years.
Tony Abrahams
85
Posted 22/08/2016 at 23:02:27
Haven't really saw Kone, play Darren, but I know Sunderland, really picked up when he went there. I've said it before, but the worry for me is that he's just had a good spell, similar to when Jelavic, signed for us?
Agree about Galloway, who has always impressed me, especially with his desire, and I think he will be some defender, once he fills out, and gains more strength.
If Koeman, isn't going to start him, I'm glad he's going out on loan, because he's definately out-grew development football now, and needs to play proper competitive footy.
Michael Kenrick
86
Posted 22/08/2016 at 23:23:17
Keith (#78),
Who is this Ledley King that you say we loaned? Not that I recall... Seems he played his entire career for one club. Methinks you are mistaken.
Keith Harrison
87
Posted 22/08/2016 at 23:26:41
Was it Anthony Gardner instead? It was a gangly fella from Spurs, deffo.
Keith Harrison
88
Posted 22/08/2016 at 23:27:27
Yeah, it was Gardner. Apology accepted, Michael.
Guillame Plessis, anyone?
Michael Kenrick
89
Posted 22/08/2016 at 00:00:58
Guillame Plessis
? I had to look him up, Keith. Doesn't look like it was a loan. Another strange one though...
Maybe we can find a photo of him somewhere...?
John Daley
90
Posted 23/08/2016 at 00:09:30
I wonder if Phil Walling greets every bit of news with the same gusto he shows on ToffeeWeb, or if it's just reserved for all things Everton related?
I kind of hope it's the former:
"Look, it's nice and all, but let's not get too carried away about the news love. Just keep in mind that even Queen Jocasta of Thebes was initially quite happy to hear the words "Congratulations. It's a boy." "
"Brilliant to hear about your big lottery win. Of course, the interest rates the banks are offering these days means it's barely worth the bother of claiming it. And that massive cardboard cheque they make you hold up for the photos? Well, if it's a really, really windy day, you'll look and sound like Rolf Harris wanking about with his wobble board and we all know where he ended up, don't we?"
John Daley
91
Posted 23/08/2016 at 00:14:31
Keith @88,
Yeah, Anthony Gardner was brought in on loan by Moyes at one point. Although, I don't recall him ever setting foot on the pitch during his time here.
Jamie Sweet
92
Posted 23/08/2016 at 00:22:36
The attacking side of his game may not improve very much over the next year, but he will certainly learn the fine arts of hitting row Z, walloping it up to a big burly centre forward and playing for a nil-nil.

Laurie Hartley
93
Posted 23/08/2016 at 01:14:15
Jamie # 92 - don't forget scoring from set pieces and corners.
Darren Hind
94
Posted 23/08/2016 at 06:45:05
I think it was a case of big Sam doing what Big Sam does, Tony.
Kone contributed to Sunderland's survival without any shadow of a doubt, he is a very decent player, but the whole team became more cohesive and better organised.
I just think people are forgetting how well Galloway did in a Martinez team. I think he has more to his game than Kone and under Koemans tuition I would chose him.
I've noticed a couple of people posting that Koeman prefers to bring in the finished article than to develop. I haven't investigated enough to refute or support that claim. Of course if he brings success, I don't suppose any of us will care
Kieran Fitzgerald
95
Posted 23/08/2016 at 07:00:47
Sending a young defender on loan to a very defensive minded PL team is a breathe of fresh air. The guy will get huge experience at the highest level. If we weren't serious about Galloway I don't think we would have set this one up.
I wonder will we look to do something similar with Browning when he is back from injury.
Holgate is starting to be more than just a young player filling in. The more he starts, the more experience and confidence he will gain. He will also start to develop an understanding with the players in front of him. It may be harder than we think for Coleman to get back into the side.
Colin Williams
96
Posted 23/08/2016 at 07:51:08
Good luck lad! Learn the game, experience constant competition, soak it all up, and come back ready to take a jersey in first eleven!! A top player in 18 months.

Laurie Hartley
97
Posted 23/08/2016 at 09:31:09
Kieran # 95 -
"I wonder will we look to do something similar with Browning when his back from injury".
.
I hope so - I have high hopes for young Tyas. A year at the Tony Pulis finishing school for centre halves will do the youngster and Everton the world of good.
Peter Morris
98
Posted 23/08/2016 at 11:29:06
The lad is going to learn all of the dark arts from the arch -destroyer of the beautiful game, Mr Pulis himself. Tackling, jostling, pulling, blocking, the lot,(all outside of the box now of course) and things he will never have dreamed of under Martinez. I just hope the experience doesn't put the lad off the game for life!
Paul Hay
99
Posted 23/08/2016 at 12:29:29
The lad will benefit from this. He gets to play regular football, will be under pressure given the style Pullis adopts and will gain experience.
He is a combative lad and Pullis will unquestionably tap into and develop that.
The relationship between Pullis and Mr Koeman is well known and it is clear that the latter is confident in the West Brom managers ability to develop the player. He is clear in his statement that this a loan and that Galloway is seen as a future Blue.
I share the opinion of many who think this a win-win situation. Dark arts from Pullis and the polish from RK.
Simples!
Keep the faith.
Michael Plant
100
Posted 23/08/2016 at 14:32:20
I think it's a good move for young Brendan, remember him playing well at the Hawthorns last season.
Just on the topic of strange loans, anyone remember Rodrigo? One of Moyes's first signings, think he got injured early on. Traore was a strange one as well.

Jack Cross
101
Posted 24/08/2016 at 02:55:06
Keith Harrison 78.
Ledley King. Played his full career at Spurs, not at Everton at anytime as far as I know.
Ledley, was a great defender for Spurs and England and had to retire through injury.
I think he's still at Spurs in some capacity, but not sure what that is.
Thomas Surgenor
102
Posted 24/08/2016 at 08:36:27
Brendan got his first start last night.
Sam Hoare
103
Posted 24/08/2016 at 19:37:37
See the lad got subbed off as WBA lost to Northampton last night. Inglorious start, hope it goes better from here out...
Dale Rose
104
Posted 25/08/2016 at 12:45:11
This lad is a great young player. I hope the loan doesn't develop into a sale. We must hang on to him.
Barry McNally
105
Posted 28/08/2016 at 13:25:42
Galloway starting today, can only be good for Everton and player.
---
Add Your Comments
In order to post a comment, you need to be logged in as a registered user of the site.
Or Sign up as a ToffeeWeb Member — it's free, takes just a few minutes and will allow you to post your comments on articles and Talking Points submissions across the site.
© ToffeeWeb