Koeman reveals two-year horizon for his ideal Everton squad

91 Comments [Jump to last]
26 August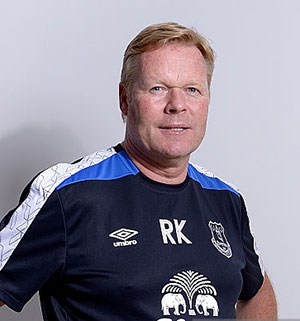 Tony McArdle/Getty Images
As he and Steve Walsh battle rival clubs with European football to offer in order to land their top targets, Ronald Koeman admits that it will take a couple of seasons to get Everton where he wants them in terms of personnel.
The 53-year-old Dutchman succeeded Roberto Martinez as the Blues' new boss in mid-June but a combination of the need to assess the players he inherited on the one hand and the jostling that always takes place in a transfer market that looks set to reach its peak at the end of the window on the other means that he doesn't yet have all the pieces he wants in place.
The competition from other clubs shopping in the same market has only disrupted further Everton's recruitment efforts but Koeman seems content to be patient.
"Everybody is still busy in the transfer window... it's not just Everton, it is all of the teams, everybody is still looking for players," Koeman explained against the backdrop of striking target Lucas Pérez's imminent transfer to Arsenal.
"It is not that one of the 20 teams is really ready or satisfied and says, 'Okay, we have the squad that we need.'
"Everybody is trying to get players in and it's normal because it started so late and they asked for normal players, big money. The final decision is paying that money for that player. That's also a big part of the final decision.
"If you're trying to get a player in and you get competition from the big clubs who play in the Champions League, then, of course, most of the time you lose. That's normal.
"What we need to do at Everton is the big project. I need two seasons really to get what I think can be the best team for Everton."
The manager's latest comments will be heartening to those supporters who fear the Dutchman is only using Goodison Park as a quick stepping stone to a bigger job.
In laying out a two-year plan just to assemble his best squad and describing the task in terms of being "a big project", it suggests that Koeman sees something he can get his teeth into and enjoy for a few years to come.
In the meantime, his influence on the squad's fitness and playing style has been quickly felt, with three very encouraging results to open the Premier League and EFL Cup campaigns in the last fortnight.
Koeman likes the response he has seen from his players after what he admits was a difficult pre-season because of fitness concerns and the uncertainty over John Stones's future.
"I'm very happy with the work-rate of the team and how I like to improve and what we need to do," the manager is quoted as saying in the Liverpool Echo.
"They are doing a lot of different things to last season and that's good. I believe in that way and that philosophy. Of course you need time to get everybody involved in that structure.
"But it's better a question for the players because they need to change. I don't change.
"We are improving. We are close to 100%. Some players did not get that game time in pre-season, it was their first 90 minutes [against Tottenham].
"Maybe they need one or two weeks more and international duty to get everybody on the highest level you need to play in the Premier League. That's normal after the transfer window."
---
Reader Comments (91)
Note: the following content is not moderated or vetted by the site owners at the time of submission. Comments are the responsibility of the poster. Disclaimer
Gerry Quinn
1
Posted 26/08/2016 at 23:23:46
Is there any Evertonian who DOESN'T want to marry RK? :)
Mike Hughes
2
Posted 26/08/2016 at 23:27:03
Gerry - he may be one of the three greatest Dutchmen ever along with Van Gogh!
Colin Glassar
3
Posted 26/08/2016 at 23:27:23
He keeps on saying the right things. Listen, none of us are getting any younger, and past glories are a distant memory now, but if we are on the right track then I'm prepared to wait for a bit longer. In Ronald I Trust.
Marcus Reynolds
4
Posted 26/08/2016 at 23:29:48
A legend in waiting.
Brent Stephens
6
Posted 26/08/2016 at 23:37:47
I like that Baines is saying RK is getting us together as a team. That we are having to train together and not left to our own devices to get fit. I say "we" though RK hasn't included me – yet.
Nigel Munford
8
Posted 26/08/2016 at 23:44:29
Gerry, maybe a pint and a chat, but not marriage!!
Gerry Quinn
9
Posted 26/08/2016 at 23:44:53
Only kidding, Mike, but I wanted to just exaggerate just how popular this guy is becoming with his interviews in saying exactly what people want to hear AND have believed was so wrong at Everton.
We are moving forward at long last...but I do love this guy
...but as an Evertonian only!
David Barks
12
Posted 26/08/2016 at 23:48:29
Sorry, but this seems like perfectly timed PR to explain why we haven't spent the money and strengthened the squad in a manner that was expected and needed. Why is it refreshing when he says it but excuses and "dourness" when BK and Moyes would spout very similar things in the past. You know how you get those players? OFFER THE MONEY REQUIRED!
Brian Wilkinson
13
Posted 26/08/2016 at 23:56:08
Why pay silly money, squads doing alright and getting fitter, better tactics now and a manager who will not wait midway through the second half if changes are needed from the bench.
If he can get Kone to score, the guys a genious, even Mirallas attitude and play is better.
John Austin
15
Posted 26/08/2016 at 00:05:44
David@12. Sometimes money isn't the deciding factor. From all accounts, we are not reluctant to offer big sums. All top players want to perform in Europe. We can't give them that at the moment.
Dan Davies
16
Posted 26/08/2016 at 00:16:45
A good dose of realism from the manager. At last. Do some people really think that Everton are going to become challengers after one transfer window?
If so, snap out of it and get real. We might have some cash to burn now but that doesn't mean spending foolishly to satisfy some Everton fans signings bloodlust!
A measured and sensible approach to this is surely better than just flashing the cash at any average player.
However, saying that, it would be nice to have at least one signing that collectively makes Evertonians sit back in disbelief with a big grin!
Anthony Dwyer
17
Posted 27/08/2016 at 00:19:51
David Barks has a fair point though Brian, if you feel a player has the tools to improve your team then you have to pay the required fee.
Let's be honest here, Bolasie isn't a £25m player, RK thought we needed him so we paid over the odds to get the signing done to improve the team. Same with the RS, they paid £35m for Mane, he's not worth anywhere near that but he's a starter under Klopp so that's it!
Its OK getting fitter and a bit better, but the fact is if we played 38 league games with last seasons squad, then we would finish 8th at best, simply because we aren't that great.
We need new players to kick us on, we already have a few, but a couple of others with ability to start in our team would take us further.
In this day and age, its put up or shut up in the prem, we get enough money for the Tv deals anyways.
Kevin Rowlands
18
Posted 27/08/2016 at 00:24:13
David B, geez talk about misery loves company, we are still a week away from the end of the transfer window, as it stands we have had an excellent transfer window so far, four quality players in and yes a top player out who wanted to go, we've had a good start to the season, lighten up ffs.
Simon Bates
19
Posted 27/08/2016 at 00:26:58
I wouldn't put the blame of not being able to attract the supposed targets anywhere near Ronald Koeman's door. In fact he's probably responsible for the ones we have managed to entice, at the least influential.

I'd still expect a few surprises before DD, well hope! But glad to hear he seems to be saying he's in it for long(ish) haul.
David Barks
20
Posted 27/08/2016 at 00:34:31
Everton should be competing at the top and the owner supposedly had the money to sign that quality of player. So far, we've done nothing of the sort, other than spending the money we got for Stones. To me this is just a PR attempt to lower expectations this season, don't expect us to finish too high because we can't attract that quality of player.
Simply not good enough for me. Back to back seasons of garbage league finishes. If we had an owner who was actually willing to splash the cash required we could and would have offered wages to attract the quality of player needed. Instead we've gone bargain shopping with the money from selling a star. Words like that wouldn't be acceptable at City, Chelsea, Spurs, Liverpool, even West Ham. But here at Everton apparently they get cheered. Just like a home draw to Spurs is some great accomplishment.
Karl Masters
21
Posted 27/08/2016 at 00:36:13
Baines is sensing the 'right chemistry'. This is good.
Kevin Rowlands
22
Posted 27/08/2016 at 00:40:16
Anthony, no he does not have a fair point, we haven't won a trophy in over 20 years, haven't been a 'top' team in nearly 30 years, have had terrible ownership and decisions made under Kenwright and suffered under the management of a complete fool the last two years. You and him think this is a quick fix and just 'offer the money they want' are you fucking kidding us? I think two years is a very fair assessment, I for one haven't been this encouraged about Everton on and off the field in a long time.
Tony Hill
23
Posted 27/08/2016 at 00:49:57
Let's see how many points we get. As the great Jimmy Sirrel said, the rest is only gossip. I think we'll get a lot of points under Koeman even if we don't make massive signings now. We know where we're weak but the test of a man like Koeman is to get over that regardless. Great if we plug the gaps in creative midfield and up front but don't panic if we don't because we haven't paid through the nose for a "name".
This is just the start for us.
Gerry Quinn
24
Posted 27/08/2016 at 00:55:59
I wondered how long it would take with the doom and gloom merchants - we are DOOMED, Captain, DOOMED.
FFS cheer fucking up and jump on the bandwagon of fun - it's going to be a good bit of fun getting there
Jamie Crowley
25
Posted 27/08/2016 at 01:18:17
...because they need to change. I don't change.
I think we know who's in charge here. Elephant balls springs to mind...
Favorite line in the whole interview.
Tony Hill
26
Posted 27/08/2016 at 01:25:18
Yes, Jamie, this man is a leader who needs to succeed with us. That's a deadly and fantastic combination. Same for Moshiri. Reasons to be very cheerful.
Brian Wilkinson
27
Posted 27/08/2016 at 01:33:27
Ok let's splash the cash then, just like Harvey did when Kendall left, we brought in Cottee, Nevin and the likes for big money, we went downwards instead of even maintaining our stronghold.
When others were splashing big money, how much did Kendall splash out to bring in Gray, Reid, Southall, Harper, Sheedy, Steven and the likes.
Koeman has said it's silly money for average players, I am with Koeman all the way not signing loads of overpriced players for the sake of it.
Koeman will bring the players required in, that I do have faith in.
Just as a matter of interest, name your starting eleven then see what players are left, you might be suprised just how strong a second eleven we have left.
Yes we need to add competition for each position, a lot we have cover for, a couple needs strengthening but to be worrying about Koeman not wanting to pay over the odds, I am with him all the way, no panic buying.
Simon Bates
28
Posted 27/08/2016 at 01:41:52
That's the problem Moshiri, Walsh and Koeman have. If we want the top players we have to be competing in the top competitions.

Players who are Champions League pedigree are either already in it or will, 9 times out of ten, sign for the clubs that are! Therefore it's realistic thinking and he's just saying what he thinks.
Pete Edwards
29
Posted 27/08/2016 at 01:50:11
Bloody hell David...I'm not going to say anymore for fear of being banned on here!!
Chris Watts
31
Posted 27/08/2016 at 03:23:48
I got a virtual sense of this playing a game on my phone called footbal chairman pro. You don't manage the team but sanction transfers, upgrades to stadium etc. When I got Everton into the top 4 the incomes rocketed and players all wanted to come. I then dropped out a season. Loads of players wanted to leave and players coming in wanted massive salaries. Was quite interesting. So either gamble on staying champions league every year and risk going broke or don't progress. But when you're there you can buy highly rated youngsters whose value rockets. Much like the situation rk Ismail going through now.
Now brahami please plus Kone. And a world class striker
David Ellis
32
Posted 27/08/2016 at 04:13:48
David Barks (#20) – sorry but you are an utter moron... but consistent across all threads. "Everton should be competing at the top" yes that would be nice... but why do you think we should be competing at the top when we aren't at the top, don't have Champions League football to offer, haven't won anything in 20 years, and don't have the resources of the top clubs – even with £100m tossed in by Moshiri?
David Barks
33
Posted 27/08/2016 at 04:22:19
David Ellis,
Because Moshiri didn't toss in £100 million. Or did that happen without anyone seeing it? What we've done is exactly what we've done for the past 20 years, sold a player to a bigger club and bought budget players with the funds received with the hope that a couple of them come good.
Everton should be competing at the top because we should all be demanding nothing less from the new owner, to go out and use some of his vast wealth to buy the players needed to propel us back up the table. The rot that has been allowed to settle into the supporter base of this club is horrific. We should be demanding that this new owner spends the money necessary, and that the messaging coming from from the club, top to bottom, is that Everton is here to compete with the best. This two years crap, not acceptable. As you said, it's already been 20, and nearly another 10 before that since we won the league.
Jimmy Digney
34
Posted 27/08/2016 at 04:25:35
David Barks iam with you. I've mentioned this on another thread
You do the sums:
Sold:- Stones 㿛.5 million.
In:- Stekelenberg ٟ million;
Gueye ٥.1 million;
Williams 㾸 million;
Bolasie 㿅 million.
Which puts the balance at ٠,400,000 million in profit. Coupled with Hibbert, Osman, Pienaar & Howard leaving and a couple of Academy kids. Which brings me to the question:

Did we have a reported 𧴜 million war chest as was well documented (before the Stones money), or the transfer business we have so far concluded, is that it? Where are Mosihri's millions???
Anto Byrne
35
Posted 27/08/2016 at 04:32:16
Would any of us gone out and got Pogba? Imagine picking up a quality keeper for a million. How about a footballing midfielder under 10 million.

We are building a team and it takes time.
Mark Davidson
36
Posted 27/08/2016 at 04:33:38
I get the feeling that those who are discontent with the level of spending on players are forgetting that we are doing this the right way around: we brought in Koeman and Steve Walsh first and foremost - those are our two best signings of the summer.

Any twat of a manager can buy a marquee player - it doesnt mean they should and it's the right way. I am an extremely content Evertonian right now.
Bill Gienapp
37
Posted 27/08/2016 at 05:26:39
To be fair, it's not like the club hasn't been trying to spend more money. We had a deal for Ghezzal, but he turned us down. We had a deal for Perez, but Arsenal swooped in and pinched him. We had a deal for Kone, but Moyes decided to be a complete tit. We (supposedly) had a deal for Witsel, but he decided he'd rather dither and angle for a move to Italy instead. Unfortunately, there are matters that are simply outside the club's control. You just need to have faith in the process and appreciate that things are progressing in the right direction.
Paul Smith
38
Posted 27/08/2016 at 06:03:20
I get David Barks Point, one of frustration and a sense we're being had again, but I would just say this yes Farhad is stinking rich, but he could blow his vast fortune in a couple of seasons buying up players to try and get us into the CL, he's not gonna do that, he's not a Sheik or an Oligarch.
As an Evertonian of almost 40 years I'm inpatient, sometimes borderline desperate for change, and want it all yesterday. I like RK he speaks sense and has obviously had a positive impact already, I'm usually cyclical when it comes to all things Everton, however, this season I have made a pact with myself and for the benefit of my mental health to give change a chance, and enjoy the journey for once.
3 points today boys, super Kev to score the winner.
Tony Abrahams
39
Posted 27/08/2016 at 06:05:02
If you have money, you should just go and spend it? Ask Arsenal, who probably would have got that kid from Spain, a bit cheaper, if Everton, hadn't already agreed a deal,for him.
David Barks, I'm sure we have a mixed fan-base, some say it's not our money so we shouldn't worry about the fees?
But Everton is my football club, so whatever we do needs to be sustainable, and being a scouser, the last thing I want to see is my club ripping itself off.
My expectations haven't been shattered though David, I still think Everton, are the greatest club in the land. The biggest signing I think the club, could ever make, is securing the land for a ground on the dock.
Let's just give Moshiri, a bit of time, because unless we have got money to burn, maybe it's better to do exactly that?
Amit Vithlani
40
Posted 27/08/2016 at 06:53:05
" You know how you get those players? OFFER THE MONEY REQUIRED! "
Thank our fucking stars you are not running Everton FC, because we would be probably be acquiring a squad full of over priced Oumar Niasse's.
Its clear David that you are under whelmed by RK's appointment, to the extent you think we are behaving as we were pre Moshiri.
Well that is ofcourse shite.
Pre Moshiri, under BK, we would probably not have
1. Hired a PL manager from a club that finished above us
2. Hired a DoF from the Champions
3. Bought the captain of club and country who had just had an outstanding Euros
4. Paid top whack for a winger from a fellow PL club who was arguably his team's best player.
What you see as excuses from RK I see as realism, maybe because I don't wank myself silly over FM style fantasies where money is thrown around and players bought at a click of a button.
The attack on his approach to transfers was accompanied by an inexplicable criticism of his statements around the team's fitness levels. Well, I don't know which Everton you were watching last season but the one I watched was usually puffing out of its backside around the 60 minute mark. We let in a significant portion of our goals late on in games.
If you think that issue should have been fixed by 6 weeks of pre season training well, fuck me, the Premier League has missed out on one of the world's foremost fitness gurus in you.
Jim Potter
41
Posted 27/08/2016 at 07:01:03
Leeds United. Threw away all their money in a moment of madness .... and plummeted into obscurity.
To me, if a player is worth £X then OK, given the market and the 'English tax' that pervades the continent now, I think we'll have to cough up £X +. But let's not be mugs. Mr Moshiri surely isn't.
Sadly, as others have stipulated, we are not the draw that some think we are.
We will have already missed out on players we have had no idea we've bid for - and we'll lose out on more to come. Walsh and Koeman will be doing their level best to bring in the quality despite a back drop of sleazy agents, greedy clubs and players ruining any chance of secrecy.
As we improve, so will our playing staff. It's Darwinism personified.
Two years. That's realistic. I think you'd be deluding yourself if you honestly think it could happen any quicker. We've stopped the rot ... now we rebuild from the foundations upwards.
And if we refuse to be blackmailed into paying tens of millions over the odds for players ... then we have that money to put into the new dock side stadium which is my real goal for the immediate future. Ron will take care of the rest ..
David Chait
42
Posted 27/08/2016 at 07:02:30
The undeniable truth is we have acted and bought no differently than we have done before. Sold one big and bought a few with the the proceeds. Intentionally or not this is what has happened so far.
what was MOST important has been the management and style change. We believed we had a superb team if only they would play with purpose. Koeman says what we want to hear because he talks a style we have been begging for! With a few tweaks, a few new players that shore up our deficiencies and we can progress significantly.
I want a name player like everyone, but will accept for now seeing what RK can do with Barkley, Mirallas and Deulofeu. btw I think Gueye will become a marquee signing!
Kunal Desai
43
Posted 27/08/2016 at 07:15:57
I mentioned when Koeman was appointed that it would take 3-4 transfer windows for him to get a side he wants challenging at the top end. Anyone on thinks the mess Martinez left us in would be sorted out in 2 months is quite frankly daft.
I expect the first of his objectives will be to try and push to get us back into Europe.
The transfer market is spiralling out of control for players and wages. The emergence of very little talent throughout the world in football is worrying. 5-10 years ago you would pay big money to bring in proven names, now you have to pay absurd money for a lot of poor to average players.
I'd rather Everton be prudent and patient in searching for an Arteta or Cahill than pouring money into garbage.
David Barks
44
Posted 27/08/2016 at 07:27:03
Amit,
Where the hell did I say anything about the fitness levels? Please limit your attack to things I actually said. I'm speaking about the club, not the manager. As you said, we appointed a DOF, who is the one making the decision regarding transfers. So far, not much has happened.
There are players to be had, clubs around Europe are signing those players. The fact is we are still woefully short up front. We have Lukaku as a proven goal scoring striker and that is all. That, is completely unacceptable going into the third league match of the season. We do not have a real number 10 in the squad. We signed a keeper who Koeman didn't see as good enough to be first choice just last season!!
We don't operate in a vacuum. The prices for players are what they are, it's not going to change. It's only going to go up. I'm honestly shocked how accepting of mediocrity so many people are, willing to constantly accept "just a few more year", "stay patient". In the back of our heads, we should know that we're not winning the league this season. But we should all be demanding that a new owner be willing to do and spend whatever it takes to make us compete at the top.
Because I'll tell you one thing, those supporters down the road certainly do. Why in the hell should we demand less? No premier league clubs are going to go broke these days, the TV contracts are incredible. Any attempts to say we don't want to do a Leeds are simply failing to understand the current financial climate. The league is global now, back then it was limited to the shores of England. Every single match, every one, is broadcast on NBC in the US, live. The appetite for the Premier League is only going up. Meanwhile all that money from the TV deal has been pockets and not been invested in the playing squad. Our purchases have been based off of the money from the Stones sale.
And please, don't speak about Koeman as if we took him from some big club. I like him and the intensity he's brought to the players on the pitch, but we took him from Southampton. The only reason they finished above us is because we persisted with Martinez for so long, which by the way, many on here were in favor of saying he needed more time. Meanwhile people like me were saying that leaving him in charge while we drop down the table would cost us in both being able to retain our best players and being able to attract quality players to join the club. Spurs grabbed their manager from Southampton and they demanded immediate success when they did so. Why in the hell should we be settling for being competitive in another two years?
Ian Jones
45
Posted 27/08/2016 at 07:36:06
What we also need to do is make sure some of the academy/U23s get a chance so we don't see players like Ledson leave. Problem is that we all demand instant success. Odd writing that when we have no trophies in 21 years! There is a good link on a thread on the site to an interview with Steven Schumacher. Thought he would get a chance in first team. Moyes came in . Didn't fancy what he saw and the player moved on. I would hate to see the young talent we have go to waste...I hope Koeman uses more of our youngsters
David K Shaw
46
Posted 27/08/2016 at 07:42:29
Why are we trying to sign "normal players"? We have enough of those!
Ian Cowhig
47
Posted 27/08/2016 at 07:42:32
Understand the frustration on transfers. But not the rational of the frustration.
It has been reported that Everton met the buy out clauses on players, and have agreed terms with the player. But then the player has chosen to go to a club with Champions League. This player would have been already in a shirt at Finch Farm if Arsenal had got Lacazette. If he had come to us instead of going to a CL club, we would have people on here questioning his ambition (a la Witsel), and rightly so.
We paid 㾹.5 million in Jan to satisfy the clamour for a new player. And then had a go at the club for throwing money away that they can ill afford.
I would expect the club to pay the rated value for a player, plus wages they deserve, no more, no less. End of.
Eddie Dunn
48
Posted 27/08/2016 at 08:05:03
Surely the crucial question is whether Koeman has asked for certain players, and the board have refused to pay the sums required. We do not know the answer to this, but as David Barks has said we have simply spent the Stones money . In fairness, if you take away the cut for Barnsley, we have spent a bit more, but still not much. There is still time of course but the truth may well be that the Everton"Project", may be something that excites us, but fails to interest the better players who strive for the CL .
Personally, I think the big fuss about Euro football is ridiculous, as many "Big Clubs" rest their first choice players for important league games.
West Ham's creditable PL finish rewarded them with Europa footy and (some on here think that even that helps us to seem attractive) and then they bomb out, on their own new pitch!
If we put together a good start to the season, then come January, we may well seem a more attractive destination for the army of mercenaries hoping to join the party.
Peter Larkin
49
Posted 27/08/2016 at 08:15:40
Ohhh here we go again.. the market is too expensive, players are average for the price, no champions league blah blah.
Well it has not stopped other teams from buying players has it? And why the fuck did we wait until the last week to try and buy this Perez guy? Say what you want we have spent nothing 5 days to go though for moshiri to show his worth. And before everyone has a pop at David ask yourself this. If this was Bill kenwright in charge would you be happy with the window? I bet there would be carnage.
Last week Koeman wanted 4 to 5 players in, this week its 1 maybe 2? So why is there this sudden change of heart! Everyone knows we lack quality in key areas. I'm afraid its the same old shite with a different guy spinning the same rubbish.

David K Shaw
50
Posted 27/08/2016 at 08:20:13
It's a really interesting debate but whether you subscribe to the view that Moshiri has the money so it doesn't matter or whether the absolute price for the player is perceived as right or not largely misses the point.
Transfer fees exist in a football world bubble dictated by one thing only and that's club income, with the latest TV deal increasing by about 50% the football world has effectively seen inflation of 50%. Which is why James McCarthy is being linked away from the club at £18 million, it's why Stones was better value for City at £47m than Chelsea's offer on him last year.
Luckily the top end is still capped by the Bale and Ronaldo ( and Pogba even) fees, so there's actually more value in very top players. The question is how we can attract them without CL football, outside a few softer elements they want to play with other great players and money. Of course we need a mix of hidden gems and marquee signings but if they are genuine top players we need to spend big, they're probably better value for money.
Jon Withey
51
Posted 27/08/2016 at 08:25:18
I don't really want to see the club throw epic money at anything but the best - otherwise let's just get what improves us and keep our best players.
Bolasie at £25m is a good indication of the supply / demand dynamic right now - he would have been half of that - even last season.
Gana and Stek have to go down as bargains in this market.
Playing the longer game at this point is the smarter move.
I still want to see more players in though, get it sorted !
Eric Myles
52
Posted 27/08/2016 at 08:26:44
The oft reported 'war chest' of £100 mn was never going to come out of the pocket of a shrewd businessman like Moshiri.
Every club in the league has the same £100 mn available from the Sky deal but we have had an (unexpected?) bonus of selling a player for big money. This has enabled us to (almost) break even on transfers but increased salaries and manager payouts and compo has to be accounted for in our spending also, so it's not as simple as saying we sold x and spent x.
So I expect that a lot of the supposed £100 mn will be available for future transfers, repayment of debt (which should really be paid off by the previous owners that incurred it) or put toward the stadium, e.g. £20 mn for a bit of land at the docks.
Mark Murphy
53
Posted 27/08/2016 at 08:28:56
The David's are ganging up on us!
David Chait – the only "undeniable truth" is that the transfer window hasn't closed yet!
David Barks – okay, as regards "those supporters down the road", which of their signings do you wish we had signed instead of Williams, Bolassie or Gueye (so far)? Where's their mega signing? Ditto Tottenham, who DO have Champions League to offer; who do you covet from their summer dealing?
And David K Shaw – not sure what you mean by "normal" players but if you mean "meh" then I don't agree that Barkley, Lukaku, Mirallas, Baines, Coleman, Deulofeu and, on form, Barry (come on – indulge me) are "normal" players.
We have a good squad, already better than last season's "best squad since the '80s" but with the addition of a not "normal" manager.
Mark Murphy
54
Posted 27/08/2016 at 08:32:11
Regarding "only" spending the money we've received. I'll be happy with that if it means some of Moshiri's reputed investment is going towards the new stadium.
Jack Mckeown
55
Posted 27/08/2016 at 08:43:58
Anyone who believes that we can attract the big players is deluded. We have been out of Europe for around 5/6 years with the exception of 2014-15. Every player wants to play in Europe unless you throw huge amounts of wages that they simply can't resist.
It's a slow progress and I believe the signings that have been brought in will improve us massively and take us in the right direction to push on. With 2 more players in the door in the few days, I will be more than happy with the business Everton have done this window
Mark Halliwell
56
Posted 27/08/2016 at 08:51:41
I don't subscribe at all to the view that we are still selling to buy. But that is something that will become clear over the next year. I can't believe we have paid top whack recruiting Koeman and lied to him about what he can spend in the market.
I don't think he would have come to sell to buy as this guy wants to work up in his career and still talks now about the project. Is he lying? No he's done nothing but been truthful and very blunt all the way. I think we tried to keep stones but he wanted to go. If we had kept him I still think we would have made the same signings. So I think we can relax and assume the money is there the big problem is attracting the players.
We have had not only two bad seasons but most players now don't know or care about the great Everton of the eighties. We need to create buzz and that will take timpani that's why Koeman talks about two years forming the team he wants.
It has been frustrating because we have waited so long for investment that we all got carried away and excited with the calibre of players we are getting linked with. I'm no exception. The next few days could likely hold the same excitement and frustration.
A marquee signing would be a massive lift but I think we are going to struggle at this point unless something happens on deadline day as often can no matter the club as players who wouldn't have been available suddenly become so due to the domino effect.
We have improved our squad and we already have improved on the field and hopefully we can get a win today. Lets keep the faith and concentrate on all that has gone right this summer
Martinez gone
Koeman in
Walsh in
Gueye in
Williams in
Lukaku stays
4 points from 6 at the start of the season and hopefully 3 more today. COYB
Jack Mckeown
57
Posted 27/08/2016 at 08:53:09
Anyone who believes we can attract the biggest players are deluded. Every player wants European football. Over the past 4/5 years we have been in the Europa League once.
In order to attract 'big' players, without any European football, we would have to throw ridiculous amount of wages that are irrefuseable at players.
This window we have brought in players who over the course of the season will improve us massively. A dominant CB, a good GK, a nuisance in midfield and a Winger who will make us stand up when on the ball.
If we can bring in two good players this week I will be more than happy with this TW. I feel like Everton is finally going place.
Chris James
58
Posted 27/08/2016 at 09:09:23
The numbers above conveniently ignore the ~£10m compensation to Southampton, Leicester and Martinez to get a competent management team in place (more important than a couple of players for me). Also the fact that some Stones cash went to Barnsley.
There's also convenient ignoring of the fact we have bid big money for multiple players who have chosen not to come or gone elsewhere. To argue we aren't prepared to splash cash when we spent £25m on Bolasie is self evidently absolute rubbish.
Also the idea of 'just pay what they are worth' is also ridiculous. I'd live to see these people as CFO of a company... they'd be bankrupt in days. I'm happy with what Moshiri and Koeman are doing so far and expect at least 2 more in before the window shuts.
David K Shaw
59
Posted 27/08/2016 at 09:20:39
@ Chris (#58); paying what they are worth is not ridiculous if it's proportionate to the income or if the inflation in the game continues?
Steve Jones
60
Posted 27/08/2016 at 09:27:57
The Stones sale has covered much of the money that's been spent true enough.
To say that's the same as the old regimes sell to buy is utter twaddle though. We were clearly making approaches for top quality players, and buying about £10M worth, while we were still saying Stones was going nowhere.
Clearly money was there for transfers beforehand. It being worth noted some of our prime targets were also being pursued by Arsenal yet haven't moved. That would suggest that a lack of money isn't the reason our early window targets haven't signed with us wouldn't it?
You would have to be heading the wrong way down the evolutionary ladder to believe we had £100M transfer pot just because the meeja touted it. I've no doubt, from those early window targets, money was available for transfers.
The question now is if the Stones money is made available for extra players to come in or whether it's aimed at the stadium or whatever. Either way we are seeing reportedly solid offers for circa £20M defenders and attackers around the same price bracket and, it's also reported, we are offering cash upfront not the kind of 'structured' payments on the never never we used to. Clearly then there is still money available.
Bit of faith required alien as that is to some.
Adam Luszniak
61
Posted 27/08/2016 at 09:37:20
It is an interesting argument and clearly some people are fed up that the £100m Moshiri money has not been splashed as was widely reported in the press. Below is an excerpt from an interesting Guardian article on Transfer Myths:
"Clubs do not have transfer budget, war chests and kitties
If anyone tries to tell you "big club x" has "y amount" to spend they are likely talking nonsense. Ask them to show their work on how they arrived at that number.
As we just discussed, there's a lot more that goes into player costs than transfer fees. Unless the number being offered up clearly includes wages (which is more than half of the equation), and ideally at least a nod towards agent fees and image rights payments, you can safely disregard it as not reflective of that club's available resources to bolster its squad."
You can read the full article here: https://www.theguardian.com/football/the-set-pieces-blog/2016/aug/24/transfer-window-market-myths
Rob Dolby
62
Posted 27/08/2016 at 09:37:57
Leicester are the league champions with a squad costing probably what Niasse cost us. We are never going to get the top players from the top clubs in our present state.
I want to see how Walsh works in the transfer market as anyone can identify talent in the top leagues. He did well with Gana he now needs to unearth a striker to push Rom. If RK had come out and said anything other than the 2 year plan people would slaughter him one way or other.
Transfer windows are always exciting times; let's just hope we strengthen and don't weaken.
Stan Schofield
63
Posted 27/08/2016 at 09:47:02
Some of the comments on here look like they're from accountants doing Everton's books. The fact that we've got more finances than in recent years means primarily that we don't need to sell players. Like Lukaku for example.
We've been in this position in the past, like when John Moores started pumping in funds, and we got marque signings of the day like Alex Young, Alan Ball, Bob Latchford, et al. But all such signings were additions to an already strong team that was improving, and we weren't just buying success. We always bought wisely, targeting what we needed rather than just splashing cash, in parallel with bringing younger players up through the ranks.
Well, that seems to be the strategy now. What RK has said seems to fit this pattern. If he tried to buy instant success he'd be accused of not planning for the future, and if he had a 5 year plan for the future he'd probably get accused of making excuses for not getting instant success. Instead he's said what is entirely reasonable, and already we seem to be improving. So long as we continue improving, surely that's what we can reasonably expect at this stage, especially after the debacle that was very recent. So far, so good.
Martin Nicholls
64
Posted 27/08/2016 at 09:48:44
A positive and official announcement about the construction of and timescale for a new top class waterfront stadium would be all the proof most of us want that Moshiri is serious. It would stop all these "where's the money" debates.

Dave Williams
65
Posted 27/08/2016 at 09:52:05
A couple of the posters above refer to Leeds and ourselves under Colin Harvey – great man but the start of our financial,problems for me as he threw away huge sums on substandard players.
There is far too much competition in this league for an overnight fix. Look at the money Man Utd spent last year – look at how much RS have spent over the last few years and okay they nearly won it but they hadn't built a team.
Koeman is putting in foundations for his team, getting the defence right and fitness levels up. Pieces are in place in midfield with Gana and Bolasie and it is crystal clear that he has focuses big- time on making Ross a project to bring to fruition. Lukaku will last no more than one season as he hasn't the work rate for Koeman but he must stay until we can attract a top replacement which will likely come if we get European football to offer.
For anyone to criticise at this point is their absolute right but I think most of us see that this is indeed a two or three year project and whilst there will be some bumps and bruises it should be good to be on board.
Jim Lloyd
66
Posted 27/08/2016 at 09:59:25
Dearie me. There are some rather juvenile statements on here regarding our club's actions in the transfer market! Twaddle like"Splash the cash" "Where's Moshiri's Millions" "Compete at the top"
So I'll add my juvenile statement.
Everton Football Club finished in the bottom half of the Premiership last season and Arsenal, since the Premier League came into being have won the "Double" twice, won the FA Cup How many times, and I don't think they have ever been out of the Top Four since it began. They are also a club in LONDON.
Whereas we have won nothing, flirted with relegation, got into the top 4 once and got tonked in Europe. We are the sort of unknown relations to the other lot.
We have gone for players and seen them go to other clubs. No one knows for certain, but I don't think it is because of the money on offer, it is because a player is almost certain to be playing in the Champions League if he goes to Arsenal, and will almost ceratinly play in Europe if he goes to any of the teams who regularly finish in the top six or seven.
I think it is worse now than when Man City were bought by Sheik Mansoor. They were then suddenly super rich but, for all their money, couldn't attract top players to their club; and were laughed at by the "Pundits" for even daring to try. Was it Ronaldinho who ended up as the first "big fish" who signed...and he thought he'd gone to Man Utd!
To those who think all EFC have to do, is pick the most wanted players from some sort of "Football Manager 21st Century", list,and they will then come legging it over to us "Cos we've got Money" I'd say stop dreaming and think a bit!
We will only attract players at the very top of their profession, (or even those of better quality than some we have now) when Everton Football Club start regularly winning matches so that we end up in the top six regularly or/and win Cups.
I don't see Leicester being able to just pick who they want, even though they did brilliantly last season, and nor will we.
Mr Moshiri is, in my view, as ambitious as Sir John Moores was when we were the Merseyside Millionaires. Trouble is, there's a lot more rich clubs about now than there was then. He will still get us a stadium and he will provide the funds when Ronnie and the Director of Football, identify a player who will improve our squad.
That doesn't mean, however, that the player will automatically want to sign for us.
We will take two years to get somewhere near being a squad that Ronnie thinks is able to get into the top six... not two weeks.
Gordon Crawford
67
Posted 27/08/2016 at 10:03:39
Nothing more to add, exept the Mosh monster will get it right in the end.
Well said Jim Lloyd.
Barry Roberts
68
Posted 27/08/2016 at 10:05:21
Mike 2
Van Gogh? centre back in the 70's for Ajax. I remember him and his team mate. Van hire, very well.
Daniel Lawrence
69
Posted 27/08/2016 at 10:12:49
All well and good, but how does FFP actually work? If it is based on annual income etc? If so, and we continue with our stock position of buying once we've sold, surely we'll just be in a similar position next season and just waiting for Lukaku to be sold and so on before we invest.
The only real benefit so far is that I've not had to listen to Elstone and Kenwright blabbering on. On the pitch, financially anyway, there is little difference to the last two decades.

Kevin Rowlands
70
Posted 27/08/2016 at 10:28:13
I think your referring to Robinho Jim. and what a waste of money he turned out to be. Moshiri looks like he has a solid plan in place, got the manager he wanted, the DOF he wanted l, now it's time to let then do what they we're hired to do. Anyone with any common sense can see this will not be a throw money at them quick fix scenario, as for Mr woof woof, he's a wind up merchant.
Jim Lloyd
71
Posted 27/08/2016 at 10:42:38
Thanks Kevin. Couldn't quite remember his name but, yep, remembered he was nowhere near worth what they paid for him. Totally agree with your analysis of both points you've raised!
Pete Edwards
72
Posted 27/08/2016 at 10:43:31
David B and Jimmy what is it you aren't able to see or understand about the spend/warchest?
So we have spent what we received for stones...well yeh we sold him so we had that money on top of whatever Moshiri will put in. Do you expect him to say – no no don't spend the £47m use the warchest account, the fans and the World need to see that I have put it in to the club?!?!
I'm being a little silly with my comments here but there is no other way of trying to understand both of you?
Quite frankly I'm gob smacked at how negative you are especially given how the transfer window is still open the last time I heard, the management and running of the club is still all very new so 2 years isn't an excuse its a plan and I'd bet it's a fucking great plan to move the club forward to be challenging at the top table!!!
Brian Harrison
73
Posted 27/08/2016 at 10:43:44
Sadly it seems that some of our fans are more concerned about how much we should in their opinion be spending on transfer targets than what state the club is in.
For me they have appointed an excellent manager and followed that up with the appointment of Steve Walsh as director of football.
I think it would be worth looking back to the late 50s and early 60s, Everton were known as the Mersey millionaires because with the backing of Moores we could out bid any club for any player. Across the park they were in the second division and they appointed Shankly as manager. They had very little money to spend, but Shankly made them one if not the fittest team winning promotion to division 1. He went on to make them succesful without having the resources that Catterick had.
So don't get hung up on what we spend concentrate on are we fitter and better than the last 2 seasons. Time will tell but I believe we have unearthed our Shankly, he wants us to be fitter and he wants players to improve.
Paul Thompson
74
Posted 27/08/2016 at 10:47:13
Jim (#) may not have fixed it, but he did nail an understanding of where we are at the moment. No club, including Everton, can simply will the ability to compete (what some people call splashing the cash) for the top players into being. It's a complex mixture of resources available (to buy and pay wages), skilled scouting and negotiation, perceived attractiveness of club and city, and not least past performance.
We are improving on the first two, but have hills to climb on the third and fourth. Given that we cannot simply 'choose' many top players, we have to identify the genuine possibilities who can add to our capabilities, whilst simultaneously bringing two or three into the first team squad from the academy.
Like others I value Koeman's realism. It will take two years at least. I will be happy as long as we are moving forward as a team and as a club, and for a change I am modestly optimistic of our chanes of doing so.
Trevor Powell
75
Posted 27/08/2016 at 11:09:58
In this transfer window and possibly others to come are we handicapped by the reputations of Messrs Koeman and Walsh. It seems that other clubs are trying to get clues about who they should buy after K&M have shown interest.
Brent Stephens
76
Posted 27/08/2016 at 11:10:48
Kevin #70. I agree. This will take time. I don't want us to become an overnight sensation by just throwing loads of dosh at it. I bow-wow to your sentiments.
Dave Abrahams
77
Posted 27/08/2016 at 11:35:29
David Barks, I understand your frustration but I bet you are going to the game today with a much better feeling of anticipation than you had this time last season.
Patience, David, Everton will get better, much better, just give the people running the club some time. I bet, when you were a kid, you had your poor mother harassed in August asking her what you were getting for Christmas.
Mark Murphy
78
Posted 27/08/2016 at 11:42:06
Those of you who are frustrated with our lack of signing a marquee player – who, from Spurs to the redshite do you envy?

Dave B – you say the supporters down the road wouldn't stand for this – who have they signed that you seriously wish we had?
And the only "undeniable fact" is that the transfer window hasn't closed yet – we'll get good additions in. We are already stronger than last seasons "best squad since the 80's" and on top of that we have a better manager and an exciting future.
Relax!
Don Alexander
81
Posted 27/08/2016 at 12:08:10
Jim Lloyd at 66 sums up my opinion too. Finally rid of that Muppet manager, and with Blue Bill now effectively demoted I see very good times ahead and will wait 2 years to see them become reality.
Dennis Stevens
82
Posted 27/08/2016 at 12:12:53
Moshiri has been at the Club for all of 6 months, Koeman & Walsh far, far less, so I think it's a bit premature to say nothing's changed just because it's possible to draw some parallel conclusions at this moment in time due to the John Stones sale.
However, don't forget that the transfer window hasn't shut yet so the basis for those conclusions may yet prove to be just a transient point in time on the journey. It certainly feels to me like things have changed, already, but only time will tell & very little of that has passed under the new regime.
So far, so good I'd say – but continued progress, on & off field, is essential. I think we have the people in place now to make that happen.
Ciarán McGlone
84
Posted 27/08/2016 at 13:37:39
"We have the team we need"
No we don't.
Drew O'Neall
85
Posted 27/08/2016 at 13:47:39
We'll have to wait right until the last day of the window because our current targets are hoping to be signed by CL clubs and the players we might actually end up signing are those players they displace at Bayern, Real, Barcelona, Arsenal etc
Paul Conway
86
Posted 27/08/2016 at 14:58:28
Just one look at today's bench and RK has convinced me!
Mark Morrissey
87
Posted 27/08/2016 at 15:02:42
Rome wasn't built in a day. If it had been built in a day it would have fallen apart years ago. We've had years and years of being also rans and I am delighted to hear that Koeman sees Everton as a project that will take some time before it starts to properly bear fruit.
I was somewhat fearful that RK sees Everton as a stepping stone to pastures new but when I hear this kind of talk it makes me feel more reassured that we have him for the long term. First things first I just want to see us compete on the pitch because I have had an absolute gutfull of hearing our manager talking complete shite after a woeful performance against the Bournemouths of this world.
I am already looking forward to the January window and our games against the RS because this season we will compete. That's the most important thing for me at this time. Effort, blood sweat and tears on the pitch. I want to see Everton start to rise like a big blue Phoenix casting a big fucking shadow over Stanley Park. I think RK is pure class
Ian Burns
89
Posted 27/08/2016 at 18:58:34
I have only just picked up on this thread and I would add one comment only.
David Barks and others in support – print out Jim Lloyd's post (#66, stick it on your toilet door and relax.
Thomas Lennon
91
Posted 28/08/2016 at 08:58:37
Marquee signings – who was our marquee signing in 1984? We signed one in 1985 and won nothing, got rid in 1986 and we won the league again.
Big names in weak teams mean nothing other than banter 'You might have bought x but we got y' multimillion top trumps. Leave it to the school kids.
Mike Moore
92
Posted 28/08/2016 at 09:13:47
Thomas (#91), Gary Lineker was incredible for us in 1986, he wasn't the reason we didn't win the double!
Derek Thomas
93
Posted 28/08/2016 at 09:58:34
We're all supposed to love our 'Istory, so hopefully it's turning full circle/repeating itself.
In the '50s we had a 'PE Instructor'; then a 'football purist' in Buchan and Carey. We were bought by a hard-nosed business man who appointed a pragmatic mixture of both in1961... it took him 2 years to sort it out.
Fast Forward to the 21st Century and we've had another 'PE Instructor' and another 'football purist'. We were bought out by a hard-nosed business man who appointed a pragmatic mixture of both in 2016... It may take him 2 years to sort it out.
One game at a time, lads, but be warned, we're Everton ffs, we will lose some... some we will be total shite... we may even give somebody a right thrashing.
It's early yet, but no reason for mindless optimism, nor heads exploding in Veruca-esque 'I want a marquee signing and I want it now' tantrums.

Thomas Lennon
94
Posted 28/08/2016 at 10:09:58
Lineker was indeed superb but as he was virtually our only goalscorer that year we could be stopped by the best of our opponents by stopping Lineker – consequently, we won nothing other than the Charity Shield.
Before and after, goals were shared around far more, there was no single point of strength in goalscoring, thus we weren't stoppable! Simples.

Dave Speed
95
Posted 28/08/2016 at 10:38:21
If I were Moshiri, Koeman and Walsh, I would be saying to Kenwright "Why didn't you tell me about these ungrateful so-and-sos?"
I have asked friends (yes I have some) and colleagues to name 10 marquee players that they would like to sign. After a struggle, every one of them came up with a list who have signed for Champions League clubs across the main European Leagues (including the EPL), or who are not for sale, like Messi or Ronaldo.
It's well documented that Man City's new money couldn't buy anything other than the players dislodged by the marquee transfers at that time. It took some good management by the unfairly derided Mancini to get them to a point where they were a club to be included on agents' lists as a 'des res' for their clients.
I believe it took more than the 2 years that Koeman has stated, and remember that Sir Alex nearly got sacked before his 4 year tenure brought a trophy. I am confident that we will make a 'second rate' deadline day signing or two. So please see your GPs to get something for your anxiety, wait for the new team to do their job, and enjoy the ride.
Dan Davies
96
Posted 28/08/2016 at 10:54:41
After two seasons of torture it's only fair we have a good one this time around! After initially doubting Koeman I'm starting to recognise we have an astute manager in control.
If he's saying two years, then it's two years. Who are we to argue? It's his head on the block. A new striker to compete with and not just back up Lukaku would help mind!
With regards to big name signings, Everton need to win something/anything! Not very tempting when our targets find out we've won nothing for over twenty years like...
Tim Locke
97
Posted 28/08/2016 at 11:03:27
Dan, I think the modern game is less about what you have won and more about what you will/could win. I don't think many will be going to Leicester thinking they could win the league again. So if we can show the potential to win something, and I don't think we are far off, then players will come. Not to mention the money.
Dan Davies
98
Posted 28/08/2016 at 11:22:02
Exactly Tim, if we win something it shows we might be capable of winning more. For example, a young foreigner who doesn't know his history might ask 'Everton'?
He is then told ' they just smashed Liverpool to win the FA Cup mate'. Might be head turning. Hahaha. Love Sundays after a win.
Andrew Clare
99
Posted 28/08/2016 at 11:22:04
For the first time in years I feel like we have a real manager, not some make do for the time being. Undoubtedly we will have ups and downs but I definitely think we are now going in the right direction.
I will be most surprised if we don't sign at least two more players before the window closes. The defence including the goalkeeper is pretty much there. The midfield probably needs one more and the attack one or two more. We will then be a very formidable outfit.
Paul Livesey
100
Posted 28/08/2016 at 11:27:45
Just a thought on comments regarding only spending what we have got from the sale of John Stones. I don't know the actual figure, but the point is surely worth considering. How much has it cost to get rid of Martinez and his coaching team? How much compensation have we paid for Koeman, Walsh and all the coaching team?
I totally get that they aren't players, but to acquire their services we still had to pay for them as they were contracted to other clubs, and at the end of the day will still be paid out of the club's finances. In my opinion, these people will prove to be our biggest signings of this summer and I applaud a measured approach that has focused on the foundations first as this fantastic club is rebuilt. This will hopefully give us sustained success. Not a Blackburn or Leeds.
In addition, it's great to be able to watch Match of the Day again!!
Malcolm Stout
101
Posted 29/08/2016 at 23:01:46
Do we really think Moshiri made his millions by throwing away money on inflated prices? Do you think he is going to spend the 𧴜m just because he said it was there to spend?

Transfer prices are silly/obscene and Sky money is ridiculous but the asking prices are similarly stupid and I don't think our new man is stupid at all.
Paul Kossoff
102
Posted 30/08/2016 at 15:25:56
Ranieri, "I'll win the Premier in one!"
No excuses here, RK, this squad with some quality buys should at least finish top seven.
---
Add Your Comments
In order to post a comment, you need to be logged in as a registered user of the site.
Or Sign up as a ToffeeWeb Member — it's free, takes just a few minutes and will allow you to post your comments on articles and Talking Points submissions across the site.
© ToffeeWeb