Koeman positive on the prospects for resurgence
Friday 28 October 2016

53 Comments [Jump to last]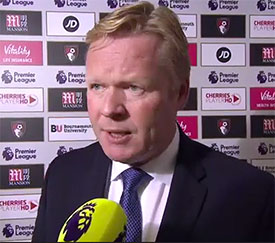 Ronald Koeman sees the recent setbacks as part of football and is looking to the personalities, the mix of youth and the experience in his team to change things going forward.
After starting the season with a Premier League-best start after five games, Everton haven't won for five games in all competitions leaving Koeman facing more and more questions about the form of his team.
The Dutchman continues to maintain a wider view of the season as a whole and is only looking forward.
"It's not about our last five games," he said, "it's not about the first six, it's not about winning or losing, it's an overview of what has happened and that we want to change.
"Of course, we know if you don't win in the last four [games] in the Premier League then every time you play you come closer to a must-win game.
"I think we need to turn it around but it happens in football. I'm prepared to get in tough times and also prepared for how we started the season, because that's football.
"When you have a lot of experience in this game you know that what happened last week does not count any more. It's all about the next. I hate losing, and that mentality has to be shared by everybody, but no team will go through the season without having tasted defeat and we are no different.
"My experiences, and it happened also at Southampton, is that it's not always sunny and you don't win always. You get in difficult times, in tough times and then really you need to support each other.
"That's important. If everything goes well it's easy to come into the team, it's easy to play but now really we need the personalities to turn it around and I think we have enough personalities in the team.
"We have really experienced players, we have young players and, in terms of age, I think we have a good balance in the squad.
"But you always try to be better and try to be stronger, and that starts this weekend."
Quotes sourced from EvertonFC.com
---
Reader Comments (53)
Note: the following content is not moderated or vetted by the site owners at the time of submission. Comments are the responsibility of the poster. Disclaimer
Jon Cox
3
Posted 28/10/2016 at 19:08:55
"But you always try to be better and try to be stronger, and that starts this weekend."
Right Ron,
Are you positive about that, and you're not referring to Christmas?
I'm starting to think I've seen this film before...
Jeff Armstrong
4
Posted 28/10/2016 at 19:17:06
"That's football" is starting to become as irritating as "phenomenal"...
Patrick Murphy
5
Posted 28/10/2016 at 19:17:25
John (#3),
What did you expect Ron to say? "Losing matches is unacceptable and I will sack the team off and bring in the kids. if that doesn't work, I'll resign!" I think Ron is being pretty pragmatic – a quality that wasn't always on show in the last couple of seasons.
The current team will often be in a situation where they'll win some, lose some; the fact that they won a few on the bounce in the early games and have now gone on to fail to win a few in recent games has seen the extreme 'positive' and 'negative' reactions you would expect from the fans, but the manager has to stay 'neutral' about individual or even collective results and focus on the next game, which is what Mr Koeman appears to be saying and doing. Obviously the faster we post a win, the better, as failing to win for too long saps the confidence of the team and the supporters.

Minik Hansen
6
Posted 28/10/2016 at 19:21:10
Can't always win, and such runs come and go. Let's see them turn it around, that's just as sweet every time. COYB.
Paul Conway
7
Posted 28/10/2016 at 19:43:42
Patrick (#5),
We started well because fixtures were kind. That is to say, we played very poor and not in-form teams. Apart from a slow starter Spurs and a Man City side that could and should have beaten us. We are four points off the Champions League slots, yet eight points off relegation!
I am wondering, do the rest of the EPL teams' supporters wish for the transfer window to come round, as quick as Christmas to a kid... like we do!
Richard Dodd
8
Posted 28/10/2016 at 19:55:50
You win some, you lose some, and some end in a draw.
Funny game, football!
Stan Schofield
9
Posted 28/10/2016 at 20:22:54
Seems to me there are too many press conferences in football. Too much talking.
Some like to talk, some like to just get on with the job.
Our Ron seems to be the latter, whereas some like Klopp seem to like performing, or at least they seem very comfortable with the whole thing. I'm not sure what else Ron can say. Most of the questions seem daft anyway, questions for the sake of it. It's not just the managers who have to do it, but the players as well.
Most of the time it just ends up in platitudes. Ridiculous. If we win, great. If we lose, we should focus on the next game, try to win that, and so on. The rest is a waste of time. What's the Elvis song, 'A Little Less Conversation'?
Dermot Byrne
10
Posted 28/10/2016 at 20:39:27
Just so right Stan. Every day a bloody drama. And we are just as bad as the media in interpreting every comment as a crisis or massive good news. They are usually neither.
Peter Murray
11
Posted 28/10/2016 at 20:49:22
A bland, moralising statement which could be about anything.
Mike Gaynes
12
Posted 28/10/2016 at 21:54:00
Spot on, Dermot #10. We fans commit the same sin as the media... dissecting every sentence and trying to divine deeper meanings.
Nothing to see here, please move along.
Ernie Baywood
13
Posted 28/10/2016 at 22:02:14
He's right on the money. You will have a bad run at some point; what matters is how quickly you can turn it around.
Bobby's biggest issue was that when things were going well, he had everyone happy and a positive mood around the place, but when he hit a bad spot, he just didn't have the character or leadership to pull the team through it.
Ian Bennett
14
Posted 28/10/2016 at 22:14:07
Six points from Palace, Burnley and Bournemouth would of seen us top. Instead we got just 1 point.
Really need some performances from Mirallas, Barkley, Deulofeu rather than the weak fare so far. C'mon lads!
Steavey Buckley
15
Posted 28/10/2016 at 23:01:29
It gives me no joy revealing this, Everton have no real game changers, especially, against teams that 'park the bus,' such as Burnley last weekend. So taking into account the extra money coming from Sky TV, the sale of John Stones for 㿛½ million and having a billionaire as the major Everton shareholder, the last transfer window was underwhelming.
The team is not much different from last season, when Martinez had far less money to throw at the Everton team that continues to be just above average, no more.
Gerard Carey
16
Posted 28/10/2016 at 23:41:39
Funny old game football, if we were to win our next three games, we would all be thinking "top four", a big possibility. If we lose our next three games, mid table or worse. Funny old game really, and very fickle fans!!??.
Les Martin
17
Posted 29/10/2016 at 00:05:00
Future Manager of Barca, get your money on now and buy your condo in the future.
Ciarán McGlone
19
Posted 29/10/2016 at 00:25:46
Good old fashioned gibberish.
Anthony Dwyer
20
Posted 29/10/2016 at 02:21:21
I'm not sure yet on Ronald Koeman, but I am sure he's a better fit than Martinez.
Let's be honest, who on ToffeeWeb really believed we had a great squad of players?
Did we really believe that, after the core 8-10 players, we had an array of talent sat on the bench under Martinez that was ready to barnstorm their way to the EPL crown?
We have to give it a few transfer windows, not a few games before making a decision.
My biggest gripe with Keoman is the lack of young players getting chances.
Dowell, Davies and Connolly looked ready to play a part, even if only a bit part, but Koeman doesn't yet seem ready to give them any minutes; hopefully that will change.
Tim Greeley
21
Posted 29/10/2016 at 04:51:28
I'm positive that I can't stand Everton continuing to be one of the least aggressive and attractive teams in the league for too much longèr. BAH HUMBUG Rock Hard Ron, goddamn do something to make this team play some ball!!!
Defense is important, got that, fully on board – I was a full back myself. But somehow all three of Ross, Kev and Del Boy seem to have gone WAY backwards in terms of quality so far this year. Why is that!?
Am I the only one who feels like this season to date has been just kind of OFF!? Like, I feel like I'm not even sure who I'm rooting for at this point beyond the Blue.
So many fans have chosen so many players on this team to abandon and dismiss – a good percentage who may actually deserve to go bye-bye, for varying reasons – it feels like rooting for a strange club. I guess I just want and hope Everton to get it right.
Anthony Hughes
22
Posted 29/10/2016 at 07:59:17
Just a run-of-the-mill press conference really. No great insights or comments.
Bobby Thomas
23
Posted 29/10/2016 at 08:35:51
These press conferences are extremely unimportant. However, you get the feeling some people would sack a manager on the basis of them alone.
Except Martinez. I'd have sacked him for them.
Mark Burton
24
Posted 29/10/2016 at 09:04:13
The manager can do what ever he wants, but if you have no good quality and a "don't give a shit" attitude from players, I'm afraid it's the same Everton we've had for the last few years.
Clive Rogers
25
Posted 29/10/2016 at 10:16:48
The players Ron has brought in have improved the squad. Unfortunately he has found that the best players already at the club are in decline and others like Mirallas, Deulofeu, Cleverley, Kone, Lennon etc., are just not good enough. Personally I am looking forward to Rom's January signings.
Tony Cheek
26
Posted 29/10/2016 at 11:01:33
The mix of youth?... Where exactly? Do they really get a chance at Everton? How long before Tom Davies gets playing time?
It just seems to me that we are always talking about all the good players "coming through", but we never bloody see them, while other clubs do actually use their young guns!
Lee Wareham
27
Posted 29/10/2016 at 11:09:36
Ron is better much better than what we've had the last three seasons but he didn't have enough time to prepare for the season properly. Give him a few windows, our squad will be much better.
Next season is the true test; if he does not get European football then, I will say he has failed... but, till then, he has to work with Martinez players – not his fault.
Brian Harrison
28
Posted 29/10/2016 at 11:42:59
I think Ronald Koeman is viewing this season as a very much look-and-learn season, just like Klopp did. He has said himself that it's about personalities, I think he means he is looking more at the mental attitude of the players as much as anything else.
Yes, he has made them fitter and he is trying to change our style, but changing the psychology of their attitude will take more than one season. He has said that he has more problems in attack than defense, and that is borne out by the lack of goals from our forwards and midfield players.
As most managers will agree, the January window is not an ideal time to sign players, and I think he will leave his major purchases till the summer. By then, he will know who he wants to keep and who he wants to ship out. Then we hopefully will begin to see the players and style he is after.
Barry Williams
29
Posted 29/10/2016 at 11:58:01
Clive Rogers (#25),
I agree with you here. The players brought in have all improved the squad, A decent keeper, decent centre-back, a very good defensive central midfielder, an experienced winger who is also adaptable and, well, we haven't seen enough of Valencia yet.
On top of this, Koeman has had to try and instill a new mentality into players who played in a very different style for 3 years. What do people expect?
As for playing youth, you have to be careful and not put too much expectation on their shoulders or feed their ego too much... and we do have a bit of a history here. I am sure it will be easier to include youth once the team is up and performing the way the manager wants, not whilst in transition.
Of course the jury is still out on Koeman, but again what do people realistically expect after 2 underwhelming seasons, a manager with magic dust!!!!??? Hey Presto... all is wonderful!
Ian McDowell
30
Posted 29/10/2016 at 12:41:51
I agree with Brian @ 28 that Koeman will be hoping to change the mentality of the players currently at the club. We have talented players in Barkley, Mirallas, Deulofeu, Bolasie and Lukaku. Solid midfield players and very experienced defenders all having played well over 250 games each. Get this lot playing better on a more consistent basis and add one or two and we could have a really good side.
Geoff Evans
31
Posted 29/10/2016 at 12:52:58
The best signing that Everton have made since Alan Ball is Ronald Koeman. He is in the process of turning around a club that have been continual also-rans since the eighties. He's had less than a dozen games in charge, he knows what he wants but at the moment is having to deal with what he's been left with.
Look what we had as manager this time last year and just be grateful that we've got a man as manager who's done it where it matters... on the pitch.
Colin Glassar
32
Posted 29/10/2016 at 13:00:31
Koeman's Southampton teams went through similar dry spells in both of his seasons down there and came back stronger each time to finish well above us. Don't despair, this is a very good manager who knows what he's doing.
Barry McNally
33
Posted 29/10/2016 at 13:22:39
Colin agree with you. Southampton netted 39 points in the second half of last season – only Leicester amassed more with 42.
Aidy Dews
34
Posted 29/10/2016 at 13:22:53
Koeman isn't an idiot, he knows he's still got work to do with us even if we're only 10 games into the season. There are signs he's sorting us out: generally we do look a lot more solid at the back – and that's a good start-off point for any team – but he also knows we need more going forward. He keeps on talking about it, the lack of productivity etc, so he must be drumming it into the players day-in & day-out and he isn't going to sort that out over night.
But as long as he does improve that side of our game and keeps us ticking over until January, when we can look to add a bit of quality to help us out, then I'm sure we'll be fine.
Koeman had this at Southampton: they got knocked out of the cup, albeit Europe, had a bit of a lull, but he soon sorted it out and Southampton went on a right run and finished 6th, 4 points off of the Champions League spots!
Now I'm not saying we'll do the same, although a lot will depend on if we can start winning soon and what business we do in January, but I'm sure Koeman will get us going this season. Let's remember, he took over a mess and he won't fix it in 10-15 games! It could take a season and an half, to two seasons, to get us working and playing in the way Koeman wants us to.
Dave Pritchard
35
Posted 29/10/2016 at 13:26:32
Geoff, re Koeman being the best signing since Ball. That is a very brave statement but also premature. I am hoping he'll turn us around and obviously he needs more time, ie, a couple of seasons to see if he can. To say he is the answer based on a handful of games is impossible to say.
Ray Roche
36
Posted 29/10/2016 at 14:06:57
Geoff, I agree with much of what you say, Ronald Koeman needs time to sort the wheat from the chaff and build/buy his own team. But, mark my words, the lack of game time to some of our most promising young players for years will prove his Achilles Heel.
I make no apologies for repeating what I've said in the past, and that is that the Saints fans, with hindsight, regard him as a dinosaur when it comes to a youth policy. Southampton have a had an Academy production line that is the envy of most clubs, but Koeman showed no interest in watching them, let alone giving them game time.
Puell appears to have reversed that idea and may well turn out to be a manager in the making. But Koeman should take his blinkers off and give some of our stars in the making at least a slot on the bench.

Si Turner
37
Posted 29/10/2016 at 14:08:18
Has anyone watched the Sunderland game? Thank God we didn't get Koné. At fault for two goals by being beat in the air by Giroud and Sanchez!
I know Jags has had a couple of bad games but he is different class to Koné.
Ray Roche
38
Posted 29/10/2016 at 14:09:50
Looks like we dodged yet another bullet there, Si.
Geoff Evans
39
Posted 29/10/2016 at 14:09:50
Dave, point taken mate, but I do honestly believe that, in Ronald Koeman, Everton have picked up a gem and I have the greatest confidence in a man who, I believe, will help take this club back to where it belongs.

Clive Rogers
40
Posted 29/10/2016 at 14:43:34
Barry (#29),
I think we'll find that Koeman will have replaced almost every player within two years. He's been left a shambles with a mixture of ageing players, poor players and youngsters not quite ready.
Don Alexander
41
Posted 29/10/2016 at 15:48:51
One "big" club with a recent history of selling is Atletico Madrid. Okay, their players have generally gone to clubs with guaranteed Champions League football but, in forwards alone, they parted with Torres, Aguero and Costa in recent years, replacing them with huge effect with Forlan, Falcao and now Greizmann.
Then there's their defence, generally rock solid on a (rare) average day. Jan Oblak is a top, top goalie too and he and winger Yannick Carrasco were picked up for peanuts (㿊mill for the pair) by EPL standards. I wonder if our Walshy knows who their scouts are 'cos he could do worse than follow them?
Clive Rogers
43
Posted 29/10/2016 at 16:03:50
Interesting Don.
Jay Harris
44
Posted 29/10/2016 at 16:04:03
In complete agreement with those supporting Ronald Koeman who has been in the job five minutes and inherited a squad with poor fitness and attitude.
It will take time for him to impose his will and methods and I for one will not judge him till next season.
Peter Mills
45
Posted 29/10/2016 at 16:18:58
Geoff (#31), I am optimistic about the appointment of Ronald Koeman but – this weekend of all weekends – we should remember that he has quite a lot to achieve before being considered a better signing than Howard Kendall.
Richard Dodd
46
Posted 29/10/2016 at 16:51:44
Far too early to make judgement one way or the other. He's had little impact on his predecessor's players – most of whom are still as weak as piss. But he MAY be able to change things round with all that money Moshiri is going to give him.
It certainly won't be via giving our youngsters a chance, it seems!
Colin Metcalfe
47
Posted 29/10/2016 at 16:52:07
Wow... all this blind faith in Ronald Koeman... clearly nobody on here remembers his disastrous tenure at Valencia? I do as I was living in Spain at the time and closely followed La Liga. The man was completely out of his depth and tried to change too much too quickly and was booted out – not only by the fans but the players who basically downed tools.
I said it at the time of his appointment, Koeman is not the man to lead Everton FC – in fact, I had him down the list alongside Moyes. I wanted Emery (now of PSG ) or De Boer (now of Inter Milan).
As a true Blue, I truly hope I am wrong but I have not been impressed by what I have seen so far, even when we went 2nd in then league – has anyone actually enjoyed a game so far?
To be honest, I can't make head or tail of the type of football Koeman wants us to play. At least with Martinez we knew his football philosophy – bore us all to death with slow tikataka and starve the opposition of the ball!!
Sorry to be the kid that shouts "The Emperor has no clothes," but I just don't think we chose the correct manager. Just my opinion; no offense.
Tony Twist
48
Posted 29/10/2016 at 18:04:50
Way too much chat and not enough action on the pitch. We need a lot more goals from the attacking three behind Lukaku, else we are going to struggle. As already said, the youngsters should be used as a matter of principle, albeit in the latter part of matches where their exuberance may make a difference.
Paul Conway
49
Posted 29/10/2016 at 18:09:57
Colin Glasser (#32), Agreed!
Given he has inherited the Martinez set up, I think we have to judge him on his forays into the transfer market and our team's position, at least over the next 18 months. He did show at Southampton that he is well and truly capable, especially after the team was decimated and he rebuilt it, when pundits and bookies had them down as relegation material. In hindsight, in leaving Southampton, he probably left a better team than the one he walked into.
I feel that Everton FC are not exactly blessed with luck. I am 100% confident that Ronald Koeman will change that. If the right players become available over the next couple of transfer windows, then that will change. We just have to ride out the rest of the season; IMO, results will go more against us than for us.
The future is still bright.

Damian Wilde
51
Posted 29/10/2016 at 20:03:06
Getting rid of Barkley would help.
Jay Harris
52
Posted 29/10/2016 at 23:16:30
Damian, it is only an opinion but if the Spurs supporters got on Dele Alli's case the way our lot do with Barkley, the lad would go to pieces.
It's enough that the press and so-called experts see fit to criticise Barkley at every opportunity but never say a word about Stones (now he is at Man City) or Dele Alli, so shouldn't we be helping the lad instead of criticizing him at every opportunity? There are far worse players in our squad and playing for other teams.
Damian Wilde
53
Posted 29/10/2016 at 23:59:11
Barkley, Dele Alli... er okay.
Barkley has been woeful for 18 months. He should not start. What does he offer? Lazy when we don't have the ball, constantly gives it away, and has poor decision-making skills.
He's living off the Newcastle and Man City goals. The next Rodwell for sure.
Mick Davies
54
Posted 30/10/2016 at 01:24:10
We're going back to the future. Looks like the new Walter, and he's signing a couple of fantastic players; Ginola and Gascoigne. We will be Dad's Army again...
Who cares about Davies, Walsh, Dowell etc, just think of the shirts we could sell! The future's bright, the future's haliborange.
Jeff Armstrong
55
Posted 30/10/2016 at 08:30:18
Wasn't it Pochettino who rebuilt Saints from scratch about 3 seasons ago? I think Koeman is getting a lot of credit for someone else's work, I believe he did have a mini rebuild when he took over, but the major work was done by his predecessor.
Jeff Armstrong
56
Posted 30/10/2016 at 08:45:37
Colin (#47), I agree with a lot you say, I also cannot put my finger on what style of play he wants us playing. If I was nailed down, I'd have to say it's a bit Graham Taylor, with a smattering of David Moyes!
In terms of a new manager, Emery was my preferred choice and I would also have taken De Boer before Koeman, but he's on the brink at Milan so what do we know?
Tony (#48), you're right about all the pre-game chat from players and managers,I believe it's all contractual and is just the kind of shite that TalkSport and the like need to perpetuate their non-conclusive endless drivel, when all everyone wants is to see is good games of football and success on the pitch. I believe it's called "chat shit" these days, as in "he just chats shit"!
Roger Helm
57
Posted 30/10/2016 at 20:37:10
Those blasting Barkley may be thinking again after his MotM performance today. As I have said before, if Koeman can undo the psychological harm done by Moyes, Martinez and Hodgson, he could be a star.
As for Koeman, he has to undo three seasons-worth of damage so it is not going to happen overnight. He has only had one window and already our best players are Bolasie, Williams, Gueye and Stekelenburg so I think he has made a pretty good start.
Brent Stephens
58
Posted 30/10/2016 at 20:48:51
Very good game from "the next Rodwell" today.
---
Add Your Comments
In order to post a comment, you need to be logged in as a registered user of the site.
Or Sign up as a ToffeeWeb Member — it's free, takes just a few minutes and will allow you to post your comments on articles and Talking Points submissions across the site.