Koeman concerned by looming fixture congestion

83 Comments [Jump to last]
Saturday 12 November 2016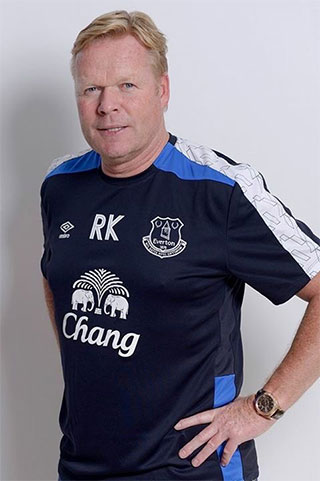 Ronald Koeman says that there is a heightened risk of injuries to players during the packed winter programme in England, one which contrasts with many European leagues which will take a break.
Speaking in De Telegraaf in his native Netherlands, the Everton boss highlighted the problem with the number of matches that are required of players and managers at this time of year.
"The fixtures are packed," Koeman said. "There is a lot of traveling and it's the busiest time in England.
"Where in many countries there will soon be a winter break of a few weeks, we play on Boxing Day, December 30th and on January 2nd. And immediately after the tournament begins at the FA Cup. The chance of injury is greater in such busy football months."
Koeman isn't best pleased with the scheduling of the current international break either, explaining that it's proximity to Everton's next Premier League match is problematic:
"I give you the example of my team at Everton. In my squad there are 16 internationals ... a [f]ew players travelled to South America, Mori plays for Argentina, Valencia plays at Ecuador, Yannick Bolasie and Idrissa Gueye play for Congo and Senegal in Africa. Next Thursday all players are traveling back to Liverpool.
"They also had a long flight behind and you cannot directly have training. So there remains a single day on Friday to train before we play the match on Saturday at three o'clock against Swansea.
"All that traveling and busy soccer weeks should not be underestimated, even though this is a wonderful occupation."
---
Reader Comments (83)
Note: the following content is not moderated or vetted by the site owners at the time of submission. Comments are the responsibility of the poster. Disclaimer
David Connor
1
Posted 12/11/2016 at 15:56:24
That's one of the problems that comes with having so many internationals in the squad; a winter break is something the FA should look at. They have it all over Europe apart from us, as far as I know.
I just hope Ron's not getting an early winge in, just in case we lose... He wouldn't do that, would he?

Mark Riding
2
Posted 12/11/2016 at 16:00:07
Ronald, bit of advice...
Give it a rest mate, and stop talking.
You can thank me later.
Alan Bodell
3
Posted 12/11/2016 at 16:14:59
Players on international duty don't fly cattle class like us, they can sleep on leather bed recliners so this is total shite talk.
Patrick Murphy
4
Posted 12/11/2016 at 16:21:23
I've just had a quick look at Southampton's results from around this time of year until after the festive period for the last couple of seasons under Koeman and it doesn't make pleasant reading. I do hope that Koeman can improve our results in comparison.
Darren Hind
5
Posted 12/11/2016 at 16:22:55
Is right, Ronnie lad.
The fella who signed Bolasie and Valencia wants to try doing your job.
John Daley
6
Posted 12/11/2016 at 16:35:27
Come on, Ron, you're slipping.
Surely you should have said: "Lukaku and the rest of the lads will never have made the most of the festive period if they remain at Everton for the rest of their career. They have the potential to open way more pressies at clubs with a bigger chrimbo break."
Tony Twist
7
Posted 12/11/2016 at 16:48:09
Getting your excuses in early, are you, Ronnie lad?
He really is running scared. I am not impressed.
Phil Walling
8
Posted 12/11/2016 at 17:10:06
Of course it's only Everton who don't have a winter break.
These multi-millionaires would only be happy if they played once a month – the whole game is going rancid!
Patrick Murphy
9
Posted 12/11/2016 at 17:12:45
Phil (#8),
How long will it be before players sub contract out their duties to the younger players in the squad, freeing up their time so as they can concentrate on their domestic and social life on a match-day?
Mick Davies
10
Posted 12/11/2016 at 17:32:40
These international breaks seem to have sneaked up on us from nowhere; I'm sure we never had all this frequent disruption years ago. Weren't they played midweek, except for the Home Internationals which were played at the end of the season?
In the past, matches were played on Xmas Day and then the next day, so players (who were relative paupers compared to these modern moguls) never had a chance to let their hair down and join the family celebrations.
The players union, their agents, lawyers, accountants, PAs etc would change the constitution if their poor little cash cows had to play 2 days running.
Oscar Huglin
11
Posted 12/11/2016 at 17:38:17
Mark Riding (#2),
What are you on about? He's talking complete sense here.
Patrick Murphy
12
Posted 12/11/2016 at 17:43:33
Mick (#10),
I had a quick look at England's fixtures for the last few years and it would seem that Saturday friendly matches started circa 2001 and it's grown steadily worse with each passing year, it's mostly down to the TV coverage.
No longer is it good enough to choose the best fixture and show it live on screen, it has to be every possible game they can squeeze in and if that is an inconvenience to the supporters or the clubs tough!
Paul Kelly
14
Posted 12/11/2016 at 17:47:58
I agree with Mark, he hasn't covered himself with glory with the Lukaku comment and now it seems like a readymade excuse for failure. It's been said before by other managers, and many alike; bringing it to everyone's attention will change nothing.
Mark Riding
15
Posted 12/11/2016 at 17:51:44
Okay, Oscar, I'll bite.
So Koeman says Rom should not finish his career at Everton, and now he's moaning about players traveling long distances during international breaks. In a week when our previously camera-shy chairman major shareholder has had to come out and defend HIS manager.
Like Phil Walling says, it's private jets and first class nowadays for these lads. It's not working down the mines.. Or night shifts.
The link with the working class has gone and it's tough for lads who buy season tickets for money they cannot really afford, to get behind this bollocks.
It's turning into a throwback to Moyes and his plucky little Everton 'People's Club' soundbite bullshit. A club for the people... or a club who actually is a bit cutthroat and wins trophies. Sir John Moores would laugh and sack these bunch of no-marks right off.
Brent Stephens
16
Posted 12/11/2016 at 17:56:23
I told my wife on Thursday that I'd had a long train journey back home from work so couldn't possibly sweep up the autumn leaves that day, and there was only Friday before I was going to settle down and watch the cricket from India, and the rugby league international and a couple of rugby union internationals, followed by a few pints with the lads.
The garden looks tidy, I've removed most of the broom-handle splinters from my backside, and Saturday was surprisingly quite in Tescos.
Eugene Ruane
17
Posted 12/11/2016 at 18:15:19
Mate of mine runs one of those 'strip-o-gram' companies.
They have people who dress up as coppers, cowboys, builders, etc.
Anyway last night he asked me if I knew anyone who could do a good 'outraged-o-gram'
Phil?
(Tenner an hour, just dress like Farage and... be yourself!)
Mark Riding
18
Posted 12/11/2016 at 18:17:57
Eugene.. Any pics?
(Asking for a mate.)
Alan Bodell
19
Posted 12/11/2016 at 18:18:14
Brent, that lightens up the whole scene, love the bit with pulling the splinters, brilliant thanks for making me laugh.
Paul Conway
20
Posted 12/11/2016 at 18:23:21
Don't worry, Ronald, I know you are bracing us for the hammerings on the horizon. It's just a pity you have inherited such an inadequate bunch. But it's hard trying to explain it to some fans, who think the recipe for success is... Just add water!
Darryl Ritchie
21
Posted 12/11/2016 at 18:25:12
The continental clubs play "friendlies" during the break. Nobody is heading to Bermuda for beach time. I'd rather we play games that mean something.
Players can get injured in a friendly just as easily as league tie.
Brian Wilkinson
22
Posted 12/11/2016 at 18:32:00
Good job we were dumped out of the Carling Cup and missed out on the Europa League then, or we would have been up shit creek.
Eugene Ruane
23
Posted 12/11/2016 at 18:37:59
Mark, enjoy.
Mark Riding
24
Posted 12/11/2016 at 18:39:01
Boss Eugene...
Ta mate..
Taken in Seacombe right?
Brent Stephens
25
Posted 12/11/2016 at 18:39:09
Alan, I made up the Tescos bit but the broom-handle bit is almost believable!
Don Alexander
26
Posted 12/11/2016 at 19:43:52
Maybe, just maybe, he's trying to ensure to the new owner that a certain life-long, story-telling Evertonian is very restricted in January and that we therefore do sign some quality players before the last possible hour looms.
Frank Wade
27
Posted 12/11/2016 at 19:47:02
According to
the BBC website
, the only country with an Everton player playing a friendly this week is England, so only Jags likely to be involved.
Of the others, Argentina and Ecuador play World Cup qualifiers on Tuesday and Costa Rica on Wednesday, not sure if Oviedo is in the national team. Congo play tomorrow.
I would have assumed that the likes of Seamus Coleman, who played in Vienna for Ireland this evening, would arrive back in Dublin some time tomorrow and then return to Liverpool. Do the countries keep the players for a few more days after the World Cup matches? Koeman seems to have written this week off, exaggerating the impact in my opinion.
Mark Riding
28
Posted 12/11/2016 at 19:52:08
Don (#26),
BIll sold 4,788 shares at ٣,000 each, that's proceeds before tax of 㿃,940,000.
Which he obtained for fuck all... Is this the person you talk of?
Mark Riding
29
Posted 12/11/2016 at 19:57:25
And still holds a similar amount..
Mick Davies
30
Posted 12/11/2016 at 20:03:11
Patrick @ 12, thanks for doing the research; couldn't remember when useless internationals began to take precedence over club football. Can't stand them to be honest
Gerard Carey
31
Posted 12/11/2016 at 20:28:32
You mean to say we have 16 International players!?!? Wow, where were they last Saturday against Chelsea? Could have sworn it was a pub team we had out. A little less conversation please with the media, Ron, and bit more action instead.
Garry Corgan
32
Posted 12/11/2016 at 20:29:53
All Premier League clubs have international players, some more than us. They have the same number of fixtures in the same period.
All clubs will get injuries. Some will have better cover through better squad depth.
We don't have a winter break, and never have had. Stop bleating.
What I'm trying to say is if we're worse off than any other team its own our fault, so shut up and do your job. Totally pissed off with Koeman these past few weeks.
Phil Sammon
33
Posted 12/11/2016 at 20:59:51
Oh no! Wrap the poor darlings in cotton wool. We can't have these little tuckers getting all tired.
Derek Thomas
34
Posted 12/11/2016 at 21:00:34
Koeman stating the obvious, from the European Coach's perspective – the standard... those crazy English, eh, for sure. Or getting his excuses in early.
We've dropped two teams to 'match' euro-norms, managed to dispense with, the League Cup and any European games. Yet we still miss 2 game weekends for International.
Back in the day when you could trust it to be basically frozen in January in Europe – OK
Tough job on ٤M eh?... You're the Manager – manage it, coz it is what it is.
Tony Abrahams
35
Posted 12/11/2016 at 21:01:52
Farage!
Ian Riley
36
Posted 12/11/2016 at 21:34:40
Expect this from a manager just entering the league. No Europe, no League Cup. Only league matches! Excuses! Please stay away from the press. Work to do!
Fran Mitchell
37
Posted 12/11/2016 at 21:40:59
All managers complain about fixtur congestion. Wenger, Conte, Klopp etc.
Nothing to see here.
Damian Wilde
38
Posted 12/11/2016 at 21:43:11
Getting his excuses in. Stop moaning and earn your MASSIVE wage, you idiot.
Anthony Hughes
39
Posted 12/11/2016 at 21:50:33
Hey Ronald – no Champions League, no Europa League ... and hey, no fucking League Cup mate. Stop fucking moaning and accept all teams have the same problem and start earning your fucking big wedge you're pocketing.
Do you know what? I had a couple of drinks tonight with my Arsenal mate and even he's said "What is this guy's problem?"
.
Steavey Buckley
40
Posted 12/11/2016 at 22:18:01
Coded message for Koeman regret not signing enough quality players during the last transfer window. In truth, the Everton squad is still relatively large, but quality rather small in numbers.
Gary Willock
41
Posted 12/11/2016 at 22:25:46
Here's an idea; spend the next 9 days working with the U23s and maybe bring some of them through to cover those injuries, instead of sitting on your fat arse whining how your small far traveling (your bad!) squad will suffer.
Too much like hard work when you can just make advanced excuses eh!?
Motivate yourself. Stop living off 20 years ago. That's for the Red Shite.
Steavey Buckley
42
Posted 12/11/2016 at 22:32:20
Only recently, the Everton Under-23s were thrashed 4-1 at home by Norwich Under 23s and dumped out of the EFL Trophy by Cheltenham and Blackpool. Sorry, the Under-23s are not good enough for an ambitious manager like Koeman.
Gary Willock
43
Posted 12/11/2016 at 22:38:30
Steavey – and without coaching and the chance of 'making it' in the first team would you be arsed?
Peter Gorman
44
Posted 12/11/2016 at 23:11:18
Steavey, we've been over this... no, nevermind, I can't be bothered.
Steavey Buckley
45
Posted 12/11/2016 at 23:30:32
David Unsworth has shown what a good manager and coach he is, but he can only work with players brought to him by others. George Best by the age of 10 years of age was a footballing genius; by the age of 18 years of age he was a footballing superstar.
Instead of Everton just filling the academy with players to make up the teams, they should be looking for the next George Best, Alan Ball and Wayne Rooney, to play them alongside others in the first-team squad to get them ready for first-team action.
Because today's Premier League teams just can't hang around waiting for young players to mature, when there are ambitions on the field to be fulfilled immediately by winning 3 points.
When Everton were thrashed by Chelsea, all of Chelsea's players were seasoned pros. before joining Chelsea. Such as Pedro from Barcelona, Costa from Athletico Madrid and Luiz from PSG.
Brent Stephens
46
Posted 12/11/2016 at 23:56:56
So the logical conclusion is let's go and buy the Costa's, the Pedro's, the Luiz's. And the money for that? And the attraction for them to join a mid-table club?
Steavey Buckley
47
Posted 12/11/2016 at 00:09:15
Brent. The top clubs don't usually bother with academy players, because normally they are never usually ready for the demands of qualifying for the top 4 and the Champions League.
On a personal note, I would only have Everton Under-18s and Under-16s teams but a larger Everton squad to absorb very talented young players 18 and over to develop more quickly by being around more seasoned pros from the first team.
After 1 year, their situation is assessed; if they need more time, sent out on loan on probation. Then, if their loan move does not develop them to the standard of the Everton first team, released to find another club to further their footballing ambitions.
Because in the Premier League, footballing matters move very fast indeed. One minute a team could be doing quite well, then the next, falling down the league due to injuries, loss of form and suspensions.
John Daley
48
Posted 13/11/2016 at 00:12:24
"George Best by the age of 10 years of age was a footballing genius"
Was he? Had he had his hole as well?
Seriously Steavey, you don't half come out with some whoppers.
Steavey Buckley
49
Posted 13/11/2016 at 00:35:42
At the age of 10, George Best could dribble, pass and shoot with both feet with great accuracy. The average professional footballer, usually, favours one foot over the other.
At 15 years of age he intimidated Man United first team players in training by dribbling past all of them as if they did not exist.
At 16 years of age he made his league debut. Yet, he was never coached by anyone how to play football, he did it all by himself.
So if a player is good enough, he does not need that much coaching. Just a few hints, here and there. Usually, most players get it from other players.
Michael Long
50
Posted 13/11/2016 at 02:06:40
I'm sorry but a break... seriously???
These so-called managers and players want a winter break yet they're earning millions a year and thousands a week for running around a pitch for 90 minutes. Is this what it has come to?
Do you really think that people who have two jobs or people in the emergency category such as policemen, firemen, nurses, doctors and so on want a winter break. Yes, but guess what? They don't, and they earn way less than footballers, non stop.
It's just players being little shitbags who can't handle the weather or think that running around a pitch for 90 minutes (some don't even last that) is too much work.
If you said to me you are earning at least 30 to 40 grand to week to run and kick a ball on a football pitch for 90 minutes, or just sitting on a bench doing shite all or playing just half-an-hour, I wouldn't even hesitate about tiredness or lack of game time because you know it may be cold but your running to keep you fit and warm.
Does my head in. Truly does my head in, the gang of cowards.
Phil Sammon
51
Posted 13/11/2016 at 02:17:40
Steavey,
So why not scrap coaching as well then? We'll just sit on our hands until the next George Best comes along.
How would George have coped in the modern game, turning up on match day half-cut?
What does this anecdotal bullshit about a 10-year-old have to do with anything? Go ask Ross Barkley's coaches about him growing up. They speak equally glowingly.
Alan J Thompson
52
Posted 13/11/2016 at 03:47:12
Didn't we do away with the "Academy" under Kendall as the Board looked to cut costs and we lost Fowler, MacMannaman, Owen, Carragher et al to those who play on our old ground?
The Academy pays its own way but, as other sports are finding, some juniors' coaches merely want to produce clones rather than improve natural talent.
Eugene Ruane
53
Posted 13/11/2016 at 08:11:20
I was thinking recently if might be a good idea to relax our gun laws, make it easier for people to buy automatic and semi-automatic weapons.
Then I read Michael Long's post (50) and thought probably best to leave things as they are.
(Seriously, one unhinged vent... get a fucking grip – footballers get paid more than nurses, life's not fair, we know!)
Si Murphy
54
Posted 13/11/2016 at 08:14:18
Ronald, it's exactly the same for every other club you're playing, that's why you have a squad not a team, and we don't play in Europe.
My point is, what's your point? Or are you just starting to get the excuses lined up for a poor performance?
Kevin Day
55
Posted 13/11/2016 at 09:34:02
I wasn't convinced with Koeman's appointment, I thought it was quite uninspiring in all honesty. Yes, he has done it over in Europe, but also struggled at a few clubs too.
The Premier League is a different kind of beast, as we all know. It's been a graveyard for many a respectable manager from the continent: only a select few have come over and kept their reputation in tact.
My point is, those who have done well, are managers that have wanted to be at their selective clubs and it was a good fit. Koeman stinks of a guy who's realised just what a massive job he has on his hands, but also joins a club with higher expectations and ambition than those at Southampton.
He saw the size of a contract on offer, not the size of the task.
Andy Meighan
56
Posted 13/11/2016 at 10:29:22
John (#48).
Best probably had his half by then and a few sherbets as well...
Jim Wilson
57
Posted 13/11/2016 at 11:08:20
Very worrying comments i.e. Koeman will start the squad rotation shite that never works just fucks up the team progress further.
Fixture congestion never worried the 84-85 team which won nearly everything and when the game was much more physical.
Max Murphy
58
Posted 13/11/2016 at 11:27:45
What bollox! Reasons for failure now registered.
I just wonder how the club would be doing if the back-room staff of Ferguson, Unsworth etc. had been running the team.
Fran Mitchell
59
Posted 13/11/2016 at 11:42:42
People going seriously over the top. Christ I hate international breaks.
All the top managers complain about the lack of a winter break and fixture congestion. And yes, it affects Everton even more because we don't a have squad with 㾶- or 㿀-million players as back up.
Again, people read far too much into it. Is he making excuses? No. He is talking to a Dutch newspaper, and they ask a question regarding fixture congestion and he answers.
Really, this is getting pathetic.
And Jim Wilson "fixture progress never worried the 84-85 team" ... yeah, neither did they run an average of 10-12 km per game. The game is much 'fitter' nowadays, and with the tactics of 'pressing' taking a central role, then fitness is even more important.
The players need to be able to run and run and run for the 90 minutes. This is what Koeman is attempting to instill, so of course having players play 2 games in 3 days will be a cause of concern.
Chris Corn
60
Posted 13/11/2016 at 11:45:39
Sorry, but what has he said that umpteen managers over the years haven't said about English football? The Premier League are considering a winter break as a result.
In all fairness, the fact that English clubs are generally pissed on by European clubs in the Champions League lends credence to that.
The pay issue is neither here nor there. The top European players get top dollar but are revered albeit they have the said winter break, yet we are calling people cowards because the usual suspects now have Koeman in their cross hairs.
When he came out and said he leaves contracts etc to the board, everyone was loving him as a man of integrity in a sea of corruption. Now he's a twat for speaking the truth.
This forum just sums up why we post anonymously and they are top of their profession. Ultimately none of us know anything about top level football and its inner workings. Some of the opinion on here proves that is plainly obvious.

Dave Brierley
61
Posted 13/11/2016 at 11:52:53
ER (#17) "Mate of mine runs one of those 'strip-o-gram' companies.
Anyway last night he asked me if I knew anyone who could do a good outraged-o-gram."
I think he was offering you a job, Eugene.
Bobby Thomas
62
Posted 13/11/2016 at 12:00:30
Every manager says the same every season, this isn't news and hardly an outlandish comment by Koeman. Guardiola has already commented on the amount of games. However, that was in terms of that the Premier League isn't better or tougher than the Spanish league, there's just more games.
Klopp's mentioned it, the amount of games, or scheduling, I think. However yeah, these managers are balancing heavier programmes than we have, granted! But there's something in it, definitely. With the FA Cup, it's 5 games in 20 days or something, which for me is a is a little much.
Under Moyes, I noticed that we tended to drop off after the Xmas/New Year as injuries and fatigue set in and we were running smaller squads. However, I think its a MUCH bigger deal for teams playing European football, which to be fair to Moyes we were sometimes under him. It's long been a complaint of managers that our schedule doesn't help our teams playing European football, and I think its a valid one.
I think the best thing to do would be keep the Xmas/New Year programme as it is and have a 2 week break after that. As something would have to give to balance that out, I'd move the FA Cup back and make it straight knockout, ditching replays entirely so it's sorted by pens after 120 minutes in the first game. It would give it a much needed kick up the arse.
Brian Furey
63
Posted 13/11/2016 at 12:05:45
Very sad reading how people are already turning on Koeman. We've had the best start to a season in years but, all of a sudden, many think he's not up to the task.
Maybe we should just relax and give him to at least Xmas.
Brian Harrison
64
Posted 13/11/2016 at 12:24:07
I don't know if its the inclusion of so many foreign players and mangers to our league, but before this influx started I don't remember too many complaints about a winter break. The games over the Xmas period were usually 2 games in 2 or 3 days, and the same over Easter.
Now we have bigger first team squads than ever, so surely you would think that teams are better equipped than say 30-40 years ago. Also we now have the possibility of using 3 subs in a game, unlike the early 60s when no subs were allowed.
Michael Plant
65
Posted 13/11/2016 at 12:26:26
At least he used the term 'my team' and 'we' when talking about Everton, its a start, right .
Peter Gorman
66
Posted 13/11/2016 at 12:39:54
"I don't know if its the inclusion of so many foreign players and mangers to our league, but before this influx started I don't remember too many complaints about a winter break."
I remember those days before the inclusion of so many foreigners and not with great fondness.
This time of year you'd expect to see players running around kicking the ball up into the air, or each other, all on a pitch resembling a beach at low tide.
Paul Burns
67
Posted 13/11/2016 at 12:52:14
Outraged-a-gram is my default condition.
Eugene Ruane
68
Posted 13/11/2016 at 12:52:19
Dave (61) -
'I think he was offering you a job Eugene'
Touché Oscar.
Tut - and they reckon satire is dead (shakes head disbelievingly)
Guessing before you posted that you thought "He said a joke about someone being offered a job, so..um.. I'll say 'no it was you who was offered the job, hur hur.'"
Genius!
Big fan of Pee Wee Herman I'm guessing - Link
Dave Brierley
69
Posted 13/11/2016 at 13:11:50
ER (#68), Didn't give it quite that much thought, Eugey, but thanks for the compliment.
Actually, I was quite surprised that you had a mate.
Eugene Ruane
70
Posted 13/11/2016 at 13:28:44
Dave (69) -
'Actually I was quite surprised that you had a mate.'
Chortle etc.
Actually I was quite surprised you could type with hooves (and would be staggered if you could breathe through your nose).
Nicholas Ryan
71
Posted 13/11/2016 at 13:34:46
Haven't we registered a squad of 40-odd with the Premier League, to deal with exactly this problem?
Steve Carse
76
Posted 13/11/2016 at 14:05:37
This old chestnut.
We won the league in 1970 having used just 15 players FFS. Players didn't receive all the latest medical treatment, dietary improvements etc then. The game was relatively slower then but then so were levels of fitness so each match played was just as gruelling as today for the players.
The idea of a winter 'break' makes me laugh. The players would still need to train. And Clubs would be off on marketing jaunts playing games in the middle and far east etc, something which apparently currently explains why modern players are knackered after travelling even short distances to play European games.
Most intriguingly though, when would the break take place? Well, logic would suggest the middle of the season, some time in January. But what about fixture congestion should there then be a few subsequent fixtures lost to snow and ice (hardly uncommon weather conditions right up to end of March, and impossible to predict)? What a mess that would create. We could end with teams then having to play 3 games a week. We might see the season having to be extended. How would that work if it was a Euros or World Cup year?
Funny too how the intensity of the Premier League and the absence of a mid-season break are often put forward as explanations of the national side's pathetic performances in the Euros and World Cup when there are numerous Premier League players in other national sides that perform exceptionally well in these tournaments.
Leave things as they are. And end the FA Cup taking the hit and being the fall guy when trying to solve what is at the end of the day a non-existent problem.

Patrick Murphy
79
Posted 13/11/2016 at 14:06:31
I've just had a look at Everton's Premier League record in the last decade and from this I have seen that the average total points return from Everton's first 11 Premier League matches is circa 17. The highest number of points gained at the eleven game stage is the 20 achieved in Martinez's first and second seasons. Koeman has 18 points from the same number of matches, the least number of points garnered for that period is by Moyes in 2011-12 with 13.
For the next eleven matches (numbers 12 to 22 inclusive) the average return is circa 15 points, the best return was 23 points which David Moyes achieved in 2008-09 and the lowest was the 9 points garnered by Martinez in 2014-15.
That would mean that Koeman's men would have to be on circa 31 points from 22 matches in order to maintain the average for the past 10 years. The highest tally of points, 42, was gained in Roberto's first season and the lowest was the 23 points earned by his team last season.
If Ronald can glean the equivalent of four victories and a draw from the next eleven matches he will have maintained Everton's decade long average points tally, 31; however eight or more wins from those games will mean that Koeman's Everton will be matching Roberto's best season at that stage.
Paul Kossoff
82
Posted 13/11/2016 at 15:18:54
John 48, 'Had he had his hole as well?' I didn't know George Best played golf?
George Cumiskey
84
Posted 13/11/2016 at 18:39:10
If they do have a winter break, then they must ensure that there will be none of those money-grabbing friendlies all over the world that the Premier League loves so much. Or it will be a complete waste of time!
Paul Kossoff
85
Posted 13/11/2016 at 19:54:58
Patrick (#79), thanks for putting that info up.
Jim Wilson
86
Posted 13/11/2016 at 20:10:15
Spot-on, Steve Carse. It really is bollocks.
The 84-85 team ran around as much as any team today and when the game was much more physical. It needed no squad rotation, it was the winning of games that kept them going.
The Arsenal and Man Utd manager started all this nonsense, copied by all the young foolish managers. Leicester didn't worry about squad rotation last season but just kept the same team game after game.

Chris Corn
87
Posted 13/11/2016 at 20:47:53
Jim (#86), the game was dirtier 30 years ago. I'm not having the players were as fit and the game is much quicker now. British players drank like fish and ate poorly. Many of them were done by time they were in their late 20s, early 30s, many with injuries because they were filled full of cortisone and played through all sorts of pain.
I also remember the likes of Reid, Ratcliffe and Sheedy getting a dog's life from the crowd in the late '80s / early '90s when the glory days were over and their legs had gone.
Yes, top players are well looked after now, but I wonder how many of them will need new knees and hip replacements etc, like many of the old guard have.
Eugene Ruane
88
Posted 13/11/2016 at 22:51:11
I can hardly sleep with excitement, waiting for the next thread that'll get the burst blood-vessel venters going.
KOEMAN SHITS ON lav in EVERTON!!! training facility.
Followed by..
Steavey Buckley
89
Posted 13/11/2016 at 23:07:58
Phil Sammon: In the past 15 years, Rooney, James Vaughan, Victor Anichebe and Rodwell all made their league debuts as 16- and 17-year-olds. How much coaching did they need to start so early in their footballing lives as first team player?
So if coaching is so vital in the development of young players, why aren't there more players at the academy making their Premier League debuts? Or is it because natural talent can't be taught but comes naturally?
Peter Murray
90
Posted 14/11/2016 at 00:25:13
What's all the fuss about? The manager is only making the point that, unlike the rest of Europe, the English Premier League has no Winter break, thus creating a greater possibility of injuries and burn out.
Steavey Buckley,
No club has ever achieved consistent success just through importing players from outside and neglecting youth development. We may have bought Ball in our "Millionaire Club" days but in and around that period we also produced Colin Harvey, Joe Royle, Jimmy Husband, Tommy Wright and Brian Labone.
Steve Carse
91
Posted 14/11/2016 at 10:53:00
Thing is, Peter (#90), if Everton have an early FA Cup exit on top of their early League Cup exit, then our season would only have consisted of 41 games. That's hardly going to burn anyone out! The clubs involved in Europe will possibly play more like 55-60 games.
In other words, a club like Everton takes its breaks by failing in cup competitions!
John Daley
93
Posted 14/11/2016 at 13:23:38
"KOEMAN SHITS ON lav in EVERTON!!! training facility."
I'll give it 8 posts or so before someone's straining like mad to provide a more palatable, alternative take on proceedings:
"Like Koeman would sink so low as to stink the communal bogs out without any regard for his co-workers? As if!!!
Open your eyes wider than your nostrils.
What knee-jerker's have rushed to label a 'noxiously rancid floater' can rather be considered an avant garde arse piece, if you take the time to appreciate it properly.
It may look like shit, smell like shit and, when asked what he'd been up to recently, Ronald might have replied "taking a shit", but a more 'reasoned', 'measured' approach reveals a log laden with multiple hidden meanings and messages."
..before sitting back to see if anyone's ready to swallow it:
Eugene Ruane
94
Posted 14/11/2016 at 13:55:24
John, that picture's familiar, think it's from a Bill and Jenny vanity project from a few years back, a book called "Kookin' with the Kenwrights – 100 ways to serve up shite".
Fairly sure that's 'Turd Roberto' – sun-dried, served on a bed of tarmac with a light bird-shite jus ("Hi, I'm Elsone, I'll be your waiter this eve..")
Completely separate, I was just reading about this chap:
Sum of the parts, no stars, only 28, interesting – specially as I can already sense tennis balls being rolled around Captain Queeg-style by many a TWer.
(Well... those with very big hands.)
---
Add Your Comments
In order to post a comment, you need to be logged in as a registered user of the site.
Or Sign up as a ToffeeWeb Member — it's free, takes just a few minutes and will allow you to post your comments on articles and Talking Points submissions across the site.