Stewart joins Walsh's team as senior recruitment co-ordinator

28 Comments [Jump to last]
Tuesday 15 November 2016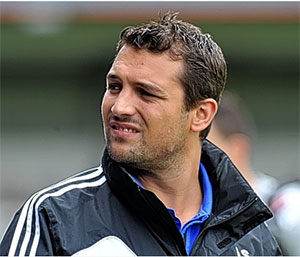 Everton have appointed ex-Manchester City analyst Laurence Stewart to the club's scouting setup where he has reunited with Steve Walsh.
The pair worked together at Hull City a few years ago and Walsh has now brought his former colleague to Finch Farm where he will take on the role of senior recruitment co-ordinator.
A technical analyst of players' strengths and weaknesses, Stewart was until recently Head of Performance Analysis at the Etihad Stadium and has experience working for the England national team during the 2014 World Cup and is expected to bring his organisational and scouting expertise to Everton.
---
Reader Comments (28)
Note: the following content is not moderated or vetted by the site owners at the time of submission. Comments are the responsibility of the poster. Disclaimer
Bob Parrington
1
Posted 16/11/2016 at 07:53:14
At least there seems to be no restricted time windows for adding to non-playing staff. Good to see Walshie attract a person, whose experience and expertise he trusts.
Welcome Laurence!
Onward and upward. Nil Satis Nisi Optimum!
Mike Berry
2
Posted 16/11/2016 at 09:03:23
Excellent planning for the future and putting the right structure and people in place. In time I am sure it will show dividends.
Dave Williams
3
Posted 16/11/2016 at 09:14:27
Why the picture – isn't this Paul Stewart ex Spurs and RS?
Martin Nicholls
4
Posted 16/11/2016 at 09:17:29
Dave (#3) – looks like him to me as well unless our Laurence has a doppelganger!
Alan J Thompson
5
Posted 16/11/2016 at 12:51:22
Couldn't Dr Wint have done this?
Ralph Basnett
6
Posted 16/11/2016 at 15:02:57
Great, more back room staff.
At this rate their will be no money left for transfers!!!!!
Dave Abrahams
7
Posted 16/11/2016 at 15:13:28
Worked for England during the 2014 World Cup? That worked out well. Got to see how these appointments turn out but seems like it's "jobs for the boys" to me.
Dean Williams
8
Posted 16/11/2016 at 15:37:55
Whoop de fuckin doo. Moshiri seems to have no problems recruiting staff for off the pitch, shame we didn't do the the same (pre transfer window closing) for staff on it.
This is becoming a Moneyball business. Gone are the days when a player could be bought by just the manager and his judgement.
I for one could have told you that Mr Bolasie was too inconsistent for a side hoping to challenge at the top end... And as for Sunderland's Kone, steer well clear of that one. Should I be given a job too?
Go on... Giz a job.
Des Farren
9
Posted 16/11/2016 at 15:56:49
Yes Dave."Senior recruitment co-ordinator" does strike me as a made up title. I was a co-ordinator once. Did not work out well.
Jay Harris
10
Posted 16/11/2016 at 16:08:18
Its no wonder the club cant get on track again.
Everything they do is criticised and ridiculed.
After 20 years of Kenwright and cronies, I welcome any change that is aimed at bringing us success.
Dave Abrahams
11
Posted 16/11/2016 at 16:54:31
Des (#9), yes, I know what you mean. I worked on a large building site as a storekeeper for an electrical company. Halfway through the job, my firm left and were taken over by another company. I was told by the new boss I was to become "the store co-ordinator" on the job.
"Great." I said, "how much of a rise am I getting?"
"Oh you'll be on the same money but the title will look good on your CV"
"Thanks, me mam will be made up with that." l told him; same job, new title.
Darryl Ritchie
12
Posted 16/11/2016 at 17:03:55
I think these appointments could be an indication that Kenwright is being eased out of the transfer set up.
Mick Davies
13
Posted 16/11/2016 at 18:57:31
Jay @ 10,
After 20 years of Kenwright and cronies, I welcome any change that is aimed at bringing us success
Don't you think that it now looks like Moshiri and his cronies, but with Kenwright still there? We've never needed a Director of Football (thought that is what we've always known as a 'manager'), now we have a senior recruitment co-ordinator!
It seems to me that there is too much money to burn in this sordid 'sport' and too many chiefs; it's just a pity that the taxpayer is being cheated by some companies who create second-rate schools, community projects and unnecessary well-paid posts to fritter money away and save paying their dues.
Pete Edwards
14
Posted 16/11/2016 at 19:22:58
Jesus there will be people on here moaning when we move in to a new 60k-seater stadium on the water front because it isn't a 60k and 1 seater!!
Being and Evertonian is hard!!
Phil Walling
15
Posted 16/11/2016 at 20:03:46
How long before we see Unsy, Sheedy, Big Dunc et al 'get the pedaler' to pay for these football 'academics'. Is Joe Royle still around?
Mick Davies
16
Posted 16/11/2016 at 20:13:00
Pete @ 14, you can either ignore the ridiculous events over the last few years and dream on that everything's cosy in the newly-clad Goodison soap opera, or you can be concerned when strange decisions and comments are being made by those in positions of importance at our once-great club... As for the stadium, have you seen a plan yet? A single brick laid? Or even a site decided on yet?
Tony Abrahams
17
Posted 16/11/2016 at 20:43:51
I was only a little kid in those days, Dave, and used to wonder why we had so many drills in the house, especially considering you couldn't even put a nail in the wall!
Pete Edwards
18
Posted 16/11/2016 at 21:13:09
Mick @ 16 – do you not think a different approach is and has been needed? You yourself used the words "ridiculous events"... surely then something like this should be taken with an open mind.
And no, I haven't seen any plans or a single brick... what I have seen is a majority shareholder who is a million (billion) times more likely to get us a brand spanking new home than the last regime and your comments only strengthen my view that there will be some on here (probably you included) who will complain about it not being a 60,001-seater.
To take your comment on strange decisions and comments ,give me Koeman and Moshiri every day of the week over Martinez's and Kenwright's mumblings... now there was a soap opera!
Tony Dove
19
Posted 16/11/2016 at 22:22:21
Worked for England in the 2014 World Cup. There must have been a big queue for his signature!
Tony Dove
20
Posted 16/11/2016 at 22:26:58
I missed the Hull link. This guy has got some CV.
Ray Roche
21
Posted 16/11/2016 at 22:52:52
Dave (#11),
My Dad was a "Private Property Nocturnal Domestic Appliance Re-locator"

He was a burglar.
Albert Perkins
22
Posted 17/11/2016 at 04:16:56
It's obvious that us ToffeeWebbers could run the club much better than the crowd in charge now. We have far better knowledge and expertise than any at the club. I am astounded that they don't see it.
The system is not working for us fans, who pay their wages and support the team. Fortunately the world is changing in our favour and we can make a move like the Brexits and Trumps and just do whatever the hell we want.
Let's make Everton great again!
Albert Perkins
23
Posted 17/11/2016 at 04:19:24
Or we could trust that everyone at EFC are doing their best.
Gary Edwards
24
Posted 17/11/2016 at 10:33:10
Seems like Larry wasn't the only appointment. From the club website:
" (Martyn) Glover occupies the role as Chief Scout at Finch Farm, having spent time working alongside Walsh earlier in their careers at Sunderland.

"They are really good people and I'm really happy to have them here at the Club" said Walsh.

"I worked with Laurence previously at Hull City and he brings a great depth of technical knowhow, experience and overall knowledge.

"The same with Martyn who has been at Blackburn Rovers, West Ham, Leeds and Sunderland.

"They are really good guys to have on board."
... and this doesn't smack of nepotism ?
On the basis of what we're being told these guys don't seem to be the inspirational appointments. Hull, Leeds & Sunderland FFS, is that what we now aspire to?

Alan J Thompson
25
Posted 17/11/2016 at 13:20:43
Fair does,Gary (#24), Walsh is in his 60s so the other two have to share the mini-bus driving.
Gary Edwards
26
Posted 18/11/2016 at 12:10:55
Lol... great, a bit of Freddie "Parrot Face" Davies... class!
Steven Jones
27
Posted 18/11/2016 at 20:57:49
Some negative comments on this thread beg the question as to what these people know about the selection process, the credentials and profile specification, budget and the alternative candidates the for the roles.
Plainly we have added professional depth to the recruitment process.
This has to be a positive move.
Anyone criticising needs to identify who would better – otherwise stop drinking and talking bullshit.

Dave Abrahams
28
Posted 18/11/2016 at 21:47:00
Steve (#27),
I hope you are correct about these additions to the scouting set-up. Hand on your heart had you heard of this new scout/ analyst before, or even Steve Walsh, before Leicester came to prominence last season?
I heard Everton payed ٠M compensation to Leicester for Walsh, paper talk I know, but if true we should be destined to see some great signings in the near future.
---
Add Your Comments
In order to post a comment, you need to be logged in as a registered user of the site.
Or Sign up as a ToffeeWeb Member — it's free, takes just a few minutes and will allow you to post your comments on articles and Talking Points submissions across the site.