Gueye aiming to break his scoring duck

38 Comments [Jump to last]
Wednesday 23 November 2016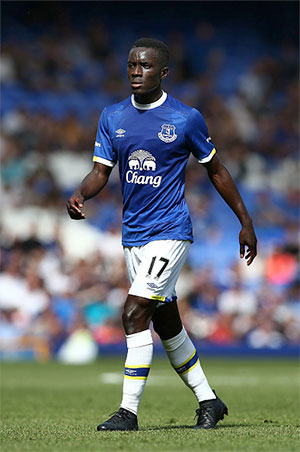 Without a goal since joining Everton over the summer, Idrissa Gueye reveals that Ronald Koeman has been urging him to get forward and get on the scoresheet.
Primarily a defensive midfielder, the Senegalese international has been a revelation since he signed from Aston Villa for just over £7m but he has just one assist to his name thus far in terms of offensive production.
With Koeman usually deploying two holding midfielders, Gueye often has license to push on and almost scored what would have been a priceless goal against Crystal Palace at the end of November but was foiled by a well-timed defensive block.
His wait for his first goal for the Blues goes on but he has been putting in extra work on the training ground for when his next chance arrives.
"I know I need to score because when you are in midfield you do your job and you have to score some goals," Gueye told evertontv. "I work every day and I work after training and try to score.
"But if Romelu or another player scores and we win the game, then that's the most important thing for me. If I can score, of course I will do it."
"[I normally score] one or two goals [a season] so, if I can do it (for Everton), it will be good for me. But the most important thing for me is the team and if we win every game and I don't score, I don't mind.
"The manager tells me every day to go forward, to try to press and to score a goal, so I try to do it."
The 27-year-old also spoke in glowing terms about his central midfield partner, Gareth Barry, who is eligible to play again this weekend after serving a one-match ban in last Saturday's home draw with Swansea.
Gueye credits the veteran as being the vital cog in the Everton machine and says he is learning from him all the time.
"Gareth, I can say, is the most important player in the team," he explained. "Without him, we don't play the same. We need him and his experience.
"I have learnt a lot [from him]. He keeps the ball and never loses it. He's a clever player.
"He doesn't need to talk to me because I just look at him and try to learn from everything good that he does, then I try to do the same."
---
Reader Comments (38)
Note: the following content is not moderated or vetted by the site owners at the time of submission. Comments are the responsibility of the poster. Disclaimer
Andrew Presly
1
Posted 23/11/2016 at 08:48:31
That bit about them never talking to each other is no surprise. It's the same with Jags and how he runs the back line. Too quiet and too nice. All leading by example or similar.
I'm amazed they've got to "this level" which that approach. Gives me the impression of a bunch of guys each doing what they need to do to hang on to their contracts or get new ones rather than a team who are working to win things together. Only exception is Lukaku who now Stones is gone is the sole guy playing for another reason, to get the hell out.
Get 2 or 3 contracts out of Everton, win nothing and retire, multiplied by about 15. Great!
Sam Hoare
2
Posted 23/11/2016 at 09:04:11
Scoring isn't your job, Idrissa, to be fair, and you're one of the few players who has been doing his job consistently well this season.
I wouldn't say no to a goal or two but keep winning tackles, covering ground and making interceptions, and everyone will be happy. Cracking start to your Toffee career.
Damian Wilde
3
Posted 23/11/2016 at 09:15:12
I do think we missed Barry against Swansea.
Joe O'Brien
4
Posted 23/11/2016 at 09:24:36
Other that the rest of his game, shooting isn't the best. We could be waiting a while to see a goal from him. He's been a great signing tho. Would love to see how he would link up with Davies in midfield. There would be a lot of energy there between them and Barkley.
Tony Cheek
5
Posted 23/11/2016 at 09:47:04
I don't agree, Sam, it is his job to score, or should we say a big part of it. Why do we always buy midfielders who work, tackle, and break down the opponent's game, but are absolutely hopeless in and around the box? Gueye and McCarthy are good examples of this!
Is this not what Klopp is doing across the park? His squad is full of players good at putting the ball in the back of the net. We have Lukaku on a good day!
Andy Meighan
6
Posted 23/11/2016 at 10:27:56
Might have another Hibbert on our hands here. Seriously though he's been good so far but our midfielders do need to start weighing in with a few. It's not good enough.
Brian Harrison
7
Posted 23/11/2016 at 10:34:39
Without doubt he has been a big plus for us this season, but Koeman is right that he just needs to add goal scoring to his game. I am pleased to hear that Koeman is encouraging Idrissa to get into the box.
Ralph Basnett
8
Posted 23/11/2016 at 10:47:41
Another Hibbert I think, but only for the fact that our defence is so crap he can't get forward to score!!!!!!
Sam Hoare
9
Posted 23/11/2016 at 11:25:36
Tony, he was brought specifically to be a ball winner. That is his primary job for the team. He is a defensive midfielder. Of course scoring goals is part of winning and therefore another aim for him but every team has to have a balance.
We usually play three attacking midfielders and a striker's who's primary job it is to score and create goals. We buy lots of attacking midfielders (McGeady, Bolasie, Mirallas, Deulofeu, Lennon etc) the trouble is that not enough of them are good at finding consistent end product.
As for Klopp, he usually plays one of Henderson or Lucas who's primary job is to break up play and set attacks into motion.
Clive Rogers
10
Posted 23/11/2016 at 11:38:46
He has only scored 7 goals in his entire career so don't hold your breath. He never scored for Villa. He's just not that type of player.
Brian Harrison
11
Posted 23/11/2016 at 11:52:29
Sam
I think if we rely on our front 4 for goals then we are in trouble, the goal return from them is abysmal. Both Coleman and Barry are the second leading scorers with 2 each. Most top teams score goals from all positions, and we need to be looking for goals from all our players.
Also the top teams have 4 or 5 players in the opponents box at times yet we are lucky to have 3 other than a corner. When you are prepared to throw men in the box it also gives you alternatives, but too often we are totally reliant on Lukaku and seems when he doesn't score we struggle. So, rather than say oh he is a defensive midfield player so any goal he scores is a bonus, we should be saying we want 4/5 goals minimum from our 2 defensive midfield players. Look at our neighbours – all their midfield and forwards are scoring on a regular basis. So if we have any ambitions to challenge the top 6 our mindset has to change to encourage more players to get in the box.
Brian Furey
12
Posted 23/11/2016 at 11:56:17
The lad has got talent as well as being a hard worker, so I think he should be at least trying to score more. It's not as if he doesn't get up in the other team's box. A lot of scoring is psychological and it sound like for a long time he just thought he's not good at it and so doesn't shoot as much as he could.
Barry has two this season already and so does Coleman now but a lot of our attack-minded midfielders are struggling to score this season so far... so I would love to see him shoot a lot more and stop thinking it's not for him.
Ernie Baywood
13
Posted 23/11/2016 at 12:14:35
I don't agree with a lot of the posts on here. He's a Premier League midfielder – you have to expect more from him than just being a ball winner.
It's evident that we don't accept Ross 'just' creating chances or Rom 'just' scoring goals. Hibbo was criticised for 'just' defending. We expect a bit more of a contribution to the team from all areas.
I don't know if Gana has it in him. Early on he was pretty dynamic from midfield and was supporting the attack... that seems to have faded at the same time as our form. We'll see. It will be the difference between being a solid team player and being a very good player.
Tony Cheek
14
Posted 23/11/2016 at 12:25:55
See what you mean, Sam, but we DO need to have scoring players all over the pitch (à la Coleman). Maybe, when Gueye gets better players around him, he will be a goal threat too!
Patrick Murphy
15
Posted 23/11/2016 at 12:26:15
Bracewell and Reid scored 15 goals between them in some 250 appearances for Everton, which could hardly be considered as prolific. However, ahead of them they had Sheedy, Steven, Sharp, Gray and Heath et al who could all score plenty of goals.
That's what is wrong with our current team – not enough forward players who are capable of scoring regularly (if at all) – with the noteable exception of Romelu.
Gueye has done more than enough to merit the accolades he has received from the supporters and press alike, I shudder to think where we may be without having the lad in the team thus far this season.

Clive Rogers
16
Posted 23/11/2016 at 12:36:26
It's Bolasie who should be upping his game in terms of scoring. He's averaging only 1 goal every 10 games in the Premier League. Not what you would expect from a 㿇M player. He's doing okay for assists, but he loses the ball far too often in midfield and his shooting is erratic to say the least.
Gareth Clark
17
Posted 23/11/2016 at 13:06:04
Clive #16
Bolasie is doing a lot more than any other winger we have!
His attitude and effort has been great to see – the first goal against West Ham highlights it perfectly.
I think Bolasie is playing very well, he may lose the ball a few times, but he has to have to freedom to play to get the best out of him.
Looking forward to seeing Depay, Lukaku and Bolasie up front. Mirallas doesn't seem to be up to it, he isn't strong or skillful enough to compare to Bolasie... I'd like to see Deulofeu starting for the next few games, he needs a chance to shine.
Sam Hoare
18
Posted 23/11/2016 at 13:26:23
Brian@11. I'm not saying we should just rely on the front 4. Obviously a team should be looking to score from anywhere but there are players whose primary job it is to score and those who are there to fulfill other roles.
It is the front 4 who should be coming out and saying they need to score more. The likes of Bolasie, Barkley, Deulofeu and Mirallas have produced nowhere near enough end product, which is what they are there to do, unlike Gueye.
As for "Look at our neighbours – all their midfield and forwards are scoring on a regular basis". Not true at all. Of their defensive midfielders Henderson has scored 1 in 14 games this season and Lucas Leiva has only scored 1 in 227 games for them!
Whether we should be playing 2 defensive midfielders especially at home is a different question but I'd be very happy with Gueye if he carries on doing what he has been doing. Surely our best player so far this season?
Brian Furey
19
Posted 23/11/2016 at 15:57:14
Lack of goals around the whole team is a huge problem for us at the moment. Our back 4 is very goal-shy although Funes Mori seems to get a good few when he plays. Baines used to get a 6 or 7 each season but now he hardly even shoots. Coleman has done quite well but has the potential for more but again he doesn't get enough shots away for me.
Mirallas, Deulofeu and Lennon as we've all said so often this season have been a huge disappointment and don't even look like scoring, unlike Barkley. Bolasie seems to get a few shots in each match but he's always hitting them from far out or going for rockets. Surely a simple one two with Rom would suffice.
Maybe it's our style of play but as some said there seems to be very little movement or runs in behind Rom and so the players aren't getting in to shooting positions.
Brian Furey
20
Posted 23/11/2016 at 16:31:20
Here's the amount of goals our current team scored last season. It's not very impressive is it after Lukaku and Ross. Our back 6 very rarely score and, whilst I'm not a huge fan of Funes Mori, I just wonder is he worth taking a risk on even for his goal return.
Baines 2
Jagielka 0
Williams 2
Coleman 1
Barry 0
Gueye 1
Bolasie 6
Mirallas 6
Barkley 12 (More than Dele Alli 10, and also Lamela 11)
Lukaku 25
Kone 7
Lennon 6 (His highest ever in a season)
Funes Mori 5 (Should he be starting for Jags?)
Deulofeu 4 (My biggest disappointment)
Naismith 4 (left in January)
Cleverley 2
McCarthy 2
Clive Rogers
21
Posted 23/11/2016 at 16:39:37
Gareth (#17),
I agree he's better than all the others, but that's not saying much. I think he was greatly overpriced. He gives the ball away cheaply and has a poor goals return, even in the lower divisions.
Anthony Dwyer
22
Posted 23/11/2016 at 17:46:11
Would be great if Gana added goals but, if he was to hit double figures and keep up his current form, he'd be off to Real Madrid.
We are so short on goal-getters it's scary, IMO Barkley should start week-in & week-out for his goal threat alone.
I also think Funes Mori should play as he's another goal threat. Defenders aren't judged on goals, but a lot of top teams play with a centre half who is a threat. Baines from set pieces, Coleman from open play are both good for 10 between them.
McCarthy, Gibson, Barry, Besic, Jagielka and Cleverly will be lucky to get 3 each. Lennon, Bolasie, Deulofeu all average about 5 a season and Mirallas used to be a genuine threat, but recently doesn't look likely.
January is looming and we have to add players who can add to our goal tally. I know we are miles off, but I remember Alex Ferguson saying you had to have 100+ goals within your squad to win a league title, we will be lucky to find 50.
Gareth Clark
23
Posted 23/11/2016 at 17:46:17
Clive (#21)
I will agree that his price was quite high...
But he is the best we have, and he gives a lot to the team!
Bolasie & Idrissa have added a lot of energy to the team, and that is quite difficult to do.
I also think Bolasie will only improve, as we get better players in around him.
Strootman, Depay, Carvalho, Van Dijk, L Kone, Ghezzal, Brahimi, Shneiderlin, Gabbiadini, Dolberg all being linked – hopefully we can get a few of them in, over January and the summer window. Along with a first choice keeper (Butland, Begovic or Hart) in the summer window.
We have a lot of room for improvement, that's for sure. But I, for one, am very happy with the position we are in, with regards to having Koeman in charge, with Walsh & Moshiri.
Peter Gorman
25
Posted 23/11/2016 at 18:45:55
We wouldn't even be having this conversation if the ref Anthony Taylor hadn't bottled it at home to West Ham.
Thought it was a great little one-two, if he carries on doing smart little things like that I'm sure he'll get his goal soon.
Oscar Huglin
26
Posted 23/11/2016 at 19:03:03
Andrew (#1),
I don't think he literally meant they don't talk. More of a "he's good enough that I only need to watch him to learn" kind of comment.
Clive Rogers
27
Posted 23/11/2016 at 19:51:57
Gareth (#23),
I am happy also with the staff and owners, but not sure Bolasie was what we needed. Hope I'm wrong though.
Paul Conway
29
Posted 23/11/2016 at 22:09:39
Gareth Clark (#17),
I agree with most of what you say, but...
Deulofeu needs a chance to shine! What?… Lukaku's boots! Don't you think this aspiring fancy Dan has had enough chances already? He is not even a reliable sub. Definitely one for the out-door!
Anthony Dwyer
30
Posted 23/11/2016 at 23:18:04
I think Bolasie was exactly what we needed; the problem is he was probably 㾶m over priced.
Another big problem is that Bolasie wasn't all that we needed; we needed at least one other wide player, at least one other forward, and at least one extra midfielder, plus a top class keeper that could be spoken about in the same breath as Hugo Lloris, Chec, Courtois and De Gea.
This isn't going to happen, I'm not deluded, but if we were to add Fraiser Forster, Cesc Fabregas, Memphis Depay and Kasper Dolberg to Bolasie, Gana, Williams plus the few players around the squad worth keeping, and we will have exactly what we need.
Alan J Thompson
31
Posted 24/11/2016 at 05:36:00
He could throw it out with the bath water.
Andrew Presly
32
Posted 24/11/2016 at 09:39:22
I wish I could agree, Oscar (#26)
Everything I see points to the fact these guys won't or can't and just don't communicate with each other effectively on the field. Looks pretty cliquey off the pitch too but that's more speculative.
It's a big contributor to the kind of stodgy, one-dimensional and ineffective football we've had to endure for nearly 3 years now.
Williams can do that at the back once Jags is taken out of the firing line. Then add a midfield general to eventually replace Barry, sadly looking increasingly like that won't be Besic, and a play maker with the balls to run a game.
They are out there. We need leaders and winners or the wait for a trophy of any description will go on and on. We're entering year 22 now...
John Raftery
33
Posted 24/11/2016 at 10:18:16
One reason why Gana cannot score goals is that his shooting is abysmal. That is why he is a ٥m player. Nevertheless if he gets into the box more frequently he will drag the opposing midfield back with him and leave space for others to come in behind him. I would certainly play Funes Mori for his goals. Defensively he is no more of a risk than Jags on recent form.
Gareth Clark
34
Posted 24/11/2016 at 10:41:20
John (#33),
You're delusional mate.
Idrissa has a lot of ability on the ball, and that is why he is a much better all round player than Kante!
Idrissa can pick a pass, run with the ball, and is very capable going forward... The thing holding him back, is Barry's speed (or lack thereof), which means that Idrissa always needs to in a position to cover.
I like Barry, but we need to find a replacement. Strootman fits the bill, and so does Davies.
Strootman in January would be perfect, it will allow Barry to take less of the matches, while Davies will become the second choice behind Strootman over time.
Cleverley is a decent squad player, but I don't see him breaking into the team, Davies is already better & more physical.
Paul Conway
35
Posted 24/11/2016 at 11:12:43
It's as simple as.. Most top teams can alternate successfully when they are missing important players, as they have strength in depth.
God forbid we don't have a situation whereby we don't have Lukaku, Bolasie and Gueye all unavailable.
IMO, apart from Coleman, the rest couldn't find the net if the opposition were all on Rohypnol!
Max Murphy
36
Posted 24/11/2016 at 12:47:54
World-shattering article. That really has me pumped up for another dismal & humiliating display at Southampton on Sunday.
Clive Rogers
37
Posted 24/11/2016 at 15:41:36
Paul (#35),
Bolasie and Gueye are off to the African Nations Cup in January for up to 6 weeks. Two down, one to go then.
Paul Conway
38
Posted 24/11/2016 at 16:43:21
Max Murphy (#36)
Don't be so glum! Look on the brightside!
Due to the fact that we are playing on Sunday, you won't have your Saturday night ruined.
Phil Roberts
39
Posted 28/11/2016 at 14:08:56
Given the serious physical danger of the guys in Row Z behind the goal from his shooting yesterday, I think we will have to wait a lot longer for his duck to be broken.
Colin Glassar
40
Posted 28/11/2016 at 15:18:30
How any professional footballer is unable to at least get a shot on target from 10 yards beggars belief. Didn't they play football as kids? I mean, it's the most basic of football skills.
Thinking of that, what about simply passing the ball? Are these dying skills – like tackling and jumping to head the ball?
Call me old-fashioned but most of these modern players are simply shite.
Add Your Comments
In order to post a comment, you need to be logged in as a registered user of the site.
Or Sign up as a ToffeeWeb Member — it's free, takes just a few minutes and will allow you to post your comments on articles and Talking Points submissions across the site.