Koeman not drawn on McCarthy's Everton future
Friday 2 December 2016

59 Comments [Jump to last]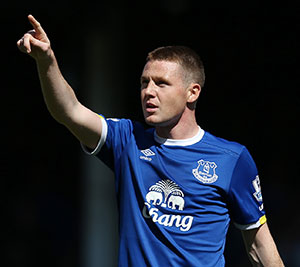 Ronald Koeman provided no enlightenment on James McCarthy's future at the club amid rumours the midfielder is seeking a January move.
The Irishman was the subject of much conjecture regarding his future over the summer but he ended up staying put, with Farhad Moshiri even citing as desire on the Blues' part to retain him as one of the reasons why a deadline-day deal for Moussa Sissoko ultimately collapsed.
Koeman has selected him regularly when he has been fit this season but has faced spells on the sidelines with a groin problem that required surgery in September and a subsequent hamstring tear.
Fresh rumour now suggests that he is angling for a move in the January transfer window but his current manager refused to be drawn on the situation, except to say that he hasn't had any conversations with McCarthy recently regarding his future.
"I don't know," Koeman said at his press conference today when questioned on the issue. "I did not speak with James about his situation.
"For a long time he wasn't available for the team. Even last week he had only two training sessions and this week... yes, he did train and is available for the weekend.
"About the future of James, the future of other players, new players... that is not the focus I need to show at this moment."
Quotes or other material sourced from Press Association
---
Reader Comments (59)
Note: the following content is not moderated or vetted by the site owners at the time of submission. Comments are the responsibility of the poster. Disclaimer
Chris Williams
1
Posted 02/12/2016 at 11:08:03
I saw the report that McCarthy wants out in January now. Part of the reason is stated as he doesn't like the way Koeman has told him and others that they're just not good enough. If true it might explain some of the performances recently.
Add in the fact that Moshiri named 4 players they failed to get in in the window, all attacking and midfield options, and you can maybe see more than a few noses out of joint in the current squad.
Ray Roche
2
Posted 02/12/2016 at 13:03:44
Chris, McCarthy has been strongly linked with Celtic, I suggested on another thread that a deal involving Dembele might be a suitable solution for both parties.
Chris Williams
3
Posted 02/12/2016 at 13:09:52
Ray,
That sounds like a good call.
Colin Glassar
4
Posted 02/12/2016 at 13:46:01
Dembele for Macca would be a great deal. Unless, Farhad steps in and says it could hurt Macca's feelings.
Brian Williams
5
Posted 02/12/2016 at 15:44:07
Have to ask "How lucky are we that we didn't get his supposed replacement in the summer transfer window?"
Sissoko has turned out to be a "right one" for Spurs (I'm glad to say). That would have been 㿊m right down the pan!
Small crumb of comfort for our present predicament!
Paul Tran
6
Posted 02/12/2016 at 15:59:09
Call me old-fashioned, but if someone told me I wasn't good enough, I'd strive till I proved them wrong. Isn't it the same for highly paid professional sportsmen?
Their alleged reaction tells me all I need to know. Truth hurts, close the door on the way out.
Gary Edwards
7
Posted 02/12/2016 at 16:06:36
I couldn't care less about McCarthy or what he says / thinks. We paid well over the odds when we bought him. Granted he was half decent for his first season, thereafter very average to poor.
Get rid and recoup what we can which I suspect will be very little... even in these times of inflated fees (because that's how poor he is).
Brian Williams
8
Posted 02/12/2016 at 16:07:43
Coiln. I think we'd have to add a fair few bob in that swap mate, but I'd do it without a second thought.
Tony Abrahams
9
Posted 02/12/2016 at 16:13:27
Not old-fashioned, Paul, it's just about having personal and professional pride.
Having loads of money, has just took away the fight away from too many good players. It's disgusting really, and for Everton to move forward, this type of player has definitely got to be taken away from "Our Club".
Kevin Tully
10
Posted 02/12/2016 at 16:22:21
During the second half of Martinez's first season here, I really thought McCarthy would push on and become club captain. That's how good he was as a defensive midfielder.
He's really gone backwards at a rate of knots over the past couple of seasons though, his confidence seems to be shot to pieces, which is a crying shame for all concerned. I remember Koeman giving him some stick for his crab-like passing during pre-season, always looking for the easy out.
Looks like he's a Sunderland signing just now, or a Burnley type purchase. An average player who 'will do a job.' Probably we'll still get 㾶-12m in today's market.
Aidy Dews
11
Posted 02/12/2016 at 16:22:35
Paul Tran (#6), my sentiments exactly! If that's the case that some have spat their dummies out cos they ca'nt handle a few home truths then it just shows the attitude of those players and how weak-minded they are!
Geoff Evans
12
Posted 02/12/2016 at 16:39:44
If Chris (1) is correct and Koeman has told some players that they are not good enough for this club (McCarthy being one), then good on him. Goodbye, McCarthy and good riddance.
Hopefully there's some truth in the Dembele rumour but don't hold your breath with the ex-shite man in charge.
Clive Rogers
13
Posted 02/12/2016 at 16:46:01
He was really poor against Swansea, no idea how to go forward. After the game, I couldn't remember him making a single tackle. He seems to have lost pace which has exposed his lack of ability.
Rob Lloyd
14
Posted 02/12/2016 at 16:51:27
Brian @ 5. I agree we dodged a bullet with Sissoko but it really worries me that we were so interested in the first place. Seems we still don't do proper research.
Andy Meighan
15
Posted 02/12/2016 at 16:53:22
Someone in work mentioned this a couple of weeks ago... that Koeman has told certain players, "As soon as I get my own men in, you're out." It's certainly looking that way given the performances over the last few weeks.
If it is the case, we haven't got much to look forward to until January or even May. As for McCarthy, he never kicked on from his good first season and has become a liability. I've yet to see him hit a killer pass and his goal record is atrocious. Then again hes not alone... there, is he?
㾶 Million will do. I can't see him troubling Mourhino, Conte Pochettino etc. More likely for the likes of Pulis or Bradley in this league.
William Cartwright
16
Posted 02/12/2016 at 16:55:15
If the frustration at being criticized by the new management, and the result is a 'down tools' approach, then Koeman has my full sympathy and support.
Last season and the one before, were a waste of effort. However, Martinez was supportive of the players to the detriment of his own professional position.
If Koeman is being confronted by this sort of behavior, then sod the chemistry, just get rid of. However, the 'getting rid of' is not that straightforward in a commercial world of 'player power' and contracts etc. Although if it is the case, it raises more questions as to why the committed youngsters are not getting a look in...
Brian Harrison
17
Posted 02/12/2016 at 17:08:06
Well, if he has told McCarthy and one or two others that they're not good enough, then he needs his head testing if this is true.
So maybe that's why a lot of our performances have been so poor; you can imagine why there is a poor team spirit in the club if these rumours are true.
So I wonder how many of the current squad have been told they are not in his plans going forward? Now I agree that he does need to ship a few out, but until you the window opens in January, you're stuck with them, so they wont give a fuck about you or the results.
Winston Williamson
18
Posted 02/12/2016 at 17:17:06
If the rumours are true... brilliant!
I've never rated McCarthy. I've always thought he looked better than he was due to the shite midfield we previously had.
The type of player that, when he scores a goal, you're shocked and need a sit down... like a lot of the pretenders in our first team squad...
Mick Davies
19
Posted 02/12/2016 at 17:36:44
Brian @ 17, If that's true, then our 'honest' manager has commited the worst faux pas since our medical panel said Leroy Fer was crocked: Your confidence is certain to plummet if you know the boss doesn't want you.
I like McCarthy and – contrary to some on here – believe, when fit, he is one of our top players, and only just 26.
But if it helps his career, it might be best to thank him for his contribution when he played the full season and helped us reach 72 points, and let him go. After all, Gareth Barry has still got about 5 years left in him.
Martin Nicholls
20
Posted 02/12/2016 at 17:40:29
Paul (#6) – like Aidy (#11), I agree with you 100%.
Brian Williams
21
Posted 02/12/2016 at 17:44:55
What rumours? There are no rumours, are there... merely somebody suggesting they'd swap McCarthy for Dembele.
Colin Glassar
22
Posted 02/12/2016 at 17:59:32
There are always rumours, Brian. Forster, Schneiderlin, Depay (loan) and either Dembele or Gabbiadini to start with.
Ray Roche
23
Posted 02/12/2016 at 18:08:12
Brian (#22),
I don't know if the Dembele - McCarthy - Celtic thing has been in the Press, I just suggested it the other day and then again on here. No foundation to it other than that. I've not seen it anywhere.
Be good though, wouldn't it? I mean, Dembele is still only 20, I believe.
Geoff Evans
24
Posted 02/12/2016 at 18:38:00
Let's not offend the sensitivities of the likes of McCarthy and a few others. We don't want them to dip below the high standards they've been showing for the last two seasons.
If he wants to leave our club good, my only hope is that he takes a few of his mates with him.
If he's one of our best players, he'd better take the lot. Good luck and close the door behind you.
Michael Penley
25
Posted 02/12/2016 at 18:39:08
Who didn't see this coming? It's not hard to put two and two together, after what Moshiri said about not buying Sissoko due to McCarthy being 'one of the family'...
McCarthy obviously had a sulk at the thought of being replaced or having competition for his place, and still hasn't got over it.
Peter Laing
26
Posted 02/12/2016 at 18:54:26
There are far worse players on the books – perennial crocks Gibson and Besic, inconsistent performers in the shape of Mirallas and Deulofeu... and the over-the-hill mob in Baines, Jagielka and Barry.
On top of that, we have a raft of players who just aren't good enough – Lennon, Cleverley, Oviedo, Kone, Niasse...
Brian Williams
27
Posted 02/12/2016 at 18:59:27
Colin. Somebody says "That Dembele would be good"...
50 posts later, there's a rumour we're in for him. Bollocks if you ask me.
Kunal Desai
28
Posted 02/12/2016 at 19:03:19
Clear as mud he will be gone in January. I imagine he would have gone in the summer if we'd managed to get Sissoko.
Anyway, hopefully he's the start of clearout of dross at the club.
Phil Walling
29
Posted 02/12/2016 at 19:06:22
Sissoko has been a disaster at Spurs and will probably Join us in January. Another piss-poor buy!
Bill Gienapp
30
Posted 02/12/2016 at 19:12:00
Oh, give me a break. Everyone ripped Martinez for coddling the squad and blowing smoke up everyone's ass; now people are actually ripping Koeman for having the stones to confront these same players with hard truths?
As for McCarthy, he had his chance against Swansea and he was awful. Admittedly he'd just returned from injury, but don't put in a half-assed shift and then sulk about how you aren't getting enough playing time, particularly when your de facto replacement (Gueye) has been one of the undisputed bright spots this season.
Colin Malone
31
Posted 02/12/2016 at 19:12:52
McCarthy is a good ball-winning midfielder with good stamina, full stop.
He needs to get Belgium citizenship to move on.
Ian Bennett
32
Posted 02/12/2016 at 19:14:14
He's just not kicked on.
His box-to-box talents on signing have turned to a player that can't stay fit, or play a forward pass. If someone wants to pay 㾻m to Everton and him ٠.5m a season then clearly this league has more money than sense. Get shut.
Daniel Lawrence
33
Posted 02/12/2016 at 19:16:03
Sell to buy .
David Pearl
34
Posted 02/12/2016 at 19:26:17
I think Jagielka, Baines and Barry deserve a bit more respect than that. Amazes me how good Barry still is and equally who can't see it, especially watching live... Seeing the positions he covers. His intelligence on the pitch dwarfs anyone else we have.
Doubting any trades. This isn't North America. What player wants to be a makeweight. Struggling to remember a single one. Sissoko might do a lot better here. He'd actually get a game for a start.
I think I'd pass on blue wine.
Geoff Evans
35
Posted 02/12/2016 at 19:28:23
Bill 31: Exactly right, well said,

Alan Bodell
36
Posted 02/12/2016 at 20:28:37
Not long now and Mo Besic will be back and he is fresh with little miles on the clock and I really rate this lad so Jimmy Mac is right to be seeking his fortune elsewhere.
Trevor Peers
37
Posted 02/12/2016 at 20:57:23
Alan (#36), putting your faith in Besic, is a bit like sailing on the Titanic... doomed!
Andy Crooks
38
Posted 02/12/2016 at 21:00:49
Peter (#26), Gibson may be often crocked but, if he is fit, he is, in my view, a vastly superior option to McCarthy.
Colin Glassar
39
Posted 02/12/2016 at 21:03:45
That's how rumours start, Brian: Chinese whispers and all that. Expect it to be on NewsNow Everton within a few days...
Mike Gaynes
40
Posted 02/12/2016 at 21:22:10
Alan (#36), Besic on his best day couldn't match McCarthy.
At least Macca on his day can make a pass and score the odd goal. Besic offers nothing but tenacity and tackling, and Gana is better in every respect. So is Davies, from what little I've seen.
In fact, as I've said before, I'll bet a fiver that we've already seen Besic's last appearance with us.
Don Alexander
41
Posted 02/12/2016 at 21:32:49
The way McCarthy's played for the past two seasons makes Lee Carsley seem like Iniesta. 'Bye James!'
Dick Fearon
42
Posted 02/12/2016 at 22:05:04
Sometimes, a player's worth is not only his ball skills.
James Doran
43
Posted 02/12/2016 at 22:09:02
Mike @ 40,
I'll have that bet mate.
Alan Bodell
44
Posted 02/12/2016 at 22:22:12
Back to both Trevor and Mike, you've seen nothing of him except interrupted, injury-fated games...
But look at the whole picture with him for his national team when I've seen him boss games against the best, Argentina etc and he really has been a stand-out in the times I've seen him fully fit.
I well remember his first game for us with that disastrous back pass – it just hasn't gone his way ever since 'for us'.
But I believe he has a lot left so we'll give it until he is fit and has a run of games and let's see who is right, how about that?
Jay Harris
45
Posted 02/12/2016 at 22:25:24
McCarthy has not only been poor for Everton recently, he has been poor for Ireland too.
Add that to the general lack of goals from midfield and you can see how he may struggle to hold a regular place down.
Sam Hoare
46
Posted 02/12/2016 at 22:28:20
I remember being so excited when we bought him. A tenacious young midfielder with plenty of games under his belt, who doesn't often lose the ball.
Sadly he has never pushed on and, if anything, he's lost a little of his fire of late (possibly due to no confidence from the manager).
It's been a long time since we've had a central-midfield combination that really worked consistently and I think always playing two defensive midfielders has been part of that. I like Gana a lot but he needs a similarly athletic and hardworking player next to him who understands the game offensively and can make us more dangerous in the middle.
I had once hoped Barkley might become that player but that looks less and less likely.
Mike Gaynes
47
Posted 02/12/2016 at 22:41:53
James (#43), you're on!
Alan (#44), fair enough, but if I guess right his next "run of games" will be for Sunderland or Swansea. Or Leeds.
Tony Abrahams
48
Posted 02/12/2016 at 22:45:31
I've always liked McCarthy, and think he's a good players' player, who is not afraid of the dirty work.
I don't know if he's been poor for Ireland lately, but the kids season hasn't really got started yet, which has been mostly down to injuries. I saw him play for Ireland, in the Euros, when they beat Italy, and thought he had a very good game doing what he does best, which is sitting in front of the back four, "just by himself".
I do think he has got more in his locker than he shows us, and he has had a couple of seasons in which injuries haven't helped him. But if he doesn't want to play for Everton, because he thinks the manager doesn't really fancy him, then what else are we to think other than what Paul says (#6)?
Maybe it's not about the money, though, and some players just need to feel loved? But at the same time, it doesn't look like he's got much faith in his own ability, if he doesn't want to stay and prove this new manager wrong!
Alan Bodell
49
Posted 02/12/2016 at 23:21:25
Mike... what, something like Vic Anichebe is at the Mackems? Get your pops in better than that (lol), but you talked about Tom Davies – I've seen him play for our Under-23s and this kid is the real deal, so just a matter of time before our midfield gets a big boost.
John Malone
50
Posted 03/12/2016 at 00:55:24
I an't fault his attitude and workrate; he has been our best player in certain games but, if we want to win trophies, we need a higher standard of midfielder with a better passing range, more technical ability and who scores goals!
On a different note has anyone noticed Koeman's recent acknowledgement of being a blue and talking about 'us'!
Look's like someone's had a word in his ear and he's starting to appreciate how big 'we' are and what this club mean's to the fan's!
Welcome to Everton Ronald!! The sleeping giant!
James Watts
51
Posted 03/12/2016 at 00:59:47
Would we even notice if he went or not?!? It's not like he ever shows up when he does play. One more space on the bench or injury table for someone else if he does go I suppose.
Ian Herbert
52
Posted 03/12/2016 at 01:17:09
Koeman certainly seems to like Besic, judging by his comments prior to the lad's injury. If – and it's a big 'if' – Besic can come back strong and stay fit, I still believe he will play a big part going forward for us.
Mark Andersson
53
Posted 03/12/2016 at 02:27:43
Wishful thinking, John Malone. Koeman talking about us is just lip service.
I heard that Koeman told all the players that they're playing for their futures. "Do well for me and I might keep you; if not you will be sold."
The January sales will tell us more about the future of this club under Mr Moshiri. However, I bet they already have their excuses ready. "Wrong time to buy", "They didn't want to come", "We're saving for the new stadium"...
Sunday is the only thing that matters – a win would be a bonus on top of a good performance.
Dick Fearon
54
Posted 03/12/2016 at 03:40:41
There are at least half dozen others I would rather see go.
David Connor
55
Posted 03/12/2016 at 12:23:12
Bloody hell, Dick (#54) only 6 players. I can think of at least 10 players who I would be glad to see the back of, Crock McCarthy being one of 'em.
We have to be the worst team in the Premier League at the moment. Very scary... I'll be there against Man Utd cheering the lads on, but my patience with this team is at breaking point. I've had a belly full of em.
Denis Richardson
56
Posted 03/12/2016 at 14:23:35
Any player sulking because their cosy time at the club, with the manager kissing their arse every week regardless of how bad they've played, can think themselves lucky they weren't kicked out a lot earlier.
I never rated McCarthy personally. 㾹m for a guy who can run around and tackle a bit and does pretty much nothing else was ridiculous. Pretty sure the deal was some sort of favour to Wigan after the not-so-special one left them to come to us.
McCarthy, Gibson, Besic, Lennon, Cleverley – 5 bang average or permanently injured senior squad members who collect millions in wages and contribute collectively fuck all on the pitch. All should consider themselves very lucky as most of them are Championship players at best. Not to mention McGeady.
The sooner we start to shift them out the better. We need midfielders with energy, hunger, bite and the ability to play the game at the highest level.
Looking forward to a fruitful January to get rid of a lot of dross.
Mike Berry
57
Posted 03/12/2016 at 17:45:44
What's the fuss, as most of us know that he is just not good enough. It is not the lad's fault, it's just that some players are better and we need to find them to fill his shoes. Good luck to him wherever he moves too and I hope he has better luck with injuriesj
I think there is going to be a massive shake up at Everton in the next 12 months and a really big clearout. January will be interesting.
James Flynn
58
Posted 03/12/2016 at 21:23:16
The best McCarthy can offer we saw in his first season with us.
Is this his 3rd or 4th injury to that hamstring? 7-8 years into his EPL career, his "Every blade of grass" days are not coming back. Without which, he has nothing to offer.
Out of contract Pienaar and Anichebe are now getting regular minutes and contributing. Fit, Mac can catch on with someone. Tell him to find a club in January and wish him well.
His departure will be no loss.
Bobby Thomas
59
Posted 04/12/2016 at 13:36:21
James (#58)
Spot on about McCarthy. I said this a while back on here, and when he was actually in form and playing well, that you can't play like that forever and he must adapt as he enters his late 20s. It's a bit similar to a boxer like Ricky Hatton who needs to take two punches to get one in. You will have a short career.
I don't know if anyone saw the passing combinations graphic from a recent match (without Barry) on here recently but it showed the stark problem that McCarthy has. There was a massive hole in the middle where he was contributing virtually nothing in passing terms. Now some people seem to think he should be getting goals from midfield and assists and often gets criticism for a lack of this. I wouldn't criticise him for that as it's just not his game, he is strictly a defensive midfielder. But really, we need a little more in there than he is currently providing, as he isn't contributing a great deal of anything these days. I feel it's a possibility he mentally left a while back.
I personally wouldn't be at all bothered if he left as I think he is bang average and has been coasting for two seasons. From his perspective though he is going to have to develop more into a reader as his career progresses and his ability to get about the pitch diminishes. You don't have to be mobile and run about like a loon to play holding role, you need to be able to read the play. In fact, if McCarthy has been running about like a loon, maybe he ain't reading the play so well.
Carrick has no pace whatsoever but was one of the top interceptors for years. It's partly why I think, up to a point, anyone can play teh holding role as long as they have a football brain. Although Carrick's range and tempo of passing means he specialised in that position. He was excellent at his peak and underrated.

---
Add Your Comments
In order to post a comment, you need to be logged in as a registered user of the site.
Or Sign up as a ToffeeWeb Member — it's free, takes just a few minutes and will allow you to post your comments on articles and Talking Points submissions across the site.