Everton vs Manchester United

131 Comments [Jump to last]
Saturday 3 December 2016
Premier League Preview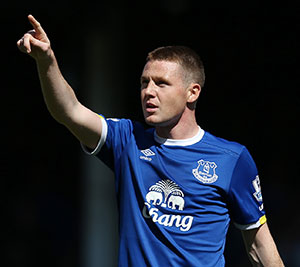 James McCarthy is fit again but might have to settle for a place on the bench
Everton enter a seven-match sequence between now and the New Year which could go a long way to shaping their season, even if there is hope among many that the January transfer window can inject some life into a Blues squad attracting much criticism for recent performances.
Starting with Manchester United and including further home games against Arsenal and Liverpool, it's being viewed as a sticky part of the fixture calendar but it need not all be trepidatious if the team can get its act together and play with some vim and vigour.
Erratic Watford, struggling Champions Leicester and a Hull City side that currently sits in the relegation zone could all be picked off away from home if Ronald Koeman can discover an effective system, productive line-up and the ability to motivate his charges.
Likewise, a Manchester United side whose own inability to win means they sit just a point ahead of the Blues coming into this weekend despite their outlay of hundreds of millions of pounds represent beatable opposition for an Everton side properly in the mood.
That has been a rare sight this season; indeed, Evertonians are still waiting for their team to put together a consistent display for 90 minutes under Koeman. The Dutchman suggested in his pre-match press conferencethat the visit of high-profile opposition like United could provide the spark for his players but it remains to be seen what, if any, changes he makes in terms of personnel.
Certainly, there have been calls from fans for some individuals to be dropped while there is a growing clamour for Koeman to try something different when it comes to his formation or system as well.
James McCarthy is available again after recovering from his brief set-back in a return from a hamstring injury but is an unlikely starter in place of either Gareth Barry or Idrissa Gueye.
Again, unless Koeman is planning radical changes at full-back or Ross Barkley's "number 10" role, the areas of the side most apt for a reshuffle are in central defence where Phil Jagielka's position has come into question lately and in the forward areas, where any one of Gerard Deulofeu, Aaron Lennon or Kevin Mirallas could be deployed on the opposite flank to Yannick Bolasie.
That is to assume, of course, that the manager doesn't opt for two up front — be that Bolasie, Deulofeu or Enner Valencia partnering Romelu Lukaku — and, perhaps, a central midfield reinforced by either McCarthy or Tom Cleverley. Hopes that Tom Davies might get a start to inject some youth and hunger into the side are likely to go unfulfilled.
On a run of just one league win in seven games himself, Jose Mourinho returns to Goodison Park for the first time since a Steven Naismith-inspired Everton beat his Chelsea outfit 3-1 in September last year.
He will welcome record signing Paul Pogba and ex-Blue Marouane Fellaini back after they served respective suspensions but another more famous former Everton player, Wayne Rooney, will be ineligible as he serves a ban of his own. He picked up his fifth booking of the season in the EFL Cup win over West Ham, a game in which Luke Shaw picked up a knock that could rule him out this weekend.
Kick-off: 4pm, Sunday 4th December, 2016
Referee Michael Oliver
Last time: Everton 0 - 3 Manchester United
---
Reader Comments (131)
Note: the following content is not moderated or vetted by the site owners at the time of submission. Comments are the responsibility of the poster. Disclaimer
Anthony Hughes
1
Posted 03/12/2016 at 08:25:32
I think it'll be safety first with with Koeman on Sunday, two defensive midfielders and a lone front man. Oh wait, sorry... we play the same unadventurous set-up every week, no matter who we play.
How about having a go at them, Ronnie, give us something to cheer about and get stuck right up these fuckers.
Gareth Clark
2
Posted 03/12/2016 at 08:27:43
I think our best team is:
3-4-2-1
Stekelenburg;
Holgate, Williams, Funes Mori;
Coleman, Idrissa, Barry (c), Baines;
Bolasie, Barkley;
Lukaku.
Subs: Robles, Jagielka, McCarthy, Cleverley, Mirallas, Deulofeu, Valencia.
With Bolasie & Barkley being allowed to move around the attacking third freely.
Jeff Armstrong
3
Posted 03/12/2016 at 08:31:38
Gareth, that team is even more negative than what Koeman could come up with! Seven defenders!!!
James Watts
4
Posted 03/12/2016 at 08:43:28
Can't wait for this one!! The stubborn prick we have in charge won't change a thing (well, probably Mirallas for Lennon lol). It'll be the usual crap, tired and boring team:
Stekelenburg
Coleman, Jagielka, Williams, Baines
Barry, Gana,
Barkley, Mirallas, Bolasie
Lukaku
Deulofeu on after 65 mins for Mirallas, who has been ineffective.
Cleverley or McCarthy on after 75 mins for Barry as the game is passing him by as he's getting tired.
Valencia on after 94 mins for Barkley to try and get back that 3 goal deficit.
Same old shit, same old shit result. Dunno why anyone is expecting anything different after Konman's lastest comments.
Anthony Hughes
5
Posted 03/12/2016 at 08:45:01
Probably far too risky for Ronnie, that set-up. Expect Barry, Gana and Cleverley all in holding roles.
Winston Williamson
6
Posted 03/12/2016 at 08:48:50
What's the point? Koeman is going to pick the same old "I don't give a fuck" players, in the same positions, in the same formation.
It's not working, their not working. So I ask, What is the point?
0-2 to Man Utd, although we may have a shot on goal in this game, we are at home after all
Paul Conway
7
Posted 03/12/2016 at 09:16:57
James Watts (#4),
You are probably right about how the game will pan out, as 'the stubborn' prick', as you refer to him, has no choice. Guardiola, Mourhino, etc would get the same negative results with this lot.
He has to avoid a mutiny of dross ,who are finding it hard to accept that their horizons are extremely limited and some could find themselves leaving these shores, if they don't want to accept playing in the Championship.
On the other front, he has fans criticising him for not playing the 'youngsters'. I am quite sure that he knows that these young lads are not ready to play yet. He has seen them in training. Plus, we are not in the position to carry youngsters should they not deliver the full 90 minutes.
We already have a scenario, whereby, 3 or four players are earning their pay and the rest are just turning up. IMO, its only against us, in our recent poor form that teams can blood youngsters.
So, the mutiny effect coupled with the greeness of inexperience, could spell real disaster. Add to this the fact that such an outcome could result in Koemans sacking, which would not be good for the Barcelona project.
So, the bottom line is, the poor fans suffer a little longer!
Steve Brown
8
Posted 03/12/2016 at 09:23:54
Koeman is committing the cardinal sin for managers, obstinacy that somehow his insights are right regardless of the end results.
When you keep picking tactics and teams that are failing, you rapidly lose the respect of the team and the fans. And that, Ronald, is what gets you sacked.
John G Davies
9
Posted 03/12/2016 at 09:55:10
I have never rated McCarthy. I hope we can move him on in January. I would play him in a midfield three tomorrow though. This game will be won or lost in that area of the field.
Barry and Gana won't be enough tomorrow if we play the same formation.
Ron Sear
10
Posted 03/12/2016 at 09:56:56
It would be so nice to look forward to a game on Sunday; unfortunately Everton's fairy godmother seems to have gone missing in the run up to Christmas.
More of the same I guess but one bit of good news: if the team changes the sponsor, we might get a better beer at half time to dampen the misery.
John Malone
11
Posted 03/12/2016 at 10:06:06
Funny really, we are playing a team transition with a new manager in charge!
It's fair to say they had more quality in their squad beforehand but the main difference for me is they bought more quality in the summer and their manager has continually chopped and changed players and the system until he found a winning team or at least a team that is putting in good performances every game!
Koeman has got to do more to find a way to win with the squad he has! Any players that come in in January will be heaped with pressure and will be thrust into a toxic environment!
Mr Cool needs to start producing the goods!
Kunal Desai
12
Posted 03/12/2016 at 10:13:43
We will make Man Utd look like world beaters. They won't be gifted an easier 3 points than tomorrow.
Tony Abrahams
13
Posted 03/12/2016 at 10:17:42
One thing that playing the kids would bring is energy, the very basic thing that this present eleven seriously lack.
Joe O'Brien
14
Posted 03/12/2016 at 10:34:52
With it looking very likely that he's going to go with same trusted tried and failed personnel and, more than likel, the same trusted tried and failed team formation, I'm expecting nothing from this game. Same ineffective starting 11 same ineffective bench.
If he names the same squad without putting and of the young guys in, even on the bench, ffs. He doesn't even have to play them, just give them the experience and excitement.
Put Davies on the bench instead of Cleverley ffs.. Davies is not ready yet? Well Cleverley is not able, simple as that.

Denis Richardson
15
Posted 03/12/2016 at 10:54:48
I'm feeling good about this game – not based on any inside knowledge or anything. Just that it's a big game at home and even if some players know they won't be here next season, it's a massive shop window for them.
Live game, home to Man Utd – if we can get a good start the crowd will really get going and then who knows what might happen. Lukaku and Mirallas are probably angling for moves away so they should step up and put themselves in the shop window.
A massive morale-boosting win would really set up the Xmas period (where we've traditionally been complete garbage – only need to look at the record of thee last two Xmas periods!)
I'm predicting a scrappy 2-1 home win. (All appendages firmly crossed!)
My only real fear is Ibrahimovic. Hopefully Williams will play a blinder (the thought of Jagielka playing and marking him doesn't paint a pretty picture).
Mike Powell
16
Posted 03/12/2016 at 11:03:09
We all know what's gonna happen... we will start slowly, go a goal behind, start to chase the game. We will then get picked off, concede another two, Jags most probably will give another penalty away.
The players will walk off at the end of the game, laughing and joking with each other, get in their top-of-the-range four-by-fours and go back to their Mansions. We will go back to work Monday, miserable as hell after another ruined weekend.
Brian Williams
17
Posted 03/12/2016 at 11:03:23
I'll have some of what Denis has had please.
I can't feel anything other than sheer dread, and Koeman doesn't help with his comments in the Daily Mirror. If ever there was an "I expect us to get beat" speech the Mirror's column contains one.
He says we shouldn't expect miracles. What the fuck is miraculous about 100% effort for 90+ minutes?
Although, going on our recent form that WOULD be a miracle!
Andrew Lum
18
Posted 03/12/2016 at 11:10:48
Since Koeman is not keen on starting the youngsters, I hope he would try something different. Go 4-4-2 and start with tempo and high pressing, starting with the front two:
Stekelenburg
Coleman, Williams, Funes Mori, Baines
Deulofeu, Gueye, McCarthy, Bolasie
Valencia, Lukaku
Subs: Robles, Jagielka, Holgate, Davies, Mirallas, Calvert-Lewin, Barry.
Jon Withey
19
Posted 03/12/2016 at 11:12:14
Difficult to see where the spark is going to come from at the moment. Backs-to-the-wall draw, maybe?
Chris Gould
20
Posted 03/12/2016 at 11:13:42
Tony (#13), I do agree, but it also risks woefully exposing them. We have been very poor. Put a couple of kids into a poor team and it puts the pressure of expectancy on their shoulders. Everybody is watching, analysing, and hoping that they are going to transform us. That's a hell of a lot of pressure in front of your home fans against Man Utd. Especially when you are looking to leapfrog them into 6th.
I think Holgate has shown that he is definitely good enough, but to play him at centre-back at such a young age is a risk. Centre-backs rely heavily on experience. So that means dislodging Coleman at right-back, but he is a genuine threat going forward – unlike most of our forward players!
I don't think we have seen enough of Tom Davies in the prem to make a judgement. His cameo against Chelsea meant very little as the game was over. He showed energy and commitment but didn't get an opportunity to show much else. It was still more than the rest of the team offered but doesn't mean he can handle the pressure of starting and running a midfield.
If we put him in and he gets annihilated by Pogba and Fellaini, Herrera and Mata then what will that do for his confidence? It will almost certainly set him back in his development. Of course if he were to come in and play excellently than that would be fantastic for his development, but Koeman and Unsworth obviously don't think he's ready yet. If people genuinely think they are in a better position to judge these players than Koeman and Unsworth then they need a reality check.
In saying all that, if Davies or Walsh did make the line-up then it would make the game a helluva lot more interesting as a spectacle. A whole lot more exciting too...b ut is it worth potentially exposing and crushing a lad simply because it would give the fans something to be excited about?
I trust Koeman and Unsworth to understand what it takes to make it at this level better than us fans. They've been there and done it. They watch and chat to these players daily. They know their characters. We don't.
Douglas McClenaghan
21
Posted 03/12/2016 at 11:22:30
It seems Ronald is as stubborn as Roberto in his selections so more of the same against Man Utd and the headlines will read "Big Win Puts United Title Challenge Back On Track".
My opinion of our new manager is plummeting week by week.
Laurie Hartley
22
Posted 03/12/2016 at 11:23:30
If Ibrahamovic, Fellaini, and Pogba start that is quite an arial threat to deal with. I wonder how he is going to counter that? Big challenge tomorrow.
Ian Hollingworth
23
Posted 03/12/2016 at 11:24:50
I am completely baffled by Koeman. Regardless of results and performance, he plays the same players in the same formation every match. To the watching fan most of the players seem like they don't give a toss.
Why not give Tom Davies a run in the team?
A very interesting January transfer window I hope although I suspect we will get loads off rumours, probably an update on the ground move (haha) and then end up with some loan players who won't get a game coz they are shite anyway.
The joys of being an Evertonian.
John Barnes
24
Posted 03/12/2016 at 11:28:10
You're probably right, Chris. Regarding the young lads. Looks like the simple, sad truth is the senior squad is bang average with performances, results and league position to match. Koeman is anxious to retain that at the very minimum, probably to give any new January signings a healthier starting position with maybe the likes of Davies getting some minutes later in the season.
If Koeman, and, interestingly Unsworth it seems, doesn't feel the U23s are ready the we have to respect that. Reluctantly so for me in one or two cases.
Maybe it is time to change formation which may spark some life into them but it didn't work too well last time (Chelsea) did it? So I can see why the cautious approach regarding selection.
If we finish the season where we are right now, will that represent progress, stagnation, or a step backward?
Dick Fearon
25
Posted 03/12/2016 at 11:31:23
In an earlier life, Ronald was in charge of deck chairs on the Titanic.
Andy Meighan
26
Posted 03/12/2016 at 11:34:29
Chris 20 so unsworth and koeman chat to these players daily and know their characters That doesn't make them great judges of footballers does it? Of his signings so far only Gueye has really been a success and he's dipped of late Admittedly dragged down by the dross around him.

All we're asking is to give someone else a go because if you haven't noticed the same old tired players and the same old tired miserable system isn't working and this is going to get worse if something doesn't change. Then again what would I know, I don't hang round Finch Farm every day do I?
William Cartwright
27
Posted 03/12/2016 at 11:42:01
Chris, you talk a lot of sense, but I still think you are too cautious. Davis and Holgate know what they are looking forward to; the chance to play football. Simple. Yes they could have a poor game, and if so, don't expect the crowd to be anything other than supportive. Alternatively they could play a blinder.
Also, why is it that other teams can regularly blood their youngsters whereas we are overly cautious, in my humble opinion?
If we don't play the youngsters, or Valencia up front with Lukaku, and Funes Mori instead of Jags, then I think we are in grave danger of sliding down the slippery into mid- or lower-table oblivion for another season. If this becomes the case or not, I still believe Ronald has something up his sleeve. He may be as dull as dishwater conversationally, but he knows his job. I believe he is buying, or biding time to get the dressing room sorted which will be no mean feat.
My cynical prediction is 0-2 or 0-3, and that really upsets me. I can see no reason to be positive at present, and the average age and formation of the team don't look likely to change in the near future.
Brian Harrison
28
Posted 03/12/2016 at 11:42:19
I thought once we had sacked the charlatan, I could again look forward to going to Goodison with renewed hope of seeing a rejuvenated Everton. Koeman was my preferred choice, so all good, I thought. But after a promising start we don't seem to have moved on from the previous managers slow boring football.
I really thought that after what he had achieved at Southampton it would take time but I thought he would start to improve us. Now its still early days and he will take time but I thought, if nothing else, we would play a higher tempo game than we are at present.
I would like to see Deulofeu start the next few games in Barkley's position as I think he would be looking for the early ball to Lukaku which he did at the start of the season. I would also like to see more interplay between our forward 4 but they always seem at least 20 yards away from one another.
So, if nothing else, Ronald, make sure they do start in a higher tempo – surely that's the least we can expect.
Gary Russell
29
Posted 03/12/2016 at 12:28:36
Chris @ 20, I haven't seen anyone suggesting starting the young-uns from the start, just have them on the bench and give one or two of them a 20-minute spot at the end for some spark and passion.
And I also haven't read anything regarding Unsworth stating none of them are ready, but you are welcome to point me to something I may have missed.
Chris Gould
30
Posted 03/12/2016 at 13:04:38
Gary, many many people on here have suggested that Davies and/or Holgate should start. In fact some repeat it every time the starting line-up is discussed.
Koeman stated that he is in contact with Unsworth daily and that the kids aren't ready. He doesn't say that Unsworth has stated unequivocally that the kids aren't ready, but the impression he gave is that they are in agreement.
Regardless, Koeman doesn't think they're ready and I will trust his opinion over anyone on here.
For what little it's worth, I think we'll finish 7th this season, which will be progress. Leicester's freak of a season overshadowed what Koeman did with Southampton last season. Finishing 6th was a fantastic effort.
For sustained success we will need to build slowly and follow Spurs' blueprint not Leicester's. 7th this season, 5th or 6th the next, and then an assault on the Champions League places.
To expect us to dislodge any of the top 5 after the last 2 seasons is fanciful at best. They have better squads, have spent more money, and have the pedigree. Koeman is right when he says we need patience. No manager could have propelled us into Champions League contenders with what we have.
If by Christmas we are 6th or 7th, then I will be satisfied with the progress. That doesn't mean that I have enjoyed what I've witnessed this past couple of months... it's just that I never expected a hell of a lot more. Not yet.

Phil Walling
31
Posted 03/12/2016 at 13:11:37
I don't think you'll find anything from Unsy that implies none of his charges is ready for the fray. Indeed, I don't think Unsy has much of a say on anything these days!
John Keating
32
Posted 03/12/2016 at 13:15:09
Robles
Holgate, Williams, Funes Mori
Barry
Coleman, Gana, Baines
Davies
Lukaku, Valencia
Time for a rethink, Ronald. Barry just sitting in front of the back 3. Coleman and Baines giving the width. Davies just behind a front 2 We have to give Lukaku some support.
If it goes to ratshit, then bring on the usual dross and revert back to your usual system.
Phil Walling
33
Posted 03/12/2016 at 13:20:01
NEVER going to happen, John. I'm betting none of these kids EVER make it at Everton and not because they aren't good enough but because they served their apprenticeship here!
Now get back to that Z-Cars re-arrangement!
Tony Abrahams
34
Posted 03/12/2016 at 13:21:59
Phil, he praised Davies, Kenny and Walsh to the hilt after his team played Southampton on Monday night, which is as good as putting their names forward as anything else, considering the way the first team is playing.
Chris, if you're good enough you're old enough, especially if you are in and around a team that you know you can do a job for. If we played too many at once, they might be exposed, but a young scouser playing for Everton against The Mancs would give everything. Something which no-one seems to be really giving at the minute.

John Malone
35
Posted 03/12/2016 at 13:24:41
Brian (#28), I agree with you – I would like to see Deulofeu playing up top with Lukaku; he is the only player we have who can see and pick a pass!
He was okay when he started the season up top, he just missed the physical presence and finishing ability to be the main striker but his runs and pace definitely created chances!
I think Deulofeu is definitely worth a try in an attacking role!
Gary Russell
36
Posted 03/12/2016 at 13:26:50
Apologies, Chris, I read posters team selections all the time, but don't take them in.
I would normally agree with you about trust the manger etc, but do you really trust/agree his team selections lately? The Catalan Charlatan was guilty of the same: no inventiveness, daring or intuition to the shite offered up.
Brian Williams
37
Posted 03/12/2016 at 13:29:30
Forget the argument about what would constitute progress and look at players' performances. There are a number of players, playing week-in week-out, and not giving anywhere near 100%. That includes some of our so called "big" players.
Being where we are because we're being beaten despite everyone giving 100% would be bad but understandable. Being where we are because a number of our players are nothing more than cowards is unacceptable.
If everyone played with the intensity and pressing that Koeman wants, we'd be six to nine points better off than we are.
Some of our players need to take a long hard look at themselves because although, as some point out, we're still 7th, if every player had done what's required of them, we'd be a lot better off, without a doubt.

Gary Russell
38
Posted 03/12/2016 at 13:31:46
Well said, Brian, an utter disgrace is what it. Professionals, my arse!
Eddie Harrison
39
Posted 03/12/2016 at 14:11:50
The coverage of the Premier League on the TV gives a football fan plenty of viewing of the quality and set-up of Everton's competitors ...
In comparison, we are at best,pedestrian in thought and movement, very little movement or closing down without the ball and the workrate of a squad that is well past its best...
We're crying out for an injection of pace and creativity so until the transfer window opens (fingers crossed we get anything worthwhile) – at least introduce some youth or change the system or both.

Chris Gould
40
Posted 03/12/2016 at 14:14:37
Unsworth said a few weeks ago that he feels sending a few of the youngsters out on loan in January would help give them the competitive games they need to make the transition to the first team. That suggests that he feels that they may not yet be ready.
Koeman clearly recognises that what we have in the squad isn't good enough, but he believes the answer is in the transfer market and not the U23s. Everyone hopes that a quality addition to the first team will emerge from the Academy, but the fact is that it doesn't happen very often.
Look at the top 4 in England. How many youth team players are currently in Man City, Arsenal, Chelsea or Man Utd's first team? (I realise Man Utd are not top 4, but they are the biggest club in England.) How many of Leicester's title winning team came from their Academy? The only player I can think of is Rashford out of all those teams.
If you want to break into the top 4, then you need players of international standard and not many youth players reach those standards in their teens. Sure, a couple of the youth players could fill in and do a job, but it's unlikely they'll be good enough to help us challenge the top 5. And that is Koeman's target.
Holgate is IMO the most likely to make it. He looks absolute class.

Phil Walling
41
Posted 03/12/2016 at 14:21:20
Delighted you are happy with things, Chris. I just have an awful feeling that, if Koeman persists with this lot, we'll soon be in the mire!
Jon Cox
42
Posted 03/12/2016 at 14:27:41
All fine words, Chris, but it looks like you've bought into the old "Let's keep things as they are and hope things will change" maxim. Couldn't do that one, Chris, it would end up driving me insane, if you get my drift.
"Finishing 6th was a fantastic effort. For sustained success we will need to build slowly and follow Spurs' blueprint not Leicester's. 7th this season, 5th or 6th the next, and then an assault on the Champions league places."
Chris maybe you're happy for "Jam tomorrow" but the "Jam" has been going on for at least the last 30 years and I for one am sick of the taste.
Kowman should make a statement. He should play at least 5 of the kids and don't even have the dropped five on the bench.
I've had enough of the shit doled out by this club.
Mike Gwyer
43
Posted 03/12/2016 at 14:41:45
Primary problem for me is effort and passion.
I rarely watch other EPL games but I just gave the Man City game a viewing... fuck me, effort by the truck load and passion second to none. I can say one thing: our lot need a reminder of what the EPL is all about and what it means to be wearing the Everton shirt.
John Charles
44
Posted 03/12/2016 at 14:46:17
Would it be too much to ask to be entertained, even thrilled by watching Everton?
It is cold sat in the Park End when there is no passion and very little skill on show from our boys. If nothing else, a youngster or two might pique some interest.
However, I expect to be more angry than thrilled – oh and cold – tomorrow.
Gary Russell
45
Posted 03/12/2016 at 14:49:13
Again Chris, some of us are not saying we will be top four with kids. Just change the fooking record, Koeman, for fuck's sake!!
Chris Gould
46
Posted 03/12/2016 at 14:52:37
Fair enough, Gary.
I do agree with that. Just not sure what changes will improve us tomorrow.
Chris Gould
47
Posted 03/12/2016 at 14:55:15
Phil, I don't think Koeman has any intention of persisting with this lot. I just don't think he feels the answer is with the kids. So he'd better make some serious moves in January.
Tony Twist
48
Posted 03/12/2016 at 15:01:03
Fortune favours the brave, though I don't think our manager has any inclination in being brave.
I think the majority don't want wholesale changes but I think the presence of Holgate as a regular in the side is a must and Davies and a few others on the bench and coming on to gain experience later in the game isn't too much to ask for.
Maybe we have to complain on social media before Koeman makes changes, like the recent Christmas tree episode!
John Wilson
49
Posted 03/12/2016 at 15:12:28
I don't care who Koeman plays for Everton as long as we beat Man Utd today!
Joe O'Brien
50
Posted 03/12/2016 at 15:30:04
We're playing tomorrow, John.
Mark Daley
51
Posted 03/12/2016 at 15:32:27
Well written as ever, Lyndon, but with the inevitable "ifs": "if the team can get its act together... if Ronald Koeman can discover an effective system".
If my aunty had balls... If the team had a few players like Naismith? So long since his sublime hat-trick. Where will we be by Boxing Day?
George Cumiskey
52
Posted 03/12/2016 at 16:36:58
Koeman has said in the paper that we shouldn't expect miracles. Who does he think he's talking to? A bunch of idiots? Of course we don't expect miracles – just a little improvement ffs. Instead, we are actually witnessing a fucking regression!
Tim Greeley
53
Posted 03/12/2016 at 17:13:17
Abandon all hope, ye who follow Everton. At least Roondawg won't score against us.
Also Jags was awful in this fixture last season. He has to sit and Funes Mori needs to play. .

Kevin McCartney
54
Posted 03/12/2016 at 17:17:23
Considering how the games have just played out today, we need an fucking WIN!
Do you understand Everton first team, a win means you need to score goals, that covertly means you Lukaku, put the ball in the back of the 'opponents' net like you're paid to do and fucking defend from the fron,t you lard arse, stop dawdling like a fat waster waiting for a bus!
Here's to not blowing a blood vessel while I no doubt get frustrated and end up shouting at the TV tomorrow... Up the Blues!
Kunal Desai
55
Posted 03/12/2016 at 17:28:35
I said last week after Southampton, by the time we next play Southampton at home on 2nd January we'll probably in or around 14th or 15th. Stick by that.
Ray Smith
56
Posted 03/12/2016 at 17:48:58
Chris Gould several posts.
I get where you are coming from.
Some of your detractors want an instant fix, and that is not going to happen.
You won't recognise the current team at the start of next season.
There will be changes in January, but not enough to make the difference we all crave!
So for now we are in transission and that's reality.
Nicholas Ryan
57
Posted 03/12/2016 at 18:03:46
Sunderland win 3 out of 4; Victor Anichebe MotM (again!) – Jesus, you couldn't make it up!
Kevin Tully
58
Posted 03/12/2016 at 18:14:14
We are far too predictable lately. Even if one of our wingers beats the defender, you can almost guarantee the only body in the box will be Lukaku, up against two or three defenders. If Barkley plays, he has to get closer to the striker, or we will just end up punting a load of pointless crosses into the box.
I don't know if these players are playing to instructions, but the forwards all have to bust a gut to get a bit of support around Lukaku. Playing a pass then admiring it from 20 yards won't get us anywhere tomorrow. Mourinho will have Lukaku man marked, so it's time someone else stepped up to the plate.
Colin Glassar
59
Posted 03/12/2016 at 18:14:24
What are you suggesting Nicholas?
Alan Bodell
60
Posted 03/12/2016 at 18:20:11
Koeman is getting loads from some (loads on here) but, with the tools he's got right now, let's give him a little time to develop his 'project' because fucking Houdini couldn't make our current squad more than mid table without some injection of quality.
Christy Ring
61
Posted 03/12/2016 at 18:21:21
We have to get in their faces from the off tomorrow. Lukaku needs support, but needs to put in a shift. I'd start McCarthy, and let him show Koeman if he has a future at the club.
Charles Brewer
62
Posted 03/12/2016 at 18:56:24
I expect this to be the beginning of the transformation of our season. By the beginning of the New Year, we can expect to be well entrenched in a relegation battle. And with current form could be well on the way to losing it.
Eddie Dunn
63
Posted 03/12/2016 at 19:05:37
Tomorrow, we have to avoid defeat. A Man Utd midfield with Fellaini, Pogba and Mata will be a handful.
I'd take a draw right now. I'm glad Rooney is missing.
Alan Bodell
64
Posted 03/12/2016 at 19:05:58
Charles, all is not lost yet mate and a therapist even got Tony Soprano out of a deep depression and we are not that low down just yet so give it to and beyond January then we'll see.
Tony Abrahams
65
Posted 03/12/2016 at 19:06:47
So would I, Christy, and I would also play two upfront. I would let Man Utd have the ball in their own half but, the minute they come into our half, I would have every man, working hard to get the ball back.
Play compact and then break quick with pace out wide, and upfront. I don't think that you need that much creativity from the middle of the park if we play this way, just a Dogs of War approach, and eleven men who know their job.
Football, the easiest game in the world! Haha!
Charles Brewer
66
Posted 03/12/2016 at 19:33:20
Alan, thanks for the encouragement, I see the spirit of unjustified hope continues amongst Evertonians!
Darryl Ritchie
68
Posted 03/12/2016 at 19:53:39
What I'm hoping for: 3-1 Everton.
What I'd settle for: 4 shots on target.
What I'm expecting: 3-0 to Man Utd.
Mark Morrissey
69
Posted 03/12/2016 at 20:00:57
2-0 Lukaku brace. Fellaini red card – an early Christmas present, wrapped in blue paper, obviously.
Don Alexander
70
Posted 03/12/2016 at 20:05:28
Having last week beaten us and restricted us to one attempt on their goal (in the 93rd minute) Southampton were crushed 3-0 by the mighty 6-defeats-on-the-bounce Crystal Palace today. Having conceded an 89th minute goal the week before to Swansea, they got trounced 5-0 today.
Have our players no shame? If they have, or an ounce of professionalism, they need to be unrecognisable tomorrow in terms of visible effort for every second of the match, minimum. If they need reminding they play for the crowd, the club, and then themselves in that order, because without a club they're fucked, and without a crowd so is the club.
Tony Hill
71
Posted 03/12/2016 at 20:20:56
If we play tomorrow as we have been playing over the last couple of months then we will be crushed, 4-0 or 5-0 territory. Man Utd looked very slick the other night and I think Mourinho has got them working together.
If we get at them quickly, though, we can unsettle them because they are still brittle. Only the players know if they are all going to bother trying, of course.
Paul Tran
72
Posted 03/12/2016 at 20:38:32
Some interesting Lukaku sprint stats in today's Times. He scores goals, but he's got the worst sprint stats for Premier League strikers.
Apologies for mentioning this, I'm aware that these players are apparently very sensitive to truthful developmental feedback!
Hope they all show us something we deserve to see tomorrow.
Gerard Carey
73
Posted 03/12/2016 at 20:41:42
Feels like we are threading water at the moment, sticking around 7th place with very few decent performances. Will we sink or swim?
With the team that Koeman has been putting out, it looks like we could drop a few places. We need a spark to get things going but where is it going to come from?
Joe Digney
74
Posted 03/12/2016 at 20:49:35
Back over from Oz, I managed to get 3 tickets for me, the Mrs and cousin. Absolutely buzzing but just as nervous... Icould see it being a messy day for the Blues but hoping I'm happily wrong come tomorrow night.
Going big and ambitious with saying 2-0 – Lukaku double. COYB!
John G Davies
75
Posted 03/12/2016 at 20:59:30
Lukaku Sprint stats are very poor but he has scored a lot if goals in his short career.
Let's sign Usain Bolt. He is looking to get into football. He won't score any goals but he will be top of the Sprint charts.
Craig Mills
78
Posted 03/12/2016 at 21:40:51
Interesting stats from the BBC:
Everton have covered less distance in every Premier League game this season than their opponents with the exception of 1 game.
Another is that Firmino has played 105 minutes more football than Lukaku this season so far but has coved a staggering 23 miles more than the Everton man has.
Koeman's plan does not appear to be working. Our ageing team simply do not have the legs to cope, we cannot be as fit as our opposition and our number 9 is a lazy twat!!
Bobby Thomas
79
Posted 03/12/2016 at 22:05:47
Patrick (#78),
When I saw Koeman's quote about the game acting as a spark, my first instinct was to wonder how he was going to get a spark out of them when they're not having him?
Philip Bunting
80
Posted 03/12/2016 at 22:10:00
The very fact that these overpaid pretenders are clearly not trying is the most galling. For that very reason, I would ship the lot out... regardless of who the manager is. They are a disgrace to themselves, not the manager.
Oliver Molloy
81
Posted 03/12/2016 at 22:17:32
Lukaku is not a striker who will run his bollocks off for 90 minutes - he's too big - his strength when he is in the mood is his explosiveness (granted he doesn't do this as often as we all wish he would). So Carragher comparing him with the Firminho who would be at least a couple of stone lighter is fucking stupid in my opinion , of course he's going to run around more.
But, as we know, Carragher IS really an Everton fan and maybe this is his way of getting Lukaku to get his act together!
Dermot Byrne
82
Posted 03/12/2016 at 22:26:30
Lukaku is never going to be one who works hard, life on the line type. The hard calculation is how much we lose by this against his goal tally. Tough to work out.
Geoff Evans
85
Posted 03/12/2016 at 22:37:48
Looking at the unquestionable talent in the squad and the man in charge, I am surprised at the team's relatively poor start to the season.
Not to worry – things will definitely start to change tomorrow... even Swansea and Palace came here and nearly won against this shower of shite!

John Keating
86
Posted 03/12/2016 at 22:46:44
Oliver,
Big or not, explosive or not Lukaku is a lazy shite. Look at Diego Costa, runs, chases what looks like lost causes, a dirty bastard who gets stuck in. He moans and groans all match.
I watched Man City play Chelsea today and just wish our lot could put half their effort in.
Brent Stephens
87
Posted 03/12/2016 at 22:50:02
Joe (#74), Good on yer, cobber. Hope we get a result for ya tomoz.
Mark Burton
89
Posted 03/12/2016 at 22:54:17
It will be same old same old Everton. Lucky draw or absolute humiliation.
I know Koeman wants a clean-out, but the players he wants to clean out are worthless and will generate nothing. We will be lucky to give them away on loan.
All other teams seem to want to win and every Everton player looks like he's doing us a favour by turning up. These next few weeks will destroy us and I am not looking forward to playing the red shite with the players we are using every week.
Colin Glassar
91
Posted 03/12/2016 at 23:00:01
Patrick, I've been saying for some time now that Koeman, in order to save his job, will be ruthless when he gets a chance. He will know by now who he can trust and who he can't, so I'm not surprised he will start pruning the squad.
Jay Harris
92
Posted 03/12/2016 at 23:00:47
I think we will see Jags and Barkley benched with Funes Mori and Mirallas given a chance to prove themselves (again).
Expecting a scrappy 1-0 win but any sort of win will do.
Oliver Molloy
93
Posted 03/12/2016 at 23:06:41
John,
I'm just saying Carragher comparing these two players was stupid. We all know that Lukaku can be bullied out of games fairly easily. If he could add 50% of Costa's game to his, he would be on the right track...
Big chance to put himself in the shop window tomorrow if he wants his Champions League club move... let's see!
Ian Brandes
94
Posted 03/12/2016 at 23:15:21
Interesting link from Patrick (#78). Perhaps Koeman could begin this clear-out with himself, although others do definitely need to go.
Hoping against hope that these under-performers will pull out all the stops for the legions of loyal disillusioned fans.
Colin Glassar
95
Posted 03/12/2016 at 23:27:16
Lots of interesting rumours on t'internet tonight Ian. Koeman wants a cull, Moshiri has money to burn and wants to make a statement, established players in danger etc ..
Sounds like Jags and Ross are to be dropped tomorrow and Jags could even be sold to Sunderland in January. Keane, Schneiderlin, Depay and Belotti all serious targets in this window etc .
Like many, I'm not happy with what's happened so far this season but if, in fact, Koeman does have a plan to turn this around, then I'll try and be a bit more patient and wait and see.
Dean Adams
96
Posted 03/12/2016 at 23:46:41
Craig Mills (#79).
As our No 9 does not get to play for us anymore, I just don't care how lazy he is!! Static Kone!!
Jack Cross
97
Posted 04/12/2016 at 00:55:02
Collin Glassar (#95).
Jags nearly signed for Sunderland in the summer but he failed the medical. Not sure how he would fare second time around.
It's a forgone conclusion that Koaman, not a stupid man, has seen that not many in this squad are up to his style of play, so expect a mass clearout.
What I can't understand is, if the team of last year, were so unhappy with Martinez and his slow from the back triangular passing game, why can't they adapt to the quick high pressing that Koeman expects?
We quite simply have to give Koeman, a chance. Let's hope he gets it right.
The word I get pissed off hearing is transition, Martinez, Moyes, and now Koaman, let's hope the latter gets it right. Because if it all goes pear-shaped and he's replaced and another top jolly takes over and uses that word 'transition' once more l'll fucking scream.
Oh by the way, my mates a steward at Goodison and he was saying that they were called into a meeting by the head steward, and told they may only approach Koeman, if it is serious issue. And they must address him as Sir, or Mr Koeman. Seems they been calling him Ron, and he doesn't like it. It didn't go down to well by all accounts. A man of the people, hey.

Stan Schofield
98
Posted 04/12/2016 at 01:30:21
I can't really believe people are quoting bullshit statistics about sprinting, whether it's Lukaku or anybody else. It's supposed to be football, not running around like headless chickens. And after 55 years of supporting Everton, I don't need to listen to Jamie Carragher's waffle comparing Lukaku to Firmino.
Lukaku could double his sprinting stats, but it wouldn't solve our problems of not gelling a team. Firmino is mediocre compared to Lukaku, that's the only comparison I can draw.
Mark Andersson
99
Posted 04/12/2016 at 02:03:42
Rooney, Rooney, Rooney – I hope Wayne has his Christmas Everton scarf on and is standing in the Gwladys Street cheering his beloved blues on.
As for those rumors Colin, look back at the summer fiasco, more of the same shite will happen in January. Money to burn my arse. If Koeman can't get the best out of what he rates as one of the best strikers he has ever worked with (hahaha Lukaku) then he has no chance of getting anything from Belotti.
I used to be so positive, now I'm just resigned to face the fact that we are going nowhere fast.
Terry White
100
Posted 04/12/2016 at 02:09:09
Don (#70), Southampton were playing away today, they gifted CP the first goal and were well in the game albeit 2-0 down until the third. Swansea gifted Spurs their first goal from a penalty.
In both our games against these teams they played better against us than today. Trying to compare our games against the same teams is futile and should not be used as a basis for a comparison of our results.
David Booth
101
Posted 04/12/2016 at 03:02:20
Watch him play Gana, Barry AND McCarthy in midfield against the Mancs...
David Barks
102
Posted 04/12/2016 at 03:48:22
David, I've been wondering if he'll do exactly that. Three defensive midfielders and try to park the bus.
Barry Williams
103
Posted 04/12/2016 at 05:45:49
Unusually for me I watched 2 premier league games yesterday, well 1 and a half. I watched the 2nd half City V Chelsea and all of the Sunderland V Leicester. What struck me in comparison to Everton was the level of passion and commitment and will to win shown through all that I watched. Not just 10 minutes of it! On a side not Anichebe was excellent on the left. Really did put in a shift, held the ball up well, good distribution and used his physique well. He was dangerous too. Got me thinking that things must have slipped if I'd like to see Anichebe back! haa haa! But he was all that!
I have become quite impassive with this version of Everton, starting from last season. A lot of the players really have no passion or taste for a hard contest from what I can see. Also, we have become so predictable in the way we set up and the line-ups too. Teams no what to expect. I would like to see more youth, just to spark some energy into the team, but it looks like that isn't going to happen. Like others on here I am not talking about blooding 3/4 youngsters from the start (although Holgate/Galloway have already proven to be 1st team standard imo), but cameos, raising the energy levels, and yes, putting a bit of pressure on those who seem to be guaranteed a place every week regardless of form. I know we don't see the players at Finch Farm, but we have been watching the matches and seeing the same stuff served up now for over 2 seasons, a wee bit longer than Mr Koeman.
Just a thought I had (it does happen occasionally), is bringing in a foreigner from another league (see Niasse etc.) more risky that playing a youngster from the Under 23s? It is certainly more risky financially. However, all of Koeman's signings have all had premier league experience, so I guess it renders that point superfluous for the moment!
What do I want to see from Everton? Fight, passion and a bit of unpredictability in the way we set up! A bit of imagination wouldn't go a miss and a kick up the arse of the under-performers. I still have faith that Koeman can turn this around, but he needs to show a little more imagination in my opinion that he has of late! Here's hoping!
Daniel Joseph
104
Posted 04/12/2016 at 06:37:24
"ish difficult"
Gary Russell
105
Posted 04/12/2016 at 08:31:11
Stan, do you not think how much you run shows you give a fuck and says how lazy you are or aren't as the case may be. Also how much of a team player you are. Firmino looks a very decent player.
Gareth Clark
106
Posted 04/12/2016 at 08:56:44
Gareth Clark (#50)
"Some people have zero patience & zero understanding.
Let's go back to when Martinez took over from Moyes... That first season, went quite well didn't it?
Maybe because Moyes tactics and structures (especially defensively) were still with the players."
Does anyone remember the second and third season under Martinez? When he could get his own tactics & structures & playing style embedded into the players...
Now Koeman has a big job, he has to undo all the piss poor characteristics that Martinez has left - not an easy job!
Give Koeman a year, to allow him to fix what he can, and bring in his own players.
Look at the Red Shite even, Klopp didn't have a major effect until he had been in charge for a year, once he'd bought in a few of the players he wanted & got the players playing his style, rather than Rodgers style.
Have some patience & stop being so fucking pessimistic... Koeman is the best possible manager we can have at the moment, let him do what he needs to do... This season is the platform for the next – he is still finding what he has, what he doesn't have & what he needs to get.
He needs more than 13 or 14 games to fix the mess Martinez made.
In Koeman I trust!
COYB

Dave Abrahams
107
Posted 04/12/2016 at 09:02:19
Barry (#103) re your last paragraph, you'd get all of that from at least three of the young lads currently stuck in the U23s and one of them would shake this team up and heaven knows it wants shaking up.
If Koeman plays the same team as in the last few games, the crowd will need shaking and waking up, because practically nothing will be happening.
Tony Abrahams
108
Posted 04/12/2016 at 09:14:40
All about opinions Stan, but one player does so much work for the team, whilst the other one plays in spurts, even when he can be bothered.
If there is one player that I hope suffers a nasty injury in February, it's the kid across the park, because he makes the other crowd play, and is a catalyst for his team and there present style?
Dick Fearon
109
Posted 04/12/2016 at 09:26:05
Gareth (#106),
I grant that 13 or so games is barely enough to get the team used to his style of play. At the same time providing our players are not totally stupid that number of games is more than enough for a half decent manager to sort out simple basics such as throw ins, corners, both defensive and attacking and movement off the ball.
We are talking about professionals that have spent a life time kicking a ball.
Allan Board
110
Posted 04/12/2016 at 09:30:04
On the issue of players not trying or giving a damn. There is absolutely no excuse in any form for such behaviour. A real team plays for each other and to a certain extent give up part of there own games for the greater cause.
All I see is nil team spirit, players egos bigger than there ability, and there is definitely a clique of senior players who think the club owes them a living.
Forget all comparisons to previous greats of this club – I wouldn't insult there memory and or deeds by mentioning them in the same breath as the current shower of work shy, inept shit houses.
I hope Koeman dumps the bloody lot and starts again. Even a win today won't alter my opinion – I can't respect any man who doesn't respect himself first.
My Under-9s have more self-respect.
Chris Gould
111
Posted 04/12/2016 at 09:31:35
Dick, I think laziness has become ingrained in several of these players. Koeman is demanding more aggression and more pressing. They aren't doing it. Either they can't or they won't.
You call them professionals, and they are, but that's not how professionals should act. The sooner he gets rid and brings in his own players the better. Then we'll be in a position to judge him.
Barry Williams
112
Posted 04/12/2016 at 09:42:58
''Teams no what to expect''. Correcting my own grammar, being a teacher and all that! – ''teams know what to expect'' C– for me!
I am in agreement that Koeman needs time, I 100% think he needs a full season at least to change things around. However, I would still like to see less predictability in the line-ups and also those under-performers getting a kick up the backside by being dropped occasionally! We have become accustomed at Everton to seeing players picked on names rather than form! It goes back to at least the Moyes reign and has continued ever since! I could offer up a list, but I think we could agree on most of the names, so I won't bother.
For the time being I would put up with mixed results if the team looked capable of putting in a shift for 90 minutes, not 30, not 45, but 90 – like they are trained and paid so handsomely to do!
Gareth Clark
113
Posted 04/12/2016 at 09:50:16
Exactly Barry!
He needs a full season and the next summer transfer window to bring in his own players...
Then you can judge him as a manager.
Darren Hind
114
Posted 04/12/2016 at 10:03:09
Tony A, I couldn't agree more, mate.
Gary Neville has told us, that they always hated coming to the bear pit and a "Dogs of War" approach from the off will have a well oiled Goodison on their feet shaking their fist and hurling abuse at anything that isn't blue.
A win today will lift the entire camp (not least the manager) many a season has been transformed with victories in games like this. Its an massive match.
Feed them raw steak this morning and send them out to attack and defend with real aggression, if we cant make it pretty, lets make it fucking exciting.
We owe this crew big time, that poxy semi-final defeat still rankles.
Paul Conway
115
Posted 04/12/2016 at 10:19:56
It's by no strange coincidence, that all the teams in the Premier League who have conceded 5 goals or more, are utter garbage, on a downward spiral.

Anto Byrne
116
Posted 04/12/2016 at 10:21:33
Moyes – knife to a gunfight; Martinez – cuckoo land; and Koeman – doesn't give a fuck what anyone thinks. Take your pick... or maybe big Joe and Unsworth is more your cuppa tea?
This team clicks and we can beat anyone. Having watched Chelsea destroy Man City, I don't feel so bad about the 5-0 loss as they will bury most teams the way they are playing. John Stones... utter shite, over-rated. Rant over.
Stan Schofield
117
Posted 04/12/2016 at 10:27:52
Gary @105 & Tony @108: What troubles me is the suggestion that players putting more of a shift in is the solution to the problem. I agree that these highly paid professionals should give full commitment every time, but I would suggest that even if they did, we could still struggle as a team because of the way it's set up. So to me it's more complex than putting a shift in, even though this in itself is necessary.
I'm a bit puzzled by this whole 'pressing game' thing. The way some managers are focusing on it at the moment puts emphasis on players needing to be long distance runners rather than footballers with a brain. I think our problems are rooted in a system that's not working, so the system needs changing. We need a stronger set up in midfield, more creativity. As well as full commitment from the players. Both things.
I was hoping that Koeman, with his expertise, could adapt the system to best utilise the players he's got. Instead, he seems to be sticking to a particular way, which doesn't seem to be working, and just reiterating that the players need to press more. Well, it's just possible that even if the players pressed until their blue in the face and come off exhausted after 90 min, we'd still have significant problems until Koeman sorts the system out with the players he's got. I thought that £6M/year expertise would give us that flexibility.
I'm trying not to criticise Koeman, and want to give him time, but equally I would by now be expecting to see some adaptability, or flexibility, to work with what he's got, to get better results, until we can get the players he apparently says he wants.
Eddie Dunn
118
Posted 04/12/2016 at 11:00:31
To all of those hailing Anichebe's recent performances, may I remind you all of how he would flatter to deceive when he was with us.
He would have a couple of good games and then revert to being fucking shit. He is shit. I was glad to see the back of him.
Paul Birmingham
119
Posted 04/12/2016 at 11:13:29
Let's hope for some commitment and passion and solid effort as this is the bare minimum for any game. Today's opponents are no where near as good as they were under SWN, so I'm hoping that the players have learned some lessons and will turn up today. We live in hope eternal for EFC to turn the corner.
David Hallwood
120
Posted 04/12/2016 at 11:18:28
Spot on, Eddie (#118), but it just shows you what a limited player can achieve by rolling up his sleeves and putting a shift in.
If anyone saw the highlights of the West Brom game, that's a good of an example I can think of. Limited but highly motivated players (Matt Phillips apart) playing uncomplicated effective football.
To be honest I'm dreading the game today because I just can't see where a win is coming from, and I will be delighted with a point, just please don't concede early.
Rob Coles
121
Posted 04/12/2016 at 11:25:21
Let's face it we need an all round performance today, something we've lacked in the last seven games. Defence is paramount with the likely front line of Man Utd.
Mirallas, Deulofeu and Lennon have pretty much failed so I would bring in Holgate at right back and push Coleman forward. He forgets to defend when he is in attack mode so, with Holgate as cover, Coleman could bring his attacking game into a more positive role and hopefully those runs down the flank and crosses will have the desired effect
John G Davies
122
Posted 04/12/2016 at 11:44:33
Eddie (#118)
"BIG Vic"? One of the most timid players ever to play for the Blues. Frightened of his own shadow. Ossie summed him up in his book.
"Victor used to put himself about in European games because he knew he would not have to face the centre half he was playing against in the future."
A damming statement from a fellow pro. His three recent goals have taken him up to 27 career goals in 190 games. Flatters to deceive indeed.
Neil Wood
124
Posted 04/12/2016 at 12:32:48
Play Deulofeu in the Number 10 role and give him the freedom to float.
Colin Malone
125
Posted 04/12/2016 at 12:33:42
At the moment, Koeman is using a knife instead of a screwdriver, he's using flour and water to hang the wallpaper.
Until the shop opens in January, we will have to put up with it. Koeman repeatedly saying the same things as the fans, ie, we haven't got the players to play a pressing game.
Eugene Ruane
126
Posted 04/12/2016 at 12:39:02
In a TV episode of Hancock's Half Hour ('The Bedsitter') 'Tone' decides some aftershave might help with a date he's going on.
After slapping it on his (freshly shaved) face he yelps with pain, leans his head back and says "Why I put that stuff on I do not know... fancy paying good money for stuff that hurts."
Funny that line should occur as I get myself ready to head to Goodison Park or the visit of Manchester United.
Up the Toffees!
Paul Conway
127
Posted 04/12/2016 at 13:06:03
Neil Wood at #224.
Do you not think that Deulofeu has done enough floating? He almost cost you money on the top assist. Why don't we build a team around him??
I honestly can't believe how some people can lose patience with Koeman, yet stand stoic with pure dross!
Eddie Dunn
128
Posted 04/12/2016 at 13:12:47
David, we were allegedly interested in Phillips, and lots of us on here were keen on the lad, and he seems to have got going at West Brom.
I am dreading today's game as they (United) have been playing well, but in all honesty, if our boys can't get up for this game and bust their collective bollocks for the cause then they should all be dropped.
So come on, Blues give us a decent Sunday evening .
Denis Richardson
129
Posted 04/12/2016 at 13:15:18
Eugene – I take it you're going down to Goodison Park clean shaven and with a splash of Old Spice ready for your weekly serving of pain?
Colin Metcalfe
130
Posted 04/12/2016 at 13:28:28
Same team same formation you will get the same result! Hate to be negative but can't see us getting anything out this game: 0-2 for Man Utd.
Terry McLavey
131
Posted 04/12/2016 at 13:33:34
What worries me is watching MotD last night – I saw football worlds part from what I've been watching my team being dish up week after week. We've looked like 11 random players put together for a kickabout!
Call me negative or perhaps realistic but I don't think we have much chance of winning this afternoon, and if we do continue in the same manner, serious problems are on the horizon. A pity because most of us thought we'd turned a corner with the new regime.
Ray Smith
132
Posted 04/12/2016 at 13:51:37
Gareth (#106)
Well said; succinct and too the point.
George McKane
133
Posted 04/12/2016 at 13:58:00
Just about to cross under The Mighty River to The Glorious Land of Blue... driven in my chariot by my Angel to The Dark House, a little later than usual.
I normally get there around 3 hours before the game... but waiting for the bar stool, track-suited went to the game once lifetime jollyboys to settle into their somnambulistic drones... to meet my fellow "go to every game no matter what" Blues. Settle for a chat and a few pints and then off to the iron and tin Blue Palace, shimmering in the slight distance in the winter's sun.
You see, no matter what Martinez, Moyes and Koeman say or do, or whoever we sign or do not sign, this is our Home, our Club and without doubt, our Time will come again... but throughout We are There, We Are The People, Long Live The Spirit of Ma Joad overseeing us lovely Blue Boys.
There you go and off I go. Up The Blues – Cosmic grooves all the way.
Kunal Desai
135
Posted 04/12/2016 at 14:31:07
I bet that Triumph has got more energy, drive and determination than our entire squad despite its age.
Kim Vivian
136
Posted 04/12/2016 at 14:35:32
Prettier too!
Colin Glassar
137
Posted 04/12/2016 at 15:02:49
Ross and Jags dropped; Cleverley and Funes Mori in.
David Hallwood
138
Posted 04/12/2016 at 15:06:48
Get what you mean Kim (#138) but the can't defend for shite.
Jon Cox
139
Posted 04/12/2016 at 15:07:11
Hey Colin,
Where have you got this info from so early?
Thomas Surgenor
140
Posted 04/12/2016 at 15:11:07
Disappointed with our line up.
Fraser showing what happens when you trust kids. The Southampton kid was pretty decent against us last year too.
Too much money in the premier league means that kids don't get the same chances they do in Germany.
Davies shows passion so I'd have had him in.
---
Add Your Comments
In order to post a comment, you need to be logged in as a registered user of the site.
Or Sign up as a ToffeeWeb Member — it's free, takes just a few minutes and will allow you to post your comments on articles and Talking Points submissions across the site.