Reports: Baines to sign new two-year deal at Everton

60 Comments [Jump to last]
Friday 16 December 2016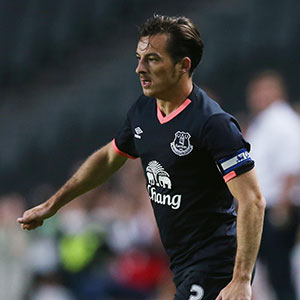 Leighton Baines looks set to end any speculation over his future by putting pen to paper on an extension to his current deal which expires this coming summer.
The 31-year-old's struggles with injury last term under Roberto Martinez meant that he entered the final year of his current contract without having agreed new terms.
Both The Guardian and MailOnline are reporting that Baines will pen a new two-year deal in the coming weeks that would keep him at Goodison Park until the end of the 2018-19 season.
---
Reader Comments (60)
Note: the following content is not moderated or vetted by the site owners at the time of submission. Comments are the responsibility of the poster. Disclaimer
Anthony Dwyer
1
Posted 16/12/2016 at 00:50:49
There's a few little signs of our Bainesy coming back to top form. If he can stay injury-free and get his wand producing his once standard delivery, the next two years should be good ones.

Brian Porter
2
Posted 16/12/2016 at 01:01:49
Good news. Leighton is looking good again and is an example to all the younger players of how a real professional conducts himself. A great ambassador for Everton FC.
Mike Gaynes
3
Posted 16/12/2016 at 01:23:04
Always the epitome of the quiet, classy professional... there's no better example of what a Blue should be, on and off the pitch.
He's become more vocal in the past year, more of a leader on the pitch, and that's all to the good. As with any 32-year-old player, health is the paramount concern, but as long as he can avoid further injury issues he'll be a quality contributor. And I've no doubt he'll be an outstanding mentor to whoever his successor turns out to be (Galloway? Foulds? Robinson?).
Can't imagine him playing in another shirt. Glad he's staying.
Paul Kossoff
4
Posted 16/12/2016 at 03:25:32
Baines is nowhere near the player he was, and giving him a new contract is the cheaper option that was taken with Gibson.
Saying he's back to his best, why? Because he put in a good cross against Arsenal? That's like saying Williams is back to his best because he scored against the gunners.
Jagileka and Williams have both been dragged out of position to cover for Baines and his struggles to get back in defence. Get rid while we may have a chance of a few million for him.
Craig Fletcher
5
Posted 16/12/2016 at 03:44:18
Great news. As Mike said above, as long as Leighton stays relatively injury-free he still has a lot to offer. Class is permanent.
Jimmy Salt
6
Posted 16/12/2016 at 07:09:14
Why not? We gave Gibson a new contract and all he does is put the nets up.
Ralph Basnett
7
Posted 16/12/2016 at 07:27:03
Gents, because Gibson got a contract (which I did not agree on but not in a position to stop it) does not mean everyone passed their best should get one.
How the hell are the young lads going to get a game if we persist in dishing out contracts for old times sake?
It is no wonder our squad average age is getting older and older!
Is Duncan still registered with the PFA? He could save us putting in a bid for an attacking partner for Lukaku.
Maybe Jags would like a two year extension as well? Just a thought like.
Its a good job Everton have got money to throw away, too much sentiment in Goodison Park.
Mike Gaynes
9
Posted 16/12/2016 at 07:55:55
Sorry, Ralph, but if the young "lads" want a game, let them earn it on merit, not by letting a class act leave on an expired contract.
And if you "get rid" now as Paul Kossoff says, who gets the left-back job on a silver platter? Call Galloway home from his place on the end of the WBA bench, scrape off his cobwebs and throw him on? Promote one of Unsworth's teenagers? Maybe call back Hopeless Garbutt, who can't get a game at Wigan after failing last year at Fulham?
Bainesy and Oviedo suit me just fine, thank you. The kids will have their chance. If they deserve it.
Declan Campbell
10
Posted 16/12/2016 at 08:23:51
Why do the young lads have to get a game? If they're not good enough, they're not getting a game.
It is unreal here, you'd think Everton is the only club that has young players. Every Premier League team has young players, very few play or make it.
Kim Vivian
11
Posted 16/12/2016 at 08:27:45
There's certain posters on T'Web, when I see their name, I just have to skip forward. The crass negativity is bewildering.
Gary Russell
12
Posted 16/12/2016 at 08:32:30
I'm of the opinion that there needs to be less sentimentality involved and more hard-nosed realisation of when a players best days are gone. For once, I agree with Paul!
Fran Mitchell
13
Posted 16/12/2016 at 08:38:19
Christ, some bewildering comments.
All top teams keep their best players, even when 'in decline' (I.e. Ageing). Barca and Xavi, Puyol. Man Utd with Giggs, Scholes. Chelsea with Terry.
For us, Baines is as close as were gonna get to any of the above, by far our best player for almost a decade.
Yet some want to 'get rid'.
All teams need experienced professionals on the pitch, in the changing room on an the training ground. Players like Baines, with his natural class, could still offer great things to Everton if used correctly.
Play him less, he'd be a great sub to bring on when wanting a bit of experience near the end of he game when younger lads often tire, lose concentration. Play him mainly against the big teams where experience counts. Play him and sub him for a younger road when the game is sowed up.
But get rid? Nah.
And comparing Gibson to Baines. No words
Jon Withey
14
Posted 16/12/2016 at 08:41:18
Good move.
Dermot Byrne
15
Posted 16/12/2016 at 08:46:32
Paul K: I think you have a point. Baines's performances have been mixed. However, as with Berkeley, I think he can contribute a lot if we can bring in 3 or 4 better players and improve the rest of the team. Worth a contract in my view... just.
Graham Mockford
16
Posted 16/12/2016 at 08:52:40
Paul,
As his contract expires this summer you will not get a transfer fee for him. I don't think two years is too much of a gamble for a player who has been one of our best.
Loyalty is a two way street, remember he turned down a move three years ago when I'm sure there was more money on the table to follow Moyes.
He had for the first time in his career a serious injury. I'm not sure he will ever get back to his best but remember his best was being the best full back in Europe and the best full back at our club since Ray Wilson. I'm sure we need to retain a player of his quality even if that means he is phased out of the team during that two year period.
Paul Tran
17
Posted 16/12/2016 at 08:54:54
He's clearly past his best, but still has something to offer. There's at least seven players I'd like to ship out first and that is going to be some task.
So for me, in the current circumstances, a two-year contract makes sense.
Mike Green
18
Posted 16/12/2016 at 08:57:38
Good. Baines might be on the wane but he's definitely got a couple more years in him. He's a good lad too which is no bad thing either.
Tony Hill
19
Posted 16/12/2016 at 09:01:15
Apart from anything else, Baines is an important senior member of the team and must be a big influence in the dressing room. He will be an excellent guide for the younger players and, at the least, a valuable squad member for another 2 seasons.
A proper Evertonian with his head screwed on. That'll do for me.
Colin Glassar
20
Posted 16/12/2016 at 09:05:24
Great news. Love Bainesy and if he can stay clear of injuries he can play at the highest level for some time yet.
For those who'd prefer to have him put down in favour of the kids, who exactly? Garbutt? Setting the championship on fire is he? Galloway? A centre back who was used as an emergency left-back. Oviedo? Great guy but more injury prone than Gibson. Get real.
Tony Steele
21
Posted 16/12/2016 at 09:50:56
I find it hard to be excited about this. Baines has been my favourite player for years now but we now have an ageing back four. There's no transition plan as far as I can tell, apart from Holgate. Oviedo and Funes Mori are Baines's replacement but they aren't long term. Then again it's hard to believe Koeman will be here after two years so it suits player and manager fine.
Colin Glassar
22
Posted 16/12/2016 at 10:04:42
Bainsey, Barry and Holgate have just signed new contracts.
Tony Abrahams
23
Posted 16/12/2016 at 10:44:00
How can you compare Gibson to Leighton Baines?
Honestly think Baines, is still one of our best players, and not because he put in a great cross the other night. His energy levels are only bettered by Gueye and maybe only equalled by both McCarthy and Coleman. If he's caught out of position defensively then it's usually because he doesn't have anyone playing outside of him.
Don't think he always gets close enough to his opponent defensively to stop the cross, but he never really has since he's played for us, but I still don't think that there are many better fullbacks in the league, so this contract makes loads of sense to me.
James Morgan
24
Posted 16/12/2016 at 10:50:56
Leighton seems to be getting back to close to his best. He will always give 100% and is a consummate professional who the young lads can look up to, just like Barry who has also signed on again. We just need to look at who is going to replace them long term and get them to be their understudies.
Made up with Holgate signing as well, he will be class in a few years I reckon.
Jay Wood
25
Posted 16/12/2016 at 10:58:06
Hmmm... I agree with Graham @ 16 – that loyalty is a 2-way street – BUT!!! I think in the winterlands of a player's career you need to be cautious in offering too long a contract.
There have been clear signs that Leighton – a near ever-present for so long – is more injury prone these days, and – not unreasonably, as age and sheer body fatigue creeps up on him – not performing to the consistent mega-levels we associate with him.
His contract is extended a further 3 years to 2019 when he will be 35. To add to that, the already 35 year old Gareth Barry has ALSO been given a contract extension to June 2018 when he will be 37. For Barry, read and apply what I already commented on about left-back.
Take the Arse, by contrast, who seemingly only offer single year contract extensions on any player over 30. Isn't that a more prudent contract policy than the possibly over generous one Everton has commonly granted to long serving over-30s for quite some years now?
On happier contract extension news, Holgate has signed a 5-year extension to his.
Joe O'Brien
26
Posted 16/12/2016 at 11:06:01
Great news on all three. Get Barkley Gueye and Coleman signed up now and I'll be happy. Have to tie them down to long term contracts.
Dean Cooper
27
Posted 16/12/2016 at 11:20:45
I can't believe some people on here are saying get rid of one of the most classy, talented and loyal players to ever wear the blue jersey in the Premier League era.
It made me sick that Chelsea wouldn't extend the contracts of players like Drogba and Lampard despite what they had given to the club over the numerous seasons. We don't have to be like them, we can have class and reach our lofty ambitions too.
Who else would you honestly rather have there than Leighton anyway!!
John Raftery
28
Posted 16/12/2016 at 11:23:09
In signing up Barry and Baines to contract extensions, I suggest Koeman values their presence around the club and their positive influence in the dressing room. In his comments about Barry the manager makes it clear he will not be playing every game and the same will apply to Baines the older he gets.
Holgate is destined to be a great player if he continues to develop the way he has since joining us in August 2015.
Don Alexander
29
Posted 16/12/2016 at 11:42:51
We don't know what the terms are in any of these contracts but Baines and Barry exemplify professionalism and even at their age are able to make a contribution on the pitch, albeit this may dwindle as time goes by. I hope their influence and attitude is infectious to others at Finch Farm.
As an aside, Baines might be the best fullback we've had since Ray Wilson, unless you forget about Pat van den Hauwe. He was the dog's chunks in my opinion!
Kunal Desai
30
Posted 16/12/2016 at 11:43:39
A two-year deal gives us an opportunity to bide our time in recruiting a first choice left back. I don't think next summer we will be in the market for a left-back. We have more critical positions which need addressing. Also with potentially Galloway and Garbutt possibly back there is cover for Baines.
With Barry, I'm not so sure two years was the right deal for him. I expect him to be a squad player next season. Making the odd cameo appearance for 10 to 15 mins.
Holgate is a great move. Think he'll go on to be better for us than Stones was.
John Malone
31
Posted 16/12/2016 at 11:58:10
Baines and Barry are worth there wait in gold they are true professional's who set the standards's at the club!
They are the opposite to this new breed of social media mad players who want to be like famous rap stars not top pro footballers!
I really hope Koeman focuses his recruitment policy on these types of characters!

Dave Pritchard
32
Posted 16/12/2016 at 12:06:35
Baines had a much better game on Tuesday. Before that he had looked poor but then so did everyone else. Hopefully he can start performing consistently well for the rest of the season and beyond.
Gary Edwards
33
Posted 16/12/2016 at 12:16:35
Totally agree with Paul K and Gary R, ie, Baines is not the player he was when holding down the England left-back slot. He's served Everton well, seems like a decent bloke but as said, there is no place for sentimentality in the modern game, hasn't been for a long time.
We have better options at left-back. Galloway consistently played well at the beginning of last season and is without doubt faster and a better defender. I would like to see Antonee Robinson get an opportunity... super quick, tenacious in defence, imposing going forward... go and watch the lad and see for yourselves.
Ste Traverse
34
Posted 16/12/2016 at 12:23:07
I'm happy with this. It's cheap for the usual cry-arsers to say 'he's finished' as soon as a player goes past 30 and at some point loses some form, which every player goes through no matter what their age is.
Bainesy has plenty of good football left in him yet and is a top professional.
Conor Skelly
35
Posted 16/12/2016 at 13:07:43
Sorry for the cynicism but we don't owe anything for "loyalty". Baines is a classy dude but he acted in his own self interest in signing a 㿷k a week contract 4 years ago. He's been paid fortunes to play every week a game he loves for Everton FC the best club in England. The extension for him and Barry shows lack of ambition.
Colin Hughes
36
Posted 16/12/2016 at 13:08:20
Wouldn't have extended Barry's contract, everyone can see he is past it at this level, Baines best days are also behind him but there is a bit more miles in him that Barry. Hope this is not Moshiri showing he is a fraud and doesn't want to splash out to replace the tried and tested failures at Everton.
Steve Guy
37
Posted 16/12/2016 at 13:19:33
I wouldn't want anyone else taking our penalties!
John Pierce
38
Posted 16/12/2016 at 13:25:59
The triple contract extensions have raised an eyebrow or two.
For me locking Holgate down is sensible, I'd hope he breaks into the first team for good very soon.
Barry is an interesting one. If the emphasis is on him starting or finishing a game, being pick specifically for games he can handle it might be a good call. I'm hoping it has a coaching element in it and we squeeze every last drop out of his experience.
Using him sparingly might see an upturn in his longevity. But to most viewers eyes he has looked a fading force physically. Not for me though.
Now Baines is the one most likely to cause a problem. Skillful, one of the best passers in the team. But clearly ailing physically, an injury record in the last 18 months which would make me lean towards not renewing. This would be in the spirit of Everton as club being ambitious.
Does Leighton get extra consideration because he gets the club? I wonder how much this is all wrapped up in the decision?
But I ask you this, when you heard the news did your gut go WTF or respond with a get in?
On balance the lack of a decent replacement tips me towards an extension.
My bet is Leighton gets the winner drom the spot Monday.

Ian Bennett
39
Posted 16/12/2016 at 13:26:05
He's got two good years still in him, so no issues from me. The critical point for me is getting a younger model learning from him that can take the baton on – and that clearly isn't Oviedo or Garbutt, whilst I don't really know where Galloway's best position is.
Ciarán McGlone
40
Posted 16/12/2016 at 13:38:50
Sensible move... No sentiment in this for me at all. Still better than most left backs in the league.
Kevin Dyer
41
Posted 16/12/2016 at 13:56:40
I raised an eyebrow myself with this. History tells us that when a player starts picking up injuries, particularly when entering the veteran stages of his career, then this will continue. I am assuming we've traded contract length for reduced terms, which actually gives us more salary to invest in new signings.
No obvious replacement already at the team, as Oviedo is a crock, Garbutt not good enough and Galloway not playing for WBA right now; also he started well last season but his play fell off so not sure about him.
Holgate, great signing. Barry, an odd one. Again, reduced contact terms I guess as probably one of our higher earners.
Paul K: stay classy!
Paul Ellam
42
Posted 16/12/2016 at 14:10:51
I think this is great news. Sensibly keeping 2 of our older players to help out with their experience and be examples to the youth and signing up a great prospect in Holgate.
Well done, Everton!
Des Farren
43
Posted 16/12/2016 at 14:54:05
Baines has been poor for years. He simply refuses to defend, ie, tackle his man, close him down, try to block the cross. He turns his back and lifts a leg. Have a look...
James Doran
44
Posted 16/12/2016 at 15:10:12
Good news on the Bainesy and Holgate fronts, but Barry's legs have gone and I would have released him when his 'current' contract expired.
Minik Hansen
45
Posted 16/12/2016 at 15:48:27
Baines is one of the few left since I started supporting Everton back in 2007. He's the same age as me.
I believe he can keep up the level he is getting back to if he takes good care of himself and he can help start building this new Moshiri era with his blue spirit. COYB.
Paul Kossoff
46
Posted 16/12/2016 at 15:58:36
Gary 12, Gary, I thought you were my biggest supporter? No? Oh OK lol.
For and against for Baines, he's not been his best for a while, but I think with Kenwright still here, the cheaper option prevails with keeping players who should be replaced.
Kevin Tully
47
Posted 16/12/2016 at 16:04:35
It's not just the length of contract extension you have to take into consideration. There will be players (such as Bolasie & Lukaku) who will have signed their contracts for a much higher weekly wage than Baines.
Now put yourself in Leighton's position, as pointed out he turned down a lucrative move, then new players who come in are possibly on 50% higher wages after you've shown that loyalty. The lad deserves his contract, he also deserves to be on a similar wage as any of the first-team high earners. It's a new dawn at Everton with new, rich owners and TV revenues pushing wages up every season.
Happy for the lad... I would also keep him in the squad for penalty taking ability alone.
Alan Bodell
48
Posted 16/12/2016 at 16:43:21
I think Leighton deserves this, he has never left the pitch not giving 100%, had chances to move but stayed loyal and I'm certain the whole dressing room will enjoy hearing this news,
A top Blue with a few more seasons with us is lovely.
Dave Williams
49
Posted 16/12/2016 at 17:15:43
I must admit I was writing him off after Watford but he looked much more like his old self against Arsenal and I would not feel too good if he couldn't play against Liverpool.
There is no doubt that he has been a class act for years now and if he can stay fit he still has a lot to offer- we need to shed some of the old brigade but we must keep one or two and Baines is the best of that group by some way.
Put the right player ahead of him (he's not currently at the club whoever he may be) and I would think his performance level will improve as he really misses Pienaar.
Michael Kenrick
50
Posted 16/12/2016 at 17:25:03
"Reduced contract terms"??!? Are you sure about that, Kevin (#41)?
Erm... on the other side of the coin, there is player power, pushy agents, massively increased TV bonanza budgets, ever increasing weekly wages... etc, etc.
And you really believe senior players, who've been at this malarkey a fair while, and seen the money side of things go in one and only one direction – they're gonna say "Yea, pay me less... no problem. As long as it makes you play me more, I'm fine with taking a few grand off the table. No problem. Just glad to still be earning my crust..."
Reduced contract terms??? You're havin' a laff!!!!
Bobby Mallon
51
Posted 16/12/2016 at 17:41:09
Bainesy has a 4½-year deal – same as Holgate. Barry got a year extension.
Geoff Williams
52
Posted 16/12/2016 at 17:41:49
Barry's legs gone??? Gareth Barry consistently covers more ground than most players in the league. He is not the fastest across the ground but he never was. His football brain and know how is second to none. He would still be the first name I would put on the team sheet.
Minik Hansen
53
Posted 16/12/2016 at 17:54:46
Agreed Geoff, the good start of the season has partly been succumbed by the first absence of Barry, if I remember correctly. He is too important, if the other defensive midfielders apart from Gana are not performing.
Kevin Dyer
54
Posted 16/12/2016 at 18:35:20
Michael (50): yup. Speculation of course but it's a fallacy to assume player contracts always go up. Barry is 35, he was likely one of our top earners when he moved from Man City (I'd guess he was on 𧴜k pw there).
When RM re-signed him, I'd imagine it was an extension on existing terms. Now though, he's getting a 12-month addition at an advanced age, with demand for his services limited. He's trading additional playing time for a reduction in wages.
Probably the case with Baines too, though likely not a big wage drop. Not everyone wants to chase the money to China or the USA. Of course, it being us it's entirely possible we've actually bumped their wages!
Mark Riding
55
Posted 16/12/2016 at 18:35:47
Baines has been a great servant to Everton. But, he's done. He's holding back younger / hungrier players. His pennos have been gash since his injury as he places them rather than giving them the laces. Only fan pressure has him back on set pieces.
If Oviedo had any sort of luck, Baines would be nowhere near the starting eleven, but, alas, Oviedo is jinxed. I'm hoping a new deal being mooted is designed to get Moyes interested in bidding in January.
Mike Gaynes
56
Posted 16/12/2016 at 18:55:10
Geoff, the issue isn't how much ground Barry covers, or even how fast he covers it... in my view it's his quickness that has gone, not his legs. He can't get off the mark quick enough to win the balls he used to win, and it's showing up in the number of fouls he commits just outside the box because now he's just a half-step late in the challenge.
Yes, he's still the wisest player we have and still the best passer... the swerving lob to Rom was gorgeous... but I don't think he'll be able to keep his place if Schneiderlin comes in.
Mike Gaynes
57
Posted 16/12/2016 at 19:02:16
Mark (#55), all I can do is laugh at that malarkey.
Please name one "younger/hungrier" player he's holding back. Galloway or Garbutt, collecting bench splinters elsewhere? A couple of Unsi's kids? No way, nohow. And nobody plays hungrier than Baines. Always totally committed.
And if you really think that Koeman listens to "fan pressure" when deciding who takes the set-pieces, I'll just say that I hope it's a nice day on whatever planet you're orbiting.
Graham Mockford
58
Posted 16/12/2016 at 19:21:23
Mark Riding
Sometimes you can only laugh as Mike says.
Baines has taken three penalties since his injury last season. Two goals vs Norwich and Man Utd and one miss vs Stoke which did end up in the net.
Oviedo over Baines?
To quote Danny Dyer, you're having a giraffe.
Ian Brandes
59
Posted 16/12/2016 at 19:28:22
Let us all just agree with Graham Mockford, because on things pertaining to our club, he is invariably right.
And keeping Baines is the RIGHT thing to do.
As for comparing Baines with drunk driver sick note Gibson, I despair!
James Doran
60
Posted 16/12/2016 at 20:29:21
Mike, Graham and Ian @ 56-59 inclusive – I totally concur with said posts.
Colin Glassar
61
Posted 16/12/2016 at 20:41:29
Some of you would've been sick as parrots if you were watching the Milan side of Maldini, Seedorf, Pirlo, Bufon etc winning everything a few years ago. The average age was about 34 and they were fitter and quicker than most twenty-somethings. Stop the age obsession, ffs!!
---
Add Your Comments
In order to post a comment, you need to be logged in as a registered user of the site.
Or Sign up as a ToffeeWeb Member — it's free, takes just a few minutes and will allow you to post your comments on articles and Talking Points submissions across the site.