Moshiri clears Everton debts with £80m loan

100 Comments [Jump to last]
Saturday 17 December 2016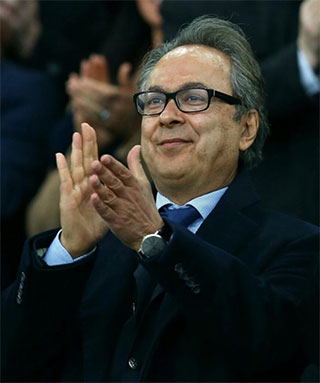 Everton have announced reduced turnover and losses for 2015-16 but have been boosted by an interest-free loan from major shareholder, Farhad Moshiri.
In the financial results released today ahead of next month's AGM, Everton posted a turnover north of £120 million but announced a post-tax loss of £24.3m.
Turnover was £121.5m, down from £125.6m, while commercial income fell £4.6m to £21.4m.
The club's expenditure in the transfer market and on players' contracts, combined with a failure to qualify for Europe, have been cited as reasons for the increased deficit. A loss in television revenue, performance bonuses and gate receipts from not participating in European competition contributed to the decline in commercial revenue, although that was partially offset by an £0.8m increase in domestic broadcast revenue as a result of 18 live Premier League TV games and the club's two cup runs to the semi-finals last season.
Transfers totalled a net spend of £24.7m, with Everton's wages as percentage of turnover amounting to 65%.
The accounts revealed, however, that Moshiri, who purchased a 49.9% stake in the Blues last February, has provided an interest-free £80 million loan with no agreed repayment date. That has been used to repay £54.8m worth of loans and other exceptional items.
"I'm more positive now about the future of our great club than I've been during my time as chairman," said Bill Kenwright.
"Those who know me will appreciate how hard I've been looking for the right person to take our beloved Club forward. I have absolutely no doubt that in Farhad Moshiri we have found someone not only with the wherewithal — and we all know how important that is these days — but also with a deep understanding of the game and a growing appreciation of all things Everton."
CEO Robert Elstone, meanwhile, said: "The results reflect a challenging year for the Club. Performance on the pitch directly impacted commercial income with key deals reduced as a result of the Club's finishing position.
"We also lost out on European revenues, directly from Uefa, from our partners by way of performance bonuses and, of course, gate receipts. Despite the challenges, we are pleased to be able to report the second highest level of turnover in the Club's history.
"Looking forward, for the first time in as long as we can remember, in 2016-17, there is a good chance that Goodison Park will be full for every game. We are also benefiting from the increased revenues under the significant new broadcast deal.
"And, as we always do, we will also continue to look for growth in all areas, in particular, as we approach the mid-point of the final year of the current Chang partnership, with a clear focus on our main sponsor opportunity."
---
Reader Comments (100)
Note: the following content is not moderated or vetted by the site owners at the time of submission. Comments are the responsibility of the poster. Disclaimer
Ricardo Gimpardsle
1
Posted 17/12/2016 at 14:59:14
Those figures would mean that we are at least ٣ million better off each season so it will improve our overall situation. As like many things, finance takes time to filter through, but it all looks like Mr Moshiri is laying down the right foundations to build upon.
Thomas Lennon
2
Posted 17/12/2016 at 15:36:18
The Echo also states that, going forward, there are financial arrangements in place that will be reviewed in July every year and funding will be forthcoming from current source (Moshiri presumably) or other alternative source. Sounds a little like more funding partners are being sought.
A much improved stable plan for investment.
Anthony Hawkins
3
Posted 17/12/2016 at 15:40:59
It's great news that the owner is putting forward his money; however, a debt being repaid with another debt is still a debt.
It's not a 3rd party loan, which helps.
Alan J Thompson
5
Posted 17/12/2016 at 15:47:19
It may only be a loan but it is indicative of his intentions.
Rob Coles
6
Posted 17/12/2016 at 15:53:28
Glad to hear Mr Kenwright is more positive about the club's future, seeing as how SOMBODY ELSE, NOT HIM, is investing in the club!!!
Raymond Fox
7
Posted 17/12/2016 at 15:54:12
A bit vague, isn't it... he owns half the club, what's he doing lending himself 㿔m!
When you purchase a business, the debts are usually part of the equation, aren't they.
Richard Lyons
8
Posted 17/12/2016 at 15:54:51
Does this mean there'll be £25.2m to spend in January?
Steve Ferns
9
Posted 17/12/2016 at 16:00:33
Moshiri is a smart guy, an accountant by trade. He doesn't own the club 100%. He's safeguarding himself by paying the debts off with a loan. This means he'll get his 㿼m back when the club is sold.
And no, you don't pay the debts off when you buy the club, you just become liable for them, although it's possible to wind a club up and not pay them.
Mark Morrissey
10
Posted 17/12/2016 at 16:07:14
I don't even pretend to begin to understand finance. It baffles me but it concerns me to read that Moshiri is loaning us his own money.
I thought he was about to fork out for a new stadium. I want to see news of a new ground not this negative revenue headline. This story is probably good news but I want to see a spade in the ground. That's what I want for Christmas.
Seeing his face does remind me though of Christmas's past. I used to look forward to the Christmas Morecambe & Wise show...
Nick Armitage
11
Posted 17/12/2016 at 16:17:57
Do the maths, he's worth ٟ.2bn. He has cleared 㿼m of debt and bought out shares in the club for 㿞m. He will need 𧷤m to build a new stadium.
Club income isn't increasing so to step up to the next level he'll need to find or borrow 𧶀m to invest in players. That's over half of his net worth getting sunk into Everton, so is Moshiri being backed by someone with much deeper pockets?
Colin Glassar
12
Posted 17/12/2016 at 16:25:57
Same here Mark, it's all gobbledygook to me. I imagine a billionaire, like Moshiri, knows what he's doing but I can't see him financing the stadium on his own, plus investing in new players. He must have something up his sleeve.
Joe O'Brien
13
Posted 17/12/2016 at 16:27:27
Wasn't that the rumour, Nick? That's he's got strong backers waiting in the wings? I think his close business friend Usmanov will come on board at some point...
Thomas Lennon
14
Posted 17/12/2016 at 16:34:24
There is provision for more/different investors during July as we undertake a refinance each calendar year. No idea if that is a standard arrangement but it sounds like more investment is being sought.
Matt Traynor
15
Posted 17/12/2016 at 16:48:38
Nick (#9), it's unlikely that Moshiri has his worth all liquid – likely to be invested, so maybe he's used liquidity to buy the shares and provide the loans. Means that there will need to be other investors in the wings, as speculated by others.
Ultimately, if he wants a return on his investment, that will be predicated on two things:- TV revenue projected to continue to rise, and a new stadium to increase commercial and matchday income.
Delivering the new stadium will mean he can flip the club, make a tidy some, and we'll still be left with Bill as Chairman.
David Chait
16
Posted 17/12/2016 at 16:51:15
Bank interest-bearing debt with repayment terms can be very onerous to companies and a virtual noose around their necks.
A shareholder loan (interest free) is almost as good as equity and should be seen in a positive light. In the future, if he wants to take more ownership, he can convert that loan into actual equity without injecting more cash.
Eugene Ruane
17
Posted 17/12/2016 at 16:57:52
Mark (#8) – I also know nothing about finance/business but must take issue with your Morecambe & Wise call.
Moshiri certainly looks like one half of a popular British comedy double-act but surely it's this feller – Link
Paul Smith
18
Posted 17/12/2016 at 16:59:18
Come on, Nick – did you really think he was spending £300 million of his own money on a new stadium?
There's some wild theories about Moshiri and, let's be honest, the man owns 49.9% – not the full club – so he's well within his rights to only put in what the other shareholders put in.
I don't see a stadium coming in the next 5 years to be honest, so counting money that hasn't been spent seems pointless.
Thomas Lennon
19
Posted 17/12/2016 at 17:14:37
And more ownership at a future date is built into the agreement of sale, David so... Both parties are protected against future problems unforseen.
Stephen Ashton
20
Posted 17/12/2016 at 17:15:18
I think one advantage is that our assets are now unencumbered... so, when we move to a new stadium, the proceeds of sale of Goodison can be used towards the cost of the stadium instead of having to be used to repay a mortgage. Nor are we wasting money on the exorbitant interest rates charged on the BVI loans.
Trevor Lynes
21
Posted 17/12/2016 at 17:19:32
Just let us all hope and pray that Mr Koeman can buy some talent and put this club back into the top tier where it belongs.
We must unload some non producing players immediately if not sooner. Players like Gibson, Kone, McGeady, Niasse and even others must be released. Any player who does not want to stay and fight for his place ie; McCarthy can be sold to boost the transfer kitty.
We do have some young talent who may be worth a place next season (they cannot be worse than those mentioned above). Personally I would add Cleverley to the list who need to be moved on. We really are crying out for a creative diamond in midfield who can get the best out of Lukaku, Barkley, Mirallas and Bolasie when the lad gets himself back from his horrendous injury.
Tony Dove
22
Posted 17/12/2016 at 17:19:53
Two things puzzle me:
The first being – How on earth did we lose 㿄 million last season with two long cup runs???
The second is – I don't believe any person or company lends 㿼 million without a detailed formal loan agreement which would include terms dealing with its repayment, however flexible and generous those terms might be.
This new loan will also impact on the Club's ability to raise further funds in the future.
Ognjen Mojovic
23
Posted 17/12/2016 at 17:23:55
Fantastic! The best thing I've read on this site ever!
Jon Withey
24
Posted 17/12/2016 at 17:28:38
Not paying interest on £80m can only be good.
Paying off and installing new managers isn't cheap – but you'd think the John Stones deal would have helped... assumedly that money is in instalments.
Ognjen Mojovic
25
Posted 17/12/2016 at 17:34:15
Tony Dove( #20),
I think we spent on players (Lennon, Deulofeu, Funes Mori, Niasse).
Jay Harris
27
Posted 17/12/2016 at 17:37:33
What a refreshing change from Bill's rip-off cronies in the BVI.
Hopefully we'll now see a big reduction in unexplained operating costs.
A lot of the stadium costs will be covered by naming rights, sponsorship and commercial deals.
Ray Roche
28
Posted 17/12/2016 at 17:40:26
Interest-free loan is the same, as I understand it, that Sir John Moores did when he was Chairman. He didn't throw money at Everton, but loaned them money and stood as guarantor for any loans that we had.
Maybe someone else can word that better but the common and incorrect view is that Moores just gave us cash.
John G Davies
29
Posted 17/12/2016 at 17:44:53
Things are moving in the right direction.
We just need to get Kenwright out of the club now to have a more professional board.
Bill Watson
30
Posted 17/12/2016 at 18:12:05
Ray is quite correct. John Moores didn't actually give Everton money but made an interest free loan of, I think, 㿨,000; quite a tidy sum at the time.
The next step is to increase revenues, in all areas, because the Financial Fair Play transfer spend rules are directly linked to income.
Like many I'm hoping for a busy January with any incoming transfer fees, hopefully, being offset by getting rid of some of the under achievers. Also hoping for some positive news on the stadium issue!
John Raftery
31
Posted 17/12/2016 at 18:15:44
Tony (#22) The League Cup run was worth next to nothing. I remember reading the prize money for winning the thing was 𧹈k. The FA Cup run was worth more but we only played three extra matches in it compared with the previous season.
Hence it did not make up for the loss of revenue from the Europa League in 14-15, including the TV money for 10 matches televised and all the associated sponsorship rights.
Mark Morrissey
32
Posted 17/12/2016 at 19:08:40
Eugene @ 17 you can have that, uvavoo!!
Harry Wallace
33
Posted 17/12/2016 at 19:26:24
Good to see it confirmed but we knew this anyway as he said so on TalkSport.
Key info for me next month is the docks stadium. It's huge for our future.
Colin Glassar
34
Posted 17/12/2016 at 19:36:27
John G (#29), spot on. We need to unshackle ourselves from the amateur theatrics and luvvie luvvie attitude.
Kunal Desai
35
Posted 17/12/2016 at 19:39:47
I hope, in the not-too-distant future, Moshiri makes make a formal takeover. As someone above mentioned Kenwright should be bought out, whilst Elstone should be sent packing as well.
We need a shrewd and professional board going forward. Those two are certainly not part of those plans.
Paul Clews
36
Posted 17/12/2016 at 19:45:05
Just a point of reference for Nick Armitage: don't forget the sum he was paid by Usmanov at Arsenal to invest in us before he even touches his own cash, mate.
Raymond Fox
37
Posted 17/12/2016 at 19:48:03
We as fans need another billionaire to buy out the other board members – if they will sell, that is. Then we may be going places, as it is I don't see any dramatic changes in our fortunes.
The other 50.1% owners are going to have to match Moshiri's future investments, we cant expect him to put in all the funds we need, without equal investment from the other party or parties.
Dean Adams
38
Posted 17/12/2016 at 20:08:28
Why not Raymond? He is fully aware of their position.
Chris Williams
39
Posted 17/12/2016 at 20:19:13
As far as I understand it, the papers are already raised and lodged with Companies House to buy out the other main shareholders including the rest of Kenwright's shares.
It's a matter of timing, for whatever reason.
Craig McFarlane
40
Posted 17/12/2016 at 20:20:46
Mark @32 - surely bearing in mind Mr Moshiri's nationality, that should have been Iranu.
Michael Kenrick
41
Posted 17/12/2016 at 20:52:55
Ray (#37) I'm not so sure that
"The other 50.1% owners are going to have to match Moshiri's future investments..."
I can only assume that's wishful thinking on your part -- I don't think it's a set rule, expectation or cast in stone.
Buying the shares in question is actually the prime investment itself. Look how that paid off for Kenwright. But it did not involve putting any money into the club itself – same with Moshiri. Indeed, taking over the debts is not directly dumping money into the club, although it should reduce operating costs.
I guess these new investors could pony up interest-free loans in the same way. But they are under no compunction to do so, unless they commit to do so as part of some agreement. (Guess I should read the fine print in that document at Companies House!)
What this shows to me is that – just as we saw in the last window – the injection of cash so many fans are expecting to see to finance Ronald Koeman's player rollover project may not actually be that forthcoming.
Paul Hewitt
42
Posted 17/12/2016 at 21:23:01
All sounds very dodgy to me.
Raymond Fox
43
Posted 17/12/2016 at 21:30:30
Michael, your last paragraph is what I was trying to say.
I don't believe that Moshiri is going to inject extra money from his own wealth unless he is matched by new money from the other owners.
Now high finance is a strange beast, so who knows what arrangements can be made!

Ernie Baywood
44
Posted 17/12/2016 at 22:05:02
Premier League businesses are a strange old beast... a fairly average top level club posts a £25M loss and we have a smart guy choosing to pump in his hard earned!
It's hard to see how we would return to profitability under anything like our current model, even with a good footballing performance. I guess that's not really the aim, or no-one would ever invest in football. It's about the growth in the value of the club, inflated by turnover pumped up by TV deals. It's only ever turnover as the increased deals just result in greater costs (wages).
Can the TV deals really keep inflating the bubble?
Chris Williams
45
Posted 17/12/2016 at 22:31:23
I need to repeat what I said before. From memory it is a matter of record that the paperwork is already in place to purchase the other shares owned by the major shareholders. I remember seeing the documents being reported upon. It may well have been on here, but can not swear to it. This would mean, I suppose that cash is there to purchase the rest of those shares and effectively confirm the controlling situation that in reality he has already got.
This remunerated the individuals not the club. If he has loaned the club a sum of money, interest free, to pay off debts, then, again, as far as I can recall, he is following the actions of John Moores.
I suppose it depends on which debts he has paid off what effect it will have on the operation of the company. But if it was the debts that we have had in BVI, which are soon to be non-compliant under revised rules then a bloody good thing too.
He is not a director of the company, so he must leave the day to day running of the company in the hands of the Board, which leaves a lot of power in the hands of Kenwright as Chairman and Elstone as a director. If he interferes directly he could be deemed a shadow director, which is against the rules. Philip Green for example was accused of being a shadow director of EFC in a recent Parliamentary committee.
Nothing of course was done about this.
Sorry about all this stuff and it's getting late now, but a lot of this has already been covered on here and elsewhere.
Tony Dove
46
Posted 17/12/2016 at 22:33:15
John@ 31,
Fair comment but it doesn't add up to 㿄 million!
Tony Hill
47
Posted 17/12/2016 at 22:56:44
Interesting that it's Bill and the other one commenting on Moshiri's money and the otherwise crap commercial performance of the club.
That's the problem, right there, and it's not disappearing any time soon.
Can't wait for the new stadium. Site visits, whizzy American architects, promises. Must be true.
Joe Clitherow
48
Posted 18/12/2016 at 00:17:07
This type of "No pressure" loan is not unique. In fact it is pretty standard for a cash injection to a club. Roman Abramovich has bankrolled Chelsea in exactly the same way. It is also a way to offset debt interest payments thereby protecting the value of your own investment. The downside is that potentially he could call in his loan at any time.
Raymond, I don't honestly know what you are talking about. There is no way to get equal investment from other shareholders in the way you describe. I won't be stumping up for sure!
Raymond Fox
49
Posted 18/12/2016 at 01:35:49
Joe, say you buy one half of an old house, and it needs renovating.
Would you pay all the cost of the work that is done while the other 50% owner pays nothing.
You have increased the value of the property but the other owner has benefitted at your expense without risking his money at all.
Its the reason just as Micheal in post 41 is assuming like myself, that under the current shareholding Moshiri wont be a sugar daddy many are hoping for.
Peter Barry
50
Posted 18/12/2016 at 02:30:01
How do you 'Clear the debt' by giving a LOAN? Just because its interest free doesn't mean the debt has gone, ie, cleared it's still there and still has to be repaid. Now if they had said "removed the interest payments" that would have been the real truth.
Tony Draper
51
Posted 18/12/2016 at 03:04:05
So no new lawnmowers then?
Ernie Baywood
52
Posted 18/12/2016 at 04:44:05
Raymond, how many sugar daddies have there actually been? Interest free loans are about as good as it gets.
If the expectation was free money, well, people were well off the mark.
Dick Fearon
53
Posted 18/12/2016 at 06:04:05
We see daily TV ads that offer to free you from debt. How? By compacting a number of your debts into a single loan.
Surely you will then owe the same as before but with the added cost of the new consolidating loan. Or, there really are Roos loose in my top paddock?
Derek Thomas
54
Posted 18/12/2016 at 07:10:14
Dick @ 53; 'The accounts revealed, however, that Moshiri, who purchased a 49.9% stake in the Blues last February, has provided an interest-free 㿼 million loan with no agreed repayment date. That has been used to repay 㿢.8m worth of loans and other exceptional items.'
The new loan is Interest free, with no set repayment date. No doubt replacing many various long standing loans made when Interest rates were much higher. Freeing up god knows how many millions of none productive wasted cash per year.
㿼M – 㿢.8M = 㿅.2M...now we'll never know just what (and where it went to) that 㿅.2M 'Other Operating Expenses' were... be interesting to see if it appears on next years Accounts.
Off topic, I know Dick, but do you – and any other local born readers of more mature years (194?) have any recollection of an underground arcade of shops that went under Bold Sreet? My vague memory, from the early '50s (most of them tbh) has it with an entrance via Central Station and maybe via a shop in Bold Sreet as well??
Thomas Lennon
55
Posted 18/12/2016 at 08:29:40
Perhaps the most obvious way we square the circle of Moshiri's co-owners not injecting cash and yet enjoying increase in value of their holding is the ultimately Moshiri will swap the money the company owes him for shares, possibly some of those of his fellow owners.
That is similar to what Abramovich did at Chelsea though I think he was sole owner at the time?
Colin Glassar
56
Posted 18/12/2016 at 08:37:37
Tony D, I'm gutted about that. Every year I looked forward to our new ones and the "other operating costs" which were never explained.
Stan Schofield
57
Posted 18/12/2016 at 08:52:26
I'm not an expert in business, but a loan may have some advantages compared with a 'gift'. Loans may be free of conditions that would apply to gifts, particularly with respect to tax, and although in principle repayable might never in fact be repaid, thereby effectively becoming a gift without the conditions associated with the latter.
Stan Schofield
58
Posted 18/12/2016 at 08:56:17
Analogous (?) to the difference between a Director's Loan from his Limited Company, and a Dividend, the latter liable to tax depending on the amount, the former not liable to tax provided there is a repayment in principle. No doubt Moshiri knows what he's doing...
Mike Green
59
Posted 18/12/2016 at 09:02:29
This is just Moshiri getting his house in order.
An analogy would be he's just moved in with a girl who's got 㿢.8k to pay off her mortgage. He's agreed to pay it off as he has the money in the bank and the interest he's getting on it there is far less than the interest she's being charged on the mortgage; so it makes sense for him to clear it and save them both some money.
He's not a fool, or a complete romantic, though – he's a pragmatist and has explained should the relationship go belly up / they sell the house / he needs the cash then he wants the money back. All part of the recent pre-nup.....
The big question is why has he given her 㿼k? What's the rest for? (Pay off a trouble making ex? Buy a new car...? Put towards a down-payment on a plot of land for a new place...?)
John G Davies
61
Posted 18/12/2016 at 09:15:09
After many years of being lied to by Kenwright, we finally have a serious player in charge. A man who will take the club by the scruff of the neck and drag it to where it should be. And still some are not happy?
Moshiri won't let the tears flow while talking about his days in the Boys Pen with his feet soaked in piss, getting in through the holes in his shoes.
He won't tell us about going to the match on his Uncle Cyril's bike crossbar. He won't tell us "the money is in the bank"... Maybe Moshiri is not the man for us.
Kevin Tully
62
Posted 18/12/2016 at 10:28:25
Which ever way you want to cut it, Kenwright & chums have played an absolute blinder here. A very rough calculation tells us they have cost the club well over 𧴜m with loans, mortgages, interest payments and disposal of club assets such as Bellefield. Goodison was left to rot and more millions were wasted on pie in the sky schemes which they knew they had no chance of funding. They were basically placating dissenting voices who asked what the plan was for the future of the club.
They have all walked away with tens of millions, and he has managed to stay on as chairman of the club after cashing in for 㿚m!! (He's already banked 㿃m.) He also brought on board that slimy toad, Green, and the absolutely useless major bullshitter, Earl.
"Soft old Bill..." I don't think so ,somehow. Oh, he never used to charge his mobile phone bill to the club... sorry.
Nick Armitage
63
Posted 18/12/2016 at 10:37:55
Paul Clews – exactly. Watch this space.
Clive Rogers
64
Posted 18/12/2016 at 10:48:04
Kenwright has given the club 20 years of decline, with Goodison falling down around him, while selling off all our assets and running up enormous debts. Then he ends up pocketing a fortune without ever putting a penny in while staying on as chairman. It's a funny old world!!
Dave Williams
65
Posted 18/12/2016 at 11:03:30
A gift would mean that the other shareholders benefit as the value of their shares increases because of the gift of money.
A loan means that, in the event of a sale, Moshiri gets his loan repaid and the sale proceeds are then allocated according to the share holdings based on the value attributed to the club whilst it owes 㿼m to Moshiri.
This is bog standard stuff when money is injected by one individual who doesn't own all of the shares and is sensible financing.
Martin Nicholls
66
Posted 18/12/2016 at 11:11:09
There is every chance that, at some future stage Moshiri will convert his loan into share capital (as I understand Abramovich did at Chelsea), thus freeing the Club of debt and at the same time becoming the majority shareholder in the Company.
Joe Clitherow
67
Posted 18/12/2016 at 11:15:09
Raymond, your house analogy is deeply flawed. We are not talking about a physical asset like a house which can't really exist as half a house, but improving a business which is profit focussed.
You may very well not invest and see someone else benefit but – with respect – that is not businesslike and is very small minded thinking. "If I invest 10 and get 15 back it doesn't matter if someone else also gets 5 without risk to them, I've still made profit." That will be Moshiri's mindset, not envy or spite that someone also benefits and he doesn't get every single penny of benefit.
It's as I have pointed out on here before, some people are far are far more obsessed with whether people make a profit from Everton rather than whether Everton benefit overall. Both are possible at the same time.
But hey, you don't have to listen to me, I have proof. The proof is Moshiri has invested and no-one has tried to force me, as a shareholder, to proportionately match his investment, nor have I heard of any sort of ultimatum to the other holders, which is unenforceable. You're saying it doesn't make sense to you and it won't happen like that, but meanwhile, it has.
Thomas Lennon
68
Posted 18/12/2016 at 11:37:11
Or, compare where we were over Christmas of 1998 with now.
Club for sale, relegation looming fast and no takers – partly because there were no funds and top class players were desperately needed. Debt out of control with expensive permanently injured players to be paid for years to come. We were a very unattractive risk for anyone to take on. Make no mistake, we were staring into the abyss after 120 years.
Times were very bleak for those who remember it and remember this was after 15 years of decline. There was a bit more of that to come but that was the watershed moment that led here, debt free and seriously building for the future for the first time in decades.
Kenwright was the force that achieved this. Not on his own and with no ability to inject funding but he is the man our history will look kindly on. Things often did not go to plan but here we are and that is no coincidence.
Damian Wilde
69
Posted 18/12/2016 at 11:48:46
People moaning about the wording. Would you rather be paying millions in interest every year? No pleasing some people.
John G Davies
70
Posted 18/12/2016 at 12:01:04
"Kenwright was the force that achieved this."
Pissed myself laughing there.... At least my shoes have got no holes in so my socks are dry.
Raymond Fox
71
Posted 18/12/2016 at 12:04:36
Joe (#67), when Moshiri bought his 49.9% he was buying existing holdings off Kenwright and others, they have pocketed that money too as they please. The club don't benefit unless Kenwright and the others choose to reinvest in the club in the future.
I'm talking about Moshiri providing extra money from his other assets, personal or business to, say, buy players or provide extra funds for a new stadium.
When you say he would still make a profit in the house example I used, you are right, but he is investing twice the amount he would be if the other owner paid his share of the renovation.
When I say he will want to be matched by the other shareholders, I don't mean small shareholders but the others who hold the great majority of the remaining 50.1%.
As Chris (#45) says, it does make more sense if Mr Moshiri has a prearrangement to buy out all the other major shareholders, but who knows what the financial arrangements may be!

Kevin Tully
72
Posted 18/12/2016 at 12:06:07
Thomas (#68). Put your fingers in your ears and sing loudly if you wish, but I've got 4 words for you. Kings Dock & Sheikh Mansour.
Brian Harrison
73
Posted 18/12/2016 at 12:18:53
This is exactly the same thing we had under Sir John Moores and that didn't serve us too badly, did it? I know Evertonians never take anything on face value – and understandably as many things we were promised never came to fruition. But I genuinely believe that Moshiri is the real deal, and not here as an asset stripper, but to try and take this club in the right direction.
Under the former board, the banks wouldn't lend Everton any money for transfers or a new stadium – hence why we had so many offshore loan deals and had to go cap in hand to Sir Terry Leahy to ask Tesco to help fund a new stadium. Now Moshiri has underwritten the debt like Abramovich did at Chelsea, he has already earmarked a new stadium and had a top architect visit the site.
But, despite all of this, the sceptics are still there sniping away. Why can't we accept for a change that Moshiri is serious about moving the club forward? Surely he has shown enough so far for us to trust him.
I know the sceptics will say "We didn't buy the players we should..." Well, as far as I understand, it wasn't the lack of money that stopped the transfers being more than there were. So, just for a change, can I urge my fellow Evertonians to stop looking for faults and be grateful, for the first time since Sir John stopped being Chairman, that we have got somebody with the wherewithal to help us achieve what we all want?
Eric Myles
74
Posted 18/12/2016 at 13:11:18
Thomas (#68),
"There was a bit more of that to come but that was the watershed moment that led here, debt free and seriously building for the future for the first time in decades."
When the debt has been transferred from one lender to another lender, it does not mean you are debt free.
Tony Abrahams
75
Posted 18/12/2016 at 13:19:42
Thomas (#68), if you're a journalist looking to write "Bill's Story", then I think you've done your chances a lot of good with that post!
Jim Potter
76
Posted 18/12/2016 at 13:28:28
We are no longer paying a large amount to cover interest repayments – that's got to be good news.
Post-tax losses of 㿃.3 million – erm, not so good. In fact, as a business, it's pretty scary.
We 'owe' 㿼 million – holy shit.
We've all got to start writing to Santa now!
Jim Potter
77
Posted 18/12/2016 at 13:29:41
Damn. The fat git dresses in red.
Colin Glassar
78
Posted 18/12/2016 at 13:39:00
Great post, Brian. I don't blame Moshiri, nor Koeman or Walsh, for our lack of movement in the last transfer window either. I blame the two dunces who were left to "handle things".
I hope they have no involvement this time around other than organising the Xmas doo and arranging the seating for the next AGM.
Joe McMahon
79
Posted 18/12/2016 at 13:46:15
Thomas (68) "Kenwright was the force that achieved this" – Jesus Wept!!!
Bill Watson
80
Posted 18/12/2016 at 14:11:17
Brian (#73),
Exactly! Now we just have to hope Moshiri doesn't get run over, or something, because if he does, the debt comes bouncing back.
Michael Kenrick
81
Posted 18/12/2016 at 17:01:35
Great post, Joe (#67). Can't understand why or how Raymond persists with the false logic he has invented for this thread (and previous similar threads). We've tried in vain to set him straight.
Like you, I do not believe there is any requirement or imperative for other major shareholders, existing or future, to match Moshiri's financial initiatives. They are welcome to, of course, but the logic he lays out is fundamentally flawed, whereas yours is spot on.
I was warning against (in #41) expectations that Moshiri is set to fund the kind of transfer bonanza so many fans have set their hearts on in January. I think it's controlled by FFP which dictates the much maligned sell-to-buy approach that we saw back in August.
It remains to be seen how creative they can be with financing new acquisitions that are not paid for by fees received for departing assets.
"People moaning about the wording." – it's a bit more than that, Damian (#69). "Moshiri clears Everton debts" is yet another myth about Everton finances that becomes defacto post-truth because that's what the headline says. But the reality is the debt remains... or has actually increased by £25.2M... WTF!!!

Of course, it all depends what truth you want to believe. "Moshiri clears Everton debts" sounds a lot better to our "hope that kills" optimists.
Jack Convery
82
Posted 18/12/2016 at 18:31:50
If the Chinese get their way, this will all be in vain. Footballers follow the money and always will. Oscar won't be the last to catch the Orient Express.
Paul Montgomery
83
Posted 18/12/2016 at 18:32:51
I'm not sure exactly how FFP works, but presumably a massive 'gift' or no strings injection from a director would show up as income in the trading accounts or an asset on the balance sheet. The fact that there is a balancing entry – ie, a debt to Mr Moshri, albeit on interest free and non-time-limited terms, may be a convenient way to allow further investment in playing staff whilst staying within FFP constraints.
Roberto Birquet
85
Posted 18/12/2016 at 19:06:29
You cannot write off debt with a loan. But the lack of interest rate on the loan is helpful.
Matt Garen
86
Posted 18/12/2016 at 19:37:42
Does anybody know what the previous loan(s) were and interest rate and therefore how much is saved per annum by this new loan from Moshiri?
Raymond Fox
87
Posted 18/12/2016 at 20:19:11
Michael 81, ho ho, tell me which part of my post 71 is wrong!
Of course he could pour all his other money/assets into the club if he wanted or was allowed to by the FFP rules. I'm saying he wont because he only owns 49.9% of the club.
If he wants to help the club money wise, why is he not just gifting us the 㿼m to pay off the club's debts instead of loaning us the money?
I hope he does inject more of his other assets into the club, of course I do, I just don't think he will while he only holds 49.9% of the shares.
Only time will tell.
Dick Fearon
88
Posted 18/12/2016 at 21:26:53
Derek (#54),
Unfortunately and due to international datelines my responses to topics raised here are often outdated before they are printed.
Thank you for your explanation of the financial aspects of the deal. My ignorance of such matters has been laid bare. I will in future avoid dipping my toe into that particular puddle.
As for your query about an underground arcade linking Central Station and Bold Street, my memories go back to pre 1950s and I cannot recall anything like it.
Paul Smith
89
Posted 18/12/2016 at 21:43:50
We were £54 million in debt and Moshiri has paid it off with and £80 million interest-free loan. Where is the other £26 million? Hopefully a transfer kitty?
Karl Masters
90
Posted 18/12/2016 at 21:53:07
For those wondering how we lost 㿄m, I'd just like to remind you what an expensive year of bungles we have had:
Head and shoulders above the rest is Niasse at 㾹m. Add on paying Martinez 㾶.5m to go away and the money we had to lay out to get Koeman and Walsh (reportedly another ٥m ) not to mention new contracts for many players and it's been an expensive year.
And we won't be seeing much of a return on Bolassie and his wages (probably close to another 㿊m) in the next 12 months either.
I know all that won't have hit the Accounts yet, but it just indicates how spending can run out of control. Just as well Sissoko went to Spurs...
Michael Kenrick
91
Posted 18/12/2016 at 22:16:25
Raymond, this is what I think is wrong:
I don't believe that Moshiri is going to inject extra money from his own wealth unless he is matched by new money from the other owners. – You at #43.
Yet, we are told he has already 'invested' 㿼M in 'extra' money, buying off the debts – without any such matching funds from the other owners... the very same owners who incurred those debts in the first place!!!
Whatever twisted logic you have that supports the quoted fallacy would surely apply to this, the one known injection of extra money from Moshiri, over and above the purchase of shares we have been told about. The idea that he would not want other investors to profit on the back of his investment is known as "cutting off your nose..."
That's the whole idea of having "shares" – they are sharing in the potential risks and benefits of ownership. Any monies provided above and beyond that will come with conditions and provisos to those investments, that may in themselves provide additional proportionate returns to Moshiri down the road. But to suggest that he would not put extra money in until others pony up is blatant nonsense.
In fact, I could argue exactly the opposite by employing the same fantasy logic as you: in buying their shares at fabulous rates of return for those other owners, he has gifted them massive windfalls on the portion of EFC ownership they have surrendered to him.
Surely if there was any expectation along the lines of what you suggest, Farhad would have tied their hands and said "Look, I'm shelling out 80 big ones here, as well as giving each of you a fantastic retirement package... I wanna see at least half of that ploughed back into the club – or I ain't giving a red cent more!"
Patently ridiculous!!!!

Bill Watson
92
Posted 18/12/2016 at 22:32:41
Derek (#54)
There's never been an underground shopping arcade under Bold Street. The low-level railway is underneath, though, and the '50s layout was different to today.
Maybe you're thinking of the underground station exit into Lewis's. To a child, this may have seemed like an arcade.
Clive Rogers
93
Posted 18/12/2016 at 23:06:06
Thomas (#68),
Kenwright will be remembered for the worst period in Everton's history, and for being a lying incompetent buffoon.
Bill Watson
95
Posted 19/12/2016 at 10:09:18
Clive (#93),
Kenwright may not be everyone's cup of tea but he stepped up when the club was facing the abyss when nobody else was prepared to. There wasn't exactly a queue waiting to rescue us!
He appears to have done OK out of it but that's the nature of modern football. He's also brought Moshiri in so cut the guy a bit of slack.
Thomas Lennon
96
Posted 19/12/2016 at 11:29:27
Clive & the Kenwright knee-twitchers – Humbug.
I've been watching since the '60s and the Christmas of 1999 was the worst period I can remember – there seemed no way out of a steady decline.
I agree that there have been many downs since under the watch of Kenwright but the certainty of relegation only reared its head once after that, and financial ruin was fought off at the same time – just. But 'just' is enough when there is little hope.
I don't recall anyone else stepping up to challenge for the job and I certainly don't think everything will be champagne & chocolates in the future but, as 'Bones' once said to Scotty after Captain Kirk had crashed his entire burning starship into a planet, when asked why Kirk had done it – "He gave us a chance of survival."
We survived... you could say we improved too – and that achievement is massive – ask any Geordie/Mackem. We are a million miles away from the top but a lot further away from the bottom. I am happy to see him go too if a new professional team can get us closer to the top and sweep away the "Gentleman's club" but credit is due – just.
Gary Edwards
97
Posted 19/12/2016 at 12:28:05
Okay that was 2015-16... what are the projections for 2016-17? What is / are the strategy / strategies to improve performances a) on the pitch, b) commercial, c) financial etc. etc. ... Isn't this kind of information / statement normally given / made when issuing financial results?
Tony Abrahams
98
Posted 19/12/2016 at 12:44:01
Brilliant, Thomas – I will pass on your CV to Gentleman Bill!
Chris Williams
99
Posted 19/12/2016 at 12:48:22
Gary,
Those things are not announced in the accounts usually. In fact they are commercially sensitive. The accounts are for the last financial year as stated.
There will be such projections and strategies for sure and I suspect they will be a lot more robust than in previous years, and will cover such things as sponsorship, commercial partnerships, new stadium, naming rights and other matters. But It would be commercially unwise as well as going against any confidentiality agreements to reveal them.
Maybe the AGM will teach us something but we'll see in due course.
Winston Williamson
100
Posted 19/12/2016 at 13:07:39
Didn't Moshiri recently state that he'd cleared the debt AND provided funds for cashflow? This would equate to the £50-odd mil of debt and the rest to ensure cashflow within the business (negating the need for high interest BVI loans).
In terms of his extra investment (clearing the debt and providing cashflow):
1. I'd imagine the interest-free loan (and any other loans made in the future) will be on a 'first-out' scenario thus, in the future when the club is sold Moshiri takes his £80mil back first and the remainder is split proportionately between the shareholders.
or
If Moshiri buys out the other majority shareholders the £80mil is taken into account in the share price for those remaining shares.
2. Repaying the debts also makes sense from a cashflow point of view as we no longer need to make repayments of interest throughout the course of the season.
3. Clearing the debts and being in an improved position (in relation to cashflow and external liabilities) may also improve our position in terms of obtaining financial packages to fund the build of a new stadium.
The only worry I have is that the changes we have made financially may take a season (and a half possibly) to filter through into actual funds for players (as opposed to sell-to-buy) – when we need funds next month – this may be the reason we are looking to off-load fringe players, so as to reduce our wage bill and free up some funds to top-up what funds we may already have due to the new TV money filtering through this season (which we have not spent yet, as we only spent the Stones money).
Chris Williams
101
Posted 19/12/2016 at 13:18:43
Some of it probably went to pay off Martinez and his gang as well as Southampton to pay the transfer fee for Koeman.
Eric Myles
102
Posted 20/12/2016 at 05:03:29
Bill (#95), another urban myth that falls apart under scrutiny and is easily shown to be lies.
When Kenwright bought the Club from Johnson there were 2 other consortia interested in buying.
Plus the fact that Paul Gregg was willing to step into the Chairman's role until Kenwright invented the Fortress Sports Fund lies to maintain control.
Ian Smitham
103
Posted 28/12/2016 at 20:04:25
I have read the Report and Accounts and this thread. Most years, on here, a contributor is kind enough to give us all a pretty in depth professional analysis of the Accounts and, to date, I have not seen one for this most recent set. Have I missed something or does anyone know if the analysis is on its way? Cheers.
Ian Smitham
104
Posted 29/12/2016 at 11:33:26
Wondered if anyone can help on this front, especially in the light of the other thread that has popped up today?
Michael Kenrick
105
Posted 29/12/2016 at 16:10:47
Hi Ian,
I finally got my copy of the Annual Report and Accounts, skimming through to see how are favourite category was doing...
Other Operating Costs: 㿊.428M -- up from 㿈.885M.
But wait! There's a whole new category!
Other Operating Costs - exceptional costs: 㾷.335M
At least that portion is explained as "amounts payable to former employees" (ie, Martinez).
I was going to enter numbers into a comparative spreadsheet I have from previous years, but I just noticed a whole slew of pages (71-78) – the heart of the accounts section – are missing from my copy!!!

---
Add Your Comments
In order to post a comment, you need to be logged in as a registered user of the site.
Or Sign up as a ToffeeWeb Member — it's free, takes just a few minutes and will allow you to post your comments on articles and Talking Points submissions across the site.