Lukaku close to finalising new deal

239 Comments [Jump to last]
Tuesday 20 December 2016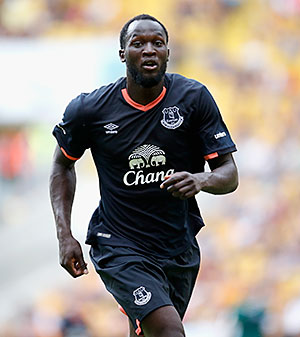 Romelu Lukaku is on the verge of signing a new contract with Everton but his agent says that the striker will still reassess his future in the summer.
Mino Raiola has confirmed reports from yesterday that a broad agreement has been agreed with the Blues' hierarchy over terms for Lukaku which push his wages up to £100,000 a week and make him the highest-paid player in the club's history.
The "super agent" was spotted at Goodison Park on Monday evening attending the Merseyside derby with Farhad Moshiri and the two discussed Lukaku's new deal which is expected to be finalised soon. His current contract which is believed to pay him around £80,000 a week expires in the summer of 2019.
Raiola says, however, that there are no guarantees that the Belgian international will stay at Everton beyond this summer. The 23-year-old has made no secret of his desire for Champions League football and sought a move to a club that could offer him that last spring.
A combination of the high price tag the Blues put on his head and the arrival of new manager Ronald Koeman saw Lukaku stay at Goodison last August when the gave assurances that he would play one more season at least for Everton.
There have been suggestions that the negotiations will include an £80m release clause but this has not been confirmed.
"We are talking to the club in a good spirit so we are very hopeful," Raiola said. "There are no problems on the way that I foresee. I don't see any big problems. It is a question of putting the details on the paper. [W]e have 99.9% reached terms.
"If Romelu is good enough, strong enough, to move in the next year then we will talk to Everton about it. It is a very good relationship at the moment. We know what both parties want. Everton is going through a transition from a club that was maybe aiming for Europa League and now they are more ambitious and maybe in the near future will go into the Champions League or maybe even win the Premier League at a certain stage. For sure, it is an interesting club in England.
"In football, you can't look too much in front. You need to take it one transfer window at a time. For now, we are agreeing terms and then we will see in the summer what happens and how the situation is.
"If there is an interest from both parties to move on, then we will talk with the club, but at this point we only have one objective and that is to perform as well as possible for Everton."
Quotes sourced from Liverpool Echo
---
Reader Comments (239)
Note: the following content is not moderated or vetted by the site owners at the time of submission. Comments are the responsibility of the poster. Disclaimer
Joe O'Brien
1
Posted 20/12/2016 at 18:41:42
Hmmmmm..... I'd sell him and get two strikers in who will make runs looking for the through-balls besides standing still and the ball having to be played sideways. I'm shocked that he's signing a new contract; getting Colman tied down would be my priority.
Alexander O'Brien
2
Posted 20/12/2016 at 18:45:52
Excellent news!!
Jay Harris
3
Posted 20/12/2016 at 18:46:50
I would like to see part of this salary linked by way of bonuses for goals scored and number of 50/50 challenges won.
Mike Green
4
Posted 20/12/2016 at 18:50:06
Get it signed and then put him in the shop window on January 1st with an 㿼m price tag pinned to his shorts. I am increasingly convinced he is part of the problem, not part of the solution.
Colin Glassar
5
Posted 20/12/2016 at 18:50:12
Great news. Now get, Gana, Seamus and Ross sorted and build a new team around them. Out with the old, in with the new.
Mark Pierpoint
6
Posted 20/12/2016 at 18:52:06
Excellent news. His goal scoring record is very good for a team who have, frankly, struggled in all the time he has been with us. He has his faults, but anyone who thinks we would get any better is deluded in my opinion. Especially as our midfielders ability to score is in serious question.
Stan Schofield
7
Posted 20/12/2016 at 18:52:19
Great news if it's true. I for one would be pissed off if Lukaku left Everton in the near future.
Gary Seed
8
Posted 20/12/2016 at 18:52:26
I agree Jay, only I'd pay a £10,000 bonus each time he controlled the ball with one touch and £5,000 for each header won.
Barry McNally
9
Posted 20/12/2016 at 18:55:27
Good news but buy-out clause is too low.
Gavin Johnson
10
Posted 20/12/2016 at 18:57:52
The stadium news and this have made the day slightly better...but not much!
This can only be good news. Now sign Depay, Schniederlin, Lookman and a GK and CB.
Denis Richardson
12
Posted 20/12/2016 at 19:00:28
Buy out clause too low Barry? No one was interested when it was lower in the summer!
Buy out clauses are bollocks anyway if we think back to Suarez.
It's good news either way as those who want Rom to stay get their wish and the contract keeps his value high for those who want him sold.
If someone offered £50-60m or more I think the club would sell sharpish. That's too much cash to turn down.

John Raftery
13
Posted 20/12/2016 at 19:04:24
Great news. The deal is about protecting the investment as well as keeping a player who is essential to the club's short term well being.
Peter Howard
14
Posted 20/12/2016 at 19:05:57
Jay (3)
Why would you want to burden the taxpayer with such a clause?
Colin Hughes
15
Posted 20/12/2016 at 19:08:07
I would sell him if we can get more than £40m for him. He lacks the desire to succeed and too often goes missing in games. We need players who want to play for us to win things not ones who are only here because they can't say no to obscene wage offers.
Mark Pierpoint
16
Posted 20/12/2016 at 19:10:34
What is the buy-out clause, Barry?
John G Davies
17
Posted 20/12/2016 at 19:14:04
£70 million for Lukaku and Barkley I would carry them to the buying clubs.
Neither of them have the heart to be top class players
Paul Thompson
18
Posted 20/12/2016 at 19:15:21
It's good news either way. If he goes we are protecting our investment. However if he stays we have to chnage our style. We know Rom's strengths and weaknesses. He's a striker that needs support and through balls, not a target man. The way we played last night was ridiculous – high balls that even a decent target man would find it difficult to do anything with.
Mark Riding
19
Posted 20/12/2016 at 19:18:29
He needs quality alongside him, then he will kick on. I'm sure he's had promises of the club's ambition.
John Malone
20
Posted 20/12/2016 at 19:20:04
Anyone else the notice Everton's new media spin doctor in full mode since Moshiri took over!! Everytime we have a bad defeat there is positive news leaked to the press!
Starting with Moshiri's attempt to cover up the Sissoko drama through his new 'best mate' Jim White! In between rumours of new player's and a new stadium, followed by Moshiri's interview on Talksport after the Chelsea drubbing, now after our first home defeat to that lot, it's the 'star' striker signing a new deal!!
It's pretty obvious the new regime is a lot more media savvy and is trying their best to keep a positive spin around the club!!

Geoff Evans
21
Posted 20/12/2016 at 19:22:23
Deep joy.
Raymond Fox
22
Posted 20/12/2016 at 19:36:27
I'm in favour of keeping him also, he scores enough goals in my eyes, sure he's not perfect but would score more if he had better players around him.
Most of us have been saying the same thing for too long now, we need a creative midfielder as the first priority, ok they don't grow on trees but were going nowhere without one. Ross is unfortunately not the guy, we need to find him a different position-where though?- or sell him.
Danny Broderick
23
Posted 20/12/2016 at 19:37:30
Thank God he knows where the back of the net is, because he would be a lower league player if not. He couldn't trap a bag of cement. He doesn't win a header, despite being 6'-3". He gets barged off the ball, despite being about 15 stone. And if that's not enough, he's a lazy sod. He has no right foot, he doesn't hold the ball up and never brings anyone else into play.
How on earth a player with this many faults can earn over 𧴜k per week is beyond me. The world has gone mad. 㿼 million release clause? That would be like winning the lottery...
Stan Schofield
24
Posted 20/12/2016 at 19:45:56
Danny, good job he knows where to be 'in the right place at the right time', to use a classic attribute of successful strikers.
Colin Metcalfe
25
Posted 20/12/2016 at 19:47:41
I think we have seen enough of Lukaku to know what his strengths and weaknesses are. Koeman wants us to play a pressing game from the front which demands high levels of fitness and I am afraid Lukaku is just not built that way. Furthermore I don't think he has the nous or the touch to be an effective target man!
I have said before on another thread, we either change the way we play to accommodate his strengths or we get rid to the highest bidder. As we saw last night he is often isolated and the few times he does retain the ball and and puts it in the box. Either he screws it up or the supporting midfield are just to far behind and are struggling to get into the box.
I really do think we need to buy a more mobile striker as an alternative to Lukaku. Maybe with a bit of competition for his place he may improve.
John Daley
26
Posted 20/12/2016 at 20:04:29
I can see how Lukaku's agent being spotted alongside Moshiri at the match might lead someone to speculate a new contract could be on the cards, but how does a fleeting glimpse immediately fill someone in on the finer details of such an offer? 
"I learnt to lip read by marathoning porn on mute at me mam and dad's house and, as a side benefit, putting off me vinegar stroke for as long as humanly possible made sure I'm shit hot at squinting for ages as well. They're gonna give him so many grand a week over whatever he's on now, insert some buy out clause no one is ever likely to pay, back order a 'Dr Quinn: Medicine Woman' dvd box set for his dad and he's defo set to sign it in the future rather than the past, probably with either a Fulgor Nocturnus or one of those plazzy jumbo fuckers with five to ten different colours and a load of springs crammed in it's ludicrously fat arse".
Regardless, it might be a bit premature to be greeting it as "great news" and a done deal just yet. I mean, Jim White's not said a word.
Darren Hind
27
Posted 20/12/2016 at 20:07:19
£80m? you could buy a proper lighthouse for that.
No team will ever win a thing with him in it
Ciarán McGlone
28
Posted 20/12/2016 at 20:14:51
Infuriating player, who I'd rather not have to watch play for Everton anymore.
Trevor Lynes
29
Posted 20/12/2016 at 20:20:21
Great news if true. It shows that Moshiri is true to his word that he wants to get EFC up to real contender level. Now we need to get a second striker to support the big man and take some of the attention away from him. Teams just mark him tightly and that is enough to stop US scoring. We also need a real schemer in midfield as unfortunately no one we have on show is up to that job.Every top striker needs a foil and that has been true throughout all the years I have watched and played the game. The top striker ever was Shearer and he always had a partner up front. He was not overly blessed with great ball control but he had pace and strength. Latchford was useless away from goal and so was Royle and quite a few others. Lineker could not score without a partner and the same could be said of Owen, Cole, Van Nistleroy etc etc.Give Rom a second front man of quality and a midfielder who can pick a pass, then we will get the best out of him.Let's get ambitious and stop squabbling about money spent. Man Utd were in trouble so threw 𧶀 million to rescue them from mid table mediocrity. Be positive and let's get some top players signed and lets get out of the doldrums.
Paul Tran
30
Posted 20/12/2016 at 20:21:25
I hope Peter Roberts is OK after reading this.
Tony Hill
31
Posted 20/12/2016 at 20:29:29
I think this will turn out to be good business. He'll do well enough to persuade some side to trigger the clause over the next couple of years and we'll be quids in. He may even prove to be a consistently productive goalscorer and get us into a high league position.
John Daley
32
Posted 20/12/2016 at 20:30:50
Paul,
He'll be fine, but I heard the cat he boots every time Rom fails to control the ball has gone absolutely fucking ballistic:
Nigel Munford
33
Posted 20/12/2016 at 20:40:00
We cannot be seriously thinking of keeping him. He occasionally scores goals when he can be arsed, sorry we need a team striker who contributes more than a few goals a season, not a Prima Donna, milking the club for as much as he can.
Dave Abrahams
34
Posted 20/12/2016 at 20:45:52
Rom has scored nine league goals this season, well eight really, he borrowed one from the Middlesboro game. Anyway if he keeps to average league goals per season with Everton, that means he will score another five this season, so that's something to look forward to.
Hope they earn us some points.
Tom Flower
35
Posted 20/12/2016 at 20:59:21
Great news. The sub plot however is that Barkley is more likely to be flogged now as I doubt the club could afford 2 players on mega wages and I don't think Koeman likes him as a player.

I hope he does stay but Koeman has already shown with Stones that he is not afraid of selling players who were previously considered prime assets and I suspect that he thought Stones was not quite as good as people thought a bit similar to Barkley.
Aidy Dews
36
Posted 20/12/2016 at 21:05:10
If this is genuine and he does sign a new improved deal then he needs to start pulling his finger out and doing more to lead the line for us. We all know he can score goals but it's the other part of the game he needs to improve.
But also we need to then start and look to build our team around him, especially the attacking positions and get players in that will get close and in and around him and work with him to help us function better in the final third. If Koeman gets the backing, then I hope he can sort the team out for the better!
Michael Farrelly
37
Posted 20/12/2016 at 21:14:49
Agree with Danny (#22), no joy in this for me, this guy frustrates the hell out of me every time I watch him play. He needs some intensive coaching from the likes of a Zlatan or Diago on how to hold the fucking ball up, and how to impart some aggression on the game.
No, it is all about the buyout clause and if it is £80Mill it is a very shrewd move by the club for one of the most over-rated players in our history.
Mark Pierpoint
38
Posted 20/12/2016 at 21:16:15
Dave. He can do better, I agree. I will say again though, you are scoffing at someone who by your estimations will get 15 league goals this year. He got 18 for us last year and 52 in 120 in all competitions. So far he is on 9 in 16. Cold light of day is that we are in a relegation scrap without him.
If you or anyone else can come up with a solution to this issue then I really am all ears ...
Joe O'Brien
40
Posted 20/12/2016 at 21:30:09
Anyone else worried and annoyed with him constantly talking about his dream of playing for a big club? (Obviously not thinking that we're that club.) Talking about this club and that club that want him?
For me, he doesn't look one bit committed to us... always looking for his dream move to a bigger club. That annoys the hell out of me, whatever about his goals ratio.
Ian Riley
41
Posted 20/12/2016 at 21:49:37
Joe (#37) spot on.
My concern is the lack of goals in the big games. He cannot play the lone striker and this is the second manager to keep with that method. Playing two strikers would give the opposition something to think about. A 4-4-2 or 3-5-2 would give Lukaku more support and motivate him more to run the line. Must be very frustrating with no service. What have we got to lose in our current situation.
At present we need Lukaku as I don't see goals from anyone else. Good deal all round.
Ciarán McGlone
42
Posted 20/12/2016 at 21:59:11
His second touch is a tackle.
I also don't consider heading the ball to an opposing player as "winning balls in the air".
Overrated twat.
Steve Guy
43
Posted 20/12/2016 at 21:59:49
I think I'm pleased but continue to be concerned with his media commentary; he's a legend in his own head but often fails to walk the talk.
However, I also agree he needs someone to play upfront with him and I assume Koeman realises this and is looking to Walsh to get him the right man. If not, then there's no point keeping Lukaku, as we are currently playing to his weaknesses not his strengths.
Colin Glassar
44
Posted 20/12/2016 at 22:02:48
Ian, you could stick Gerd Muller, Van Basten and Dixie Dean up front and with the type of service we provide eg balls that go 5ft above their heads or 10 yards away etc... And all of them would struggle to get into double figures.
Lukaku should be told to stay in and around the box and then get someone on the wings who can whip in a killer cross to him. Remember how good he was at WBA?
People often say we are linked to too many wingers. Well, maybe Koeman has identified that part of of our game as a major weakness. Mirallas, Lennon, Bolasie and Deulofeu simply don't provide the service needed from out wide. Oh, for another Thomas - Latchford combo.
Dave Lynch
45
Posted 20/12/2016 at 22:04:20
What Ciaran said...
Chris Leyland
46
Posted 20/12/2016 at 22:05:05
This is about protecting the re-sale and maximising the asset. A buy out clause allows us to recoup a good price if he actually ever really comes good and we won't be forced to sell him on the cheap as his current contract runs down.
Fintan Spode
47
Posted 20/12/2016 at 22:05:33
I hope this story is being put around to encourage suitors... this guy is a liability.
Mark Pierpoint
48
Posted 20/12/2016 at 22:12:09
If he is so much of a liability, Fintan, then I want to hear your solution as to how you replace his goals that are 52 in 120 games.
For me, it is as simple as this: Black and white. I have no issue with people saying it, but I feel most are assuming this sort of return is par for the course. Look around similar clubs to us (in terms of position) it ain't.
If you are going to say he is a liability, then I want to hear your solution. Players names and formations.
Ditto James. If he is that overrated, why is he towards the top of the league goalscoring charts? Not denying he is without fault, but in the most important statistic he always seems to be there.... If it were that easy, why don't Palace, Stoke, WHU, Southampton have an equivalent?
James Byrne
49
Posted 20/12/2016 at 22:13:15
Lukaku can go for me; he's just not good enough and similar to Barkley, he never will be. It's been mentioned tons of times, yes he can score goals but his overall game as a "powerful" forward is shite.
The buy out clause is a good idea but it's never going to get triggered.
Gordon Crawford
50
Posted 20/12/2016 at 22:18:01
Ciaran, his first touch is a clearance.
Colin, I agree that he should stay in and around the 18 yard box. But at the same time he needs make space to receive a pass, which he very rarely does; he nearly always runs into traffic.
One of the laziest players I've ever seen; he will never make it to the top unless he changes his attitude. Give him to the end of the year; if he doesn't improve, then sell sell sell.
Mike Green
51
Posted 20/12/2016 at 22:21:20
Rom is currently the Premier League's fifth top scorer this season – only one goal behind Aguerro, two behind Ibrahimovic, three behind Sanchez and four behind Costa. That's pretty amazing to be honest – those four are world class forwards.
On his shoulder however we have the likes of Benteke, Defoe, Kane and Rondon and high scoring midfielders such as Mane, Hazard, Walcott and Antonio.
Lukaku is probably a bit of a watershed between the two, one which I think most football fans wouldn't have a problem accepting. From a Fantasy Football perspective he's the 7th highest scoring player in the whole league – which in his case when based solely on goals and assists isn't a bad measure...
So - he is right up there statistically. However; we're one of the lowest scorers in the league because very few players other than Rom contribute with goals (I think Coleman might be second highest scorer on 3). Is that because our midfield personnel and setup are terrible in that regard, or because everything has to go through Rom? Is it because Rom cant bring other players into goal-scoring positions or because he doesn't get the support he needs to form any kind of partnership?
I think its a bit of both. Rom is great when conditions are right for him, but if they're not he's a waste of space. The players around him don't do enough to create those conditions for him often enough and don't have the confidence or skill (bar Bolasie perhaps) to have a crack at goal. Which leaves us reliant on a badly served one dimensional striker to get us goals, which simply isn't going to be enough.
We need other options, both from a striking perspective and goals coming from midfield that we currently don't have. We need to be able to win games without Rom, and he needs to add more to his game to allow us to do that, create space for others and be a bit of a provider too.
Playing him as a lone striker is like going into a fight with one arm tied behind your back – OK, you might have a decent punch but you need to be able to put punches and jabs in from all over. I'm not overjoyed at the prospect of him staying but if he does we have to get some quality attacking options, both upfront and in midfield to maximise his strengths but also make him realise he's not the only show in town.
Paul Holmes
52
Posted 20/12/2016 at 22:24:08
The posts on here should be asking WHY we have given OAP Gareth Barry an 18-month deal, ffs! The press say we are looking to buy better players and ship the Martinez dross out and then we do this, it's as bad as the Darron "Lord Lucan" Gibson 2-year deal!
Colin Glassar
53
Posted 20/12/2016 at 22:52:23
Excellent post Mike. Rom, like Latchford, will not bust a gut for the team but give him decent service and he will score goals.
I know the modern forward has to lead the line on his own but this lad won't/can't. It's not in his makeup. So we either play to his strengths or we give up and sell him.
Rob Halligan
54
Posted 20/12/2016 at 23:07:55
Well said, Mark (#45). Lukaku was bought to score goals, and guess what, he scores goals.
I've said many times before, I don't care if he sits on the halfway line for 85 minutes, as long as he can score one or two in the other 5. Job done for him as far as I'm concerned.
The other week he scored 2 at Watford, but watched our defence concede 3. I suppose that was all his fault though.
Fintan Spode
55
Posted 20/12/2016 at 23:12:16
Mark, yep, Lukaku's scoring rate is up there with... eehhmmmmm.... Tony Cottee.
Stats are pretty worthless for measuring average players – who did they score their goals against?
Remember – ;stats show that Geoff Boycott was a top class batsman... think on that!
Martin Luther
56
Posted 20/12/2016 at 23:24:17
Colin... are you comparing Lukaku with Gerd Muller, Van Basten and Dixie Dean?
And are you saying Latch was lazy??
Anthony Dwyer
57
Posted 20/12/2016 at 23:51:57
Only good news this week, let's make it happen asap.
Clive Mitchell
58
Posted 20/12/2016 at 23:59:52
I don't warm to Lukaku, but the evidence is clear that he's better at his age than either Diego Costa or Drogba were. You wouldn't get long odds on Rom winning the Champions League during his career.
Nigel Gregson
59
Posted 21/12/2016 at 00:10:40
Sheesh, just listen to you lot. Lukaku is the last drop of anything world class left at this club, and you lot already want him gone?
Talk to me next year when we replace him with 'bust-a-gut' Stracqualursi.
Eddie Dunn
60
Posted 21/12/2016 at 00:29:28
Mark Pierpoint #38.
You are spot on about the importance of his goals. Cast your minds back to when Lukaku picked up an injury last season. Does anyone seriously think that Kone or Valencia will fare any better, especially when expected to play up as a solitary striker?
Rom does my head in at times, and could be better in some departments, but as Mark stated above, we could be in a relegation scrap without his goals.
It is reinforcements we need in the next window, midfield and up front.
Look at the options for our red neighbours the other night... Origi... Sturridge Mane .and with midfielders who can also score goals! Who scores from our midfield? This window is very important.
As for Lukaku, this deal makes good business sense... if he goes in the summer, we will need a lot of money to replace him.
Mike Gaynes
61
Posted 21/12/2016 at 00:37:36
Paul (#30), good 'un.
Mick Davies
62
Posted 21/12/2016 at 01:48:59
I firmly believe that Lukaku's goals saved us from relegation the last 2 seasons; I don't particularly like the guy, but he is the most prolific, consistent goalscorer since Cottee, and that's a long time ago. I know he can be a lazy yard dog, but I grew up singing "Bobby Latchford walks on water". I wonder how many goals fat Latch would have scored without all the creative players around him?
The proven way to get the best out of Rom is to get him a younger, fitter version of Kone; someone who will run off him, link up and do all the running for him. He's relying on a man who was predicted to be the new boy-wonder but now just wanders around looking like a boy. If Carroll or Ibrahimovic relied on Barkley, I don't think they'd be very happy either.
Ross needs to start afresh somewhere else if Koeman can't get the best out of him, and we need a creative 'No 10' and the midfielders pushing up and getting nearer to the attack (meaning the lazy arse Centre backs will have to squeeze up too).
Peter Gorman
63
Posted 21/12/2016 at 04:25:32
How does one replace his goals, you ask?
Replace him with a striker who works for the team and has the ability to bring others into play. Goals will then be scored across the team with the added bonus of probably making for better viewing than the 'Totaal Hoefbal' we are enduring at present.
Just a thought.
Jay Harris
64
Posted 21/12/2016 at 05:59:17
Okay, no-one can argue that he scores goals but how many goals does he cause us to concede by not being able to hold the ball up front or not even winning 50/50 challenges?
In addition, he gets caught offside so many times, it's not funny.
Look at the work rate, chasing down and ability to hold the ball of Aguerro, Costa, Rooney etc who all have a prolific scoring rate and then tell me we can compete with the top 4 with Lukaku in our side.
Mark Pierpoint
65
Posted 21/12/2016 at 07:52:41
I don't know it would be that simple, Peter (#63).
A lot of teams are looking for that type of striker. Even if we got it, then apart from Mirallas and maybe Barkley I am not sure we have midfielders who have the ability to get into double figures. That also disguises the fact that as midfielders, both have roles other than scoring goals that make their places under threat anyway. You can't carry people in midfield the same way that you can with a striker who scores but has some deficiencies, for me. With Barkley that is what we are having to do, and frankly always will.
Fintan. I sort of get what you say about statistics, but goals win games. It isn't akin to cricket. He gets them.. Tony Cottee was an expensive signing don't forget as well, a British record... I don't think a comparison is offensive? He also played in a time and a league where that sort of return was par for the course. I don't think it is now.
Jay – I don't think we will be any closer without a striker with a goal scoring record of Rom's. I don't think these mythical alternatives for clubs at our level are there. See West Ham and Zaza. Stoke and Bony; even Arsenal and Perez.
Kim Vivian
66
Posted 21/12/2016 at 08:18:14
I, like many am as frustrated as many watching Rom but I would be seriously disappointed if he was to leave other than from an "offer you can't refuse" sum. Still would be disappointed though.
One thing Rom does NOT lack is a desire to succeed as is quite evident from his sometimes ill timed and badly worded ramblings. He has an intense desire to succeed and clearly feels held back (rightly or wrongly) right now. That may or may not be true but we all recognise he is given a pretty big ask with the lack of support up front in the current set up.
On Monday I thought he put in a pretty good shift chasing and harrying up front. I have not seen any stats but would be surprised if that was not the most ground covered this year so far. Rom is relatively young at just 23 and there is no reason why he cannot improve his first touch and hold up play.
Cut out the chaff from our team, and put in a good posse to shore up the midfield and attack (defensively we are pretty close) and I think there is much to look forward to from Everton and Rom.
I have felt pretty resigned to losing him and have evolved a mindset of acceptance but this rumour, if it has any credence, is great news, not just the prospect of keeping him a while longer but also the signals it sends out.
Liam Reilly
67
Posted 21/12/2016 at 08:25:08
This nonsense about his first touch; by the time the hoofed ball lands near him, he's already shackled and our midfield don't get up quick enough to support knock downs cause the side is not compact enough.
He needs the ball at pace or to run on to.
He may not and never will be an Evertonian, but I for one don't care. He's the best we've had in a long long time.
Paul Smith
68
Posted 21/12/2016 at 08:37:56
㿼 mill buy-out clause? He can obviously see his future with us long term. On current form, it'll never be triggered.
I can see it being more like 㿣-㿨 mill at a push. I think it has to be good news either way and we can all do with some of that.
Dermot Byrne
69
Posted 21/12/2016 at 09:50:33
Shit...shit ...shit. This has ruined my morning. Big lazy prat whose game is 95â"… crap. That contract alone will hold us back. Add Barkley and you can throw away hope of a new exciting approach...
Shit!
Phil Guyers
70
Posted 21/12/2016 at 10:04:23
Mick (#62), You obviously need reminding that, after New Year last season, Rom only scored 3 Premier League goals, of which one was a penalty, one was against his favourites West Ham, and the other against the worst Villa team in living memory.
The previous season, in the same period, he managed the grand total of 4 of which 2 were penalties and one was against West Ham of course! Yet this is the man whose goals saved us from relegation!
Remember Kevin Campbell? Now there was someone who genuinely saved us and had more footballing ability in his little finger than that joke of a footballer we propose to pay 𧴜,000 a week.
I despair at some of the apologists for Rom on here. We'll get nowhere with him 'leading the line'.
Jay Griffiths
71
Posted 21/12/2016 at 11:25:40
I keep reading about Rom's second touch. I'm waiting to witness it then I'll pass judgement.
I've seen the ball ricochet off his spring-loaded foot but not the elusive and evasive second touch. If it happens, it could be like a Bigfoot thing or an "If Tony scores we riot" t-shirt selling phenomena.
Oh, hang on,... you're not crediting the next ricochet five minutes later as a second touch are you? Then a third, then a fourth...
Dave Abrahams
72
Posted 21/12/2016 at 11:39:16
Mike Green (#51) sums Lukaku up best for me. Mike gives the blacks, whites and shades of grey of Lukaku's game, for me it is the lack of effort, anticipation, failure to gambol around the penalty area, non-use of his body weight that turns me against him.
He scores goals, when you've said that, it sums him up. There should be a lot more to his game, for the money the club think they have a chance of getting.
I think Everton under the two managers he played under have based the game on providing Lukaku with chances. That's not Lukaku's fault but in my opinion it is not helping Everton's cause one bit. We either have to change the style of play or change Lukaku's style of play and that will not be easy because he simply is not a gifted footballer.
Fintan Spode
73
Posted 21/12/2016 at 11:51:11
Lukaku really is a riddle wrapped in a mystery inside an enigma. He does score goals, but has the touch and finesse of a baby elephant.
Then again I am one to talk, I think he is a liability, but have included him in my fantasy footy team this week. Perhaps I am hoping he will score with a couple of lucky ricochets off the back of his head, or maybe his arse!
Rob Baker
74
Posted 21/12/2016 at 12:07:29
I wish I got a big pay rise for being mediocre at work. I'm now of the opinion to bin Ross and Rom. They offer too little too often and never bust a gut.
Stephen Ashton
76
Posted 21/12/2016 at 12:19:56
Lukaku scores goals – 9 in 6 games that have won us 8 points. He creates little, we don't create chances for him because he is static. When he does have chances he is prone to missing them – don't forget he cost us a cup final last season.
He makes Barkley look poor because every time Barkley has the ball, he looks up and there is no movement and he is forced square. On the occasions that Barkley manages to thread the ball through, it bounces off Lukaku's shins, if it is passed long Lukaku stands there arms by his side, palms outstretched asking why it wasn't played to his feet.
Jay (#64) has the rights of it – he costs us possession so much, he puts so much pressure on the midfield and back four it's untrue and it has been like this for two and a half seasons and I cannot believe that so many get taken in.
But not even all the above are my main problem with Lukaku – my main issue is that he is capable of doing it (Sunderland this season, Chelsea in the cup and Southampton away last season). He insults us by choosing not to, 40,000 of us turn up every other week, pretty much all of whom don't earn in two years what he earns in a week and he jogs around hardly breaking sweat and people make excuses for him.
I personally think he is an odious, dishonest, lazy young man who is criminally wasting his God-given talent. The sooner he goes, the better for all.
Mike Price
77
Posted 21/12/2016 at 13:07:51
He's still contracted for a few years so we still get top dollar if we sell.
This new deal rears its head when his agent realises how poor his options actually are. He's not that good and the mega rich clubs won't pay through the nose, or really want him anyway.

Shane Corcoran
78
Posted 21/12/2016 at 13:58:37
I read as far as Colin Metcalfe (#25) and I think he's 100% correct.
Lukaku will be a success in a certain team; that team, at the minute, isn't Everton, due to the way Koeman has them playing.
If the contract is supposed to actually keep Lukaku then I can only assume/hope that Koeman has plans to play to his strengths.
If not, then off to PSG or whoever else is willing to pay the ridiculous buy-out clause.
Kristian Boyce
79
Posted 21/12/2016 at 14:02:57
If we get a decent Number 10, who can get the balls to Lukaku, he'll bang them in. At the moment he's got Barkley, who either loses the ball, passes it backwards or attempts a 30-yarder.
Winston Williamson
80
Posted 21/12/2016 at 14:19:59
Our game style
has
changed with Lukaku in the team. We are geared up with Lukaku as the main focal point. I believe this is to our undoing.
Currently, he is one of our best four players. We should be making strides to rectify this. The same can be said of Barkley.
I say, don't sell either of them. Sign better players than these two, who provide us with other options, taking the focal point away from them. They then have no other option but to be part of the team, as they no longer are the superstars (hmm) of EFC.
Who are the better players we can sign to support and overtake these two as the focal point of the team? I'd raid Ajax and try to sign Dolberg and Ziyech as well as Schneiderlin at Man Utd as a replacement for Barry.
Steve Hopkins
81
Posted 21/12/2016 at 14:28:45
I'm shocked; judging by the sulky look on his face and the things he says to the press I'd assume that the last thing he'd want to do is stay.
He really is a conundrum, his value, ie, what we paid for him is a stranglehold on the team, we broke the bank to buy him and left ourselves with no alternatives in his position and created this undroppable monster.
Clearly he has a good goal-scoring record and within 18 yards he's pretty deadly, he's the best goal-scorer we've had in years but he rarely creates something out of nothing (apart from the occasional bulldozering of a fullback) and by that I'm inferring that he's lazy; as seen against Man Utd and Liverpool, he's just not effective enough in the air to be a lone target man.
Compared to a Naismith type player he doesn't move enough and compared to a Les Ferdinand, Shearer or even our own Big Dunc he just doesn't cause defences enough physical problems.
Having said all that, I'd be gutted to see him leave but I really believe that he's got the club and the manager (and Martinez previously) by the balls. Other than Martinez bringing him off 10 minutes before then end against Man City in the cup and starting on the bench against WBA, I can't recall him ever being dropped or substituted, although I'm happy to be corrected
Peter Roberts
82
Posted 21/12/2016 at 14:30:57
And so the continuation of justifying a players inclusion in a team based on goals alone continues at a grand sum of ٣.2m a year after tax.
For me, choosing to have Rom as our forward is like selecting a keeper who saves most penalties but actually gives most of them away.
He's not directly responsible for the goals we concede... but he is directly responsible for the majority of possession conceded. That is a fact. Over the last 3 games he has passed the ball to an opponent more time than his own team mates. 45% pass completion. That doesn't include his miscontrolled "takes".
Completely false economy having this lad in our side. Until someone finds him with a pinpoint ball in and around the penalty spot whilst hoping the defender has switched off – it's like playing with 10 men. Possibly worse in ways because 10 men is fine when you know all 10 can retain the ball.
Anyway, my thoughts on him are clear. More fans will maybe hold him accountable when he's trotting round on 𧵄k a week.
Daniel Lawrence
83
Posted 21/12/2016 at 15:00:14
So according to his agent, it's 99.9% done, but it won't stop him leaving in the summer!!
Firstly, when have you ever heard the signing of a new contract and still likely to leave used in the same sentence...!!? I actually thought there would be a honeymoon period until at least the next International break
Secondly, we're evidently protecting the asset with the buyout clause, it's nothing to do with him committing to stay. We pay an extra £Xk per week and then sell in the summer if someone meets the asking price, nothing has changed.
At the end of the day he's next summer's transfer 'war chest' – as he always was once Stones was sold.
Dermot Byrne
84
Posted 21/12/2016 at 15:12:09
Still fuming!
James Marshall
85
Posted 21/12/2016 at 15:23:46
Good. He's a striker, he scores goals. People can whinge about him all they like, but without him we'd be fucked by now.
The kid is too big to play up top on his own – he needs a foil. Singling out individual players is a bullshit response to us losing football matches – if anything, blame the system.
You can't ask a 6'-3", almost 15 stone bloke to run around flat-out for 90 minutes every week – it just doesn't fit the man's physique. The reason he doesn't run and run and run is exactly for this reason – if you want that, you buy Jamie Vardy who weighs about 11 stone.
Rom needs a system where he can run at defenders – why d'you think he was so effective at West Brom? Because they invited pressure and let Rom run into the space behind defences from the halfway line.
Play him in the right system and he'll always score you bags of goals every season – his record is excellent, regardless of who he scores against. You want us to have top-class players, but you also want us to sell Lukaku. It seems to me that the footballing world see's him as a top-class player, it's just people on here that don't.
A lot of people want to see him sold, but you don't sell your only striker without another tried & tested option –especially when you're a club like us. If we were Man Utd, Chelsea, Man City etc then fine, they'd have options, but we don't – we're Everton, a mid-table side at best.
You can to be realistic and understand where we are in the pecking order of modern football – we aren't able to attract the best players at this point in time, so we should be hanging onto players like Lukaku for as long as possible.
Brian Williams
86
Posted 21/12/2016 at 15:33:25
Got to agree with James 100%. If he scores 20+ goals a season he's done his job whether he runs round mad without the ball or not.
The fact that we're close to agreeing a new deal with him tells me it's a toss up between either of two things happening.
1) Koeman intends to build around Lukaku and play a system that makes him effective; or
2) We're protecting the investment we've made by ensuring when he goes he goes for a good price.
From what I heard Raiola say on TalkSport, I would guess it to be number 1.
Trevor Peers
87
Posted 21/12/2016 at 15:33:50
Selling Lukaku in the summer makes sense; he's looking jaded and disinterested this season. Piontless keeping players who don't want to be here.
We signed Bolasie to give him the service he craved, but that didn't work out, so it's time to cash in. I doubt we'll get 㿼 million though, but who knows... it's a crazy market.
Joe Clitherow
88
Posted 21/12/2016 at 15:59:32
"how many goals does he cause us to concede by not being able to hold the ball up front or not even winning 50/50 challenges."
Answer = Zero.
Read it again: "does he cause us to concede"
If that's your reason for getting rid of the only real goalscorer we currently have then I would suggest that there are much more serious managerial priorities in looking at the other 9 outfield players and the goalkeeper (and there absolutely are!) who all have that same responsibility in increasing degree and who sit between our striker and our goal.
The opposition effortlessly waltz past the other 10 players after the ball pings off Lukaku and score and this is down to Lukaku??? I mean, seriously??
I'm not saying this scenario doesn't happen as I've seen it more than once. I'm saying holding Lukaku – whose primary job is to score goals – mostly responsible rather than Lukaku sharing the collective responsibility with other players – some of whom have as their primary job stopping the opposition scoring – is just silly.
Sorry, Jay, but that is quite frankly completely and utterly ridiculous as a justification for moving him on.
Dave Abrahams
89
Posted 21/12/2016 at 16:06:04
James (85) 'It seems to me that the football world sees him (Lukaku) as a top class player, it's just people on here that don't'.
Well, if they do, James, they didn't bother to show it in the summer. No doubt Everton will make a profit, when he goes, I hope we get the asking price, even you know we'll be lucky to get anywhere close to it.
January is a month when players go for ridiculous money when clubs become desperate, they would have to be absolutely desperate to pay that sort of money for Lukaku. Still, there's one born every minute.
Jay Harris
90
Posted 21/12/2016 at 16:06:37
I would just like to remind everyone that our fall from the top six coincided with bringing Rom in on a permanent contract as our highest earner. So, for those who say we would be relegated without his goals, how come we were consistent top six without him?
At the same time our team spirit that Moyes had built up over years evaporated – something Baines alluded to when he said the dressing room was divided.
Now I attribute much of that to Martinez but I also feel a one trick pony as your highest earner is a recipe for disaster.
If we look at it subjectively, Rom and Ross are two of our most talented players, but objectively they do not impose themselves on a game and are frustratingly inconsistent.
Colin Metcalfe
91
Posted 21/12/2016 at 16:08:29
Lukaku often fails to control the ball and concedes possession and yes a few times has resulted in a goal but it's always someone else fault!
John Pierce
92
Posted 21/12/2016 at 16:09:08
The extension is only to protect Lukaku; if he and Riaola are smart, they'll have something concrete about under what conditions he can leave.
The usual banging on about his goals, and his record.
'Poke a little more stick at it. He goes for huge stretches without scoring. For those who think that's okay, going nine games without a goal (Spring 2016) means Everton have effectively played with ten men for that period. So poor is the rest of his game that he is a burden so great it affects the team.
Loves multiple scoring goals in games that are neither in the balance or against poorer opponents. Rarely creates anything himself, or scores from distance (outside the box).
Many will say without him we were relegation material. Complete speculation. He is a big white elephant. In a team full of stars he will score loads sure, see Andrew Cole at Man Utd. Everton will never be that type of team especially in the current side nor in Roms playing life.
Almost never shows any flexibility with his position to surprise or challenge an opponent. His movement is crass, cumbersome and lacks any kind of guile. Monday night in point, the one chance from Lennon he hid behind the defender, failed to read the ball and his lead was behind the player not in front which would give him a tap in.
Sell and get good money. Ultimately he has scored some decent goals, occasionally had a game which can be described as 'Talismanic'. He's just not an Everton fit. The position of centre-forward is at Everton a feted one amongst all else. We are as supporters and a club a good judge of such a position.
We value hard work, something he will never tune into. Often his most busy performances come against the big sides, a self absorbed audition to get the move he craves.
He gets nowhere near Sharp, has neither the guile or the technical skill to match up. No where near Lineker, lazy like him perhaps, but Lineker scored 40. No where near Inchy, lacks the courage and verve that fella had for scoring big goals and getting in there were it hurts.
Three players nowhere near the greatest at Everton but miles better than Rom. Perhaps he does get a rough deal, but maybe the negative publicity he attracts through his own musings and a poor choice of agent leaves Evertonians like me cold and without sympathy.
Leaving you with this. We played for years under Moyes without anything approaching Rom's goal threat and never looked like getting relegated. Take the cash in January and spent it wisely with a better fit.

Chris Williams
93
Posted 21/12/2016 at 16:17:35
Even when the talk is about a new contract, the talk is also about leaving. Can't help themselves can they?
Regarding Rom being a one-trick pony, if that trick is scoring 20+ goals every season, it's not a bad trick to have....
David Barks
94
Posted 21/12/2016 at 16:21:38
To answer the claim that he constantly loses the ball and can not retain possession, stats say otherwise.
For the current season, the numbers say he is dispossessed 2.4 times a game, and guilty of bad control 2.5 times a game. Compare that to some of this critics go to guy, Diego Costa.
Costa is dispossessed 2.8 times a match and is guilty of bad control 2.9 times a game. Aerial challenges won? 3.9 per match for Lukaku compared to 1.1 a game for Costa.
And another I've heard quite a bit is that his laziness causes him to be caught offside far too much. He is averaging 0.6 offside calls per match, compared to 0.8 for Costa.
Pass success rate, needs work but not the horror story some would have you believe. Lukaku with 63.8% passes successful compared to 74.7% for Costa.
And of course, 9 goals and 3 assists for Lukaku playing in what the manager and so many others on here say is a poor team, compared to 13 goals and 5 assists for Costa, playing in a team of world beaters.
I'd say he's pretty damn good and we should build around him, not sell him while claiming that Anichebe would be a better option.
https://www.whoscored.com/Players/78498/Show/Romelu-Lukaku

Steve Hopkins
95
Posted 21/12/2016 at 16:25:53
Is there a statistic which shows how arsed a player is about playing for the team when he's out on the pitch?
I've seen a lot of Diego Costa and he damn well looks like he gives a shit and the opposition know that they've been in a battle after 90 minutes.
Joe Clitherow
96
Posted 21/12/2016 at 16:32:34
Sorry, Jay, I'm really not deliberately picking on you via rebuttal but: "I would just like to remind everyone that our fall from the top six coincided with bringing Rom in on a permanent contract as our highest earner" is again just ridiculous in trying to link the two things. You just ignore real facts and obfuscate in order to try add weight to your argument.
Not having it, sorry. How about I threw the standard Martinez defence back on here by saying that playing him in our side the previous season coincided with our highest points total (blah blah blah for all the other stats trotted out for the decent Martinez season)? Actually much more relevant as an explanation for the good season was Lukaku's contribution which then led to us breaking our transfer record the following season.
The real reason for "fall from the top six" as you put it was the dickhead managing us.
I'm fine with people saying his first touch is poor, that he doesn't bring other people into the game enough, that his effort can be improved, that he doesn't defend enough from the front etc etc etc as we can also see these as areas for improvement to make him a better striker, but please stop clutching at straws in trying to back up your opinions with made up pseudo facts; it doesn't make your posts credible to me at least, and I often find things in your post that I agree with.
John Malone
97
Posted 21/12/2016 at 16:32:37
This lad needs a mentor just like Graham Sharp got with Andy Gray. He has the tool's to be a top striker it just hasn't learnt his trade yet!
He's came into our quiet too nice squad and made himself one of the main men because he can score goal's but really he's still a lad and has so much to learn. A player like Troy Deeney or any hard working centre-forward with character would do wonder's for Lukaku!
I am like everyone else losing patience with his poor hold up and link up play but I can see that he is still learning the centre forward role and what is required!
I want him to sign a new deal as it keeps us safe with regards to a transfer fee – plus he is our main goal threat and goalscorers are like rocking horse shit!!
Winston Williamson
98
Posted 21/12/2016 at 16:34:19
Can I ask his critics:
Why always sell him? Why not add to him? Maybe with another 'star' striker on our books (not the Niasse's and Kone's of this world); some of the heat would be taken away from him?
Most teams competing for the top four have more striking options than one guy. We have Lukaku, Kone, Niasse and Calvert-Lewin.
Would it not be better to sell Kone and Niasse (easier said than done) and add two other strikers of real quality, than to sell our only striker who is actually good enough to score Premier League goals?
John Pierce
99
Posted 21/12/2016 at 16:34:36
Anyone, although clearly not, who has played footy is aware that when a centre-forward cannot hold the ball up, or be an out ball to help relieve the pressure in periods of the game it has a profound effect on the team.
Is Rom directly responsible for errors leading to goals no, has he consistently put his teammates under pressure in games, yes.
Will that lead to mistakes, often. Statistically he may not be guilty but the great intangible is his team mates start give up on getting beyond him, often look sideways or backwards because he cannot handle a ball into to feet and give it back.
More importantly, that skill gives teams a foothold in games, creates momentum and gives his team mates a breather. Jesus, if I was a midfielder playing with Rom I'd spend most of my time facing my own goal. No wonder they have neither the energy or wit to get forward or beyond him. Its just not a high percentage thing to do for the team.
Lo and behold, the big lad wins a header or pulls it down, he starts stropping as no-one has gone in behind. Cheek!
Rom is at fault as he can only play towards goal and not with his back to goal. So for those who think its okay just for his goal record it needs to be twice that for it to hold water.
If he deserves any mitigation, it is that he has never has a partner who has those missing elements to help Rom's strengths benefit the team rather than slowly poison our play as we have to get it to Rom on a plate.
I'll reiterate – just not a good fit with our culture and what we expect from a player, especially a centre-forward.
Dermot Byrne
100
Posted 21/12/2016 at 16:37:16
Maturing like Barkley!
Joe Clitherow
101
Posted 21/12/2016 at 16:41:19
Colin (#91)
Did I say that it was someone else's fault? I don't think so.
Do I think the four defenders plus the goalkeeper, plus the two defensive midfield players we usually play, have collectively more responsibility to stop the opposition scoring than the lone striker played on his own up front? Yes absolutely I do.
I'm quite interested in your arguments to the contrary of that statement rather than just deliberate twisting to try and prove a point, which is a bit sad really.
All ears mate when you're ready.
Eddie Dunn
102
Posted 21/12/2016 at 16:52:07
Bob Latchford didn't go pressing defenders for 90 minutes. Big heavily muscled men are not built for that. Anichebe, Heskey and the like are target men, and should be in and around the box, not chasing shadows, or they will be puffed-out when they really need to sprint.
As stated above, a Vardy like rabbit of a man can buzz about all afternoon, so perhaps we need this kind of a foil for Lukaku. I get as frustrated at his shortcomings but I think enough people in the Premier League will want him, because with service he scores goals.
Our biggest problem is our lack of creativity, and it isn't all down to his statuesque posing in the box.
Joe Clitherow
103
Posted 21/12/2016 at 17:03:29
John (#99),
I agree with nearly everything you say. I'm not sure what you mean by our "culture". Style of play changes over time from team to team and it comes from the manager really. If it fits with what you want to see then so much the better but the most important thing is to be successful.
I wouldn't have said Gary Lineker did much defending or closing down from the front but he was certainly effective as a striker. Had he been played as a lone striker at a younger age then he probably would have been written off too.
He had a different type of striker in Alan Smith and Graeme Smith who could do all of those things that people are saying make Lukaku crap. He is never going to do the spadework, he is not a back-to-goal, lay-off target man, who then saunters into the penalty area when the rest of the team trot up.
Why do we not play to the strengths of players who clearly do have valuable skills, instead of changing them? For Martinez I don't think he got this fact given he spent all of his time trying to push square peg players in round holes, and the player to get the best out of Lukaku's talent, whether that is a No 10 in one system or a second striker in another, is not at the club at the moment.
I think Koeman has tried to address this with Valencia coming in off the right wing in support with some success against Arsenal, less against RS, and I think he saw Calvert-Lewin as trying to do this when Valencia tired without any joy too.
I'd rather see players brought in to supplement an effective goalscorer, which is the rarest commodity in football, than get rid and hope we can get a better option. Those so-called replacement players are far more likely to choose other clubs than Everton at the current time.
Jay Harris
104
Posted 21/12/2016 at 17:30:25
Joe,
I agree with you re the belief that Martinez was the main cause of our downfall but I still maintain that one highest paid luxury player can have a negative effect on the dressing room, especially when he contributes so little.
For those who say he needs support. We have tried Kone, Barkley, Mirallas, Valencia and Calvert-Lewin up there with him and none of this has improved his ball control, passing, or heading ability – all of which is the subject of his criticism.
Nobody is criticising his goal-scoring which is pretty good but, in the modern game, a centre-forward has to contribute so much more – especially when we lack strength in midfield because we have wingers up there to support the centre-forward instead of beefing up the midfield.
Roger Helm
105
Posted 21/12/2016 at 17:33:40
Good news if it is true. No player is perfect and you have to set up the team to make the most of your best asset, which he is. Most of the time he gets aimless hoofs up to him when he is surrounded by three defenders and not a blue in sight.
Our defence is reasonably sound, and we have a good centre-forward. What we don't have, other than Gana, is a midfield – someone who can play him in with clever passes, or with the energy to get up and support him and make runs beyond him. Oh for a Timmy Cahill and a Mikel Arteta!
Colin Williams
106
Posted 21/12/2016 at 17:34:00
Get rid — bad egg, shit footballer, technically shit, shit team player, shit at link-up play, shit aerobic fitness... what a waste of space!!
One of the most overrated players in Premier League of all time! Rated at 㿼 million!! That's a fecking joke! Liverpool's Belgian centre-forward is twice the footballer of Lukaku.
I spoke about this when we bought the clown, should have bought the other Belgian lad for 㾶 mill!!! Our fecking clown was nearly three times has much... Aanother shit decision from our expert managers; we can't half pick them!!
Kim Vivian
107
Posted 21/12/2016 at 17:47:27
Joe (#103). Totally agree. Play to strengths and add to enhance, rather than try to change. Work on the weaknesses but concentrate on strengths.
Mark Pierpoint
108
Posted 21/12/2016 at 17:53:05
I agree with you re the belief that Martinez was the main cause of our downfall but I still maintain that one highest paid luxury player can have a negative effect on the dressing room, especially when he contributes so little.
I think in a team like ours, where a good 30% of the first team squad are a total write off (Gibson, Niasse, Oviedo, Cleverley), and Besic who could offer a lot but is never fit, then this is a big statement.
The first part is pure speculation (dressing room – and from all the Instagram posts I see is a dubious claim anyway. He seems a well liked lad) and the second is patently not true as he scores the majority of our goals.
I will say again to all the detractors. Does he have is faults- Yes. Is he world class – No way. Will he ever be top end- Maybe not.
If it is that easy to replace him though take a look at West Ham and Stoke in particular this season and for the last x number of years. We are a mid table club. I am yet to see any names of these better options from anyone here.
Let's not pretend that the answer is some unfeted guy from the French League or something either, and it is that easy to unearth them.
Peter Roberts
109
Posted 21/12/2016 at 17:53:59
Ahhh... now we can't expect Rom to run around because he's just too big?
Someone better tell Costa, Deeney, Kane, Pelle, 35-year-old Ibrahimovic to take it easy. All those big lads must be really struggling to get out of bed the next day.
Is there any upside to Lukaku's weight and height? From a weight perspective he doesn't half hit the deck a lot after a shoulder off a smaller player.
Personally I'd sooner just sell asap.
Mark Pierpoint
110
Posted 21/12/2016 at 17:58:39
The same Troy Deeney who has got three goals this year in all competitions, Peter?
Mark Pierpoint
111
Posted 21/12/2016 at 18:00:24
Because out of all the ones you have mentioned, he is the only one who could be deemed a realistic alternative to Rom for a team like Everton. I know that wasn't your point, but as you call for selling him, it is a valid point, surely.
Dave Lynch
112
Posted 21/12/2016 at 18:12:00
The problem with him, he's one dimensional.
Liverpool put 2 men on him and marked him out of the game. His first touch in fucking woefull, he's brilliant on a one on one when put through but he cannot create his own chances which is the mark of a great striker.
Mark him closely with another man picking up the bits from his first touch and he's ineffective basically.
He needs the ball at his feet moving forward.
I'd sell him TBH and look for a more mobile player, one who will bring the midfield into play when pushing on.
Raymond Fox
114
Posted 21/12/2016 at 18:18:12
Just as a matter of interest in a list of goals scored this season.
Costa 13 goals 115 mins play per goal
2 assists
Sanchez 12 goals 120 mins "
6 assists
Ibrahimavic 11 goals 131 mins "
0 assists
Aquero 10 goal 101 mins "
0 assists
Lukaku 9 goals 153 mins "
3 assists
Mane 8 goals 173 mins "
4 assists
Defoe 8 goals 190 mins "
2 assists
Benteke 8 goals 167 mins "
1 assist
Hazard 8 goals 168 mins "
1 assist
Rondon 7 goals 206 mins "
2 assists
Kane 7 goals 145 mins "
1 assist
What does that suggest?
Tommy Webber
115
Posted 21/12/2016 at 18:24:17
Had he scored the winner in the last game, this news would've been the icing on the cake... but, instead of looking at a Derby win, we see more his lack of ball retention, lack of focus and 1st touch nightmare.
The harsh reality is "at the moment" we simply can't get a better striker and haven't really come close to a striker of his calibre since... well, a long time. Shit thing is, he knows it!
Pat Kennedy
116
Posted 21/12/2016 at 18:26:04
To stay or not to stay – that is the question? Whilst I'm deciding I will get my pay bumped up to 𧴜k per week and then if I fancy it I'll bugger off next Summer.
This is Planet Romelu!Yes he can score goals but he has so many weaknesses. Nobody at Champions League level came in for him last Summer (at least not at whatever price we wanted) – so he is hardly the latest 'Must Have' item.
He drives me mad and at times I think he is simply taking us for a ride. No player is irreplaceable – you either accept his limitations and build a team to maximise his output or flog him to whoever is stupid enough to pay top whack.
Not sure if we have the time, energy or resources to deliver the former – the latter seems more attractive to me. Especially after his performance on Monday Night –Ragnar Klavan is hardly top drawer yet our big man made little impression on him!
John Crawley
117
Posted 21/12/2016 at 18:31:13
Play to the lads strengths, put another striker alongside him and a creative No 10 behind. He will bag a lot more goals that way and we might actually win a few games.
Tony Twist
118
Posted 21/12/2016 at 18:32:20
He needs to be in a team with two strikers, maybe his touch wouldn't be so bad knowing that someone else is occupying the other central defender.
One up front is a joke. We need proper old fashioned central midfielders that do the full monty not like the poor excuse of midfielders of today... Defensive midfielder, holding midfielder, attacking midfielder, the notorious No 10... not good enough to be a midfielder, not good enough to be a forward.
Oh for a modern day midfield like Steven, Bracewell, Reid and Sheedy.
Brian Williams
119
Posted 21/12/2016 at 18:32:21
Having had time to think about this I reckon this is being sorted so that we can get a good price for him in the summer, should ('should' being the operative word) anyone come in for him.

I know there was talk (mostly from him and his dad) that another Premier League club wanted me blah blah blah but the strange thing was that there were no bids forthcoming during the summer so who really knows what was going on.

He's probably being rewarded with an extended (and improved) contract so that in HIS case it's a win-win situation (more money if he stays, and an agreement to let him go at the right price) and in the case of the club it's also a win-win situation should the club decide to keep him or to let him go for a higher price as he's got longer on his contract etc etc...
Joe Clitherow
120
Posted 21/12/2016 at 18:32:30
Mark (#111),
Absolutely spot on.
Very early on I learned that you should never present problems without a solution. We all know Lukaku's faults, they are evident but where is the credible alternative solution presented which matches the goal tally PLUS adds all the other wonderful attributes that ALL of us would like to see in our main striker?
Who is this player banging the door down to join Everton rather than the other clubs who would undoubtedly covet such talent?
To add to your Troy Deeney comment... Pelle? Graziano Pelle? 31 year old Graziano Pelle? Graziano Pelle who scored 28 goals in a well performing team to Lukaku's 45 in a Martinez team in the same period? Graziano Pelle who is so motivated and ambitious that he apparently turned Everton down to go and play in China.
Don't even get me started on how poor Diego Costa was last season.
Looks great on paper to ship out our main goalscorer because he has faults and then easily replace him with a much better option, and trouser some left over cash until you actually examine the real facts.
Brian Denton
121
Posted 21/12/2016 at 18:41:14
It's difficult for me to see who would pay the sort of money for him which we seem to think we'll get. He will do a good job for us (and any other team for whom 20 goals guarantees the survival/mid-table finish which is the realistic limit to their ambitions) but he would never be the 'final piece' of a Chelsea, Arsenal, Man Utd or Man City jigsaw.
The very idea that Barcelona or Real Madrid would entertain a player of his style (especially his, ...ahem..., limited first touch) is ludicrous. He will always be a valuable player for a team like us, but I haven't seen anything in his game that makes me think one of the really wealthy teams will come in for him.
Alex Fox
122
Posted 21/12/2016 at 19:09:38
No negatives in locking him down to a new deal – even if it does merely add an extra few million to his value for when he inevitably does one day leave.
We desperately need a mobile second striker to play alongside him – someone who will draw defenders from Lukaku and make the runs for Barkley. I don't think either Lukaku or Barkley are doing each other any favours at the moment, but a Callum Wilson-type could just unlock them both.
Frank Crewe
124
Posted 21/12/2016 at 19:31:21
@Dave Lynch (#112),
Liverpool put two players on him because they could afford to. Their defenders had nobody else to mark. If we had a second striker on the park Rom wouldn't be constantly battling against multiple defenders on his own because they would have another attacker to keep an eye on as well as Rom.
Mick Davies
125
Posted 21/12/2016 at 19:32:05
According to some on TW, we'd be better off if we get rid of the whole team, that's how ridiculous it's become. Some people need a reality check, and see what selling players does to the side.
Let's take Naismith for example: Lukaku was at his most potent with Naisie running around, taking markers away and latching on to his flicks. Now he's on his own, and marked out of the game as a lone forward, I'm surprised he gets any goals at all.

Martinez cocked up selling our popular Scot, and only now, looking back, we see how much he contributed to the team. Lukaku just needs a willing worker alongside him, and a better creative attcking midfielder than the useless lump Barkley.
Ian Brandes
126
Posted 21/12/2016 at 19:36:34
Spot on, Mick. He just does not suit the lone striker role. He needs support, and that is sadly lacking.
Having said that, I could do without his agent etc.
John Pierce
127
Posted 21/12/2016 at 19:41:10
17 league games he hasn't score in 10 of those he played in he missed the first one right? So 9 league goals in 16 games is massively deceptive.
I clearly don't think he's the answer, a trend though on this thread (have to say really quite a good one for a change!) is the right player might unlock Rom.
Mad as it sounds I think Fellaini would do that. The volume of balls he wins, keeps and the number of defenders he attracts would completely free up Rom and likely get him goals as most things would be in front of him.
So let's say whether that is Fellaini or whoever you choose it still doesn't negate the handicap of Rom's lack of team ethic.
I would never ask him to be Gana or Makellele, just give a fraction more and this would change so much for the team as well as the subjective opinion of him as a player/person from dissenters.
But I think that wont happen. Like my thoughts on Koeman, I just want signs of progression; in Rom under two completely different managers I've seen nothing to convince me.
Joe (#103),
Sometimes things aren't so rational. 'Latch was a big fella and yes didn't run around like a nutter. However his courage and personality added a glow to a player who just scored goals.
Lineker was a cheetah, and never did anything for the team ethic. Yet he scored 40. Might be worth noting at the time many said Lineker was sold in part because Kendall realised he couldn't help the team in any other way. We won the league the next year with players so bit part it was a cameo carousel. They had effort in spades. An interesting contrast no?
Yet if Rom scored 40 then he could place a deck chair on the penalty spot and I couldn't give a crap if he ran around. But he ain't that good.
You are right about 'culture', I'm still about the blood, thunder and heart from Everton players not as good as other teams. Sure, for it be successful, you have to change. On that note, change Rom... because he ain't for changing!
Frank Wade
128
Posted 21/12/2016 at 19:41:22
David Barks (#94),
"For the current season, the numbers say he is dispossessed 2.4 times a game, and guilty of bad control 2.5 times a game."
Ha Ha!
Now we have numbers telling us how often he is dispossessed. To get dispossessed, for your stats, he has to first have possession. I pointed out him losing the ball 3 times in just over a minute in a recent game on the Live Forum and up chirps David Barks that I was lying, so maybe an explanation of being dispossessed is required.
If a ball is played along the ground to Lukaku 5 or 10 yards away and the pass is on target, the centre half marker, nips in front and intercepts the ball, that is losing possession the team had prior to the pass.
If a ball is thrown in to his head and is on target and the marking player just beats him to the ball and heads to one of the opposition, that is losing possession. I doubt very much that his attempt to control a ball either will appear in your dispossession stats, because he simply doesn't have possession.
One of the most annoying stats is that the centre halves that are depriving/starving our Rom of possession are not all Van Dijks. They are quite often the likes of Klavan, McAuley, Mee, Prodl etc etc.
I am firmly in the Peter Roberts camp on this.
Do fans realise that the signing of a new contract will mean a hefty, in the millions, signing-on fee to both player and agent? The signing of a new contract with another club, stupid enough to cough up the release fee in the Summer, will also mean another hefty signing on fee for player and agent.
James Stewart
129
Posted 21/12/2016 at 19:46:50
Lukaku and Everton are a perfect match at present. A "better than the rest" mid-table club and a better than most but not top class striker. He is a long way off Costa, Aguero etc but most are, he is better than most in the league.
I would like to see him in a team that actually creates chances. I am not a particular fan of Rom but he takes far too much flak on here. We create virtually fuck all every game yet he consistently scores.
Play 2 up top and you will see a different player. Even better – sign some actually creative players to feed him and clear out the deadbeats Mirallas, Deulofeu, Lennon, etc
John Pierce
130
Posted 21/12/2016 at 20:00:54
Here's Rom's stat package for you!
The ball bounces off Rom 52% of the time, of that number a further 50% go straight in the goal.
Rom's average first touch is 2.7 m.
The are no recorded stats for Roms 2nd touch ..
Rom can dribble but 78% of those are up his own arse.
Rom has a 89% success rate at hide and seek.
When encouraging a team mate after a unsuccessful pass he uses thumbs up 30%, head on his hands 42% and 28% hands waving in the air.
OptaJohn
Mike Gwyer
131
Posted 21/12/2016 at 20:07:13
Frank Wade.
Why are you so against Lukaku?
The eventual sale of this boy will bring money into this club, that is definite. Who gives a fuck who gets what cut, just rest assured that Kenwright will always take a slice. Lukaku has been an asset to Everton since his first game at West Ham and for me, we have not seen a striker of his calibre since Gary Lineker.
Now if you want to discuss Super Kev, Super Del, or maybe Super Lennon or even our Super, Super ROOOOOOOSSSS... You know, the players that are supposed to provide our strikers with scoring opportunities. Fuck no, let's leave that subject well alone.
Ian Hollingworth
132
Posted 21/12/2016 at 20:23:52
God help us.
Sorry but he is not good enough. He does not try hard enough, is very slow at reacting and has a touch like an elephant?
I would love to be wrong about him but he doesn't do much to prove me wrong.
Andy Ellis
133
Posted 21/12/2016 at 20:26:55
Roger (#105), 'Our defence is reasonably sound'. What planet have you been on? We've been crying out a decent centre half and goalie for years now.
Can't believe the love for Lukaku, this guy turns up 1 in 5 games if lucky, scores a few then goes missing for months. First touch is abysmal, not to mention attitude and work rate.
So let's give him a new contract and pay rise hey, I'm sure that's good for team morale. Get used to much of the same.
Ray Said
134
Posted 21/12/2016 at 20:30:24
70 goals in 140+ games – tell me we will find anyone else who can score those sort of numbers?
Colin Glassar
135
Posted 21/12/2016 at 20:35:56
Effort Ray, blood, sweat and tears is what some want. Who cares if he scores goals? Running around like a headless chicken is far more exciting.
Andy Ellis
136
Posted 21/12/2016 at 20:52:51
And Tony Cottee scored about 1 in 2 for us but give me Graeme Sharp any day.
Colin (#135), with your sarcasm, it's about playing for and being effective for the TEAM, not about sweat etc but no doubt you think you're clever.
John Malone
137
Posted 21/12/2016 at 20:53:57
I go along with the criticism of Rom's hold up and link up play, but I also have to agree with the comments about the general supply and player's surrounding him who are shite!
One thing I am surprised about is Koeman not identifying the fact that Deulofeu supplied a lot of Rom's assists with some quality crosses and through balls last season. I think playing Delboy in the Number 10 or up top alongside Rom on the last man would definitely create us more chances and goals!!
Frank Wade
139
Posted 21/12/2016 at 21:07:36
Mike (#131),
Why am I so against Lukaku? I always support our players and I would love him to be better, to be a real Everton no 9 in our great tradition, but to me he isn't even close. I was delighted when we signed him but have been disappointed with the overall package I see in watching every single Everton game.
I am not alone on this site in thinking he is very overrated as a footballer, so you might have asked your question of countless others, but here goes.
In my opinion, he has very poor control for a professional, is not a team player, does not work hard enough for the team with and without the ball, does not show for passes from team mates, often standing behind his marking player, does not make runs off the ball to make space for his team mates, constantly seen throwing his hands up when ball doesn't come his way, loses possession too often, doesn't work hard enough when opposition have the ball apart from a few cameos where he charges about for 20 seconds max, he constantly talks in the press about wanting to leave etc etc.
On the plus side, he is our only real goal threat apart from Seamus Coleman these days. As others have stated above, he has got strength and on his day with the right service can run onto passes and take on a player and score. We might find it hard to find someone else to score 15 goals, but the player we do find might well create a lot more goals for others.
I think we should take the money. By the way, I don't see any teams coming in with any offers. Why is that ? He has repeatedly stated he wants to leave yet the offers aren't coming in. I hope we can find a player willing to take part in the pressing game that Ronald Koeman wants to play. We are going nowhere this season, so lets try and offload him and get ready for next season.
Oh and Mike, let's not brink Kenwright into it. He has never taken any money out of the club apart from the monies for selling his shares recently. Incoming transfer fees do not go to the Board.
Mike, Watch Chelsea when you can and look at Costa, bought for the same fee as Lukaku give or take and compare the most basic of traits, the desire to win and his effort on behalf of the team. You can forget that Costa is a far better finisher, Costa tries his best, Lukaku does not try his best for Everton. No one is expecting him to be the new Dixie Dean, but we are entitled to expect that he tries his best. My favourites at the moment are Seamus and Idrissa, mixing skill with desire, identifying with the Everton cause.

Paul Conway
140
Posted 21/12/2016 at 21:16:12
The fanbase seems to be split on Lukaku.
Personally, I am on the fence regarding the fact that some people say he is a lazy lump, or he is soley responsible , with a little help from famous Seamus, that we are not in a relegation dogfight.
If he is tied down for longer, I think it is because he has had promises and may be privy to what the rest of the shite don't know, or can't except... That They will soon have to clean out their lockers.
This can only mean Koeman is serious about his rebuilding project, but I know it sounds a little clichéd... But he does need time. With this bunch you can only get so far... Nowhere!
Sometimes in most sports like horseracing for example, you can run the same race 15 times with the same 15 runners and get 15 different results. This can apply to other aports. Whereas, with this lot, he can try every combination and yet get poorer and poorer.
Ian Smith
141
Posted 21/12/2016 at 21:20:07
The clause in his contract should be that, whenever the club travel he shares a room with Tim Cahill who we should get back in a consultancy role on how to play with passion.
Rom should also be made to spend one week a year with Peter Reid and Tim as they go on talent spotting trips around the Sunday league games. I will supply my old mans Mk 2 Ford Cortina as transport to keep the costs down.
After two years I think he will be ready for the Premier League with Everton or he may realise that his destiny lies in the MLS or new Chinese league.
Chris Corn
142
Posted 21/12/2016 at 21:42:50
As frustrated as I am with Lukaku's technical shortcomings, ultimately his goal record speaks for itself.
It is also important to note that he is a genuine high profile name in world football and is the closest we have to a bonafide star. He helps to raise the clubs profile.
I agree with those who say get players in to get the best out of him instead of clamouring to get rid of him.

Darren Hind
143
Posted 21/12/2016 at 21:44:27
Why do people repeatedly put up this strawman argument claiming others want Lukaku to run round like a "headless chicken"? Do they not understand the criticism? ... or the game?
Nobody is expecting Lukaku to chase lost causes. What they DO want, is to see their centre forward, make intelligent runs, perhaps sometimes change his game and attack the near post now and again, to show for midfield players when they need an outlet.
If you don't understand the difference between doing the basic requirements and running around like a "headless chicken" then its no wonder you don't understand the criticism. There are far too many games when this guy contributes absolutely fuck all.
Yes I've heard the argument that he scores goals and yes he did score 5 against Sunderland and Watford... but we are half way through the season and he has only scored 4 in all the other games - and we all know he stole one of those from Bolasie.
Instead of putting up foolish straw men arguments or making piss poor excuses for the "Goodison lighthouse", why don't you come on and tell us what he contributed in all those games when he didn't score... Why not tell us in which of those games you would give the bone idle fucker more that 3/10?
Mike Gwyer
145
Posted 21/12/2016 at 22:02:58
Frank.
You're a blue, do we really need to argue as to whether our existing number 9, our main man, is fit for purpose? I've had to sit and cringe for the past 3 days, listening to our wank-a-lot reds and their latest trip to Goodison. They really are the devils spawn!!
But seriously? You think that Lukaku is overrated? This is me guessing, but I'm thinking you will want at least £50 million, not a penny less for our overrated, can't trap a ball, waste of space striker. Well so do I, but I know the boy IS worth £50 million and I know he will go to a club, with far, far better outfield players who will make Lukaku look like a world beater.
I rarely watch MotD and I never watch live games unless its Everton. So,Costa? Really? Any striker who has Hazard, Fabregas or Willian providing the ammunition will not need to worry about chances to score goals.
For me, Lukaku has gone, maybe January but definitely in the summer, shame really, because when that boy is on fire he really is unplayable.
Colin Glassar
146
Posted 21/12/2016 at 22:09:50
Darren, when your team mates can't get the ball within 10 yards of you. When the hoofed ball goes 5 feet over your head. When you receive the ball and there's not another blue shirt within shouting distance then what the hell are you supposed to do.
Last night, I said some of the greatest strikers in world history, including our own great Dixie, wouldn't get a sniff of a goal with the pathetic service Lukaku gets.
Now I know he's no road runner. He's not going to bust a gut chasing down lost causes. He's a goalscorer like Greaves, Lee, Mueller, Lineker, Keane, Defoe etc. Give him the ball in or around the box and he will score. But get one of our useless defenders belting the ball 60 yards down the field to no one and particular and that's what you get – nothing, nowt, sweet FA.
You want a runner? Well if you can't afford a Costa or Lewandowski, then I hear James Beattie is considering a comeback.
Tony Abrahams
147
Posted 21/12/2016 at 22:12:29
The pros and cons of Lukaku, have made this a very enjoyable thread, and for my own twopence worth I often wonder why Lukaku just can't get hold of the ball?
Whoever is coaching him is doing a very poor job and he usually only run's around like an headless chicken, Colin, when he's just lost the fucking ball again!
Watching him closely, I can't believe he cannot be coached to stop the ball. He simply has to be made aware of how he much better he can approach a ball that's coming towards him, and he could start by concentrating on the ball and not the man who's marking him?
He should be made to stop thinking ahead until he's got the ball under control, and once he's mastered this he will have learnt how to become a lot more involved on a football pitch, and will also become a lot more valuable to his team-mates in the process.
Mike Gwyer
148
Posted 21/12/2016 at 22:15:11
Frank (#139),
As per your post .. "Kenwright. Monies. Taken. Everton."
You will never find 4 more truthful words!
Colin Glassar
149
Posted 21/12/2016 at 22:28:51
Tony, I know,. He's shit at a lot of things, some very basic, but he's employed mainly to score goals and if he doesn't get the service there's not much he can do.
Don Alexander
150
Posted 21/12/2016 at 22:45:20
Worries about where the goals might come from if and when someone stumps up anything like the alleged buy-out for Lukaku are all well and good but let's face it, we weren't killed in the rush by more successful clubs when we signed him, were we?
"His" game clearly involves doing the minimum to get his name on the score-sheet, and that's all. Given he too is 23 it's absurd to believe he can't be coached to retain and accurately lay off a ball. He just can't be arsed, that's all.
It's also absurd that he can't be coached to tackle or effectively close down defenders in possession, but he's just not arsed. We aren't full of wonderful players therefore it must do the crust in of those we have, few as they are and getting still fewer unfortunately, to see him doing sweet fuck all for the team.
Still, hopefully someone comes in to buy him and the we can then buy a forward or three who do a bit more than goal poachers alone do, and help their team win something in the league – a feat never achieved by Latchford, Lineker or Greaves – all of whom Lukaku isn't fit to place the boots of, by the way.
Tony Abrahams
152
Posted 21/12/2016 at 22:51:40
I wasn't implying that. Colin, I watched him the other night chasing back like an headless chicken, and was thinking that if he just worked on his first touch, then he wouldn't have to run so much!
Jim Knightley
154
Posted 21/12/2016 at 23:12:05
It's funny reading lots of nonsense from those trying to reason away Lukaku's obvious talents and goals. Because they've been won over by Klopp's Firmino tactic and ignore the fact that so many top strikers are just strikers and don't work their socks off.
It's also amusing because so many ignore the fact that Lukaku creates chances and sets up goals either you are not watching, or wilfully ignoring what is in wrong of your eyes. But then watching football is not the same as understanding football. Incidentally, his 3 assists have been bettered by only 2 of the league's top scorers see Ray's post #114.
Last season, he set up 6 goals in the league. Aguero managed 2 the whole season. Costa also managed 6 along with his 12 goals. Kane managed 1. Vardy managed 6 for the title winners. The other high scoring central strikers, Defoe and Ighalo, managed 4 assists between them. Lukaku bettered the majority of leading goal scorers, and matched the two most effective, in terms of assists.
This season he has created 23 chances only Ibrahimovic (24) and Costa (28) have created more of the strikers in the league (Not including Sanchez and Firm, who are midfielders playing out of position and drop noticeably deeper).
He has won 44.6 of his aerial duels - which is better than Kane, Costa and Rondon among others, but bettered unsurprisingly by Ibrahimovic (51 percent) and Benteke (56) of the higher scoring strikers. He has won 113 duels altogether which is marginally more than Costa. Only Deeney (114), Negredo (126), Vokes (145) and Benteke (161) have won more.
Lukaku doesnt work as hard as some strikers in the league. His touch is not as good as many of them, especially the technically gifted smaller players. But his stats in most areas are in the top echelon. He scores goals and creates more chances than the vast majority of strikers in the Premier League. He managed 25 goals in all competitions this season and is on course to hit 18-20 in the league this year. He is the most talented striker we've had in the Premier League era.
What frustrates me, reading so many of these comments, is the clear failure to realise that other strikers in the league also have clear weaknesses and issues. Kane can be criticised for being slow, and the vast majority of his goals this season have been tap-ins and penalties. Costa was poor for much of last season, and stopped making runs into the box. Vardy has died off spectacularly. Sturridge and Aguero both do not work hard, and have been criticised by both of their managers.
I'd rather have Sanchez up front. Or Aguero. Or Costa. But we are Everton, and have probably the seventh best squad in the league. Lukaku might have issues but he is without a doubt one of our best players. His signing a new contract is great news for us. Either he will stay or we will sell him for a lot of money.
Chris Leyland
155
Posted 21/12/2016 at 23:20:17
Good god, Jim, there you go ruining things with all that factual information.
Don't you know that he is actually just lazy, can't control the ball, isn't arsed, we'd be better off without him, he never tries, he can't win a header, his attitude is abysmal, he can't hold up the ball, and he contributes nothing other than a few goals every once in a while, etc, etc, etc.
Dermot Byrne
156
Posted 21/12/2016 at 23:23:58
What is it they say about statistics!

Jack Convery
158
Posted 21/12/2016 at 23:27:45
He plays best with another more mobile striker around him. Long and Berahino when he was at WBA. Chelsea didn't want him because he isn't good at being a lone striker. He has 2 players marking him every game. On Monday he ended up at one point with 4 Liverpool players around him.
If he was as crap as some on here think, why do teams gang up on him? Also why can't we as a team take advantage of the fact he is being marked by 2 defenders? Simple – our defence is shot after last two seasons.
We need insurance in the shape of 2 holding midfielders every game. When Koeman gets the defence sorted he will play 2 up front. He did it at Southampton with Long and Pelle. He was able to do it because he got Southampton's defensive side of the game right by buying Van Dyke.
Koeman has a plan imo. He knows how he wants to play and its a way that brought him relative success at Southampton. With us he can buy better players and rid our squad of the weak minded, unreliable, and not just good enough for where we all want to go.
Goals keep you in the Premier League. Its usually the teams with the worst goal difference who go down. Lukaku scores goals and in a better EFC team he will score a lot more. Right now, he's being asked to paint the Sistine Chapel with Johnson's emulsion.
Ciarán McGlone
159
Posted 21/12/2016 at 23:31:29
44.6% of aerials duels... That doesn't surprise me.. What also wouldn't surprise me is if over 90% of those won duels ended with conceded possession..
Stats eh.
He may score goals, but he annoys the shit out of me... Scientific? Empirical?
Mike Green
160
Posted 21/12/2016 at 23:36:13
Great stuff, Jim – I for one love some statistical analysis but it's a team game and the chemistry seems to be missing.
I've never been a gifted footballer but have played in bands and you can be looking for a new drummer and three lads who on paper – and in other bands – are great, but just don't fit in, then another who you think might be able to do a job but is nowhere near as good fits straight in and the band takes straight off.
I think that's the issue we have with Lukaku. Change the drummer... or change the band.
Ciarán McGlone
161
Posted 21/12/2016 at 23:38:09
From Lukaku to Spinal Tap.
Good work!
Jim Knightley
162
Posted 22/12/2016 at 00:14:35
The problem with the analogy Mike is the peculiar conclusion that Lukaku must not be the right fit. We have far poorer footballers who do not fit into the team, and do not boast the stats that Lukaku does.
What has Barkley done this season? Has he matched the impact of Lukaku? What about Mirallas or Bolasie before his injury? Or any attacking midfielder or striker in our entire squad?
Football is about stats – goals are stats, and wins. Lukaku is a striker, a traditional striker like many in the world, whose primary job is to score goals. Although Lukaku creates chances too. His 9 goals and 3 assists is holding up his end of the bargain, even if he could improve. There are plenty of players not reaching his levels in our team.
As I see it, Coleman, Gueye and Lukaku are good enough for a top 4 side. I can't see many other players in our squad capable of that, based on this season anyway. We need to find players of their level and a creative midfielder should be top of that list.
I'd recommend the Lukaku critics watch some other games, and see what other strikers contribute. I think some would be surprised about how little they create, and how hard they work. Even Diego Costa, who has been the best striker this season arguably (along with an out of position Sanchez), plays in bursts. Devastating bursts maybe, but he doesn't run and fight the opposition for the whole match. And if you haven't got time to do that, look at the stats, the chances created, and the high intensity sprints. They tell a story, as do the goals scored.
Don Alexander
163
Posted 21/12/2016 at 00:18:24
Controlling and passing a ball ain't surgery. It's a skill that comes with practice providing you want to make the effort. You may never get to "instinctive" but competence should be a given.
Do we really believe that the greatest centre forward in Premier League history, Alan Shearer, didn't hone every skill he had to become the scorer he was – 0.66 goals per game over 18 fucking years, including a Premier League title?
He wasn't especially quick, was only 6 foot tall, not heavy, couldn't dribble or go past people, but became the dog's bollocks on the back of sheer hard work and was a nightmare for defenders, with or without the ball.
When so many of us are ruing the "It'll do" mentality that's undermined our club for decades why are so many willing to accept it from Lukaku, 6'-3", built like a beast, pacy, can run past/through/over defenders when the mood (rarely) takes him but is a pussycat for the 95% of the time when he's not in possession or directly involved?
Oh yes, his prolific goal scoring record! Marginally above 0.33 goals a game as it is, in over 300 matches.
We all deserve better, and it begins with him starting to walk the walk, in conjunction with others sharing his laziness/cowardice.
Mike Green
164
Posted 22/12/2016 at 00:49:10
That's fine, Jim, if it was all down to stats we wouldn't need a manager, wouldn't need to watch a match, and the bookies would certainly be out of business.
Enjoy the numbers.
Mark Andersson
165
Posted 22/12/2016 at 00:51:09
I am with John Malone, this is a load of bollocks. It's certainly not good news for me if it's true. I have never disliked an Everton player in 50 years of being a blue, but this lad makes my blood boil, not because he can't control a ball, but for his total lack of respect for the fans and the club.
So the real test is January; Mr Money Mouth will already have his script ready, written of course by Billy Liar and the gullible will lap it up. Bright future for Everton. Have to go now, Santa is knocking on my door.
Chris Leyland
166
Posted 22/12/2016 at 00:56:02
Talking of laziness, Don, did you actually bother to check his stats before citing 0.33 goals a game,
His actual career stats are: 349 games played and 147 goals scored which is actually 0.42 a game.
Meanwhile his Everton stats are 144 games and 70 goals which is 0.49 goals a game.
But don't mention these as it wouldn't suit you argument, would it? It is far more 'cowardly' to spout lazy and incorrect ones that suit your argument.
Chris Leyland
167
Posted 22/12/2016 at 00:59:08
Mike Green – yes those pesky stats they are all meaningless.
I grant you that the stats show that Leicester got more points than anyone else last season but that doesn't mean they won anything as it is only a statistic, isn't it?
Steve Green
168
Posted 22/12/2016 at 01:13:47
9 goals this season someone referred to earlier.
9 goals before Xmas sounds okay but
5 goals in 2 games; 4 goals from August to running out for a Boxing Day game in December.
Do me a fucking favour... "Oh where would we be without his goals" – Rod Belfitt would score more than fuckin 4... FOUR – count them, over that period.
He doesn't want to be here, so let him go and show himself up somewhere else. Look at him – he doesn't want to be here...hasn't for a long time.
Just fuck him off... legend in his own lifetime in his mind... but not taking up a valuable starting place at our club please.
John Pierce
169
Posted 22/12/2016 at 01:35:34
Stats – joke ones or otherwise – rarely qualify the quality of the action. So Rom wins headers – very few either go to a colleague or are in either box.
He creates chances, does he? Maybe by mis-controlling the thing, a la Bolaise at Burnely. I bet the quality of those chances are questionable rather than A grade.
I certainly understand the need for a striker to play in waves or bursts. But, even in his downtime, he does little to impress me either statistically or under my watchful eye.
Even in a team of quality which laid 40 goals on his plate, he STILL wouldn't reciprocate with the work rate and intellectual movement to get 50 or 60 goals.
The point is, he plays hugely under his physical potential, which is the very basis of playing football.
And for those lauding his goals – look at the games he didn't score in, numerically more than 50% regardless of his conversion rate;, it ignores the games he scores multiple goals in and disguises the fact he goes huge stretches without scoring.
A better indicator, one might think, to understand you need more in your game than goals. He's ultimately a passenger in most games. A luxury this current side is struggling to wrestle with.
Don Alexander
170
Posted 22/12/2016 at 02:26:29
Chris Leyland, I really respect the views of any Everton fan and I really don't like criticism of our players but so many of us, and maybe it's an age thing, consider Lukaku to be way less than the sum of his parts.
If he chooses to be only a goal poacher, he must then expect comparison to others who offered nothing more, and in that he's way down the list. The bit that really pisses me off though is that anyone can see that with his physique he should be making opposition managers base their entire plans around stopping him.
The fact is though that he stops himself. He just ain't interested in the team. To him it's all about "I" – one of the three vowels missing from the main word that matters when it comes to winning matches and winning trophies.
Ask yourself: What did Greaves or Lineker ever win as the best goal poachers England ever had?
"Fuck all" is the answer. Never close, in fact... just like their teams, except for us when Lineker interrupted a three-year success spree.
Jay Harris
171
Posted 21/12/2016 at 03:23:15
Jim,
Why is it that people with a different view from you talk a lot of nonsense while you are the pillar of knowledge.
I prefer to use my own eyes rather than statistics and having played semi pro and watched football for the last 56 years, I think my opinion has a reasonable base.
No-one is disputing Lukaku scores goals and occasionally sets up goals. The criticisms of him are mainly objective and therefore able to be seen with ones eyes.
Gets beaten to the ball more often than not by the defender either in the air or on the ground. When he does get to the ball, in the majority of cases he shows poor control or a heavy touch or a header with no direction. Compared to other top strikers, his movement when he does not have the ball is almost non existent and, in the majority of games, he does not impose himself on the game.
Now when he does impose himself on a game, I can forgive and forget his weaknesses, but he is not consistent.
His supporters say he needs support but we have tried Kone, Valencia, Mirallas, Barkley etc up there with him without success.
Mick Davies
172
Posted 22/12/2016 at 03:32:03
All we get on here is critcism of our players: for months it was "All McCarthy does is run around the pitch" now it's "Lukaku doesn't run around the pitch" ...
FFS, players in different positions have different jobs to do, and if you had the balls to admit that one of our own could be at fault, you may be near finding the answer to Lukaku's isolation, his crowding out by defenders and his sinking morale.
If I was him, I'd be pretty pissed off if the guy supposed to be supplying and supporting me was playing like a Sunday League yard dog – then again, if you're from Wavertree, you get a lot of leeway; from Belgium, and you're a typical lazy continental lump.
Peter Barry
173
Posted 22/12/2016 at 04:53:46
Lukaku is a lazy bastard, not a team player, no first touch, concedes possession to the opposition more often than not, and his Agent is STILL saying he wants to leave – GET RID!!!
David Barks
174
Posted 22/12/2016 at 05:49:18
Peter,
Just end it already. When Bolasie came they instantly joined a friendship and partnership. When Kone was in the team with him, they celebrated together and seemed to have a good friendship. He and Mirallas seem to get on very well. When another player scores he runs over to celebrate with them.
Just curious, can you name a single player who has spoken out against him? I mean, you constantly go on about him being a cancer so surely someone in the team has said as much.
No first touch? Yes he does. That is an old criticism and he has actually don't quite well this season bringing the ball down on his chest and winning aerial challenges. When the ball is (rarely these days) played to his feet, he far more often than not controls the ball. If you watched any other striker with the same desire to catch every mistake, you would also see they fail to control every ball.
And as the commentators finally caught on during the Arsenal match, it was the coaching staff screaming at him to stay up top when he would start to drop back into midfield to help out on defense. Just to clarify that for you, they instructed him over and over to stay the fuck up top and not run around chasing shadows.
His agent's job is to play the game to use any leverage that exists to get as good a contract as possible. Every single player's agent does so when in a position of power in negotiations. Alexis Sanchez is doing the same at Arsenal, as did Pogba, Rooney, Kane, Vardy, and the list is fucking endless.
Darren Hind
175
Posted 22/12/2016 at 06:14:07
These strawman arguments get more and more ridiculous.
Who knew we were criticising Lukaku because we had been won over by... err...."Klopp's Firmino tactic"? – Takes stupid argument to new levels, that one!
Talking of stupid arguments: How on earth can anybody compare the contribution made to their respective teams by Aguero, Costa, Vardy, Kane etc... then tell us "football is about stats"... then come out with a corker like "watching the game is not the same as understanding it" ... cue Alanis Morrisette.
There can be no doubt that, on his day, Lukaku can be electric. He possesses the sort of pace and power that lifts you from your seat and he can unquestionably be lethal in the opposition area... Now... try to read this bit v e r y s l o w l y... Don't go off on tangents. Don't spout half-witted stats. Don't come back with idiotic strawman arguments – just listen:
On the days when his stars are not aligned (well over 50% of them), Lukaku is a complete liability. When the strikers listed above are having bad games, they still contribute. The teams they play for will always be in the hunt for honours. When THEY are caught offside, it's generally because they are trying to gain that vital inch on the shoulder of the last man. Their teams don't regularly lose momentum because they are lazily ambling back and are flagged offside.
These players also play in the same postcode as their teammates. They understand the stupidity of playing miles away from their central defenders. They do not make their midfield players look poor by leaving them to fall between two stools that are 50 yards apart.
Next time you watch Everton, look at the distance between Lukaku and his centre halves. we must be the most strung-out team in top-flight football.
What a fucking dilemma we have. He is the only one who scores, but his positioning means those who don't have the passing range of a Glen Hoddle cannot find him. The team becomes disjointed and ugly.
Nobody is asking for a "runner" – despite Colin's latest strawman argument. We are asking for a little unselfishness, a little intelligent movement, somebody who wants to play in a team...
Koeman demands his team stays compact, but Lukaku wanders so far away from his teammates, he ceases to be part of them... If there wasn't a stand in the way, he would probably be found wandering around Stanley Park!
David Barks
177
Posted 22/12/2016 at 06:36:53
Darren,
Then have a word with Koeman, because it has been him and his coaching staff instructing Lukaku to stay up field and not drop back into defense. It was clearly communicated by the commentators during the Arsenal match and from the TV feed, the coaches screaming at him to stay up top and not drop back into defense.
Darren Hind
178
Posted 22/12/2016 at 07:20:36
That's true, David, clearly heard it myself at a recent game.
But asking your man to "stay centre-forward" , is not the same as asking him to play in a different county.
Koeman has made a school boy error in buying an ageing centre-half to play with an even older centre half. They are terrified of pace. So they play on the goalkeepers toes, They'll never push up,
Martinez was obsessed with fucking about with it around our own area which meant His defenders couldn't play with a high line either.
Now I want to stress that neither is Lukaku's fault, but what IS his fault is that he knows this and still drifts into areas where they will need binoculars to find him. By playing so far away, he kills us as a unit.
The irony is of course, that if he stopped playing for himself he would probably get more goals. We would be able to move forward as a cohesive unit, create more chances and he would have defenders where they don't want to be against his pace – with a lot of space between them and their keeper
Colin Glassar
180
Posted 22/12/2016 at 07:41:29
Darren, when you are up the field on your own, shadowed by two, sometimes three, defenders, and your useless centre backs smash the ball 60 yards in the general direction of the opposition's goal, what the hell is he supposed to do?
When he finally does manage to control a hoofed ball, or a rocket of a pass, there's usually no colleague within 20 yards of him. I tell you, Darren, surround him with better players and a more attacking system and he will score the goals. But, leave him isolated and feeding off scraps, and he'll struggle here and anywhere else.
We had three young jewels to build the team around. Stones has gone now; if Lukaku and Barkley are allowed to leave without reaching their full potential with us, that would be criminal IMO.
Mark Pierpoint
181
Posted 22/12/2016 at 08:10:29
When we play well as a team, Lukaku plays well. See the Chelsea game last season. When we don't, he is stifled.
There are very few players who can do it on their own when those around them are faltering. Even fewer who can do it playing with sub standard support like Rom has to, or up on their own. (Let's face it, Barkley, Mirallas, Lennon, Deulofeu, Bolasie, Kone and Valencia are at the high point in their careers playing for a mid table Premier League club)
He isn't perfect, but I am astounded, truly astounded by the battering he has taken from some on here. If we are going to accuse anyone of being lazy, let's start with Geri and Kev first! If we were Man Utd or Chelsea, and could afford to, and attract a top end replacement (Dybala, Icardi, Lacaztte for example) then I would get it.
For us, if we jettison Rom then it is a Moussa Dembele (maybe) or Troy Deeney – not saying they could improve the team because those around them would still be bang average. It would also be a massive risk that they wouldn't score the goals that Rom pretty much guarantees.
Jim (#162) – an excellent post.
Joe Clitherow
182
Posted 22/12/2016 at 08:24:54
Romelu Lukaku is not as good as Alan Shearer in his prime, nor do his stats compare even though the ones quoted aren't correct. I'm even beginning to suspect he isn't as good as Maradona or Pelé (err not Graziano by the way) or Zidane or even Marco van Basten. So obviously the logical thing to do is bin the lazy bastard off because he's taking up a "valuable starting place" and keeping err, Arouna Kone and Oumar Niasse out of the side. Clear favouritism.
Seriously, Don, what IS the point of comparing against *anyone* unless it is a discussion about a direct competition for a starting berth? We don't have any player who can replace what he does in the team and, until and unless we have such a player in the squad, we should not even consider selling.
We can pick any player you like in World football and say that he is better than Lukaku. To then jump to saying that because he is not as good as X we should "get rid" is a leap in thought clarity that I really can't follow.
If there is a 21st Century Alan Shearer out there, do you think he would come to us right now? Because I don't. If we got rid of our not-world-great-but-quite-well-thought-of international centre-forward and had the formidable Kone-Niasse plus Calvert-Lewin backup partnership up front, do you think it makes attracting better players more likely or would they think that we can't hold onto known players and we are in decline?
Still, let's forget all that logical shit and just get rid of Lukaku without any Plan B (I'm sure I've heard that somewhere before) because well, err, I don't like him and he's a lazy bastard and all his teammates therefore must also hate him and he brings the morale down even though I've never seen any evidence of that whatsoever, even a rumour, and why would there be because I just made it up and presented it as fact so it must be true.
Erik Dols
183
Posted 22/12/2016 at 08:25:20
I am always baffled about the opinion on Lukaku of a lot of posters here. For me, it is very clear that Lukaku has got bags of potential and at the same time is already playing at a high level.
As posts above me say, surround him with better players and his goal scoring record will improve immediately. And his goal scoring record in itself is already pretty decent!
I do understand that people do not like his attitude, do not like the feeling that he is looking to jump ship when a perceived bigger club comes around. I do not understand that people call him lazy or useless. Sometimes it feels we are watching different matches. But then again, that's what makes football beautiful, isn't it?
Andrew Clare
184
Posted 22/12/2016 at 08:49:07
Mark @181,
I'm glad you mentioned Icardi. He, like Lukaku, is playing in a bang average team at Inter. He won't realise his full potential until he is in a team of high standard players, just like Lukaku.
Most of the mid-table teams like us suffer from a lack of creativity and movement off the ball (something I would have expected to see our team displaying under Koeman by now). That's the main difference between us and the top teams.
Having said all that, I do think that Icardi is at a different level to Lukaku and I would swap them any day as Lukaku has no movement or ball control in him – just goals.
Darren Hind
185
Posted 22/12/2016 at 09:04:23
Colin,
When you ditch your strawman arguments, your inability to understand the criticism is exposed.
Ask yourself why he gets himself 60 yards away. then and only then will you begin to understand the point. He is the only forward in top flight football who does this, he has the whole team strung out like a washing line. That's why we are so pug ugly to watch.
The answer is simple (far more simple than the flat earth society would have you believe). If he can't/won't play in a team, we cash in and buy a couple of players who will.
I remember listening to this bollocks about Lineker (another player who was more concerned about himself than the team): "What will we do without his goals?" they asked... We sold him, changed our style, and won the league.
Tom Cuffe
186
Posted 22/12/2016 at 09:04:44
I can't believe they're giving him a new contract!!! Can anyone name one game against top class opposition that you could truly say if it wasn't for Rom we wouldn't have won that game?
He can't trap the ball, he can't pass the ball, he can't header the ball and he's slow. He scored a lot of goals against lesser opposition; let him off.
Jonathan Tasker
187
Posted 22/12/2016 at 09:53:48
Sell him!
Gary Russell
188
Posted 22/12/2016 at 10:12:43
Rom scores goals, as we all know, and maybe the system doesn't suit him blah, blah blah.
What I find staggering is for someone who has played the game since a kid, and I guess trains, what, 3 or 4 days a week, why, oh, why can he not control a ball or gets out-muscled by smaller players? What goes on in training?
I'd sell him. A revamp, with all egos removed (guess we'll have to retain Koeman's ego!) and a team ethic put in place is the only way.
And while I am at it, for a manager like ours, with a renowned shot on him, why are we still shite at free-kicks and corners? The mind certainly boggles...
Brian Williams
189
Posted 22/12/2016 at 10:16:18
I was listening to TalkSport the other day and, although they weren't talking specifically about Lukaku (forget who they WERE talking about) one of the pundits was comparing a mobile, busy striker with the big muscular striker who doesn't do a lot of running round and helping out. They basically said what we all know, and that was that if both type of strikers are scoring goals for their teams then everything's hunky dory.
They went on to say that the difference is that if the mobile, busy striker ISN'T scoring goals then at least he's still helping out his team and others may score, whereas if the big muscular striker (Rom for instance) isn't scoring then he's not doing a hell of a lot else to help out the team.
They mentioned Costa in particular as a striker who works his balls off for the good of the team, and scores goals too. They also mentioned Ibrahimovic as another who works hard.
Might we have to accept that Lukaku may be the best we can get while we remain one of the also rans, one of the mid table mediocre teams. Would strikers who have everything in their locker want to come to us at the moment?I think we all know the answer to that one.
But that's not to say we can't do better. If our main striker doesn't run around and help out enough then pair him with one who does. Improve the midfield with strength, pace, and creativity to provide for both of them. Improve the big striker by increasing the number of chances he gets during a match. Improve our position by the big striker scoring more goals from the increased number of chances we're creating. Improving the midfield improves our chances of scoring more goals from that area.
Stats (and I hate to quote them) tell us that, although we may not like his alleged laziness or his "I'm a Champions League player get me out of here" attitude he is up there among the better strikers. The ex players, pundits, etc rate him. They rate him more so than us because they don't have to love him like we want to.
Don't get me wrong here – I'll never love him like I loved Graham Sharp, Andy Gray and Joe Royle... but, if he bangs in the goals for us and moves us towards where we want to be, then I'm okay with that.
I've finished on a more emotional note that I wanted to but don't just take that away from my post – consider my ideas for improving "the team."
Tony Abrahams
190
Posted 22/12/2016 at 10:29:35
Chris Leyland, the things people will write to try and prove they are right knows no bounds. 166, made a lot of sense to me, but 167 Chris, Don't you know what points make?
Tony Abrahams
191
Posted 22/12/2016 at 11:02:50
David (#174), that's exactly what I'm trying to say about Lukaku's first touch. Sometimes it's not bad, which shows he us he does have one, but on too many occasions it's fucking useless.
It's not stats we need, it's better coaching, because it's easy to see that Romelu's main problem is that he runs away with himself.
Very few players, if any in world football, can be very effective if they can't get the ball under control, and I honestly think this is Lukaku's main problem. He's already thinking of his next move before he's received the ball, and therefore his concentration is not always on the ball.
Whoever is coaching Big Rom, should be able to sort out this very basic skill in no time. It shouldn't be hard to do, just get him to constantly stop the ball. It sounds a bit patronising really when we are talking about a man who's about to earn 𧴜,000 per week, but it really is that simple.
If as Colin says that he's primarily paid to score goals, then it shouldn't really be an arguement, but if Rom, can't sort out this side of his game then Mike's very sensible anology @160 has got to be 100% correct, because a manager can't play one man up front, if his primary role is just about scoring goals?
John G Davies
192
Posted 22/12/2016 at 11:29:19
Tony 191.
Bang on the money.
I would make one stipulation in his new contract. Get yourself a pair of plums. A man of his size should be smashing defenders around in every game.
He is built like a cruiserweight boxer.In the semi-final Blind knocked him off the ball three times.,He gets it all the time off 11-stone full backs. A few sessions with Duncan required.
Ray Jacques
193
Posted 22/12/2016 at 12:16:10
The 'great' Duncan has had him for 3 years and made no difference.
If we sell him then the team will suffer as we have no others who can find the back of the net on a regular basis and goal scoring centre forwards for a club of our current stature are difficult to find. Who was our last regular 20 goal a season centre forward before Lukaku, Sharpe/Lineker??
Maybe we should be looking to play to his strengths of getting him into situations where he is running toward goal, not stood with back to goal with no assistance or partner to link with.
Out of the rest of the dross we currently employ as attacking players, I would give Mirallas a go in a central role playing off Lukaku for the next 4 or 5 games.
We can't get any worse hopefully.
Stan Schofield
194
Posted 22/12/2016 at 12:20:10
Colin @180: Spot on. Every time Lukaku is mentioned, there's a barrage of "fuck off, you lazy shite". Similar happened with Stones. Similar with Barkley. Yes, just get rid.
Get some yard dogs, cart horses and long distance runners in. Welcome to our 'new era'. Same as the old era, apparently.
Ian Horan
195
Posted 22/12/2016 at 12:25:32
Interesting rationale on the "ell him? keep him?" scenario! How about, buy Icardi or a player of a similar ilk, play him up alongside Rom.
Offload Barkley and get Deris Mertens from Napoli for the No 10 role – he is like a poor man's Hazard, but is Belgian for a start, and see how we progress on the goal scoring charts then.
Rom is Rom, goalscorer, yes, team player, maybe not for EFC... but his link-up play and work rate for Belgium is far better. Is that down to the quality of players at either Belgium of EFC.
Ernie Baywood
196
Posted 22/12/2016 at 12:33:21
John G Davies,
There's the problem. He's not going to start smashing defenders around. He's a big man, but he's a man who can skin a full back in a race from half way.
How many big bruisers can do that? How many genuinely complete all-round strikers have there been in, say, the last 10 years? Why is Lukaku suddenly held to that standard?
Ian Hollingworth
197
Posted 22/12/2016 at 12:38:11
Interesting discussion on Lukaku on Alan Brazil'S breakfast show this morning. Basically they said that he disappoints more often than excites and they just couldn't see him at one of the top clubs.
We get many posts about 'on his day' and potential etc but the real issue for us as Evertonians is that the majority of times he does disappoint with his performances.
A club with real ambitions would have to make a serious decision about cashing in on such a player to find a better player who did not disappoint the majority of times, in order to move the club forward. Sadly this is Everton and we accept a lot less in terms of ambition. It appears that we will give him a new deal with the acceptance that he may still decide to move on in the summer.
I have a simplistic view, he is part of the team and therefore I expect him to contribute to the whole game. Yes, his primary role is to score goals, but he has to contribute to the general game for the 90 minutes of play. If he can't or won't do that, then find somebody who can.
Stan Schofield
198
Posted 22/12/2016 at 12:41:37
Ernie, probably because he wears an Everton shirt. If he didn't, I bet posts on TW would be listing his virtues rather than his 'negative' points. Why do I say that? Because many posts list the virtues of strikers who aren't in the same class as Lukaku.
Ernie Baywood
199
Posted 22/12/2016 at 13:05:28
To be fair, Stan, it's probably reasonable that people on here ask for more. We all want better for our club so it's natural to list our players' deficiencies.
It's when people want him to be an entirely different footballer that I lose sympathy. Same goes for Ross. Both players can and must improve on current showings, but they'll never be Alan Shearer and Steven Gerrard. The fact that one is a big strong lad and the other a crop haired scouser doesn't make that opinion any more valid.
Paul Tran
200
Posted 22/12/2016 at 13:09:35
The problem isn't Lukaku. The problem is the lack of alternative/ competition. The lack of anyone else in the team who can score.
Koeman clearly doesn't rate our other forward players. If he doesn't find any replacements in January, he'll have talked himself into trouble.
Ray Roche
201
Posted 22/12/2016 at 13:17:19
Paul, isn't the problem the fact that we don't play to HIS strengths? It's no use playing him as a target man when we all know it's not his forte. Get someone in who can pick a pass to get him running at defenders instead of expecting a Duncan Ferguson up front.
Stan Schofield
202
Posted 22/12/2016 at 13:23:33
Ernie, point taken. I can understand the frustrations expressed in many posts. As you say, he is what he is. He can adapt, but there are limits to change.
Some posts have criticised his limited running mileage, comparing him unfavourably to Firmino. But Lukaku is built like Muhammed Ali, whereas Firmino is built like Mo Farah.
Stan Schofield
203
Posted 22/12/2016 at 13:29:34
Ray, I was discussing the Derby game with an old mate, a red, and he said exactly that, that Lukaku was at his best when fed passes like that, so why not play to that strength.
It reminds of Bob Latchford, when we had Mike Bernard putting through passes for him to run onto, which produced a stack of goals.
Don Alexander
204
Posted 22/12/2016 at 13:33:52
Since Allan Clarke at Leeds in 1969, can anyone identify a team that won the league including a main goal scorer who did absolutely nothing else?
Now I know we won't be immediately winning the league if Lukaku ever decides to pull his finger out but it'd help the club move towards that ambition. Doing that would move him closer to his oft stated ambition too. Even he should recognise that.
To allow him to go on as he chooses is like saying it's okay if the goalie just makes saves from efforts raining in on goal. No need for him to compete for crosses, that's the centre half's job. Take back passes? Not his job, others shouldn't have got themselves in that sort of predicament. No need to find one of his team-mates with the majority of his ball disposals. He saved that shot/header didn't he? What more do we expect? He's only a goalie after all.
And for the record I've never said I want rid of him. I just want him to work on his deficiencies. After he retired, Osman pointed out that Rom has an aversion to contesting for headers. That's something he could do something about. Koeman has pointed out others. Lukaku himself has conceded he has others but there is no visible difference at all almost every time he plays. But hey, he scores every now and then, so let's just bow down at his feet.
No thanks. I want better than that.
John G Davies
205
Posted 22/12/2016 at 14:03:29
Ernie (#196).
If we are looking for abig man who can skin a full back in a race from the half way line, Usain Bolt could be the answer.
I believe he is looking to start a football career.

Stan Schofield
206
Posted 22/12/2016 at 14:05:25
Don, I don't think it's true that he's not adapting. He is showing signs of winning more headers, he's working harder, and his ball retention and laying off have improved.
Yes, he admits he's got stuff to do, but it's not as if he's doing nothing to improve.
Jon Handforth
207
Posted 22/12/2016 at 14:12:58
My father used to take me to Goodison to watch Everton in the late sixties early seventies... I loved that time and watched great hard working talented players at a great family club. Although my support lies elsewhere these days, I am still a secret Everton fan and watch all the games I can and always wish them well and want them to win.
Sorry, I'm going to be contentious. Am I the only person watching Everton who is frustrated by the work rate of Lukaku who seemingly is going to sign a contract for a lot of money? Has Mr Koeman got some magic dust to change him significantly? I know he has his moments... but he's no Joe Royle or Duncan Ferguson who gave their all to the cause.
Personally I would let him go and wish him well and look for a player that would truly light up Goodison and get the place rocking. If I'm wrong, come back at me... I guess only time will tell.
Anyway it's good to be able to write freely in your forum and I wish all Everton supporters all the best for Christmas and the New Year from a secret Evertonian.
Dave Abrahams
208
Posted 22/12/2016 at 14:17:07
Jim (#162) you are correct – statistically Lukaku is one of the greatest footballers of all time, in actual play he is round about average, if that.
Patrick Murphy
209
Posted 22/12/2016 at 14:37:49
Unfortunately Romelu's way of playing undermines his obvious talent for putting the ball in the onion bag, it's a case of not what he does but the way that he does it.
David Prentice in his Echo column suggests that ordinarily Rom's goalscoring record would have him in the top 10 Everton players during the Premier League era, but despite Romelu having a record which is only surpassed by Tim Cahill (56) and Duncan Ferguson (60), the Belgian manages to split the views of Evertonians.
It's very curious that for nigh on a decade we have waited for a player who can score goals regularly for Everton, but for a variety of reasons the Belgian's face has never quite fitted at Goodison.
http://www.liverpoolecho.co.uk/sport/football/football-news/comment-evertons-lukaku-deserves-treated-12352174
Ray Robinson
210
Posted 22/12/2016 at 14:55:13
My opinion on Lukaku, for what it's worth, is that he, his father and his agent believe that he is far better than he actually is – he really does have far too many deficiencies (all debated on this thread, so I won't repeat them) to be anywhere near the level of a great player. I'm not sure that all his deficiencies can be coached out of him at his age – you should have a decent level of ball control at an early age, surely?
There are two options really: build a team around him to capitalise on his obvious strength – which is to put the ball in the back of the net – by buying more creative players who will provide more opportunities or change our style of play by buying more goal potential from more positions.
Given the fact that Lukaku will probably always hanker after playing for a top-flight team (whether or not he could is very debatable in my opinion), I'd choose the second option and re-build without him. The fact that he is seemingly about to sign a new contract means absolutely nothing – except that we will command a higher transfer fee and include a reasonable release clause value in the terms. So his being here for the long term is probably all academic anyway.
Brian Harrison
211
Posted 22/12/2016 at 14:59:56
I see his agent has said that, by signing a new contract that Lukaku may still move come the summer.
Although I think his agent has told us that he doesn't think Lukaku should have signed for Everton, and to back that up our manager thinks he will have wasted his career if he finishes his playing days with Everton.
The player himself has also said that he is 23 next year and he wants Champions League football.
So if he has a good second half of the season, we will have to see if any of the Champions League teams make an offer and, if they do, he will be off.
Alan Bodell
212
Posted 22/12/2016 at 15:36:24
I haven't been around the players entrance recently but is he still rocking up with the red headphones?
Jay Wood
213
Posted 22/12/2016 at 16:16:15
Lukaku provides goals. Like every other striker, he has barren spells. He has strength and pace few players of his size combine and when applied, he is unstoppable. He needs to up the frequency in which he displays these combined traits.
This very season, both with Belgium and Everton, in some games Lukakuhas displayed on numerous occasions some sublime hold up and lay-off play, much improved on from last season, but still not to a consistent enough level.
The charge about his lethargy in getting back onside quickly enough when a 2nd attack is triggered following a failed 1st attack is a legitimate one. The number of times this occurs is exasperating.
Although he is on record as saying heading is not his strength, he gets a reasonable return on headed goals – 2 from 9 this season alone (even though I read a poster mistakenly comment recently 'No headed goals for Lukaku this season. Just putting it out there').
As for what some consider is his poor work ethic, particularly in defending from the front, a couple of points. Darren Hind and others commented in the last 2 games at Goodison, whenever Lukaku showed an inclination to track back the whole management team screamed to him to remain forward with the last defender. Conclusion: he is playing to orders.
Against Arsenal, we were in the ascendancy, played further upfield and were much more closely packed with more of our own players 'around' Lukaku.
Against Liverpool in the 2nd half - playing to the same instructions – he was totally isolated by some 30-40 yards, against a re-shuffled 3 centre back 'poo defence. For a great deal of that 2nd half, the likes of Valencia and Lennon were playing alongside (deeper, sometimes) than our full backs.
Our centre midfield was non-existent, or simply bypassed. The service to Lukaku was a long punt upfield, oft times not even in the same postal code as our number 10, with no support around him should he even get close to the ball. His was a thankless task, chasing after the ball as the 3 visiting centre backs passed it between them. A press of one against three will never result.
As to claims about his 'cancerous' influence around the club, there has not been as much as a whisper from an 'insider' on these pages as is oft the case in such claims and accusations. Remember the end of Martinez and the competing claims from 'insiders' that he was staying; that Moyes was returning; that Pelligrini was added to the employees pay roll... etc, etc?
Not a whisper of any such claim that Lukaku is cancerous or disliked. On the contrary, he appears to be well liked by his fellow players at Everton and not the selfish, self-centred player who someone recently described on here, 24 hours before the Arsenal game like this:
"The phony lump says he'd 'rather win and not score than lose and score'. Just watch him next time we get one and it's not him – he looks like he couldn't give a fuck."
That extreme view was exposed 24 hours later when Williams netted our winner and went on a mad charge to the half way line, closely followed by the entire team. Possibly the most enthusiastic of all with a wide beaming smile was the aforementioned 'phony lump,' who leapt on Williams's back then soundly and enthusiastically thumped self-same back before giving him a huge embrace.
Yeah... he really doesn't give a fuck, does he..?
Many a poster may well get their wish, even with this new contract deal, and Lukaku could be gone in the summer. He will clearly need replacing, because currently we have no-one V no-one at all - who comes close to offering what the 'phony lump' provides, even with all the limitations – real or invented – he has.
Andrew Clare
216
Posted 22/12/2016 at 16:45:25
Ian @195,
You know your stuff. Mertens is on fire at the moment for Napoli at the moment. I think he has scored two hat tricks and four at the weekend so far this season along with his other goals.
I saw him earlier in the season when he came on as a second half sub and he completely changed the game. A cracking player. We got the wrong one when we bought Mirallas.
As far as Lukaku is concerned it's just business. It doesn't help the team as all he really wants is to move.
Jim Wilson
218
Posted 22/12/2016 at 17:29:53
Rom – You should definitely not sign a new contract and should leave in January. We are not good enough for you. Your poor ball control is because we don't give you good service.
Why should you have to run when you can stand there and wait for the ball to be passed to you? Why should you close down defenders when other team mates can do that? You are bigger than this club...

Graeme Sharp used to get it all wrong. He used to harry and chase defenders when they were in possession. He used to control the ball, hold it up, pass it, look for the return, set someone else up with a pass, score 30 goals in a season, oh and he loved Everton. Team spirit... thing of the past.
Keep to your lazy "I'll try when I want to" attitude and leave asap!
Colin Glassar
220
Posted 22/12/2016 at 17:42:13
Jay Wood, hopefully that is the definitive post on Lukaku. No one is being blind to his deficiencies but my god, some make him out to be a cross between Atilla the Hun and Fatty Arbuckle.
He's a young player, still learning the game, and we'd be up Shit Creek without his goals.
We've lost Stones, and now we have the most panic stricken defence in the league, and now some want to get rid of our best goalscorer in decades! The mind boggles.
Darren Hind
222
Posted 22/12/2016 at 18:01:14
I think the people who criticise Lukaku have long since acknowledged his strengths. The problem stems from people not understanding the criticism.
I don't think I have ever seen a post asking for Lukaku to chase back to his own area... not ever, but so many of the responses start or end with "So you want a runner, not a goal scorer?" I'm not sure what question they are answering, but it certainly isn't the one that was asked.
As I see it the issue is this: Lukaku offers a goal threat when on song, when not on song he offers very little – which is most of the time.
Is the former enough to offset the latter? Not for me
Peter Roberts
226
Posted 22/12/2016 at 20:01:08
I'll be blunt: people who defend that lads inability to control or retain a ball with any degree of aptitude haven't got a clue about football. You can't win games of football when conceding possession unless you are lucky.
If they don't actually see that he has appalling control and technical ability then that is even worse – it means that they aren't watching the game.
The top and bottom of it is that the majority of his "fans" put the glamour of his goals ahead of the need of the team. So much so that they actually blame the team for not negating the lads inability to play football.
"We aren't playing to his strengths" – aka "We haven't found a way of avoiding his weakness".
"He's isolated" – aka "a remote controlled football that can curve around defenders at 90-degree angles has not been invented to ensure his lack of intelligent movement is not a problem".
"He's too big to run around like Jamie Vardy" – aka "I'll pretend that Lukaku is the only striker above 6 ft and 13 st who doesn't put in a shift... and hope no-one mentions Harry Kane, Diego Costa, Ibrahimovic etc".
"He's only 23" – aka "One day I hope he wakes up and can suddenly trap a bag of cement – 3 more birthdays worth of excuses".
"He's the best goalscorer we've had since Lineker" – aka "He's a poorer imitation of a player who also won next to nothing whilst infuriating his team mates with his laziness and 'me, me, me' mentality".
Ernie Baywood
227
Posted 22/12/2016 at 20:26:13
I'm not against the idea of dropping him Peter. Or selling him.
The big caveat there is that we need to replace him with someone better and that won't be as easy as some seem to think.
All I'm saying is that, if we do play him, then it's pointless sticking him up front on his own with a deep lying midfield. He just cops criticism for not being the type of player who can play that role.
I haven't seen anyone defend his ability to control balls played up to him. It's relatively shit. Yet we keep on doing it.
Derek Thomas
228
Posted 22/12/2016 at 20:32:21
Jay @215 I can also see where Peter Roberts @226 is coming from. But that's the whole Lukaku thing in a nutshell, you never know which one you'll get in any 10 min spell.
The fact that nobody came in for him at £40M before all the fees doubled or tripled seemingly overnight, speaks at a volume, many times louder than his defenders do.
Most of the coaches in Europe with that sort of money to spend..and they can't ALL be thick, ALL of the time, despite what we think we know.

James Doran
231
Posted 22/12/2016 at 21:06:26
If Gareth Barry starts at Leicester, we have to play with 2 up top, or I fear our back line will be sat well within our own half for the full 90 minutes.
Colin Williams
232
Posted 22/12/2016 at 21:52:31
Peter, top comments – 100% right. I can't watch the guy play, so much of his game is weak and his overall individual performances within games are fecking piss-poor.
When we are in possession and need offensive help high up the park – we need someone who is ready, available and reliable so we can develop play and create good opportunities from anywhere, especially within the final third. All successful teams need this type of player especially playing that role high up the park. (Someone who will retain possession would help to start.)
The reason we don't create many chances within the final third is due to Rom being weak at the core skills that makes top centre-forwards worth their money. Their touch, movement, aerobic capacity and awareness of players and space around them to bounce off is a pleasure to watch. Also, these strikers are outstanding within the box, they smell opportunities and constantly score from half chances by gambling and finding space.
I really do wish this lad could perform the basic skills for us that strikers learn when within the academy day after day. I'm baffled by Lukaku's lack of technical ability spacial awareness-and other core technical and tactical elements of his game. It's such a shame because his physical frame to play that role is perfect.
Fintan Spode
235
Posted 22/12/2016 at 23:24:34
Forget Lukaku.... All is well; Rooney will be leading the line very soon!
Soren Moyer
236
Posted 23/12/2016 at 01:25:48
I'd rather have that Wickham lad from Palace, or someone similar, than this overrated lump!
Roger Helm
237
Posted 23/12/2016 at 08:13:36
Andy (#133), I didn't say our defence was very good, but that it is reasonable – we are 9th in the table with the 9th fewest goals conceded, even including the Chelsea hammering.
Scoring goals is our problem – several sides under us have outscored us. Of our 21, Rom has scored 9, more than all our midfield players combined.
Peter Roberts
238
Posted 23/12/2016 at 09:55:00
Has no-one actually cottoned on to the fact that Lukaku will score the 'vast' majority of goals for us – just like Lineker did – because we are set up to allow him to be the official goal hanger. The sole beneficiary of the team structure.
Out of his 9 goals 1 has been out the area a free kick. The other 8 from an average of 7 yards. So please stop telling me that without him we would struggle to score goals because any Premier League striker that can't convert crosses from that close in should not be a Premier League player.
I just think it's funny how people are desperately clinging on to justifying this lad and his baggage. More and more posters are finally seeing the detriment he brings to the team.
He has the lowest pass completion in the side at 65% . 7% shy of Deulofeu. What's worse is that his average pass length is the shortest too. So not only is he inaccurate despite passing short distances – how can he be so isolated?
I think those stats are telling.
He's a penalty area poacher, no ability to look after the football, he covers less ground than all bar 2 outfield players in the Premier League but some fans excuse him.
Sell him asap... spend the money on mobile footballing forwards and watch us fly.
Mark Pierpoint
239
Posted 23/12/2016 at 10:10:22
Ernie (#227),
I think your post is pretty much spot on.
Like I have said countless times on this thread, I am all ears but you can't just say 'A mobile centre forward' – Peter (#238). Who?
I am not expecting you to come up with a scouting dossier for me, but you have to give some idea of a sort of idea as to whom you are looking for.
Soren (#236). You have to be kidding, right?
Peter Roberts
240
Posted 23/12/2016 at 12:05:37
Mark... a mobile striker? Nearly all strikers are mobile. Even 35-year-old Ibrahimovic is putting Lukaku to shame with his work rate and quality up front.
You would do better to list me strikers who don't run.
Eric Myles
241
Posted 23/12/2016 at 12:14:09
Peter (#238), Van Nistelroy didn't do to badly as a goal poacher and we'd certainly love to have his ilk in our team.
Sadly, Rom is no RVN.
Mark Pierpoint
242
Posted 23/12/2016 at 12:16:23
Ibrahimovic is in a good run of form, Peter, I grant you that. He is one of the best players of his generation and has the guile still that comes with that and his near 20 years of experience at the top level. He isn't an alternative for us.
As Ernie points out, and others have, you need to offer a suggestion as to whom would be a better option that is attainable. Both in terms of performance without sacrificing goals.
Andrew Clare
243
Posted 23/12/2016 at 12:38:56
Break the bank get Mauro Icardi in for 㿎million. Play him alongside Lukaku then you would see a massive change in our attack and in Lukaku.
Yeah, I know... it's just a dream.
Peter Roberts
244
Posted 23/12/2016 at 12:44:38
A better option that is attainable?
Okay... so that means a striker valued in excess of 㿔m, potentially up to 㿨m, who is happy to earn 𧵎k a week.
I kinda think we will have a nice pool of agents coming our way with that type of financial package, don't you?
Lacazette for starters.

Soren Moyer
245
Posted 23/12/2016 at 13:08:44
Mark (#239), no I am not kidding at all. We really need a HARD WORKING striker if we want to press the opponent. Someone that could trap the ball, good in the air and good in hold-up play. Lukaku is just not good enough in any of those.
Mark Pierpoint
246
Posted 23/12/2016 at 13:47:14
But Wickham doesn't score. Never has done. In my 20 years plus as a fan I have seen loads of workers – Bent, Johnson etc. None could score regularly.
Now, to top it off, we don't have midfielders with goals in them. Goals mean points.
Mark Pierpoint
247
Posted 23/12/2016 at 13:51:32
I don't think money is the only variable, Peter, in players' minds.
Lacazette is good. We would have to change a lot about how we play to accommodate him. He is 5'-9''. I also think he would have other options when he decides to leave Lyon.
He is attainable, but not straightforward.
Colin Glassar
248
Posted 23/12/2016 at 13:57:18
Soren, that must be the post of the year. Wickham? Wickham? Connor effing Wickham? What's his average goalscoring record? Three goals a season? I think Tyson Fury would be more effective.
I presume you are Danish, Soren? A country that produced Elkjaer and Simonssen, never mind the likes of Lerby, Olsen and Co., and you rate Connor fucking Wickham!!!
Soren Moyer
249
Posted 23/12/2016 at 14:32:20
Guys, I am just sooo desparate to get a striker with higher work rate that I even accept Wickham (yes Colin, Connor fucking Wickham!). And I don't care about my (half) Danish heritage when we talk about our club lol.
Peter Roberts
250
Posted 23/12/2016 at 14:50:01
Mark Pierpoint...
The irony in that we would have to change our game to accommodate Lacazette is that we actually wouldn't... Lukaku may as well be 5ft-9in for all the use he is in the air. Lacazette is speedier, better at holding the ball up and far superior technically.
Thing is about Marcus Bent – he didn't score goals but you know what? The team did because of his work rate and he pinned them back which helped us defend. Simply put, we finished in 4th spot with him in our side.
Roger Helm
251
Posted 23/12/2016 at 15:35:15
Bob Latchford was beefy and muscular, not very mobile, not particularly hardworking, but scored every other game, mostly from short range.
Yet he was and is idolised, yet it seems most TWers can't stand Lukaku. Odd. Perhaps because we don't like his ego and the fact that he doesn't seem to be an Evertonian.
John G Davies
252
Posted 23/12/2016 at 15:40:20
Bob was one of the quickest forwards I have seen over the first five yards, Roger.
An absolute master at getting across his marker.
Stephen Ashton
253
Posted 23/12/2016 at 15:47:47
Roger, big Bob was so quick over the first few yards, he could turn most defenders in an instant, he drew so many fouls and he could hold the ball up because his first touch was great.
Interesting to note that Lukaku does not even make the Guardian's top 100 footballers for 2016, yet we believe someone might pay £80m!!!!!

Colin Glassar
254
Posted 23/12/2016 at 16:06:38
Stephen, just out of interest, were most of the players named members of the media 6?
Soren, you really must be desperate. Is Emile Heskey still around?
Bob Latchford wasn't this all-action player some remember but he was a goalscorer and that's all we wanted.
Rob Halligan
255
Posted 23/12/2016 at 16:21:16
Conor Wickham would be a useless buy, Colin. After all, he's going to be out as long as Bolasie, due to an ACL injury!!
Stephen Ashton
256
Posted 23/12/2016 at 16:21:31
Colin
Have a look for yourself:
https://docs.google.com/spreadsheets/d/12n0Nu9Uu7CCG_w4sTbhFzijeAKhMbXgkzxkRKlg7vb4/edit#gid=885154705
Colin Glassar
257
Posted 23/12/2016 at 16:26:59
Rob, don't tell Soren that – it'll ruin his Christmas.
Cheers, Stephen.
Steavey Buckley
258
Posted 23/12/2016 at 16:41:08
With Bob Latchford, it was not so much about speed but about timing and the ability of Dave Thomas to put the ball where Latchford wanted it.
All Lukaku has to hope for is that someone in a blue shirt can make an effort to get any type of cross to him. Bolasie found it more easier to find the corner flag than Lukaku.
John Pierce
259
Posted 23/12/2016 at 16:42:31
I think many of us still want a hero, an icon, and it matters not their skill level.
I guess a large part of the Lukaku debate, and it's been a good one, is that despite everything we have a player who promises much in a position we hold as sacred. Yet he has never to my mind fired the imagination of our support in a way that would forgive the deficiencies in his game.
Sure it isn't rational and much of the arguments put forward just feel tinged with that implicit bias, mine included. Even the arms and legs that was 'the Stracq' garnered more positive feeling than Rom generates.
I know all footballers use clubs and vice versa but this makes a genuine player standout by a mile. Tim Cahill it the obvious guy to point to. Such is Rom's lack of appeal even if the fella was as skillful as Messi he'd still get a negative narrative.
Hey ho. I hope despite my serious doubts with his ongoing involvement at Everton he keeps doing the only thing he can, score. And their I go again, couldn't resist one last dig at him.
Happy crimbo Rom lad.

Soren Moyer
260
Posted 23/12/2016 at 18:01:24
Colin, too late, I saw that comment lol.
Andy Ellis
261
Posted 23/12/2016 at 18:17:46
One things for sure, he'll never walk on water like big Bob!
Peter Roberts
262
Posted 23/12/2016 at 20:16:35
Bob Latchford as justification for Lukaku?! He was a great player for the time... but time has moved on. Teams can't carry someone like that as a 90-minute player.
Brent Stephens
263
Posted 25/12/2016 at 18:08:12
Peter, what's your view on Lukaku? I'm not sure we've heard that yet.
---
Add Your Comments
In order to post a comment, you need to be logged in as a registered user of the site.
Or Sign up as a ToffeeWeb Member — it's free, takes just a few minutes and will allow you to post your comments on articles and Talking Points submissions across the site.