Boss pleased with second-half display

58 Comments [Jump to last]
Monday 26 December 2016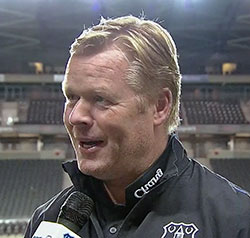 Ronald Koeman was understandably pleased with his team's excellent result against Leicester City today which marked Everton's first away win since September and first clean sheet for over two months.
Second-half goals from Kevin Mirallas and Romelu Lukaku delivered three important points after a forgettable first period in which the Blues had again failed to register a shot on target.
Mirallas broke the deadlock when he latched onto Joel Robles' ball forward and Lukaku made the game safe with a superb individual effort in stoppage time to prolong Claudio Ranieri's problems in defence of Leicester's Premier League title.
"Leicester away is always difficult but I think we played well," Koeman said. "The second half was better than the first half.
"We dominated from the start of the game but our ball possession was not [of good] quality. It was much better [at] 1-0. Of course then you see the difference and I think that's a question of confidence.
"After [going] 1-0 up the team was comfortable and [Leicester] didn't create and we had the best chance to score more goals. That chance for Gana… you need to kill the game at that time.
"But, OK, we did it finally with the goal by Romelu and it was really a very good team performance with good organisation. We fought, defended well and we made it very difficult and we were dangerous on the counter-attack. And a clean sheet — that's also very important."
---
Reader Comments (58)
Note: the following content is not moderated or vetted by the site owners at the time of submission. Comments are the responsibility of the poster. Disclaimer
Steve Bingham
1
Posted 26/12/2016 at 19:58:42
Let's hope it's the beginnings of a bright 2017 .
Des Farren
2
Posted 26/12/2016 at 20:14:26
"Pleased with the result". What about the performance? For those interested it was, once again, dire.
Does it matter? Short-term... no; we have three points.
Long-term... no, we have three points.
Minik Hansen
3
Posted 26/12/2016 at 20:23:08
I'm baffled we're at 7th place after all. Let's keep this momentum going, 2017 here we come! COYB
Aidy Dews
4
Posted 26/12/2016 at 20:32:09
Exactly Minik, after the previous form I'm surprised we haven't dropped down the table but we're still in an healthy position going into the New Year.
I always said through the tough period that we need to stay on the coat tails of Europe ahead of January. Stay around there and then, when it comes to buying players, we can show them we're up there and want to be fighting for Europe and players will buy into that more and want to join rather than join a club that's down in mid table or below and looking at amounting to nothing throughout the season!
Take the momentum of this win in to Friday at Hull and win that and we go into January on an high and then hopefully add some quality and kick on for the rest of the Season!
Paul Hewitt
5
Posted 26/12/2016 at 21:10:32
I just hope Davies can get regular starts now.
John Pierce
6
Posted 26/12/2016 at 21:21:16
Jay we can be happy with the points and little else. The long-term accumulation of points won't get any better unless the pattern of play and tactics improve.
The team did the bare minimum to get that win. Both goals a result of a 50/60 yard "pass". In both instances the defenders made a hash of it.

No point talking about winning 2/3 on one hand then using the half season mark to look at other clubs. Not the same really?
Overall the football played by Everton this season has been in moments. Only a decrepit Arsenal was a scalp to be proud of. We have been outplayed in most games, have very little attacking output and several players whose attitudinal displays are questionable.
All Koeman's, and by extension a swathe of supporters' eggs', are in a transfer window were no guarantees exist and most of his squad that he's failed to get very little from will remain intact.
He just isn't the man for me. I'd rather say now rather than be faced with recanting 2 years down the line. If he turns it around, great, but not sure he will stay for those two years!
All the best!
Trevor Lynes
7
Posted 26/12/2016 at 21:27:22
Lets hope that the result does not affect the fact that we desperately need a midfield schemer to get the best out of Rom plus a second striker who scores goals and takes the weight off Lukaku.If Lukaku gets space he will score and at the moment he is being close marked as he appears to be our only goal threat up front.
Davies was OK but he is untested.Maybe a few appearances from the bench will give him confidence and freshen the side up.
Andrew W James
8
Posted 26/12/2016 at 21:31:49
I was not at the game today, but by all accounts a good 3 points without playing brilliantly. A much needed lift after a few tough games. We all want immediate success and because we care, we tend to get very upset when things aren't going the way we want.
The team and Koeman have received a lot of criticism recently because we have not been further up the table and some performances have been uninspiring and disappointing to say the least.
However we are in the early months of a new era with a new owner and deeper pockets than we have ever had – at least in modern times. I think patience is the one virtue we need have if we are to build a new era of success as despite our new found wealth we won't be able to buy instant success along the lines of Citeh and Chelski. So let's give Koeman a decent chance before we do a Newcastle.
COYB. Onwards and upwards and let's give Koeman a season or two to prove what he can do. We thought Martinez brilliant initially but time proved otherwise. So patience all as we see what can be built.
Paul Smith
9
Posted 26/12/2016 at 22:42:43
John (#6), I agree with you mostly. I don't see or feel the plan of Koemans team at all. Two lucky long balls won us today's game against a team on the slide basically. Great result the fans that travelled thoroughly deserved... but again not much to say I can see us winning regularly now.
If we can frustrate teams like we did today, in a sense we might see a run of better results, but we will face much tougher opposition than today and they should possibly have done better in a couple of breaks.
Gotta give a mention to Coleman's proffessionalism too – he has stood tall for us in the last few weeks. He's not the most gifted player but he never over-respects any opposition and his game is always positive.
Danny Broderick
10
Posted 26/12/2016 at 23:05:56
That second half was a good Evertonian display. We got stuck in, and held our nerve, and got 3 points. We need a few more of them, if anything...
John Raftery
11
Posted 26/12/2016 at 23:07:29
It was interesting to see how much we dominated possession in the first half without doing anything with it. The performance until the interval had many of the hallmarks of Roberto's reign.
In the second half we mixed it up a bit more and profited accordingly. It was as though Leicester were lulled into a false sense of security, decided to push further forward but left their defence undermanned and exposed to players, Mirallas and Lukaku, who have the class and composure to score in one-on-one situations.
Tom Bowers
12
Posted 26/12/2016 at 23:18:28
I suppose Everton used the Leicester ploy which surprised a lot of teams last year but Leicester – without starting Mahrez, Drinkwater and the suspended Vardy – were toothless, luckily for the Blues.
Some are saying Everton are work in progress but I cannot see where the progress is being made over the last 3 seasons under Roberto. However, having now beaten the Champions, Arsenal, a point at the Etihad and seconds away from a point against Liverpool, an optimist might say the corner is slowly being turned.
Today it looked like Everton went with 3 at the back with Coleman and Baines playing as extra wing backs but it all looked out of shape for the first half and could have been costly. Luckily the Foxes are having a lean season and Everton rode their luck until after the break.
Tom Davies must start the next game. The lad is quick and full of energy and ideas. He will compliment Gana no end.
Andrew Heffernan
13
Posted 26/12/2016 at 23:25:10
"Performance was dire..." – I respect opinions of fellow blues but although the first half was similar to the derby game the second half was something different.
There was a set in the second half with play up and down the right, played back and across to the left with about 25 passes, then played through the centre and we were unlucky not to score – this is some of the best football I've seen us play for 2 years.
With a turned over squad, I am not fearful for our future – I just think blues need to be more realistic about what success is; this season, 7th or even 6th would be an achievement given the squads above us. Apologies for some reality!
Peter McHugh
14
Posted 26/12/2016 at 23:44:28
I thought it was a poor game which we fully deserved to win. I think a sprinkle of quality would vastly improve us. Let's hope we can get it.
Anto Byrne
15
Posted 26/12/2016 at 00:02:36
Just crawled out of bed and thought I would check the result not being confident of a good outcome.
Thanks Everton a very nice Xmas present. Onwards and upwards from here.
Tony Stanley
16
Posted 27/12/2016 at 00:46:39
We were not up to scratch in the first half; in the second half, we were better.
Great result... very iffy performance.
Mark Andersson
17
Posted 27/12/2016 at 01:07:28
Good to wake up to a win. I posted yesterday that I can't see us winning anything. Happy to be proved wrong but happier for the blue army who do there fantastic job of supporting the team.
Mike Dolan
18
Posted 27/12/2016 at 01:54:40
OMG, the reaction here to an Everton win is lamentably underwhelming. "But for a couple of lucky 50 yard passes etc."
What is lucky about connecting onto a superb 50-yard pass that Barkley dug out of the corner? What was lucky about the Mirallas goal? Every goal that's ever been scored is a defensive mistake.
The lads worked hard for this win, I know its not like watching Barcelona but the last three games we have shown grit and determination that has not been evident in over a year. We should be applauding that. How bad is Koeman for this team? Well if you look at all of the points garnered in the last 12 months by virtually the same group of players you might notice that we should be fighting relegation but by some miracle Koeman has us in 7th.
Be critical, i'ts your right, but when the players make the first baby steps to sustainable improvement, get behind the team and the manager with less of the whining, more encouragement. Be what great supporters actually are.
Gary Russell
19
Posted 27/12/2016 at 01:58:43
The passing along the back reminded me of BBS. Slow and laboured with no-one showing in midfield for the transition. Funes Mori does not instill me with faith with his passing. We need much more spark and energy and – surprise, surprise – the young lad gave us that.
Come on Ron, more young 'uns with passing and pace and fearlessness. Baines, like Jags is gone. Time to move on.
Gary Russell
20
Posted 27/12/2016 at 02:05:57
Mike, Kev's goal was fortuitous as it deflected with the defender and bobbled over their keeper. A win is a win, but hey, we were awful.
Peter Jansson
21
Posted 27/12/2016 at 02:09:57
Many of you here a just too negative. Like rotten apples, contagiously spreading around negative shite.
Now we win a good 3 points win against last season's Champions and you complain about the quality of the play. Get real for fuck's sake. Man City lost here 4-1.
Don't complain your ass off if we play bad. If we, the fans, are overly negative, it will certainly not help our team, rather the opposite. I don't give a shite about the quality of the play today, but I care about 3 points. I hate playing good and getting 0 points.
Now let's use this win as something positive we can build momentum up against! COYB!
Anthony Dwyer
22
Posted 27/12/2016 at 02:12:50
Were not currently a confident team, we've just lost a derby, and we've gone away and won 0-2 v the Champions.
Now I do agree that were not great to watch; I also agree that two long balls won us the game... but that's not the whole story.
We missed a brilliant chance at the end of the first half when Baines played a ball across goal, and Mirallas didn't get on the end of it. Also, we missed an open goal when Gana didn't finish off a good move by Barkley passing to Rom to create the open goal chance.
3 at the back seemed to suit us today, it's something we haven't tried since Chelsea whacked us, but I feel Baines and Coleman are more up to full fitness now than back then, which is a must if they're to play wing-back.
I'm also pleased to see Funes Mori keep his place, and Robles and Holgate do well.
If we can beat Hull and Southampton over the next week or so, we could just find ourselves in a decent little position.
January is just around the corner and we're linked with a lot of players... Let's hope today is the start of a better period for the Blues.
Zahid Ibrahim
23
Posted 27/12/2016 at 02:28:32
Performance wise, what are we expecting? Coming into the game with 4 away losses in a row and blowing hot & cold at home. The result is more important at the moment. Great morale-boosting 3 points from the lads! I can see that the team played much better after the 1st goal. Should have been 3-0 with Gueye's effort. Its all about confidence.
Holgate & Davies are great prospects! Robles is dependable (luckily). Gana & Williams are reliable. Lukaku is clinical as ever.
Timothy Blanshard
24
Posted 27/12/2016 at 02:42:37
I'm made up with the three points and, while there have been better games, there have been much worse. Just imagine how the Foxes fans feel – they did us 4-0 the last time we visited them.
Gordon Roberts
25
Posted 27/12/2016 at 02:48:36
With you all the way Peter Jansson. Whilst I agree that everyone is entitled to have a view and opinion, there is far too much negativity on Toffeeweb. It is contagious and damaging. Koeman is restructuring the team, this will inevitably take time and we must be patient. The spine of the team will look different in a few months, and, provided Koeman isn't hounded out of Goodison, the 2017-18 version will be unrecognisable from the team which finished off the Martinez era.
Gary Russell
26
Posted 27/12/2016 at 02:58:31
Of course we are all happy we won. But very few would say we played well. I found us painful to watch at times.
Commenting on the performance is allowed!
Mike Dolan
27
Posted 27/12/2016 at 03:11:12
Gary it is what it is. But when we lose to Liverpool by a similar type of goal 'flukey' goal then all I hear is not that we were unlucky but that we are shite. I only am trying to get across that, yes, since just before Christmas last year, the players have been playing with little or no confidence or conviction. This team was stitched together on a shoestring budget and was allowed to get old for the last five years.
Now Koeman with some sound financial backing is tasked with rebuilding a younger team, installing a playing style that, on one hand, is beyond the level of some of the players. But he has to use the basic tenets of a system because all of the great teams play total football with fast, fit players in their prime who possess a high degree of interchangeability and, as he brings more capable players in, they can be incorporated into an existing system.
In the meantime,our team is going to win ugly but we are going to begin to grind out results nevertheless. I'm sorry for perhaps being overly positive but the only thing we can't overcome is the strangling negativity that seems to inflict us. We are Everton, FFS, and we are just starting our journey back to the top.
Gordon Roberts
28
Posted 27/12/2016 at 03:18:33
Gary Russell (#26). Agree entirely that commenting on the performance is allowed. Negativity in regard to Koeman and a desire to see him sacked was the the point I was making. He must be given time to restructure the squad.
Will Mabon
29
Posted 27/12/2016 at 04:24:37
Mike Dolan, posts 18 & 27.
You speak a lot of sense. Whilst I'm not yet convinced by Koeman at all, the players have upped it in recent matches for sure. The performances are a little "loose", maybe Koeman has been too rigid 'til the last three games, players on too tight a rein? It's hard to tell from the outside.
It's certainly not pretty, but the spirit and effort is as high as it's been all season so far, which is needed as the basis for anything further to be built. What we already have has to be working as well as possible before the crazy shopping, IMO.
Mick Davies
30
Posted 27/12/2016 at 04:45:26
Gordon Roberts, I went home and away through the '70s and early '80s when we were, at times, atrocious, so I know a bad side, and deserve to have my say: this current set-up looks clueless, and although I want it to all click so we start playing decent football, I just don't see any difference from last season.
We went away to a decent Southampton side (Koeman in charge) and tore them apart, so I'm not going to put the flags up because we won at a depleted and out-of-form Leicester.
I hope we kick on and things change, and I'll eat humble pie, but until then....
Paul Ferry
31
Posted 27/12/2016 at 05:24:13
JAYSUS!
Unbelievable!
Des Farren (#2) – "Pleased with the result". What about the performance? For those interested it was, once again, dire. Does it matter? Short-term... no; we have three points. Long-term... no, we have three points.
Do you have the decency or dignity to acknowledge:
(1) How much better we played in the 2nd half?
(2) The great decisions that Koeman made after watching that dire first half?
(3) The quality subs?
(4) How well Ross and Tom played?
(5) The incredible ball Ross played for the admittedly bungled Gana miss?
(6) How brilliantly Lukaku took his goal?
(7) How much better Mirallas has been recently?
(8) How well Williams played?
(9) How well Robles played?
(10) How refreshing Seamus has been rushing forward recently?
(11) How amazing the away support was?
(12) How well Koeman reacted to what he saw and in effect admitted he was wrong?
(13) How wonderful Gueye was?
(14) How we comfortably beat the reigning Champions – respect – on their own ground?
(15) How solid we looked at the back today?
(16) How Holgate simply oozes class?
(17) That Mason is only 18?
(18) That Funes Mori has been rather good in the last 2 games
(19) That we had a spell of 53 uninterrupted passes – memories of that Leeds v Southampton game back on black-and-white Match of the Day in the 1970s for paupers like my wonderful ma and da – and it ended up with a great attack?
(20) That we are in a much better place than we were 3 games ago?
That's twenty off the top of my head. Trust me I can come up with more.
As I said, Jasysus... unbelievable!
Mark Daley
32
Posted 27/12/2016 at 07:35:56
League table says it all. 6 clubs and then the rest. We're Best of the Rest. We know we are. End of story.
Trevor Peers
33
Posted 27/12/2016 at 08:37:05
This result gave me hope, Koeman might be the answer after all. A neat change of tactics brought its reward.
With the news we're in for two pacy forwards in Berahino and Lookman, we could then break with pace and power. Fingers crossed we get them.
Ajay Gopal
34
Posted 27/12/2016 at 09:14:54
Koeman is slowly 'getting' our team – its strengths, weaknesses – and I think he is learning with every game.
The encouraging thing for me was that he played Holgate and Davies and Robles, and they all performed well. In my opinion, Barry, Jagielka and yes Baines also, are past their prime. They can still do a job when injuries, suspensions and fixture pile-up happens, but should not be playing on a regular basis.
What is more interesting for me to see would be whom we offload – we cannot be carrying non-performers (injuries, poor fitness, whatever) – Kone, Gibson, Besic, Cleverly, Oviedo, Niasse.
Koeman should build the team around Lukaku, Barkley, Davies, Holgate. Robles should be given a chance to prove himself – as people have pointed out, he has rarely let down the team whenever called upon and a decent run of games could see him improve his confidence and distribution. Might be good money saved if he turns out to be a top level keeper.
I would also say that we don't need any central defenders at this moment – what we have is pretty decent. Our defense is usually under constant pressure due to the poor ball retaining capability of our midfield and forward lines.
I hope we can get some decent additions to the squad in January and finish strong.But breaking into the Top 6 seems like a tall order – I don't see us replacing one of: Chelsea, Man City, Liverpool, Arsenal, Spurs, Man Utd. They all see well beyond reach at this stage.
Dermot Byrne
35
Posted 27/12/2016 at 10:02:22
If I have a 3-year plan in my pocket and you know very little, if any, of the detail, you are forced to make judgment on the first few months of my assessment rather than the actions I will take after this period of assessment. That gives you a choice. You can make a snap negative judgment based on what you see in this assessment period or you can step back, have more than a 10-year old's sense of perspective and stop stamping your feet because you don't get what you want straight away.
I believe this administration will achieve good things for us but there is no point in ignoring the improvement at other clubs, the mediocrity of many of our current squad and the hard-to-take fact that some clubs without our constantly trumpeted history are more attractive than us at present. Sometimes I wonder is that because a percentage of our fans spend all day spitting their dummies out.
(And yes, everyone has a right to express their views and emotions, just as I have a right to suggest some behave like petulant little children. I pray for the sake of those around you you didn't get a Christmas present you didn't like!)
Russ Quinlan
36
Posted 27/12/2016 at 10:07:34
I too have been frustrated by what's happened this season, but when we were playing badly and NOT showing commitment and effort was what pissed me off. Now, we are seeing more effort and like some say, winning dirty, but surely that's a bit better than keeping on losing?
We are not playing the sort of joined up footie we all want to see but lets be honest, a few of our playesr don't have that ability so if they put a shift in, thats all we can expect for now anyway. Some managers are lucky to accidentally find a bit of the team that works.
I think when Barclay and Davies got together in midfield it changed the pace for the better (although why Ron didn't see that in training already is a mystery!) so I hope they can be put together again more often.
Barry has been ok but we have enough defensive midfielders and as soon as he is not there (Macca previously) the pace increases. In the first half we effectively had 7 defenders on the pitch so it was no wonder the pace was slow.
It shows what we can do if there is a bit of pace (and youth) in the 11 and I only hope Ron takes that on board because with Holgate and Davies playing yesterday I should also open the door to a few other promising U23s we have coming through because yesterday proved some of them ARE capable of playing and making a difference to what, so far, is again and slow starting 11.
If we can get a result on Friday and then have a good transfer window, I would be a lot more optimistic. COYB !
Alasdair Mackay
37
Posted 27/12/2016 at 10:12:15
We spent along time complaining about Martinez not seeming to have a Plan B, but Koeman doesn't seem to have a Plan A!
When was the last time we started a game well? I honestly can't remember.
Not Leicester, not Arsenal, not West Ham...
That points to a manager whose players lack confidence and good direction, who's good at getting us out of holes at half-time.
While this is imminently better than a manager with no tactically flexibility at all, it can't be the long-term solution.
Rob Dolby
38
Posted 27/12/2016 at 10:33:48
I don't recall winning too many games like this under Roberto. Playing nice footy and getting beat or winning ugly? I know which one I would rather have.
The Gana chance was our best bit of footy all game 20 odd passes an open goal and he ballooned it. We showed good character yesterday lots of determined defending and organisation, it was Williams's best game for a while.
Glad to see Barry getting the hook, when he gets tired he plays deeper and deeper; Davies keeps the ball and always shows for a pass which helped us. He deserves a run of cameos in the team in place of cleverly.
Although not the bravest tackle in the world, Ross thwarted Simpson in our box and smashed upfield for the 2nd a sign that Barkley is upping his workrate and determination.
All good; roll on Hull.
Laynald Hansen
39
Posted 27/12/2016 at 10:41:44
Robles was also in goal in our last clean sheet.
Koeman never gives Robles credit, have you noticed that?
Brian Williams
40
Posted 27/12/2016 at 10:45:07
Barkley, it's Ross Barkley... his name is B-a-r-k-l-e-y... B-A R-K-L-E-Y.
Jim Potter
41
Posted 27/12/2016 at 10:51:34
Davies deserves his chance now. Talented, a good footballing brain, determined and boss hair.
Lukaku needs more support. I will keep repeating this like a mantra until someone somewhere gives him that help – because only then will we get the best out of him.
Lukaku needs more support. Lukaku needs more support. Lukaku... sod it, I'm off down the pub – which also needs my support.
Paul Smith
42
Posted 27/12/2016 at 11:53:45
Mike (#18), you've definitely got a good point mate I just think perspective is massive in football and we need to make sure we keep it. We have had good results and I love any win but they haven't continued as yet.
Believe me, I'm right behind a progressive Everton – I think most fans are and I think most fans know what we need. The perspective comes in every area and a top coach will talk about the win in perspective knowing he is telling them the next opposition is different and we still have to do better and more to win games.
Onwards an upwards, of course, mate – but I'm always gonna say what I see. I feel its our job as fans to keep the players on their toes whilst giving them the praise and respect they deserve after a good win. Hull next, let's go again, lads.
Peter Jansson
43
Posted 27/12/2016 at 12:31:33
Seriously, you guys saying Koeman does not have a plan. What are you talking about? His plan is to sink as many points as possible. Using the strengths that he has available. With this squad the most important thing must be running and fighting your ass off.
I mean, since about all of us in here agree that this squad has its limitations. No manager in the world would manage to get this team playing tici-taca football whatsoever. Now Koeman has got fighting spirit into this team. What more could he do?
We need at least 2 new central midfielders with creativity and maybe another Gana. And also a winger and a striker to be able to raise our game. Until then, be glad there now is a fighting spirit in the team!
Dave Ganley
44
Posted 27/12/2016 at 13:12:40
Mike Dolan (#18) I agree entirely. I can be Everton's biggest critics when we lose but for crying out loud when we win, especially away from home at the champions then that's not a bad result – especially given how we're playing. If you'd asked most people would they take a 2 0 win they'd snatch your hands off. Now a lot are just moaning.
We know we are poor, we know we need an overhaul and we know we need more quality but baby steps and all that. Effort we wanted and effort we got in the last 3 games. When we start adding more quality to the squad we may start to see better football but until then I shall take the wins.
We know the mess Koeman inherited so give him time to try and sort it out. I'm hoping he can as it would just set us back again if we had to sack another manager. But when we win, let's have a bit of perspective please. As others have said when RS fluted a 1-0 win in the derby I didn't hear any RS fan moaning the quality wasn't very good. Get a grip.
Tony Sullivan
45
Posted 27/12/2016 at 14:46:09
Mike Dolan (#18) Sensible post, agree with every word. There is nothing like trying to keep things in perspective.
Mike Gaynes
46
Posted 27/12/2016 at 15:40:58
Although, Mike #18, "what was lucky about the Mirallas goal" was that the deflection took it over Schmeichel, who otherwise would have saved it.
Not saying it was undeserved, mind you… it was a great run by Mirallas onto a nice long ball by Robles, whose distributive abilities I have noted before… but there's no denying the element of good fortune.
Ian Jones
47
Posted 27/12/2016 at 16:22:22
If there is ever an element of luck with any goals we score, then I will take it every time.
The number of goals we have conceded in the past due to deflections or lucky breaks means we are entitled to enjoy our share of luck.
Harvey Miller
48
Posted 27/12/2016 at 16:50:51
I can't believe that so many of us just don't appreciate the talent that Rom has. He made sure we would win and scored against three opponents.
The fact is, when he is at the top of his game, there is no better in this world. Messi or Suarez don't have that power, strength or pace. What they do have is intelligent players who can and will pass the ball to places where it is easy to play on. Of course they have a better understanding of the game but that can be taught.
I still believe he will be a blue legend but he needs a little bit more from his colleagues.
Rob Halligan
49
Posted 27/12/2016 at 17:08:36
Paul Ferry (#31). Some good points, particularly about Holgate. I thought he looked really comfortable on the ball. He will turn out to be a really good player.
Playing with a back three, we looked far more comfortable as well. We gave Leicester very little opportunities to score. Praise to Koeman for that.
As with Tom Davies, again he looked very composed on the ball. He will turn out to be a real "in your face" type of player.
Your point #19 regarding the number of passes. Not sure how many there were to be honest. At the time I guessed about 20-25. On MotD they showed just two!! If that had been Chelsea, Arsenal, the RS or any other media darling team, they would have shown it over and over. Funny how not many people on this thread, or any other, have mentioned it.
People on this site just moan for moaning sake. Others are just never satisfied. A couple of additions next month, particularly to support an excellent Lukaku, and I think we could be in for an exciting second half of the season.
Andy Meighan
50
Posted 27/12/2016 at 17:34:08
Moan all you want. Not for one minute in that game did we look in any trouble. Compare it to the last time we came here in May. Disgraceful. That was a professional performance and we've took the points without any bother.
I've been Koemans biggest critic but the last few games I'm starting to warm to him. OK the football isn't the best but it's always about results. And while you could say we might have deserved a draw against them.
We've taken 6 points out of 9 – beating Arsenal and the current Champions. Oh, and as I type, I'm in a bar in Benidorm and Stoke have just notched... Walters as well. Hope to God it stays like that.
Happy New Year, boys and girls!
Dermot Byrne
51
Posted 27/12/2016 at 17:47:50
And your point, Mr Ferry?!
John G Davies
52
Posted 27/12/2016 at 18:08:16
Paul Ferry, Rob.
Koeman is, and has been, doing his homework. He is learning every day about the strengths and weaknesses of the squad. He has changed the formation twice in recent weeks to suit the players available to him. He will add further balance to the squad in January.
I have full confidence that he will get it right. 7th or 8th this season will be decent progress. The negativity shown by some of our fans will disappear as results improve.

Darren Hind
53
Posted 27/12/2016 at 18:12:10
I spoke about that move yesterday, Rob, on MK's thread. I thought it was the best bit of football we have played for a long time. It seemed to have gone under an awful lot of radars. I was really surprised nobody mentioned it too.
Paul Ferry,
Was it really 53? I knew it was a lot, but didn't start shouting "Ole!" until half-way through...
Douglas McClenaghan
55
Posted 28/12/2016 at 07:33:59
A month ago, I had us possibly getting points against Hull and that was all. The real results have been a pleasant surprise (and of course the RS arsed it again). Nine points from the next three games I reckon and then our January may be a fulfilling and exciting one.
Stan Schofield
56
Posted 28/12/2016 at 10:35:33
Paul @31:
The move that culminated in Gana's miss (he'll shortly hit one home soon) was one of the things that pleased me most. Even without new signings I believe we have a talented squad, sufficient to qualify for Europe if we can gel as a team. New signings would then strengthen us even more.
For example, although we've had problems with the forward line (for example, Lukaku too isolated too often), Mirallas and Deulofeu are class acts, and Lennon, Valencia and Bolasie very effective on their day, so it's just a matter of getting better consistency, through a system that makes best use of their skills.
Regarding a system, to me it's been unclear what Koeman's system is, beyond his repeating a need for more pressing. Pressing is fine, but it's got to be on the back of an effective system.
So, although I've supported Koeman's appointment from the outset, I have been a bit surprised, and have become concerned, about the uncertainty surrounding a system, organisation, and tactics. And recently I've expressed my concerns on TW (on the recent Ross Barkley thread, for example). Now, that could look like complaining, but it's not, it's just giving comments as we see things develop as the season progresses.
My concerns are more to do with organising the players effectively, rather than with their individual performances. But I'm staying positive, and that move you mentioned was a joy to behold. There's more where that came from, and it indicates that the quality of the play will improve as we progress, despite the recent hoof-ball stuff we've been seeing. But even that can be attractive when finished off with the kind of quality we saw from Mirallas and Lukaku.
Paul Smith
57
Posted 28/12/2016 at 11:23:51
Paul (#31) while you make some good points no doubt, and its good to see somebody noting all the positives, the man is also telling the truth. The performance wasn't great and we scored from 2 passes from our box which lets face it is a rarity.
On Holgate I am delighted for the lad but everyone knew he was solid at the start of the season an he got took out the team. What amazing changes did Koeman make? Near every second 45, he has had to change the system with most first halves being dreadful all year and lets be real this needed changing too. So he changed it in shape an we scored from a goal kick.
No subs til we were 1-up. Is Davies for a slow struggling Barry a genius move? Obvious, I would say.
All I am saying is for all the points we make there is perspective and, until we beat a full strength Leicester or anyone decent on a regular basis, let's keep cool.
I always feel, if we keep picking up on where we could do better, even if we win, we are giving ourselves a better chance of top form and the desire to hold onto a winning run.
Nick Armitage
58
Posted 28/12/2016 at 12:31:14
Big picture thinking – 2 weeks ago, if we had been offered 6 points from our last 3 games most would have snapped anyone's arm off.
The club is a work in progress, many have described the rebuild as a project and projects never run smoothly. Judge them at the end of the season.
Darren Hind
59
Posted 28/12/2016 at 17:45:44
Whilst Koeman must take credit for changing things up a little, it must be pointed out that a lot of what he did on Saturday was only what many of us had been screaming for – for weeks. While he was "telling it like it is", most of us knew Davies and Holgate could come in and improve what we had.
If Ronnie was "telling us like it is", he was telling us from his rear end. Imaginary "dips in form" and nonsense claims like the "youngsters are not ready" did not wash with many fans and while Davies and Holgate have proved them to be right, Ronnie has been shown to be wrong.
I'm more than happy to give Koeman credit. Good managers still make mistakes, but the really good ones learn from them.
Hopefully those claims that he is educating us with the truth will now be put to bed; it'll be a while before he knows as much about this club as we do

---
Add Your Comments
In order to post a comment, you need to be logged in as a registered user of the site.
Or Sign up as a ToffeeWeb Member — it's free, takes just a few minutes and will allow you to post your comments on articles and Talking Points submissions across the site.