Mayor: Docklands stadium can be catalyst for regeneration

114 Comments [Jump to last]
Thursday 5 January 2017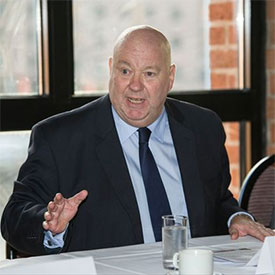 Liverpool Mayor, Joe Anderson, has provided more context to Everton's hopes of building a new stadium at Bramley-Moore dock and the infrastructure improvements that are planned for the surrounding area whether the Blues' new ground happens or not.
The Mayor was speaking with Roger Phillips on BBC Radio Merseyside today following last night's Annual General Meeting at Liverpool Philharmonic Hall in which it was largely confirmed that Everton favour building on the city's northern waterfront area over the other options on the table elsewhere in the city.
The club are considering the docklands site in addition to one at Stonebridge Cross in Croxteth and the possible redevelopment of their current home at Goodison Park, although the Board have long argued that it would not be feasible given the small footprint.
While it has often been posited that the city would prefer the East Lancs Road location because it is city-owned, Anderson argues that the potential benefits to the city centre of a new stadium at the docks are enormous, particularly if it can kickstart regeneration of a long-neglected area well before the Peel Group's planned £5bn developments start to take shape in the coming decades.
Anderson made mention of the City Council's plan for a £20m road scheme to be built near the north docks serving both the south and north ends of Peel's planned developments as well as a train station, infrastructure improvements that would go ahead regardless of Everton's plans but ones which would, obviously, benefit the club should they opt for a waterfront development.
"I made it clear and the club made it clear last night that the preferred site — and there are a number of sites, including the potential redevelopment of Goodison — is to move to the Bramley-Moore dock site but that is not in the council's ownership," Anderson said.
"It's in private-sector ownership as you know. Peel own the land and so there is a series of issues that have to be solved and it is a site that brings with it many challenges.
"There will be two schemes that we're announcing taking roads onto the waterfront site itself, not because of the possibility of a stadium — it's what we're doing anyway.
"We want to attract businesses and people to relocate to that site snd that's why we're investing funds from the Strategic Investment Fund to improve the road infrastructure into the waterfront. The city centre is expanding and so it's absolutely right that we do that.
"We similarly did work around the Anfield stadium. We spent around £23m helping to regenerate and keep that project [going] so that's similar to what we'd be trying to do around the whole docks site.
"The second phase, the £6m that will be announced in a couple of months will go towards the particular Bramley-Moore site. [Regarding the railway station], as we expect the whole of north Liverpool to develop… we will need a new rail infrastructure and bus terminal.
"I don't want to be waiting 15, 20, 25 years as Peel envisage. I want things to happen and if we can get a stadium down there that will attract massive investment in terms of leisure and retail. It's a catalyst for regeneration.
"[The site] comes with some major challenges [for Everton], not least that they have got to negotiate a deal with Peel. It is a dock site and part of it would have to be filled in and then we have to make sure there is that connectivity.
"But, as I said, Everton wouldn't be on their own in doing that — we would want it to happen because it would create thousands of jobs.
"Stonebridge is still on the cards. It's an opportunity for Everton because it doesn't come with the challenges that the dock site does. Equally, Goodison Park can be refurbished. I think the difference between now and previous occasions is that Everton are not just considering the one site.
"[Bramley-Moore dock] is the favourable site, it is the preferred site and it is for the city council as of course it is for Everton Football Club and the fans. Everybody is working extremely hard so that that can be delivered.
"One of the things that is exciting for Evertonians and also for the city — because we want it to happen the same way we wanted Liverpool to make a decision [about their ground] and get on with it — is that the new [major shareholder] owner has made it known to me that he is concerned that inaction is not good enough because the costs of the stadium can increase every year.
"It's estimated that the cost of a stadium goes up £4m to £6m a year depending on who you listen to because of steel and the costs of employing people and things like that… it goes up, so it's imperative that a decision is made quite quickly."
Asked if he thought Moshiri was prepared to put his hand in his own pocket to fund the ground move, Anderson said:
"I think what he is prepared to do is make the investment that is necessary providing it's feasible and it delivers. He's not Abramovich or the owners of the the Etihad and Manchester City who can [just] throw money about. But I think fans are quite refreshed by that as he sees an Everton Football Club that is sustainable for the future and it's not just reliant on television funds.
"He is keen on [Bramley-Moore]. It's his favourite site and I'm confident that the challenges that are on that particular site can be overcome. On that, I think he, Bill Kenwright and Robert Elstone are all on the same page.
"Of course, it's a huge differential in cost [between there and Stonebridge] but the aspiration of the club is to have a waterfront site and I want it for different reasons. Of course, I want it on the waterfront because I'm an Evertonian but, equally, for the city, if we have a stadium on that dock site it then brings a lot of things connected with it [in terms of regeneration] to transform that area."
---
Reader Comments (114)
Note: the following content is not moderated or vetted by the site owners at the time of submission. Comments are the responsibility of the poster. Disclaimer
Colin Glassar
1
Posted 05/01/2017 at 21:47:30
Peel have been talking for years about their project and so far it's all been pie-in-the-sky fantasy. A new stadium might just help them kick start their own plans.
Phil Roberts
2
Posted 05/01/2017 at 22:02:00
Can we not threaten them with compulsory purchase?
Raymond Fox
3
Posted 05/01/2017 at 22:07:59
I'll believe it when the foundation stone is put in place, sounds a long way off to me.
Andrew Presly
4
Posted 05/01/2017 at 22:08:42
After the Kings Dock omnishambles, I'd prefer that all concerned said nothing about this until it's signed off and building has commenced. All of the above is basically irrelevant. Do it or don't do it. Spare me the Kenwright-esque crap!
It's line in the sand time for us now, build this and give us long-suffering mugs something over the RS we can enjoy goading them about for the rest of our lives or move to the middle of nowhere and basically give up as a club in this city and probably generally.
If we end up leaving Goodison for anywhere other than a prime location on the Docks, I'd reluctantly have to bow out.
Just for once this century, make us proud, Everton.
John Pierce
5
Posted 05/01/2017 at 22:15:13
After all the chat last night and the comedy its brought from Kopites, with their protests, radio phone-in and whinging its made me feel that 'they' as in our red friends think its a serious proposal and that it scares the shit out of them.
Anderson, who is known for spouting his gob off, has been more measured even with a touch of hyperbole 'cos he's a big 'ed.
Everton have been open, and realistic with their pronouncements last night as much as they could be and that for me suggests the Docks has a decent chance.
It's a definitely maybe from me.

Chris Gould
6
Posted 05/01/2017 at 22:18:34
Skepticism is understandable, but it all feels closer than ever before. Moshiri is running the show and I have every faith in him delivering.
Ed Fitzgerald
7
Posted 05/01/2017 at 22:19:02
If we can't get the dock site, we have to redevelop Goodison. I drove past the Stonebridge Cross site after Monday's game. It will be commercial and sporting suicide to go there.
Patrick Murphy
8
Posted 05/01/2017 at 22:24:15
I tend to agree with Chris @6, this is probably a runner, but due to past 'last minute' failures and cock-ups the club don't want to announce something until everything is beyond the point of no return.
How it's financed is obviously the question that all of us have and until that has been signed off by all parties it's likely we will have to wait a little longer, I think there was mention of three months by Robert Elstone last night, before any significant announcement is made.
Scott Goin
9
Posted 05/01/2017 at 22:28:06
Peel would be stupid not to sell. The value of the surrounding land goes way up once the new stadium is there. They just want to make sure they keep enough of the surrounding land so that they can make money from the new stadium as well. It's a win-win for everyone.
Another good thing is that we've seen that Moshiri will go above and beyond if he's got his eye set on something. That's what happened with Koeman. He decided Koeman was his man and decided to pay Southampton a lot of money to get him.
If the docks are what Moshiri wants, I think he'll get them (as long as Peel aren't completely unreasonable).
Damian Wilde
10
Posted 05/01/2017 at 22:30:24
Sounds promising.
Peter Mills
11
Posted 05/01/2017 at 22:51:40
There is a deal to be done here that suits Everton FC, Peel Holdings and the City of Liverpool. Let's give it time to play out.
Phil Jeffries
13
Posted 05/01/2017 at 00:16:53
With Moshiri involved, I actually trust Everton again.
Building the right stadium in the right location will not only bring new capital into the club, but it will also add great value to the overall worth of Everton Football Club. Moshiri is no mug. He has a plan and I'm ure there is more to come and not just from the ground move. I'm just going to sit back and watch it unfold.
I won't start adding fuel to the 'kopite fire' just yet, as they seem to be doing a good job by themselves! I'll just wait until something is 'official' and then our red neighbours will really get their knickers in a knot!
Roy Noon
14
Posted 06/01/2017 at 00:45:54
Interesting to note that, along with the Bramley-Moore and Stonebridge Cross sites, having previously been rejected as a non-starter, the possible redevelopment of Goodison seems to have found its way back as a potential Option C perhaps?
Brian Foley
16
Posted 06/01/2017 at 06:27:13
Andrew (#4) spot on. Leaving Goodison is bad enough but to go anywhere else bar the proposed dock site would leave me running on empty, nervous.
Bill Watson
17
Posted 06/01/2017 at 07:41:37
http://bbc.in/2jdJui2
From 4 mins Mayor Anderson talking about the new infrastructure for Bramley Moore Dock.
Immediately following, at about 22 mins, desperate Red Bitterite callers complaining about Everton's possible move to the iconic waterfront site.

Don't you just love 'em!
Priceless!!!
Colin Glassar
18
Posted 06/01/2017 at 07:45:38
I haven't felt this excited since we announced the signing of Bobby Robson as our manager.
Bill Watson
19
Posted 06/01/2017 at 07:57:18
#17.
Try this link:
http://www.bbc.co.uk/programmes/p04lj2gx
Bill Watson
20
Posted 06/01/2017 at 08:23:17
#17 – Apologies: I can't get the link to work.
Go to BBC Radio Merseyside, Roger Phillips Phone in. 5/1/17
Vince Furnier
21
Posted 06/01/2017 at 08:47:47
So why wouldn't Peel hold out for the best deal possible? If they don't envisage development for "15, 20, 25 years" why should they settle now for anything less than top dollar? The more the Bramley-Moore dock site is promoted as the only solution, the greater the potential value of the deal to Peel. A bit like our own Brexit :)
Alan McGuffog
23
Posted 06/01/2017 at 09:52:14
Well, to a slow learner like myself, things have started to become a lot clearer. The cynic in me remains, however.
I believe that EFC wants to build a new stadium at Bramley Moore.
I believe that the council would like to see EFC there, to help with regeneration etc.
I believe that Peel own the land / water and it is now more or less a matter of EFC and Peel making a bargain ASSUMING Peel wishes to sell.
The stone in my shoe on all this is that in twelve months time BK will announce that Peel have played hard ball and have asked an astronomical price. " we would have loved to buy it but it was just too costly .but Gillmoss is available "
Anderson will say that the council did envy thing to help but " never mind , Gillmoss is available"
This scenario gets everyone off the hook and we, the fans, have to accept second best. Again.
Really hope I am wrong but fifty five years of following this club makes me hope for the best but prepare for the worst. We shall see.
Paul Mackie
24
Posted 06/01/2017 at 10:24:31
I want to believe.
Paul Burns
25
Posted 06/01/2017 at 11:13:23
Peel owning the land sickens me, it was stolen from the people of Liverpool and given to the Mersey Docks Company and should have been returned to the City of Liverpool when the docks ceased to operate.
Dave Abrahams
26
Posted 06/01/2017 at 11:23:00
Alan (#23), just take your shoe off and get the stone out. Billy boy will still be there in the front getting mug shown but he will have no say in this project.
Mr Moshiri and his friends are running the show, they are just letting the other fella having a look at what is going on.
Mike Green
27
Posted 06/01/2017 at 11:28:13
As with all negotiations, every party involved will have their ideal, fall-back, and walk-away scenarios.
The good news is all parties involved seem to be sat around the table, so you would imagine they all have those scenarios mapped out – so providing we can keep everybody above the "walk-away" line a deal should be able to be done.
The most positive part of this for me is Moshiri – I'm confident his expertise with be able to drive this through commercially. The negative part for me is where "politics" are increasingly being mentioned and at the end of the day there may simply be geographic logistical issues which make the plan unviable no matter how much we, the Council and Peel want to make it happen.
So long as everyone wants to pull in the same direction, though, and people don't play silly buggers on the fringes I'm crossing my fingers this is it – and if it turns out to be what we think it is, I'm hoping it'll be worth the wait.
Sit tight and cross everything!
Bill Watson
28
Posted 06/01/2017 at 11:49:16
Paul (#25).
I totally agree with you on how Peel ended up owning this land. It does raise some interesting points, too. The docks were outside of LCC authority and run by the Mersey Docks & Harbour Board, even having their own police force and bye-laws.
I wonder if normal planning laws apply within the confines of the dock wall? Perhaps someone better informed will be able to clarify dock planning procedures.
Anthony Lewis
29
Posted 06/01/2017 at 13:23:39
That first fella on the Roger Phillips show on Radio Merseyside that Brian posted the link for is fecking hilarious... He's clearly a furious RS fan!
Please let this happen.
Mike Keating
30
Posted 06/01/2017 at 13:44:10
Don't worry about planning regs, Bill (#28)
If you own a crane and have a plan with 'luxury student accommodation' in the application – they don't mean SFA.
John Keating
31
Posted 06/01/2017 at 13:46:20
Anthony,
It will deffo get funnier when Billy Butler gets on. Not sure but I think he's on this afternoon.
Anyway, for sure he'll wind them up if they come on!
Brent Stephens
32
Posted 06/01/2017 at 13:51:42
Listening now to the recording of Radio Merseyside phone in referred to above. Hilarious. Wonderful hearing rs supporters weighing in against Bramley Dock. Well worth a listen!
Mike Doyle
33
Posted 06/01/2017 at 13:52:55
Brent,
Is there a link to follow to find the recording? Please advise. Thanks.
Mike Keating
34
Posted 06/01/2017 at 13:53:35
I posted this elsewhere but the discussion quickly deteriorated into a rehash of the Norwich game!
As you can see I'm genuinely confused about what the plans for the North Docks might be and precisely where our mooted stadium would fit in:
I visited the Clarence Dock yesterday and can't understand why this is not still under consideration (if Bramley-Moore Dock is the preferred option). It is closer to town and was filled to make way for a power station so is a ready-made brownfield site for a new stadium.
Currently the Liverpool Waters master plan makes vague reference to the site being used for "another cluster of tall buildings" and a "cultural building of some sort". If yer know yer 'istory and all that – what better celebration of local culture could you have?
But a recent Echo article by Liam Murphy suggests that Clarence Dock not Bramley-Moore Dock is the site under consideration. Can anyone clarify this?
David Waugh
35
Posted 06/01/2017 at 13:54:50
If it's not the docks then I'd rather stay put in a decaying Goodison than move to Croxteth. Not met one Evertonian who wants Croxteth.
Brent Stephens
36
Posted 06/01/2017 at 13:56:05
Mike,
http://www.bbc.co.uk/programmes/p04lj2gx
22 minutes in...
Dermot Byrne
37
Posted 06/01/2017 at 14:01:21
David (#35).
Anything but a decaying Goodison for years to come. Years of people treating us as a 'good old club' with some history. Moshiri is right re us being a museum. I do not want Croxteth but neither do I want Goodison. It has had its day.
Winston Williamson
38
Posted 06/01/2017 at 14:03:52
Don't you just love seeing/hearing Rednoses have a wobble/meltdown?!?
Bitter Blues?? How about it 'Rabbity Redskits'
Moshiri is pulling us into the era of Modern football – how refreshing to have professionals running the club!
Alan McGuffog
39
Posted 06/01/2017 at 14:10:40
We have heard from the club. We have heard from Anderson. Has Peel made any comment, positive or not, in the last six months about all this?
I assume that, when the site visits happened a month or so ago, someone from Peel was there? Moshiri, Kenwright, Anderson and the lads from the press presumably didn't all bunk in over the chain link fence.
They would have been accompanied by someone from Peel surely... Does this mean they are prepared to do business? Please let it be so.

Bill Watson
40
Posted 06/01/2017 at 14:18:38
Alan (#39),
You don't need to bunk in over the fence: just walk in like I did. (It's actually a rather fetching stone wall.)
Peel issued a statement, last week, saying they were in talks with Everton FC.
Alan McGuffog
41
Posted 06/01/2017 at 14:23:02
Thanks for that, Bill. This calls for a small sherry.
Jonathan Tasker
42
Posted 06/01/2017 at 14:24:40
Show me a visual and I'm more likely to believe it.
Until then, I don't believe a word they say.
Liam Reilly
44
Posted 06/01/2017 at 15:58:49
It's good business and PR getting this out there through channels like the Mayor.
This will make visible the usual suspects objections, which will also provide a balanced view on the likely success of the Project.
Should it fail to materialise, then Peel will get the blame.
Rob Dolby
45
Posted 06/01/2017 at 17:40:38
If this does actually come off, it will regenerate the whole area.
The supposed regeneration of Anfield is a pure scam with residents worse off than before.

Colin Malone
46
Posted 06/01/2017 at 17:45:17
A train station is a massive positive but it's the rest I'm worried about. Odds on, a retail park is pencilled in for the area, which draw people in, you cannot argue with that but instead of keeping it in house with EFC and the council / Peel Holdings, let bring the FA into the equation.

Football is a massive product, look at China and the USA. I'm talking about everything football in the area, eg, a football museum, Football Headquarters, As the lads from KEIOC said, a Football Village.

We get more visitors to Liverpool now than for many many years. So build it it and they will come.
Ray Roche
47
Posted 06/01/2017 at 18:20:15
I listened to the Roger Phillips show on Radio Merseyside on iPlayer today. I didn't know whether to laugh or scream with indignation at the self righteous RS fans who called in. What a horrible, horrible shower of bastards they really are. And they call us 'Bitter'...
Bill Watson
48
Posted 06/01/2017 at 18:45:11
Ray (#47).
Best laugh I've had for years. I reckon the RS callers are all over Bramley-Moore Dock desperately looking for Natterjack toads, or the like.
Don'tcha just luv 'em.
Phil Bellis
49
Posted 06/01/2017 at 18:45:26
Heard it, also, Ray.
I hope beyond hope this comes off; the patronising all fur coat and no knickers bar stewards will be fuming.
Methinks they are getting seriously "concerned"... Reclaim our city!

Jay Wood
50
Posted 06/01/2017 at 18:58:48
Can anyone help out with the Roger Phillips iPlayer recording? Whereabouts in the 2-hour recording can I listen to the discussion on Everton's proposed stadium mood? Is it today's show (6 January) or yesterday (5 January)?
Cheers in advance!
Bill Watson
51
Posted 06/01/2017 at 19:05:06
Jay (#50),
Yesterday. It starts after the news an travel with an interview with Joe Anderson re the AGM etc.. That lasts about 20 mins or so and after that 2 callers are on until about 48 mins if I remember correctly.
Two RS desperately try to come up with objections to the dock. Hilarious stuff.
Jay Wood
52
Posted 06/01/2017 at 19:09:14
Thanks, Bill... listening to a croaky Joe Anderson right now... anticipating with relish the phone-in!
John Keating
53
Posted 06/01/2017 at 19:12:16
Even if this all goes to rat shit after 6 months, then all I can say that the next 6 months is gonna be both brilliant and funny working the RS up!

Chris Hooson
54
Posted 06/01/2017 at 19:16:56
Funny to hear 'Peter from Old Swan' being so nuanced and mellow in that Radio Merseyside piece. I half expected Ped to go all mental at some point... those kopites, classless to a wo(man).
Tony Abrahams
55
Posted 06/01/2017 at 19:18:31
Ray 47, anyone who is kidded by that bitterblue shout, really doesn't understand what most of our horrible patronising phoney neighbours are about!
Tony Twist
56
Posted 06/01/2017 at 19:31:29
It's the Bramley-Moore Dock site or give us Stanley Park! Nothing else will do.
Mark Morrissey
57
Posted 06/01/2017 at 19:38:00
Watch out world, here come Everton!
Jay Wood
58
Posted 06/01/2017 at 19:40:07
Comic gold!
Just skip past the Joe Anderson interview and get right to the phone-in.
As John says at 53, this issue is proving priceless just for the way it's winding up the 'bours.
Some genuine laugh out loud moments to be had.
Phil Walling
59
Posted 06/01/2017 at 19:47:47
I know I shall be a voice in the wilderness but I would trade the vision of a riverside stadium in god knows how many years time for an immediate spade in the ground along the East Lancs any time!
Always the watchword with Everton is patience and, once again, it promises, promises. The Mayor indicates that the land for the latter site is free, thus speeding up the process very considerably and freeing up millions to provide a showpiece stadium.
Anyone who takes the time to visit Bramley-Moore Dock will see it as a godforsaken part of the city which will take 10-15 years to develop and, if yesterday was anything to go by, a bloody cold spot for 'sitting comfortably'!
John G Davies
60
Posted 06/01/2017 at 20:06:07
Haha. Just listened to the first part of the phone-in. A pair of loons. But they are not bitter. Oh no, they are lovable wags.... Noworrameanlikewack.
The Echo website last night. First sports story: "Liverpool's new shop at Anfield is taking shape" Second story: "Everton in 㿷 million deal"
Fuck them all – we are on the way.
Jay Wood
62
Posted 06/01/2017 at 20:49:05
Phil @ 59.
Never dared to dream, Phil? Never had a visionary moment that inspired you to work towards?
Deciding now on one site over another will not guarantee "an immediate spade in the ground" tomorrow.
Did you miss the bit when Joe Anderson spoke of releasing funds to improve road and rail links to the Bramley-Moore Dock area? That he wants regeneration NOW, not in 15-20 years?
Bramley-Moore may well be "a godforsaken part of the city right now." Clearly, the city council and Peel Holdings wish to transform it into a commercial and cultural lynchpin.
How much more rewarding it would be on many levels if Everton FC sat at the heart of that transformation.
From what I read of Elstone's words, Everton WILL need outside funding whichever option we invest in. Why not dare to dream and go with a more iconic option than being close to a motorway exit on the East Lancs Road?
After all, in the depths of winter, either one will be
"a bloody cold spot for sitting comfortably."
Craig Dodd
63
Posted 06/01/2017 at 21:00:09
First, nice one for the heads up with the radio phone-in is is well worth a listen, and even more funnier.
My points of view are this: Firstly, is it not a bit of a coincidence that Liverpool Council come out with a statement that they are going to throw 㿀m at the road connections around Bramley-Moore Dock a day after our beloved club basically say it's our first choice for a new ground?
Surely Peel would have been spoken to before hand, our board of Directors was down on Bramley-Moore Dock before Christmas? Yes, I know you can just walk through the opening but I'm as sure as hell that Moshiri and Co are no Urban Explores (take pictures, leave foot prints etc etc). It goes without saying Peel are on board; we are the cherry on the cake. Yes, it might cost a bit, but the USM Holding, run by Usmanov and has Moshiri as part of his set up on Board.
The rules say you can't have an acting roll in 2 English Clubs, it does not however stop you sponsoring another club. And how bloody obvious is the Sponsored name for Finch Farm?
My guess is, and yes it's just a guess, Usmanov is edging his bets. If he's not going to get what he wants at his "beloved" Arsenal and take control of it completely, he can run with Everton having put his man Moshiri in place already.
After all, Everton has got to be one of the most viable and cheapest clubs to invest with in the Premier League. Added to that, all the steel for the stadium and other ventures around Bramley-Moore Dock... it's a complete no-brainer.
Premier League clubs have only just started on a world domination; no one given league in the world holds such pulling power as ours. Everton as a club have got stuck in a groove for too long, and Moshiri and his boys can see an opening.
If not, then the Club, Moshiri, The Council and Peel have got a lot more than just eggs in their faces.... Time will tell, but there are too many cogs turning on this one. Hence those babbling Kopites.
Sweet Dreams, my Fellow Blue Boys and Girls.
Colin Glassar
64
Posted 06/01/2017 at 21:07:37
Trust you, Phil, to try and put a dampener on things. Let us live in hope, for a while at least.
Mike Green
65
Posted 06/01/2017 at 21:16:25
Enjoy the wilderness, Phil, if you look a few miles to the West, you'll see the floodlights shimmering on the river.
Peter Mills
66
Posted 06/01/2017 at 21:40:14
The phone-in was funny, but I wouldn't put it past our neighbours to try some underhand tactics to keep us in our place.
Tony Hill
67
Posted 06/01/2017 at 21:44:09
I think this formal appearance by Usmanov (because that's what it is) is very significant. Moshiri has been his lieutenant throughout most of his time in football and, as we must remember, offered the 49.9% purchase model to Liverpool, on behalf of his friend and boss, some considerable time ago. Happily, the RS turned it down.
Kroenke is a stubborn git and I have always hoped that Uncle Alisher would get fed up, even if his kiddies love the Gooners. Nothing has really, though, happened just yet. The numbers involved are peanuts to Usmanov and may be a move in a wider power game at Arsenal. But this is a move, no doubt about it, and I am prepared to let myself become mildly optimistic.
All the Russian oligarchs are bastards, of course, but at least he'd be our bastard. Having wrestled with my conscience, not for very long, I am prepared to go to hell if it means that we start winning seriously again, and wipe those smug twats from across the park right off the face off the earth. They sold their souls to Satan long ago, as we all know.
Will it happen, really happen, and will ours be the next Empire? Almost certainly not, because we are Everton. Nice delusion, even so, while it lasts.
Tony Hill
68
Posted 06/01/2017 at 21:56:00
Wrong thread, sorry. Which shows how excited I am and how much I've had to drink (large scotch and most of bottle of red). Heady days.
Bill Watson
69
Posted 06/01/2017 at 21:56:30
Phil (#59).
Do you remember the day we beat Southampton 8-0? It was a cold, sleety, December day in the early '80s, if I remember correctly.
I came straight from a union meeting in the Baltic Fleet. At lunchtime I wandered over to have a mooch around the Albert Dock. It was derelict, most of the windows were smashed in and the docks were just mud. Everything from Wapping to the Pier Head was just empty and wrecked.
The Baltic Fleet stood alone surrounded by empty warehouses and bomb sites. Towards James Street was the Police HQ and the fire station and not much else. Just like the north docks are, now.
Everton will be the catalyst for what will become a vibrant extension of the city centre to the north. Just like the south docks are, now.
Colin Glassar
70
Posted 06/01/2017 at 22:04:58
Build the stadium on the river and the three graces will become four.
Tony Hill
71
Posted 06/01/2017 at 22:10:40
November '71 Bill. But it was very snowy/sleety as you say.
Rob Halligan
72
Posted 06/01/2017 at 22:12:39
Like it, Colin. Will really get up the RS noses even more, that, as they sit cosily in their loft conversion.
Peter Mills
73
Posted 06/01/2017 at 22:19:50
Bill (#69): 7,9,7,9,8,9,9,7
Rob Halligan
74
Posted 06/01/2017 at 22:20:21
But then again, most of the RS probably don't even know what the three graces are?
Bill Watson
75
Posted 06/01/2017 at 22:21:06
Tony (#71).
Just looked it up and you're quite correct! Bit of age-related brain fog!!
Tony Hill
76
Posted 06/01/2017 at 22:25:22
A wonderful day, Bill. Though we finished 15th!
Mike Hughes
77
Posted 06/01/2017 at 22:26:25
Brilliant phone-in recording. Bitter, bitter reds.
Hilarious – even Roger Phillips (a non-footballing bloke) sounded exasperated at the knob-head(s) he was talking to. He just stopped short of calling him a Neanderthal unambitious tw@t from what I heard.
"These docks should be used for what they were intended for ... docks." UTTER PRICK.
"But the people who live around there" Roger: nobody lives around there. "But they should re-populate the area" you can almost hear the very civil Roger Phillips say "STFU, dickhead".
"But we need an Isle of Man ferry"; "the links we have (by sea) with Wales" ... retarded prick. Are we supposed to bring galleons back?
When the ground work commences I will even look forward to the road disruption to our Norwegian 'friends' with any traffic jams that develop in the area. We should have some car stickers printed just to wind these fuckwits up.
Bitter scum bags.
Ray Roche
78
Posted 06/01/2017 at 22:35:49
Mike "Are we supposed to bring galleons back?" – Classic.
I can see it now, The Black Pig, Captain Kloppwash, Seaman Staines, Roger the Cabin Boy, Master Bates... all the Koppites waving on the (our) dockside...
Mike Hughes
79
Posted 06/01/2017 at 22:44:43
No Ray... your 'great crested newt' comment the other day tops my galleons one. (And so true!)
The opening music in our new stadium has to be "Royal Blue Jersey".
(They won't have The Black Pig, Ray – not after the Suarez / Dalglish era.)
Ray Roche
80
Posted 06/01/2017 at 23:01:28
"Royal Blue Jersey". We've come some distance since the theme from the Benny Hill Show was the favourite choice to be played when we ran out at Goodison.
MotD would have to speed the film up as Nuno Valente chased a sussie clad Toffee girl around... [Steady on, Ray...]
Peter Howard
81
Posted 06/01/2017 at 23:07:47
That 'phone-in was hilarious.
Geoff (from West Derby), if you're reading this (which as a Red Shite cab driver, you probably are) you really are an absolute beaut. Thanks for cheering me up:
"They're not renting Finch Farm, Roger, they're leasing it."
Oh dearie me, you couldn't make it up – you really couldn't!
Mike Hughes
82
Posted 06/01/2017 at 23:11:32
Or as an alternative:
If I had the wings of a sparrow
If I had the arse of a crow
I'd fly over Anfield tomorrow
And shit on the bastards below
Shit On, Shit On
Shit on the bastards below
Below

etc
Not as poetic as "Royal Blue Jersey" but still appropriate.
And when sung well (by 60,000 dockside), it will be very catchy.
Brian Hennessy
83
Posted 06/01/2017 at 23:14:23
Any Everton fan not yet convinced that the Bramley-Moore Dock site is the one for us should listen back to those clips on BBC Merseyside. The kopites are scared stiff that is going to happen – that's enough for me!
Brian Hennessy
84
Posted 06/01/2017 at 23:40:18
I have very limited knowledge of UK planning laws. Just wondering, let's say we come to an agreement with Peel for the land... how long realistically would it take to clear the planning phase and start building a stadium? Thanks.
Eugene Ruane
85
Posted 06/01/2017 at 23:50:26
"No but listen, the American space thingy... whatever it's called..."
"Nasa?"
"Yeah Nasa, they put it out that... erm... they've picked up like these bleeps right, from like another... y'know... like galaxy or whatever, right?"
"Okay..."
"So if that's an Alien life-form or whatever, we'd be more susceptible wouldn't we?"
"I don't foll..."
"Well, they'd want somewhere to land, wouldn't they, and if there's a ground at the dock, they'd spec it from space and probably choose to land there and... erm..v. apourise us, like."
(I've just listened to some of that radio stuff, Christ there is real panic there... as well as pure unhinged lunatic bollocks.)
Tony Hill
86
Posted 06/01/2017 at 00:05:14
Brian (84), planning here is not the issue because that is clearly ready to be granted. The problem, insofar as there is a problem, is indeed Peel Holdings. That's where Usmanov will come into the equation, if he's really on our side.
It would do no harm as well for Blues to apply a bit of pressure to Peel by way of public expressions of impatience and concern that private interests should not stand in the way of development to public benefit.
After all, Peel are just another bunch of greedy bastards looking to fill up their pockets with coins. If they want to do that in Liverpool, then let them be answerable to a significant part of the Liverpool people.
Dan Davies
88
Posted 07/01/2017 at 00:51:25
Listened to that and one word sprung to my mind – Desperation! They cannot handle the fact that Everton FC might actually have something bigger and better than they have.
Their mentality built up over the years is to ridicule and laugh at us at every opportunity available and now their getting mentally unstable just over the mere thought of us outshining their new stand!

It's really fucking sad how desperate they sound already. The tide is turning and they don't like it one bit. We are on the way back and they hate it. COYBB.
Don Alexander
89
Posted 07/01/2017 at 01:22:09
I would welcome a new stadium in the city BUT, Phil Walling at #59, and other realists/so-called doom merchants, make very fair points in my opinion.
The Bradley-Moore Dock is majorly surrounded by next to nothing where any sane person would want to spend any time at all. For those unfamiliar with the area it looks like Chernobyl without the radioactivity.
The cost of a stadium will be huge, the cost of publicly funded redevelopment of the area will be nowhere near as much but will still be huge to the council coffers, and as distinctive as the Albert Dock is, with Liverpool 1 across the road, does anyone think the Bradley-Moore Dock area will be transformed into anything like them just because a ginormous stadium is built?
Don't get me wrong, it'd look the dog's bollocks from the river or Birkenhead, and it'd feel like Fido's chunks too whenever we filled it, but as for being in the middle of a Las Vegas style strip, or even a place where the "facilities" around Goodison are matched, forget it.
Unless you're 40 of course, and then you may live to see what we all dream of about the same time as you're starting to draw your OAP.
Me, at 60, I just want to see us win the League again. Simples!
Joe O'Brien
90
Posted 07/01/2017 at 07:32:06
Pure desperation Dan@88... that phone in was some laugh. I almost expected the 1st caller to come out with, "Think of the children."
"They're not renting Finch Farm, they're leasing it" Haha – just pure gold... take a bow, kopite.
Dermot Byrne
91
Posted 07/01/2017 at 07:54:00
Don A (#89): and your description of Walton and Croxteth? ! I think you miss the catalyst the stadium could be for private investment. New businesses who see the opportunity now and when Peel get going.
I think Phil (#59) is a defeatist already. I can understand his lack of patience based on years of Peter Johnson and Bill Kenwright but perhaps we have someone a bit smarter and also sharing impatience at the helm now. If he and others got their way due to lack of a dream or vision I would just give up.
We have never forgiven Kenwright re Kings Dock and to do that again, even if the development takes time and some of us older ones may not see it all, would be unforgivable. To me it reeks of "I have suffered enough and want something in Croxteth or somewhere NOW ! Sod you youngsters. "
If I was a Man City fan I would be laughing at this small town mindset. I think it reflects the economic health of the two cities and think that Joe Anderson is one guy who is trying to rectify this. For once, the planets may be lining up for us.
Colin Glassar
92
Posted 07/01/2017 at 08:41:32
Don, it could be built in three years. As for it being on its todd in the middle of nowhere... Like the great spirit in the sky once said to Kevin Costner, "Build it and they will come".
Tony Abrahams
93
Posted 07/01/2017 at 08:45:38
Don, I also want to see Everton win the league again as well as becoming kings of Europe, but do you know what, mate, even if I don't get to see it, I would die a very fucking happy man, if I knew my children and hopefully theirs, would get to see it.
Phil has a point because if he's stopped swimming in oil! It's a lot easier to get to Stonebridge Cross from "The Wilderness of Wigan", unless he drives to Blackpool, and gets The Hovercraft!
Dave Abrahams
94
Posted 07/01/2017 at 09:30:27
Tony (#93), you will get to see it, I don't know about Joseph.
I think he is a closet Red, I hope I go before I see that, the first ever Red in the family.
Oh the shame of it, never thought I'd see the day.
Rob Halligan
95
Posted 07/01/2017 at 10:19:35
Re some of the comments above on the radio Merseyside phone in. I didn't listen to it.
However, I have read the various stories in the Red Echo about our proposed new stadium, followed by the comments, and oh boy, the desperation almost seeps out of my Kindle. Go and have a look, it's hilarious!
Tony Abrahams
96
Posted 07/01/2017 at 10:21:57
I think he's just better at winding me up than you are, Dave! He's the youngest out of all my kids to go to Goodison, and I actually thought before, when he was at it, "Joe, I'd hate you to be serious lad, but if you are, then I hope you've been sent to break our curse!"
Dave Abrahams
97
Posted 07/01/2017 at 10:24:45
Rob (95) the more the story becomes fact, the more of those sad bastards will come out and some of them will go completely off their trollies... a lot of them are half-way there already.
Dave Abrahams
98
Posted 07/01/2017 at 10:30:45
Tony (96) you can always tell by their eyes, there is a sort of madness in Red's eyes; get Joseph's eyes checked out... it might just be me.
I hope so; if he is a Red, I'll have to cut his birthday and Christmas money down from 50p to 25p, and even that is too much for a Red.
Tony Abrahams
99
Posted 07/01/2017 at 10:32:01
He'll get fuckin' nothin' off me, Dave!
Dave Abrahams
100
Posted 07/01/2017 at 10:35:33
Yes, that's best, and just him on bread and water until we find out for sure.
Tony Abrahams
101
Posted 07/01/2017 at 10:45:33
I've just checked his lovely Big Blue eyes, and told him that you said he's never getting him another Christmas present if he supports Liverpool, and he said he's a kopite.
I've told him he's got to go and live with his other Granddad, and Ava said she will have his present, coz she's a toffee!
Mike Keating
102
Posted 07/01/2017 at 11:35:40
Brent (#36),
Thanks for the link – it was priceless. However, I'm still at a loss to understand why the Clarence Dock is not up for grabs. It is the next logical step in the development of the north docks and fills in the gap between Princes Dock and Stanley Dock where the Titanic Hotel is stranded at the moment.
Does anyone know why this is not an alternative to the Bramley-Moore Dock?
Robbie Shields
103
Posted 07/01/2017 at 12:39:22
They've never had any reason to be bitter against us, for anything. Apart from the mid-80s we've never been a threat to them, but now they've got a serious reason to be worried, they can see this is the real deal and that it is a game changer, and they're desperate for us not to succeed.
What they are doing isn't bitter, it's spiteful, they'd actually be happier for the City to stagnate rather than Everton succeed. I feel a new moniker is about to be born on Merseyside over the coming years: the 'Spiteful Shite'.
Bill Watson
104
Posted 07/01/2017 at 12:48:13
Rob (#95),
Rob, it's well worth a listen. It's like a Monty Python sketch. They get more and more desperate, as they go on, and their objections become more and more absurd. It's absolutely hilarious!
Brent Stephens
105
Posted 07/01/2017 at 12:52:11
Rob (#95), as Bill (#104) says, you must listen to it. Redshite fans in meltdown. I've put in a request that it's played at Goodison Park this afternoon.
Alan McGuffog
106
Posted 07/01/2017 at 12:52:17
Robbie, you are bang on the money. They have more silver than we can ever dream of. Their "brand" is world wide. They have a larger support base. They have a much better team. And yet... and yet... they still hate us and begrudge anything that might come our way.
I now live in south Cheshire, surrounded by reds of course. When they play, say, Man Utd, these beauts always look astounded that I don't want them to win.
I always remember, possibly the greatest time in their history when they brought the European Cup home. Thousands of blues in the crowd at the Town Hall and the blessed Emlyn coming out with his "Everton are tragic line".
Dunno why but they really detest us; it's ingrained.
John G Davies
107
Posted 07/01/2017 at 12:53:57
Tony, Dave.
I reckon I can tell one of them within 10 minutes of being introduced, nine times out of ten.
There is just something different about them.
John Keating
108
Posted 07/01/2017 at 13:10:15
I mentioned before that all this may turn to rat shit in a few weeks. Never mind... lets just milk the shit out of it until or if it does ! Anything to wind those bastards up will be well worth it. Yes, we will take some crap if it falls through but we should be well used to that by now.
Until it either happens or falls through we should officially change our name from the "Toffees" to the "Docksiders"
Just got to think of an apt tune to come out to as opposed to Z-Cars.
Peter Foy
109
Posted 07/01/2017 at 13:35:49
Mike Keating, your point about the Clarence Dock raises another. I'm sure that Bramley-Moore Dock wasn't simply chosen at random, which suggests that the talks with Peel are very real. They must have told Everton that this is the site that they would be willing to sell. It means that there is a Masterplan, around which everything else follows.
Also, if Peel Holdings start fucking us about, maybe Usmanov can just buy the whole organisation.
Tony Abrahams
110
Posted 07/01/2017 at 13:47:46
John G, I think you're gonna have to speak to my little boy!
Robbie Shields has just come out with a cracker, and I would love someone like Patrick to go and dig out old footage from Granada Reports the day before we played Man Utd in the 1985 FA Cup Final. I've been called a liar, by more than one phoney Liverpudlian, because they won't believe me, when I tell them what happened.
They was in Williamson Square, with the microphone, because they were saying it must be a Liverpudlians, worst nightmare having to watch a cup final between Everton, and Man Utd, and who did they want to win?
No prizes, for guessing the answer, and it was all because they didn't want Everton, to do the double because they had never done it themselves. Nothing wrong with that if you ask me, but 10 years later, in the very same game, suddenly they had changed there minds and all wanted Everton, to win the cup because they hate Mancs?
Dave Abrahams
111
Posted 07/01/2017 at 13:59:05
Tony (#110) and you know who the worst ones are? The Sky reds, the ones who haven't been near Anfield for 20 years or more.
I'll have the Reds who go to the game all day long, some of them know what they are talking about.
Phil Bellis
112
Posted 07/01/2017 at 13:59:56
I recall those interviews, Tony, on that Friday evening. One reply that has always, for me, summed up the bastards, along the lines of..."Cos I don't want them doing something we've never done."

Eugene Ruane
113
Posted 07/01/2017 at 14:06:48
John (#108) –
I mentioned before that all this may turn to rat shit in a few weeks
.
Surely any Blue with any sense will be wary, I have also warned of the type of kick in the bollocks that only Everton can deliver (#18 Link)
As for – Just got to think of an apt tune to come out to as opposed to Z-Cars
We should always run out to Z-cars, but just before.. Link
John Keating
114
Posted 07/01/2017 at 14:09:35
Dave, there are no locals who go to Anfield. Have you been down town on a RS Saturday matchday? The town is awash with everyone going to the match decked out in red and white buying everything they can from their shop in Williamson Square. NOT ONE speaks English. They are from everywhere but Liverpool.
Don't get me wrong, it's great to have overseas supporters, especially, if they can get to a home game, but the RS have taken it beyond reason. I seem to remember a few years ago they had a survey that showed we had the biggest "walk up" support in the league whereas they and Man Utd had the least.
Phil Bellis
115
Posted 07/01/2017 at 14:19:55
John (114)
New Year's Eve was especially Scandinavian in town. A polite group of red festooned, multi-scarf wearing, accented tourists stopped me in Bold St asking the way to McKenzie's Whisky Bar.
I complimented them on their English and, for a second, thought of pointing them downhill to Church St but my inner Evertonian got the better of me. I know we're accused of myth-making over the "You're not from round here, then?", but it is, nonetheless, a reality.
Seamus McCrudden
116
Posted 07/01/2017 at 14:24:03
John at 114. I'd just been to the Southampton game. We travelled over from Ireland and stayed with friends who are reds. There was eight of us in total including the kids so six blues and two reds who went to the match.
My mate is a scouser, a big reds fan but he even pointed a lot if what you are saying. He has a real grudging respect for everything Everton, same fans in same seats for years, scouse accents no matter where you are in the ground & also the great tribute before kick off to those who had passed in 2016.
He also respects travelling fans from elsewhere and the money they bring into the local economy but he felt that Everton as a club and their fans still have a strong link with their roots and the community. The People's Club are well named – especially for those born and bred in Liverpool.

John Keating
117
Posted 07/01/2017 at 14:35:48
Hi Seamus,
Yes I don't want to be taken literally but the difference on matchdays is immense. It is fantastic when fellow Blues travel from all over to get to a game at Goodison, I wish more could manage it and I respect them immensely for their support and effort.
Just seems to me that when the RS are on the telly and at home you will always find a lot of their supporters in the ale houses watching the match.
Maybe it's good for the Club but it seems to me they just lack something – brains spring to mind.
Great to hear you lot got over for the game, if you bring that result with you then get over more often.
Kevin Day
118
Posted 08/01/2017 at 21:36:33
Guys, this is doing the rounds on Facebook. If you've not seen it it's worth watching.
https://m.facebook.com/story.php?story_fbid=10211908529613268&id=1372340766
Chris Leyland
119
Posted 08/01/2017 at 21:42:52
Kevin – the link doesn't work. What is it and was does it say?
Ron Sear
121
Posted 18/01/2017 at 14:32:14
Interesting that Dan Meis thearchitect who is designing the new stadium seems to be taking account of the progress of Everton and some of the comments regarding the fans wishes on his Twitter account:
Link
---
Add Your Comments
In order to post a comment, you need to be logged in as a registered user of the site.
Or Sign up as a ToffeeWeb Member — it's free, takes just a few minutes and will allow you to post your comments on articles and Talking Points submissions across the site.