Koeman aims for stability while rebuild goes on

132 Comments [Jump to last]
Sunday 8 January 2017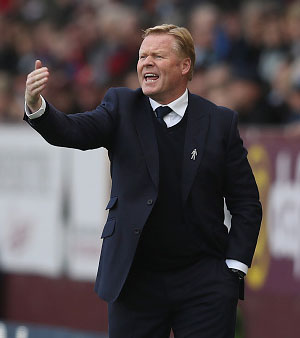 Ronald Koeman admits that catching the top six will be difficult but the ongoing improvement the team needs to show means that the season isn't over.
The manager cut an annoyed figure on Saturday evening after Everton crashed out of the FA Cup at the first stage with defeat to Leicester City. The Blues gave up a hard-earned 1-0 lead in the space of five second-half minutes and proved incapable of finding a way back into the tie, leaving Koeman frustrated with his players and the pace of change at Goodison Park.
He used his post-match press conference to explain that everyone at the club needs to see what needs to be done to take the team to the next level, hinting that action in the transfer market this month is needed.
He was asked what the rest of 2016-17 has in store for Everton now that a return trip to Wembley and a chance to end the club's 22-year wait for silverware is over.
"For the rest of the season? To try and keep this position in the table," he said, "because it's a big difference between the first six teams and the rest of the teams. That's already difficult, we know.
"For the rest is to improve the team and change the team. And that's not done by one night or one week or two months. We know that, and that is what we need to accept, how difficult it is to accept that."
Koeman is believed to be anxious to conclude a proposed move for Morgan Schneiderlin, with media speculation at the start of the weekend suggesting that an increased £22m bid would be enough to satisfy Manchester United's desires to mostly recoup their £24m outlay on the French international.
---
Reader Comments (132)
Note: the following content is not moderated or vetted by the site owners at the time of submission. Comments are the responsibility of the poster. Disclaimer
Les Netherwood
1
Posted 08/01/2017 at 23:10:30
Koeman blames everyone else when things go wrong. He is supposed to be in charge and plan the way we play – he is a waste of time!!
He does nothing to encourage the players and Barkley is just getting worse every week .and he is not the only one. Things do not look good, and don't look like getting any better.
Bobby Blaize
2
Posted 08/01/2017 at 23:21:20
Les Netherwood,
Are you deluded in that you think Koeman runs the whole club and he is to blame for the current mess? How do you know he does nothing to encourage? Are you his side kick? Are you there? Do you hear what he says to the squad?
I don't think Koeman is in charge of the club and I think the club and the supporters need to do their part to get Everton out of the current hole. Having said that, we have been here for bloody years so why all the complaining now?
Things wont change until we have real money to spend on real players who want to come and play for Everton.

Anthony Dwyer
3
Posted 08/01/2017 at 23:22:27
I'm split on Koeman. I don't like his management style, but people have different ways. Mourinho, Conte and Klopp have great man management skills, it's something I really like.
Managers like Benitez are more like Koeman, they are more discipline-mad: they don't want players as friends, they don't want to moddy coddle players, they want players to be able to take shit and basically be cogs in his machine.
Part of me likes that idea, men being men no matter what there age.
As an example, if Davies and Barry can be spoken to the same way, but Funes Mori and McCarthy can't take a manager being straight then maybe in the long run Koeman will be proven right, but I'm not entirely convinced.
I really wish Ronny had the brains to make Ross feel special, Geri too maybe, then be stern with the rest, but it doesn't seem to be in his make up.
The plot thickens...

Ernie Baywood
4
Posted 08/01/2017 at 23:38:48
I'm similarly torn on Koeman. He's clearly going to challenge the board to back him and invest in the squad which is a big step forward from the last two sycophants.
On the downside, he doesn't seem to show any ownership of how the team performs. It's like he feels he has no responsibility for players he didn't buy. That's particularly disappointing when we have a few players who are worth saving and getting the best out of them.
He's right that catching the top 6 will be difficult. But if I was a player hearing that I'd be thinking that the target is 7th at best... which is the standard we're currently at. For all Bobby's shite, you'd never hear him accepting that maintaining a poor standard was good enough for Everton.
Don Alexander
5
Posted 08/01/2017 at 23:49:50
Managers schmanagers, when the chosen 11 cross the white line it's up to them and way too often this season too many of our 11 have showed a distinct lack of desire. That to me is unforgivable. Whether or not they like the manager is irrelevant. They have a duty to every paying customer in the ground to leave nothing on the pitch and our lot do, regularly.
Yesterday, I got into a natter with a Leicester fan of my own age. I was extolling the virtues of Jamie Vardy, who I used to watch at Fleetwood. He said the most impressive thing about Vardy was that everyone, including Vardy, had realised when he signed that his first touch was woeful. He spent a whole season out of the team, aged 27, improving his touch in training until it got to the acceptable level. The fans derided him throughout this time. The point is he did it, by dedication and effort. Then came his rewards, the caps, the centre stage.
Some of our lot could learn a lot from Vardy, but hey, they're already brilliant according to their agent, their previous manager and their mum, so why should they give a fuck?
Anthony Murphy
6
Posted 08/01/2017 at 23:51:51
Reminds me of Roy Keane and his opinions of the Irish FA.
Alasdair Mackay
7
Posted 09/01/2017 at 00:20:40
I can't believe he gets away with blaming the players time and time again! This is a group that underperformed last season and got to 2 semi-finals.
The captains of Wales and Ireland are both in our back line, along with a regular starter for Argentina and one of the best left-backs in the Premier League over the last 10 seasons.
Our midfield contains the most experienced outfielder currently playing the Premier League, the most talented midfielder to come through at the club in 20+ seasons, full internationals for Belgium and Ireland, plus one of the most anticipated Spanish youngsters to emerge from FC Barcelona in a decade.
Koeman, a manager who has won nothing in a major European league, gets paid ٤m a year to put a team together from this lot. And yet he still blames the players.
And then we wonder why the lads always start slowly?! The confidence is always low for the first 20 minutes of each game, cause it takes that long for the players to realise that they're not as bad as their manager has been publically stating all week!
How much more do we have to take, Ronald?
Keith Monaghan
8
Posted 08/01/2017 at 00:25:08
Our season must not be over – the team has to develop in order to challenge the top 6 next season. Koeman is right – our mental weakness and lack of on-pitch leaders has been obvious for years.
Roberto's first half-season was great, but we went downhill from the start of 2014 – players and performances being over-praised by the manager. Our build-up from the back became too slow, ponderous and laboured, giving opposition defences far too much time to organise and tighten/double-up on our front player(s), and when defending we stand too far off our opponents.
Martinez made some good signings like Lukaku & Barry, but many were second rate like Kone, McCarthy (although his 1st season was very good), Cleverly, McGeady & ...NIASSE!!! Added to that, we're now 3 yrs on, so some players are approaching the end of the EPL 1st team days.
Koeman like all of us has faults, but this squad has a lot of deadwood (Gibson, McCarthy, Niasse & Kone), weak-minded players (Jagielka, Barkley, Deulofeu) and those who flatter to deceive (McGeady, Lennon, Deulofeu) and aging campaigners who's days are numbered (Jags, Barry, Baines, Williams). All of those except Williams were here before he arrived on 14 June 2016.
We have some very promising youngsters like Davies & Holgate, hopefully a couple of others too, but to compete with the top 6 we urgently need an injection of quality.
In spite of his talent, Deulofeu is a flash-pony & liability – no good providing one assist, but failing to get in a decent cross from several other opportunities and giving his defence no help at all. He consistently flatters to deceive & fails to deliver.
Ross is similar to Deulofeu too – how many managers who've had Ross have really rated him – only Martinez – and look what his legacy at Wigan was!
Those who didn't – Moyes, Koeman I suspect, Warnock, Hodgson, Allardyce, Southgate – were right –- 5 years plus in the EPL and people on here still talking about his potential!!! Dream on.
2-3 years ago, rumours etc re 㿨M+ bids from Chelsea & Man City – now weak speculation re Spurs & 㿊M – real progress – & Spurs paid 㿊M for Sissoko!
If we think GD & Ross can become top players for us we're kidding ourselves. To get where we want to, Koeman needs our support – we need players who are hard-working, tough and hungry to succeed as well as being talented. He has a big job on and we need to be realistic in our expectations.

Mick Davies
9
Posted 09/01/2017 at 00:27:55
Don, isn't that what the manager is supposed to do, improve players?
If a 27-year-old needs a whole year learning to control a ball, WTF has he been doing all his life?
Nicholas Ryan
10
Posted 09/01/2017 at 00:37:46
And here's me thinking, that the Dutch specialise in swift building of strong defensive structures, to avoid impending disaster!!
John Pierce
11
Posted 09/01/2017 at 00:40:21
So which if any of the top 6 can we catch? I think in the short term Spurs could suffer if they lose Pochettino. He's improved them so much, he is likely to go to Spain.
Oddly I think the team most at risk is Arsenal: Wenger's moon is waning fast, out of contract this summer and Ozil 'n Sanchez agitating. When Wenger leaves, big shoes to fill. I have a lot of Arsenal mates, they are so scared of what happens when that change comes.
So can we catch them, under Koeman I believe he might start the process, but ultimately it will take 2/3 iterations of manager under Moshiri for us to mount a decent challenge.
It's paramount that if 7th is the ceiling we separate ourselves from the rest, and beat those sides well and with some elan. Again that style wouldn't be under Koeman, perhaps if he makes progress, then someone like Tuchel at Dortmund could be an option.
This is the most saddening thing of the cup exits, the shortest most efficient route to Europe and our wagon is hitched to 7th place, no guarantee, no glory.
Norwich & Leicester, Koeman's epitaph?
Charlie Lloyd
12
Posted 09/01/2017 at 00:42:44
Les @ 1
Barkley is not getting worse every week. He has had a couple of decent performances then suddenly a real bad one. That's his issue. Inconsistency. I see signs of improvement but Koeman wants to take us to the next level without doubt but he does doubt if Barkley is the player to get us there.
I don't think it's pretty currently but there are some knee jerk reactions going on. We need to give it time. He needs his own players in and get them coached how he wants and then it's judgement time.
I'm sure he's as frustrated as us with some of the rubbish we've witnessed. The current squad is pretty poor. Major surgery is required. I'm just glad we now have Koeman, a straight talker, than the last manager who assembled or kept this squad.
As I previously said, let's wait till about December this year. We will have a better idea then. I do recall a certain very successful previous manager who required patience to gather his troops.
Charlie Lloyd
13
Posted 09/01/2017 at 00:51:48
Watched Tottenham minus half their team today. I was thinking how many of our team would walk into theirs. Lukaku for Jansen and not much else.
The gap is huge.
Don Alexander
14
Posted 09/01/2017 at 01:05:46
Mick Davis, my point about Vardy is that practice eventually made him what he eventually became, an international striker. The fact that he fannied about until he was 27 is a fact, according to him himself. He rues the years he squandered.
We have players still fannying about at the age of 23 and older despite the fact that they're in some cases already internationals. It does my head in and is "loser" mentality. It has no place in a successful club.
Whilst the idiot Martinez was in charge I was in full support of the players who turned against him. I only wish they'd done it earlier, en masse.
That said, they've now got the no-fannying-around Koeman, but the promise of glory if they personally are up to it, a new stadium for the younger ones to look forward to and millionaire wages, and all they have to do is practice like fuck to do the basics and thereby achieve professional acclaim, and idolation from their paying fans, in the job they've chosen to do.
To make such poor effort, as so many of them do, is inexcusable.
Mark Andersson
15
Posted 09/01/2017 at 02:09:57
I'm on the fence about Koeman, simply because each side of the argument has merit. The bigger issue to me is the board and the proposed way forward. Time will tell and Koeman (unless he throws the towel) in will get the time.
Don Alexander makes a great point. I don't get better on the guitar by not practicing the basics every day. Rom seems to think he is better than he is and yet has not improved his first touch much.
Before we know it, it will be the end of the season and we can judge then if were going in the right direction on and off the field. Personally, if I were a season ticket holder and there is no sign of improvement then I would chuck it in the bin.
Liverpool under Klopp are a different team than when he first came in. The title race will be won by the team with the strongest character. I wont predict who will win, but Liverpool would be a good bet.
The faithful dream on.... personally, I have no dreams left so I hang on to the distant memories of when we were top dog.
Mike Dolan
16
Posted 09/01/2017 at 04:34:17
Glad there are some calmer heads out there. Koeman is a very good manager and I believe he does get the best out of this group of players. I believe they are giving 100% its just that some of the very key players have lost there pace and today's game is all about pace.
Which players would you like him to pick? In defense we could put in... well we haven't had a goalkeeper for about 4 years so there's nobody in the net today.
Coleman (who has not been that great for a while) and Holgate (who should be vetted slowly. And Williams who was caught as a stop gap.
Let's move to midfield – Gana is competent but he's in Africa and shit, we haven't had a competent midfielder since Arteta left.
Let's stick Davis in – he has no one to mentor him so why not just stick him in there like we did to Barkley? It will fuck him up but we need 11 players; he'll make up the numbers.
Attack, we can stick Lukaku in there he really doesn't have to run around that much because the ball rarely reaches him.
We have exactly three players that might interest any of the top six as squad players: Davies, Holgate and Gana.
Lukaku is a goal scorer so he might get a shot but he's not going to do much for your team. Someone might take a flyer at the mystery of Barkley.
That's the team, folks. That's what Koeman has to work with just now. It's a miracle that we are in 7th. We will get better but my God we have to be in a position were we can field 11 competent premier league players before we can even think about criticizing the manager. It's a long term project.
Peter Fearon
17
Posted 09/01/2017 at 04:52:45
Barkley and Deulofeu ought to be blossoming under a new coach. Instead, their careers are faltering.
Koeman is whistling in the dark if he thinks the season is not over. It is over and he is starting to look like our Roy Hodgson.
The idea that he is suddenly going to morph into Alex Ferguson, as expressed elsewhere on TW, is sheer denial of reality. The search for a new manager should start now.
Bobby Mallon
18
Posted 09/01/2017 at 05:25:43
Alastair Mackay, did they underperform or are they just not good enough?
Koeman takes training, tells them what he wants, which is press from the front and don't stop pressing all game. He then picks a side and says go do it boys. The rest is history.
Barkley is not the player we think he is. Wales had one good season and Baines is over the hill.
Bobby Mallon
19
Posted 09/01/2017 at 05:28:03
Peter Fearon – who do you suggest as a new manager? If we get rid and he spends money on players and the new manager does not rate them, what then?
Darryl Ritchie
20
Posted 09/01/2017 at 05:54:42
Half a season in, and I don't think Koeman knows who his best eleven are. He keeps changing the lineup for every match. The only constant is Lukaku, because he's all we've got up front.
Perhaps he chooses the starters from their form in training, because a good performance in the previous game doesn't seem to count for much. Maybe he's searching for something in our current squad that they are unable (or unwilling), to deliver.
There is no obvious style or philosophy to our play. Koeman insists that we pressure the ball high, and we usually suck at it. Other than that, we have regressed to Moyesish hoofball much of the time.
Koeman is a very knowledgeable football coach, but he doesn't strike me as the cheerleader type. He will never be a Conte or a Klopp. He will not cheer a player that does what he expects, but he might chew one out that doesn't.
I think he runs the risk of making the game a job. Everyone at the club are professionals, and highly paid ones at that, but if there isn't any fun, no joy; he will eventually lose the dressing room. It's a business for the owner and the chairman. It's a job for the manager and the coaches. For the players and the fans, it's a game.
James Hill
21
Posted 09/01/2017 at 07:10:20
Mike Dolan – perfectly put, 100% correct. Well put.
Ernie Baywood
22
Posted 09/01/2017 at 07:23:46
Mike 16...
"We have exactly three players that might interest any of the top six as squad players Davies, Holgate and Gana."
That's not true.
Chris Leyland
23
Posted 09/01/2017 at 07:32:08
Darryl – for the players it is not a game, it is a job and a very, very well-paid one at that. It is all about maximising their income for the majority of them and they still get paid their vast fortunes each and every week – no matter how they perform.
Paul Bradley
24
Posted 09/01/2017 at 08:07:00
Koeman is stating what every Evertonian is feeling;, he can't turn good players into world beaters, he can't make Everton into a top 6 club with the normal quality of players in his squad. When the players cross the line, it's up to them to show their ability, if I was the owner of a football club he would be my type of Manager, so get off his back and back him to do his job he is well paid to do.
I am sure his strong message to the board will get a positive reaction, he's the first manager I've known to publicly have a go; they will now back him or sack him. For me, they will back him to the hilt, as our team does need major surgery.
Mike Green
25
Posted 09/01/2017 at 08:08:11
On another thread, I've said what a great summary Mick Davies makes – Mike (#16), you're equals it but from a different angle – which probably illustrates the pickle we as a club have got ourselves into.

Will Mabon
26
Posted 09/01/2017 at 08:08:54
The problems of our season so far have at least provided some very interesting discussion. Whilst I'm in the Koeman doubters camp, some of the points made by those that still support him are valid.
The players have certainly mostly not performed. Recently though, their effort and commitment has at least noticeably increased. As relative outsiders, we don't know for sure what's causing this.
It's too simple to suggest that, once they cross the white line, it's all down to the players. They only have so much freedom within the manager's tactics. Ultimately, that's how it should be, save for the odd wild games that pop up. They have to apply the manager's tactics.
We can all see when players try, give their all (or not) – within the bounds of realistic energy management, that is. The rest of it, well that happens behind doors closed to us.
We can only realistically go on what we've seen. We had a great start, albeit with a favourable run of fixtures, after giving Spurs a fair game. Looked like we were going somewhere. Then a huge change in line up for the Norwich game. The result was bad enough. The effect though was as if a switch had been thrown. No response, no bounce back. We've not really recovered since.
The new manager boost rarely ends so suddenly as that. To this point as I remember it, and without trawling the record, Koeman had been diplomatic and considered in his interviews. That quickly changed. His manner is publicly unsupportive to say the least. Can anyone remind me of a manager that achieved results from his players this way – I can't think of one.
These players as a group were noticeably better under this same manager, let alone in the past. Many Koeman supporters are right that some players are now of little or diminished use to us; some players. But not most of the team, they're better than that.
So what changed? A squad of players essentially unchanged for several years, added to by several of Koeman's own signings, made a good start. We were the last team to remain unbeaten, after Tottenham.
Did a dozen or more players decide to lose the manager – or did the manager lose the players? I still think something pivotal went on behind the scenes.
Liam Reilly
27
Posted 09/01/2017 at 08:15:52
I lived in Amsterdam for 2 years and played football there for a local team.
They consider Football to be a simple game and what might surprise a few people is that they value fitness as highly as as skill.
I read a good article from Kyle Walker recently about how they Spurs players were physically sick from the double training sessions introduced by Pochettino, but as the season processed it became clear how much fitter their players were versus their opponents.
Koeman has inherited an unfit squad, which needs a full pre-season to address, plus an influx of new signings.
Let's give the man some time.
Kevin Tully
28
Posted 09/01/2017 at 08:17:21
Peter (#17) - You say:
"The search for a new manager should start now."
Okay, let's go out and find a new manager, there will be plenty of takers for the ٤m a season on offer. Now, the new man has to come in and do precisely the same job as Koeman is tasked with – namely let go of players he thinks are not good enough, quick enough or bright enough to take us to the promised land. How many will the new man keep? Five or six maybe? It certainly won't be the likes of Cleverley, Barry, Jagielka, Kone and possibly even the likes of Barkley.
So, I think you will agree, he has the same rebuilding job to do. Or do you think we only need a couple of players? Personally, I think this squad is just about good enough for 7th, possibly 6th if one of the other clubs above us go on a poor run.
If we have to play three Under-23s, that surely tells you how weak our squad is? For all the hype, these kids aren't good enough to lay claim to a nailed-on first team place. They can do a job for the odd game here and there and cover injuries.
This mob have now let down two managers; what if they don't like the new guys methods, do we let these shrinking violets hang another manager and cost the club tens of millions because they are upset he asked them to run a bit more?
As far as I'm concerned, Koeman is precisely the type of manager we need right at this moment.
Trevor Lynes
29
Posted 09/01/2017 at 08:37:57
Our squad is not good enough to compete with the top six. That is all there is to say really.
There is no manager on earth who could get our current squad into the top six as they are individually not good enough. Koeman and latterly Martinez have each tried their different methods without success. If the players are trying their best then it is not good enough.
Only Lukaku would fetch big money out of this current bunch and if he is allowed to leave then who on earth is ever going to score goals? If Koeman uses the kids and gets hammered then he will be blamed.
A hell of a lot more than 𧴜 million is required to completely improve this squad. Man Utd threw well over 𧶀 million to repair the faltering giant and make it competitive again. Koeman is right to say that the job of really improving EFC as a football club is a very big project and will take a lot of time, patience and, above all, money.
Dick Fearon
30
Posted 09/01/2017 at 08:51:44
Koeman has belittled our entire squad while informing potential selling clubs how desperately we need their cast offs.
What a wonderful way to reduce the value of our potential sales while boosting the asking price of said cast-offs.


Colin Glassar
31
Posted 09/01/2017 at 08:59:09
Rebuild? What rebuild? I'm getting the same sinking feeling I had in the summer when it was only after we sold John Stones that we bought a few players.
Who is it going to be this time?
Macca for...?
Cleverley for...?
I hope they prove me wrong but I think Koeman is in for some realpolitik.
Dave Ganley
32
Posted 09/01/2017 at 09:00:31
Mike (#16),
I tend to agree with most of your comments. To say that this is Koeman's fault is completely absolving the players. We had that game won if we had continued to play as we had for the first 65 minutes or so. Instead we just stopped playing, just like they did in Martinez's era and we were punished with 2 very sloppy goals. Just stood there watching.
Then the fragile mentality of the squad kicked in, also a legacy from Martinez, and we had absolutely no idea how to get back know into the game.
We have progressed this season. The players are getting fitter. We have scored late goals a number of times, something we rarely if ever did during Martinez's tenure. The problem Koeman has with the players, aside from some of them being not good enough, is the lack of consistency. Barkley being the obvious example and also Deulofeu. The goal created by Deulofeu was excellent. Get to the byline and whip a cross in. No fannying around, no step overs just pace and cross. Easy.
Then what does he do, fannies around doing step overs and falling over and I don't think he contributed after that. It's not good enough to create a goal and think you can coast your way through the rest of the game. This is why he doesn't play week in week out. You may get one of those goalscoring moments once every half dozen games, then nothing for the next half dozen.
I saw an article in the echo suggesting be careful what you wish for in getting rid of Deulofeu because he's brilliant, well he may well be but the author obviously doesn't watch Everton very much as he would spot that brilliance only shines when that blue moon comes out. Barkley is the same.
We get frustrated because we know what these players can do but don't nearly do it often enough. This isn't down to Koeman, it's got to come from the players and the players' desire to do so.
Koeman needs time, people advocating the sack need to get a grip. Did they not see the mess that we were left with from that idiot Martinez? We have a poor squad with the odd smattering of decent players. We have a mentally fragile squad: no leaders, no one to take a grip on a game and players who play, really play, once out of every half dozen games. There is no team unity, the team don't defend as a unit, don't attack as a unit, all individuals. Again a legacy from Martinez.
Somehow, Koeman has got us to 7th with this awful excuse of a team. Saturday was unforgivable from the players but to blame Koeman is not right. He obviously prepared them okay, we were in control until the players decided to implode. Not sure how Koeman gets the blame for that.
He needs time to get rid of the deadwood and either manages to get consistency out of the likes of Barkley and Deulofeu or get rid also. One good game in 6 or so is just no good. No point being talented if you can't be arsed to display it every game.
James Hughes
33
Posted 09/01/2017 at 09:04:20
Dick (#30),
The other way of looking at it is: He's letting the players know he expects them to put in a shift and work on the pitch. Whilst letting the board know he needs the players not excuses this window.
I believe it was Colin G who did a great parody of Elstone contacting Man Utd at 11:59 pm on Deadline Day to try and buy Schneiderlin. The trouble being, the parody was too believable as we have all seen player after player disappear from view.

Graham Coldron
34
Posted 09/01/2017 at 09:21:10
If this faffing around on transfers carries on any longer, I can see Koeman throwing the towel in. At the moment, it looks like the board are still in penny-pinching mode akin to the Moyes era – Unless something concrete happens this week, e.g. a couple of meaningful medicas I fear the worst.
Andrew Presly
35
Posted 09/01/2017 at 09:27:39
Results wise, finishing seventh, on the basis that the current top six win both domestic cups, would bring Europa League and so represents a solid first season. Less than that will be hugely disappointing by Koeman considering our closest challengers are the likes of WBA and Bournemouth.
Style wise, I'm waiting patiently for the manager to show us a more identifiable pattern of play, the semblance of a preferred starting team and consistency of effort week to week.
It's hard supporting this club, it really is.
Scott Robinson
36
Posted 09/01/2017 at 09:29:46
Alasdair (#7), I totally agree! This team has talent, the manager is not getting the best out of it. Conte came in to an 'ageing' Chelsea side and turned it around; same with Klopp too.
The problem with Koeman is that he was sold a dream for which the reality is far different – he needs to make it work with the current lot in order to make it attractive for any top players to want to join us. A new stadium will help too!
I think how Man City turned it around from a mid table club to a Top 6. There was certainly some momentum about the place – none of that at Everton atm.
Bobby Blaize
37
Posted 09/01/2017 at 09:43:28
I am very pleased to read some of these comments. I was getting quite sick of everyone beating up on Ronald Koeman. Although at times I also wonder why he continues to play Barry after he has has a terrible game. I do realise that he sees the players on the training ground and he knows which player during the week is performing a lot better than the armchair managers of the world.
Let's be frank, our team are not good enough and all the people out there saying "Give Barkley Deulofeu, Mirallas, Cleverley etc a chance or a run in the team and they will be great..." They have so much potential... Wow! When are we going to see the potential? How long must we wait? How many more poor performances and discontent can we take?
It is utter crap to blame the manager for not getting the most out of the players; even if he did get the most, they would not be good enough to be world beaters, I'm afraid. Some people seem to think they need extra training or working on... have we got the time to work on them and how long would it take?
Let's face it, if they were able to learn to be the best, why are they not the best already? If we have to teach a professional footballer how to kick a ball, how to tackle, how to man-mark a player, then we are in trouble...Should we have to hold a player's hand and run him round the pitch to show him where he should be when we are defending? Should we have to tell our players when they need to help the rest of the team? If they are professionals, they should know all this and should be doing what they get paid to do
Koeman clearly is showing signs of his frustration, I'm sure he thought he could tweak the players a little and I think at times he has but the players keep falling back... He can't be expected to trot alongside them for 90 minutes; when he drops them underachievers, he then gets slated for playing a weak team or players out of position.
The manager can't win with some people but its refreshing to see some fans commenting in this forum showing common sense. Until we get the unlimited bucket of cash and the players willing to come play for Everton, things might not change. There are at least 10 teams who have richer owners than we do in the Premier League so 7th position for me is a great achievment.
We do need a massive clearout, that's for certain. We can't keep saying, "Give the useless buggers a run in team, they will be great." Everyone will be complaining, week-in & week-out for a long time to come if we keep giving them chances.
For me, we have Lukaku and Baines for another year maybe, Coleman a couple of years hopefully, Williams is a sub... Barkley still could be okay with better players around him. Gana our only hope right now. The rest are not going to win anything for us ever, I'm afraid.
The ones I have named need some better players around them to carry them. Sadly I feel it could be a good few years before we win anything because Moshiri has not got the money of the top 6 to throw away and therefore will not have the same enthusiasm or commitment in spending what we need to spend in the transfer market.
Nick Page
38
Posted 09/01/2017 at 09:52:25
Moyes was consistently frustrated by the board in the transfer market but he got a shift out of the players, especially when the squad was down to its bare bones and we had our backs to the wall. He always worried me when we had a full squad to pick from as he never knew his best 11. The board never backed him but his consistently high league placings glossed over that. Money was very tight.
Martinez was famously quoted as saying he needed 6/7 players to push on (from 5th) as he clearly understood the Moyes recruits were getting stale. He got Cleverlye. We got 11th twice. TV revenues had increased massively yet we were still pissing around with dodgy loans. All the clubs around us were pushing on and investing in their squads as we went sideways for three more years.
Now Koeman was promised investment, obviously, post Moshiri acquisition, as he continually quotes the project. But we've only just about spent the Stones money. Is the cash there? Yes. Why is it not being spent?
Inexplicably the same man/team that has lied to the supporters continually, and was castigated for failed dealings in the summer remains, incredibly in charge of transfer dealings. Not only is he quoted as having no idea about finances (BU interview) and inferred that he got help off Philip Green regarding running the clubs finances, he has never put one penny of his own finances into the club and risked nothing. How has this total and utter fucking sorry state of affairs been allowed to continue on?
After a disaster of a summer with regards transfer activity, we find ourselves approaching mid January having only signed another kid dragging our heels through the sodding press over ٠m valuation difference for a player the manager has been crying out for. It's typically and desperately unprofessional and will continue on until that man and his cronyism is removed from Everton Football Club once and for all. So don't expect much more this window.
Dave Ganley
39
Posted 09/01/2017 at 09:54:59
I despair when people try and compare our team with the so-called aging Chelski team, the team that won the league year before last, or compare us with Man City's billions.
Yeah, I have absolutely no idea how they became a top team from mid-table when we can't... the mind boggles.
Darren Bailey
40
Posted 09/01/2017 at 09:58:56
Koeman wasn't my first choice in the summer but come on, he's a very good manager. One that's been linked with some top teams so those that think he should be replaced are talking crap. The people that need replacing are Kenwright and Elstone and Moshiri's only mistake so far is keeping them in positions where they have so much influence. Kenwright maybe, but only to keep that link during the transition... but Elstone? No!
The summer wasn't good but due to FFP we was never going to spend a lot hence only spending the Stones money. Walsh wasn't in until 6 weeks before the end of the transfer window so really how were we supposed to make decent signings? Okay, we had links with Sissoko, Gabbiadini and Berhami but to be fair none of them have done much at their respective clubs so far this season and I think we dodged one with Sissoko anyway. Gabbiadini and Berhrami's values have also dropped considerably.
Why didn't we sign these players though? Because the top brass (as always) can't get the deals over the line as we're yet again finding out. A panic loan of Valencia is not the calibre of player we should be getting.
Schneiderlin and Depay have been available for months, they have been identified as top targets for months. Bolasie was injured weeks ago and we've known about Gueye going to the AFCON's since he signed. I shouldn't need to say it but both these players should have been signed up before the game on Saturday. The Lookman deal was done but he was cup-tied. Great, well done, signed a player we can't utilise for what really was a season saving game.
Koeman has a way about him, different to Martinez. We wanted Martinez gone and, now we have something different, we're again criticising his methods. Maybe it's time we got behind the team and the management more rather than getting on their backs so much. I for one think Koeman's comments were spot on, whether he should have said them in the way he did is debatable but none the less true. The team isn't a bad team, the squad IS a bad squad. There's a difference.
Giving Barry another year can only be for his experience and influence in the dressing room as he shouldn't be playing 90 minutes any more. Gibson's new contract in the summer was disgraceful and Oviedo's mid last season was a mystery.
Neither keeper is good enough, Jags has had it, Garbutt, Cleverley and Lennon have to go and how we've still got Niasse, Kone and McGeady on our books I'll never know.
Loaning both Garbutt and Galloway and keeping hold of Oviedo was a bad move as Galloway showed last season he can fill in admirably. Add to that injuries to Besic and McCarthy haven't helped. I like McCarthy, I know he's come in for criticism but I still think he has a role to play in the squad.
This is what our manager has to work with; no wonder he's frustrated.
Mark Andrews
41
Posted 09/01/2017 at 10:00:00
"Ronald Koeman admits that catching the top six will be difficult "
For a cold humourless man, he has a great sense of humour. I truly despair.
Tony Woods
43
Posted 09/01/2017 at 11:25:11
Seem to remember a while ago Kenwright admitting Koeman was not his first choice. It will be interesting to see if he supports him in his demands for transfer money.
Gordon Crawford
44
Posted 09/01/2017 at 11:30:05
I heard Moshiri has lost his wallet.
Craig Walker
45
Posted 09/01/2017 at 11:36:27
Koeman's outburst on Saturday is exactly what the club hierarchy need.
For too long we've had press conferences where Moyes or Martinez tell us how they enjoy their relationship with the board and how they've been backed when needed. If we want to compete with the big boys then we need to stop acting like a corner shop whilst going up against the Tescos and Sainsbury's of this world.
We need to identify targets who will fit into a pattern of play and get them. 9 days of this window have gone and we've signed one-for-the-future from Charlton. How many more weeks before the window disappears and we're left panicking on deadline day.
It's like being in a timewarp supporting Everton. It wasn't supposed to be like this with a multi-billionaire owner.
Martin Greggor
46
Posted 09/01/2017 at 12:07:57
A point for discussion – last season the players clearly wanted Martinez out, so they stopped playing for him. Has the power gone to some players' heads?
Paul Birmingham
47
Posted 09/01/2017 at 12:09:52
Koeman was an exceptional player and in his era was second to none. As a manager, there's very few in history who've not had a few bumps in the road and arguably perceived disasters.
He is the man for the job and I sense the atmosphere in the changing rooms ain't as good as it could be at the moment, but for many players in this squad and with no squad number, their time is up at EFC, be due to age, fitness, poor form or no hope of ever being a useful squad player.

The issue I see is that the grey clouds that have hung above Goodison for decades may seem to be a bit lighter, blue skies showing, but for me this is where the business men who run the club (which business men, have the final say?) as yet to be proven consistently, is key to the rest of this season.
Koeman seems aggrieved, that there is a perceived lack of activity on the transfer front, arguably so.. How and who Steve Walsh gets in remains, to be seen.
Interesting that there is a bigger turn around in EFC scouts and senior scouts this season, than before. Somehow I sense it will take longer than we've all anticipated for the aclaimed magic he done at Leicester, on getting bargain basement gifted players, ie, Mahrez, than it will at EFC.

And so the clouds hang, and the drifts of wind edge our aspirations on a new stadium, and better players, either way but down the line, in the middle, almost as strong as the pole star, I m not expecting any thing until it is confirmed in writing.
A life time of let downs, on the field, some off the field – the administration of this club, and generally consistent media hype and tripe has made me immune to any genuine good news, being good news, in terms of EFC.
How I'd love it all to be true, but a life time of sacrifice for EFC, by thousands, has not really achieved anything other than improve the gallows humour, increase the desire for genuine hope and salvation, and probably to bevy more than is needed. Back to the days of staying in the ale house until 5 mins before kick off, debating why, and what is the point of inflicting further anguish and frustration.

This season like most of the past have been tripe and with Moyes and his mantra of the world against us, some how it was not good but easier to accept.
Oh, lets hope for some genuine good news on all EFC player and ground moves soon. Great to beat Man City, I'm dreaming again, deluded, and each passing year, the mid 80s, great days come back, but this is now and reality bites.
Koeman needs a clear indication if he will be getting any players in January 2017. Interesting days ahead.
Stan Schofield
49
Posted 09/01/2017 at 12:46:59
If I were holding the purse strings, I would be very reluctant to spend heavily in response to Koeman's stated requirements, because at the moment I do not have sufficient confidence that he would use the bought-in skills effectively.
I say this because I have little or no evidence that he knows how to use the existing skills effectively. His immediate job, before any signings, is to get the best out of the skills at his disposal, and I cannot see that he's doing that.
The current squad might not be up to getting and maintaining us at consistent top-6, but I know from experience (seeing them perform in the recent past) that they are up to getting significantly better results than we have been getting, if only they were organised better into a tactically well-functioning unit. That is the job of the coach.
Nigel Munford
50
Posted 09/01/2017 at 13:14:47
Nick, if nothing else happens because of said person then I would think Koeman will walk away.
Andrew Ellams
51
Posted 09/01/2017 at 13:23:07
Nigel @ 50, I have a feeling we may be looking for a new manager in the summer and will be in exactly the same place if not worse 12 months from now. All I've heard from Moshiri so far is rhetoric, all talk no action.
Habib Erkan Jr
52
Posted 09/01/2017 at 13:23:26
These players failed under Martinez, they are failing under Koeman, and will continue to fail under a new manager.
Kunal Desai
53
Posted 09/01/2017 at 13:25:46
Everton are a tier-two club. In order for Everton to bridge that gap to the top six it requires a culmination of good management and strong work ethic, investment in quality players and players which command the respect of a manager. It's a very tough gap to bridge.
Nick Page
54
Posted 09/01/2017 at 13:29:26
Agreed, Nigel. I can see him walking. Still nothing going on. It's an absolute disgrace these losers are taking a wage out of the football club. Get them out and quickly.
We need qualifiers, professional people in now and the best ones not some arl luvvy who's a fucking mingebag and a Yes-man no -mark like Elstone. Like Moshiri said, were not a sodding museum.
Winston Williamson
55
Posted 09/01/2017 at 13:36:52
Moyes attempted to build a side in his vision, but at first (and less so later, but still sometimes) tried to squeeze players into unsuitable positions. He had us playing some attractive football towards the end of tenure – still failed though.
Martinez attempted to build a budget-Barcelona. Had us playing some attractive football, but still tried to squeeze players into unsuitable positions – failed miserably.
A large portion of the players played for both Moyes and Martinez and failed time and again.
Koeman has a plan. My understanding of it is a high pressing game with pace on the counter. High intensity. Full-bloodied. Physical dominance. He'll fail too as the majority of our players are a bunch of pansies, unless he replaces the majority and changes the mindset.
Try and get the best out of these players? Players that have failed under two different schools of thought? What is the best way to get the best out of mentally weak individuals, who still think they have potential, but who should by now be a lot further progressed than they are?
I for one want to see if we can get the players to play the high pressing game with pace on the counter – a high intensity, full-bloodied, physical dominance game.
Winston Williamson
56
Posted 09/01/2017 at 13:40:32
I'm more tired of the continual failure of our players than a manager who has only been at the club half a season...
Gordon Crawford
57
Posted 09/01/2017 at 13:40:42
I really do hope you're wrong too, James.
Stan I get what your saying and I do agree with you for the most part. But you would think that even if the board didn't trust Koeman to spend wisely; they would at least trust Walsh to make the right decisions on who to bring in. After all, isn't that supposedly his job?
John Pierce
58
Posted 09/01/2017 at 14:17:52
Stan, well constructed post that lad.
So my question to you is, if the disenchantment is that deep so early onto his tenure why are you stopping short of saying Koeman should be sacked?
I agree with everything you say and have on TW said so in a more forthright manner.
If the trust is not there and evidence on the field supports the view that he cannot improve a mediocre playing squad, then if you feel he doesn't deserve the funds then to my mind it's tantamount to sacking him?
What stopped you short of saying ''axe him"?
Myself feel Koeman's sentiment which is the right attitude, but he has singularly failed to demonstrate he's any good. Pretty hard for players to accept a pattern of play if it pays liitle dividend. (Yes they are not good enough to execute it but they are mostly capable). Why hasn't he found an alternative to serve up better footy until his preferred players arrive?
He has just stuck a cork in it and waited for the window, not good enough for me. Progress should be tangible and also feel like we are moving forward, I don't see it empirically or feel it in my bones either.
Andrew Ellams
59
Posted 09/01/2017 at 14:34:24
I can't help feeling Martinez knocked the stuffing out of what should be a very good squad.
It's tough to judge Koeman until he's had a chance to rebuild from the bottom up which is going to be a two season job – if Moshiri puts his money where his mouth is.
John Pierce
60
Posted 09/01/2017 at 14:55:46
For long term project - read no ambition.
Sure we have a mediocre squad, but there are plenty of managers who despite the resources available to them achieved more with teams who were more than there sum of their parts.
Plenty examples of managers making much higher impacts than Koeman has to date.
If you think it will take 2/3 years then, we will just tread water. Do you think others in the league won't get better or better at a faster rate? 2/3 years will leave us standing still at best.
You have to find a way to overachieve in the short term. Be inventive and create something that can help bridge a gap.
Waiting for a transfer window, assuming every player you sign is a success then the incremental improvements are every six months! Jesus wept!
Take Martinez, never wanted him always thought little of the man. Exploited our full backs for width and got way more out of them than previous and post managers have. Sure once people figured it out he then failed to change it.
Take Conte at Chelsea, took a perennial loanee in Moses and made him into a wing back.
Everton cannot bridge the gap through acquisitions alone, the manager has to be progressive and inventive.
Koeman is neither of those things, I challenge anyone to show me how he has been either.
We broke the bank for a pragmatist, a dull, dour functional robot who has not once ounce of flair in his bones, his playing style was exactly that. Sure he was ice cold when it came to pens and free kicks, a technical skill.
He won the ball or maimed someone in the process and gave it to the super star.
Thats what hes trying to do at Everton big and physical, give it to a top four than can make it happen.
In life and in football you rarely get a chance to develop sonething over several years.
The pressure is on, and so far Koeman isn't up to it. Yes theres time yet but it is running put fast.
Maybe, just maybe the board and Moshiri think that too and perhaps are with holding funds as there have reservations?
Nah this is Everton they're just incompetent.
Tony Waring
61
Posted 09/01/2017 at 15:08:37
Of course I don't work for the club but, as far as transfers are concerned, how can Elstone & Kenwright throw a spanner in the works when Moshiri is supplying the dosh? It's not as if they know more about football than Koeman surely!
Brent Stephens
62
Posted 09/01/2017 at 15:20:13
Tony, I agree about Elstone and Kenwright as unlikely spanner-throwers, but more because Moshiri has effective control of the board and has his man sitting on it.
Dave Lynch
63
Posted 09/01/2017 at 15:27:50
Tony@43.
You're right! Koeman was not his first choice, Moyes was his first choice and I have that on good authority.
As far as spending money this window? Well IMO it's a pointless exercise. We are not in relegation trouble and are not challenging for anything realistically.
Keep the money and spend it in the summer, prices are well hyped in this window and we will end up paying well over the odds for players.
Jose Walsh
64
Posted 09/01/2017 at 15:43:24
Why are we saying don't spend now and save it for the summer? Koeman will still be in charge then so all we are doing is saving on wages. What for – it isn't our money? Surely it is better now to allow the the faces to bed in?
If we wait until the summer we will then be saying give them another six months to bed in. I'm tired of waiting for us to progress.
Paul Smith
65
Posted 09/01/2017 at 15:50:01
Shit, what a mess. Players not performing, too old or told they're shit. A manager that wants to buy a new team and a board reluctant to give him the funds based on his pathetic 6 month showing.
Who blinks first?
Jay Harris
66
Posted 09/01/2017 at 16:00:09
I think those doubters need to realise Koeman is seeing the same as us.
Total inconsistency.
At times on the pitch they play like a top 4 side but then in the next game or in certain cases the next half they play like a bottom 4 side.
Players like Ross, Lukaku, Delofeu, Mirallas are luxury players but are totally inconsistent even in the same game. I am sure that Koeman would love to replace Lukaku despite his stated admiration and as for Ross and Gerri I love them to bits but how often do they contribute for 90 minutes. None of them are ever on their toes.
Players like Barry, Jags, Bainsey have been excellent players but age stands still for no man and they are way past their best especially in their ability to put in 90 minutes at full pelt.
That puts so much pressure on the rest that it makes the whole team look bad.
We saw virtually the same squad fall apart under Martinez despite him telling them they were world beaters now we have a man who tells the truth and tells it bluntly and explains to the players what they need to do and some idiots want him out after 6 months.
Those who rave about Klopp need to remember he inherited a 300m squad made quite a few additions and it still took 12 months to see the improvement.
The special one went to United who have spent 200m in the last few years and spent 200m on 3 new players and until recently we were on a par with them and held them to a deserved draw recently.
We are not far short of becoming a good side. 3 or 4 quality additions would transform this squad and Koeman knows it.
Its about time Evertonians who claim to be knowledgable about the game saw it too.

Ricardo Gimpardsle
67
Posted 09/01/2017 at 16:04:26
If anyone can remember when Man City got the money first, can they explain to some on here just how long it took to become contenders and that they had to buy twice, once to compete and the second time to add top quality.
Why do so many want to be on the last page before the 1st chapter has begun?
Mike Oates
68
Posted 09/01/2017 at 16:10:19
Moshiri isn't suddenly going to throw 㿨m to Koeman. He's a businessman who will always seek to balance the books. He'll want to see clear movement out, Niasse, Cleverley, Gibson, Deulofeu, etc etc before he commits.
Moshiri is a guarantor to get decent bank loans for ground, players in etc, and he'll ensure we have an organisation that will generate an income stream to balance operating costs and also to payback capital over the next 10 years or so.
I just cant see him digging in his pockets to give any Tom, Dick or Harry manager £millions and millions to spend on their favourite players.

John Pierce
69
Posted 09/01/2017 at 16:18:34
Jay you are hallucinating! Not once this season have they played like a top 4 side!!!
You might be seeing inconsistencies but never have Everton 2016-17 reached the heights you describe.
The only top 4 we are in is the family fortunes board: name the top 4 answers to this question
What football clubs are perennial underachievers?
1. Spurs
2. Leeds
3. Villa
4. Everton

Raymond Fox
70
Posted 09/01/2017 at 16:36:36
Moshiri supplying all the transfer cash! says who, what do you think the other board members are there for.
They bought players before Moshiri arrived didn't they, he's aquired half the club off them but they will be expected to put their hands in their pockets as well as Moshiri, and will as things stand have a say how the money is spent.
The bottom line is that we cant attract the class of player that the present top 6 can, and unless we can somehow get around that major stumbling block we are extremely unlikely to break the top 4 glass ceiling that hangs for too long above our heads.
Yes we may occasionally come 5th or 6th, but the big time is being consistently in the top 4.
James Flynn
71
Posted 09/01/2017 at 17:16:31
Koeman has stated publicly that he tells the Club what type player he needs, then stays clear of all negotiating. Just as with Moyes and Martinez, Ronald is NOT "Given funds". It's not his money.
Nev Renshaw
72
Posted 09/01/2017 at 17:18:50
Give the man a chance. The majority of this team is what he inherited. Let him build his own team and then take stock.
Phil Walling
73
Posted 09/01/2017 at 18:14:37
Nev, I understand your theory but how many managers ever get to have their 'own team' ?
Being a manager is mostly about making the best of what you inherit, surely?
Nigel Munford
74
Posted 09/01/2017 at 18:26:51
Phil, I'd suggest Moyes had his own team, SAF also, and Wenger has had a few in his tenure at Arsenal.
Colin Glassar
75
Posted 09/01/2017 at 18:44:14
Day 9 in the Everton house and only one player in so far.
Brian Hennessy
76
Posted 09/01/2017 at 18:46:42
I'm glad Koeman has had the balls to publicly look for the board to back him and not towing the line by saying he is happy with the players he has. At least we may be about to find out if Moshiri is really going to spend anything like what we hope on players.
Ian Brandes
77
Posted 09/01/2017 at 19:04:29
He may be teeing himself up for the exit door, he has done that in the past.
Maybe he was lured here on false promises.
Colin Glassar
78
Posted 09/01/2017 at 19:08:59
I hope in a few days time this will all seem like a bad, recurring dream.
Stan Schofield
79
Posted 09/01/2017 at 19:19:05
John @58: I wouldn't sack him at the moment, but if I were his employer I'd no doubt have a word with him about his performance so far, like in any industry, particularly involving highly paid managers.
The notion, on other posts, that this isn't 'his team' is intriguing. I'm imagining myself taking a management job in industry, my team getting things wrong, me blaming them rather than taking responsibility, and saying I didn't choose them. It's just not the real world, although many managers, bad ones, try to act like that.
The fact is, it is his team. He chose them when he took the job. So, I would review his performance, set out what I want him to do, and if he achieves it, then fine. If he doesn't, then I'd sack him.
Michael McCarthy
80
Posted 09/01/2017 at 19:46:00
You don't complain to your boss through the media and neither do you tell the media my players aren't good enough. We have decent players, motivation skills are a sign of good management.
A good manager in all walks of life gets maximum out of his team. I'm not convinced Koeman is getting the most out of the players.
Chris Leyland
81
Posted 09/01/2017 at 20:09:47
Michael (80) the vast majority of these players won a collective 23 of their previous 76 games before Koeman took over. They had 2 consecutive bottom half finishes. They are simply not good enough and there is only so much 'motivation' he can do. You can't polish a turd.
Did anyone realistically expect us to finish higher than 7th this season? If so, what were you basing this on? We were a bottom-half club when he took over. He was let down by the board in the transfer market over the summer but he will still manage to get us higher in the league and with more points than either of the previous 2 seasons.
Seamus McCrudden
82
Posted 09/01/2017 at 20:22:47
But Chris @81 were we not told that this was the best team we have had in a generation? Didn't bullshit Bob tell us so? Jesus wept.
Paul Tran
83
Posted 09/01/2017 at 20:22:58
Too many people on here painted themselves into a corner, in their desperation to criticise Martinez. He had 'ruined' the best squad we've had for years, he'd bought a 'dud' called Niasse.
It's a squad of players who are good on their day. That's why we didn't get fifth. That's why Martinez wanted seven players. That's why Koeman wants to start afresh. That's why we're seventh now, with little chance of bridging the gap.
I'd criticise Koeman for producing dull football with no semblance of a pattern. I'd criticise him for pinning the season on a good January transfer window, because if we don't, he's put himself in serious trouble.
Ultimately, I'm not convinced this squad would finish higher, whoever is in charge.
Brian Williams
84
Posted 09/01/2017 at 20:42:09
It's not his team... it is his team... he's had enough time... he needs more time. Then there's the fact that we're 7th in the league but we have three points less than at the same point last season.
We can only judge if progress has been made by our final league placing and points total can't we? Performance, as we're all well aware of, is extremely subjective. You only have to look at the Ross Barkley arguement to know that.
We got further in the Cups than we did this season. Didn't win any of em though. Lost to the RS, what's new? Beat Arsenal, that was good.
The more time that passes, and I don't know whether I'm thinking this to soften the pain, are we actually expecting too much too soon? Did we expect to go from bottom half finishers to top 4 in half a season?
The players who were, on the whole shite last season, are shite this season. We haven't brought enough players in to make a significant change to the teams overall performance.
Out of the one's we did bring in. Gana-outstanding. Bolassie-jury's out but some improvement on the wing, if only slight. Williams-slight improvement at the back. Valencia-slight improvement up front.
I know we all, me included without a doubt, hoped there would be an almost instant major change but I'll ask the question again: Are we expecting too much too soon?
Dave Ganley
85
Posted 09/01/2017 at 20:47:27
The so called best team in a generation was a figment of Martinez's fantasy mind, picked up by the media and taken as read by some fans. Absolute bollocks. This team/squad couldn't even compete with Moyes's squad of 2007 to 2009.
Who from this current squad has the football know how and skill to compete with Arteta, Pienaar and Baines and the bravery of Cahill and Carsley? Who is the defensive rock that could surpass Jagielka or Lescott? Truth is they are a sad caricature of that team of Moyes let alone being mentioned in the same breath as the 80s squad. Just insults that great team really.
Koeman has his work cut out to get a team that he wants. Most of these should not survive the cut ultimately. No work ethic, only plays in fits and starts, if we are lucky, probably one decent game in 6, yeah let's blame the manager after all they have only been playing like this for the last 3 years.
Of course it's the manager's fault. Sack him. The bag man can get them playing better. Ffs. There's a reason why Goodison has been like a morgue for the last 3 years: the players couldn't give a fuck, don't give the crowd a reason to cheer and treat the fans with utter contempt by playing the way they do week after week. Devoid of passion and fight.
These are Martinez's players he deserved what he got, too late but he eventually got the Sack. But yeah let's blame the current manager, less than 6 months into his tenure. All his fault. Fuck me, get a grip.
Seamus McCrudden
86
Posted 09/01/2017 at 20:47:46
Brian, well done – you are 100% correct.
Jay Harris
87
Posted 09/01/2017 at 20:49:38
John (#69);
Liverpool, Arsenal and the RS are top 4 sides and for half the game we equalled or bettered them. We destroyed Southampton in half the game. We beat The Champions on their own ground.
My point was we can play well but cannot manage it for 90 minutes nor consecutive games. That suggests a fitness or mental attitude problem or maybe both.
John Pierce
88
Posted 09/01/2017 at 21:31:12
Stan, that's fair dos.
As a boss myself I always allowed the "manager" to set their own goals. If they were compatible and a realistic stretch then I'd not interfere otherwise I'd pick them up on it.
One would hope that the board and Koeman have together set themselves a target, mostly absent for Kenwright's tenure. < My own is European qualification, unless we finish seventh and are showing signs of progression.
I'm already flipping between wanting him sacked and letting him crawl to the end of the season since the threat of relegation has receded.
The question of his team is moot. It was his from the day he got them. Lets suggest for one tiny minute he won 9/10 of his first league games, would anyone be suggesting it wasn't his team?
I think not. For others to counter the opposite is a touch silly in my book. February 1st will be a devil of a day when that window slams shut, if the reinforcements don't count on Koeman being in charge.
John Pierce
89
Posted 09/01/2017 at 21:43:06
Jay,
I understood the point, but you are stretching credulity.
We have done okay in some games, but mostly played in moments. In the games you describe we knocked Arsenal of the park, we didn't play decent football, and ultimately it was Arsenal that lost that game
Southampton flattered us hugely. The the penalty was a gift and a the third in the dying embers, we do no more than just enough.
Liverpool let us knock ourselves out like an experienced boxer and we had nothing of quality in that game.
So yes we are up and down but the highs are nowhere as high as we think. At any point this year have you left your seat in excitement or anticipation when we get the ball? We are dull as dishwater and only 7th due to the paucity of whats below.
7th is the new 11th.
Ian Hollingworth
90
Posted 09/01/2017 at 21:48:53
Where are the signings?
Brian Williams
91
Posted 09/01/2017 at 21:52:41
Thanks Seamus, appreciate that.
Mike Doyle
92
Posted 09/01/2017 at 22:21:57
Unless a player is deemed critical to our plans for the next few seasons (and may be snapped up by a rival) there is no good reason to go gung ho and overpay.
Our season is over. Just 19 games to go. We won't make European competition and we won't get relegated. I'd rather see all effort focused on a serious summer recruitment programme.
Stan Schofield
93
Posted 09/01/2017 at 22:26:43
John, in giving my opinion regarding reviewing Koeman's performance, I'm also trying to account for the fact that the players also have responsibilities as professionals.
Last season, and for quite a few games in this season, it does seem that some players are not giving full commitment (not putting a shift in). Whether that's because of lack of fitness, attitude problems stemming from the previous manager, or whatever, it's a problem that needs to be solved. These problems ARE solvable, it's not beyond the wit of man to get players fit and instil discipline into them. They are paid (very well), they don't do it for charity.
Part of the improvement I would expect would be a system and organisation, and discipline, from Koeman, that rectified such problems, sooner rather than later. Rather than him talking publically about shortcomings of individual players, he should be focusing attention on these problems.
Organisation, a system, tactics and discipline, and go about it quietly and professionally, thereby helping him to lead by example. It's a problem to be solved professionally, not a soap opera. The players, all players in fact, need discipline, otherwise we wouldn't need managers, especially ones paid ٤M/year.
Some people on TW say, ship the lazy bastards out if they won't put a shift in. Unfortunately it's not that simple. They have contracts, etc., and Koeman has to manage what he has. That's surely the skill of a ٤M/year high profile manager: to manage and solve a problem most folks would find too difficult or impossible. That's surely why the salary is so high.
Koeman got Southampton playing good and effective football, with a squad no better than ours. We know we can play good and effective football, because we've seen it in the recent past, and we still see it in rare bursts. So you would think that Koeman could get some improvement, good and effective football more consistently, NOW.
Gradual improvement, not miracles. Once we have gradual improvement, with or without new signings, then we're progressing visibly. Then maybe the miracles follow eventually (consistent top-4 finishers, team comparable with past great Everton teams, and all that great stuff).
But if there's little or no visible improvement, then action needs to be taken to solve our problems by an alternative route.
Andy Meighan
94
Posted 09/01/2017 at 22:54:21
Bobby Blaze – you're right. Koeman cannot be expected to trot around with the players for 90 minutes. But he can (as coach or manager or whatever) be expected just once in a while to get our players to perform for 90 minutes. Something in 6 months he's been unable to do.
Yes, he was left a poor squad. But it's not as if he came in when the window was shut His buys (Gueye apart) have been a massive let down. Yes, Bolasie is very unfortunate but he was hardly setting the world alight.
It seems to me Koeman is quick to blame everyone from the board to the DoF but never admits HE was wrong. Which he has been on numerous occasions
And it also seems to me that he's duped a lot of our fans with the "haven't had time" line. Sorry but he hasn't duped me. The fayre on offer this season has been abysmal and we've actually regressed. Though our league position will tell you different from last season.
Throwing stupid money at it won't help one little bit. We've seen that over the park down the years and at Spurs to a certain extent with the Bale money. No, I'd rather see Koeman and Walsh unearth a couple of rough diamonds than say the likes of Sissoko and Schneiderlin. This and the next window will tell you everything you need to know about this manager. And I feel it'll all end in tears... But hey – it won't be Ronnie's fault!!
Clive Mitchell
95
Posted 09/01/2017 at 23:10:45
Are we expecting too much too soon?
How many goalkeepers and centre backs should the new regime be allowed to buy before it's reasonable to expect a good one?
Ian Riley
96
Posted 09/01/2017 at 23:49:42
Out of both cups and seventh in the league. No top four or relagation. Pay big prices in January or sell fringe players? Buy five players in June ready for pre season. The board have some thinking to do. Koeman gives the next few months to play youngsters and adds quality and experience ready for next season.
Eddie Dunn
97
Posted 09/01/2017 at 23:59:23
Look everyone, these players have all had their chances under Moyes, under Martinez, and now under Koeman. They are not good enough to get us to the top 4 or to win a Cup. Koeman is the latest manager to find this out.
If we want success, we need the board to start backing their choice as manager. Spend some fucking money, on some good players and stop pissing about.
Koeman is putting pressure on these fuckers and we should be right behind him on this. Never mind all of the bullshit about us being a club on the up. We need a statement of intent. We are no better than Stoke or West Brom at the moment. We are all getting the TV money. We haven't even spent that on players (apart from the Charlton Child).
We got all that money for Stones, so didn't have to spend anything else last time. Koeman , love him or hate him, is the manager. He needs to be backed.
Jim White must have one hell of a show planned.
Brian Wilkinson
98
Posted 10/01/2017 at 00:10:37
I've touched on this before, play the game simple, each with a job to do, get rid of the 4-1-5-1 the 4-4--1-1 the diamond, the Xmas tree, whatever formation and go back to simple tactics.
How many times do you see a sub near the end waiting to come on, and the manager showing a script longer than war and peace. Get it sorted on the training field Friday, you defend, you control here, you attack.
It's not like when we played on make do football pitches, Rush goalie and ten strikers, it cannot be any simpler, defend attack, chase back. That is the trouble with today's game, we have over complicated it. Back to basics Ronnie and keep it simple.
John Pierce
99
Posted 10/01/2017 at 05:13:33
Stan, I too have searched for the tiniest improvements under Koeman.
To my eye, none can be found. Players do shoulder some responsibility but you'd think across the gamut of quality we have, some would get better under Koeman. As you as said a Southampton side with a similar feel to it improved and played decent footy to watch.
Players are the transient part, so what worries me is he can't get an improved performance out of our better players, Ross or Rom for example, players with obvious flaws that should be able to get better right?
So even if we did give him a new squad I feel somewhat worried he couldn't improve them either.
Or is simply the players hate him?
Mike Dolan
100
Posted 10/01/2017 at 06:39:26
Let's drop this idea that the players are not playing 100% because they are lazy slobs that just want to pick up an exorbitant pay check, because it really is nonsense.
Players like Jagielka, Baines, Williams, Barry and for perspective Tim Howard, Hibbert, Osman they give it all for the club, they trained hard they are model citizens and in there day were good players. But they just got old. Moyes knew this club was heading south and he bolted.

Why do you have a debacle like last Saturday's game? It's because they cannot last at a high level for a full game Simple as that. Its like that Little Feat song Old Folks Boogie, "Your Mind Makes A Promise That Your Body Can't Fill".

You can't coach old age away, you can't inspire it away there's no leadership lacking when you send in Dad's Army to face a crack Panzer division every week. We just have to be patient our team is just beginning a transition and even with some new faces this month the transition will be gradual and inconsistent but the goal is not just to have us playing decent mid table football its for Everton to be giants again. To be challenging on the biggest stages.
It's going to take lots of patience, it's going to be frustrating and it's going to take all of our support but there is a plan to get there and there will be lots of hurt feelings along the way but we will get there.
Ian Hollingworth
101
Posted 10/01/2017 at 07:43:23
Mike @100 I agree with your Dads Army analagy but we also have many players who are simply not good enough.
I hope you are right about the plan but we need to see some real positive actions with regard the plan. Signing better players than we have would be a good start I.e. Players who go straight in the first team and make a positive difference.
Eddie Dunn
102
Posted 10/01/2017 at 09:18:17
Mike, the problem isn't that the squad is old, I would say Jags has suddenly lost form, and the defence on the whole has the older players in it. Barry (charged with protecting them) is struggling with the workload and is a veteran.
In the table of average age (August 2016) the youngest are Spurs, and we are down in 14th place. Whilst some younger squads are doing well (Liverpool) 4th, Man City are down in 17th, Chelsea have an average of 28.2 compared to our 28.3.
Obviously Chelsea and man City have better quality older players than others, and this is the key point. Imagine the likes of McCarthy as he gets older... his workrate will diminish and what will he have left? Imagine a slower Mirallas.
If you have the best players, fitter, stronger, more ability, more intelligent, then they can play until they are older. We happen to have Baines, Williams, Jags, (I won't count Stekelenburg as he is a goalie) and Barry all past 30.

However, more importantly than age, is the simple fact that this team has lacked leadership for some years now. We have lacked a good keeper, a tall, commanding centre-half, a creative midfield maestro (like Arteta) and another proper centre-forward. Therein lies our major problem: we lack quality. This is why the coach needs more players.
Andrew Heffernan
103
Posted 10/01/2017 at 12:06:11
I agree 100%, Mike.
As it stands we are streets behind the current top six both on and off the pitch and have been for nearly a decade (bar Man City) so frustration aside, I'm not sure what Koeman doubters expect to achieve in calling for his removal other than turning into a Newcastle and other clubs who rotate managers frequently. Thoughts of finishing in a European position with the current squad are beyond belief; 7th will be as good as it gets until material changes take place.
This change will take a number of years to bed in, for all their billions Man City didn't change overnight, and I don't see us making significant progress until a stadium has been built and the current or future manager has had the opportunity to completely turn over an ageing and inadequate squad.
At the moment, I'm simply looking forward to being in a position to challenge after years of stagnation and pragmatism, two cup semi-finals does not make a summer!
Adrian Mountford
104
Posted 10/01/2017 at 12:39:36
Is Koeman saying anything that's really not right?
Barkley IS under-performing. Anyone with eye-balls knows that. He sparkled at the start of last-season briefly. He then had months of Martinez extolling his virtues – he still didn't tear down any trees with that praise ringing in his ears.
Koeman is just trying the tough love. Unfortunately the truth – however unpalatable – is that he's either not good enough or he's never going to be the player we all hope he could be at Everton.
Every blip, the cries grow for 'give the kids a chance' but how many really are that good? (coaching a youth setup is a different thread, I think). Jeffers, Cadamarteri, Baxter.
We've had plenty of 'next-big-things' who disappeared into obscurity. You have to bring them through gradually. It's even more unrealsitic to think throwing 4 or 5 kids into the mix is the answer – though Davies has looked good in a few games, he still needs experience around him.
Koeman is just telling the truth. Moshiri wants to be top 4. The team is where it is in 7th because that's as good as it is.
Unfortunately, good top 4 players are either mega-money or we have to take a punt on players deemed good enough for the top 4 but for one reason or another it hasn't worked – Schneiderlin falling into that category. I'm not saying we should only buy from Man Utd, Man City or Chelsea – Gueye has been fantastic but I will say that it is pretty much to be expected as that's the market we are in.
Martinez irritated because he told lies about how great a game was even though we'd just seen it was woeful. Koeman irritates because he confirms what people have just seen and tells them that the team they love is not good enough for where they want it to be.
Dave Wilson
105
Posted 10/01/2017 at 13:58:58
I think we need to be looking for a sustainable improvement. We've had to stick a plaster over our problems for far too long.
Koeman may not be the answer, but we wont know that until he has been given a fair crack of the whip
Stan Schofield
106
Posted 10/01/2017 at 14:47:15
It's true that we'll need substantial new blood to compete consistently at top-6. However, new blood is not necessary to improve on our performances. I believe the problem there is organisation, tactics, using players to best advantage.
Eddie @102 mentioned Liverpool doing well. Their squad is largely what it was under Rodgers. Klopp has got them more organised, as well as fitter. He's bringing the best out of players like Firmino, Coutinho, Henderson, Lallana and Milner, all of whom were pretty crap before Klopp arrived.
A good manager gets the best from what he's got. Then, additional signings bring even further improvement. This is the pattern I was expecting from Koeman. We're not Liverpool, but the situation is similar.
Incidentally, some posts on TW since Saturday are saying that our season is over. What a load of crap. We have 19 games left. That's a possible 57 points from those games. Of course we're unlikely to get that, but the objective is to try. To try to win every game.
Also, the remainder of the season is an opportunity for Koeman to develop a system that works better, and to continue bringing on some of the younger players. But all that requires belief – 'reasonable' belief rather than idealistic twaddle, particularly from the manager. I'm still waiting.
Stan Schofield
107
Posted 10/01/2017 at 14:56:04
I should have said 18 games left, a possible 54 points.
Ian Guignet
108
Posted 10/01/2017 at 15:12:44
Someone please tell me what Koeman has done that's better than Martinez? Or is it just me...?
Tony Hill
109
Posted 10/01/2017 at 15:20:10
Very good column from Michael Ball in the Liverpool Echo, addressing among other things our set-piece stupidity. God, we need to get some brains into the side – and some evidence that there are brains in the coaches would also be nice.
Patrick Murphy
110
Posted 10/01/2017 at 15:28:53
Tony (#109),
I read that column too and Bally makes plenty of sense; you do wonder what our players are thinking about sometimes.
http://www.liverpoolecho.co.uk/sport/football/football-news/michael-ball-everton-need-big-12427860
Tony Hill
111
Posted 10/01/2017 at 15:31:03
Thanks for supplying the link, Patrick. I'm too old and lazy to learn.
Patrick Murphy
112
Posted 10/01/2017 at 15:33:27
Cheers,Tony, but it doesn't always work for me either, modern technology... pffft! :)

Pat Waine
113
Posted 10/01/2017 at 16:09:35
Koeman came into Everton on double the money of the previous manager and a work load reduced by the addition of Walsh and how has he done? We are 14 points off Liverpool and 9 off 6th place. This time last year (the worst of Martinez era) we were in a better situation.
I think we are suffering from really bad preparation for this season. Koeman has us (the School of Science) playing hoof-it-forward football. This is not only terrible to watch but almost insane when you have a centre-forward that can't hold the ball up. Has Koeman not noticed that Lukaku can do a lot of things but can not hold the ball up? So it is pointless punting balls at him.
Telling the world and his mother that Niasse is crap is not a good way of getting the lad sold getting a return on our money spent and moving on.
Koeman I thought would make us harder to beat but that hasn't even happened, Norwich, West Brom and Burnley have all beaten us. And I think we should have lost to Man City Spurs and Man Utd. Imagine if we had – we would have been looking down instead.
I think the season is all about holding on for 7th place. I don't see this side good enough to break into 6th spot and pick up 9 points. I hope we can get a play-maker in (but I doubt it) and start to build for next season. We sacked Martinez who had a better record last season than Koeman.
Jay Harris
114
Posted 10/01/2017 at 16:12:40
Stan, the squad is not what it largely was under Rogers.
Klopp inherited a £300m squad and got them to 8th last season.
He has since bought Winaldum, Matip, Klavan and Mane to name but 4.
It has taken him over 12 months to achieve their current standing something you and others seem to not want to afford to Koeman.
The RS were woeful at times last season.
Stan Schofield
115
Posted 10/01/2017 at 16:37:11
Jay, everything you said there, I have previously said on other posts. Y
es, Klopp was doing his nut with some of the performances. He brought in about the same number of players that Koeman brought in. It's taken him time with his pressing game. And I've said we need to give Koeman time.
But, I'm also looking for a system, some progression. At first Klopp got no progression, like Koeman (Liverpool were on about 1.5 points per game under Klopp, about the same as Rodgers, like we're on at present). Then he got progression.
John G Davies
116
Posted 10/01/2017 at 16:42:53
Stan.
I recall the kopites calling for Klopps sacking in their droves. Not that any of them would admit to it now.
Patience is required. I am confident this time next year Koeman and Moshiri will have brought a massive improvement to our club.
I was really pleased when we got Koeman. He was my first choice out of the realistic choices we had as our manager. He is still my first choice.
Stan Schofield
117
Posted 10/01/2017 at 16:49:37
John, you're right. Which is why I have said give him time, but subject to review of his performance. I am not impressed with a number of aspects of his management.
It's not a polarised case of either get rid of him now or give him three years. He's a highly paid manager, and needs to be reviewed, it's common sense. Or should be...
John G Davies
118
Posted 10/01/2017 at 16:53:54
Sorry, Stan.
My post didn't come across as I intended.
I was agreeing with your post at #115.
David Barks
119
Posted 10/01/2017 at 17:01:26
Trying to compare Koeman's impact with Klopp's is extremely luggable. Klopp took over that squad when they were behind us in the table. He then guided them to two Cup finals in that first year, with the squad he inherited.
He did not have supporters calling for him to be sacked last season in droves. That is completely made up, absolutely not true. They were too busy watching their club nearly win the Europa League and a domestic cup, while seeing their football improve over those six months. He then had them flying high to start this season, challenging Chelsea for the league all season. That has not taken more than 12 months.
He signed some players, so did Koeman. Koeman has had two chances at Cups and lost both matches to inferior competition. Koeman has had more than 7 months to put in place some football philosophy into his players. If you can tell me what it is I'd really appreciate it. So far it has been a lot of hoofball, often ultra defensive, chopping and changing his side.
Klopp had the likes of Coutinho and Firmino struggling for form. By the end of the year and entering this year, those players have completely transformed their game. And then Lallana, completely new player for them under Klopp. Can anyone tell me a comparable scenario under Koeman?
Sorry, Klopp was an extremely popular choice with those supporters and has only gained in popularity. He completely embraced that club. Koeman has done anything but embrace this club. Hell, he's said he would have stayed at Southampton if he wasn't so unhappy with the contract they offered.
John G Davies
120
Posted 10/01/2017 at 17:11:38
Not made up at all. And absolutely true.
You only had to listen to the radio phone-ins when they were in a low position in the table. Full of the same knee-jerk reaction that you and a few other blues are showing.
Typical of the modern football fan, I suppose.
Stan Schofield
121
Posted 10/01/2017 at 17:16:28
David, spot on. The trouble with the debate about Koeman is it can get polarised, either for or against him, when the reality is his performance is as subject to ongoing review as any other's performance. I'm still for retaining him, but have become concerned for a number of reasons of detail (which I list in other posts).
Regarding giving him time, yes, if we are to consistently compete at the top table, we all accept that's likely to take a few years. But, surely we should see some improvements fairly quickly, in terms of better organisation and making use of the skills he has available using that better organisation. There's little or any of that, so far as I can see. Like you, if he's got a system, it's lost on me.
Patrick Murphy
122
Posted 10/01/2017 at 17:18:51
David (#119),
Is that why Klopp had to urge the Liverpool faithful to remain in their seats until the end of the game (November 2015)? Many Liverpool fans departed the stadium as soon as Dann's goal put Palace ahead, despite the hosts still having eight more minutes plus stoppage time to draw level. Klopp admitted his dismay at such a habit...
I don't mind you having a pop at Everton FC as it is your right to call things as you see fit, but please lay off the constant worship of Klopp and his cohorts over the park.
I don't think you can compare Koeman to Klopp at all, given the huge amounts of cash the other lot have thrown at their squad in the last five or so years, and the huge difference in their personalities. Rodgers very nearly won the league for that club just a few years ago. Koeman has taken over a club and team short of confidence and a lack of real quality players.
David Barks
123
Posted 10/01/2017 at 17:32:02
Patrick,
Seriously? He had just taken the job, they weren't calling for his sacking. He rightfully called them out and demanded they support the team. It might be annoying as hell to us, but his challenging of the supporters to make noise and lift the team has worked.
He inherited a team well down on confidence and a frustrated supporter base. There's no worshipping going on, just a clear comparison between the two clubs and the impact the manager has had.
Ricardo Gimpardsle
124
Posted 10/01/2017 at 17:35:47
Patrick (#110)
When I opened that link, I miss-read it as "Everton need big balls to get bouncing," I was a bit worried.
Okay now, just been to Specsavers and can see it properly!!
Stan Schofield
125
Posted 10/01/2017 at 17:36:02
Patrick, yes, Klopp was under pressure, and issued a number of statements that it would take time for players to adapt to his pressing style. And he got rid of those who he considered didn't fit in. But when he took over they were all over the place.
Since nearly winning the league they'd lost Suarez and others, and were firmly mid-table, which is why Klopp was hired. They weren't in the terrible state we were last season, to be sure, but there are clear parallels in my opinion.
But assuming we just forget a;bout them and Klopp's performance, the fact remains that some of us are reasonably concerned by some of Koeman's words and actions. Most of this concern is expressed as quite reasonable comment, not knee-jerk, although of course you always get a bit of the latter.
John G Davies
126
Posted 10/01/2017 at 17:43:36
Google "Liverpool fans sack Klopp".
Only takes 10 seconds...
Ricardo Gimpardsle
127
Posted 10/01/2017 at 17:49:58
Hmm.... and of course some will tell us that Man Utd were at the bottom for years when Maureen took over!! Sometimes only sometimes!!
Ricardo Gimpardsle
128
Posted 10/01/2017 at 17:52:42
Can I smell a little fear that our new stadium might outshine their 'Eighth Wonder of the World' – the extension to their main stand?
Marvellous stuff from a left back!!
Ray Roche
129
Posted 10/01/2017 at 18:07:59
Ricardo, "The Eighth Wonder Of The World"?...do you mean their loft extension?
Chris Leyland
130
Posted 10/01/2017 at 18:25:38
There are some people on here who are sounding like Kloppites.
Koeman has been in charge of Everton for 20 league games winning 8, drawing 6 and losing 6 and accumulating 30 points.
In Klopp's first 20 league games they won 9, drew 5 and lost 6 taking 32 points.
Highlights included losing 3-0 to Watford, losing to the abject Newcastle 2-0 and losing at home to Crystal Palace.
Klopp inherited a considerably better squad who had finished 2nd and 6th in their previous 2 seasons. Koeman inherited a mess with a side who had finished 11th two seasons running.
The overall point is, changing things takes time. We need to give Koeman more time to sort out the mess that is our squad before we start calling for his sacking.
Anthony Hughes
131
Posted 10/01/2017 at 18:51:55
I'm with Stan on this regarding giving him time but having reservations about certain aspects of his tenure so far. As for the Klopp thing he has completely transformed that team unfortunately and they are showing constant progression.
The issue I have with Koeman is that we seem to be regressing with no sign of any real coherent plan to move things on. I hope he gets the players he wants in the next couple of windows to show us what he's really about.
Thomas Rigby
132
Posted 10/01/2017 at 19:00:14
The present situation is worrying but we must keep our nerve and give Koeman time. A lot of people have accurately and eloquently analysed the problems to be overcome if we are to be realistic challengers for a top six place, and I don't need to repeat them here.
I have concerns about how we go about rebuilding because, apart from Gueye, I was not too impressed with the summer signings. l would want every player signing on to meet the following criteria .proven ability, young and blessed with pace.
John G Davies
133
Posted 10/01/2017 at 19:15:31
Liverpool spent a quarter of a billion pounds in the 3 seasons before Klopp.
To say he had a similar starting point to Koeman is nonsense.
Michael Kenrick
134
Posted 10/01/2017 at 20:48:16
Pat (#113), you say:
"This time last year (the worst of Martinez era) we were in a better situation" after listing our current situation in the Premier League table.
This year, we are 7th; last year at this time, we were 11th. – How on earth was that a better situation?
---
Add Your Comments
In order to post a comment, you need to be logged in as a registered user of the site.
Or Sign up as a ToffeeWeb Member — it's free, takes just a few minutes and will allow you to post your comments on articles and Talking Points submissions across the site.